The AC/DC schedule now has venues for most of the shows, and one new show has been added already: Columbus, OH. There's a possibility of additional shows, too, so stay tuned. According to Ticketmaster.com, tickets will be on sale for the SFX-promoted tour in three markets starting this weekend. The newly-added Nationwide Arena concert in Columbus, Ohio on April 4 will be on sale Friday (Feb. 2) at 10 a.m. The two Florida shows -- one at the National Car Rental Center in Ft. Lauderdale and the other at the Ice Palace Arena in Tampa on March 21 -- will be on sale Saturday (Feb. 3) at 10 a.m. Ticket prices are in the $35 to $45 range. (Thanks to CDNOW.COM for the Ticketmaster information and their nice writeup and picture of Snakepit). No word yet on the club tour, but here is the newest schedule:


March 18, Ft. Lauderdale, Fla.    National Car Rental Center
March 20, Orlando, Fla.           TD Waterhouse Centre
March 21, Tampa, Fla.             Ice Palace
March 23, Nashville, Tenn.        TBA
March 24, Memphis, Tenn.          TBA
March 26, Little Rock, Ark.       Alltel Arena
March 28, Greenville, S.C.        Bi-Lo Center
March 29, Greensboro, N.C.        Greensboro Coliseum
March 31, Charlotte, N.C.         Charlotte Coliseum
April 1,  Raleigh, N.C.           TBA
April 4,  Columbus, OH            Nationwide Arena
April 6,  Cleveland, OH           TBA
April 8,  Chicago, IL             TBA
April 9,  Minneapolis, MN         TBA
April 11, Denver, CO              Pepsi Center
April 12, Salt Lake City, UT      Delta Center
April 14, Los Angeles, CA         Forum
April 19, Portland, OR            Rose Garden Arena
April 20, Seattle, WA             TBA
April 23, Vancouver, BC           TBA
April 25, Edmonton, Alberta       Northlands AgriCom Arena
April 26, Calgary, Alberta        TBA
April 28, Winnipeg, Manitoba      Winnipeg Arena
April 29, Fargo, N.D.             Fargodome
May 1,    Madison, Wisc.          TBA
May 2,    Detroit, MI             TBA
May 4,    Boston, MA              FleetCenter
May 5,    Philadelphia, PA        TBA

You can always check the Tour Schedule for the latest news. You can find it under www.snakepit.org, scroll down to Main Menu, click Tour Schedule. Tickets are also available online if you are making a road trip (a good way to meet the band).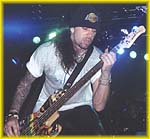 Shari sent us some more information on Johnny G. We told you before that he is doing a short tour with Gilby Clarke's band. It also seems that Johnny plays with Gilby's Starf*ckers band at The Cat Club in Hollywood on Thursday nights. Tracii Guns is also in the group, so if you are out that way on a Thursday night and Snakepit is not touring, you might catch Johnny G on the bandstand. Thanks, Shari!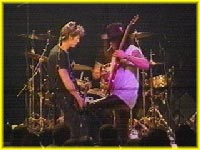 Remember when Matt Sorum worked on the soundtrack for Soundman, a film entered in the Slamdance contest? SLASH and Duff went up to the festival to do a brief show, and it rocked! We have clips from that in the SLASH Videos section, and Jirka found another place on the net with ram files where you can see the guys do "Attitude". Take a linespeed choice and have a look:


High Speed Link

56K Link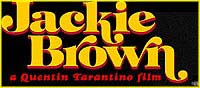 If you're accepting the challenge to Zubi to try to find the place in the movie Jackie Brown where they play a few seconds of "Jizz Da Pit", Brian has a tip for you. He says that if you find the scene where Sam Jackson and Robert DeNiro are watching the Girls With Guns video, you'll here Snakepit 95 playing "Jizz Da Pit". Brian says it's easy to miss, but the guitar licks are unmistakeable. Thanks, Brian!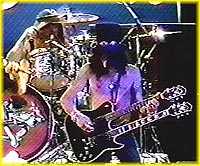 Some magazine information...FabAxl says that in the Italian magazine TUTTO!, there's a three page SLASH interview! A lot of the same old ground is covered, but they do have a review of the Milan show in the live review section, and the review is excellent! FabAxl says there are some cool SLASH photos in the summary and in the article. So check that out!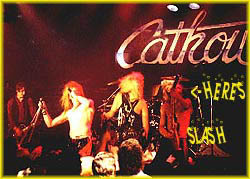 Ian found an article on UK teletext (CH4 Page 451), and it sounds like there will be a SLASH feature or article in Record Collectors Magazine. SLASH is quoted as saying that GNR will not reform because the band could never be as vital as they were 10 years ago. SLASH says his only regret is that kids will be saying "it can never be like it was". SLASH and Axl have not spoken for five years, and the original GNR lineup should be the one known as the real GNR. Thanks, Ian, for an article that saddens many fans of the real GNR.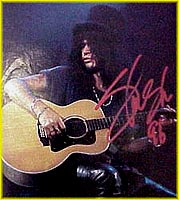 Our pal Vicki always seems to be up on the latest US magazines. She says that in Guitar World Acoustic (Number 40, Winter 2001), there is an article called "Sweet Capo O' Mine". The acoustic adaptations of the Eagles' "Desperado" and GNR's "Sweet Child O' Mine" are explored, and the article says that "The immediate challenge here is to play SLASH's catchy and melodic electric guitar intro in a manner which evokes the original and yet makes sense on the acoustic". Vicki says there's a small picture of SLASH and Izzy at the end of the article with SLASH in a denim jacket and hat and Izzy in dreadlocks. Thanks, Vicki!


And this ad for the March 2001 issue of Guitar World speaks for itself!


News Reported: 01/31/01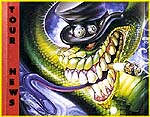 Big tour news tonight! SLASH announced that SLASH's Snakepit is on the move again. This is a US and Canada tour, and once again they are opening for AC/DC! The band had a wonderful time with AC/DC in the summer and fall, so this is working out really well. The tour is March 18 through May 5. SLASH says there will be more dates added to Snakepit's schedule as they are doing club shows, too, where they will headline. SLASH also said that they are going to play longer shows when opening for AC/DC. Instead of 30 - 40 minutes, they have 50 minutes. What a great rock and roll evening! We don't have the headline information just yet, but we will put up the schedule announced by AC/DC. Note that venues are not announced at this time:



March 18, Ft. Lauderdale, Fla.
March 20, Orlando, Fla.
March 21, Tampa, Fla.
March 23, Nashville
March 24, Memphis, Tenn.
March 26, Little Rock, Ark.
March 28, Greenville, S.C.
March 29, Greensboro, N.C.
March 31, Charlotte, N.C.
April 1,  Raleigh, N.C.
April 4,  Columbus, OH
April 6,  Cleveland, OH
April 8,  Chicago
April 9,  Minneapolis
April 11, Denver
April 12, Salt Lake City
April 14, Los Angeles, CA
April 19, Portland, Ore.
April 20, Seattle
April 23, Vancouver, British Columbia
April 25, Edmonton, Alberta
April 26, Calgary, Alberta
April 28, Winnipeg, Manitoba
April 29, Fargo, N.D.
May 1,    Madison, Wisc.
May 2,    Detroit
May 4,    Boston
May 5,    Philadelphia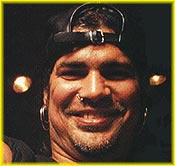 Randy did a favor for all of us by posting that Snakepit interview that was in Oui magazine. The interviewer gets the background Snakepit material from SLASH, and then asks the other guys what it is like being on tour in a rock and roll band. Johnny G and Matt have stories to tell that should interest you! Thanks, Randy, and here is the article so you can find out what these guys are doing offstage!



Oui Interview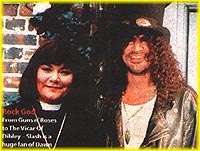 Shari, Ian and Glenn are all from the UK, and they spotted SLASH in the Sunday paper there! Glenn says there is a supplement magazine that has stories on celebs, fashion, etc. The picture at left is our SLASH with actress Dawn French. SLASH became a big fan of the TV show, The Vicar of Dibley on trips to the UK, and he especially likes Dawn French. Dibley is a town in need of a new vicar, and Dawn French plays that role in this comedic series. She is perhaps best known for her part in the French and Saunders comedy team. Thanks for the information from our three UK SLASH fans!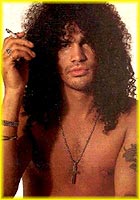 Yesterday was the big SLASH TV day in The Netherlands. Jamie says that SLASH introduced these videos: "Bitter Sweet Symphony" (Verve), "1979" (Smashing Pumpkins), "Love Is Strong" (Rolling Stones), "Everybody Hurts" (R.E.M.), "Smells Like Teen Spirit" (Nirvana), "Been There Lately) (live) (SLASH's Snakepit), "Doll Parts" (Hole), "The Real Slim Shady" (Eminem), "Patience" (GNR) and "Heroes" (David Bowie). Annelaure says there were two interviews with the first being the one at the Paradiso in Amsterdam. She says it was a really good interview, and they managed to get by without the usual GNR questions. SLASH was asked for his most memorable backstage experience, and he said it was finally meeting Jimmy Page (this was at NetAid) and "the rest you don't wanna know about"! They talked about Amsterdam which SLASH really likes. The interviewer gave SLASH a bottle of Jack and a tshirt. Martijn says SLASH was asked about the kind of music that turns him on, and he said that Isaac Hayes was great music to screw to, but also there are the Rolling Stones, old blues and dark soul. He was asked how you learn to play guitar, and SLASH said you don't even try playing by the book. SLASH learned by playing along with records and creating his own style. TMF showed the interview put together by Koch. Excerpts from that interview are on this page in the SLASH Videos Section. Ed also sent us some information on the videos selected by SLASH in the first interview and promised to send the interview to us. We'll get it on the page as this summary is just part of what was said. Thank you all: Ed, Martijn, Annelaure and Jaime for sending us all that information! Just think, you had SLASH to watch, and the US had Aerosmith (good), N'Sync (seemed out of sync), and that old fave, Britney Spears, at Super Bowl halftime. Watching Joe Perry play for and Steven Tyler singing "Walk This Way" with those other artists...well, plane fare to Amsterdam would have been well worth it!

News Reported: 01/29/01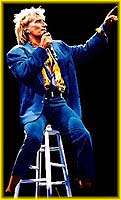 Some time ago, we reported that SLASH had done a guest appearance on Rod Stewart's new album, Human. After a long wait, the album is scheduled for release on February 6 in the US and March 16 in the UK. Rod has switched record companies from his longtime berth at Warner Brothers to Atlantic Records, and with this change, his music has changed, too. Don't worry about getting this one; early reviews call it magnificent. SLASH was praised as an ace guitarist making unique electric contributions on the title song. Many other musicians contributed to the album, and it sounds like Rod may have another classic hit on his hands. SLASH fans should get a copy to hear Our Guy bring his talent to bear on yet another fine album. Human can be preordered at music sites on the net. Ravi sent us the address where you can read more about it:

Rod Stewart and Human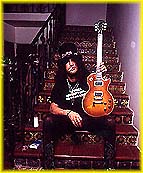 Jamie sent some more information for our Dutch friends on the SLASH program tomorrow. The TMF channel lists the show VIG (Very Important Guest) at 6pm, presumably this is Dutch time. And it is definitely Sunday, January 28. Thanks, Jamie. Ed has been tracking this show all week, and he confirms the 6pm time and adds that the show is one hour long. The SLASH interview will be aired between 8pm and 10pm Dutch time. TMF will also air tomorrow the famous GNR concert in Tokyo at 10pm. Sounds like serious competition for the Super Bowl! Thanks, Ed!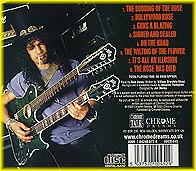 Alex sent a message about a CD we are starting to see in the stores. This is Maximum Guns N'Roses. It is billed as an unauthorized bio of the band with a CD-audio bio. The full story with interviews and a mini-poster are promised. Alex was intrigued and got one. He says it is a spoken word CD with 8 tracks beginning with old interviews. There are two with SLASH and Duff, three with just SLASH, and three with Duff. A booklet inside has 2 picture of Axl and 2 of SLASH. The bio goes from the early days of GNR to the first Snakepit album. Total playing time is 60 minutes. Alex says no real fan will learn anything from this bio. It's complete and has details of the early days which most fans already know. It ends quickly and doesn't deal with the truth of the members' departures from GNR. Alex recommends you save your money. Thanks for that review, Alex!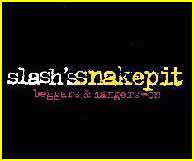 Here's a fan with great ears. Zubi was watching MTV's "Senseless Acts of Video" and heard them play about 5 seconds of "Beggars & HangersOn". It was during the part where the guy was doing a stunt from Metallica's video "I disappear". Zubi was so excited to hear "Beggars and Hangers-On" because she just loves that song. So next time you see that stunt aired, listen up! Zubi, we are going to get you to watch the movie Jackie Brown and see if you can find the few seconds of "Jizz Da Pit"! Thanks, Zubi!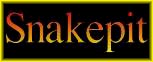 If you are a member of Onelist's Snakepit group or the slashnews group, you may wonder where we have gone. Yahoo has bought out Onelist. In order to rejoin the groups, you need to go to:


groups.yahoo.com


and register as a Yahoo member (if you aren't a member of a Yahoo something already - club, shopping, etc.). If you give your Onelist userid and password, they will join your groups to you, and you'll see us again. If you aren't a member, we'd be glad to have you. The Snakepit list is a group of over 200 SLASH fans that come together to discuss SLASH and related issues. Discussions are of a positive nature and postings must have something to do with SLASH. The postings are moderated.

The slashnews group is different. These are people that would like to get the Current Events for each week mailed on Saturday. This is text only. Note that Snakepit is upper case S while slashnews is lower case. See you there.


News Reported: 01/27/01


When SLASH went on tour last summer, he didn't have much time to respond to fan mail. Several people have written in asking about the mail, so we talked to SLASH. He said that now that he is home for awhile, he's had a chance to get this organized. All the fan mail is at his home and is being answered quickly. This means that if you wrote in before, you should be receiving a SLASH answer very soon. Some fans were surprised with a photo signed by all five band members! This was a little extra something to make up for your long wait. SLASH said that in the future, even when he is on tour, they have a system set up to get mail back to you from him. So watch your mail! If you would like to write to SLASH, please go to www.snakepit.org, scroll down to Main Menu and click "Write To SLASH". The address and some information are there. Thanks!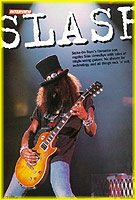 Ed from The Netherlands writes that Dutch fans are going to have a Super SLASH Sunday. SLASH will be in a TMF program called TMF XTRA. This is an interview done with SLASH before the Paradiso show in Amsterdam. TMF XTRA will air Sunday, January 28. Ed says the only problem here is that the program will not be aired at a specific time, so you Dutch fans will have to watch TMF all day. Tricky! Ed promises that he will watch and send the SLASH interview along along with the songs that SLASH will pick for the VIG show mentioned on an earlier news day. Thanks, Ed!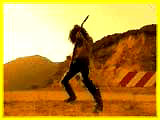 Justin from Hilo, Hawaii watched VH1 to see the top 20 greatest rock videos of all time. GNR was in there twice with "Sweet Child O'Mine" at #9 and "November Rain" at #2. SLASH was interviewed while they were showing the GNR videos, tnd he talked about making the videos and the songs themselves. Lars Ulrich was also interviewed. Justin says to watch for reruns as this was a good show. Thanks, Justin!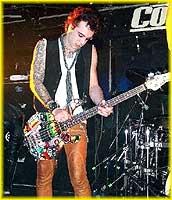 Gilby Clarke will be on tour soon. The initial tour will be from January 30 - February 4 in Pennsylvania, New York and New Jersey.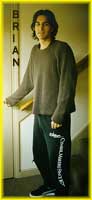 If you go to the shows, you'll see two familiar Snakepit faces on stage. The cool one, Snakepit's great bassist, Johnny G, will be there along with a great drummer from Snakepit 95, Brian Tichy. For tour information, check out Gilby's site (under What's New) at:


Johnny and Brian



Kim from the UK tells us that The Electric Basement has launched their video room, and they have a SLASH's Snakepit video there. This is "Been There Lately", and though we have seen it several times, we stayed and watched it again. This video was made at the Ottawa show, and the guys are right on. Special things we watch for are Johnny and Keri's backing vocals, SLASH's sweet smile at the end, Rod's possession of the stage and Matt just pounding away. These guys rule! 2001 is the year when they want to break this album wide open. To watch this video, you are going to need Internet Explorer. When you get there, click your line speed above the video. If Netscape is your default, let it start up and get an error, then copy and paste the address into IE and go! Thanks, Kim!

Been There Lately Video




News Reported: 01/25/01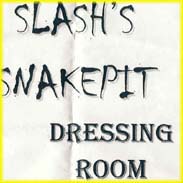 If you see this sign at left, you know you're really "with the band". This one hung on the door at the NAMM show sponsored by GMR Guitars. One of our great contacts IS with the band, and she managed to collect this sign and the set list for us. Thanks! We've never seen so many great photos before; photography was permitted! We'd like to thank you all for sending in the pictures. We'll put them in Tour Photos soon. Brenda sent us two zip files of pictures that are beautiful.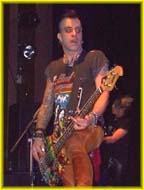 We chose to show you Johnny G and his new Mohawk tonight. Well, what do you think? Vern Troyer (Mini Me) from Austin Powers was there to wish his buddy SLASH good luck. Mike Inez of Alice In Chains and Snakepit 95 was backstage, too. Ryan Roxie was there, of course with Glam Nation, and he stopped in to say hello to Snakepit. Ryan looked great, we're told, and was charming as usual. That's our backstage highlights report. Keri sent a note saying the show went great! The band had a really good time, and they were happy to be back playing. Keri says they will have tour news soon. A couple fans sent in their takes on the show. FreddyMedal is a diehard Kiss fan, and he was really happy to see Eric Singer behind the drum kit in Glam Nation. Fred thought it was a very good show for Eric. He says by the time Snakepit came out, the beer had really kicked in. Gotta pace yourself, Fred! Snakepit played "It's So Easy", and the rest was all new Snakepit material. Fred also saw Vern Troyer (Mini Me) sitting on the stage! Talk about a great seat! Clement arrived just in time. He caught Dee Dee Ramone's last song. He said GlamNation was entertaining, and reminded him of the "Rocky Horror Picture Show" with guitars and drums. Eric Dover sang and played guitar, Ryan Roxy was on guitar and Teddy ZigZag was on keyboards. Clement says they are kind of a joke band and use different names and wear costumes. They played cover songs, but Clement thought they weren't very impressive. Snakepit played 10:30 to midnight, and SLASH wore a Spiderman button shirt, leather boots, brown leather pants and a very cool necklace combining S and P. (If you're up on SLASH's personal life, you know this is SLASH and his girlfriend. What a romantic!) SLASH played 5 guitars: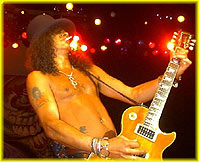 3 Les Pauls, Godzilla and the red B.C.Rich Mockingbird (seen in the "You Could Be Mine" GNR video). The Mockingbird was used during "The Alien". Clement said Mini Me came out before SLASH, and a security guard gave him a premier seat on a speaker. SLASH's girlfriend and her pals were off stage but visible - having drinks and dancing. The band was extra loud; and both Rod and SLASH did a lot of talking. Rod thanked NAMM, the sponsors,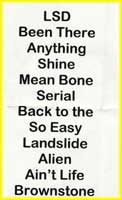 and the fans. When Rod introduced "Beggars and Hangers-On", he gave credit to Eric Dover. SLASH thanked Marshall Amps for giving him so much equipment over the years. SLASH joked that he didn't know what NAMM stood for and guessed "Nerds against Mad Mothers"! SLASH tossed Clement a pick which he missed, but at the end of the song, SLASH leaned over and handed him another. SLASH jumped off the drum risers several times, and Rod went down to the photographer's pit. Keri threw a lot of picks, and Matt was rocking so hard that Clement thought the drums were going to fall off the riser. Teddy ZigZag also played keyboard for Snakepit. After the show, Adam Day recognized Clement and gave him a set list. Clement says this was one of the most energetic and well played shows he's seen them play, and Clement has seen them FIVE times! No wonder they recognize him! Clement, some day that will be you on the speaker. Thanks very much to FreddyMedal and Clement for sending in those reports.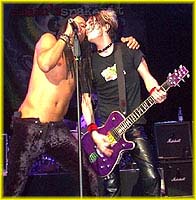 Here's some information from Keri...Oui magazine with its cover story on Snakepit is now in the Tower Records store. Be advised that while the Snakepit pictures and story are just fine, almost all of this magazine is rated X. A better source is the Japanese Burrn! magazine February issue where the band has six pages! The December 2000 issue of Metalion, another Japanese magazine, has a Snakepit article, too. Keri says the "Mean Bone" video is done, and it's killer! Keri didn't have the release date, but he's guessing a week or two. Now's the time to call those radio stations and request "Mean Bone" as the radio edit promos are out at the stations now!

News Reported: 01/23/01


SLASH called in the other night as the band was rehearsing for the Anaheim show. They were in the parking lot outside the studio taking a break and there was much hilarity as the guys tried to fix the studio door. What a team! Slash said it was very cold there (55 degrees) but not nearly as cold as it was when he was in Europe. The European fans who waited after the shows can attest to that! He said he had to go find some hot coals to hold in his hands. About the rumored Reno, Nevada show for next weekend, SLASH said that one is off. SLASH didn't have a schedule for us yet, but he said they are trying to get the U.S. tour planning really rolling. That one may be in the spring, but the plans are not final yet. As for the schedule between spring and now, SLASH said he will also get back to us on that. With the U.S., South America, Australia and Europe waiting, they should be busy for a long time.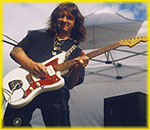 Another band with a mission is the Alien Swinger Club. If you were at the Cologne and/or Nurnberg shows, you saw these guys do a rocking opening set for Snakepit. Olli, their guitarplayer, wrote that the band was coming to L.A. in January to begin their band's career there. So watch for these guys! We heard they were killer (as Keri says). Olli asked if the band could have a message posted here to SLASH's Snakepit and their crew. Sure! They want to thank everyone very much for treating them like friends. The Alien Swinger Club had a great time with Snakepit, and they hope Snakepit's fans will come to be their fans, too. Thanks, Ollie!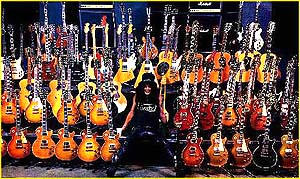 Now for a whole truckload of SLASH and Snakepit sightings. Paulo from Portugal writes that there was a short report on Slash and Snakepit on MCM. Snakepit talked about the new album, and there was a short interview with SLASH where he was pictured with lots and lots of guitars behind him! There was a little footage of Snakepit live, and the whole thing was about 5 minutes. Paulo said it may have been short, but it was definitely worth seeing. We hope the band will visit Portugal this time, too, Paulo; and thanks for that report.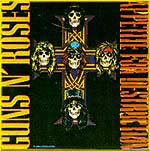 Brian leads off the VH1 appearances. VH1 is certainly a friend of SLASH and Snakepit. Did you see the countdown of the top 100 rock and roll albums of all time? Well, AFD came in at #42. They showed a video clip of GNR, and a short commentary by SLASH. SLASH talked about how "SCOM" put the band over the top and said "there are no gimmicks, no mirrors, none of that. That's the way it should be in any great rock and roll band." Agreed! Thanks, Brian. By the way, this program was repeated recently, so it's likely you can catch it again. Vicki is in West Virginia in the U.S., and she really enjoyed that 200th episode of "Rock Show" on VH1. SLASH was there, and he answered Cane's phone for him. He asks the caller how they knew to reach him there before handing the phone to Cane. Cane was giving an intro to his "finer moments" and seemed to forget what he was talking about. SLASH smilingly observed, "You seem so much more together on TV." And they aired the clip of SLASH smashing Zakk Wylde's guitar. Cane said, "Now, that wasn't really supposed to happen - that was totally unplanned. I was joking with SLASH about smashing guitars, but you can't really joke around with a rock star, or he is going to take you up on it." Then Cane said that SLASH and Rod both signed the smashed guitar, and later, SLASH sent them a Gibson Les Paul Special. Cane said SLASH really didn't have to do that, and he thanked SLASH. Vicki said the next show on was "Fan Club" with AC/DC.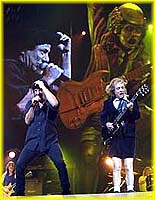 SLASH and Rod talked about how they got into AC/DC. SLASH said he was about 14 and hadn't started playing guitar yet. "Back In Black" came out, and that was the (bleep!). SLASH said he went backwards and got "Highway to Hell" and "Powerage". At this point SLASH and Rod disagreed on how to say "Powerage". Rod thought it was "Power Rage" and SLASH thought it was "Power-age". Vicki at this point was too tired to see if SLASH was on the next show and went off to bed. Thanks, Vicki!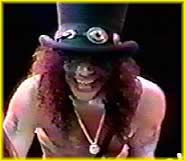 This one is from Ed in The Netherlands, and it's a heads up for the fans in that area who get TMF, the Dutch music station. TMF's program, VIG, will have SLASH on this coming Sunday, January 28 at 3pm. This is a program where famous artists show their favorite videoclips. Hopefully, Ed will tell us what SLASH selected next Sunday. Ed reminds us all to go to www.rocknrollstation.com to see a 45 minute long interview with SLASH. When you get there, scroll down to ARCHIVES and look for "SLASH" to get the interview. We mentioned this before, but it's a great, long interview. Don't miss it! And thanks, Ed, for this information.

News Reported: 01/21/01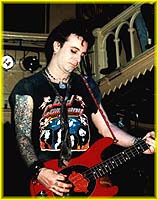 Here's some interesting hair news! No, SLASH has NOT cut his hair! But someone in the band has! If you go over to the NAMM concert tomorrow night, you'll see Johnny G with his brand new MOHAWK! Hopefully, someone can get a picture of Johnny and his new 'do.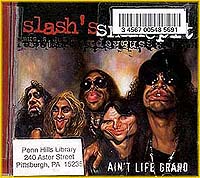 There's a new batch of tour photos up. These are mostly Italy and some from the UK. If you go to www.snakepit.org, scroll down to Main Menu, click Tour Photos, you're at the first group. At the end you can choose from three other sets to look at. If you don't see yours there, don't worry, we are working on the next batch right now. Thank you to everyone who sent in some! We think they are so great to look at. When you look at this fourth batch, you'll see a copy of Ain't Life Grand with library information on the front and a "bookplate" saying the cd was given to the library in honor of SLASH. We are especially happy to have thought of this way to share the music of SLASH's Snakepit with others in our community. Libraries are in desperate need of donations, so why not give them ALG? Also new today are four more drawings on the Fan Section. Somehow the mail messages got separated from two of these so we don't know who drew them. If they are yours, let us know so we can give you some credit. All you artists...please put your name on your drawing or painting if at all possible. Thanks!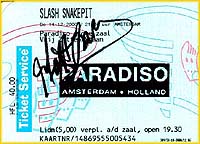 The show at the Paradiso in Amsterdam was killer, and the Rockezine crew sent someone over to review the show. If you haven't read this one yet, you should! They really liked the band and the music. They got in touch and said the interview is "worthy to be read by true SLASH-fans" and invited all of you to come over and have a look. They also have a great album review you can check out. The address for the album review is below; and when you get there, locate SLASH's Snakepit and click the album cover. The Paradiso review link is also below. Just scroll a little and click on SLASH's Snakepit. Ed wrote and reminded everyone to check out the pictures and realize they are thumbnails. At the end you can click on More Pictures, and they are just wonderful. Highly recommended! Thanks to Rockezine for the invitation.

Rockezine Album Review
Rockezine Paradiso Show Review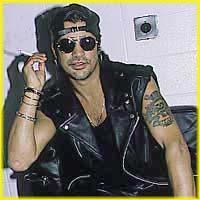 Aurelie wrote from France - first to tell Antonello that the D.T.V.D that SLASH used in his autograph was really D.T.U.D. Sound familiar? That's tattoed on SLASH's left arm and stands for Drink Till You Drop. Appropriate, since Antonello had just given SLASH a bottle of Jack Daniels. She also wanted to tell us that on the French Hard Rock Magazine, there was a good interview with SLASH. They gave the music for "Rusted Heroes" because they thought it was unfair that only the Japanese fans could headbang to it! And they said that everyone should try to see Snakepit live. Aurelie says they will be glad to go whenever Snakepit comes to France. Did you hear that SLASH? Come to France!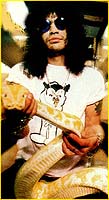 Simone wrote from Italy about a SLASH TV appearance in Italy. There's a daily program called "4U" on the TMC2 channel, and every week there is an artist of the week. And this week it is SLASH! Each day there is a 4-5 minute interview with Rod and SLASH. SLASH talked about his origins, the GNR years, his passion for animals (especially snakes), his guitars and Snakepit. Clips of Snakepit live were shown. Simone sent in pictures from the Milan show, and they said her name on air! Thanks, Simone!

Dipesh from VirtueTV sent a note about our problems reaching the SLASH interview on their site. The concert footage is there, but the interview will not be posted till Monday, January 22 at 5pm GMT. So hang on till then! The address for VirtueTV's Snakepit footage is:


Snakepit at Ottawa





News Reported: 01/19/01


We are not satisfied with the ISP we recently moved to, so the SLASH page has moved again to OLM in Connecticut. If you came and we weren't here, our apologies. We are back now. Our domain is still www.snakepit.org, and you should continue using that as the url. Thank you.



GMP Guitars sent us a note about the show this Saturday night at 8pm in Anaheim CA. The show is sponsored by GMP as part of the NAMM convention doings. A limited number of places are available for the public, and tickets are available through TicketMaster at $15 each. The show is at the Sun Theater which is in the same parking lot as Edison Field, not the Convention Center according to GMP. Get out there and see SLASH and the boys. Dee Dee Ramone and Glam Nation will also appear.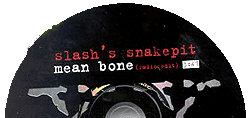 Have you seen the radio edit promos for "Mean Bone" yet? "Mean Bone" is the next single, and the video for this one is nearly complete. Some great animation is planned as an intro to the band performing the song. The video for "Been There Lately" was a promo, but "Mean Bone" will be a regular video released to VH1 and MTV. You may have seen the "Been There Lately" promo on MTV, but this one is sure to be a knockout.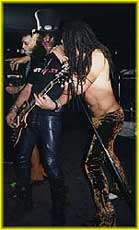 We got a note from Mischa at the Virtue TV site. He wants to let you know that they have some great SLASH's Snakepit footage there. This is live concert footage from the Ottawa show where they do "Been There Lately". They also have interview footage, but we were not able to get that to work. Mail was sent to their webmaster so you can give it a try:

Snakepit at Ottawa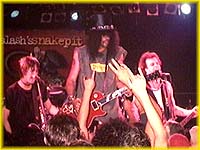 Another review came in! Neal went to see Snakepit with his girlfriend on December 4 in the UK. They were right in front of SLASH! Neal says the atmosphere was outstanding, and the band was magical. Each band member performed his part excellently, and it all went together brilliantly. Neal asks when the band is returning. SLASH told a lot of European fans that he would return this summer! Not so long to wait. Neal would also like to know if any songs from that concert would be chosen for the live album. We hadn't heard about a live album till word filtered over from Europe, so we need to check with SLASH on it. Neal thanks everyone who made it possible for Snakepit to be there and gives a special thanks to SLASH's Snakepit! Thanks, Neal!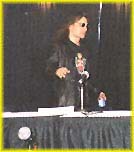 Last time we passed along Matt Laug's email address for fans: MattLaug@aol.com. Max found Matt accepting IMs (instant messages where you can send mail back and forth very quickly). So he said hi and had a really nice chat with Matt. Matt was really nice, and chatted away for several minutes. Max says Matt is a really super guy. So if you are on AOL, check to see if Matt is there. The rest of us can use regular email. Thanks, Max!

StephS2001 spotted the SLASH interview on The X Show on FX. This debuted not long ago, but if you watch the FX channel you may see a rerun soon. SLASH plays guitar for a few seconds. He's great!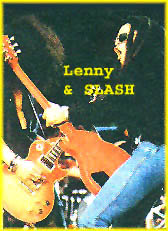 Finally, we have an item from Shari of the Black Velvet Magazine. Shari says this is from an interview with Lenny Kravitz in Nov. 2000. The question was about SLASH's playing guitar on Lenny's "Always on the Run". Lenny was asked if he knew SLASH at Beverly Hills High School. He said he did but not very well. He knew SLASH as a kid that used to hang out in the hallway and pretty much looked the same then as now. At the AMA, they met and started talking and SLASH told him he'd love to jam with him. SLASH came in and did the solo on "Fields of Joy" - one take and Lenny said that was it - he likes to do one takes before the person thinks too much. They decided to write and record one together. They did "Always on the Run" in NYC. SLASH showed up at 8am needing vodka, and Lenny had to run all over his apartment building finding some. Then they drove out to Hoboken and cut the song. We think it's one of Lenny's best. Thanks, Shari!

News Reported: 01/17/01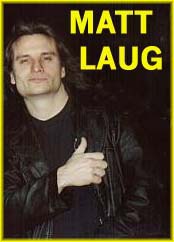 Snakepit drummer Matt Laug talked to us about the autograph signing at NAMM. He says the band is not yet certain what part they will take in this. They all endorse different equipment; but when the arrangements are in place, he'll let us know. If you are lucky enough to have a pass for the exhibit area, you'll know where and when to go. Thanks, Matt! Matt also said that he did an interview for the Japanese magazine, Rhythm & Drums Magazine. The interview is in the January issue, and Matt says it should still be on the stands in Japan. The Japanese magazines are always worth more than just a look even if you cannot read the language. The photos are among the best in the world. Let's get Matt scissored out of a copy and have a look! If you can't find this Japanese magazine, look for a full feature interview with Matt in Modern Drummer Magazine. This should be out in March or April. One more thing from Matt! He has set up an email address where fans can write to him directly. If you have a question for Matt, write to him at:

Dear Matt..MattLaug@aol.com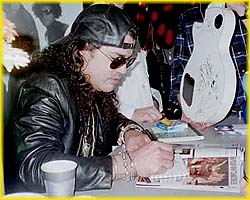 From now on, you'll find the band's contact information on The Band biography section. If a band member has an email address or a postal address, you will find it there. Their personal web site addresses, if any, will be there, too. This section is at: www.snakepit.org, scroll down to Main Menu, click on Snakepit (last block on the right, first row). There's another cool menu there and that's where you select THE BAND. Right now we have email address contacts for Rod and Slash (through webmaster for both), Matt and Keri. Keri has a P.O. Box for written communiques. The Fan Page P.O. Box handles the whole band or any member. Keri, that technological wizard, has a nice web site of his own. You'll find a link to that in this site's link section. Makes you feel tightly connected, doesn't it?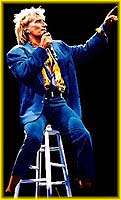 Orman found some information on Rod Stewart's forthcoming album. The connection here is that SLASH is guesting on the album! The release date is February 6. The album title is Human and features a song co-written by R&B phenom Macy Gray, guitar work from Dire Straits mastermind Mark Knopfler and our own SLASH! SLASH said this album was a tough one to work on, but he enjoyed it very much. SLASH goes way back with Rod Stewart, and for those of us who've followed Rod's career over the years and seen him in concert, the man is a true statesman of popular music. Human can be pre-ordered right now at Amazon.com and all the other music stores on the web.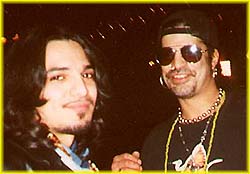 Remember the Milan show? There were three people who won a contest sponsored by Hard! magazine to spend some time the day of the show with SLASH. One was Lisa who sent us a report awhile back. This one is from Antonello who sent a report and photos! It's a report filled with the tension and happiness of spending some time with SLASH. We'd like you to have a chance to read it all...so when you click here, you'll be with Antonello and his memories of one wonderful day in Italy when he got to meet and hang out with SLASH! Thanks, Antonello!


Antonello Meets SLASH!




News Reported: 01/14/01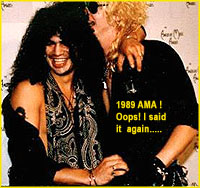 SLASH commented on the whole American Music Awards conroversy. If you recall, he'd been asked to play an intro for Britney Spears. We wrote that SLASH was going on a much needed vacation which conflicted with the show's taping. Many, many SLASH fans wrote in asking about this. SLASH's rock music and fans are not fans of Ms. Spears and her type of music, and the fans wanted some reassurance that SLASH was not sliding into a new genre. Listen up, gang! SLASH says, "I wouldn't have done it if I were on vacation or not. I turned it down BEFORE I went on vacation." So, relax, guys, SLASH is still with us! Ain't Life Grand? (To see the original story - now including SLASH's quote, please scroll down to News: 01/10/01).

News Reported: 01/13/01


Have your tickets for the NAMM show next Saturday night? SLASH's Snakepit and Dee Ramone! To say nothing of Glam Nation which we understand from Keri is a fun, almost comedy band - a good one for the weekend. About NAMM itself, you have to be a member or have special passes to get into the exhibit area in the Anaheim Convention Center. If you can get in, then look for SLASH's Snakepit. Right now we are waiting on word as to where they will be if they come to the convention hall and hang out at the booths. If they are there, tell them to take it easy! The show is fairly early that evening, and we want them fresh and energetic when you see them onstage. SLASH has always appeared at many of the booths, and other band members have different manufacturers to visit. We'll wait for word from the band on exactly what's happening during the day. The show is at Sun Theater, located in the parking lot area of the Convention Center. We'd really appreciate your reviews and pics!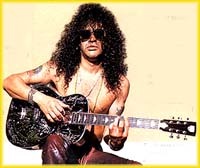 The UK's wonderful Q magazine seems to love it when SLASH comes home, and they can get him alone for a cool interview. SLASH is a good interview - of all the right-up-front guys we know, SLASH is truly one of the most forthright and hilarious. Controversial? Oh, yeah, but playful and terrific. We hope SLASH continues to be himself - he's a winner. First, Q has a mention of that famous SLASH TV incident where Our Guy said blowjob and f*ck on UK TV! Hey, give Dick Clark a call! And here is the latest of the SLASH pronouncements. Call him controversial, and try to change him, you'll get that famous one finger salute. For your attitude, SLASH, we salute you. Never change! Q got away from those boring GNR questions and stuck to things our guy could really philosophize on. How about what SLASH thinks when he sees a nun? How about...is she wearing panties? And how about...have you tried tantric sex? After having it explained, SLASH says...sounds so complicated, I just want to f*ck. Sounds like a plan! For lots more Instant Karma:

The Controversial SLASH!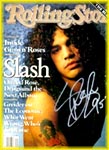 Rolling Stone's site wrapped up their year end review of rock star quotations. Of course, SLASH was on the list with his famous Year 2000 quote, "I like to do my interviews in the toilet." No comment on the quality of his interviewers, SLASH is the ever restless one who has to be doing several things at once. Go for it, SLASH!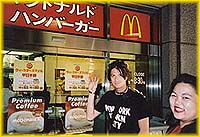 One of the nicest guys in Snakepit is Keri Kelli. He's also a seasoned web surfer. We told Keri that some of his fans were looking for tons more information on him. He didn't have time to adjourn to the toilet for an interview, but he did send us some cool web sites where you can soak up Keri information or just have some fun at these Keri-recommended sites. Thanks, Keri! And here they are with Keri's comments:


Right Here, Right Now: This Site!

Linda The Great runs it!




Best Food In The World!

Keri Loves Sushi!




Black Velvet Magazine

Always great reading!




Perris Records

Check the catalog for Keri's old, old band Big Bang Babies - always good fun!




Dad's Porno Mag

The band, the myth, the legend




GMP Guitars

GMP: The best in the world




Right Rock

Say Hi to Joe the Jersey man.




And Here's a New One:

Keri's Site!





News Reported: 01/12/01


Just a quick note to let you know that SLASH's Snakepit will play at a NAMM (National Association of Music Manufacturers) - related show in Anaheim, California on Saturday, January 20. The venue is the Sun Theater, and the show begins at 8pm. Also onstage will be Dee Ramone and Glam Nation (includes Eric Dover and Ryan Roxie). This information comes to us from Keri Kelli and SLASH's management. Keri says that there are a limited number of public tickets available, so we wanted to pass this on to you right away. Tickets are on sale right now through TicketMaster (by phone, outlet or on the internet at www.ticketmaster.com). This event is sponsored by GMP Guitars, the brand endorsed by our very own Keri Kelli! We'll have more information on NAMM booth appearances tomorrow. Meanwhile, go get your tickets!
News Reported: 01/11/01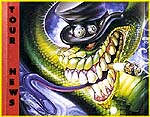 Unofficially, it looks like SLASH's Snakepit may be playing a show in Anaheim, CA on Saturday, January 20. The show will also include Glam Nation and Dee Ramone. SLASH hasn't put the official stamp on this one, but we'll check as soon as he gets back from a well deserved vacation. Keri Kelli broke the news, and it seems to be confirmed by TicketMaster which is listing the gig at The Sun Theatre at 8 pm. TicketMaster does NOT show tickets on sale as yet, but there is an 8 ticket limit noted. This is to be a special event for GMP guitars, the guitars endorsed by Keri Kelli. We hope SLASH brings a pile of Les Pauls - they are part of his sound. Dee Ramone needs no introduction, but Glam Nation might. Two members you'll recognize are Ryan Roxie and Eric Dover. As we said, we have no official word from SLASH, but we'll keep you posted. Anotherssfirmed gig is Jan. 27 at Reno Live in Reno, NV. Patrick from the band Ill Logic says his band will open for Snakepit. This gig is not listed with TicketMaster. We thought we'd send these two rumors your way. When SLASH confirms, we'll let you know.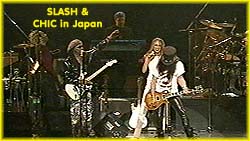 Claire was watching VH1 Classics, a TV station that plays all classic rock videos. They played the Chic video made from a live performance in Japan featuring SLASH. (see SLASH Videos! on this site for a clip). Claire says they play that video a lot, and it's really good. They also played a Snakepit 95 video. This one was "Good To Be Alive". Claire seems to be good at finding these off the beaten track items. Here's another. She was watching station MTV X which plays all rock videos when the station took a break between videos and showed a short interview with SLASH back in the GNR days. Duff was with SLASH, and they talked about why they love rock music. Claire says it's short but fun, and she has seen it more than once. Thanks, Claire! Lisa was watching MTV Italia, and they played a Lenny Kravitz video again. They put some news about Lenny on the screen as the video played, and here they mentioned that SLASH went to school with Lenny! Thanks, Lisa.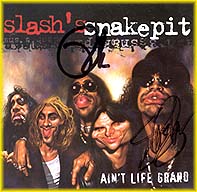 The winner of our third contest has been in touch, and he is Martin of Argentina. Martin wins a copy of Ain't Been There Lately autographed by Rod Jackson and SLASH. Thanks to everyone who entered, and congratulations to Martin!



Last night UK online station BBC Radio1 played a tape of the interview with SLASH done while SLASH was touring the UK. It's a very good interview primarily because, not only is SLASH a good subject; but the interviewer, Mary Anne Hobbs, did a great job. She was very knowledgeable of the time when GNR was just breaking into the LA scene, and she obviously has followed GNR through its lifetime. She knew what SLASH was doing, too. Good questions and good followup. If you'd like to hear this yourself, it is now on their web site so you can listen anytime:

http://www.bbc.co.uk/radio1/djs/hobbs.shtml

As of last night, this site has moved to ISP Icestorm.Com in San Francisco. We're hoping the West Coast fans will keep an eye on it. It wanted to be closer to SLASH. If you find any problems at all, please notify us at webmaster@snakepit.org. The site size makes it difficult to test every link and check every picture. Thanks!


News Reported: 01/10/01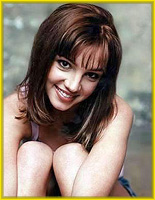 Are you watching the American Music Awards tonight? SLASH Trivia Question: What happened at the American Music Awards in 1989 when Guns won the award for Favorite Single: "Sweet Child of Mine". Answer: Duff and Slash were at the Awards, but they did not expect GNR to win anything. When the award was announced, the two were noticeably inebriated when they came onstage. Slash managed to say f*ck on live American TV before they were cut off. Producer Dick Clark was angry, and SLASH later made a public apology from his home. Just to prove that AMA has a sense of humor, SLASH was asked to play an intro for Britney Spears this year! SLASH turned down the offer. Acceptance would have delayed his much needed getaway trip in order to start immediate rehearsals for today's taping. Ms. Spears is not a rocker, so it would have been interesting to see SLASH try to bend his music to fit this artist's style. When asked about what female vocalist he would have postponed his vacation for, SLASH replied, "Madonna". Absolutely. We asked SLASH later what he would have done if he hadn't been going away. SLASH said, "I wouldn't have done it if I were on vacation or not. I turned it down before I went on vacation." Reassuring words for SLASH fans! Rock on, SLASH!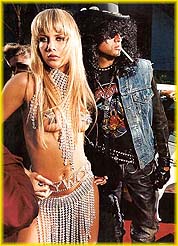 Doubles - we can't really understand the urge to dress up as SLASH. On the other hand it seems harmless. We posted on the tour photos the picture of a guy who went to one of the UK shows in complete SLASH regalia. Not a bad idea showing loyalty. However, we got word that this guy tried to get backstage before the show claiming to BE SLASH. SLASH's bodyguard was there and sent the guy to stand in line with everyone else. We're told the guy then milled around and gradually weaseled into the front of the line. Get In The Ring! Thanks to Ternell, we now have a copy of Arena magazine which has a very sick article about SLASH's old girlfriend, porn queen Savannah. There are four large pictures showing a model dressed as Savannah accompanied by "the love of her life" SLASH. She had many other rocker boyfriends including Axl Rose, Vince Neil, etc. Here's a pic of these two playing the doubles game. This guy looks a bit short, plump, has ugly pants and tshirt, an obvious wig...well, we were not fooled. In case you were, it is NOT SLASH in the picture. At the end, this sewer of a magazine constructs the death scene with Savannah bleeding from a massive head wound after shooting herself in her garage. Blood in a huge puddle on the floor, and the angelic, now clothed Savannah is flying off to heaven. Savannah and SLASH had broken up nearly a year before this. Savannah killed herself because she broke her nose in a minor car accident thus ending her hopes for a comeback at that time. Sad that a magazine chooses to make a few bucks from a woman who obviously had many emotional problems.



One thing we've wanted to share for a long time is a wonderful thank you from SLASH's Snakepit. When they came to town, we got to meet SLASH and the band and were as thrilled and starstruck as any of you. During the show, Rod was kind enough to thank us publicly from the stage! And to the band, we'd like to say publicly, "You're Welcome! Your music is a joy, and we thank you for your kindness and help!"


Thanks From Snakepit
News Reported: 01/08/01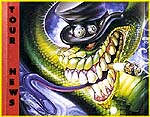 There's still no final word on where Snakepit will go next. We've heard South America, Australia, the US, but nothing official has come to us yet. There were three shows scheduled for Argentina, and we don't know if they are off or on. The venues seem to feel the shows are cancelled. Other venues seem to be getting things set for the guys to be there, but we would advise waiting just a bit for SLASH to get the word out on what is really happening. The minute we have the schedule, we'll post it right here. Snakepit is in demand!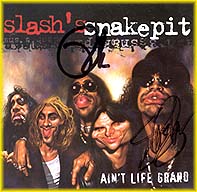 The contest for the Ain't Life Grand autographed by SLASH and Rod is over, and we have a winner! At this time we just have his email address, but the name is mpomares, and the address is Argentinian. We sent an email, and if this is you or a friend, please get in touch so we can get your mailing address! Here are the questions with the answers:

Contest 3: Answers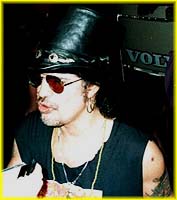 In late December, Tom sent us word about UK Radio 1 interviewing SLASH on the air. The DJ was Mary Anne Hobbs who is supposed to be a good interviewer. Tom said that these interviews usually were put online at some point. Both Becky and Rebecca sent us the word that the SLASH interview would be online this coming Tuesday, January 9, beginning at midnight UK time. Rebecca says that technically this is Wednesday the 10th. You'll be able to hear it anywhere in the world if you adjust your time. The U.S. east coast is 5 hours earlier than the UK, so that would be 7 pm, Tuesday, January 9. Pacific Time is 4pm, Tuesday, January 9. Europe is one hour ahead of England, so you can hear the show at 1 am Wednesday, the 10th. Hopefully everyone can find a time zone there that they can calculate from! Thanks to Becky, Rebecca and Tom for the information. And here is a link to the site if you want to go and have a look or bookmark it for Tuesday:


http://www.bbc.co.uk/radio1/djs/hobbs.shtml



Ternell gave us more information on Arena magazine. The article about Savanna is not a layout for a coming motion picture. It is a layout for a model who is dressed to look like Savanna and is pictured in a few scenes from her life. A man dressed as SLASH appears in one of the pictures. Ternell says it doesn't look like SLASH but is dressed like him. The whole thing seems like yet another attempt to make money off this dead porn queen. Not worth buying according to Ternell. Thanks, Ternell!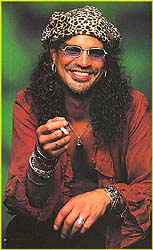 Ray found a SLASH mention in the online daily Rolling Stone mail. They always lead off with a quotation. This one was:
"I don't have time to wait around for it for any reason other than just doing it for fun". --SLASH on why he plays music.
Ray said it was funny that they used this over the leadoff story which was about Axl finally doing a gig with his new band. Ray said that he was listening to a local Pittsburgh radio station late one night recently, and they played "Paradise City". When it ended, the DJ said something about GNR getting back together and playing a show after all these years. Ray said he was ready to call the station, but the DJ laughed and said, "It's just Axl and the name. Everything else is different". So we've finally gotten the word out that SLASH, and the rest of our guys aren't in the newly formed GNR. Thanks, Ray!

News Reported: 01/06/01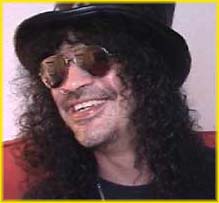 How many times have you seen SLASH on TV doing an interview, laughing and having a good time? If you missed the one on The Daily Show with Jon Stewart, you missed a funny one. It was September 2000, and SLASH was in New York doing the rounds of TV and magazine interviews promoting Snakepit's opening there for AC/DC. This appearance is great, and you can see it on one of the many SLASH videos on this site. Check it out now or later. If you want to try it later, you'll go to www.snakepit.org, scroll down to Main Menu, click on SLASH Videos! It's the first one. Here's a direct link:

SLASH on The Daily Show with Jon Stewart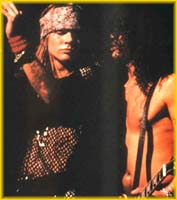 Another video you can find in that section is a long clip from the MTV show Celebrity Deathmatch. In this show, little claymation figures battle it out to the death. One hilarious show featured SLASH vs. Axl Rose. If you want to see the entire show, MTV repeats it this Saturday morning, February 6, at 1:00 am (just after midnight going into Saturday). This is eastern time, so you will need to consult your local TV listings for the time in your area. It's right here on the SLASH Videos section if you want to set your own time. Who wins? Let's not spoil the show, but if you are reading this page, you're backing the winner.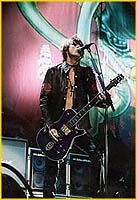 Keri Kelli sent us a note to remind everyone to look for Oui magazine. Snakepit is on the cover! Keri said there was a band meeting scheduled for today, and one of the topics will be the next leg of the tour. All kinds of ideas are floating around...from touring with AC/DC in Australia to doing some US shows in January and going to South America in February or spring or summer! Lots of options, and we hope to have some definitive word soon. Thanks, Keri, for letting us in on the brainstorming.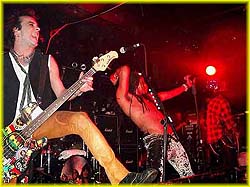 The third group of tour photos is up now. These are almost entirely from Japan and the UK. Many, many thanks to everyone who sent in their photos. There are great band pictures here. If you check them later, go to www.snakepit.org, scroll down to Main Menu, click on Tour Photos. Go clear to the end of the thumbnails on that page, and click the Japanese/UK choice to see the new ones. A lot of new ones have come in, and they will be coming up soon. Right now the Tabs section is receiving some attention. Then back to tour photos. And here they are now:


Japanese/UK Tour Photos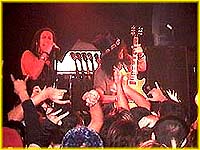 We have one review from the Amsterdam which came in with some great pictures which we'll be showing you later. If you're a member of the Snakepit list on www.onelist.com, you can see them right now! Marco was kind enough to post them there and send them here, too. Thank you, Marco. Marco joined others in saying the show was GREAT with an amazingly high energy level in the band. All the guys were all over the stage (except Matt), playing, singing and making contact with the audience. One hell of a show! Merchandise sold out fast after the show, but Marco managed to buy the last tshirt available..the one pinned to the wall. (Note: SLASH is expecting a new shipment any day now). After this hectic shopping, Marco joined other fans at the side entrance and got a couple of autographs. Snakepit posters were all over Paradiso, but Marco brought his from home. SLASH signed his promo photo that he won at one of our contests which is really cool. That photo went from SLASH in L.A. to us on the east coast, then to Marco in The Netherlands where it finally met SLASH again! Going back to the railway station, they met Johnny G who went for coffee, and Marco said that by the look on Johnny's smiling face and the smoking signs he made, he succeeded in getting some of that vintage, legal Holland smoking. Life's Sweet Drug! Thanks, Marco!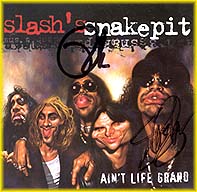 Don't forget the third contest to win a SLASH- and Rod-autographed copy of Ain't Life Grand is over this Saturday night at midnight your time. Here are the questions, one last time:


Win A SLASH/Rod Autographed CD





News Reported: 01/04/01


The big page news for the new year is that we are moving our site. This should have no effect on readers. The domain name, www.snakepit.org, will remain the same. Our current ISP's disk space charges are prohibitive, so we are moving our 450 megs of SLASH information to Icestorm.com in sunny California. This should happen sometime this week, and we hope you will see good ISP service. Should you experience any difficulty, please let us know.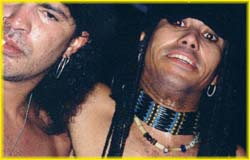 Annelaure went to a lot of the European shows, and now that she's home in France, she's able to pass along more Snakepit-related news. This note is for Dutch fans: The interview of SLASH done by the Dutch TV channel TMF in Amsterdam will be broadcast on January 28 at 2 pm and 10:30 pm. So far no details on the show are available. We hope someone will mark this down and let the rest of us know what happened. Thanks! And thanks, Annelaure!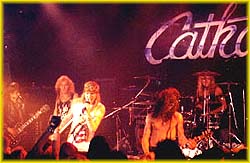 Linds found this funny GNR parody at Heavy.com's "Behind the Music That Sucks". They take gleeful aim at the artists. The jokes ring true with a drop of acid. Fortunately, Our Hero doesn't come in for too many barbs but a number of direct hits are scored on Axl. All in good fun, of course! When you get there, you'll see a short on Billy Corgan. When this ends and the choices appear at the bottom, click the furthest to the left, "Behind the Music That Sucks". On the screen you'll see New This Week: Guns N'Roses. Click that, and stand way back. Thanks, Linds!

Behind The Music That Sucks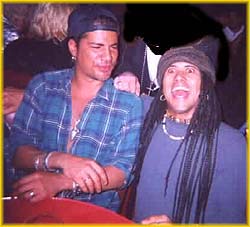 From the ridiculous to the sublime. If you haven't read this great interview, you're missing something. Gail Worley interviews SLASH and Rod in an article called "Partying With A Humble Rock God". SLASH and Rod talk about Snakepit, going out with AC/DC, Les Paul, f*cked up songs and why there will never be a GNR reunion. Thanks to Dave who sent this to us. We sent Ms. Worley a thank you for this one:


Interview With SLASH and Rod




Chris is in the UK and saw a couple of TV programs featuring SLASH. Be on the lookout for repeats of these shows. First was Top Ten: Stadium Rock which covered all aspects of pop music in the past 50 years. We believe this program has aired before, but it sounds like a good one. GNR was rated number 3. SLASH, Duff and Matt Sorum were interviewed separately and talked about their years in GNR. Then there was a show called Babylon about heavy metal and porn. Graham Norton did the very fine narration. Thanks, Chris.

Speaking of Matt Sorum, we uncovered some information on Matt's equipment at this site:


Matt Sorum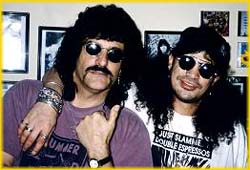 This is also a good page to check out for some great photos of Matt. Another drummer appearing here in some gorgeous pictures is Carmine Appice who recorded Guitar Zeus with a guest appearance by SLASH. If you are still looking for that great instructional drum video featuring Matt with long guest appearances by SLASH and Duff, check out this site:


Matt's Drum Video





Nasar wrote about Total Guitar. SLASH is mentioned in the 100 moments that changed American guitar. He is cited as the man who saved rock guitar from the synthesized bullshit bandwagon in the 80s. Nasar spotted Arena magazine which has a multipage article on Savanna, SLASH's old girlfriend and drug addicted porn queen. A movie is being made about her now, and there's a picture of an actor dressed as SLASH. If anyone has the courage to buy this, we would love to have a copy. Thanks, Nasar!

News Reported: 01/02/01