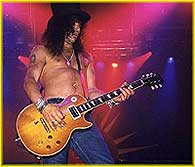 Just to clear up some questions from last time on that TLC video that can be downloaded on the net. The SLASH solo was performed at the '92 Tokyo show. This solo also appears on one of this site's videos! So, if you go to SLASH Videos off the Main Menu and search for "smooth solo", you'll find it. The part where SLASH is on a rooftop talking appeared on the "Wired for Sound" video, but was originally part of a show on Gibson guitars, we're told. The solo and the interview appeared on this show. Thanks for the information, Chris, Dave, Ramon, Collen, Brian, and Voodoo2555. Much appreciated!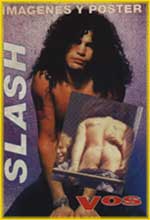 Don't forget SLASH will appear this Friday (taped) on Sebastian Bach's new VH-1 program "Forever Wild". Checking out Baz's site, it says that Magic Johnson of the LA Lakers will also be on! A little b-ball, SLASH? Some fans have written in asking how SLASH is going to be forever wild now that he's married with a baby on the way. We're not sure; but if anyone can pull it off, it will be SLASH. Count on SLASH to be, at heart, forever wild rather than forever domesticated! Touring has been one of the things he loves best when it comes to doing an album. Maybe he'll do a little busting loose then unless he plans to bring the bassinette backstage! After all, Sebastian himself has two children, and he's the host! The one hour show airs at 10pm.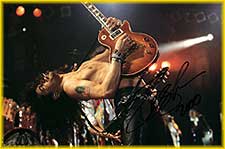 Vicki wrote to say that she was watching President Bush on TV till VH-1's "TV Moments - Hard Rock" came on. Bad scheduling for the Prez because SLASH was on VH-1. Vicki says SLASH was shown in a few brief interview clips talking about the original (and best!) GNR dismantling the Headbangers Ball set. She says SLASH looked really good. Of course. He was smiling and laughing. Then, he was on briefly in the coverage of the "Freddie Mercury: A Concert for Life" tribute. SLASH also was on talking about Metallica's performance of "Fade to Black", Jason's last performance with them. Watch for this one in reruns. Thanks, Vicki!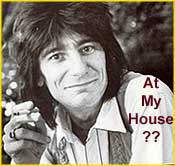 SLASH's wife posted on the slashssnakepit forum that the baby was conceived in the UK when SLASH was there for the shows with Ron Wood. The baby is due the first week in September. SLASH is booking a tour then...no, just kidding. He is said to be an excellent helper. Read up on those natural childbirth techniques! A press release should be out soon.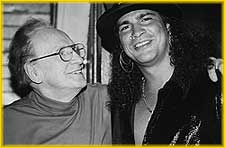 Remember Les Paul's 50th Anniversary show at the Iridium in NYC in August? Jim tells us that he went to the show and met both Les Paul and SLASH. He said they were really nice guys, and they signed his 18" drum head. Jim is trying to get us a picture of his autographs. Thanks, Jim. It's never too late to send in something. We got a note from Tina who saw Snakepit live on 12/3/00 in Sheffield, England. She and her boyfriend went to the sell out show with no tickets, but for an extra 5 pounds each, they were in. She says it was well worth it as they were up front and inches away from SLASH! Tina also says that Keri Kelli is very good to watch from a woman's point of view. She hopes SLASH will keep churning out the good stuff...and we do too! Thanks, Tina!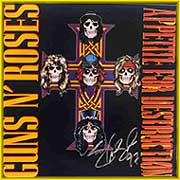 Had you seen the new Appetite for Destruction for sale on CDNOW? It goes for $23. The release date was January 2, 2002. SLASH had no idea what this could be. He said it could not be a remastered version (again) as he would have had to sign off on that. No one had contacted him. We ordered a copy, but periodically we get a notice that the cd is backordered. Anyone else know for sure what this is? Seems a little expensive for just a remastered version anyway. It is sold under artist: Guns N'Roses, so it isn't a tribute or anything. Any information, let us (and SLASH) know.
News Reported: 01/30/02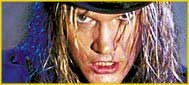 VH-1 seems to know who a lot of the SLASH fans are. Many of us got email from them telling us about a SLASH appearance on a new VH-1 program called "Forever Wild". Sebastian Bach hosts this program which is on every Friday at 10pm ET. Sebastian meets wild people and does some wild things himself. The hour long show also includes hard rock videos and music. The VH-1 web site lists the SLASH show as being on: 2/1: at 1am and 10pm, 2/2 at 1:30am and 11:30pm, 1/8 at 1am and 10pm, and 1/9 at 1:30am. Lots of chances to see and tape the show! SLASH and Sebastian are long time friends with Sebastian a guest in SLASH's home many times over the years. SLASH says the reason Sebastian is still so wild is that he became a rock star at age 16 and has been living the hard rock style for so long. This show is Sebastian's first gig after appearing on Broadway (picture, upper left) in Dr. Jekyll and Mr. Hyde. Sebastian played the title and starring roles. If you saw his great performance on Broadway, get ready for the old Sebastian to be back in this series. Thanks to VH-1, Brian, Vicki, Michelle, Greg, Smiley, Cordelia, Dan and Rich for making sure we knew, too.



There's more on TV coming up! On 1/30, VH-1 repeats its program on the 200th Pop-Up Video at 4:30pm ET. SLASH makes an appearance and does some commentary. On 2/1 VH-1 airs "100 Greatest Artists of Hard Rock" at 3:30pm. This show features the old Guns N'Roses.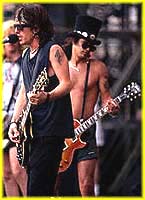 When SLASH said the new album with Izzy and Duff would probably not be heavily promoted and just sold on the internet, we wondered where on the net the sale might happen. If it is not heavily promoted, we don't want to miss it. We have heard that it will be released through SFV Records. This is the small label that Izzy is using in the US to distribute his albums. SFV is where you can get River, Izzy's last album. You buy it right on the web site. In case you have been looking for a copy, here's where it's sold:
SFV Records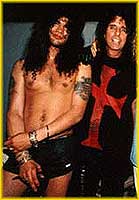 Seems we're really into SLASH's old friends and bandmates today. Eric Dover (vocalist for Snakepit '95) and Ryan Roxie (recording guitarist for Snakepit) both worked with Alice Cooper on his last tour. Alice was interviewed by Gail Worley, a favorite of ours; and they talked about how Alice came up with his band. If you're interested in Eric and/or Ryan, Alice has good things to say about these two that joined his band. Ryan actually resigned from Snakepit (replaced by Keri Kelli) to go with Alice, so there is a strong bond there. Here's the full interview:



Alice Cooper Interview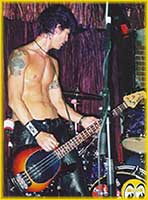 Duff's band, Loaded, is doing a tour in the US and Japan. The next show is at the Pretty Ugly Club in LA. This is followed by a show at Berbati's Pan in Portland, Oregon on 2/1, at Graceland in Seattle on 2/2 and I-Spy in Seattle on 2/16. The three Japanese shows are 2/8, 2/9 and 2/10 at Banana Hall in Osaka, Bottom Line in Nagoya, and Liquid Room in Tokyo. Duff is really keeping busy. Get out and see Loaded!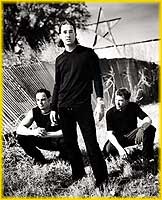 Brian was watching "Creed Faves" on MTV2. Creed selected their favorite videos to be played, and one of these was "Patience"! The show is 4 hours long, and "Patience" was played as the first song in the third hour. Brian says he never liked Creed before, but he respects their taste in choosing "Patience". He also says that it's nothing new for SLASH's fans to see, but it shows the influence that SLASH and GNR still has on bands today. Well said, Brian, and thanks!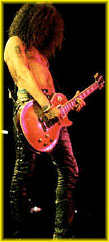 Viken says he's always on the music download places, and he recently went to the video section and searched for SLASH. He got a video called SLASH(TLC) that appeared on The Learning Channel. Viken says it was great! SLASH is playing without his shirt with his Les Paul and leather pants, sunglasses and a cap. SLASH says, "You know what, there is no verbal way of, for me personally, a verbal way of expressing what I heard, I just heard it." SLASH plays one of the best solos Viken has ever heard. So far we can't help on when this was on TLC or which show it was on there. We also don't know the concert. Can anyone offer some more details? And Viken, where do we go to see this?!


News Reported: 01/28/02

The big news tonight is the MTV interview with SLASH and Duff on their forthcoming album with Izzy. Both former Gunners go over what kind of album this is, what it means for the future of the three and what the future holds for the three together. SLASH says he talks to Izzy on the phone often and got wind of Izzy's latest new project. Somehow they got together and began to work together. SLASH says we will recognize the songs as Izzy's and like Izzy's and SLASH's. SLASH says he and Izzy wrote 5 songs; all of which still need some tweaking and background vocals. Duff laid down the bass tracks for the album. Izzy's doing lead vocals and rhythm guitar. The album has no title at this time and no scheduled release date. Late summer is the timeframe for the release with the internet being the focal point for sales. SLASH and Duff don't rule out more work together, and their fans hope so too. If you want to read the full article by Jennifer Vineyard of MTV, it appears on both the MTV and the VH-1 News. Thanks to Vicki and Skorpiogirl18 for sending this in. Really interesting!

SLASH, Duff & Izzy Together on New Album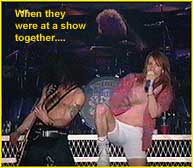 Rolling Stone magazine (2/14 issue) has a review of the new GNR band's performance in late December. The first show is the one SLASH tried to attend but was blocked by Axl's management and Hard Rock security. They say that when the band cancelled their European tour and still did not produce an album for the year, their future was uncertain. The past was close behind with SLASH trying to attend the show and sound problems producing vintage Rose tantrums. SLASH seemed like the Ghost of Christmas Past...not there and yet very much there. What will next New Year's bring?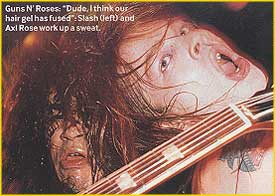 The UK's Q magazine is one of our favorite imports. Their January issue has a section on "The 50 Most Exciting Tunes of All Time". With just 50 slots, there's a lot of competition. In the # 45 position, is "Paradise City" from Appetite for Destruction. "Paradise City" is full of "apocalyptic rage" and "euphoric peaks" with SLASH's guitar "cooking on gas" and Axl's vocals reaching a fevered pitch. Their favorite part is at 1:19 when Axl blows the whistle and "all hell breaks loose". # 50 was "Two Tribes" by Frankie Goes to Hollywood while #1 was The Sex Pistols' "God Save The Queen". Here's what they said: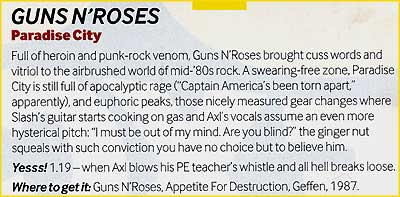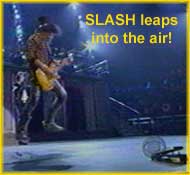 Now that Randy has the videos for this site safely on his server in Texas, we are thrilled to be able to add yet another new video. This one is from Michael Jackson's 30th Anniversary Tribute that was done in New York and seen on national television. SLASH did two big numbers with Michael: "Black or White" and "Beat It". We were cruising the web and found a really lame video where you couldn't tell who or what was on stage, so we took our TV copy and made our own. This was a big show for SLASH, and we want you to see how he played, how he moved...everything! We particularly enjoyed those trademark SLASH hops near the beginning! Looking good, SLASH! The video link will be in the SLASH Videos section off the Main Menu, but if you want to see it now, here it is. When you get to Videos, scroll down and it is the first one you come to:

SLASH and Michael: "Black or White"
News Reported: 01/25/02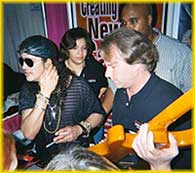 Matt wrote in to say that SLASH was at NAMM! He was there Friday, the 18th, and signed autographs at the Marshall, Ernie Ball and Monster booths. Matt said SLASH signed a few things for him and posed for a couple of pictures...the two of them. Matt said that SLASH was the friendliest of all the musicians he met there and is definitely a class act! He hopes to see SLASH again next year. Count on it!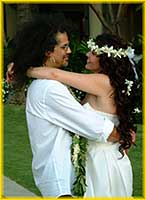 Last time we reported that there was a rumour that Perla was pregnant. The rumour is true, and it seems the proud mom-to-be has been flashing her ultrasounds of the little one. Parents are like that! Seems the new kid will be along in August or so. Congratulations, SLASH! Wonder what the name will be. We've got SLASH and his brother Ash. Maybe time to start a new sequence. Les Paul Hudson or Leslie Paula Hudson?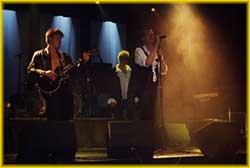 Do you have a band? Can you play a mean SLASH solo? How'd you like to contribute your skills to the SLASH Tribute CD? Rui and Tiago are getting this together, and they are looking for lots of fans to contribute lots of songs to it. They are planning to make a booklet with the bio of every contributor along with a brief comment from them to SLASH. The deadline is March 25. For more information, check out the tribute details:

SLASH Tribute Information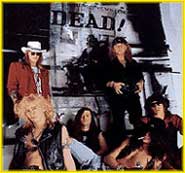 If you were a big Guns fan, then Robert John is a name that rings a bell. Robert was the official photographer for Guns N'Roses, and he gave us some of the most beautiful and authentic pictures we've ever seen of them. Some people have written in asking what Robert is doing and if he has a website. Robert is still doing photography and album covers, but he does more besides. If you visit his web site, you'll see some familiar photos and faces. Check it out at:

Robert John's Web Site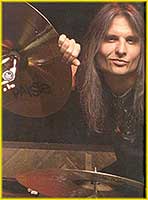 Gail Worley does music reviews and a column for INK19. She recently published on their site her Top 10 Lists for 2001, and some of the guys we know are on there. In her Top 10 Rock Stars Who Were Nicest to Gail, there's Matt Laug. If you had the pleasure of meeting Matt at any of the Snakepit shows, you know he deserves being on this list. One of the Sexiest Rockers awards went to Ryan Roxie, the guitarist on Ain't Life Grand succeeded by Keri Kelli. Congratulations to both!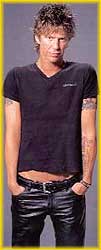 Rocket Guns sent a message for help publicizing a project for Duff's birthday. Basically, they want you to send a postcard (snailmail) to MTV for Duff's birthday. If they get a lot, then it will be announced on air. They are shooting for 2000 cards. Duff's birthday is February 5 so you need to send your postcard no later than January 31. The first or second word should be Duff so MTV will process it. The address is:

MTV Production and Development
1515 Broadway
New York, NY 10036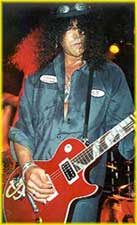 Here's another SLASH Q and A. This one is from Max who writes, "I just purchased # SL 048 of one of your 50 custom made signature Gibson Les Pauls. I find it to be an amazing instrument with tremendous tone, but I notice some differences between my guitar and yours. Mine has pickup covers and an ebony fingerboard where yours has open pickups and a rosewood fingerboard. Why did you have yours made differently? And are there any other differences I haven't observed?"

SLASH replies, "Max, my Les Pauls are missing the pickup covers only because I take them off. But new guitars almost always come with them on. Also, the first run of "SLASH" Les Pauls probably have ebony fingerboards because that's what I asked for in the designing process. But I switched back to rosewood like my main live guitar. Your # 048 is probably worth more money."

Thanks, SLASH and Max!


News Reported: 01/23/02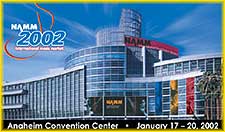 Terry told us last week that SLASH did not appear at the second Cheap Trick/Aerosmith show. He was supposed to be onstage with them and seemed excited about it. Now Clement says he was at the NAMM show this weekend and did not see SLASH. That's another one SLASH never misses, so let's hope the flu sweeping the East Coast has not hit him! The night before, Clement said he went to see Eric Johnson, the guitar legend SLASH has jammed with, and the opening band had a familiar face. The band was Marcello and Funky Band, a blues trio, and the bass player was Johnny G! Clement said Johnny looked very mellow with a beard and calmer hair. At NAMM, Clement met Jim Marshall! He ran into James Bradley Jr. and complimented him on the show. Clement asked how he and Johnny hooked up, and James said they met 10 years ago and that he introduced Johnny to SLASH's Blues Ball. James implied he also played for Blues Ball, and he said to watch for more shows. Thanks, Clement!


Luis from Santo Domingo made some SLASH wallpaper you might want to pick up. It's really nice with lots of cool SLASH pictures. There are two others from Gibson. Here's where you go to have a look:

SLASH Wallpaper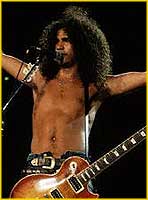 We haven't gotten the official word to go ahead and publicize this, but LuAnn spotted this on the net, so we'll let you know, too. This is SLASH's official fan club. It is being run by an outfit called Fan Source. These same people are now handling the fan mail. If you go over to their site, you'll see others for whom they do fan clubs(no other rockers). The cost is $22 (annually?), and they have a long list of things you get. This includes a biography, a discography, pick, welcome letter from SLASH, discount on merchandise (not available yet), membership card, Snakepit poster while supplies last, and more. So if it sounds worth it to you, just head over and sign up:
Fan Source: Fan Club for SLASH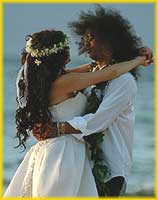 Speaking of things we don't have the official word on, the webmaster for slashssnakepit.com claims that Perla is pregnant! We have no word from SLASH on this as yet. Despite all the interviews where he said, "No Kids!", SLASH may have changed his mind. He always felt he was not at home enough to be a good father, but we have the feeling that any child of his will be loved and nurtured by a kind and loving father. We'll let you know if we hear it is official.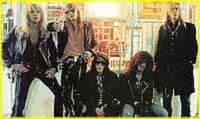 Here's some TV appearances by SLASH and the old GNR (all times are ET): SLASH is seen on VH-1's "Before They Were Rock Stars" on 1/23 at 11:30am and 11pm. GNR is on VH-1's "Pop-Up 200th Special" on 1/25 at 3pm (features SLASH). Also on 1/25, VH-1 has "Top 80 of the 80's". On 1/28, VH-1 shows "Behind the Music" at 8pm. On 2/1, VH-1 airs "100 Greatest Artists of Hard Rock" at 3:30pm. The "Behind The Music" show on VH-1 about The Cult (hopefully with something about Matt Sorum) is on 1/22 at 2am, 1/25 at 8pm and 1/26 at midnight.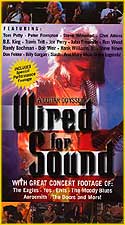 There is a really nice DVD (also available in VHS) out for SLASH fans and fans of guitar players in general. It is called Wired for Sound, and it says "a gallery of guitar greats demonstrate musical innovations and unique styles. Meet the Who's Who of guitar playing...Rock to the hard-hitting jams that define recent generations from The Eagles..., SLASH,...to Smashing Pumpkins." There are artist solos, bios, web references, etc. SLASH has two nice sections. In one he is playing a solo onstage inside. This is clearly part of the Illusion Tour. There is a companion book also called Wired for Sound, and of course it has much more detail on SLASH than the DVD. It's by Martin Melhuish and Mark Hall, publshed 1999. Nothing startling here, but it was great to see SLASH talking about how much he loves to play. If you want to buy either, you can do that at Amazon. Don't forget we are an affiliate, so please go through us first. Here is where you go to find our link:

Ad Links: Amazon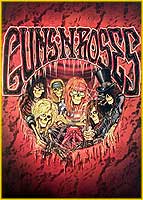 Here's another sale item...if you have been looking for the old GNR posters. We found five at allposters.com. These are old ones but some of our favorites are here. The price is right at $8 each. So, if you are interested, go over and do a search on Guns N' Roses:
GNR Posters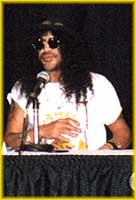 Brian let us know that this morning on VH-1, there was a Michael Jackson episode of "Fanclub". SLASH was interviewed, and they showed clips from Michael's 30th Anniversary Tribute concerts held in New York in September. Brian says it's pretty short and comes in the middle of the show. SLASH wore his top hat and shades during the interview, what Brian calls "typical SLASH". Agreed! Thanks, Brian!


News Reported: 01/21/02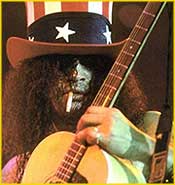 If you watched the LA Lakers/Miami Heat game on TV a couple nights ago to see SLASH performing the National Anthem, you were disappointed to see that the National Anthem is not televised. Checking with those who watched on network TV as well as DirecTV, the situation was the same. Lucky for all of us, Clement went to the game! He's seen the Lakers eight times now, but this one was special. Clement knew where SLASH would be sitting, behind the basket near the Lakers' bench. SLASH came out about 5 minutes before performing. His Marshall Half Stack was at mid-court. Clement said many people were star-struck even many of the celebrities there. SLASH had his Les Paul and wore black leather pants, a white cutoff Tshirt, and a red, white and blue top hat! Adam Day was there rigging the setup, and SLASH used a guitar cable instead of going wireless. They announced, "The one and only SLASH!" People shouted SLASH, but a few old folks said, "Who's SLASH?" (It's never too late to give Grandma a lesson in being with it!) Clement said SLASH removed his hat before playing, tnd the sound was awesome. Clement says he has seen SLASH perform about 20 times! This was the first time the entire room was silent. Clement said the Anthem was played flawlessly, but SLASH played it conservatively with no improvs. No mistakes! Cameras were flashing. When SLASH walked off, he said some hellos and shook a few hands. Clement said SLASH did not come back to his seat and either left or went to a VIP booth. By the way, Miami Heat won. Thank you, Clement!


In checking through the LA Times site for their take on SLASH's National Anthem rendition (unsuccessfully), we found mention of a couple of restaurants SLASH frequents. One is the Backstage Cafe on Brighton Way in Beverly Hills. The owner is Ian Copeland who has helped shape rock music during the past twenty years. Ian's brother is Stuart Copeland of The Police, and Ian booked Police tours along with many others during his years as a promoter and agent. The review says that such celebrities as SLASH, Sting, Dr. Dre and Tom Hanks come in, and top musicians come in to jam on their off nights. The second place is Cozy's Bar & Grill on Ventura Blvd. in Sherman Oaks. This club is blues-oriented, and back in the day, SLASH's Blues Ball showed up here regularly for informal jam sessions. Touring blues acts perform regularly. So if you live in L.A. or are heading out for a vacation, these are two spots that SLASH recommends by his presence. Maybe you'll spot him at the bar or onstage!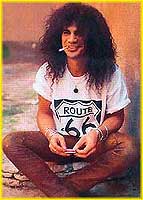 Those are a couple places you might see SLASH. He shows up here and there unexpectedly. Leaves the fan wondering...was that really him? Baggins from the UK says he goes to the University of York, UK, and he saw SLASH having a smoke outside Costcutters in Vanbrught College at the beginning of the term. Baggins has no idea why SLASH would be there, but he says it's true! Was SLASH enrolling for the spring term?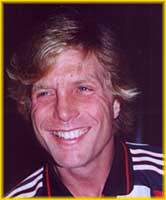 Just a reminder that January 22 is Steven Adler's birthday. Ellen has a nice guestbook where you can leave birthday wishes and/or a note of remembrance and support to Steven. We're hoping these will get to Steven. Ellen is going to try hard to get it to him. Here's where to go:

Happy Birthday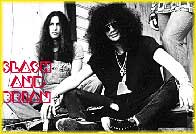 Some news on one of best drummers around, Brian Tichy! Brian was the tour drummer for Snakepit 95 and recently did the drum honors for Billy Idol's tour and Foreigner's tour. Brian has always had his own band called Ball. The band has added a second guitarist (Mark Dannells) to its lineup, and the band is now known as Mirror Down. They'll be at The Dragonfly on 1/23 at 10pm, and then The Gig on Melrose on 1/31. Our best to Mirror Down and Brian!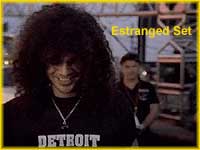 How about a Friday night Q and A with SLASH? Rob in the UK asks, "How do you make the whale sounds in 'Estranged' just before the second solo?"


SLASH replies, "Rob, with a little delay, my volume knob is bending a string downwards."


Got that Rob? Thanks, SLASH and Rob!




News Reported: 01/18/02


Tonight's the night! SLASH is playing "The Star Spangled Banner" at the Lakers/Heat pro basketball game in LA. The game will be carried by TSN, but you'll need to check the local listings to see if this game is shown in your area. It begins at 7:30pm PT. If you live in the area, the game is to be on TSN. See SLASH LIVE!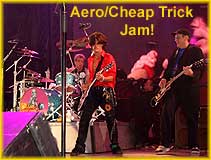 Tomorrow night, Thursday, January 17, SLASH is going to the Aerosmith show at Sports Arena in San Diego. Cheap Trick opens. SLASH will most likely come up and jam with Cheap Trick! Tickets are still available. SLASH loves both these bands. He said there is a seventies vibe in the audience which is just great, and he will definitely try hard to get there early enough to see and hopefully play with Cheap Trick or Aerosmith or both. When Snakepit appeared in Pittsburgh, Aerosmith played the next night. SLASH went to the show and jammed with the 'smiths on "Train Kept A Rollin' ". An evening to remember.



Vicki found another book with a SLASH mention. This is The Book of Rock by Philip Dodd. GNR is here with a lead-off quote from SLASH: "I don't care if you think I'm being big-headed. This is the only rock-n-roll band to come out of LA that's real and the kids know it." There is a black and white picture of SLASH, Steven and Izzy in the dressing room. Vicki tells us that the text says, "Saul 'SLASH' Hudson used to have a poster on his bedroom wall of Aerosmith's Joe Perry playing a 1959 Sunburst Les Paul Standard. The guitar, once owned by Duane Allman, was later offered to SLASH, who delighted in acquiring it. He revered a guitar heritage going back to Townshend, Beck and Clapton which sat at odds with the 'world's' most outrageous hard rock band' tag. It was one reason Guns N'Roses stood out from the herd, not just their often bratty obnoxiousness. ..." Thanks, Vicki! If you want a copy, sales through Amazon help the site keep going. Click here, then click Amazon before you buy. Thanks!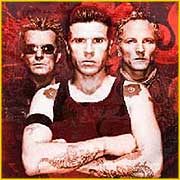 VH-1 series, "Behind The Music", has a new episode featuring The Cult. Brian tells us it aired Sunday; but if you missed it, it repeats Monday, January 20 at 2:00am. We're hoping to see some glimpses of Matt Sorum on this one. Thanks, Brian.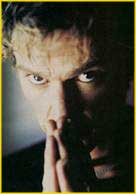 Speaking of the old GNR guys, Duff McKagan fronts his band Loaded when they play a couple of shows with FuManchu. Loaded plays Portland, OR on February 1 at Berbati's Pan. They'll also play Seattle, WA on February 2 at Graceland. Meet Duff and quiz him about the new SLASH/Duff/Izzy album!



Sal sent in a note that she has an audience video from the Michael Jackson 30th Anniversary Tribute Show. SLASH played "Black or White" and "Beat It" with MJ on vocals. Sal says in her "uncut" version, SLASH plays for about an extra minute on "Black or White" and about two extra minutes on "Beat It". These minutes were edited out for the TV version. Sal says the "Beat It" solo is also different. SLASH gets an intro from MJ and between the two songs, MJ says, "SLASH, you're awesome!" and runs backstage. SLASH was onstage alone for a few minutes with, as Sal says, "a what the heck is going on" look! (Sal heard that MJ split his pants but is not sure.) Thanks, Sal! Cool video!


News Reported: 01/16/02

SPECIAL LAKERS UPDATE:

Jason sent us some news on the Lakers game where SLASH will play "The Star Spangled Banner". We had the date wrong. It is Wednesday, January 16 at 7:30pm PT. ESPN.com says the game will be nationally televised on TNT. Check local listings. Local network TV will broadcast the game on TSN. Check local listings. Jason also thinks FOX Sports West will televise the game. Let's hope they show SLASH!


News Reported: 01/15/02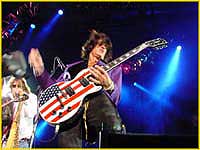 Sunday nights can be really boring for SLASH as well as us. But we found something for him to do, and he had a great time. Last night Aerosmith played at the Great Western Forum in Inglewood CA. You know SLASH likes them, but the kicker was that his fave band, Cheap Trick, opened for them! He was so excited about going; he said he felt like he was 16 again. Of course he got great seats and a backstage pass, and he got to hang with Joe Perry and the Tricks. SLASH said he was running late, and he just threw on his clothes and took off. Still, he missed Cheap Trick. He said the Aerosmith show was very professional, very good. SLASH got mobbed at the show. He said he couldn't stay in one place long because there would be a little crowd for autographs...even in the bathroom! Fernando ran into him backstage, and he got an autograph and a chance to talk. Security soon spotted him and put him out, but he did get a chance to meet SLASH and make that dream come true. SLASH is going to go to see Aerosmith and Cheap Trick this Thursday, January 17 at the Sports Arena at San Diego. He'd like to get up and jam with Cheap Trick. So if you're going, watch out for The Man onstage with the opening band.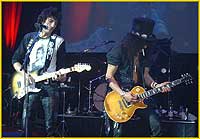 More SLASH news: SLASH is still planning to go to Japan with Ronnie Wood for a tour there. This will be in March. When we get dates, venues, we'll share them. Anyone in Japan...we'd appreciate your sending them in because sometimes we can't read the web sites there that have information we'd like to know.



How about those Lakers? They are burning up the boards. Here's a basketball team that is bound to go all the way. They play well, and they asked SLASH to play "The Star Spangled Banner" at this Thursday's game! That's 1/16 at Staples Center in L.A. The L.A. Lakers play the Miami Heat. Game time is 7:30pm. You want to get there early to see SLASH! He says he will be out there all by himself going...and then he sang a few notes. SLASH says the game is televised out there although we could not confirm this from the East Coast. If you have information on station and time, let us know. He said he can't get one note wrong on this song. He is going to use his "Star Spangled Banner" from the movie soundtrack Panther as a basis and then bring it up to date. Someone please get this on tape, and we'll put it up. SLASH's version on Panther gives you chills.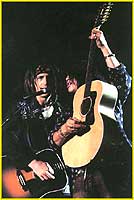 SLASH says he is working with Izzy to finish up the album. SLASH gave us more information on that project. He says that he, SLASH, wrote 3 of the songs and did guitar work on the whole album. Duff came in and laid down the bass. Izzy does the singing and also plays guitar. SLASH says it is just about ready to go. Izzy is not into heavy promotion, so you may not see much about it. It will be for sale on the internet. SLASH says don't think of it as the next GNR or Snakepit album...it is not in that style. As soon as we know more about sale dates, we'll let you know!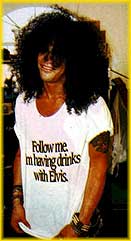 As for the SLASH solo album, that is in the beginning phases. SLASH says it will not be a SLASH-only production (like a Jeff Beck guitar album). He is selecting a band. He will have different people on it playing different tracks. It won't just be hard rock. There will be blues and other musical genres you have heard him play when he does guest appearances. The music will show influences from all over the world just as his guest appearances do. This will be great! He said he plans to tour on this one!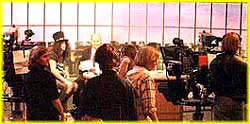 Mark these SLASH and/or GNR shows on your TV calendar: 1/20 at 1am ET, "The E! True Hollywood Story: Savannah". 1/15 at 4:30pm ET, VH-1's "100 Most Shocking Moments in Rock & Roll. On 1/16 at 10am ET, ETV's "The E! True Hollywood Story: Sunset Strip". 1/17 at 7:30pm ET, VH-1's "Pop-up Video" featuring GNR's "Patience" and other metal bands. 1/17 at 7:30pm ET, MTV's "Testimony: 20 Years of Rock on MTV". 1/17 at 10:30pm ET, VH-1's "Pop-up 200th Episode" with SLASH and "November Rain". 1/18 at 7pm ET, MTV's "MTV Uncensored". 1/18 at 9pm ET, VH-1's "100 Greatest Artists of Hard Rock". On 1/19 at 5pm ET, VH-1's "Top 80 of the 80's". On 1/20 at 1pm ET, VH-1's "Behind the Music". Get the VCRs ready to roll.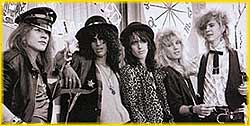 Mel from Australia found a good article in Australian Guitar Magazine called "50 Essential Guitar Albums". Appetite... came in 8th after the Eagles' "Hotel California", Nirvana's "Nevermind", Hendrix's "Are You Experienced", AC/DC's "Back in Black", Van Halen's "Van Halen I", Black Sabbath's "Paranoid" and Led Zep's "Led Zep IV". Here's what they said about Appetite...:

In an environment that provided many posers, Guns N' Roses was the real deal. The stuttering guitar line that opens 'Welcome To The Jungle' is as electrifying today as it was back in the late 80s. 'Paradise City's exuberence is still as over the top as ever (Slash's solo towards the end always sounds like it's on the verge of breaking down... but never does), and 'Sweet Child O' Mine's signature guitar line is threatening "Smoke On The Water" and "Stairway To Heaven" as the most recognised of all time.

How sweet it is! Thanks, Mel!


News Reported: 01/14/02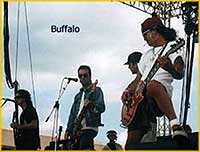 Were you at the SLASH's Snakepit show in Buffalo, NY on June 17, 2001? The guys played at Erie Basin Marina at an outdoor show. They were one of many acts that weekend at a special Guitar Festival. Olivier has been tracking WNED since then as they were planning a TV show on the festival. WNED is the Buffalo-Niagara PBS station. The Executive Director wrote to Olivier to let him know the Snakepit show will not be shown in its entirety, but a highlight of their performance will be broadcast during WNED's Guitar Festival Night on March 23, 2002 starting at 8pm. For those that can get this station, we wanted to let you know early! Olivier is trying to get a copy from the station, but it may not be possible. We'll see what SLASH can do, but hopefully some of you out there will tune in and tape it. If we can get a tape, we'll prune out the Snakepit part and put it up. Promise! Thanks to Olivier for being so diligent in pursuing this all these months.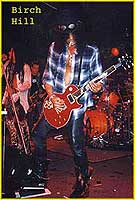 Most if not all of us were sorry to hear that Snakepit is no more. In Arizona, Anthony got a shock when rock station 98KUPD was talking about SLASH one evening. The DJ said Snakepit was no more and asked on air, "SLASH, oh SLASH, why did you form that stupid little band?" The DJ went on and on about the band not being much good and saying SLASH had no plans for the future. Funny these guys never really seem to get the facts straight. His opinion on Snakepit is his own, but he's wrong about SLASH. As we have said many times...SLASH has done a lot of things. Keep watching because he hasn't yet done all he is going to do! Tell 98KUPD to get a better DJ and don't make plans for any interviews or passes!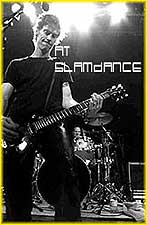 Duff's webmaster, Lori, is working hard trying to keep up with all that Duff is doing. She and Shannon have done a great job on the new Loaded website. You can check out the band bio, pictures, news and a lot more. You can buy Loaded's album Dark Days on the website along with an assortment of band picture buttons. Tshirts are coming soon. The CD is just $12 plus shipping/handling. Lisa says that Loaded, fronted by Duff, will appear January 28 at the Viper in L.A. along with the pretty ugly club on January 30. Last time Duff played that area, SLASH showed up and joined the band onstage for a number. Can't promise SLASH this time, but we can promise you some good music! Duff's home now is in Seattle, and Loaded has two shows coming up there. One will be Feb.1. Lori doesn't have the venues yet or the second date, but we'll get that as soon as she knows. If you'd like to go over and check the Loaded site, it's at www.loadedonline.com. Thanks, Lori!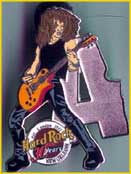 Are you a pinhead? That's the name that Hard Rock pin collectors go by. We have quite a few of these ourselves, and we've always liked our GNR guitar pin best. Till now. Recently we came across the SLASH Hard Rock pin pictured here. Isn't this great? It comes from Louisiana, and is in the set Louisiana A-pins. Those of you near that Hard Rock should be able to pick one up at the cafe. Any pinheads know if there are more for SLASH?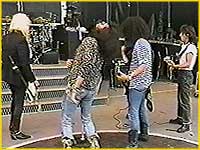 Here's another SLASH Q and A. Mike says, "I watched your recent appearance on the Conan O'Brien show. He made a funny comment saying something like your playing was so loud he thought he was sterile. This made me wonder how or if you protect your hearing. I'm reminded of the incident when Jeff Beck played "Locomotive" through your rig, and he exacerbated his tinnitis. There are lots of other famous people with this condition, and I'd hate for you to be one of them."


SLASH replies: "So far, so good, Mike. I try to watch it but it's got to sound right."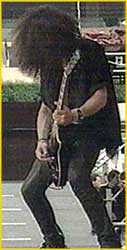 Thanks, SLASH and Mike! Let's do another. Robbie asks, "After listening to Use Your Illusion I and a song you did with Lenny Kravitz, there were breathtakingly fast solos, e.g. "Back Off Bitch" and "Don't Damn Me" being my favorites...My question is can you still play that fast?"


SLASH replies, "Yeah, but it depends on the song and the vibe. Playing real fast for fast's sake is very irritating to me."


Thanks, SLASH and Robbie! Let's not irritate the top hatted one!


News Reported: 01/11/02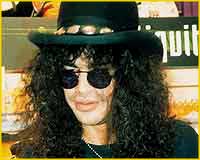 Who do you trust more than us to tell you about SLASH? How about SLASH? There's been a lot of media coverage on SLASH wanting to attend the Axl/new GNR show in Las Vegas at the end of December. Not all has been 100% accurate. If you have about 5 or 6 minutes, let SLASH tell you himself. We are grateful to Joe who taped an interview on K-Rock with SLASH. SLASH called in and talked to Kane and Cabby about it. The interview was slightly edited to extract a few f*ck exclamations. These tend to build up whenever SLASH gets excited or upset. Hearing him explain this, we want to say a few ourselves. Here's SLASH, thanks to Joe's MP3:
SLASH vs. The New But Unimproved GNR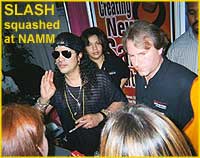 NAMM, the International Music Products Association, is having their winter convention in Anaheim, CA, January 17-20. There is a terrific exhibit area with all the new products from manufacturers like Gibson, Marshall, and many more. At various times during the convention, famous musicians will show up at manufacturer's booths to sign autographs. The exhibit area is limited to registered convention attendees, but a few fans manage to get in somehow every year. SLASH always goes to NAMM for his turn manning the autograph chair for those manufacturers whose products he endorses. This year is no exception. SLASH will be there although right now we don't know the exact date he will appear. He says he is there from 11am to 7pm, and it is a very difficult day for him. The show is very crowded, and there are long lines for autographs. He is escorted by security from one booth to the next due to the crowd pressures. If you go, don't expect our usual cheery SLASH! He says it is very hard for him as the crowds are just overwhelming and inevitable some people miss out. If you are going, go early and prepare for a long wait. Be nice to SLASH who may feel like diving for the Exit!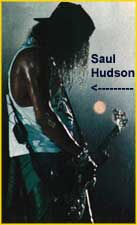 Did you see the new VH-1 show last night, "Pop-up 200th Episode"? SLASH was there! Some of the rockers, e.g. Creed, saw very little humor in the pop-ups, while others like Bon Jovi sense the fork going in but laugh anyway. One rocker commented that they learned from a pop-up of "November Rain" that SLASH's real name is Saul Hudson. So they popped that up. It also said that SLASH got the name from his dad. So, SLASH commented that the name came from a family friend not his dad, but it was true otherwise. The original speaker said that SLASH is a hell of a lot sexier than Saul Hudson! Well, a rose by any other name....etc., but we like SLASH best, too. And so does he! SLASH made a comment at the end which was one or maybe two words, and although we replayed it a couple times; we couldn't make it out. It sounded like Jones at the end. If you decipher that one, let us know. At the beginning SLASH did say he remembered the start of pop-up videos. So, it was very nice, and you could see SLASH, and a little bit of "November Rain" where he comes up to the altar with the ring. Cool. The show repeats 1/9 at 1am ET, 1/11 at 6pm ET, 1/12 at 2am ET, 1/13 at 10am ET. And probably many more times. Speaking of future SLASH TV appearances, CBS will again air the Michael Jackson 30th Anniversary Tribute on 1/9 at 9pm ET. There will be extra footage of Britney Spears...wow! SLASH's two songs, "Beat It" and "Black or White" were on in the second hour when this first aired. Dominic saw the original and commented that SLASH did two great solos which could have been louder. (SLASH laughs when we tell him that the fans say the solos are not loud or long enough. He says, you guys want me to play 90 minutes by myself, right? RIGHT!) Dominic went on to say that SLASH was hidden in the back behind the dancers and should have been up front...up front and minus the dancers and MJ would be best! Dominic also noted that SLASH used the Les Paul with the cigarette burn for "Black or White" and the red Mockingbird for "Beat It". Check that "Beat It" solo originally done by Eddie Van Halen. Dominic prefers the SLASH solo as did we.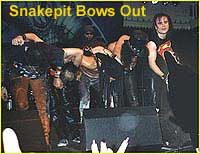 One thing we must need to say again...due to the large amount of questions.. is Snakepit is no more. SLASH had fun doing the album and touring, but he had to carry the whole show, and now he wants to do other things. Yesterday he said he is working on his SLASH solo album which will contain music with influences from different places in the world. He envisions it as more like what we hear when he does guest appearances...something different. However, there will be some standard SLASH rock. He hopes to have this out the first half this year. Whether he will ever use the name Snakepit again or the band again...no one has a crystal ball. SLASH is not planning that far ahead right now. It could happen, but most likely any new Snakepit would not include the band. Those guys are out working, and they will hopefully have solid connections elsewhere by then.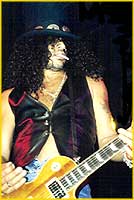 Martin sends some news from German MTV's "20 Years of MTV". Every Sunday they play the best videos from a particular year, and this past Sunday they were on 1992. "Knockin' On Heaven's Door" and "November Rain" were played, and the VJ said that Axl has put together a new GNR, "but GNR without SLASH is something nobody needs!" Agreed! Thanks, Martin.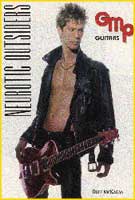 Here's some Duff news! As you know, Duff has a band called Loaded, but did you know he was also in a band called Zilch? Band members are Duff, Sendog from Cypress Hill, Soey Castillo from Danzig, Kool Keith, Ian Astbury from The Cult, and Tod Youth from Murphy's Law. The album Skyjin is out and is a Japanese-released album. Zilch was started by Hide who had them do an album. When Hide killed himself, J came in and worked with Zilch to do another album. You may remember the J connection with SLASH. SLASH did a track on J's album Pyromania (see SLASH's Guest Appearances Discography). The music is electronic hard rock rap, and the Zilch albums have many guest stars such as Steve Jones, Old Dirty Bastard, etc. Duff appears on four tracks off the second album, Skyjin. Loaded opened for Zilch on their Japanese tour. As far as we know, the album is only available in Japan at this time. Zilch has a single, Mimizuzero with a track which includes Duff, "Ape Messiah", which is available through

Click Amazon Here To Raise Money for this Site
News Reported: 01/09/02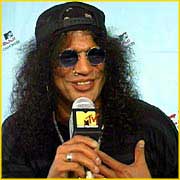 As you know (see previous news' story in Jan. Archives below), SLASH was in Las Vegas for New Year's Eve and decided to go to Axl's new GNR concert at the Hard Rock. While he did tell us about it briefly, MTV has a good, complete interview with SLASH. It corrects previous stories that SLASH was turned away at the door as he never did go to the show. He certainly made a determined effort to get in. Like any of us, SLASH feels he should be permitted to go to any concert he wants. But it was not to be. SLASH said he wanted to see GNR from the audience perspective, he was curious about the show and wanted to go in a supportive capacity. SLASH and Axl had no communication over this or anything else, but Axl's management and the Hard Rock security made it clear that SLASH would not be permitted to attend. The thought of some 300 pound security guards wrestling SLASH to the ground and dragging him away evoked memories of the sixties. "Long haired freaky people need not apply..." If you want to keep up, here's SLASH's exclusive interview with MTV on this pathetic but ultimately successful attempt to bar a world class musician from experiencing a musical event.


SLASH Speaks On Concert Exclusion


Thanks to Laura and Skorpiogirl for sending this in!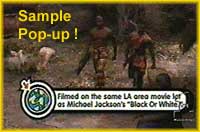 Here's some future SLASH sightings coming up on TV. On 1/20 at 1am ET, ETV will air "The E! True Hollywood Story". This show is about Savannah, porn star and girlfriend to SLASH and many other rockers. Sleazy, but a part of SLASH's life you may not know much about. SLASH does not appear but is mentioned. The rest of these are for the old GNR and include SLASH or are with SLASH alone: 1/16 at 10am ET, ETV presents "The E! True Hollywood Story", and this episode is about the Sunset Strip. SLASH is interviewed in this episode. 1/8 at 12:30am ET, MTV presents "MTV Uncensored" about the MTV of the past years. Also on 1/8, VH-1 airs "VH-1 Presents the 80s" at 4am ET. Here is a new one! On 1/8, VH-1 airs "Pop-up 200th Episode" with interviews from musical artists on this funny show. SLASH will appear doing some new comments on the pop-ups. The times are: 1/8 at 9pm ET, 1/9 at 1am ET, 1/11 at 6pm ET, 1/12 at 2am ET, 1/13 at 10am ET.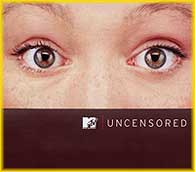 Vicki found another book with a SLASH picture and mention. This is the MTV Uncensored book edited by Jacob Hoye. On page 92 is a picture of GNR's performance at the '92 Video Music Awards...SLASH is on top of the piano between Axl and Elton John. Vicki actually won a trip to these VMAs and saw SLASH up there herself! Page 109 has GNR's performance of "Welcome to the Jungle" at the '88 VMAs, and SLASH is in this shot. Page 186 has SLASH with Michael Jackson. On page 285, there's a picture of SLASH during the "November Rain" performance at the '92 VMA. Vicki says all you can see is a mass of curls with a cigarette tip protruding. Now remember, if you want to order this book from Amazon, please go to

Fund Raising Ad Section

and click our Amazon link. Thanks! Costs you nothing except some time. Thanks, Vicki, for that great summary!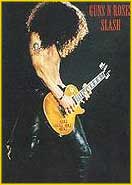 Matt found a mention in Spin magazine's list of the 50 greatest bands of all time. Matt sent us the full GNR description. Thanks, Matt!

"While Axl Rose Stews in his Malibu juices, it's best to remember when Guns preened supreme as world-baiting, coke-corrupted, glam-punk-metal heroes. Nobody ever looked more rock-foxy playing guitar than SLASH (sometimes overshadowing his solos); and even though the power ballads are fabulous, heartfelt, beutiful, hilarious, etc., it's those fucked-beyond-belief rockers("Paradise City", "Welcome to the Jungle") that raised the hair on your skinny, tatooed arms.
Nathalia Crane

Influenced: Marilyn Manson, Limp Bizkit, Buckcherry, Michael Jackson, Howard Stern, Jesse Camp

Classic Album: Appetite For Destruction (Geffen 1987)

Now don't you miss them all over again? Thank you, Matt!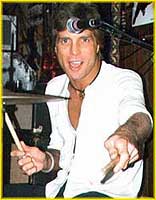 Ellen saw Steven Adler on Court TV, and she thought the old GNR and Steven fans should send some support. Steven is having a birthday January 22, and Ellen wants to get together a nice card for him. There are a couple broken links, but nothing that interferes with your leaving a nice note. Ellen says Steven will be 38. Hmmm. SLASH will be 37, and we thought they were the same age. Guess not. SLASH must have been the baby of GNR. So, go over and leave a nice message when you get a chance! Ellen will try to get this to Steven himself. Maybe SLASH can crash a Steven show and give it to him!
Happy Birthday, Steven!
News Reported: 01/07/02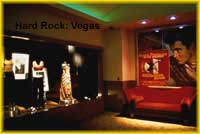 SLASH called to discuss the Las Vegas admission show problem. He was unaware that the media had covered this so thoroughly. He said he had asked to be admitted quietly, say after a song or two was completed, taken to a table and that's it. More than one person at the Hard Rock, some with security, had tried to help out. But as soon as Axl's manager got wind of SLASH's wanting to attend, the announcement came down that all former GNR band member would be denied admission. Anyone helping them see the show would be fired by Hard Rock. Seems hard to believe that in America you could have the money to pay, be sober and orderly, and be denied admission.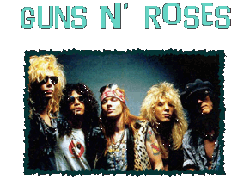 Discrimination against the best rock band members in the world! Perhaps the real GNR should perform a few numbers outside the next venue! Sadly, the reunion stories look farther away as SLASH says that he remembers now why he quit the band. Another setback for fans hoping to see them together again.



With all this Vegas uproar and a bout with the flu, we missed a couple of announcements. Ingrid and TheJoe tell us that SLASH called in to K-Rock, a NYC radio station. They were on the Kane and Cabby show. This took place January 3. TheJoe promises to send a tape of the show. Thanks!



If you're in the UK, you'll want to pick up a copy of the January 2002 issue of Classic Rock. Lewis and Fuzzy tell us that in the article SLASH says Snakepit is finished. SLASH says, "You can't reinvent the start of Snakepit. That was my little thing, and it was a blast, seeing all those guys kind of doing it for the first time, but I was kind of carrying everybody (in Snakepit) through that." SLASH said again that he would do a SLASH solo album in the first part of 2002. SLASH explained that for the first time he felt equipped to move forward and do a record on his own. Other records were done on a whim. This album will have more music in it similar to when SLASH records for other artists. Lots of different styles and different things. He says he doesn't want anything permanent with too much baggage.
That's what you get with bands. SLASH also confirmed working with Izzy before Thanksgiving, but they haven't worked out what to do with the music. Izzy got in touch with SLASH, and the music is written by Izzy. Other GNR-related articles are there, too. We definitely will miss Snakepit. We only allowed ourselves to get attached when SLASH said this was his permanent band. After years of doing the same thing in GNR, it seems like SLASH won't be easy to tie down again. This should be the kind of album we have hoped for for years... mostly (or maybe all) SLASH! What a tour that would be!


A couple of days ago we mentioned some SLASH stickers (see below). Michelle wants you to know that she has fully tested the stickers for durability. They've been on the exterior of her Dodge Ram for a year and have survived all kinds of Michigan weather, from 90 degree to -20 degree temperatures, the little vinyl SLASH stickers hung on. So, they are Michigan-tested which counts for a lot!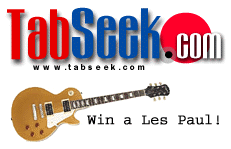 Tabseek.com is a terrific site devoted to guitar tabs. If you are always hunting for tabs, this is a good place to look. Right now they have "Don't Cry" as one of their featured tabs. There's even a small SLASH picture on the page and also a contest to win a free Les Paul! "Don't Cry is a classic rock ballad with the great guitar work of SLASH... Start with the intro and progress to the artful lead parts in the middle of the song." Thanks, AdZ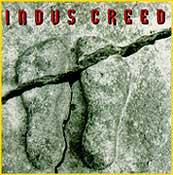 Kabir sent some mail about SLASH appearing in India. This is an event we weren't familiar with, and we thought you might like to know also. SLASH was flown to India by MTV to perform in Bangalore with an Indian band named Indus Creed. Kabir says that Indus Creed is India's leading rock band performing all over India and the Middle East. In 1993 they were at the world festival in Reading, UK. In 1994, they did some club dates in LA. They have played with other artists, and in 1996 MTV brought SLASH in to play with them. We'll see if the Indus Creed band will reply to a request for information. Thanks, Kabir!


News Reported: 01/04/02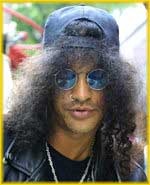 2002 is starting off with a typical GNR bang. As we mentioned last time, SLASH was off to Vegas for New Year's and thought he might take in the new GNR show while he was there. Sounds like an easy thing, go to the door, get a ticket, go in, right? Not with Axl Rose running the show! SLASH was denied admittance by the Hard Rock security guards. Evidently Axl said that no former GNR members could be admitted, or he would walk out on the show. This tactic has worked so many times for Axl in the past, that of course Hard Rock caved in and told SLASH to take a hike. Read all the details at the ABC Online site:


SLASH Refused Admission to Rose Show

Thanks to the many people who reported this article all over the web and in the Philadelphia Inquirer and CNN: Lyndsay, Lena, Mprowler, Glitter.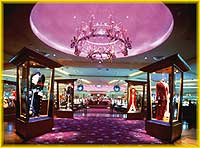 Mark lucked out when he decided to leave the show after Axl briefly left the stage over equipment problems and the guitarist had a hissy fit of his own and threw down two stage mics. What do these guys do at soundcheck? Anyway, Mark left the show and security told him where to find Slash at the bar. Sounds like it was ok for SLASH to be in the building. Mark had on his AC/DC shirt, and SLASH pointed it out to his wife, Perla. Mark said SLASH was normal and cool to talk to, but he left shortly afterward with Perla upset about people wanting to have their picture taken with him. SLASH had no problem taking pictures of course. People genuinely like SLASH and like to be with him and have a picture with him. Seems harmless, and as Mark says...when you marry a celebrity, you have to expect that people will want to talk to him. Maybe everyone was just tense from the earlier encounter. What a bad day that was! Talk about fear and loathing in Las Vegas!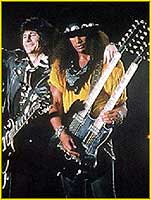 On a happier note, both Declan and Simrin saw SLASH on the Jules Holland show on New Year's Eve. There were many guests, but SLASH got a big cheer when Jules introduced him as one of the greatest rock stars in the world. SLASH wore a white shirt and leather pants with his top hat, and he smiled a lot. Perla and Ronnie Wood's wife were seated together looking on. Jools sang most of "Little Queenie", and Ronnie and SLASH shared the lead guitar work. Ronnie used his strat, and SLASH used a Les Paul. Jools hugged SLASH at the end and wished him a Happy New Year. The final number was "My Sweet Lord" sung by the guests with Ronnie doing the slide guitar work. SLASH was arm in arm with Perla looking on. Simrin added that once again it was hard to hear SLASH and his solo was very short. Ronnie did a longer solo, but Simrin says everyone knows who's the better guitarist. SLASH should have been given more freedom and more volume. SLASH played a lot of rhythm guitar which was fine, but Simrin wishes SLASH would have gotten more solos.

Here's the week's list of TV shows. All these are for the old GNR, so you'll be sure to see SLASH, too. On 1/5 at 11:30pm ET and also on 1/8 at 12:30am ET, MTV repeats "MTV Uncensored". Later on 1/8 at 4:30am, VH-1 repeats "VH-1 Presents the 80's". And on 1/14 at 2am ET is the repeat of VH-1's show, "100 Greatest Artists Of Hard Rock".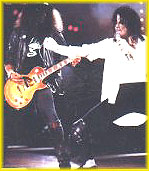 Lucas sent a note that on Dec. 29, Brazilian MTV presented a Michael Jackson special program; and SLASH appeared talking about how good it is to work with MJ. They showed SLASH and MJ playing together at the Video Music Awards, this included a snip from the "Give In To Me" video. Thanks, Lucas!


Have you seen those ads in the back of guitar magazines for vinyl stickers of different artists? Michelle saw the ad in Guitar One, and it gave the web site as Graphic Graffiti. One of the featured designs is SLASH! And when Michelle checked, she found that the design also appears on a tshirt sold there. Thanks, Michelle! Here's where you can check out the stickers and the tshirts:

SLASH Stickers
SLASH Tshirts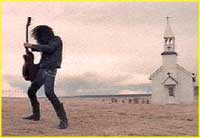 Kye in the UK says that Virgin Radio counted down the top 500 singles of all time, as voted for by the listeners. The GNR tunes finding slots in the Top 500 were: "November Rain" at 183 and "Sweet Child O' Mine" at 119. A little disappointing. Next time, let us know and we can all go over and vote! 183 for "November Rain"?? No way! Thanks, Kye.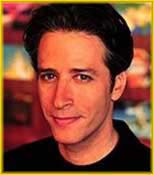 We've moved the videos to our new site where Randy is keeping an eye on it. Since we do have a new place, we have added a new video. We have a couple more to go. This new one is the interview SLASH did on the Jon Stewart show in August 2000. This is a funny one! How you get there and where you are should be transparent to fans. However, Randy is in Texas! The rest of the site is in Connecticut, and we hope to move it soon. Give it a try. We'll be adding more soon. Go to www.snakepit.org and click SLASH Videos on the Main Menu.