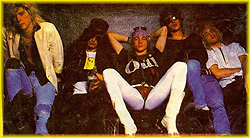 Two magazines had some small mentions of SLASH recently. Rolling Stone had a short article, "Rock Against War", in the February 20 issue. Jackson Browne performed and SLASH joined him "on a nuclear version of Bob Dylan's 'Masters of War'." Also from RS on their online newsletter, they plug Ron Wood's Far East Man DVD due out February 4 with guest appearances by SLASH and Andrea Corr. Spin magazine has a picture of Axl on its cover with the text "Guns N'Roses. The End?" They say that Axl's future may lie in his past, and hopefully (their words) he will find time to at least talk to SLASH, Duff and Izzy. "It could well be that they are the only people left who can understand a word Axl says."



Want some cash back on those GNR, Snakepit and all other CDs you may have purchased in a record store? If you bought them between 1995 and December 22, 2000, you're eligible to submit a claim worth up to $20 in an out of court settlement of a class action suit charging price fixing on the part of certain music distributors and stores. All you have to do is go to the site, answer three easy questions about your buying habits during that period and submit the claim. Sit back and wait for your 20 to roll in. Settlement organizers are launching a public awareness campaign, and the final date to apply is March 3, 2003. It's not a scam and obligates you to nothing more than receiving your portion of the settlement. Check out the site if you need more details. Here's where you go to sign up:


Music Settlement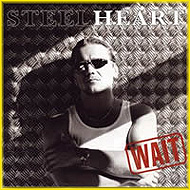 Mike Matijevic is the latest vocalist to announce that he's being considered for The Project. Mike added some lyrics and vocals to four tracks and is now waiting to hear from SLASH and Co. Although some artists are unknown to us, there is always someone out there who knows their work. Rui says Mike is an amazing singer, and he did some tracks on the Rock Star movie soundtrack from 2001. He sings on all the Steel Dragon tracks, and he does a great job according to Rui. In fact Rui believes him to be the best singer around, better than Axl or Sebastian Bach! A friend of ours that is a current GNR and Axl fan says, "[Mike] has a range that is off the scale, yes, better than Axl. His stage presence is phenomenal, and he had a major rock star look and attitude". That's certainly reassuring! Thanks, Rui! Ismar is in Croatia but doesn't know about Mike. Mike left for the US at age 6 so that's not too surprising. Ismar says he knows four people of Croatian descent in the music business. One is Johnny G. from SLASH's Snakepit! Krist Novoselic of Nirvana was born there. REM's Michael Stipe has similar links. Matijevic is in good company, too. Thanks, Ismar!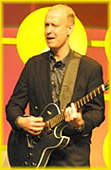 For interested guitarist, we have an article for you on the digital Gibson guitar. It's fairly complicated but keeps you up to date. After reading it, we are almost positive that SLASH would never want to use this! He will be in the Keith Richards category they site here! The article is on the EE Times (Engineering and Technical Managers) site. Everyone can get through at least the beginning and see if you think guitarists are going to want a digital Les Paul! Thanks, Ray, for sending this in. Be a current guitarist and give this a look:


Guitar Maker Preps Digital Network Platform





News Reported: 01/31/03


There's another singer announcing an audition with The Project. The Project is the unofficial name for the Duff/SLASH/Matt/Izzy band. Check The Project for band history. They're seeking a vocalist, and the newest singer to throw his mic in the ring is Mike Matijevic, frontman for Steelheart. Mike has completed his audition which was to put down vocals on four instrumentals given him by our guys. Mike is said to be waiting for results of the audition and obviously, to see if he'll be doing more with them.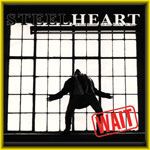 If you haven't heard of Mike Matijevic, he was born in Croatia in 1964. There are a number of Croatian fans out there, so maybe we'll pick up some more information. Mike sang even as a young boy. At 6, he moved to the U.S. and settled with his family in Connecticut. At age 11, Mike discovered Led Zeppelin, and he became a rock singer and fan. Mike was putting together Steelheart at the age of 16. He suffered a major head injury onstage when a lighting truss he was on fell over. It took quite a while for him to be in condition to perform again. The best known and some say best album is Wait. If you'd like to hear Mike, you can try some tracks on CDNOW:

Steelheart Tracks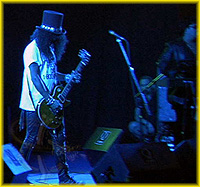 Sanyi is from Hungary, and he's sent in a correction and a story about SLASH's Blues Ball. He was there at the concert in Budapest in 1996. This was the very first appearance of Blues Ball. His girlfriend told him that SLASH was at a local bar in Budapest the night before the show, so he went right over and got to meet SLASH, Johnny G., Bobby Schneck, Teddy ZigZag...everyone. SLASH was kind, cool and loved talking to people...especially other musicians. Later they decided to leave the bar and asked Sanyi to join them. They went to a stripclub, then another and back to the first. Not only did Sanyi get a pick and autographs, the guys asked him to come backstage the next night! He hung out with the band; they were really happy because the show was great. It was their first time with this lineup, and they were really pleased to have had such a good show. The day after, Sanyi and friends picked up James Bradley Jr. and took him to their rehearsal place, and they jammed and played a lot of songs. SLASH was off doing publicity, and he was missed, but Sanyi had a great time. Thank you, Sanyi!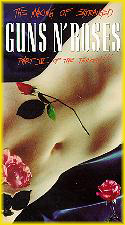 From Hungary to China...SLASH has the best international fans! Aga lives in China and had his girlfriend sent us some news from there when he was really busy. He's still busy, but he's home for the winter vacation with Spring Festival coming soon. Although he knows we don't have that holiday here in the US, he wants to say "Happy New Year" to SLASH and every SLASH fan all over the world! Thanks, Aga! A few days ago, Aga was looking for something enjoyable on TV, and he found an introduction of MTV on GNR in the channel Tianjin2 (Aga's hometown). The background music was "Don't Cry", and they put together some GNR videos:"Don't Cry", "Estranged", "November Rain" for the introduction. It was a nice program but on much too late! Get some rest, Aga, and thank you!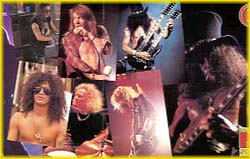 Ben, as far as we know, is from the US. Once again Ben was watching MTV, and he got to see that special called "Testimony"..about rock in the past 20 years. They went through some eighties and nineties groups, spending maybe 30 seconds on each. But when they got to GNR, the segment was at least 5 minutes long. Mostly they talked about Axl, but they did talk to SLASH for a long time using several excerpts from some past interviews. The hosts said there were very few groups who got attention while Guns N'Roses were big time and a heavy influence on rock and roll of the nineties. Thanks, Ben! Let's see a little serpentine!



News Reported: 01/29/03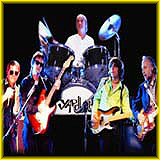 Steve Lukather has a short article on his site about the forthcoming Yardbirds album that SLASH played on. Steve says Birdland will be released April 22. This is the band's first studio release since 1968's Little Games. The Yardbirds are putting the finishing touches on the recording right now. The two remaining founding members, Chris Deja and Jim McCarty, are joined by these Yardbirds: Gypie Mayo, John Idan and Alan Glen. Jeff Beck, a former member, is part of the group as well as guitar heroes Steve Vai, SLASH, Joe Satriani, Steve Lukather and Jeff Baxter with vocals by Johnny Rzeznik of the Goo Goo Dolls. SLASH is on track 10, "Over, Under, Sideways, Down". The album is not yet available for presale ordering. They do have one presale order album, but it is not Birdland so be careful what you order. Sounds terrific with all that talent.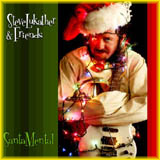 Another SLASH appearance album we're waiting for is Santamental. This is a Steve Lukather Christmas project due out last fall. Due to some distribution problem, the album is held over till fall 03. The album is a jazz-rock cover album of classic Christmas songs. It's almost entirely instrumental. Lukather says it's a pretty funny album with traditional standards really mixed up. He says the album sounds like a big band based on Weather Report, Frank Zappa and Van Halen. Steve wanted the album to be a real classic, so the packaging is important. It will come in an 8-panel digipack and feature behind the scenes CD-Rom video. Let's hope for some SLASH clips on that. If you'd like to hear two tracks from the album (NOT SLASH), we'll give you the link for that. This is Sammy Davis Jr on "Jingle Bells" and Edgar Winter on "Winter Wonderland":


Santamental Covers


You have to click Albums in the left column, then find the Santamental album cover and click that to get to the tracks.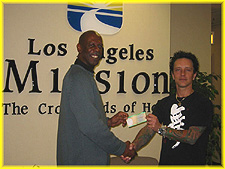 Before Christmas, Camp Freddy put a memorabilia item up for bid on ebay. All the band members and guests signed this drumhead. The sale was to benefit The Mission, a homeless shelter in Los Angeles. It was such a good cause plus SLASH had signed it, and it was a one of a kind item. There were quite a few bids, but we got it! Here's a picture of Billy Morrison handing over our money order to the head of The Mission. Our luck is usually not great on ebay, but we're happy to have this and to have contributed to a worthwhile charity. Billy says to standby for more news on Camp Freddy. It's coming!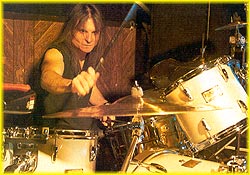 Gail Worley, former Metal Edge editor sends out a newletter now and then, and in this one she did her favorites of 2002. One group was "Rocker Boys Who Rocked My World in 2002", and she named Matt Laug (ex-Snakepit)! Gail really likes Matt as do all of us who had a chance to meet him. Gail says, "Thanks for the Margaritas (and, well, you know)". We'll try to find out more from Matt on that one.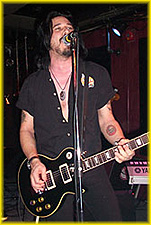 There's a new interview with Gilby Clarke on the Bravewords site. Gilby talks about playing live and a lot about his work as a producer. Seems that Gilby really enjoys this work. There's also a discussion about a new album. Gilby doesn't really seem to care if the albums he makes sell large or small. He likes to play, and he likes to record. For more information:


Gilby Interview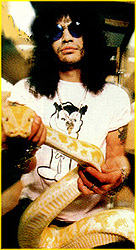 If you missed the VH1 progam,"Celebrity Pets Unleashed", it will be on again this Wed., Jan. 29 at 3pm ET (2pm central). SLASH is part of this show with his snake, and we've heard that it's worth seeing. Maybe not so much worth seeing is the snide MTV show, "No Hit Wonders" about big rockers that didn't make it on their own. SLASH's Snakepit is one of the bands they look at. It's on 1/28 at 2pm ET. GNR is part of "Rock Stars Do The Dumbest Things" on 1/28 at 6:30pm ET and 1/31 at 7:30pm ET. This is a VH1 show. On 1/28 is "Testimony: 20 Years of Rock on MTV" with GNR. It's on at 10am ET on MTV2.



News Reported: 01/27/03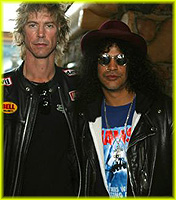 The Project picked up some more publicity; this time from Rolling Stone online. It happened at the Sundance Film Festival in Colorado. (see Wednesday's news below). They talked with Duff and Matt this time (where's SLASH?) who gave them a good overview of the Project and where it stands. Some news to us is that they are giving a date of fall for the album where SLASH formerly put it at mid-year. Getting this vocalist is obviously a part of that. But they do have 50 songs ready...is this the first double CD debut album? No, but it would be great to hear even the music of a few right now. So you can read this at your leisure, here is the url for the interview:

Guns N'Roses Alums Regroup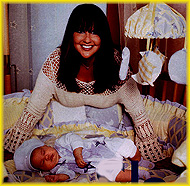 Perla sent us a note about the gifts and all the notes we sent to her and SLASH after London was born. Two great CDs including one called "Music for Dads" and two nice board books were given from all of us. She wanted us to know that London is a very lucky baby to have so many well wishers. Perla says that London is a really good baby who takes airport travel just fine. (likes to tour like Daddy). If you're keeping up with his stats, last time at the doctor, he weighed 19 pounds and was 27" long! He's added some fruit baby food to his diet, too. He's able to roll over by himself and is starting to sit up on his own. He's discovered his feet and stuffs his toes in his mouth. And guess which music is big with London? The Rolling Stones! Mick! Mick! Mick! or maybe it's Keith! Good to see the little guy is doing well and having fun. Thank you, Perla, for the London News! When does he get his own web site?!



Ben was watching VH1 recently, and the Michael Jackson 30th Anniversary Tribute show from New York has made it to VH1. SLASH was there for two shows. The second was on September 10, 2000; and the next morning the terrorists destroyed the World Trade Center. But the show Ben was watching was from the night before, and everyone looks happy. Ben said SLASH was great on the songs he did. So if you haven't seen that tribute show, watch for SLASH at about the end of the first hour. Thanks, Ben!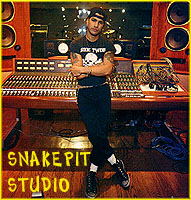 There was an article on the Entertainment online site dealing with the divorce of Angelina Jolie and Billy Bob Thornton after two years of marriage. Her second marriage, his fifth. They connect to SLASH in that they bought his Beverly Hills mansion for $3.8 million. Soon after they took possession, the marriage fell apart. That beautiful home with the Snakepit studio now stands empty with Thornton living in a hotel and Jolie also in a hotel plus a home she bought in the Far East. Could we get the studio back?


SLASH really likes to play with Nile Rodgers and Chic. When the song "Saturday Night Fever" had its 25th Anniversary last year, Chic was part of the celebration. Nile enlisted SLASH to put in a guest appearance on "Le Freak". Here is a photo we just received. Nile and SLASH were joined by surprise guest Montel Williams, seen here with SLASH and the Chic ladies.



Speaking of pictures, how did you make out in identifying the rockers in the Hard Rock Vault opening picture. It's on Wednesday's news below. Here's who they are, left to right: SLASH (GNR, Snakepit, etc.) Duff (GNR, Loaded), Nikki Sixx (Motley Crue), Brian Johnson (AC/DC), Dan Donegan (Disturbed), Dee Snider (Twisted Sister), Steve "Fuzz" Kmak (Disturbed), Simon Kirke (Bad Company), Don Bernstine (from the Hard Rock Cafe), Al Jardine (Beach Boys), Erik Estrada (O-Town), Trevor Penick (O-Town)and Dan Miller (O-Town). Big group!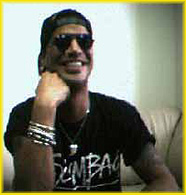 Road Crew sent us SLASH Secrets from the NBC web site, and these are really funny. This is from an old appearance by SLASH on the Late Night Conan O'Brien Show. They do a comedy bit called Secrets where celebs sit down and tell jokes that are supposed to be deep, dark secrets they have never told anyone before. These are NOT real Secrets...the celeb takes the truth and makes something funny out of it. Here are some SLASH Secrets:

I got the name SLASH because I used to work in a grocery store, and I was in charge of reducing prices for really big sales.

If I ever go bald, I'll kill myself.

The original name for Guns N'Roses was Roses N'Guns, but that just sounded stupid.

I once asked Axl why he left the E off his name. He started crying and said he thought he spelled it right.

Almost every night I have a dream where one of my pet snakes eats all those boys in Hanson.

Someone once asked me what I liked better-kittens or puppies. And I said, "It's a tie, man." They said-too close to call? I said, "No, man, too cute to call."

An anagram of Axl Rose is oral sex. Why do I know? Because when I'm not playing music, I love solving erotic jumbles.

Originally, I wanted to call the band Guns N'Robots. I still believe that if we had just called ourselves Guns N'Robots, we'd still be together.

That SLASH is too much. Thanks, Road Crew.



News Reported: 01/24/03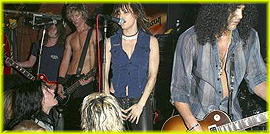 The Sundance Festival has been going on since Jan.16 and ends Jan.26. Sundance showcases the best of independent film...over 3000 are submitted and 125 selected. Robert Redford is the founding father; and there are film previews, parties and musical entertainment. SLASH and Duff are there being part of the musical entertainment. SLASH was at The Levi's Lodge where he had his picture snapped with the beautiful Jessica Lange. On Jan. 21 was a big SLASH event. He played at the Prey for Rock & Roll party at Cisero's. Prey for Rock & Roll is one of the selected films, and it stars Gina Gershon. She stars as the leader of an all-girl band trying to make it in L.A. SLASH was there getting the place to really rock. There was a lot of interaction with Gershon as she sang, danced and got her picture taken with SLASH. Have a look at SLASH and Duff rockin' and Gina singing above, SLASH with Jessica Lange, Slash with Gina Gershon.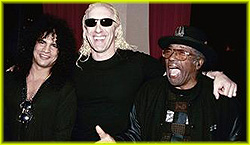 Speaking of pictures, here are a few more pictures of SLASH at the Hard Rock Vault opening in Florida. This is a big rock memorabilia place. It seems fitting that some famous rockers were there. Duff, Nikki Sixx, Bo Diddley, and Dee Snider were snapped with SLASH. Nikki Sixx looks differently, but it's been awhile since we saw him. Check out SLASH's hand in the picture with Duff and Nikki! And Dimebag Darrel makes an appearance. How about that last picture with all the rockers? We'll let you have a chance to name them all!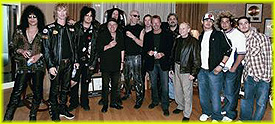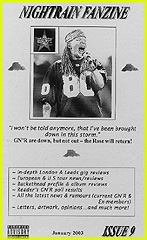 Nightrain is a UK fanzine, and the ninth issue is out! This is a fanzine with information on the new GNR and all the projects of the original members. This issue includes in-depth gig reviews and interviews for the new GNR, all the latest news and rumours about the current GNR and the ex-members. Artwork, letters, opinions, penpal information, merchandise, trading addresses and much more are found in its pages. This is a fanzine that is well written and interesting. Get your copy now! For more information on content and buying a copy of Nightrain, email Ian Lei at IanLei@aol.com or visit the website at


Nightrain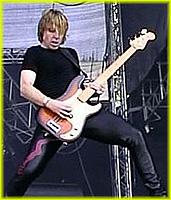 Jeff Pilson, ex-Dokken bassist talked about The Project in an interview on Roadrunner Records' Blabbermouth section. He claims he's heard some of the band's music, and it's killer! Here's what Jeff had to say:

"In the same interview, Pilson offered his views on ... the new band formed by ex-GUNS N' ROSES members Slash, Izzy Stradlin, Duff McKagan and Matt Sorum, claiming that he has heard some of the material recently written and recorded by the latter group. "I know someone that they are possibly interested in for a singer," Pilson said. "And I have to tell you what, the two songs I have heard are just killer. Absolutely killer. It is as close to the old GUNS 'N ROSES without sounding like a copy. The songs were very high-energy, sort of got the 'Appetite...' vibe to it. Of course, this is with the vocals that my friend put on the songs, and I have no idea who they will use as the singer for the project." He further says there will never be a band for him like the original GNR!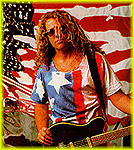 You have to think way back for this one. Sammy Hagar was forming a super group including Neal Schon, Dean Castronovo (Journey), SLASH (bon vivant and man of the world) and Van Halen's Michael Anthony on bass. We had never heard what they actually did till just now. The band completed two great songs, "Vertigo" and "Peeping Through A Hole". Sammy is hoping to have these on a movie soundtrack. According to Sammy's website, the group sounded like a combination of Led Zep, Van Halen and Tool! Anyone have more information?



About that PAL version of the Ron Wood/SLASH video Far East Men, we have word from Daniel that you can get this from www.eil.com on the net. They have a lot of rareties, but they can be expensive. They have other GNR videos also, mostly in PAL as they are in the UK. Hope this helps!



Another holiday is coming up, Valentine's Day! Tell your favorite guitarist how much you think of him, and you can tuck in a small one for Baby London. No need for candy or boxers with hearts or a nose ring with a dangling cupid. Just send a card! Here's the address so you have plenty of time to get it there by February 14:



SLASH
5664 Cahuenga Blvd.
Suite 246 
North Hollywood, CA 91601





News Reported: 01/22/03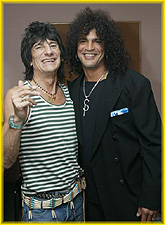 Stuart lives in the UK where the Ron Wood London DVD is available already. This is the show where SLASH was a guest, and he does appear on the Far East Men DVD. Stuart says it's very good and definitely worth getting. Since it's a DVD, there are some extras, and Stuart says there is a long behind the scenes and backstage extra. You can see SLASH and Perla (pre-pregnancy, we think!)in the dressing room along with interviews with Ron and some of his band. Some of the rehearsal is also included. On the negative side, the concert footage is not the complete concert. For example, "Little Red Rooster" and "It's Only Rock and Roll" are excluded. Another problem is that the music is sometimes out of sync with the pictures which can be really annoying. Stuart still recommends it. It has SLASH footage, and that's what we want! Thank you, Stuart.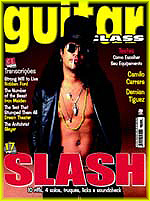 This next item was sent in by Londrino who is enjoying the high 90 degree temperatures in Brazil. Right now it is 7 degrees where we are, so we are thinking of setting up a branch in Brazil. Londrino says that SLASH is on the cover of the Brazillian edition of Guitar Class! It's been a while since he's been on a cover, so we'll let you have a look in a minute. When you get to the cover, click on SLASH (you wish!), and there's an article in Portugese. However, it could be useful to the guitarists since it has a bunch of midis and files to download. This is SLASH's second time on the cover, and the last was October 2002. Thanks, Londrino!


SLASH and Guitar Class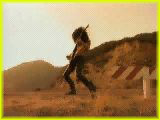 A lot of international fans have searched in vain for the old GNR videos. They are out of print, so you have to get them used or be lucky enough to find a store with a copy or two. It can be done! Luis is from Santo Domingo. He recently went to a CD store and there spotted all the GNR VHS videos. Luis said it seemed impossible to find these where he lives. He especially likes "November Rain" and SLASH doing the theme from The Godfather. Luis says these are his favorite videos and very valuable to him. So keep looking! This is the original GNR, and you'll love the videos although it does make you kind of lonely for that lineup. Note that Amazon.com has all the videos for sale in NTSC format. Thanks, Luis!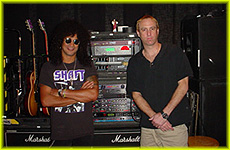 Mario, self-described as SLASH's best Italian fan, was checking out the Dunlop site and found some new SLASH information. There was also this nice picture of SLASH and Adam Day, SLASH's guitar tech. Here's what the article has to say:

Slash Update: Even though he is not playing in the new Guns and Roses. Slash has been a busy man. Recording and playing with various artists is just a few things he has been up to. Locked up in a studio in North Hollywood, CA with fellow ex GnR members Duff McKagan, Matt Sorum and Izzy Stradlin. The guys are currently writing tunes and auditioning singers for a future unamed band.
Slash is a long time friend of Jimmy Dunlop and one of the true endorsors of Dunlop. He still uses the DCR-1SR Rack Wah in his rig. "I really like the sound of the rack wah. The Parametic EQ enables me to find the sweet spot and shape the wah tone the way I like it." explains Slash.
Both Slash and Guitar Tech Adam Day help out the Dunlop R&D department. Recently, both of them helped with the development of the new MXR Distortion pedal (Due out at Winter NAMM).



Slash
DCR-1SR Rack wah
MXR 10 Band EQ (Custom Shop)
Tortex 418 1.14 Tortex Picks

Adam Day
Formula 65 Complete Guitar care kits
Dunlop 5430 Gutar Finishing Cloths

Thanks, Mario!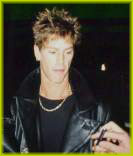 Here's some funny news from a member of The Project! Auslin said he was watching cartoons the other day, and Nickelodeon had on "Slime Time Live". Duff was on! Why, Duff? Auslin says that Duff really looked good...till he got hit with a pie! HA! Thanks, Auslin!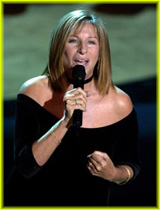 So many people have expressed an opinion on who should be the new vocalist with The Project. If you want to post your opinion on the net, go over to KNAC where this online survey is waiting for your choice and comments. Some suggestions are totally unlikely (Barbra Steisand, Vince Neil) and some sound like good ideas (Mike Monroe, Sebastian Bach). If you're interested, here's where to find the survey:


KNAC Vocalist Survey





News Reported: 01/20/03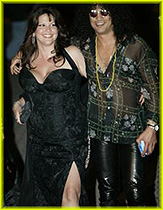 While you're freezing in your town, here's SLASH in Florida! Yesterday, SLASH was working the red carpet at the grand opening of the Hard Rock Vault which opened at the end of last year for customers. Celebs came for their special showing on Jan. 16. The Hard Rock Vault is an interactive rock and roll memorabilia in Orlando, Florida. This way you can see Mickey and the Hard Rock Vault while on vacation. While you're there you can see Jim Morrison's leather pants, Elvis's and Elton John's capes, B.B. King's "Lucille" guitar, Dee Dee Ramone's guitar and leather jacket, Buddy Holly's horn-rimmed glasses, Bruce Springsteen's Born To Run jacket and boots, Eric Clapton's guitar...and much more. There are thousands of items to see. We don't know if SLASH's clothing and guitar are here or not. It costs nearly $16 dollars admission; but if you are into rock memorabilia, it's a good price. The Vault is located on International Drive in Orlando. So, this is what SLASH and his wife were doing yesterday. Those on the East Coast were wishing they were there!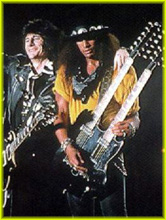 Here's some good news! When SLASH was in London doing that short tour with Ron Wood in 2001, a video was made. It's been out in the UK for awhile now, but the format was PAL which can't be viewed by the NTSC players in the U.S. Now the video, titled Far East Men, is coming out on DVD in the U.S. The release date is Feb.4. You can preorder this from Amazon.com now, and it's priced at $18. (Please go to the home page and find the section about ads...this helps to keep this site running.) Far East Men runs 112 minutes. SLASH and Andrea Corr are guests. There are covers of the Stones, John Lennon, GNR and the Faces. This particular show was from the Shepards Bush Empire venue in London in November 2001. Since it's a DVD, there are some extras: backstage footage, interviews, a gallery of Ron Wood's artwork and more.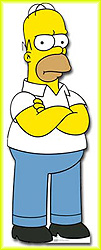 Haris says he was watching VH1's "100 Moments That Rocked TV", and number 21 was a cool GNR reference. The clip shown had Homer Simpson saying, "I thought I had an Appetite for Destruction, but all I wanted was a club sandwich." Yea, Homer! We don't like to hear of a nuclear power plant employee having that kind of appetite, but trust Homer to always put food and beer first. Thanks, Haris!



Here's some more SLASH and GNR TV mentions. These two for SLASH are and have been reruns. In case you missed them, VH1's All Access presents "Rock & Roll Weddings" with a nice clip of SLASH and Perla being married in Hawaii. It's on 1/25 at 6pm ET. The second is not so nice. This one is on MTV2 Ultra Sound, and the title is "No Hit Wonders". They say that this is about "rock & roll artists who longed to be heroes but ended up zeroes." Well, those of us who saw the Snakepit shows don't agree. The show is on 1/26 at 9pm. Moving along to GNR, these are more reruns. On 1/17 at 11:30pm ET, MTV's Ultra Sound has "Shake-Ups and Break-Ups" about when big bands have unpleasant break-ups. It's also on MTV2 on 1/18 at 10:30am ET as well as 1/24 at 12:30am ET. "Rock Stars Do The Dumbest Things" (how about SLASH signing away the rights to the GNR name?) It's on 1/17 at 11:30pm ET on VH1. Same channel on 1/18 at 6:30pm ET, 1/21 at 2:30am ET, 1/23 at 10:30pm ET. On 1/18 at 4pm on MTV2, there's "Testimony: 20 Years of Rock on MTV". This two hour special covers significant moments of rock over the past 20 years. It's also on MTV2 on 1/25 at 2am ET and 4pm ET. "MTV 25 Loud" is also airing on MTV2. This is a look at the top 25 videos of all time. "November Rain" better be on! The schedule is 1/19 at 3pm ET.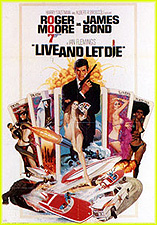 As you know, it wasn't SLASH at Paul McCartney's recent show. It was that old look alike (?) Howard Stern. It got people to thinking about Paul and his big contribution to GNR, "Live and Let Die". Here's what SLASH had to say, and we thank Brian for sending this in:

"It's one of those songs that Axl and I have always loved. It's always been a really heavy song, but we'd never discussed it and didn't know that each liked it. We were talking one night about a cover song and that (LALD) came up, and we're like, 'Yeah! Let's Do It!'. So I went to rehearsal with Izzy and Matt and Duff, just to see whether we would sound good playing it, and it sounded really heavy".

Axl's comment here is that he rented the movie and thought it sounded like "WTTJ". We didn't think we were good enough to get it right, but we were. SLASH does most of the string arrangements on his guitar with a harmonizer.

SLASH says, "It's actually heavier when we play it live than it is on the record because of the horns and synthesizer. Live it's got more bottom to it".

Axl finishes up with saying it's like Tom Wait meets Metallica. It's working really well, and it sounds like us. Everybody that hears this says it sounds like the perfect song for GNR to do.....and it is!





News Reported: 01/17/03


We're still so proud of SLASH for being nominated for a Grammy for "Love Theme From The Godfather"! SLASH's nomination is in the category of Best Rock Instrumental Performance. The version we're all aware of is the live version SLASH played during the Illusions tours. This version is a studio version and is just beautiful. It's found on the soundtrack of The Kid Stays in the Picture although it is not on the motion picture. This was a special gift from SLASH to Robert Evans who liked it so much that he put it on the soundtrack of his movie. We've gathered up some information so you are ready for the Grammys Feb.23. First of all, here's where the Grammy complete information is:


45th Grammy Awards Information




Next we have the motion picture information. Robert Evans is a great friend of SLASH's. Isn't it amazing the number of artistic and musical people SLASH knows?


The Kid Stays In The Picture


and be sure to note that this first picture will take you on a voyage through Robert's life. Click almost anything to find some interesting information.


Here's the "Love Theme from The Godfather"! SLASH and this beautiful music are up for a Grammy. Let's hope SLASH is in the audience the night of the awards. This is an audio mpg.


"Love Theme From The Godfather"




And here's our favorite GNR show track in video:

"Theme from The Godfather - Live"




Hope you enjoyed all that background, and we'll be putting the video in our SLASH Videos section and the Grammy nominated song in our Soundtracks Section in the SLASH Discography.



Notice that most of the past January news is now found in the archives below. Normally, just one week of news is kept here. The rest is in the archives to make downloading more quickly. There are years and years past there also in case you want to make a big study of SLASH history!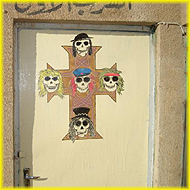 Brian sent in some additional information on the Iraqi War Demonstration. SLASH was part of this...not marching, but playing. We named Glenn Hughes of Deep Purple as being there. Brian says Glenn is also with Black Sabbath. And another musician with SLASH was Jane's Addiction's drummer, Stephen Perkins. Someday we just have to ask SLASH if he was there mostly for the music or mostly to make a political statement. As many of you have said...it's fine but it doesn't seem like SLASH! Here's a few more corrections/additions from awhile back. We're not always right, but we always try to make your corrections. First is from Andreas who has some info on the old House of Blues show where SLASH played with Les Paul. In the News, the date was given as 11/06/02. The date Andreas has is 04/28/98, and it was a show for the HOB anniversary. Teddy ZigZag was there, too. Thanks, Andreas. There was an Entertainment Weekly magazine, issue #682, November 15. There was some SLASH mentions in the magazine as we recall. Lisa says the picture with Elijah Wood and Liv Tyler on the cover was actually taken in her own country, Italy, December 2000. Thanks, Lisa. Eische says that Nils Ruf interview with SLASH was not an interview but a comical series. Nils was not fired because of his attitude toward SLASH but because the whole station was folding. He was one of many that were handed their walking papers. Eische says SLASH looked comfortable throughout the piece with Nils and "Granny", but a real interviw with SLASH by a woman on a show called 2Rock was a lot worse and was no comedy. SLASH is usually good at handling these kinds of painful interviews, but he's human and sometimes the interviewer is too insulting. Thank you, Eische!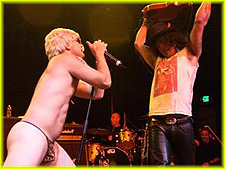 One of the songs SLASH guested on at the Camp Freddy free show was a cover of "I Wanna Be Your Dog". Iggy Pop brought this song to the forefront. SLASH and Duff and Matt all played on this one, but the camera seemed focused on SLASH. And why not? When you listen to The Godfather theme and to this one, they are so different, and SLASH just nails both of them. Guitar hero! Would you like to see the video of this performance? Well, check it out! And it will also be on the SLASH Video section soon.


"I Wanna Be Your Dog" Video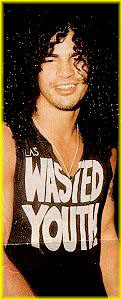 Here's a cool article from the UK publication, The Guardian. Erik sent this in. It's a long article but interesting. It's also just a month old! People are still writing about the band. Mostly it asks the question...is Axl through now? But there is a lot here about the original GNR band. The story about SLASH is funny and sad. They said that SLASH would be kidnapped every once in a while and sent to Hawaii to get off dope. SLASH would be told he was doing an interview and when he showed up, he was packed off for detox. Kind of funny! And kind of pathetic. We are lucky to have SLASH with us. It's a good article, and thanks Erik!. Hope you enjoy it!

New Article on the old GNR





News Reported: 01/15/03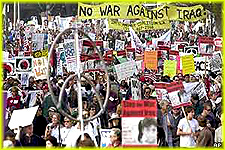 The picture at left is not from a sixties anti-war demonstration. It's from L.A. last weekend where demonstrators sent the U.S. government a big message...No War With Iraq! Many entertainment people were onhand including Martin Sheen who gave a compelling speech. Some musicians were on hand also...including SLASH! We've never known SLASH to be the political type, but obviously here is a cause he wants to help draw attention to. SLASH is seen here at right playing with Glenn Hughes of Deep Purple. They played outside the Federal Building in L.A.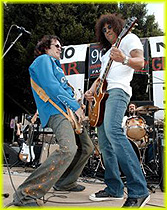 The demonstrators say they are patriotic Americans who do not believe the government is right in its plan to wage war on Iraq. No matter how you feel about the Iraq situation, you have to applaud those who are willing to stand up and be counted. Thanks to Brian and Kimberli for sending this in. Here's a full article about the demonstration:


L.A. Demonstration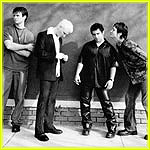 Solarcade is an as yet unsigned band that is starting to really make a move out in the L.A. area. They characterize themselves as a rock band with songs. Most recently you might see them at Border's Book Stores. There's a great interview at the rocknworld site where they talk about their influences. Lead guitar, Pomilla, claims SLASH as his influence. When asked who turned him on to being a musician, here's what he says: "Easy question. One Word. Slash. By the way, he is the coolest dude I have ever met. Donít get me started on his playing....ok, too late!! This guy is the one person that I can honestly say changed my life. When I was younger and I saw him play I was completely blown away. I thought it was so refreshing that in a time when hot rod guitars were the thing here comes a guy with a Les Paul that would later on revitalize its popularity. Slash did to the lead guitar what Michael Jordan did to basketball in the late 80ís. He changed it from the screeching solos to ballads like ďNovember RainĒ. I told you donít get me started.... ". There are more SLASH mentions in this article which is at:


Solarcade on SLASH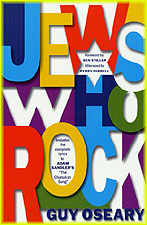 We keep getting email that The Project's singer has been selected. The rumors keep coming as long as the boards post the misinformation. In the end, we expect one of the "finalists" to be selected; but until SLASH announces the singer, just wait and see. It will be all over the big music sites. Then, you'll know. Here's another rumor that is not true. Gary Oseary wrote a book about 100 Jews Who Rock, and he's included SLASH based on his first name. We asked SLASH's spouse if SLASH was in fact Jewish, and she told us no. Not that SLASH has any problem with people pegging him as Jewish; but for accuracy, he is not. An Old Testament name is now always indicative of a particular faith.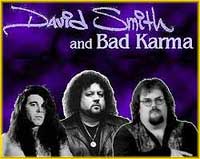 Here's that band that helped SLASH out with a loan of equipment when Snakepit's trucker didn't make it on time to the first East Coast show. Did SLASH refuse to go on? No, Bad Karma said...use our stuff...and the band did. So look for these heroes on Jan.24 at Quigley's in East Greenbush, NY and on Jan. 31 at Locomotion's in Cobleskill, NY. Bad Karma says that is a show not to be missed!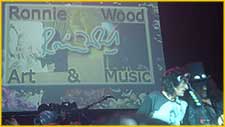 Tom wanted to tell us about one of his SLASH-related prized possessions. When SLASH was in Ireland playing with Ron Woods, he and his wife stayed at Ron's. Remember, this was a SLASH fan landmark as it was here that baby London was conceived. A friend of Tom's works at Ron's house managed to get an autograph and a copy of the set list from SLASH. His friend presented this to his buddy, Tom, who is still thrilled about it. Thanks, Tom!





News Reported: 01/13/03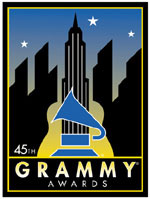 SLASH is nominated for a Grammy Award! There have been so many messages come in that we know you are as excited and pleased as we are. The nomination was in the category Best Rock Instrumental Performance with his moving "Love Theme from The Godfather". The track appears on the soundtrack for The Kid Stays In The Picture, a film based on an autobiography of Robert Evans. This is the 45th Annual Grammy Awards with eligible material from 10/1/2001 through 9/30/2002. There are four other contenders with SLASH including Gov't Mule and Joe Satriani. The Awards will be presented on Feb. 23 at Madison Square Garden in NYC and will be broadcast on CBS from 8-11:30pm ET/PT. The Awards will be broadcasted internationally as well. We're positive SLASH will attend. This is his first nomination, and we hope there will be many more. Everyone is hoping SLASH will win in February. There's some good competition there! If we could do it, we'd award one to him now! Thanks to everyone who contributed and wished SLASH the best.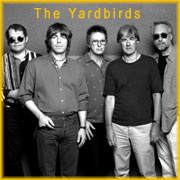 Here's another SLASH musical appearance to anticipate. Last year we learned that SLASH had guested on a forthcoming Yardbirds' album with the release date given as Spring 2003. The release date is now April 22, and the album title is Birdland. This is the first new album for the Yardbirds since the sixties. There are two original members in the band plus three new ones and a whole bunch of guitar gods guesting. The guest axemen include Jeff Beck, SLASH, Brian May, Steve Vai, Joe Satriani and Jeff Baxter. The guitarists contribute new licks to the old Yardbird classics. SLASH plays on "Over, Under, Sideways, Down"! Here's the complete track listing of Birdland:

I'm Not Talking
Crying Out for Love
The Nazz Are Blue (featuring Jeff Baxter)
For Your Love (featuring Johnny Rzeznik)
Please Don't Tell Me 'Bout the News
Train Kept a Rolling (featuring Joe Satriani)
Mr. Saboteur
Shapes of Things (featuring Steve Vai)
My Blind Life (featuring Jeff Beck)
Over, Under, Sideways, Down (featuring Slash)
Mr. You're a Better Man Than I (featuring Brian May)
Mystery of Being
Dream Within A Dream
Happenings Ten Years Time Ago (featuring Steve Luthaker)
An Original Man

Thanks to Richard in London for sending in all the information!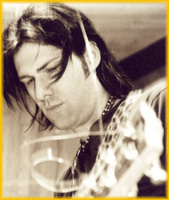 The auditions continue for the lead vocalist in The Project. Todd Kerns is a Canadian entry, and we just got word that you can hear Todd for yourself on his web site. We also got word from several Sebastian Bach fans that Sebastian is also a Canadian. Sounds like we could get an international band out of this! Here's where you can check out the singing and phrasing for Todd. Sebastian...well, check out one of his albums! Todd Kerns Sings. Thanks to Joel for the Sebastian Bach information.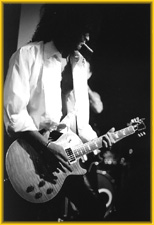 When SLASH played at Blender magazine's Blender Sessions at Club Ivar, this was the show where Rolling Stones guitarist Ronnie Wood jammed to "Paradise City" with SLASH, Sebastian Bach, Perry Farrell and Wes Scantlin. Guess who was in the audience? Mick! Mick! Mick!, also known as Mick Jagger of the Stones. Mick escorted his daughter Elizabeth. It's said the audience really rocked out to "an all-star rendition of the Guns anthem, much to the delight of the carousing crowd." And you wondered why it was a private show! Other celebs were Jack Osbourne who did an Axl imitation during the encore and "ruining perfectly good material", Matthew McConaughey, Chris Judd, Nick Stahl, Leonardo DiCaprio who spent the night alone in the green room for some reason, Drew Barrymore with fiance Fabrizio Moretti of the Strokes and the rest of that band. Wonder if anyone wanted a SLASH autograph?!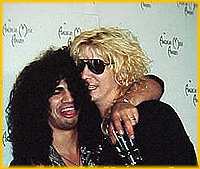 Haris saw MTV's Ultra Sound: Worst Band Breakups, and they have a mention of SLASH's Project there. This is the one where MTV chacterizes the lead vocalist search as "desperately seeking". If they were desperate, they could take the 500 demo tapes and pick one at random. They also played the new GNR on VMA 2002. Haris calls this "a failure, of course". Haris saw the show again...different subject. SLASH and Duff were on accepting an award for Guns (must be the American Music Awards), both were drunk and SLASH used the f-word several times on national TV. Dick Clark turned old, gray and angry overnight; and SLASH had to apologize on TV. SLASH said he had no clue they were getting an award. He was just there hanging out (at the bar) when the band's name was called. Unaccustomed as he was at that time to public speaking, SLASH did try hard but it all fell apart. He and Duff laughed and laughed. The Bad Boys of Rock! Come back!! And Haris would like you to know that the GNR tribute band, Mr. Brownstone, will be at Harper's Ferry in Boston, Jan.18, 9pm. Thanks, Haris!



This coming Friday, Jan. 17, we have tickets to see the Rolling Stones! And a hotel room to crash in before and after with other fans! Since we'll leave early and not return that evening, there will be no SLASH news this Friday. Hey, we gotta go see Mick! Mick! Mick! We'll see all of you next Monday. Send SLASH information in as usual! Thanks!





News Reported: 01/08/03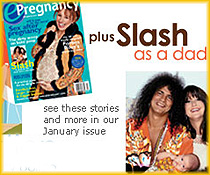 There was a cover story in epregnancy's about the new addition to the Hudson household, baby London. They took some great pictures and uncovered some interesting personal information on the pregnancy, the new baby and how this all affects SLASH. We could not have shared this with all of you without Jeannie who was kind enough to scan it in and let us have a look. Thank, Jeannie! There are four large files here. You may have to wait and then do some scrolling, but it's worth it. On the magazine's home page, www.epregnancy.com, they say this is the January issue. So it may be that this is just coming on to the newsstands. They recommend Barnes and Noble as well as Border's. Our large grocery store also carries this magazine but does not have the SLASH one out. Take another look where you are and see if you can find it! The most interesting item after seeing the nursery and London with SLASH was reading that SLASH had gotten rid of his entire snake collection for the baby. He seems just thrilled at being a dad, and there are all kinds of smiles and tender looks to prove it. Enjoy!

SLASH Talks Babies/Fatherhood

Hello, London...Goodbye, Snakes

A Dream Nursery

Nursery for a Special Baby





Here's a chance to see SLASH and/or GNR on TV. On 1/7 at midnight ET is MTV 25 Loud. It airs again on 1/7 at 10am ET. Both are on MTV2. Also on 1/7 is MTV's Most Talked About Moments. It's at 10am ET on MTV. This one is about the new GNR, we believe. Then on 1/9 on MTV2 at 10am ET comes Testimony: 20 Years of Rock on MTV. This is the original GNR. It's on again on 1/10 on MTV2 at 7pm ET as well as 1/12 at 5pm ET. Also on 1/9 is a repeat of Headbangers Ball Uncensored on MTV at 11:30pm ET and on 1/10 at 6pm ET (this second show is on MTV2). It's shown yet again on MTV2 1am ET on 1/12.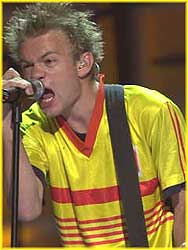 Some general rock information...Gail Worley is one of our favorite writers. At one time she edited Metal Edge. Now she's back in print. She's writing for MK Ultra which she describes as "the Darkest Rock & Roll Publication in the known universe"! Gail has a couple of articles in this issue, interviewing Joey Jordison of Slipknot and Murderdolls. She also takes on a couple of Ministry guys. If this sounds like its right up your alley, you can find the magazine at Tower Records. Check also for ReQuest where Gail interviews "Canada's crown princes of idiot rock, Sum 41". One of the Sum 41 guys claims SLASH as his hero and hopes to play with him one day. No word from SLASH on this!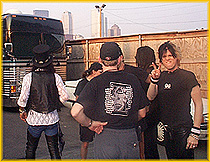 While SLASH is busy in the nursery and in the studio, one of the Snakepit guys is on the road. Keri Kelli is taking the road with LA Guns. Keri's going to be busy! He's a really nice guy who will do autographs or just chat. Help pass the winter away with Keri:

Jan 30 - Sacramento Roadhouse, CA
Jan 31 - San Francisco Studio Z, CA
Feb 1 - West Los Angeles Fox Club, CA
Feb 2 - San Diego Brick By Brick, CA
Feb 14 - Reading Silo, PA
Feb 15 - Baltimore Thunderdome, MD
Feb 16 - W. Springfield Jaxx, VA
Feb 17 - Virginia Beach Hooplas, VA
Feb 19 - Buffalo Reservoir, NY
Feb 20 - Passaic Connections, NJ
Feb 21 - Brooklyn L'Amour, NY
Feb 22 - Berwick Pepper's Plex Arena, PA
Feb 23 - Centereach King's Club, NY

He also has a jam band show lined up for Jan 11th at San Diego Brick By
Brick.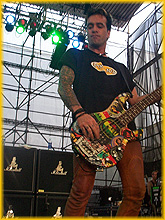 While we're on Snakepit, Craig sent this in about Johnny G. Craig was watching the film Minority Report (starring Tom Cruise) on DVD where they had some extra information on the actors. Sweden's Peter Stormare has a band called Blonde From Fargo, and the DVD mentioned that his bassist is from SLASH's Snakepit. This is Johnny Griparic, of course. Thanks, Craig!

Gilby Clarke from Snakepit '95 and GNR is producing the new EP from Kansas City-based rockers, The Gadjits, who recently signed with RCA Records.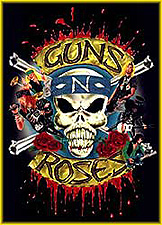 Jonah was at the KISW site, a Seattle radio station, and they were doing the Top 999 rock songs of all time. GNR sewed up the #1 position with "Welcome to the Jungle". They had a whole bunch of slots including:

#4 Paradise City
#28 November Rain
#30 Sweet Child O' Mine
#36 Mr. Brownstone
#106 Patience
#134 You Could Be Mine
#153 Live And Let Die
#179 Nightrain
#246 Don't Cry
#324 Used To Love Her
#353 Knockin' On Heavens Door
#399 Rocket Queen
#493 My Michelle
#499 Pretty Tied Up

Jonah made it through the first 500! Thanks for this, Jonah! And as Jonah says...where is Axl's new GNR? Ummmm...their album will be out someday!





News Reported: 01/06/03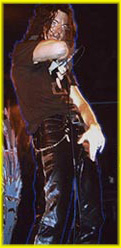 Jerry sent in news of yet another vocalist trying out with The Project. He says over the holidays he was hanging out at a friend's guitar store. In walks Shawn Albro, lead vocalist for the band UPO. They talked with Shawn about what UPO was doing, and Shawn said they were working on some new material. Then, Jerry mentioned that SLASH was getting together a new band and was looking for a singer. Shawn then said he'd been working with some other bands while UPO is in hiatus, and SLASH is one of the people he has been working with! Thanks, Jerry! If you'd like to see what UPO and Shawn sound like, here's their site:


UPOMusic.com






If you can translate French to English, one of SLASH's French fans is in need of help. Camille has a site in French, and she would like to make a bilingual site that English speaking visitors can visit and enjoy. Contact Camille directly (French or English) at aintslashgrand@libertysurf.fr. So you can see what needs to be done, Camille's site is at this address:


slashsnakepit.chez.tiscali.fr/index.html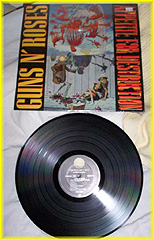 One person replied to our request for GNR and/or SLASH related gifts! Actually we got one too from the Build-A-Bear site. Although he is cute, his resemblance to SLASH is...not much. So we will spare you that. Pictured here is Mark's gift, a beautiful copy of Appetite for Destruction in vinyl with the recalled rape cover. A beauty! How would you like to trade a weird bear for that, Mark? Did anyone happen to see a 2003 Guns N'Roses calendar? There's been one every year for a long time. Either they didn't know who was in the band or Interscope went after them.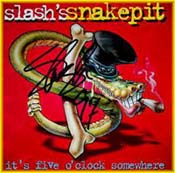 In December we talked about Steven's encounter with Dizzy Reed and Del James and Dizzy's reluctance to sign Steven's Snakepit CD. We said that Dizzy wasn't on there which is not true! Get out your It's Five O'Clock Somewhere CD, and you'll see Dizzy in the credits and pictured on the cover. Several people sent this in, and blbo318 pointed out that Dizzy is listed for keyboards and backing vocals. He says he finds it funny that Dizzy recently commented about how SLASH didn't want to move forward back then, and yet he went along with SLASH on the first Snakepit album. Dizzy also teamed up with SLASH and Michael Monroe on "Magic Carpet Ride" from The Coneheads soundtrack. Try that one next time, Steven!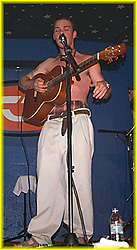 Back to The Project...another vocalist trying out is Travis Meeks from Days of the New. Richard's from London in the UK (proud home of the conception of Baby London Hudson), and he saw an interesting interview with Meeks in the December (?) issue of Guitar World:

"Meeks collaborates with former Gunners.
Days of the New founder Travis Meeks has been recording demos with the new band of former Guns n' Roses' members Slash, Duff McKagan, Izzy Stradlin and Matt Sorum. 'Slash, Izzy, Duff and Matt have all been working on new material that I have been blessed with the opportunity to hear and witness recorded,' Meeks' business partner Jonathan Hay recently said. 'Travis Meeks has been laying his vocals over the tracks they have submitted. This is the best rock music I have heard since "Appetite for Destruction" Hay continued in a press release. 'The new material has that vintage GN'R feel that millions craved and loved in the late Eighties and early Nineties. I can honestly say that as a witness, this band (tentatively titled The Project) is back and better then ever. Travis Meeks and the remaining members sound completely natural, comfortable, and astoundingly incredible. Travis, like [GN'R frontman] Axl [Rose], is from Indiana. Both diverged from their original bands. This is a match made among the stars with a sound that is out of this world.' It is presently unclear if Meeks will in fact officially become the lead singer of the new band formed by the ex-GNR members or if their collaboration will go no further than these demo recordings. In the meantime, Meeks, who has been involved as a label executive for Distillery Music Group LLC, has also been working on a new Days of the New album, "Purple", due out next year. For more information, visit the group's official web site at www.daysofthenew.com."

Bear in mind that no one has been selected at this time and demo tapes continue to come in. If you know someone who is interested, have them send a demo tape/CD to the address we use for fan mail. It is at www.snakepit.org, scroll down to Fan Menu, click on Writing SLASH. Have them include a telephone number and a regular postal address. SLASH does not use email. Thanks!





News Reported: 01/03/03