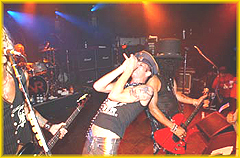 We're still waiting for confirmation on those US dates that SLASH released about a month ago. Until the management confirms, the venues and dates could change. A confirmed date of June 18 has been added for Europe, though. Velvet Revolver will appear at the Fields of Rock 2005 festival in Nijmegen, Holland. Also scheduled are Black Sabbath, Slayer, Motorhead, Audioslave and the German band Rammstein. For more information on this festival, click Fields of Rock. A change of venue has been announced for the Adelaide, Australia concert of February 26. Instead of the Entertainment Centre, the gig will be at the Thebarton Theatre. Tickets purchased from BASS for the Entainment Centre are valid at the Thebarton Theatre. New tickets should be purchased at the Thebarton from Venuetix or BASS. Thanks, Brian!

It's confirmed that Velvet Revolver will take part in an all-star live performance of The Beatles song "Across the Universe" during the February 13 Grammy Awards. The song will feature Bono, Stevie Wonder, Brian Wilson, Alicia Keys, Norah Jones and Alicia Keys. It will be released to raise funds for the Southeast Asia tsunami relief fund. The track will be available for download at Apple's iTunes Music Stores for 99 cents with all proceeds going to aid the victims of the tsunami. The performance will be video taped and it will appear on CBS.com soon after CBS broadcasts the awards. Velvet Revolver is up for three awards although SLASH and Duff agree they face stiff competition from the other nominees. They agreed that the gigs they are doing and the response they are receiving mean much more to them. Queen Latifah will host the affair with Hoobastank, Alison Krauss, Tyra Banks and Steven Tyler confirmed as presenters.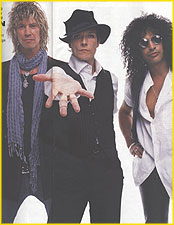 Awhile back we told you that Kerrang! magazine was offering the opportunity for fans to mail in questions to SLASH. In a recent interview, SLASH answered some of these and they are up now on the net. Great questions and cool answers. Q&A With SLASH to have a listen and a look! Speaking of interviews, Gil sent us a huge SLASH interview from clickmusic.com. Gil's the editor, and we really appreciate his sending this to us. The interview is broken up into segments so you can spread SLASH out all day long if you want. Thanks, Gil! clickmusic.com interview. And when you get there, look for the VR picture at the right and click on that!





(News Updated 2/02/05)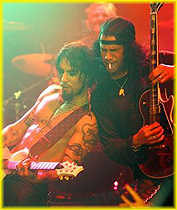 Here's a cool picture of SLASH and Dave Navarro at the Camp Freddy gig to benefit the Southeast Asia tsunami relief. SLASH was one of the special guests of CF at the Key Club in Hollywood. Other special guests were Jery Cantrell from Alice in Chains, Courtney Love from Hole, and Steve Jones from Sex Pistols. Thanks to Ray for sending this in. The gig was January 27, and the venue was packed as the jam band put on their usual great show. Camp Freddy entered the studio in early 2004 for their debut album due out later in 2005. Thanks, Ray!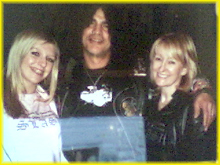 Another cool picture of SLASH is this one with fans Jan and her daughter Jade. Mom and daughter were at the Birmingham and were lucky enough to get to meet SLASH after the show. Sure can see that family resemblance! SLASH looks good between two these two blonde fans, too!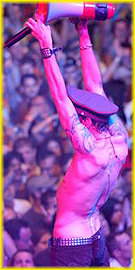 There are some good interviews around the net. ESPN did a really good one with Scott. If you're not as familiar with Scott as you'd like to be, this one is a good read. His comments on SLASH are funny...they ask him what he would do with SLASH's hair as he is a hairstyle maven. He said there are scorions and snakes in there. The whole interview has comments on his life now and before. We think you will enjoy it, and thanks to Mary for sending it in. The interview is at ESPN Page 3.
The Weekend Standard is China's business newspaper. Not where you might expect to find a SLASH interview, but there it is. This one is more like the ones we've been used to reading. How SLASH has cleaned up his act, how VR was formed, etc. The introduction is a hoot. The article starts out with:
The record company representative is looking wobbly. "I made the mistake of going for a quiet drink with Slash last night,'' he says. "I woke up this morning face down in my garden.'' Check out the article here.

And the last item we found around the net was VH1's list of the Top 20 for the last week with "Fall To Pieces" still on there at #18.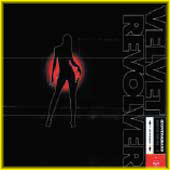 Here's a reminder that the Contraband re-release date is Valentine's Day, February 14. You can call it the re-release, but it's official designation is the Contraband Tour Edition. Outside will be a black slipcase (as far as we know there will be no other colors). Inside is the interesting part. There's the re-mastered Disk 1 with the original 12 tracks. Disk 2 is a bonus disk with some great tracks and video:
1. No More No More
2. Negative Creep
3. Surrender
4. Fall To Pieces [Video]
5. Slither [Video]
We've seen this offered around the net. The guys at Sound World made all this information available to us and say they have the cheapest price of any Australian retailer on this. It will retail for AUD $24.95 (about USD $17). This should be about the lowest price out there. You can use this Sound World link that takes you right to the Contraband Official Tour Edition. We'll mention this in the news for awhile in case you miss this announcement. Thanks to the folks at Sound World who gave us a special fan's heads up on this one!





(News Updated 1/31/05)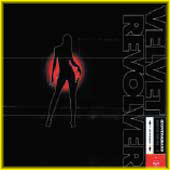 Hey now! The Contraband re-release date is Valentine's Day, February 14. You can call it the re-release, but it's official designation is the Contraband Tour Edition. Outside will be a black slipcase (as far as we know there will be no other colors). Inside is the interesting part. There's the re-mastered Disk 1 with: Track Listing:
Disk 1
1. Sucker Train Blues
2. Do It For The Kids
3. Big Machine
4. Spectacle
5. Falling To Pieces
6. Headspace
7. Superhuman
8. Set Me Free
9. You Got No Right
10. Slither
11. Dirty Little Thing
12. Loving The Alien

Disk 2 is a bonus disk with some great tracks and video:
1. No More No More
2. Negative Creep
3. Surrender
4. Fall To Pieces [Video]
5. Slither [Video]
We've seen this offered around the net. The guys at Sound World made all this information available to us and say they have the cheapest price of any Australian retailer on this. It will retail for AUD $24.95 (about USD $17). This should be about the lowest price out there. You can use this Sound World link that takes you right to the Contraband Official Tour Edition. We'll mention this in the news for awhile in case you miss this announcement. Thanks to the folks at Sound World who gave us a special fan's heads up on this one!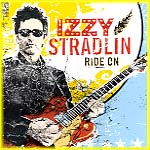 If you can't get that much together and you've always wanted some of the CDs from the ex-Gunners, we have good prices for you on amazon.com. Right now, you can pick up SLASH's Snakepit's It's Five O'Clock Somewhere for $.97, Gilby Clarke's Rubber for $.17 and Izzy's Ride On for $.99. Wow! All three are worth picking up. The Izzy album was out in Japan and could only be bought as an import making it about $30 US, so it's a real bargain.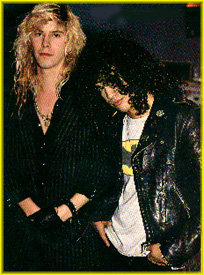 You may have read on the net that Axl Rose has signed with Sanctuary Records. In addition, some reports are that Sanctuary has the rights to the GNR back catalog. We asked the SLASH management if Axl owned the back catalog and had the right to sell it. The deal is that the back catalog is all material from Appetite... through the ...Illusion albums, the original band, GNR. There are three signatures required on every deal: SLASH, Duff and Axl. Since Sanctuary bought Axl's share for 20 years from now on every deal, there has to be approval by Sanctuary, SLASH and Duff. Axl got some millions up front and nothing else on this for 20 years. SLASH and Duff have not signed over their shares to anyone...too valuable. Hope this clears up any confusion.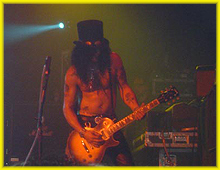 There's a rumor that Velvet Revolver will play Donington and that GNR will also be on the bill. We can't confirm the Donington gig for VR and certainly not for Axl. Stay tuned. The information we have says they would play on Sunday if, indeed, they ink a deal. It looks like the original Black Sabbath is getting together for a European summer tour and it's said that Velvet Revolver will be the supporting band. A show for Vienna, Austria at Wiener Stadthalle on June 20 is confirmed with tickets going on sale February 2. Black Sabbath is also signed for Denmark's Roskilde Festival from June 30 to July 3. No word yet on Velvet Revolver there, but last year there were 150 bands performing. An item that is not a rumor is that Velvet Revolver recorded an acoustic version of "Fall To Pieces" on January 26 at Lavish Studios owned by Scott and producer Doug Grean. In other news, the single to benefit tsunami victims, "Tears In Heaven" that VR took part in will be released in the UK on Monday, February 21. SLASH was among the special guests during a Camp Freddy benefit concert for tsunami relief on January 27 at the Key Club.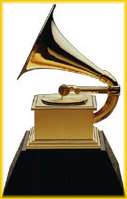 We hope you haven't forgotten the Grammy Awards scheduled for February 13. Rolling Stone got together a panel to forecast 11 major categories. Velvet Revolver is nominated for three grammies. For Best Rock Album, Brandon Flowers of The Killers said "You've got the votes for Velvet Revolver based on who they are, which kind of sucks. I'v heard all their singles, and I can't remember one of them." Joe Perry said, "The fact that Velvet Revolver even got a record out is an admirable feat. But Green Day outdid themselves on American Idiot." VR is also nominated for Best Hard-Rock Performance with "Slither". Rolling Stone said VR should win: " 'Slither' It's OK to cry-yi-yi, Axl". And Velvet Revolver is also up for a Grammy on Best Rock Song for "Fall To Pieces". Doug Robb of Hoobastank said, "Let's face it: You just can't get more rock than Velvet Revolver".





(News Updated 1/28/05)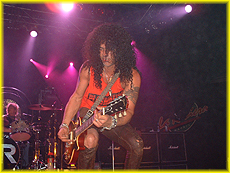 Good news for Germany and those willing to make a road trip there! The band list for the famous Rock Am Ring and Rock im Park festivals is out and Velvet Revolver is confirmed for the shows. Other artists are Iron Maiden, Green Day, The Prodigy, R.E.M., Slayer, Marilyn Manson, Incubus, Slipknot and more. We don't know when tickets will go on sale but we do know the show dates, June 3, 4 and 5. The festivals are in Nurburgring and Zeppelinfeld, Germany. Since it's a festival, VR will not do a full show of 2 hours, but you will get a tasty bite of them, and we expect all of you to go out and cheer them on. If you want more information, here's a link to the festival site.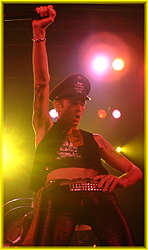 Josh sent us a sighting of SLASH on the Ernie Ball website. If you go there, click SLASH at bottom and there is a brief write up on The Man. Ray sent us in a mention of Steven Adler who turned 40 on January 22. He and SLASH went to school together, so SLASH is looking at the big 40 this summer, too. Alicia was reading an article about Ted Nugent and he mentions Scott. Ted said he likes Scott, even if Scott's dream is to be like Ozzy, a liberal hippie puke dog. Ted is not the shy one.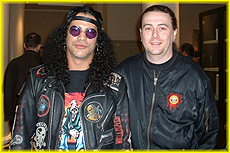 A bunch of people went to the Birmingham show. Jan went to this one as well as the one in Manchester. A lot of people seemed to pick up a couple of shows. Jan's daughter was along and after the Birmingham show, they met SLASH! SLASH took time out to speak to everyone waiting backstage and had his picture taken with everyone there. Jan's daughter got autographs. He spoke to Jan's son on the phone and signed a t-shirt that said "And on the seventh day, God created SLASH". SLASH said the words made him feel humble. What a great guy! Thanks, Jan! David was also there, and said the place was nearly full. The crowd was pumped and the band was great.VR played their usual three GNR covers and a few STP ones. The crowd really got going when SLASH put his hat on. There was a drum solo from Matt. SLASH had a few guitar solos. Scott and SLASH thanked the crowd for their support. SLASH said if it weren't for the fans, they would not be there. David says he was very impressed with Scott as a frontman and he might go so far as saying he is better than Axl especially since he doesn't wear those horrible tight shorts like Axl did. The support act, The Datsuns, were pretty good. The band played at least 2 hours and is without a doubt the best concert David's been to and his ears are still ringing to prove it! We gave you Antony's review last time, and he just sent a picture from the show, and we have it here for you.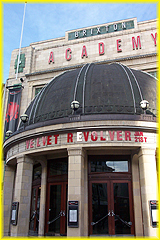 Francis was at the Brixton Academy show and reports that it was incredible. The first of two supporting bands was terrible. The Datsuns were next and were amazing! There was a long wait for Velvet Revolver, but there was an explosion of noise when they came out and everyone went crazy. The played the 3 GNR covers, and the atmosphere was hyped! When VR left, everyone was happy and blown away. Scott was an amazing frontman, and the lighting was cool. Thanks, Francis! James was at the Cardiff show and liked this one better than the Dublin show he also went to. The crowd got annoyed when they had to watch the "Team America" movie trailer 10 times over while waiting for Velvet Revolver. James said that in Dublin, the crowd was fairly dull and moody, but in Cardiff spirits were extremely high. The band was as amazing as ever, playing the exact same set with the addition of "Bodies" at the end. James says Scott is the greatest frontman of the decade with his great stage presence and vocals. SLASH was his primary focus during the gig, but Scott oustaged the whole band! James is going to catch another show in London. Road trip!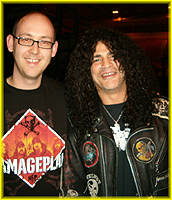 Myk went to the Manchester show,and it was great except for the long delay in the band coming out. Scott said he was sorry, and they didn't cut their set. Myk preferred them in September at a smaller venue, but it was still brilliant. The crowd cheered louder when the GNR covers were played, but a lot of people around where Myk was sitting didn't seem to know these or the STP covers! VR is making it without their previous bands' successes. One bad point! Myk's dad's car was stolen and they had to sort it out with the police. The next train home was 5 am, so they got a cab and passed what looked like the VR tour bus leaving Manchester. Great time overall on this great birthday present! We don't have a picture of Myk to show you, but here is Antony meeting SLASH!





(News Updated 1/26/05)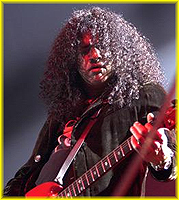 We've got some links for some good sightings of Velvet Revolver. Brian sent us two which are photos. The first is for live pics from the Cardiff show. The second is from the Manchester show. They are thumbnails but pretty cool! Norm sent us a link to The Sun where there's another one of those histories of the band. We direct your attention there to the three cool pictures of SLASH. The interview is with SLASH and Dave. Check it out at "SLASH: I live to rock".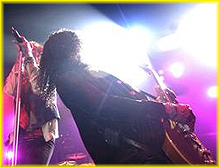 Speaking of the Cardiff show, Rich was there, and rated Velvet Revolver as totally awesome. Scott is a great frontman generating a great vibe and atmosphere, and SLASH was cool. Dave, Matt and Scott were fantastic. Matt got the crowd going with his solo from "You Could Be Mine" going straight into "Mr.Brownstone" with the rest of the band coming in. Rich said they were especially great on "The Kids Are Alright" and "Fall To Pieces". Overall, it was the best concert he'd ever been to and brought rock and roll as they said they were going to do. Thanks, Rich!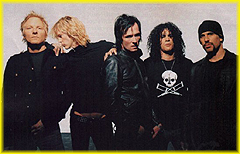 Dave was at the Birmingham UK Velvet Revolver show on Tuesday and was also at Newcastle and Manchester! He says the highlight of Birmingham was actually meeting SLASH near the hotel. Dave says that SLASH was such a nice guy and he's been waiting since '88 to meet him. Dave got his picture taken with SLASH and got some things signed. Dave said he was shaking he was so happy. SLASH asked his name and where he was from. He also got to meet Duff! Again, a really nice guy. Duff signed all his stuff and had a photo taken with him. When Dave said he'd been trying since '88 to meet him, Duff said that was a long time, but we won't even think back that far! He also met Scott and Dave who were both quiet. Scott didn't seem in a very good mood, but Dave really wanted to meet the ex-Gunners anyway. Dave said the three shows were awesome - a great band. We'd love to see those photos, Dave! Thanks for your review and sharing that story of meeting the guys. Samantha also went to the Birmingham show and sent in a review. It's a good one and we'll let Samantha tell you herself!. Thanks, Samantha for sending that in.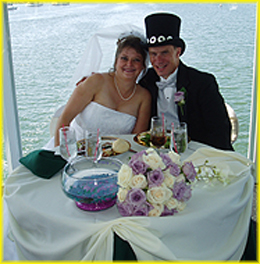 T.G. recently got married and wanted to have a duplicate of SLASH's hat to wear to his wedding. You can see here how the hat turned out. So many people ask about this that we asked T.G. to send us the information on his hat. He said he bought it through shushans.com. It is the "madhatter hat" and was $78. Then, you have to have the band around it. The hat band was purchased at Wm Brown Holster Co., email gunleather@wmbrownholster.com. T.G. says that Barbara and Bill Brown made the hat band from pictures of SLASH's hat band (of which there are plenty on this site). The band was about $70. T.G. says the hat looks like the real deal and is very good quality. So we hope all of you who want one or think you will, will file this information away for future use. Thanks, T.G. for sending that in, and congratulations on your wedding!





Page Updated 01/21/05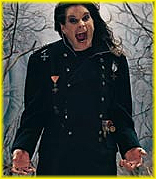 MTV reports that Ozzy and Sharon Osbourne have settled on one plan to help the tsunami victims. They plan to gather a line-up of musicians to cover Eric Clapton's "Tears in Heaven". Velvet Revolver is one of the artists on board. Recording sessions will take place this weekend in London where VR will lay down vocals, and the following week other artists will participate in LA, NYC and Boston. No word yet on when the track will hit radio. Sales of the song will benefit the Disasaters Emergency Committee's Tsunami Earthquake Appeal.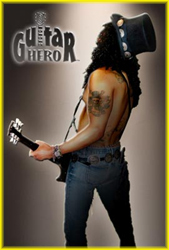 KnuckleBonz, the company making the statues of guitar heroes sent out a newsletter recently. You can now pre-order Zakk Wylde. Randy Rhodes is on back-order but they expect more any day now. As for the SLASH limited edition, it is entering the final phases of production and they will have pictures available by month's end. SLASH is working closely with the company to make sure they nail as many details as possible. He has added a new tattoo to celebrate the birth of his second son, CASH, and this will appear on the statue. More details as they come in, but you can pre-order the statue at www.guitarhero.net.



Andy tells us that on the BBC Radio 1 site there's information on Duff and SLASH. They'll be presenting the "Rock Show" Tuesday night, January 18 between 1am and 3am London time. Mellow out with the guys in the wee small hours of the morning.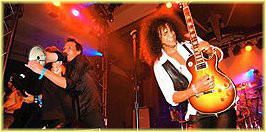 The forthcoming US tour dates may be somewhat fluid. The list has been taken down from the band's official site (although we are keeping them up on our calendar). One correction we got from Denise was that the TD Waterhouse venue. It's listed as Tampa, but it's in Orlando. We did correct that one. Fans are asking when tickets go on sale, but we have no information on that. Best thing is to watch Ticketmaster, too or call the venue. If you haven't signed up for pre-sale information, go to the band's official web site at www.velvetrevolver.com. The band management says they will send out an official listing as soon as they have one. The original came from SLASH.



Some fans have been saying that the show didn't sound as good as the Live Era CD. Josh wrote and said one reason is that the Live Era CD has be remastered, Axl redid his vocals and most of the songs were taken from the Tokyo set that was released on video...not normal gigs from a tour. Josh advises that third row is great for visuals, but midway back is best for sound. In an arena, it is possible to be TOO close. Thanks, Josh. But oh, to stand near SLASH!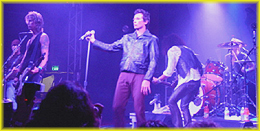 Jimi was at the VR Newcastle gig Saturday, and it was awesome with SLASH in top form. Ignoring Josh's advice, Jimi got right up front and had a great review. SLASH's wah pedal and talkbox were just off to the right hand side dead in front so that's where Jimi wanted to be. Matt said he liked the local brew Newcastle brown ale. VR did an awesome acoustic set for the first encore and then for the second they played "Mr. Brownstone and ended with "Slither". Jimi saw them in September on their pre-tour and they were just as good...now it's off to Hammersmith this weekend for ANOTHER gig! Thanks, Jimi! Sam was also there to see one of the few living idols he has left. He got tickets to the best concert he's ever been to. The only thing that would have made it better would have been to meet SLASH in person. Sam waited after the gig, but no sign of our guy. Thanks, Sam!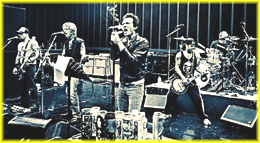 Antony went to the Velvet Revolver Birmingham show, got back at 3am and wrote a review for us. He says "they ruled as per usual"! The band played nearly the entire Contraband album with three GNR covers ("It's So Easy", "Mr.Brownstone" & "Used to Love Her"). They also played "Sex Type Thing" from STP. Antony also said the sound in the venue so bad that they couldn't hear Scott at times (note Josh's advice above). Antony was lucky enough to score a backstage pass through a friend of a friend. When they were told to go and talk to them, Matt was leaving and Scott and Duff were long gone. Antony was very disappointed, but SLASH came out and hung out for about 30 minutes with about 8 of us. SLASH talked for a bit, had some photos taken and was cool if not a little tired. Antony said that the band ruled but he was rather disappointed that after years of waiting to get backstage, he only saw Matt for a split second and didn't get to talk to Duff. Once again, we have to say...well you met SLASH which is more than most fans! Thanks, Antony!





Page Updated 01/19/05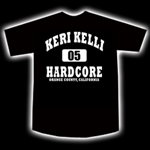 Here's a TV Velvet Revolver coming up very soon, and Norm let us know about it. Velvet Revolver will appear on the Travel Channel in an episode called "VR Fantasy Flights". It's on at 8pm tonight. Norm also reported that he saw Keri Kelli playing guitar on VH1's remaking of Vince Neil show. He was on for a few seconds at the end when they showed Vince's band. Thanks, Norm!

Adrian was on the Velvet Revolver web site and noted that the Perth show is gone from March. The show seems to be cancelled but an extra show is added to Sydney on February 24. Adrian asked why this was done, but we don't have a clue, so we sent the question off to management but haven't heard yet. Things that far out have a way of coming and going.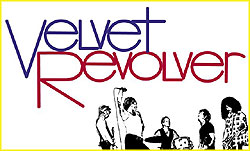 We received some reviews recently. Aaron sent in some notes on the Glasgow, Scotland show. He says it was the best show he has ever seen and was about 5 feet from SLASH. To get that close, he had a 4 hour wait outside, but it was worth it. Three GNR covers, Used to Love Her, It's So Easy and Mr.Brownstone were played which really got the crowd going. He tried to get backstage but wasn't able to. He was deaf in his right ear for a couple days as a big souvenir! Thanks, Aaron! There was another review from Glarisicky who said they were even better than their previous visit. They took the roof off and SLASH is the best in the world. Evidently SLASH gave a guitar to someone at the show.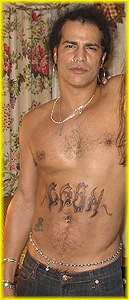 We also got a review from Jamie who went to the MEN arena in Manchester, UK, and it was the best concert he'd ever seen. They came on 45 min. late and Scott apologised for the delay. Jamie was three rows from the front in the middle and it was incredible. The sound quality wasn't great as compared to the Live Era CDs, but it was still amazing. He'd never seen SLASH live before and SLASH is his idol, the reason he is a session guitarist at the moment. Jamie said that a highlight of the show was Dave and SLASH having a solo competition. Jamie said that "You've Got No Right" was the best song. SLASH played his doubleneck, Godzilla, while smoking and got ashes in his hair. The crowd went crazy for the GNR cover songs and they ended with a long and amazing "Slither". SLASH was sporting his new tatoo CASH on his tummy. A great evening! Thanks, Jamie! Mat was also there and said there was a massive cheer when they came out with all their energy just blasting. The highlight for Mat and friends was when SLASH came out in his tophat, smoking and shirt off. The crowds went wild! Mat says Dave doesn't get enough credit even though he was definitely the most energetic of the guys and provided excellent entertainment! Thanks, Mat. Pauric was at the Dublin show and was in the front row. VR sent the fan into a fit of madness for the whole night and delivered on their promise to be the only rock band with attitude. The covers were great. Matt did a small drum solo leading into "You Could Be Mine", then stopping and starting "Mr. Brownstone". SLASH said he wished every city were as crazy as Dublin and thanked them for letting him smoke even though Dublin has banned smoking in public places. They finished with an extended version of "Slither". An excellent performance...10/10. Thanks, Pauric!
Jamie mentioned SLASH's new tat, the CASH one. He's also picked up a couple more. On his right forearm is the silhouette of the Velvet Revolver woman and on the right side of his neck is a dollar sign. A couple of people sent us an article saying SLASH got a new band together because he hadn't made enough money in the past to last him into retirement. Maybe that's why there's a $ on the neck! In fact, he says every band member from GNR was close to broke. The article says SLASH swears to do better in the future. He says he would have to be stupid to keep making the same mistakes. Best of luck, guys and thanks, Allen, for sending that in. The money is pouring in, now, we would think.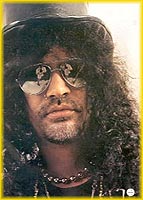 Keeping that momentum going is part of keeping the dollars roll in. SLASH says they are already working on their sophomore album. They have music from before their first album, music they are writing at soundcheck on tour. They should have more than enough for their second effort. And he says they are now a more solid band which makes it easier to pull the music together. They have grown as a band and know each other as a band. All is not shoveling money into the bank account, though. SLASH, AC/DC and Metallica have recently signed custom custom Ernie Ball Axis Sport guitars to benefit pediatric kidney research at UCLA Mattel Children's Hospital. Each guitar will be auctioned off through eBay where all proceeds will be donated to the Casey Lee Ball Foundatiion. The Foundation will offer autographed guitars throughout the year. Each guitar will be showcased at the NAMM trade show, January 20-23. First will be one signed by AC/DC members. The auction begins February 3. The foundation is a non-profit organization working for the advancement of pediatric kidney research.

Ian sent us mail that the latest issue of the fanzine, Nightrain is out. This issue features 46 pages of GNR content including fans meeting band members, review of Velvet Revolver gigs and photos and much, much more. Go to Nightrain to learn more.





Page Updated 01/17/05





The January 27 issue of Rolling Stone has some cool Velvet Revolver mentions. In the Readers & Critics Poll, readers chose Velvet Revolver as Best New Artist and Best Hard Rock/Metal Band. Agreed! In their Random Notes column, they talk about VR at the Hard Rock where they had a chance to talk to SLASH who reflected on the irony of not being able to get in to see the new GNR show there, and now VR is playing there! SLASH said the celebration started well before midnight and by the time they went on, he had "passed the drinking barometer for safe musicianship. There are sections of the set that I don't remember." The afterparty continued to rage in SLASH's suite. SLASH said it was unreal, but in the state he was in, "I could've been on a f*cking deserted island all by myself and it'd still have been funny."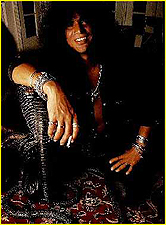 David wrote to us about Velvet Revolver's Irish gig. He said they made it half way to the stage which wasn't the best unless you were 6 feet tall. However, the venue had erected two huge screens on either side of the screen so that everyone could have a great view. We'll let David tell you the rest in his own words. Thanks for that, David!



Here's a pro review of the band in the UK that Francis sent to us. It also appeared in the Manchester Music: The Herald.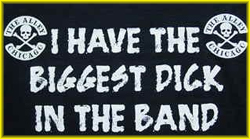 Fans often write and ask where they can get a particular t-shirt SLASH wore or the kind of t-shirts he favors...and we all know what kind those are! Jim lives in the Chicago area, and he says he read our News recently and saw the mention of that funny "I Have the Biggest Dick in the Band" t-shirt, and he's the one who threw that up onstage to SLASH at the Chicago show. We've always said SLASH gets a lot of t-shirts free from fans or he spots them on tour. Jim says that if you want to look some over, go to the Alley t-shirt, a punk rock store which is truly awesome. See more at thealley.com.




Keri Kelli sent a note to say that all the CDs ordered from the Adler's Appetite website will be mailed out today. He said to check out their European tour shirts, too. The band is in Barcelona waiting for the flight to the final show in Spain. Keri is a good guy! On the other hand we were very disappointed to read part of an interview with Adler that Hector sent in. The interviewer says that Steven is the lone saviour for GNR because Steven is actually out there playing it. (what?...our question) Steven replies that he is happy he's capable of doing it now that he is nearly 40. He says he is a happy man, and he's scared to death because things are going so well. The biggest thing he wanted to do with SLASH and Duff was revenge. He characterizes the greatest revenge as success and says it is all he has wanted. He says he loves SLASH and Duff. (And here we go)...:"I wanna like it but (Contraband) it's crap. I've gone from song to song, and I can't like it." He tried to get SLASH to play on a couple of things, but he's too busy. "SLASH is going to hear this record we did, and he's gonna flip. It f*cking blows that Velvet Revolver crap away." Personally, we were stung by Steven's remarks, and very surprised that he thinks he can blow VR away. Well, there's plenty of room at the top, and it would be great if all the ex-GNR guys could make it there. We'll see.





(News Updated 1/14/05)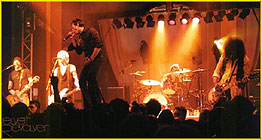 SLASH announced the forthcoming U.S. leg of the world tour set for March and April. You may have to travel some to get to one or more of these, but don't miss them this time! If you have the album, but aren't sure a long ride is worth it, forget that. Velvet Revolver absolutely rules live! Their shows are so full of energy that you expect lightning to start flashing in the venue. Here's the list of shows and we'll also have these on the tour bus link as soon as possible:

Mar. 24 - Bakersfield, CA @ Centennial Garden
Mar. 25 - San Francisco, CA @ Compaq/Bill Graham Civic Center
Mar. 26 - Los Angeles, CA @ Forum
Mar. 28 - San Diego, CA @ Cox Arena
Mar. 29 - Phoenix, AZ @ America West
Mar. 31 - Las Cruces, NM @ TBA
Apr. 01 - Dallas, TX @ American Airlines Arena
Apr. 02 - Houston, TX @ Reliant Arena
Apr. 04 - New Orleans, LA @ UNO Arena
Apr. 07 - Miami, FL @ American Airlines Arena
Apr. 08 - Tampa, FL @ TD Waterhouse
Apr. 09 - Jacksonville, FL @ Jacksonville Veterans Mem Arena
Apr. 11 - Atlanta, GA @ Gwinett Center
Apr. 12 - Charlotte, NC @ Cricket Arena
Apr. 14 - Norfolk, VA @ Constant Convocation Center
Apr. 15 - Washington, DC @ Patriot Center
Apr. 16 - New York City, NY @ TBA
Apr. 18 - Rochester, NY @ Blue Cross Arena
Apr. 19 - Detroit, MI @ Cobo/Palace Of Auburn Hills
Apr. 21 - St. Louis, MI @ Savvis Center
Apr. 22 - Milwaukee, WI @ US Cellular
Apr. 23 - Minneapolis, MN @ Target
Apr. 25 - Denver, CO @ Magness/Pepsi Center
Apr. 26 - Salt Lake City, UT @ E Center
Apr. 29 - Vancouver, BC @ Pacific Coliseum
Apr. 30 - Seattle, WA @ Key Arena/Everette Arena
Rock on!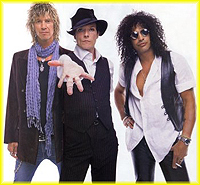 SLASH donated an autographed guitar to the UK newspaper The Sun to auction off as a benefit for the tsumani victims. Now the band has donated something to Kerrang! to auction off for the same cause. This time it's an ultrarare gold record, and the current bid is just above 100 pounds. If you're interested in the description and bidding on this or the other musical items offered, go to Tsunami Relief Fund.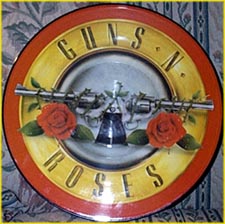 Francis sent us a note that the UK magazine Mojo has an article on GNR covering six double page spreads (14 pages) of the magazine. Pretty cool! Mojo is one UK publication that is readily available in the U.S., so U.S. fans can look for it on the larger newstands. Francis said the article is written by Mick Wall. If you know your GNR trivia, Mick is the one that Axl dissed in "Get In The Ring". Mick explains a little about the reasons for his fallout. Also in there is a photo of SLASH and Axl having a little faceoff which Axl tried to rip when he saw it! Be sure to get this one! Thanks, Francis!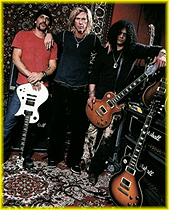 As you may know, "Dirty Little Thing" is to be the third single off Contraband. SLASH says it's the only song on Contraband written before Dave Kushner was in the band, so this is their oldest song. Second oldest is "Fall To Pieces". Keith Nelson was the guitarist when "Dirty Little Thing was written so he is credited as a co-writer. Keith was in the now-defunct Buckcherry. SLASH describes "Dirty Little Thing" as a really in your face VR song. In additional release news, Contraband will be re-released on Feb. 23 in the two sided DualDisc format. As we have mentioned to you, you can pre-order it at Amazon or many of the other music sites right now. One side of the disc will be a CD and the other will be a DVD. On the DVD side will be videos for "Slither" and "Fall To Pieces". There will also be photos and other materials. The music on the CD side has been remastered. We hope the DVD will be playable in all the countries it is sold in!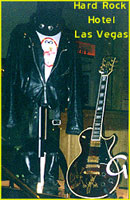 Two lucky fans were at very recent shows. Lisa should get an award for the longest road (plane) trip for coming from Italy to Las Vegas to see the guys on New Year's Eve. In the past, she's always been home in Italy, but decided to make the big trip to see Velvet Revolver. Her main man in the band is SLASH, but she likes all of them. Lisa has her own site, and she'd like you to come there to read her review of her big night in Vegas with VR. So we'll send you to Lisa's site to see the photos and read the review. Thanks, Lisa, for sharing your review! Simrin got in at 3 am from his London show, but he took time to download his pics on to his site so everyone could see them. He said it was a totally amazing show, and he was down front for most of it...dripping with sweat and the hose water one of the security guys would drench the fans with. We got the word from Sim that SLASH has yet another new tat in addition to the one for baby Cash. This is one on the arm for the VR girl. Very cool. SLASH is running out of room although the space above his heart is available! SLASH wore another funny t-shirt..."I have the biggest dick in the band" which we are still laughing about. Sim says the band played about 3 encores and finished the night with "Slither". He also says that the band has not been together long and he can just imagine the sound years from now. He's now trying to scour up tickets to one of the other UK gigs even if he has to go by himself. Face it, when you get there, you are almost instantly separated from whoever you came with unless you stand way to the side or back, so not having someone to stand in line with is no excuse! Sim met some people, esp. a really cool girl, there in the front lines. We hope you'll get those tickets, Sim, and let us know about anymore you go to. In the meantime, we can look at those dazzling pictures he's put up. They are at Sim's Pics.





(News Updated 1/12/05)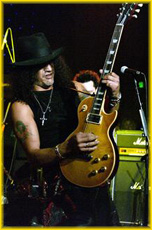 Last night was the start of this European leg of Velvet Revolver's world tour. The tour began in London at the Carling Apollo Hammersmith. We'd love to hear some reviews of this sell-out show. Tonight is the second show at the same venue then off to Dublin and Glasgow. The whole of January is devoted to UK shows at Newcastle, Manchester, Birmingham, Cardiff (Wales), Brixton, and the final two at Hammersmith in London. We hope UK and surrounding fans will get in to see the best new rock band around! And send those reviews and any picture or two that you get of them.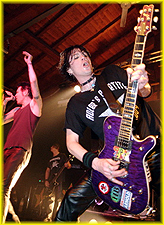 We had a note from Keri Kelli (ex-SLASH's Snakepit) who's on tour with Adler's Appetite. He invites everyone to stop in at the new Adler's Appetite just launched on New Year's Day. Their European/UK/Japan tour dates are posted there as is information on purchasing the band's new CD. Keri wishes everyone a great 2005.





Mario, who says he's SLASH's best Italian fan, sent us a SLASH sighting on the net. This is a really cool watchband that was made for SLASH and given by someone named King Baby, and a picture of SLASH, too. These are thumbnails so click to see the autograph and the watchband, too. Check it out at SLASH's watchband. Thanks, Mario!



Ray sent us a very large article about "Artists, Musicians and the Internet". The stats and details are a bit large and cumbersome, but the summaries are interesting. If you've wondered how artists feel about the issues of music downloading, this is the article for you. SLASH is not mentioned specifically, but the label has taken steps to block the CD from being pirated. Check this out at Artist/Musician/Internet/Report.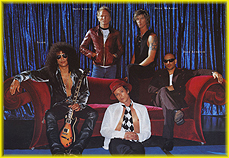 Surfing around the net... Entertainment Today came out with their Best and Worst 5 albums of the year. While Contraband did not make it to the 5 Best, they were in the honorable mentions. The Denver Post music critic says we can do better for rock than VR and suggest a new Evanescence album. Seattle Times wrote that Velvet Revolver shook the walls of the Moore theater this past year. Rock on!





(News Updated 1/10/05)





The sheer devestation and number of victims in the Asian tsunami disaster has us reaching for our checkbooks looking for a way to help. The best way to help, we have read, is contributing money through a licensed charity. SLASH chose a way to help raise funds by donating a signed Cherry Blossom Gibson Les Paul Standard and putting it up for sale at ebay. Bids are already exceeding 6,000 pounds with more than three days to go. The auction comes as a part of a campaign run by The Sun newspaper who will put up five highly desirable items for auction each day. A signed print of a painting by Rolling Stone Ronnie Wood will be put up in the next few days. Brian found this for us as well as the url for bidding and we really appreciate it. Get over there and bid!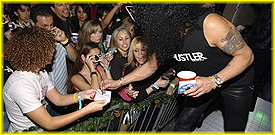 The UK magazine Kerrang! is looking for questions for SLASH. They've been granted an interview with SLASH, and they want YOU to pose the questions. If there's something you've always wanted to ask, send it with your name and address to editor@kerrang.com by January 19. The best will be asked and the results reported!



SLASH and Duff will be on the Radio1 Rock Show on January 18 with hose Mike Davies. They will be playing their favorite tracks of all time. You can listen to it online if it's not available in your area. Listen to Radio 1 online.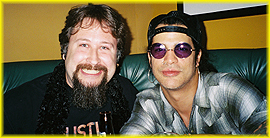 Looking back at the Las Vegas show one more time, we have another review from John Boyle, the Program Director at KKXX. He said that he was lucky enough to score a ticket to the New Year's Eve show. He got there a couple of hours early, walked into the casino and up to the bar where he ran into SLASH! SLASH invited John to hang out for awhile, and John says it was a huge honor to meet this truly nice guy. We have a photo here commemorating the event! John pronounced the show "amazing"...with the guys on a mission ..."to conquer the world and beyond." He reported that "Fall To Pieces" was a show stopper with a mean version of "Used to Love Her". He really wants to hear them do "You Got No Right" which is a big hit right now for the rock radio station that he programs, but he'll have to wait till the next tour in March! Thanks, John, for sharing that with us!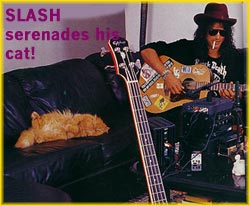 The New Year's day show had an after show party connected with it and the tickets were high priced as you might expect. One of our readers went and said the whole thing sucked as the band was not there. SLASH is said to have ducked out after learning that his pet cat had suffered a heart attack back in L.A. and was on the phone off and on getting reports from home. He's had that old cat for years and years and is attached to it as some of us are about our pets. SLASH's family was understandably upset as was he, so he had to be with them by phone. No word on the kitty's fate. The Hudson's own two cats, a dog and a few snakes. Hope the kitty is recovering.



On the Velvet Revolver tour front, the band announces another show in Japan. This one will be in Osaka on February 3 at Zepp. We've put this on the tour calendar which you can access at anytime by clicking on the big tour truck above, then selecting the month you want to look at (on right side to get a monthly view at a glance).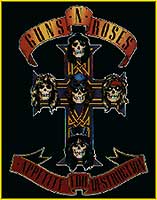 Some sad news to report...Brian tells us that Danny Sugerman, author of the GNR book Appetite for Destruction: The Days of Guns N'Roses died January 5 in West Hollywood after a long battle with cancer. Sugerman was just 50 years old. He was also the longtime manager of The Doors. He started out doing an approved history of GNR, but Axl and the boys felt the finished product was not to their taste and withdrew their stamp of approval. The book was released anyway as an unofficial history of the guys and the band and almost every GNR fan has found a lot of interesting material in his book.





Page Updated 01/07/05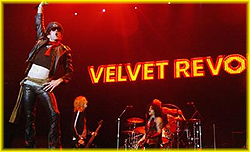 Happy New Year! As you know, Velvet Revolver played the Joint at the Hard Rock Hotel in Las Vegas New Year's Eve and New Year's night. SLASH was reported to be really excited about doing the two shows. He said Las Vegas is already a crazy, insane, hard partying town. Slash had never played there on New Year's, but he's been there and said the town just rocks. After these shows, the band packs up to tour Europe in January. February will see Velvet Revolver in Japan, New Zealand and Australia before they return to the US for another US tour in March. Wonder how those New Year's shows turned out? Allen went to both and said they were awesome. There were a few mistakes but they hadn't played in a month. Allen met Slash, Matt and Duff. He and Duff and Duff's wife played blackjack for two hours. He had met Duff the day before and thanked him for being so cool. Actually, Allen taught Duff how to play blackjack for the two hours they were together! Duff asked Allen if he noticed any mistakes, and Allen said...yeah, maybe. Duff laughed that SLASH had forgotten the beginning to "Superhuman". Allen says it was probably the greatest week/weekend of his life so far! Thanks, Allen, for sharing that!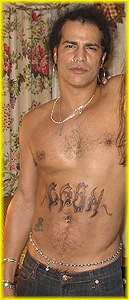 Looking back at the Christmas holiday, SLASH said that while almost everybody loves Christmas, including himself, having his two small children gives the holiday a whole new meaning for him. He's reported to have said that when you're doing the tree and seeing the lights and all the stuff that goes with Christmas spirit, when you have a couple of kids, suddenly the whole purpose of the Christmas celebration is more about giving. There's somebody to actually really watch their eyes light up and have that whole experience that makes Christmas so special. For those of us with young children, that really captures the feeling of the holiday. SLASH's sons are London, aged 2, and Cash, aged 6 months. SLASH has the tatoos now with both of their names. London's name is on SLASH's lower back, and Cash's is on his lower front, making a beautiful circle of outlined letters. The letters are quite tall, so if more children come along, we're not sure where they will go!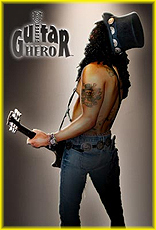 Andy sent us the important message that the SLASH sculpture from KnuckleBonz Inc. is now available for pre-order. The sculpture is just great but pricey at $99. What can really run the price up is shipping. If you're in the States, it's not so bad (ours was $11), but Andy is in the UK and the shipping will be $91 to send it insured. As Andy says, it's a limited edition, so why not! The sculptures are scheduled to ship in February. Check it out at www.guitarhero.net. Thanks, Andy!





If the sculpture is out of your price range, how about a magazine? Nearly every music magazine has the band on the cover or an article inside. Metal Hammer has a magazine collector's issue. The December 23 issue has the article "Get Ready to Rock With Metal Hammer and Velvet Revolver". One great issue, four different exclusive Velvet Revolver covers to collect. Choose from SLASH, Duff, Scott or the three guys together...or why not pick up all four?! Vicki sent us a note that the February issue of Guitar World has a big group of guitarists on the cover and SLASH is in the right hand corner. Pull it out to see the rest of him (the cover is a fold-out). The cover is also the poster inside and you can see SLASH there. In an article titled "The Gang's All Here". SLASH appears in two of the pictures there. In one he's with VR and the other has him with Jimmy Page. Vicki also told us that the ad with SLASH for the Celestion speaker is in the magazine. Also, Guitar World does a reader's poll and SLASH comes in at #3 (Eddie Van Halen is #1 and Randy Rhodes is #2) for the greatest guitarist in the past 25 years. Spin was another that Vicki had seen, but the band didn't make any of their "best of" lists. They showed a pic of SLASH in his leather vest and Scott is his silver pants with the caption "...available for biker rallies, gay weddings". Spin isn't a big fan of the band.





Fans often ask us how to get in to see the band. One way is to be alert to radio promo activities before the show. For example, Kerrang! is offering a chance to meet Velvet Revolver at London's Hammersmith Apollo on January 10. They're offering a pair of tickets to the show, plus the chance to meet the band afterwards along with a signed album. Although you do have to answer one (very easy) trivia question, fill in your name and address and submit. It's basically a random drawing, but it really is worth it! The website is at Kerrang! and scroll down to where it says "Meet and Greet Velvet Revolver". Best of luck!








Page Updated 01/05/05