February 2001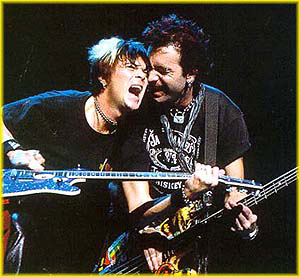 The Las Vegas show has a review sent in by Casey who says the show was awesome, and it was amazing to have SLASH just 1 or 2 feet away. Musical highlights were "It's So Easy", "Mr. Brownstone", "Beggars & Hangers-On", "Life's Sweet Drug" and "Speed Parade". Casey said the GNR covers sounded exactly as they did on Appetite (something Casey feels that Axl Rose's new GNR failed to do a month earlier). SLASH was in an excellent mood, and he smiled many times in response to the crowd's show of appreciation. Casey took pictures without the flash to avoid security, but only 3 turned out. Three is better than none, and we would love to see them, Casey! Overall, Casey felt the show was great and is going to see Snakepit open for AC/DC in Minneapolis and possibly some others. The only disappointment was that the band did not play "Knockin' On Heaven's Door" and that security had backstage sealed off. Thank you, Casey!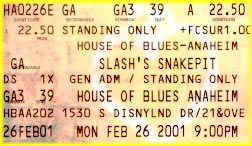 Monday was the House of Blues show at Anaheim. Ravi, who always seems to make these California Snakepit shows, was at this one. He has been to so many that SLASH even knows him on sight! Ravi says that SLASH rocked Anaheim and says it looks like they are ready to add some new songs to their set. It was a small crowd which Ravi says is due to its being a weeknight, but this was great for the audience because you could get up close. The opening band was better than usual although Ravi can't remember the band name. They were distinguished by the fact that their guitar player set his guitar on fire at the end! Has anyone seen SLASH destroy a guitar onstage (not counting videos)? It would have to be a standin - can you imagine his destroying the '56 Les Paul or his sig guitars? Ravi was good enough to send a scan of his ticket for the show, and you can see it above right. Here's another Snakepit fanatic, Clement. He is always at the California shows, too. This time he saw two shows in four nights, and it was his seventh since September! Clement says it was hard to find the venue because it is located in the new Disneyland. It's in the middle of the shopping/entertainment area.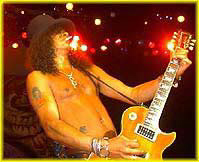 Seems strange to have a rock place in the heart of this family oriented area. When SLASH gave the "Mr. Brownstone" intro, he said, "I don't even know where to start...this is a whole different Disneyland than I've seen before. There's six f*ckin' bars here"! Then, SLASH reminisced about the last time he was at Disneyland and got thrown out for being stoned. Oh, SLASH! The venue was about 60% full which gave everyone elbow room to rock without being rowdy. Many people looked like they had come to Disneyland and stayed to see Snakepit. The opening band was an artist called Eric Sardinas, kind of a poor man's Ted Nugent. Snakepit came on after 10 and played till after midnight. Clement was in front of Keri Kelli. He says that Keri and Johnny are really good. Keri threw picks everywhere (Clement got 5!) and was handing out beer. The stage was tall but small so SLASH couldn't do much running around. At the end, Matt gave Clement a stick. Merchandise was sold including long sleeved tshirts. He managed to bootleg the show on minidiscs! Thank you, Clement! T.G. sent a report on Anaheim, too. Getting to be up close to the stage was great. T.G. had never seen SLASH play before, so that was totally awesome. At the end the band look exhausted, so the audience got its money's worth. T.G. especially wants to send his thanks to SLASH for his music. Thank you!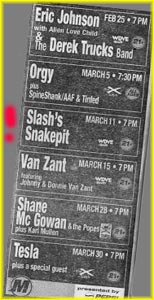 The reviews bring some of the excitement back to those of us at home and at work. Nothing can compare with seeing these guys live. If there is any way at all you can get to a show, you won't regret any time or money you spent getting there. We hope some or all of you can make it to the Pittsburgh show on 3/11. That's the one we're going to, and we'd love to meet you in person. There is a group of 6 of us so far meeting up at the show..coming from Canada, West Virginia and right here in Pittsburgh. Try to be with us, and email the webmaster if you are coming. (webmaster@snakepit.org). Pittsburgh is short on rock fans so we really need more of you to swell the crowd.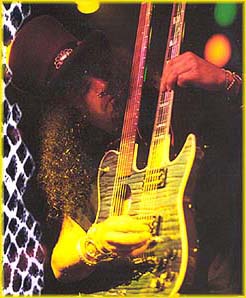 Aurelie from France found that Record Collectors magazine that was mentioned several days ago. This is a UK publication, and look for the February issue. The interview with SLASH is about three pages with two pictures. Aurelie says the pictures are of the 'pit, and the other one is a good one of a young, wild SLASH! She says the interview was really interesting with funny answers. She recommends this one. Thank you, Aurelie!



LuAnn is a great music site surfer. She's found some interesting things on Snakepit and SLASH. This one is a review of Ain't Life Grand from the New York Rock site. We've set you up with a link so you can see what they had to say. The review is of the album, but they tie in SLASH to nearly every remark. Thanks, LuAnn!


ALG Review

News Reported: 02/28/01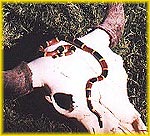 Tonight we have some good news for everyone who's been wanting to see the Snakepit "Mean Bone" video! We have a copy up on this site, and there is at least one other on the net we know of. We'll give you the addresses for both. Unfortunately, these both take a very long time to load, so start them loading, open another window and do something else. This is the complete video, so it does take awhile but the quality is very good. The one on this site came from a promo video tape put out by Koch. On this site, you go to www.snakepit.org, scroll down to Main Menu, click SLASH Videos or click below.:


MEAN BONE!


Electric Basement also has the video up. Click here:


Electric Basement

We thank them for letting us know!



Tonight's the Anaheim HOB show. SLASH has been really busy getting these shows just right. Now the guys have a few days off till their March 7 show at Piere's in Ft. Wayne, Indiana. Rehearsal is something that figures in heavily when the band is off. This makes the whole show terrific! We hope a lot of you will make it to these theater shows. It could be a long time till the band is around the US again. For these shows any tickets or newspaper ads are appreciated along with photos and reviews of course.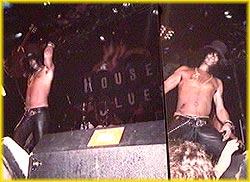 It appears that net fans did make it to the HOB shows as some reviews appeared today! The first show was at House of Blues in Hollywood, and we have several reviews from there. Keep in mind that what you see here is just a summary. Each fan's review appears in full and unedited in the Fan Review Section (under Slash's Snakepit on the Main Menu). Clint went to the Hollywood show, and he said it was great! Three guys playing horns accompanied the band, and Teddy ZigZag played keyboard on a few songs. Clint says Teddy did not stay onstage when he wasn't playing, but SLASH did introduce him. The setlist was essentially the same as always althought "The Alien" was dropped and "The Truth" was added. Also added was Snakepit's cover of the old Temptations hit, "Papa Was A Rolling Stone". Michelle also saw the band in Hollywood. She said the show was awesome! They were right up front getting squished by very enthusiastic fans. Above right you can see Michelle's pictures of SLASH. He was pretending to hand his guitar to the crowd, and it slipped out of his hands! Michelle said these great fans handed it right back up to SLASH who gave "a smile beyond dreamy" to the audience. Thanks, Michelle and especially for those pictures. Michelle answered some questions for us on the setlist. "It's So Easy" and "Mr. Brownstone" are still on the list along with the big crowd favorite "Beggars & Hangers-On". Asked how SLASH appeared, Michelle said he was "beyond cute" and danced, smiled a lot and wiggled his little bottom. Ahhhh. Michelle and her sister wanted SLASH to take off his shirt so they held up a sign, TAKE OFF YOUR SHIRT, PLEASE, and he did! They got to touch him several times which always seems popular with the toucher and touchee! Terry said she wasn't able to make it to any shows, but she is a huge Aerosmith fan and said that Jack Douglas, Snakepit producer, was at Friday's show along with Rick Dufay, a good friend of SLASH's. Thanks, Terry! Clement says that the week of the show he wrote to Matt Laug and gave some suggestions, and all these were part of the program. So, it never hurts to speak your mind to THIS band. They hear you. There were two opening bands and a long gap before Snakepit came on. The entire second floor was reserved for friends and family of the band. Snakepit came on just before 11pm, and the crowd was really rowdy. Clement says he had a hard time hearing the vocals from right center stage up front. The audience loved all the songs, and the band did more jamming than usual and played longer. The show was an hour and 45 minutes. SLASH recognized Clement, gave him a pick and shook his hand. During the intro to "Shine", SLASH noticed one of his slides were missing from his slide-stand. So he told Rod to tell the audience to return it. Later, Slash found it on the floor and gave a "look what I found" smile. The crowd seemed to love the band and the music. Clement checked out the merchandise. They hadt TShirts, a woman's tank top, a G-string, a Snakepit logo lapel pin ($10) and the program ($15). Our last Hollywood reivew is from Bob. He says that the club was about 90% full. Bob says it was a really good show. They played "Mr. Brownstone" which SLASH introduced as "an oldie but a goodie"! Bob says the entire sound system and mix was so much better than the AC/DC shows he was at. Although SLASH did talk, Rod did most of the talking and wished everyone a Merry Christmas and Happy New Year. Rod and SLASH were using a lot of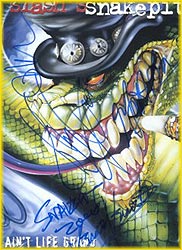 Jack to rinse their mouths as well as for drinking. SLASH was in black leather pants, red cut-off TSHirt an black vest. His hair was down, and he wore his tophat. SLASH's face was clean-shaven. YES!! He had on his beautiful S and P necklace, a gift from his girlfriend, a ring on his left ring finger and tons of bracelets. Dan Aykroyd, part owner of the club, was on hand and had a song dedicated to him. Bob said the tour book (at left) is well worth the $15. After the show, a few fans hung out and met the band except SLASH. All the band members were very polite and nice to be with. Thanks, Bob!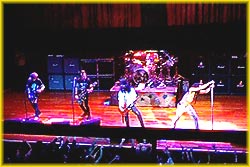 We have just one review so far from HOB in Las Vegas. Steve was there and said it was great that they played longer than with AC/DC. Steve says we finally have a band that knows how to rock! He says the group includes all kinds of rock: glam, punk, heavy metal, even funk. The show rocked from start to finish, and it's too bad there was not a major sellout. Steve says the band will be a supergroup and headlining big shows after another album or two. (So take time now to see them when they are still accessible!). SLASH and Rod had a chugging contest with the JD. The sound was great, and the show couldn't have been better. The picture here is from Steve's seat in the balcony. Thanks, Steve!



News Reported: 02/26/01


Tonight is the second show of the theater tour. This show is at the House of Blues in Las Vegas. We'd really like to hear from anyone who goes to the theater shows. SLASH has been rehearsing the band nonstop! In some other tour news, AC/DC announced an additional show. This will be in Long Beach at the Long Beach Arena in California. Seems the scheduled show at the Forum sold out in two hours, so AC/DC wanted to help the fans who were shut out. This means California fans have a lot of chances to see Snakepit! Monday they play Anaheim at the House of Blues, then there are the two AC/DC shows. If you are looking for a complete rundown on all the shows, when ticket sales begin and so on, have a look at the Tour Schedule. The schedule is checked against Ticketmaster, Pollstar and AC/DC's site every day to be sure we have the most up to date information:

Snakepit Tour Schedule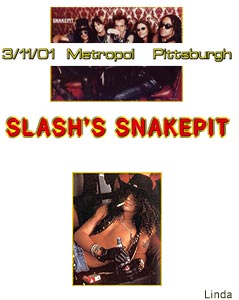 While you're waiting for SLASH to get to your town, why not give the 'pit some publicity?! Nathan is preparing Pittsburgh for SLASH's visit by making posters and papering the town with them. He's getting in touch with the radio station. Maybe they'd like a band interview? We've been inspired by Nathan to rev up Photoshop and our printer to produce some flyers, too. You know SLASH and the boys are grateful. Thanks, Nathan, for the suggestion.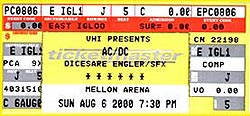 Now that AC/DC has announced that second show at Long Beach, 95.5 KLOS has announced another contest so you can win tickets to the show. The show is April 16, and tickets go on sale March 3, but you can win them before the sale date through KLOS. A pair of tickets per day will be given away starting TODAY! Today's are in the ninth row and each day the tickets are for seats one more row toward the front. You need to listen to KLOS and be registered to win. To check the details, here is the KLOS link:


KLOS Long Beach Contest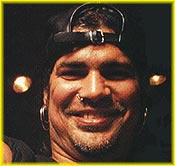 SLASH appeared on KLOS yesterday. Did anyone catch that broadcast? We'd like to update everyone on what was said. On Thursday, he appeared on the KTLA Morning News in Los Angeles. Anyone see that? Luckily, KTLA put out two small clips of that appearance. SLASH is on to give his take on the Grammys. First, they talk about fashion at the show, and then they talk about performances. SLASH looked like he thought some of this was a real hoot. See for yourself:


SLASH On Grammy Fashion

SLASH on Grammy Performances



So far, just the US and The Netherlands (thanks, Martijn) report seeing the new "Mean Bone" video. Let us know if you see it where you are.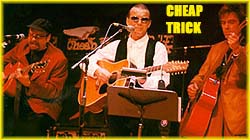 Brian writes that MTV is reporting the upcoming release of the Cheap Trick live album. This album was recorded for Cheap Trick's 25th Anniversary at a special show in Rockford, IL. Brian was there, and he saw SLASH do a guest appearance on "You're All Talk". The show has been airing on DirecTV, and you can see what happens when you break a string as you start the performance! SLASH was able to switch guitars and continue. The album is due out February 27. You can preorder it at Cheap Trick's site, www.cheaptrick.com. There will also be a DVD coming along. Marina found even more information about this on the Rolling Stone site. This is definitely a collectable CD set and DVD show. Here's what Rolling Stone has to say:


SLASH and Cheap Trick

News Reported: 02/24/01


Tomorrow night at 9pm in Hollywood is the first show of the headlining theater tour. The House of Blues is filling up but not sold out, so there is still time to get tickets. Saturday night is the Las Vegas House of Blues show followed by Monday's Anaheim HOB show. If you make it to any of these, we would really appreciate receiving a review from you. It can be short or full of details on what you saw. Snakepit likes to check these over to see how they did it for you! And any photos, we would be more than pleased to put on the Tourphotos page. If you send photos, please identify the venue! Thanks. Tomorrow the tour photos from Italy will go up. There's more to go from Europe, but we'll hurry and get these completed. One last tour note from Debi...she tells us the Nashville, TN show is sold out!



The Grammy Awards were last night, and it was a real spectacle with lots of great acts. However, SLASH's Mastercard commercial did not air. April tracked down the Mastercard person in charge of making those "priceless" commercials and asked what happened. He said the commercial was not complete at Grammy airtime, and it would be shown in the future. Let's hope someone catches this. Thanks, April, for doing all that legwork. The commercial will be about a kid who goes with his dad to a guitar store and meets SLASH. This according to the man April spoke with. SLASH said it was about how the kid smashed 3 strats. So, we'll see.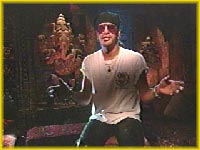 Vicki saw a commercial for VH-1's Rock Show, and SLASH was in this one! Vicki says it was one of those promo ads the rockers tape for Rock Show, and SLASH was wearing shades, hat and white TShirt. SLASH said, "Yeah, I'm SLASH from SLASH's Snakepit, and you're watching the Rock Show". SLASH seemed a little shy, as always, during the ad. Thanks, Vicki! And Vicki, watch for that Mastercard ad!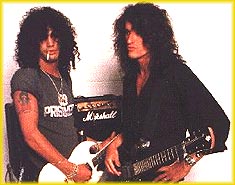 Rob is from New York, and he gave us some more information on that Vintage Guitar where SLASH appears on the cover. Seems they have some useful information for those who want their sound to be a little closer to SLASH's. The article talks about SLASH's setup, his recording process, his guitars, etc. It also retells the story of SLASH sending back the '59 Les Paul to its original owner, Joe Perry as a birthday gift. Rob calls it "an awesome interview". Thanks, Rob!


We received a very nice note from Vitor who calls himself a Brazilian fan. He wanted the South Americans to know that this month's Brazilian Guitar Player has a great SLASH interview. SLASH talks about why he chooses Les Paul guitars, his favorite Les Paul, his amps in Appetite for Destruction, the Use Your Illusion albums and Ain't Life Grand. There are two photos for the picture collector here, too. One is shown here at left. Thanks, Vitor!

News Reported: 02/22/01


All venues for the headlining theater tour have tickets on sale now except M (Metropol) in Pittsburgh (on sale: 2/22). While most of these are 21+ shows, at least some of the venues say you can come in with an adult. Check that before buying tickets. The AC/DC shows have most tickets on sale. Today, Memphis is listed as having tickets on sale 2/24. Both tours have tickets at the box office as well as through Ticketmaster and Ticketmaster online. If there's any way you can get to the headlining shows, these should be the ones you try for. Support Snakepit! And here is the Tour Schedule if you need to check it out. (Note that all completed shows are now summarized in tables by month).

Tour Schedule





Tomorrow night is Grammy Award night. Don't forget to watch for SLASH's appearance in a Mastercard commercial! Today was the big press day at the Grammys where there were any number of media types interviewing artists. SLASH was invited to come down, so he did. And Brian has already heard SLASH on the radio in Cincinnati OH! Brian says that SLASH was asked what Snakepit was doing, and SLASH talked about the tours...no new announcements. There were GNR questions, of course. SLASH was asked how he feels about Axl using the GNR name. SLASH replied that that was Axl's choice and that no one else was going to use it. SLASH also said that people are glad that he (SLASH) is now out there doing something and "didn't just disappear". SLASH said that the old GNR lineup is doing what they wanted to do, that they are all happy and that there is no animosity. (When you think of how Axl went after SLASH and the rest of the band recently, SLASH's cordiality is amazing). Brian says that SLASH sounded great on the radio, and he even got the radio guys to give him a yo-yo they had. Thank you, Brian, and we hope to hear more interviews in the coming days.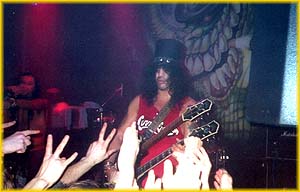 Here's more on SLASH in the media. FabAxl reports from Italy that SLASH's Snakepit is in the February 2001 issue of Metal Shock. There's a 3 page article with an interview, a very positive review of the Milan show, and a list of the album guest appearances by SLASH. The magazine says that at the Milan show, the live performances of the Ain't Life Grand and the two covers of the GNR songs made the audience go crazy! Thanks, FabAxl!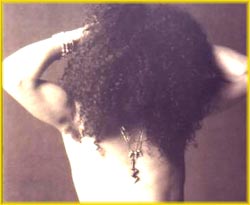 LuAnn sent us a gently funny article about a SLASH and show interview. This appears online in the rocknworld.com site. It's a lot of fun to read, and there are gorgeous pictures of the band. Debbie Seagle is the author and photographer. Oh, and at the end of the article, there is a place to enter a drawing for a Snakepit album or single. Thanks, LuAnn! Check this one out:


In Search OF: The Elusive North American Hairgod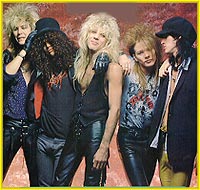 Groyou tells us that the BBC2 comedy night has changed their song from "Welcome to the Jungle". Still, they have Guns on their minds as now they are playing "Think About You"! Thanks, Groyou!



News Reported: 02/20/01


Vancouver had a second show added, and tickets are on sale now. Edmonton and Calgary are sold out, and we still don't have a date for ticket sales in Winnipeg, Memphis, Chicago, West Valley (UT) and Philly. In ordering tickets online for Cleveland, the sales were going briskly. Tickets are now on sale for all of Snakepit's headlining shows except Pittsburgh (2/22). If you plan to go, tickets should be ordered quickly. All the headlining shows are for sale through Ticketmaster as well as the box office. Here's the latest schedule:


Tour Schedule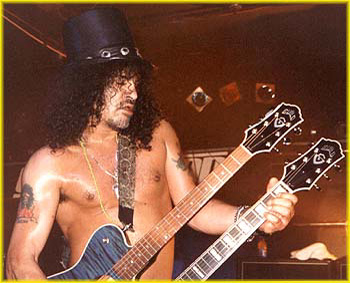 The big news was the debut airing of the "Mean Bone" video on VH-1 Friday night's Rock Show. SLASH and company hope you enjoyed it! It rocked! And that was a real show filmed in Europe. Some fans wished that there were more SLASH in it (can there ever be enough?), more of the animated snake (!), etc., but no one seemed to miss the rap intro. The promo cd has the rap intro cut off, too. It matches the audio part of the video, but the video certainly did justice to the energy and movement you see onstage. Excellent! If you want to see it again, email VH-1. The debut was not exclusive to the U.S. Audrey reports from The Netherlands that the "Mean Bone" video was shown on the program JAM, at TMF. Audrey said that usually they ask the audience to vote on new videos; are they hot or not. She said she didn't think that happened with "Mean Bone" because TMF knew it would be hot! Thanks, Audrey! Any other countries have it on yet?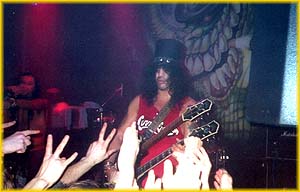 While she didn't mention the new video, Lisa did send information on Italian magazines. The first is called Jam, and it has three pages on SLASH and Snakepit and the Milan concert. The article said they found SLASH to be pretty much the same guy as in the early GNR days. They didn't like Snakepit covering the GNR songs, though, and they thought the Milan show was not as good as the album. It seems to us that the fans like those two GNR covers and that the live show beats the album because the band has such great personality! The second magazine is called Rock Sound with two pages of coverage and photos. Italian fans, you might want to check these out. Lisa says they are pretty cool. Thanks, Lisa!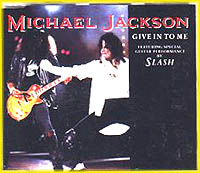 Vicki lives in West Virginia where they don't get to see much of SLASH, so she watches for him carefully in the media. She spotted him on Feb.13 on ABC's Entertainment Tonight where they were doing a segment on porn stars in videos. They mentioned Raylene who worked with bands such as GNR, and there was a fleeting glimpse of SLASH. VH-1 showed an encore airing of "King of Videos - Michael Jackson". When they played "Give In To Me" (which SLASH guested on), the voice-over said, "Even former Guns N'Roses guitarist, SLASH, had a cameo with the 'King of Pop', playing on the Dangerous single, "Give In To Me". There was a short interview with SLASH where he talks about getting the call from MJ asking if he would play on MJ's record. Then, the voice-over said, "Even with the inspired pairing, the song couldn't crack the Top 40 - a rarity for an MJ single". Vicki subscribes to the guitar magazines and says the April 2001 Guitar One has the full page Dragonfly ad again. It also mentioned in an Alice In Chains article that Mike Inez played with SLASH's Snakepit in 94-95 while AIC was on hiatus.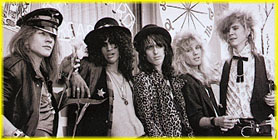 And just so you know that SLASH's old band, the real Guns N'Roses is not forgotten, Simrin from the UK was watching the BBC 2 comedy night ad, and they played "Welcome to the Jungle" (SLASH on lead guitar) all the way through it. He also spotted a horse on TV called "Guns N'Roses". We like to think it was a terrific horse named after the original band! Thanks, Simrin!



News Reported: 02/18/01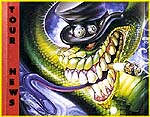 There are some important additions to the tour schedules - no new dates but ticket sale dates are nearly complete. For the theater tour, almost everything is filled in. Most venues have the tickets on sale now. Added information is on ages; some venues are 21+, and a couple are all ages. For those coming in from out of town, we've added the venue's web site if they have one. Find out about parking, nearby lodging, show times here. Get tickets now!


                                                    Internet Sale
                                                    Ticketmaster   Ages
Feb.  23, Hollywood, CA           House of Blues      On Sale       21+
Feb.  24, Las Vegas, NV           House of Blues      On Sale       21+
Feb.  26, Anaheim, CA             House of Blues      On Sale       21+
Mar.   7, Ft. Wayne, IN           Piere's             On Sale       21+
Mar.   8, Indianapolis, IN        Murat Egyptian Room On Sale        ?
Mar.   9, South Bend, IN          Heartland           On Sale       21+
Mar.  11, Pittsburgh, PA          Metropol (M)       Sale: 2/22     21+
Mar.  12, Cincinnati, OH          Bogarts            Sale: 2/17   All Ages
Mar.  14, Allentown, PA           Crocodile Rock       On Sale      21+
Mar.  15, Norfolk, VA		  Norva                On Sale       ?
Mar.  16, Atlanta, GA             Roxy Theatre         Sale: 2/17  All Ages


Opening for AC/DC

                                                              Internet Sale
                                                               Ticketmaster
March 18, Ft. Lauderdale, Fla.    National Car Rental Center      On Sale
March 20, Orlando, Fla.           TD Waterhouse Centre            On Sale
March 21, Tampa, Fla.             Ice Palace                      On Sale
March 23, Nashville, Tenn.        Gaylord Entertainment Center    On Sale
March 24, Memphis, Tenn.          The Pyramid
March 26, North Little Rock, Ark. Alltel Arena                  Sale: 2/17
March 28, Greenville, S.C.        BiLo Center                     On Sale
March 29, Greensboro, N.C.        Greensboro Coliseum             On Sale
March 31, Charlotte, N.C.         Charlotte Coliseum              On Sale
April 1,  Raleigh, N.C.           Entertainment & Sports Arena    On Sale
April 3,  Dayton, OH              Ervin J. Nutter Center         Sale: 2/17
April 4,  Columbus OH             Nationwide Arena                 On Sale
April 6,  Cleveland OH            Gund Arena                       On Sale
April 8,  Chicago, IL             United Center
April 9,  St. Paul, MN            Xcel Energy Center               On Sale
April 11, Denver, CO              Pepsi Center                     On Sale
April 12, West Valley, UT         E Center
April 14, Inglewood, CA           Great Western Forum               On Sale     
April 17, Sacramento, CA          ARCO Arena                        On Sale
April 19, Portland, OR            Rose Garden Arena                 On Sale
April 20, Tacoma, WA              Tacoma Dome                       On Sale
April 22, Vancouver, BC           Pacific Coliseum                 SOLD OUT
April 25, Edmonton, Alberta       Skyreach Centre                  SOLD OUT
April 26, Calgary, Alberta        Penngrowth Saddledome           Sale: 2/17
April 28, Winnipeg, Manitoba      Winnipeg Arena                  Sale: 2/17
April 29, Fargo, N.D.             Fargodome                         On Sale
May 1,    Madison, Wisc.          Kohl Center                     Sale: 2/17
May 2,    Detroit, MI             Joe Louis Arena                   On Sale
May 4,    Boston, MA              FleetCenter                       On Sale
May 5,    Philadelphia, PA        First Union Spectrum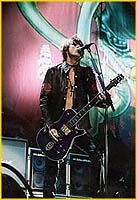 Speaking of tours, there are more pictures up on the Tour Photos section. The fifth group has pictures from the NAMM show in California recently. The sixth group are miscellaneous photos from Europe. There are still photos to be put up, and they are in progress. Go to www.snakepit.org, scroll down to Main Menu, click Tour Photos. You just might see yourself, and for certain, you'll see Slash and the boys. Even if you weren't there, it's great to see the band and the fans in action.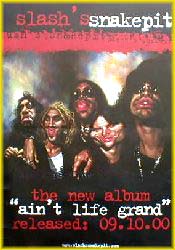 Launch is a cd put out with music and reviews. The November 2000 pressing has a review of Ain't Life Grand, and though it's not the best overall review around, there are some good remarks about SLASH.

Launch Review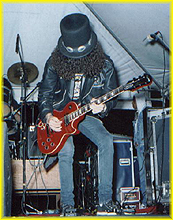 Here's a better one from a promotional publication called Vizine. It is the Nov/Dec 2000 issue (#20). The scan is a little difficult to read; but get up close and personal with your monitor, and you should be able to read it.


Vizine Review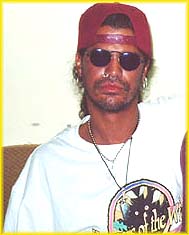 When SLASH was in the UK on tour, he was interviewed on a daytime TV music show. SLASH, who always talks the same way, managed to say f*ck and blowjob! Much anguish from the TV suits. There is a short article from the hosts that was covered by BBC news. Try to do a little more research, guys! SLASH is really a late night phenomena; and, to his credit, SLASH did not make a silly apology for being himself. As for eccentric, we have never thought of him that way. Cool, yes; eccentric, NO!

If You Don't Want to Know, Don't Ask





News Reported: 02/16/01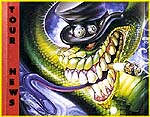 SLASH gave us the big news on the headlining tour! We have 7 dates in addition to the original 3 House of Blues Shows. We'll be gathering more information on these venues for you, but here is the list!:


Theater Tour

                                                    Internet Sale
                                                    Ticketmaster
Feb.  23, Hollywood, CA           House of Blues      On Sale
Feb.  24, Las Vegas, NV           House of Blues      On Sale
Feb.  26, Anaheim, CA             House of Blues      On Sale
Mar.   7, Ft. Wayne, IN           Pierre's
Mar.   8, Indianapolis, IN        Egyptian Room
Mar.   9, South Bend, IN          Heartland
Mar.  11, Pittsburgh, PA          Metropole (M)
Mar.  12, Cincinnati, OH          TBA
Mar.  14, Allentown, PA           Crocodile Rock
Mar.  15, Norfolk, VA		  Norva
Mar.  16, Atlanta, GA             Roxy Theater

SLASH said that some more AC/DC dates are coming up. Vancouver will most likely get one for selling out quickly. The tour will still end in Philadelphia. Right now the band is rehearsing, and SLASH said that based on the number of requests, they will do "The Truth"!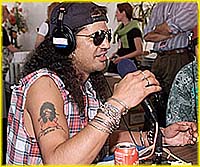 SLASH also said he will be doing the radio day that is on the day before the Grammys. You might recall that he and Duff McKagan traveled together to this last time, and there were several pictures of the two together and separately on the site. A large room is set up, and it's filled with gear for recording and broadcasting interviews. So you might be hearing SLASH on the radio soon. And don't forget to watch the commercials on the Grammys on February 21 (8pm ET-PT) to see SLASH in the Mastercard ad.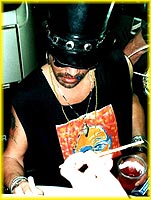 If you are going to write to SLASH, there is a new address for fan mail! Mail to the previous address may be forwarded, or it may be returned to you. Be sure to read the instructions on writing to SLASH (www.snakepit.org, scroll down to Main Menu, click Write To Slash) so that you get the right envelopes, right return postage and of course the correct address. Starting right now, here is the address to use:

SLASH
8033 Sunset Blvd.
Suite 994
Hollywood, CA 90046 USA






Another reminder...this Friday, February 16, VH-1's Rock Show is to premier Snakepit's second video, "Mean Bone". The show is on at 12 am ET and to avoid confusion, "Rock Show" is seen very late on Saturday night. Get your vcr ready to go!



Jonathan wrote that he is going to the Vancouver, BC show. The show sold out in 40 minutes! Looks like SLASH's Snakepit will face a full house. Get to the show early, and give our guys a lot of support. We don't have access to the Canadian ticketmaster, so we are dependent on you Canadian fans to keep us posted on ticket sale dates and great events like sellouts! SLASH was really pleased to hear that! Anyone else hears of a sellout, please let us know. Thanks! And special thanks to Jonathan!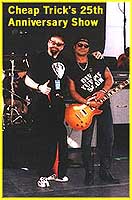 Someone told us about the Cheap Trick 25th Anniversary Show being aired on DirecTV, and we finally had a chance to see part of it ourselves. The show is great, and you can see why SLASH just loves this band. SLASH plays during the encore, and he said his sound may be different as he broke a string right away. In case you get DirecTV, this Cheap Trick show is a free show. The show repeats several times this month. This is from the Cheap Trick site:

The DIRECTV Cheap Trick broadcast will air on Channel 103, Feb. 2 - 25 (weekends in February). Footage is from the forthcoming CD/DVD, some old footage and new interview footage will be included. The show will air every Friday starting at 6 am and go until Monday at 6 am. Cheap Trick is on at 6, 9, 12, 3, 6, 9 and so on and so on.

If you go over to their site at Cheap Trick, you can see two pictures of SLASH and order the double CD and/or DVD from the 25th Anniversary show. Either or both are highly recommended and can be preordered right now.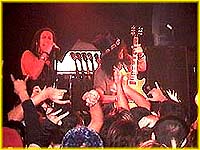 Getting back to current shows, E! Online had this announcement on SLASH's Snakepit opening for AC/DC:

Krikey, That'll Be a Ripper: Slash and his Snakepit must have proved worthy supporters of classic ass-kickers AC/DC last year, because Angus Young and the boys have invited the former Guns N' Roses guitarist back on the road. The double whammy begins March 18 in Ft. Lauderdale, Florida, and climaxes May 5 in Philadelphia. I wonder if Slash will cross paths with Axl and his new Guns somewhere out there in America the Beautiful?

Last but not least, Happy Valentine's Day to all of you and especially


HAPPY VALENTINE'S DAY, SLASH!

News Reported: 02/14/01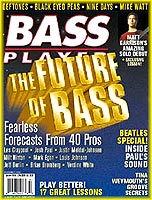 Johnny Blackout has an interview in Bass Player Magazine's February 2001 issue. Johnny talks about being on the road with SLASH's Snakepit. The magazine is the current issue, but hurry out and get it before the new issue comes out. This is your chance to find out more about Snakepit's cool guy with the cool Bob Marley bass.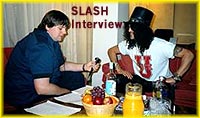 Speaking of interviews, this is a repeat mention of a SLASH interview. A fan sent this in awhile ago. Now we have word that there are also photos at the same address, so you might want to have a look at SLASH being interviewed in Sweden. This was one of the best of the tour. The sound is slightly off at the beginning but recovers quickly. This is radio station Rocket 93.5 FM, the Rock Home of Stockholm. The interview took place December 2000 in Stockholm, Sweden. And don't forget to check out the pictures.


SLASH Interview in Sweden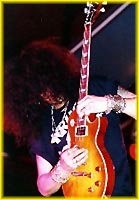 There's a small but accurate mention of SLASH in Q magazine's March 2001 issue. In a cover article on Manic Street Preachers, one of the band, Bradfield, talks about how he hates hearing humor in their music.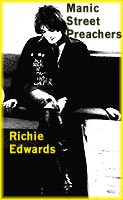 Richey Edwards, who has been missing since 1995, was the one apt to get up to some funny remarks on an album. Bradfield says there's stuff off their first album where Richey was saying, "Go on, play as many notes as you can per second. Out-SLASH SLASH"! Though Richey is widely regarded to have been a terrible guitarist, he was a remarkable lyricist and strategist. The band has never really recovered from his loss.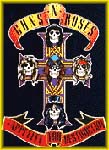 A 1991 rock book also has a SLASH mention. This is Stairway To Hell by Chuck Eddy. The book is a listing of "the 500 best metal albums in the universe". Coming in at #2 was SLASH's GNR favorite (and ours) Appetite for Destruction. The language in the book is a little offcolor, but it's nothing you haven't read or heard from these guys. Eddy singles out "Welcome to the Jungle", "Nightrain", "Mr. Brownstone", "Rocket Queen" as the best of the best. While the lyrics could be better, GNR had "the world's most gorgeous twin-ax attack". He winds up his praise by saying "with collective lawbreak records longer that SLASH's third leg, it's no wonder sensitive souls who confuse ethics with aesthetics find the stardom of such ill-mannered, pelvis-weapon dumbshits reprehensible. Maybe all I can say is it's about f*cking time, and I hope the dumbshits don't stop now".

Guess which other one made the list for GNR? Lies! Eddy says the "R" side is the side to listen to, and "Patience" is the reason for that. Our recommendation: borrow this book from the library... save your money for something more recent unless you are a hardcore, have to have it all, GNR collector!



A reminder that all the tickets scheduled to go on sale 2/10 and 2/11 are now on sale. Get over to Ticketmaster fast; or you'll be sitting way in the back, and SLASH can't hand you a pick if you're way back there! The three House of Blues shows begin happening in a week and a half on February 23. Those tickets are on sale also. One venue is standing room, general admission while the others have reserved seating. Well, you'll be standing, won't you? And dancing? And screaming and clapping? Absolutely! Tell the boys the SLASH page says hi. We are looking forward to reviews and photos! These are 21+ shows, so get there, grab a Jack and coke or Stoli and cranberry juice and share his favorite drinks with SLASH!



News Reported: 02/12/01


SLASH called in with the latest word on the theater tour. The Albuquerque show is cancelled. They were working on a Tucson show that is now cancelled also. More shows are going to be scheduled this week. The House of Blues shows are confirmed with SLASH, and all are going on as scheduled. The AC/DC shows are selling briskly, so you'll have to get a ticket soon to get a good seat for Snakepit. You want to be right up front! There's about a month till the first show in Florida on March 18. There are rumors all around that the 'pit will go to Europe with AC/DC following this tour, but that cannot be confirmed. SLASH said there are all sorts of ideas at this point.


Tour Schedule





SLASH also told us that he was in New York and had just finished making a commercial! Not only do we have a new list to make of things SLASh has done, but it's coming soon and at least the people in the US can see it. It is a special Mastercard commercial to be shown during the Grammy Awards, and it has a guitar theme. At first SLASH wasn't certain about doing it, but he saw the script and thought it was very cool. Except they wouldn't let him smoke! The basic idea is that a kid goes to a guitar store with his dad to get a guitar (SLASH says the kid's name is Kyle). SLASH is there playing in the background with his hair down and top hat. The kid ends up smashing three guitars..or was it three total for the number of takes? We're not sure because SLASH had us laughing about it. He said it is so cool and really fits the Grammy's. He also said it was one of those Mastercard priceless commercials (you know..cost of the dress $87, cost of dinner $200, cost of the friendship...priceless).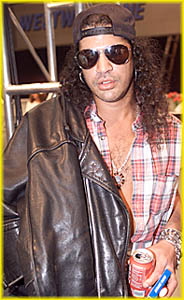 Aside from filming the commercial, SLASH did about 15 interviews. One large group of these were for the Far East, so fans on that part of the globe can expect to see many interviews for places like Indonesia, Taiwan, Singapore, etc. There were a lot of Australian interviews too. These were done one at a time over the phone, so you can imagine how much time was involved in this. SLASH said everyone was just great, easy to talk to and knowledgeable. He enjoyed the interviews and especially that commercial. At the end of the day SLASH was having dinner in his room and watching David Letterman...just like the rest of us. He's on his way back to L.A. today.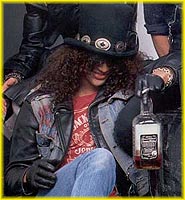 Becky sent us news about a UK show tonight on BBC2 at 9:05pm GMT. The series is called I Love The Eighties, and they go through the year picking out memorable moments. I Love 1987 should be shown on Saturday, March 10. Becky said you should expect to see GNR and SLASH as this was the year Appetite came out. Thanks, Becky!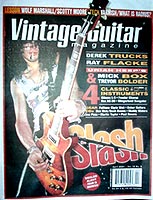 Jane says that Snakepit has been mentioned in the last two Replay Magazines put out by Sam Goody. Jane says it is a nice little magazine where in one section they track what the hair bands are doing. Snakepit had a picture in the last one and a brief sentence. In the current issue, "SLASH of Snakepit" is pictured playing guitar and the review says, "Who needs Axl Rose and his hired Guns when SLASH's Snakepit brings the rock home as few bands have since the free-wheeling Wild West days of Appetite for Destruction"? Who, indeed? Thanks, Jane! And Mike sent word about another magazine. This one is called Vintage Guitar, and SLASH is right on the cover! Thanks, Mike.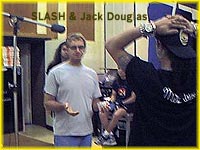 Jack Douglas produced Ain't Life Grand and also has done production for Aerosmith, Cheap Trick and John Lennon. John and Yoko's Double Fantasy album was being mixed just hours before his death. The person with whom Lennon spent the last hours prior to his death was Jack Douglas. In the March 23 issue of Goldmine, Jack talks about his final moments with Lennon and how the album came about.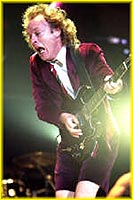 We spotted an interview with AC/DC's Angus Young on Metal-Is.com, and there was a SLASH mention! The interviewer asks if there were any jams with SLASH when Snakepit toured with AC/DC. Angus replied, "He sort of hung around a lot, you know? But we never really got on a stage and played away. He's a nice guy, and I think somebody said, out of all of them that were there, he was always the down to earth one". Why do you think they were asked back?!



News Reported: 02/10/01


There are quite a few updates to the Tour Schedule, so we're going to reproduce it below. There's a new date for the Theater Tour! SLASH's Snakepit will appear at Midnight Rodeo in Albuquerque, New Mexico in one week! That's February 15 at the Midnight Rodeo which is one of a chain of large upscale dance halls and concert venues. The one in Albuquerque hosted Van Halen as well as (separately) David Lee Roth. They are used to rockers, so come on out and have some fun with the 'pit. The House of Blues shows are coming up, and you can win a pair of tickets to the gig. About 14 days in advance, go to the HOB site where you want to win and submit your name. Contest entry is just for 24 hours, so if you are interested, get over there and find out when you can enter. What better way to see SLASH's Snakepit than for free!

The AC/DC list has quite a few updates. All the venues are now filled in, so you can call for any information. Those venues announcing internet ticket sales are listed, and everything is up to date as of this evening. The schedule is checked and updated at least daily. Here's how the schedule looks this evening:


Theater Tour

                                                    Internet Sale
                                                    Ticketmaster
Feb.  15, Albuquerque, NM         Midnight Rodeo
Feb.  23, Hollywood, CA           House of Blues      On Sale
Feb.  24, Las Vegas, NV           House of Blues      On Sale
Feb.  26, Anaheim, CA             House of Blues      On Sale


Opening for AC/DC

                                                              Internet Sale
                                                               Ticketmaster
March 18, Ft. Lauderdale, Fla.    National Car Rental Center      On Sale
March 20, Orlando, Fla.           TD Waterhouse Centre            On Sale
March 21, Tampa, Fla.             Ice Palace                      On Sale
March 23, Nashville, Tenn.        Gaylord Entertainment Center Sale: 2/10
March 24, Memphis, Tenn.          The Pyramid
March 26, North Little Rock, Ark. Alltel Arena
March 28, Greenville, S.C.        Bi-Lo Center               Sale: 2/10
March 29, Greensboro, N.C.        Greensboro Coliseum
March 31, Charlotte, N.C.         Charlotte Coliseum         Sale: 2/10
April 1,  Raleigh, N.C.           Entertainment & Sports Arena
April 3,  Dayton, OH              Ervin J. Nutter Center
April 4,  Columbus OH             Nationwide Arena                 On Sale
April 6,  Cleveland OH            Gund Arena                   Sale: 2/10
April 8,  Chicago, IL             United Center
April 9,  St. Paul, MN            Xcel Energy Center           Sale: 2/10
April 11, Denver, CO              Pepsi Center                      On Sale
April 12, West Valley, UT         E Center
April 14, Inglewood, CA           Great Western Forum
April 17, Sacramento, CA          ARCO Arena                    Sale: 2/10
April 19, Portland, OR            Rose Garden Arena             Sale: 2/10
April 20, Tacoma, WA              Tacoma Dome                   Sale: 2/10      
April 22, Vancouver, BC           Pacific Coliseum              SOLD OUT
April 25, Edmonton, Alberta       Skyreach Centre
April 26, Calgary, Alberta        Penngrowth Saddledome
April 28, Winnipeg, Manitoba      Winnipeg Arena
April 29, Fargo, N.D.             Fargodome                     Sale: 2/10
May 1,    Madison, Wisc.          Kohl Center
May 2,    Detroit, MI             Joe Louis Arena
May 4,    Boston, MA              FleetCenter                    Sale: 2/10
May 5,    Philadelphia, PA        First Union Spectrum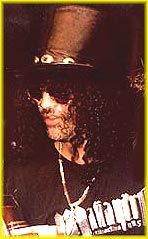 Craig sent us a news flash from the UK. MTV2 just showed Snakepit 95 live doing "Lower", and then they interviewed SLASH. The program is an hour long, and SLASH plays his favorite videos. The program was recorded when SLASH was in the UK before Christmas. After the "Lower" video, they played "SCOM". SLASH introduced himself as "SLASH from SLASH's Snakepit". Nadina also posted SLASH's video selections and his comments:
1. Alice In Chains - "Them Bones"
2. Eminem - "The Real Slim Shady" - SLASH said this would surprise people, and it's strange that he chose it, but Eminem is a bit strange.
3. Garbage - "Only Happy When It Rains" - SLASH said the singer is cute but he doesn't think they are necessarily a band, and it's a great record.
4. Led Zeppelin - "Whole Lotta Love" - one of the bands that inspired SLASH.
5. Metallica - "Fade to Black" - one of SLASH's favorite songs, but he'd never seen the video for it
6. Nirvana - "Smells Like Teen Spirit" - when this song came out, SLASH didn't know who they were, but he liked the song. Nirvana defined the grunge scene.
7. Rolling Stones - "Love Is Strong" - SLASH referred to the Stones as one of his mentors.
8. R.E.M. - "Everybody Hurts" - SLASH said this was good and heavy. It's a song that made him sit down and listen to the whole thing, and he has always loved it.
Then they played "WTTJ" as done live at the MTV Music Awards 1988. They also played "November Rain". SLASH talked a little, and Nadine says, "He's as sweet and hot as ever!" Thanks, Craig and Nadine!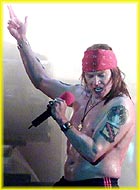 A quick SLASH sighting on Jay Leno's "Tonight Show" when Jay was poking fun at Axl Rose's middle aged spread. Jay said he was at the Rock in Rio show, and the years have not been kind to Axl. He showed a funny clip with some really fat guy dressed as Axl and singing "SCOM". There were clips of "You Could Be Mine" inserted here and there, and you could clearly see SLASH and Duff. Very cool. Thanks to Brian for that Jay Leno update.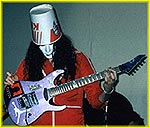 Rolling Stone magazine wins the thumbs down prize of the month for taking a gratuitous swipe at SLASH in their article on the new GNR at Rock in Rio. The article says that Buckethead gave the crowd most of it's "SLASH who? moments". First of all, this is uncalled for, and secondly, we doubt it. Buckethead taking away SLASH memories? Get in the ring and cancel our subscription!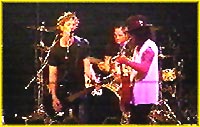 If you get DirecTV, check for a movie called "L.A. Biker Babes" on the Adult Network. George tells us this is a documentary of women, rock and roll and Harley Davidsons. Throughout the show, the women are interviewed about why they love Harley's and rock music. Gilby Clarke and Matt Sorum are interviewed about Harley's. SLASH, Duff, Gilby and Matt are shown jamming at a rehearsal. Vince Neil, Sammy Hagar, and the Doobie Brothers are also interviewed. George tells us there are no sex scenes; just clips of the women dancing nude to rock music. We asked SLASH about this, and he had no memory of it at all. He said the clip was probably just put in; and since he was not interviewed, he really couldn't say much about it. As far as we know it is only on DirecTV and runs infrequently. Thanks, George!

News Reported: 02/08/01


A couple more cities have been added to the AC/DC tour: Dayton, Ohio and Sacramento, CA. Some small changes in the city (Minneapolis changed to St.Paul, Los Angeles changed to Inglewood, Salt Lake City to West Valley). Some more venues have been named and some ticket sale dates added. Please note that these are internet sale dates. Outlet dates may be different in your area. Here's what the schedule looks like so far:


Tour Schedule - SLASH's Snakepit - 2001

As Of 2/07/01


     Sat., Jan. 20           NAMM for CMG        Anaheim, CA

Theater Tour

                                                    Internet Sale
                                                    Ticketmaster
Feb.  23, Hollywood, CA           House of Blues      On Sale
Feb.  24, Las Vegas, NV           House of Blues      On Sale
Feb.  26, Anaheim, CA             House of Blues      


Opening for AC/DC

                                                              Internet Sale
                                                               Ticketmaster
March 18, Ft. Lauderdale, Fla.    National Car Rental Center      On Sale
March 20, Orlando, Fla.           TD Waterhouse Centre            On Sale
March 21, Tampa, Fla.             Ice Palace                      On Sale
March 23, Nashville, Tenn.        Gaylord Entertainment Center
March 24, Memphis, Tenn.          The Pyramid
March 26, Little Rock, Ark.       Alltel Arena
March 28, Greenville, S.C.        Bi-Lo Center               Sale: 2/10
March 29, Greensboro, N.C.        Greensboro Coliseum
March 31, Charlotte, N.C.         Charlotte Coliseum
April 1,  Raleigh, N.C.           Entertainment & Sports Arena
April 3,  Dayton, OH              Ervin J. Nutter Center
April 4,  Columbus OH             Nationwide Arena                 On Sale
April 6,  Cleveland OH            Gund Arena                   Sale: 2/10
April 8,  Chicago, IL             United Center
April 9,  St. Paul, MN            Xcel Energy Center           Sale: 2/9
April 11, Denver, CO              Pepsi Center                      On Sale
April 12, West Valley, UT         E Center
April 14, Inglewood, CA           Great Western Forum
April 17, Sacramento, CA          ARCO Arena                    Sale: 2/10
April 19, Portland, OR            Rose Garden Arena
April 20, Tacoma, WA              Tacoma Dome                   Sale: 2/10      
April 23, Vancouver, BC           Pacific Coliseum
April 25, Edmonton, Alberta       Skyreach Centre
April 26, Calgary, Alberta        Penngrowth Saddledome
April 28, Winnipeg, Manitoba      Winnipeg Arena
April 29, Fargo, N.D.             Fargodome
May 1,    Madison, Wisc.          TBA
May 2,    Detroit, MI             TBA
May 4,    Boston, MA              FleetCenter                    Sale: 2/10
May 5,    Philadelphia, PA        TBA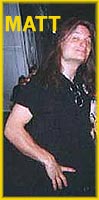 We heard from our favorite drummer, Matt Laug, today. He says that a friend at VH-1 told him that the new video for "Mean Bone" will air for the first time on VH-1's Rock Show next Friday, February 16. (Studio guest will be Sevendust) Matt says the video will remain in rotation as long as it gets play requests. Fans can request the "Mean Bone" video via email at rockshow@vh1.com. Put this on your list of things to do! Email the rock show and ask them to play "Mean Bone" after its appearance on February 16. Thanks!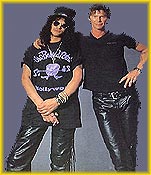 Here's an old friend of SLASH's from GNR days, Duff McKagan. Last we heard about Duff, he was with The Racketeers and then The Presidents of the USA. But the reason you are seeing Duff here...Duff had a birthday this week, and he's 37 now! For a guy with a life threatening health problem at one time, Duff is looking good these days. Duff gets a lot of exercise playing with his two daughters in Seattle, riding dirt bikes, and practicing his kick boxing moves. He eats right, and the booze is gone from his life. Nice to know Duffy is still around! Happy Birthday, Duff!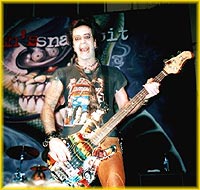 Gary from New Jersey went to see Johnny G playing with Gilby Clarke's band, and he couldn't say enough good things about his evening. He said when the crew was setting up, he spotted Johnny's Bob Marley bass and was thrilled. When Johnny came in, Gary called him over. Gary was wearing his Snakepit tshirt, so they talked a little, and Johnny let him touch that Bob Marley bass! Gary says he leaned against Johnny's amp during the show so he's pretty deaf now. The sound was great, and the band played really well. Gilby mentioned that "there is a lot of Snakepit on this stage", and Johnny replied "old and new"! Gary said that Brian Tichy (touring drummer for Snakepit 95) did a drum solo and totally went wild! Gary says it was an amazing and memorable night. SLASH brought those guys up well!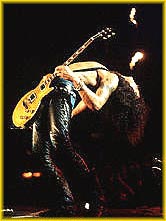 If you haven't seen VH-1's Guitar Heroes, Vicki suggests you try to find it as a rerun. In the opening sequence, she had a fleeting glimpse of SLASH (shirtless with cigarette, playing guitar) just as the title Guitar Heroes appears. SLASH plays "SCOM", and Jeff "Skunk" Baxter comments, "I think if you're looking for an example of this sexual being, one of the first persons that comes to mind is SLASH... Everything that comes from him comes from his guitar. He looks at it kinda like a part of his own body". Vicki says she just loves that first shot of SLASH playing at the 1994 House of Blues show honoring Les Paul. SLASH is headbanging to the blues and looking like he is having the time of his life. Thanks, Vicki!

News Reported: 02/07/01


The Seattle, WA show is now listed as Tacoma, WA with the venue being the Tacoma Dome. Shows on sale through Tickemaster's internet site are listed with this information on this site's Tour Schedule. If Ticketmaster gives a date when tickets will go on sale on the net, that is listed also. We hope this will be helpful.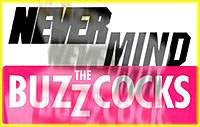 Friday was a busy day for SLASH. He did some filming for MTV in California. MTV will be celebrating their 20th Anniversary, and SLASH was asked to come in for an interview. He said they let him smoke (always a plus), and it was very hot there. They were filming at a hotel, not a studio. SLASH said he was taking a sweat break every 5 seconds it seemed. He enjoyed it though the filming took 3 hours. Later in the day he called here to confirm the House of Blues dates and tell us that more shows will be scheduled very soon, but they had to wait for him to get back from the UK! SLASH left Saturday for the UK and will be back on Tuesday. He's filming a show for the music quiz series called "Never Mind the Buzzcocks". For the UK fans, SLASH's show is show 1 of an 8 part series. SLASH said this was Series 8 which makes it sound like it has been around awhile, but SLASH didn't know if it is a new series or an old one. Someone in the UK will know, we're sure. The show is for the BBC, and SLASH described it as a game/talk show from Talk Back Production Co. Ltd, and he was looking forward to going and doing the show. He loves English humor!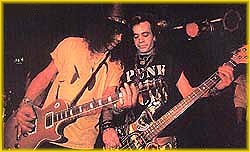 Over to France now where Groyou was kind enough to scan in two reviews of London Snakepit gigs. Groyou says the first is from Classic Rock. They know what's good and what isn't, and they gave the Snakepit show a very positive review. They are aware that Snakepit is a band not a SLASH solo project. The second is from Metal Hammer, and they give the Snakepit show a 9 out of 10. Grouyou says a lot of bands don't get more than 8 from this magazine. Thanks, Grouyou!

Classic Rock Reviews Snakepit Show




Metal Hammer Reviews Snakepit Show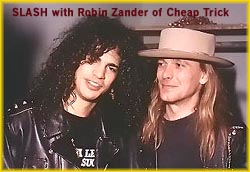 If you get DirecTV, you can see some rare SLASH footage. Chris in Orlando sent us a note that he saw SLASH on DirecTV's broadcast of the Cheap Trick show in Rockford, IL. This free concert will be shown every 3 hours till the end of February on Channel 801. SLASH appears with his Les Paul doing "You're All Talk". Chris says that SLASH breaks a string early in the performance and is handed a replacement so he can switch guitars. If you aren't a big Cheap Trick fan, SLASH comes on about an hour into the show. And if you are a Pumpkin fan, Billy Corgan from Smashing Pumpkins comes on during the encore. If you have DirecTV, here's a chance to see SLASH playing with a band he loves and claims as an influence. Thanks, Chris!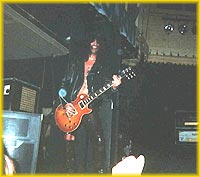 It's never too late to send in a review of a Snakepit show you saw. Here's one from Ramon in The Netherlands. Ramon hadn't seen Slash live in 7 years, so he was determined to get to the Paradiso. Ramon said there was a line at the Paradiso when they got there, but they were still able to be up front. Ramon was excited to see his guitar hero so close. Throughout the show, the band threw picks into the audience. Ramon caught 3! He was kind enough to give one to a fan who hadn't caught any and received a beer in return. A true SLASH-type trade! Ramon also got a setlist and said the crowd went mad for "It's So Easy" and "Mr. Brownstone". The band came back for an encore, and that was it. Everyone waited for autographs outside, and the whole band came outside and started signing. SLASH was very friendly and took time with the fans. Ramon says he really appreciated that. Ramon gave him a ticket to sign and SLASH said, "There you go" when he gave it back. It was a great day, and Ramon hopes SLASH will come back soon. He says there are a lot of fans in Holland! Thank you, Ramon!


News Reported: 02/04/01


Two venues have been confirmed for the AC/DC and Snakepit tour. The Winnipeg show will be in the Winnipeg Arena and the Los Angeles show will be in the Forum. No new dates as yet. The most recent tour schedule can always be found at www.snakepit.org, scroll down to Main Menu, click Tour Schedule. Remember merchandise at this time is sold only in the venues for Snakepit, so if you want a shirt or cap or something, now is the time to get it...venues only.



Here's some news of the theater tour! If you are in Hollywood or Las Vegas or Anaheim, you can catch a terrific SLASH's Snakepit show at the House of Blues. On Friday, February 23, Snakepit will appear at the House of Blues in Hollywood, CA. The show starts at 9pm, and is a 21 and up show. All tickets are general admission, standing only. The internet sale begins tomorrow, Saturday, February 3 at 10 am. There is a six ticket limit per sale. The next show is the day after at the House of Blues in Las Vegas. That's Saturday, February 24. The show starts at 8pm, and this one is also for 21 and over. Tickets go on sale tomorrow, Saturday, February 2 at 11 am. This is a reserved seat venue. The third show is at the House of Blues in Anaheim CA on Monday, February 26. This show was just booked today so the tickets are not yet on sale, and we have no details at this time. With three great venues, you owe it to yourself to get out there and see the guys! A full length show at the House of Blues! What more could you want? Any questions about seating or anything else, check at www.ticketmaster.com. Search for slashs snakepit (no apostrophe).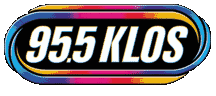 The AC/DC/Snakepit show in Los Angeles is April 14. Tickets are not yet on sale for this show, but you can win a pair of great tickets from KLOS. Starting today, a pair of tickets a day is given away. Today's are 10th row seats, tomorrow's 9th row, etc. to Feb.11 which are front row seats! Tickets go on sale on Feb.11 so you'll know if you need to buy a pair or have won a pair. For additional information, check with KLOS:


KLOS Tickets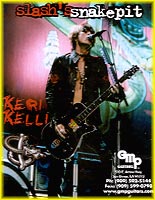 Here's one of our favorite guitar players in his new photo for GMP Guitars. Keri looks great here, and it's good to see that SLASH's Snakepit and the big snake as background. Thanks, Keri, and we'll be looking for this in magazines soon.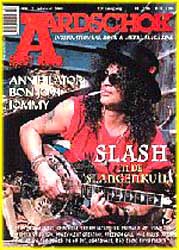 Ferry brought our attention to a Dutch magazine, Aardschok which has an article on Snakepit. Ferry reports that SLASH is on the cover bigtime with that beautiful dobro. And at the end of the magazine is a review of the Paradiso concert in Amsterdam. This sounds like a good one! Thanks, Ferry!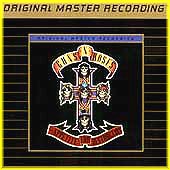 If you haven't seen VH-1's show on the 100 greatest rock albums, try to catch that one. Vicki says it briefly shows SLASH while #42, Appetite for Destruction is discussed. SLASH comments during Thriller and Nevermind. The March 2001 issue of Guitar World has a hard rock history, and Appetite for Destruction is an album highlighted for the 80s "to help illustrate the stylistic and philosophical changes that have occurred through the years". The album cover is pictured. SLASH is quoted as saying, "People related to the songs because they're real, they're sincere". SLASH then recalls how SCOM was written as a joke, but it took the world by storm and rocketed GNR to stardom. "All of a sudden we became the norm...and all of a sudden it was no longer fun to be Guns N'Roses...". "We were real frustrated with being acceptable. We're not Motley Crue. We're not gonna do something that appears a little bit dangerous so we can sell records". Vicki says there is also a 2 page ad from Seymour Duncan picturing SLASH. And if you are still looking for the Dragonfly ad, Vicki says it is in Guitar One, the March issue, 7 pages into the magazine. Thanks, Vicki!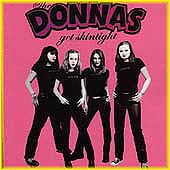 Here's a SLASH mention from Shari. She was checking out The Donnas website. This is the four member girl rock/punk band from CA. Shari was reading the bios, and Donna C, the drummer, lists SLASH in her "Favorite Boys" group. Surprising? No...he must be in hundreds of those lists although some of us list him under Favorite Men! Thanks, Shari!



News Reported: 02/02/01