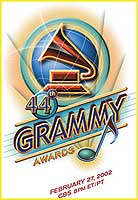 Tonight the Grammy Awards are on TV! We don't know if SLASH is attending, but he usually passes on these shows. Someday it would be really great to see him onstage accepting an award! In the meantime, we studied the rock awards to see who SLASH might be rooting for. How about his buddy Lenny Kravitz for Best Male Rock Vocal Performance?

And Aerosmith for Best Rock Performance by a Duo or Group With Vocal, and Black Sabbath for Best Metal Performance? Steve Vai or Joe Satriani for Best Rock Instrumental Performance? Which would SLASH choose here? "Jaded" as Best Rock Song with Steven Tyler as co-songwriter, and Aerosmith for Best Rock Album? These are all artists that SLASH likes. It would be interesting to see his picks for tonight!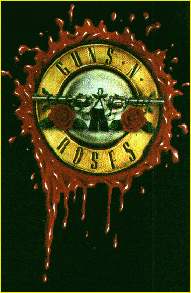 On 2/23 VH-1 aired a program called "Behind the Music: Metallica", and GNR was listed as being on the show. We managed to miss it, but Andy saw it on German TV. He says the Guns part was the band at the GNR/Metallica show in Montreal. James Hetfield burned his arm on the pyrotechnics and went to the hospital. Although others tried to persuade GNR to go on earlier than scheduled, Axl Rose refused. When Guns finally started their show, they played two songs before Axl stormed off the stage complaining about the PA. Angry fans trashed the equipment and rioted. VH-1 comments that with Axl's disappearance, Metallica remains as the last real rock band. Thanks, Andy!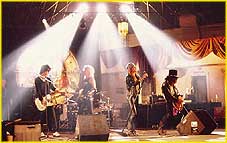 Jamie sent a note from Australia where he had been reading the Australian Rolling Stone. There was a list of the Top 100 Pop Songs. Jamie said the list sucked as almost none were pop songs. Even Guns N'Roses appeared on the list, but only once. They picked up the #20 slot for "Sweet Child O' Mine". SLASH is quoted, "It was literally me f*cking around with the intro riff, making a joke out of it." At the time the band was in that LA house without electricity, sitting around the fireplace late one night when SLASH began noodling on his guitar. Izzy soon chimed in, and Axl got into it with a song he'd been working on. SLASH says, "I was the last person in that band to come up with a ballad. It was definitely a departure for the group as a whole. A week later we got into the rehearsal studio, and that song was still on the minds of everyone else in the band, and I'm saying, 'Come on, I was only f*cking kidding.'" The article says the power ballad complete with SLASH's solos hit number 1 in the summer of '88 and helped turn Appetite... into a hard rock landmark. SLASH still seems to have second thoughts about the song when he says, "People's moms started buying the record. It was the only disappointment of Guns' crossover breakthrough. We became mainstream, even though we never saw ourselves as a mainstream band." Thanks, Jamie, for that piece of GNR history!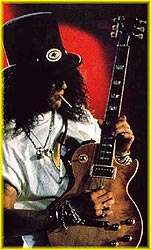 Here's a SLASH note from Josh in Canada. He was watching "Rock N Roll Jeopardy", and they had this question, "This hat is worn by which famous guitar player". They showed SLASH's top hat, and the contestant hesitated a little but got it right. Let's hope so! Sometimes people refer to SLASH as The Hat! Thanks, Josh!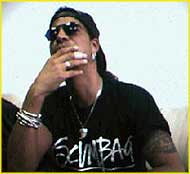 Vicki from West Virginia was watching VH-1's "TV Moments - Reunions" last night, and there was a short comment by SLASH on the Kiss Reunion. Vicki thought that was strange since SLASH is not a fan of the Kiss music. SLASH has been around the music scene so long that he can comment on almost any band. Thanks, Vicki!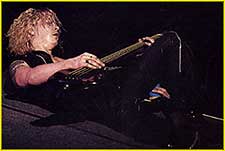 As you probably know by now, SLASH does not have an email address and doesn't use a PC for communication. For one thing, SLASH doesn't type and for another, he just doesn't like using them! So if you write to the webmaster, it comes to us, not SLASH, and we pass along printed versions for musical and performance questions. On the other hand, Duff is really into the PC world. He's getting a business degree in Seattle, and college students are rarely without their laptops. If you have a burning question for Duff, you can email him directly and get a response from Duff himself. Lori, Duff's webmaster for his Loaded band, told us that you can come to the site and get the information there. You can also write to any of the other Loaded band members. Everyone has his own email address. Lori says her site is down due to exceeding its bandwidth quota, but it will be back up again March 2 or 3. If you need that Loaded URL again, it's:

www.loadedonline.com
News Reported: 02/27/02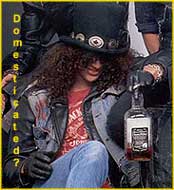 SLASH says that he is still finishing up Izzy's album that both he and Duff play on. He said he was working on it Friday and will continue till its complete and ready to go. So far, the expectation is that the album will still just be sold on the web and that they will not tour. Izzy is not one to go out on long tours, but maybe they can get him to do a show or two. That's our hope, not something from SLASH. SLASH says he is also busily working on his own album. This is the SLASH album featuring music from different genres with guest appearances and a new band. SLASH does want to tour on this one, and he is looking for a record label and manager.


We told SLASH that some of the fan mail asks if he is just the same as always now that his life style is changing. Will SLASH still be the cool rocker with a wife, new baby and new home outside Los Angeles? Surprisingly, instead of just saying "yes", he took the time to think it through and say that he expects to be just the same. He said that if you look around, you can see many examples of rockers who have wives and kids and homes in the suburbs. Offstage they might have to think about a teething baby or helping the wife choose new drapes or checking on the crabgrass, but onstage that all goes away and is lost in the music. SLASH says he is not domesticated. He never planned to have or not have kids, but it happened and he's looking forward to it. We asked if he was hoping for a boy or girl, but SLASH says it doesn't matter. He says friends tell him it will be a boy. Since the father determines the baby's sex, and his mom had two boys; the odds seem to be that another sweet SLASH will make an appearance. Girl or boy, we hope to see a picture of Daddy and baby in the early fall.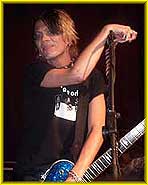 When SLASH was giving examples of rockers with families, he happened to mention that Snakepit's own Keri Kelli was married recently! We hadn't known that. Best wishes to Keri and his new bride who even now is probably learning the fine art of preparing sushi, Keri's favorite food in the whole world.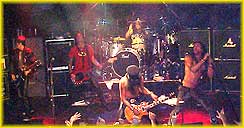 Guitar One's April issue has a small SLASH mention in its "Opening Axe" column. They review the compilation, This Is Seymour Duncan: United by Tone, Volume One, and their reaction is positive. SLASH donated "Life's Sweet Drug" from Ain't Life Grand. All 18 tracks are previously released and are donated by guitarists who endorse Seymour Duncan pickups. The tones cover a wide range from distortion (SLASH's Snakepit and others) to clean jazz to fusion. The album is priced under $4 and can be purchased at the Seymour Duncan site or at boosweet.com. We asked SLASH how "Life's Sweet Drug" was selected; and he said the Seymour Duncan people asked him, and that's the one he gave them. Handpicked by SLASH!


These are the latest GNR appearances on TV as reported by Rock On TV: on MTV 2/27 at 10am ET, "MTV Uncensored" - a peek into MTV's archives/ on Court TV 3/2 at 5:30am ET, "Hollywood & Crime"/ on VH-1 3/4 at 1pm ET, "100 Most Shocking Moments in Rock and Roll".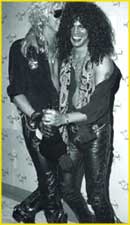 Dave sent us a note about an upcoming TV program on Sky TV, a British satellite company. SLASH will appear on "Pop Stars Behaving Badly" on the Sky One channel at 9pm UK time on Sunday, March 3. Dave saw the ad for the show, and it features Tommy Lee, Pam Anderson, Noel Gallagher, and others. The clip of SLASH in the ad was SLASH walking past a camera. So check this out and let us know what poor behavior the top hatted one was guilty of! Thanks, Dave!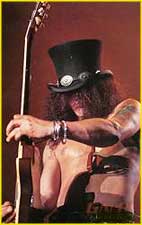 LuAnn spotted an update on the SuperGroup report that appeared on Sammy Hagar's web site. You'll remember that it was reported there that SLASH recorded 2 songs with the band. Then, SLASH denied he was there or had even heard the music. Yahoo News reports that while Sammy, bassist Michael Anthony (Van Halen), Neal Schone (Journey) and drummer Deen Castronovo did record two songs for possible use on the soundtrack of "Spider Man", SLASH was not there. The report says that SLASH was unable to join them...(SLASH says he has not yet decided to join them). It further says that demos will be given to SLASH's manager today (SLASH has no manager at this time), and if inspired, he will join the "old-timers" in recording a guitar part and possibly working on additional songs. As you know, SLASH said he may be too busy with his own projects to work with the group, but we certainly would welcome any new music he would favor with his Les Paul. Thanks, LuAnn!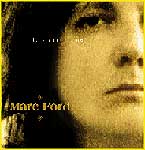 Ravi let us know that Marc Ford has a new rock and roll album out, It's About Time. Marc was with Burning Tree and Black Crowes. For this album, he worked with members of the JuJu Hounds and Snakepit's drummer, Matt Laug. Ravi reports that the liner notes report that much of the album was recorded at Snakepit Studios! Thanks, Ravi! To check out more about Marc Ford and his album:

Marc Ford Site
News Reported: 02/25/02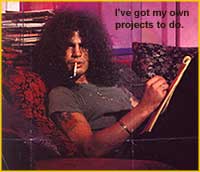 Last night we got word of an important news item that appeared on Sammy Hagar's official web site. Thanks to everyone who saw it there or on other sites or the radio and sent it in. So many of you! And here is what it says:



Sammy, Michael Anthony, Neal Schon, Dean Castronovo and Slash are in the studio recording a few tunes! They've finished two great songs, "Vertigo" and "Peeping Through A Hole" and are hoping to have them in a movie soundtrack. The music sounds like a combination of Van Halen, Led Zeppelin, and Tool. This is a great and fun side project for all involved.


It does sound interesting, so we rang up SLASH to see if he could give us his take on the new band and those new songs. Surprisingly, SLASH knew nothing about it. He did not play on these or any other songs with the so-called supergroup. He hasn't heard the songs either. Frankly, we were very surprised since it is on Sammy's site. SLASH said this is either a mistake by the person who wrote the news there, or Sammy's team is trying for more publicity or squeezing him to decide. SLASH doesn't sound like he will be doing this project. He talked of all the things he has going and wants to do and can't see an easy way to shoehorn one more in. So, he said to tell all of you that he did not play on the songs and has not decided whether to join up or not. And he reminded us not to believe everything good or bad that you read or hear about him.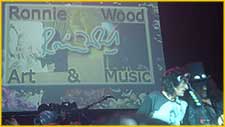 For Japanese fans expecting a SLASH/Ron Wood visit this month, SLASH said the tour schedule is Ron's to set up. SLASH says he doesn't think Ron will go to Japan which means he will not either. Things could change, but March is not now as final as it was. The main reason here is that Ron is starting to get busy with his main band, the Rolling Stones. It would be beyond great to see those guys again! SLASH has known Ronnie since he was a young boy, and we asked if he knew the others well. He said he has hung out with Mick and Keith, but he does not know them well like he does Ronnie. The one he knows least is Charlie Watts. Charlie is a quiet kind of guy; and SLASH is too, so they haven't become really well acquainted.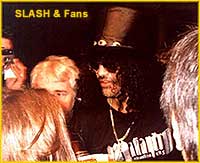 A third item we discussed was the fan club/mail situation. We explained that a number of people sent membership fees in for the fan club quite awhile ago and have yet to receive anything. We suggested that if the packets are not quite ready, it might be a nice gesture to send out a letter. SLASH says he just signed a whole stack of mail, so some is getting through. We explained that we are concerned about individual problems where someone sends an item to be signed and doesn't get it back. We asked for better communication with the company doing the mail, and he said he'll speak to them on what can be done. Hopefully, he will have a report on that soon.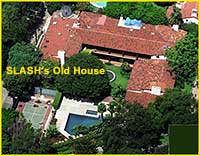 SLASH took all the questions and comments in good spirits. He sounded relaxed and in a good mood. He's been busy finding a new home for his growing family, and he's got one all set - no longer in Los Angeles but not too far away. We never thought SLASH would leave his Hollywood area territory! Got to keep that new son or daughter out of Daddy's old hangouts! Best wishes and much happiness in your new home, SLASH!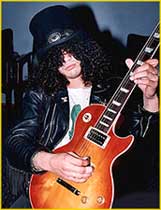 Unfortunately, the set of fan questions we sent to SLASH seem to be lost in the mail! Not to worry as we have a backup copy which is on its way. And we have a few left. Let's look at one of these. This is from Mark in Massachusetts who asks, "I was wondering if your top hat is the same one you have had throughout the GNR days. Do you still have the same hat? That is the best hat in the world! And SLASH, you are god to me! Thanks."


SLASH replies, "Mark, I have had 3 good top hats; one of which I've had ever since I can remember. I bought (stole it) from "Retail Slut" in Hollywood, CA. Thanks for the compliment."


Thanks, SLASH and Mark. Retail Slut is on Melrose Avenue in Hollywood, CA. They also have an online site at www.retailslut.com with a top hat for sale but not one like SLASH's. Still, you can add this to your SLASH tour of Hollywood!
News Reported: 02/22/02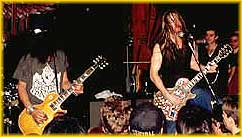 Vicki is an enthusiastic contributor to this site. We thank her and thank you. We are always in need of contributions...if you see SLASH, read about him or see him on TV. Information from all countries is very welcome. Vicki got her copy of the April 2002 issue of Guitar World. In the "60 Minutes" section, Zakk Wylde lists his faves, and one of them is "You're Crazy" from GN'R Lies. Here's what Zakk had to say:


"That's from their acoustic album, but I think Slash is playing a Les Paul clean on the solo. I'm a big fan of Slash's tasty playing, and the solo he plays on that thing is slammin'. If Jimmy Page and Keith Richards went into a laboratory and fused together, they'd sound like Slash. And when you put Axl's out-of-control voice on top of everything, it makes them one of the greatest rock/metal bands that ever existed. The bottom line is I'm friends with those guys, so whatever they do I hope it pans out for them."


High praise from another super rock guitarist! We were glad to see there are no more hard feelings over Zakk's near-insertion into GNR by Axl. Thanks, Vicki!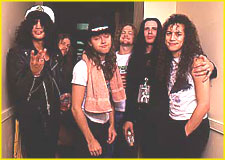 Another note from Vicki...SLASH appeared on the VH-1 show "TV Moments - Rock Debuts" recently. That show will certainly be rerun, so watch for it. There are a couple of TV appearances upcoming in the near future. On 2/23 VH-1 repeats "Behind the Music: Metallica". This is said to include GNR but doesn't elaborate on their appearance. Perhaps scenes from the Metallica/GNR tour? The episode is on at 1am ET. Another appearance is "Hollywood & Crime" which will be rerun on Court TV on 3/2 at 5:30am ET. Izzy, Steven and Axl's brushes with the law are covered.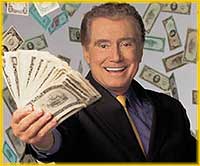 Adam was watching the TV show "Who Wants To Be A Millionaire?", and a question was, "Which hard rock band had a singer named Axl and guitarist called SLASH?"! How loud can you scream Guns N'Roses! No word whether the contestant got it right. For us, this is the same as...who is buried in Grant's tomb?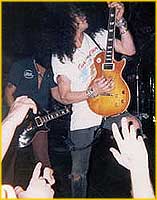 Gilby Clarke did a chat on AOL recently, and SlashAdmirer is a subscriber and got to attend. There were some questions to Gilby about SLASH. Gilby was asked about the project with Izzy, SLASH and Duff, and he said he thought it was a great idea for them to work together because they all still have some great music in them. When asked how it was to work with SLASH, Gilby replied that when they are playing guitar, it's great because he respects SLASH's guitar playing a lot. Gilby's favorite song to play when he was in Guns was "Welcome to the Jungle" mainly because the crowd's reaction was the best on that one. And he says there is no tension between himself and Izzy over Gilby's replacing him in Guns. Gilby says that Izzy was happy that Gilby took over, and Gilby says he was certainly happy to take Izzy's slot in the band. He also said that Axl should not be using the name Guns N'Roses for his solo project because although Axl was a big part of GNR, he is not the only part. Amen, Gilby! Thanks!



If anyone has received their fan club packet or when you do, would you let us know at webmaster@snakepit.org? We still have no word from the company running the club; but if you let us know, it could help reassure people who are waiting patiently. Also, how is the fan mail doing? Are you getting your requests returned? Thanks.
News Reported: 02/20/02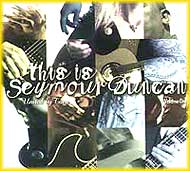 The Seymour Duncan CDs should be arriving any time now if you ordered one right away. Seymour Duncan makes the pickups SLASH uses and endorses. They put together a compilation CD called "United In Tone" to benefit the September 11 Fund. Although we were pleased to get one, we were disappointed to see that there was no original work on the album. SLASH's contribution is "Life's Sweet Drug", the album version. If it isn't quite as exciting as a SLASH jam would have been, it's a worthy cause. See Seymour Duncan website for more details.



Vicki picked up the April issue of Guitar Player. SLASH's old Seymour Duncan full page ad is in there. Vicki says she hasn't seen him in an ad for a long time. There's also a small article on Gilby Clarke, and Gilby mentions SLASH. They talk about how Gilby has remained true to his roots, the raw, classic-rock vibe that thrust GNR into the spotlight. Gilby's new album Swag is on the Spitfire label, and the songs showcase his songwriting and vocal skills. Gilby says that it's been nine years since he left GNR, but he still values what he learned there. He says that their solo sections are always a new part of the song. "Too many people get locked into soloing over a verse or chorus, but SLASH never does--and I love that." Gilby says that ever since he has tried to make solos in his songs really stand out. Thanks, Vicki!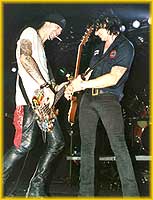 Gilby is on tour beginning tonight athe Viper Room, Hollywood, CA and continuing till April 19 where the final show is in Elkin, IL. Check out Gilby's site for more information. Every Tuesday night, Gilby plays at The Baked Potato in North Hollywood with Teddy ZigZag and Johnny G. SLASH used to be a regular at the Tuesday night shows, but he hasn't been seen there in some time. Painting the baby's room?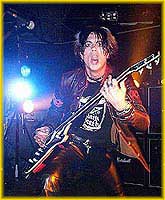 There's to be another chat with one of our favorite Snakepit guys, Keri Kelli. It will be held on thepitonline.org, an Italian site, but the chat will be in English. It's scheduled for early March, and we'll let you know when that is finalized.


Rumour control: There was a rumour going around that SLASH would hook up with Fred Durst and Limp Bizkit. Fred says this is completely not true. And you never thought it was, did you?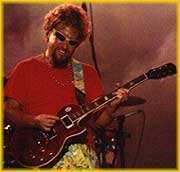 Here's a cool SLASH mention from Sammy Hagar. This is an old one from 1997 when Sammy released Marching To Mars. Slash played on what was to become a strong single from that album, "Little White Lies". This is what Sammy had to say about SLASH in his interview with Jam:

Sammy Hagar Talks About SLASH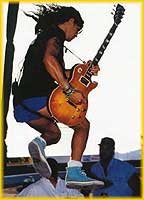 Here's another in the continuing series of fan questions to SLASH. Simone in Italy asks, "You know that there are a lot of live recordings of Guns N'Roses, Snakepit and Blues Ball. Do you own any bootlegs?


SLASH replies, "Not really. Maybe a few, but none are any of the bands I've been in."


Thanks, SLASH and Simone! Let's do another one. Mykaela asks, "How can you play the guitar while jumping off stage and never make a mistake?"


SLASH give a one word reply to Mykaela, "Timing!!"


Thanks, SLASH and Mykaela! That's something we've wondered about, too!


We're doing some redecorating on the site, and we hope you like it. We try to bear in mind that this site has worldwide visitors, sometimes with very slow modems. We try to make it as accessible as possible. The background was taken from a set of rock backgrounds, and we thought it appropriate as SLASH Rocks! The police line divider should be familiar to anyone who has seen SLASH live. The chain is a link between SLASH and his fans. The whole site will be converted to this new format except the guitar tabs - we need black lettering for ease of printing. Enjoy our new, darker look.
News Reported: 02/18/02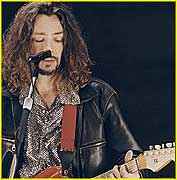 Who's this good looking guy? It's Rick Dufay, a big buddy of SLASH's. Rick took over for Brad Whitford when Aerosmith split up and remains a professional musician. Rick just turned 50, and his webmaster Terry sent a note asking if Rick fans would like to wish him a Happy Birthday. She's set up a place where you can do this, but you have to hurry as she's taking the birthday wishes to him tomorrow. You don't have to register or have a password, just go over and post a message. First Steven, now Rick. We'll have to do this with SLASH come July 23 when our guy becomes...can it be true?...37!

Happy Birthday, Rick Dufay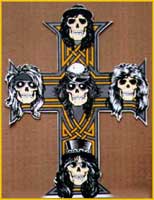 Vicki was watching a rerun of "ER" about Dr.Susan's sister (drinker/drugs/promiscuous sex) Chloe telling the good doctor she is pregnant by her no-good boyfriend. As Chloe is telling this, she pulls on Susan's bathrobe over her tshirt. And guess which band that bad girl was flaunting? Why, Guns N'Roses! This was the one with the skull members on the cross. Thanks, Vicki!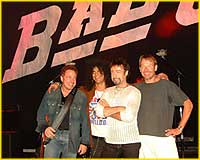 On January 30, Bad Company played The Grove Theatre in Anaheim, CA. Paul Rodgers was fronting the band. Dave was in the audience, and what a thrill to see SLASH come out for two songs! Dave took quite a few pictures, and we've put 18 together and made a nice photo album with thumbnails and larger pictures. Thank you, Dave, for sending all these in!
Bad Company & SLASH Photos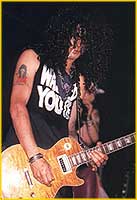 This is the final installment on the article from Tattoo magazine. If you need to catch up, the other parts are below in Monday and Wednesday's news. In these last two sections, SLASH talks about Snakepit and GNR. He says what it's like to play in different sized venues and to be interviewed by all kinds of people. Even this site comes in for a brief reference! Thanks, Victor!

Tattoo magazine: Interview with SLASH - 4
Tattoo magazine: Interview with SLASH - 5

Sebastian Bach continues with his new TV show, "Forever Wild", on VH-1. His current guest is Ted Nugent...now that's a wild guy! VH-1 has come up with a trivia test so you can see if you are a metal expert or not. While we didn't do too well on this, we got the GNR question right! If you'd like to check your metal knowledge, take the test!

Forever Wild Trivia Game

The average couple tells family and friends when a baby is expected. You don't read it in the papers! The lives of the rich and famous are different, and there was some publicity on the forthcoming Hudson arrival in the New York Daily News! And here's what they had to say:
Former Guns n' Roses guitarist Slash and his wife of four months, Perla Ferrar, are expecting their first child. The 36-year-old rocker tells us, "The baby was conceived at Ronnie Wood's house in London" in December after a generous intake of Guinness stout. "We're thinking about maybe giving the kid the middle name Woody." Slash, who was born Saul Hudson, is awed by the prospect of parenthood: "I can't believe we are going to be somebody's parents" …
A picture caption said, "Guitarist SLASHand wife Perla Ferrar are getting ready to welcome their first sweet child to the jungle!"


SLASH called in to say that he is ready to start working on the new batch of questions. We asked what he was up to, and he would only say, "one or two things". We asked why he couldn't say, and he said he doesn't like to talk about things till they are done!


News Reported: 02/15/02


Tomorrow is Valentine's Day! We're not sure if all countries celebrate this holiday, but we need more celebrations of love! To all of you, have a great day. SLASH, Happy Valentine's Day from all of us to you.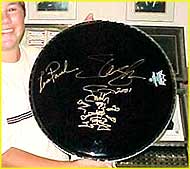 Jim sent in this picture of the 18" drumhead that SLASH and Les Paul signed for him at the Iridium in New York City. This was Les Paul's 50th Anniversary, and SLASH was there to jam with Les Paul. Jim was there to see them both! Thanks, Jim!



There's a show on VH-1 called "All Access-Indecent Exposure". Vicki saw this one, and she says SLASH is in it. SLASH must be fulltime with VH-1! The voice-over talked about Wendy O. Williams whom they called the queen of onstage excess. She was a confrontational rocker tearing into the rules of society. Then SLASH comments, "She was a nut. She was really straightforward into what she was doing...sawing cars in half...naked." (How does SLASH meet these people?) SLASH is shown laughing, wearing round shades, top hat and a black tshirt with a red circle. Vicki says this is a familiar outfit for SLASH on VH-1, so maybe he does a day full of comments and goes home. We've got your number, SLASH! Thanks, Vicki!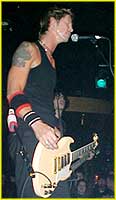 Duff is just back from Japan where Loaded did three shows. Shelden sent a setlist for the Osaka show and pointed out that seeing Loaded is a good place to hear some of the old GNR songs. In Osaka, they did "Dust N'Bones", "So Fine", "Attitude", "New Rose", "Raw Power" and "It's So Easy". It's a great place to hear punk rock, and the set list has many of those. Duff was always into punk rock, and SLASH said that's who he learned about punk from...Duffy! Thanks, Shelden.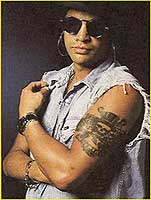 Here's the third part of the SLASH article from Tattoo magazine. (Parts 1 and 2 are in Monday's news below.) Victor sent this in, and now SLASH gets into more of his philosophy on his music career and a little more about his tattoos. When we talked to SLASH, we had to have a good look at those arm tats. We had always wondered about the one with the woman and the whip on his right bicep. Our conclusion was that this was SLASH's drawing of himself as a woman. Boy, were we wrong! And he seemed really taken aback at this. Maybe that's why he wanted to get the right story out. Well, what did you think it was? Thanks, Victor for sending this. We have more to go!
Tattoo Magazine SLASH Article-Part 3
Tattoo Magazine SLASH Article-Part 3A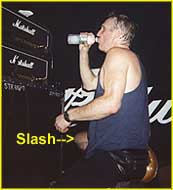 SLASH's guitar tech is Adam Day. Adam is like a legend to most SLASH followers. If you meet him at a show, you are going to meet one of the nicest men in the music business. He always has time to stop a minute and hold up guitars for pictures or to answer some questions. SLASH relies on him without question to get him the best sounds from his equipment. Nick dropped us a line to tell us that there is just a super article about Adam on the Monster Cable website. First it has a paragraph about SLASH, some great SLASH quotations, three color pictures...then the interview with Adam. Guitar players wanting to know more about how SLASH's equipment is rigged and his guitars need to read this article and print it out for future reference! Thank you, Nick, for telling us about it:

Adam Day Talks With Monster Cable

HAPPY VALENTINE'S DAY, SLASH!
News Reported: 02/13/02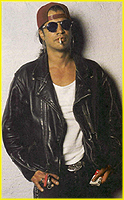 About a week ago, Victor let us know that there was an article in Tattoo magazine about SLASH. Since many of us couldn't find that one, Victor scanned the article for us, and it's great. It's an interview from the time of Snakepit, but there's some good information. SLASH talks about his past, his music, Snakepit, and his tats! There are some good pictures that go along with the article, and the one shown here at left is from the first page. Since the article is very long, we'll break it up over this week. For tonight, there are two sections to read. Thanks, Victor!

Tattoo Article on SLASH...1
Tattoo Article on SLASH...2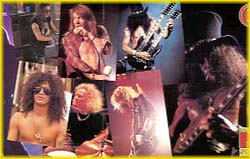 Attila says he is a fan of SLASH, Guns N'Roses and Snakepit. He found a Hungarian site on the net that you might like. It has 14 GNR videos. Now, we have had some trouble downloading as it takes awhile, but the closer you are to Hungary, the less trouble you will have. Thanks, Attila! Check the site's videos at:

GNR Videos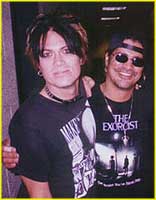 Here's some news on Keri Kelli! Keri is going to play in Jizzy Pearl's band, Love/Hate, for their forthcoming UK tour. Gilby Clarke is touring in support of his new album Swag, and Love/Hate opens for Gilby's band. Johnny G. plays on several tracks of Swag, so you know that bassline will be rock solid. Other unconfirmed band members along with Gilby are Brian Tichy, Tracii Guns and Johnny G. There are two warm up dates in the US: Pinkee's in Las Vegas on March 23 and Paladino's in L.A. on March 29. There are 5 announced dates for the UK, and all are between April 2 and 6. To get the cities, venues, dates, go to Keri Kelli's website and click on Tour. Seeing Keri, Brian, Gilby, Tracii and Johnny G. is like old homeweek for Guns and Snakepit! UK is a big winner for this tour.
Keri Kelli's Web Site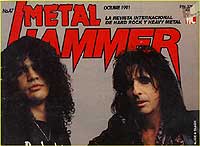 Vicki saw SLASH on VH-1's show Saturday, "TV Moments - Rock Styles". When they got to Alice Cooper, there was SLASH for a split second wearing his shades, baseball cap, sleveless red and white plaid vest. SLASH said he had been a fan of Alice's since he was 10 and that Alice was one of the main influences on most bands SLASH had been in. Then, they showed a pic of SLASH with his top hat and smiling. Next, they showed Alice wearing his own top hat. Thanks, Vicki!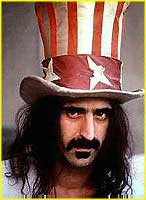 And now another Q&A with SLASH! Elliott asks, "I was wondering if Frank Zappa had any influence on you or any classical influence on you. You talk about Led Zeppelin being a big influence, and a lot of English rock has a quite clear classical influence. Also, has jazz had any influence on you?


SLASH replies, "I like Frank Zappa a lot, but I can't say that he was much of an influence on my guitar playing. But as an orchestrator, lyricist and overall personality, he had a huge overall influence. Also, I love classical music. It has left a major mark on my playing."


Thanks, SLASH and Elliott! What a great question. We learned a little more about influences on SLASH and about his love of classical music.


News Reported: 02/11/02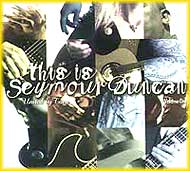 Seymour Duncan, who makes the pickups that SLASH uses and endorses, has used their loyal artist base to put together a compilation CD. CD sales benefit The September 11 Fund. And SLASH is on the compilation! The CD is called United By Tone, Vol.1 and is offered through their web site in limited quantity, shipping to US addresses and payable in US funds only. This is to be the first in a series of compilation CDs from Seymour Duncan. Other artists include Papa Roach, Verve Pipe, Rollins Band, Fish and more. The rock acts are supplemented with jazz and acoustic artists. On the final track is a blues solo by Seymour Duncan himself. Liner notes carry information on the artists' pickups and other gear used to enhance the artists' tones. The CD goes for an amazing $3.50 and is mail order only. So right now we'll send you over to the Seymour Duncan site to get the address and more information. We expect this will be an instant collector's item so order soon. International fans might want to try making arrangements through US fans to get a copy. You might check the list of US fan addresses in the Fan Address section (see Main Menu). We are grateful to Londrino of Brazil for spotting this so quickly! Thank you!
United By Tone CD

Londrino also tells us that the Brazilian Guitar Player site has a small mention in its headlines of the demise of Snakepit. He's not sure if this will be in the magazine, but the story is on their web site. Thanks!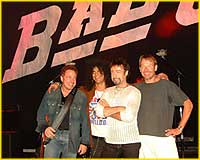 Bad Company, led by Paul Rodgers, played Anaheim CA on January 30. SLASH showed up and joined in two songs with the band, "Wishing Well" and "Crossroads". Paul Rodgers is a particular favorite of SLASH's (and ours). The Bad Company web site had this to say about the scene backstage: "Foreigner's Mick Jones, Styx's Tommy Shaw, Glenn Hughes, Heart's Howard Leese, Slash, Neal Schone… I was waiting for Hendrix himself to walk in!" This Bad Company tour is the CD/DVD tour as they prepare to make a live album and DVD. Brian has found out that SLASH will be on the album and DVD which caught his time onstage on January 30. Look for those to be out in May. Thanks, Brian!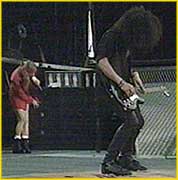 SLASH picks up a couple of mentions in February's Q magazine. This British music publication always seems to have some notes about SLASH. The short article was on SLASH's attempt to see the new GNR in Vegas. The report was very accurate and came with a picture of SLASH captioned, "Gee, Axl, these days you repulse even me." Axl's manager Doug Goldstein is quoted as saying , "Axl was really nervous about these shows. We decided on our own not to take any risks." Another cure for this nervousness is to do more shows. There's also a large article about the downward spiral of actress Winona Ryder and how this is probably due to her penchant for hanging in the rock world. As a sidebar, they list the film industry's 10 most notorious hellraisers. They then put down the actor's friends and what happened. At #9 is Billy Bob Thornton, and his friend is listed as SLASH (even bought his house from him). SLASH didn't even know him much before that. What happened is aside from drinking his wife's blood, he covered a secret room in the old SLASH mansion with velcro so he and his wife could stick there. Seems pretty dull compared to some of the things the GNR guys got up to!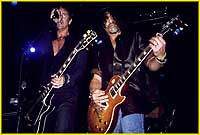 And speaking of magazine mentions. Vicki found a mention of SLASH's playing with Ron Wood in the "Metal Wire" section of Metal Edge. They talked about the 4 show tour in the UK. And they mentioned that back in November, SLASH joined Duff's Loaded band onstage at Hollywood's House of Blues. Thanks, Vicki!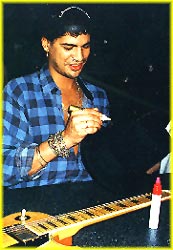 We've received several questions about both the fan club and the fan mail. Several people have asked about the fan club and why they have not received anything. The fan club is waiting on some items they want to include in the membership packets. Also, SLASH has to approve the packet and its contents and that has not taken place as yet. The company that handles the fan club is hoping that everything will come together soon and will mail the packets out as soon as they can. You might want to hold onto your payment if you are a worrier; or you can mail it in, and be patient. As for the fan mail, this same company is handling the requests although SLASH still reads and signs the items. These are the people to get in touch with if you send an item or request anything and receive nothing. Write to Slash@fansource.com. Be advised that this is NOT SLASH's address. (he has no email address). The address says it is an inquiry from a SLASH fan so that separates it from the other artists they do work for. Our advice is not to send anything valuable through the mail for SLASH to sign. These items may go astray, and neither SLASH nor FanSource is liable for them. Thanks!


News Reported: 02/08/02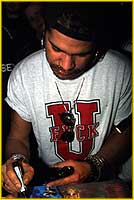 Our supply of SLASH Q&A's was getting low, so SLASH volunteered to do 25 more. Those went off to him today. If you have a question for SLASH, you can send it in anytime. The answer won't come soon; so if you're in a hurry, you'll want to try other sources. The questions are printed here, not mailed to the individual who sent them in. SLASH really enjoys these. Send questions to webmaster@snakepit.org with subject ASK SLASH. No personal questions, please. Questions about his music, career, etc. are fine. If you think of it, put where you are from...country if you are an international fan, state if you are a US fan. SLASH likes to see where you are from. Let's do one now. This question is from Linda in Pennsylvania: "SLASH, I bought a black and white photo of you jamming with Ace Frehely. You can't tell from the photo where/when it was taken. Do you have any memory of when this may have happened, why, where?"

SLASH replies, "Nothing escapes those roving photographers, huh? That must be SLASH's Blues Ball at the Roxy in L.A. 1998."

Thanks, SLASH! What a memory!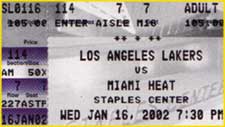 Luis sent some information he saw on a Brazilian site, and it's about when SLASH played the National Anthem at the Lakers game. Someone at the game said he was announced as "the unique SLASH", and the people in the stands went crazy at the sight of SLASH entering the court in a top hat in red, white and blue. SLASH played the anthem in a conventional way with no improvisations, a rarity with him. Some people shouted, "Where the hell is Axl?", but SLASH appeared not to hear. SLASH arrived and left at the same time as Sebastian Bach. We think SLASH was probably doing his filming with Magic Johnson for VH-1 that night. Thanks, Luis!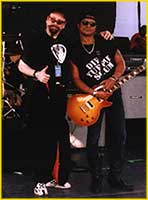 Goldmine's February 22 issue has a big interview with Cheap Trick concerning their 25th anniversary (1999). They did a show in their hometown to celebrate with 29 songs. A CD and recently, a DVD of the album Silver were released of this live performance. SLASH played a song with them, "You're All Talk"; Cheap Trick is one of his favorite bands. Bun E. Carlos, the Cheap Trick drummer, answered questions; one of which was "How did you hook up with SLASH?" Carlos replied that GNR opened for them in the 80s back when they were "a bar band". Carlos laughed as he remembered that when they all came back from Australia in 88, they went to Rick Nielsen's (guitar) house; and he let them use the phone, and GNR got drunk, and one of them tried to grab Rick's hat. He decked SLASH by mistake! Carlos laughs about it some more and says it was just one of those road tales. Cheap Trick knows SLASH from way back, and he's a good guy. SLASH volunteered to come to the anniversary show right away. Great story! Poor SLASH!


There's lots of news about SLASH's friends. First, as you may or may not know, Axl hit the big 40 today. eil.com is having a special birthday recognition, and we wanted to pass it on to you. Eil.com is a pricey site that offers rare imports. They have a long list of GNR imports for sale...everything from 7" vinyl to CD singles and boxsets. If you've been looking for a special GNR item to complete your collection, you might want to go over and have a look. This is all music, no posters, tshirts, etc. No bootlegs. They are offering a 10% discount on any order (GNR, non-GNR) from now until midnight GMT on 2/13. No catches, but each order you place must contain at least one GNR item. To receive the discount, you must put **AXL ROSE 10% BIRTHDAY DISCOUNT OFFER** on your order. We printed out the GNR list and it was 3 printed pages long, so there might be something there you are looking for.

GNR Discounted Music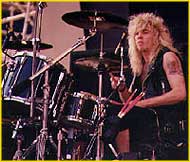 Speaking of birthdays, Ellen set up a birthday card area for Steven Adler on the web. Many of you went and wrote a note to Steven, and Ellen says she did get the card and read everything. He was grateful and very pleased that fans took the time to write. He said that he wants GNR to get back together again even more than we do! Ellen says there were signatures from 18 countries, and she wants to thank everyone here who went over and signed. She also passed on the news that Steven got married recently, and his new bride is from Argentina. Time to settle down! Thanks, Ellen.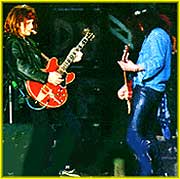 Nicole sent in news that appeared on the Izzy forum. SFV Records, Izzy's label, says that Izzy will be releasing "Underground" as a radio single in mid-February. The B-side is going to be "Far Below Me Now". These are off the River album, not the new one with SLASH and Duff. Nicole says they are having a contest at their fan site where 5 lucky fans can win an autographed copy of River. The contest runs till 2/28, and the winners will be announced on the site on March 1. Thanks, Nicole! Here's where to go to enter:
Win An Izzy Autographed CD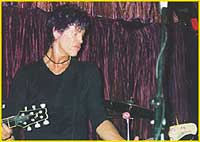 Lori is Duff's hardworking webmaster, and she took time to let us know that Duff's album Loaded is officially coming out soon, and they will be pulling down the CDs available from the web site. One from the site costs $12, a real bargain; so if you want one, hurry over and place your order. Only 30 CDs are left on the site. Lori says she has photos from the Portland and Seattle shows up on the site now. On the 16th of this month, Loaded will play Seattle. The video Seattle Head will be on the site soon. And Duff's birthday was yesterday! Here is the address for Duff's Loaded Official Site:

Loaded Official Site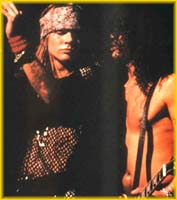 We can't let you go without another poll! Mprowler sent us a note about this one on the MTV site. They talk about its being Axl's birthday, and they want to know what you think Axl should do: continue the slow progress on his album, release the album now, settle this fight with SLASH and get GNR back together, or hang it up. At this time, settling the problems with SLASH and getting the band together again has 57% of the vote! Thanks for this cool poll.

What Should Axl Do Poll
News Reported: 02/06/02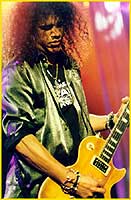 SLASH called in Friday to talk about two shows he had done recently. At both of these he played a couple of numbers with the band. The first was the Bad Company show on January 30 in Anaheim. He said he would play any time Paul Rodgers was fronting the band. Fans Dave and Matt lucked out on seeing this gig because SLASH was an unannounced guest. Matt tells us that SLASH did a dueling lead guitar piece with Neal Schon that night. SLASH told us the second show was one he doubted we had heard about, and he was right.

On February 1, SLASH did a special birthday show with Rick James. Rick James is a famous funk artist who did most of his work in the seventies and eighties. He suffered a stroke in 1998, and he's now coming back. The big hits he did are also being given a comeback as they are sampled by hip-hop artists. Funk is one of SLASH's original delights and influences. SLASH got to play on the explosive hit "Super Freak" which M.C. Hammer used in "You Can't Touch This". Rick was 48 years old that night, and we look forward to having SLASH rockin' that wild at least that long!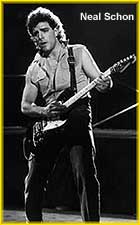 We asked SLASH about the super group article we'd read, and he was surprised and dismayed that that news was out on that in so much detail. He said that he has not accepted the slot in the band and as far as he knew, no one else was definite either. We said the article seemed very convinced that Sammy Hagar and Neal Schon were definite. SLASH said to make it clear to the fans that he has not accepted but of course is considering it.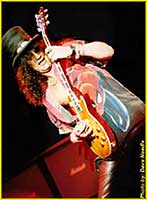 Going back to the Bad Company show, Dave had a great evening there. He talked to SLASH about what's next for him. He wouldn't talk about the super group rumour, but he did say that he and Michael Jackson are up to something! Dave is the one who shot the picture of SLASH for Pollstar; and when he and SLASH meet up, they always talk about the shot because SLASH was in one of his favorite shirts, the Spider Man shirt! SLASH says he has only worn the shirt one time, and Dave was lucky enough to catch a good shot. That's Dave's picture of SLASH, right here! Dave was in the After Show private part of the club when SLASH came in about 3 hours after the show. He came right over to Dave to say hello. Dave, we'd like to go with you next time! Dave got another guitar pick from SLASH at the show by putting up his traditional GUITAR PICK!!! sign. He uses a big font so it can be easily seen from the stage. Dave put up his sign during a song, SLASH saw it and smiled, walked over, shooed the other fans away and put it right in Dave's hand. This is the eighth time Dave has seen SLASH which kind of outdistances most of us (although we are there in spirit!). He makes it sound easy! Thanks, Dave!


Did you see "Forever Wild" Friday night on VH-1? Seems everyone was really pleased to see SLASH. There was some footage of SLASH playing the National Anthem at the Lakers game then meeting Magic Johnson. SLASH and host Sebastian Bach went on a limo ride to Hollywood where they made stops at rocker landmarks and told some cool stories. At the Rainbow, they sat at SLASH's table! They talked about the Whisky, the Hyatt Hotel and some other spots. SLASH looked good! We've always thought of SLASH as a big guy, but next to Sebastian Bach and Magic Johnson, he seemed very small. Sebastian Bach even picked him up! There was a portion of the "Welcome to the Jungle" (original) video shown, too. The problem we had with the show was not with the SLASH portion at all, but in general the show seemed dull and better suited to 30 rather than 60 minutes. They played videos by new bands, and Sebastian talked and posed a lot. When SLASH's part was over, nothing was said to tell you that had ended...like thanks and goodbye would have been nice. Don't quit your day job, Sebastian.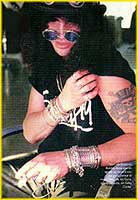 Gunner says to look for the latest Tattoo magazine. It has a four page interview and article about SLASH's Snakepit. There are cool pictures of SLASH's tattoos. For everyone who has written to the webmaster begging for closeup photos of SLASH's tats, this is the time to get them. Gunner says there is a nice remark about this site - that there is more information than SLASH's mother has about him! (Thanks to all of you). SLASH describes his last tat (the cat on his tummy) as a f*cked up jailhouse tat. He says his wife has the same under her hair on the back of her neck, and she passed out having it done. You gotta be tough to run with SLASH! The good news is Gunner promises to scan the article and send it in, but we wanted to alert you so you might get a copy for yourselves. Thanks, Gunner!


Here's some TV news...all reruns: On VH-1 on 2/6 at 4:30pm ET is "Before They Were Rock Stars" featuring some darling pictures of SLASH as a little boy. Here's one of those crazy VH-1 shows, "Top 80 of the 80's" with many bands including the original Guns N'Roses.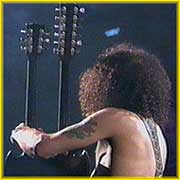 Here's another SLASH Q&A. This fan did not give a name, but the question to SLASH is, "SLASH, I've always wondered what pickups and strings you use on your doubleneck?"


SLASH replies, "Ernie Ball strings and Seymour Duncan p.u.s".


Thanks, SLASH and our anonymous fan!


News Reported: 02/04/02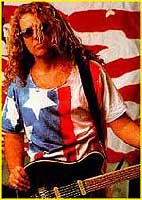 Some exciting news this evening about SLASH! A new supergroup is being formed with a star studded lineup. Sammy Hagar (ex-Van Halen) will front the band and do the lead vocals honors. Sammy's longtime friend, guitarist Neal Schon (Journey), has also signed up. Drummer Deen Castronovo (Journey) is also in the group. The unconfirmed bassist is none other than current Van Halen bass player Michael Anthony. Sammy and Michael have been friends since Sammy was in VH. What is described as a "legendary rock manager" is behind the formation of the group and is shopping an album and US tour package to the labels. The big rumour for us is that the super group may have a second guitar player, and sources say that is SLASH! Furthermore, rumour has it that SLASH has accepted the offer! In checking out this rumour, SLASH has been offered the position, but he has not yet accepted. He is still thinking about it. As you know, SLASH played on Sammy's album, Marching to Mars, where the track "Little White Lies" got a lot of airplay. SLASH played with Neal Schon many times when he made guest appearances with Paul Rodgers, notably at Woodstock. So far, the band's name is unannounced, but everything could firm up fast. What this means for SLASH's other projects if he signs up, we don't know. Undoubtedly, the Izzy album project is near completion for SLASH. The other project (SLASH solo album) still had a ways to go and could get shelved for the time being. SLASH, good luck to you if this is the way you're going. There is a lot more detail you'll want to read on this. More information should be coming out fast, so keep your eyes open, and let us hear from you if you see something on this breaking story. Meanwhile check out more details on melodicrock.com:
SLASH Joins Super Group?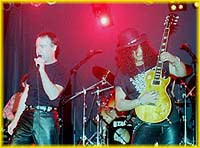 On January 30, there was another rumour about SLASH flying around. Seems that Duff and his band, Loaded, were playing The Dragonfly in L.A. that night, and a lot of fans thought that SLASH and Izzy would show up. If you went, you saw Loaded and Duff but not Our Guy or Izzy. Where's Izzy? is a longtime GNR question! We do know where SLASH was thanks to Matt. Matt went to see Bad Company at The Grove in Anaheim, CA; and who should appear onstage but SLASH! Matt says Bad Company was in town filming a show for their upcoming live CD/DVD which will be released in May. Whether SLASH will be on this, we don't know. SLASH played two songs with the band along with Journey guitarist Neal Schon (see above story). Matt says that SLASH and Neal went into a dueling lead guitars section on the second song they played together...the show rocked and SLASH was, as usual, great! Thanks, Matt!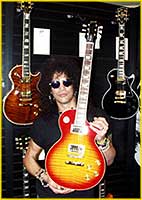 Here's a very recent photograph of SLASH - he was at NAMM! Here he is at the Gibson booth holding up a cool sunburst Les Paul. Thanks, Vince, for telling us about this photo which appears on the Gibson site.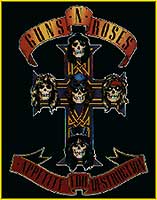 Last time we asked about that $23 Appetite for Destruction album that is listed (and backordered) on the CDNOW site. Ismar, Ollie, Kevin and Jaydeisel wrote to say that this is an import album. So there is nothing new about it in the sense that there are no new tracks. It is a new import pressed in another country. Collectors may want if just for completeness, but it's the same music you have now.



Damian is a Dutch fan living in Colombia, South America. He was watching MTV Latin America last week where "Beavis and Butt-Head" were on. The episode was "Butt-Head's Wife". Butt-Head called an agency to get a Russian wife. When she appeared, she was wearing the same bride's dress as was used in "November Rain". Eventually, Butt-Head was in front of the altar and behind him was SLASH! He looked exactly as he did in the "November Rain" video. All this was just in Butt-Head's imagination, but Damian loved seeing SLASH! Let's watch out for this in the reruns.


If you are reading this tonight, there's not much time left to get a tape in the vcr to record SLASH on "Forever Wild" at 10pm ET on VH-1. The episode will repeat throughout the month.
News Reported: 02/01/02