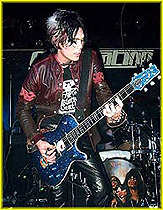 Steven Adler listed Keri Kelli as a guitar player in his new band. We got email from Keri, and that is correct. Keri confirms that the band will not be called Adler's Appetite. The band name is Suki Jones. This will not be a GNR tribute band but more like a jam band. They will do about 6 songs off Appetite for Destruction. The tour set will be about 15 songs with covers from Aerosmith, Led Zep, Queen. Two show are already scheduled for the 21st and 22nd of March. They'll see how these two go and make revisions as necessary. Keri is going to Europe with LA Guns where they will tour with Enuff Z'Nuff. If you are in Europe, heads up! Keri says LA Guns will do shows in the UK, Spain (Barcelona and Madrid) and Italy (Piazza, Milan, Rome). The tour begins April 6. Thanks, Keri!


Len is from the Netherlands; and his band, Crawlingback, is listed on the Fan Music section of this site. Recently they had band practice, and they always go to a bar afterward. This night, his girlfriend was there and insisted that they go home where she made him wait in the hall. When Len was allowed in the livingroom, he saw something covered with towels. Wow! A friend of theirs is a good painter specializing in rock stars. This was Len's birthday present, and isn't it just super? It's hanging in the living room for all to see. Great gift from a really great girlfriend, Len! Thanks!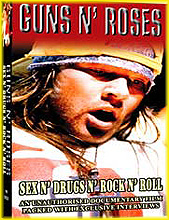 Tina wrote asking about a new DVD listed on Amazon.com under Guns N'Roses. The title is: Guns N'Roses: Sex N' Drugs N' Rock N'Roll. It can be preordered there now and will be released April 8. It's put out by Music Video Distribution. We could find no information on it, but with that publisher, it was doubtful this was an official GNR release. And it isn't. There is no GNR music on it, but there are a lot of old and new clips. Tina came back later with a source. We are not familiar with this person, so caveat emptor. Are we going to get one? You bet. Are we expecting much...no. If you would like to check out a review, here's where you can find one:


GNR Video


Looks almost like a bootleg made up of clips from other bootlegs.



News Reported: 02/28/03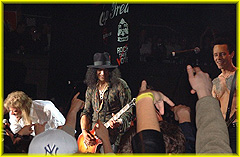 Tonight's a cleanup night. So many items have come in on previous stories, and we'd like to share some of these. First, SLASH at the Grammy Awards and Camp Freddy. Chris let us know that SLASH, Duff and Kid Rock played "Whole Lotta Love" with Linda Perry on vocals. SLASH and Duff did "Rock n' Roll" with Kid Rock on Vocals. And of course, the ever popular and funny Kid Rock on vocals for "Paradise City!" Chris also sent along a really terrific photo from the Camp Freddy/NYC gig. Thank you so much, Chris!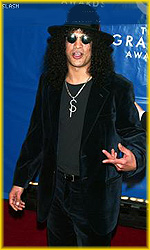 Some additional notes on "SLASH Goes to the Grammys". Carlos watched the show from Colombia! He tuned into the E! channel, the Red Carpet Show live to watch the people come in. Carlos said SLASH was on! He wore his black boots, jacket, sunglasses, black hat and smiled and posed for pictures. Carlos said he did not see Perla, but the big star was there smiling. Wish we had seen him on the CBS broadcast. Carlos says there is a show called "Grammy Fashion" this Sunday, and maybe he will catch one or more of the Hudsons then. Thank you, Carlos! Jamie's from Australia, and he was watching Jay Leno. They sent some young ladies out to the Grammy's red carpet to interview guests. SLASH came past. Jamie doesn't remember the conversation, but the girls did not know who SLASH was. Poor choice, Leno. SLASH said he played the guitar and that he was a guitarist, and then he just left. No wonder. After SLASH left, the interviewers said SLASH smelled of alcohol and may have already started drinking. No wonder. Get Letterman! Thanks, Jamie! People magazine's site did best and worst dressed lists (as though this were important to music!). And guess what, SLASH who was all dressed up in a dark blue suit is on the worst dressed list! The main reason seems to be they expected him to be dressed one way, and he came all spiffed up. Is the man allowed to grow up? Anyway, here is what they said: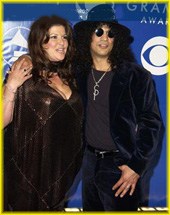 SLASH & BURN: Guns N'Roses guitarist SLASH left behind the ripped jeans-and-T-shirt rocker look, but his attempt at sophistication --a midnight-blue velvet suit -- just doesn't, well, suit him. The chapeau-wearing axeman, with wife Perla, looks like he's playing dress-up.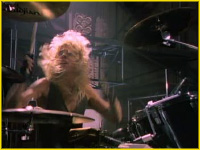 This is an update on the Steven Adler band/tour story. First, here is a Rolling Stone site story that is very much like the information we were given:

"As the old saying goes, if you can't beat 'em, at least try to skim a few bucks off 'em when they're not looking. That's the route being taken by former Guns n' Roses drummer Steven Adler, who spent a good bit of the late Nineties flipping lawsuits at his ex-bandmates (and, one can only presume, flipping burgers at Denny's). Later this spring, Adler, who walked away from those suits without getting too much economic satisfaction, will take a new band on tour -- in order to perform Appetite for Destruction in its entirety. The drummer says he plans to have Adler's Appetite hit the studio after that trek in order to record new material, at which point cheers will erupt from the seventeen or so diehards who rank Steve-O ahead of Dizzy Reed on their list of fave Gunners . . ."

Moving right along, we got an email from one of Steven's people saying the band is not named Adler's Appetite, rather that's the name of this first tour. They will not play all of Appetite for Destruction, just quite a bit of it. The band's name awaits copyright approval. They will record an album of original material after this short tour, and they will tour on that album.

Next came a posting from Jizzy Pearl's website. Jizzy was named as the band's lead vocalist, but Jizzy says that someone jumped the gun (good word choice), and he is not doing any tour although he did jam with them. He says there is no band, no record, no tour. From Steven's person now comes the news that there is a band, there will be a tour and a record, apparently without Jizzy. Typical Guns confusion! Hang on, Steven, it will all work out. Now they need a lead vocalist! Maybe SLASH will share his tapes!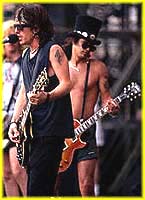 Brian passed along this item from the Izzy Stradlin newsletter. Aside from wrestling with bands and tours, what's another Gunner pasttime? Suing and being sued! SLASH has been to court so many times...he says someone always seems to be suing GNR. Get your suit on and get there. This lawsuit stems from a previous one when SLASH and Duff struggled to separate from Big FD management. Big FD managed GNR and continued to do so when the band dissolved. SLASH and Duff were paying these guys to manage anything that came up for them with regard to the old GNR. They were and are Axl's managers, so there could be some conflict of interest. SLASH and Duff wanted out and got out. Somehow Izzy missed the boat on hearing that these guys were long gone. He ended up paying over a quarter or a million dollars to Big FD before he learned the others were gone. Now Izzy wants out, and he wants his money back. Big FD says they are entitled to this money as well as future monies. Major conflict! Good luck to you, Izzy!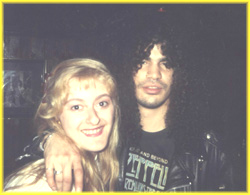 Friendships are built on common interests. Lori Lepper had Duff's site, and we of course have this one for SLASH. We were good net friends and were planning to do some things together. As you know, Lori was murdered in her apartment in Los Angeles. By now, Lori's family has taken her home to Italy, and she is buried there. The L.A. police are clueless probably because 4 people a day are killed there. America's Most Wanted was to have a show on Friday night about Lori. There was nothing on about her. This weekend is the FBI's most wanted, so she is not there either. It's a sad day in our country when a nice person can be killed and nothing is done about it. Duff taped an interview for this show, but we can't imagine when it will be on. If there is more news on the TV showing, we will let you know, and please let us know if you hear anything. Lori's website is about to disappear, and we really would like to see some progress in the investigation.



News Reported: 02/26/03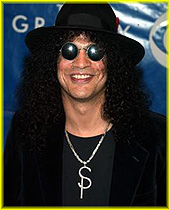 Last night was the Grammy Awards, and SLASH did not win. The band who won the Best Rock Instrumental performance was Flaming Lips. The song they did has a long title that we won't attempt here. Looking at their site, even they seemed mystified that they won. SLASH will have other chances! He looked really nice. Although we searched through the crowds, we did not spot SLASH in the audience or at the backstage events.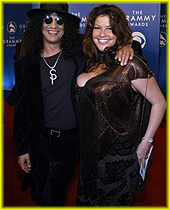 Congrats to all the nominees and the winners. We have a good picture of SLASH coming in to the awards show, and we have one here with his wife Perla. It seems little London did not attend. His tux was at the cleaners. (and that's a joke, folks!).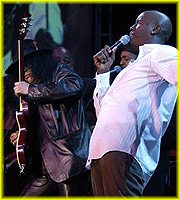 SLASH looks rested here although we was fresh from a pregrammy show. He's shown here in an onstage photo with Tyrese on lead vocals. As always, SLASH looks great. This was a private party, so we don't have any details on what was played.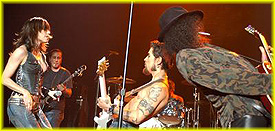 The night before the Awards was the big rocking night. SLASH played with Camp Freddy at Roseland. The show was sponsored by Blender magazine and MTV's Rock the Vote. Chris and Sam sent in reports from the show. Chris said the show rocked! SLASH played songs he had done with Camp Freddy before, but he did add "These Boots Were Made For Walkin' " and did that one with Gina Gershon. Gina was the singer at the Sundance festival where SLASH played. Maybe Gina is trying out for lead vocalist! SLASH was spotted talking with Gwen Stefani!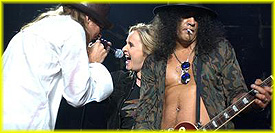 Chris said there were surprise guests: Kid Rock and Melissa Etheridge, and they were singing with SLASH, too. Maybe THEY are trying out... Chris thought the SLASH solos were great on "Paradise City" and "It's So Easy", but the other songs did not have much in the way of guitar solos. Big announcement from Chris: SLASH has gotten another tattoo! This is one we should get to see easily as it is on his left forearm. The tat is a rose with Perla's name on it. Thanks, Chris! Sam said that Matt Sorum was there on drums, and Duff came out to do guitar and vocals on "New Rose". SLASH came out to a huge round of applause; Sam says he wasn't the only one there to see SLASH. SLASH did some Led Zep with Linda Perry, and Sam said she was great and would be great in The Project. Later, Fuel's singer came onstage and said they had the real GNR right there, and the audience screamed and clapped.

Duff and SLASH and Matt then played "It's So Easy". After that one, the three ex-Gunners hugged and did some high fives. They really seem to love being together. Sammy reported that Kid Rock and Melissa Etheridge showed up and did "Feel Like Makin' Love". SLASH just roared on this song with a killer solo. When the lights came on and the stage was empty, people were leaving. Out came Duff, Matt, SLASH, Dave Navarro, Billy Morrison, with Kid Rock singing "Paradise City". Sam says it was a funny thing because Kid Rock didn't know the words and was drunk. He rapped the first verse, then SLASH helped him on the next. It was impossible, and SLASH laughed and Kid Rock just improvised. SLASH's solo was super. At the end, people got up to leave, but Kid Rock just kept singing the "Take Me Home" part over and over with the audience singing too. SLASH grabbed the mic and said...everybody go home! SLASH left the stage, but Kid Rock was still there awhile longer. Finally he left the stage, and the audience left too. Kid Rock would be a riot as lead vocalist if he can't remember the lyrics. HA! And the guys would have Pamela Sue to stare at! Sam sent a set list which he believes is accurate. Thanks, Sam...and here is the set list:


20th Century Boy
Jean Genie
Pretty Vacant
New Rose 
Brown Sugar
Mountain Song
Paranoid
Rebel Rebel
Tommy Gun
White Man In Hammersmith Palais
Janie Jones
You Shook Me All Night Long
These Boots Are Made For Walking
Whole Lotta Love 
It's So Easy
Ballroom Blitz 
Love Removal Machine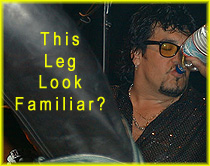 Have you seen the TV show "Trading Spaces"? It is on The Learning Channel (TLC) and is a show about decorating your space. Clint and Rob were watching it and saw the commercial for next week's show. "Trading Spaces" comes to Teddy ZigZag's house to redecorate a room. Clint says they said, "You won't believe what rock star shows up!" They showed a man from behind wearing a black leather jacket, with long curly hair tied back and wearing a Lakers cap. Clint says it was obviously SLASH. The show with SLASH will be on Saturday, March 1. They show two episodes back to back, and SLASH is on the second hour long episode. We found a short description on the TLC site saying the homeowners are Ted and Lisa. Ted is the keyboardist for Alice Cooper. They will have their living room designed. The schedule they list for the episode is March 1 at 9pm, March 2 at midnight and at noon and March 3 at 4pm. This should be a funny show...Teddy and SLASH have been pals for years, and Teddy is a really funny guy. Thanks, Clint and Rob!

News Reported: 02/24/03

If you're in New York City and feeling an extra edge of coolness in the air, SLASH is in the city! Wonder what he thinks of all that snow? Tonight he is going to a small Manhattan club and playing some hot riffs. SLASH does his practicing by playing with any band in any club he can find. He's warming up for the big Camp Freddy show at Roseland tomorrow night. There are still tickets available at this large venue - all $30 general admission (standing). If you can get there, this show should be killer from the LA show reports we've had. And when that ends, SLASH has to rest up to attend the Grammy Award show this Sunday on February 23. The show is from 8pm to 11:30pm ET on CBS. MTV and VH1 invite you to their stations for a 7pm backstage preshow. We're hoping to catch a SLASH interview. SLASH will not be performing at the Grammys due to the large number of nominees and awards, but we'll be looking for him in the audience.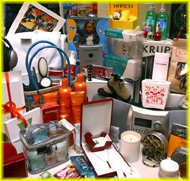 Looking over the grammy information, we discovered that each nominee can go to a special gifts room, and select any number of items. Check out the photo at the right. The Oscars have this same sort of gift selection; and if a nominee there selects one of each, the value is about $10,000. SLASH needs to work on his acting skills! It all looks like a big party backstage, and you can be watching it on MTV or VH1. Best of luck, SLASH! Here's a little Grammy warmup:


Grammy Magic!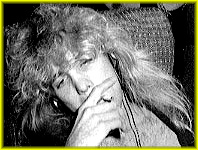 Here's some interesting news sent in by Brian. As you know, Steven Adler is putting together a band that will have its debut in Las Vegas. The band's tentative name is Adler's Appetite. Good one, Steven. The band members are: lead vocalist Jizzy Pearl (Ratt, ex-Love/Hate), guitarist Brent Muscat (Faster Pussycat), bassist Robbie Crane (ex-Vince Neil, Black n' Blue, Ratt). Last but not least is guitarist Keri Kelli (ex-SLASH's Snakepit)! The band will go on tour in late March. The set list is unusual; they will play every track on the Appetite for Destruction album. When the tour ends, the band will go into the studio to record a new album (hopefully, not Lies or one of the Illusion albums!). They plan to do a world tour in support of this new album. So, it looks like they plan to be around for some time and are using the Appetite... tracks to gain some recognition. Worth a listen?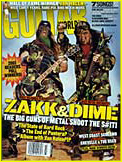 Scott from Canada and Justin saw a SLASH mention in the latest issue of Guitar World (Zakk Wylde and Dime Bag on the cover). The interviewer asked Zakk about the magazine's poll on the Biggest Disappointments of 2002. The poll came up with "no new albums by Metallica, Pantera, Van Halen or Guns N'Roses", and they asked Zakk to discuss this. Zakk is a right-up-front guy and responded, "I think Axl should call up the old guys. No disrespect to the new guys, but the original GNR lineup was flat-out one of the greatest bands that's ever been. It's just like, call the guys. I mean, how hard could it be to get SLASH on the phone? Get the original lineup together, and make an album". Amen. Also in the interview with Zakk, Zakk said words to the effect that SLASH was the only real thing to come out of the late '80s. So, don't fall for the Axl line that he made enemies of Zakk and SLASH! Thanks, Scott and Justin!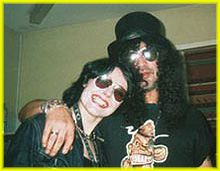 A note came in from Cat, the singer for the band Alien Swingers Club. The band was previously called e.d.e.n., and they are from Germany. If you saw SLASH's Snakepit in Cologne or Nuremberg in 2000, then you saw Alien Swingers Club opening. They also opened for Gilby Clarke on his German/Dutch tour in 2000. They are keeping busy and remember Snakepit. Cat sent a picture of herself with SLASH. It was taken at the Nuremburg show. Nice to hear from that band!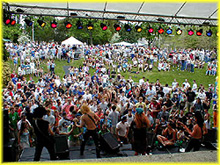 Mr. Brownstone is a tribute band we like. These are really nice guys. Actually, we are mostly tuned in to Gerard who is the SLASH in the band. Gerard says he will be checking out SLASH this weekend. Mr. Brownstone is doing good things...like selling out clubs! Gerard wants to invite you to two of their weekend gigs. The first is Friday, Feb.21 at 10pm at Harper's Ferry in Boston. Grab your coat and get going! The second is at the Bowery Ballroom in NYC this Saturday at 9pm. Mr. Brownstone now has t-shirts and thongs! Recommended!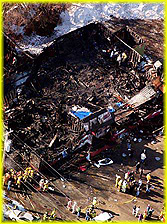 The News has been really upbeat tonight. We can't let that stop us from expressing our sorrow at the death of at least 95 concert goers in Rhode Island. Great White came onstage and set off pyrotechnics while they did their first song. 300 people at least were in the audience. Within seconds, the pyrotechnics ignited the ceiling and the Station Concert Club erupted into a fiery death trap. Larry sent a message that he lives in Rhode Island and has been at this venue many times. He said that he doesn't believe SLASH was ever there. Last time he went was to see a GNR cover band. He had intended to go last night to see Great White, but his one year old son kept him home. Today the band said they had permission to use the pyrotechnics while the venue said they were never consulted. Meanwhile families and friends wait outside. Of the 95 bodies recovered, very few have been identified. We never expect that death can be lurking at a spot where we've had so many good times. Our sympathies to the families and friends of those who died. Let's be careful out there.



News Reported: 02/21/03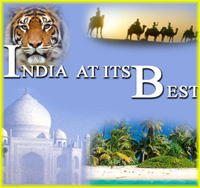 As we patiently wait for the Grammys on Sunday, we have several SLASH mentions and one request. Kabir is a SLASH fan from India, and he's building a SLASH fan site. He is looking everywhere for a picture of SLASH playing in India. We know he was there!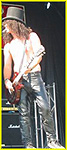 Kabir says he has already spent over $300 US on his site, so it's going to be a good one. He would really like a SLASH in India picture as the crowning jewel. If you have one to share with Kabir, write to us at webmaster@snakepit.org, and we'll put you in touch with Kabir. Thanks!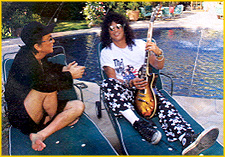 If you haven't yet bought your copy of the movie soundtrack for The Kid Stays In The Picture, you can still hear SLASH's track, "Love Theme from The Godfather". Nominated for Best Rock Instrumental Performance at the Grammy Awards, it's a good time to give it a few listens. VH1 has put up a number of songs that are nominated, and SLASH happens to be one of them. When you get to the end of this link, scroll down to "Slash", then click on the song title:


"Love Theme from The Godfather"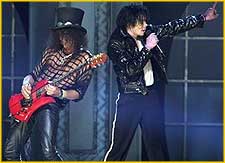 Lee reports that SLASH was on two TV shows in the UK recently. On Feb. 3, SLASH was seen playing "Beat It" with Michael Jackson on VH1 Jackson Day. The next day, SLASH made another appearance on VH1 in the UK. Lee says he appeared on "Groundbreaking Albums". Appetite for Destruction got the top spot! There was an extensive SLASH interview as well as comments from Zakk Wylde, Twisted Sister and others. Makes you feel good that "your" band made the top album all over the world! Thanks, Lee!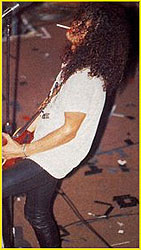 That's two from the UK, and here are two from New Zealand sent in by Greg. The first is from the New Zealand Music Programme, M2. Greg says they did a fine recollection of SLASH and The Gunners. They talked about how the age of music changed in'87 when Appetite for Destruction hit their shores. The show host said, "There were all these bands with power riffs and the glam look. When Guns N'Roses came out, they blew all that out of the water with the simplicity of their music." Another mention was on Nz radio station. They are doing a Top 1000 songs of all time; and between the two bands, GNR and Metallica have the most songs listed. Greg wishes SLASH good luck at the Grammys! Thanks, Greg!



Here's a funny picture that appeared in the most recent Rolling Stone. The article attached has nothing new to say except that the ad for a singer was in local circulars as well as Rolling Stone. Today 5 more requests for information came in through the web site, so there are still some singers who'd love to see themselves in this picture...well, a little modified...put in Matt instead of Steven and most likely Dave Kushner instead of Izzy. This is a big one:


This Could Be You!





News Reported: 02/19/03


This past weekend brought peace marchers out in force to protest a possible US war with Iraq. SLASH was one of several entertainers who came out to bolster the spirits of the marchers. This time, SLASH was at Peace on the Beach in Santa Monica, CA along with fellow musicians Ray Manzarek (Doors), Ed Kowalczk (lead singer for Live), Lili Hayden (singer/violinist), drummer Ravi Jakhotia and guistarists Stephen Fiske and Ed Munter along with others. The crowd assembled into a human peace symbol. For the record, SLASH was listed as "famed guitarist, SLASH". Compared with the marches in Italy, France, Germany, New York, this was a small one; but thousands were there in Santa Monica demonstrating against a possible war. Many thanks to Krishna who sent this in!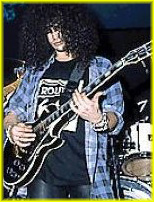 People change over the years. With SLASH's recent political involvement, we went back to the archives and pulled an old MTV interview with Duff and SLASH. Here's what the two had to say about publicly expressing their political opinions way back in 1988:



What about that? Politically, are you... 

Slash - We're not a political band, or a politically 
oriented band at all. 
Like, I mean, if I had to get into the candidates 
for the presidency right 
now, I could say "Yeah, it blows". 'Cause I'm aware 
of that. But I'm not 
gonna say anything about American... Use that... 
influence anybody or 
anything like that. 

Will you guys go out and vote? 

Slash - No. 
Duff - I'm going to. 
Slash - I can't vote. 
Duff - He can't vote. He's not a citizen. 

Well, that makes it hard. 

Duff - My friend makes a dollar and a half per person he signs up to 
vote. So... I said "Oh, come on over." So, I made him a dollar and a 
half. So, I might as well vote. The place is right down the street, 
you know. I just, like write in... You know how you can write in... for 
president and all that. I'll just write Donald Duck and Darth Vader.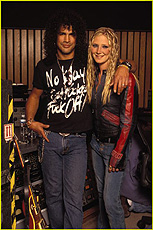 Elan has a one minute clip of her "Street Child" video on her site. Elan had SLASH guest on her debut album also called Street Child due out in May 2003. She's a rock singer, and thanks to SLASH she has gotten a big publicity push. SLASH is mesmerizing in the video. He does a long solo that is just killer and appears in the video for the whole solo. This is as good as we have heard SLASH! We'll give you the address for this video. We had no luck getting this to play probably due to some old software. Attila alerted us to the video being out there, and he did spend some time trying to help us play it. Finally, he gave up and made a copy for us. We will put the link to our copy here so if you have problems, just play this one. It is about one minute long and SLASH is almost at the start! Thanks, Attila for helping! Here's the url for Elan's site. When you get there, click on Experience and Watch and then the video. SLASH is not in the other two videos:

Elan's Site

Here's the video on this site:

"Street Child" Video Clip...with SLASH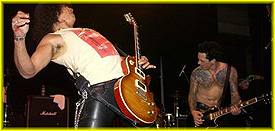 With 22" of snow on the ground, New Yorkers can use some hot Camp Freddy. They're getting on their way and promise to bring warm California nights with them. Tickets are on sale at the Ticketmaster outlets for the show this Saturday night at the Roseland Ballroom. SLASH will be there, and we've just heard that some GNR songs will be played! With Matt, Duff and SLASH onstage, it's only right! Other musicians you'll see there are Dee Snider (Twisted Sister), Gavin Rossdale (Bush), Moby, Billy Duffy and Brett Scallions. Tickets are $30, and all are general admission (standing). Have fun! And don't forget Sunday night is Grammy Awards night beginning at 8pm live and on network TV. Do we need to remind you that SLASH is up for Best Rock Instrumental Performance?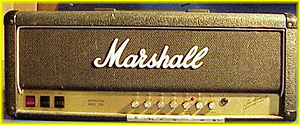 The Marshall 2555 is well known as SLASH's signature amp. Of course there was a 2555 before the signature in 1998. In fact SLASH used them whenever he could find them with GNR. There's a guy on ebay who claims to have, not a signature amp, but a 2555 owned by SLASH. The description says the amp was owned by SLASH, and then by someone who toured with GNR. The claim is that this strip on the front is SLASH's settings. These are somewhat different to the settings we've been given for SLASH, but this was quite a ways back. No guarantees from us, but maybe you'd like to have it since the 2555 is hard to find. This is on ebay where the price is near $600 at this point. Here's where to go:

Marshall 2555 Amp on Ebay







Today, February 14, is Valentine's Day, and we're going out with our very own Valentine. We hope you are, too. A box of candy, some flowers and a nice card plus dinner and a movie makes this a lovely day. We expect SLASH has some romantic ideas today! We'll take tonight off and catch you on Monday. We have some interesting things for you then, but nothing you should stop your Valentine celebration for.

Happy Valentine's Day to SLASH, you and all your Valentines!





News Reported: 02/14/03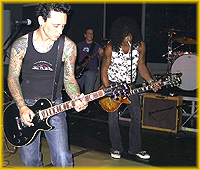 We had a note from SLASH's wife, Perla. SLASH is still very busy with The Project. They are getting ready to go to New York for two very special SLASH engagements. As a reminder to the New York area fans, SLASH will appear onstage at the Camp Freddy show. The show is at the Roseland Ballroom on February 22. That's next weekend, so get your schedules organized. Camp Freddy also sent a message that Duff will performing as well. About tickets...the sale date and price have not been announced. Camp Freddy suggests watching their site at Camp Freddy. We suggest you also watch for it on the Roseland ticket information page at: Roseland Tickets. This site will direct you to the actual sale page when you click "live". As soon as we get the information, it will be here, too.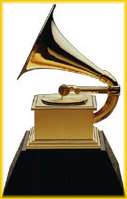 Perla reminded us that the Camp Freddy show is the day before the Grammy Awards show. They will be in the audience, and we plan to be in the home audience! SLASH is nominated for Best Rock Instrumental Performance. He's got some tough competition, but we're hopeful! Just being nominated is such an honor, and we're really proud of SLASH and his beautiful "Love Theme from The Godfather". Don't forget that the Grammys are shown live at 8pm 2/23, and they will be shown internationally. Thanks, Perla and Camp Freddy for the reminders.



Another TV reminder for you...but nothing to celebrate on this one. This Saturday, February 15, is the America's Most Wanted show about the murder of Duff's webmaster and our net friend, Lori Lepper. We can't be sure this is the correct episode, but we think it is. Check local listings for time and station.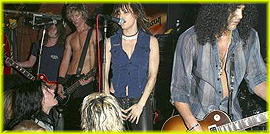 Vicki told us about an item in the 2/20 issue of Rolling Stone. In "Guns, No Roses", there's a few sentences as coverage of the Sundance festival. Reporting a distinctly unSLASH-like snarl at a crowd at a local restaurant, "Make room for our wives"!, the item goes on to say that SLASH appeared with the ex-Gunners and Gina Gershon shredding their way through a set of old-school rock. Hard to believe that the calm and cool one who used to eat nightly at Denny's was upset enough to yell at other diners. Could be an Axl-ghost took him over. It really doesn't sound like SLASH. Thanks, Vicki!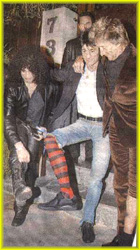 Here's a funny SLASH mention from the UK newspaper The Mirror sent in by Mykaela. This picture appeared in the showbiz section. The caption says that SLASH was out with Ronnie Wood and Rod Stewart. For some wild reason, they were asked to show their legs. Ronnie has funny socks on, and it looks like Rod is cooperating. They said that SLASH had trouble getting his leathers to shift. Looks like he finally got them off enough to show his boots underneath. Having fun, guys?! We think this must have been taken last year when SLASH went to the UK to do the mini-tour with Rod and his band. Let's see some leg, SLASH! Thanks very much, Mykaela!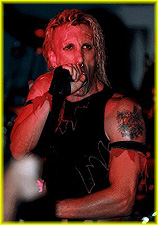 There's a funny SLASH mention on the Metal Sludge site. JT spotted this in one of their 20 Question interviews...this one with Dee Snider (Twisted Sister). Dee really hammers Axl for his attitude and for being late to shows. He has what he thinks is a sure way to cure that. The SLASH mention was part of this lashing out at Axl. Dee says, "I can't believe people show up to see them! At what point do you say it's no longer the f*cking band? And Guns 'N Roses. Rose and Roses maybe, but Guns 'N Roses? I mean he swapped out a really cool looking guy with a top hat for a d*ck with a bucket! I mean, what?! " The whole interview is pretty wild. To read it all, click Dee Snider Interview. We gave you the only SLASH part, though. Thanks again, JT!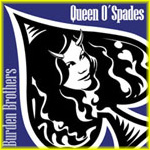 Taz Bentley (ex-Rev. Horton Heat) plays drums on Izzy Stradlin's solo albums. Taz has a new band, the Burden Brothers, and Izzy and Duff return the favor on the track "Walk Away". The CD ep it appears on is Queen O' Spades. The other Burden Brother is former Toadies singer Vaden Todd Lewis. If you're collecting GNR member appearances or Izzy or Duff, this is one to look for. For more information on the Burden Brothers and their album, visit www.burdenbrothersmusic.com. Thanks, Tami, who sent the information.



News Reported: 02/12/03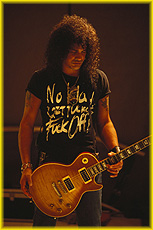 Ever imagine yourself as a contestant in one of those reality-based shows like "Survivor"? How about as a contestant for the vocals slot in a rock and roll band? Well, we can't put you on network TV; but if you are good enough and have the kind of voice SLASH is looking for, you could be on a new program with SLASH and The Project guys. SLASH thinks it would be very cool to show in a TV program what bands go through looking for a key member like the lead vocalist. VH1 picked up on the idea, and it will be on TV! We're not sure if this is a one-off or a series. The Project has received over 500 demos and have auditioned 15 of these. Long odds, but you musicians are probably used to that. They're looking for a singer like early Alice Cooper/Steven Tyler, a harder-edged McCartney/Lennon. If you'd like to apply send your demo tape/cd, postal address and phone number to:



SLASH
5664 Cahuenga Blvd.
Suite 246 
North Hollywood, CA 91601 




There's a good article about the TV show (as yet unnamed)on the Blabbermouth site at SLASH's Reality. The article is popping up all over the net, so you want to be up on this latest SLASH development. Thanks to Damian, Ray and Phil!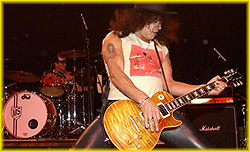 Here's some good news for New York area fans. Last time we told you about Camp Freddy playing a one-off show at the Roseland Ball Room on Saturday, February 22. In addition to the regular band members: Dave Navarro, Billy Morrison, Matt Sorum, Scott Ford and Donovan Leitch, Camp Freddy always adds some guest rockers. And SLASH is coming! The show is part of the MTV Rock the Vote Awards show, so it sounds like it will be a fantastic show. SLASH usually plays two or three songs, and he sets the stage on fire. Classic headbanging and blazing riffs...check it out! As soon as we get word on the ticket situation, we'll let you know. Check NYC papers and radio for announcements.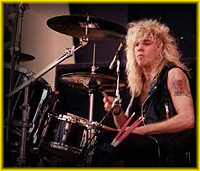 Never count out the original Gunners. First we had Axl out there doing old GNR songs, then SLASH said The Project will do some, and now Steven Adler has popped up with the same plan. Steven has gotten a new band together, and their first gig is March 22 in Las Vegas. The announcement says that Steven plans to play most of the songs from Appetite for Destruction. Steven will announce his band lineup soon, and he's looking forward to getting out and meeting fans everywhere again. It's been 13 years, he says, and it's time to go out and rock the world again. You can keep up with Steven at his website, www.stevenadleronline.com. A final note...Steven says he is going to make it a point to play everywhere that Axl cancelled the show!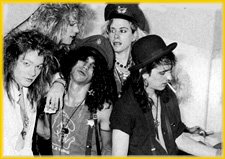 Q magazine is a really good music magazine that's published in the UK. In their January issue, they did a feature on the 100 Greatest Albums Ever. Appetite for Destruction was the 18th album. Their summary says that this is the heavy rock album even your heavy rock-hating friends bought. And are still buying! Details:

"Hard rock in the mid'80s was a closed shop, with Jon Bon Jovi as its big-haired union rep. A pack of rootless ne'er-do-wells, Guns N'Roses broke the stranglehold, their feral lifestyle on Sunset Strip giving this debut a nasty lyrical bite. Axl Rose was the album's star turn and, perversely, his stadium-filling songs about paranoia and washed-up junkie girls - all delivered in that dramatic squawk - offered a breath of fresh air. Suddenly, heavy rock had teeth again."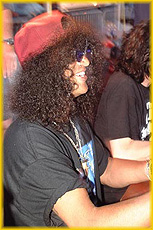 George wrote from Holland that The Jackass Movie will premiere there in a few days. As part of the publicity, you can see the special on the Jackass party. The movie was shown to friends and guests, and SLASH was there. George says SLASH laughed and laughed. He was interviewed and some things about the movie, and that he himself did BMX in the past like one of the stunts. He said he could still relate to the kicks of BMX, but he doesn't seem to have any intentions of trying it again. Thanks, George!



News Reported: 02/10/03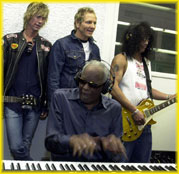 There's a cool SLASH article on the Rolling Stone site, and a summary appears on their newsletter. Thanks to Ray and Brian for sending that summary in. SLASH, Matt and Duff went to Ray Charles' studio in L.A. where Ray was recording with a school jazz band. SLASH played on the Louis Jordan song, "Let The Good Times Roll." The singer, 15, really impressed Matt who thought maybe they had found their singer! The session was first prize in a Blues Off battle of the bands. In the 11 member band, only 5 kids had heard of Guns N'Roses. None recognized any of the band members or knew the band's hit songs! These kids were the winners? They need serious rock education. Here's the full article:


The Project Visits Ray Charles' Studio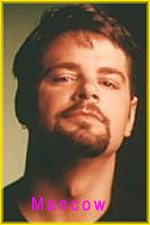 Sycadelica is a first time contributor, and he's from Singapore. What a great item! If you feel like you haven't heard SLASH speak recently, you'll be able to now. He did an interview with famous D.J. Mancow from Chicago's Q101 on 1/16/03. Mancow gets all wound up and interrupts SLASH quite often, but SLASH forges ahead, finishing his sentences. They talk about Axl's badmouthing SLASH on tour, and Mancow plays a clip for SLASH. That's kind of rude, but SLASH manages to give a good reply. SLASH is very good at not rising to the bait and getting furious. They talked about SLASH's snakes which are gone except a couple small ones. You can hear the love for his son in SLASH's voice. Finally they talk about The Project a little, and that's it. Nice to hear him again! Here's where you can listen, too:


Mancow Interviews SLASH





When you come into the news, you see the link with "For Lori". Lori was a net friend and webmaster for Duff McKagan's Loaded site. Sadly, Lori was murdered in her L.A. apartment November 26 or 27 of 2002. Almost right away, the police said they had no suspects and no motive. The chances of finding the killer seem very small. L.A. is the murder capitol of the U.S. with 1500 murders there last year. Most of this they blame on criminal activites associated with gangs and drugs. A good thing has happened. The America's Most Wanted TV show is going to televise Lori's murder and ask for assistance from the public. Many criminals have been apprehended through this show, and we are hoping for some leads to come in during and after the show. As part of the show, Duff was interviewed by the America's Most Wanted crew. It is likely the interview will be on TV. The show will be on sometime during the month of February. Check your local listings or the www.tvguide.com site for days and times. Here, it comes in on a local city cable station and is aired Saturday evening. We could not find out about international shows. If this show does appear there, we don't know if it runs at the same time as the U.S. or later.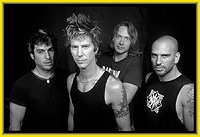 Another Loaded item came in. The site is not selling merchandise anymore. Lori was always the one to collect the money and send what you ordered. If you would like a Loaded CD or t-shirt, contact Geoff, the drummer for Loaded. He can be reached by email at: Geoff@loadedonline.com.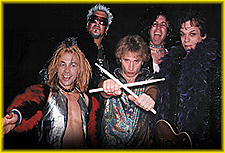 On a happier note, we've got some news on Glamnation. Glamnation is a cool and funny band that dresses really glam and generally causes a lot of uproar although they all play and sing very well. Some past Snakepit members are in Glamnation, and they are preparing for big show in NYC and New Jersey! The two you will recognize right away are Eric Dover (lead vocals, Snakepit 95) and the always handsome and wild Ryan Roxie (Snakepit album guitar). In addition there is Slim Jim Phantom and Stefan Adika. On February 21, they will be at Don Hills, 511 Greenwich St. in NYC. On February 22, they play Packee's Nite Club, 780 Rt.1 in North Woodbridge, NJ. Great shows, great music and a lot of fun!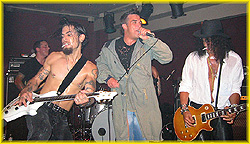 Brian has been on a visit to Camp Freddy and came back with some news. Camp Freddy will play a one-off East Coast show on Saturday, February 22 at the Roseland Ball Room in NYC. Camp Freddy is Billy Morrison (guitar), Dave Navarro (guitar), Matt Sorum (drums), Scott Ford (bass) and Donovan Leitch (vocals). The band will be joined on stage, as usual, by several surprise guests. Whether SLASH and Duff will come along is not known at this time. The performance is part of MTV's Rock the Vote Awards show. Camp Freddy does a spectacular show, and this should be no exception. Let's hope SLASH is there, too! Details on ticket prices and availability will be posted soon. Keep checking your local NYC papers and radio stations for more announcements.



News Reported: 02/07/03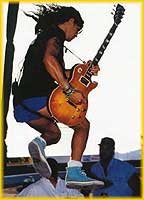 SLASH sent a few more replies to some of your questions! The first one here is from John who writes, "I am in a band with another guitarist, and I am the main lead guitarist. He gets a small solo here and there, but I play 95% of the solos. When we play certain songs and are both doing solos, he starts playing with his teeth and other stuff like that. His style is really sloppy and he never plays in tune with the song. When I play, I play behind my back and jump off the drum risers, amp and stuff like that, but I constantly work on my style and playing. I can play fast and accurately, and a lot of people tell me my style is like yours and/or Zakk Wylde's. I'm 16; he's 17. Should I stick to my guns and constantly work on my style and technique, or should I work more on showing off? Thanks!

SLASH replies, "John, playing and sounding is the first and foremost important thing. 'Showing off' should be an extension of how good you're playing." Thanks SLASH and John! This next question from Rainfox is one we have wondered about also.

Rainfox writes, "What physical activity do you do if any? Or do the shows and rehearsals keep the blood going?"

SLASH (putting Thighmaster aside) replies, "Touring keeps the blood going, but constant activity and exercise along with some stretching is good for keeping in good physical condition." Thanks, SLASH and Rainfox!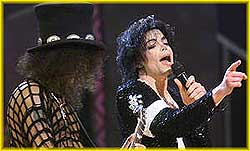 James is from Glasgow, Scotland, and he wants to let the UK SLASH fans know that the Michael Jackson 30th Anniversary Tribute Concert will be aired this Thursday, February 6 on ITV1 about 11:30pm. James says to watch for some SLASH killer playing on "Black and White" and "Beat It". While the beginning part of the concert is a little dull; when SLASH comes on, he electrifies MJ and the audience! Let's add here some US TV appearances. On 2/10 at 5pm ET on VH1 is a repeat of "Rock and Roll Weddings". You can see a short clip of SLASH and Perla and their romantic Hawaiian marriage. MTV2 has a show called "Breaking the Law" covering musicians and the law. They list Axl, but he's not the only one who broke the law from GNR! Maybe the others will show up too. It's on 2/7 at 7pm ET, 2/8 at 7pm ET, 2/9 at 2pm and 8pm ET, 2/10 at 7pm ET and 2/11 at 1pm ET.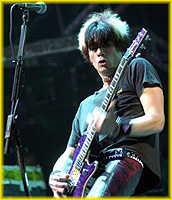 Keri Kelli is on tour again with L.A. Guns. We know some of you have kept in touch with Keri via email, and Keri wants you to know he's been having problems with email and is unable to access it at this time. So if you've written and it bounced; or you never got a reply, that's why. Keri is working on this, but if you have any urgent or important mail for Keri, send it to kerikellionline@hotmail.com, and the webmaster will forward them when the mail problem is resolved or pass it on if it is urgent!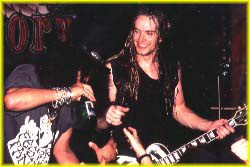 Lisa is from Italy, and she sent us a transcript of an interview with Axl on radio station 101 WRIF. The station is located in Detroit, Michigan. The interview is rather long, but there are some SLASH mentions you might want to hear. At one point, Axl talked about trying to bring Zakk Wylde into GNR. He says it was fun to watch SLASH and Zakk, and he had a good time doing this but he doesn't think they did. "It was like watching a giant snake with a Tyrannosaurus Rex." This happened in '95. The interviewer asks if SLASH and Zakk who had been friends till this were even speaking to each other now. Axl says they are cordial; but if they play together, they get an alpha male thing going. When SLASH was still in the band, Axl says that SLASH backed away from any really strong material he created. SLASH had to be really out of it on drugs to perform to large crowds. He and Izzy always lobbied for smaller venues. Too much stress. That's it from Axl's point of view.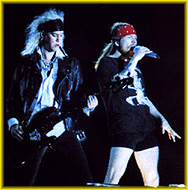 In honor of Duff and Axl's birthdays, eil.com is giving you a 10% discount on all the merchandise you buy there as long as one item is from Guns N'Roses. For serious collectors, they have many rareties for the Gunners from vinyl to CDs to videos. You have to place your order by February 13, and put this:** double GUNS N'ROSES 10% BIRTHDAY DISCOUNT OFFER ** in your email or in step 2 of the order process. Just looking through the items is a lot of fun. Happy birthday to both original GNR members. And don't forget that Valentine for Slash and baby London!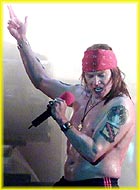 Eclipse77 writes to say that he ran into Axl! He's from Canada working in LA on his debut album. At the studio, he was told that Axl was next door. So he slipped over to see Axl getting ready to leave, and he asked him if he was rejoining the ex-Gunners. Axl delivered some spicy language to the effect that Eclipse77 would have to wait like everyone else to find out what's going to happen. Sadly, there's no one to confirm the encounter; but it does add fuel to the rumour fire. Hang on, it won't be long till an official word comes out. Involving Axl seems bizarre, but the whole GNR history is crazy. On the other hand, it could be someone else entirely who'll win the vocalist slot. Ain't life grand?



News Reported: 02/05/03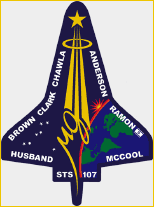 On February 1, 2003, the U.S. Space Shuttle Columbia was lost during re-entry into the Earth's atmosphere. America mourns the loss of these seven brave astronauts. We extend our sympathies to the families and friends and countrymen of these heroic men and women. We have always hoped that SLASH might be the first musician in space, but right now we like having him safe at home. If you'd like to read more about the Columbia disaster, Columbia Space Shuttle. There's a place to light a candle for Ilan Ramon and the entire Columbia crew on an Israeli site. They have over 14,000; won't you add one, too? The site is at Light A Candle.



On the Grammy site, there's a feature from Grammy Magazine called "The 45th Annual GRAMMYs Round-Up: Rock/Metal/Alternative". The Grammy that SLASH is up for, Best Rock Instrumental Performance, gets some coverage; but the remarks about SLASH are snide and not as glowing as those for the other nominees. We wonder why that is? Why is it improbable that SLASH would be a nominee? Here's what they had to say: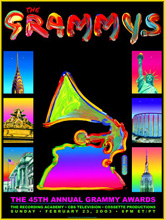 "It's amazing how much music can say, even without lyrics and vocals. That fact is made plain in this year's BEST ROCK INSTRUMENTAL PERFORMANCE category. Underground stalwarts the Flaming Lips mix grand vision and oddball charms on "Approaching Pavonis Mons By Balloon (Utopia Planitia)" from the band's ambitious album Yoshimi Battles The Pink Robots. The jam-rockers of Gov't Mule score a nomination here for the band's lilting track "Sco-Mule" from the album The Deep End Volume 1. Tony Levin, fleet-fingered master of the bass and Chapman stick, is recognized for "Apollo," a compelling track from his Pieces Of The Sun album. Guitar-slinger extraordinaire Joe Satriani is nominated for the moving and majestic "Starry Night," from his Strange Beautiful Music album. And, perhaps most improbably, erstwhile Guns 'N Roses axeman Slash scores a nod for his revved up rendition of the "Love Theme From The Godfather," which he recorded for the soundtrack of the film The Kid Stays In The Picture."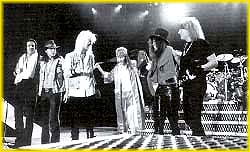 Declan is from Ireland, and he says the UK magazine Classic Rock has a strange and interesting article. It leads off talking about Axl and the new GNR since the cancelled tour happened. They claim that the drummer and second guitarist have left with Buckethead deciding what to do (hopefully losing the hat and mask are on his list). More importantly, they say that band counselors who brought Van Halen and Bon Jovi back together are working with GNR. They are in talks with SLASH, Matt, Duff and Izzy at the request of Axl who wants to join them. The talks are supposed to be going on right now. No confirmation on this latest twist in the GNR path. If true, it could certainly explain why SLASH has yet to name a singer. Don't get too excited...GNR is one of those bands that seem to attract rumours and controversy. Thanks, Declan!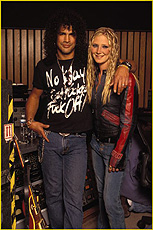 SLASH recently did another guest appearance...this one for Elan, a singer/songwriter/musician doing her debut album. Adrian from Australia wrote that there is more information and pictures on the SLASH and Elan recording sessions. Elan is a rock and roll musician and believer just as SLASH is. Her album, due out in May, is titled Street Child, and the title track is the one SLASH plays on. Elan started performing at age 10 or 11 in her native Guadalajara, Mexico.
The family moved to the US when she was 15, and she still lives with her parents as well as her brother Jan Carlo who played guitar, bass, piano, drums, etc. on the album. Jan replied to some questions. First, there is a video; and SLASH is on it! The video will be on Elan's web site which will debut this Friday as www.elan-online.com. Elan is not unsigned; she records with Silverlight Records. Street Child was written and composed by this young artist. She also does all the lead vocals. Elan has a band, and they will be touring around April. The album should be available in stores and on the web. More on this as release day gets closer. Jan said both he and Elan were thrilled to work with SLASH, and it was a good experience. Reserve a copy for us!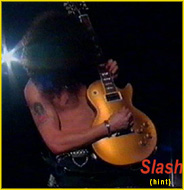 Florian sent this SLASH mention from Germany. The German version of "Who Wants to be a Millionaire?" was on Friday with a GNR-related question:
Who was the long-time player for the rock band Guns N'Roses?"
The hilarious thing was the choices for the name:

a)SLASH b)Dot c)Web d)Com

The correct answer was worth 8.000 Euros which is about $8,000 US. Florian thought it might have been more difficult if they asked the name of the current guitarist for GNR. The correct answer can change in a minute! Thanks, Florian!



News Reported: 02/03/03