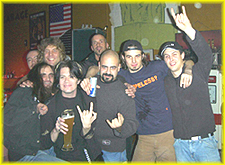 This item is time-critical, so we'll let you Texans have it first. If you had planned to see Adler's Appetite shows in Paris, Texas (2/28) or the one in Texarkana (2/29), the shows have been cancelled due to circumstances regarding the promoter. The band apologizes for the inconvenience to fans.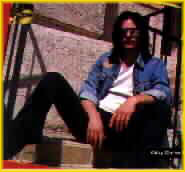 We do have some tour dates for other SLASH ex-bandmates. We always think of the band as being the original band, the Illusion era band and the new band. Gilby Clarke was from the Illusion era band, and his band puts on a great show. Gilby is always available after the show, and he is really a super guy. Here's his tour schedule:
3/06 Tucson, AZ The Rock
3/05 Scottsdale, AZ Chasers
3/11 Springfield, VA Jaxx
3/12 Wallington, NJ The Wreck Room
3/13 Orange, CT Corner Pocket Cafe
3/14 New York, NY Tribeca Rock Club


And Dizzy Reed is going out, too (with Fastmaster):
03/18 Orange, CT Corner Pocket
03/19 Worcester, MA Lucky Dog Music Hall
03/20 Windsor Locks, CT Cargo's Cafe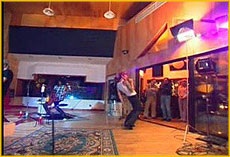 Brian found a list of unconfirmed track names for the Contraband album. "Slither" is definite as it's the first single off the album. Interesting that "Set Me Free" is there; we can't be sure if this is the version off The Hulk soundtrack or something more. The others on this rumored list are "Superhuman, Loving the Alien (Sometimes), Falling to Pieces, You Got No Right, Big Machine, Illegal Eye, Spectacle, Suckertrain Blues, Do It For The Kids and Headspace". No official word on these from the band. One thing we've been wondering about is the artwork: the cover and the booklet. Not a word has been printed as far as we know as to who might be putting this together. It's likely SLASH will have a big hand in this. If anyone picks up any hints about this, we'd be very interested.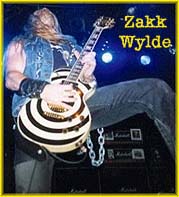 Zakk Wylde did an online chat on Feb. 24 on the Gibson custom site (www.gibsoncustom.com). He was asked about his work with GNR. Axl had called in Zakk to play either replacing SLASH or having two leads in the band, it was never quite clear. The two are good friends and they gave it a try. At the chat Zakk replied that Axl called him and asked him to jam with the band. He said he had nothing but respect and love for the guy. He said if you took a Black Label (Zakk's band) album and had Axl's vocals, it would have sounded like Black Label with Axl singing. We remember that SLASH's take on it was that it sounded like Guns N'Ozzy. Seems like both felt it didn't really add anything new and exciting and even Axl could see that.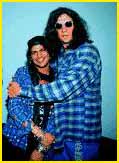 We'd like to add a personal note here. As you know, Clear Channel pulled The Howard Stern Show from six stations. One of these was one that we had on air here. Sometimes the show was disgusting or over the edge, but we'll miss the celebrity interviews for sure. SLASH appeared once a few years back, and Howard asked him a bunch of questions that made SLASH uncomfortable but were interesting. Recently we heard Cheryl Crowe interviewed. The show will be missed, and we hope another local station has the guts to pick it up. If you didn't like it, you could turn it off which we did a few times, but those interviews were always good. Bring back the King of All Media.






News Reported: 02/27/04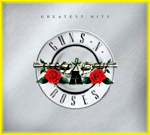 Michael lives in France, and he's sent us a terrific ad for the forthcoming Guns and Roses Greatest Hits album. It's great to see the guys together again with those big hit songs and the accompanying graphics. Have a look for yourself and a big thank you to Michael!

GNR Greatest Hits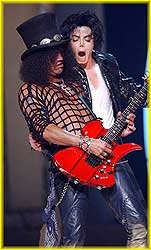 Another international fan, Scott from Winnipeg, Canada, let us know that he saw SLASH on Much More Music February 23. It was a program called "Uncovered" about Michael Jackson and explaining his trials and tribulations regarding his legal difficulties according to Scott. SLASH was in a room that looked like a nostalgic GNR room with the Appetite for Destruction cross. Scott says that SLASH's take on Michael went something like this, "I respect Michael for all the work he's done and think he's one of the best musicians/composers ever but he is a bit looney". SLASH was half joking and laughing. They also showed a clip of the collaboration "Give In To Me" with MJ and SLASH. Thanks, Scott!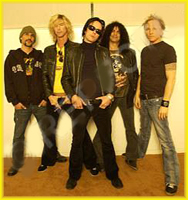 If you just can't get enough of looking at Velvet Revolver, LuAnn found some more promo pictures. There are some great thumbnails you can click on and see a decent size picture of the band together and the individual members. Note that there aren't a lot of smiles in these pics! Great pictures, though. Thanks, LuAnn!

Velvet Revolver Promo Pics





What we'd really rather do is see Velvet Revolver onstage, right? Right now Scott has to resolve his drug and legal problems, and the wheels of justice go grinding on. The latest event, reported by LuAnn and Brian, is that Scott was in court on Monday to submit paperwork on his change of lawyers and to answer DUI charges. He will stand trial on March 15 according to the Los Angeles city attorney's office. What this means as to the length of his sentence won't be known till the trial is over or a deal is made. Stay tuned.



Gabe wrote to thank us for an item we reported on several months ago. On the Rolling Stone site you could fill out a form to have yourself included in a court decision on overcharging for CDs. You had to say that you bought CDs between 1995 and 1998. Since people visiting this site most likely bought It's Five O'Clock Somewhere or one of the Illusion albums or something else, we suggested you go over and sign up to be part of the settlement. At one point they thought there would not be enough money to make the settlement be worthwhile distributing, and they were going to divide it and give it to libraries, but it turns out there was enough and Gabe got his check for a little over $13. We got one, too; and you should have if you joined in as well. Set it aside for the "Slither" single or the Contraband album!






News Reported: 02/25/04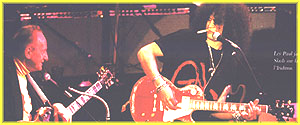 The Rock and Roll Hall of Fame announces a new permanent exhibit dedicated to the work of 1988 Hall of Fame inductee Les Paul. "The New Sound:Les Paul and the Electric Guitar" opens March 5. To mark the opening of this exhibit, Les Paul and his band will perform on March 5 at 8 pm. Tickets are $20. The show will be on the Museum's Main Stage. Members can purchase tickets 2/23 through 2/25. Remaining tickets will be available to the general public starting 2/27. Call 888.588.ROCK, ext.3 for tickets.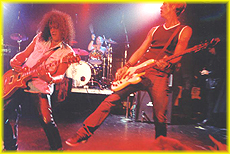 Magdalene sent in a bit of that interview VR did with the Norwegian newspaper Dagbladet. She said that the SLASH part has SLASH saying it's good to be back together with his old bandmates again. He also said that Weiland is Iggy Pop, David Bowie, Johnny Rotten and Mick Jagger all in one. Asked about contact with Axl, he says they have not spoken since he left (forced to leave) the band, but his wife Perla sends Axl a Christmas card every year. Thanks!



Craig who says he's from Newcastle, England, the home of Brown Ale, let us know that there was a program on MTV2 in the UK about the 22 Greatest Bands. GNR came in third with Nirvana in the number 1 slot followed by Metallica. Coming up in the US on HBOC on 2/25 at 4:20 ET is the movie Private Parts. This is the autobiographical film about Howard Stern. SLASH and then wife Renee have a very brief part as Fartman goes offstage. The movie will also air 2/25 on HBO2 at 11:30pm ET. GNR will be featured in the show "MTV's 25 Greatest Video Stars" on 2/27 on MTV2 at 10 pm ET. Also, see them on VH1's "I Love the 80's Strikes Back" on 2/24 at midnight. Another chance to see the band on TV is VH1's "All Access" on 2/24 at 4 pm ET, 2/25 at 2 pm ET, 2/25 at 5 pm ET. "Testimony: 20 Years of Rock on MTV" has the original GNR, too. It's on 2/26 at 2 am ET. Finally, there's "22 Greatest CDs" on MTV2 on 2/29 at 2am ET. Lots of chances to see the original and best.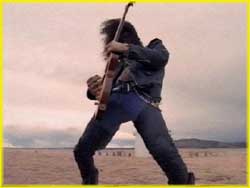 Awhile ago we mentioned that the guitarist in the UK band The Darkness said the band was going to do a SLASH thing in their next video... playing on a cliff with helicopter shots. Rich has seen the video of their song "Love Is Only A Feeling", and he says they did shoot the whole thing on a cliff, and the solo does remind of "Don't Cry", and the helicopter shoots remind of "November Rain". Having seen it, it does look like there's a lot of SLASH inspiration there. Rich says this band is huge in the UK, and that's a very good sign for the rebirth of rock. With a band inspired by SLASH becoming so big, it's a very good sign! Now if we could just get the original SLASH out there! By the way, if you'd like to see that video, it's at www.thedarknessrock.com. When you get there, click Video, then the title "Love Is Only A Feeling". Thanks, Rich!






News Reported: 02/23/04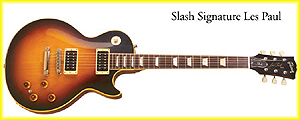 Mario writes that he is SLASH's Italian's best fan, and he found something he'd like to share with you if you're interested (and who isn't?) in that new SLASH sig guitar put out by Gibson. The Gibson Custom site has put up 2 sound files you can download - one is the acoustic sound of the new SLASH sig guitar and the other is the electric. Listen to these at the SLASH Signature Les Paul. The sound links are in very small print located on the lower right of your screen. Thanks, Mario!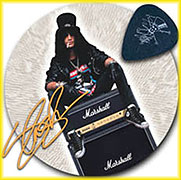 Vicki in West Virginia found that Guitar Player has a special magazine out called The Marshall Amp - Spring 2004. There's a lot here on SLASH and his use of the amps. Vicki has taken the time to pick out some of the more interesting sections on SLASH. Click here to read what Vicki selected to send in. It's a good read. Thanks, Vicki, for all that reading and typing! If you find the magazine, Vicki says the SLASH section starts on on page 71 with the same picture of him atop his Marshall stack that is in the Jim Marshall Father of Loud book and many other places.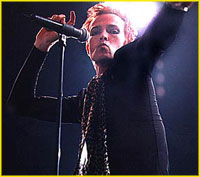 Scott Weiland was due in court February 18 and waiting for the result is like waiting for the other shoe to drop. Scott appeared there to address the DUI, but he asked for a continuance through his lawyer. This was granted as he has just changed lawyers. Weiland is now due in court on February 23 when the paperwork for new counsel will be submitted. Thanks, Brian, for sending that in.


Chris sent this in from the UK where it appeared in the Daily Express on February 18. Chris says he doesn't agree with the article and thinks Perla looks great. You can judge for yourself. People in the public eye take the good with the bad. We believe this is the dress that got ripped during the post-Grammy party. Thanks, Chris!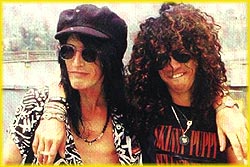 More from the UK where Rich tells us that this month's Classic Rock has a 5 page interview/article with Velvet Revolver. Rich says he doesn't have it yet, but he's looking for it. He also said that there's a little update on Izzy. Izzy's latest album Like A Dog is coming out in Japan and Europe as soon as Izzy signs a license agreement. No mention on the rest of the globe! Rich also said that he found an interview in Norwegian on the net that seems to be about VR. So, of course, we are looking for someone who can translate Norwegian into English and wouldn't mind sending in the full article or paraphrasing it for us. The full article is at Norwegian article.






News Reported: 02/20/04


We try not to do too much begging on this site. There are no annoying popup ads or banners. Sometimes we'll mention a place where you can pick up something to add to your collection. The only 3 we have an agreement with are Amazon.com, MusiciansFriend.com and ebay.com. If you buy or bid through them, we get a few cents which helps pay for this site. Slash does not pay anything toward this site. The deal with these three sites is you have to pass through this site to do your browsing and ordering. From now on, if one of these is mentioned, the link will be right there. Right now the link is only accessible from the link on the home page or by specifying www.snakepit.org/ad.html. We'd appreciate any help you can spare. It costs you nothing extra. Last quarter we received $24 and the bill here is $65 per quarter, so it is a burden for one person. Thanks so much. Also, there is a problem in that some one is copying the whole site every day which gives them a duplicate site on their server. The traffic is killing this site, and the bills are climbing. It is not necessary to EVER copy this site. We are working with our ISP to learn where this is happening and all traffic from and to that site will be halted, so that everyone who uses that server to access this site will find themselves without access. It appears that is the only way they can do it easily. So, whoever you are, cease and desist. Thanks for your patience on these administrative matters and now back to SLASH!



Matthijs from the Netherlands wrote in and said that the urls for pre-ordering Velvet Revolver's Contraband are in the format www.plato.nl not the www.plato.com we gave. Actually we used Yahoo to look it up and never used the url directly. So be advised of this mistake and use .nl (for Netherlands) instead of .com. Thanks, Matthijs for that correction!



The Use Your Illusion DVDs were recently released in Sweden according to Jonas, and he says they are in the PAL format. He bought his in a local store, but it is available on the web there at www.discshop.se. So, no excuses for not owning these beautiful DVDs! Jonas says he has these now along with the Welcome to the Videos DVD. His comment? "Ahh, GNRmania in the DVD player!".



Rich sent in the Official Finnish DVD Chart for Week 6, 2004:
Position/Last Week/Weeks on Chart

1/1/3 Use Your Illusion I
2/2/2 Use Your Illusion II

Thanks, Rich!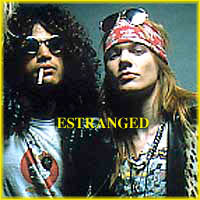 The release of Guns N'Roses Greatest Hits scheduled for April 11 in Australia may have run into some trouble. Apparently Axl hasn't given his permission for the release. And no one in a position to know has said that this is the final album owed by GNR to Universal. Has Universal pulled the plug on Axl's endlessly forthcoming album? Or is this just an album to tide fans over. Evidently there's a petition going around to stop the album's release claiming the songlist is not strong enough and that there's no new material. All tracks are album tracks. We did put in a call to SLASH asking for an update but that call has not been returned. The communications between Axl and SLASH are nil, so it's doubtful he knows or is willing to comment on much more. All we know is SLASH got the advance money from RCA, put together Contraband in the agreed amount of time and is ready to go as soon as Scott resolves his problems. More on Scott in the next day or two.






News Reported: 02/18/04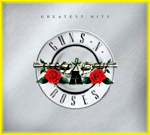 The Guns N'Roses Greatest Hits album still has not been confirmed, but here we have what is said to be the album artwork. The album is said to be scheduled for release on March 23. We have not been able to confirm this. The album is not listed for order or pre-order on any of the album sites, so just take it as a rumor for now. Some fans are wondering if this is the album that GNR owed Geffen which was the "new" GNR album from Axl Rose, the album titled Chinese Democracy. Whether the label is giving up on that one, we can't say. The whole issue is confusing, but we think the artwork is classy and would be an attractive addition to a CD collection. Usually artists put out a greatest hits album when they haven't been able to get another original album and owe one to the record label which fits the Axl album, but it's hard to believe he would give up on his album this late into the process. Hopefully, we'll know more on this soon.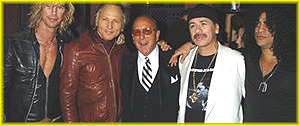 Rolling Stone magazine had an article on "Meet the New Bosses", the record execs who've changed positions. Clive Davis was listed as the new chairman and CEO of BMG North America. He holds the top spot in the music group's domestic operation. Davis is 70 years old, and he's the one credited with bringing Velvet Revolver to BMG within RCA. His strength is listed as a 30 year run of hits and a gift for giving older artists like Santana and Rod Stewart new life. Hits in 2003 were Clay Aiken, Kelly Clarkson, Alicia Keys and Rod Stewart. SLASH really took a liking to Davis and that was the main reason they chose his label.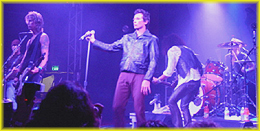 If you go to the RCA Site, there's some new information on Velvet Revolver. Instead of the release date of TBD, the release date is given as May 18. This is one more week than SLASH gave us last time. And be sure to check the guys up there at the top with all the other RCA artists. Checking the US record sites, there is still no pre-ordering. There are two Dutch sites where you can pre-order. One is www.plato.com, and another is www.musicsafe.com. The sites are in Dutch, so unless you can read Dutch, you might well wait for pre-ordering in another country's music site. Both Dutch sites say the pre-orders will come in 5/10. Albums are often released earlier in Europe. If you see any other places to pre-order in other countries, let us know and we'll pass the information along to everyone.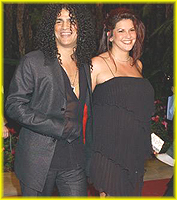 Last time we told you about a fight between two record execs at the post-Grammy party. It seems that there was another at the pre-Grammy show involving SLASH and his wife. The New York Post reported that "At Clive Davis' annual pre-Grammy bash at the Beverly Hills Hotel, SLASH broke up a cat fight that ensued after his wife, who has a bun in the oven, tried to squeeze by a female reveler on her way out. Mama SLASH had grabbed the bun on the back of the woman's coif. Later, the victim hammed up her injuries so much, the police nearly arrested her."

Anyone who physically attacks a pregnant woman is either drunk or some other altered state. SLASH had his publicist put out a statement so that all would be clear as to their side of the altercation. According to this account, SLASH and Perla were heading toward the crowded exit with Perla ahead of SLASH who was saying goodbye to one of the guests. Perla found herself surrounded by crowds of guests and media people. As Perla was snaking her way through the crowd, she was shoved by an unknown, belligerent woman yelling obscenities at her. This unknown woman continued her assault on Perla, even ripping her dress, when the commotion and cry for help from Perla caught SLASH's attention, who raced to her side, only also to be confronted by the woman. Police were called to the scene, but the offender continued to refuse to identify herself. SLASH and Perla were able to leave and no doubt were shaken by this confrontation. We have no other information on this. What should have been a wonderful evening was spoiled by this unknown woman. The newest Hudson is due the end of June and is said to be another son.






News Reported: 02/16/04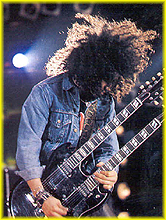 Another great place to look at SLASH pics! Kimberli found a great site, www.splashnews.com. Most of the pics are very small thumbnails but there are some larger ones. When you get there, search for SLASH, who else? Thanks, Kimberli!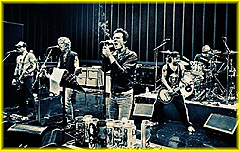 Today the Ozzfest people named Slipknot as the band to head the second stage. Ozzy himself will be on the main stage. Where does this leave Velvet Revolver? Did they turn it down or is another one they can't make because Scott will be in rehab? These are some questions we have received, and we don't have any answer other than if you know Scott is in rehab, they cannot go on tour. So that means June/July. After that he is to have 6 months of outpatient work. If he is permitted outside the court's jurisdiction, they can start on tour. All this is just a summary of the confusing state the tour is in. We should know more next week when Scott has another court hearing.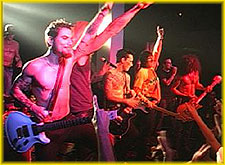 Jonah was watching the Sharon Osbourne Show on Monday, and Dave Navarro was on with wife Carmen Electra. Dave brought Camp Freddy along, and they played. When they sat down and talked, Matt talked about Velvet Revolver, and they made fun of Axl not showing up for recording sessions and not leaving his house. Matt talked about SLASH and Duff and how they got back together to form Velvet Revolver. Thanks for that SLASH mention, Jonah!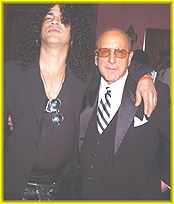 So you think you'd like to be a big time record exec, ride in a limo, chat with other bigwigs while drinking champagne at the Grammys? Well, better check with Happy Walters. Record exec Happy Walters got into a spirited battle with Sanctuary mega managers Ron Smallwood and Rick Sales there. Happy works for Immortal. Immortal manages Velvet Revolver. Sanctuary manages Axl Rose. The battle wasn't over our guys though. It revolved around Carl Stubner who left Immortal to head up Sanctuary last year and is involved in legal action with Walters. While bystanders looked on amazed during this BMG Grammy Party (SLASH was there), security rushed in to break it up. Our guy Happy had to go to the hospital due to severe kicking and beating! Jeez! Get in the ring! And you thought life at the top was all roses.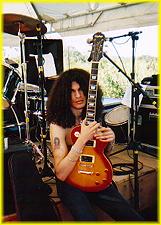 We've been in touch with Eduardo Moto, who is the "SLASH" in the tribute bands that played at the GNR convention in South America last year. You may remember that SLASH sent them a taped message. Eduardo has decided on his own to get out the word on the new Velvet Revolver album. We're told that BMG will handle all the publicity, and so far they aren't expressing a need for individuals or web sites to do much, but maybe that will change. Instead of being annoyed, Eduardo is just plunging in on his own as we are. He's going to spread the word there, and that's a wonderful thing. Eduardo sent us some pics from the December 20th Convention. He said the Snakepit tribute band was on first and played an assortment of their songs. A big surprise at the end was the playing of "Set Me Free"! He spreads the Velvet Revolver word at every stop. On April 17, they will play to an audience of 3000 and will do some promotion there. Maybe you can't do what Eduardo is doing or what this site does, but you can talk up the band and call in for plays when the single comes out, put up flyers if they come near you, etc. Thanks, Eduardo...you're an inspiration!






News Reported: 02/13/04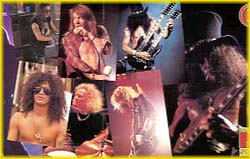 Ray was listening to the local big rock station in Pittsburgh, WDVE, this morning when radio personality Val Porter announced that GNR would drop a greatest hits album March 23. The album would come out on Universal. You may recall that this album was said to be scheduled to be released in November but was pulled without explanation. Ms. Porter said the album would include these tracks: 'LALD', 'Welcome...', 'Knockin', 'SCOM', 'November Rain', 'Patience', 'Paradise City', 'Civil War', 'YCBM', 'Don't Cry', 'Yesterdays', 'Ain't It Fun', 'Since...' and 'Sympathy...'. One of our personal favorites, 'Estranged' didn't make it. With GNR only having made 5 albums (including LLAS), most fans have the whole set, but completists and new fans will want this one. So far, the album is not listed for pre-sale on Amazon. We have a call in to SLASH on this one.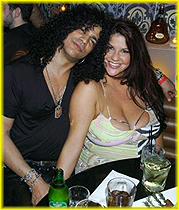 Ray said he met Val Porter backstage at the Snakepit show when she came to interview SLASH. The DJs commented they saw SLASH and wife going into the Grammy award parties and "she looked ready to pop"! They had a good laugh about the baby popping out in a top hat or out of SLASH's top hat. Any mention is a good one. They also mentioned that Judas Priest would release a greatest hits album the same day as the GNR one. Coincidentally, Judas Priest is a group SLASH cites as one of his influences. Now he has albums of his own being released with theirs. Thanks, Ray, for that Pittsburgh radio report. And as far as we know from SLASH several months ago, the baby is due late June, early July.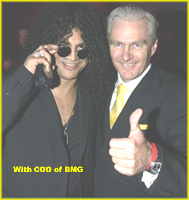 In trying to chase down this rumour, we did find out from the radio station that Velvet Revolver's first single, 'Slither', will be on the radio add list beginning March 22. Thanks, Brian! Radio adds are the lists stations pull from for their rotations. Being added to the rotation is a big step. For those just joining us, "Contraband", VR's debut album is scheduled for release May 11. The time between the single and the album releases was to be used for a promo tour. This tour got cancelled when Scott Weiland tried for a less stringent rehab and was ordered back into court ordered lockdown rehab putting his release date into May instead of the March it would have been. Results of his court appearance next week will clarify when the band can tour.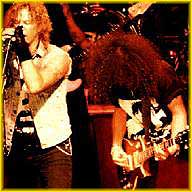 Magazines are coming from all over to interview Velvet Revolver. Look for Duff in the March issue of Bass Player and for SLASH in the March Total Guitar. Thanks to Brian and to our anonymous fan that works in a magazine distributing house.






News Reported: 02/11/04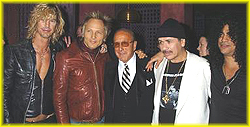 SLASH and wife Perla were at the Grammy Award Show held in Los Angeles on Sunday, February 8. They were seen arriving at the pre-show party held by Clive Davis from RCA and at the post-party held by BMG (record distributor for RCA). We have some pictures here for you. Notice the forthcoming Hudson is in attendance! Four of the five Velvet Revolvers are here with Scott not in evidence.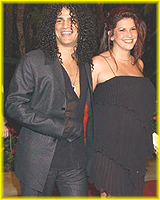 SLASH and Perla's second child is due this summer, and Perla is glowing. There are many more pictures of the two, SLASH alone and SLASH with other members of Velvet Revolver as well as other guests. To check out these nicely-sized thumbnails, go to SLASH at Grammies and search on SLASH.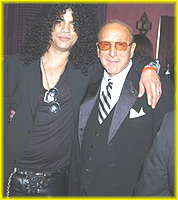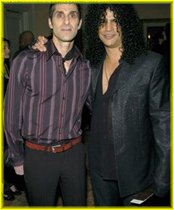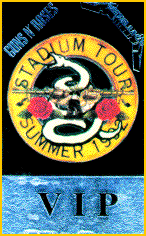 Have you ever gotten into a heated discussion over which gig or tour was the best ever? Was it the Skin and Bones Tour, the final gig at Los Angeles? The Metallica/GNR Tour? The UK magazine Q is holding a poll of the 100 best gigs/tours ever for a future magazine article, and we'd really like to see some GNR in there. You submit your top 5 by name and then say in 50 words or less why #1 is YOUR #1. All entries will be entered into a contest to win 2 VIP tickets to Glastonbury. Here's where to vote: for your top gig.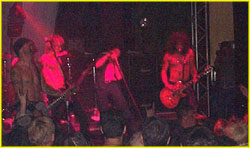 Scott Weiland, lead vocalist for Velvet Revolver, has his next court date on February 18. He'll face DUI charges from last October. Weiland and his doctors have recently released statements clarifying Scott's actions in moving from one rehab location to another. Both said that Scott had not moved in defiance of court ordered lockdown rehab, but at the suggestion of recovery consultants. Whether the court will approve this could be answered at this hearing or may be limited to the DUI charges. Thanks to LuAnn and Brian for this information.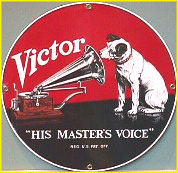 At RCA Records Site, Velvet Revolver's promo color photo has been added to the revolving list at the top - the list of artists. Their album is still listed as May TBD although SLASH says May 11. Lots of good company on this artist roster including Dave Matthews Band, Foo Fighters, Christina Aguilara, The Strokes and more.






News Reported: 02/09/04

SLASH !

SLASH's Official Fan Site




SLASH News

February 2004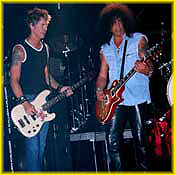 First things first. We want to wish Duff McKagan, Velvet Revolver bassist, a Happy Birthday! Duff turned 40 years old yesterday. This is going to be a far older (and wiser) band touring this time than when the Gunners toured with Appetite. But, hey, so are many of their fans. We get mail from new, very young fans as well as fans the band's age and older. The venues are going to be crowded, so once we get that tour schedule, we'd advise you to get tickets fast. Remember, though, there is no schedule at this moment! The band had a birthday party for Duff with the families joining in. The group is really tight now, and just wants the album out and themselves out playing for you.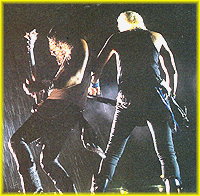 And speaking of Duff, Nero found a picture of Duff on the Jim Dunlop site captioned "Duff McKagan, Velvet Revolver"! Duff and SLASH both use Jim Dunlop equipment, so have a look around starting with Duff's information!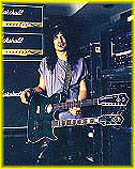 We got our copy of Jim Marshall's autobiography: Jim Marshall: The Father of Loud. The book contains every bit of information you'd want to know about the man behind the world's most famous guitar amps. SLASH's foreword is really very nice and is a real tribute to Marshall's amps and his friendship. SLASH said from the time he started playing guitar, he knew he wanted a Marshall because all the guitarists who had the sound he wanted, from Hendrix to Aerosmith, played with Marshalls. But he didn't have one and it would be some time before he could get one.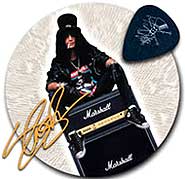 When he did, he got a 50-Watt Super Lead head. It sounded killer and he felt he'd achieved a lifelong goal. SLASH says this one brand has been the industry standard for so long. It is not complex, but it has a truly unique sound and you can almost picture the sound! Marshall has a sound that makes the band sound larger than life. SLASH says that he remembers seeing bands like Judas Priest with a wall of Marshalls. And he also remembers as a young guitarist seeing other young bands in small clubs setting up Marshalls. This meant that the band would be good because that meant they were getting shows to be able to purchase a Marshall. SLASH says that he's been lucky because Jim has taken him under his wing and made a signature amp just for him in a time of crisis and put SLASH's name on it. SLASH says that was one of the proudest moments of his career. He really likes hanging out with Jim who he describes as a "blue collar guy", not affected by his enormous success, kind and soft-spoken. (Sounds like SLASH himself) SLASH says that to him, Jim and Les Paul are kindred spirits, cut from the same cloth, and he is so proud to use their equipment. With all the craziness and crap in the business he's in, SLASH is reassured to know that his equipment is made by genuinely nice people. SLASH said he was honored to write the foreword and to thank Jim publicly and be part of this wonderful rock and roll story. It's signed with SLASH's skeleton drawing and name. There is more about SLASH in here and we'll get to that another day. To order, check the order information below in Monday's news.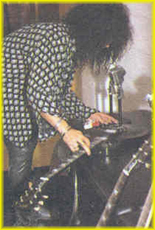 Aaron from the UK has a report from an interview from the February 2004 issue of Record Collector. SLASH did an interview where he talks about GNR. The interview said SLASH was there for a week and was staying in a hotel in Kensington. He brought with him a vintage Gibson Les Paul and a half empty vodka bottle. He came in with some clothes the worse for wear explaining he'd had a fight with his girlfriend (?) and she'd locked him out of the bedroom. He said he bought new clothes when he got to London and with a wicked grin pulled out a Harrods bag and said he just bought socks. The highlight of the interview was when SLASH said, "I'm just waiting for Axl to come out and do his record. It'll be interesting to see what we f*cking tore Guns N'Roses apart for". Thanks, Aaron!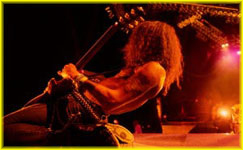 More top-notch pro photos by pro photographer Robert John at robertjohnphotography.com. Robert was the official photographer for Guns N'Roses, and at one time he was practically a band member himself. Last we heard, Robert was suing Axl for not returning or paying for photographs of GNR that he had provided for Axl on spec. More information on this, anyone? It's a lovely site but you may have to adjust your display to see the large version of the photos. For most of us, our early visions of GNR came from Robert, and he's one of the best live band photographers in the world.






News Reported: 02/06/04


Have you seen a recent Microsoft commercial that relates to SLASH? Stefan says it's about a boy and things he could be when he gets older. One thing they mention is a rockstar, and suddenly he has a tophat on his head! It's just like the one SLASH wears, 100% inspired by SLASH...the one with the band of silver conchas on it. We haven't seen it ourselves, but we're looking. Thanks, Stefan!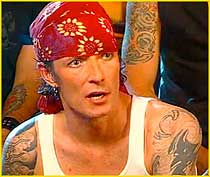 Finally the Velvet Revolver management has made a statement regarding singer Scott Weiland's battle with addiction and legal problems. They are responding to the reports that Scott walked out of or was discharged from rehab after one month when the court had specified 6 months. His attorney says that they were under the impression that Scott's move to a sober living facility was not against the court's wishes. Weiland's primary recovery specialist said he felt Scott completed detox, and he should be moved to a lower level of care. He said that he felt Scott did not require a hospital, but he would require month of other treatment. He says he did not feel Scott would gain much more from being in-patient. Weiland, according to his attorneys, has not been abusing illegal drugs or alcohol and is under a doctor's care. Scott continues to work on his mental health issues which have an "organic neuropsychological basis and are pharmacologically treatment". (Early on, there was information that Scott was manic-depressive but did not take his meds as he felt it interfered with his creative process.) As to the future, management says Scott wants to comply with the court's orders, continue his sobriety, work with Velvet Revolver and ultimately reunite with wife and children. No response yet from the court on this, but it's certainly a good sign that Scott and his management are publicly addressing the problem.



Here are a couple more questions from fans to SLASH. Periodically, we print some of these. If you have something you'd like to ask SLASH, send your question to webmaster@snakepit.org. The questions are moderated and should be about SLASH's music or career. Questions of a personal nature will not be forwarded. Please make the subject of your email be ASK SLASH and put your name or handle in the email along with your country (state if in US). Thanks! If you'd like to see the previous questions, they are on this site by year. On the main menu, under Fan Info Menu, click SLASH Answers Your Questions.



The first question is from Sir Bobcat who asks, "I remember you mentioning in a couple of different places that you still feel nervous before shows. As a beginning guitarist, I too get very nervous when people are watching me play. How do you deal with your 'nervous energy' so that you can play so fantastically? And by the way, thank you for all the music you've given us... you're the best in my book."



SLASH replies, "I've always been a nervous guitar player, but the urgency of the music, be it live or in the studio, always seems to bring me around, so halfway through the first song of the set you get rid of the butterflies and just try to play as good as you can."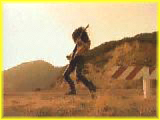 Thanks, SLASH and Sir Bobcat! The next question is from Stuart in England who asks, "In the video of 'Estranged', you are playing the second solo as you rise out of the water, and in 'Don't Cry' you throw a guitar over the cliff. I'm just wondering if you have a stunt guitar double just for these moments, or if they are just guitars from your collection? Did you find the one that went over the cliff, and does the wet one still work???!!!"



SLASH replies, "I did use stunt guitars for both videos. And yes, I did find the one that went over the cliff but it was broken. The wet one never worked in the first place."



Thanks, SLASH and Stuart! This a question we've wondered about ourselves.






News Reported: 02/04/04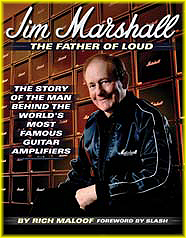 Jamie lives in the UK, and today he sent us email saying he thought we might like to know that SLASH is now an author having written the foreward for Jim Marshall's biography, The Father of Loud. The book is by Rich Maloof and published by Backbeat Books. The book has two main parts: the first section traces Jim's story from childhood as a young boy diagnosed with a rare bone disease to his stage success as a singer and big band drummer to the development of the Marshall stack and rise to prominence in the amp industry. The second section is especially good for guitarists as it goes into the amps themselves with plenty of illustrations. There's really in depth information that owners and those who are interested in celeb rigs will study in detail. And the forward is by SLASH! Jamie sent the web site for this book where you can read more about it and order it if you wish. Visit the site and buy the book!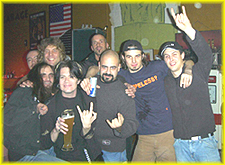 Awhile back we told you about the band Flanger that was to support Adler's Appetite in Europe. Simon reported that they had two gigs with Adler's Appetite in Weert, Holland and Hanover, Germany as support. They really had a good time hanging out with the band. Appetite were very nice and friendly, especially Steven, Robert and Keri! Simon says they would really like to support Velvet Revolver on their European tours. Here's a picture of Steven, Keri and Flanger (Simon is on the right). Come over and visit their site which is now in English also. Thanks, Simon!



Carlos lives in Columbia, and he says that he was check the Burrn! magazine page, and he found that the March 2004 issue has an exclusive interview with Velvet Revolver and talk about the forthcoming debut album, Contraband. Burrn is a Japanese magazine, but maybe someone out there can translate Japanese for us when someone locates the magazine. Thanks, Carlos!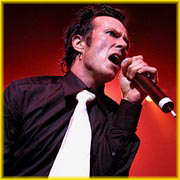 Sam has one of those postcard-sized interview books on Stone Temple Pilots. In the book, Scott is quoted as saying, "It's frustrating. You're on tour and whether you're playing to 60 or 10,000 people, there's still that overbearing level of testosterone. People aren't there to understand what's being expressed, they're there for the physical thing to mosh and bash into each other. It's important to let the people who buy our (STP) records know what kind of record they're buying and that they're not buying a Guns N'Roses record." Sam thinks it's strange that now Scott is in with mostly ex-GNR people and will have to deal with the mosh pits. Personally, we happen to agree with Scott that it would be really great to come to a show and be able to hear and be able to stand without being knocked over.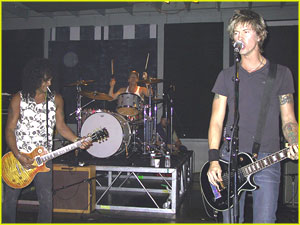 Scott got the word that some STP fans (and band members) were still thinking of a reunion. In an interview, Scott said that his contract with Velvet Revolver was pretty strict in preventing him from leaving Velvet Revolver to go back to STP for any reason. Not sure about SLASH, Duff and Matt, but no doubt they have similar clauses. We do know they are obligated for three albums on the current contract. And for those of you who can't get enough of those forums where you can discuss this and other issues, there's a new SLASH forum called SLASH's Haven. Rob has put this together at SLASH's Haven on Yahoo. We'll also give a plug to ours which is at Snakepit. Thanks, Rob!






News Reported: 02/02/04