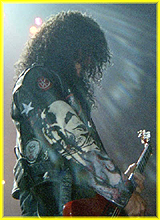 We got a letter from Anne in New Zealand...a real snailmail! In it, she enclosed a nice article about Velvet Revolver and some $$ in support of this site as well as a terrific review of the Christchurch show. We wish we could share the whole review with you, but since it was snailmail, we'll just give you some highpoints. Anne said she decided to be part of the mosh pit. When the 18-20 year olds gave out, the oldies were still jumping around! Anne said she was still flailing while the kids peaked too early. Velvet Revolver was fantastic and played for about 90 minutes. Anne saw the band in the US last year, and she was so pleased they played "You Got No Right" this time as they hadn't before. Glorious! Scott talked to the crowd and said not to take freedom for granted, and Anne likes the way he has something of substance to say instead of the usual "Hello (insert city name)". SLASH said he knew that Christchurch would be beautiful but he didn't know it would be this beautiful. He said it was one of the best places they had played. There were about 4000 there, and everyone showed their appreciation. She sent some things into SLASH using security. And if they come again, there would be even more coming out to see them because everyone was talking about the show. Thanks, Anne for that great review, the clipping and the donation!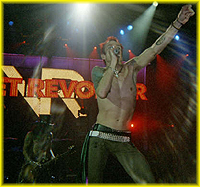 Pete is the fan we told you about that had to choose between The Doors and Velvet Revolver, and he said he made the right choice. He said he noticed SLASH's hat looked different. The hat he wore there looked like leather but same shape and size. Pete said he wanted to point out something he didn't care for too much. The Velvet Revolver sign for the encores attempts to start a chant like the old GNR sign did. The trouble is they do it slow so the chant goes Vel..vet...Revol..ver which reminded Pete of Spinal Tap or the Simpsons. Anyway, it was a great show with 2 hours of playing and the crowd didn't stop jumping. Pete says he only saw only 1 STP t-shirt, but heaps of GNR and Velvet Revolver shirts. Thanks, Pete!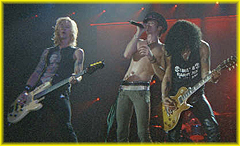 My from Sweden sent in some pictures from one of the VR shows in London, the one on the 10th in Hammersmith where there was a good view in the first row. We'll show you some of those here and probably more later. And Matt passed along a drumstick! Thanks!

Vicki in West Virginia sent us a SLASH mention from Entertainment Weekly magazine. In their "Hit List", they had this remark...."Bono nominated for Nobel Peace Prize - Did everyone who performed that charity version of 'Across the Universe' get nominated? Because I'd love to hear SLASH's acceptance speech: 'I'd like to thank the guy who makes my top hats, all my porn-star friends, Mr. Brownstone...Oh, yeah, and in your face, Axl!!!' " Thanks for that, we think!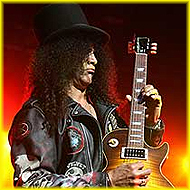 As you know, SLASH's top hat was stolen at the Grammy awards from the limo he was using that night. Also items were taken from Perla's purse. The latest thing on this is that SLASH is asking a TV show to help him retrieve that hat. Anyone with information can contact the show Celebrity Justice or this site. Read about the TV appeal.







(News Updated 02/28/05)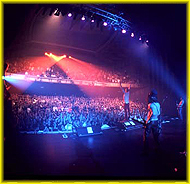 The tour calendar shows gigs through the beginning of June. Although the band will be on the road until the end of summer, Scott says he wants the band in pre-production this spring on the sophomore album. They are aiming for a release by Christmas. Scott said the band has reached every goal they've set so far and he sees no reason why they wouldn't miss that one. New material is being written while the band is on the road. Check the tour list on the band's official site, velvetrevolver.com or on the tour truck above. This "Electric Wonderland" tour will begin March 22 in Montreal. March shows are in Canada. April and May shows are in the US. June shows are in Europe. The band's newsletter sent out a list of the US tour dates. Guest will be Hoobastank. Velvet Revolver and iloveallaccess.com have teamed to offer you VIP ticket packages. Packages for select shows go on sale February 25. Click here to login to this location: Special Access. The password is wonderland.
We had an interesting email from Jennifer that was a followup to a question someone had asked. In the "November Rain" video, SLASH is on stage playing without tabs or score or notes, but the orchestra needed scores, and these are people that have played for many years. We asked if any orchestral musicians had an insight into this. Jennifer is an ex-classical pianist, and she said she'd take a crack at explaining it. Orchestral musicians need to be on the same page and because so many are playing together, scores make sure that no one has a memory lapse. Professional musicians for a piece like this practice very little since their time is money and they are sightreading the piece. Sightreading is a skill of playing a piece you don't know at all from just reading the score. SLASH plays from memory not tabs. Playing by ear is never done in classical music. Music is learned and played from the score. In rock music it isn't necessary to play from a score and many musicians rely on more instinctive abilities like improvisation and playing by ear. Although "November Rain" is rock music, it has an orchestra with orchestral parts written out. Thanks, Jennifer, for that explanation!

We are sometimes asked how a band can be the opening band for Velvet Revolver. We've been told that the promoter or the tour manager may do this. And sometimes a band may meet up with a VR band member and make a big dream come true. Scott ran into a band called Second Line in Camden's Jazz Cafe, and they showed him around London's bars. After that, they went back to the guitarist's place and listened to some records and gave him a demo before he left. A few days later, Velvet Revolver's tour manager called them asking if they would open for VR at their Brixton Academy show, a once in a lifetime opporunity. Nice!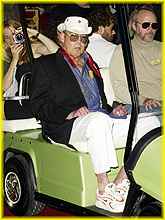 Helen sent in the news that the author of SLASH's favorite book had died. The book is Fear and Loathing in Las Vegas and the author was Hunter S. Thompson. Thompson died last Sunday, a suicide by shooting himself while on the phone talking to his wife. His wife said Thompson had discussed suicide often, wanting to go out at the top of his game, and putting a terrible strain on their relationship. Hunter S. Thompson, dead at 67.





(News Updated 02/25/05)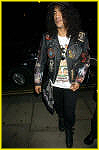 It's been a long wait for those confirmed dates, but today we got a slew of them through April in the US. The preliminary dates we had posted have been mostly changed and we now have them changed so they match what is on the official list on the band's official fan site. Either check on our list (click the truck above) or go to the velvetrevolver.com site and check with them. Almost every date has a date listed when tickets go on sale which seems to mean on everyone's mind. So, check the tour list before contacting us. If the gig is listed, that's confirmed. If it's gone, it may be just moved around. We understand that more may be coming in the days ahead.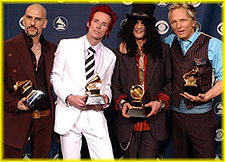 We spent most of our time getting that gig information up, but we have some small items we would like to mention. Vicki from West Virginia found a mention of SLASH in her People magazine. There's a group picture with the heading "All About Clive...Fantasia, meet Santana: At his big Grammy bash, music man Clive Davis celebrated with a posse of proteges". Velvet Revolver are grouped together on the left end with SLASH and Scott sitting in the first row and the other three standing behind them. Davis said the night felt like a milestone sitting with all this great talent making him feel proud, inspired and excited. They then listed all the musicians in the group picture. Thanks, Vicki!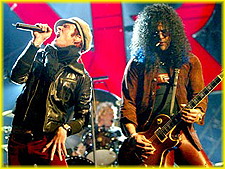 Nelson let us know that he heard on the radio today that SLASH, Steven Tyler and Dave Navarro will be on Tommy Lee's next solo album! Pete's in Australia and he said he had to turn down free tickets to The Doors due to Velvet Revolver playing the same night and VR winning his allegiance. It's ironic that Ian Astbury is the singer for The Doors meaning two ex-Cult members have traveled so far to play in Sydney, Australia on the same night at different gigs. Trivia question: who is the VR member that was in the Cult? If you knew it was Matt Sorum, you know your VR background. Thanks, Pete! Kabir said he flew from Delhi to Melbourne on Singapore Airlines. In their inflight rock Channel, Rock City chartgs had "Slither" leading the rock section ahead of Green Day and Hoobastank. Rock City was doing a GNR month to celebrate Axl, Duff and Steven's birthdays by playing "SCOM", "WTTJ" and "Civil War". Kabir says that Singapore Airlines is one of the leading airlines in music on flights and their charts are well spoken about. Thanks, Kabir! Another small item: we told you about the GNR pinball machine found in a small bar in Spain. We heard from Sergio in Portugal who says he found one in a small club in Alverca near Lisbon. Sergio didn't know they were so rare!

Kerrang! Online had news that some big musicians including Velvet Revolver have thrown their weight behind Kerrang! Radio's bid to launch a station in Manchester. Letters of support have been written to support Emap Performance, who own Kerrang! 105.2 in the West Midlands in their bid for a new FM commercial radio station in Manchester this week, proposing its alternative rock music format Kerrang! Proposed shows would include Ctrl, Alt, Delete: a celebration of the new alternative. Raw: fresh material from new and established bands. The Grind: skate rock. The Slab: goth music. A commitment to supporting live music in Manchester including performances at Manchester City's stadium are among other key components of the bid. Velvet Revolver is in good company getting behind this station bid.





(News Updated 02/23/05)

Call out the gang at Law and Order! SLASH's hat was stolen at the Grammy awards from the limo that took him and wife Perla there. Also missing were some personal items from Perla's bag that she left in the limo with the top hat. The limo driver swears he is innocent. Anyone out there has the hat or information about the hat ...let us know, no questions asked, and we'll arrange for it to get back to The Man.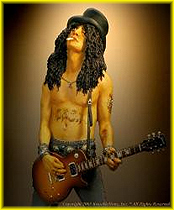 Check out the hat in full detail (along with the rest of SLASH) at the KnuckleBonz Inc. site. The sculpture is now there in full detail showing you the full front, side and back views. It really is very nice and well worth the $99 plus shipping and handling. It's limited to 3,000, so get yours ordered soon. Delivery is scheduled for April.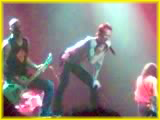 Nick saw Velvet Revolver in Brisbane, Australia, and he says the gig was fantastic! The only problem seemed to be hearing Dave's guitar. It's a good review and we'll let you read what Nick said himself. Give Nick a click to read what he sent to us! Michael sent a pro review from from the Auckland, New Zealand show. This appeared in the Auckland New Zealand Herald. We're going to post it here, too, because they take these down fairly quickly. Thanks to Michael and the New Zealand Herald. Ginelle also saw the band in Auckland and said they were amazing. She sent us some pictures of which a few are posted here. Thank, Ginelle!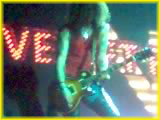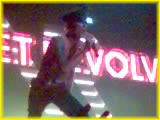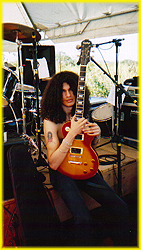 One of SLASH's biggest fans in Brazil is Eduardo Moto. He wrote to tell us what he is doing right now to promote his own tribute band and Velvet Revolver. He participated in the Mtv Brazil Studios with his Guns N'Roses tribute band. The program is all about your knowledge of your tribute band, and small parts can be played during the show. The winner gets to play an entire song. They won! And they played "Sweet Child O' Mine". His work is also going to be part of a documentary made by a famous radio journalist, Paula Febbe, on Radio Brasil 2000. Eduardo recently received the gift of a Gibson Les Paul Standard Premium Plus from a Brazilian entrepreneur, Paulo Cesar Breim. Eduardo says he has only had used Epiphone guitars before this and will be able to improve his SLASH tribute work with this, so he wants to thank Mr. Breim and the best guitar player of all time, SLASH! We're proud of you, Eduardo!





(News Updated 02/21/05)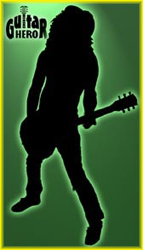 Last year we told you about the SLASH Guitar Hero Sculpture which would soon be ready for pre-order. The company doing the sculpture is KnuckleBonz, Inc. The sculpture is a hand-painted and hand-numbered collectible in KnockleBonz' Guitar Heroes series. The SLASH figure is now available for pre-order, and the company expects to ship at the end of April 2005. The SLASH figure has been created by a skilled team of artists in poly-resin and hand painted in fine detail. This is an officially licensed product from SLASH and Gibson Guitars. Each sculpture displays a certificate of authenticity on the resin base and includes a wooden display base. The sculpture displays SLASH with his trademark Gibson Les Paul and his top hat. The company president says that it is a big honor to add this true and timeless musicians to the sculpture series. The SLASH sculpture sells for $99 plus postage and handling. Pre-orders are being taken at www.guitarhero.net/slash.html. This takes you right to the pre-order page. Then click on the word SLASH on the right side.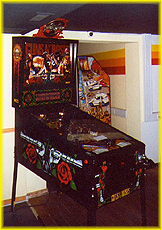 Another limited item is the Guns N'Roses pinball machine which SLASH had a lot to do with designing. Diana says she lives in a little town in Spain called Rota. It's very small and has only one bar where they play good music.The bar owner has a GNR pinball machine. SLASH commented once that there were only 500 of these ever made, and one of these found a home in a little bar in a little town in Spain!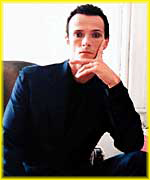 The AP interviewed Scott where he commented on a persistent rumor that there is a rift between himself and SLASH. Scott says they get along great. There are always conflicts in bands, but whatever they are, he prefers to keep them private. That's how to keep the band together. When asked if this toxic music cocktail will drive rock to explosive heights or will they crash and burn. Scott says this is the Evil Knievel factor...that people don't pay big bucks just to watch him jump. If he never crashed and burned once in awhile, he wouldn't have sold out those stadiums. Scott also commented on a report that he broke the Grammy smoking ban backstage. He was seen strolling around, flicking ash on the carpet. He jokes, "I think they prefer us smoking cigarettes as opposed to drugs."







(News Updated 02/18/05)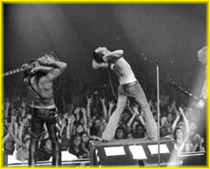 Tonight we have news of Canadian dates confirmed, and there are quite a few of them. They are up on the band's web site along with dates for pre-sales and the venues. If you haven't visited that site for tour information, you should. What is posted there are the confirmed gigs and which shows are on sale and which are pre-sales. We have these on this site, too,but they come from that site. If you haven't done so already, be sure to go to the official site and sign up for the band's newsletter, too. When they have some information to send out, this is the list they use. Right now, you can check the March gigs in Canada there or by clicking our tour truck and going to March.

When you're over at the official site, you have a chance to watch all three band official videos, including the most recent "Dirty Little Thing". It's so great...all we were promised. We think you'll enjoy it and watch it several times!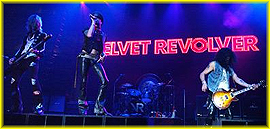 Looking back at the Japanese gigs, Hitomi went to two shows, the SonicMania and the Zepp Tokyo. Hitomi got a guitar pick from SLASH, not thrown, but handed! As a 27th birthday gift, this was just great! Excited, nervous and shaking is what Hitomi said, as any of us would be. Hitomi want to tell SLASH a huge thank you and ask when the band will be back? Thanks, Hitomi!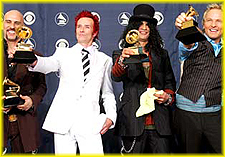 SLASH was asked by Launch Radio if Velvet Revolver felt vindicated by their Grammy win, and SLASH said he wouldn't put it quite that way. He said it's a little vindicating to have reached the point where things have got to be so heavy that they were all surprised to be standing there at this point. But as far as vindicating as far as the band's music is concerned or what anyone was thinking along the way, no, it's just, this is what we wanted to do. And we feel that means they did the music they wanted to do, and it was good to get the recognition, but they never set out to win a Grammy and don't feel vindicated by winning one. The band will be entering the studio later this spring to record their sophomore album.

Vicki sent in another mention which was from Spin. They always seem to have something nasty to say, probably a hold over from the way they feel they were treated by GNR. In their "Noise" section, they covered the KROQ Almost Acoustic Christmas show in LA, and mentioned that VR performed. The picture of Scott and SLASH onstage said, "Here's an old one you might remember. His name is SLASH, ha, ha: Velvet Revolver's Weiland and SLASH". This is one reason we never check out Spin.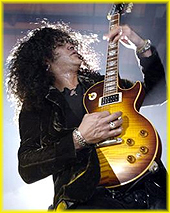 Q had some mentions. The first was a little strange in that they reported an old item. They said that a year after SLASH left GNR, he worked on the soundtrack of the Quentin Terantino's movie Curdled. They said the movie would be out the same time the GNR new album came out. Well, the movie came out long ago. A lot of fans really liked that Spanish guitar sound SLASH came out with on the song "Obsession". He wrote one acoustic and one electric which he did with Marta Sanchez. In a section where music celebs picked their favorite Led Zepp tracks, SLASH selected "How Many More Times" from the album Led Zeppelin. SLASH said the band had so many great songs, but this one encompasses how great a band they were and what a great producer Jimmy Page is. And in the section on 100 Greatest Guitar Tracks, SLASH shows up on #6, "Sweet Child O' Mine". They say GNR listened to Lynyrd Skynyrd to get the "vibe" for their classic rock ballad. SLASH's liquid lead guitar riff is echoed on his new band, Velvet Revolver's "Fall To Pieces". Gentle at first, then explosive. Best played with shirt off and cigarette dangling from the mouth!







(News Updated 02/16/05)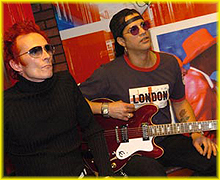 A big congratulations goes out to Velvet Revolver for winning a Grammy award last night! They won Best Hard Rock Performance for "Slither" and were up against Incubus for "Megalomaniac", Metallica for "Some Kind of Monster", Nickelback for "Feelin' Way Too Damn Good" and Slipknot for "Duality". If you were watching you saw some fleeting shots of SLASH in his new black leather jacket. Duff and Scott were interviewed and that went well. Then, there was a larger section of shots of the rehearsal of the tsunami disaster relief portion of the program. Norm sent us in a photo of SLASH and Scott working on this. And finally, the tsunami relief program came on with Velveta Revolver playing in the background and some of the best singers in rock up front. SLASH was up front with Steven Tyler who played the maracas.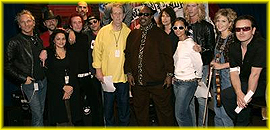 Just a sensational cover of The Beatles "Across the Universe". Don't forget that you can get the song as a download at the Apple iTunes for a mere 99 cents. Your payment provides additional help for the disaster victims. And you can also go to cbs.com and see the video from the show. It was quite an evening, and we are still on a high today! The only thing we regret is that the Grammy was not one of those awarded live.

Keep an eye out for your morning paper. It may have a mini Life magazine with a section on "Hey Rockers Show Us Your Parents". Inside is a picture of SLASH with his Dad Tony and Mom Ola. Laura told us about this and sent us a link to the picture of SLASH and Mom and Dad. And the text says: this. Thank you so much, Laura!

Lisa wrote a very excited note that Velvet Revolver will be at the Heineken Jamming Festival in Imola, Italy. Lisa flew into Vegas to see VR at the Hard Rock New Year's Eve and she's planning a road trip to this festival even though they have to drive hours and hours. Maybe you'll see her there, down front!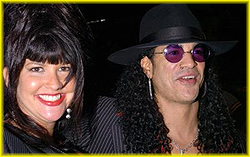 Vicki from West Virginia sent us some magazine mentions. In the current Rolling Stone, they ask in their Random Notes section "What was the last book you read?" and SLASH replied with a tiny smiling picture, " 'How to Raise Boys' by I don't know who." The Spring Movie Preview of Entertainment Weekly has an article on "The 50 Greatest Love Songs". "SCOM" comes in at #8 and saying SLASH is making sweet love to his Les Paul with Axl coming in with lyrics written by a high school boy who writes his girlfriend's name in the bleachers. The March 2005 issue of Blender has a small pic of SLASH and Sebastian Bach with a fan in their "SuperFan...Bringing Out The Stalker in You Since 2001". The March issue of FHM has an article where SLASH answers a couple of questions.
Q: Most rockers get fat and boring. How have you managed to stay interesting?
A: On the last tour, a maid yelled at me for getting hair dye all over the hotel bathroom. I dye it black every eight months or so.

Q: What's life on the road like now that you are sober?
A: When I was 19, I'd wake up in a chandelier but still be able to make it to the gig on time, as Keith Richards would put it. Now a good time for me is a bottle of wine, some Guinnesses and a few cigarettes.







(News Updated 02/14/05)

Last night we got an email announcing more merchandise in the Velvet Revolver online store. There really is a lot of new stuff here! Special t-shirts, a terrific poster, pins, hats... the only question is what choice to make. You can pay in a variety of ways, too. We really think fans should take a lot and give yourself a present during these winter days. Helps you wait for spring if you have a cool jacket to wear! Check out VR Online Store and buy, buy, buy!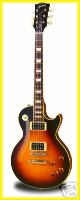 IF you have major bucks, go beyond the VR store and get in on the bidding for one of SLASH's signature guitars. He's going to sign it just before the Grammys, and it's up for auction right now at ebay. The sale benefits the Grammy Foundation and MusicCares. One bid currently, but bidding starts at $1,000 and it's just up to $2000 which doesn't meet the reserve price. Go to ebay and search on SLASH guitar. Come on, guys, we can do better than $2,000! The "Buy It Now" price is just over $4000.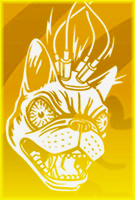 We were a little confused about the Download Festival where Velvet Revolver will appear. Sim tells us that this replaces the Donnington Monsters of Rock festival back in the 80's at Donnington in the UK. It's only been on a few years and is called the Download Festival. In the GNR history, GNR played there and some fans were crushed to death there. If you want to see more about the Download Festival, check out this link. Thanks, Sim!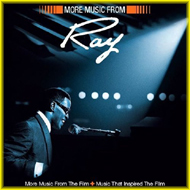 We found another guest appearance for SLASH. He plays on the album More Music From Ray where he plays on the track "Baby Let Me Hold Your Hand" with Ray Charles. This is more music from the film Ray, an autobiography of Ray Charles. Director James Austin had some things to say about certain tracks, one of which was "Baby Let Me Hold Your Hand": "In the film R.C. is seen performing certain performing "Baby Let Me Hold Your Hand" "live" onstage at the Ebony Lounge. However, a "live" recording of that song didn't exist, so I asked Ray to go into the studio an dcreate a "live" version. R.C. always contracted his own musicians, so I was very surprised to see that he'd booked SLASH of Guns N'Roses on guitar for this session. When I asked about his choice, he immediately retorted: 'Don't worry, baby, this cat can play.' When I heard SLASH's Oscar Moore-like solo (Nat King Cole's guitarist, you knew he was right. Also back in the early 50's, Ray had experimented with a celeste of this track, but in 2003 he simply dialed up that tinkley sound on his Fender Rhodes." We have the movie on order so we can let you know how it shows up there!





(News Updated 02/11/05)

There's news of an honor for SLASH tonight. Our favorite guitarist has been appointed the musical director at The Grammy Awards on February 13. Ken Ehrlich, the executive producer in charge of the Grammy Awards, has asked SLASH to be the musical director for an all-star lineup including Velvet Revolver, Stevie Wonder, Bono, Brian Wilson, Alicia Keys, Norah Jones, Tim McGraw and Steven Tyler. The all-star lineup will perform The Beatles song "Across the Universe". We're so pleased and proud of him! The track will be available for download at Apple's iTunes Music Store for 99 cents with all proceeds to aid the victims of the tsunami disaster. Video of the performance will be available on demand at CBS.com soon after the the network's broadcast of the show. So you can see it and hear it right away! That's this Sunday, February 13.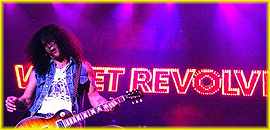 Chris sent in the news that Velvet Revolver will be headlining Foxfest on March 31 at the Pacific Coliseum in Vancouver, BC. For a time, we had their appearance listed on the a different date, but this is the real thing. It's on the 99.3 radio web site, too. Tickets go on sale Saturday morning. Chris said this is his first time seeing SLASH as he was too young at the GNR tour, and SLASH was ill for the Snakepit tour. We hope you'll be right up there to see him, Chris! Thanks.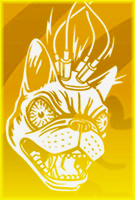 Ticketmaster has revealed the lineup for the Download Festival which is set to expand from two to three days. Ticketmaster listed Black Sabbath, Sysem of a Down, Feeder, Slipknot, Slayer, Billy Idol, Velvet Revolver, H.I.M., and Garbage. The festival will be at Donington Park in Derbyshire, England which can hold 60,000 fans, so there should be no need to lineup for tickets! Dates are June 10-12.
Lesley said that on Sunday there a program on Channel 4 called 100 Top Music Videos. "November Rain" came in at 37. A couple of journalists who hated it called it schmaltzy, overblown and suffocating. The director, Andy Morshan complained that Axl went to the dentist that day and arrived late. He called the video "Spinal Tap with money"! One journalist had a friend who was the make-up artist. She tried to get SLASH's shades off, and he stopped her and said "just dust around the accessories"! Lesley says, "How cool is that sexy guy?!" The journalist summed it up and said and said "that's why that guy can walk out of that tiddly little church and do a guitar solo". Cool and a real pro. Lesley said there's also a program that started last week called "Celebrities Uncensored", Thursday, 11:35 pm. where celebs get pissed off at the paparazzi. This week SLASH is on apparently being hassled by a fan who doesn't believe it is him. We think this episode was shown in the US awhile back and the episode took place at CBGB's in NYC. Thanks, Lesley!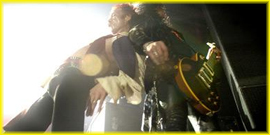 This is our first Japanese review, and we thank Yori for sending us the good words on the Velvet Revolver show. The show was in Nagoya, Japan on February 2, and Yori said it was so exciting. While most Japanese fans could not understand English, Scott said things like "I know you understand me because rock and roll is the universal language!" SLASH was so cool with his hat and cigarette that I was almost dying. Yori said her boyfriend Masafumi missed Snakepit in Japan four years ago and has been waiting ever since. He got so excited that he went out and got a tat of SLASH's face on his arm. Very cool. They would have liked to have met with SLASH, but were very satisfied with the show and excited and hopes that VR will come to Japan again soon. Thanks, Yori!

Dave in the UK saw Adler's Appetite at JB's in Dudley Friday night and thought it was a really great show. They played all the classic GNR stuff with an acoustic set, too. Dave thought Steven was great. Keri Kelli gave him his guitar pick. There was a signing session after the show by the merchandise, so it was a good chance to meet the band and get Steven to sign his copy of "Appetite..." and get a photo with him. The band was very friendly and would sign anything. Jizzy mentioned he was pleased to be touring with the band. Sounds like a great evening!

Dave didn't mention if Adler's Appetite was opening for Hanoi Rocks that night, but they've been forced to pull out of their support slot in Nottingham, UK after the wife of Hanoi Rocks guitarist Andy McCoy objected to disparaging comments Adler made about her in a recent interview. Keri said that Andy's wife didn't like the comments Steven made so they asked us not to play and said they would still pay us, so that's what we did. The bad feelings between the two date back to the old GNR days when Andy's wife was Izzy Stradlin's girlfriend. Steven had some really harsh words about her and said that all the stories about his injecting Erin Everly with heroin were false, so it seems like this is one of those old wars that no one will ever be able to figure out. So, the opportunity to see Hanoi Rocks and Adler's Appetite at the time are out the window.





(News Updated 02/09/05)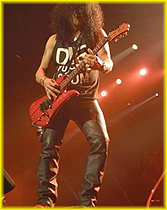 Velvet Revolver is confirmed for the Fields of Rock show on June 18 in the Netherlands. Our Netherlands correspondent, Matthijs, translated what was on the Fields of Rock site at Fields of Rock. It says

Velvet Revolver: a new band, old faces. While singer and jackass Axl Rose keeps postponing the Guns N'Roses comeback album, are the ex-Gunners not doing nothing. Guitarist SLASH, drummer Matt Sorum and bassist Duff McKagan put together Velvet Revolver back in 2003 and reinforced it shortly after that with guitarist Dave Kushner and ex-STP singer Scott Weiland. The 2004 debut album is just as smashing as it is predictable. Indeed, VR sounds like Guns N'Roses with the singer from Stone Temple Pilots. And there is nothing wrong with that!!! Thanks for that translation, Matthijs!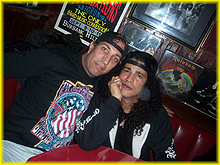 A fan in the UK, Stuart, alerted us that a photographer friend of his has just shot SLASH for the cover of March's Guitarist magazine. It will be on sale February 23 in the UK. So, keep an eye out for that one, and thanks, Stuart. And speaking of photos, Wendybird gets a big thank you for taking and sharing tons of photos from the Camp Freddy gig. This was the charity event where Camp Freddy played with special guests to raise money for the tsunami victims. Wendybird says there are pictures in there of Matt and SLASH, Jerry Cantrell and SLASH at the Rainbow after the show. SLASH is sitting at a table with Donovan Leitch, Jerry, Perla and a few of Donovan's friends. These are all thumbnails, but they blow up great! Thank you, and see them here at Wendybird's Pics.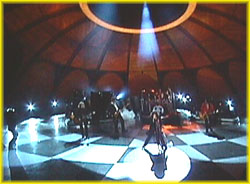 Norm must also be a big Aerosmith fan, and who isn't? That band has always influenced SLASH and Joe Perry is one of his idols. If you want to read more about the band's connections, Norm found a good article in Aero Force One. It's a good, but long read, so save it for lunchtime. Read about it at Aerosmith .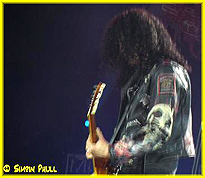 Velvet Revolver did a show on January 22 at the Hammersmith Apollo, and for some fans this was a long awaited gig. Simrin was there and he took some of the greatest pictures around. Check these onstage photos at Hammersmith Apollo. And we have a review to go with that from the XFM web site. Read that one at XFM Review. Thanks, Simrin!





(News Updated 02/04/05)