March 2001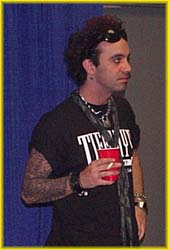 For all you fans of Johnny Blackout (and who isn't?), Johnny now has an email address! If you have some burning questions to ask about his equipment, how he likes being in Snakepit...just about anything, Johnny is all set to answer! Johnny's address is:


JNJBlackout@aol.com



Don't forget the others! They are in Band biography (Under SLASH'S Snakepit).
KeriKelli007@hotmail.com
MattLaug@aol.com
webmaster@snakepit.org (for Rod Jackson - put FOR ROD in subject)
Slash doesn't have one, but you can email webmaster@snakepit.org with any questions, and your friendly webmaster will try to answer them.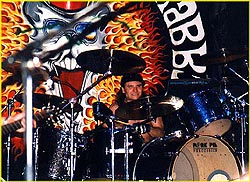 Paolo received an email reply from Matt Laug. Matt said the band had a great time in Italy, and they hope to return there very soon. Matt said the band is working on the new album! This is a great project while SLASH is unable to tour. Matt said, "We're always thinking about the next album. I just heard some demos of songs that didn't make Ain't Life Grand. They ROCK!!!" Paolo also reported that he recently saw the Freddy Mercury Tribute concert on Italian TV. He says it has been on many times and that GNR played "Knockin' On Heaven's Door".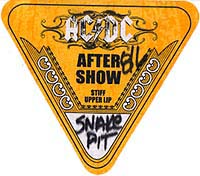 It seems that AC/DC does have an opening act replacing SLASH's Snakepit. The band is called Wide Open Mason or Wide Mouth Mason or something like that. We have always wondered why the opening band's name was not posted somewhere. There are few bands that have the giant Snakepit banner to let people know who they are seeing. Thanks, Kyle, for the information.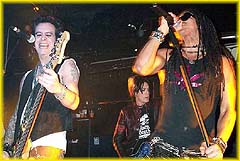 Friday night at midnight ET is VH-1's Rock Show. Don't forget to request "Mean Bone" as often as possible! Requests should be emailed to:


rockshow@vh1.com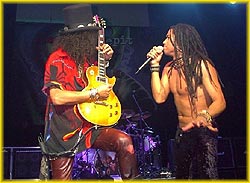 LuAnn found a great review of Ain't Life Grand on the net. They gave it a 4 out of 5! This is on the Hit House Music Plus site. They talk about several tracks (the "creepy" 'Serial Killer', the "hook-laden power-ballad" 'Back to the Moment'), band members and pass along quotes from other reviews. A good read:


ALG Review





Reminder: Contest 2 is going on right now. Win a SLASH's Snakepit poster and sticker by solving a small Snakepit crossword puzzle! 5 winners will be drawn from those with correct entries. Winners will send $5 to cover postage and a mailing tube for the poster. Please don't enter if you can't afford this! Click below to see the puzzle. The clues are at the bottom and on the side. If you want to see the clues separately there is a text file below. Feel free to print these out. When you have it done, email just the answers like this:

ACROSS
1.
3.
7.
8.

DOWN
2.
4.
5.
6.
7.
9.

The contest will end this Sunday, April 1 at midnight your time. Any questions, send mail (and entries also) to webmaster@snakepit.org.

Puzzle

Clues





News Reported: 3/30/01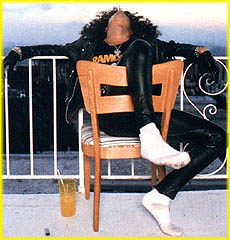 We had a surprise phone call from the tophatted one last night. He sounded so much better with lots of pep in his voice. He said that he is recuperating, but he has to get some more rest so that when he is onstage, he can move around like he always did and not just lean against a wall (or Rod). But he is absolutely on the road to recovery! Of course, all the AC/DC dates remain cancelled, so SLASH is starting to think about what to do next. There will be rehearsals and press interviews to start. We reminded Slash about the theater dates that were cancelled, and he said they will be included in some future tour. SLASH wants to thank everyone for the cards and good wishes. He said he is not well yet, so send more! He really did. SLASH was about to watch a movie on TV. He said the days seem very long to him. He also said just hold on, and Snakepit will be back soon.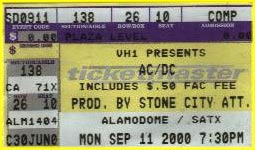 Speaking of the AC/DC tour, Debra was at the Ft.Lauderdale show to see SLASH's Snakepit and AC/DC. She reports there was no opening act, and there was no Snakepit merchandise for sale either. Not sure about the other AC/DC dates. There will be no Snakepit merchandise on sale at any of the shows, though. Justin reported that there was a live chat with AC/DC recently on the MSN site. Someone asked how they liked having Snakepit open for them. They replied, "It was good. I think he is ill at the moment but he did the last part of the American tour and that was great". Thanks to Debra and Justin.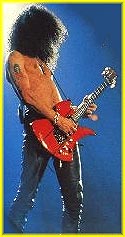 Last time we mentioned the UK program "Top 10 Guitar Heroes". SLASH did not appear in the list. James from the UK says that's probably because GNR didn't release enough albums. He says the top ten was rated on record sales in Britain and the US. Tom sent along his top 5, and they are: Jimi Hendrix, SLASH/John Lee Hooker, Joe Perry, Mark Knopller (Dire Straits) and David Gilmore. Thanks, guys! And Groyou sent us a funny piece from the Sun which commented:

STRINGING US ALONG

Top ten guitar heroes?? What a con! The voting was the biggest racket since Jimi mangled the Star Spangled Banner. Here's why it sank:

1. They fixed it for Hendrix to win. Jimi had one No.1 album, Clapton had eight.
2. No mention of Jeff Beck, a true giant of rock guitar, innovative even now.
3. Eddie Van Halen written off as a "widdler" when he pratically invented fretboard tapping.
4. Johnny Marr(The Smiths) got in but not SLASH, when Guns n' Roses easily out-sold the Smiths.
5. Steve Vai and Gary Moore would blow The Edge(U2) off any stage in the world.
6. Too much chat, not enough rock!
Do we care what Noel Gallagher(Oasis) thinks? The only way he could imitate Hendrix is if he chocked on his own vomit.

Thanks, Groyou!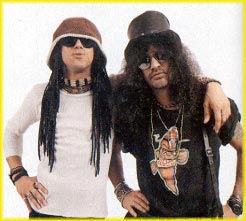 The Pure Rock Shop (TPRS) is a web site where you can pick up used rock and metal albums, DVDs, videos etc. They also have reviews, interviews, tour dates and much more. Recently they interviewed Snakepit. There is a really outstanding interview on their site. The background on the band members is especially interesting, and of course SLASH has some notable quotes. You can find it here:


Snakepit Interview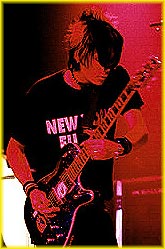 Remco says that he bought the album "Queen 4 A Day" by Shameless. They're a glamband, and half the songs on the album were produced by Keri Kelli! The others are produced by Gilby Clarke. Both Keri and Gilby play and sing on the album along with Teddy ZigZag, Tracii Guns, former Snakepit drummer Brian Tichy, Eric Singer and others. The multimedia section is just great with a "making of" video section and a music video with performances by Teddy, Gilby and Keri! During the shoot, you can see Keri playing keyboards. The talented Mr. Kelli also wrote the lyrics on four songs. Sounds like a good one! Thanks, Remco!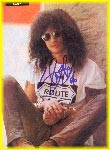 About fan mail, there really is a problem where people are sending things to be signed or asking for photographs and not sending return envelopes and postage. The expense of returning posters and buying special mailers for things has just gotten out of control. From now on, requests without accompanying return envelopes and postage (or money for postage) may not be returned. Please in the future follow the instructions on the Write To Slash section. This is at www.snakepit.org, scroll down to Main Menu and click Write To Slash. Thank you!

News Reported: 3/28/01



Randy Holman
annelaure cazin
rocket queen Marshall
M VANHAZEBROECK
Congratulations! And thanks to everyone who entered. You gave us a lot of interesting web sites to look at! More than we ever knew existed.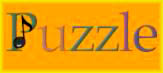 Now, for Contest 2, we have a crossword puzzle. This is not too tough! 5 winners will receive the ALG poster and sticker. Remember that if you win, you'll have to pay $5 for the mailing tube/postage. If you choose to have your poster folded flat, it would be $2. US winners will have theirs mailed first class. Overseas will go airmail. Here's what to do. Click below to see the puzzle. The clues are at the bottom and on the side. If you want to see the clues separately there is a text file below. Feel free to print these out. When you have it done, email just the answers like this:

ACROSS
1.
3.
7.
8.

DOWN
2.
4.
5.
6.
7.
9.

The contest will end this Sunday, April 1 at midnight your time. Any questions, send mail (and entries also) to webmaster@snakepit.org.

Puzzle

Clues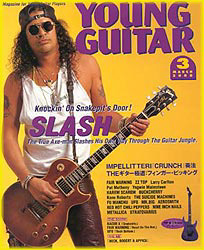 Those Japanese magazines have great photography! Andrew from Japan says that in the April issue of Young Guitar is an extensive guitar lesson with SLASH. He shows how to play a lot of GNR songs as well as both versions of Snakepit! Andrew says it is a really good lesson if you can read Japanese at all. Thanks, Andrew!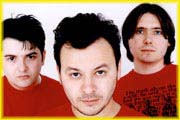 Here's another interesting item from Shari of Black Velvet Magazine. UK's channel 4 broadcast a documentary on Manic Street Preachers doing their recent Cuban show. The title was "Our Manics In Havana". The interviewer told singer/guitarist James Dean Bradfield that he played a little like SLASH. Shari says that James then said to the camera how SLASH was one of his two heroes when he was younger. (the other was Mick Jones of The Clash). Pretty cool! Thanks, Shari.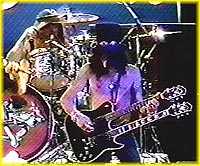 Lisa and the fabulous FabAxl both wrote from Italy that there is yet another SLASH's Snakepit article; this time in a magazine called Psycho. This is the March 2001 issue, and there is about 3 pages about our guys. There is a SLASH interview as well as a review of the Milan concert. FabAxl says that as always, these are favorable! Lisa sent a great quote from this magazine:

"SLASH, one of those names with whom you can be sure, one of the characters you all know. A jungle of curly black hair, a Jack Daniel's bottle, an old Les Paul, an aggressive Marshall, the unmissable tophat on his head (and the cig!). One of the few rock icons of this last ten years able to compare with the holy monsters of this world. And able to keep on magnificently a past as a legend."

And SLASH says, "In this group it's like being allied, everyone looks out for the other's back...we almost are a gang more than a band!!"

Thanks to both Lisa and FabAxl. This is great information, but the SLASH quote somehow makes us very lonely for Snakepit and SLASH.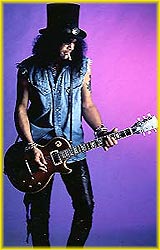 Pedro from Ireland says that SLASH is his god! He wants to share some more information on a couple of TV programs that were on in the UK Saturday night. The "I Love 1989" show had GNR in it. Guns was introduced with the "Paradise City" video. The rock dj doing the voiceover could not praise SLASH enough. He said SLASH is the ultimate axeman, the artful dodger with long hair, tophat, cigarette and JD bottles. He said that even if you didn't like GNR, SLASH had the perfect rock star image. They had a clip where SLASH said he didn't make up his image. Someone said to him that he had become a parody of himself, so SLASH told him go f*ck yourself! YES!!! Pedro also watched that "10 Greatest Axmen" show. He was very disappointed in the results. He thought SLASH would take the #1 slot, and instead he wasn't listed. Hello? Thanks, Pedro.



News Reported: 3/26/01


More sad news for his fans, friends and family tonight - SLASH has pneumonia. Pneumonia is often a direct consequence of the flu. The doctor can supply medication, but SLASH has to rest and take good care of himself. With great regret, SLASH's Snakepit cancels its tour as opening band with AC/DC. None of these shows will be performed by Snakepit. This includes the theater show at the Odeon in Cleveland. Tickets cannot be returned for the AC/DC shows, and you'll have a rocking evening with them. The tickets at the Odeon may be returned to the box office or Ticketmaster outlet where you purchased them. This is the official press release on SLASH:



FOR IMMEDIATE RELEASE
March 26, 2001

SLASH'S SNAKEPIT FORCED TO CANCEL OPENING DATES ON AC/DC's "STIFF UPPER LIP" TOUR

Slash's Snakepit has been forced to cancel performances on the 2nd leg of AC/DC's "Stiff Upper Lip" tour due to illness of the band's legendary namesake. Slash has been diagnosed with pneumonia and has been ordered by his doctor to rest. The band was originally scheduled to perform on the tour through April 29. Slash is expected to make a full recovery and plans to resume touring with his band in the near future.

Slash deeply regrets having to cancel these highly anticipated tour dates and sincerely appreciates the ongoing support received from his fans:



  "I apologize to the fans and to AC/DC, but I don't want to get
   up there and do a half-ass show."  Slash adds,  "I hate to let
   people down, but it wouldn't be right to give them a performance
   that's anything less than our best."


We do have word from L.A. that SLASH is doing OK, so don't be too frightened. He'll be back. We are also told that the cards you have sent are so much appreciated. SLASH brightens up when he sees them. If he can't come to your town right now, why not send a card and let him know he's in your thoughts. And encourage him to REST so we get him back really soon. If you already sent one, send another! Here's the address:


                                   SLASH
                               8033 Sunset Blvd.
                                  Suite 994
                             Hollywood, CA 90046



Tonight is the end of the contest for the 5 Snakepit posters and stickers. Hurry! Deadline is midnight your time. And we'll start another one up on Monday. Here's the contest information: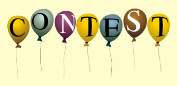 While SLASH is doing his best to get better, we're going to have another contest! This time Koch Records has donated large posters of the album cover! These are too big for the scanner but we'll put a similar picture here (this one says AC/DC) so you know what we mean. Under the picture it says:


the new album "ain't life grand"

on tour with AC/DC

www.slashssnakepit.com

Koch Records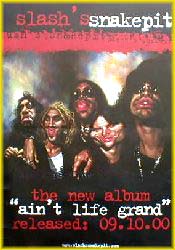 The poster is 24" long by 18" wide. There's also a 4" square black and white sticker with the snake logo and the words slash's snakepit on it. Very cool. We'll give away a poster and a sticker as a single prize, and we'll give away 5 per week for the next three weeks. The contest starts tonight, Sunday, March 18 and the first contest ends Saturday night, March 24 at midnight your time.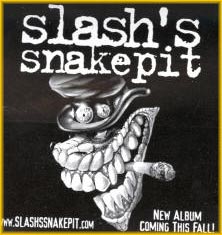 One difference with this prize. Unless you want your poster folded and mailed, we'll have to buy a mailing tube. We're asking that if you win, you send $5 US for the tube and the postage. Please don't enter if that's too much money for you. Thanks. Here's what you need to do to enter. Go out on the web and find 5 urls where there is an interview with a band member or a Snakepit show review or a picture of someone in the band. This can be another fan site, a news site, a music site... whatever. Remember: interviews, reviews, picture(s). It can be with just one band member, two or all of them. Send an email message to webmaster@snakepit.org with subject CONTEST. Basically, this will be a drawing of 5 names from those with correct answers.



Simrin sent some disappointing news from the UK. The show "Top 10 Guitar Heroes" was on, and SLASH wasn't in the top 10 as rated by the show hosts. The only time SLASH appeared was when Brian May got the #5 slot, and there was footage of Brian and SLASH together with some SLASH comments. Hendrix was ranked at number 1 with Jimmy Page at number 2. OK, Hendrix, we can live with that! Simron said Jeff Beck didn't make the cut either. What would your top 10 be? What if it were just living guitar players...would that make a difference? If you can generate a list in the next few days, we'll be happy to put them up here. Let's see 1. SLASH 2. SLASH...10. SLASH! Easy. Simrin also saw "I Love 1989" which featured the original GNR with commentary by SLASH. Thanks, Simrin!



Here's some notice on a SLASH appearance in June! Mark it down, and we'll keep reminding you. The show is VH-1's "Behind The Music", the 1987 segment. SLASH will be on this show!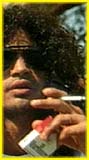 Here's an interesting article that appears on the LA Tribe site. It's SLASH talking about how he put his bands together, a little about the new GNR and how he feels about his work today:


SLASH: If The Snakepit Fits





And here's another one on the Tonos.com site! This is a site where you can record music. There are guitar tips and articles. This one is a SLASH interview where SLASH talks about his bands and how he formed them. Guitarists may find this site of special interest:


Still Slashin' After All These Years





News Reported: 3/24/01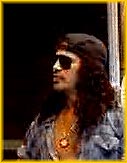 There's a great music and interview video on dotmusic.com. SLASH talks about having a rock and roll band, the new GNR and what he would like to be remembered for. This is interspersed with clippings of a "Mean Bone" rehearsal and performance. There's a short article there summarizing what you'll see in the video. The article title: "SLASH Bites Back"!


SLASH Bites Back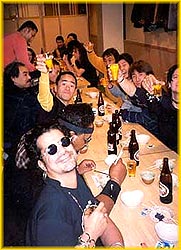 The photos from the Japanese tour are now up in the Tour Photos section. These are great with lots of fans pictured. There is one more set of photos to go from Europe, and then we'll start on the theater tour shows which were cut short in Pittsburgh. The Tour Photos can be accessed off the Main Menu or:


Tour Photos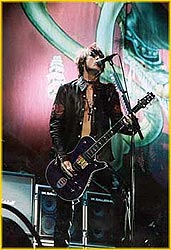 Keri Kelli would like some help in locating the issue of sain magazine that has Snakepit on the cover. This is an Australian magazine. If you have a copy for him, you can write to Keri directly at:


Keri Kelli

Keri said he talked to SLASH the other day on the phone, and he sounded better; it is just going to take time. The band was hoping to be allowed in for a visit. Keri said the band (minus their tophatted leader) were going to do some press work. At least they shouldn't have to answer that favorite question...are you going to go back to GNR?! Thanks, Keri.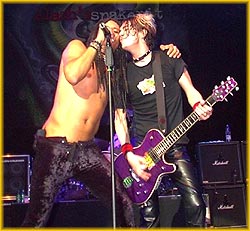 The "Mean Bone" video has popped up in a couple of new places. Lisa is in Italy and saw it on a satellite music channel called Magic TV. She saw it on there twice, and they list it on their web site with most requested. Lisa says the station is Italian but can be watched by anyone with satellite TV. She says to just set it on hot bird 13 degrees est, frequency 12303 GhZ, polarization vertical, simbol rate 27500. Got that?! Thanks, Lisa! Katy is from Slovenia, and she wants to tell Eische from Germany that he did a good job getting Viva2 to play the "Mean Bone" video. She saw the video on Viva2 in the 2ROCK show called 2HARD which is on every Friday night at 8. Katy taped it and watches it about 10 times a day! She can't get enough of it. She likes the snake at the beginning and the SLASH solo. Thanks, Katy!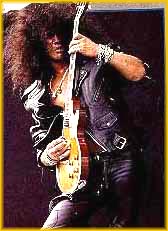 Here's a little something for the UK on Saturday, March 24. Simrin, Graigor and Stuart wrote to let us know that on channel 4 at 10pm there will be a program called "Top 10 Guitar Heroes". No one knows for sure where SLASH will be on the list, but SLASH is in the advertisements for the program. Tough competition for 10 slots when you think about Page, Hendrix, Clapton etc. Go, SLASH!



News Reported: 3/22/01

Marshall sent a long SLASH interview article from when Snakepit appeared at Heartland in South Bend, Indiana. The article is a good one but it's large and takes some time to load. Thanks, Marshall! It is split into two parts:


Interview With SLASH - Part 1

Interview With SLASH - Part 2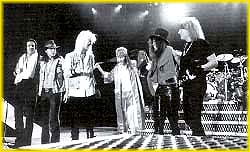 The MTV show with a SLASH appearance, "Testimony: 20 Years of Rock on MTV" will be aired again tomorrow night, Wednesday, at 7pm ET. If you found the program interesting, there are some clips and information on the MTV site that are worth looking at. Haven't spotted SLASH yet, though, just a GNR mention. Also, James from the UK is trying to find out if this program will air on MTV Europe. If anyone sees this in the schedule there, please let us know. James, you already had "Never Mind the Buzzcocks"!!!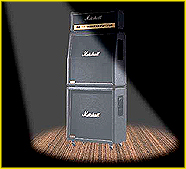 Again from overseas, Gerrit from Germany says there is a nice interview of SLASH in the leading German guitar magazine, Gitarre & Bass. Lots of information there on SLASH's and Snakepit's stage setup. Nearly everything from speakers, amps, effects is covered along with facts on SLASH's Les Pauls. Gerrit says there is not much new for hardcore fans, but it is still very interesting. Gerrit may be able to send along some photos and text this weekend, so we'll be sharing that with you. Thanks, Gerrit!



Shari of Black Velvet Magazine fame sent word of another good SLASH interview. This one is from March 9 (2 days before SLASH was taken ill in Pittsburgh) and is on wallofsound.go.com. Thank you, Shari!


Wall of Sound Interview With SLASH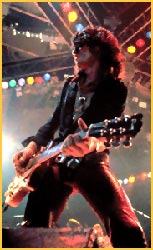 The May 2001 issue of Guitar World has a cover story on Aerosmith. Mostly it is about their new album, but there was a paragraph where Joe went into how he sold his favorite Les Paul, and how eventually it fell into SLASH's hands. It was pictured in the guitar magazine that had a centerfold of SLASH and his guitars. Brad spotted the guitar and told Joe. Joe began a series of calls begging SLASH to sell it back to him. SLASH loved that guitar because it was Joe's and hung onto it. Then Joe said he quit talking to SLASH (poor SLASH), and SLASH surprised him on his birthday with the guitar. Joe says he uses the guitar on this new album. If you stumbled across one of SLASH's premier Les Pauls, how hard would it be to give it up? We think we would cling to it, too. How about signing it, Joe?! This story seems to change a little each time we read it although SLASH always gives it back.

Don't forget the contest! The description is just below.



News Reported: 3/20/01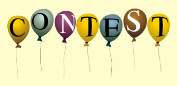 While SLASH is doing his best to get better, we're going to have another contest! This time Koch Records has donated large posters of the album cover! These are too big for the scanner but we'll put a similar picture here (this one says AC/DC) so you know what we mean. Under the picture it says:


the new album "ain't life grand"

on tour with AC/DC

www.slashssnakepit.com

Koch Records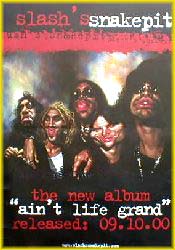 The poster is 24" long by 18" wide. There's also a 4" square black and white sticker with the snake logo and the words slash's snakepit on it. Very cool. We'll give away a poster and a sticker as a single prize, and we'll give away 5 per week for the next three weeks. The contest starts tonight, Sunday, March 18 and the first contest ends Saturday night, March 24 at midnight your time.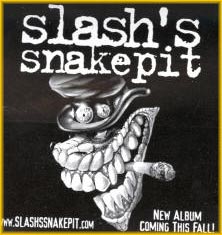 One difference with this prize. Unless you want your poster folded and mailed, we'll have to buy a mailing tube. We're asking that if you win, you send $5 US for the tube and the postage. Please don't enter if that's too much money for you. Thanks. Here's what you need to do to enter. Go out on the web and find 5 urls where there is an interview with a band member or a Snakepit show review or a picture of someone in the band. This can be another fan,,,, site, a news site, a music site... whatever. Remember: interviews, reviews, picture(s). It can be with just one band member, two or all of them. Send an email message to webmaster@snakepit.org with subject CONTEST. Basically, this will be a drawing of 5 names from those with correct answers.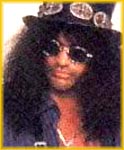 Did you remember to watch "Testimony: 20 Years of Rock on MTV"? Robert says SLASH made several appearances talking about bands from GNR to No Doubt. He looked awesome in his tophat and sunglasses, and Robert said he made some inciteful comments. Snakepit was not mentioned, but they should be in the next 20! Diana said that not only was SLASH on but also Sebastian Bach and Lars Ulrich. Randy gave us a helpful list as to when the show repeats:

Monday, March 19 noon CST
Wednesday, March 21 7pm CST
Thursday, March 22 11:30pm CST
Thanks to Diana, Randy and Robert.

Courtney got a copy of Hit Parader, the April issue, and it has a full page SLASH picture in it. She mailed this off to SLASH and got him to sign it! Thanks, Courtney!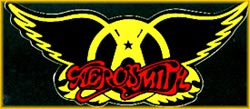 Shari from Black Velvet Magazine gave us a little more information on the Welcome to the Aerosmithsonian tribute album. She says that Keri plays on "Sweet Emotion", track 3. The old GNR cover, "Mama Kin", is the first track. Speaking of Aerosmith, Steven Tyler is on the cover of the UK's Q magazine. In the cover article they mentioned the GNR/Aerosmith tour. Aerosmith was getting off the booze and drugs, so GNR was required to keep booze in their rooms and not be drinking around Aerosmith.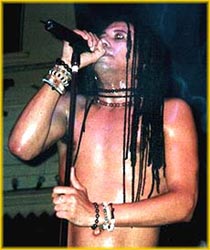 Ambra is from Italy, and she says that in their magazine Metal Shock there is a one page interview with SLASH, a review of the Milan concert (which Ambra calls simply GREAT!!), a photo of SLASH on the cover and other photos inside. Italy did some great coverage of Snakepit. Thanks, Ambra!



News Reported: 3/18/01


SLASH is still on the mend from the flu. Many of you have written in asking about the early AC/DC shows. We were able to get through to SLASH this evening, and he said that he is cancelling the shows where Snakepit opens for AC/DC...through the end of March. He said he doesn't want to get up there and do some "half ass" show. The flu robs you of your energy for quite some time, so he just has to rest and recover. We hope that we'll see him onstage in April, but we'll keep you posted. Right now, that is the plan...depending on his coming back full strength. He apologizes to you fans and to AC/DC and to Snakepit, but he just is not up to doing it right now. Get well soon, SLASH! Ternell wrote and told us that she had tickets for the March 15 theater show that was cancelled. She contacted Ticketmaster who said they would honor the tickets at a rescheduled show. This could apply to other venues, so you might check with them. Of course, you can get a refund now and buy tickets again later.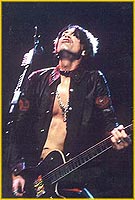 Keri Kelli wrote to say that he has been having problems accessing his personal email at kerikelli@hotmail.com. So, he now has a new address: KeriKelli007@hotmail.com. Keri said that if you have written and gotten no response, please use this new address that seems to be working fine. Got that? KeriKelli007@hotmail.com. This will be on the band's bio page, too. Thanks, Keri!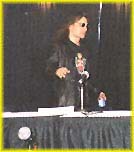 Some news on drummer Matt Laug, too! Gail Worley let us know that her feature on Matt is in the newest Modern Drummer. This is the May issue which subscribers got this week. It will be on the newsstands the first week in April. Gail said that Matt reviewed the article and says it looks great! Thanks, Gail!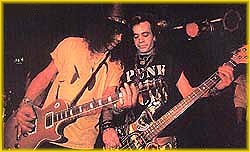 "Metal-Is" is a UK music site filled with interviews, gig reviews, contests, etc. Clay Marshall reviewed the Feb. 26 show at the House of Blues in Anaheim, CA. It's a good show review, and the few criticisms that Mr. Marshall offers are less than harsh, and you may find yourself in agreement with them. Overall, it's a nice review for SLASH's Snakepit. Here's where you can find it:


Anaheim Review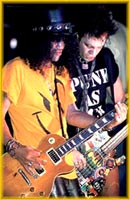 Vicki is a fan who gets all kinds of magazines. She says her May 2001 issue of Metal Edge has a picture of SLASH and Johnny in the "Mailbag" section. They are with a fan named Luis of Mexico City, Mexico. SLASH is smiling, and Luis is in the middle holding up the pinup of Snakepit that Metal Edge printed a couple of issues ago. Looks like Luis had the guys autograph it.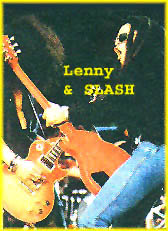 Vicki has been looking for the video of SLASH and Lenny Kravitz doing "Always on the Run". This week she saw on TV in West Virginia an offer for Lenny's greatest hits which included a promo video of..."Always On The Run". Vicki says if you have been looking for this video, this is a good way to get it as it wasn't expensive and came quickly. Thanks, Vicki. We'll be watching for that ad ourselves.

Ian, Dane and Emily want to tell Becky (UK) not to despair because Guns weren't featured on the "I Love 1987" show. They will be on the "I Love 1989" show! The show will be on March 25. Becky, your three fellow UK fans say there will be a SLASH interview and an interview with the GNR tribute band, Gunz N'Rozes (Dane says they rock!). So, we hope this cheered you up!



Shari has Black Velvet Magazine and is always up on the new music happenings. She responded to the Aerosmith tribute album information request and says she received a copy of the album to review. The title is Aerosmithsonian: Aerosmith Tribute. This is a double cd. The wonderful Carmine Appice (remember SLASH's appearance on Guitar Zeus?) has possession of the drumkit for the album. Guitar solos are by Keri Kelli (!!!!), Gilby Clarke, Marc Ferrari, Jaimie Scott. The artist list goes on and on, and it looks like a good album. The album is priced at the cost of a single cd, $14.95, so it's a real bargain. If you need more artist information go to Perris Records at www.perrisrecords.com. Thanks, Shari!



News Reported: 3/16/01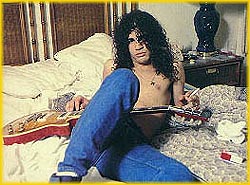 An update on SLASH: we spoke to him, and he sounded tired and congested... just like you would expect with the flu. He had had some chicken soup which we all know is GREAT for illness. We talked just a few moments, and he said he felt good to be resting but was anxious to be up and around getting the tour going again. He said hello to all his fans and that he will be back as soon as possible. We told him to take his time and lick this sucker for good, and he promised he would. We left him strumming his guitar and watching the Food Channel.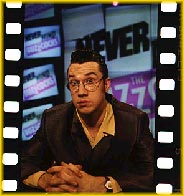 Let's go back in time to when SLASH was 100%. The best TV show, bar none, has to be that UK program "Never Mind The Buzzcocks" featuring SLASH. If anyone taped this and can even get parts of it on your website, will you let us know here? We heard from so many fans, including Simrin, Ollie, James, Annelaure, BJ, Kristoffer, Billy and Matt and probably a few others! This is a condensed version of the show. Glenn tells us that SLASH came out in tophat with cigarette. They introduced him by showing "SCOM" footage and playing "Mean Bone". The part everyone mentioned was that SLASH called the presenter, Marc Lamar, a prick, but it was all in fun. SLASH strikes again! Glenn sent us a picture of Marc so you can judge just by looks...is this man a prick?!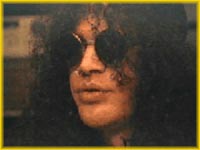 Kristoffer thought this was the best episode of the series. He says the audience cheered at the prick remark. There was a section where teams complete song lyrics, and SLASH stumbled over "Paradise City" and said..."where the girls are fat and they got big titties", much to the audience's delight. Kristoffer says the show will be repeated this coming Sunday on BBC2. Simrin said that SLASH was clean shaven, and his team lost 9 - 15, but SLASH did get the first question right for the team. In the Guess The Performer round, they have 5 guys; and you have to guess the real performer. SLASH's team leader said, "I bet SLASH could take all of them on"! In the mime round, 2 mime with their mouths making instrument sounds and the third guesses the song. They said "no 20 minute guitar solos" (for SLASH's benefit), SLASH and the team leader mimed "New Rose" but the third member didn't get it. It sounds like a hysterical show with everyone on the teams and the audience jagging around and loving it. Sim wrote that a member of the opposite team asked SLASH ...doesn't it get annoying with the internet because you have to hear SLASH all the time? Then he asked SLASH his email address, guessing ...is it SLASH@SlashSlashSlash? SLASH says it is weird for him because it's his name, and he hears it all the time on TV. Team captain for SLASH's team described his team as the worst looking circus in town. Thanks for that, Lewis. TK said SLASH played some air guitar! This is something we have never seen. Many thanks to everyone who wrote in. We hope we mentioned all of you. Your messages were hilarious.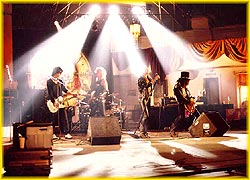 Now, here's a show for the US, and you'll need your 8 hour videotapes for this one. Claire tells us that this weekend is rock weekend on MTV X (note: NOT MTV). To celebrate rock, they are doing a tribute to several revolutionary rock bands. This is Guns N'Roses! And the GNR show is 5 hours! The show will be interviews from the 80's to the present day. There will be a behind the scenes look at the studios while the guys recorded Illusions. Claire said they did not give a specific time for the GNR segment; they just said to watch this weekend. Claire will try to find out and let us know, or we are going to be taping all weekend. If anyone finds out, please let us know, and we'll pass that along. Thanks, Claire! Sounds like we can see a lot of SLASH.

Here's a GNR mention from Simrin in the UK. There's a gameshow called "The Weakest Link", and the GNR question last week was: "name the rock band who had hits with "Paradise City" and "Sweet Child O' Mine". And the guy missed it! He was about 60 according to Simrin. Feels like we have always known that answer and won't ever forget it.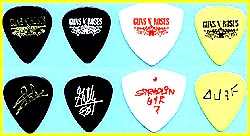 Becky was disappointed in a UK documentary called "I Love 1987". NOTHING was said about GNR. Sad, but true. However, Becky was visiting that cool rock station on the net, www.rocknrollstation.com, when SLASH called in to say Hi! He mentioned that Snakepit was opening for AC/DC again. Becky says if you go to the chat room there and make a request, the DJ will play it. A SLASH interview is archived there on the main page. Thanks, Becky!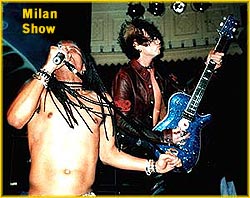 Here's FabAxl who we haven't heard from for a couple of weeks. In the Italian magazine Hard!, there is a SLASH article and interview that is six pages long. The article contains the SLASH interview, the review of Snakepit's Milan show, the photo of SLASH's meeting with fans Lisa, Antonello and Vittorio. Lots of good photos! Thanks, FabAxl.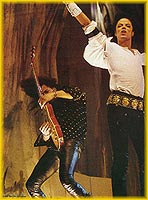 Lisa, mentioned above, wrote that during the news of one of the Italian national channels, they showed a couple of seconds of SLASH. It was from the Michael Jackson "Give In To Me" video with SLASH in his black and green shirt. The station was talking about artists in music and cinema at the time. Thanks, Lisa!

Attention Swedish fans: Andreas let us know that the "Drew Carey" show episode that SLASH appears in will be aired on Swedish TV3 tomorrow, Thursday, at 23:30 CET. Thanks, Andreas.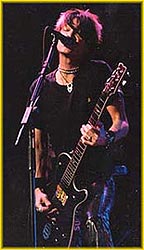 In reading Metal Edge, we saw an announcement that Perris Records will soon release an Aerosmith tribute album. Among many other name artists, Snakepit's own Keri Kelli is listed as doing lead guitar duties. We've written to Keri asking for more information so hopefully we will have more soon. Some of you Aerofans may know more, too. We'd like to know the release date, the album title and which songs Keri will play on.



News Reported: 3/14/01


Some sad news today for SLASH fans. The following is a press release:



THREE SLASH'S SNAKEPIT DATES CANCELLED DUE TO FLU



Slash's Snakepit has had to cancel three upcoming headline dates due to the flu of guitar icon and band namesake, Slash. The dates cancelled include 3/14 Allentown, PA (Crocodile Rock); 3/15 Norfolk, VA (The Norva) and 3/16 Atlanta, GA (Roxy Theatre). Under the advisement of his doctor, it was suggested that these dates be cancelled to facilitate a speedier recovery. Tickets sold to these shows will be refunded and the band plans to re-schedule performances in these markets at their earliest convenience. Slash's Snakepit is expected to resume their performance schedule in the near future in support of its Koch Records debut album Ain't Life Grand featuring the new single "Mean Bone."

Comments Slash: "We'll be back."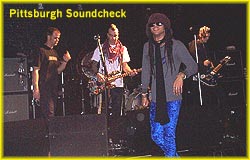 Our favorite axeman is temporarily out of commission, and some of us have to wait a little longer for that headlining show. We were at the Pittsburgh show. Thanks to SLASH, we were able to watch the soundcheck and hear "Life's Sweet Drug". The band was great. It was going to be some show! But when SLASH did not appear at soundcheck, we began to worry. Then his Tour Manager told us that SLASH had been ill, and they were arranging a doctor's visit. We talked to Matt Laug and Keri Kelli who said that SLASH had not been feeling well the past 3 days. It seems that this flu virus finally gotten hold of him and would not let go. He's been doing so many interviews, promotions and shows that he really has not been resting or eating right. We were worried and sad to hear the announcement that the show was cancelled. At least with the soundcheck we had seen and heard something, and we were really happy to talk with Matt and Keri who kindly signed autographs.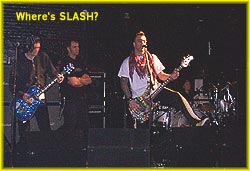 We snapped pictures during the soundcheck and a couple are shown here. This is one of these "who's missing?" pictures. Tonight we spoke to SLASH for a few minutes. He sounded tired but cheerful. He seems willing to rest up. All our good wishes are with him and the band. Speedy recovery, SLASH! We cheered him up telling him about the terrific reviews we have been getting. If you are interested in sending a get well card or just a note to SLASH, that's great! If you have been to any of the Snakepit shows, why not tell him personally how you enjoyed them? We want him back well, and we want him back soon! Here is the address:


SLASH
8033 Sunset Blvd.
Suite 994
Hollywood, CA 90046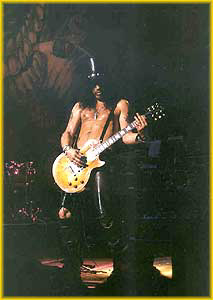 Here are three reviews from the show at the Heartland in South Bend, IN. Jason and a friend drove down from Chicago. Jason saw Snakepit open for AC/DC last summer and thought they were great. He really liked the small venue, and he says the band rocked! His ears were ringing for a whole day after the show. He thinks SLASH has a great idea going to smaller venues and cities to build Snakepit's fan base. They came on at 11:30 and played till 1! Jason says if you love rock and roll, you have to see this band. He was only disappointed that there weren't more covers as intro's to other songs or between songs...and there could be a lot more SLASH solos! Jason says he will be there next time around. Thanks, Jason! Jamie says that after a wild, kick-ass show, she and 6 other people waited outside the tour bus. The band, then SLASH, came out and signed things and talked. Jamie says SLASH was kind enough to stand in windy 20 degree temperatures (oh, SLASH!!) signing, having his picture taken and so on. Jamie said SLASH looked exhausted when he was getting on the bus, but a guy from Nova Scotia came up and pleaded for an autograph and picture. SLASH, of course, did what the fan requested. Jamie said it was a mind-blowing performance followed by freezing to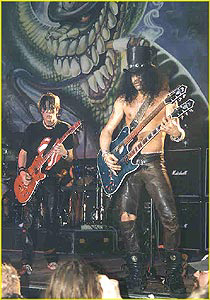 spend time with the fans; and she says you can really tell that they appreciate their fans. Jamie would like to thank SLASH and say that meeting him was something she would never have dreamed of. Thanks, Jamie! Megan also drove down from Chicago to see Snakepit. The show rocked, and her ears are still ringing. She was in front of SLASH, and it was great to see his guitar literally right over her. He had on his black leathers and tophat. For the encore, he took off his shirt so everyone could see that beautiful S and P necklace. Megan says Rod has an amazing stage presence, so much energy and one of the best voices in rock and roll. Johnny's Mohawk - well, Megan just loved it! Keri was all over the stage and really worked hard. Matt was awesome on the drums. The band was tight, had a ton of energy and put on a kick ass show. Megan waited outside to meet the band. Matt, Keri and SLASH came out and were really nice. Megan took some pictures, and it was rumored that someone videotaped the show. All you tape traders should watch out for that. Thanks, Megan!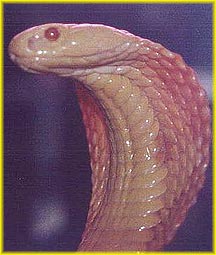 A fan from Germany, Eische, has asked for some help from other German fans. Eische had read about the new "Mean Bone" video here and wrote to the German music channel, Viva2 to put it in their "2New"- Playlist. This is a weekly show for new videos. Eische says he has written to the channel before for SLASH interviews and tour dates, and they had always been very positive. However, this time, on the "Mean Bone" request, they were not positive at all. Their reply was that neither on the musical side nor the artistic side was it worth playing. Eische was was shocked, and so are we. Granted, the artistic side might be a little understated since it is basically a live performance video, but the musical side? Eische would like other German fans to flood Viva2 with email requesting that the video be aired so that not just the American, Australian and Netherlands fans can see it. Eische gives the address as: zuschauerredaktion@viva-zwei.de. Thanks for your support of Snakepit! And thanks, Eische!



News Reported: 3/12/01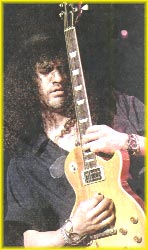 Some good reviews have come in from the Indiana shows. Tomorrow night is the Pittsburgh show at M (Metropol). In today's Pittsburgh Post-Gazette the music critic had a SLASH interview. Nothing startling here, just a summary from SLASH of how he got to be doing what he's doing now. This music critic can be acidic, but he did a very nice thing with SLASH. At left is the picture they used and the interview is attached. The picture and interview took half the page in the "People" (entertainment) section. A really nice SLASH mention! If you can read another one, here's the SLASH interview from Ed Masley in the Pittsburgh Post-Gazette:


SLASH Interview From Pittsburgh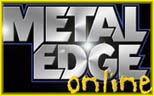 Metal Edge recently made their site a free access site. There is a good interview with SLASH in their Online Video Vault. It's really a long one, about 15 or 20 minutes if you see all the sections. SLASH is the only one on camera. He looks good in his shades and black jacket and burgundy hat. He has a lot to say, and it really is worth checking out. You have to have Windows Media to see it, and you select your modem speed starting with 56K. Some buffering, but nothing intrusive when we viewed it. Here's the direct link to that interview:


Metal Edge Interview With SLASH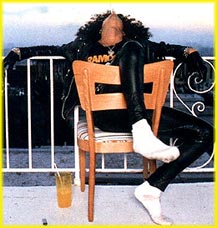 On the subject of SLASH interviews, Chris sent a message the he was in Jacksonville, FL and had the radio on in his room when they said that SLASH was calling in! That man is everywhere. Chris reports that SLASH talked about the new rock scene and that he draws the line with Soundgarden and STP. SLASH said he's really into Rage and likes Macy Gray. SLASH was as cool as ever considering morning is not his best time! Amazingly, the DJ asked if any of the Gunners had run out of money or if any of them had asked SLASH for a loan. (hard to believe...people will ask anything) SLASH replied that the question was too personal, but he did say that he had never been asked for a loan by any former bandmate. He was also asked if GNR was killed because Axl is an asshole! SLASH dodged that question. Sounds like a DJ trying to be the Howard of Florida...and not succeeding. Thanks, Chris!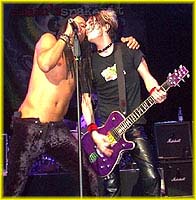 Now, on to the show reviews from the people who know the band best..fans! Redobrien58 was at the Indianapolis. Well, he was more like close by! When the venue switched from Murat's (all ages) to Birdy's (21+), he found himself shut out since his 21st birthday was just 2 days away. So he stationed himself outside and could hear it all! He says that the music was so loud, the cars were buzzing in the parking lot. The band came out after the show, and there were so many people out there with them! Keri and Matt came out and signed autographs and were very nice.. even to the drunks. Matt handed out some toy animal sponges. (??) Johnny's new hairdo was a little startling. Rod came out and high fived some people, and Matt got a kiss from a girl he gave an autograph to. Ah, the joys of touring. Everyone said the show rocked. Matt said that SLASH had a viral infection and couldn't sign autographs that night. Thanks! Jason was also there, presumably inside! He says that SLASH is still on top of his game, and the show was phenomenal. The band has a high energy that most bands today only wish they had. Jason says that Snakepit signed autographs at Mars Music store earlier in the day. It was a promotional thing put on by Q95. He says he never thought in a million years he could meet SLASH, but he did! SLASH rocks the world, and Snakepit is a helluva rock and roll band. Thanks, Jason! And we have one review from the Heartland. Marshall was there and said that Snakepit kick ass. This is one of the best shows he's seen. The band is wonderful and very friendly. Marshall promises some scans of the Heartland show and will send them along later. Thanks very much, Marshall!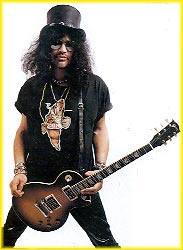 This last item is from Dave who's from Ireland but was in Paris last weekend. He went to the Hard Rock Cafe there and stumbled on a corner devoted to GNR memorabilia. There was an autographed poster of the original band, a platinum award for the 3 millionth sale of Appetite, and one of SLASH's old Les Pauls. This was a black Custom model from the late 80s. The manager told Dave that SLASH kindly donated it to the Hard Rock in L.A. after a show there in '91, and the guitar made its way to Paris. There was a huge glass case for it with a top hat signed: "to HRC Paris. Have a good one, Slash, Gn'F'nR's!". Dave said that only SLASH had a glass case for his guitar. Other guitarists like Clapton, Satriani, BB King just had theirs on the wall. Definitely a place to visit while you're in Paris next. Thanks, Dave.



News Reported: 3/10/01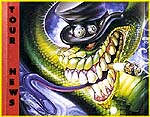 The first Indiana show is history, and the messages we got were that the band was fantastic! Tonight is the show in Indianapolis. Note that the show was moved from Murat's to Birdy's, and your tickets will be honored there. Indiana gets a big three in a row with tomorrow night's show at the Heartland in South Bend. Indiana got lucky this time! Then there's a one day break as the band moves to Pittsburgh PA for the Sunday show. Get out and see our guys! If you ever wanted to shake SLASH's hand, you can do that! You can check out Johnny's Mohawk firsthand. Keri and Matt are always good for a picture and autograph. Maybe Rod will sing you a song!! Let us know how you made out!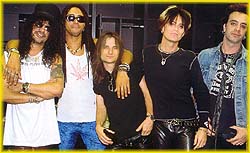 A couple of reviews came in right away from the Ft.Wayne show. Joe says he just saw the best f*ckin' show ever! The band was even better than the first time around. They got to meet the whole band out by the bus. Snakepit signed autographs, and Joe even got pictures of Rod drinking the shots they bought him (Rod seems to have a hollow leg!) One shot was for SLASH, but he didn't drink it (good man, SLASH, gotta keep a steady hand for the rest of the shows), so Rod drank it! Joe says it was awesome and promises pictures when they get back home. Thanks, Joe!! Christine said, in a word, AWESOME!!! She wants to thank the guys for signing her CD. It's great to hear good old rock and roll. Keep up the good work, Snakepit! Christine says she was close enough to see SLASH's eyes. WOW! She thinks SLASH is very sexy and very talented. (a good SLASH summary). Thanks, Christine!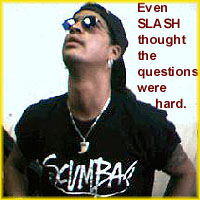 In other news, the UK fans have battered the BBC2 into coming up with the exact date that SLASH will appear on "Never Mind the Buzzcocks". Get those VCRs set for this Monday, March 12 at 9pm on BBC2. Let's hope SLASH's team are winners. Thanks to these great fans who found out the right date and let us know: Simrin, Ollie, James, BJ and Annelaure.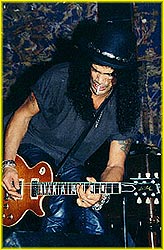 Vicki found something interesting in her TV Guide on MTV. Awhile back SLASH said that he did some filming for the MTV 20th Anniversary show. Vicki found a show called "Testimony: 20 Years of Rock on MTV" which is part of their upcoming 20th anniversary. Vicki isn't sure this is the show that SLASH will appear on, and neither are we, but we will try to find out. Might be worth your time to check it out. It will be on at noon and at 7pm this Saturday, March 10. The show is 2 hours long. The show is followed at 2 pm by "How To Live Like A Rock Star" which is also 2 hours long, and this one sounds less plausible than the first. "Testimony" airs again on Sunday at 3pm with the "How to Live..." program on at 5pm. SLASH didn't give an exact title to the show he would be on...just that it was part of the MTV anniversary celebration. If we get more information on that, we will let you know right away. Thanks, Vicki!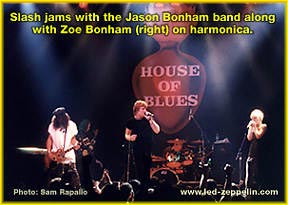 There's a SLASH mention in the Led Zep area. In 1997, John Bonham's Family put together a special show at the House of Blues in L.A. The show was called "A Night For Bonzo". SLASH was part of the show and worked with Zoe Bonham. There are a couple of very cool pictures and some nice SLASH mentions in the article. Led Zep was a big influence on SLASH, so you know he would want to be part of this. If you haven't read the article or seen the photos before, it really is well worth looking at:

A Night For Bonzo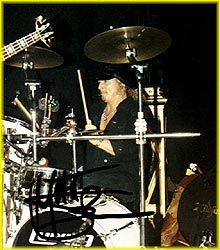 It's always nice to see an old GNR friend of SLASH's doing well. As you know, drummer Matt Sorum rejoined The Cult after being fired from Guns N'Roses. He's been doing really well with them. Now Matt is doing a solo album called "Hollywood Zen". Matt has the basic album tracks completed, and he expects the album to be released this fall. Matt says that the album is about his ups and downs in Hollywood and is very different from The Cult's music. He describes it as "Bowie meets Iggy meets Lou Reed"! Matt will sing and play guitar, and he will tour in support of "Hollywood Zen" this fall. The album features an all woman section (no surprise!). And The Cult's new album is due out June 5. Matt has really been up with his work on the album and with The Cult. He says he is in great shape, back to his high school weight, off hard drugs and has a lot of energy. Let's hope we can see Matt soon! Thanks to VH-1 for this information.



News Reported 3/6/01


The tickets for the latest theater show date are going on sale. For Ticketmaster Online, the sale begins at 10 am ET, March 7. Tickets at the other outlets go on sale March 9 at 10 am. So get to your PC and get your tickets! This special show allows you to see Snakepit in Columbus, then at the Odeon in Cleveland and finally at the Gund Arena in Cleveland. That's April 4, 6 and 7. We plan to at least make the last two shows! Hope to see you there dancing and catching those picks and sticks. In other tour news, Estrangd83 tells us that Buckcherry will pick up the opening band duties from Snakepit after the Fargo ND show. And we are also told by Annelaure that the Offspring are opening for AC/DC in the UK. Looks like SLASH's Snakepit is going to forego that tour.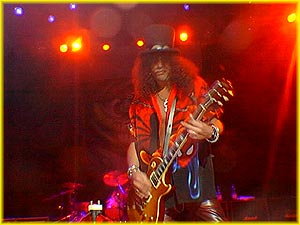 On the subject of tours, there is yet another group of photos on the Tour Section. This group is almost entirely from Munich, Germany although there are a few from other shows. If you have been waiting to see your show, we are nearly at an end. Each group has anywhere from 30 to 60 pictures all donated by fans. We are overwhelmed by your generosity. The pictures are fantastic, and we look forward to seeing what you were able to take at the two coming tours. There are still more from the European tour, and they will be coming along soon. Thanks a million! SLASH's Snakepit's fans are the best.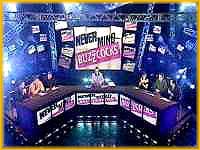 There were a lot of disappointed UK fans when "Never Mind The Buzzcocks" aired without SLASH. A couple of fans have mentioned that they will try to contact the station for a new date, and when they let us know, we'll put it up. Jonathan took time to explain the show. He says the program has been running for quite some time. The format is two teams with the regular captains and two guests in each time. Questions are asked which give the teams a chance to joke and have a laugh. Each question uses about 3 minutes as the team makes up these joke answers. There are different rounds like The Link Round where clips of two bands are shown, and the teams have to guess the link between them. Guess the performer takes an obscure performer and some look a likes, and the team guesses the real artist. The next line of the song has the host singing a line and the team singing a line. Finally there's a round where the team tries to get their third member to guess the song. Well! SLASH may have a tough time with these, but we're sure it will be hilarious. We'll trade two MTV shows for one of these. Thanks, Jonathan!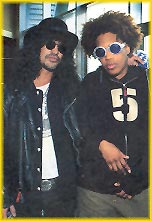 Well, here's a cool twosome: SLASH and Macy Gray. The picture was taken the night of the Grammys. Rolling Stone thought it would be humorous to show these two together so you could admire their hair. Hey! Can you imagine SLASH any other way? Macy is a very cool lady whose last concern is appearing like a Barbie Doll. SLASH speaks very highly of her music. What he thinks of her hair we may never know, but they look great to us!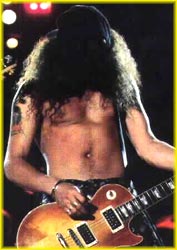 Paulo from Portugal found a funny feature on www.carlton.com. It is what they think are the 35 worst ever haircuts in pop. Hmmm. You can almost feel it coming, can't you? SLASH, you have great hair! The other artists may give you a few laughs, so we'll send you on your way. Thanks, Paolo, we think! Note that this is one of the slowest sites to load on the net:


Worst Haircuts

If you can't stand the wait, here is what they said about SLASH:


      WHAT: Bird nesting site.
      WHEN: 1987 - present.
                             WHY: Leave it out, it's Slash!

Bird nesting site! More like chick magnet.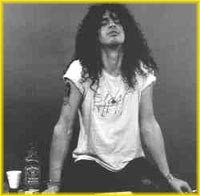 MTV's "Allstar Update" was on this past weekend, and they had a nice segment about SLASH. SLASH was on and gave some interesting comments. The photos of that young SLASH would have been great up close. The most frightening thing was to see the clip of SLASH passing out. If you missed it, you really ought to see it, and Randy has made that possible. He has the SLASH part on his web site right now. It is about 6 minutes long. Thanks, Randy for sharing this with all of us:


SLASH on Allstar Update





Annelaure found an old newspaper (January 9, 2001) in Amsterdam. The paper is Belgian and is called de gentenaar. Annelaure says it is really a long interview. SLASH starts with arriving in L.A. (now we know this will be a long one) and how his whole story with music began. Another topic is his work with Michael Jackson who he calls a friend but not where he goes over for tea. Questions about GNR got a No Comment. On to a really great evening...working with Tom Jones on New Year's Eve. He says it's a great memory; two bad boys playing int the White House and giving autographs. Asked how he would keep Snakepit from having the GNR problems, SLASH replied "just being a band, together". The interview was in a hotel called The Grand, and the journalist still wonders if that was a coincidence or a veiled reference to Ain't Life Grand. Thanks, Annelaure!



News Reported 3/6/01


Three big changes to the Tour Schedule tonight, and these may affect you. The first is the Indianapolis, IN show scheduled for March 8. The show has been moved from Murat's Egyptian Room to Birdy's. Tickets sold for Murat's will be honored at Birdy's. The exception is: Birdy's is a 21+ show. If you are under 21, you can get a refund or you can see if a parent accompanying you is ok with the venue. At least one of the venues permits under 21 with a parent. Tell them to hang at the bar or become Snakepit fans! Here is a place to get information on Birdy's on the web:


Birdy's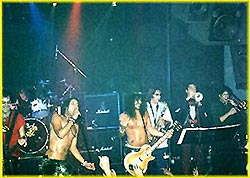 The next change involves the AC/DC tour. Snakepit will end their tour with AC/DC before the tour is over. The final Snakepit opening show will be the Fargo, ND show on April 29. The shows after that are AC/DC with another opening band. If you bought tickets only for Snakepit, you may be able to get refunds. AC/DC puts on a good rock show, so those shows should still be good ones. Snakepit is breaking off to return to the West Coast, and we should be hearing some more soon on what they will be doing. The third change is a very good one! SLASH's Snakepit has added another theater show. This one will be at the Odeon in Cleveland, OH on April 5. Note that Snakepit opens for AC/DC on April 4 in Columbus and April 6 in Cleveland. The theater show fits right in the middle, and you can get three nights of Snakepit! Personally, we are planning a road trip to catch a theater show and an AC/DC show. Hope you will, too. Tickets are not yet on sale for the Odeon, but here is some information:


Odeon Concert Club



Here's the up to date schedule which is always available in the Tour Schedule area:


SLASH's Snakepit On Tour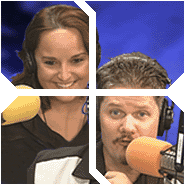 Last night we had a good time with Snakepit in their appearance on www.comedyshow.com. Calling in with questions was a lot of fun. The guys were having a great time talking with hosts Mickey and J.D. The hour went by all too fast, but we did manage to ask what the next single would be. SLASH replied that it would be "Shine". J.D. reminded listeners that if you want to see the "Mean Bone" video, go to the VH-1 website and request, request, request. Make it part of your daily routine! J.D. was really enthusiastic about the album and talked about many of the tracks in detail. Teddy Zigzag was around, and he came out and sat with the band. It sounded like J.D. spends some time at The Baked Potato! Mickey asked some good questions and got a lot of hugs from Matt. It looked like one big happy family. A terrific show for SLASH's Snakepit fans. Thanks, Mickey and J.D. for letting us know about it!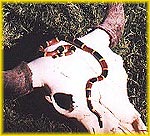 Speaking of the "Mean Bone" video, Dave let us know that the video has been on in Australia! He says that it was shown on the ABC late night music TV program "Rage" on Friday night. Australian fans, watch out for "Mean Bone". This is a video that just blows you away - it's from live performances, and this band is everywhere, doing everything. Thanks, Dave!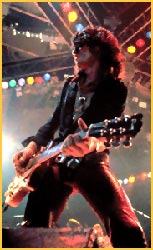 Yurich was listening to an Aerosmith interview on 97.7 HITZ FM Rocks where they were broadcasting an interview with the band. Joe Perry was asked about the Les Paul that SLASH gave him for his birthday. Joe told the story of the guitar being sold in the 80s, and how it was owned by different people, but then SLASH was able to buy it. SLASH had it quite awhile, and finally gave it to Joe on his birthday. The DJ said he heard a rumor that it had a good deal of stash in it! No, that's not right! The guy who sold it to SLASH didn't even know for sure it was Joe's, but SLASH had pictures sent to him, and he recognized it right away. Thanks, Yurich.

If you missed the MTV show, "MTV All Stars", we have word here from "Custardpie" that it was aired late Friday night. So check your listings. This should mean it will be repeating over the next week or two.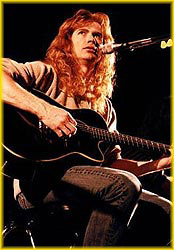 Another reminder to the UK that tomorrow night is the episode with SLASH on "Never Mind the Buzzcocks". It still isn't clear to us what this program is like - a music game show, but we would love to see anything where SLASH gives off the cuff replies! Glenn is ready to see this one, and he says that Megadeth's Dave Mustaine will also be on. Glenn said that the Classic Rock magazine he bought just before Christmas quoted SLASH as saying, "The only time I've ever had aspirations to join someone else's band was when I was really - and I mean like totally f*cking out of it - I nearly joined Megadeth!!" We know Dave Mustaine and his family are very good friends with SLASH, so these two ought to be hysterical to watch. We are hoping for a report on this show from the UK.

One thing to look out for is an AP (Associated Press) article about the band. Recently, AP photographed the band and did an interview. It hasn't appeared yet as far as we know.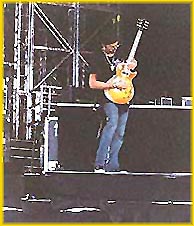 This is another reminder that the Ft. Wayne show is THIS Wednesday. That's March 7 at Piere's. Ticketmaster no longer has the tickets on sale. That may mean they are sold out, but it is worth a call to the venue if you want to get in. Tell them to squeeze you in! We're looking for reviews and some pictures. If you see a newspaper ad, we really would like a scan of that and a ticket for the Tour Photos. Thanks!



News Reported 3/4/01


Tonight was the big night for Snakepit to appear on Comedy World. If you were huddled in front of your PC watching the action, you may have noticed our guys weren't there! Snakepit was running late and didn't show till there were only 10 minutes left. And you had a lot of cool questions, didn't you? To make up for this, the guys said...let's make a night of it here...and they are hanging out at the Comedy World studios right now waiting to go on at 9 pm PST! That is tonight, Saturday, March 3 at 9 pm PST. East Coast...tune in at midnight. Europe..we need you up at 5 or 6am. We can ask questions using the toll free number. And the hosts will be Mickey and J.D. who certainly impressed us with their knowledge of SLASH's background and Snakepit music. Tune in TONIGHT! You can sleep when you're dead. See SLASH drink J D out a bottle! See Johnny's mohawk! And where was Keri? Matt and Rod were having a great time. Party with the 'pit, Mickey and J D TONIGHT! See you there...


Snakepit on Comedy World!





News Reported 3/3/01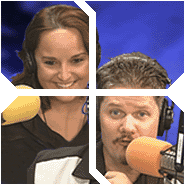 SLASH is one of the funniest guys around, and he even makes himself laugh! It's appropriate that SLASH and Snakepit will be in the studio on "Call If You Dare", a nationally syndicated radio show based in L.A. on the Comedy World radio network. The show is on Saturday, March 3 from 6-7 PST. Mickey Ramos, one of the hosts on "Call If You Dare" says that the show is on radio affiliates all over the US. If you get these stations, you can check out Comedy World on the radio:


Baton Rouge, LA - WIBR 1300 AM
Lafayette, LA - KVOL 105.9 FM and 1330 AM
Atlantic City, NJ - WFPG 1450 AM
Reno, NV - KPTT 630 AM
Syracuse, NY - WNSS 1260 AM
Spokane, WA - KEYF 1050 AM

Everyone else can tune in right at your PC! Mickey and partner J.D. Goss will be waiting to hear from you. We know the funny stories that the band would rather forget. Whisper one in J.D.'s ear, and he'll have the whole country laughing. You'll want to call in, right? Here's how to reach SLASH and Johnny, Matt and Keri and Rod, J.D. and Mickey: 1-866-266-3393 (that's 866-comedy3). This is a toll free number. Mickey says they are going to talk about GNR, Snakepit, road stories (!!) and any other thing you want to ask about. Let's see...how much do you charge for private shows? That's a good one! Mickey and J.D. invite everyone to call in and be part of the fun. And if you aren't in their broadcast zone, you can listen to the whole thing right here on the net. Check out the web site!


Snakepit on Comedy World!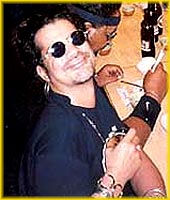 While we're alerting you to SLASH events, there is one for the UK! Remember SLASH went over and filmed an episode of "Never Mind the Buzzcocks" not too long ago? Get ready! It's on the air on Monday, March 5 at 9pm on BBC2. The rest of us are waiting to hear how SLASH did on this show! Did he win any money? And can we have it? Thanks, Jonathan!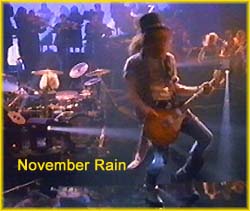 This UK show is over, but you can probably catch it on reruns. James saw this last Saturday on MTV2 at 11pm. The program is called "SLASH Chooses", and SLASH selects videos to be played. From GNR, the videos were "Paradise City", "SCOM", "November Rain" and a live "Welcome to the Jungle" from the MTV Music Awards in '88. Other videos were by such artists as Eminem, Garbage, Nirvana, Led Zep, etc. Thanks, Jonathan!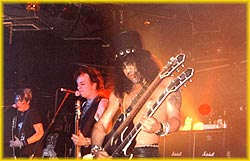 There's less than one week till the 'pit rolls into Ft. Wayne for the show at Piere's. Tickets are still available, so get to a Ticketmaster outlet online or in your town or go to the box office and get yourself set up. This is your chance to hear the band live, and to meet the band! If you don't make it to these shows, it will be some time before we see them coming around again headlining. Wake up, Midwest!! Time to Die!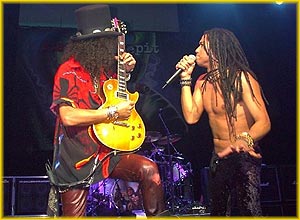 Brett sent a review from the Anaheim HOB show. He says he still can hear the music in his head. Brett said that every song on the album is a hit and that Snakepit is the tightest act he's seen or heard in years. We have to agree with Brett when he says that "there's so much excitement, you can't help but want to be right on stage with them". Brett was lucky enough to meet Rod, Keri and Johnny, the hardest guys to hit the stage. The rhythm section just blew him away. Brett got picks thrown by Keri and Johnny which made his night. There's no other sound like Les Pauls and Marshalls, and Brett was impressed by Keri's GMP setup. About Keri, he says, "what a player, f*ckin' awesome"! Johnny is ferocious on bass. That section never missed a beat and had the audience at their feet. Brett says he takes his hat off to the hottest act of the new millenium, SLASH's Snakepit! Brett, thank you!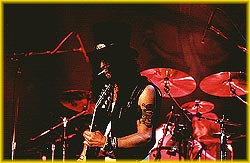 Speaking of the band, if you can hook up to AOL's Instant Messenger, you have a good chance of talking to Matt Laug. Matt's address is MattLaug@aol.com, and if you put Matt in your buddy list, you get notified when he is on. Anthony says he was totally amazed when Matt answered him. Anthony says Matt is really cool and was talking to a whole group of fans, but he always responded. If you have met Matt, you know he is really a great person who always seems to have time for the fans. Sometimes he can't see all of us since he is behind that drumkit, but just scream and hold up signs, and he'll know you are there. Connect with Matt on IM, and you might have him all to yourself! Thanks, Anthony and Matt!



News Reported 3/2/01