SLASH !
SLASH's Official Fan Site
SLASH News
March 2002

Last time we made a mistake by omission, and we want to get that information to you. LuAnn found a site that is selling the old GNR decals and also have one of the Illusions tshirts. We neglected to give you the site address:


www.oldglory.com


When you get to the site, go to the band listings and a pulldown menu is there where you can find Guns N'Roses. Our apologies. We found a great site ourselves for Appetite-era tshirts. So far we have bought one of each. They are great quality, roomy sizes, and the graphics are clear and colorful front and back. The tshirt graphics are blurry on the site but crystal clear on the shirts. The site is easy to use and has a really nice Customer Service group. The only downside is that the shirts are not regulation GNR shirts, but they are just great anyway. We bought a U2 as a gift, and it also is outstanding. There are about four shirts to choose from for Guns.


Two-Dragons.com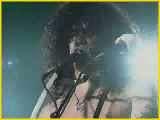 We used the last SLASH Q&A a couple of weeks ago, but just today another 25 arrived in the mail from SLASH. Reading them over was great. SLASH writes just as he talks, and it was like having him right here. These will be appearing in the future in this News section. Then they are moved to the SLASH Answers Your Questions section. We have separated the 2002 questions from the older ones. Thanks for contributing, and you know you can send one to us anytime at webmaster@snakepit.org. Thanks to all of you and to SLASH.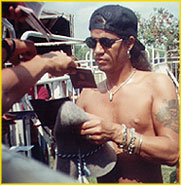 More news from Fan Source, the company that runs SLASH's fan club. SLASH came in today and selected a picture that will go in the membership kits. We wonder which of the thousands that have been taken will be the one in the packets. The one in the oral sex tshirt is always a crowd pleaser! A live one would be great! He gave the membership kits final approval, and the folders will be ready next week. The fake tats are still not in, and the photo has to be reproduced. Kathy B. who runs the company feels that they are really up and running now. She said that as for the fan checks she has received so far, none has been cashed but will be in the beginning of April. So don't worry that yours was lost in the mail. Kathy says at that time the packets will be on their way to everyone who has paid. If you go to the site, you see a place that says...email SLASH. The address is Slash@fansource.com. Kathy is reading that mail every day now. If you have a fan mail or fan club problem, send it there. We want to be sure to give you the fan club information address again:

Fan Source: Fan Club for SLASH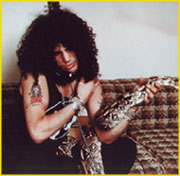 You know that SLASH loves those reptiles. There are also two cats in the house. A perfect setting for...a dog! The latest addition to SLASH's menagerie is, we are told, a Pomeranian. Remember back in the good old wild SLASH days when SLASH owned two Rottweilers? The picture of him in Rolling Stone with his big, tough dogs was very cool. Is there a photo shoot in this dog's future?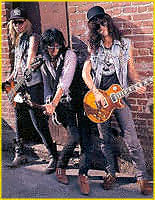 Vicki said there are quite a few SLASH mentiions in the May '02 issue of Metal Edge. They went over the old news of SLASH's attempt to see the Las Vegas GNR show. They said that rumor has it that Axl is angry with SLASH for not signing the deal that would have allowed the new GNR to re-record "Welcome to the Jungle" for the movie Black Hawk Down. That's been discussed here also: SLASH was fine with it when it was the original recording. Axl refused to sign that as he wanted to re-record it with Buckethead and Co. SLASH and Duff would not sign that, so it all came to nothing. In more recent SLASH news, they say that SLASH has been in Vegas a number of times. He was seen at the grand opening of the Green Valley Ranch Resort & Spa. The rumor that this is the latest whorehouse in Nevada is false. It's a legitimate resort owned by Cindy Crawford's husband, Rande Gerber. They also reported that SLASH worked with Izzy and Duff on Izzy's latest solo album. SLASH played guitar and wrote five songs (although he said three to us). Duff does the bass honors on the album. Izzy's newest is due out this summer and will be sold mostly on the internet. They had a picture of SLASH at NAMM. Vicki says he was wearing big silver hoop earrings and sunglasses but no hat. The rapper-size S/P necklace was sparkling. SLASH's wild tshirt was black with what looked to be two naked girls about to have oral sex (as far as Vicki could tell). As Vicki says, the news may be old but at least SLASH was in there. Thanks for that good report, Vicki!


This is a really cool video interview with SLASH sent in by Marina from Bulgaria. It's on the MTV UK site, and it was done when Snakepit was touring. We thought we'd heard them all, but we hadn't heard this one. The interview is broken up into small segments with one question per segment, for example, what are your three favorite records? There's nothing really new, but it is so good to see SLASH again, and the camera is on him all the time. Thanks, Marina!

MTV UK Interviews SLASH

Rui and Tiago want you to know that the SLASH tribute album is in its final phase. Check SLASH Tribute. The deadline for any inscriptions for the tribute is March 25. No more inscriptions will be accepted after that date. The deadline for any song reaching Rui and Tiago has been extended to April 5. None will be accepted after that. Rui and Tiago say, "Hurry up, let's make SLASH proud of his fans!" Those two have put a lot of effort into getting this tribute organized and managed. Producing the tribute tape and doing the artwork has not been easy. There will be a booklet containing band descriptions. What a terrific way to honor SLASH!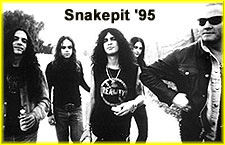 Londrino sent some Brazilian news. Last October, SLASH made the cover of Guitar Class, a Brazillian magazine. This month's edition has David Gilmour on the cover, but inside there is a full guitar tab of "Dime Store Rock" off the It's Five O'Clock Somewhere album. So if you're in Brazil and have been looking for a professional tab of that one, you know where to pick it up. Thank you, Londrino!
News Reported: 03/15/02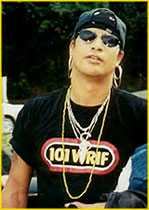 SLASH's Fan Club has a progress report. They are getting the special folders printed right now. They are waiting for a photograph for the membership kit, so it seems that soon everything will be ready to mail out. By this Friday, they will have added PayPal, so that you can use that to pay for memberships and anything else you buy there. The merchandise for sale there will be tshirts (Snakepit $25), CDs (Ain't Life Grand $15) and a pin (snake logo $11). This same company, Fan Source, handles the fan mail now. They say they should be caught up by the end of the month. Here's the web site (SLASH portion):
SLASH Fan Club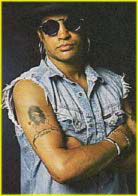 Membership and fan mail problems/questions should be sent to slash@fansource.com Please note that the site says: Email SLASH and gives this same address. As you know, SLASH does not use the computer. This is not the place to email SLASH. Send SLASH-related questions to webmaster@snakepit.org. It there are non-personal questions for SLASH, we'll see that he gets them. Thanks!


Quite awhile ago, we told you about two fans who met at a Snakepit show and hit it off. They dated at other Snakepit shows and eventually married! They were at the Snakepit shows this time as a married couple. SLASH is such a great cupid that he married his own love this past year. Now we have another. Claire is in high school, and not too many kids are into the same music scene as she is. One day she was surprised to walk into her religion class at this Catholic high school and find herself in a discussion about SLASH. Presentations were being made on who you would like to be. A seemingly preppy classmate, Joe, had a picture of SLASH on his paper. He told the class SLASH was everything he wanted to be and that SLASH was his idol. Claire was amazed! Joe didn't seem like a SLASH fan. Claire and Joe talked after class about SLASH, and then Joe..in a typical SLASH move..invited Claire over to his house to jam with him on guitar. Claire said yes, and now the two are dating. Claire says SLASH brought them together, and she's now an even bigger fan! SLASH does it again! Thanks, Claire!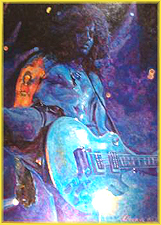 This picture appeared on slashssnakepit.com. SLASH's wife was going through his personal photos (be careful on that task!) and found this one. No one seems to know who the woman is (not his mom), but we thought you might like to see a young SLASH picture. Speculation centers around an actress named Mary Hartley. Anyway, here it is. SLASH really grew and filled out. Carrying that big Les Paul does that. Looking through SLASH's personal pictures reminded us that Robert John, official GNR photographer, said he had a safe full of band pictures that would never and could never be published. Let's hope to see some of those soon!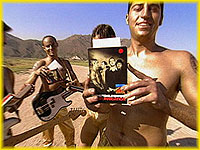 MTV has a show called "Becoming" where fans are made up and dressed like their favorite artists, and they even get to make a music video. Adam was watching "Becoming: Red Hot Chili Peppers" and as the fans who were becoming RHCP entered the Chateau Marmont, the background music was the solo from "Mean Bone"! Wish MTV would do "Becoming: SLASH". We have a whole lot of people who have SLASH's moves down pat! Sign them up!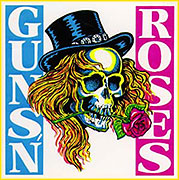 Fans of the old Guns N'Roses are always looking for GNR items. LuAnn found a site where they have four decals for sale and one of the Illusions tshirts. These decals are great. We've had one on the inside of our car window for years, and it still sticks and looks good.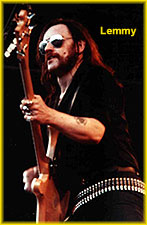 Simrin sent in the news that SLASH was on UK TV tonight on BBC1 in the program "When Rock Ruled the World". There was a feature on Lemmy of Motorhead fame, and SLASH talked about how he and his girlfriend (unspecified which one) were at a table and SLASH left to go to the restroom. Lemmy buzzed over to SLASH's table and tried to pick up SLASH's girlfriend. SLASH came back during this but said nothing. When Lemmy left the table, SLASH's girl asked why didn't SLASH do something. SLASH said, "You know who that was?!? That was Lemmy!" Personally, we would have a hard time getting excited about Lemmy.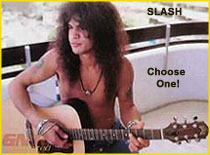 SLASH also commented on This Is Spinal Tap saying that bands can relate to that film so much. We remember SLASH saying in an interview that GNR watched the film on the way to a gig. It affected them so much they gave one of their worst performances. Axl decreed that the film would never again be shown before a show!
News Reported: 03/13/02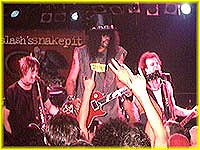 Here's another contest! The prize is the promo CD single, "Been There Lately" off Ain't Life Grand. Looking at the rare and out of print sites, you can see that your Snakepit CDs are going up in value as they are all out of print. "Been There Lately" was only released as a promo CD so it has always been in limited supply. The CD has back and front artwork, and it has a colorful label. If you haven't gotten one in the previous contests, why not try again? This contest is a crossword puzzle about SLASH. As always, the answers can be found somewhere on this site. There are 10 answers. In the body of an email message, number 1 through 10 and put the answers there. You do not need to send the questions or the puzzle grid. Send your entry to webmaster@snakepit.org with the subject CONTEST. There will be 5 winners. In case of a tie of more than 5 entries, there will be a drawing. No cost to enter or to win... your cd will be mailed to you free of charge.

The contest starts now and runs through Sunday March 24 at midnight your time. Thanks! And good luck! Click here to see the puzzle and clues:

Contest Crossword Puzzle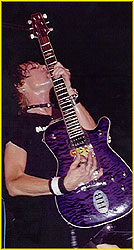 Keri Kelli was at a chat organized by a fan site, and it seemed to go very well. Keri was asked if the guys could have found a new lead guitarist and gone on as Snakepit without SLASH. Keri said no...SLASH is the man period. He also said that the Snakepit had a great time playing together. (Note that SLASH owns the band name SLASH's Snakepit and in all honesty the SLASH part of the name was one of the biggest draws.) Several people asked where SLASH was right then. Keri said he was home and most likely sleeping. Someone asked how Keri felt when he was asked to join Snakepit, and he said he felt great! SLASH told him to come down and jam. He and SLASH "played together ever since". Another fan asked if SLASH seemed indifferent to Snakepit as though he were missing GNR. Keri simply replied that SLASH loved everything he did with GNR. This all took place on March 9, Saturday.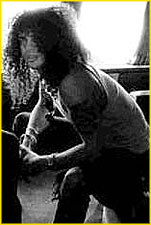 If SLASH is missing GNR, he can tune in at 9pm ET on 3/15 and watch GNR presented as one of the "100 Greatest Artists of Hard Rock". This will be on VH-1. Another repeat, but a good one.






As you should know by now, this site is an affiliate of Amazon.com, MusiciansFriend.com and ebay.com. Your passing through our site on the way to buy things at these three sites helps raise money to keep the site going. SLASH does not fund this site. The webmaster here is an unpaid fan just like you, so please go through the ad section if possible. After a long time away from it, we found GEMM again thanks to Tina. We are applying to be an affiliate there also. You'll find GEMM to be just terrific in locating out of print and rare CDs, sheet music and memorabilia. You don't buy directly from them. They help you find who has it, show the dealer's ratings, and take you directly there if you want to look around or order. We should be getting this set up soon.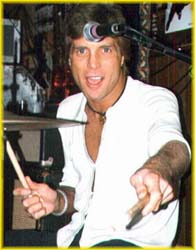 Adam found this information which adds to a notice we posted awhile back. "Ex-Guns N'Roses drummer Steven Adler got married to his girlfriend Carolina of one year in a small private ceremony on January 23, 2002". By the way, Keri was asked how it felt to be married, and he said it was fine and really felt pretty much the same. Must be the season!


News Reported: 03/11/02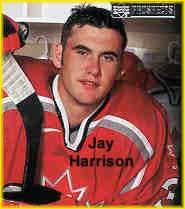 There's an interesting SLASH mention in an article in the Toronto Star. The title is "Blue-liner Boasts Mean Chops", and it's about the musically talented hockey player Jay Harrison. Jay plays for the Toronto Maple Leafs, and in this interview he says he wants to make it clear that he gets his musical, and not his hockey, inspiration from SLASH! The article portrays the top hatted one as tough and says that Jay might say he is not influenced in hockey by SLASH but he is not opposed to whacking the back of someone's legs with his stick if they deserve it! (We do recall SLASH saying that he would liked to bash some annoying person onstage with his Les Paul!) Jay says, "My favorite guitarist is SLASH...He's been my idol since Grade 4." Get him the fan club address!


Using the online Webster's dictionary today, we typed in SLASH. It returned: severe, merciless, violent, dashing, spirited, tremendous! Maybe they should just have a picture there.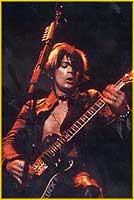 Tomorrow, March 9, at 11am PT, Keri Kelli will be doing a chat at an Italian site, www.thepitonline.org. The chat will be completely in English though. There's a long list of rules given which we won't get into. Mostly these ask you to be polite and considerate of other fans at the chat and especially of Keri. So if you are going, think of some questions and be nice!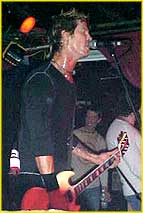 Tina sent in some Duff information after she saw the item on Duff awhile back in the News. We reported that Duff had played with a band called Zilch on an album called Skyjin. Tina managed to find it! It's a 13 track cd although the track list shows 12, so she has to find that hidden track. Tina says it is very different, but she likes it. Duff is listed as playing bass on 4 tracks:
4. Give 'Em What You Got Given (rap/techno type)
6. Make the Motherf*ckers Wake Up (starts rock, ends rap)
7. Hide and Seek (rap)
10.Absolute Zeroes (techno)
Tina says that you can get a copy at www.gemm.com by searching under Zilch. Gemm is a listing service; so you don't buy the album there, but they tell you where to get it. Tina got hers from Musicpeople, a German company. Catalog number is 575517, and the price was close to $50. For major Duff fans! Thanks, Tina!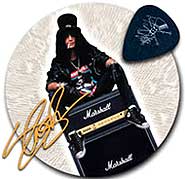 Attention all you hardware experts! Andres got a copy of the Marshall 2555/2444 Jubilee schematics. This Jubilee amp is the one that SLASH uses. Andres says if you have some electronic knowledge, you can build the amp yourself. He's planning to do that when he has the time and money. Andres says it was very difficult for him to get these, and he would like to share them with anyone else who is interested. There are three pictures of the schematics. The fourth picture is the Boss GE-7 E.Q. pedal schematic, the one that SLASH uses in gigs. These pictures are very large so that you can see the details, so it may take some time to load each one. Those of you not interested in making an amp may want to skip looking at these. Very cryptic! Thanks, Andres!
Jubilee Schematic 1
Jubilee Schematic 2
Jubilee Schematic 3
Boss Pedal Schematic
MPROWLER sent us an article on SLASH's Snakepit and the making of Ain't Life Grand that was very interesting. It was found on AMG, the All Music Guide. If you haven't read this one, it's a a good interview with SLASH and gives more details on some of the people behind the scenes who worked on the album. Thanks!
AMG Talks To SLASH
News Reported: 03/08/02


There's a site where with one click, you can change your Internet Explorer browser from boring to exciting. We stumbled upon the Hotbar site today, and they have 62,000 skins you can choose for your browser. There is a musical artist section...and not one SLASH or Snakepit or Guns N'Roses! The skins seem relatively easy to make. Right now we are using a polar bear and wishing it were the top hatted one. We were thinking that some of you along with us might be interested in making some, and we could store them all here and be a linked site. Who better than all of us? We weren't successful in copying one to show you here, but if you are interested, you will see in seconds what is to happen. Seems like Guns and Slash should have something! If you check it out and make one or many, let us know.

Hotbar: Skins For SLASH Project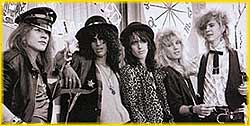 In the February/March issue of [Maxim Presents] Blender magazine, Vicki saw an article on the "100 Greatest American Albums of All Time". Appetite for Destruction came in at a very respectable #5. No band picture was used although many others did get a photo. Here's what they said about Appetite...:


Quote: "They were rabble, But they rocked"
A typically L.A. blend of surface glamour and nasty underbelly, Appetite...
tossed the psychological car crash in Axl Rose's head atop the hardest-rocking
outfit since Aerosmith. Result? Megafame, breakdown and decline. But for
a brief moment, this was the shit.
Standout tracks "Welcome to the Jungle", "Sweet Child O' Mine"

The ratings came from a poll of music critics, musicians and readers. Thanks, Vicki!


Another Vicki sent us a note about Eric Dover of Snakepit '95 fame. Vicki says that Eric is doing backup vocals on the new Britney Spears record. (SLASH is calling Eric for an immediate cool-check.) The song Eric sings is a cool one, though, Joan Jet's "I Love Rock N Roll". Vicki says she has heard that Eric goes under his wife's name, Deann Dover. Eric definitely needs a SLASH course on choosing a stage name. Thanks, Vicki!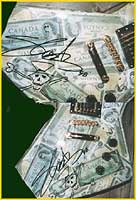 Usually we don't recycle items here. They appear once, and they are gone. Three fans sent in the same article. If they don't remember, maybe you don't either. It's a good interview by bankrate.com on how SLASH manages his money and finances. As crazy as SLASH acts, there is a core of businessman inside him. SLASH is determined he is going to come out of the music business with money. So many artists find themselves broke although they are selling a lot of albums and touring. SLASH is doing the right things with his money. Have you ever heard Howard Stern press SLASH for financial information? SLASH is definitely in the well off category, but he works hard and pays attention to business, too. Thanks to Brian, Robert and MPROWLER!

SLASH on Paying Attention to Money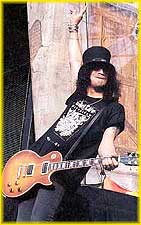 One more from Vicki...In the March 8 issue of Entertainment Weekly, the Monitor has a brief SLASH mention. We think the adjective used to describe SLASH is hilarious: "Lion-maned ex-Guns N'Roses guitarist SLASH, 36, and his wife...will welcome their first child in September. Lion-maned! Today we read an old Kerrang where they called him "Six-stringer SLASH". Thanks, Vicki!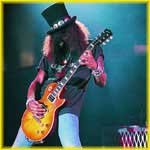 Maybe now is a good time to have a Q&A with the old six-stringer himself. By the way, all the questions with the exception of this one are now in the SLASH Answers Your Question section. This one is from Chiara in Italy who asks, "Yesterday playing my piano, I started wondering what you think about while you're playing...I mean, you're totally concentrated on what you have to do (on the notes you have to play), you think about something or let the music entirely move you? Thanks."


SLASH replies, "Chiara, I think it's everything. Your mood, your ear, your environment and your musical tastes that form the melodies you use."


Thanks to the lion-maned SLASH and Chiara!


Even if you have read the March 3 news, you might want to zip down to the end and see our ads. So far we have two...one for collection items and now one from a band seeking a player. If you have something Guns or SLASH related (or an old bandmate of SLASH's) that you are looking for or want to trade/sell, we will put your notice at the end of the News. Check for full details just above the ads. Due to many US colleges being on spring break, we will run this set next week also.


News Reported: 03/06/02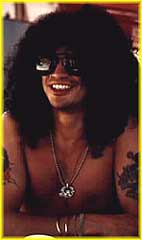 More on the supergroup from SLASH: SLASH told Sammy Hagar that he would listen to the demos the band did. However, he does not think he will be playing with them. SLASH has several projects he wants to work on. We told him the MTV writeup called the band "dinosaurs", and some of us were worried about seeing our favorite tyrannosaurus in that group. He chuckled and wondered what MTV makes of the Rolling Stones or Aerosmith. Our guess is that it would have about the same answer Britney Spears gave when asked about Yoko Ono, "Who?"!


Katja amazed us and SLASH when she sent us this picture of SLASH getting a tattoo in Hawaii. This is on Big Island Tattoo's web site along with some other celebrity pictures. How young and good looking SLASH looks here! And check out that big, fuzzy ponytail that Katja liked! We thought SLASH might be able to tell us when he got a tat done there so we'd know how old he was. Interestingly, SLASH says he never HAD a tattoo done in Hawaii! But he did thank us for saying how handsome he looked. Maybe he came in for a touchup or just to hang out. It's a really nice picture, and one we'd never seen. The ponytail without the baseball cap is a nice touch, too, SLASH! Thanks, Katja!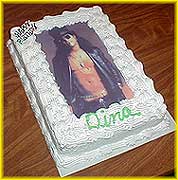 Here's another great picture of SLASH we have seen before but not in these surroundings! This is SLASH on Dina's birthday cake. The picture was taken to some very talented baker who put him right on the top where he belongs. We asked for a piece with lips, hair and eyes, but Dina said those were taken...also everything from the bellybutton down! Good one, Dina! She says she is saving those two pieces...and rightly so. Very cool cake!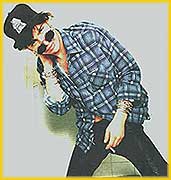 The "GNR Flashback" special aired Saturday on MTV2. It repeats on MTV2 on March 8 at 3pm ET. It features one of the first interviews of GNR on MTV at the Chelsea Hotel in NYC along with some of the best GNR videos...according to the program description. Brian saw the show and said it is a repeat from last year. He was interested in the early SLASH/Axl interview but annoyed that the videos were cut off in the middle of songs. Logan was watching MTV Canada, and GNR was on "When Bad Videos Happen to Good Artists". The video they didn't like was "Estranged" which came in at #8 or #9. Logan says the comment was that when seeing "Estranged", they knew Axl had lost his mind. They said "Estranged" was about looking for answers, but at the end no answers were given. They thought the video was pointless and ran a 30 second clip of it. Dave sent some information on the program about bad behavior in rock stars. SLASH was on once, and he was shown walking past the camera and looking at the photographers. SLASH wasn't doing anything bad, just walking by. Strange. Thanks to Brian, Logan and Dave for all these reports!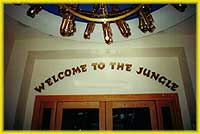 On the international side, Adrian in Australia reports that on radio station Triple M (MMM) in Australia they are having a countdown of the top 200 songs of the 80's. Guns made the list at #160 with "Sweet Child O' Mine". As Adrian says, it's not the best slot on the list but at least GNR was on there! George let us know that on the music channel in Holland called The Box, there is now a choice of "Welcome to the Jungle" under clipcode 938. George says it's a new version of the Jungle clip, and the audio is from Tokyo 1992. The Box is one of the more popular music channels in Holland, so Netherlands fans get going and request it! Thanks to both Adrian and George!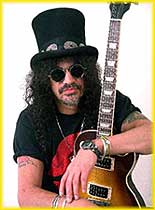 Last time we told you about the SLASH tribute album. Rui has a website set up where you can go and find out all the information you need to make a musical contribution. He also has setup an email address for questions. Read the web site information first and then get to Rui with your plans and questions. Here's the url and email address:

SLASH Tribute Album Web Site
slashtribute@yahoo.com

Here's some Guns on TV programs: VH-1 presents "100 Greatest Videos" on 3/6 at 3pm ET. On 3/7, VH-1 presents "Top 80 of The 80's" at 3pm ET. On 3/8 at 3pm ET, MTV2 has "GNR Flashback". "VH-1 Presents The 80's" is on VH-1 on 3/10 at 3pm ET. At 7pm ET, VH-1 will show "100 Greatest Artists of Hard Rock". All are repeats.



We're going to put a small section at the end of the news where you can list items you are looking for in your SLASH or GNR collection or items you would like to sell or trade. You'll need to send in a brief description and an email address where you can be contacted. Limit 5 items at a time. Items will be listed one week. Also if you have a band and are looking for a new member, we can post that also. Here you'll need to say what kind of musician you are looking for, e.g. bassist, lead guitar, etc., the kind of music you play and where you are located. All the trading, contacts, buying or selling are at your own risk although we do seem to have a decent audience here. I will start it off with these: ********************************************************************* Wanted: Copy of Ain't Life Grand with grey CD and white snake. This may have been printed by BMG.

Wanted: SLASH Hard Rock Musician Letter pin. Have some and would like more.

email:webmaster@snakepit.org ********************************************************************** Band based in Northwest England in Lancashire is looking for a keyboard player and a bass player. The band is Big Empty Space, and they are hard rock with a style that is Kyuss meets Faith No More meets blues based rock. BES has a wide range of songs available, but they need to complete their lineup.

email: sweaty_gimp@hotmail.com **************************************************************************


News Reported: 03/04/02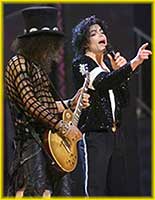 Another video has been added to the SLASH Video section. This is the second of the two songs that SLASH played at Michael Jackson's 30th Anniversary Tribute show in NYC in September. "Black or White" has been up for awhile, and now "Beat It" has been added. SLASH is not positioned so that you see him as well. The camera is focused on the dancers and Michael, but you can really hear that big B.C. Rich Mockingbird buzzing and burning in the background. That big fat guitar sound seemed to pull Michael out of what was a ho-hum performance and get him rolling! Check this out and many more in the Videos Section. Thanks to Randy for giving the videos a home so we can keep them all out for you!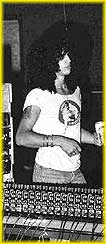 Do you get MTV2? John and Sara both do, and they let us know that this is a Hard Rock Weekend there. They are running classic episodes of Headbangers Ball (the GNR appetite for destruction is sure to be on) plus an hour long "GNR Flashback" is running twice over the weekend. The big draw here is that they say they will show Axl and SLASH's very first interview. Now this should be very cool. Remember in his early 20s, SLASH looked more like 16! A cool guy, but the big muscular body and I've-seen-it-all eyes didn't come along till later. Very sweet and gentle looking despite the dissipated front. Got to see that! Let's hope someone sends a report as we ourselves are stuck with MTV and no MTV2!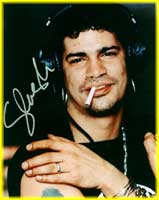 Rui and Tiago asked that we remind those of you that signed up for the SLASH tribute album to get busy because the deadline is March 25. Nine speedy musicians have turned theirs in already. Now if you haven't signed up, it is not too late. Rui and Tiago want to give everyone who wants to do this a chance to participate. When the tribute album is completed, we'll get a copy of this to SLASH. NO PROBLEM! Rui and Tiago weren't completely satisfied with the last one made, so they have taken it upon themselves to make one that SLASH will really like. He was very touched that all of you participants would take time to do this. So if you'd like to think about SLASH listening to your cut in his Viper, get going! Write to rupean@yahoo.com for more information.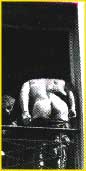 Were you ever an eyewitness to any GNR or SLASH funny, outrageous, etc. incidents? There's a TV company in the UK looking for these over-the-top episodes. Now, as you are all tried and true SLASH fans, lets aim for funny rather than embarrassing and painful! However, they will take anything. Here's the information they sent, so you will know what they are looking for:


"Visual Voodoo Films in London is making a 15x30" series for British tv which takes a light-hearted, affectionate and humourous look at some of the dafter excesses of celebrity and fame over the last 50 odd years. Obviously we know they've all shagged loads and imbibed far too many illegal substances; we're looking for stories - and eye-witnesses! - to THE most outlandish, funny, surreal and over-the-top incidents that will make for totally WOW!!! television. We reckon Slash/Guns 'n' Roses should undoubtedly figure in there somewhere."


"We will be filming in the UK and the US (and possibly Europe) from April 2nd. If anyone knows any winner stories or saw first-hand some outrageous behaviour we want to know about it. Contact us with full story details at info@visualvoodoo.co.uk and please include a contact telephone number. Thanks."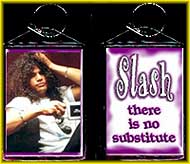 This page is dedicated to SLASH, and we don't want anything harmful to him to come from this. If you have any doubts, we'd be happy to talk to you about your particular story if you have any concerns. It sounds like it could be all in fun, and SLASH has never been particularly silent about his wild episodes! We've personally seen some wacky things, but we like to keep our memories to ourselves. As for the whole GNR group, go to it!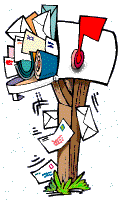 SLASH called to say he finally got the batch of questions. He's going to be working on these very soon. He also said he has been in touch with Fan Source about the fan club and fan mail problems some of you have had. Fan Source has not been responsive to questions about problems, and SLASH talked to them about that. Evidently the company's head has experienced some personal problems recently, but she promises to dig in and get answers to people. Let's hope that happens. Please let us know if you don't hear something soon.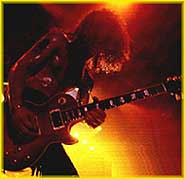 Now that SLASH is working on that new batch of questions, let's look at one we already have. And by the way, all questions/answers have been moved over to the "SLASH Answers Your Questions" section with the exception of 2002. That's coming really soon. This question is from Elia at Purdue, "SLASH, if a guitar player wanted to learn how to pull off with the speed and smoothness you do, is there any lesson book out there that teaches techniques similar to yours?"


SLASH replies, "Elia, honestly I'm not familiar with any technique books. For me personally, it comes from a lot of work and patience."


Thank you, SLASH and Elia. SLASH is entirely self-taught, so he doesn't use books himself. He hears or sees something and just practices a zillion times till that sound or movement is his.


News Reported: 03/01/02