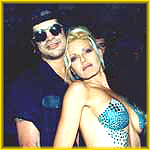 Want to be in a music video? If you're interested in the "Slither" music video, they're "Looking for real strippers. SEXY HOT BODIED FEMALES. As the video is for MTV it won't be to[sic] raunchy." Looks like the boys are going for the male vote again. We ladies can be in it or watch the band. To see the whole casting call, check it out at Slither Casting Call. And we thank Chris for sending that in.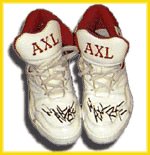 As you may know, Axl Rose has cancelled the new GNR's appearance at Rock in Rio due to the departure of guitarist Buckethead. A SLASH fan who goes by "Slash" sent us some email addresses in case you'd like to encourage the promoters to ask Velvet Revolver. They are:
producao@rockinrio-lisboa.sapo.pt
imprensa@rockinrio-lisboa.sapo.pt
rockinrio@comcast.net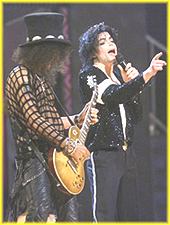 In some non-VR news, Scott in Winnipeg, Canada saw a program on MMM called Pop Royalty about Michael Jackson. SLASH was one of the main speakers on MJ's videos. SLASH said although he played on "Give In To Me" and "Black or White", the one song he would most have liked to have played was "Dirty Diana" because it really encapsulated the era and combined the sounds of R&B (MJ) and hard rock (SLASH). Thanks, Scott!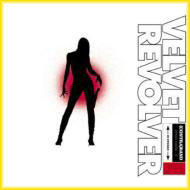 We'll let Stuart tell you the good news from the UK:
"Thought I'd let you know that Amazon.co.uk have Contraband available for pre-order at a good price (£10.45 inc del.) with a estimated delivery date of 9th June". Amazon in the US still doesn't have it. Thanks, Stuart. So, you can pre-order in Japan (although it says the Euro version there) or the UK so far. And speaking of albums, Guns N'Roses Greatest Hits is in the Austrian Album Charts in first place! Thanks, Max, who also saw the TV ad for this in Austria. And Elin says that at www.platekompaniet.no there was a poll on best international album ever. GNR came in at #16 with Appetite... out of 75. #1 was Nirvana's Nevermind. Thanks!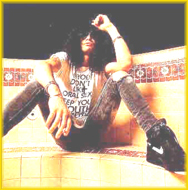 There's a cool interview with SLASH in the German guitar mag Gitarre und Bass. Attila scanned in the interview and posted these and some large pics and a translated summary of the interesting facts in his forum. If you head over to Attila's Forum, you can read this excellent interview. Thanks, Attila!



We mentioned that a guy called Thrash would appear on an episode of "The Mullets". Jack said the episode in question was originally supposed to air in October 2003. Its title was "Airway to Heaven" aka "Air Guitar" with the SLASH character called Thrash. They had other parodies like Heith Richards. The episode never did air because the entire show was pulled for low ratings twice and most certainly is cancelled, so don't waste too much time searching for that. Thanks, Jack!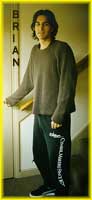 Here's some news on our old friend Brian Tichy, ex-Snakepit touring drummer from the J(Japanese) Pop Newsletter:
"OH JAPAN-OUR TIME IS NOW" (CDA) Catalog Number: BMCV-5006 Price: Yen- 1000, US$(9.47) Release Date: 31-Mar-2004
Takahiro Matsumoto's (B'z) solo project, containing 4 tracks. Featuring Eric Martin (ex-Mr.Big, Jack Blades (ex-Night Ranger, Damn Yankees), and Brian Tichy (Ball, ex-Pride&Glory, Slash's Snakepit).



And we'll close with a couple of funny GNR mentions. This one's from Stefan: " " ..Guns N' Roses makes you impotent you know " this is a line from Melrose Place I just saw on tv..". And The New Yorker issue from 3/15 has an article on the fall clothing designs that show sexy cowgirl wear. The article's title is "Guns N'Roses"!



News Reported: 03/31/04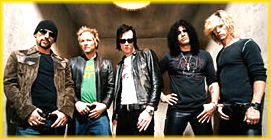 The SLASH/Duff promotional tour is a big success, and they're not done yet. So many of you took the time to send in that you saw the boys on TV! We in the US are hungry for details, so we really appreciate what you've sent. Through Simrin, Michael, Attila, Bram and others, we've learned there is a cool interview with SLASH and Duff by Virgin Radio. It's a one hour interview, and at random we chose Attila's site to pass along to you. There are six parts for you to listen and download. The interview is about Guns N' Roses and Velvet Revolver. The interview doesn't have the songs they played in it...but it really is good to hear the guys again and for a whole hour. If you want to go back to the source, here is the Virgin Radio site.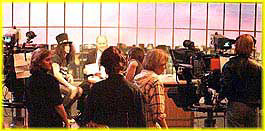 Stefan is in Sweden, and he saw SLASH and Duff on TV. He said that only things from Guns N'Roses were shown...nothing from Velvet Revolver. Nanna in Denmark saw the guys on a Danish TV show called Rundfunk. The show originated in Amsterdam. Nanna says it was brief, but the rest of the interview will be aired in June when Contraband comes out in Denmark. They had a listening party in a local bar in Amsterdam. After that they went to their hotel and just hung out together. SLASH and Duff have their wives along and even baby London is along for the promo. The interviewer asked if they had switched the JD with their wives. SLASH answered that Perla could last a lot longer drinking JD than he could, so definitely not JD for the wives! They also said if they had been there 10 years ago in Amsterdam, they would not have gone to a listening party... they'd have been out doing something illegal! Nanna also said that ads for the GNR Greatest Hits album are starting to appear on Danish TV. Thanks,Nanna, for that terrific report! Another TV report! Susanne from Germany let us know that SLASH and Duff will be on German TV tomorrow (Tuesday) night on MTV TRL, so get your vcr's ready!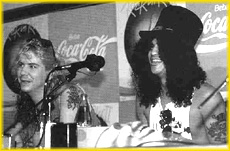 That's radio promo, TV promo and now we have some written promotional things. Oscar says this is an interview that appeared in the Argentinian newspaper La Nacion in their Youth Section supplement Via Libre. According to the article, this is the only one given by SLASH to an Argentinian media outlet. The article has made it onto the net, but it's in Spanish. For our bi(multi)lingual readers, we're passing this along:


Argentinian Interview




Another article...Vicki found this in Hit Parader, the April 2004 issue. They have a VR 2 page article with big color pictures of SLASH and Scott spread over the two page article. Vicki says the SLASH pic looks similar to those great ones that appeared in the Japanese Burrn! pics. There's another small pic of SLASH in the letters section with someone commenting that though SLASH is close to 40 [he turns 39 this year] he looks exactly the same as he did in the old GNR pics.



While you're checking these magazines out at the newsstand, you might come across the UK April issue of Metal Hammer. It contains a very frank statement from Scott Weiland on his drug problems. To make a long story short, Scott says he has taken drugs since he was 15, he can cope with them. He's made music, made millions, owned homes, etc. all while taking drugs. He says the only reason to stop is his two children. He feels he can have a music career and a drug career, and that is most likely what will be. His pattern is to go back and forth, off and on drugs. So, it looks like this intensive rehab program really hasn't cleaned him up completely at least for the long run. Let's hope that Scott's desire to make the record clear doesn't interfere with the legalities of opening the rehab doors.



News Reported: 03/29/04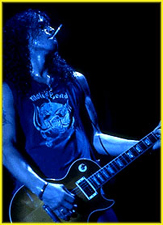 One of the two music magazines we subscribe to is Q from the UK. They wrote yesterday asking that we pass on to you a great contest they're having in their "Cash for Questions" section. This is the section where readers send in questions they've always wanted to ask a star. If the question is selected by Q, then the sender receives 25 pounds. Pretty cool! Even cooler is the star this time is SLASH! So if you have some questions for the top hatted one, get them in the mail with subject Slash to cashforquestions@q4music.com. A lot of you have sent in questions here to be sent to SLASH, and he's been just so busy with Velvet Revolver that the amount he's been returning has slowed to a trickle. Why not send those along, too? Let's deluge them with questions. And this is certainly the time for someone to ask that burning guitarist question: who makes your custom made guitar straps...this has to be one of the most common questions we get. No deadline was given, but we'd get a move on! Aside from the question, you MUST include your name and full address so that if you are a winner, they can send your winnings to you right away. Good luck and if we have any winners out there, how about sharing your SLASH Q&A with us?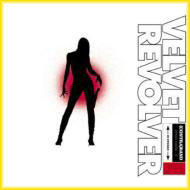 Here's a very, very interesting item from Matthijs. He says he found a Japanese site that has Contraband for sale. He supplied the url for us but his Japanese is non-existent, so we went to explore the site. It's HMV Japan which if you look carefully at the bottom has a button for an English version! So reading it was very easy. What they have are two pre-order offerings, one is for the CD single Slither due out May 25 and the CD Contraband due out June 2. The tracks are right there in English, and it's the real thing. Being a completist, we placed an order right away...also assuming it will have the obi which makes them quite attractive. Then we noticed that only Slither is a Japanese release. The Contraband they're selling is the European release. The most interesting part is the album art which we are showing you here. At least we suppose this is part of the artwork. If you'd like to go over and have a look, the address is www.hmv.com.jp/index.asp. Then scroll to the bottom to get the English version, scroll up to the VR pic and go from there. Thanks so much, Matthijs!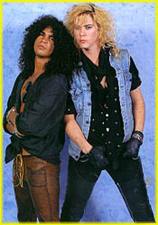 So many people wrote and asked about the SLASH/Duff promo tour schedule, that we did make an effort to find out. First was Tokyo as you know, and our fans let us know about meeting the flight from there in Paris. Then, on to Germany, then London till this Saturday when it's back to Germany and then home to L.A. on March 31. We have no idea how you can see them or reach them. They are very, very busy with this promo tour, so they're not really setting things up with fans. You just might run into them, but you've got a better chance of seeing/hearing an interview. Happy Hunting!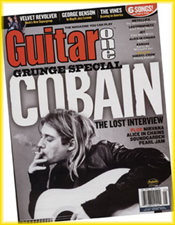 Guitar One's May issue has a small pic of Scott and SLASH in the upper left corner of the cover with a caption "Velvet Revolver-- Rock's New Supergroup" and a small article on VR/SLASH with a big picture of SLASH and Scott inside. Another picture of SLASH and Dave is also with the article. The article is in their "Opening Axe" section. Vicki found this and kindly typed in the parts about VR and the boys for us. Click here to read the article. Thanks, Vicki!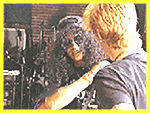 Craig's from Newcastle in the UK. He said that Duff and SLASH were on TRL UK yesterday. They said the album is due out in June, and they will tour starting in May (YES!!) and hope to be in the UK in June!! SLASH was asked if he was a fan of the city London because that is his son's name. He said that since he was born in Stoke-on-Trent he used to get the train into London all the time. The interviewer also asked if there was any chance Will Young would support them in the UK. (Craig explains that Young is the winner of Pop Idol). Duff replied there was no chance at all. Both looked healthy and ready to rock. Thanks so much, Craig!



News Reported: 03/26/04


Dave wrote that although Guns N'Roses Greatest Hits has not shown up on amazon yet, he saw it at the Best Buys in Las Vegas. The CD is in a folding cardboard jacket not a jewel case. The price was $9.99 on sale at $7.99, so US fans might check there. We finally got ours through CD Universe where we had a long-forgotten credit making our cost zero! As Dave says, there are 14 tracks with 5 covers. If you have all the albums, you have all 14, but it's a nice rearrangement and a must for completists.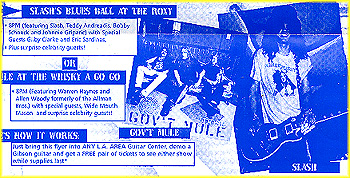 A friend of a SLASH friend is working on a super cool rock story for a magazine. It's a story on extremely rare band fliers, not tour posters, but old, ratty, handmade fliers for bands who rock it hard even now. The fliers should be from a time when they played neighborhood parties and small bars. Right now they have a good hookup with LA punk bands but are looking for hair bands like Motley Crue and LA Guns and GNR along the lines of the Sunset Strip appearances in the late 80's/early 90's metal scene. They don't need your actual flier...just a high res image. If you can help with some thing(s) from your collection, please contact Fliers. Thanks!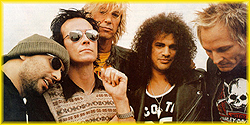 Here's the latest update on Scott's drug and legal issues. Brian sent in that MTV.com reported on Scott's DUI case. The DUI case is postponed till April 23. Scott was arrested for DUI when he crashed his car into a van. He has yet to answer for this charge mostly pending the results of the arrest on drug charges when he was stopped by the police for driving with his lights off and drug paraphernalia in plain site on the front seat. For that incident, Scott has been sentenced to rehab. The album was finished when the court allowed Scott to go under guard to the recording studio with drug tests after he returned each day. Scott petitioned the court recently to be allowed to do the video for the song "Slither", the first song off Velvet Revolver's debut album. The court declined that. Another request for April 4 has been granted under provisions. Scott's sentence was changed to serving the remaining part of his 6 month rehab in a residential care center to 30 days in a hard core live-in facility, followed by 90 days in a sober-living program. While in the sober-living program, Scott will be free to come and go. After that, he will undergo six months of counseling and testing. If he remains drug free, he will be done with rehab in 10 months. As to what this means for the tour, it does appear that Scott would be free to come and go in 30 days making a May tour possible. Let's hope so!



On a lighter and shorter note, AJ told us that on the television show "The Mullets" on UPN, there's going to be an "air band contest" on the show. There's going to be a character that looks like SLASH! AJ says he's not sure when it will be on, so check the UPN website for that information.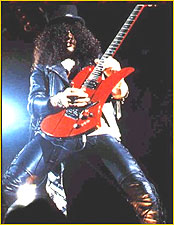 Nero was checking the Guitar Asylum (store in NYC) site, and they have SLASH's BC Rich signature on sale. The web address is SLASH BC Rich. The natural color one is being sold for $1850 and the import from Korea is red and is selling for $650. For those of you who've written looking for one of these, here's a source for you. You may have to poke around the site a little or contact them by email, but Nero says they are there for the buying! Nero also told us to check www.rocktron.com. On the artist section they have Our Guy! Thanks, Nero, for all that information.



News Reported: 03/24/04





SLASH and Duff finished promotion in Japan and are now in Europe. Two French fans were at the airport to welcome them to Paris. Guillaume said, "It was so f*cking great!!!!!" And Camille said this was their first stop in Europe after flying in from Tokyo. Camille said, "Duff told me that he will come back in Europe to tour with Velvet Revolver in May. I also met SLASH who took a few seconds for an autograph and a picture with me." Here's some pictures of some very lucky fans. Thanks to both of you! Camille would like a mention of his two web sites: http://slashsnakepit.chez.tiscali.fr and http://velvet-revolver.chez.tiscali.fr. From what Duff said, it looks like they are counting on Scott being out of rehab and out from under the DUI sentence by May. Good news.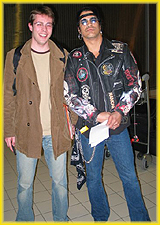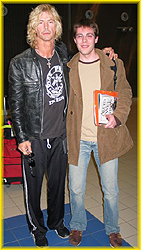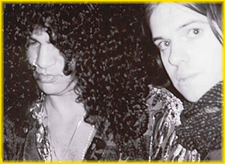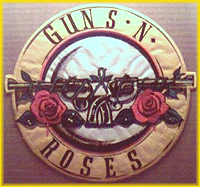 SLASH and Duff are in Europe promoting Velvet Revolver, but you can believe there will be questions and comments on the Guns N'Roses Greatest Hits album. The guys will be sharing in the profits, so that helps the pain of having their court suit opposing the release being tossed out of court. We're told the CD is really doing well in Europe, at #2 in the UK. It sold 57,000 copies in 3 days, and it is #1 in Ireland. The album is supposed to be released next Tuesday in the US, but Amazon still doesn't have it on pre-sale yet. Anyone dealing with Mr. Rose learns to be cautious about dates! SLASH and Duff's presence is certain to push sales even higher. Ad, a big SLASH fan from Singapore, as well as an old GNR fan says there was a big newspaper article about the greatest hits CD, and the local TV station is playing GNR videos. The vids will replay before events like the National Rugby Matches and Soccer World Cup qualifying match between Japan and Singapore in April!! Ad says he's so excited that younger fans are going to get exposure to the best hard rock band in the world! Thanks, Ad!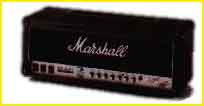 If you're looking for a JCM SLASH Marshall Head, we just put one up on the For Sale list (see top of page). It's owned by Mike of Back Porch Mary who played with Snakepit. If you'd rather build your own amp, we have Andres email address for you. The schematics were posted here some time ago. If you need help, contact Andres at andriu_m@hotmail.com. He's just a couple months away from finishing his.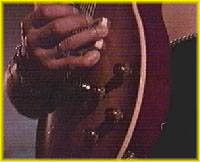 We have news from Holland with a fan rumor that says VR will be coming to Holland on their tour. It's said to be 100% certain. We would guess that would be very likely since they had looked at Holland the last time. The Melkwig was the club where they originally would have performed but it could change now depending on schedules of the club and band. Melkwig is in Amsterdam. Let's hope the schedule comes out very soon!



News Reported: 03/22/04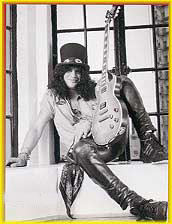 Kabir sent word that he bought a special edition of the Guitar Player magazine in Australia called Masters of Metal and Hard Rock. There's a section about SLASH with a big picture of him. There's also a short interview where SLASH talks about how much he practiced and how to make a good solo, etc. Kabir says it's a very good read. Another SLASH mention in the same magazine is in the Metallica part where the GP interviewer asks Hammett about the wah-wah sound coming back. The interviewer said Kirk held the wah-wah torch alight through the 80's, and Kirk starts off with saying, "I think SLASH from Guns N'Roses gave it a lot more exposure". Pretty cool. Thanks, Kabir!



As we told you before, SLASH and Duff joined with Axl to sue Geffen Records to stop the release of Guns N'Roses Greatest Hits. They asked in court for an injunction to stop this based on the fact that they had no input into the track selection, the artwork, the remastering, etc. Axl felt it would interfere and take sales away from Chinese Democracy which he anticipated would be released by year's end. To make a long story short, the court ruled against Axl, Slash and Duff saying their case was meritless. Geffen spoke out saying they had advanced Axl 13 million dollars and had seen no product. They are trying to recoup some of their losses with this release. They further said that if Axl had come up with the album, they would not have been forced to release this compilation. In other Axl related problems, guitarist Buckethead (the lead guitarist in the new GNR who wears a mask, a KFC bucket on his head and says he was raised by chickens) has quit the band saying there is nothing to do and he wants to pursue other interests. With the court's ruling, the door is now open for the Greatest Hits album to be released in the US. Neil wrote and told us that it was released on Monday, March 15 in the UK! And thanks to everyone who sent in the story of the latest GNR lawsuit.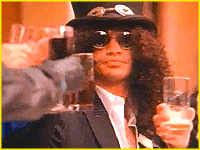 A little pleasant fan news is due now. Jason and Denise sent word that SLASH played at their wedding...sort of. They used SLASH's version of "The Love Theme" from The Godfather as their music. The original version was used when the bride walked down the aisle, and SLASH's version as they walked back up the aisle after the marriage ceremony. They were married on Halloween, but no one came as SLASH! And unlike the "November Rain" video, no one jumped over the table and knocked the wedding cake over! Congratulations, Jason and Denise and thanks for sharing!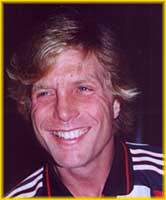 Keri Kelli, ex-SLASH's Snakepit guitarist, now in Adler's Appetite let us know that they have booked a couple of shows in Chicago, IL. Both shows are at Joe's on Weed Street. The first show is March 1 and the second is April 1. You'll want to turn out for these. Adler's Appetite puts on a good show and it's a great chance to meet Keri and Steven and the others and get some autographs and photos. Keri also said that Izzy has invited Steven to record a couple of songs which might be on some future album. Izzy has yet to find a distributor for his last one, but some copies are out although they are tough to find. Whether the one with SLASH and Duff will be released is still unknown.



News Reported: 03/17/04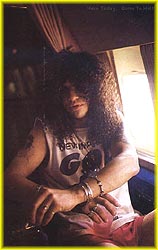 Slash and Duff added to their promo trip. On Saturday they left for Japan, so the Japanese fans should watch for them. There should be some good interviews from there, and we'd appreciate any thing you hear. Then the two and their managers head for Europe. We'll let you know if we hear the schedule there.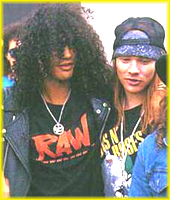 Meanwhile back in the US, SLASH and Duff have joined with Axl Rose in a joint suit against Geffen for releasing the Guns N'Roses Greatest Hits. The lawsuit was filed because GNR was not given the opportunity to approve the choice of songs, the artwork, the release date or the re-mastering. Axl expressed concern that fans will be misled into thinking this is an authorized release and will interfere with his Chinese Democracy release. Fans have inundated Geffen with protests saying the album doesn't showcase the band's best work and is not the ultimate compilation that the band would have selected. Meanwhile, the album has already been released in Australia, Europe and Asia. It has not yet been released in the US, but imports are coming in.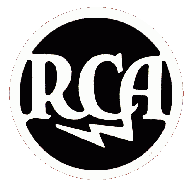 The RCA records site has let it be known that the Velvet Revolver release Contraband will be June 8. The single Slither was to be released on March 23, but this has slid to April 11 or 12 depending on where you are on the globe. The video for Slither cannot be completed without Scott who is still in lockdown rehab and is not due out for some time unless his March court appearances are more favorable than they have been in the past.



At the RCA Records site, you can take part in a survey to name your favorite RCA artists, answer questions about the last three albums you bought, where you buy your albums, etc. And YES, Velvet Revolver is on the list! You get a chance to win CDs, an autographed poster and other goodies from your favorite artist.



Kevin wrote that SLASH came to a fundraising concert on March 11 at Overland Elementary School in LA. The show was to raise money for instruments and equipment for ROCKSTARS Music Education, an after school enrichment program for kids with no prior musical knowledge and teaching them how to play in their own artistic way. SLASH came up and played a rousing version of "Paradise City" with the kids! Kevin said the kids really CAN play and all were 8-11 years old. The audience was blown away. Afterwards, SLASH stayed and signed autographs for everyone. Kevin says he's a parent of one of the Overland kids and a big SLASH fan. He took some pictures which he is sharing with us. Thanks, Kevin! Tell those kids to rock on!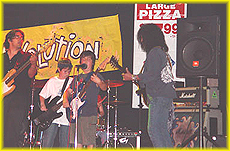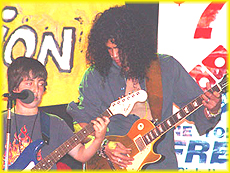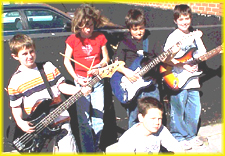 News Reported: 03/15/04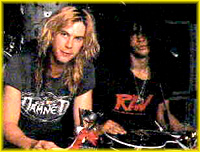 Brian sent us some bad news from the RCA website. It's been posted there that the Velvet Revolver debut album Contraband is postponed from May 18 to June 8. No reason for the slippage was given, but some has to be the uncertain status of frontman Scott Weiland. The first single "Slither" will be released for radio airplay in April.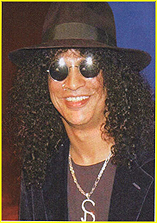 SLASH is in Europe with Duff and the Immortal Entertainment managers drumming up support for Contraband. Nikki sent some information on this. Our guy was in The Sun's newspaper celebrity section where they had a page of stars with cool initials in their jewelry, and SLASH got a mention with a recent picture of him wearing his "S" necklace. The caption said "Couldn't fit Gun's N'Roses so a simple S had to do for heavy metal guitarist SLASH whose real name is Saul Hudson". The European Total Guitar's April issue is out with a large cover picture of SLASH, and a big write-up inside about him and Velvet Revolver. Nikki says there are tons of new pictures, in-depth interviews with Duff, SLASH and Dave about the guitar-oriented aspect of the album. Nikki says they also talk about making the new album, how they got together and the usual background. There's a section with the "Set Me Free" guitar music with backing tracks and "Doin' Fine" tabbed out. Nikki says Scotland and the UK are getting the fever, too! Thanks, Nikki!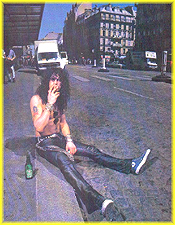 There's some information from Paris, too! Michael sent this in. He said this is the first French Velvet Revolver interview, and it's with SLASH for the Rock Hard magazine. SLASH drank a Guinness but said he stopped smoking 7 months ago with the help of a hypnotist ($350) because he has a son now and a second on the way. SLASH said that the album "Set Me Free" mix is different than the album mix. He also commented that the album won't be in stores for about 4 months, but he is doing promo anyway. The interviewer said that Scott is a singer with problems, and SLASH said that he and Duff are helping him not like doctors but like an ex-patient. Then, SLASH was asked why Sebastian Bach was not selected; and SLASH replied that Sebastian has a personality so charismatic that he could have destroyed the rest of the band. SLASH had no problem speaking about GNR now. It's in the past. He thinks about himself that he is not a great guitar player but everyone recognizes him as a good one. (humble!) What about Snakepit? SLASH loved the 2 records, but he had a lot of business sharks around him who wanted to make a lot of money on him and he did not appreciate that part of that period. For him, he is just the same guitar player for 15 years, but he knows the business better now. Asked about the problem of Scott, SLASH said that it is difficult for them to plan the future of Velvet Revolver and Scott's problems right now are big. Thank you, Nikki, for that excellent report!



Pauric found the Guns N'Roses Greatest Hits for sale in Ireland. There are 14 tracks. There is no booklet but there's a cool photo of SLASH and Axl inside and a photo of the original band on back and inside. The song credits are in the bandmember's original names, e.g. Saul Hudson. Pauric says it is definitely worth buying. Sim is in the UK, and he saw the ad for it on TV saying the album will be out March 15th. Thanks, Sim!



News Reported: 03/12/04


In 2003 SLASH did a guest appearance on the title track of upcoming Latin American artist Elan's debut album, Street Child. Elan's voice is achingly mature for the young woman she is. She was votest Best New Latin Artist for 2003 in the People's Choice Rolling Stone awards and her album was named as one of the 10 best Latin American albums for that year. Street Child, the full length lp, should be released soon from Silverlight Records. In the meantime, there's some new information on her site, elan-online.com. Four of these involve SLASH. You'll want to see the trailer of the "Street Child" video where you can here SLASH wailing. The video will be on MTVLA soon.The director is Elan's brother Jan Carlo. There are three interviews with SLASH on the site. In the first, SLASH talks about "Street Child" and how he felt about the track the first time he heard it. He could see right away where he could add his music. Then, in another interview, SLASH talks about Elan and how she has this mature voice of a woman 35-40, but she is really a very young woman who definitely knows what she wants in her music. Finally, SLASH talks about working with producer Carlo DeFan. All the interviews were great, and we think you'll love that video clip. See them all at Elan's Videos.



And don't forget to get a behind-the-scenes look at Cypress Hill's "What's Your Number" video set on MTV2's "Cypress Hill Makes a Video" when it airs again Wednesday, March 10 at 9 pm. SLASH makes a very brief appearance in the club but does not perform.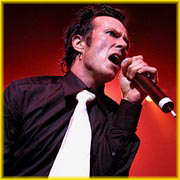 As we told you last time, the making of the video for "Slither" was postponed when the court denied Scott Weiland's request to join his bandmates last weekend for the shoot. "Slither" is the first single off the forthcoming album, Contraband for Velvet Revolver. Shooting is proceeding around this problem. Director Kevin Kerslake is shooting interior and exterior scenes in L.A. and Europe while the band is schedule to shoot their parts in April. French fans may see some footage being shot at the catacombs there. As noted before, SLASH and Duff are on their way to Europe next week to do some promo work, and the video will pick up their performances then. Thanks, Brian and LuAnn for sending this in.





Pauric was listening to the radio a couple of days ago in Ireland, and they played "November Rain". At the end, the dj said that the GNR Greatest Hits album is to be released in Ireland this Friday! Pauric said the radio station is "2fm", the biggest in the country, but he'll confirm for us on Friday. Amazon.com lists the new album as "Out of Print"! You can pre-order a used copy of which they have none so far. Pre-orders are popping up on ebay, too.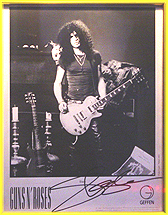 Derek has some photos from the Berlin Hard Rock's GNR section you'll want to see. He has a big digital camera so the pictures come out really big. The picture here is a reduced one of SLASH. Here's where you can see the rest. Thanks, Derek!



News Reported: 03/10/04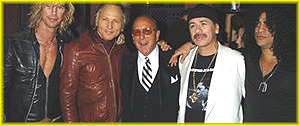 Some news on the label front. A year after BMG entertainment split the RCA Victor Group into BMG Classics and Arista Associated Labels (headed by Clive Davis pictured here at the Grammy party, center), Arista Associated Labels has regained the RCA Victor name and will operate as a stand-alone division of RCA Records. Velvet Revolver is signed to RCA Records.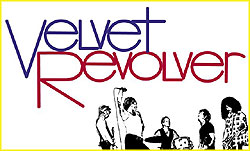 Another roadblock has come up for Velvet Revolver related to Scott's rehab incarceration. MTV reports that the band was ready to shoot the video for their first song off the album Contraband, "Slither", this past weekend in Los Angeles. Friday, Scott had a probation progress report, and the court denied Scott's request to join Velvet Revolver for the video shoot. The video is to be directed by Kevin Kerslake, and the shoot was postponed. But hey, it never hurts to ask! Scott is due back in court again on March 23 for another progress report. Coincidentally, March 23 is the date "Slither" will be released for radio air play. Weiland has another appearance in court before that. On March 15, he will appear to face DUI charges. It looks like a slow start up after what started so fast. The video, when it does get shot, should be great. Kevin Kerslake has a terrific list of credits for videos for such artists as Nirvana, Smashing Pumpkins, Red Hot Chili Peppers, Green Day, and (surprise!) Stone Temple Pilots. Here's his video credit list.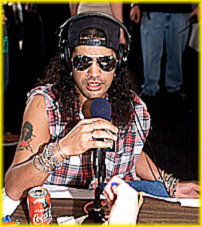 SLASH has been on vacation in Las Vegas and is now home in L.A. He and Duff are heading off to Europe to do interviews for Velvet Revolver. We're told from European sources that the Europeans are not as interested in VR as they are in hearing about the Guns N'Roses Greatest Hits album. Trust SLASH and Duff to do some good interviews, and we're counting on the Europeans to be on the alert for radio, TV and press reports!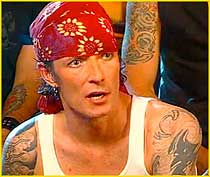 An old net friend, Button, wrote in to say that she just saw Scott Weiland on the TV program Celebrity Justice. She said he is looking great now that he is really into rehab. They also talked about SLASH, Duff and Velvet Revolver. Thanks, Button!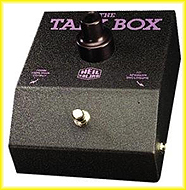 Ben found a lot of information on the Heil Talkbox on the Musician's Friends site. We're going to put a copy of the equipment configuration here and in the Equipment Section on this site. Ben said he thinks we need more information on it, and we agree. Hope this helps those of you who've been wanting to get one. It said that this is what SLASH used in GNR, for example, in "Dust N'Bones". Thanks, Ben. The information is in Adobe Acrobat format.



News Reported: 03/08/04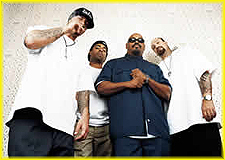 Cypress Hill has made their great new video available online! SLASH is in it...briefly...but there he is with a big smile and his arms around a couple of people. The video is "What's Your Number?", and this is the way cool first song off their new album Till Death Do Us Part. It's presented really well, and you can pause it and see that big SLASH smile. Have a look, and we bet you'll have to listen to that new song more than once. It's on the MTV site, so check it out at:


"What's Your Number?"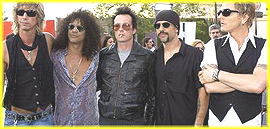 After such a long, long wait, Velvet Revolver's first single off their debut album Contraband titled "Slither" is available for pre-order on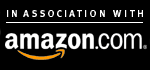 . (This link takes you to our associate, Amazon.com and gives us a few cents at no charge to you. When you get there, you will be at their home page, so search for Velvet Revolver, and you'll see "Slither" for sale if you set the type to "Popular Music". The CD single is an import priced at $11.99, and the release date is May 10 on BMG. The single is down in the 24,000 range of popularity so let's get that pushed up! Whether this will be released in the US as a single, we don't know nor do we know which country this is coming from. A week later, Contraband will be out. March 23 is the radio release date for "Slither". Here is a very, very small clip of "Slither".



For a touring band, we don't think anything is worse than having your van broken into and everything you own stolen. This recently happened to the super fun band, The Demons. Please read the attached list from Mike of Gearhead Records. Chances that the equipment and other stolen items can be recovered will be better if everyone can just pass this list around. Please contact Mike if you can help, Thanks.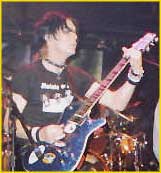 Crazy Keri Kelli, ex-Slash's Snakepit guitarist, has a funny bit on his website called "Guitarist Wanted". A guy puts an ad in the paper and says his band is looking for a lead for a dark metal band. The guy who answers the ad first argues about the lead idea then thinks this the dark metal thing is a racial issue. Have a listen. What a hoot! And somehow we wished they had been able to hook up...done them both some good. Check it out at KeriKelli.com. When you get there, enter the site, and click on "Guitarist Wanted" at the top.



News Reported: 03/05/04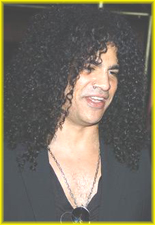 How is your German? Attila found a short article about Velvet Revolver and a really great large picture of SLASH, and he scanned it in. It's on his forum site. If you can read German, you're all set. If not, go down a few posts, and you'll see the translation! Thanks, Attila! Click here to go to the forum.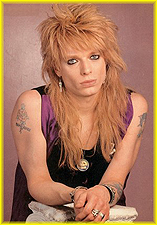 Hanoi Rocks was a huge influence on Guns N'Roses. They were part of that whole early scene in the 80's. They disbanded after their drummer Razzle was killed in a car accident. Guns brought their entire catalog out on the Uzi Suicide label so it's possible to buy their CDs. SLASH did a solo with Michael Monroe, frontman and lead vocalist, for the soundtrack of The Coneheads, "Magic Carpet Ride". Michael has done a long interview with Metal Sludge in which Guns are mentioned several times. Good background, too, if you're interested in the Hollywood Days. Check it out at metal-sledge.com. Thanks to Brian and Jim for sending that in.



Some GNR tracks are showing up on the itunes list, and they're looking pretty good. "Sweet Child of Mine" is at #46, "Welcome to the Jungle" is at #57 and "Paradise City" is at #88. Not surprising, but "November Rain" should be up there, too!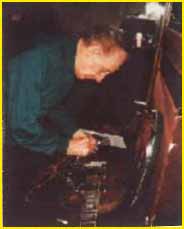 Some more information on that March 5 opening of the Les Paul Exhibition at the Rock and Roll Hall of Fame. Les Paul and his band will be there to entertain. The new information is that Les Paul will be available after the show to do a meet and greet where he'll sign autographs and talk to fans. The Hall of Fame is located in Cleveland, OH. You need tickets for this event so call or visit their web site for reservations.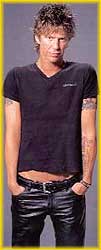 Sam let us know that in the March issue of Bass Player there is a new interview with Duff McKagan. Look for that on your newsstands soon. And speaking of buying things, some people have written in looking for those cool t-shirts from the Velvet Revolver show at the El Ray. There are two of these up for bid now at the ebay auction. Just go to ebay and search on Velvet Revolver, and you'll bring both of them up along with the bootleg video of the show that has been widely circulated.



News Reported: 03/03/04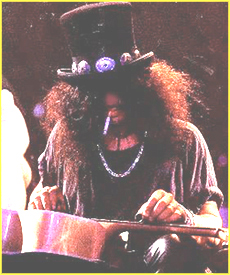 There's a special magazine out that has some SLASH mentions. Vicki found it, and it's called Guitar World Presents #68 Guitar Legends: The Giants of Acoustic Rock!". The date is Spring 2004 with Bob Dylan on the cover. You have to admit that SLASH is better known for his electric rock than his acoustics, so we were interested in what they had to say. The whole magazine is devoted to acoustic and many, many bands, so the SLASH/Izzy part is just a small section. We'll let Vicki's extraction of the GNR acoustic part tell you for itself. The biggest citation is Patience which gets a kind of backhanded praise, but see for yourself:


GNR and Acoustic Rock





The new SLASH signature guitar is out and can be ordered from Gibson (see the Equipment section off the home page menu). It's a great performance guitar, but it's a little plain. The first Slash signature guitar is bright red and has the one from the Custom Shop has the snazzy snake in mother of pearl on the neck. Hannes sent this in, so if you've been searching for one, there's one for sale on ebay:


SLASH Sig Guitar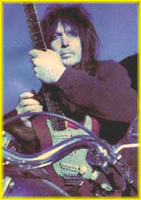 Gail Worley is one of our favorite interviewers and chroniclers of rock and roll. Gail used to edit Metal Edge and has moved on to other things. Her latest post to her site, Worleygig, is:
"The year 2003 isn't officially over until you've enjoyed my Top 19 Quotes from the mountain of interviews I did over those twelve months. It's a rock zeitgeist!" And one from Mick Mars (guitarist in Motley Crue) has a SLASH mention! Mick says, "Musicians today have gotten used to Protools, which I hate. You can go into the studio and not even be a musician, just start beating on stuff and they can take parts out of it, move it around and then you can sound like Slash. If you want some kind of weird feedback effect in the middle of a guitar solo, now they can just fly it in. You don't have to sit there and work at it like you did back in the day." Ain't it the truth.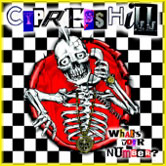 Peter in Melbourne, Australia sent in the news that we should be watching for the new Cypress Hill video for "What's Your Number?" because SLASH is in it! Peter says SLASH is not performing...just kind of hanging out. At Cypress Hill's official site, we were able to hear clips from the song (excellent), but they didn't have it up yet. Keep an eye out for it...and SLASH. Get a behind-the-scenes look from the set of Cypress Hill's new video for "What's Your Number?" on MTV2's "Cypress Hill Make A Video". SHOWING 3/2 AT 11PM, 3/3 AT 3:30AM and 3/10 AT 9PM. We don't know if SLASH will be in this, but we wanted to bring it to your attention.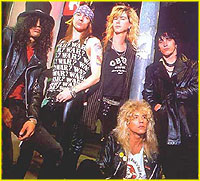 Brian tells us that the new Guns N'Roses Greatest Hits will come out in digipack with remastered tracks. Should be a very attractive and eye-catching format with some sound improvements. The date we have so far is April 11 in Australia. CDUniverse lists it for pre-order and says it will be released March 23. Cost is just over $9. Note that the radio release of Velvet Revolver's first single, "Slither", is also March 23. So, this could be quite a month!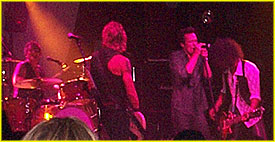 MTV has an interesting and to some extent somber look at Velvet Revolver's chances. Scott Weiland's drug habits are the biggest target. They liken him to Layne Staley, and while he bleeds during the songs, he doesn't project that ability to change that he needs to get through when he leaves rehab. Another difficulty is the music which they said is just this side of retro '80s, but it's saved by SLASH and Dave. They further point out that while STP and GNR were both enormously successful, none of the individual band members did as well alone. Will Scott keep it together? Will fans other than the old STP and GNR ones be attracted? They think it's possible but it's a real challenge. SLASH says, "Bring It On!" Go over and read this sobering article for yourself:


MTV on VR

News Reported: 03/01/04