Fan Want/Sale Ads & Band Ads

SLASH is always busy with a band, doing interviews, guest appearances and on and on. It's hard to keep track of what he's up to but here in the Current Events section we try to keep an eye on him for you. If you have any SLASH sightings to report, email the SLASH page right here. Just click on the SLASH picture below:



Right now Velvet Revolver and SLASH have a lot going on. The calendar of events begins with April 2004. Near the top is a list of months you can click on to see future shows and events. You can see the month at a glance and then click on specific days to find out more about what's happening with SLASH.Check this schedule often for events in your area with SLASH and Velvet Revolver. Click the tour truck below to check the schedule.








The SLASH News is published every Monday, Wednesday and Friday.





(Updated April 1, 2005)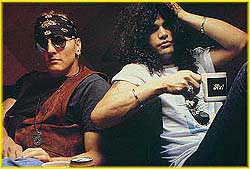 The biggest news tonight is good for the U.S. Velvet Revolver has announced more tour dates. These are all with Ozzfest where VR will open for Black Sabbath. The dates begin August 15. Iron Maiden, Black Sabbath and Velvet Revolver will all be on the bill till Maiden drops off on August 20. Other bands are scheduled as well. This schedule comes straight from Matt Sorum, so you should think of these dates as confirmed. Here's the latest addition to the U.S. tour schedule:


8/15 West Valley City, Utah
8/16 Salt Lake City, Utah at USANA Pavillion
8/20 Los Angeles, CA at Hyundai Pavilion at Glen Helen
8/23 Albuquerque, NM at Journal Pavilion
8/25 Dallas, TX at Smirnoff
8/27 Houston, Tx at Cynthia J. Woods Pavilion
8/28 San Antonio, TX at Verizon Wireless Ampitheatre
8/31 Nashville, TN at Starwood Ampitheatre
9/02 Charlotte, NC at Verizon
9/04 West Palm Beach, FL at Sound Advice

We have no information yet on pre-sales for these shows. If you watch the band's official site at velvetrevolver.com, you can watch for these under Tour Dates. There are pre-sales in March, but none beyond that.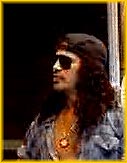 There's a really sweet post about SLASH in the velvetrevolver.com forum. A woman whose son recently died described how SLASH reached out to her in her time of grief and made her feel better. Here's where you can read about it and thanks to Heidi who alerted us to that post. Our sympathies too to the friends and family of this SLASH fan:
SLASH Phoned Me.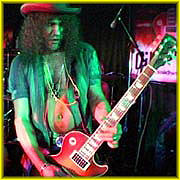 It sounds like the Ottawa show was a winner. Colton says he was there at the March 23 show, right up front, and the guys rocked the joint hard. He hopes the guys come back there or to Toronto soon, and this time he'll bring a lot of his buddies so they can witness the ultimate rock experience. There's a professional review on the net from Jam Review. Pretty cool. It's at Jam Music Live Review.





There's another issue of Who Named the Band on the net done by Jam Review, and they talked to SLASH. It's a good interview. Check it out at Velvet Excess. SLASH talks in another interview with Jam Review about how he and Perla get a nanny and go out on the weekends and have a blast. When they are home they are two normal parents with long hair and tattoos. And there's another professional review from the Edmonton Sun describing the show there where there were 10,000 in the Rexall Theatre and the loudest rock and roll heard in years. In fact they fault the band for playing so loud! Rock on, guys!







(News Updated 04/01/05)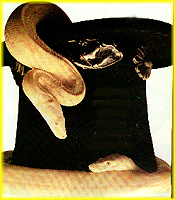 Last year SLASH performed the U.S. National Anthem at a basketball game in L.A. We're told he did a great job. Now he's going one step further by performing both the Canadian and the U.S. national anthems prior to the 29th home opener for the Toronto Blue Jays. The Blue Jays will play the Boston Red Sox in the game on Friday, April 8 on General Motors Opening Night 2005. Paul Godfrey, President and CEO of the Blue Jays says that the goal of game entertainment on Opening Day is to enhance the fan experience and create great memories. "Having one of the world's greatest guitarists perform the anthems will certainly be an unforgettable experience."



The new Juice magazine hits the newsstands next week. Juice is a magazine targeting skateboarders. SLASH will be interviewed in Juice #58 along with Lemmy of Motorhead.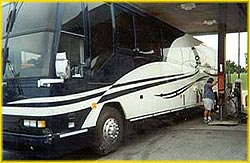 Vicki from West Virginia got a copy of the new April issue of Classic Rock, the #78 issue. Vicki always seems to get these cool magazines with SLASH mentions and for this, she has to hunt all over! Thanks, Vicki! In this one, there's a section called "The Dirt" and Henry Yates interviewed SLASH for something called the Tour Bus Survival Kit. Basically, Henry asks SLASH what he does for certain things on the bus, for example, music. SLASH replied that he doesn't listen to shit on the bus. Backstage, Duff's been listening to early 60's soul music and SLASH is listening to his heroes, Led Zep. On DVDs, SLASH says they watch Ramones and Sex Pistols movies. He adds that usually drags so much that he just takes something and goes to sleep. About books he's reading, he says he's been reading The Horses's Mouth by Joyce Cary published in 1945. It's about a late 19th century painter named Gulley Jimpson. SLASH says it's really an old book, really old-fashioned and set in the 1870's in England. It's about how Jimpson who hustles his way to getting paid for f*cking these girls. SLASH says it's a great book! An essential bus rule is to open the window when smoking and the old standard rule of not shitting in the toilet. They asked SLASH for and anecdote and he said that when they played Cincinnati, they invited the Hustler guys down so they brought a huge entourage of chicks which was pretty irritating. They had this poor little girl from Entertainment Weekly doing a road piece who was stuck with them for 5 days on the mouse and she was really a meek little mouse-like girl, and it was just like of all the people to be stuck with, you know? HA!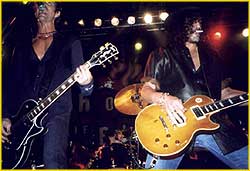 In the same magazine there's a color shot of Suzan Holmes, Duff's wife in her skull-patterned, black and white bikini and a color picture of her in a couple of others. Suzan set she met Duff on a blind date in 1966. He'd seen her before of course, as she is a model, but she hadn't met him. They've been together ever since. US TV is currently trailing her for a reality show, Rock Housewives talking with Carmen Electra and Dave Navarro, hanging out with the Tylers (although she may be too late with this one since they split up). And we're sure the VR guys will be along with their spouses. Sounds like a good show!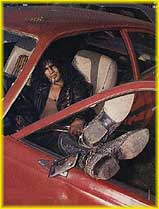 Another thing, there's another article, "The Days of Swine and Roses". SLASH doesn't get too many quotes, but he does have his own sidebar. The Velvet Revolver guiarist on the highs and lows of being a Gunner. They ask him to describe your greatest moment of excess... the moment when it all went a bit Spinal Tap. SLASH said he bought a Porsche and parked it under a freeway in Hollywood and left it unlocked overnight while he went to some ramshackle apartment so he could get his buzz on. A brand new Porsche! He'd bought it just the night before. It was actually there when he returned. Vicki, thanks so much!







(News Updated 03/30/05)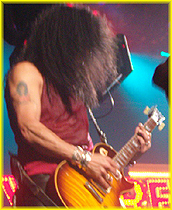 Here's another chance to see Velvet Revolver on TV; mark down April 7 and you can see them on NBC's "Tonight with Jay Leno". We don't know how many songs they are doing or which one(s), but it will be great to see them again. Looking toward the future, Velvet Revolver is confirmed for August 27 in Woodlands, Texas where they will be part of Ozzfest. While people are rumouring that this means Velvet Revolver will take over Iron Maiden's slot on Ozzfest when Iron Maiden leaves the tour having an other commitment, it is not confirmed that VR will be there. Mudvayne is another rumour as being on the tour. So, when the official replacement for Maiden is announced, we can see if VR will be on Ozzfest for those next six shows.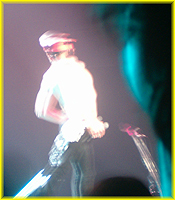 A fan who goes by Stargugz_crazy went to the Montreal show and says it was totally rock and roll at its best. Thanks to the band for best show in years and keep that awesome music coming. The gig in Montreal on March 22 was in front of 5,000 fans. Karolyne sent us a long review of her trip to the show and details on what the show was like. We'll let Karolyne tell you herself! Click here to read Karolyne's story! And we have some pictures Karolyne sent along and we thank her for that, too.




April 12 kicks off the Velvet Revolver Electric Wonderland Shows, and if you're looking for good seats, pre-show celebrations and extras, then you want to order your tickets through the Electric Wonderland web site. The tickets are expensive, and you can still get your regular tickets through the box office and so on, but these are the ones for fans with some extra cash. These are on sale right now. Go to the band's official site at velvetrevolver.com. Click on the second bullet to bring up Tour Dates. You'll see the US shows listed with BUY at right. Click BUY and you can see what's offered for the full VIP ticket and the lower cost VIP ticket. The password is WONDERLAND! So don't miss your chance to get tickets or VIP packages. Order NOW!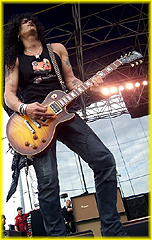 Vicki sent us a note about a very interesting article in the February 2005 issue of Guitar & Bass where SLASH has a small cover picture. The article is 5 pages long with many pictures inside. There's a small sidebar, "SLASH on the Side" with a picture of SLASH playing with Ray Charles. SLASH is quoted as saying that most recently he played with Ray Charles which was a huge experience for him. Before Ray died and before VR got started, SLASH went in to play "God Bless America Again" with Ray. It's a gospel version of one of his earlier songs. They worked in Ray's studio, and Ray took SLASH under his wing. SLASH says, "Now that's the kind of guy who really keeps you humble, because he was such an amazing artist. I'm really proud of that moment."



We had a note from Keri Kelli, ex-SLASH's Snakepit guitarist, saying the band's tour was going very well. Then we received an announcement that Adler's Appetite's vocalist, Jizzy Pearl had parted ways. Steven said that Jizzy is an awesome vocalist and will always be one of his best friends. He wished Jizzy the best. Steven is flying to L.A. to audition possible replacements. Among those being considered is Joe Leste from Bang Tango who recently played with the band in Japan. The band recently released their EP on the band's official web site. We bought a copy and thought it rocked!







(News Updated 03/28/05)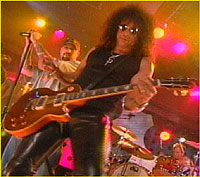 Esquire magazine named SLASH the Best Guitarist prize in the 2005 Esky Music Awards. The magazine says that SLASH is the one we see ourselves as when we strap on an air guitar with the top hat, the dangling cigarette, near death experiences. They said we'd always remember him as SLASH of GNR, but "we also congratulate him for beating the comeback odds with a surprisingly legitimate and vital outfit, Velvet Revolver." SLASH accepted the award with a statement that this is his first guitarist award ever, and it's very humbling. He thanked everyone in the music business that he'd worked with, and he gave a special thanks to wife Perla who is "at least half the reason I'm still walking". The Esky is a big honor and we're proud of SLASH for this award coming on the heels of the Grammy!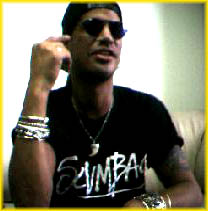 Brian sent us an article he found on the net, "SLASH and Burnout". He talks about the creation of Velvet Revolver and his thoughts on GNR. Not much new here, but a good summary. Click here to have a look at it. We told you last week that SLASH and Dave would be on Rage TV in Australia VJ-ing on their video show. Scroll down to the bottom, click 2005 and you'll see them listed there. There's a small video intro on the web of the show. And if you look around on the site by doing a search, you can find some audio interviews with SLASH from before the Australian tour. They are really worth hearing and fairly long. Two parts!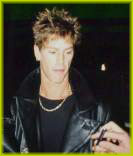 Duff comes in for a couple of interviews, too. One interesting fact is that because he took so many drugs in the past, he has a lower pain threshold. So if he has to have work done on his teeth, if a regular person needs 2 shots of novocaine, Duff would need 12! The other says that Duff had a good thing going in Seattle, but it was such a bad environment for drinking and drugs, that he wanted to get out of there. So, he decided to move to L.A. where he'd heard things were better. As he says, he moved to L.A. and got into a whole new set of problems.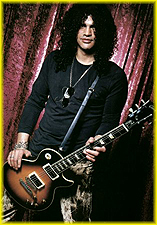 Neil found a web site that has photos of Velvet Revolver from their Sydney show on February 23. This is a local Australian web site. Check it out! Click Aussie show. Thanks, Neil! And Wendybird also has a photo album for us. It's the whole show including the opening band at Phoenix. These are beautiful daytime pictures. trip to see VR in Phoenix. Thanks, Wendybird!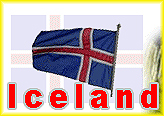 Deddi is in Iceland and wrote to say that the papers and the local music station PoppTivi have announced that Velvet Revolver will headline a show there on July 7. The venue is Egilsholl which holds a little under 20,000. Tickets go on sale this Saturday. Deddi said from experience tickets will be about $100! Must be a festival. Anyway, we've also put up a lot of July shows. Check out the tour bus link above. These July shows are for Belgium, Switzerland, Iceland and Finland. Very cool!







(News Updated 03/23/05)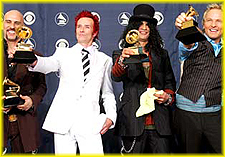 SLASH got his hat back! After all the rumours and stories, SLASH himself announced that he has his beloved hat back. It's being reported in newspapers as well as web sites that the hat that went missing a month ago has been recovered by police who are still investigating. SLASH says he's owned that hat 15 years, and it's been all over the world. "It's at the point where I only wear that particular hat to special engagements like photo shoots and the Grammys, etc." SLASH said. He said the hat doesn't go on the road. All things considered, SLASH said, "it was blown out of proportion, wacky scenario. I'm still getting reports from all over the world that someone's got the hat. I'm just glad to have it back and we'll see what the cops come up with as far as who stole it. It was a trip to go sit in the little room at the police station and they came in with a box and opened it up. I saw it and said, "Yeah, that's it." We'll all rest easier tonight knowing the hat is back!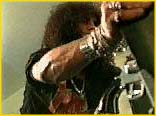 Back in the GNR days SLASH worked on the music for a couple of pinball machines - the most famous of which was the Guns N'Roses one. Now he's going to do something else new, video game music. It will be on an upcoming EA Sports NASCAR game due later this year. He talked to Billboard.com and told them that he is doing theme music, no lyrics because there will be dialogue all the way through for the whole game. SLASH said that he has never been a video game player, but they sent him their last NASCAR game, and he learned how to play it. It's like pinball in that you have different modes you go into depending on what the player does, and the music changes. We'll be looking for that one!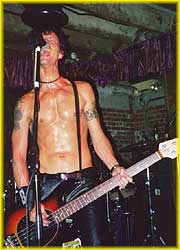 Here are some quick notes on Velvet Revolver! In the latest Metal Hammer and get a free DVD along with the ins and outs of Velvet Revolver's Duff McKagan. There's also a free DVD and much more, but the interview with Duff is special to VR fans. And Neil sent us a note that there are Velvet Revolver pictures online from the Sydney, Australia show on February 23. Here's the link to see the pics...thanks, Neil! And we found a short article about VR guitarist's Dave Kushner's confession that puts his rock creds at stake. He confessed that he was once a member of the truly terrible rapper Vanilla Ice's touring band. Kushner says he is mortified that he worked with the Ice but was desperate for money. He says Vanilla Ice was "a jerk"!' And we're told that the opening band in Canada for the VR tour there will be Three Days Grace.





(News Updated 03/18/05)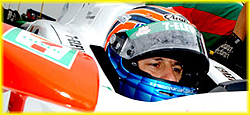 After the Jam this week in Phoenix this weekend, Velvet Revolver begins their tour of Canada. We want to remind you that the shows are as follows:
3/22 - Montreal at Bell Centre
3/23 - Ottawa at Corel Centre
3/24 - Hamilton at Copps Coliseum
3/27 - Saskatoon at Credit Union Centre
3/29 - Edmonton at Rexall Place
3/31 - Vancouver at Pacific Coliseum
After these shows, the U.S. tours begin. We'll try to keep reminding you of where and when so everyone gets there!



The video for "Dirty Little Thing" has popped up on two more sites...the Rolling Stone site and VH1. Both of the others, "Slither" and "Fall To Pieces" are at both as well. Just go to the main page of each one and search on the artist Velvet Revolver.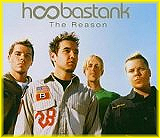 Hoobastank has released a statement that they're working on their third studio album to be released in December. the group has been in the studio and at home writing songs for the follow-up to 2003's the Reason. Although a December release is the goal, the Los Angeles-based group won't make any promises. They don't want to rush anything and want everyone in the band to be completely happy with the songs. While they are working hard on the album, they are also getting ready for their forthcoming tour opening with Velvet Revolver. They will do the entire U.S. tour April 12 (San Diego) through May 25 (Miami). We don't know who the opening band in Canada will be.



There's an article you might want to read. It is from the Miami Herald. It tells you about the "truly explosive" show you all in Miami are going to see May 25 at the Sound Advice Ampitheatre, the last U.S. show.





(News Updated 03/16/05)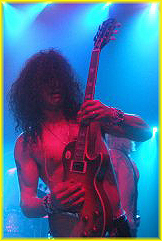 Velvet Revolver starts the US/Canada leg of their tour on March 19th with the Phoenix Speedway Jam. After these shows, they are off to Europe again. Then the latest word is they will go back into the studio to make their second album. Spring is going to be busy for them! We'll be at one of the shows and we hope you will get to be at one or more, too! Send us your reviews, your impressions, and photos!



If you think Velvet Revolver is the Best Band in the world, then there is a fun single elimination battle royale on Esquire's site where you can make your feelings known. You go through selecting which one of different pairs you like better than the other. Be sure to click Velvet Revolver all the way through. Right now, the Dave Matthews band is in the lead with Velvet Revolver not even showing 1%! So, go over and vote for our guys. Click here to find the Esquire contest!


This is so cool! It's a 30 second radio promo featuring SLASH. Slash, Rob Thomas, Vanessa Williams, John Legend and Mario are the latest artists to add their names to the growing list of musicians praising the radio industry as part of the "Radio. You Hear It Here First." campaign. The spots may be downloaded here. Just click SLASH to hear our guy!



If you haven't made it to one of the sites that has "Dirty Little Thing" for download because your linespeed may be too slow, you can be like Vicki and see it on TV. It was one of the videos shown on VH1 Classics where they play an old song by a band and a new one. They chose to show DLT this week! Vicki says it doesn't seem to be taking the video listings by storm as "Slither" did, so if there any call in ways to vote, let's give it a lift.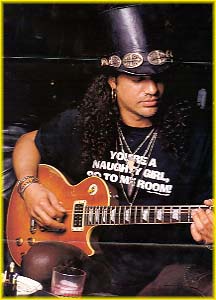 In our Equipment section, SLASH is wearing a t-shirt that says "you're a naughty girl. go to my room". Matt found a similar style t-shirt, but the layout of the words is different. It can be found in the men's section of this site. Matt had his custom made by them to look like the one SLASH is wearing. Here's where you can find the site. Matt says there's also one for women in their women's section. Thanks, Matt!



The rest of the news has to do with Scott. He's done some interviews about his drug habit. He says he is clean and his family means everything to him. Back when he did drugs, he lived with Courtney Love for some time and all she wore was panties all the time. He said there was no sex between them; just drugs.





(News Updated 03/14/05)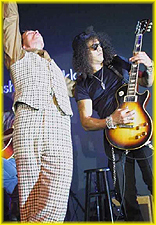 If you're in the U.S. and waiting for this leg of the tour, all the tickets are on sale now or are going on sale this weekend. Check Ticketmaster first as they are handling most of the sales. If they don't have your show listed there, go to the venue's web site to see who handles their ticket sales. Today we got a Newsflash from Ticketmaster that the sales for Velvet Revolver go on sale tomorrow in our area. Be sure to put your name on these newsletters so you'll always have the most up to date information. We hope to see a lot of your reviews come in and that you get those tickets before they sell out! Pittsburgh is going to have a contest through KROQ where they are going to give away tickets.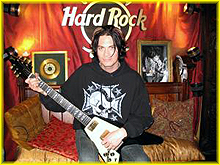 We heard from Keri Kelli, ex-guitarist in SLASH's Snakepit's touring band. Keri is traveling with Steven Adler's band, Adler's Appetite. They are getting ready to go to Japan for 4 shows next week. Keri says their tour of 28 shows in 7 European countries was very successful for them. He said he went to a lot of places he's never been like Budapest, Istanbul and Belford. He says he had a blast and the fans seemed to have a blast also. A highpoint of the trip was a visit to the "Vault" at the Hard Rock in London. Usually you can't go there let alone touch what's there, but they got to do it. He sent a picture of himself with Hendrix's real Gibson Flying V and with Bo Didley's BOX guitar. Read more about Keri at his web site.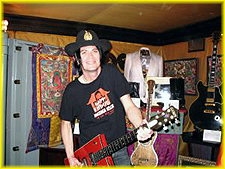 Speaking of Steven Adler, the long-rumored book he's been planning to put out has taken another step to production. The book is tentatively titled "No Bed of Roses". Originally Steven's mom worked on it, but now Brooke Ellis is doing it. Ellis runs Adler's official fan site. Ellis said in an interview that he was working on Steven's story while Steven's mother had written her story. The story is about Steven's whole life so of course there will be mention of SLASH who was his best friend from junior high on. Sounds like some fairly graphic and detailed descriptions of the life the two lived in Hollywood. One fact we gathered was why Steven and Axl didn't appear in the final scenes of the movie The Dead Pool. Steven had suffered his first overdose, and Axl stayed at the hospital with him.



Scott talked to Esquire magazine and says he's off drugs for good this time. He says he is happy for the first time in his life and doesn't think about getting high. The loss of his wife and children to divorce was a wake-up call to the VR singer. Then, his linking with Duff and the gang in Velvet Revolver gave him a path to follow and a group to be with that always had his back.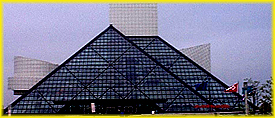 Although SLASH is not going to be at the Rock and Roll Hall of Fame Induction Ceremony, you might want to catch it anyway on Monday, March 14. If you're in that area, you can go to the HOF and see a live simulcast for $10. Tickets are available through Ticketmaster or the Museum box office. An edited version of the 2005 Induction Ceremony will air on TV later in March. Check local listings for dates and times.







(News Updated 03/11/05)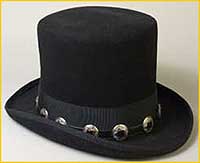 Many sites have claimed that SLASH and company paid the ransom for the famous hat and it has been returned to him. On the other hand, we've heard that may not be true. Since this is up in the air at this time, we'll just have to wait for something official from him. In the scheme of things, it's an irritant. It may have been his "lucky" hat, but no way has SLASH succeeded by having or not having certain headgear! 'Nuff said!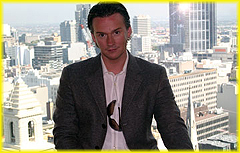 Russell Watson is best known as a classical performer, but his performing life began with singing pop songs. Watson is from Manchester, and an agent there tried to get him to continue with a boy band, but Watson was drawn to classical music. The connection here is that at one time he met up with SLASH in L.A. where he did a demo for the U.K. and they used him because he could sing classical music. SLASH was one of the people he interviewed with, and SLASH asked him if he would be a singer in his new band. SLASH wanted him to try out, but Watson was doing a world tour at the time. He said it was really nice to be asked, and now he sings fronting an 80 piece orchestra! Watson is performing across the UK during March. Thanks to Britt who sent that in.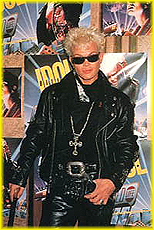 Surfing around, we found mentions of SLASH in some interviews of Billy Idol. As you may remember SLASH's Snakepit opened for Billy Idol during some of their shows, and they rocked! SLASH came out and joined the band in some songs, and the venues were pushed to contain flying chairs and fans! Now Billy has his 50th birthday coming up, and it's been 12 years since he put out an album. He has a new one ready to go, and he says the 80s revival of Motley Crue reuniting and the ex-GNR guys coming together to the top of the charts has inspired him to come back. As he says, "Watching SLASH [come back] gave me hope," Idol says of the Velvet Guitarist. "It made me think, "There's life after death."

Kudos to Motion Theory, the company who used animation and live action footage for Velvet Revolver's latest video. If you haven't seen it or any of the others, they are on the band's site. Rockin' Jellybean, the illustrator, created a few ideas which the band really liked for their playful sexuality and the look of posters. These were shown to the band, and they were wild for the ideas. A real gutted nine-foot-across train car was used and built from scratch. The train rocked back and forth during the shooting in some very tight quarters, but the band hit the mark time after time.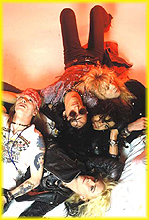 Vicki sent us a note that Guitar World's latest issue has an article about rock photographer Ross Halfin going postal. He's going to sell postcards of some of his famous photos sized as postcards. You can order these on his website at rosshalfin.com. The photos are sold as sets. Set 3 mentions Guns N'Roses, but you can't tell what the photo is. You get 12 6x4 inch postcards for $24 each. Sets only. Check it out if you're interested.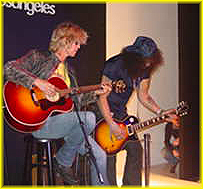 More tour information. Andrew is from Northern Ireland in the UK. He said Velvet Revolver will play a gig of their own at the Odyssey Arena in Belfast on Wednesday, June 8. This is the day before the Glasgow show. If you want more information, check the Odyssey Arena at www.odysseyarena.com/whatson.asp. Thanks, Andrew!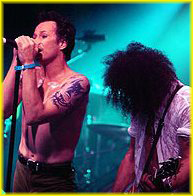 SLASH says that VR has been working up bits of new songs in soundchecks along the tour. They hope to hit the studio in late summer after touring Europe. The reason we haven't heard any of this new material in live shows is the fear that the material will be on bootlegs on the net within hours. He says there are songs out there now...songs they haven't even written. VR is planning to release a live album and DVD at some point, according to SLASH. He says they could do almost anything with their new material, that there is nothing that is confining them to follow a certain path.

Finally, we read a large article in the Arts & Entertainment section of last Sunday's New York Times. The title was "The Most Expensive Album Never Made". It was about the Axl Rose album which has yet to see the light of day, and there were a few SLASH mentions. They were very accurate and weren't really much. Mostly the article's point was the amount spent over time and how the record company has lost faith in having the album ever appear. If you are a GNR fan, you'll find this good reading. Your local library should still have the newspaper.







(News Updated 03/09/05)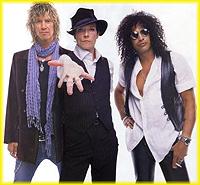 More shows have been announced! Jan from Norway let us know that Velvet Revolver will play at Koengen in Bergen, Norway on July 9th. This is another of the series of Black Sabbath concert where VR opens for them. The show is part of the celebration of Norway being a separate kingdom from Sweden in 1905. Thanks, Jan! And James let us know there will be a one-off UK Velvet Revolver date in June. The show is at the Glasgow SECC on June 9th. Tickets are on sale now. The band are in the UK around this time for the Download festival, but so far this is the only show of their own announced. James saw them last October, again in January and this is his third show coming up. Enjoy!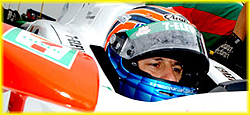 Brian sent us the information on the show on March 19. Velvet Revolver will perform at the Phoenix International Raceway Speed Jam event immediately following the race. Silvertide will open for VR. Tickets for Speed Jam are available at $20 and include admission into the IndyCar Series race along with admission to the concert and the motocrossevents. The events take place outside the track near Turn Two following the race. Fans can order tickets to Speed Jam by calling 1-866-408-RACE and mentioning the promotional code TARGET. Tickets are also available through the Phoenix International Raceway web site at phoenixraceway.com. The IndyCar Series XM Satellite Radio Indy 200 race will be on ABC at 1 pm Mountain Time and nationally broadcast on XM Satellite Radio. We're not sure if the concert portion will be on ABC and radio or just the race, so if you live in the area, get down to the raceway! Thanks, Brian!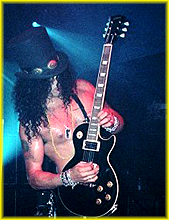 There's a chance we might get to see SLASH's original top hat in his future shows. Metal Hammer reported yesterday that a man from California has contacted the band and says he has the hat stolen from the limo SLASH and Perla used for transport to the Grammys. The as yet unnamed man is now demanding a reward for the return of the hat for which he claims he paid $50 to another man on Hollywood Boulevard in LA. If the ransom is not paid, he says he will sell it on eBay to the highest bidder. Read the official press release here. Brian has started a petition which he hopes will help to get the hat returned. If you'd like to sign, it's at Save the Hat!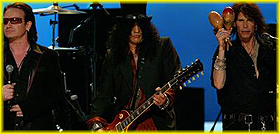 Speaking of the Grammy Awards, the last time SLASH wore his hat was during the all-star performance of the Beatles' "Across the Universe". We wondered how sales of that were going since it was offered as a 99 cent download with all proceeds going to the victims of the tsunami disaster. The internet-only benefit track was distributed through iTunes Music Store, became a download smash and entered Billboard's Hot 100 singles chart last week as No.22, the top debut on the chart. Producer Ken Ehrlich got the green light from John Lennon's widow, Yoko Ono, and she came on board with help in pushing the song through all the paperwork. The all-star talent also came on board quickly. There was a half-hour rehearsal in the middle of the dress rehearsal. Viewers found it stirring, and it's a hit that's music to the ears of UNICEF which will distribute the proceeds to tsunami victims.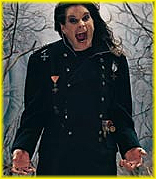 Ozzy Osbourne commented on his wife Sharon's delay of her tsunami charity single. He said it will serve as a financial boost when interest in the tragedy wanes. Sharon has enlisted a host of stars including Velvet Revolver, Elton John, Phil Collins, Rod Stewart and others to record a cover of Eric Clapton's "Tears in Heaven". Sharon and Ozzy believe this will remind people about the disaster and this one will be available on record shelves. It should be released in another eight weeks.







(News Updated 03/04/05)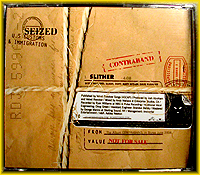 The band Chassis from Poland let us know that Velvet Revolver will be playing Katovice, Poland on June 28. We don't know if this is in support of Black Sabbath or not. For more information, check the venue site at the Polish concert agency. This is added to the list of European gigs which are more of a festival nature like the Download day at Donington when VR appears in support of Black Sabbath on June 11. Velvet Revolver's North American tour begins March 22 in Montreal with dates scheduled through May 25 in Miami, Florida. Hoobastank wil be the opening act for the West Coast leg, but the opening act for the East Coast has not been announced. Scott is very pleased with how the tour is going but he wishes they could just stop and record new music so that they would have more to choose from at the shows.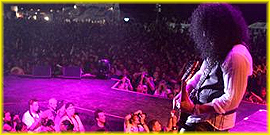 Velvet Revolver has finished their Australian/New Zealand tour, but if you're in Australia and get Rage TV, you can see them on TV in two weeks on March 19. Check local listings for time and station. Another forthcoming band event is the release of a guitar tribute album. The tribute to Velvet Revolver will be released by Tribute Sounds and is titled "Guitar Tribute to Velvet Revolver". Amazon.com lists the release date as March 29.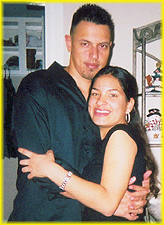 We heard from Ed in Houston who said he's seen SLASH play with SLASH's Blues Ball, SLASH's Snakepit 2, Guns N'Roses and Velvet Revolver. He surely would love another VR Houston date. This would be a sentimental one for them because it was his girlfriend and his first real date, and after that show, they grew close and fell in love. Tell the guys to come for Ed and Anita. Here's a picture of the two!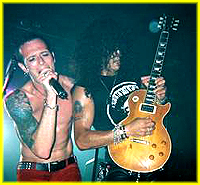 Some Australian reviews have come in. One is from SiLvAnA who went to both of the Sydney shows and was very impressed - one of the greatest live band ever seen! During the second show, there was an incident where Scott angily told some fans with an Axl Rose banner to leave the show. Scott said the banner insulted the band and other VR fans. Scott told them they were not invited, had wasted their money and to get out. "If you want to see a fat, bald guy who wears a wig, you'll have to wait another ten years." Naomi told us how awesome Velvet Revolver were during their Melbourne show. She went with her cousin and the show was all they expected and more. She said that VR are a mixture of the old and new style and are all the good things abvout old and new rock.Seeing them live restord her faith that there are still good live music acts around the world. Scott was awesome getting into the crowd, letting them touch and putting on a real show. It was a perfect show, and Naomi can't wait for the album or the next tour. Thanks, Naomi!

Mark went to shows in Sydney and Melbourne. He's put together a great review with some photographs. We'll let you read/see this for yourself. Click Mark's concert reviews! Thanks very much, Mark!







(News Updated 03/02/05)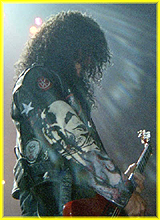 We got a letter from Anne in New Zealand...a real snailmail! In it, she enclosed a nice article about Velvet Revolver and some $$ in support of this site as well as a terrific review of the Christchurch show. We wish we could share the whole review with you, but since it was snailmail, we'll just give you some highpoints. Anne said she decided to be part of the mosh pit. When the 18-20 year olds gave out, the oldies were still jumping around! Anne said she was still flailing while the kids peaked too early. Velvet Revolver was fantastic and played for about 90 minutes. Anne saw the band in the US last year, and she was so pleased they played "You Got No Right" this time as they hadn't before. Glorious! Scott talked to the crowd and said not to take freedom for granted, and Anne likes the way he has something of substance to say instead of the usual "Hello (insert city name)". SLASH said he knew that Christchurch would be beautiful but he didn't know it would be this beautiful. He said it was one of the best places they had played. There were about 4000 there, and everyone showed their appreciation. She sent some things into SLASH using security. And if they come again, there would be even more coming out to see them because everyone was talking about the show. Thanks, Anne for that great review, the clipping and the donation!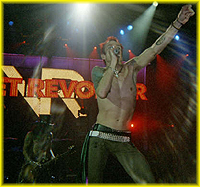 Pete is the fan we told you about that had to choose between The Doors and Velvet Revolver, and he said he made the right choice. He said he noticed SLASH's hat looked different. The hat he wore there looked like leather but same shape and size. Pete said he wanted to point out something he didn't care for too much. The Velvet Revolver sign for the encores attempts to start a chant like the old GNR sign did. The trouble is they do it slow so the chant goes Vel..vet...Revol..ver which reminded Pete of Spinal Tap or the Simpsons. Anyway, it was a great show with 2 hours of playing and the crowd didn't stop jumping. Pete says he only saw only 1 STP t-shirt, but heaps of GNR and Velvet Revolver shirts. Thanks, Pete!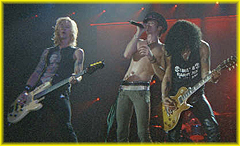 My from Sweden sent in some pictures from one of the VR shows in London, the one on the 10th in Hammersmith where there was a good view in the first row. We'll show you some of those here and probably more later. And Matt passed along a drumstick! Thanks!

Vicki in West Virginia sent us a SLASH mention from Entertainment Weekly magazine. In their "Hit List", they had this remark...."Bono nominated for Nobel Peace Prize - Did everyone who performed that charity version of 'Across the Universe' get nominated? Because I'd love to hear SLASH's acceptance speech: 'I'd like to thank the guy who makes my top hats, all my porn-star friends, Mr. Brownstone...Oh, yeah, and in your face, Axl!!!' " Thanks for that, we think!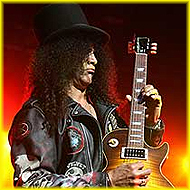 As you know, SLASH's top hat was stolen at the Grammy awards from the limo he was using that night. Also items were taken from Perla's purse. The latest thing on this is that SLASH is asking a TV show to help him retrieve that hat. Anyone with information can contact the show Celebrity Justice or this site. Read about the TV appeal.







(News Updated 02/28/05)

SLASH !

SLASH's Official Fan Site




SLASH News