SLASH !
SLASH's Official Fan Site
SLASH News
April 2002


Fan Items For Sale/Trade!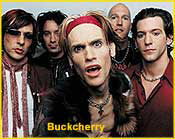 This is the final reminder that SLASH will play at the Key Club in West Hollywood tonight. This is a special occasion - a benefit show for Randy Castillo, Motley Crue drummer, who died of cancer not long ago. Ismar went to Duff McKagan's chat yesterday; and Duff said he would be teaming up with SLASH, Matt Sorum and Izzy at the show. Duff also said that two guys from Buckcherry would be playing with them. Ismar wonders what purpose it serves to have the Buckcherry guys with our guys. He says GNR material would sound excellent if sung by Duff, Izzy or even Gilby. He recommends the four hook up with Gilby, "and Axl kicked back in the trash can"! Thanks for that update, Ismar. Ticketmaster tickets are sold out. Check with Key Club to see if there are any left at the door before you head out. This is a big demand show!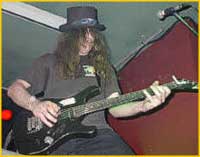 If you live in the Pittsburgh area and like tribute bands, Fake Fest is scheduled for late May at the Pittsburgh Post-Gazette Pavillion (formerly Star Lake). The GNR tribute band, Paradise City, will do a set along with tribute bands for Nirvana, AC/DC, Pink Floyd and others. The best part is seeing "SLASH" of course! Thanks, Ryan!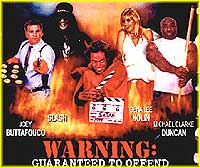 There's some additional information on The Underground Comedy Movie. This is the soft porn and really gross movie SLASH made in 1999. Sim had some news from the UK. The movie will be available for rental on video and DVD on April 15, so you should be able to find it at your local Blockbuster by now. It will go on sale in October. Thanks, Sim. Mike also saw the commercial here in the US. You can buy it right now by calling 1-800-315-4455. The video is $19.95 and the DVD is $24.95. Thanks, Mike! See SLASH as the drunken judge of a bag lady contest...who could ask for more! Best supporting actor!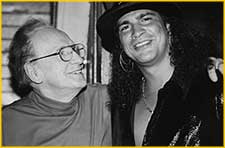 There's a small but nice mention of SLASH in the June 2002 issue of Guitar World. Justin sent this in, and he says it is from an article on the 50th Anniversary Celebration for Les Paul. That was held at the Iridium in NYC not long ago. The SLASH mention is "the Les Paul was made famous by artists such as Keith Richards, Eric Clapton, Jimmy Page, and SLASH". That's a pretty big compliment to SLASH when he is mentioned in a list with those guitar gods! Thanks, Justin.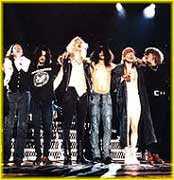 On TV this week are shows featuring the old GNR. All times are ET. On 5/4 at 2pm, 5/5 at 4:30pm and 5/6 at 2am is MTV's "25 Loud". A panel pokes fun at some videos from GNR and other bands. The top 25 rock videos of all time will be shown in part. VH-1 presents "The Top 90 of the 90's" on 5/4 at 6pm and 5/5 at 1am. A VH-1 panel selected the top 90 videos from the 90's. On 5/4 at 7pm is VH-1's "Behind the Music: Metallica" which has a small bit about GNR. And on 5/6 at 4pm, VH-1 airs "Top 80 of the 80s". These are the top 80 videos of that decade, and "Welcome to the Jungle" (original version) is presented.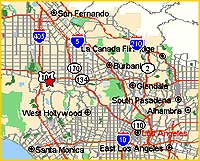 Ordinarily SLASH does not like to have mentions of his family and home on the site, but he is making an exception. SLASH is moving again from his rental property near his old Hollywood stomping grounds to Sherman Oaks, CA. Not knowing too much about that area, we consulted a web search. It doesn't seem too far from Hollywod in distance but it has a different vibe. There were four musical artists listed there, but two have disbanded, one is a jazz musician and one is an art-folk group. A list of bars, pubs and clubs does have a long list of strip bars, and SLASH might hang there. Sherman Oaks is located in Los Angeles county near the Encino Reservoir and the ocean. It is on Highway 101 between Encino (Encino Man!) and Studio City. Listed as the main point of interest is a hospital. The Sherman Oaks Castle Park puts on kids birthday parties but also has arcades with all the latest games...no mention of pinball. The town is a gateway to the San Fernando Valley and is considered by many to be the undisputed residence of the Valley Girl. SLASH sounds like he will liven this place up for sure, or else he is going to spend a lot of time in his car. Sherman Oaks seems to be a good, safe place for the family, and Dad is advised not to roar through the town in the wee hours. Looks like SLASH is finally settling down!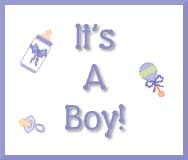 Here's another SLASH announcement. He's so proud of this one there is a continuous ticker tape banner running around his official artist site. Ultrasound confirms that the newest Hudson is going to be a boy. Oh, boy! A tiny SLASH is coming soon. In looking up ultrasound, we found that the test for sex determination is highly accurate if done by a good technician. And you know SLASH would have nothing less than the best. Ultrasound is usually used to detect problems, but all seems to be well. The articles gave long lists of problems that could be caused by fathers who smoke and drink too much, but it seems that SLASH is a healthy guy who will probably father a whole lot more little rockers. Congratulations on your new son, SLASH! We want one that looks just like you, plays just like you, etc.


News Reported: 04/29/02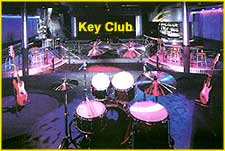 How many of the old GNR members would have to get together to make it seem like Guns is back? We told you last time about a benefit show for Randy Castillo, ex-drummer for Ozzy Osbourne and Lita Ford, who died recently after a two year bout with cancer. Randy was a member of Motley Crue when he died. The Crue and others are pulling together a lot of Randy's old friends for a benefit show at the Key Club in LA THIS MONDAY, April 29. The old Gunners will be out in force: SLASH, Matt, Duff and Izzy! We assume they'll play something together. They won't be able to deny the crowd that much! So if you can make it, head out for any Ticketmaster outlet and get your ticket NOW! Admission is $25 and benefits Randy's family. Let us hear from you and see your pictures! Those of us outside California are waiting impatiently to hear how it was. Thanks to Kristen Paige for sending details on the additional Gunners.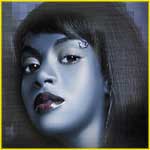 This week we sadly conveyed our sympathies to the fans, friends and family of Layne Staley, frontman and lead vocalist for Alice in Chains. Layne's body was discovered last Friday night in his apartment, an apparent drug overdose victim. Today we learned that a lovely and popular musician has also died. Lisa "Left Eye" Lopes was killed in a car accident last night in Honduras. Lisa was part of the popular trio TLC. Lisa was a rapper not a rocker, but the death of anyone so young and vivacious has to be noted. We extend our sympathy to Lisa's family, her friends, fans and especially to TLC.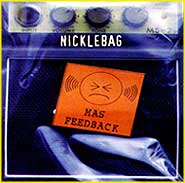 Brian Tichy, Snakepit '95 touring drummer, is also going to be at the Randy Castillo show. Brian is bringing his band Ball, and he will also play drums that night with Nicklebag (Stevie Salas, Carmine Rojas, Bernard Fowler). Brian and Ball drummer Joe Travers will also be playing in the drum "beat off" finale. This show sounds better and better. Speaking of Ball, they will appear 4/30 at The Garage for a free show. On 5/20 Ball will be at the Viper Room; on 5/29 at the Dragonfly.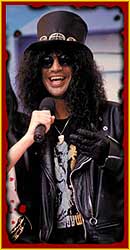 If you watch "South Park" on Comedy Central, you may see SLASH in an advertisement for the "Underground Comedy Movie". This was a movie SLASH made in 1999. It's pretty raunchy and is made up of long sketches. SLASH plays the drunken emcee of a bag lady beauty contest. Unfortunately we missed the beginning of the ad where they might have said what the ad was for. We don't know if it will be on Comedy Central or in a theater somewhere. SLASH's manager back then really didn't like the movie, and it kept popping up. He called it the movie that wouldn't die! Let us know if you see the ad and where the movie will play.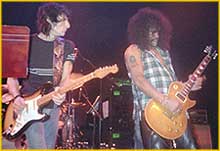 Klaas is from Holland, and he saw a SLASH quote in a Dutch magazine called Aloha in their "Open Microphone" section. Here's where SLASH nails his baby's conception date and picks out a name (must be expecting a boy), "Our baby was made in the guesthouse of Ron Wood, just before Christmas. [We are] convinced that it worked out because we drank lots of Guinness that night. So we are thinking about giving the baby Woody as a second name". Uh, SLASH...a girl might not be too thrilled with this one!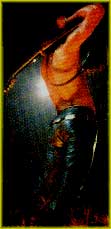 Here's another quote from SLASH as he answers one of the fan questions. This one's from Dragonballzwilli who asks, "How long did it take to develop your speed and how did you do it?"


SLASH replies, "Dragonballzwilli, speed in my playing comes spontaneously. I work on it whenever I warm up; but during recording sessions and live concerts, it comes from energy and the feel that goes with the song."


Thanks, SLASH and Dragonballzwilli!


News Reported: 04/26/02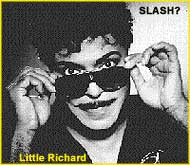 You might remember that SLASH was to be part of the "supergroup" led by Little Richard for the American Bandstand Tribute. Taping was Sunday; but sadly, SLASH never showed up. Some California fans who made the trip were very disappointed. Coming from as far as San Francisco, Laurence drove 5 hours to see the SLASH performance. Aside from his time, Laurence spent a lot on gas to get there. At least Little Richard put on a cool show. He didn't think the rest of the artists were that good. Laurene is a SLASH fan who works at the convention center and was dying to meet SLASH. She was so disappointed, but she did get to meet Kiss' Gene Simmons. She said that Little Richard gave an awesome performance, and the "supergroup" was fantastic. SLASH's appearance was on the roster of the convention center and was listed as confirmed on the Bandstand site. No word from SLASH as to what kept him from being there. Maybe a Lamaze class!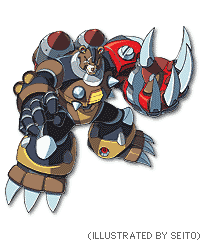 More on Megaman X5! Nicole says the version of Megaman X5 using the GNR names is the US version of the game. GNR IS huge in Japan, but the ones to thank for the GNR tribute in the game are the guys who translated the game for US release. Nicole says the original Japanese names don't mention GNR, e.g. SLASH = Crescent Grizzly. Nicole sent the SLASH character artwork which we show here. Check out that hand! Poor Izzy is a bug that shoots lasers from his butt. Thanks, Nicole! Sometimes it seems that among all of us, we know every piece of SLASH trivia in the world!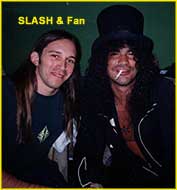 Trina sent a note about the fan club. Many, many people have written asking when they might receive their membership materials. We even asked SLASH to let us know. Trina sent in an email to Fan Source, the company that runs the fan club, and she got a reply saying that SLASH is finishing up autographing the photos. The kits should be mailed out this Friday, April 26. So you should have them next week! Thanks to SLASH for moving this right along and to Tina and Fan Source for passing on the information. You'll find many interesting things in the packet...the photo, discography, bio, fake tattoo, secret decoder ring (just kidding on that one)!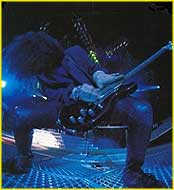 Nina was watching MTV Europe in Slovenia where the past weekend was dedicated to rock. The program was hosted by Sum41. If you remember at the MTV Anniversary show, one of the Sum41 guys said his wish for the night was to meet SLASH. So they are fans. In the ad for the show, there was a guy dressed up as SLASH, and there were tips on how to become a rock star. First, play air guitar! And "SLASH" played it. Next, be dressed in leather, and "SLASH" was with blue all-stars. Finally, scream high which was done by a Sum 41 guy. Nina said the "SLASH" looked just like SLASH except for a moustache. He was very sexy and cool. NO HAT! Maybe he could show up at gigs SLASH can't make? Thanks, Nina!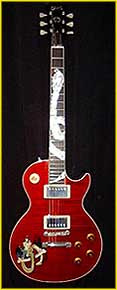 If you have been searching madly for the SLASH signature Gibson Custom shop guitar, we have some information for you that John sent to us. ebay has the guitar listed right now, and the auction ends April 30. It is serial number #SL021. The guitar is mint and comes with the original black case. So if you are interested in buying or just looking, it is item 862569892. Remember, if you bid, please go through www.snakepit.org/ad.html. Thanks! And, thank you, John for letting us know.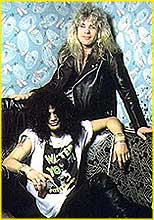 Vicki sent some great information on the June Guitar One magazine that you'll want to get a copy of. There's a big article on the 15th anniversary of Appetite for Destruction. The cover title says, "SLASH and Producer Mike Clink Return to the Jungle - A Behind the Scenes Look at the Making of a Masterpiece". Vicki says there are some great old pics of SLASH with Guns, and the interview is great. It's spread over 13 pages. On the cover is the band skeleton logo that looks like it is tattooed on someone. Great! Thanks, Vicki!


News Reported: 04/24/02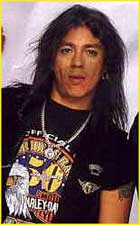 If you're near Hollywood, Wake Up! Time to go see SLASH. The occasion is a memorial and benefit show for Randy Castillo. Randy was best known as a drummer for Ozzy Osbourne. He also worked with Lita Ford and took over the drumkit in Motley Crue when Tommy Lee left the band. Randy was stricken with cancer two years ago and died March 26 surrounded by friends and family. Randy leaves behind his mom and four sisters who are in need of help. This Randy Castillo Memorial Show will benefit Randy's family. The show will be Monday, April 29 at the Key Club in Hollywood. Tickets are $25 each; you can get them at any Ticketmaster outlet. Doors open at 7:30pm PT, and the show starts at 8:30pm PT (Ticketmaster lists 8:30 while publicity lists 8:00). Who will be there? SLASH! Also scheduled to perform are other former members of GNR (Matt Sorum, for one), Motley Crue, Montrose and many other special guests. It should be a great rock night - a fitting tribute to Randy Castillo. Let us know if you make it there!



Last time we asked if anyone was familiar with the Playstation game Megaman X5. We'd heard that the characters in the game were named after GNR members. Neil replied that this is a Japanese game. GNR is huge there, so they named the bosses in the game after GNR. Here's the list from Neil:

Grizzly SLASH (SLASH)
Duff McWhalen (Duff)
Squid Adler (Steven)
Dark Dizzy (Dizzy Reed)
The Skiver (Michael Monroe - buddy of GNR)
Mattrex (Matt Sorum)
Axl the Red (Axl)

Grizzly SLASH? Our favorite is Squid Adler. Hilarious. Thanks, Neil!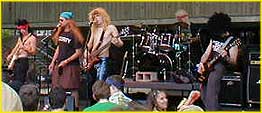 Mr. Brownstone is a GNR tribute band. A few weeks ago we told you they would be playing NYC at The Knitting Factory. Rod was in the audience and sent a copy of the review he sent to the band. Rod is from New Jersey, and he came expecting the show to be kind of a joke, but he was wrong! Rod came with his family, and they agreed that this cover band sounded awesome and perfect. The music, stage presence and fan interaction reminded Rod of what Guns could be like. This is a dream for hard rock musicians... playing in a GNR tribute band. Rod's dad liked the band so much he wants to drive up to Connecticut College on the 27th and see the band again! Mr. Brownstone is a reminder of what the world was like when GNR ruled the world. Rod says if you have a chance to go see them, do it! He added that "SLASH" has a new wig that looks just like the real SLASH hair. He said he laughed when he saw them dressed as Guns, but Mr. Brownstone is soooo good. "SLASH" has all of SLASH's moves down pat and plays each song note for note from a half stack Marshall amp just like SLASH has. Sounds like a great GNR night! Thanks, Rod. A link to the Mr. Brownstone site can be found on the Fan Music Section.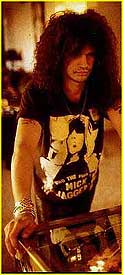 Here's a SLASH mention from The Pittsburgh Post-Gazette. They were talking about The Who rock operas, "Tommy" and "Quadrophenia". One is from '69,and the other is from '73. Most rock fans prefer one of the rock operas over the other, and their choice is usually a passionate one. Then they list some rockers and where they fall in the great debate. Listed first was SLASH! And here's what SLASH had to say:

"I'm more of a 'Tommy' guy. I probably listen to 'Tommy' more, and it was more of an influence on me. I must have seen the movie six million times, too." So, which are you?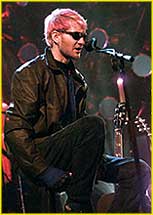 Saturday broke as a sad day for music lovers with the news that Layne Staley, lead vocalist for Alice in Chains, was discovered dead from an apparent drug overdose in his Seattle apartment Friday night. Staley was 34 and was the co-founder of Alice in Chains in 1987. On the strength of such singles as "Rooster" and "Would?", the band roared into our musical lives as part of the early 90s grunge genre but combined grunge with heavy metal to make a heavier, darker sound. Staley battled his heroin addiction; but by 1996, Alice in Chains had ceased to exist. During one of AIC's extended downtimes, AIC bassist Mike Inez recorded with SLASH's Snakepit on It's Five O'Clock Somewhere.


Staley's body could not immediately be identified due to decomposition. He had been dead approximately two weeks before a relative discovered the body. Though Staley could be seen going downhill, he inspired many people through his openness in talking about his problems. He had lost his girlfriend to heroin, and the joys of success in music never seemed to overcome his desire to escape into addiction. Layne Staley's work will not be forgotten. His influence on new bands has been tremendous. Musicians are always in close proximity to drugs. Each death seems to do nothing to deter the next. Some have pulled themselves out, SLASH is one, but mostly we hear of more losses as time goes by. Time to listen to these two great songs by Neil Young: "The Needle and The Damage Done" and "Sleeps With Angels". We dedicate these to Layne Staley: song writer, singer, musician.


Layne Staley
1967 - 2002
He Sleeps With Angels Tonight
News Reported: 04/15/02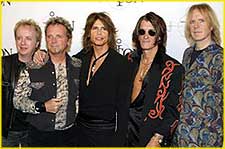 Kristen saw the taping of mtvICON:Aerosmith, and she saw SLASH there in the audience. SLASH was not onstage unfortunately; it would have been great if he had played with the Boys from Boston. He did get on the tape for the TV show. 'Cedez, Linda and Brian all saw him. You can, too, on a repeat; but you have to be quick! Best estimate is SLASH is on camera for two seconds! Watch carefully during the part where David Spade does his comedy routine. This week the show repeats on 4/19 at 10pm ET and 4/21 at 5:00pm ET. Next icon is Janet Jackson.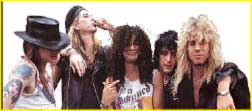 It's hard to believe, but Guns N'Roses get airplay on Classic Rock stations. It doesn't seem THAT long ago that they were making the albums. One classic rock station that plays Guns is 95.5 KLOS. Right now they are conducting their first ever "Classic Rock Awards". You write in your nominees for best classic rock guitarist (SLASH should go on this line!) and many other categories...vocalist, album, track, etc. Go over and vote for SLASH and the old Guns! They will narrow it down to 5 and conduct another vote. With all the fans that come here, we could put SLASH over the top! Here's where to go to vote:

KLOS Classic Rock Awards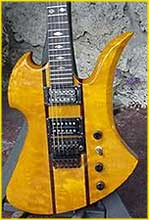 Justin wants all you guitar players with big bucks to know there is a B.C. Rich SLASH Mockingbird guitar up for bid on ebay. There are a lot of pictures to help you decide, and the minimum bid is about $1000. This is not that beautiful cherry red guitar that SLASH has...it's kind of a gold color. Still, Justin says these are fairly rare and we wanted you to know it was on ebay. The auction ends 4/23. Be sure to go to www.snakepit.org/ad.html if you are going to bid! The item number there is 860395124.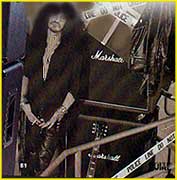 Michael lives in France, and he was looking over a catalog of guitars and amps. And here's the picture he spotted! Thanks, Michael! Another quick SLASH mention...MJJerauld says that Guns N'Roses was put into a Playstation game called Megaman X5. They have strange names in the game. Anyone a Megaman fan?



This is a reminder that we really need your help to keep this site open. We heard you say no ads, no popups, and we have stuck with that. We have just one page with the ads. As an affiliate of these three companies, Musician's Friend, Amazon and ebay, we can only make money if you come to this site first: www.snakepit.org/ad.html (please bookmark). Then you click the store picture. You pay nothing extra, but this site gets a small amount of money if you buy (or bid in the case of ebay) something. For the first quarter this year, we only got $35 which is never going to be enough. Please take a moment to think about this site when you shop at any of those merchants. It the totals do not go up significantly then either the site has to shut down, shrink massively or we go to regular ads. SLASH does not pay anything to keep this site going. He has his own official site that he supports. This Offical Fan site depends on fans. Thanks for your help.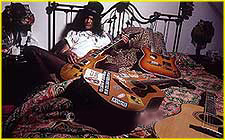 SLASH may not be sending money, but he did send the answers to fan questions. Let's enjoy one of these. Bryce asks, "I have a question. I don't know if you can answer it. Did you ever buy a guitar from a guitar shop in Seville, Spain called 'Musical Ortiz' which is right next to the train station called Santa Justa. Thank you."


SLASH replies, "Bryce, not that I can remember".


Thanks, SLASH and Bryce. Hopefully, that helps you out, Bryce. Sounds like a wiggly no.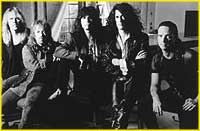 Let's finish as we started...with Aerosmith. Jizz from The Netherlands pointed out that at the Aerosmith Official Site, in the discography section, for the album Rocks there is SLASH's story on how that album changed his life. Instead of pursuing the ladies, he is a chick magnet. He discovered rock and roll which is his reason for living. Here's what the Aerosmith Rocks has to say:


"When I first started getting into rock n' roll on my own (outside my familyís influences), what inspired me to play guitar was something that happened when I was thirteen. I chased the most beautiful girl - who was twice my age - for about three months. And when I finally got into her apartment, she played me Rocks for the first time. I listened to it about four or five times, completely forgot about the girl, and split the apartment. Thatís what Aerosmith means to me."- Slash of Guns N' Roses


News Reported: 04/19/02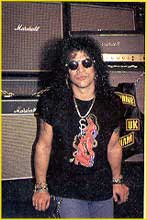 This is the famous SLASH two she-devils shirt that he wore to NAMM. Sorry the ladies are not very clear. One is sucking on the other's tail but at first glance it looks more like oral sex. SLASH! His tshirt wardrobe is the best we've ever seen.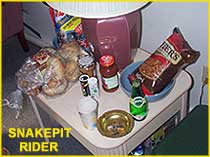 Here's more on GNR riders. Kevin sent in the url where you can go and read the list of dressing room requirements. Some items are obviously for SLASH. Who gets the Diet Coke? The preceding page has Axl's requirements which are expensive, yet odd. Champagne and Wonder bread? Looks like the band was heavily into snacks and booze. Sounds about right! Thanks, Kevin!
GNR Band Rider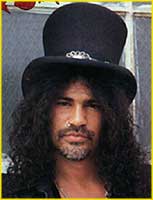 The other day we noted that SLASH will be 37 on July 23. Some fans wrote in to say they were wondering if SLASH isn't getting a little old to be a rocker! Rolling Stone online quotes Keith Richards on this subject: "This isn't just teenage kids' shit. This is a man's job, and it's a lifelong job. And if there's a sucker to ever prove it, I hope to be that sucker." We want to see SLASH rockin' past the time he has to be wheeled out on stage!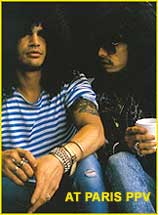 Kristen had the biggest news of the week. She actually SAW SLASH! Kristen was at the taping of "mtvICON: Aerosmith" in LA. This is a tribute and award show in honor of an artist and premiers on MTV today, April 17. Kristen says there were all kinds of celebrities there who gave short remarks on what Aerosmith means to them. SLASH was not part of the program, but Kristen was hoping he would be there to see the show. She looked around for the hair! She spotted him watching the show and looking handsome in a white shirt with a velvet jacket and round sunglasses. Hey, SLASH! Where's that tshirt and leather jacket outfit?! Thanks, Kristen.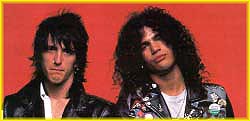 This is a rumored update on the forthcoming Izzy Stradlin album. We cannot confirm all of this at this time. As SLASH has said, the album should be out this summer, and this rumor says the same. The songs are finished and Izzy, Duff and SLASH are all there. This goes along with what SLASH had said although his last words was that he was finishing the album. The cover art is in progress. No title yet. So it all sounds pretty much like what we have heard, but it's good to hear even a rumor that things are moving along. It would be great to hear even a rumor about SLASH's solo album! Speaking of Izzy, we got a note that in Kerrang! they said that you'd have rock god status if you had the name Izzy Stradlin!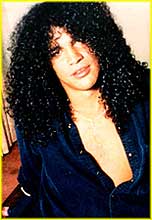 Here are some forthcoming (repeat) US TV shows. On 4/20, SLASH appears on VH-1's "From the Waist Down...". Time is 4pm ET. The show is about the sexual saturation of music. On 4/26, GNR is part of the show on VH-1 called "VH-1: All Access". The show airs at 11am ET. This show talks about the best and worst of pop culture moments. In this show, there is some coverage of the GNR comeback.


SLASH got a mention in the Philadelphia Inquirer during an interview with Billy Bob Thornton. Thornton talks about how he always wanted to make an album and had used a Nashville studio as well as the one in his home. (SLASH's old mansion with the Snakepit studio). Billy Bob says he finds the name disquieting but not as much as if it were called "The Lizard Pit". He says that he really doesn't like lizards. He doesn't want snakes to have legs. "Anything that looks like a dinosaur should not be on this earth"! SLASH's studio name and the former reptilian inhabitants give Billy Bob the creeps. Watch out, Billy Bob, or SLASH will send over a gift box with breathing holes!


News Reported: 04/17/02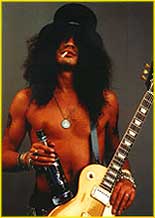 A rider is part of an artist's performance contract where they say what they must have in the way of food and drink. It's where you can say you want jelly beans with no green ones. Some bands with limited incomes live on the rider between shows. A friend gathered up some of the rider information on SLASH. At one of the Snakepit club shows, club officials said the band wanted some strange things. The club guys said it was so "not SLASH". Everything they asked for was no fat or low fat. They wanted peanut butter, bottled water, and NO ALCOHOL. The band went out for pasta before the show. No doubt this was after SLASH experienced his health problem that caused a postponement of the US tour. Our friend said when he saw Snakepit last summer, everyone was drinking but SLASH. SLASH looked worn out and as if he'd like to sleep. In 1993 SLASH's rider with GNR specified Gitanes (French cigarettes), Jagermeisters, Heineken. How times change! Good to see that SLASH is leading the pack drinking bottled water and low cholesterol foods.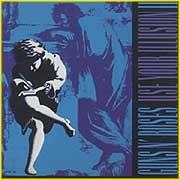 About those Brazilian DVDs of Tokyo-1 and -2, the magazine editor was asked if he had releases from Guns N'Roses to produce and sell those. The editor replied, "We bought the rights to release the shows on DVD, on a limited run of 30,000 copies, Brazil only. Included on the rights are the residuals that go to Axl and the rest of the band." So if you were concerned that these are pirated DVD's, they are not. SLASH will get his cut!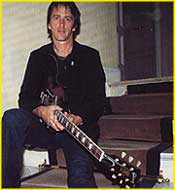 Izzy Stradlin turned 40 last week! Hard to believe, but SLASH will be 37 on July 23. In honor of Izzy's birthday, rare and import music store, eil.com is offering a 10% discount on any order placed between now and midnight GMT tomorrow night, April 16. Your order must contain at least one GNR item and quote **Guns And Roses 10% Birthday Discount Offer **. It's like getting a present from Izzy!


Lewis is in the UK and was watching "The Saturday Show" on BBC1. It's an early morning entertainment program with pop music, cartoons, etc. There's a house band called Stamford Amp. The band ended the show by playing "Sweet Child O'Mine" as requested by a viewer. Lewis says it was a shortened version, but the guitarist did a good job on it, especially the solo. Thanks, Lewis. Lewis has a question. He was reading about the latest Gibson guitar awards. Has SLASH ever won a Gibson award or an award specifically for guitarists? Exclude those reader's choice awards like they have in Metal Edge. If you know, we'd like to know, too.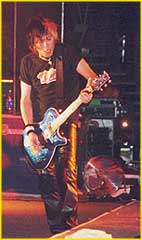 Keri Kelli played with Love/Hate when they did a successful UK tour in support of Gilby Clarke. It was a Snakepit reunion at these shows with Brian Tichy playing drums for Gilby, and Keri on guitar. Tobin said they did "Monkey Chow"! He said that Keri was amazing, and he got to meet Keri after the show. Groyou said the gig was excellent, and both bands were great. Groyou had brought his Snakepit tour book, and Keri showed it to all the members of his new band...saying...look! it's me here with SLASH! Everyone signed his ticket and a picture of Keri. Groyou got to have a beer with Keri and get his picture taken with him. Pete and friends loved the show in Camden. They met Gilby, Keri, Brian Tichy, Jizzy Pearl and the rest after the show. Pete said everyone was really cool and gave him their autographs. Keri went to the kebab shop with them! But Pete says nothing can beat seeing SLASH's Snakepit in December 2000, meeting our man SLASH himself and getting his autograph!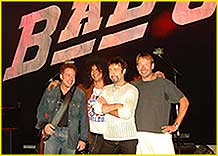 LuAnn found an interview with Neal Schon on the web, and it's a good one. Neal talks about the night that SLASH came onstage at a Bad Company show, and they blew the audience away. Two songs turned into three! Neal also talks about Planet Us, the supergroup that SLASH declined to join.

Neil Schon Interview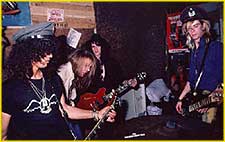 It's been awhile. Let's take a fan question for SLASH. This one's from Brian, "Back in '91/'92, GNR was filming a documentary. Whatever happened to that project?"


SLASH replies, "I left all that documentary stuff with GN'R when I left the band. So I don't know what's up with it. There's some good stuff in there although I don't know it will/how get used".


Thanks, SLASH and Brian. Wouldn't we all love to see that?!


News Reported: 04/15/02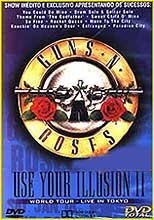 About the Illusions DVDs that are out in Brazil, Londrino wrote about the UYI-1 DVD last time and now sends some information on UYI-2. He says UYI-2 is much the same as 1. There is a photo gallery again, and the interviews are moved to a separate section. He says that he forgot to mention the whole DVD is subtitled. The VHS version there (US version) had Japanese subtitles, but the DVD has English, Portugese and Spanish subtitles for the interviews and songs. If you don't have a contact there and want a copy of either or both, Brian suggests you try www.dvdbrazil.com. The site is in English. Thanks Londrino and Brian!


SLASH has been out of sight lately, but he had some magazine mentions! Mykaela and Stuart wrote that the April 13 issue of Kerrang! magazine has a 100 Coolest Stars list. You know SLASH would be on this one, and he is although they have him way down at 88. Axl was at #25. In a section called The Timeline of Cool, Duff was listed! Here's the comment on SLASH:

There was no picture, and it said, "In his trademark black top hat, Slash is THE most recognisable guitarist of the past two decades. As familiar with Jack Daniel's and heroin as he was with an open E tuning, with Guns N' Roses Slash became the coolest guitar superstar since Jimmy Page...all the more remarkable considering he was born in Stoke-On-Trent."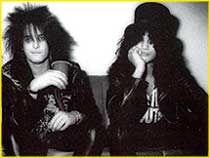 The #1 Coolest Star was Marilyn Manson. With Duff's Time Line listing was this comment: "Genital constricting trousers, 'Miami Vice' jacket, cowboy boots and back-combed 'poodle' hair...f**k yeah, this was our Hollywood." Another GNR mention was with Nikki Sixx who came in at 98 with the comment: "Nikki only wimped out on the 'live fast, die young' maxim because members of Guns N' Roses stopped him turning purple in his bathroom post-heroin OD." So, there you go. Some of these polls are like Ripley's Believe It or Not.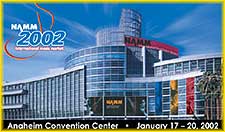 Jonah and Vicki found a SLASH picture in Metal Edge that we are most anxious to see if anyone has a scanner. The section is about NAMM where SLASH appeared at the Marsall booth. According to Jonah and Vicki, SLASH is standing in front of a Marshall amps stack in another crazy SLASH shirt. On the shirt are two devil women, one standing and one on her knees. It looks like an oral sex scene, but one is just sucking the other's tail. SLASH looking very cool is his wicked shirt and sunglasses. Thanks to both of you!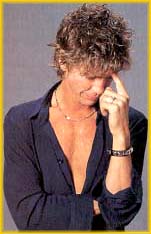 If you're a Duff fan and in Europe this summer, get ready because Duff and Loaded are coming! Rocketqueen says the tour is scheduled for July, and they will be in England, Scotland, The Netherlands, Germany, France, Italy and Spain. To get the most up to date information on the cities, venues, dates, go to the Loaded web site:


Loaded Web Site


Duff will be doing a chat on April 28 at noon PT. Check out the web site for the address where the site will be held.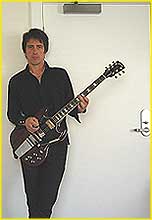 Here's some good news on Izzy from Nicole. This is from www.sfvrecords.com which is Izzy's US label. "Izzy Stradlin's River is available in our online store and will be making its way to U.S. retailers and radio stations April 30th. The first single, 'Undergound', is a driving, guitar scorcher you'd expect from Izzy. And 'Far Below Me Now', a country-tinged rave-up which was written in a room atop a high-rise hotel in Osaka Japan. Request the singles now!

Izzy/SLASH/Duff: We've had many inquiries regarding the Izzy, Slash, Duff project. Although we can confirm that Izzy, Slash, and Duff have been in the studio recording together, we have no further information than that. We will do our best to keep you updated."



Good news for Izzy getting River in the stores! Strange that the Izzy/Duff/SLASH project is not further along. Nicole also told us about this great E-card you can download that features some clips from "Underground" and "Far Below Me Now" as well as some great Flash graphics. Get this!


Izzy E-card for PC




Izzy E-card for MAC


And preview River at:River.



News Reported: 04/12/02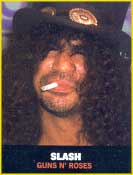 Awhile back Vicki told us of a feature in the April Stuff magazine that involved SLASH. This was the Ugliest Rock Stars! Vicki wasn't able to send a picture, but we have one now. This is not the best picture of SLASH we've ever seen, and we think it was chosen for that reason. We're also including a picture of the rest of the "ugly rockers".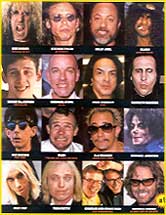 At least SLASH did not come in at #1! That slot was taken by Russell Crowe, most famous for acting, but also the frontman, singer, songwriter, guitar player for Thirty Odd Foot of Grunts or TOFOG, an Australian band. Personally, we think Russell and SLASH are nice looking men. Some of the others belong right there!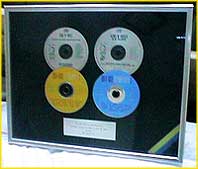 Michelle found a very interesting auction described on the Yahoo site. David Norman, a former DJ, is selling his entire collection which now takes up a warehouse! There are items from many bands...Abba, the Beatles, and Guns N'Roses. Although you can register at the site, it's not clear if any of the items will be sold over the internet. We've written for more information on this. If you are in Australia, the auction will be held in Sydney on April 15. Some great items are:

GUNS N' ROSES, Three signed picture discs, one signed by the entire band, two signed without Axl Rose. Provenance: Acquired directly from the artist.

GUNS N' ROSES. A compact disc award for sales in Israel July 1992, framed and glazed, 50 x 40

GUNS N' ROSES. A compact disc award for sales in Japan 1991, framed and glazed, 38 x 40

GUNS N' ROSES. A 1992 double platinum sales award. Awarded to the group in Germany, framed and glazed, 48 x 60. Provenance: Acquired directly from the artist.

GUNS N' ROSES. A display of a signed drum kit by Matt Sorrum of Guns N' Roses housed in a huge plexi glass case. This massive display features hand signed Drums and the signed logo of the Legendary Guns N' Roses, plus record award. Provenance: Acquired directly from the artist.

And more! This url takes you to Yahoo for the article and there you will find a link to the auction area. We hope that at least some Australian fans will go. If you do, let us know how you make out.
Dave Norman Collection Auction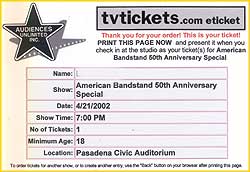 If you are thinking about ordering tickets for American Bandstand's 50th Anniversary Special taped on Sunday, April 21, be advised that the taping will be at 6:30pm PT rather than 7:00pm PT. This is the night that SLASH will be there for taping, so if you can get out to Pasadena to the Civic Auditorium, it should be a great show. They still don't mention SLASH by name on this announcement. He must be in the "and more" group. If you don't have anyone to go with, check the list of Fan Addresses for other fans in your area.



Reading the information on the "Freddie Mercury Tribute Concert" reminded Michael of another SLASH video appearance. The video was about Queen's history and is called "Champions of the World". SLASH's backstage interview at the Freddie Mercury Concert is here, and SLASH said that Freddie Mercury's death was a loss to the whole rock and roll world. He managed to dodge the AIDS issue completely. Thanks, Michael. Remember, if you see even a small appearance by SLASH on a video, let us know. These are kept in SLASH's Video Discography. Thanks!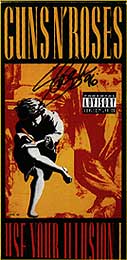 Have you heard about the Illusions DVDs in Brazil? There's a lot of information and misinformation flying around, so Londrino wrote to set this straight. He lives in Brazil, and he knows what's going on with these. The magazine DVD Total puts out concerts and/or movies each month with the magazine. The UYI-1 magazine just came out, and it cost just over $6US. It is exactly like the VHS version except for an included photo gallery with 50-100 pictures. No new camera angles or footage. The interviews were moved to a separate section instead of being in the middle. Londrino says the sound and picture seem better, but nothing unusually good. He says it is still just a cheap DVD. The UYI-2 is coming out. The DVD has no Geffen or Interscope markings on the CD anywhere, but Londrino says it is not a pirated disk as it comes from a large publication. There are copies available on ebay. Don't be fooled into an extremely high price. It might be better to contact one of our Brazilian fans using the Fan Addresses. If any Brazilians are willing to get some for other fans, let us know. Thanks to Londrino for the information.


News Reported: 04/10/02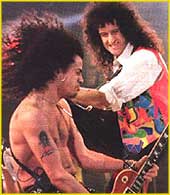 Thanks to everyone who replied to our request for help on the Freddie Mercury Tribute Concert. A DVD is coming out, and the individual band performances (such as GNR's) have been cut out. We wondered what else SLASH might have done at the concert. So many of you replied that we would fill the news just naming everyone. It was amazing! Thanks to all of you. SLASH jammed with Brian May and Queen while Joe Elliott (Def Leppard) sang "Tie Your Mother Down". So, SLASH will be on the DVD for that performance, and hopefully he will be on the other disk that has interviews and photos.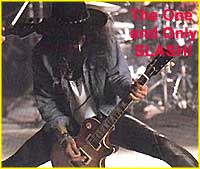 More on another item from last time - Damian wrote in and said he dressed up as SLASH and played guitar for a charity event at his law school. He said that the strangest thing was being a chick magnet like SLASH! Damian wrote again and said it's very interesting "being" SLASH and that he has dressed as SLASH for Halloween for the last five years. Once every year he has won something being SLASH. This past year he promised his girlfriend, Elisabeth, that if he won any money again dressed as SLASH on Halloween, he would take her to a nice dinner. Damian went to a local bar, and the result was a tie between himself and a girl dressed as Bjork. "Bjork" was the girlfriend of the drummer that night, and the band gave her a lot of drumrolls and so on, and they were always putting Damian down and making fun of SLASH and GNR. Finally, Damian grabbed the mic and in his best drunken, slurred voice asked, "How many of you want to see if I can still play guitar?" He said the place went nuts. No one knew he could really play, but he got a guitar and ripped the joint! And Damian won $100, and Elisabeth got a nice dinner with the chick magnet. Damian says you can't believe how many people just love SLASH! But this "SLASH" loves Elisabeth, so the groupies have to keep their distance. Damian, thank you for that great story!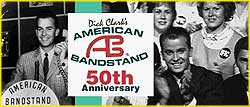 Another update! This is about the American Bandstand 50th Anniversary show that will air on ABC on May 3 from 8-10pm ET. The taping will be done April 19, 20, 21 at 7pm. Tickets for the taping are free for the asking. SLASH will tape his part on April 21. If you want to get tickets, we'll give you the site address which Kristen sent in. You print out your ticket on your printer, but you have to call to confirm. The time to be there, dress required and so on are all posted at the site. Seeing SLASH for free? Sounds like a good deal. It will be at the Pasadena Civic Auditorium; so if you're out that way, why not go over and give SLASH some support? He will be playing with the supergroup of artists from all eras and genres led by Little Richard in performance of his rockin' song "Good Golly Miss Molly". Here's where you can order your tickets:

American Bandstand Taping Tickets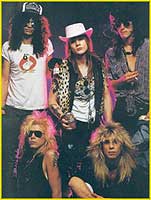 US TV Appearances: On 4/14/02, Guns N'Roses will appear on VH-1's "Top 80 of the 80's". The time is 2am ET. The show looks at the impact of the music video. Landmark music videos will be shown along with new interviews with the era's biggest stars.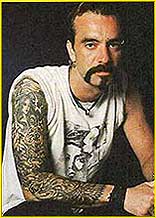 Marcus in Sweden was watching a Swedish TV show called "Sondagsoppet". One of their guests was the famous Swedish actor Peter Stormare who currently lives in Los Angeles. Peter Stormare is also a musician, and he played a song with his band on the show. Guess who the bass player was? None other than Snakepit's Johnny G! Johnny seems to be showing up everywhere! Thanks, Marcus!


News Reported: 04/08/02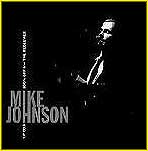 If you search ebay for SLASH items, you get many items unrelated to our SLASH like music released on the Slash label. Today, a Snakepit item popped up. As far as we know, there is only SLASH's Snakepit and the Snakepit all-girl band in California. Item #855994336 is an EP autographed by Mike Johnson, "Former Snakepit member and bassist for Dinosaur jr". Anyone know about this Snakepit?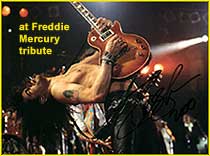 The Freddie Mercury Tribute Concert is out of print on VHS which is too bad because there's a good SLASH section on it. It's a really good video. When ours was borrowed and not returned, we had to pay about 3 times more for a copy. Ravi found out that the concert will be released on DVD with an anticipated release date of May 13. There are two disks. Disk one is the second half of the show, and disk two is a documentary about the event, including backstage footage and rehearsals. There's an intro filmed by Roger Daltry just a few weeks ago, a short piece from the Mercury Phoenix Trust, and still photos from fans and official photographers. The TV version of the documentary will air on May 25 on Channel Four (not sure if this is UK or US) and on June 15 on VH1. Looking over the second half of the concert, the sad thing is that it appears that SLASH is not there. Is there an expert around that remembers which songs SLASH played on? If "Bohemian Rhapsody" (Axl, Elton) is one, that one is listed. It seems to us that was one of his appearances. He also played with Queen and jammed with Brian May, but we are uncertain of the song. If anyone knows for sure, please send that in. The GNR part, "Paradise City" and "Knockin' On Heaven's Door" did not make the cut. Thanks!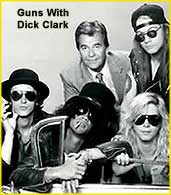 Laurene works at the Pasadena Civic Auditorium where the American Bandstand tribute will be taped. She wants desperately to be assigned to the backstage area those nights. Why? SLASH will be there somewhere! Laurene is a big SLASH fan, and she really would like an opportunity to say hello to our favorite axeman. Her boss, Mary-Ann, is the one to decide where Laurene will be working, so this is a personal appeal to let one of our own get to meet SLASH and report back! She promises not to be a pest, but just wants the chance to see him closeup, tell him hello and give him a giant smile! So, Mary-Ann, please give our reporter, Laurene, a chance to see the top hatted one! Thanks! And, Laurene, don't forget that report!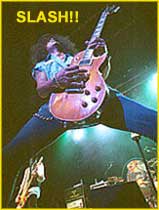 Damian had a great story...he recently played a charity show at his law school. As a joke, he dressed up as SLASH, and he was very surprised the way the SLASH mystique carried over to someone just dressed as SLASH. Damian said there was a real sexual magic and power, but it does help if you can play guitar! Surprise! Damian became an instant chick magnet! He's in a good relationship already, but the symbolism of the top hat, Les Paul, long hair and leather had SO much power and meaning. No wonder everyone wants to dress like SLASH! SLASH has this great sexual magnetism, and you can stand on his shoulders when you dress like him! There's a slide show where you can see Damian. His "SLASH" is in slides 7, 30 and 96. Thanks, Damian!

Damian as SLASH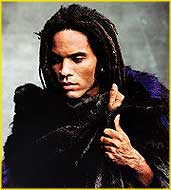 Jonah was watching Much More Music in Canada the other night. He caught the first half of "Behind The Music" with Lenny Kravitz. Right before he turned the show off, they showed about 15 seconds of the "Always on the Run" video. Jonah said, "It showed SLASH hopping around". A good description! So watch for reruns if you are in Canada. Thanks, Jonah!


Don't forget to send in any items you have to sell or trade...music items, that is! You can see the list by clicking the For Sale sign at the top of this page. Also, we can use more fan email addresses for the Fan Address section. And your guitar tabs, drawings, crafts are always welcome along with links to your SLASH-related sites, and artists can send in information on their bands for the fan music sections. Due to a medical problem in my family (my father had a heart attack and open heart surgery this week), I am somewhat behind but promise to catch up very soon. Thanks for your patience.


News Reported: 04/05/02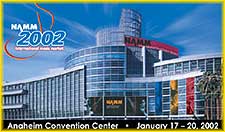 Last time Aga's question about rock and roll attitude got an answer from SLASH. In the dictionary there should be a picture of the top hatted one under rock and roll attitude. Aga wrote to say thanks and sent a SLASH mention. Aga is from China and saw this in a magazine called XROCK. A guitar businessman called Liu went to the NAMM show a few months ago where he spent 2 HOURS talking to SLASH! (2 minutes of his time would be wonderful!). They talked about guitar playing, equipment and so on. Liu watched Our One and Only playing, and he said that SLASH was a very kind man. SLASH is truly a global guitar hero! Thanks, Aga!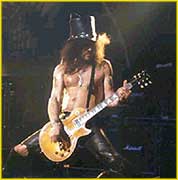 Here's a little more news on the American Bandstand show. This show will celebrate the 50th anniversary of the afternoon dance show aired out of Philly. The show will tape April 19, 20 and 21 at 7pm. ABC will take all this footage and produce a 2-hour TV special. It will debut on May 3 at 8-10pm ET on the network. Dick Clark hosts the show which will show classic moments from the past as well as live performances by artists spanning the five decades. SLASH will be in on this live performance. There will be a supergroup with artists from all eras and genres led by Little Richard in performance of his rockin' song "Good Golly Miss Molly". We don't know if that is what SLASH is doing or not, but it sounds like it's made to order for him! Kristen has managed to get tickets to the taping in Pasadena. Let's hope Kristen is there on SLASH's night! Mark May 3 on your calendar now!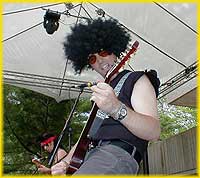 Mr.Brownstone is a GNR tribute band, and the SLASH page links to theirs through the Fan Music section. We got a note from Gerard ("SLASH") thanking us for the link and thanking all of you who stopped over to see their site. They received quite a bit of mail about how good it is to hear some GNR again and asking about show dates. "SLASH" wants people in the New York area to know they will be appearing live at The Knitting Factory, a very popular NYC venue. The show will be April 19 and starts at midnight (typical SLASH nightowl time) with doors opening at 11pm ET. Tickets are $10, and this is an all ages show. The Knitting Factory is located at 74 Leonard St. (4 blocks south of Canal, between Broadway and Church St.). Take the 1 or 9 train to Franklin, walk one block south to Leonard, turn left and it's a block and a half to the club. Of the many, many clubs in NYC, The New Yorker magazine routinely notes who is playing at The Knitting Factory. So, get down there and support one of our own. Good luck, guys! (and especially "SLASH")!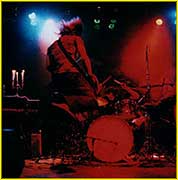 Speaking of supporting our own, Brian Tichy (tour drummer for Snakepit '95) has some live shows coming up, too. Brian's band is Mirror Down (formerly Ball), and they will be at The Cat Club on 3/30 at 11pm PT, at Dragonfly on 4/10 at 11pm PT, and at the Viper Room on 4/15 at 10:30pm. Tickets are $10 at the door, but you can call and be put on a discount list ($7) for the last two shows. For more information:

Brian Tichy's Web Site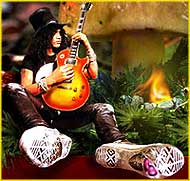 The slashssnakepit.com site, the official SLASH's Snakepit site has moved although it still exists at the old address. It's more than a move, it's a different thing. The new site is slashonline.com, and it's SLASH's official site on the web. www.snakepit.org is SLASH's Official FAN Site. You have to have Flash to get in the new site and see anything; so if you don't, either get it downloaded or forget about visiting. The loud rock music with letters and guitars flying around are really suitable for SLASH. Some sections are either not working, or we weren't able to get anything. The intro takes a very long time to load if you are on a slower line. Try to be patient because right now we could find no way to skip the intro. We view an intro once or twice and skip it after that, but this time you are locked in. Large pictures, music and some information. It's very much in keeping with official artist sites.


News Reported: 04/03/02


This spring is the 50th anniversary of "American Bandstand", an afternoon dance program out of Philadelphia PA and hosted by Dick Clark. In celebration, ABC is filming a program to be aired in May with classic moments of the past and superstar performances from great artists of the last 5 decades. Many top stars will be there to talk about how "American Bandstand" impacted their careers and lives. Some big names on the show are Michael Jackson, Stevie Wonder, Mick Fleetwood, Sheila E, Chicago, SLASH (!!) and many more.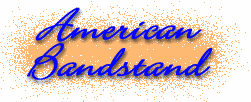 The show is being taped in Los Angeles over three days in April. Taping will be done at the Pasadena Civic Auditorium on April 19, 20 and 21 at 7pm each night. Some of this we knew, and Kristen let us know that you can get in to see the taping. She is currently working on getting tickets (and would love them for the night SLASH appears). Hopefully, she can get us some information for those who want to slip on a poodle skirt or comb their hair in a duck's ass and hop out there to dance. They used to say, "When Philadelphia rocks, the rest of the nation rolls". And even if that isn't true anymore, Dick Clark and Bandstand deserve a big round of applause. Thanks, Kristen, for sharing the information. How Bandstand fits SLASH or influenced him, we are anxious to see.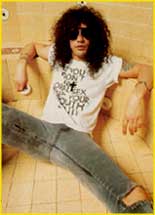 Here are a couple of shows on TV right now. On 4/3, MTV presents "MTV Uncensored" at 10am ET. This is a behind the scenes look at MTV by the people who were there. Featured is a story about GNR. Later on 4/3 at 6pm ET on VH-1 is "100 Greatest Artists of Hard Rock" which spans music's high-volume era from its chord-crashing genesis in the 60s, the alternative movement and beyond. One of the featured artists is GNR.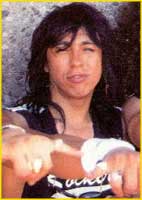 Randy Castillo was the drummer for Ozzy at one time and most recently replaced Tommy Lee in Motley Crue. As you may know, Randy's battle with cancer came to an end on March 26, 2002. He's remembered as much for his great personality as for his drumming. Tolson sent a story Randy told in an interview. In 1985, Randy had his first audition with Ozzy. Randy had a broken leg and couldn't solo, so he took along a video from his Lita Ford days. Needing a beta machine, Ozzy and Randy went into Tower Records to borrow one, and who was working the counter? SLASH, top hat and all! SLASH was amazed at seeing Ozzy walk in, and he let them use the beta. Even SLASH has heroes! Thanks, Tolson!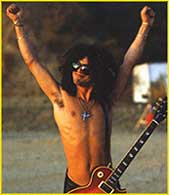 VH-1 in the UK is working on a show called "100 Greatest Men", and they'd like your vote. You write in the names of your 5 favorite male artists, your name and email and so on (for a contest) and submit it at the site. Hint: the top hatted one should be #1! Here's where to vote:

100 Greatest Men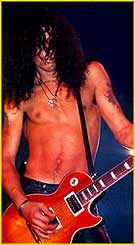 The Buffalo News in Buffalo, New York had a music article called "Teens Make Their Case for the Music They Love". Nearly 200 teens responded to the newspaper's request for information on favorite groups and artists. Just about every musical genre received some votes. Guns N'Roses got these mentions: "I like their hard-driving rock/metal edge and most of the lyrics" and "SLASH is one of the best lead guitarists in the business"!


Here's the first question from the new set that SLASH answered. This one is from Aga from China, "Hi, SLASH. Here's Aga from China. I want to learn more from you on the point of "attitude" when playing guitar, which you've said many times, and I think it's important to get on such attitude in my daily life so I may get it out when playing guitar. So could you give me some suggestions on how to live the life which has the rock music attitude? Thanks."


SLASH replies, "Aga, that's a tough question. I would say the "attitude" is totally personal and from the heart. It's all in the way you choose to express yourself musically, spiritually and socially. Your attitude represents who you really are, how you think, etc. As long as you are true to yourself, then your approach to expressing yourself will come naturally."


Thanks, SLASH and Aga! If you have a question about SLASH's musical career, equipment, attitude, etc., send it to webmaster@snakepit.org. Make the subject: ASK SLASH. Thanks!


News Reported: 04/01/02