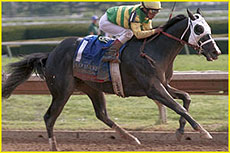 Two days to go and SLASH will be in Kentucky. He's scheduled for May 2 and 3 there, and he's listed on the Derby website as one of the Celebrities Attending. SLASH and Perla have finish line seats, a champagne lunch on race day and are going to a sparkling charity ball (benefits Diabetes Research). If you see him, let us know! Those of us not going can volunteer to babysit London although he may just go and see the horsies.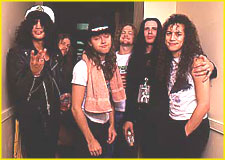 By now, you must have heard that MTV is taping another mtvICON shows. The last was for Aerosmith, and SLASH was in the audience. The band this time is Metallica, and SLASH is scheduled for a spoken tribute. The taping is May 3, but SLASH may do his early as the Kentucky Derby waits for no one. Other speakers are Aerosmith, Staind, Linkin Park, Blink-182, Lisa Marie Presley(??), Lara Flynn Boyle, Sean Penn and Jim Breuer. The show will air on Tuesday, May 6 at 9pm ET/PT. Various artists will be in the audience while Korn, Limp Bizkit, Sum 41 and Avril Lavigne will perform. Could be a good evening! Thanks to Aaron who sent in some information on the evening and to Brian who pointed out the SLASH schedule problem! Let's see..finish line seats at the Derby or attend the full taping? What should SLASH do? We think he got it right.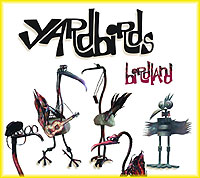 CONTEST! How would you like to hear SLASH play the smash Yardbird tune "Over, Under, Sideways, Down" in your car, office or house? We can't send the man himself, but we'd like you to win a copy of the newly released Yardbird album, Birdland. This album is a prize not just for the SLASH appearance but also for the other guitar stars on other tracks. It's a wonderful album. The nice people on the Yardbirds team are making three prizes available, and the advertisement is just for this site. It's a drawing, so you needn't be a Yardbirds expert to enter. The first prize is a book signed by Yardbirds Chris Dreja and Jim McCarty plus the CD. Two second prizes of the CD will also be awarded. The contest will end one month from today. Why not go over and enter now? The Yardbirds people have taken care of having a special form for entries, and they will draw the winners and ship the prizes. And if you don't win, get out and buy a copy! Here's the address for entering:


Yardbirds Contest

We'll remind you of this throughout the month. Click "ecard" when you are there to see a cool intro and then listen to SLASH's song! One entry per person, please.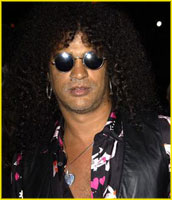 Vicki got her copy of the June 2003 issue of Spin magazine. As promised there is a small SLASH article. On the cover it says "75 Sleazy Moments in Rock" with Sid and Nancy on the cover. SLASH is not part of the sleazy moments (we can hear you saying, "WHAT???"); his article is called "Who Should Replace Axl Rose?" Vicki says there's a small pic of SLASH wearing those round blue shades. Spin's suggestions were tongue-in-cheek and included Michael Jackson, Rivers Cuomo, Dr. Teeth, Courtney Love, Fred Durst and Eartha Kitt. Of this bunch, we'd give it to Eartha Kitt who can tear the roof off arenas. To see what SLASH said, we have to get the magazine. Vicki did not reveal SLASH's responses. Thanks, Vicki!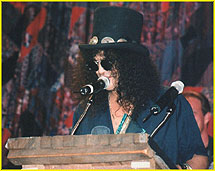 Back to Brazil's GNR convention this summer. Ana let us know this is happening in July in Rio de Janeiro. They are having four tribute bands - one for SLASH's Snakepit and three for GNR. They are doing a tribute to SLASH as it is his birthday that month and because they just love him. Ana sent us some web site addresses for you to use to get more information:
Gunner Convention Information
GNR Devotion Fan Club
"SLASH" in the cover bands
Thanks, Ana! Keep us posted.



News Reported: 04/30/03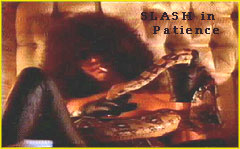 SLASH was on the MTV show, 25 Greatest Video Stars, that aired this weekend. Billed as a SLASH interview, it was a little short. We expected a longer talk, but it didn't happen. Slash basically said three things: no one knows what these videos are about; the most important thing he liked about them all was that the band was actually in them; his favorite GNR video is "Paradise City" because it's live. SLASH was seated and wearing his top hat. Duff was on also in a snazzy leather jacket. Guns N'Roses was in the #6 slot, and thanks to everyone who voted.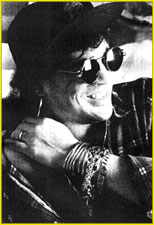 There was a much better show on Canadian TV this weekend called Power Hour. Brandon's from Ontario, and after a long evening at the bars getting GNR played so he can get up and dance, he came home and snapped on the TV and there was SLASH on Much More Music, the Power Hour show. Brandon missed some of this, but he watched as they turned to Duff. Duff said it was painful watching the GNR name get destroyed this past year. He was sympathetic about Axl and said he felt badly for him. Duff said when he left it was time to leave because he had a feeling GNR was heading in the wrong direction. At SLASH's request, they played the "Don't Cry" video because he said he wanted to play one of the trilogy of expensive videos. Duff requested "It's So Easy". Our friend Sam was there on business and saw the whole show. He said Duff and SLASH were announced as co-hosts, and the entire hour was interviews and videos. They talked about The Project's search for a new singer; and Duff described his solo efforts. The Much More Music site says there is one more chance to see this in the near future. It will be on again at 11pm PT on Thursday, May 1 (2am Friday in the east). If anyone tapes it, the webmaster would be very interested in having a copy.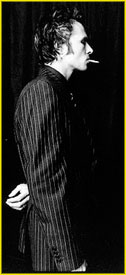 The Project is more and more in the news on the music web sites. Krishna saw the full article on the Rolling Stone site, and Ray saw it in their newsletter. Rolling Stone describes the singer situation - Weiland looks like another front runner and ties that to Weiland's singing on the cover of Pink Floyd's "Money" in the remake of the movie The Italian Job. The song will be on the soundtrack. The movie is scheduled for a May release, and the soundtrack should be out May 26. Weiland's manager was asked about his plans to go into rehab again, but he said he has not talked to him recently. He did say that this was not the end of STP. If you missed the full individual discussions of all this in last week's News, here's a chance to get a good summary from the Rolling Stone site at The Project Summary. Tiffany sent in another site with a very good slant on what's going on, and it's at Undercover Media.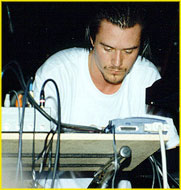 Even more on The Project! Ollie is in the UK, and he sent in an article about yet another person approached by The Project for an audition. The vocalist is Mike Patton (ex-Faith No More) who fronts Tomahawk, and he apparently passed! Tomahawk is a rock band with touches of experimental pop according to guitarist Duane Denison. Their band sounds like a lot of fun, and it may be that Patton just wanted to work with his own band a lot more than he wanted to join The Project. Thanks, Ollie! By the way, the demo count is up to over 600 now.



News Reported: 04/28/03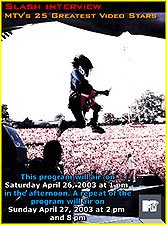 Final reminder that MTV debuts the program "25 Greatest Video Stars" tomorrow, Saturday, April 26 at 1pm. If you voted for the greatest video artist on their site awhile back, then you helped push Guns N'Roses to #6!!! And as the local paper said, "and they haven't had a new video on MTV in 10 years." When you're that good, a short catalog is enough. FYI, Madonna is #1. Here's the complete list:


1. Madonna    
2. Eminem
3. Janet Jackson
4. Britney Spears
5. Janet Jackson
6. Guns N'Roses
7. Michael Jackson
8. TLC
9. 'N Sync
10.Mariah Carey
11.Red Hot Chili Peppers
12.Aerosmith
13.Missy Elliott
14.Nirvana
15.Bjork
16.Jennifer Lopez
17.Foo Fighters
18.Beastie Boys
19.Nine Inch Nails
20.Dr. Dre
21.U2
22.Beck
23.Busta Rhymes
24.P.Diddy
25.Limp Bizkit

The Top 25 was determined by the internet fans who took time to visit the MTV site and vote. SLASH and Duff did their interview at the studio where The Project has had longstanding space. If you're taping, the show is 90 minutes long. If you miss it, it's on again on Sunday. See Wednesday's news below for complete information. Pretty cool to think of all the US Guns fans parked on the couch watching SLASH! One other related thing...the picture above comes from a much larger popup on the slashonline.com site. It's great!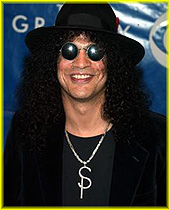 After the nice GNR mention above in The Pittsburgh Post-Gazette, there was an unpleasant one a few pages later. Flaming Lips are in town. These guys won the Grammy that SLASH was nominated for. They are a psychedelic pop group that may have dropped too much acid. They bring out on stage 20 people dressed as animals and robots wander around the floor. So, here's their take on the Grammy awards where Best Rock Instrumental was decided. If this ever happened that way, then we wouldn't know the old shy and humble SLASHer well. They say that their winning surprised them as well as SLASH (and the rest of the world). Steven Drozd recalls the ceremony as: SLASH was sitting two rows in front of us. And I noticed that as they started to call out the award category, he started scooting toward the aisle - like, getting up out of his seat and moving toward the aisle, like he was getting ready to walk up there. I thought that he knew beforehand he had won. Then they called our name out and we ran up. We grabbed our award and ran off. And ... SLASH?! What the f*ck was that dude thinking?" Here's what he was thinking...the award had not yet been called, and he wanted a cigarette. Bad timing but SLASH is a nice guy, not an egotistical jerk. Get these people right out of town. They are playing at M, the venue where SLASH got too sick to appear. May Flaming Lips have the same success there. We fired off email to the entertainment editor.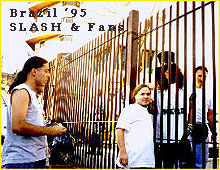 Brazilian Ana Cristina sent more information on the summer GNR fan convention there. Ana runs the GN'R Devotion Fan Club which is organizing The First Brazilian Gunner Convention in Rio de Janeiro to be held in July. At the convention there will be a Tribute to Slash "because we love Slash so much and he was born in July, month of the convention". Ana invites you to check their web site for information about the event. Ana says Brazilians love SLASH; and to them, he is unforgettable. She promises to send us photos and notes when the convention ends. Thanks, Ana. Ana will send us a convention information web site url soon. Michele wrote from Sao Paulo with additional news on the convention. The best SLASH tribute guy from Brazil will be playing, and Michele says he is the best live attraction of the event! This "SLASH" is described as almost a SLASH clone...plays fantastic guitar, same face, same body, same piercings and tats. (Does he have Perlita and London yet?!). Michele says everyone in Brazil knows about him, and he'll play with a GNR tribute band as well as the Snakepit Tribute band. (If he sings, let's get him in The Project so we'd have twins!). Michele will also send some web site urls. Thanks, Michele! We've had many requests from South America for information, and this really helps. We'll make sure SLASH is aware of the convention, too!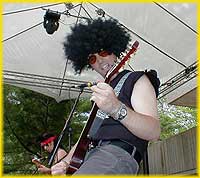 Here's one of our favorite US Guns tribute bands. Gerard is "SLASH" in Mr. Brownstone, and he asked if we could mention a couple of big shows. We are a little late on this one, but you can still make it to see them. The band is back in Harper's Ferry, Boston tonight and tomorrow night (4/25 and 26) doing a two night stand and appearing at Bentley College 4/26 in the afternoon. They'll be back in NYC in June. Their big news is they landed a slot at the Bonnaroo Festival in Tennessee this June. 3 days, over 100 thousand people! James Brown, Neil Young and Flaming Lips are also on the bill. Gerard, watch out for Flaming Lips! This band is in our Fan Music section, and we have been rooting hard for them all along. Get your band back together, and get going! Thanks, "SLASH"!



News Reported: 04/25/03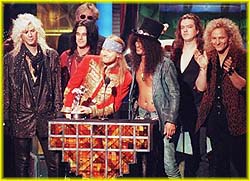 This Saturday, April 26, SLASH will appear on an MTV show called 25 Greatest Video Stars (in some places on their site they list it as 40 Greatest Video Stars). The show begins at 1pm ET and runs for 90 minutes. This is the debut of this show. An MTV description says that "the program will profile the range and impact of the work that made these artists stand out amongst their peers and raise the creative level of music videos". Early Saturday afternoon you might be sleeping or doing laundry or running errands. Here are the repeat dates: Sunday, 4/27 at 2pm and 8pm ET. Monday you can wake up to SLASH and see the show at 11:30am ET. If you have MTV2, you can also catch it on 4/29 at 5:30pm ET and Sunday, 5/4 at 8pm ET. Reruns will no doubt be shown at other future times. SLASH is on talking about Guns N'Roses who made some of the best videos ever! Izzy has serious concerns about the money spent on the videos and never did show up for the Illusions ones. SLASH and Duff were bored stiff making these, but the end result was always something unique and interesting. Send in your thoughts on the show when you wake up.



Did you get your copy of the Yardbirds' Birdland yet? The album was released yesterday and should be available everywhere now. Go right to track 10 and hear SLASH do "Over, Under, Sideways, Down"! He sounds fantastic. SLASH does a long outro, and it's what we've been wanting! The Yardbirds people are going to have a contest for people from this site. Details on this coming soon.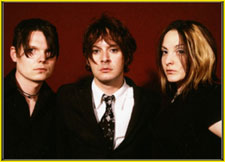 Have you heard of the DNA Dolls? Their frontman had an audition for the Project last month. His name's Marc Eden, and in a few sentences on the band's website, he described the experience. SLASH approached him and asked him to write lyrics for three songs. Marc was given the music; and at some point he recorded with SLASH, Duff, Izzy and Matt. The website says the songs will appear on their website, but this is doubtful given SLASH's reaction the last time that happened. Nicole promises to keep an eye on the site and let us know if anything appears. Thanks, Nicole!



Camp Freddy is going to be on TV again. SLASH won't be there this time as he's just too busy, but we'll tell you about this in case you can make it. They are taping the TV show Last Call With Carson Daly, and Camp Freddy will appear. The taping is May 10 at the Hard Rock in Las Vegas. Tickets are free. If you're interested in reserving a ticket, there's information on the Camp Freddy Site.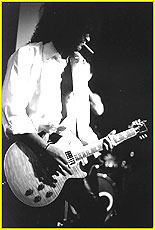 From Vicki in West Virginia comes a message about the June 2003 issue of Guitar Player (Jack White on the cover). Vicki says there's a good article on the Yardbirds on page 45, "Flight of the Phoenix", with a nice SLASH mention. The article is subtitled "Chris Dreja, Gypie Mayo, and a Flock of Guitar Players Relaunch the Yardbirds". In a section called "Chris Dreja on Birdland's Guest Guns", here's what Chris says about SLASH:

"Over, Under, Sideways, Down". SLASH - "We always had SLASH in mind for this song - which is why we added an elongated end section. We wanted to let him crawl all over the outro and do his thing. He's just a great rock and roll player. He's very honest and he has heart."

Well said! Vicki said the only downside...no pictures. Thanks, Vicki!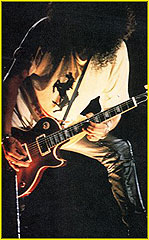 If you belong to SLASH's Fan Club, the newsletter is out now. It's a good summary of what SLASH has been doing over the past few months, such as the Grammy nomination. SLASH shows off his new tattoos, and we discovered that the rose tattoo on his left forearm says Perlita, a pet name for wife Perla. And the one for Baby London is huge...it goes from side to side near his waist. Very interesting articles. There's a wonderful picture of SLASH holding London in his arms and both are sleeping. New merchandise is a Snakepit baseball-type cap. For information on joining SLASH's fan club, check the company's web site at:

www.fansource.com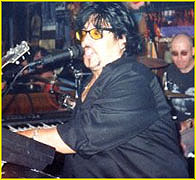 Several fans have written in saying they've seen a rerun of the TV show Trading Spaces where Teddy Andreadis gets his living room done, and SLASH shows up to check the progress. Teddy told us that episode was shot the day after he came home from 3 months of touring in Europe with Alice Cooper. Can you say exhausted? Teddy says he would start to conk out at 2:30 every day, and the director had to administer coffee. This episode runs about every couple of weeks. Back to music, Teddy says he is still playing with Alice Cooper, and he'll be touring with Billy Bob Thornton! Billy Bob will open for Willie Nelson in two weeks. Thanks, Teddy, for the information. In other news about Teddy, we pried this out of a source close to the band. Teddy was working with The Project! A new movie coming out in May, "The Italian Job", will have a song from The Project. It's a cover of the Pink Floyd classic "Money", and Scott Weiland did the vocals. There's also word that a video may be done. Hopefully, the SLASHer will have a big part, and maybe Baby London could have a small part.



News Reported: 04/23/03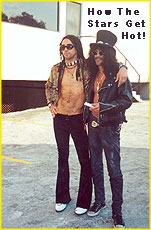 This evening at 7pm on VH1 is a repeat of the show, "How Stars Get Hot", a show about those off camera people who work to make the stars look good. SLASH makes an appearance with one of his designers, Agatha Blois. Ms. Blois is described by VH1 as "a hip, mega-stylist". She likes to work with leather, and three of her star clients are SLASH, Steven Tyler and Sheryl Crow. She says that Sheryl Crow is her perfect person to work with although she loves making things for them all. SLASH was there in a good mood. He had a smoke and tried on a pair of leather jeans Ms. Blois had made for him. There are several designers and stars, so SLASH isn't on the whole time, but you do get to see him getting hot! This show will be repeated on 4/25 at midnight ET and 4/27 at 2:30pm ET. Thanks to Norm who sent the show description in, and Sandy who saw it, too.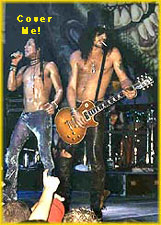 From Paulo in Brazil comes word of a Gunner convention! If you're in South America, get ready to rock. The convention will be held on July 19 and 20 in Rio de Janeiro. So far, none of the Gunners themselves are going, but there will be four cover bands there. Three bands will do Guns N'Roses songs, and one will do SLASH's Snakepit. Paulo says rare video will be shown and rare tracks will be played. As Paulo says, take your vacation in Brazil this summer and go to the convention. With the original band gone, The Project not ready yet and the new GNR seemingly collapsed, this is a great way to hear some Guns music! Thanks, Paulo!



Last time we told you about a musical, Paradise City that is being performed in Edmonton CA. It's GNR music but styles have been changed. Jay went to the musical, and he sent in a really complete review. Jay says that if you are in the area and have a chance to see it, it really is worth it...especially for GNR fans! Thanks, Jay!

GNR Musical





Here's some news on Izzy. He still hasn't released the album with Duff and SLASH, but he is doing a new album right now. Since Duff is tied up with The Project and can't play bass, Izzy will do the bass tracks himself. There's no official release date as yet. This information comes from Izzy himself to his webmaster, Markus and Nicole. Thanks for sharing! They also sent us Izzy's email address. It's izzyemail999@aol.com. We're told that Izzy will try to answer at least a few emails each month.



News Reported: 04/21/03


Due to the Good Friday Holiday, the News will not be published Friday, April 18. We'll see you again on Monday, April 21. Please enjoy the rest of the site while we're busy dying Easter eggs! We'd like to send holiday greetings to our Jewish friends celebrating Passover.

And to the Christian friends, Happy Easter! And especially to those celebrating their first Easter, Baby London, and Moms and Dads, especially SLASH and Perla:




Last time we told you the server where the SLASH Videos section lives was down. Randy, major SLASH fan and technowizard, managed to get it going again, so the videos are available! Thanks so much, Randy!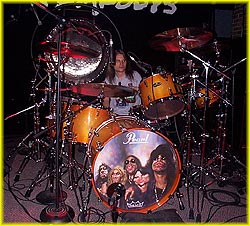 One of the best things about SLASH's Snakepit was the band members. We liked every one of them. We spent a lot of time talking to Matt Laug. He's funny and just so nice! Recently we wrote to Matt and asked what he's been up to in 2003. As usual, it's a lot! He did 4 tracks with Melissa Etheridge last week. Matt says that 3 are for her new record, and one is for the forthcoming Dolly Parton tribute album. Matt's going to do some live shows with Melissa this summer, and he's promised to send us the dates. Matt's friend, Steve Plunket, is lead singer for Autograph. Autograph had a big hit in the 80's, "Turn Up the Radio". Steve has a German record deal, and Matt is playing on it with a great bass player, Lance Morrison. It may only be available in Europe (or through the net!). Matt also did a record for an artist named Jake Simpson. He was happy to get to play on a song written by Diane Warren who wrote "Don't Want To Miss A Thing" for Aerosmith. Jake's song has that same big ballad feeling. Matt says, "I hope all'z good with you. Tell everyone hello!" Hi, Matt!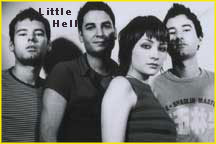 Shari does that wonderful Black Velvet Magazine in the UK, and she subscribes to a music email newsletter, CMU Daily which had a mention of SLASH concerning The Project. Noting that the address for applications and demos is now on SLASH's Official site (slashonline.org), they listed the big names who are up for consideration. Sebastian Bach, Scott Weiland, etc. Every mention of the need for a vocalist brings in more and more demos. Also, Shari reported that Steve Ludwin, frontman for Little Hell was flown to LA to work with The Project. Steve says they worked on 7 songs, but he was not asked to join them permanently. If you'd like to check that out, Shari saw this in Kerrang!, issue 951, dated April 19. Thanks for the UK update, Shari!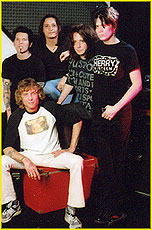 Speaking of ex-Gunners, here's some Steven Adler news. Steven's band, Suki Jones, has these gigs set up:




April 30...The Pound...San Francisco, CA
May 1......The Edge....Palo Alto, CA
May 2......The Roadhouse...Sacramento, CA
May 3......Bourbon Street..Concorde, CA
With more to come.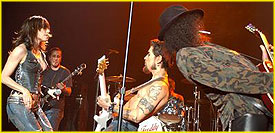 Our faithful contributor Vicki sent in some SLASH sightings in magazines. The June 3 issue of Metal Edge with Godsmack on the cover has a picture of SLASH and Duff at the Hard Rock Vault in Orlando, FL. See page 39. People's April 21 issue (with Jessica Lynch on cover) has a print mention of SLASH (no picture) on page 152 in a paragraph titled "Starway to Heaven". It's Gina Gershon's take on playing with Camp Freddy (and SLASH and Duff) in NYC. Can't resist sharing this with you:

"Strapping on a guitar to front an all-girl band in the upcoming indie flick Prey for Rock & Roll was a real kick for Gina Gershon. 'Performing live music is the most fun I've had in a long time,' says Gershon, 41, who previously dabbled in folk guitar and the mouth harp. Though she sings in the movie, her riffs weren't recorded, so the actress indulged her performance jones by playing a guest gig at a benefit in New York City with onetime Red Hot Chili Pepper Dave Navarro and Guns N' Roses alums Slash and Matt Sorum. 'They were dream bandmates to have,' says Gershon, whose set included a David Bowie tune. 'There's something really sexy about turning around and seeing that you're onstage with these hot, sweaty, tattooed guys who are great musicians. It's like, Oh my God, I've gone to heaven.'"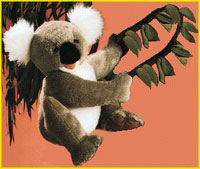 Sam writes from London that there's a reality show on there, a celebrity Survivor show where the celebrities are pretty low on the list. The ads for the second season shows the jungle where the series takes place, and "Welcome to the Jungle" is sung by koala bear puppets. A really raw song sung by cute puppets. Weird! Thanks, Sam!



News Reported: 04/16/03


Be advised that the server that houses the SLASH videos is currently down. It is being worked on, and we hope it will be back within the week. Our very generous fan, Randy in Texas, gave the videos a home a couple years ago when it looked like we would have to take them down due to financial considerations. There's a message to this effect when you click SLASH Videos on the Fan Menu. When the server is up, we'll be back in business. We can never thank Randy enough for helping us out. Best of luck with this, Randy...if you find some long red hair in there, we may have found the problem.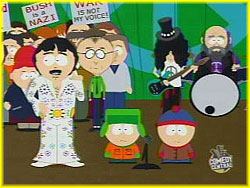 After that sad story, cheer up with this SLASH picture that Ed sent in. As you can see, SLASH was doing his peace entertainment thing on South Park! It was their 100th Anniversary. SLASH just loves this show. Chaz also saw the show and said it had to do with the war in Iraq where one part of the town was against the war and the other side was for the war. Toward the end the side that were the war protesters did a rock song, and the guitar player in the background was SLASH! Auslin added that the SLASH character had a familiar looking tophat. Thanks to all who sent that in and especially Ed for that great picture.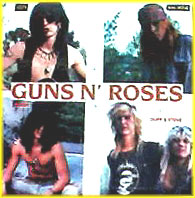 MTV2 is having another contest. Here's what they say about it: "This time we need you to help us pick the 22 Greatest Bands of the last 22 years. Whether it's longevity, chemistry, ass-whomping songs or God-given talent, you make the call. It's your chance to be a part of MTV2 Presents 22 Greatest: Bands, the show where your vote counts." Guns N'Roses is there (original band pictured), and they are going to have stiff competition from bands like Aerosmith, Nirvana, Bruce Springsteen, NIN, etc. So get over there and vote at 22 Greatest Bands. Thanks to Italo, Mark and Peter who sent this in.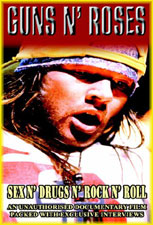 The new DVD about Guns N'Roses, Guns N'Roses:Sex N' Drugs N' Rock N' Roll has been released, and you can buy a copy at Amazon and any number of sites on the web. Completists will buy it anyway; but if you're watching your cash flow, you should give this one a miss. We were disappointed that it is unauthorized so no music is on the DVD. There are also no band members. The DVD is a collection of interviews with people who have very little to do with the band...example: ticket sellers. So there is a lot of talk about the band, but anyone of you could have done it better. SLASH is trying to get this off the market because it is just such a ripoff. At least check a review or two before you place an order. Here's one that really looks at the DVD in detail:


New GNR Video Review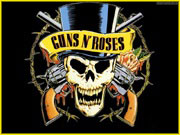 If you live near Edmonton in Canada, how about seeing a new GNR musical, called Paradise City? Three women have changed some GNR classics into show tunes. The musical runs through April 20 at the Varscona Theater. The plot is a modernized version of a classic Mob film set in the 30s. A wide-eyed farm boy hits town, falls for a woman with a past and comes under the control of a sinister Mob boss. At the end there is gospel singing about going to Paradise City. The numbers are changed with SCOM now a swing number. You Could Be Mine is a torch song, and so on. Sounds like it could be pretty strange but good! Here's more information:


Paradise City Musical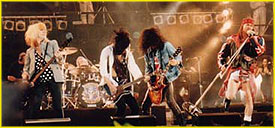 Mark has some very good news about a countdown of the 80s by Triple M, the Sydney, Australia, rock station. Guns only had 2 songs in the list, "Patience" and "Sweet Child O' Mine", but guess what? "Sweet Child O' Mine" was #1!! Some very wise people in Australia. Now, Mark says the same radio station is doing a countdown of the top 105 albums of all time for next weekend. In order to push the Gunners up there on the list, Mark would like you to come over and vote at Top 105 Albums of All Time. See you there, Mike!



News Reported: 04/14/03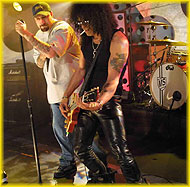 Not only were SLASH fans happy with his being on the Jimmy Kimmel Show Live; but Jimmy's happy, too. Thanks to everyone that watched because SLASH's live show with The Project on Wednesday brought down the house and helped Jimmy's show score one of their highest ratings! Cheers, SLASH! He said he learned to be an extrovert that week on the show, and he did a great job co-hosting. Where he really shook everyone was his live performance. Being up there with his buddies really makes a difference.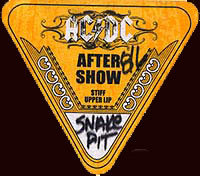 One of SLASH's favorite bands is AC/DC, and it blew him away to tour with them with Snakepit. VH1 is preparing a special one hour show on AC/DC's Back In Black called "The Ultimate Album". SLASH was interviewed by VH1 on the band and the album, and this project should air in July. Watch out for this one!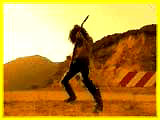 Here's another TV program SLASH will be in on! MTV is doing a show that profiles the range and impact of the work that made 25 artists stand out amongst their peers and raised the creative level of music videos. This is a 90 minute special scheduled for APRIL 26! Coming up soon. The show features SLASH's insights on the Guns N'Roses video collection. Guns made the Top 25 list, but the order of the countdown will be determined by MTV online voters. If you see that countdown poll, let us know the url! Let's push Guns up to the top. And don't forget to set the VCRs.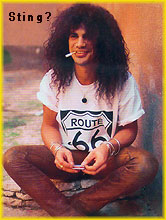 Here's something for May/June, too. Spin magazine interviews SLASH for their upcoming June issue. The topic is...who should be The Project's singer. Spin presents a list of candidates and asks SLASH for his comments. The article leans toward the comic side and is not to be taken seriously. Good...SLASH is great at being funny! Let us know when you see this one.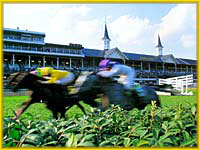 Our dahlin' boy has accepted an invitation for wife Perla and himself to the Kentucky Derby on Friday and Saturday, May 2 and 3. SLASH and Perla will attend the glamorous weekend festivities that includes finishline seats and a champagne luncheon at the Derby races. They'll also be going to a star-studded fund raising event for the 16 million people suffering from diabetes. If you're going, you'll know just where to look for SLASH. No word on Baby London's attendance!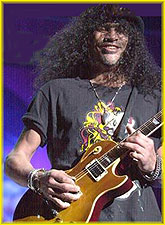 M. Smith was at the Cat Club on Sunset, and someone mentioned that SLASH has been there a couple times in the past six months at the Thursday night All Star Jam. If you're in the area, it's definitely worth stopping in! Thanks! A similar note came from Mbadnardacsi. Ratt had a show on April 4 at the House of Blues in Hollywood. Teddy Andreadis played keyboards for the first band, Roxie 77. Teddy revealed that not only is he in touch with SLASH, but SLASH was at the bar! SLASH was there, and he was very polite when congratulated on his appearance on the Kimmel show. SLASH was at the bar just a little while and then floated off to wherever the VIPs go. Thank you! Keep your eyes open, and don't be afraid to ask!



News Reported: 04/11/03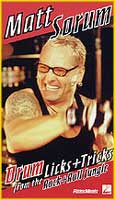 Auditions for The Project continue, and demos keep rolling in. So far, there is no deadline for submission. Rumors continue to float around especially regarding Baz. Baz is certainly in the running but has not yet been selected. Meanwhile, he is keeping very busy working on his first DVD and is about to record some demos for his second solo CD. Baz has been jamming with the guys but is working hard on other things, too. We're told that Scott Weiland (Stone Temple Pilots)is trying out with The Project, too. If you get the Izzy Stradlin newsletter from izzy-stradlin.com, there are a couple of Project related errors. First is claiming that Baz already has the vocalist slot and second, offering a video for downloading that is supposed to be The Project in rehearsal. Actually, it is the 1998 video that Matt Sorum put together, "Drum Licks and Tricks". The newsletter has some good information on getting Izzy's albums.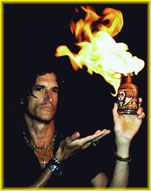 One of SLASH's guitar heroes lost his main guitar in a divorce. SLASH bought it sometime later from a dealer and gave it back on his hero's 50th birthday. Who is it? Joe Perry! Here's an interesting item on Joe. He has come out with a brand of hot sauce called Joe Perry's Rock Your World Boneyard Brew Hot Sauce. You can get a personalized autographed bottle, a regular bottle and pick for $250, a non-personalized autographed bottle, a regular bottle and pick for $100 or the regular bottle and a pick for $8! Way to go, Joe! For ordering information, go to www.ashleyfood.com. Now, what could Slash sell? His own whisky or cigarette brand? Sunglasses? Come on, SLASH!


There are some interesting possibilities on TV. On 4/14 at 10pm on VH1 is the show "How the Stars Get Hot" about the stylists who get the stars ready for appearances. This one says it stars SLASH. Anyone see this before? It repeats 4/15 at 11pm ET. Tomorrow's an interesting one on MTV2 at 5pm. It's called "The Definitive" and is a collection of the most recognizable guitar riffs of all time. SLASH is on this one. It repeats 4/13 at 10pm and 4/14 at 11am ET. On 4/15 at 12pm ET, VH1 repeats "100 Greatest Love Songs" with GNR in there doing "Patience". If you haven't seen this next one, try to catch it....SLASH is on for quite some time being interviewed as part of the show "Sunset Strip" brought to you by E! at 3pm ET on 4/15.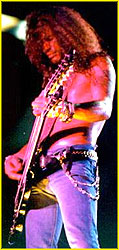 If US TV doesn't appeal, head for Nepal. Deepika Lath, a huge Nepalese fan of SLASH, reported seeing for the first time the "Paradise City" video. MTV ASIA had it on. Deepika says it was a lot of fun to watch even though it was on at 1am. At the end of the video, it says Geffen Records, 1988. This is a real oldie, but everyone seems to like it! In talking to someone who was there that day, they claimed the crowd scenes were from another show as GNR didn't have that large an audience. Well, they looked like GNR fans with all those banners! Thank you, Deepika!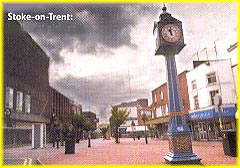 The Yardbirds sound great on their album Birdland. SLASH did a track for them. While SLASH is not touring with them, you UK Yardbirds fans might want to the Jazz, Blues and Music Festival in England on April 19. The festival is in Nantwich which is just 20 miles away from Stoke-on-Trent. Try to find SLASH's home there! Wonder if they sell SLASH souvenirs? The Yardbirds will perform at Civic Hall. www.nantwich-jazz.com for further information. If you get there, maybe you can chat with the Yardbirds about SLASH!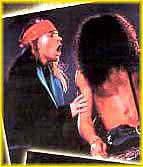 Philip's from the UK; and, no doubt, has visited Stoke-on-Trent many times! Actually, what Philip wanted to say was that MTV there ran the Ultrasound program about band breakups. SLASH did a quick interview about GNR. They mentioned Axl's new band and said maybe Chinese Democracy will come out in our lifetime. Also mentioned...SLASH and The Project. Thanks, Philip!



News Reported: 04/09/03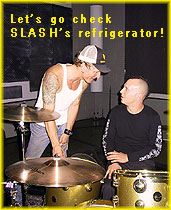 In the March 2002 issue of N Touch, there's a short article on "What's a sign of a true friendship?". A true friend, according to the article, is a "refrigerator friend", a friend comfortable enough with you to raid your refrigerator without asking. SLASH was asked to name a fridge friend of his, and Matt Sorum was his (although they call him "Mad Storm" for some reason!) SLASH says, "Mad Storm, my drummer, is the only one I know who does that. He takes whatever he wants - he takes anything you can eat quickly." The article says for better health we all need more fridge friends; we'll be less stressed and feel better. SLASH has one. How about you? To the person who sent this in awhile back, thanks!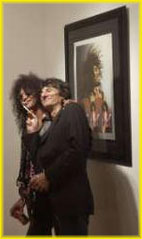 Picking up the April 2003 issue of Maxim Presents Blender (Eminem on the cover), Vicki found a couple of good SLASH mentions. On page 26, there's a tiny picture of SLASH and Ron Wood with this headline, "Pop Star Must Have - Cigarettes! Smoking is so now! It's fashionable and makes you look cool. Cough. Splutter, Bleargh!" Vicki says the picture is so small, but she believes SLASH has a cigarette in his mouth, his left arm around Ronnie and is attempting to light Ron's cigarette with his right hand. Others shown smoking are Marianne Faithful, Ms. Dynamite and Britney Spears. And just when you were trying to quit...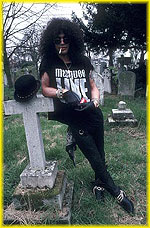 Another mention in Blender that Vicki found is on page 64. In the category of "The Best of Pop Metal" is Appetite for Destruction. The article is "The 500 CDs You Must Own Before You Die". AFD's category is subtitled "All the riffs and mascara you'll ever need". Other CDs listed here are Bon Jovi's Slippery When Wet, Boston's Boston, Def Leppard's Pyromania, Foreigner's The Very Best and Beyond. Motley Crue's Decade of Decadence, Queen's Greatest Hits, I and II and Van Halen. We only have six of these, so we have to hang on a little longer.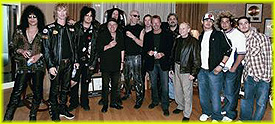 The Blabbermouth site comes through with another SLASH mention. Dee Snyder (Twisted Sister) was in Orlando, FL in January for the grand opening of The Hard Rock's Vault. The Vault is the Hard Rock's museum. Rock stars were invited for the opening, and Dee went with his wife Suzette. They had a great time hanging with SLASH and Duff, Brian Johnson, Pantera and Disturbed band members, Simon Kirk from Bad Company, Little Steven from the E Street Band (and Sopranos!), Bo Diddley, Nikki Sixx. Dee says it was a who's who list of rock. The thing he found most interesting was that they had all caught up to him: they're clean, sober and married with kids. Dee laughed that he is now thinking of taking up heroin! No, he said they had a great time because they are all on the same page. Glad to hear old wild child SLASH's name included!



SLASH answered a couple more questions for fans, but there may not be many more for quite some time due to his work schedule. Enjoy these! Simrin writes, "I'm in England (your biggest fan there)and a few years ago, I was listening to XFM, one of the London radio stations. The 2 presenters I was listening to were talking a lot about Snakepit and GNR. Finally, they played a Snakepit song. They said, 'Here's a song by SLASH's Snakepit, and it's simply called 'SLASH's Snakepit''so naturally I thought, 'What the hell? There's no song called SLASH's Snakepit!' because obviously it was not on the debut album. They played it, and it literally blew me away; it rocked my socks off, man! I just wanted to know how these guys managed to get a copy of it, why wasn't it on the album and is there any way I can get hold of it? Thanks for everything, SLASH, your music truly makes life worth living!"

SLASH replies, "Simrin, I don't know what they were playing either. Maybe you can find out and let ME know!"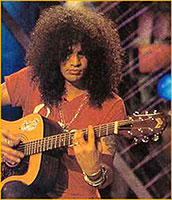 Here's one without a name. "SLASH, I was wondering what type of guitar strings you use on your acoustic guitars?"

SLASH replies, "Ernie Ball Medium/Light Acoustic Strings".




News Reported: 04/07/03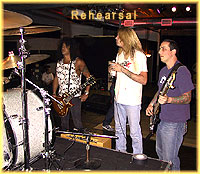 The Project has speculation whirling around it again. Sebastian Bach has been let go from his title roll in the Jesus Christ Superstar tour. To his credit, Sebastian was almost immediately forthcoming about the reasons and his future plans in a statement on his official web site, SebastianBach.com. An artistic difference led to Sebastian's dismissal; Sebastian felt the need to keep a big rock number in the show, and the producers wanted it out. Sebastian is an avowed rocker, and he has a number of plans for pursuing that course. The Project speculation centers on these words from Baz:

"All of this has made me realize that it is time for me to follow my heart & create some brand new original rock & roll that will completely blow you away . I have been working with one of the biggest bands in the world & will now persue[sic] that collaboration with full force. "

Baz fans report that they can't remember a band like that except possibly the future success of The Project. It does sound as if Baz is going to pursue the vocalist position with all he's got. He lists other personal recordings he wants to make, too.

This doesn't mean Baz is hired. When SLASH announces it, then we will know for sure. As of yesterday, no one at The Project knew about Baz's difficulties. We were told that no one could quite believe it because Baz was so terrific in the musical. If Baz gets a callback, he's going back to finish the tour, so things can change. It really sounds as though he is super interested in The Project...in case anyone had any doubts.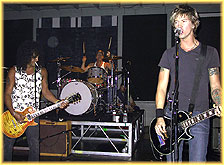 Have you seen the new "Help Wanted" ad on SLASH's artist site? If you're still planning to apply for the vocalist slot, take note. There's an address that is fairly recent (no longer the fan club address which was sinking under the weight of demo tapes) and information on online submission. The new address to send a demo tape/cd, phone number and postal address (not just email) to is:

Slash
13636 Ventura Blvd., #434
Sherman Oaks, CA 91423

You can also send your demo online as an attachment to a mail message. It should be in the MP3 format. Send mail to submit@slashonline.com. Please make sure the file is virus-free, no longer than 2 minutes or 3 MB in size. Only one submission per singer. If you need this information again, it's at Vocalist Submissions. It is a popup on the first page...underneath the Jimmy Kimmel popup. Best of luck.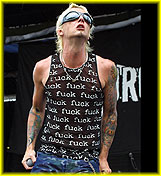 For fans of Kelly Shaefer who wrote asking what he's doing now that he is not shortlisted for The Project. Kelly was rumoured to be the new lead vocalist for The Project in October. Later, the announcement came that while he was a front runner, he didn't have the job as yet. Kelly's out of the running now, and has been looking for a band to team up with. A tryout with The Drowning Pool was not successful, but he's looking at some solo interests in the meantime.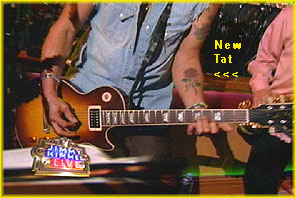 If you saw SLASH on the Kimmel show or elsewhere recently, you may have spotted that large new tattoo on his left forearm. It's a big rose with wife Perla's name. It's on the inside of his arm, so when he plays, it's easy to see. All who try to go SLASH tat for tat will want to check this out although you may want to put your own significant other's name there. Perla might not mind, but the Slasher might be upset! We're told that SLASH has another new one! This is on his lower back and it's the name of his beloved firstborn, London, in script. First to send in a picture of this one gets an Ain't Life Grand cd!



News Reported: 04/04/03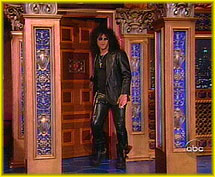 Recovered yet from SLASH on TV every night? Jimmy Kimmel's name will be instantly familiar to SLASH fans from now on. Taking over as cohost from SLASH is that ex-con and boxer, Mike Tyson. SLASH on for 2 weeks would be a better choice! If you taped one show or all of them, would you please check the want ads on the Sale/Trade section (link above). There are so many fans looking for copies of one to five shows. We are personally making a set. Please try to help out! You can always post your tape wants here. Thanks! And if you are looking for The Project songs online, we know where some are. Their locations are in the March News Archives. At the end of the news is a table for 2003. Click March and up will come all the news for the month. The links are in there, near the top. Both "Paradise City" and "(Rock)Superstar" are available for viewing or downloading. Thanks to the fans who took the time and made the space for these.


A little more on the SLASH shows...Steve (or "DTUD"!!) says it was awesome being at the show that week. He even got to be on TV a few times...ah, and you didn't let us know you'd be there! Best thing: SLASH himself handed Steve a pick. SLASH didn't do a fan session (he says because it was Jimmy's show not his); but Adam Day was buzzing around the equipment, and Steve got to talk to him for almost an hour. Wow! Brian always manages to come up with good information. He says that SLASH did join Camp Freddy for a couple of songs on Jimmy Kimmel's show. Unfortunately for those at home, the onair portion was over. Scream! Camp Freddy did five songs, and SLASH played on the last two: "Whole Lotta Love" and "I Wanna Be Your Dog". Clearly the best thing is being in the audience with your vcr rolling at home. Thanks, Brian and Steve!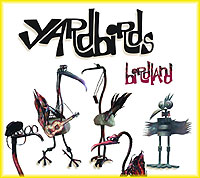 What's next for us? The Yardbirds album, Birdland will be released April 22. SLASH makes a guest appearance on the track "Over, Under, Sideways, Down" which is killer! The album is a feast for guitar players and fans. Guitar heroes Brian May, SLASH, Steve Vai, Joe Satriani, Jeff "Skunk" Baxter, and Steve Lukather are all on the album, citing the Yardbirds as one of their influences. This is the first Yardbird album since 1976, and only a couple of the original band are present, but it still rocks. The entire "Over, Under, Sideways, Down" can be found online. SLASH is wonderful; and at the end, he plays a one minute solo. This streaming audio in Real Audio format is located here:


"Over, Under, Sideways, Down" - Real Audio


And here it is in Windows Media format:


"Over, Under, Sideways, Down" - Windows Media



There's a cool online ad for the album with SLASH's name listed. This is a cute one:


Birdland Online Ad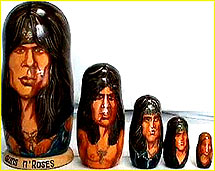 Do you like tribute albums? There's another in the works for Guns N'Roses. The last one was Appetite for Reconstruction. SLASH didn't like that album. Really, it would be great to have one with more legendary bands or artists contributing. SLASH won't like this one either. The label is Law of Inertia Records, and they characterize the album (so far unnamed) as a hardcore tribute to GNR. Artists performing will be: Dillinger Escape Plan (SLASH is already cringing), Nora, Every Time I Die, Shi Hulud, Most Precious Blood, 18 Visions, Since by Man, Haste, Unearth, Time in Malta and Aaron Turner of Isis. Who are these guys? No more information is available just now. Maybe they'll think of something else to do. These bands are just not in the same ballpark as GNR, and instead of paying tribute, it seems like a publicity grab. It will be out this fall for the completists.



News Reported: 04/02/03