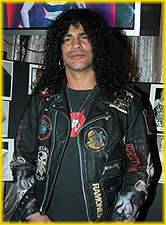 For one reason or the other, the MTV2 scheduled showing of the program about the making of "Slither" followed by the full "Slither" video was cancelled. No reason was given. The good news is that it was quickly rescheduled and will be on Saturday, May 1 at midnight following "Headbangers Ball". This is according to the official VR site, so get the video tapes ready to roll!

MTV2 is already showing the video in its entirety, and some fans have been lucky enough to catch it. Fuse will begin running it this weekend. Nero wrote in that he only caught the end of it...he said it reminded him of "Garden of Eden". Also, SLASH looked forever young, really cool. Nero said he also saw a commercial for Contraband with shots included from the "Slither" video. Nero says he got tickets for Roseland which is way cool since he only came to the U.S. a year ago and never saw any of SLASH's previous bands or GNR! He's promised to send a scan of his ticket. It would be great to have one of each of these shows. Josh saw the video around 2am and is in the video! Look for him wearing a black dress shirt with sleeves rolled up. He's on for about 2 seconds next to SLASH during the second chorus. He said it seemed like a low production video costwise but the song was really good. Thanks, Josh! Allen spotted it on MTV2 at 8pm and says it was great. Everyone is waiting for that special on the making of the video. Thanks, guys! See here our first ticket scan that we got from Adina and Amber, best buddies off to the DC show and hoping to get some closeups of SLASH after the show. You know we'd like to make a super photobook!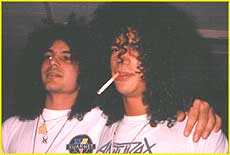 Some fans wrote in that they are making long road trips to see the band. They've been requesting information on hotels and places to eat and directions. We don't have that kind of information here and if Yahoo's maps and other resources aren't enough, we have something better...our SLASH fans. Go to Fan Address section and look for someone who lives in that city and state. These fans should be able to tell you where there is a decent hotel and meals, where to park, etc. We want all of you to get to the show on time. Don't forget that if they are holding your tickets at Will Call, get there early to line up for that! And we've been told that there will be some kind of Meet and Greet with the fans...possibly with tickets, but it is up in the air right now. More details as we get them. Be sure you are signed up for the Velvet Revolver newsletter. It seems they use this list a lot.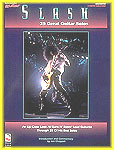 We hope we are not too late to tell you about this auction. It's on ebay Germany, and Gerrit sent it to us.It's a guitar that once belonged to SLASH. It is used but in good condition, serial #1, 1960 reissue custom shop built in 1990 but post dated 1989 includes the original Gibson case and the original Hollywood invoice. So many people write and want a guitar that SLASH owned, so here's a chance. You can thank Gerrit if it works out.
Click to read and bid.

Just when the excitement of Guns N'Roses Greatest Hits seemed to be fading a little, the vaults have opened and more is coming out June 1. The Roots of Guns N'Roses is coming out June 1 and is a collection of the first demos by Axl and Izzy before there was a GNR as we know it. Drummer was Johnny Kreis, guitarists were Tracii Guns and Chris Weber. The demos were recorded under the name Hollywood Rose. Gilby Clarke took these raw recordings to his studio and polished them up. Fred Coury also did some remixing. There are 15 tracks on the CD. SLASH does not appear on this, but we thought you diehard GNR historians might like to get in on this.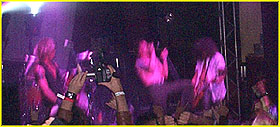 The band did a promo show on KROQ today and did an interview. They played acoustic versions of "Slither", "Interstate Love Song" and "I Used to Love Her". Mattias sent us a note that there was a small SLASH interview in the Swedish newspaper Aftonbladet. They talked about the album coming out and the drug problems in the past for some/all members. SLASH says they can handle drug problems, and he just loves to be on stage and is looking forward to the tour. He says no money in the world would make a GNR reunion possible for him and will not sit around waiting for Axl to come to his senses. Thanks, Mattias, who also reported that "Slither" started playing there about two weeks ago.

Maxim magazine's May issue has some unfriendly words for Scott. They said basically that Scott has too much baggage and is unstable. He said the album sounds like Appetite.... The tone was nasty at times, but in the end, we weren't sure if he liked it a little or a lot. Scott immediately reacted to this with a blast from the VR site. He says the reviewer knows nothing about VR's music and has his legal status reported incorrectly. In particular Scott denied that this was an Appetite... remake. He pointed out that the guy had named this "Album of the Month" but said he should stop making the "punk-ass backhanded comments!" Get in the ring!



News Reported: 04/30/04

We had a good conversation with SLASH last night. We relayed how proud all his fans are of him and Velvet Revolver, and how terrific it is to be part of this debut explosion. He said he was the same person as always, and he did sound the same. We asked what was a typical day like in his life now, and he said he goes to the gym to work out, goes to rehearsal, then home to put London to bed and relaxes. Big rock star life! So, he's still working very hard. Asked about the promotions and interviews, he said that that would be increasing even more, so we'll be seeing and hearing more interviews from the band. Slash said the tour looks like a year and a half with this U.S. leg being a promotional tour since the album is not yet out. He said if you can get to a show, these shows are really going to be something and are really special. Next will come Europe and Japan then back to the U.S. That's the current plan anyway. He reminded me to tell everyone to watch the "Slither" video on MTV2 as he thinks it's just awesome. He also mentioned the "Making Of..." show, but that was not aired for some reason. It was great to hear from him, and we imagine a lot more of you will be talking with him after the shows. We'd like to hear from you!

If you did get tickets to the shows and have no one to go with, we remind you of our list of fan addresses on this site. The list is in order by country, and you might hook up with someone if you send out some emails. All these people are real SLASH fans and welcome contact from other fans. If you want us to try to hook you up, send us a note and we'll put it in our ad section.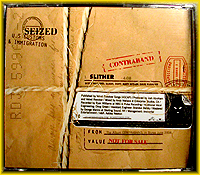 Last time we reported that there would be a limited edition of Contraband which would have a DVD included with the CD. The DVD would have some special videos like the "Slither" video. We are reading now that this limited edition has been cancelled with no reason given. The web site HMV Japan was selling it, and MusicTap.net said the special edition is cancelled. We'll try to get more information on this. Happily, the bonus track "Bodies" (an STP cover) will be on the European and the Japanese releases. Japan lists its Contraband release as June 2 and the European/Australian is due out June 7.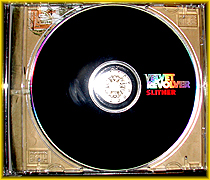 There are still the 5 shows with ticket sales pending. We're hearing from more fans that they did get tickets. Those of you who missed out or paid the scalper rates can take some comfort that those whose tickets were on sale later knew to start very early to get on and get going. You have to be very persistent, very prepared and have a clear idea of what you are ready to spend. If you really want tickets, the place to go seems to be ebay where tickets are going for about $100 a pair. Don't miss out!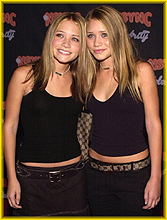 We're going to lighten up here with something Stefan sent in that is a hoot. SLASH has a mention in this funny cartoon video about the Olsen twins. Check it out at Olsen Twins Video. Thanks, Stefan!

If there is someone out there who knows how to download "Slither" in one of the 99 cent sites using Windows 98, some fans and ourselves would be grateful for the information. Send any help to webmaster@snakepit.org.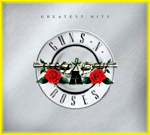 Guns N'Roses Greatest Hits is still # 1 in Ireland according to Pauric, and we have word from India that it is at the #3 spot in India where it has climbed after entering the chart at #9.

Miscellaneous Bits: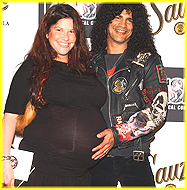 Rod from New Jersey reports that he was watching the Jimmy Kimmel show and when they went to commercial, they played "Set Me Free" and sounded great! Another small bit of news is that Scott's hearing on his DUI charge that was to be Friday has been postponed till May 11, just two days before the St. Louis show. And SLASH and Perla attended the L.A. premier of the musical comedy "Tease" at the Century Club Theater on April 22 in Century City, CA. And here's a picture of SLASH and Perla who is carrying the couple's second son due near the end of June.



News Reported: 04/28/04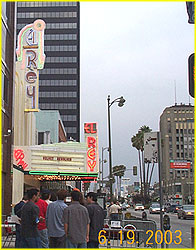 When Velvet Revolver did their El Rey show, they promised to release a live DVD of the show to hold fans till the album was out. Then, they decided just to put all their energies into getting the album out. As you know, you can pre-order Contraband now for its release on June 8. All of a sudden, the best of both worlds has come out...a limited edition of Contraband with a DVD in a special and limited release in a digipack. Its release date is also June 8, and the country releasing it is the U.S. although it doesn't seem to be available anywhere for pre-order other than Japan's HMV site! It will probably pop up later on the U.S. sites, but if you want to be sure to get a copy, go over to the HMV Japan site. Be prepared to spend a very stiff delivery fee. Brian tells us that HMV says the DVD will have on it:
1. Set Me Free (live video from El Rey show)
2. Slither Video
3. Making of Slither Video
4. Six Online Teasers
Thanks, Brian, for that information.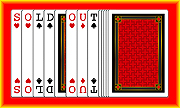 Ticket sales are still driving fans crazy. There are still 5 shows that have ticket sales coming up (L.A.'s onsale dates are not listed as yet). From the comments we have seen, you had really better hustle if you want to get any seat at all. Most venues are sold out and sold out fast. Philly goes on sale 4/30 along with Portland. Seattle's date is 5/1. It's amazing that tickets sold out so quickly and moved onto ebay so fast. Something is wrong with the process when ebay sellers say they can get you as many as you want with a price maybe 10 times the listed price. There doesn't seem to be much the band is going to do although most bands do some kind of password so that fans can at least get a couple of tickets. It's a shame that the people who've supported SLASH and the others over the years won't be in the audience.

If the band comes to your town and you see fliers or ads or do get a ticket, we'd certainly like to have a copy. You can send us a scan or you can trust us to scan your original and return it. If you have anything you could share, please write to webmaster@snakepit.org. Thanks!

If you can't see Our Man in person, Vicki has found a good magazine with some great pics. It's the June 2004 issue of Guitar Player with SLASH on the cover and the title "SLASH-Gunning for Glory with Velvet Revolver". The article has a full page color pic of SLASH playing article with a full page pic of Dave opposite. There's another half-page color pic later in the article with his guitar collection, another one a page later playing his Guild, and one more. It's a 10 page cover article! There's also a cool black and white of SLASH in an ad for Celestion speakers captioned "SLASH says, 'I've been using Celestion Vintage 30 speakers my whole career and can't imagine using anything else". Thanks, Vicki!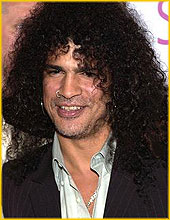 Lisa says Italy has finally had a mention (2 page article) of Velvet Revolver in their music magazine Flash. There are some small pictures and a SLASH interview. SLASH says he worked a lot on making the album use new things. SLASH was asked why they chose Scott after having so much trouble with Axl, and Scott seems to be questionable also. SLASH said Scott works hard, and they've all had drug problems, and they trust Scott to get out of it soon. The article title is "Born To Be Wild" and is a little old since SLASH had no idea when a tour could begin. Thanks, Lisa!

Jonah is one of the lucky ones to get a ticket to the Boston show after missing out on the Toronto show. Toronto sold out in just over a minute, so Jonah was quick the second time. At work he heard on radio 103.1 FM a Velvet Revoler hour. The announcer played a lot of GNR and STP songs and talked about the tour. At the end, they played "Slither" and Jonah says it is really awesome with a heavy raw sound, not overproduced. Thanks Jonah and enjoy the Boston show! We can't stress enough that if you want to go, you are really going to have to be quick!



News Reported: 04/26/04


Right Now Velvet Revolver and SLASH have a lot going on. The calendar of events begins with April 2004. Near the top is a list of months you can click on to see future shows and events. You can see the month at a glance and then click on specific days to find out more about what's happening with SLASH.Check this schedule often for events in your area with SLASH and Velvet Revolver. Click the tour truck below to check the schedule.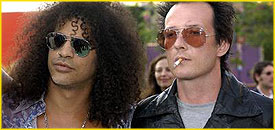 Ticket Sales: tickets are on sale for all but 5 venues in this first U.S. leg of the tour. No more shows have been announced at this time, but there's always hope! Some shows have sold out. Your best source of information on which shows are still available is to go to VR Official Site and click on Appearances. You'll see a list of shows and if you scroll to the right, and click BUY, you are linked to that show's information on Ticketmaster. It may say no tickets are on sale which probably means sold out. If you get a form back, you can fill in the form and send it off asking for best available and you'll either get back the form for buying tickets or a message saying no tickets are on sale. Not tickets means (at this time) sold out. They say to check back because more tickets may be released. That's unlikely but it does happen. If you can't stand to miss the show in your area, you'll have to try ebay or one of the commercial ticket sellers of which there are many on the net, but be prepared to spend well above the original price. So, the main thing is to get going and get your tickets now if you can. Good luck! Larry tells us that he's a huge SLASH tape and has gone to every Snakepit and Blues Ball show that came to the Boston area. He tells us that the Avalon concert in Boston sold out before he could even get online to purchase tickets. He says the prices on ebay are probably 3 times the price of the Ticketmaster tickets which are gone. Sorry to hear that Larry, and we hope it's not just scalpers with tons of tickets to sell.

Have you been checking the VR Official Site for video clips? Andrew is from Australia, and he's been checking it. He told us that the third clip is up now. Clips 1 and 2 are still there. He gave us some specific directions in case you need help which we did. First, go to this link: VR Video Page. From there, click "Click Here to Enter the Velvet Revolver". Now you'll be able to see these videos that are about 40 seconds each. Click High Medium or Low for video speed. Click the bullet near the bottom to select the video. The band is not in any of the three clips, but more are coming soon it says. Thanks, Andrew, for those helpful tips. Andrew says the clips show a woman in a black polyester bikini and a man in a balaclava. Looks like they are underground and there's a single light swinging from the ceiling. The guy has bundles of something (contraband?) in front of him and the woman has a gun that comes out of a red velvet box. In some shots, a gun target spins that goes from the silhouette target to pictures of the man. It looks like she is trying to shoot the man. Andrew says it's very odd! We thought so, too, but maybe when we see the whole thing it will be clear.
We had asked Elin who lives in Norway to let us know about the Lydverket show that SLASH and Duff appeared on. She said it was great to see them and they looked cool. The host started off by complaining about Axl's tearing GNR apart. He talked about Velvet Revolver and mentioned the June 8 release date for Contraband. SLASH and Duff talked about how Axl had broken up GNR, and all the cancelled shows, particularly the one in Oslo, Norway where Axl was in Paris (rumor had it that he was communing with the spirit of Jim Morrison). SLASH then talked about how VR got together. Duff said they have all grown up since GNR but still have the "f*ck you rock n' roll". The host said Scott Weiland is the only rebel in the band but is trying to clean up. They showed a clip of the "Slither" video, and Elin thought it was great! Thanks, Elin! Good report... And if you'd like to see the show, Elin says it's on a Norwegian web site. You Norwegian fans are probably signed up for this site. It requires a userid and password, so you'll be able to read the instructions to get on. The url is www.nrk.no/programmer/tv/lydverket/. The show you want is Lydverket 21.04.04. You'll need to enter your own userid and password to see the show. Elin was good enough to loan us hers, and it's well worth seeing if you can read the site enough to get on.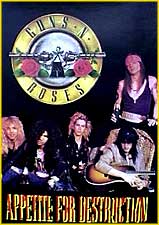 Another Scandinavian fan checked in with some information - this is Sebastian from Sweden. He wanted to let us know that Appetite for Destruction is # 8 on the rock charts in Sweden. He also wanted to know who gets the profits from GNR albums sold now. You'll be glad to hear that the band still gets their portion as no new contracts were ever negotiated, and the guys are smart enough to hang onto their rights.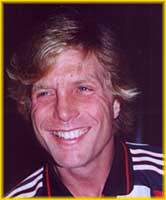 This is an interesting tour schedule from Brian. This is Adler's Appetite's European schedule for June and July. SLASH has said that VR should be in Europe in late summer, so maybe there might be some overlap? It would be very cool to have Adler's Appetite opening for VR! Just some speculation and probably wrong since July is really midsummer. While European fans wait for VR, how about checking out Steven and his band...we've only heard good things about them, how much they enjoy what they are doing and the access fans have to Steven and the band. And don't forget Keri Kelli, ex-SLASH's Snakepit will also be there with Steven Adler. Two really nice guys with SLASH connections. Here's the schedule for June and July:
Jun. 25 - Duisburg, GER @ Pulp
Jun. 26 - Paris, FRA @ La Locomotive
Jun. 28 - Belgrade, SER @ SKC
Jun. 29 - Zagreb, CRO @ Aquarius Club
Jun. 30 - Ljubliana, SLO @ TBA
Jul. 01 - Worgl, AUT @ Komma
Jul. 03 - Düsseldorf, GER @ Polo Bikerfest
Jul. 09 - Weert, NETH @ Bospop Festival
Jul. 10 - Zoetermeer, NETH @ De Boerderij




News Reported: 04/23/04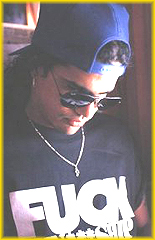 We'll lead off today's news with a cryptic post from Scott Weiland on the official Velvet Revolver site, cryptic in that Scott doesn't share what brought this on with some examples. Anyway, here is what Scott wrote for today:
"I'm disgusted with the music industry. Since making my last record two years ago, I've encountered more censorship in the past three months than in ten active years with S.T.P. Let's hear it for the lambs! Censorship Is Naziism"

What's been happening these past three months from the music industry? Have some VR lyrics been censored? If so, this is the first we have heard of it. We'd like to hear more on this. On the whole, we prefer SLASH's T-shirt that just says F*ck Censorship! A typical SLASH remark. No mention of lambs either.
Despite whatever is bothering Scott, he must be cheered by the welcome Velvet Revolver is getting. We've heard from all over that radio stations are really plugging the single "Sliver", the first track of Velvet Revolver's forthcoming Contraband. Adam sent word that he's hearing "Slither" all over the radio in Toronto, especially 102.1 The Edge. They are even starting to run contests for tickets to Kool Haus on May 21. Adam says that Toronto loves SLASH and Velvet Revolver!

Tickets for some shows are on sale now. We want to make you aware that one show that originally said "Kansas City, MO" is now listed as Kansas City, Kansas. If you're from Kansas, you'll want to see that show on May 14 in Memorial Hall. Tickets are available nationally for most shows through Ticketmaster. That means that if you live in New York and want to go to the Kansas show, you can order them through Ticketmaster and they will handle the order for you. Be advised that if you ask for tickets to be held at the box office for pickup before the show, you should arrive early or you could be standing outside waiting while the show begins. Also, tickets are already being offered through ebay. It is not necessary to buy through ebay when tickets are sold nationally. With fraud running rampant on those auctions, be careful who you buy tickets from. Ticketmaster may be expensive, but at least you will be dealing with a corporation and get into the show. Right now, tickets available nationally are: St. Louis, Kansas City, Minneapolis, Chicago, Detroit, San Francisco, New York City, and (internationally) Toronto.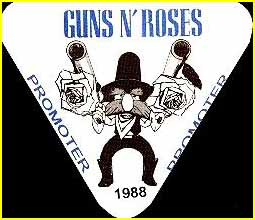 Guns N'Roses Greatest Hits is still going strong around the globe. Nina says that GNR are still big in Slovenia and Central Europe. The album made it to #1 in album sales there, too! They are hoping for a Velvet Revolver visit during the European leg so they can hear some of those tunes live! ...Greatest Hits is also #1 in the UK, where the only previous UK best-seller was Use Your Illusion II which spent just one week at the top in September 1991. Hopping on the bandwagon is a 14 track tribute compilation called Bring You To Your Knees: A Tribute to Guns N'Roses, a 14 track album that we have no reviews on at this time.
In response to this question...will there be a DVD of the El Rey show included with Contraband, the answer is no. There had been a plan to release a DVD, but the band decided to forge ahead and get the album out and not worry about editing a video. However, Doug Grean's site says that Velvet Revolver's tour will be recorded for future live CD releases. And who knows? A DVD could come out as well. Doug is working in the studio again but that is not with Velvet Revolver. He and Scott are working on a solo thing for a movie soundtrack, another Pink Floyd cover. Scott did a fantastic vocal part on the VR recording of Pink Floyd's "Money" on The Italian Job soundtrack. Stick with a winner!

Marco sent this one in. There's a magazine called Men's Health, and in the May 2004 issue, there's a section on gadgets. Check out the new Gibson Digital Les Paul which Marco scanned in, but what's really cool is the caption! Wonder if SLASH would be interested in using one of these? Nah! Click here to see this techie guitar.



News Reported: 04/21/04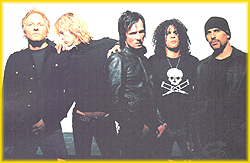 Today we got email from HMV Japan confirming that Velvet Revolvers' single "Slither" will be released there on May 25. So it looks like the releases will be done all within the month of May as the U.S. date is May 3.



It seems like everyone who can get to the shows is making plans. If the show is listed, the ticket sale date may not have begun as yet. We have no official word on when ticket sales begin. We suggest checking ticketmaster.com. If the tickets are not on sale, then call the box office directly. They should be able to answer all questions about sales. You may be able to buy yours over the phone and have them held for you at the box office or they might mail them for a surcharge. All the venues range from 1500 to 3000 so we think that everyone will get in. You should ask them about age if that is critical for your getting in. Most places let you in with an adult, but if you don't have an adult with you, you may have to show ID for over 18 or over 21 shows and not get in if you don't have ID. So be sure to ask about age limitations if that is important to you.



We have no information on meet and greets after the show. We certainly hope that SLASH at least will do this. Please don't ask us for backstage passes because the band and management takes care of these. They usually go to friends and families and media. SLASH likes to see fans after he has relaxed awhile in the backstage area, but then he comes out and stays a really long time. At least that was what he did with Snakepit. We'll have to see how that works with this new band.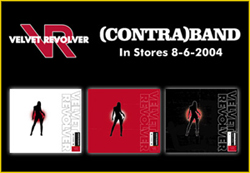 Velvet Revolver has released their artwork for Contraband. There are 3 albums all equal but one's cover is black, one is red and the third is white. Here they are! Anyone buying all three other than the webmaster?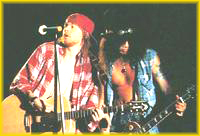 Elin from Norway says that on the Svisj Show (Norwegian music show) this week, they dedicated the entire show to Guns N'Roses. They played many of the old songs. The host said there would be a clip of Velvet Revolver on Lydverket (another music program) this Wednesday. Erin is going to check that out and let us know. Thanks, Erin.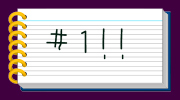 Both Dane and Sim in the UK report that FINALLY Guns N'Roses Greatest Hits has made it to #1 on the UK album chart!!



Speaking of the old GNR, we mentioned last time that Izzy was going to be playing in a revival of The New York Dolls taking the deceased Johnny Thunders place. Former Dolls singer David Johansen said that Izzy broke his teeth on Dolls' tunes and should really do a good job. He said there would not be marathon rehearsals...he hoped everyone would just do their homework, get together and throw it on stage. Johansen also said that anything is possible when asked if the band might stay together. Right now they are just confirmed for the London Meltdown Festival in June.



News Reported: 04/19/04


Velvet Revolver's Official Site announces that on April 20, you'll be able to go to your favorite download site and download the "Slither" single for 99 cents! That's next Tuesday! Try iTunes, Napster, Real, Walmart.com...any and you'll be able to finally have your own copy. Don't pay those high ebay prices - get a copy for under a dollar. A recent press release says "Slither" blows up radio as the #1 most added track for its release week. YES!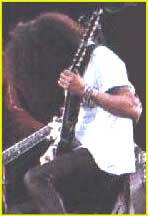 Did you see the SLASH quotation that Rolling Stone ran on their site? He said, "The group has only one show under its belt, last year in L.A. That was the first time I'd ever seen SCOTT WEILAND perform," guitarist Slash told Rolling Stone. "I knew I liked his voice, but when we got on stage together that spontaneous chemistry sealed the deal on this collaboration." Ray said that when he met SLASH after the El Rey show, SLASH told him the same thing almost word for word. We had often thought of these words that liveDaily called SLASH, Matt and Duff. They referred to them as "Guns N'Roses survivors". Thanks, Dave and Ray.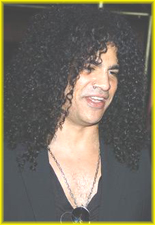 There are more cool SLASH interviews with SLASH. This one was sent in by Jarod, a cool SLASH fan. It's with liveDaily News, and you'll like this one. Click here to read this one. And Michel reports that there's a Swiss magazine Rockstar where SLASH and the others have been interviewed when they were in Paris.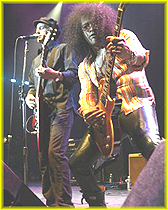 Some news on Izzy Stradlin has come in. Allen let us know that thanks to the persuasuive power of UK musician Morrissey, the New York Dolls are reuniting for London's Meltdown festival for which the ex-Smiths frontman serves as artistic director. Izzy will fill the slot left vacant by Johnny Thunders who died of a drug overdose in 1991.



News Reported: 04/16/04





Thursdays are not a usual day for us to come to you, but we wanted to bring you the news of Velvet Revolver's touring schedule. At first glance, a ton of people are going to be disappointed. But they are hitting some good spots, and they plan to announce more as time passes. This list is published on the Velvet Revolver Official Site , so you can go and bookmark it and check it whenever you want. We'll obviously have it here, too, but we are just getting it from VR's site. What we have for you is a little bit special. If you go to the main menu at www.snakepit.org, scroll down and click on SLASH's Calendar, you'll see the words "SLASH's Calendar" partway down the page, so click on those and you are at his calendar which you can do searches on and have presented to you by day, by month and by year. There are printer friendly versions, too. We recommend clicking Monthly and Printer Friendly. Check the calendar for May and June. We've also put the shortcuts at the top of this page so you can see a whole month at a glance. Just a little cooler format! SLASH Calendar is really cool and we hope you will like it and find it helpful. We hope that a lot of you will be able to go to a show or two to show the guys some support. Right now, we ourselves are looking at Boston or NYC till we find out the Boston venue. OK, see you tomorrow night!

News Reported: 04/15/04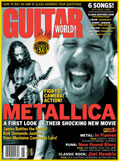 The next few days are a breather while Velvet Revolver prepares to announce the tour schedule. Let's catch up on some other news that's been pushed aside. Vicki got her June 2004 copy of Guitar World, and it says on the cover that inside SLASH will answer some questions. On the contents page is a large black and white pic of SLASH. The article is one page with a small color pic of SLASH. Here's where the Q and A's are for SLASH. Thanks to Vicki and, of course, GW.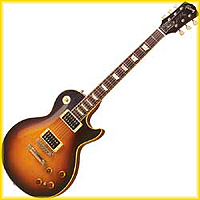 If you've been searching for a SLASH signature guitar, Nero found one for you. It's at music123.com. This second sig guitar is such a beauty. Asking price is $3900...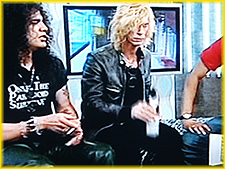 Michael found a cool SLASH and Duff video interview on the Kerrang! site. Check this out and see SLASH again. Kerrang! Interview. Thanks, Michael! This is a good one. And speaking of Duff, Vicki says that Guitar World's Bass Guitar, the June/July issue, has Duff on the cover. The title says "...Duff McKagan is Still Packin' Heat". There are cool pics of Duff throughout the mag with a two-page color one of Duff at a VR show with a five page article! You bassists and Duff fans should be looking for this one. Thanks, Vicki.

Ray tells us that Musicmatch is an alternative to MS Media player. He says he's always liked it better than media player, and they have a music download service competing with Apple I-Tunes where he's bought a few tunes. Last week they announced the availability of Guns N'Roses Greatest Hits. Allen says the album is the #6 downloaded album at Itunes.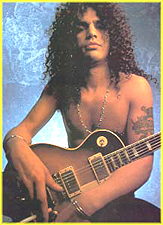 Moving on to "Slither" which right now just seems to (legally) be on the Velvet Revolver official site, VR Site, it's also popping up on radio stations all over. We've heard from fans all over the northeast especially. Jimmy sent in a sighting from his local station on the start of the tour and "Slither", and they played "Slither" there on April 11. He says that he guesses SLASH still remembers St.Louis. 1057 The Point will take you there. Since "Slither" has been released now, call the stations and request it!

News Reported: 04/14/04


Things are really hot in the world of Velvet Revolver With Scott being given the green light for the tour which now is set to begin May 13 in St. Louis, Missouri. Dates and venues for the tour will be released momentarily as all details are finalized. But the opening show is May 13! So, if you live in or near St. Louis, get ready. The plan is for the band to play medium-sized venues on their own instead of opening for larger bands. They want to be seen as a band to themselves, not the arm of another band. SLASH did say that they might go on to play some festivals, but as always, he likes the personal touch of clubs. If it works out they open for some cool bands or festivals, then that's fine, but the idea for now is to head out solo. The tour should lead up to the big release date of Contraband's release on June 8, sail past that and go to July 22 in the U.S. The next leg will be announced soon. Thanks to SLASH and Brian who let us know.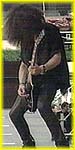 Now the main thrust of the promotion is getting that "Slither" video out. The single itself has already been heard by fans in the UK and Cinncinnati. So it must be on between those two. The promo singles are for sale on ebay. The video for "Slither" is scheduled to appear on MTV2 April 27 at 9 pm. It won't just be a playing of the video but part of the premier of the show "Velvet Revolver Makes A Video". Get those vcr's ready as many of us don't have MTV2. SLASH says the video follows club kids chasing through underground tunnels in search of Velvet Revolver! The kids do text messaging to find the band...unique! The tunnel scenes were from the Czech Republic with the band scenes filmed recently in L.A. with fans.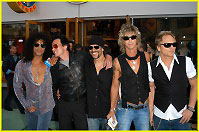 The official Velvet Revolver site, www.velvetrevolver.com is also promoting the "Slither" single. You can go there and hear the entire single and look at a clip of the "Single" video. The video clips will be changed frequently. Thanks, Andy! So it's a tremendously exciting time, and we hope that when the tour schedule is out that you'll be getting a visit or that a road trip isn't too far away. The "Slither" single is being mailed out to radio stations today, but many already have it.

Now, here's a rumor for the future. Sam says he's heard that there will be a "Guns N'Roses Behind the Music" made. We've always heard that the band was opposed to this, but it would be a good promotional tool.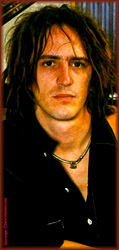 In the midst of all this excitement, we've missed some smaller items. We wanted to say Happy Birthday to Mr. Izzy Stradlin who was born April 8, 1962. 42 years old! Also, there's a review of Guns N'Rose's Greatest Hits in the Boston Phoenix. It's at Boston Phoenix Review. Thanks to Sammy for sending that in to us. And LuAnn found some information featuring Scott Weiland among others on Starz Behind Barz playing cards. The cards feature mug shots of Hollywood felons. They've been advertised on many of the late night and entertainment shows. If you'd like to check them out go to Starz Behind Barz. Thanks, LuAnn!!

News Reported: 04/12/04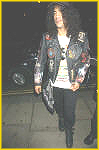 There are a couple of cool photos and drawings we received. The one to the left is from Kimberli and is a small photo of SLASH heading into his hotel in London on the promo tour. The hotel is the London Metropolitan Hotel for those in the UK keeping track. Helen found a great drawing of SLASH by artist Tim Wertz. If you want to have a look and see some of his other artist drawings, his site is here. Scroll down and the SLASH drawing is on the far right. Thanks, ladies!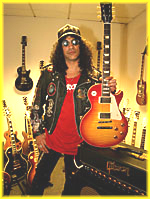 Gibson puts out a newsletter called "The Gibson Player X-Press". To kick off the X-Press, Gibson is giving away a Pioneer Cutaway solidbody acoustic model. Check out the contest info at their site. Also, they reported that the Gibson/Baldwin Entertainment Relations offices are the hot spots for the stars, with SLASH in their London office, talking about Velvet Revolver, the Contraband album and his new Gibson SLASH signature Les Paul.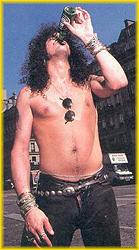 SLASH revealed to the media that his hospitilization in 2000 which derailed the Snakepit tour for a time was not just flu leading to pneumonia. He said that heart problems called by his prodigious alcohol intake led to the hospitilization. SLASH said he has curtailed his excessive intake and has developed a more cautious attitude to hitting the booze. Although he is not dry, he has a more moderate approach to drinking. SLASH said, "I have toned it down a little. It's one thing to do it casually. It's another thing to f*cking live on it, like water and air. Drinks put me in the hospital in 2000. It was my heart so I'm very conscious of it now. I watch myself now." Let's hope so!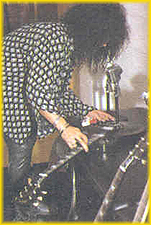 A reporter from The Village Voice was happy to have our guy wander into her moonlighting DJ gig at the Soho Grand. SLASH came in wearing his black leather pants, a jacket with Velvet Revolver's logo and his hair pulled back. This was during the mixing of Contraband. SLASH soon took over the music selection with requests for AC/DC, Led Zep, Beyonce, Missy and Hole. He gave a lesson on how to "Walk Like an Egyptian" to a lady at the bar, and nearly got into a fight because a drunk didn't believe he was really SLASH. Thanks to Brian and LuAnn for sending that story in.



VH-1 reports that after this week, moving into next week, Guns N'Roses Greatest Hits slid down in the U.S. charts from #3 to #9 with sales of 96,000. Simrin said he checked the album chart in the UK and last week the album dropped to #3, but it rebounded to #2. The charts editor for Billboard speculated that the joining of Axl, SLASH and Duff to stop the album's release may have drawn more attention to it and may have helped market it. When asked of prospects for a comeback, the editor said there were some, the Axl faithful, that would buy a new album on faith, but it's been a long time. Older fans may have moved on to something else.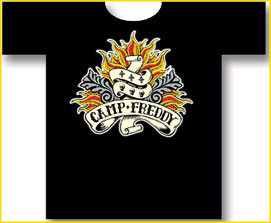 If you liked Camp Freddy, and who didn't?, there is an official t-shirt available now sold online from their site. It's black with an original handdrawn tattoo design recreated with quality and detail exclusively for Camp Freddy. The price is in the $20 range for U.S. customers and $10 more for international customers. SLASH and Duff have played with Camp Freddy several times and Matt Sorum is a band member. Check out Camp Freddy t-shirt here. Thanks to LuAnn and Brian for that one.

News Reported: 04/07/04


Before we get into the SLASH news, our friend Gail Worley who writes about the rock world needs some help with a piece she is writing. She'd like to know if anyone had personal or professional dealings with the recently departed guitarist/singer Rust Epique. She'd love to have any quotes or memories of him from his friends and fans to include in the piece. If you do, send them to Gail. Thanks!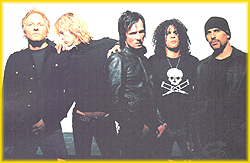 The big news from this weekend is the band filmed the "Slither" video! About 200 fans came down to a basement/warehouse type place to do the filming. Two fans that wrote in to us, Clement and Zeeshan, said it was too amazing. They both got to meet the band members as there was a lot of downtime while shots were set up to be done and re-done. Duff seemed to be the one in the best mood and easiest to meet. Matt liked chatting up the women. SLASH and Dave were more reserved and professional. Still everyone was great to the fans and thanked them many times for coming out for no pay! We want you to read their entire reports - they are so interesting and have so many details. We are totally green with envy and know you will be too, but it's great they shared their experience with us. Thanks, you two! This first one is from Clement. This next one is from Zeeshan. What a weekend!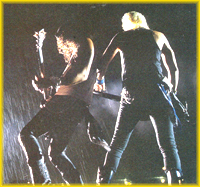 Kye saw SLASH and Duff on MTV UK's "Gonzo" program. Gonzo asked the boys what their favorite cheese was! Duff said he doesn't eat cheese. SLASH said his was chowder. SLASH finished the interview by saying, "Gonzo, you f*ckin' rock". And although Italy didn't get a visit from SLASH and Duff, they still supported the Greatest Hits album. Lisa reports that the album entered at #8 in the sales charts in Italy. Thanks, Lisa and Kye!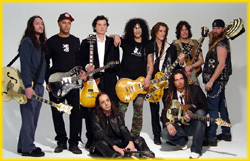 Ray sent this in for guitarists on the East Coast. Towson University is hosting the First World Guitar Congress on June 2-9 in Baltimore, MD. Les Paul is the Honorary Chairman. Many guitar styles will be featured including classical, country, rock, blues, fusion, etc. There will be concerts, classes, symposiums, exhibits and receptions. SLASH is not listed as one of those attending. If you'd like more information on this, go to First World Guitar Congress. Thanks, Ray!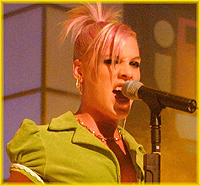 Alex sent us some great news from Paris. He went to see Pink there on March 17. The show, he says, was very rock and roll. After the show, the audience clapped and cheered so she'd come out for an encore. After a few minutes, the guitarist started to play "Welcome to the Jungle". The lights came on and Pink was in the pit shaking hands. Then she went back on stage and launched the song! Alex says it was the best cover of the song he'd ever heard. Alex also reported on that French interview where there was no press attache and the interviewer could ask whatever he wanted. Some new things to us was that SLASH explained that BMG has made weird choices for VR and that the promo is too huge and too early. He had a very aggressive and honest opinion on Axl (I don't give a f*ck about GNR! Axl is crazy!) Thanks, Alex, for all that information. Alex has written a book and has information on some of his current projects in order to become a screenwriter/director. If you'd like to check out his site, especially his book, go to Alex's site.

News Reported: 04/05/04

Last time we told you there were two ways to get in the forthcoming "Slither" video...be a stripper with a "hot body" or be in the band. That was the casting call we directed you to below. But Clement tells us there's another way...and it's for the fans! Male and female... and regular bodies allowed! Clement lives in L.A. and got an email from Velvet Revolver and Immortal Entertainment (band management) inviting a select few fans to be in the video. The invitation came in the form of an email, and there were a few conditions: be at least 18 with a valid ID, have your own transportation, available April 4 from noon till 10pm. With your invitation and assuming you met the conditions, you were to call in with your personal information. The fan group selected was a "small group of fans in the L.A. area who call our hotline at 310.733.xxxx". No cameras or recording devices permitted. So, although, we are sad to be part of the majority that didn't even get an invite, we're thrilled for Clement and hope he gets in. Full report, Clement!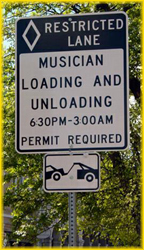 Nils sent in an interesting report on a SLASH/Duff report on German MTV. This was on Select MTV, and it was awesome with even the host being really excited. Both of them were smoking and talked about how they got back together. They both said how proud they were to have been part of GNR, one of the greatest bands ever. (Amen!) Some fans called in with questions, and a fan asked if there was anybody they wanted to beat up. Duff answered that if somebody f*cked with his family (Nils said he really said that), he would kill them and wouldn't mind going to jail for that either. He also talked about his kickboxing. Another guy asked if they were in contact with Axl which they are not because they are still pissed off about the whole GNR thing. They said VR will tour in Germany soon (festivals and clubs). Thanks, Nils!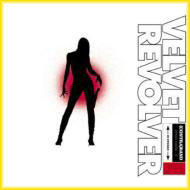 More sales information...Stuart says that Amazon in the UK has Contraband for pre-order at 10.45 with deliver date of June 9. It's still not listed on Amazon US, but CD Universe has both the album and the single listed for pre-order. Both are imports and pricey there. Kim found it for pre-order at 8.99 in the UK at www.play.com. Our advice is to take some time to do your pre-ordering. It's almost certain to be released everywhere so don't blow a lot of money on getting an import (unless you are a completist which we have to say that we are).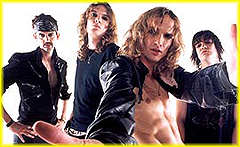 There's a cool SLASH mention on the launch.com site which Jason sent in. It's from an interview with The Darkness. In the intro, they said The Darkness sounds of a bygone era where David Lee Roth still has long hair and SLASH 'n' Axl are still making beautiful music together in some groupie infested opium den overlooking the Sunset Strip. Very cool word picture...thanks, Jason!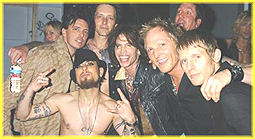 Brian found some information on Camp Freddy. You recall Camp Freddy is that pickup jam band where Matt Sorum, VR drummer, sits in. Other members are Dave Navarro, Billy Morrison and Donovan Leitch with many other special guests (including SLASH on many occasions) joining in their shows. If you're in the L.A. area on Tuesday, April 13, you can go to a free show! The show will be at the Avalon Theatre and is a celebration of the 103 days of the new radio station Indie 103.1 FM being on air. For more information, see 103.1's web site. Speaking of Camp Freddy, work continues in the studio on the album they began work on in January. It's to be an all star covers album for Sanctuary Records. Tracking has begun but the track names and guest appearances are being kept quiet for now. The album is said to be in the Camp Freddy spirit of lots of covers and lots of guest appearances. We're hoping SLASH will put in a guest appearance. Either way, a keeper!



News Reported: 04/02/04