SLASH announces another one-off appearance! The first is the show tonight with Spinal Tap at the Greek Theater in L.A. Fans in Los Angeles luck out again! The second show is at the House of Blues on Sunset Strip and is entitled "Les Paul & Friends". Fans who attended this show before say it's magnificent. If you love guitar music and want to see SLASH solo...this is your chance if you can get to L.A. Tickets are on sale right now and are $40. It's a 21+ show with doors opening at 8 pm, and the show starting at 9pm. Make some quick plans and be there tomorrow night! Let us know if you were at either or both shows and how SLASH was doing. We'd like to post your reviews right here.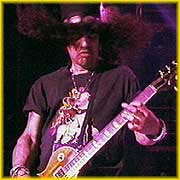 If you haven't had a chance to see Snakepit yet or wanted a chance to see them again, it won't be soon. After the final show in Pittsburgh, PA on June 29, SLASH will be returning to L.A. to work on a new album. While a lot of fans will be disappointed that the Snakepit shows aren't coming, SLASH promises the new album will be out soon. The band recorded about 20 songs that are just about ready to go. SLASH and the boys will want to get these into their final shape before the mixing and publishing begins. Sad to see the end of the support for Ain't Life Grand, but we hope the new album will be that same bluesy rock SLASH is famous for and that the new album receives more support from the label and distributors than this one has gotten. If you were at the pre-album shows or picked up on a bootleg from them, there are lots of songs that could be included. Of course, any songs recorded back then will be re-recorded with Keri Kelli! SLASH says..be patient a little longer, and Snakepit will be back with a new album for you.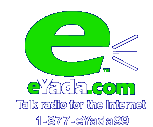 The Aid for AIDS charity auction ended on ebay with the lucky high bidder paying $575 for SLASH's silk pajamas. SLASH's contribution was a leader throughout the auction with the next highest item several hundred behind. Thanks to everyone who put in a bid! SLASH was surprised! If you'd like to hear what SLASH had to say about the auction, we have a link for you to eYada courtesy of Linda. She said that the audio interview also has to do with SLASH's Snakepit and the forthcoming tour. When you get to the site, you'll have to do a search on SLASH. It's the May 25 interview.
SLASH and His PJs and Snakepit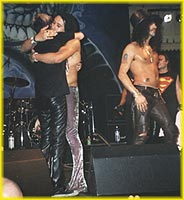 Speaking of the tour, there have been some updates on the schedule. All the dates/venues remain the same, but there is new information on ticket onsale dates and the age requirements. Not all venues have this information as yet, but what's here is what we've managed to ferret out. You'll notice that Billy Idol coheadlines with Snakepit on the last three shows only: Chicago, Detroit, Pittsburgh. Snakepit goes on first as far as we know. SLASH says it's possible that he will join Billy Idol onstage or that Billy will join the 'pit during their show. SLASH is old friends with Billy and is looking forward to their three shows together. Where tickets are not available on Ticketmaster, there is a link right on the schedule to send you to the right online place. Randy sent in information on the Buffalo show - this is the 4 day festival called the Great Guitar Gig with Snakepit playing the last day. There's a nice writeup on SLASH on their site as well as a description of how that wrapup day at this free gig will run:


Buffalo Show

Thanks, Randy!
And here's a link to the Tour Schedule on this site. It can also be reached by clicking Tour Schedule off the Main Menu.

Snakepit Shows: June 15 - June 29





We're waiting for SLASH to send the answers to some more questions. The ones he has are the last for awhile. Here's one SLASH has already sent back. This one comes from Antti in Finland who asks, "I just wanted to know, what is your favorite species of snakes? Keep on rockin, SLASH!"

SLASH replies, "Antti, all snakes are my favorite, but I have a special affinity for Anacondas".

Thanks, SLASH and Antti! Antti, please send us your mailing address so that we can send you a small remembrance from SLASH and Koch Records. Send it to webmaster@snakepit.org. Thanks.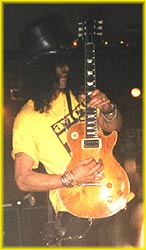 Vicki tells us that in the July 2001 issue of Spin there's an article on "10 Tours That Changed the World". GNR didn't make the top 10 if you can believe that. Changed a lot of lives around here! GNR did come in #16 with the GNR/Metallica tour. Vicki also saw a rerun of the VH-1 Viewer's Choice Awards this week which has SLASH in a cameo appearance talking about the woman who wrote explicit song lyrics. VH-1 also ran that Rock of Ages again recently, and Vicki saw them showing SLASH's "dangerous" picture to people on the street. Thanks, Vicki!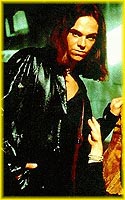 When SLASH's Snakepit gets active, people start remembering Snakepit '95, especially the album It's Five O'Clock Somewhere and the lead vocalist, Eric Dover. We had an update on Eric from Tommy who keeps track of what Eric is doing these days. Eric is in the band called Glamnation which you may remember as the band that played at the NAMM show along with Snakepit this year. Tommy sent a direct link for tour dates with a photo:


Glamnation Dates

And here's a place where you can listen to some Glamnation music. Eric sings most of the time in this band. When you get there, click Audio.


Glamnation Audio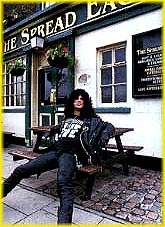 Several online places are carrying information on the Snakepit tour. MTV.com and VH-1.com should put up the tour schedule tonight. Allstar.com and Spin.com have short articles, reprinted here:
This is from Spin:

Slash Plots Stage Return
Slash's Snakepit had things going their way until this Spring. The group delivered one of last year's most solid rock outings, "Ain't Life Grand," and helped build a new audience while opening for AC/DC. The group were scheduled to reprise their opening gig with AC/DC this Spring, when Slash was diagnosed with pneumonia. The former GNR axeman is now moving to make up some of the lost shows. He's already scheduled a date at Los Angeles' Greek Theater on June 1st, and will kick off a headlining trek beginning June 15th. Dates are still being ironed out, but Slash and band expect to be on the road through late June.
Note: Dates are firm. Spin will get another copy.

Here's one from Allstar which is on CDNOW:
Meanwhile, former GNR guitarist Slash is also rescheduling his canceled Snakepit tour dates. The guitarist blew off his opening slot with AC/DC when he came down with pneumonia in March (and we believe him).

The hatted one will now be doing a one-off show at the Greek Theater in Los Angeles June 1 and will hit the road on the first leg of a headlining tour beginning June 15 in Clifton Park, N.Y. Eleven dates are confirmed through June 29 in Pittsburgh.



News Reported: 5/31/01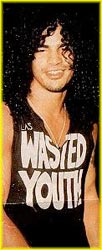 VH-1 finally announced the date for "Behind the Music: 1987". This is a new one in their series of "Behind the Music" shows, and it features SLASH! Here are the dates as of today:



      **All Times Eastern and Pacific**
         Sunday, June 10 11am
         Sunday, June 10  9pm
         Sunday, June 10 11pm
         Monday, June 11 12am
        Tuesday, June 12  9pm
       Saturday, June 16 12am
         Sunday, June 17  7pm
         Friday, June 22 10am

Set your vcrs and catch SLASH on TV!


Only two days till the month ends, and it will also mark the end of the great charity Pajama Game auction. Just to bring you up to speed, SLASH donated a pair of light green silk pajamas and an autographed photo. His item is the highest bid item at the auction, currently at $560. We asked one of the bidders why someone would bid so high on a pair of PJs! This SLASH fan replied that she has many SLASH items in her collection, but it is rare to come across something actually owned by SLASH and to find an item of clothing that he has worn is rarer still. In this case the item is certified authentic which also pushes the value. She added that there is a great sentimental value to these which goes beyond the monetary value. When asked if she would wear them, she said she'd be glad to wear the top if SLASH would wear the bottoms! And here's another press release on these killer PJs:


The Pajama Game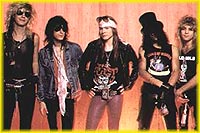 Q magazine is a reliable source. This month they had a report on the GNR breakup and the new GNR's album. Some interesting items:

**Matt Sorum feels that Paul Huge became part of the band because Axl Rose felt like an outsider. Paul Huge was an inexperienced guitarist (never played in a band or live) from Axl's hometown who became the yes-man to Axl and told Axl whatever he wanted to hear.
**Matt introduced Axl to Robin Fincke thinking Robin would be the perfect foil for SLASH, and then they could get SLASH back. Axl thought instead that Robin was the perfect replacement for SLASH.
**In the studio, Huge criticised the then departed SLASH. Matt told Huge never to run down SLASH in front of him. During the confrontation, Axl got involved and fired Matt. Matt left and was in the parking lot when Huge came out and asked him to come back in. Matt replied that he had been fired and asked how Huge felt about destroying the best band that ever lived.
**Axl has spent over 8 million dollars on the new album which will not be out till fall. The new GNR management claims 70 songs are "ready". Youth, the Verve producer, tried to get Axl to sing in 98/99, but he would only do rehearsals of the Appetite songs much to Youth's frustration. They were writing together, but Axl backed out saying he was being pushed too fast. Youth thinks Axl doesn't have the confidence he once had.

A sad story of what was truly one of the greatest bands in the world.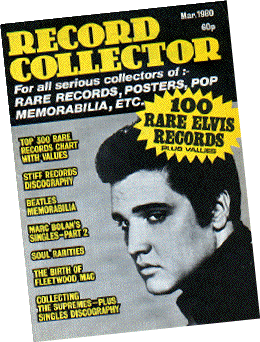 Randy tipped us off on the VH-1 schedule above. He also said that he has posted an interview with SLASH that appeared in the UK Record Collector magazine. The interview is from February 2000, but it's a good one. Thanks, Randy!


SLASH Interview




Justin sent in a note that both MTV and VH-1 had quite a bit of SLASH on yesterday. VH-1 had their countdown of the 20 greatest albums on, and SLASH gave some commentary. MTV re-ran the 20 year anniversary show. SLASH talks a lot about the bands on this show. When the GNR section came up, artists such as Tom Petty, Ozzy, Rob Thomas, Lars Ulrich and the Foo Fighters talked about Guns. Two good programs that are still in re-runs. Don't miss them! Thanks, Justin!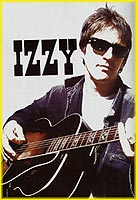 One of SLASH's great friends is Izzy Stradlin. Izzy is out promoting his new album, River. He's doing a lot of interviews in the UK where the album is released, and he is answering all those tough GNR questions that interviewers like to put to the former band members. Groyou translated two interviews with Izzy for us from French magazines. We invite you to see how Izzy stands up to these GNR questions. Izzy is one of the coolest musicians alive, and he pulls no punches here. There are some small SLASH mentions, but the main point here is why did GNR fall apart:



Izzy Interview With Hard Rock Magazine

Izzy Interview With Guitar Part Magazine





In case you missed the other announcements, the Snakepit tour begins June 15 and this leg ends June 29. The only change today has been that the tickets for the Wetlands in NYC have gone on sale ($20) and the club is listed as 18+. The gig lists "and special guests" which implies an opening band. For those whose band would like to open at any of the Snakepit shows, be advised that SLASH leaves the opening band choice up to the promoter and/or venue manager. So check with them!



If you're looking for a listserv (messages go to the group via email) where there are lots of friendly people discussing SLASH and Snakepit, you're invited to join the Snakepit listserv. The group is a positive discussion about SLASH and anything to do with him and his bands and music. The list is moderated meaning all posts are read by a moderator before they go out to everyone. Flame wars are not tolerated. If you'd like to check out the group, go to groups.yahoo.com. You have to register and select a group. This group is Snakepit. There's another listserv service offered. When you join this one, slashnews, you get a week's worth of this Current Events column minus the graphics. Sign up for this one at the same place...just register for slashnews (all lower case). See you there.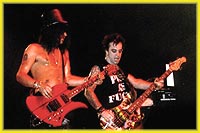 Finally, here's a great Q and A from Claire and SLASH. Claire writes, "How does SLASH feel about doing covers? Will any appear on the new Snakepit album, and if so, what"?

SLASH replies, "Claire, doing covers is a lot of fun. It takes some of the pressure off writing sometimes when you just jam and tune by somebody else. When it comes to putting it on a record, that's a decision that you have to make, like how serious the band is about releasing one or more cover songs on CD or whatever. But when it comes to playing cover songs just for the hell of it, be it at rehearsal or live or even in the studio, it's a lot of fun".

Thanks, SLASH and Claire! Claire, please send your mailing address to webmaster@snakepit.org. We have a small gift from SLASH and Koch Records for you.



News Reported: 5/29/01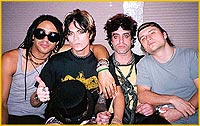 TOUR SCHEDULE IS OUT! The detailed schedule of this northeastern US tour is below (May 25 News) or at Tour Schedule. The Tour Schedule section is always updated first. This tour is June 15 - 29. Below that under Completed Shows are shows that are over. They are listed just to keep track of the show. Check the headings so you don't plan for a tour that was last year. We're still missing a lot of information on when the tickets go on sale and the age level for the venues. We should see more sales announced after Memorial Day and the end of May. SLASH says they are rehearsing steadily even on Memorial Day. He says the band sounds great! Remember when you go, we really would like to print your reviews and show off your pictures!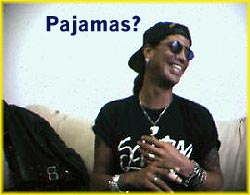 Another reminder: the charity auction for SLASH's silk pajamas ends May 31. If you want to bid now, you have to beat $560. SLASH is still holding the record for highest bid item there. There is over $250 difference between his and the next highest. Wear these pajamas and if you don't have fantastic dreams and play better guitar, then you'd better give them to us!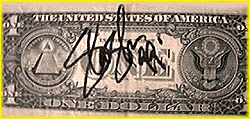 Ever wonder what SLASH does with all his money? Skbenn sent us the news that SLASH was interviewed on Bankrate.com's web site this past week. Thanks! SLASH talks about the problems he has keeping watch on his finances when he really isn't that interested. His needs are simple, but people around him sometimes fall into the beggars and hangers-on category, and money is the big attraction for these people. Have a quick read on:


SLASH On Finance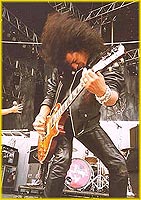 Janne is from Sweden and saw a documentary about the Spice Girls yesterday. This was recorded in 1994 before they became famous, and there is a good SLASH mention here. In one segment, two of the girls were headbanging and said this is how SLASH usually does it! Janne says the program may have been called "Raw Spice". Hmm. That could be SLASH's spice name, too!



Recently we asked about that Mastercard commercial that SLASH filmed for the Grammy Awards show. If you recall, SLASH's role was just playing himself. He played guitar through the commercial. The story line was a young boy dragging his father to the guitar store where for some reason the boy ended up smashing a guitar. As you may know, the commercial did not air at the Grammy Awards. The ad company didn't get it completed, and they have been just sitting on it for awhile. The Mastercard people didn't much like it, so the ad company is pitching it to other customers. The guitar smashing may have been a bit much. Try smashing things in your local guitar store!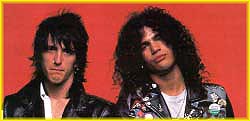 Here are a couple notes on SLASH's former bandmates. The elusive Izzy showed up in the UK's Mojo this month. Izzy said that Axl apparently wanted him "demoted for not running around the stage enough". Izzy said, "F*ck this" and left. Axl then called him begging him to at least write with the band, but when Izzy went to Axl's to see him, Axl screamed at Izzy to get off his goddamned property. Izzy's opinion: Axl is an as*hole. The more we read, the more we think it is no wonder GNR fell apart. By the way, Izzy's new album River is out in the UK. There is no US distributor as yet, but you can order tha album from one of the UK CD dealers on the net. Izzy's band has Duff McKagan on bass. We LOVE Snakepit, but what we wouldn't give to see the tophatted one in that lineup even for a few shows!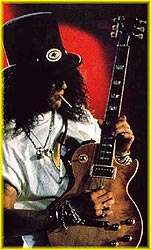 Speaking of the tophatted one, here's a question for him. Paulo Jose asks, "How do I know if I'm better suited to be a lead or a rhythm guitar player"?

SLASH replies, "I think, in my humble opinion, one should learn to play rhythm and lead. But if an individual wants only to play rhythm, that's personal choice and maybe only learn rhythm. But if an individual wants to play lead, it comes in handy to learn rhythm as well".

Thanks to SLASH and Paulo Jose both. Paulo, please send in your mailing address to webmaster@snakepit.org. We have a small gift to you from SLASH and Koch Records.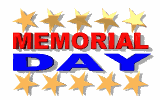 Tomorrow is Memorial Day (observed) in the US. To all those commemorating the holiday and celebrating the time off from work, have a safe and super day!



News Reported: 5/27/01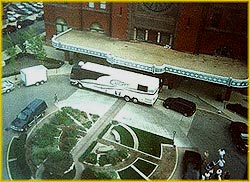 TOUR SCHEDULE IS OUT! The next leg of the tour will be in the northeastern US. It starts June 15 in Clifton Park, NY and ends June 29 in Pittsburgh, PA. These are all shows with SLASH's Snakepit headlining. Here we go (taken from the Tour Schedule section off Main Menu):




                                                    Internet Sale
        One-Off Show Scheduled for SLASH Only       Ticketmaster   Ages
Jun.  1, Los Angeles, CA         The Greek Theater  On Sale        ??     

SLASH's Snakepit Summer Tour

Jun. 15, Clifton Park, NY        Northern Lights     ??            ??
Jun. 16, Syracuse, NY            Lost Horizons       ??            ??
Jun. 17, Buffalo, NY             Erie Basin Marina** FREE**       ALL AGES**
Jun. 19, Hyannis, MA             Pufferbellies       ??            ??
Jun. 21, Philadelphia, PA        Electric Factory    ??           ALL AGES
Jun. 22, New York, NY	         Wetlands            ??            ??
Jun. 23, Old Bridge, NJ          Birch Hill Niteclub On Sale       18+
Jun. 25, Cleveland, OH           Peabody's           ??            ??
Jun. 26, Chicago, IL             Riviera Theatre     ??            ??
Jun. 27, Detroit, MI             Royal Oak Theatre   6/2 8AM      ALL AGES
Jun. 29, Pittsburgh, PA          I.C. Light Amphitheatre  ??       ??   

**The Buffalo show is the Buffalo Niagara Guitar Festival, June 14 - 17.
Snakepit appears June 17 at a FREE show called The Great Guitar Gig &
Fireworks Display. Starts at 1 pm. See website for more information!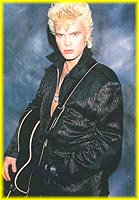 Cleveland and Pittsburgh got their makeup shows! A word on the show with Spinal Tap..that will be a Tap show with SLASH playing one song. SLASH says right now it is iffy for him, not Tap. At least the last three shows will be coheadlining with Billy Idol. Billy is promoting his new Greatest Hits album. Reading some reviews, Billy's show sounds great. Snakepit will play first on those nights, so get there for the beginning! Now's the time to put those fan mail addresses to use. If you want to go to a show and your buddies don't, contact someone in that city to see if you can hook up with them. Got a question on hotels, ask! The 'pit is rehearsing right now and every day they can before they leave. They're going to "Shine"!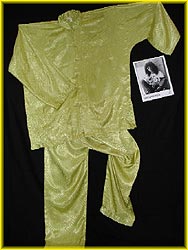 SLASH's pajamas are the highest bid item in The Pajama Game charity auction. SLASH is at $546 the last we looked, and the closest item is about $200. We asked SLASH to comment on that, and he said he was surprised! He said he doesn't have many pajamas as he usually doesn't wear them. If he has to have pajamas for some reason, he wears shorts. But he does have these, and they are beautiful. He said to thank everyone that bid on them. If you haven't had a chance to look at them, they are at left, and you go to the link below to check them out and bid.

SLASH's PJs

And here's a publicity release on the great pajama bidding war:

Pajama Publicity





Are you an AOL member? Do you use Instant Messenger? LuAnn found an icon for you to use, and it's SLASH. A great reminder to check in with your SLASH friends! Here it is:

SLASH Icon

Thanks, LuAnn!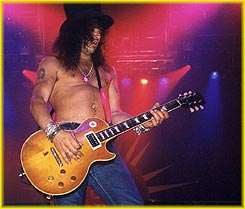 Here's a question for SLASH from Greg, "Greg from NY here! SLASH, do you use just an EQ boost for live solos? Also, do you ever use your delay effect on any live solos? Do you strictly use the Les Paul's volume knob for increasing/decreasing gain? Or do you have another amp setup for clean tones and use an A/B switch?

SLASH replies, "Greg, I use a Boss EQ for a boost during solos in live situations and my guitar's volume knob to control certain subtitles. Also, I have a Boss delay for solos as well. Plus I switch between two Marshall heads, one for dirty and one for clean".

Thanks, Greg and SLASH for that gear Q and A. Greg, please send us your name and address so we can send out a small gift from SLASH and Koch. webmaster@snakepit.org


Groyou is French but is living in the UK. He told us that Kerrang! has its own TV channel now. The station broadcasts 24/7 on sky digital channel 457 (UK). Every week they have the Top 20 Videos as selected by viewers. The number one requested video this week was "November Rain". The song and video are really classics! Thank you, Groyou!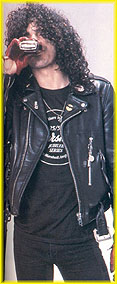 Brian saw a new book called The Mammoth Book of Sex, Drugs & Rock N'Roll. Over 600 pages of wild rock tales, and the first page has an intro with rocker quotes. SLASH has the very first quote in the book! He says, 'Drugs and sex go hand in hand when you are a rock n' roll musician. Whereas if I were a violinist, it might be a little different". Well, maybe! Axl was on the very last page with a writeup on the St. Louis riot, his arrest at JFK Airport and his run-in with Kurt Cobain. 600 pages between them? That's about right.

Vicki says VH-1's Top 100 is the Top 100 Most Shocking Moments in Rock. Tuesday's show led off with the St. Louis riot, and there were a few glimpses of SLASH. A still picture of the band was also shown. Thanks, Vicki!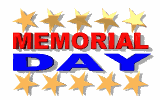 This weekend is Memorial Day Weekend in the US. To all those commemorating the holiday and celebrating the time off from work, have a safe and super weekend!



News Reported: 5/25/01

It's our pleasure to announce that Slash's Official Site on the web has opened!!! This is www.slashssnakepit.com. What is there right now is a great Welcome screen, and then a second page where you can sign up to receive information and listen to some music - surprise! there's a Snakepit 95 song, "Dime Store Rock" with Eric Dover on vocals. You can also give your opinions as they are getting the final site together. We understand it will have merchandise for sale, a chat area for official chats with SLASH and the Snakepit gang and others on the SLASH team. They really want to know what you want as they are writing the site right now! There's a fan club that will be available soon with lots of special fan club-only items. This site will remain, as always, Slash's Official Fan Site, and we're happy to have Our Leader's Official Site up and running.



The Fan Address Section is still getting quite a few signups. Today's will be put up later this evening. Right now, you just need to send your first name or handle, your email address, the country you live in (state, too, if US). We'd also be glad to list your city if you'd like to have that shown, and a picture can be sent in if you'd like. the city and picture are optional. Please send additions and corrections to webmaster@snakepit.org. Feel free to write anyone anytime just to chat or to ask a question about SLASH's Snakepit. These lists will be very helpful for all of us when the tour starts up. Having had to give train numbers for the UK's show last tour, we are extremely happy to have you all on the list.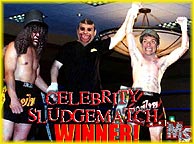 How sad. SLASH lost to David Lee Roth in the finals on Metal Sludge. We feel that SLASH had insufficient training time due to his recent bout with pneumonia. We tried hard, but all those Roth fans poured out of the stands and got his total up to 54%. SLASH wants a rematch! He'd like to take on another lead guitarist next time. Maybe Buckethead!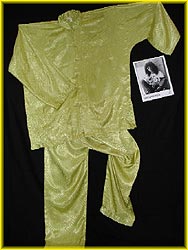 Got a few hundred bucks for a good cause? Ebay is holding an auction called The Pajama Game for the Aid for AIDS (AFA) charity. Celebrities donate sleepwear and items relating to sleeping, and these are auctioned off on the Ebay site. SLASH donated something! Here's the item's description:

Slash of Guns and Roses donated these beautiful light green silk pajamas from his personal wardrobe, he has included a signed black and white photograph. These pajamas are incredible and have been "worn in" by this infamous guitarist with cigarette aroma and all. Please join this incredible talent Slash in his support of this incredible charity.

SLASH's jammies are available for your bid through May 31! Right now the bidding is up over $200. Check them out here:

SLASH's PJs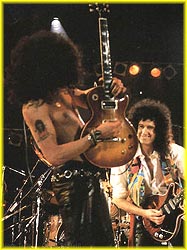 There are some SLASH mentions that have come in. Jeff got a copy of Playboy (the one with Playmate of the Year), and Charlie Sheen was interviewed. Charlie said he and SLASH were hanging out, and they had been partying for four days straight! SLASH told Charlie he needed to clean up his act. Charlie said SLASH is a good friend of his, but he still said "SLASH from Guns N'Roses" not Snakepit! Get with it, Charlie! Thanks, Jeff. Vicki was looking at the June 2001 issue of Cosmopolitan and found an Angelina Jolie article. It talks about how Angelina and spouse, Billy Bob Thornton, bought "a Beverly Hills Spanish-style villa from Guns N'Roses guitarist SLASH for just under 3.8 million dollars". Every time we read about this we regret the loss of the historical Snakepit studio. Thanks, Vicki! We've mentioned before that this month's Guitar One magazine has an article on GNR's Greatest Riffs. Justin pointed out that there is more of interest to SLASH fans. One of the tabs in the same issue is Queen's "Tie Your Mother Down". SLASH played this with Brian May on the Tonight Show with Jay Leno, and the song appears on May's "Resurrection" single (live version). Thanks, Justin!



News Reported: 5/23/01


The Fan Addresses section is up on the page and includes everyone's information received through early afternoon today. Please check your listing sometime to be sure it is correct. You are listed under the country you live in. The section is cleverly titled You've Got Mail! And we hope you do. This could be some fun for you and helpful here. Many times when SLASH is on tour, we need information from a certain country. This involves long searches on the web, and it will be great to just send off mail to get a venue's street address or something like that. If you'd like to get in on this, just send your name, country, email address to webmaster@snakepit.org. You can include a photo of yourself, but that is optional. Amazing how many countries are represented. We faxed the entire section to Slash so he could see, too. If you want to check out the listings now, there's a link below. If you want to do it later, it's at www.snakepit.org, scroll down to Main Menu, click Fan Addresses.


You've Got Mail!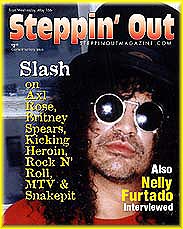 SLASH's Publicist is terrific about sharing news on SLASH. We got a note from her that SLASH is in Steppin' Out, an entertainment magazine for the New York and New Jersey area. The complete interview is printed on their site. If this seems familiar, this is the one that the eyada radio station did live on the net. Cool pictures, and you might catch some things you missed online.


SLASH Interview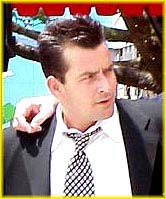 There's a brief SLASH mention in US from Charlie Sheen. A few days ago we reported that Charlie said something similar on the Conan O'Brien show. Here's what Charlie said this time, "You know you've gone too far when [rock guitarist] SLASH is saying 'Look, you've got to get into rehab. You're going to die.' " (Charlie Sheen on hitting bottom). Soon SLASH will have his friends cleaned up and will start on the fans!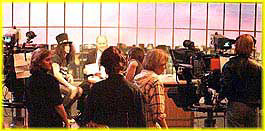 In Q magazine there was a mention of that incident on UK television where SLASH said "f*ck" and "blowjob" and caused a minor uproar. The article was an interview with the hosts of the show, so you knew it was coming. One man said that SLASH let loose a "torrent of abusive language". Clearly this man has not heard the SLASHer at full throttle. SLASH thought his language would be beeped out, but it wasn't, and the audience was fairly young. Why he was booked on this show, we have no idea.


Here's another Q and A. We wish we could show you how organized SLASH is with these questions and answers. We provide unnumbered, unlabeled copy, and he makes up a separate numbered answered sheet with names. He then goes back and fixes the original copy to have numbers. Makes it very easy here, but we never expected SLASH to be so organized! Thanks, SLASH. This question is from Janet who asks, "When you are creating your fabulous music, which comes first - the lyrics, the melody or the instrumentals?"

SLASH replies, "Janet, music is written in so many different situations I can't begin to start to explain how. Sometimes just music and melodies, sometimes lyrically, sometimes by mistake. The end result is, more often than not, collaborative."

Thanks, SLASH and Janet! A good question. Janet please send your mailing address to webmaster@snakepit.org so we can send a little gift to you from SLASH and Koch Records.



News Reported: 5/21/01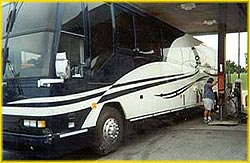 SLASH called in the other night with some updates. First, on his health, he had been to the doctor; and his doctor said he is in excellent condition. SLASH wants to go out on an extended tour, and he wants to start back in great shape. He says he feels wonderful, too. He does not have a tour schedule yet, but from little things that were mentioned, we are GUESSING that the tour will begin in the US! That is all we know right now, and SLASH wouldn't confirm our guess. Since they will be going out in June, he believes, he agreed to do one last set of questions. We chose them from those already submitted and faxed them to SLASH. Please don't submit anymore till we tell you! SLASH is going out with Snakepit, so there are no plans on his side or anyone else's side for him to replace the guitar player in the new GNR. Ravi wrote in and asked about the press release that SLASH was in attendance when the Black Crowes were honored with a place in the Rockwalk. SLASH was not out there; he was inside doing press interviews. He was at the show but got there too late to see Oasis. He only saw the Black Crowes which he said was an ok show.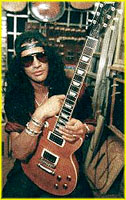 Speaking of SLASH, this is a good time to have another Q and A. This question comes from Matt in Australia. Matt asks, "I'm thinking about a Les Paul Studio Gothic, but I am left handed. Would it be wise to have one custom made at enormous cost? Or would I be better off having it re-strung"?

SLASH replies, "Matt, I don't know what a Les Paul Studio Gothic is. So my best advice is, if you are left handed, and it has a single cutaway, don't re-string it. For a left hander, it would be a little awkward, but if it's not then use it as is. Whatever you do, find what is more comfortable for you".

Thanks to SLASH and Matt. Matt, please send your address to us at webmaster@snakepit.org. We have a gift from Koch Records and SLASH for you.



A book by Tony Bacon called Electric Guitars: The Illustrated Encyclopedia has some SLASH mentions. The book was published in 2000 and is a large, "coffeetable size" with plenty of color illustrations. There's guitar history, and then there are sections for various types of guitars, e.g. Gibson. In the Epiphone section, there is a mention of SLASH's signature guitar "that comes with a suitable snake graphic". There's a picture of the Gibson Custom Shop signature guitar made for SLASH. It's a beauty. In the Travis Bean section, they talk about how the company got started and was closed in 1979. However, "guitarists such as Stanley Jordan and SLASH have since helped raise the brand's profile...and in 1998, they were back in business". If you like guitars of all makes and models, you'll like this book. By the way, SLASH could have looked up Matt's Gothic in the Gibson section! Recommended.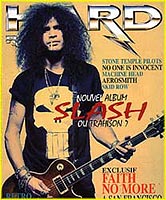 Lisa in Italy got a copy of Hard! magazine, and it has an article in it that she wrote about SLASH! The article talked about SLASH's illness and reassured fans that the news from L.A. is good. Lisa also said that in the magazine Psycho there is also an article about SLASH's Snakepit. They say that Snakepit is the real new Guns N'Roses! Thanks, Lisa!



The final round is going on in that Metal Sludge battle. SLASH and David Lee Roth are battling for the grand prize. Right now SLASH is losing! Let's get over there and help him out. Roth's fans must be out in force. We swear this is the final round!

Celebrity Sludgematch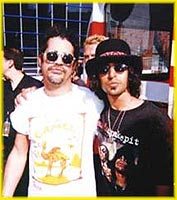 About the fan email addresses...thanks to everyone that sent theirs in. The volume is a little higher than expected, so it is not quite ready tonight but it will done very soon. If anyone would like to be included now, just send your email address and the country you live in and your first name or handle if you'd like to: webmaster@snakepit.org. If you want to include a photo, that's fine, but it is optional. Please send the photo as an attachment to your message.



News Reported: 5/19/01


Thanks to everyone who sent in their email address. In case you missed it, anyone who wants to can send in their email address and country, and we'll post these on a new section of this site. If you're looking for someone near you to meet up with at a show, you might find them here. At least you know they're a big SLASH fan!

We received some cool suggestions. First, the use of these addresses is for social communication only. NO SPAMMING! NO ADS! Thanks! Also, if you are in the US, would you also include your state? Oh, and anyone who wants to can submit a picture of themselves. This is optional! Attach it to your email address or send it later but identify it so we can hook them up. Here's where to send all this information:



webmaster@snakepit.org

We'll put up what we have so far this weekend. Thanks!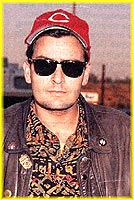 Chris sent this in...a SLASH mention! Chris was watching Late Night With Conan O'Brien last night, and Charlie Sheen was a guest. Charlie and SLASH are very good friends. Chris said Charlie had some nice comments for SLASH. Charlie was asked how life's going, and he said he quit his hectic life style. He said his good buddy SLASH convinced him to sober up! Charlie said...if SLASH sees you like that in his eyes, you KNOW you have to straighten up! SLASH has sobered up himself since his illness. He didn't drink then and just continued on. Not sure if SLASH is a teetotaler now or just has seriously cut back, but he is certainly different about alcohol now. Good work, SLASH! We want you around for a long time.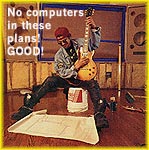 LuAnn sent us another one of her SLASH finds on the web. We're grateful for these! This one is from the Live Daily site. They have news on tickets and tours and music. This interview with SLASH was published December 5, 2000. It's an old one, but SLASH talks about his musical obsession, the songs from Ain't Life Grand that he likes to play live (and why) and the use of the computer in making the new album. You can see why email from SLASH doesn't happen!



Live Daily Interviews SLASH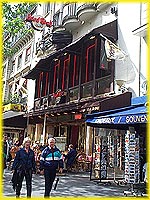 Ray is in Paris on business, and he went to the Hard Rock there. He went there specifically to see the SLASH memorabilia inside. He said the Hard Rock was small but had the typical Paris-style outdoor cafe seating. The Guns exhibit is upstairs. If you go up and all the way to the back, you'll find it on the left wall. Ray sent us these three pictures, the one at right of the Hard Rock, and these two:



GNR Exhibit at Paris Hard Rock

Closeup of SLASH Display at Paris Hard Rock

Thanks, Ray!


Here's another SLASH Q and A. We're near the end, but we'll see if SLASH can do more before he goes on tour. This question is from Daniel who asks, "Hello SLASH! I've noticed that you have a cool fast riff that you sometimes play in different solos. You played it in the guitar solo in Paris 93 (in the beginning of the solo) and in the solo in "Double Talkin' Jive" in Tokyo (the times I've heard it anyway). I have tried to find out how you play it but no luck so far. You must have thousands of riffs like this; but if you know which one I'm talking about, could you give me a hint?

SLASH replies, "Daniel, I have no idea which riff or lick you are referring to. I am sure I probably play it a lot without realizing it, but then again, that's usually improv."

Well, Daniel, that didn't help you too much! From '93, SLASH has played so often he can't always recall what he did at a certain show. If you hear it in the new album, I'm sure he could help more with this one. Anyone have an idea on this? Thanks to SLASH and Daniel for that one. Daniel, send your mailing address to webmaster@snakepit.org, and we'll send you a gift!



News Reported: 5/17/01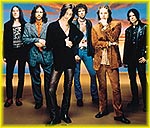 There was a confirmed sighting of SLASH last night! SLASH was spotted at the Black Crowes concert at The Greek Theater in Los Angeles. Actually we should say the Black Crowes/Oasis show of The Tour of Brotherly Love. We think it's safe to say SLASH was mostly interested in Black Crowes, not the Britpop band Oasis. We hear that SLASH enjoyed the show immensely and got home at 4 am. Must have been some wicked traffic!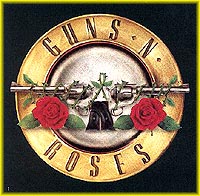 Brian and Alex sent in a magazine mention that the guitarists especially will want to have a look at. In the latest issue of Guitar One (Jerry Cantrell on the cover), there's an article called "Ten Riffs from Guns N'Roses". Alex says there is a good picture of SLASH at the beginning of the article, and it talks about how the famous songs were written. Some band history is included. Brian reported that the ten riffs cover the Appetite.. through ...Illusion albums. Some songs included are "Paradise City", "Used to Love Her", "Civil War" and "Don't Cry". The style of each song is commented on, but there are no quotes here. Wonderful that those songs are still being studied and reported on in 2001!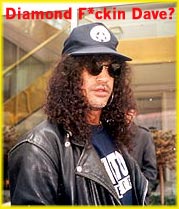 Here we go again...Metal Sludge is in the final match on their web site. This time SLASH is pitted against Diamond David Lee Roth. Right now, SLASH has just 45% of the votes, so he needs help. Get over there and land a punch or two, and maybe post a good SLASH comment. The Roth contingent is out in force! Here's where you can vote (or land a punch):

SLASH vs. Diamond Dave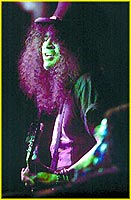 Jizz sent us yet another poll! This one is exceptionally long and seems to have every combination of musical style/instrument/artist gender you can think of. A little much, but there is a place to vote for SLASH and a place to vote for GNR. SLASH has 3% of the vote for favorite rock guitarist; however there are so many candidates that even Jimmy Page leads with just 17%. We should be able to move SLASH up! GNR is at 2% for the all time greatest rock band (Beatles lead with 11%).


Another Poll!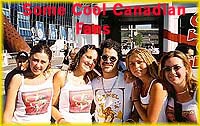 Jizz had an idea, and we thought it was a good one if there is enough support for it out there. Jizz thought we could have a section where we can post by country fans' email addresses. By posting your address, you agree to receive email from other fans. If you are interested, send your name and country to webmaster@snakepit.org. When sending the email address, use that same address to mail it so that we can be sure you yourself are sending it! If we get enough response, we'll do it. Thanks, Jizz!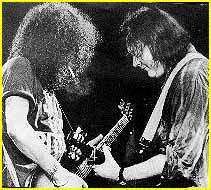 Jizz also sent us the url for a cool video interview with SLASH. The subject is Rory Gallagher, a very talented rock guitarist who died at the age of 47 from complications following a liver transplant. If you haven't heard him play, it's not too late to track down his online videos and buy a CD. The man was a marvel. Here's what SLASH had to say in tribute to Rory Gallagher (scroll way down to "Rory Live At The Roxy 1991):

"Rory was a really big influence on me. When I was younger, I bought all of his stuff and listened to it devotedly. As far as I am concerned, he's one of the all time great guitar players, although I never went out to copy him or anything. I didn't listen to him either to study him because I don't think you should do that. You should just enjoy the music and I loved Rory's music. Playing with Rory in Los Angeles was one of the biggest thrills for me ever."

Unfortunately we don't have a video of SLASH playing with Rory, but we do have an interview with SLASH where he talks more about this Irish guitarist.


SLASH Talks About Rory Gallagher

News Reported: 5/15/01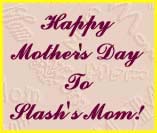 Happy Mother's Day to all the Moms out there! We know there are quite a few. We hope you have a wonderful day with your children and family. And Happy Mother's Day to a very special lady, SLASH's Mom! Without you, where would we be?!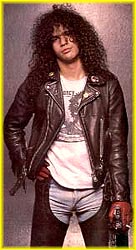 In March, we told you about a SLASH TV appearance in June. June's getting close, so here's another reminder: The show is VH-1's "Behind The Music", the 1987 segment. SLASH will be on this show! It's still a little early for VH-1 to list it, but it should be on the way. Speaking of SLASH TV appearances, many people have asked about the SLASH appearance on "MTV Cribs". So far, the episode with SLASH has not been aired although filming was done. SLASH was not as free and easy with his privacy as MTV wanted, so they didn't get to film places they filmed at other homes (bedroom, bathroom, etc.). They filmed a couple rooms upstairs like the pinball room, and they spent most of their time in the basement studio. SLASH says that is where he spent most of his time! Also, SLASH has moved from this house, so the current residents (Billy Bob Thornton) might not be thrilled with this, or MTV just may feel it is out of date. However, we are still watching for this episode and will let you know if it appears.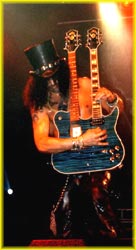 Bjorn tells us that the site guitar.com posted a list of the Top 100 Guitarists. SLASH isn't on the list! Bjorn says there is a discussion place for this topic, so you can go over and read what others have to say and post your opinion. We read part of the discussion and found that people were puzzled over Slash's omission also. Sounds like the site is not much of a friend to SLASH, but we'll give you the links to the list and to the discussion in case you want to make your feelings known:


Guitar.com's Top 100 List





Guitar.com's Top 100 Discussion Board





Here's a question from Sam to SLASH: "SLASH, I know you use the Cry Baby Wah Wah pedal, but during your live Use Your Illusion concert performances, what did you use to get that distortion at the start of 'Sweet Child O' Mine' and during the solo to 'Estranged' "?

SLASH replies, "The 'distortion' on the beginning of 'Sweet Child O' Mine' is just a Les Paul with the rhythm pickup at full - through a 100 watt Marshall, and that's it. 'Estranged' is the same except the tone on the Les Paul is turned down to taste".

Thanks, SLASH and Sam! Sam, we have a gift from SLASH and Koch Records for you. Please send your mailing address to: webmaster@snakepit.org. Thanks!


If you haven't seen this yet, go over to the VH-1 site, and check out the Top 100 Videos. There's a place to vote on the top video of all time. Right now, GNR's "November Rain" (which VH-1 says has "the daffiest story line") is in fifth place with 15% of the vote. There are some video clips there, but none from GNR. VH-1 put out a list of their selected 100 best videos ever. GNR's "November Rain" (described as "bombastic") is ranked at number 5. "Welcome to the Jungle" (original video) is at #58. Some of our personal favorites never made the list, but we're glad to see the two obvious selections listed. Thanks to Robert for sending that in!



News Reported: 5/13/01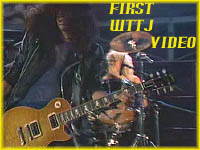 If you haven't seen VH-1's program, 100 Greatest Videos, it is on again this evening, May 11 at 8 pm EDT. "Welcome to the Jungle" (original video) comes in at #58. Both Director Nigel Dick and SLASH talk about the video. SLASH talks about the video being a political statement and says that he likes the video "with all the intensity and shit going on at the time". Thanks, Brian and Justin for sending that in.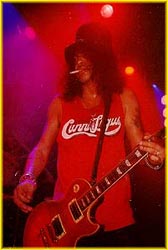 Janne sent a correction on the Tour Photos. The ones labeled Italy showing Slash in his red tshirt (you know the one, we won't spell it out here!) are from Sweden not Italy. We'll get that fixed up. Apologies to Sweden! Showing there are no hard feelings, Janne also sent us an interview from the February issue of the Swedish magazine Slitz. Slitz is a men's magazine with features on women, cars, music, etc. Janne says they do 2 "dirty" interviews, one male and one female, every issue. Guess who they got for the interview? SLASH didn't get any questions on GNR this time! The interview is about sex, so be advised that it is somewhat graphic although funny! You can read it or skip the link below. We have to say that almost all of this we have read before. Thanks, Janne!


SLASH On Sex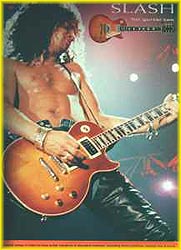 FabAxl from Italy also had some magazine information. The April issue of the Italian magazine Psycho has a CD compilation included. The compilation is called Psychosonic and contains the videoclip of "Mean Bone". Now that's definitely worth having! Thanks, FabAxl! Lisa is also in Italy, and she has word of a guitar tabs book that she bought in a store there. This is a new one on us, also. Thanks, Lisa!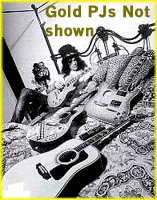 Start saving your money now! This could be the SLASH collector's item of a life time. You don't find SLASH's old TShirts or leather jackets for sale. How would you like to be the lucky high bidder on a pair of pajamas actually worn by SLASH (not often, but at least once!)? Aid for AIDS, in conjunction with ebay, is holding an onFF auction of celebrity sleepwear, bed linens and other sleep related items to raise funds in support of Aid for AIDS. Along with SLASH's jammies, you can bid on a sleep mask from Jennifer Lopez, decorative pillows from Jennifer Love Hewitt, slippers worn by Betty White, a tshirt from John Travolta, p.j.s from Terry Bradshaw and much more. We don't have the details yet on the auction date, but May 22 is given as a date for the reception with the donors. We'll let you know when the auction begins. As far as we know, these will be beautiful gold SLASH pajamas. Got to have them!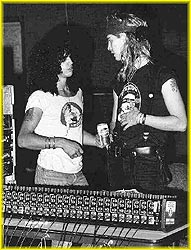 Last question for SLASH was on the unreleased GNR song "Sentimental Movie". Todd was thinking along those same lines, and here is his question. "I found a song called "Crash Diet" which apparently is an unreleased GNR tune. It sounds like Axl singing, but the guitar doesn't sound like your style. I don't think it is the 'new' GNR, so could you tell me what's the deal with this song? Thanks, man, you rock!"

SLASH replies, " 'Crash Diet' is a REALLY old song that was kicked around back in the old days. I don't know who wrote that, but it is definitely old".

Thanks, SLASH and Todd. Amazing how things that we know so well are just faint memories for SLASH! "Crash Diet" gets a lot of play time off bootleg CDs, and most of us know the lyrics by heart. All the old GNR songs, released and unreleased, are still very much alive to us. Todd, please send your address to webmaster@snakepit.org. We have a small thank you gift from Koch and SLASH.



News Reported: 5/11/01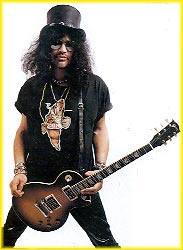 Let's take a couple quick questions to SLASH first. This one is from Daniel who asks, "How does it feel being such a large icon of rock"?

SLASH replies, "I didn't know I was an icon of rock! It that is true, I feel pretty humble".

Thanks, SLASH, for that refreshing answer; and thanks, Daniel, for sending that in.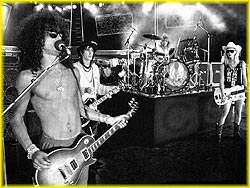 Here's a question everyone seems to wonder about. This is from Olivier in Canada who writes, "Do you remember that demo song you did with GNR called "Sentimental Movie"? Any chance of seeing SLASH's Snakepit playing that song one day, live or in the studio? I think the solos on it were just incredible.

I didn't have anything to do with "Sentimental Movie". Axl and West Arkeen plus maybe Izzy recorded that one night when we were all hanging out at "Hell House". That's a house we all used to squat at. I can't remember if I put a solo on it or not. But, no, Snakepit will never play that song. I don't even remember how it went it was so long ago.

Amazing! This unreleased Guns song has always been a favorite with bootleg collectors. Maybe we could call SLASH and sing it to him. We're sure a lot of you remember...."This ain't no sentimental movie..."! Thanks, SLASH. It seems like "Hell House" should have been preserved by the National Historical Society. Instead, they paved Paradise City and put up a parking lot... (thanks to Joni Mitchell). Olivier and Daniel, if you haven't done so already, please send your mailing addresses to webmaster@snakepit.org.



Speaking of songs that are tough for some of us to find, some people are not able to locate "Peach". "Peach" is the second song SLASH recorded with Rod Stewart on Human. "Peach" is a Prince cover, and SLASH really rocks it. It is on the UK version of the album, but not on the US. You'll need to pick up an import single of "I Can't Deny It" by Rod Stewart to get "Peach". The promos do NOT have "Peach". All the others are 2 and 3 tracks...this is what you want. You can get it through the Amazon z-shops or auction in the UK. You can also go to one of the many import cd shops (Yahoo search brings up a lot of these). An Australian, UK, Italian and German single import will have it.


Lisa from Italy was lucky enough to get an autographed Ain't Life Grand cd! When rocknrollstation.com interviewed SLASH, they had Rod and SLASH sign a couple CDs. They said they would give them away to the first two people who mentioned their site in a magazine, on TV or the radio. Lisa mentioned it to the magazine that sent her and two other fans to the Milan concert. Lisa let them know, and they sent her the CD. She says the cover art is different than hers which is a multi-colored snake while this one is all red. She is also tracking down Matt to complete her set of SLASH's Snakepit autographs. Congratulations, Lisa!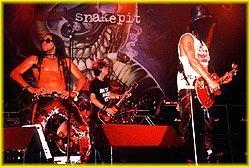 Ferry went to the record store and found I Can't Deny It with "Peach". While he was there, he was drawn to the Dutch version of Penthouse. There was a picture of Ain't Life Grand's cover and a short article which Ferry summarized as, "SLASH, another legendary guitar hero (Jeff Beck's album was also reviewed there) brings back rock as it's supposed to be, with BALLS". Ferry said it was a good review with only positive things to say about Our Man. That's how he likes it, and so do we. Thanks, Ferry!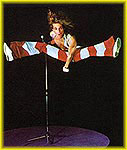 Thanks to everyone who helped out SLASH in the battle at Metal Sludge. SLASH is in the finals which will be in about a week. He'll take on Diamond David Lee Roth. There will be a bonus round where Motley Mick Mars battles The Grim Reaper. Good grief. If someone reminds us, we'll remind you when to go over and take a swing at Diamond Dave. Way to go, SLASH!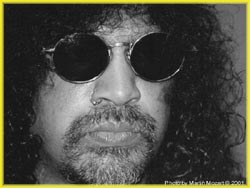 Martin Mozart is a professional photographer who was kind enough to share five pictures of Rod and SLASH with us. They are great, and our favorite is the closeup of SLASH. We put them somewhere where they could be permanent, in the Tour Photos! The link below will take you there. This is listed as the last (at this time) set of photos. There are the usual thumbnails. Please note that the photos are copyrighted to Mr. Mozart and cannot be copied. Thank you. And thanks again to Mr. Martin Mozart.

Martin Mozart Photos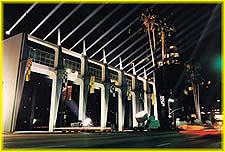 If you are wondering what SLASH did today, he was doing a photo shoot for the Petersen Automotive Museum in Los Angeles. The Museum is holding an exhibit beginning June 14 and lasting through 2001. It's called "Cars and Guitars of Rock 'n Roll", and rockers will be loaning their amazing cars to Petersen's. SLASH is loaning two of his classic cars, a 1936 black Ford coupe and that magical 1967 black Lincoln with suicide doors. We should be seeing some results from the photo shoot very soon.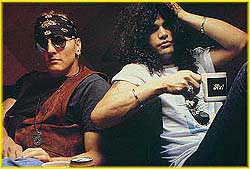 Here's some news on some ex-Gunners we all know and love. Izzy Stradlin's new album, River has had its UK release date pushed back to May 21. So far, the album will not be released in the US. Hopefully, that will change. The Cult with Matt Sorum on drums will release a new album in June called Beyond Good and Evil. We're wishing both guys the best with their new albums. Thanks, Lewis, for letting us know.



News Reported: 5/9/01


SLASH is not one to be surfing and trying out web site applications, but he uses the net to send information to those of us who do. He's done something new this time! There's a site called Uplister where you can search for artist and albums, make up your own playlists, hear song clips, access celebrity playlists and so on. A lot of things to try. You cannot hear the entire song here, just a clip. If you want more, there's a link to Amazon where you can buy the cd.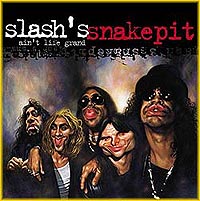 This protects the artists, and it's bound to be thought of favorably by them. SLASH did a 13 track playlist, and the coolest thing is that his comments are there. There's some SLASH information we had never seen before (he and his dad tossing their couch out the window as The Who played). You'll want to go over and read what SLASH says while you listen to the song clip. We liked every one of his choices. You can save Slash's comments by emailing his list to yourself. We have a link to take you there. Then click Celebrity Playlist ALL, and you should see SLASH listed. Select his 13 track playlist, download Uplister and get ready to rock! You need Real Audio, version 7 or later. Thanks to the Uplister people who let us know they were there and ready for visitors!


SLASH on Uplister.com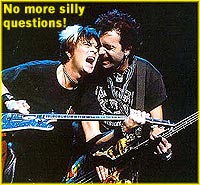 Just a reminder that the Keri Kelli online chat will be held Tuesday, May 8 in the Keri Kelli Online Chat Room. The time will be 4pm PT, 7pm ET, midnight GMT and so on. This is Keri's first online chat, so let's show him some support! The organizers suggest you go over and visit the Chat Room prior to this event. Here's where it is:


Chat with Keri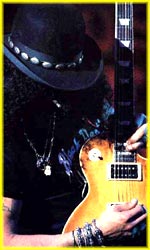 For those who keep track of these things (which we do in SLASH's Discography), there is another single off Rod Stewart's album Human that should be added to your list. F.A. Heykoop didn't get the 3 track single we did when he went looking for "Peach" (SLASH plays an amazing version of this). His has 2 tracks: "I Can't Deny It" and bonus track "Peach". The single is made in Germany, catalog number 7567-85074-2. Thanks!



Robert is in Canada where he got a copy of Kerrang!. He says the picture of Slash and his Lincoln is very small, and they call the car a Cadillac Continental. It's a Lincoln. He says there is a cool article in the April issue of Vintage Guitar. It's a huge SLASH interview article where SLASH talks mostly about the equipment he uses. He goes into detail about which guitars he used for different songs. He uses the '59 Les Paul copy for almost everything he records. He used his B.C. Rich Mockingbird for the tremolo bar parts in "The Alien" and "The Truth". A Travis Bean was used for the slide part on "Shine". He did own two Les Paul Standards that he bought in '87, but one was stolen when his house was robbed. Thanks, Robert!



Let's take an interesting question from Daniel. He asks, "If Snakepit (God f*ckin' forbid) does not become a success, where would you go from here, SLASH"?

SLASH replies, "If Snakepit does or does not become a great success, doesn't much matter. What matters is how much fun you're having at the moment. That you totally 100% enjoy what you're doing. Playing, touring, the music, the fans, etc. If all that is working, then you're successful and THAT you DON'T want to get away from".

Thanks, SLASH and Daniel! Daniel, please send your mailing address to us so that we can send you a package of things from Koch and SLASH. You can reach us at webmaster@snakepit.org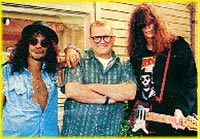 Here's a brief question from the webmaster. "SLASH, Joey Ramone passed away today. Did you know Joey? Would you comment on his contribution to music"?

SLASH replies, "No, I didn't really know Joey Ramone. We hung out a few times, and he was always quiet and cool. The entire rock & roll community is forever changed".



News Reported: 5/7/01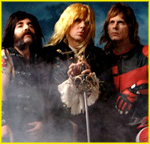 If you listened to SLASH's interview on eYada radio on the net, you might have heard him saying he was going to play with Spinal Tap soon. SLASH guested on their 1992 album, Break Like the Wind, playing the title track. The movie, This Is Spinal Tap, is a classic for rock bands and fans. Hilarious! SLASH said the longer you are in the business, the truer the movie seems. So it should be an evening of fun when SLASH teams up with Tap. The show is scheduled for Friday, June 1 at the Greek Theatre in Los Angeles. Tickets are on sale right now through TicketMaster outlets and online as well as at the box office. Should you need directions or more information, the Greek Theater has some online information at: Spinal Tap Show with SLASH.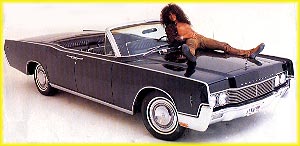 If you live in or have visited Los Angeles, you know that this is one of the great car cities of the world. At Fairfax and Wilshire in L.A., there is a great tribute to the automobile, the Petersen Automotive Museum. The Museum runs quite a few special exhibits, and there's one beginning June 14 of special interest to SLASH fans! The exhibit is "Cars and Guitars of Rock 'n Roll", and rockers will be loaning their amazing cars to Petersen's. SLASH is loaning two of his classic cars, a 1936 black Ford coupe and that magical 1967 black Lincoln with suicide doors. The gala opening will be June 14, and the show will run till the end of the year. Tickets for the Gala on June 14 run $200 each, but the regular admission charge will be $10. Photographs are permitted (no tripods). We hope to hear from many of you that you visited and saw Slash's cars. Other rockers lending cars are Madonna, Eric Clapton, B.B. King, Rod Stewart, Sammy Hagar, Coolio, David Lee Roth, Billy Gibbons (ZZ Top), Jeff Beck, Brian Setzer and more.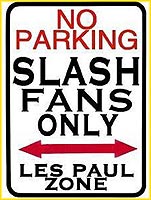 We spoke to SLASH this evening, and he was out in his backyard watching his cats goof around. First thing SLASH wanted to know was if we had gotten his answers to some more of your questions. He said he hopes we are all hanging in there - don't give up, the 'pit is coming. We told him no one had given up, but we were all looking forward to a visit soon. SLASH said they will make up those headline shows that were cancelled when he got sick. The AC/DC shows will not of course. SLASH is anxious to get to South America and Europe, too. And he confirmed he will be at the Spinal Tap show on June 1. Speaking of SLASH, let's have him answer a question here: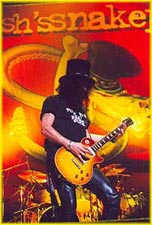 Billy Sweeney asked this question, "Which of your songs do you consider to be the hardest to play?"

SLASH replies, "The hardest Snakepit song to play is 'Life's Sweet Drug'. That song is tricky and fast. Plus, it is the first song in the set which makes it twice as foreboding".

Thanks, SLASH and Billy! Good question!

Tomorrow night we're off to see U2. Someone asked me once if SLASH knew The Edge. Now I know the answer. SLASH said he met The Edge once at a U2 concert. SLASH said that he thinks U2 is an incredible band that has to be admired for their success and for their idealism whether or not you like that kind of music.

News Reported: 5/5/01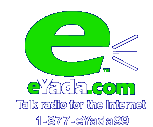 SLASH did an interview at the beginning of this week with NYC radio station eYada talk radio network. The interview is still up there, so you want to go over and hear this recent talk with SLASH. There's about 20 minutes of SLASH, and he covers topics from leaving GNR to starting Snakepit as well as this page, his internet fans, his heroin addiction, his bout with pneumonia that stopped the tour and Snakepit's plans for the future. He also said he was going to be playing with Spinal Tap in June. We aren't sure if he meant Snakepit or just himself. As you know, SLASH played on Spinal Tap's first album, and he was chuckling about them and their movie. Definitely worth a visit:


eYada Interview With SLASH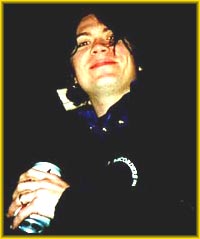 You can hear SLASH tonight but not Keri. Keri Kelli had to postpone his chat when he was called out of town. He'll be back soon, so the chat will be held on Tuesday, May 8, same place and time as was given the other day.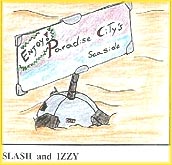 Our fan fiction section has been slowly growing. There's a great new entry in the form of a comic strip starring SLASH and Izzy. Alberto Vargas sent this to us. Installment one is on the page now, and Alberto will keep the story going. The story is good and the drawings are super. When you get to the Fan Fiction section, scroll down looking for the title "SLASH and Izzy: Adventure in the Future".

SLASH Fiction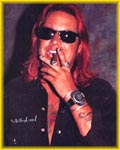 Alex and Annelaure say that SLASH needs some help over there on Metal Sludge. Having won his first three rounds, SLASH is now pitted against Vince Neil and is losing 49% to 51%. We need Izzy in here! Help SLASH stay in the ring. Head over to Metal Sludge and cast your vote.


Get In The Ring!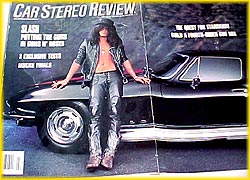 Mykaela's been out shopping for magazines, and she found a really cool one. This is the UK magazine Kerrang!. They have a list of 101 cool things to do this summer, and one is to get some cool wheels. There are different people pictured with their cars. And there's SLASH with his very cool vintage Lincoln Continental! You'll have a chance to see that car and another of SLASH's this summer if you can get to LA. More on that as details come in.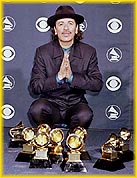 Billy sent in a good question for SLASH. He asks, "Would you ever do an album like Carlos Santana did with guest singers on each song and you playing your Les Paul on each song?"

SLASH answers, "If the opportunity arose to do an all-star solo record like Carlos', I would definitely do it. But it would have to be the right people at the right time. So we'll see what happens".

Thanks, SLASH and Billy! Billy, please get in touch with your address to webmaster@snakepit.org.



News Reported: 5/3/01



Note: Since it is May 1, the April 2001 news have been archived and can be accessed at the end of the month's Current Events.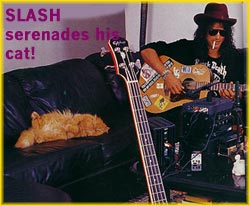 Here's another question for SLASH. This one is also from Nick in Buffalo. He asks SLASH, "What's your practice schedule when you're at home? Do you practice every day? How long do you play for each day, and what do you usually do when you practice? (Do you work on theoretical stuff such as scales and chords, or do you more or less just write new stuff and work out songs?) Do you practice with a metronome?

Slash replies, "I don't really have a practice schedule at home. I just try to play as much as possible. I play more than I practice. I work on riffs and licks, song ideas or whatever interesting solo exercises come up with. It is usually different every day. I have a metronome, but I hardly use it.

Thanks, SLASH and Nick! SLASH just faxed us back 10 more question/answer pairs, so we'll just keep going. Next time, SLASH talks about an interesting type of album.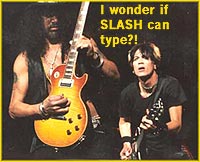 The online chat with Keri Kelli will be held in the chatroom at www.kerikellionline.com this Thursday, May 3 at 4pm Pacific Time. That's 7pm Eastern, midnight GMT, etc. They suggest that if you haven't been there before, you scout out the chatroom beforehand. It's a Java chatroom so PCs must be Java-enabled. There are some guidelines set up - the most important being that this is Keri's first chat and he will be typing his own replies so go slowly with the questions or he may miss some. Try to take turns - if you get one answered, sit back and wait awhile so everyone has a chance. Only public questions will be answered. Any disrespect for the guest or other attendees will result in eviction. Sounds good! See you there!

Rui has a new page he's working on called the SLASH Guitar Page. It's dedicated to our favorite axeman, SLASH. The site is in progress, and Rui asked all the guitar players for assistance so that technical information on SLASH's playing can be found on this site. If you have some time to give, check out slash.freehosting.net.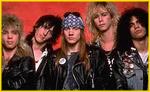 This next item should definitely be of interest. Mykaela has the latest issue of Classic Rock, and they have a preview of what will be in the next issue. Guess who's consented to an interview? Mr. Izzy Stradlin! Classic Rock says Izzy will be "dishing the dirt" on Axl, SLASH and the rest and will also talk about his new album River. Please, Izzy, just some nice things about SLASH!

Lee in England saw a SLASH appearance on MTV2 in Europe where SLASH chose his hour of favorite videos. It started out with "Mean Bone"! There were tunes by Garbage, Metallica, and GNR. Lee calls it the best hour on MTV2 ever. Thanks, Lee!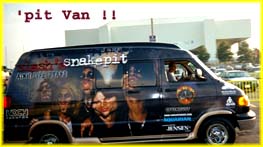 After seeing the list of US radio stations to email so that "Mean Bone" and "Shine" will get a push, Simrin sent in some UK contacts. He also suggested we all write to all of them. Since the stations are online, they are truly international stations. Sounds like a plan!
BBC Radio 1 (national)
emma.b@bbc.co.uk
mary.anne.hobbs@bbc.co.uk (rock show presenter)
chris.moyles@bbc.co.uk (1 of the daytime presenters)

XFM (London)
xlist@xfm.co.uk (XFM Song request e-mail)
ian.camfield@xfm.co.uk (rock show presenter)

Virgin Radio (National)
studio@virginradio.co.uk (contact for all dj's)




News Reported: 5/1/01