Send your answer to webmaster@snakepit.org. The contest begins today, Friday, May 24 and runs through midnight your time, Friday, May 31. You need only send the answer number. Send along any comments you wish. We'd like to send a summary to SLASH. Thanks!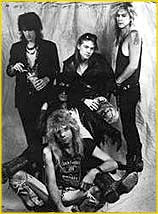 Jan saw an interesting program on Dutch TV. It's called "I Love...", and it's all about the 80s. In each show they do features on typical 80s things with Dutch stars commenting on the subject and some of the artists/inventors starting in 1980. This program was 1988, and it featured Guns N'Roses! The GNR part had a commentary by SLASH who used that familiar phrase that GNR could only have been done by the five of us... Jan said it was great to see GNR on TV again. Thanks, Jan!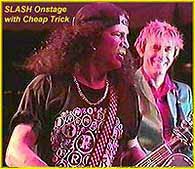 This interesting story is from Ferry, also in The Netherlands. The other day he picked up the DVD Silver at the rental store. Silver is the DVD made from the Cheap Trick 25th anniversary show. SLASH appears on this video doing "You're All Talk" and breaks a string. Ferry says he watched the DVD about 3 times, and he says it turns out he has been a Cheap Trick fan all along. When he was a little boy, his dad gave him a Cheap Trick tape, and he played it for hours and hours. He never knew the great band on his tape was Cheap Trick! Ferry knows that now, and he thanks SLASH for reintroducing them to him. It feels good to know you have the same musical taste as SLASH! Thanks, Ferry!



If you're a musician and can get to the Rock and Roll Hall of Fame, there are a couple of programs coming up that might interest you. First, on June 8 at 1:30pm, there's an award ceremony for the Maxell Song of the Year. Wyclef Jean will perform. And here's the part for musicians. The John Lennon Songwriting Bus will be there. Admission is free. You can go in and try out professional equipment and hear lectures and demos on topics including songwriting, film scoring and electronic music. The second event is for guitar players. This is June 24 at 7pm. The event title is Gibson Master Class: The Ultimate Guitar Clinic. This is the first of a three part series. This night features country star and master guitarist Lee Roy Parnell. He'll display his playing techniques and talk about his influences. Tickets are $10. Gibson and the Rock Hall of Fame are in partnership on this series.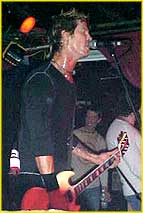 Duff's official Loaded site has updated the summer tour schedule. If you are in Europe...get ready! Loaded, fronted by Duff, will appear in England, Scotland, Germany, France, Italy and Spain...all in July. If you get to one of these, let us know. Doesn't seem SLASH will be touring soon, so let's get into Duff and Loaded! To get the latest dates and venues, go to the Loaded site:

Loaded European Summer Schedule
News Reported: 05/31/02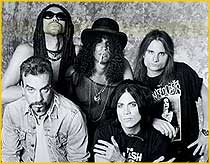 CONTEST! For this contest, we have one last copy of the promo single "Been There Lately". This song was never released as a regular single, but the promo is the complete 4:00 minute track. The CD has artwork on the back and front liners, and the CD itself is very attractive. This contest is a drawing. There are no right/wrong answers, but we'd like to see what you think. Here is the question:
I would most like to see SLASH:


  Answer 1. Back in Guns N'Roses with as many of the original band as
      possible.
  Answer 2. Back with the second Snakepit band.
  Answer 3. In some well-known band or in a supergroup.
  Answer 4. Solo with pickup bands and doing guest appearances.
  Answer 5. Other.....please explain.

Send your answer to webmaster@snakepit.org. The contest begins today, Friday, May 24 and runs through midnight your time, Friday, May 31. You need only send the answer number. Send along any comments you wish. We'd like to send a summary to SLASH. Thanks!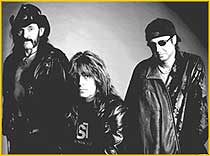 Here's a SLASH appearance that we all must have missed. Thanks to Button for sending this in. SLASH went to the Motorhead show at the Sunset Strip House of Blues on Monday, May 20. He got up and jammed with the band on Motorhead's "Born To Raise Hell" off their 1993 Bastards album. SLASH rarely lets anyone know beforehand that he will be doing these one or two song performances. Still, it would have been nice to know in case anyone had free time on their hands that night. Could have packed the place! Gotten new photos!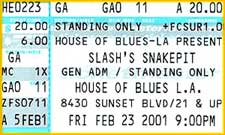 We're looking for fans willing to subscribe to the House of Blues newsletter. They only subscribe you within your zip code. If you are willing to sign up and check these for Slash or close pals of Slash, you could tell us and we'd be glad to do the extra checking involved. California...Sunset Strip and Anaheim are particularly interesting! Just go to www.hob.com and sign up for the newsletter. No charge. Thanks in advance. Another issue on the SLASH page is that several people have requested bass tabs. If you have some bass tabs, please send them in! These should be for SLASH bands or SLASH-related songs (for example, guest appearances).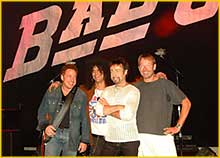 On January 30, SLASH joined Bad Company onstage in Anaheim for two numbers, "Wishing Well" and "Crossroads". The tour was put together to promote Bad Company's new live album/DVD/VHS, In Concert: Merchants of Cool. The album and DVD/VHS are all out now. SLASH is credited in the CD booklet. Paul Rodgers thanks "the boys in the band..." and there is SLASH! However, neither song that SLASH played in Anaheim is on this album. And when Paul introduces the band, he only mentions his current, permanent band. Even if SLASH is not here, this is a terrific album with "The Voice of Rock and Roll"! We have the DVD on order so we can't comment on SLASH's appearance just yet. Some songs sound like him him here and there, but most do not.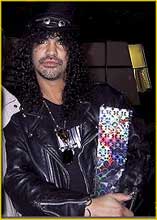 Michael sent in a question on SLASH's new album. He read in Total Guitar that SLASH is making a new album with loads of his favorite tracks. Michael wants to know if that is true. The last time we heard anything from SLASH himself on this as well as in another interview, SLASH was writing all the music for the album. What Michael mentions here makes it sound like a cover album. Sorry we don't have any information on this other than what we had before. The album was to be all new music written by SLASH and encompassing various world genres. He would have a slew of guest appearances and a new band. He said he would tour on the album which he hoped to have out during the first six months of 2002. He also needed to find a manager and a record label. Last we heard, he was in the studio working on the music, but we could use an update! Another secret project! Keep working, SLASH!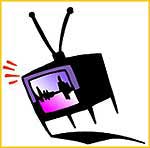 There's just one listing for TV, and it is for the old GNR. This one is "100 Greatest Albums of Rock & Roll" on VH1 at 2pm ET on 6/3. It features video clips and artist interviews which means SLASH!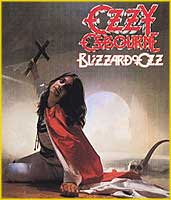 The new issue of Guitar World (Ozzy, Zakk, etc. on cover) has a section called "Under the Influence". Brian sent this in as they ask rockers about their alltime favorite show and who is their hero. SLASH is there! He says that his favorite show was the one with Ozzy and Motorhead on the Blizzard of Oz tour. SLASH names Ozzy as his hero because through all the ups and downs, Ozzy stuck to his guns and did his thing. There's also another section with a tiny blurb from SLASH and many others on Ozzy. Rock on! Thanks, Brian!


News Reported: 05/29/02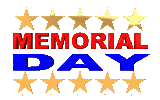 Memorial Day is a U.S. holiday dedicated to honoring the U.S. war dead. It is celebrated the last Monday in May which this year is May 27. The SLASH page will not be published on Memorial Day, but we'll be back May 29.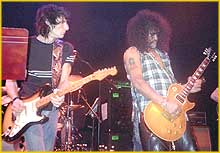 SLASH was with Ron Wood and his band in the UK last December. We found that some new pictures and interviews have been posted. The interviews contain some information we were not aware of till today. First, here is a "photo album" with the pictures! We found this album tool recently so bear with us while we show it off!


Ron Wood & SLASH Pics



The articles and interviews were on the Irish site, Hotpress.com. They had a short article before the Vicar St. show with Ron announcing his guests as SLASH, Andrea Corr and Jay Kay. Ron said the show would be a "f*cking cracker". Sometime after the show, they talked about how Ron did some songs with his band without guests at the start. A "rock and roll moment" came next with SLASH and his 87 Cherry Sunburst Les Paul made their grand entrance. "Resplendent in a cut-off lumberjack shirt and well-worn leather trousers, the top hat didn't make an appearance till later. He's porkier than he was back in GNR days, but still capable of throwing the most outrageous shapes." "And then there was the bloke with the hair who also played guitar onstage. His name is SLASH (Mr. Slash if you will)...and he didn't have a lot to say for himself. That's been SLASH's career, the silent one but what a f*cking guitarist...SLASH put on his hat, lit another cigarette and played guitar like a man who couldn't believe his luck". Last month they interviewed Ron.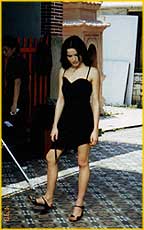 He said he had to act as a human buffer between Andrea Corr and SLASH. "God knows what would have happened if I hadn't kept them apart", he laughs. "It was fabulous. Everybody - Andrea and SLASH - hit it off and we partied long and hard into the night". We're including a picture of the very delicately lovely and amazingly talented Andrea. No wonder Ron kept them apart! Ron also said there would be a DVD coming out from the UK shows that will of course include Andrea and SLASH so we can see that special magic for ourselves! If you hear of the DVD coming out, let us know.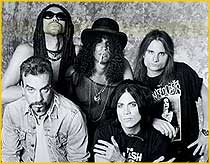 CONTEST! For this contest, we have one last copy of the promo single "Been There Lately". This song was never released as a regular single, but the promo is the complete 4:00 minute track. The CD has artwork on the back and front liners, and the CD itself is very attractive. This contest is a drawing. There are no right/wrong answers, but we'd like to see what you think. Here is the question:
I would most like to see SLASH:


  Answer 1. Back in Guns N'Roses with as many of the original band as
      possible.
  Answer 2. Back with the second Snakepit band.
  Answer 3. In some well-known band or in a supergroup.
  Answer 4. Solo with pickup bands and doing guest appearances.
  Answer 5. Other.....please explain.

Send your answer to webmaster@snakepit.org. The contest begins today, Friday, May 24 and runs through midnight your time, Friday, May 31. You need only send the answer number. Send along any comments you wish. We'd like to send a summary to SLASH. Thanks!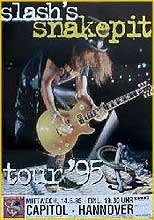 We're going to take you way back to 1995, and the first Snakepit. Unlike the tour this time, Snakepit played Paris! Michael and Guillame are both from France, and they sent in some great pictures. Some we had never seen before. Here's another photo album of these seven pictures. Thanks very much, guys!

SLASH's Snakepit, Paris, '95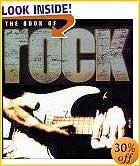 Recently we bought a very large book called The Book of Rock. Published in 2001 by Thunder's Mouth Press and written by Philip Dodd, the book has a different approach than most rock band encyclopedias. Each band gets one page, and the page is mostly a band picture with a short paragraph of information. Guns N'Roses appears with SLASH, Steven and Izzy playing backstage. It says that when the band broke through, they projected a frisson of danger. Too soon, sating their own appetites drained the band and the lovely ballads they wrote soon became overblown and the excess became embarrassing. "And Axl became the solitary guardian of the Guns' guttering flame". The book is on sale at Amazon (don't forget to click through the Amazon picture at www.snakepit.org/ad.html). It's marked down from $40 to $28. It will mostly be of interest if you are interested in having a rock encyclopedia with large photos.


Don't forget: Monday is Memorial Day in the U.S., and the SLASH page will not be published. We'll return Wednesday, May 29. Please send in any SLASH articles, sightings as we will check the mail.


In memory of Dennis Day killed in Vietnam (with thanks to The Wall site):


           HN - E3 - Navy - Regular 
             Born on Aug 07, 1946
       21 year old Single, Caucasian, Male                        
          From MONONGAHELA, PENNSYLVANIA
             Length of service 2 years.
         His tour of duty began on Nov 15, 1967
            Casualty was on Feb 02, 1968
            in QUANG TRI, SOUTH VIETNAM
              HOSTILE, GROUND CASUALTY
                GUN, SMALL ARMS FIRE 
                 Body was recovered 
                   Religion
                  PROTESTANT

             Panel 36E - - Line 69


News Reported: 05/24/02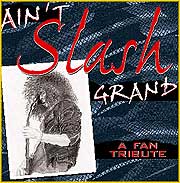 Awhile back we asked for bands to contribute a song to a tribute album for SLASH. The album is called Ain't SLASH Grand?!, and it's finished! It's a super fan tribute to SLASH with THIRTY bands, a double CD with a fully illustrated booklet. Amazing! Tiago and Rui got the project going and stayed with it till the end. Michelle did the wonderful artwork. We'll see that SLASH gets a copy, and we are definitely hoping and expecting some feedback! If you'd be interested in buying a copy, please contact Rui and Tiago at slashtribute@yahoo.com. To see a larger copy of the full cover, click below:

Tribute Cover by Michelle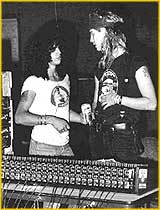 Spin's web site has their selection of the Top 50 Greatest Bands of All Time. They chose these from bands performing in the 1960's and forward to today. Spin says that, "To qualify, these groups had to have a roof-raising, history-changing sound, presence, or hairstyle. They also had to clearly influence today's music in undeniable ways. Finally, they had to be bands that we care about deeply. We hope you will, too". Number 1 was The Beatles followed by Ramones, Led Zep, Bob Marley and The Wailers and Nirvana. In the #43 slot was Guns N'Roses, and here's what Spin had to say about the Gunners:

43. GUNS N' ROSES
While Axl Rose stews in his Malibu juices, it's best to remember when Guns preened supreme as world-baiting, coke-corrupted, glam-punk-metal heroes. Nobody ever looked more rock-foxy playing guitar than Slash (sometimes overshadowing his solos); and even though the power ballads are fabulous, heartfelt, beautiful, hilarious, etc., it's those fucked-beyond-belief rockers ("Paradise City," "Welcome to the Jungle") that raised the hair on your skinny, tattooed arms.

The list is interesting with comments on each band. If you'd like to read it yourself:

Spin Top 50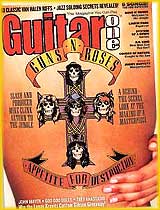 Magazine/Newspaper mentions: Philippe is from France, and he and Aaron found a place where you can read a little of the Guitar One Magazine. There's a picture of the magazine cover as well as a smaller picture of SLASH, and the article on the beginning of GNR. The entire 15 pages is in the June 2002 issue. Thanks to both of you, and here's where you can see the portion posted on their web site:


GNR in Guitar One

Ismar had some information on the May issue of Croatian Playboy. Brace yourself. Somewhere on the net the magazine found sex ratings of the rock stars as done by Savannah, Brandi Brandt, Tawny Kitaen, Kendra Jade, Carmen Electra and author Donna Anderson. The article is titled "Sweet Revenge of the Groupie Girls", so if you're under 13, please skip this! For SLASH..."Cool look without a reason...average size. Technique of a real beginner. A lot better on videos than in real life". OUCH! Either somebody's being nasty or another fantasy is destroyed! Axl got an even worse review with Izzy coming in as the star!

Gilby and Matt had some good things said about them also. It must be the season because Sunday's issue of the New York Post had a similar article. Michelle sent the SLASH review along. The article was titled "Groupies Rate Rock Royalty", and this is what they said about SLASH: "Former Guns-N-Roses guitarist SLASH supposedly likes to get handcuffed and watch himself in a mirror". And we'd always thought SLASH was the dominant kind. The source was groupiecentral.com, and you can read the rest of the article on the Post's site at:


Groupie Article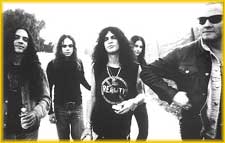 SLASH was also on TV in Sweden. Jonas tells us that when he was watching RockShow, he got to see SLASH twice! They showed the "You Could Be Mine" video! And just when Jason thought that was it, they showed the SLASH's Snakepit video "Good To Be Alive". Thanks, Jonas! Now for Australian radio! Mark lives in Sydney, and he says there is a very popular rock station called Triple M. The station selected and counted down the Top 500 rock songs of all time. Here's how GNR made out (very well):
SCOM - 16
Paradise City - 29
November Rain - 55
Patience - 66
Knocking On Heaven's Door - 77
YCBM - 147
Welcome.... - 206
LALD - 264
Don't Cry - 398
The Top 5 were: Evenflow, Down Under, You Shook Me All Night Long, Black Hole Sun and SCOM! The full list is at Top 500.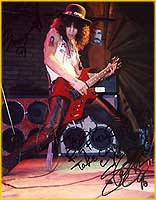 It's been awhile since we had a Q and A with SLASH. Let's do one now. George from North Carolina asks, "SLASH, I am in a band that is just getting started. I was wondering what is the best way to get gigs booked without having a recording done?"

SLASH replies, "George, try to get any gig you can. Advertising helps. Establishing local fans/friends, etc. Try to get a more accomplished local band to get you on an opening spot. Whatever you can think of."

Thanks, SLASH and George! And stay away from those groupies!


News Reported: 05/22/02


If you sent email to webmaster@snakepit.org Saturday evening or most of Sunday, that mail was lost in a server problem. Please send it again! Thank you! Also tonight (Monday) our cable modem is out. So we are going to catch up on some of the older news we've gotten in from you. Hopefully the problem will be solved quickly. It appears the modem and port took a big hit during a recent thunderstorm.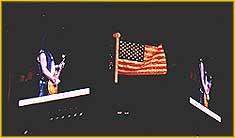 Courtesy of Clement, we have some pictures here of SLASH at the Lakers game. This is the game where SLASH played "The Star Spangled Banner". He did a great job, and we wish we had a tape to go with the pictures. If you'd like to hear him play the National Anthem, get hold of the Panther movie tape. SLASH told us before he appeared at the Laker games that the National Anthem is one you cannot make a mistake on, and he didn't. These photos were taken off the scoreboard above the court. Thank you, Clement!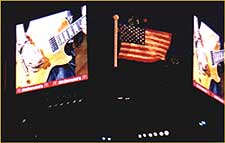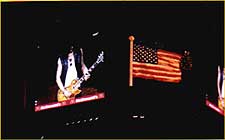 There's just one TV show listed for the week, and it is for the old GNR. VH-1 presents "Top 80 of the 80's" on 5/25 at 5pm ET. This is part of a five part show counting down the top 80 videos of the 80's.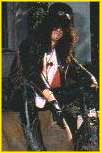 About a year and a half ago, Dallas wrote some lyrics about SLASH called "Half Man-Half Beast". That lyric is now featured in Dallas's full length (112 page)lyric book. The book went on sale April 19, and there is now an international campaign for it on KNAC.com. The book is called Da Spaghetti Wall?: (renegade resolutions), and you can purchase a copy for $19.99 (check, money order, Paypal). For more information, check Dallas's home page and get the address or Paypal email ID:

Dallas McCoy's Lyric Book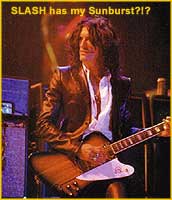 Speaking of books, there's one out written by the expert on Les Paul Sunburst guitars. If you want to know who that is, ask collectors who pay $15,000 and more for the "Stradivarius of electric guitars". They generally point to Vic DaPra, a Canonsburg man who owns Guitar Gallery near Pittsburgh, PA. DaPra's second book on these famous guitars is called Sunburst Alley: A Pictorial Gallery of the Les Paul Sunburst 1958-1960. There are 80 pages of photos showing 200 Les Paul Sunbursts. It also includes the Sunburst originally owned by Joe Perry, then SLASH, then Joe Perry. There's also a picture of Jimmy Page's 'burst that DaPra describes as "the most singularly important guitar in the history of rock 'n' roll". Sunburst fans are quoted on DaPra's reputation as the "Curl King" which refers to the curly maple wood used to make the famous guitars. When the guitar came out, Gibson made 1700 of them and sold them for $250. The line flopped because the guitar market was pointed at surf music. It took Keith Richards in 1964 to set the market going, and Keith's choice soon became that of Jimmy Page, Eric Clapton and Jeff Beck. Because the value of the guitar is so high, very few are ever played on stage. Only Jimmy Page still plays one. The Sunburst is not for the average guitar player. Wonder if SLASH has any more of these in his collection.


News Reported: 05/20/02

Sim tells us that there's a TV ad in the UK for an alcoholic drink called Pimms. In the ads, the central character is a posh-voiced guy walking around with a picnic basket, brown suit and a GNR tshirt! Sim says it is the same GNR tshirt Garth wore in one of the Wayne's World movies. In one ad, the guy stumbles upon some guys in the forest burying treasure; so he opens his hamper and they start drinking. In another ad (same tshirt), he's with women on a street corner (probably prostitutes); and he opens his basket and starts drinking. This guy has a great job! Thanks Sim!


A fan called hendrixdude let us know that when the Yankees take the field for a home game, they play GNR's "Welcome to the Jungle"! Great! Thanks!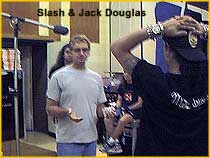 Terry has the very cool Rick Dufay (ex-Aerosmith) site, and she let us know that there is an interesting interview with Jack Douglas posted there. Jack was the producer on Ain't Life Grand, and SLASH was really pleased with the results. At one time, Jack was the producer for Aerosmith although that has gone by the boards with that band's switchover to SONY. If you like Aerosmith, you're going to love this interview. Jack is very candid and doesn't dodge any questions from Terry even if it means being critical of SONY's handling of Aerosmith or the band's direction. There is also an exciting SLASH mention! Jack recently completed the score for a new movie, This Thing of Ours which has a definite Soprano's influence (much more on this in the interview). Terry forgot to ask which artists will be on the final soundtrack, but she writes that Aerosmith guitarist Joe Perry scored and performed some for it, as did SLASH, Cheap Trick and the band Skindive, last she heard. The movie will be out this fall and hopefully SLASH is on the soundtrack. He really likes working on them. Let's take you to that interview! And Terry, thanks for letting us know about it.

Interview With Jack Douglas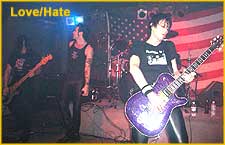 Keri Kelli is currently performing with Love/Hate to very good reviews. If you are in California, you can see Keri tonight and tomorrow night. Love/Hate plays at The Shack tonight and Tarzana Paladinos tomorrow. Keri will be in Las Vegas June 1 to play in an AC/DC jam band. The band members are: Robbie Crane, Matt Laug (Hi, Matt!), John Corabi with Sean Crosby on vocals. Keri said of the band and gig, "It's great fun".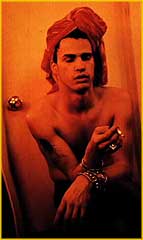 Aneshan sent in a note that he was watching the "Behind The Music" show on VH-1 featuring Metallica, and there was a discussion of the Metallica-GNR tour. As you know, at a show James Hetfield burned his hand on some pyrotechnics. Metallica had to stop performing as James went to the hospital. There was a long wait till Axl could be convinced to take the stage earlier than scheduled. Then, GNR did not complete the show when Axl stormed off. Aneshan wanted to know what SLASH had to say about it all and did he have a say on completing the show. Well, if you watch the video, it looks like SLASH is silent. He had no say in completing the show once Axl made it clear that was not up for negotiation. GNR let the opportunity to help the tour go by and in the process Axl made an enemy of Metallica. Now SLASH says they did the wrong thing, and he may in fact have told that to Axl that day, but it is not evident on the film. GNR circled the wagons, got changed and left.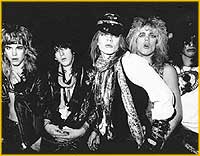 Ian's in England, and he says the Top 100 Pop Songs list is out. GNR is hanging on by the tips of their fingers at #95 with "Sweet Child O' Mine". Seems a little low to Ian when the competition up much higher is the Spice Girls!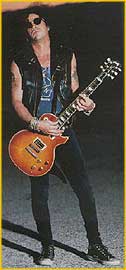 Billy from Northern Ireland read another of those list articles. Sadly, SLASH is not on the best guitar list, and none of his music is in the best riff section! Best guitar player was Jimi Hendrix. The winner for best riff is Led Zep's "Whole Lotta Love". But they take the knife to Clapton by naming him the Most Over-rated Guitarist! The list was taken from a poll of 1,000 rock fans by Ibanez Guitars and Laney Guitar Amps. Thanks, Billy.



Alejandro wrote from Mexico about the new GNR tribute album. He said that he bought Appetite for Reconstruction and didn't like it at all. You're in good company, Alejandro, SLASH detested it. When he was in NYC at one time, the bartender at the hotel asked him to autograph his copy. SLASH recoiled, ran out and bought Appetite for Destruction and signed that instead! Alejandro says the new CD has some of the same tracks that appeared on the old one. These are "Welcome to the Jungle" (Kevin Dubrow), "My Michelle (Phil Lewis) and "Mr. Brownstone" (Joe Leste). Alejandro is not a fan of the new tribute cd either.


News Reported: 05/17/02


Clement alerted us to a charity benefit that happened May 9 at the House of Blues in L.A. ... and SLASH was part of the entertainment. Now when SLASH performs at a charity show, he is very low key about his presence. Now that it is over, we can supply the details. This event was to benefit the Jewish Federation's Koreh L.A. Literacy Tutoring Program and P.S. Arts. Admission was $125 in advance, $150 at the door. Here are some of the other artists who performed: Jeff "Skunk" Baxter, Sheila E., Phil Lesh of The Grateful Dead, Robby Krieger of The Doors and more.
The event was called Jam Night III, and participants got to jam with their favorite musical stars to raise money for at-risk student literacy and arts. There was a silent auction with apparel from Destiny's Child, Dustin Hoffman, N'Sync and many more. Bar, buffet, parking and live concert completed the package. The money raised helps Koreh provide its wonderful reading and arts program for children unable to read or not reading at grade level. We're proud of SLASH for taking part in this, but wouldn't it have been great to get up and jam with SLASH? Thanks, Clement! (By the way, Clement said scalpers were getting $100 a ticket outside the Key Club for the Randy Castillo show. Major bucks, but worth it, we're told.)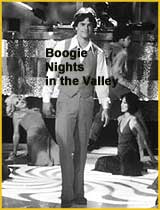 Clement is a Californian, and he wanted to change our image of the San Fernando Valley where SLASH has moved. Frankly, the Chamber of Commerce site DID make it sound a little dull for our rocker. Clement says...it is a very family-oriented area, but at the same time it is also known as The Porn Capital of the World! Oh! Now this is something SLASH can get into! Porn movies, magazines, strip joints...well, he can stay close to home and still find some entertainment. Speaking of SLASH at the clubs, he was mentioned in the May 9 L.A. Times as being at the Viper Room with Gene Simmons, Matt Sorum, the Strokes and Drew Barrymore. This was the night of May 6 when Loaded performed there. The paper's comment on all these stars? "Hot, hot, hot"!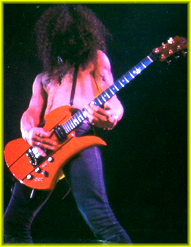 If you live in the UK and want a chance at a SLASH signature B.C.Rich Mockingbird SL, there's one listed on ebay. This is the one that hails from Stoke-on-Trent. The seller will ship only in the UK. But if you live there and want one, you can probably take it away. There are still no bids on this beautiful guitar. Check it out at www.ebay.com with item number 869650151. And don't forget to go through www.snakepit.org/ad.html. If you buy it, send a pic!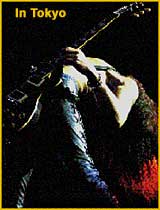 Speaking of auction items, have you heard about the two DVDs that comprise the Tokyo GNR show? In addition to the concert there are other special items like photographs. These are being sold from Brazil, but some are appearing on the auction sites. Lyndsay wrote to say that's where she got hers. The box covers are great with professional printing, and from the outside you think you are getting a great copy of the Tokyo show. A magazine company did the conversion, and they could have done better. Many people have commented that the audio doesn't match the video very well. In some places you can stand to watch it, but in other places, like "Patience" it is off a full word. Lyndsay just wants to say caveat emptor. As a collection item, it is fine; but if the sound being off drives you crazy, this is not for you. Thanks, Lyndsay.



Jamie's from the UK (buy that Mockingbird!) and says the latest Guitarist Magazine, June 2002, issue 224, has some SLASH mentions. SLASH talks about how there are certain people he admires, and he'd give his left arm to play with them. "I mean, Michael Jackson calling you up in a hotel room one day, going: 'Would you play on my record?' It's like... 'Yeah, I'll play on your record!' " SLASH is said to have brought the Les Paul back into fashion and says, "I've got one Les Paul Standard that's my main guitar, and I've had that since I signed my deal with Gibson six years ago." The magazine says that "bad boy SLASH brought the Les Paul back with his former band GNR and the album Appetite for Destruction and especially with 'Sweet Child O' Mine' ". Thanks, Jamie!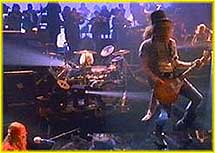 If you get MTV2, let's hope you were watching on Friday. Adam was watching a show called Most Overdone Videos, and November Rain was #1. This isn't a compliment, and this beautiful video deserved better. Adam said the next show was Headbangers Ball Uncensored, and SLASH was interviewed! SLASH looked great, but Adam said he didn't really like the round blue sunglasses SLASH was sporting. Still, he said SLASH looked better than on any other interview he has seen. The famous clip of Guns trashing the Headbangers set was aired. Adam says, "It was great!". Thanks, Adam!


Another note from Adam! About 6 weeks ago, he visited France and went skiing in the Alps. There was a shop called Nirvana, and Adam picked up this SLASH ring. He loves it! Next time you are skiing the alps, stop in and have a look around.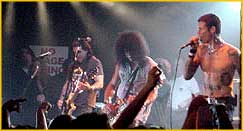 Some more pictures of the Randy Castillo benefit show are posted on the web. You're going to see thumbnails only. To see the larger picture, you have to come up with $10 a year. The thumbnails are clear and are professional shots, so you might want to have a look at them. Thanks, Jonah, for sending the information on these! You can look at many other (some 200) old thumbnails of SLASH by searching on his name.

Photos from Randy Castillo Show

On TV this week...more of the reruns...all times are ET. On 5/14 at 8pm ETV will show "The E! True Hollywood Story: Savannah" which is the life, times and suicide of a little girl who grew up to be a porn queen and also the girlfriend of SLASH. The show is also on 5/15 at 9am and 5/18 at 6pm. SLASH does not appear but references are made to him, and you will hear him on Savannah's answering machine. SLASH did not know that he was on the tape till the show aired. Then on 5/17 at 11:30am, VH-1 shows "From the Waist Down" about sex in music, musicians, groups, groupies, etc. SLASH appears in this one. On 5/14 is "The Top 90 of the 90's" on VH-1. VH-1's panel of experts has out the videos and arrive at a list of the 90 videos that mattered most in the 90's.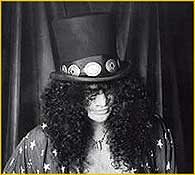 Andrew from Canada sent the funniest story! SLASH was mentioned on CNN Headline News last week. CNN was talking about the Experience Music Project in Seattle and the musicians who had been asked to contribute their belongings to the exhibits. Michael Jackson sent a glove, and Buddy Holly's glasses are there along with SLASH's famous top hat! They talked about how he was the only musician to give EMP a hard time about donating. First, SLASH told them no! Then, he finally agreed if his top hat was returned safely and was well taken care of! He said that his top hat was part of him! So a couple people came from EMP and picked up the hat. They booked an extra seat on the plane to Seattle so that the hat could have its own seat. All done because the hat is so special to SLASH. SLASH strongly identifies with that hat as you can see. If you have an item you identify with this strongly, you can nod; and the rest of us will smile or laugh and hope the hat is being well treated. Thanks, Andrew!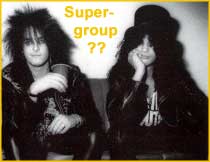 Although there are quite a few more interesting stories, this is the latest rumour going around. KNAC.com started it by saying:
"A reliable source tells KNAC.COM that Josh Todd of Buckcherry is jamming/writing here in Los Angeles with Nikki Sixx (Motley Crue), SLASH and Steve Gorman (ex-Black Crowes) to form a "supergroup." It's only rumored right now, but time will tell!"
Due to illness, this is the first we've heard the rumour. We are very doubtful on this one. Another rumour is that Buckcherry has broken up which would be a surprise to the band. Black Crowes is on hiatus, and we cannot imagine Nikki Sixx without the Crue. We'll try to get an answer, but this is the kind of thing SLASH makes a comment on for large publications. Let's keep an eye on this. If you are not familiar with these musicians, Josh Todd is a vocalist, Nikki Sixx plays bass, SLASH is of course lead guitar and Steve Gorman is a drummer. It just sounds like a really strange mixture, and we wonder who would be the frontman. SLASH likes that frontman position after all the years playing second fiddle to Axl. There are three frontmen mentioned. And you thought GNR did a lot of fighting! We want SLASH to do something new, but first we'd like to hear that solo record! Thanks, Aaron!


News Reported: 05/13/02

To everyone who contributed money and ideas and those great support letters, thank you! We're also trying ads. We are using affiliate ads with ebay, Amazon and Musician's Friend. In order to help us, come to www.snakepit.org first if you are going to browse or buy from them. When you make a purchase (or a bid on ebay), we get a small amount. It costs you nothing extra. Right now the click throughs are on a separate section which you get to from www.snakepit.org (main page). You'll see a little SLASH with the note about ads. Click SLASH and you will be at the ads page. These will be put in more convenient places around the site, but for now we did as we promised.. to keep them out of your sight! Please take a moment sometime to find the little SLASH icon which leads you to the ads section. These are good companies that we use all the time, but SLASH is not connected with them. He does not guarantee the companies or products involved. Bookmark the Ad page! Thanks!


News Reported: 05/06/02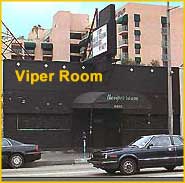 SLASH surprised Duff's Loaded audience on Monday, May 6 by slipping into the packed Viper Room and watching the show! People outside who couldn't get in saw the SLASHER slither in and head for a low key but very VIP table. Gene Simmons was there as well as Matt Sorum!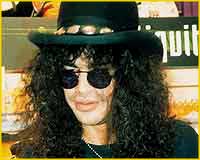 If Loaded needed a stamp of approval, they got it with these rockers watching. None of the three played that night, but we hear that SLASH was totally cool and looking very handsome. He came in alone, without an entourage for the show. Makes you wonder if he might miss being on the other side of the stage and lights. We haven't seen you outside California for a long, long time, SLASH! You are missed. Thanks to Ravi and Lori for the information.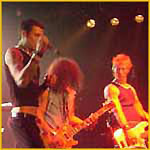 As you know, SLASH did appear with Buck N'Roses at the Randy Castillo benefit show. We've seen your reviews and enjoyed them. The best reviews are from the fans. However, we have one from KNAC that includes a number of pictures. The review is primarily memories of Randy from musicians who knew him well. SLASH is mentioned for being there. There are some new pictures up there, and you'll find SLASH in a couple of them. The remembrances of his friends are sad, but it was a fine tribute to this great drummer. Thanks to Stefan who spotted the KNAC article.

Memories of Randy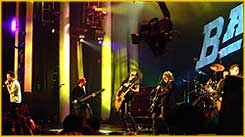 There's a new Bad Company live CD/DVD/VHS coming out May 21. Part of the taping was done at the Anaheim show, and SLASH played with them there. SLASH says he would go anywhere to play Paul Rodgers! This show was done at The Grove in Anaheim. Highlights from this show will be on the DVD and on the CD. We hope SLASH is there on the DVD. We plan to buy the CD and DVD as we think Paul Rodgers is great! "The Voice of Rock and Roll" is his nickname and deservedly so. As soon as we get definite word on SLASH's appearance, we will let you know. The album title is In Concert-Merchants of Cool with the new single "Joe Fabulous". There are a number of pictures of SLASH on the Bad Company official web site. We'll give you the url below. When you get there, click "Photo Gallery" in the heading and then "Anaheim" at the left in the list that will appear. There are several full length pics of SLASH onstage. SLASH has those cool, long, thin legs!
Bad Company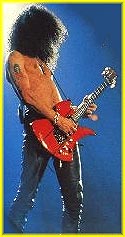 We're not trying to sell guitars here, but Kye found that someone on ebay was selling a BC Rich Mockingbird. This time it was a red one. Sadly, the bidding closed with not one bid on this beauty. The item number is 864928146 in case you want to contact the owner directly. Please note that the seller lives in (drum roll) Stoke-On-Trent! This would be great origins for a guitar. Thanks, Kye. We can only end this with..."Everybody have you heard...He's gonna buy me a Mockingbird". Come on, SLASH, a little generosity.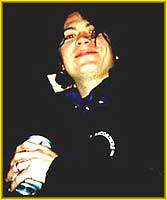 Here's some news on Keri Kelli (ex-Snakepit). In the Black Velvet Fanzine, Keri is the Back Stage Babe! In this section readers nominate a rocker that they think is worthy of babe status. A big photo of Keri is on the back page. He is truly babelicious. And Keri wants you to know that they have a new domain name. Keri's site is now www.kerikelli.com (taking the place of www.kerikellionline.com).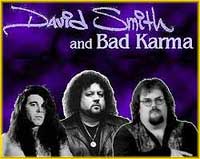 When SLASH's Snakepit went on tour, the big move was across the US to New York. When the band bus arrived, the equipment had not! Not a great beginning for our heroes. The opening band was Bad Karma, and they saved the day for the guys by loaning them all the equipment they needed. A truly wonderful thing to do! David Smith is the frontman for Bad Karma, and he sent us a note with their appearances. If you are in the New York area, get out and see them. SLASH really liked their style. Here's May's list:
5/10 Backyard Jacks in Broadalbin, NY
5/11 Mothers Road House in East Greenbush
5/17-5/18 Mother's Road House in East Greenbush
5/24 The Club in Johnstown NY



News Reported: 05/08/02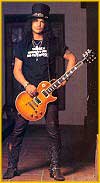 Nicolae sent us a really cool ad on the web. It is for a miniature guitar by your favorite artist. SLASH is the first one listed with his Les Paul Cherry Sunburst. There are a couple of familiar pictures of SLASH with the guitar. The miniature is limited and is a numbered series of 100. The guitar is 24.4 cm and is made of mahogany. It has a wooden stand, a certificate of authenticity and a hard case. You can also get Joe Perry's, Jimmy Pages's, Eddie Van Halen's, Zakk Wylde's, etc. You fill out a form, and they reply with total and so on. Very nice! Thanks, Nicolae. And here's the url:
Miniature Guitars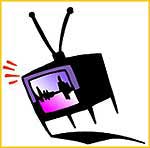 It's summertime, and the reruns continue on MTV and VH-1. Good time to get caught up on these. All times are ET. To learn more about the life and death of Savannah, SLASH's porn queen girlfriend, check out ETV for "The E! True Hollywood Story: Savannah" which is on 5/14 at 8pm, 5/15 at 9am and 5/18 at 6pm. SLASH does not appear but is referred to, and you can hear him on Savannah's answering machine tape found after she killed herself. VH-1 airs "Behind the Music: 1987" on 5/10 at 5pm. They say this is the year the 80's excess reached critical mass and rock 'n' roll led the party. Featured are GNR. On 5/11 at 6pm VH-1 has "Top 80 of the 80's". This is part of the countdown of the top 80 videos of the 80's. GNR clips are shown.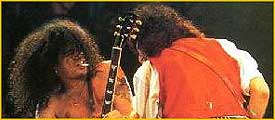 Jamie's in the UK and says SLASH has been on TV quite a bit there lately. Looks like MTV Europe and VH-1 Europe are airing the US shows. This is great because some of these are really good. SLASH appeared on "100 Greatest Albums", "100 Most Shocking Moments", all documentaries on Michael Jackson. SLASH was also seen on the UK Channel 4's "Top Ten Guitar Heroes". SLASH was not in the Top Ten (hello?), but he was interviewed about Brian May (fifth place). SLASH was referred to as the improv king and as Brian May's hair partner! Jimi Hendrix was first with Clapton second. Also, SLASH was interviewed on the UK TV's "Sky One's Pop Stars Behaving Badly". He had an extensive interview in the UK magazine Classic Rock and talked about the album with Izzy and Duff, the events of September 11 and his thoughts on Axl Rose (which Jamie said were not pleasant). Thanks, Jamie!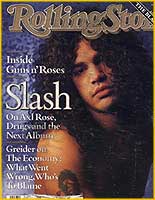 Have you seen the Guns N'Roses section of the Rolling Stone site? It's great. There are photos of the famous GNR covers, a discography, a place to vote for your favorite GNR album and song, links, the "Welcome to the Jungle" video and a very, very long trivia area along with archived articles and a biography. Very nice and the trivia questions (from fans) will tax your memory.
Rolling Stone's GNR Section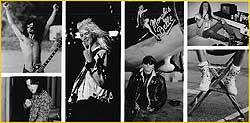 There's a new Guns N'Roses tribute album out now called "Rock Tribute to Guns N'Roses". Cleopatra Records is the publisher; and if you want a copy, you can get one through Amazon.com (don't forget to go through www.snakepit.org/ad.html). There are musical samples you can listen to before you buy. Gilby Clarke and Tracii Guns do the guitar work.
Here's the track list with artist:


1. You're Crazy (Stevie Rachelle of TUFF)
2. It's So Easy (Fred Coury of Cinderella)
3. Welcome to the Jungle (Kevin DuBrow of Quiet Riot)
4. My Michelle (Phil Lewis of LA Guns)
5. Sweet Child O' Mine (Jizzy Pearl of Ratt, Love/Hate)
6. Paradise City (Kory Clarke of Warrior Soul)
7. Mr. Brownstone (Joe Leste of Bang Tango, Beautiful Creatures)
8. You Could Be Mine (Mitch Malloy)
9. Used to Love Her (John Corabi of Union, Ratt)
10. Don't Cry (Spike of Quireboys)
11. Patience (John Corabi of Union, Ratt)
12. Civil War (Christina Karsonakis)


Seems like yet another low caliber effort. We'd like to see one with Aerosmith and artists at that level.


News Reported: 05/06/02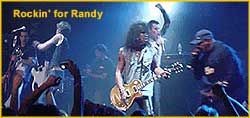 The Randy Castillo Benefit show sold out. If you got in, you saw SLASH giving a great performance with Matt, Duff and two Buckcherry guys. Kristen sent a review, and there is another one on Yahoo's Launch site sent to us by Lu Ann. Here's the link to the Launch article:

Guns at Castillo Tribute
Thanks, LuAnn! This review is from Kristen. She and a friend rolled up an $80 bar tab before heading off to the Key Club. They were anxious to see the old Guns and find out who would sub for Axl. Izzy did not make it, so two guys from Buckcherry filled out the band. Kristen said the club is very swanky, and she listened to the introductory bands before making her way to the front with her third Jack Daniels!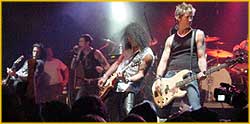 They led off with "It's So Easy" which Kristen had seen Snakepit perform. She said there was no question on the better band with Duff McKagan pounding out the bass line. Josh Todd from Buckcherry handled the Axl vocals, but you couldn't hear him because SLASH was so f*cking loud! SLASH played right over top of Kristen, dripping sweat and dropping cigarettes. Kristen snapped them up and finished them! Hearing "Paradise City" had Kristen just flipping out and no doubt mingling a little sweat with SLASH's! Then came a shower of roses from someone onstage. Better than a shower of guns! Kristen said the next moment was beyond her dreams: Steven Tyler singing "Mama Kin". He came over and sang the second verse pointing at her. She'll never forget this show. Wish we could have been there, too. And thanks, Kristen, for that great description!


Back to the world of TV where most of us see SLASH. Bridgechum gave us another listing for SLASH on TV. On an episode of the kids' show "Hey Arnold!", SLASH and the rest of GNR appear for a second. They are mentioned for doing a duet with famous singer Dino Spumoni. This is a cartoon show, and SLASH is the tough little cartoon character for a few seconds. Thanks, Bridgechum!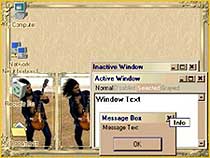 A theme is a way of changing the standard appearance of your desktop (or IM, etc) by changing the buttons, background and other things. LuAnn's web site has a ton of music themes including GNR and SLASH. You may download and use any/all of these you wish. If you have used themes before, you know what to do. If you haven't, LuAnn has some straightforward instructions right there on the site. These are just great, and thanks to LuAnn for sharing them with the rest of us. Here's where to get the cool SLASH ones:

LuAnn's Themes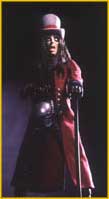 As you can see by the picture, Alice Cooper has joined the ranks of Kiss and the Beatles by having a collectible doll. It's 18" tall, dressed like Alice, plays "Welcome to My Nightmare" and has a bendy python. This is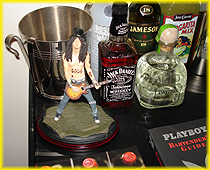 another appeal to SLASH to get with it and get a doll made. It could play "Welcome to the Jungle" and have a bendy albino boa. We were lucky enough to be the high bidder on the SLASH prototype doll. He's cool. If we knew how, we'd make one for each of you. SLASH says there are 3 things wrong with the doll. His bandana is tied in the wrong place and so on. The prototype was made for a toy company that went out of business before the doll could be produced. So near, yet so far.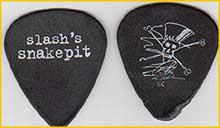 Thanks to Mindy and Michele for sending in the bulletin that they received their fan club membership packets today. Great! There's an ALG poster, autographed photo, pick, membership card, bio and discography. There's a temp tat and a welcome letter, too. Mindy says the welcome letter and poster are the standout items. Michele added that her name is on the membership card with date and member number (7). She has her photo framed already. Thanks to SLASH for setting this up from Michele. Wonder if you can use the old GNR membership card since that club folded, and the $40 fee was never refunded! We figure we get a few months for that! GNR pulled their support, and the club collapsed. SLASH seems to be fully behind this one, so enjoy your memberships.


News Reported: 05/03/02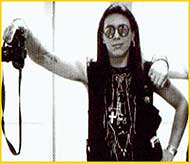 The Randy Castillo benefit concert Monday was the first chance to see SLASH live in quite awhile. A couple of fans did send in some reviews of the show! Jason says the show began at 8:45 with Nicklebag and went on for four and a half hours! There were other bands, but the big draw was the GNR "reunion" of SLASH, Duff and Matt. They did some from the old GNR setlist including "It's So Easy" and "Nice Boys". Next up was "God Save the Queen" followed with B-real from Cypress Hill joining them on stage for "Paradise City". As if this weren't enough to make you glad you came, out walked Aerosmith's Steven Tyler to sing "Mama Kin" with the band. The show ended with a half hour drum tribute to Randy Castillo that included about eight drummer friends of Randy's. Jason left awhile after that and ran into SLASH signing autographs and doing pictures with fans. Jason has been wanting an autograph from SLASH for so long; but when he was within a foot of SLASH, SLASH and entourage left. A big disappointment. We understand that the group left for a quieter club where they sat and considered baby names. Jason is still glad he went. He had to scalp tickets to get in. As soon as the name is settled, Jason, maybe you will do better in the autograph line! Thanks, Jason!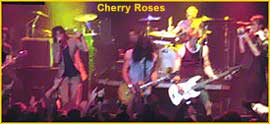 Ivan came back from the show exhausted, but he managed to send out a quick review of the show. Nickelbag opened. Randy's solo project "Azul" jammed and reminisced on Randy's life. Izzy was not there although he had been listed as confirmed. SLASH, Duff and Matt jammed with two guys from Buckcherry. The vocalist from Buckcherry handled vocals for the ex-Gunners. The GNR team had a great time and sounded fantastic. SLASH was smoking and headbanging. Ivan added "Lit Up" to the setlist and said the chemistry between the three was the same as ever. A drum off ended the show. Videos of Randy were shown on a big screen. Ivan pointed out something we wondered about...where was anyone from Motley Crue? Ivan is a big Crue fan, and he was looking forward to their being a part of the show. He thinks Vince is out of town (with Sammy Haggar?); but Nicky, who was very close to Randy, was in town but did not appear. Thanks, Ivan.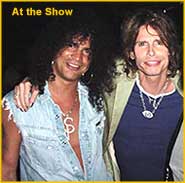 CDNOW had a big report on Randy's show, too. They led off their article with the news that Steven Tyler made a surprise appearance at this sold-out tribute concert. They reported that organizers called the Buckcherry/ex-GNR band Cherry Roses or Buck N'Guns. Buckcherry's singer Josh Todd did the vocals and guitarist Keith Nelson helped out on rhythm for this band mixture. Most performers, including Nickelbag, Montrose and Ball, told stories and paid tribute to Randy. Several comedians including MTV's Andy Dick kept the mood light. The finale was a drum circle of friends and associates in honor of Randy's chosen instrument. Ozzy Osborne did not attend due to scheduling problems centered around his TV show and forthcoming tour. The Osbornes contributed financially throughout Randy's illness and paid all funeral costs. Thanks to CDNOW for that report.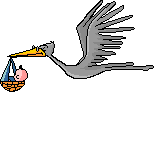 It's been a long time since we had a SLASH show to devote so much space to, and those outside California hope it won't be too long a wait till SLASH is on tour. Got to get that solo album done, find a label and be there to greet the new baby! Patience is in order.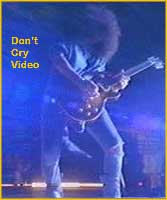 Samia, co-editor of Perfect Crime is from France. Sunday there was a fashion program "Paris Mode" on French TV Channel Paris Premiere. To Samia's surprise, they used GNR music as the soundtrack. At least twice they started with "Don't Cry" and then played the beginning of "November Rain". Samia was smiling all day. Samia says the next issue of Perfect Crime is underway and will be out in July. Thanks!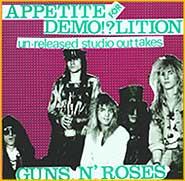 Casey sent in a question about this funny old song GNR used to do. He asks, "There is an old rap song called 'It Tastes Good, Don't It' that Guns N'Roses used to jam on. I was wondering if you could find out who does the original (what artist) because it's a funny song and I want to get a copy. Thank you".


SLASH replies, "Casey, 'Tastes Good, Don't It' was a jam we used to do when we were fooling around jamming or whatever, but I don't recall where it originated".


Thanks, SLASH and Casey!


News Reported: 05/01/02