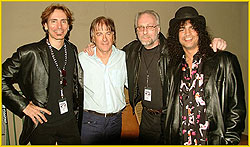 The Yardbirds contest ends tomorrow, May 31. If you haven't entered, you should! It's a simple drawing, so there are no tough questions to answer. The Yardbirds people are taking care of the drawing, emailing the winners and shipping the prizes (at no cost to you). At the contest site, you can hear SLASH's guesting on track 10, "Over, Under, Sideways, Down". He's terrific and does a long solo outro. The contest has only been advertised on this site, so you have a better chance. To reach the contest site, scroll up here and click on the album Birdland cover.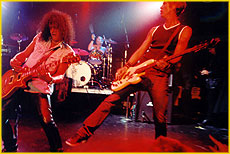 Pete is from the southeastern Wisconsin area. He wrote saying he heard a rumor on a big name Milwaukee radio station (102.one??) that SLASH and The Project were possibly going to be on the list for Milwaukee's Summerfest Performances. Pete says the Summerfest is the last week in June, first week in July. Since no tours have been announced for The Project, he didn't think it was likely but thought he might ask. We felt the same about it, but we did check with SLASH's management. And, it might be ON! We're told that SLASH is looking to do some one-offs, and this Summerfest could be one. However, they have no confirmed singer, so it's a time to wait and see. We have no idea if they would come with a temporary singer (as they did with Cypress Hill on the Kimmel show) or if it has to be the permanent singer. So, wait and see. Right now it is not on, but "possibly" is a good word from 102.one. Nice to see a responsible radio station! Thank you, Pete, for asking. We asked Pete to glue himself to the radio for any more announcements. Sounds like we should all be more aware of possibilities like this.



Last time we talked about Anna Nicole who said she hung out with horse racing enthusiast SLASH and others at the derby. Just a small point to add to your SLASH knowledge...SLASH is not into horse racing. He and Perla bet on some of the races, but both lost! Anna Nicole won, and she bet on every race at the Derby. Baby London also went to the Derby but did not bet and only lasted an hour there. By the way, Perla says that the littlest Hudson has front teeth, top and bottom with more on the way. He is starting to take some steps, too. No word on whether he has mastered the spins and jumps from Daddy yet.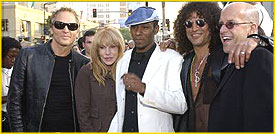 Today we saw The Italian Job on its first day here. We enjoyed the movie, especially those car and 'copter chases, but we were really there to hear "Money". It plays during the movie, but of course it is not complete. To hear the complete song, you have to stay for the entire credits. And is it worth it! It's musically sophisticated, but it rocks. Now we understand better why the band was upset that Weiland was coming apart. He does a great, great job. SLASH has some short solos, but the whole thing is just terrific. Right now, Amazon.com has available for preorder a soundtrack from this movie. This comes out June 24. While we are checking with SLASH's management, we have to go along with the original statement...no soundtrack. This may just be the score which is really too bad. When we get a definite answer again, we'll let you know, but we think there would have been a formal announcement if "Money" were on the album.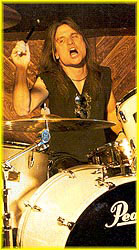 Matt Laug wrote to say hello to all the Snakepit fans. He also said that one of his previous plans we announced is not going to happen. He was to be touring with Melissa Etheridge, but now he's decided not to do that. Matt does a lot of session drummer work, and some things have come up that he needs to be in town for. So don't look for Matt at Melissa's shows this summer. Thanks, Matt, for the update! Speaking of Snakepit, Sam from England got to meet Keri Kelli when he toured with Love Hate there. Keri put Sam on the guest list and gave him a signed t-shirt and autograph. Keri told Sam he could be his roadie, but Sam was just 17 and in college. He wishes now he had said yes. Keri told Sam that SLASH is a cool dude to play with but if Sam wanted to be a good guitarist, he should learn the rhythm parts first, then the leads. Gilby Clarke was also there which made Sam's night out. Thanks, Sam!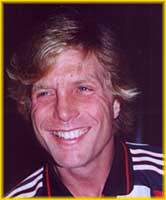 Tolson got to meet a familiar person, too...Steven Adler! Steven was appearing outside Philadelphia with Suki Jones. Tolson thinks we ought to give Steven a break. He took a big chance coming to the northeast while everyone else seems to lurk around LA. Steven was super nice; hit the drums really hard, rocked and joked with the crowd. Tolson says if you get the chance, go and see Steven. You can hang out backstage with him and get your old GNR stuff signed. He's bringing the old tunes to fans in a small setting. He's the real GNR thing! Thanks, Tolson!



News Reported: 05/30/03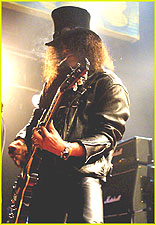 The big news for today is that the original song The Project wrote for the movie The Hulk, "Set Me Free", WILL be on the movie soundtrack. Universal Pictures renegotiated the deal with The Project so that "Set Me Free" is part of the movie and part of the soundtrack. The soundtrack is due out June 17, and the movie is coming out June 20. The soundtrack will consist of the movie score by Dan Elfman and this one vocal track. We're proud of you, guys! Scott Weiland joined The Project in providing the vocals. (note that Scott is not a permanent member of the band). You can pre-order the soundtrack right now at Amazon and many other music sites. Amazon's price is about $15. This is a good one to buy and get SLASH, Matt, Duff and Dave to sign it. Thanks to everyone who sent this in...especially Arlett, SLASH's publicist who wrote it in the first place!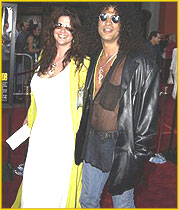 The Italian Job is also in the news. The movie's premiere took place in Hollywood at Grauman's Chinese Theater. SLASH and Perla were there as was Matt Sorum. SLASH had so many pictures taken of himself, with Perla, with Matt, with the director, producer, actors, actresses. It's a good time to be a SLASH fan! The buzz has all kinds of people coming out of the woodwork - even diehard new-GNR band fans are getting in on the excitement. Here's some pics you may not have seen, and if you are looking for more, blabbermouth.net has a list. Will The Hulk show at at his movie premiere? Making a thumbnail will be very difficult.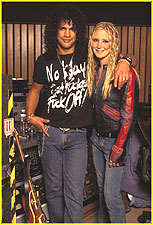 While we're very excited about these two songs, we haven't forgotten that someone else was to release an album this month featuring a track with SLASH. This is Elan, and we wrote to her through her web site to ask about an album release date. She replied! Elan says she will be releasing her first single "Midnight" in Latin America in the next few days. The information on the release dates for the album Street Child will be on her website soon. She says, "It was an honor to work with SLASH"! Elan and her brother approached SLASH about doing a track, and SLASH liked her sound so well that he did one. SLASH is on the title track, "Street Child". If you haven't seen it, there is a one minute clip from a video, and you do get to see and hear SLASH who is magnificent. Elan has a good interview there about how tough it is to stay with rock and roll in these times. Check out Elan at:


Elan's Web Site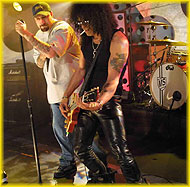 If you missed the Jimmy Kimmel show where SLASH co-hosted and The Project had its TV debut, it's on tonight, May 29 at 12:05am ET on ABC. Cypress Hill provides the vocals. Some other SLASH shows, all repeats, are also on soon. VH1 All Access presents "Rock & Roll Weddings" on June 2 at 11am ET and at 10pm ET. "How the Stars Get Hot" is on VH1 June 2 at 2pm.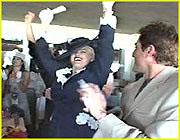 Tommy was watching the Anna Nicole show Monday, and she was talking about her trip to the Kentucky Derby. She showed a picture of SLASH and Perla at the Derby! Here's what Anna did when the horses were not running: "But there were plenty of folks to keep Anna occupied. (Oh, and her hat looked fab!) Fans clamored for autographs, and Anna hung with a diverse cast of horse lovers, such as Larry King, Slash from Guns 'N' Roses and 'N Sync's Joey Fatone. The topper of the day? Anna's pony ponied up a win!" We never did hear if SLASH won or not. Never bet against Anna, SLASH! Thanks, Tommy!



News Reported: 05/28/03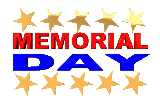 Monday, May 26 is Memorial Day, a national holiday in the US. This is the day we honor those who fought and died in war. We will not be here on Monday, but we'll be back again Wednesay, the 28th. Enjoy the holiday!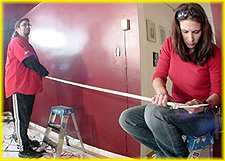 A new video has been added to the SLASH Videos section, and it's from the Trading Spaces show. Trading Spaces is on The Learning Channel (TLC), and the premise of the show is for two couples to redo a room in the other couple's home. Teddy Zigzag Andreadis was on the show, and SLASH stopped in to see him! Teddy was just about to get a lesson on using the sewing machine when SLASH rescued him. Before long, he and Teddy are off looking at a pinball game! The Slash Videos are found at www.snakepit.org, scroll down to Fan Info menu, click SLASH Videos. It is the first video and it requires Real player. Coming soon: clips from when SLASH co-hosted the Jimmy Kimmel show.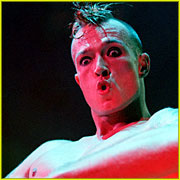 Today's update on the Scott Weiland drug bust just adds more detail to the overall picture. MTV reports that Scott was in rehab within the last two weeks but left after failing a drug test there. A founder of the Musician's Assistance Program (helps musicians with drug and alcohol addictions) said that when he met with Scott, Scott couldn't sit down or look at anything because he was just too wired. He says Scott needs to be somewhere for a long time so they can address his psychological problems. Weiland also suffers from bipolar disorder (manic depression) for which he refuses to take medication because he feels it dulls his personality. Charged with cocaine and heroin possession, Weiland faces up to a year in jail if convicted. The D.A.'s office told MTV that his prior drug convictions (1997, 1999) more or less keep him from being sent to rehab instead of jail. Arraignment is June 2. The Project has not yet issued a statement.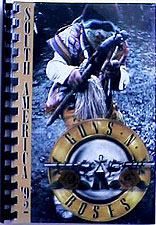 South American fans are among SLASH's most enthusiastic fans. Nicolas (from Columbia) has started a forum in Spanish with a section dedicated to a discussion of Guns N'Roses. You can talk about the original band and the new one in Spanish and meet some new friends there. The site is:

GNR Forum in Spanish

Londrino sent some news that he might also want to post on the Forum. He tells us that the Brazilian magazine Cover Guitarra has a full transcript of SLASH's Snakepit's "Beggars & Hangers-On" for guitar with notation and tablature. Thanks, Nicolas and Londrino!



Vicki got her copy of the July 2003 issue of Guitar Player. If you also get this, please check page 98 in the ad for West L.A. Music. She says there are 15 tiny pictures there, and that 2 of them may be SLASH, but her vision just isn't good enough to tell for sure. One is in profile and one is full face...has a big smile, curly hair, huge hoop earrings. If you see it and have sharp eyes, let us know. Thanks!


Ben saw SLASH on VH1, but he wasn't too pleased with it. The show was about the fugliest rock stars (and we don't think that means real good lookin'!). SLASH was one of them!! Some people said that SLASH was lucky to have all that hair to cover his face. Come on! We always think of SLASH as Chick Magnet! Ben saw another VH1 show; this was on celebrity hair. This mention is better. First, they talked about how people add extensions to their hair, and they said Axl didn't do well with his additions. Then they said that SLASH's hair really looks good (YEA!!) and that his hair in the "Welcome to the Jungle" video looks better than Axl's. You know, SLASH takes very good care of his hair using special shampoo to keep it full and healthy looking. Thanks, Ben!



We want to wish all of you celebrating Memorial Day a very nice holiday. Enjoy the day off work or school. We hope SLASH, Perla and Baby London will get out in the warm California sun and spend a little family time together. See you all next week.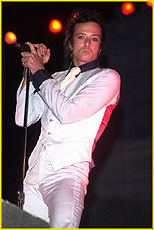 Tonight continues the sad story of Scott Weiland. Here's what's different than what was reported here 2 nights ago. The reports come from responsible music sites, but there is nothing yet from SLASH. One difference is that now it says Scott's bond was $25,000 not $10,000 as originally reported. The LA District Attorney's office have now charged Scott with one count of possession of an illegal substance. The drugs found in the car were cocaine and heroin. He will be arraigned June 2. At this time he will plead guilty or not guilty, and he will be continued on bond or held without bond or released with increased bond. This is not a major criminal offense (such as armed robbery), so he will no doubt continue on the original bond. Then begin the negotiations for a plea bargain. If the case goes to trial, Scott could face up to a year in jail. This is not his first drug offense; he's picked up a couple before and has violated his probations in the past. There's no way that can help him. A source close to Weiland says that he should go to jail as it was the only time he has been clean in years. It just might save his life. SLASH has been quiet on this. Many years ago SLASH was also an addict, and it would be tough to kick Scott when he is down. However, you can't have a lead vocalist that's in jail or taking drugs. There's talk in the music sites of 24 hour supervision of Scott and of his completing another rehab stint. None of that guarantees the future. Will SLASH let his dream band go on hold? As events unfold, we'll keep you posted.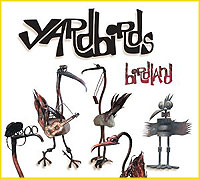 On a lighter note, we just wanted to remind you that the Yardbirds contest ends May 30. There will be three winners. The first prize is the Yardbirds album Birdland that SLASH played on (track 10, "Over, Under, Sideways, Down"). The first prize winner will also receive an autographed book about the band. Second and third prizes are the Birdland CD. Only one entry per person. If you haven't entered, it's time to do that now. Scroll up till you see the CD, click and you're there. It's a simple random drawing. Good luck!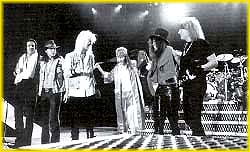 Elin from Norway was reading her local newspaper awhile back, and there was a list of the best protest songs in the 90s. Guns N'Roses, as expected, was on the list at #15. Now if you thought it was for "Civil War", it wasn't. It was for "Get In The Ring"! Some other artists on the list were Madonna, Black Sabbath and Bob Dylan. Thanks, Elin!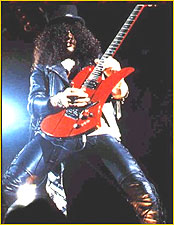 Here's a fan question for SLASH from Ray. Ray asks, "In your great performance with Michael Jackson during his 30th anniversary show, you used your BC Rich Mockingbird. I noticed it had a tremolo bar on it. I've never seen you use a tremolo bar. Do you ever use one?"

SLASH replies, "I use a tremolo on certain songs. But only then. My BC Rich is my main tremolo guitar".

Thank you, SLASH and Ray for unearthing another guitar fact!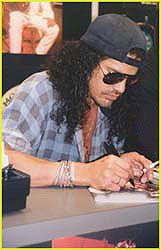 Don't forget that every single question asked and answered by SLASH is in a special section. This is the SLASH Answers Your Questions section. You can find it at www.snakepit.org on the menu. The questions are gathered by year, and each month any questions are attached to that year's list. There are lists for 2001, 2002 and the current list, 2003. Most are guitar questions, but there are lots of others mixed in. You can send your questions to SLASH at webmaster@snakepit.org. Please make the subject SLASH Question or something similar. No personal questions, please, but anything about his guitar playing and career are fine. He has just finished the last 25 we sent, and they are on their way back. Questions are not returned to the sender...all are posted here and then put in the archive lists.



News Reported: 05/21/03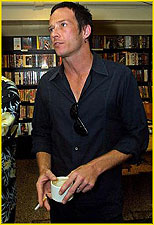 Scott Weiland has been arrested on charges of drug possession after police stopped him driving without lights and spotted narcotics in his car. Weiland was released on $10,000 bail at 5:30am Sunday according to the Associated Press. This is not Weiland's first encounter with the law. He was previously arrested for cocaine and heroin possession and served time in 1999 after repeatedly violating parole and failing to complete drug rehab programs. In 2001 he was arrested on a charge of domestic battery when he and his wife got into a fight at the Hard Rock in Las Vegas. The charges were to be dismissed if Weiland got counseling. Last fall his wife Mary filed for divorce. The couple has two small children.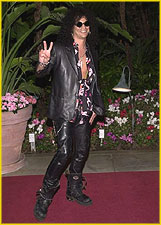 From the time SLASH had Weiland in for an audition, fans were nervous about Scott's drug usage. With SLASH's background, exposure to drug addicts is always a problem. Matt Sorum is the one who is Scott's best buddy in the group. SLASH and Duff really took to him because he is a truly smashing rock vocalist. What SLASH will do about this is not known at this time. More is sure to be announced on this soon. It's funny that so much GNR-type controversy has already swirled around this band. Thanks to Brian, Diane, Kimberli and Lawrence for sending this in.



Michele and Kimberli sent in the addresses of a couple sites where you can see pictures of SLASH going into the premiere of the movie Bruce Almighty. SLASH isn't smiling too much; maybe they were late. Here's a couple of nice photos of him alone and with wife Perla. Baby London decided to spend the evening poolside with his Nanny!

SLASH Goes To The Movies!
Premiere of Bruce Almighty with Jim Carrey.
Los Angeles, CA
Does your tooth hurt?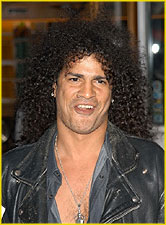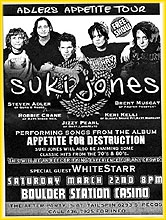 Steven Adler's been on the road with Suki Jones, and several fans have been to see them. Joe says he got to meet Steven, and he couldn't have been nicer. He got off the phone to sign a nice print Joe got from Robert John. Joe reports that Steven does show signs of wear and tear, but he was really glad to meet him at last. Ray went to a Suki Jones show early this month, and he thought they were a really good band. While the venue held about 300 people, Ray says there were only about 75 in the audience. The radio promotion wasn't very good. Keri Kelli invited Ray backstage where Steven was. Steven said he wished he had a beer to offer, but Ray asked for a picture of Keri and Steven instead. The band played the GNR songs really well. Steven hasn't forgotten how to play those. Ramone also saw Suki Jones, and he really liked the band. He said he was completely blown away by Steven. While Ray liked the singer, Jizzy Pearl, Ramone thought he was terrible. Ramone says there were 100 or so people in the audience. After the set, they did a signing except Jizzy who seemed to be in cool rocker mode. Ramone said Steven was clean but didn't seem well. His words were slurred, and he couldn't seem to hold his thoughts together. But he ruled the drum kit, and he's out doing what he wants to do. Thanks, Joe, Ray and Ramone!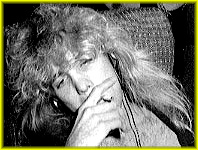 We posted a couple of Steven's interviews before. He wasn't sounding very well on those. Here's another where he sounds better. Rui found these for us. Steven says he enjoys playing AFD more with his Suki Jones band than he did with GNR! He also talks about Axl, the new GNR and a little about the original band. Thank, Rui!

Interview with Steven Adler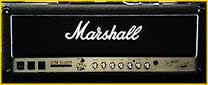 Roman is from Switzerland, and he sent in something from the German magazine Guitar January 2003. This appeared in at least one US guitar magazine, too; but if you haven't seen it, here's your chance. This is in an ad for Marshall where guitar stars wrote some words for the 40th birthday of Marshall. This is nice quality and highly visible. The first two pictures are a lot of different rockers signing their thoughts, and the third is SLASH's by itself. Thanks, Ramone!

Picture 1: Various Rockers

Picture 2: Various Rockers

Picture 3: SLASH!





News Reported: 05/19/03


If you haven't entered the SLASH/Yardbirds Contest yet, you'll see the entry instructions at the top of the News. Click on the Yardbirds' Birdland cover to read all about, then go ahead and enter!



Recently there's been so much speculation about SLASH's future band that we thought we'd show you some photos of a not-yet-famous SLASH in a band called Black Sheep. Thanks to Rob S. who sent in the four photos. Although basically looking the same, notice the biceps are not as large, there's no nose ring or top hat or Les Paul. Rob identifies this snazzy red guitar as a B.C. Rich Warlock. Note that SLASH is already wearing funny tshirts and some jewelry. He's very young looking, but we don't know when these were taken. He looks about 17? And we don't recognize anyone else in the pictures. How about you? Mostly what you get here is that SLASH was always in a band, always played guitar and always looked like he would someday be a star!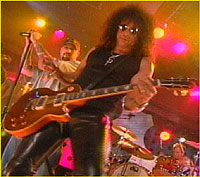 Maybe someone can help with this. At the Gibson site, there's an article from February 2003, and the subject is the announcement of the Gibson Guitar Awards Nominees. There are many categories, but the one of interest is Rock Guitarist. The nominees listed are: Zakk Wylde, Lenny Kravitz, Charlie Sexton, Richie Sambora and SLASH. The awards were to be presented February 20 at the Cutting Room in NYC form 11:30am to 1pm. (SLASH wonders what am is!) It says that members of the music media are the judges. Nowhere can we find on this site or any other who won any of the awards. If SLASH had won, we would have heard, and so we were just curious who did win. Contacting Gibson through email brought no response. If anyone remembers this, please let us know. Thanks!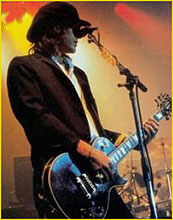 Izzy fans! This one's for you. Black Market Publishing announced that they are planning the first Izzy biography. The book is due out in spring 2004. The book will cover Izzy's career from his beginnings in Lafayette, Indiana to the streets of LA where he met up with Axl. GNR's rise to fame will be covered with special emphasis on Izzy's contributions. Izzy became a multimillionaire and then chose to disappear at the height of GNR's popularity. Black Market promise interviews with former and current GNR insiders and other sources. Jake Brown is listed as the author. For more information, check Black Market Publishing at www.blackmarketpublishing.com. There are sure to be many SLASH mentions, so it looks like we have something cool to look forward to in 2004. Thanks, Sammy for sending that in.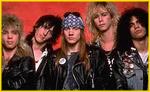 It is confirmed that Robert John, the official GNR photographer, has filed a lawsuit against Axl Rose charging fraud and breach of contract. Evidently Rose was offered photos of GNR taken by Robert, and Axl has neither paid for the photos nor returned them. Last time we reported that there were hundreds of photos, but we understand there are many more than that. A beautiful collection that Axl has had since January. Clearly too busy to check these out. Let's hope the photos or a check arrive at Robert's home very soon. Speaking of Axl, he's popped up in NYC where he was spotted without Robert's photos but with a "sexy Asian woman" at Suite 16 in Manhattan. Showing that he has not lost his distaste for the original band's music, he went up to the deejay and asked him to stop playing the band's hit "Paradise City". While most of us live to hear some GNR music when we're out, Axl wants to shut it off. Tough to pretend the greatest rock band in the world never existed. "Take me down to Paradise City...".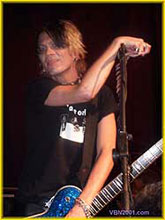 Let's end on a positive story. Keri Kelli is really busy since Snakepit ended. And yes, he and SLASH are still friends. When he's in town, he stops in to see SLASH at the studio. Keri's in Steven Adler's Suki Jones band, but that's not enough for Keri! He's still with Back in Black, a jam band, and they'll be at Kingman Alamo, AZ on May 30 and Pink E's in Las Vegas on May 31. There's another band member you'll know from Snakepit, Matt Laug! These two are really friendly so be sure you talk to them after the show.



To all the Moms out there, Sunday is your day! Happy Mother's Day! We hope you can spend some time with the kids, and some time doing things you want to do. Get out "Appetite for Destruction" and do a little serpentine for your husband! A special Mother's Day greeting for Perla, Mrs. Saul Hudson, who became a first time Mom August 28. Happy Mother's Day, Perla!





News Reported: 05/09/03

The Project is heating up, so let's get up to date. Recently we told you that they covered Pink Floyd's classic "Money" for the soundtrack of The Italian Job. The movie comes out May 30, but it will have its world premier showing at Robert DeNiro's Tribeca Film Festival on May 11 at the Closing Night Gala. The soundtrack is due out May 26. If you'd like to read more about The Italian Job, there's information all over the net. The official site is at ItalianJobMovie.com. Watch the trailer at Yahoo! Movies. The Project contributed another song to a movie soundtrack. The Hulk is based on the original Marvel comics story, so they say, and the trailer for this one is worth watching, too. The Project's song is "Set Me Free", and this one is an original song! The movie comes out June 20. It's official site is at thehulk.com, and the trailer is at Yahoo! Movies. No word on the soundtrack release date as yet.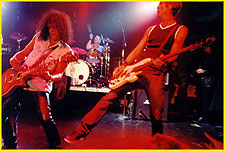 Duff and Matt were at the mtvICON taping last weekend. When asked about the band name, Matt said they were all calling it The Project, but that was not set in stone. We've heard an alternative, and it's great...just get going! As for the new vocalist, Matt indicated that when Scott Weiland came into the studio the first day, they knew he was the one. Other band sources say it is Scott Weiland, also. We do know that it is Scott's voice you will hear on those two soundtrack songs. As of this evening, Scott is NOT an official member of the band. And when SLASH says it's official and announces it, then it will be official. Until then, there is no permanent vocalist in the band. Patience. Thanks, Brian, for sending in some of that information!



Going back to the Derby, there was a great SLASH mention in the Louisville Courier-Journal. At the Barnstable Brown party, a very elegant and desirable party, SLASH jammed with Kid Rock. Here's what they said:

(Travis) Tritt and (Kid) Rock rocked the crowd with two rowdy duets, "Rolling on the River" and "Sweet Home Alabama", that belied the fact that neither they nor the band had rehearsed a single note. They were joined by former Guns N'Roses guitarist SLASH, who picked his axe for 30 minutes straight, moving from one song to another with such seamless ease that he threatened to steal the show right from under Rock's nose. What a winner!


Now, an update on that weekend Canadian show, Power Hour. This really sounds like a great show with videos, SLASH and Duff. The interviews were done at the opening of the Hard Rock Vault in Orlando, FL. SLASH said that Dave Kushner (ex-Loaded) is in the band (instead of Izzy). Izzy helped write 10 songs, will do some recording and be on the album. SLASH said he didn't know if Izzy would do any live shows because "That's Izzy" and Izzy is burned out on the whole industry. SLASH mentioned he bought his 8 month old son a Les Paul for Christmas, but he says they'll have to wait and see if London is interested or not. SLASH says he has the new singer, but he will not announce it till he has the new band name. Axl was brought up, and SLASH said they didn't need to talk about him. SLASH said he was suicidal when he left GNR. People say he was nuts for leaving all the money and the biggest band in the world, but he said it was never about money for him. SLASH said that when the new GNR tour fell apart because of Axl's shenanigans, he felt vindicated. Duff mentioned how bad his condition was when he left GNR. His one regret is that they lost the band name because he's watched it get ruined. All the band members worked their butts off to create that name, and now it's getting wrecked. Tell it like it is, Duff! Eric sent all this in - a special thanks, Eric!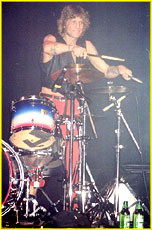 We'll end with this Steven Adler interview because it's kind of sad. Steven has his band, Sukie Jones, on tour; and of course the calls are coming in for promotional interviews. In this recent one, Steven sounds just terrible. We assume that a great deal of it is due to his strokes which can leave you with slurring speech. The interviewer seems to know nothing about this and spends minute after minute asking why Steven is talking like that. Even if he's just tired, it's a little rude. If you can get past that part, Steven does have some things to say about his band, GNR, SLASH, Axl, Matt. Not all of it makes a lot of sense, but you can see for yourself. Note that there are two interviews on this site:



Steven Adler Interview





News Reported: 05/07/03


In case you were wondering, SLASH really did pass up the Metallica mtvICON filming and head for the Kentucky Derby with wife Perla. A fan of both SLASH and Metallica, Steve had fan tickets to the taping, had a great time and didn't see SLASH. No one claimed to have seen him in that mob at the Derby, but Michael reports that he and SLASH were on the same flight out. Michael quizzed the tophatted one on The Project: who will be the new vocalist, and Michael says that SLASH told him Scott Weiland. If SLASH is certain on this decision, there should be a press release soon. We are unable to confirm at this time, but hopefully there will be some kind of announcement very soon.



We do have some SLASH-at-the-Derby feedback. Brian is from Louisville, KY, home of the Kentucky Derby, and he has been checking out the papers and TV coverage there. The closest he got to seeing SLASH was on TV when they were showing horses and the odds. A news team was doing a voice over on the crowd when suddenly one of these local reporters blurted, "Hey! There's SLASH from Guns N'Roses! SLASH is right behind us!" Brian said she seemed very excited, and the co-anchor asked, "Did you used to be a groupie?" SLASH always is in chick magnet mode. Just a natural thing. Brian wanted so much to be there. He heard there was a jam session at the Barnstable Brown Gala that SLASH went to, but Brian hasn't heard if SLASH joined in or not. We just learned today he was onstage jamming with Kid Rock on vocals.How could you keep him in his chair? News to us was that this party is the biggest Derby party...last year, tickets went for $500 each, and they sell out months in advance. All proceeds went to diabetes research, half to the University of Kentucky and half to the University of Louisville for this much needed research. Brian is also diabetic, so he says it was great having SLASH help the cause. Thanks, Brian, and let us know if you see or hear anymore.



A couple of newspapers had some SLASH-at-the-Derby mentions. The Courier-Journal in Louisville did a nice article on the big fundraiser parties and the celeb guests. The article talks about how this is a time of war and peace in the US, and it's time to have some fun. Here's what they said about Our Guy: "After a month of tanks and troops, they give us Guns N'Roses--- or the band's guitarist, at least: a peacenik named SLASH who wields a mean Les Paul guitar." Take aim at Jerry Berliant, a Chicago entry magician, who said that he would not bother to crash the Barnstable party this year: 'Bo Derek, SLASH, Phil Donahue, nothing but zeroes.' Not invited to the party, Jerry? And who are you anyway? The parties are over, and the Derby was run. It looked like a fine weekend for the Hudsons. Now back to work, SLASH!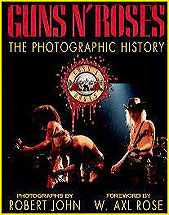 The most startling news over the weekend was learning that Robert John, official GNR photographer, is suing Axl Rose for refusing to honor a contract. Robert is such a nice guy, and he has sold us a couple of wonderful SLASH tidbits over the years. Robert sold Axl a set of hundreds of photos of GNR taken since 1985. The price? $80,000. Axl has neither paid nor returned the photos. As you know, Robert was good friends with the band, and he documented their career in Guns N'Roses - The Photographic History which was used to produce a one hour TV show on the band and Robert. Even when Guns fell apart, Robert remained friendly with the old band. He told me he didn't work with the new GNR as he just never had that same feeling for them. Opposing Axl in a lawsuit is not going to be pleasant, but Robert should come out fine. How long does it take to preview the pictures? Note to Axl: pay for them or return them. It's been 5 months. To read more on this, see Blabbermouth News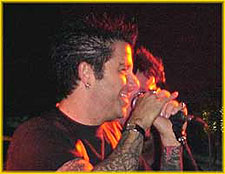 Now that you're back, let's send you off again. This time to Metal-Sludge to pick up a couple more SLASH mentions. There's a 20 Questions interview with Riki Rachtman, former host of MTV's Headbanger's Ball. He's asked in Question 10 when he has last seen the GNR guys. He says he saw SLASH last night, and he's AWESOME. He said Duff is, too. Axl was his real pal, and you'll want to read about that. In Question 11, they asked Riki which lead singer looks the worst now but was really good looking back in the day. He said CC Deville. And then he says, "Like a lot of people, you'd think... SLASH would look dead after all the shit that he's done. And he's not. He looks good. Even the interviewer said so. So do we.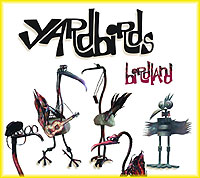 CONTEST! How would you like to hear SLASH play the smash Yardbird tune "Over, Under, Sideways, Down" in your car, office or house? We can't send the man himself, but we'd like you to win a copy of the newly released Yardbird album, Birdland. This album is a prize not just for the SLASH appearance but also for the other guitar stars on other tracks. It's a wonderful album. The nice people on the Yardbirds team are making three prizes available, and the advertisement is just for this site. It's a drawing, so you needn't be a Yardbirds expert to enter. The first prize is a book signed by Yardbirds Chris Dreja and Jim McCarty plus the CD. Two second prizes of the CD will also be awarded. The contest will end one month from today. Why not go over and enter now? The Yardbirds people have taken care of having a special form for entries, and they will draw the winners and ship the prizes. And if you don't win, get out and buy a copy! Here's the address for entering:


Yardbirds Contest

We'll remind you of this throughout the month. Click "ecard" when you are there to see a cool intro and then listen to SLASH's song! One entry per person, please. Entries are taken through the end of May!



News Reported: 05/05/03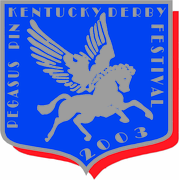 Tomorrow, MTV will tape its mtvICON show on Metallica before a live studio audience. SLASH was invited to come, but he has a schedule conflict. They are taping the whole show at once, so he couldn't make arrangements to do his spoken tribute. He will not be there. Where he will be is at Churchill Downs at the Race for the Roses, the Kentucky Derby. We've been told that he may wear his top hat, so we should be able to spot him in the celebrity crowd.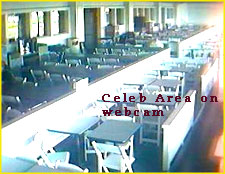 There are several webcams around, and you might see him in the celebrity area or out near the track. The Derby show is on all day, but the running will be during the shows that begin at 5pm ET...NBC is one of these. SLASH and wife Perla will be there. Baby London is also coming along, but he might hang out at the hotel!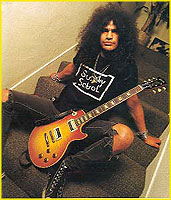 London is really a sweet looking little guy. He looks really big in photos with his Mom, but with Dad, he still looks tiny. He's just a bit over 8 months old, and his development is right on schedule. In photos, he really has SLASH's eyes...and the facial expression when they aren't smiling. SLASH's look to a T. Otherwise he still favors his mom. No photos of London will be posted here at the family's request. We'll keep you up to date as much as possible.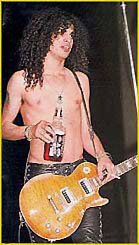 Brian, Allen and Sebastian sent us out to chase down the May 15 issue of Rolling Stone, the one with the American flag on the cover. Seems SLASH contributed a short article that was part of a large feature on American icons. Musicians identified what they see as American icons and wrote about them. SLASH wrote about Jack Daniels. The subtitle says, "Sip it. Pound it. Mix it. Its place in rock remains the same." SLASH talked about seeing rockers like Keith Richards and Jimmy Page carrying their Jack onstage or on airplanes...everywhere. SLASH said he started drinking Jack as soon as he could afford it. Seems like he wanted to project the right rock image and just mellow out. He says he got to a point in his life where all he needed was his guitar, his Jack and his cigarettes. To this day, it's on his tour rider, and people send him Jack for his birthday. SLASH says he's cut back on the drinking, and he's eliminated daytime drinking, but at night he still has his Jack and coke. A nice article...go out and read it in SLASH's own words (p.114).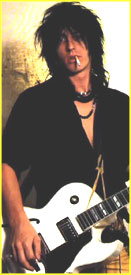 As promised, Izzy answered some fan questions. The Q&A can be found on an Izzy fan site. He talks about the new album he is making, a possible tour and the "lost ju ju hounds record". Here's where you can read the latest news from Izzy: Izzy Q&A.


Another ex-Gunner, Steven Adler, was interviewed for a future issue of Rolling Stone. He's a confirmed special guest on the Poison/Vince Neil summer tour when it hits the Mitchell Pavilion in Woodlands, Texas on July 19. Steven answers some fan questions at popcornadler@hotmail.com.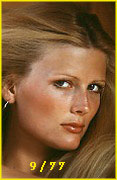 Some interesting and funny mentions: SLASH gets a small mention in the current Playboy (Sarah from 'Joe Millionaire' on cover). SLASH says his favorite Playmate is Miss September of 1977 for her very long blonde hair. (Thanks, Tamara!). Get that man a fresh copy! Matias found a bulk candy vending company on the net named Gums N Roses. Absolutely nothing to do with the band; but if you are in need of candy machines for your store, they are at www.gumsnroses.com. Finally, Charles found a bar named Guns and Roses in Vietnam of all places. Under the heading of night entertainment the guide book says, "The backpacker's area (De Tham and Pham Ngu Lao) also has some pretty good bars - Guns and Roses, Rolling Stone and Alley Boo, for example. These tend to be cheaper than at the other end of town. " And from a traveler's page, "I felt like having more beer so I walked toward where I knew a couple of pubs were. I passed one (called "Guns and Roses" -- it should really be "'n'" instead of "and" or better yet the name could have been "G'n'F'n'R" but oh well) but it was empty except for Vietnamese chicks...". So, if you find yourself in Vietnam, you'll know where to have a drink! Thanks, Charles.



News Reported: 05/02/03


If you haven't entered the SLASH/Yardbirds Contest yet, you'll see the entry instructions at the top of the News. Click on the Yardbirds' Birdland cover to read all about, then go ahead and enter!



The band met to decide on what they would call themselves on the two soundtrack songs. They are going with their individual names. Whether Scott's jumping the gun announcing Reloaded as the name was a factor, we don't know. Another might be the huge new Matrix movie, Matrix: Reloaded, that's coming out worldwide. In any event, they are now listed as individuals. As the typist, we're going back to The Project. As for the soundtracks, we told you last time that neither song would appear on the album's soundtrack. The Hulk's soundtrack will just be the original score. Who makes these decisions? That album is due out June 17 which gives you time to cancel your pre-orders. The Italian Job looks like a good movie, but there may not be a soundtrack released for that one.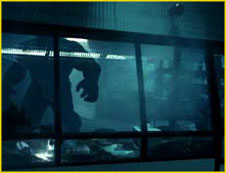 Asssian sent a note that he thinks The Project's song is on the first trailer for The Hulk. We think it is also on the second, possible the same music. It is not on the other two trailers. You can see and hear these at the official site (and others), www.thehulk.com. It's so good, that we really need more. Maybe it will be a single and/or a video?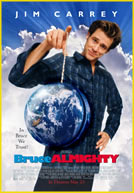 This week has been a hectic one for SLASH what with finishing up some songs and dealing with the Weiland announcement confusion. So, Wednesday night he took a break and went to the movies. SLASH was spotted at the premiere of Jim Carrey's Bruce Almighty. This sounds like one of Carrey's better films. He curses God for all that's wrong in the world, and God challenges him to do better or a cataclysm will befall the earth. Hopefully, SLASH had a few laughs. SLASH says he doesn't often go to the movies as it's tough to smoke there. Also once he fell asleep, and a nearby moviegoer reported him to the ushers for "snoring like a polar bear". SLASH has a sleeping disorder, and he sleeps very little but takes naps when he is sleepy. Next time bring a blanket and pillow, SLASH! We're told there are pictures of him at the premiere, so let us know if you see any!



Our apologies for a mixup on Noel Redding who died this week. Noel was the bassist for the Jimi Hendrix Experience, and we reported that SLASH played with him. The band SLASH played with was the Band of Gypsies, a later Hendrix band. Thanks, Ray, for setting the record straight.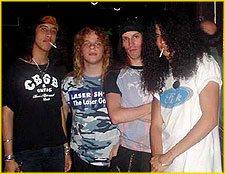 In Elin's native Norway, they have a TV show called "Idol" where young kids compete to become stars. One of the judges, a music journalist, was in NYC many years ago. He went to an early GNR show. After he heard "Welcome to the Jungle", he said this band would never get very far. Just a one hit wonder. He ate those words when three months later GNR was the top rock band in the world! Elin also wants to recommend to you the Ronnie Wood DVD Far East Man. She says that SLASH is on almost every song, playing great as always! Thanks, Elin!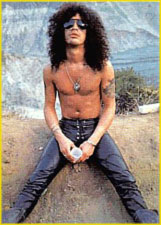 Get in the mood for TV re-runs. Here's the TV SLASH/original GNR schedule. This first one is a good one. It's "How the Stars Get Hot", and it's on VH1 Friday, May 23 at 3pm ET. This is the story of the stylists who "dress" the music celbs. SLASH is on this one trying on a pair of black leather pants. This is the one and only item she has made for SLASH although she makes it sound like he is there a lot. SLASH talks and smokes and comments...the usual relaxing SLASH appearance. GNR appears on "Headbangers Ball Uncensored". Of course, they are taped. Another good one. It's on MTV2 Saturday, May 17 at 1pm ET and Sunday, May 25 at 3am ET. On Friday, May 23 at 11am ET, VH1 presents "25 Greatest Power Ballads". It's also on at 9pm that same day. On Saturday, May 24, it's on again at 12:30pm ET. There's one more listing...for Sunday, May 25 at 2pm ET. These are power ballads written and sung by hard rock bands. And you can probably figure out the ones for GNR. SLASH doesn't like ballads so these were not his favorites, but he was understandably proud of his work on these. You'll have to stay up late for this one on Sunday, May 25 at 1am. This is "Testimony: 20 Years of Rock on MTV", and it highlights the key moments of rock on MTV. SLASH makes an appearance, and the show is on MTV2. Check local listings to confirm times and stations.







Declan took a lot of time getting this article together for us. If you haven't read it, you'll find it very interesting. It's from the June 2003 issue of the UK's Total Guitar. Each page including the enlarged cover page is linked below. Just click and print or read. Thanks, Declan!






News Reported: 05/16/03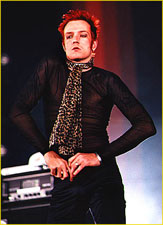 First, thanks to everyone who sent in the MTV, VH-1 and Rolling Stones articles where Weiland announced he is the singer for The Project. As such, he must have thought he might also announce Reloaded as the band name. Having heard nothing from SLASH himself or his management, we went to them for confirmation. The answer from SLASH and his management team is that no contracts have been signed. Scott Weiland is not the official vocalist for the band as yet. Matt and Scott were at the Manson concert when this occurred, and you notice Matt did not confirm there and then. The band was really pleased with Scott's work on the two soundtrack songs, but SLASH still wants to check the demos sent in.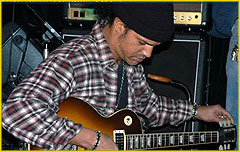 Also, there are Scott's rehab issues to settle which are becoming more and more of a concern. We cannot even confirm Reloaded as the band name although it certainly seems to have the pole position at this time. The word is that when it comes from SLASH, it is official. SLASH says that the band will meet Friday to decide what to call themselves on the "Set Me Free" song they are doing for The Hulk movie. The Project was the artist name used for "Money" on The Italian Job film. For more information on the step back MTV has taken, we'll send you over to their site where they also have some information on the band's music:
The Project: Summary!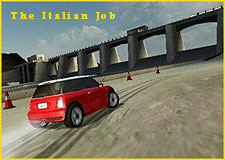 We've learned from SLASH's management that neither the song for The Italian Job nor the one for The Hulk will be on the album soundtracks for those movies. The songs will be on the soundtrack of the movie itself. Think you can spot SLASH's vibe and Scott's voice? Many of you were able to spot the small bit of "Jizz Da Pit" on Jackie Brown, so we'll wait to hear from you on this one. Try to find "Money" by Pink Floyd and get a listen..that's the one The Project is covering for The Italian Job. For The Hulk, let's hope for volume set high during their original song "Set Me Free". Listen for SLASH and also for Scott hitting some high notes. Take a small tape recorder and collect the song if you can drown out the popcorn munching. This group overcomes difficulties!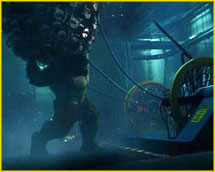 This press release comes from the band's management on the subject of The Hulk:

"When former Guns N' Roses drummer Matt Sorum was asked to organize a benefit turned 'tribute' for former Ozzy Osbourne drummer Randy Castillo who suddenly died of cancer on March 26, 2002, he called his ex-GNR band members Slash and Duff to collaborate. It was obvious that the chemistry between them did not fade over the years, and it paved the way to a reunion of sorts. Duff called Dave Kushner, who not only played with Duff in his post-GNR band "Loaded", Dave also went to Junior High and High School with Slash. Finding the right singer/songwriter would make the band complete.. Duff's wife happens to be friends with Stone Temple Pilot's singer Scott Weiland's wife, and a conversation turned into dinner for 4, and Scott was 'interested' in working with the band.. Initially nothing happened, until about 7 months later, when Slash and his still unnamed band referred to as "The Project" were asked to contribute a song for the feature film "The Hulk" due out in June. Duff called Scott and asked if he would be interested in working on a particular song the band had written. He was, wrote the lyrics to the song now called "Set Me Free" and recorded it with the band."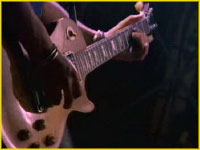 If you keep track of Duff's guest appearances, there is one on the new Alien Crime Syndicate's record XL From Coast to Coast. Jeff Rouse (ex-Loaded) recruited Duff to do the bass on "Don't Go Breaking My Heart". The album comes out on toshiba/emi August 6, but this Duff track is a bonus track, Japan only, so you'll need the import to hear Duff. Thanks, Sam.


The newspaper tonight had an obituary for Noel Redding, a bassist SLASH has worked with several times. Noel is from the original Jimi Hendrix Experience starting in 1966. He was 57 when he died of natural causes. When you see videos of SLASH with the Experience, you see Noel. The Experience produced three groundbreaking albums of psychedelic rock - Are You Experienced?, Axis: Bold as Love and Electric Ladyland. All these should be in your collection. Rest in peace, Noel.



News Reported: 05/14/03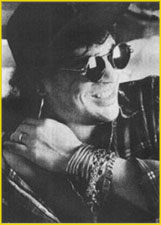 Finally, we got our copy of June's Spin with the one page spread on the magazine's mostly lighthearted recommendations for The Project's vocalist. Each of the six recommendations comes with brief mention of who they are, would the artist fit in to the band, the unique contribution they could make, any liability they bring along and SLASH's response. Just the funniest part on each:

Michael Jackson, The Once and Probably Not Future King of Pop. Liability: where do we begin? SLASH says...actually MJ mentioned something about this. Spin replies: he really wanted to play with you guys?? SLASH says..let's just change the subject.

Rivers Cuomo, lead singer for Weezer. Unique contribution: corrective lenses. Liability: may fire band soon after being hired. SLASH says Cuomo is probably one of the closest people to what I am talking about. He's pretty great, but he's taken.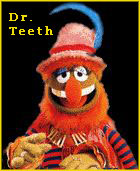 Dr. Teeth, leader of the Muppets' Electric Mayhem Band. He'd fit in because he has dealt with the likes of Animal...Duff would be cake. Unique contribution: is a Muppet. Liability: refuses to perform unless someone sticks a hand up his ass. SLASH says...is that the drummer? Spin says... no, that was Animal. Dr. Teeth is the singer. SLASH says...that's a good one. Dr. Teeth has a great attitude. Would I have to do the hand thing? Spin...yeah.

Courtney Love, formerly lead singer of Hole. She'd fit in because she can trade Axl stories. Unique contribution: breasts. Liability: totally mental. SLASH says...from a distance, Courtney is great. Great actor. Great singer. Probably too much baggage.

Fred Durst, lead singer for Limp Bizkit. Unique contribution..comes with record deal. Liability...weak-ass flow. SLASH...Fred is (long pause) Fred. I've run into him recently a few times. He never asked me to play guitar, and I never asked him to sing.

Eartha Kitt, feline cabaret singer/actress. Unique contribution..can roll R's like no one else in the business. Liability...is 76 years old. SLASH says...Eartha Kitt is amazing! That's the best thing I've heard so far. That's a really talented person right there. I'll call the management and see if they can get her number.

What a hoot! SLASH and Spin are too much. Eartha Kitt may be the best, but we are partial to Dr. Teeth! Maybe Scott or Baz could do the hand thing for him. We left some good parts for you to find...and all the pictures.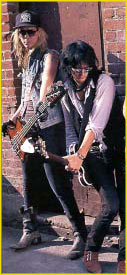 Duff and Izzy aren't neglecting The Project, but it hasn't stopped them from doing some other work. Mark Lanegan of The Queens of the Stone Age has a new album coming out late this summer, and Duff and Izzy do a guest appearance. The record is titled Bubblegum, and there are a lot of guest appearances on this one including PJ Harvey, Greg Dulli (Afghan Whigs)and many others. Brian, thanks for that Duff/Izzy information.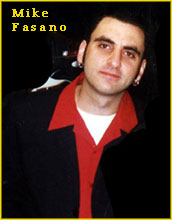 Metal Sludge talked with ex-Warrant drummer Mike "The Sack" Fasano. They asked Mike which was the last band he teched for, and he said that last week he was in The Project studio! Matt, Duff, SLASH and Scott Weiland were there working on the two soundtrack songs (for The Italian Job and The Hulk. Mike said he thought the band name would be Loaded which we don't think can be right as that's Duff's old band name. Might as well recycle Snakepit again. Interestingly, Mike said that The Project would be recording their album this summer, and it would come out in January 2004. Hmmm. First date was summer 2003, then fall 2003, then year end 2003, now January 2004. We'll wait for SLASH to announce that date! Thanks to Tommy for that interview information.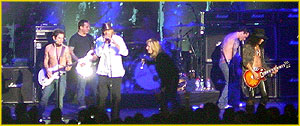 The Camp Freddy site reported on what all the members are doing. Matt and SLASH are reported as working on The Project, of course. But all the band members and their principal guests seem to be going their own ways right now. The site advises fans they'll be doing a lot more gigs this year after everyone comes together again. Camp Freddy gives SLASH a chance to keep up his chops, but he has a lot to do on his own band.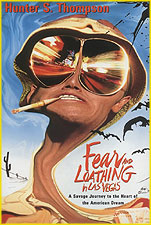 A unique feature on this site is the SLASH Q&A. This question is from Ricardo in Brazil. He asks, "What is the model of the wah-wah pedal SLASH uses. It's the Dunlop rack mount wah-wah, but which model? There are 6 crybaby wah-wah models, so it could be any of these."

SLASH replies, "I don't know what model it is, but it is definitely a rack mount."

This one is from the webmaster who asks, "SLASH, I do a lot of reading, mostly fiction; and I have always wanted to know if you enjoy reading also. If so, what kind of books do you like...fiction/nonfiction/both? Are all the books you like to read of a certain type, for example, books on reptiles? Is Fear and Loathing in Las Vegas still your favorite book?

SLASH replies, "I like educational books, fiction and nonfiction. I don't like biographies, though. Fear and Loathing... is still one of my favorite books."

Thank you Slash and Ricardo. SLASH said he could do a few more, and those are in his hands right now.



News Reported: 05/12/03