Right now Velvet Revolver and SLASH have a lot going on. The calendar of events begins with April 2004. Near the top is a list of months you can click on to see future shows and events. You can see the month at a glance and then click on specific days to find out more about what's happening with SLASH.Check this schedule often for events in your area with SLASH and Velvet Revolver. Click the tour truck below to check the schedule.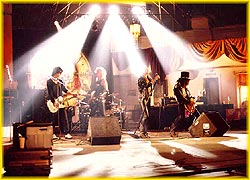 This is a reminder that the Much More Music Bio: The Story of - Guns N'Roses will be on tonight, Friday, May 28. No doubt it will repeat, but this is the premier of the band's bio. The band sold millions of the albums they made, but inner turmoil left Axl as the only original band member left. There's also information on Velvet Revolver, and the band is interviewed. It's an exclusive interview you'll want to catch. The show features band music also. Thanks, Matt, for sending that in.



The Fan Ads (above) are where you can place an ad for something GNR- or SLASH-related that you might want to buy or sell. Sometimes we learn of items that are so desirable that we mention them here...like a SLASH custom guitar. This item is tickets to the L.A. shows. Our net friend Christina finds herself with tickets to both of the L.A. shows and unable to use either one. If you've been disappointed through Ticketmaster or at ebay, this is your chance to buy a ticket for either or both at a more reasonable price. We'll let you negotiate with Christina, but she just wants to recover some of the money she spent. If you are interested, please contact Christina directly at cmrobin14@hotmail.com.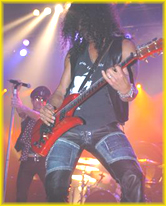 We saw a VR sighting in The New Yorker magazine in their Night Life Concerts section. They say "One of the first rock supergroups of the new millenium to generate genuine excitement, Velvet Revolver unites the singer Scott Weiland (formerly of Stone Temple Pilots) with erstwhile members of Guns N'Roses. Weiland's stubborn aversion to heroin rehabilitation has cast the band's future in doubt. Despite his troubles, their debut album hits store shelves next month. Appearance at the Roseland...etc". Special VIP guests spotted in the audience were Gina Gershon (who played with SLASH at various pickup gigs) and the new GNR's guitarist Richard Fortus who may have been picking up some tips with or without Axl's permission. You can see photos of this excellent show at www.wireimage.com and search on Velvet Revolver. (If you'd like to go back and look at some better, larger ones from Rolling Stone, there are ones for the Chicago show at Chicago Pics...thanks, Allen. By the way, SLASH stripped off that tank top and tossed it into the audience. While we would have hung onto that, the fans sort of bounced it around the audience like the big balls that were flying around.)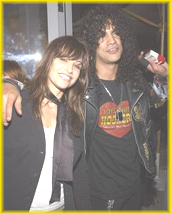 Chris sent us a terrific review of the New York show at the Roseland Ballroom. You will definitely want to read this. We feel lucky that we had Silvertide for our opening band, and we're hoping this one for NYC was a one-off. Anyway, we'll let Chris tell you himself. Thanks for sending this in, Chris. Click here to check this out. Brian told us there was an after-show party at Hotel Gansevoort following the show. Among the attendees were Gina Gershon, Clive Davis and Steven Van Zandt.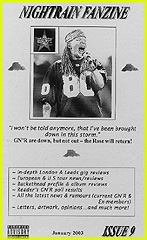 From Ian in the UK comes the news that Issue 12 of the Nightrain Fanzine is out. There's coverage of the Greatest Hits debate, Adler's Appetite gig, fan party reviews, Matt album review, VR bio, GNR and ex-GNR news, and on and on...46 full pages! You can purchase the fanzine internationally. Go to their website at Nightrain to find out how to purchase Issue 12. Thanks, Ian!



The Frontline show The Way The Music Died is over and repeats have started. Antoine tells us that if you go to Interview with Matt & Duff on their web site. And Geoff tells us that you can see this online at at Online Show on May 29.



News Reported: 05/28/04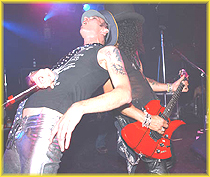 If you missed the guys on the PBS show Frontline on Monday, you can purchase a video of the show. Allen found the details, and he thinks from seeing the clip that the video will be worth buying and watching. Here's where you can read about it:

Frontline. There's more to buy on the web. Amazon.com in the UK has announced that they will have a vinyl recording of Contraband on sale on June 7. The LP will be about 15 pounds, and you can order it right now.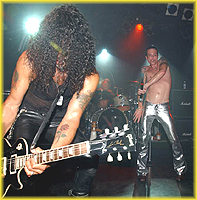 We told you about the Fuse show where SLASH and Duff were to appear, so Melissa from New York went to the taping on May 24. She said she felt like the only GNR fan there as everyone else seemed to be 13 year old kids who just wanted to be on TV. Melissa got up and asked the boys a question ... what do they think of GNR tribute bands and if they'd ever seen any. SLASH was relaxed, quiet and shy. Duff was friendly. They said they'd seen 2 tribute bands, Steven Adler's band and an all girl band called Rocket Queen. Melissa said the guys looked great and even said goodbye to her as they left the studio. Scott was a no-show since they were all booked up with promo things in NYC and he was off doing something else. Melissa spotted Duff one other time when she saw him on Sunday at the Harry Potter premiere at Radio City Music Hall! He just walked down the street with his daughters. Melissa wants to mention there are two other fantastic tribute bands, www.lilgnr.com (kid band) and www.getyourguns.com.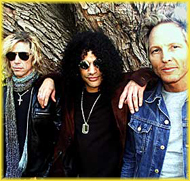 Did you see the guys on Late Night with David Letterman? They really did a great job on "Slither" with SLASH doing his trademark spin and great solo and looking like the rock star he is. The interview with the band on Howard Stern went well. That one's highlights are still online in the Stern archives. They did an acoustic version of "Slither" and talked about rehab. Check it out at:


scroll to VR.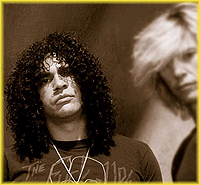 Marco sent us a scan of a Contraband review that he saw in Sound and Vision, June 2004 issue. There are lots of details about the individual tracks and the whole review is just really possible. We've left it large so you can read the text easily. Olav sent in a special to the Star Tribune, a Minneapolis newspaper. Read that article at Minneapolis review.



The UK magazine Guitarist has a six page interview with SLASH concerning the development of Velvet Revolver and the album Contraband, plus one page interviews with Duff and Dave. This came in from Ian who also tells us that there is a track by track guide to the album, a spec guide to his new signature Les Paul and also a tabbed "Sweet Child O' Mine". The album was reviewed and received 4 out of 5 stars! This is one to buy! Thanks, Ian!



News Reported: 05/26/04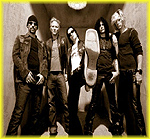 Big news for Mexican fans! According to Carlos from Coatza, Mexico, Contraband is on sale already in Mexico! It's an exclusive sale by internet at www.mixup.com.mx, and the distribution begins today! Carlos also reported that the "Slither" video is in the programming of MTV Latino, and you can vote for it in Los 10 Mas Pedidos (10 more requested ones) at Los 10. The CD is $207 pesos, about $18 during the presale from May 24. You get it right now! Matthijs reported that the Velvet Revolver single is for sale in Holland. He got one, and he says it really rocks. This one is also called "Slither" but there are other VR songs on it. He says that although he thinks the "Slither" guitar parts are best on the CD, he liked the single and says he'll be first in line to buy a ticket in Holland. Here's some news on the second single. Andy got an email from HMV Japan today saying that Velvet Revolver's second single "Falling To Pieces" is onsale starting July 21! Pre-orders are being taken now.



Just a reminder that tonight, Monday, Velvet Revolver will be showcased on the PBS show Frontline. Tuesday night, they'll be on Late Night With David Letterman and Wednesday they are on the Howard Stern Show. Check local listings for times and stations.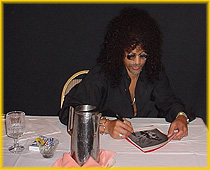 Andy's been wondering about SLASH's Official Fan Club, so he decided to write and ask them what's up with the newsletter. They wrote back and said that they are working on the next newsletter to be published before the CD is released next month. They say that if you want news on SLASH to check their site. We haven't seen much there, but it never hurts to look if you have time. The site is www.fansource.com. Andy also asked about the sale of VR merchandise, but they didn't know about that yet. They currently are still selling off SLASH's Snakepit items.



Camille from France reports that there is a cool French site on the web. BMG France (RCA France) built this site for Velvet Revolver. Although the site is in French, there are a lot of graphics and photos worth looking at it. Check it out at:

www.velvet-revolver-contraband.com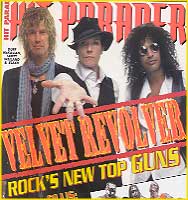 It seems that in almost every music publication you pick up, there is an article about Velvet Revolver. The band is HOT! Emanuele in Italy writes to tell us that VR are on the cover of the most important Italian music mag, Rock Star. There's a 5 page article with a 3 page interview with SLASH and Duff from when they were in Holland on their promo tour of Europe. Nero found TWO articles in the Long Island, NY paper about the band. The first was called Velvet Revolver Turns The Clock Back. Nero says it's a good article mostly about...do you remember rock? and that VR is a rock monster! The other article about Duff asks him why they signed with RCA instead of starting their own label. Duff said they could afford to have their own label, but their manager came up with RCA. Duff says the gear he's using is Gallen Kruger as always with Marshall heads. More to come on these!



News Reported: 05/24/04


Brian reported that the music channel Fuse TV says Velvet Revolver will be on their show this coming Monday, May 24. The show airs during the day and repeats at night. Check local listings for program times and stations. We're still not sure of which night Velvet Revolver will appear on Late Night With David Letterman. It will be Monday or Tuesday. Most likely Tuesday although some of the band management are still saying Monday. Nero says he's been on MTV.com and voted for "Slither". They aren't on the play list, but you can tell them the band you want a video played for. You can vote over and over. Here's the link from Nero:

Vote!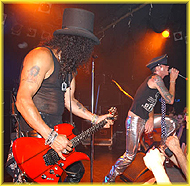 There's a really cool competition for our Aussie fans. Tim sent this in. It's for radio station Nova 100. Go to www.nova100.com.au and click on nova 19's to get the details. Basically, you give them some information and tell them how many times they fire their Velvet Revolver. You can win a trip to New York City, a copy of "Slither", and Contraband and go into a drawing to win an exclusive L.A. trip to meet the band! Is that way cool or what? Thanks, Tim!



For the European fans, here's a chance to win a private meet and greet with Adler's Appetite and their support band Flanger on their European tour. Go to www.flanger.de to get all the details. Thanks, Oliver, for sending that in.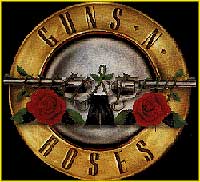 Before we get into reviews, the other bit of news we have is that www.pushposters.com located in the UK has a brand new poster which is the large circular Guns logo that SLASH designed. We're sure you know which we mean. Pushposters has these in stock now.



Once again the email sent to webmaster has been lost. If you sent mail to that address in the past 3 days and did not receive a reply, your mail was lost. Please re-send it if you did not get a reply and don't see it used in the News. Our apologies. We are definitely planning a new computer and mailing system here. Also, questions for SLASH can no longer be taken at this time. He says he is just too busy on the tour to promise he can answer any. He has 25 we gave him a very long time ago, and he doesn't have any idea when he can get to these. So, till we give you the go ahead, don't send anymore just to SLASH. If it is about SLASH, you can send it to the webmaster who will try to answer. General topics are usually within our ability; detailed questions about his equipment are not. We have several years of his questions and answers gathered up in one section of the site, so you might check through those first. Thank you for your patience.



We have several reviews now...one from the webmaster who saw the Chicago show, three fans at the Detroit show. Then there are a couple of professional reviews from critics and a set of pictures. Click on the name(s) of the shows you'd like to read about:

Chicago

Detroit

Critic on St.Louis Show

Critic on Chicago Show

Chicago Pics!

Brian's St.Louis/KC Pics

Brian's St.Louis/KC Pics





Thanks to all who sent in ticket scans, pics, etc. We may be a little behind due to our own road trip, but we'll catch up this weekend. Have a good one! Don't forget that Monday night at 9 pm is Frontline featuring interviews with Duff and Matt.



News Reported: 05/20/04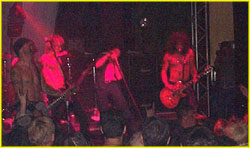 Including the Roxy gig, Velvet Revolver has played four shows now...all sold out, all fantastic successes. What do they need? More space for the audiences! The band is really pulling in the audiences and we're way beyond buzz here. And we don't need to remind you that the album isn't even out yet! Some of you have sent in great reviews. We'll warn you in advance that if you don't have tickets, you're going to feel really unhinged. It's not too late to score some for the later shows. And those unconfirmed shows will almost certainly be confirmed, so you should go ahead and grab those up while you can. We're going to let everyone tell you about the shows in their own words, so just click on the show name below to get the review(s). Thanks so much to all who shared their evenings with us. Then we'll have some of our regular news. One last note... Wednesday we are going to see the guys in Chicago, thanks to SLASH putting us on his guest list. If you're coming, we'll be in our SLASH t-shirt! The News will not be published on Wednesday, but keep sending those sightings and reviews in so we can get it all out to you Friday!



Roxy Review (long)

St. Louis Reviews

Kansas City

Minneapolis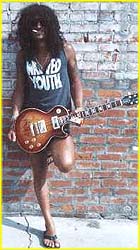 Going back to our man SLASH, Attila tells us there's a cool 5 page workshop in the 04/04 issue of the German guitar magazine Guitar. Attila has uploaded the pics and has a summary in the forum Two wallpapers made from the cover pictures are also there. The workshop includes tabs of the "Slither" solo and some licks SLASH used to use, and there are even audio tracks on the CD where SLASH plays the stuff without a backing band. Awesome! Thanks, Attila!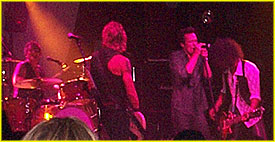 Recently we told you that Velvet Revolver would be featured as one of the artists on the PBS show Frontline (May 27 at 9 pm). "The Way The Music Died" is the name of the show that talks about how the music biz used to be big biz and now has had a hysteria of bankruptcies and layoffs. The pressure is on artists to perform financially while they try to make the art they want to make. A contact from Frontline sent us the information that you can now go to their site and watch a preview trailer of the documentary, read the press release and find out who is talking to Frontline about this issue. Both Duff and Matt are interviewed. And after the show, you can watch it online at the above address. The preview trailer is great, and Matt and Duff are in that, too.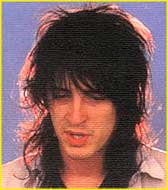 We wanted to catch you up on two of SLASH's ex-bandmates. First, the great Izzy Stradlin! Izzy was to fill the late Johnny Thunders position in a reunion of the New York Dolls, but when Izzy heard that they were planning to do more than a one-off, he bowed out. And Keri Kelli, ex-Snakepit guitarist, is moving from Adler's Appetite to Vince Neil's band. So European fans will not be seeing Keri this summer in the Adler shows.



Another note from Attila. "Slither" is now on MTV Germany and is on the TRL list. Vote every 10 minutes! Here's the link to vote now. The video is getting about 30 plays a week, and the more votes, the more airplays. Go for it!



Brian sent us a word that MuchMoreMusic a special on Guns, "The Story of Guns N'Roses" It will be on Friday, May 28 at 10 pm. This is yet another of the shows that go over the past, present and future of Guns! And that date for the VH1 documentary covering the early days of GNR, Behind the Music..." is now scheduled for June 16. After that, they will show The Making of Velvet Revolver. Amazing how many shows are cropping up!



News Reported: 05/17/04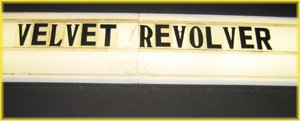 Clement was at the Roxy show in L.A. on Sunday. He said they did sell tickets right there and sold out in less that 5 seconds. Only 60 went on sale to the public as the venue only holds 250 and this was the private show for family and friends. While face value was $20, Clement paid $150! Perla was outside with friends and Baby London who had on earplugs and headphones to protect his ears. Clement said he kept trying to remove them. His Daddy doesn't like them either. Free t-shirts were given to everyone. The band was doing soundcheck at 5pm for the 8pm show. Clement said the opening band was crappy andencore played about 30 min.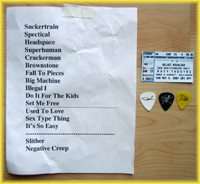 Then there was a 45 minute wait for VR. Clement was up front center stage right between where Scott and SLASH would be for much of the show. Clement said most songs were super heavy along with one ballad, "Do It For The Kids". SLASH was in his top hat and used his red BC Rich Mockingbird for the first song. The top hat was off for the rest of the set. SLASH used 5-6 guitars during the evening: the red Mockingbird, a black Les Paul, new sig Les Paul, black BC "Bitch" for the STP songs, and 1 or 2 generic Les Pauls. Clement got a well worn pick from SLASH, and Adam Day gave him the set list! Two STP songs were on the bill and 3 GNR (Mr. Brownstone, Used to Love Her and It's So Easy). Scott had cheat sheets for the "Mr. Brownstone" lyrics, but he managed to mix the verses anyway. Matt was laughing about that. Clement said the crowd was great till a couple of big drunks tried to shove their way up front, but he held on to his spot. Everyone was soaked with their own and SLASH's and Scott's sweat! There were two encores and the show lasted till midnight. Clement did not take photos during the show, but he did send us pics of the t-shirt (very cool), setlist, ticket stub and picks. Thanks, Clement!! By the way, the two California shows at the Wiltern Theater sold out in 30 seconds.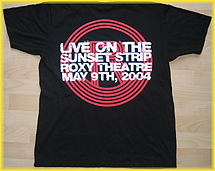 Velvet Revolver will be in New York City for the big show at the Roseland on May 26. They have four days off before that to get from Toronto to the Big Apple and do some promo. On Monday, May 24, you can see them on "The Late Night With David Letterman" show. SLASH has been a guest on Letterman before...once with SLASH's Snakepit, once with the studio orchestra and playing with Carrol King ("Locomotion"). They're also scheduled for a visit on The Howard Stern show on Tuesday, May 25. You can catch Howard's show if it is still on the air where you are. SLASH has been on Howard's show several times, done interviews by phone and was also in Howard's autobiographical movie, Private Parts. So the New York promotions are coming!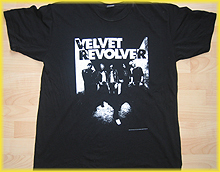 If you look at the tour schedule on our calendar or any other calendar on the net, note that the shows from 6/13 on are NOT confimed. The venues and Ticketmaster can sell what they want, but the band cannot guarantee they will be able to come. The continuation of the tour depends on the court's ruling on Scott's DUI case on June 9. No contracts have been signed by the band for these later shows at this time. But everything is in place for them to be signed as everyone anticipates the court will come through with a favorable decision for Scott. A favorable decision would be just to continue his probation so he can travel and do the shows. Nothing to worry about too much, but that is why you may see some venues with no ticket sales as yet. The shows in question are Phoenix, Austin, Dallas, Houston, Denver. Velvet Revolver is also going to be in two festivals which are already selling tickets because there are other bands coming. One is the Rolling Rock Town Fair Five in Latrobe, PA, July 31. Other bands involved are Staind, N.E.R.D., Hoobastank, Sevendust and more. Tickets for the all day festival are $49. Another "festival" is one where VR is the headliner on July 26 at Fantasy Island, a musical festival at the Borgata Hotel Casino & Spa in Atlantic City, NJ. It's a two stage show. VR appears with Robert Randolph and The Family Band and special guests. There's a Sunday show as well, but VR is not in that one. Tickets are $150 per day and are on sale right now. For more information, check the website at maximfantasyisland.com. Thanks, Brian for all that information.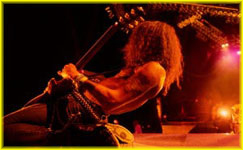 Allen reported that Rolling Stone previewed summer tours hottest tickets, and VR is one of them. There's a nice pic of the band there, too. For everyone who tried hard to get tickets, this is most of the reason for disappointed fans who got shut out. We remember going to Snakepit shows where the venue was smaller and about half full. Now the venues are crammed which is the way we like to see SLASH. He's worked very hard to put this band together and deserves the success. Try ebay or a ticket scalper if you have to be there!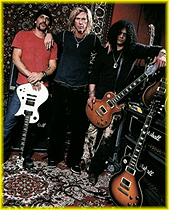 On Friday, one of the clubs in Brisbane, Australia had a Velvet Revolver night with the album to be played and VR give aways. Andrew reported on that but said he'd seen nothing like that in England. Some more news bits: Ray said the South by Southwest show in Austin that we called "an industry trade show" is not that at all. It's a community thing the city of Austin does to promote itself as the "live music capitol of the world". And you thought L.A. had that title! Allen reports that the hockey player with the SLASH on his helmet is goalie Robert Esche for the Flyers. He sent us some pictures of the helmet drawing. Thanks Andrew, Ray and Allen!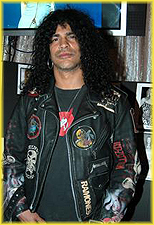 And finally, SLASH commented on the St. Louis show, saying it rocked and was a big success for them. He said they sold a mountain of t-shirts which is always a really good sign. All is going well with him and with wife Perla who is at home waiting out the final month of her pregnancy. The new little one is due June 22!



News Reported: 05/14/04





Have tickets for any of the Velvet Revolver shows? You might want to see what you're in for; and one of our friends sent us a bunch of photos from the Roxy show. These are way cool! We made a scrapbook from them, so have a look for yourself! Due to technical difficulties, the News will be short tonight. We'll resume this Friday. We did have one more picture to show you. It's a big one we reproduced from the current issue of the UK's Q magazine. This is what all those promos to Europe got the band? Well, it is a little funny. Check it out. We made it large so you could read the captions:

Q on Velvet Revolver





News Reported: 05/12/04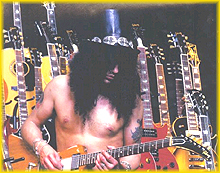 SLASH is in the July issue of Guitar One with a gorgeous color pic on the contents page. Vicki found this and reported that starting on page 78 is a full page color picture of SLASH and his article "Guitar School...A Private Lesson with...SLASH - Legato, Looping Licks, and the Art of the Jam Session--by Dale Turner - Photography by Robert Sebree". It's a 3 page article with page 81 having yet another small picture of SLASH, smiling, and with his guitar. The article discusses among other things, songs from Contraband. Thanks, Vicki!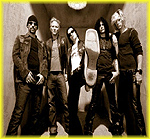 Another note from Vicki on Revolver magazine. This is the article that Scott goes ballistic over. There are individual band member pictures and one of the whole group. It said the band members were clean, sober and ready to rock, and who did they pick to front their new band, VELVET REVOLVER? Ex-STP Scott Weiland, of course, the biggest f*ck up of them all...Appetite for dysfunction. Scott came back with a blast at Revolver journalist Andy Langer. You can read this for yourself at the official VR site.



Kimberli saw this on TV during the Stanley Cup Playoffs. One of the goalies for the Philadelphia Flyers that's in the playoffs likes rock while the other goalie from Tampa Bay likes Country. Esche, the country music lover, has Hank Williams Jr. on his helmet. Beck is the rock lover, and on his helmet is SLASH with his top hat and his cigar. Kimberli says it is an awesome SLASH picture. She's tried to find us a picture with no luck, so you'll have to watch the matches! Thanks, Kimberli!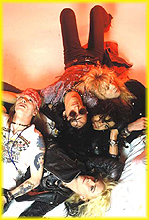 Put this event on your calendar, tentatively. We've been told that Sunday June 20 will be the premier of the show "Behind the Music: Guns N'Roses". This is the VH1 documentary that delves into the early days of the band. SLASH and Steven are the only original members taking part. A friend did the interviews and said they had tons of material. There are interviews with later band members and management and friends. We'll keep you posted on the exact date and time.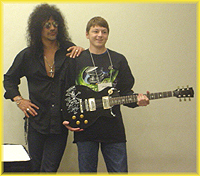 www.fansource.com is the official Fan Club site for SLASH. They do fan clubs for a number of celebs. Today we got email that they were holding their annual Fan Appreciation Weekend on October 8 - 10 at the Sheraton Universal Hotel in Universal City, CA. In their list of guests, SLASH was scheduled. Last time he did show up and meet with the fans that came to see him. There are opportunities for photos, autographs and other things not really relating to him. If you live out there, it might be a good event, but it's expensive and SLASH was not there all that long the last time. The good thing is that you have him practically to yourself! They promise more information, and we will pass it along as we get it. If you want to check it out, go to Fansource.com.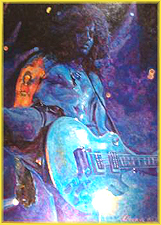 Velvet Revolver had that private show at the Roxy last night that we told you about. They reported this on their web site, and also said that a few lucky contest winners were admitted and got special t-shirts printed just for the event. We have no idea what the contest was or who got a chance to be in it. The only thing we can suggest is to be signed up at their site for their newsletter. There does not seem to be a direct way to contact the band for these items beforehand. A full set of songs was on the list. The first official gig will be the May 13 St. Louis show. We're not aware of any show that is not sold out, and if it means a lot to you to see the band on this promo tour, you're going to have to go to the scalpers or ebay. The going price we've seen is $50 per ticket almost anywhere. SLASH did say that the band will be playing the US again but it will be after the album comes out.



News Reported: 05/10/04


Alejandro sent in some very interesting information. Velvet Revolver will make an appearance on the May 27 episode of PBS Frontline. The show is titled "The Way the Music Died" and goes into what a rough time it is now in the record industry. The record industry has been hit with bankruptcies and layoffs from consolidations, internet thefts, and artistic droughts. The trajectory of the record business is traced from the post-Woodstock era of the 70's and 80's to the current trainwreck of art and commerce. The story is told through four artists with one being "the new rock band, Velvet Revolver, composed of former members of Guns N'Roses and Stone Temple Pilots, whose first album will be released in June 2004. But how will these artists fare at a time when the music industry is clearly hurting?" Sounds very, very interesting. Get another tape ready to go. Thanks, Alejandro!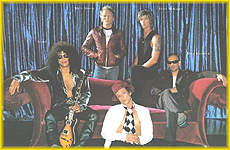 There's some amazing news from Barbara in St. Louis. She was able to get tickets to that soldout concert there this Thursday! Ticketmaster always says to check back frequently in case tickets are released. In this case some tickets were released, and Barbara was able to get one. She also said that last weekend the local radio station sponsoring the show had a Velvet Revolver Weekend where they played "Slither" a lot and gave away tickets to the 105th caller every couple of hours, but Barbara wasn't lucky on these. Barbara says don't give up...go back and see if the promoters have released any more tickets. She's also off to Kansas City the next day having her own private VR weekend! Fez got his two tickets to Toronto, so he's going from Quebec to Toronto with friends. He promises to take pictures and to try to meet the band after the show. He asked if we'd post his email address here so that if anyone from Quebec needs any kind of help going to the show, they can get in touch on msn messenger. It's faizan_ali22@hotmail.com, so if you need someone to hook up with at the show...here's a fan you can meet with. Thanks, Barbara and Fez!



We've heard that a band from Philly called Silvertide will open for Velvet Revolver in the shows up to and including Toronto. We had asked if anyone was familiar with them. Splish sent in that he met the guys in Silvertide last year in Austin, Texas for South by Southwest, an industry trade show. The lead guitar player is Nick Perry, a really nice guy and a huge SLASH fan. He has a tat of SLASH's top hat and skull on his chest. Silvertide plays rock, and Splish says they are a perfect fit for VR. A big surprise at that Austin trip was SLASH coming in to play "Over Under Sideways Down" with the Yardbirds. So it looks like we are in for a good opening band. Try to get there early!





There's more magazine coverage on the guys. Ian tells us that the British magazine Loaded had an interview with SLASH and Duff in their latest issue. It was mostly about their old, wild GNR days, but there were others on their lifestyles and some on VR. SLASH said NO to a GNR reunion. Thanks, Ian! Allen reported that Maxim has "Slither" as the "album of the month". It has a somewhat positive description mostly knocking Scott, but the review overall is good, getting four stars. This is the coverage that set Scott off on another blast at the media about reviewers who know nothing about his music.



If you missed seeing the "Slither" video on TV, Chris tells us you can download it from the MTV site. Go there and type in Velvet Revolver in their search engine. Chris says "Killer Video", and we agree! The clips on the VR web site have nothing to do with the "Slither" video so you'll want to check out the full thing. The band appears in most of the video which is the kind of video we like. And they're up on stage doing their job. Scott does some performance art-type things, but the rest of the guys are playing the music throughout. Excellent.



News Reported: 05/07/04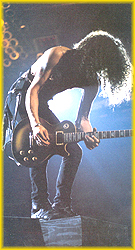 Guitar News Weekly is a guitar related newsletter. In this week's edition, they covered "Gunners' Killer Riff". We mentioned this last time, that SLASH's riff for "Sweet Child O' Mine" was voted the #1 riff by 2,000 poll takers. To read more about this, there's a good article on that riff where you can soak up the SLASH praise.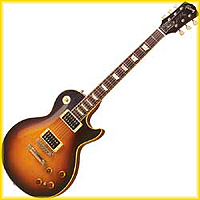 Mario sent us a note saying that he is the best Italian fan of SLASH, and he wanted to let us know that the price of the new SLASH sig guitar Les Paul is 5269.00 euro (Italy). Thanks, Mario!



On to SLASH's band information. On his official artist site, slashonline.org, there are 2 more gigs listed that are not listed on the VR official site. One is the May 9 second show at the Wiltern in L.A. The second is The Joint in Las Vegas. Whether this means they are confirmed or not, we are not sure. One thing is...the tickets are not yet for sale. The Monday, May 24 appearance on David Letterman is confirmed. SLASH's official site says that Velvet Revolver will appear at KROQ's weenie roast but are not yet listed on KROQ's site. This will be Saturday, June 12. And by the way, thanks to Adele for sending in her ticket scan.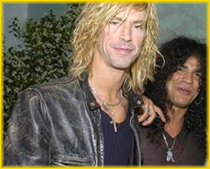 For anyone who missed this on the music sites, SLASH and Duff are suing Axl Rose for a million dollars! If you were hoping for a reunion, this probably puts that idea to rest permanently. SLASH and Duff's suit says that Axl declined to use the original Guns music in movie soundtracks depriving them of their share of the licensing fee. The suit says that Axl killed deals in half a dozen films including "Just Married", "We Were Soldiers", "Death to Smoochie", "Old School" and "Black Hawk Down". It was noted that Axl cheated SLASH and Duff on "Black Hawk Down" for the use of "Welcome to the Jungle" by saying he was going to re-record it with his new band. The amount of money is significant, but it comes from getting the music out there in the income streams that can generate cash for years to come. So far, no comment from Axl or his management.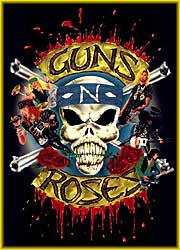 On a more positive note, the TV show everyone has been wanting for years, a "Behind the Music" on GNR is finally going to come to pass. A source of ours has been doing the interviewing. SLASH in particular has been very forthcoming, giving 4 hours of detail which will be edited down for the show. Steven Adler will also be included. Duff also agreed to the project, but he's changed his mind. This is thought to be because VR management is not behind a Gunners retrospective. Too bad. However, Tom Zutaut (former A&R man from Geffen), Josh Richman (video director), Teddy "Zigzag" Andreadis (keyboardist on the Illusion tours), Dave Navarro, Warren De Martini, Gilby Clarke (ex-GNR rhythm guitarist for the Illusion tours) and Mike Clink (GNR producer) will appear. The show will air during the first week in June followed by the release the following week of Velvet Revolver's Contraband. The show is definitely one for your archives so we'll be sure to give you the date and time when it is available! Thanks to Brian who sent that in.



News Reported: 05/05/04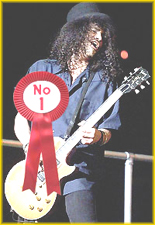 Velvet Revolver is hot, but there is still a lot of hot news just on SLASH. Quite a few of you sent this in from several countries. We got this first from Fez in Canada and Elin in Norway. GNR won the best guitar riff in Total Guitar. The article said that even though Guns don't play together anymore, that doesn't stop the sale of their CDs. The Greatest Hits album has been on the top of the charts for 5 weeks in a row and still is. The riff is the one from GNR's "Sweet Child O'Mine". And at #19 is Guns again with "Paradise City". Thanks to everyone who let us know about that. And aren't you proud to be a SLASH fan?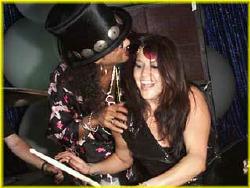 Another bit of SLASH news. By now, we all should know that SLASH's wife Perla is pregnant with their second son. Their first son, London Emilio Hudson, was born August 28, 2002. This little guy will be named Cash Anthony Hudson. Cash plays on the SLASH name and Anthony is SLASH's father's name. And the baby is scheduled to make his appearance on August 22. A big shower is planned for May 30. If you'd like to send your good wishes, you can send a card to the address in our Writing to SLASH section. No gifts are necessary. We send our good wishes for an uneventful and successful birth! And best wishes to this new little Hudson.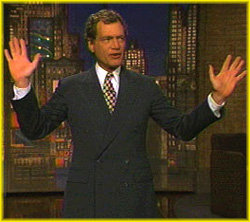 Back to Velvet Revolver news. The band plays Roseland in New York City on May 26 to a sell-out crowd. They are looking to do some promotional work while they are there. The first promo we're looking forward to is a May 24 appearance on the David Letterman show. This is not confirmed, but we hear it is more than likely. Speaking of dates, the May 12 warmup show is definitely a private show, so there's no need to harass the Roxy about this anymore! And another rumor is that a band out of Philly called Silvertides will open for Velvet Revolver for the shows up through Toronto. Any of you Philly fans know this band?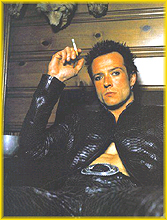 While June 8 is the end of the confirmed shows, it certainly is not the end of the shows. The reason other U.S. shows have not been confirmed is that the court must approve each leg of the tour in accordance with Scott Weiland's probation. As we understand it, there are several shows all arranged, just waiting for the court's ok.

Our friend Tina went to the Wilten Theatre website, www.wilternlg.com, and it says that the L.A. tickets go on sale May 8. This is going to be a very hard show to get tickets for. The demand is huge. Best thing is to try a minute or two beforehand as you never know which clock they are going by! Good luck! Tina is driving 1500 miles to get to the show so she wants to be sure she gets a ticket!



News Reported: 05/03/04