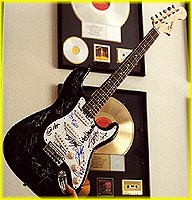 Perris Records is giving away a Fender Squier Strat guitar signed by SLASH, Keri Kelli and a bunch of other artists like Jimmy Crespo and Carmine Appice. If you haven't signed up for their mailing list, you have to do that. They mail you the question, and you reply. The question is Which Band is Keri Kelli a Member Of? If you don't know, go read the Snakepit Band Bio.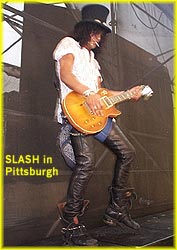 Yesterday we went to the Pittsburgh Snakepit show that also featured Billy Idol. We've decided we prefer Snakepit headlining best. The day was very hot and humid to the point where the band was not feeling well. We got to watch soundcheck, but Billy's was so long, and there just wasn't the same magic in it for us. Seeing those big trunks with Matt Laug and Slash stenciled on them is a thrill. One interesting thing - we did get to see and hear Brian Tichy on drums. (Brian was the Snakepit touring drummer in 95). Brian is absolutely outstanding! What a terrific drummer he is. His hair is still shorter than it was back then, but he looked handsome with it a little longer and unruly and with a full beard. That was the highpoint of Billy's soundcheck for us. We got to exchange about 3 words with Billy when he had a good laugh at the Snakepit picture on Matt's drum. Billy looked very well and was in good voice. Snakepit did their soundcheck and the band just seemed tired and hot. They got a chance to rest up, and they came across fine in the show. Slash was a bit late for soundcheck having gotten lost in Pittsburgh while doing some shopping. The Pittsburgh police pounced on SLASH for jaywalking!!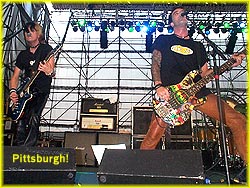 This is a big deal now in our city. Usually you get a huge ticket, but they talked to SLASH about jail! Probably weren't too thrilled with his appearance. Luckily, they let him off since he was from out of town and lost. SLASH ran in, got dressed and did soundcheck. Their performance was great although they only did eight songs. I saw the set list, and somehow "Back to the Moment" got substitued for which I was grateful. At the end of the short set, the band seemed so fired up...but it was over. We left and went back to see SLASH who was already on the phone making business calls. He took time to sign my guitar and checked it out for me as I had bought it used. He pronounced it perfect! We sat and chatted for awhile till SLASH had to go. He was playing the last number with Billy Idol. We hurried back over and saw the Idol fans out in force with safety pins stuck in ears and lips, weird dyed hair, black leather. Chairs had been thrown in huge piles everywhere, and it was hard to walk. We saw SLASH clearly and he blew them off the stage! SLASH just wailed on that guitar and spun around and jumped and ran all over. We clapped so hard our hands are black and blue. Afterward we went over to say thanks and goodbye but ended up staying longer. One annoyance was an autograph dealer who came up with about 10 pictures for Slash to sign. We asked him where he planned to sell those. We know him well from record fairs...overpriced. And then he came back with 2 albums and some long story about those. Then he came back with giant guitar picks. It was really distracting and even SLASH got irritated and said this was a private party. The guy hung around for a long time before leaving. There was no autograph session unless you waited out by the bus. If you couldn't wait, the best deal we saw was autographed posters. These were signed by all band members and went for $20!! A real bargain. And we watched these being signed so they are all legitimate. All in all, it was a wonderful day although too hot. We decided we preferred headlining in a club. SLASH is much more accessible to fans there. The tour with Billy Idol is over now. The band has tonight off and moves to Columbus, Ohio next. You HAVE to see them if at all possible!

Let's go back and pick up some of the older reviews that have come in. Djphillyk went to 3 shows: Philly, NYC, NJ. Meeting SLASH alone in the parking lot in Philly about 3pm was amazing. Actually djphillyk met SLASH all 3 nights, and by the third show the band knew who they were and thanked them for the support. Johnny was especially happy they came. Thanks!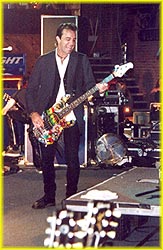 Remember Pufferbellies in Hyannis, MA? Debbie was there and said the show rocked. She's seen SLASH in Snakepit 95 and Blues Ball, but this was the best show. The sound was clear and loud. Rod is an excellent performer with a great voice. Debbie says they did "Mr. Brownstone" and comments, "Axl Who?"! SLASH was in a blue flannel shirt, and he makes you feel he is playing just for you. Rod did some stage diving, and security was not pleased. A few girls surfed to the front and were escorted away. SLASH looked relaxed and was enjoying the whole thing. SLASH got on the bus, but 25 fans were there, so security came out and escorted SLASH back into the building. The fans were told it was a private party, but SLASH did sign inside. When he came out, he only signed a couple things, politely said they were running late and he left. Debbie can't wait till they come back again!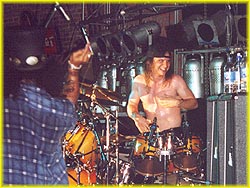 Ian's band, Room With A View, opened for SLASH's Snakepit in Hyannis. Ian says his band enjoy Kevin Martin from Candlebox, Maynard Kennan from Tool and SLASH. Ian decided he wanted to be a guitar player when he was about 10 and heard SLASH on "SCOM", so he was very excited to get the opening gig. They were out in the parking lot partying when the Snakepit tour bus pulled in. Johnny came right out to say hello followed by Matt. Ian says by 6pm, he was pretty drunk, and he went into the club in search of a restroom. He runs into...SLASH! Later he and SLASH talked for awhile. SLASH said he was nervous...that he was always a nervous wreck. (and he looks so cool onstage!) He invited Ian into soundcheck where Ian met up with Rod and Keri. Funny, funny guys. Ian said it was like playing with friends. Snakepit did "Just Like Anything" in soundcheck and just blew it. Ian's phone went off! SLASH gave him a hard time about messing up their soundcheck...just razzing Ian, of course. Ian said he wouldn't be interrupting if they could play their own shit. They all cracked up. Ian and SLASH gave each other the finger and laughed. After soundcheck, they stood around and talked about SLASH's webmistress! The guys were kind enough to say the site is unbelievable, and they loved the person doing it too. Now, WE feel nervous. Soon it was time for the show. Room With A View got the crows all warmed up, and Ian went out and walked the guys into the room where they got a loud, warm round of applause. Ian said after the show he actually got to sign a ton of autographs with SLASH seated on his left. SLASh told him, "Get used to it"! A real vote of confidence. Ian says Snakepit was the kindest, most down to earth band he's met. He'd love to do a whole tour with them! Thanks, Ian! Next time, we wish we could turn back time and come to that show.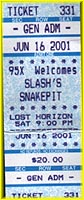 This last review is from Lost Horizon in Syracuse, NY. Chuck says he will also be doing a road trip to Illinois on July 6. Don't you love those...the car is littered with maps, coffee cups, bottles of water, papers with people to contact? What a blast! Chuck says SLASH has inspired him for a long time, but he never got to see him in GNR. Now that he saw him in Syracuse, Chuck says that SLASH is the most influential guitarist of recent times and all times. SLASH is also truly great with his fans and an all around great performer. Chuck is planning to get SLASH's picture tattoed on his arm after the Illinois show. It's a picture of SLASH playing, and it's a reminder to Chuck to push himself to the limits in order to achieve excellence. Chuck says, "Stay cool, SLASH, and maybe someday my band will open for Snakepit"! Thanks, Chuck, and let us know about the Illinois show.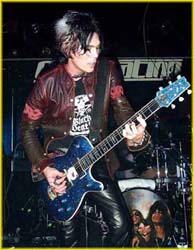 Here's some news on one of our favorite Snakepit guys, Keri Kelli:

Personally, we are not big fans of the Metal Sludge web site, but Keri did their 20 questions routine with them. The list is not on their site yet, but Keri said he didn't say anything bad about anyone!

Keri reported in Pittsburgh that the Billy Idol shows have been going fine. Billy and Steve Stevens are just great, and Brian Tichy is a real powerhouse on drums. Also, Keri reports that he will have a short part in a video for Lit directed and edited by Sean Card. It will be out in a couple months. The footage is of Keri playing with Warrant.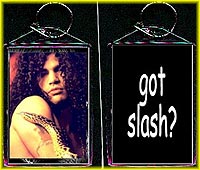 Vicki got her July 2, 2001, issue of US. Slash's small pic is on page 43 of the "Angelina Jolie: From the Cradle to Tomb Raider" article. It reads, "The Homeboy Slash: Jolie and Thornton bought the former Guns N' Roses guitarist's 11,000-square-foot, eight-bedroom, Spanish-style Beverly Hills home last summer [also pictured]. Slash, a big fan of Jolie's 'Gone in 60 Seconds' and 'Girl, Interrupted', first met Thornton at the Whiskey Bar in Los Angeles shortly after the sale. "He didn't divulge any personal information," recalls Slash, 35, who became a close friend of Thornton's. "What few things I know about their relationship,' he says, come from the lyrics on Thornton's soon-to-be-released CD, 'Private Radio'." The pic of Slash looks like he's at the Hard Rock Cafe.


News Reported: 06/30/01


The big news tonight is that three more shows are confirmed for the tour! The tour, as you can see, is heading back into California. Whether it will end there or refuel and go on, we don't know. If you can get to these shows, do yourself a favor and be there. Not only will you see a dynamite band live, but you have a good chance of buying some merchandise and meeting the band. Here are the newly confirmed shows:



July 13, Albuquerque, NM         El Rey Theatre       On Sale       18+
July 15, Santa Ana, CA           Galaxy Theatre       6/29 9am      All Ages
July 18, San Francisco, CA       Slim's               On Sale       All Ages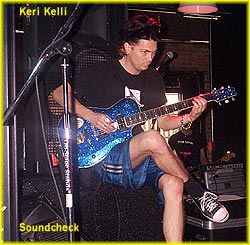 Last night was the Detroit show at Royal Oak Theatre. This show had both SLASH's Snakepit and Billy Idol. Eric came from Ontario to see this show. He said the house was packed and there were people standing. Snakepit played eight songs finishing with the two GNR covers, "It's So Easy" and "Mr. Brownstone". Eric says he has waited a long time to see SLASH up close in a smaller venue; it was a dream come true. SLASH wore an unbuttoned black dress shirt, black leather pants, boots and tophat. SLASH did not play with Billy Idol. It was the best show ever! Thanks, Eric.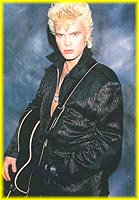 Chicago was one night before Detroit, and this was another split show with Billy Idol. Amanda was there to see Billy Idol, and she didn't care much about seeing Snakepit. BUT! She absolutely loved them! She was in the front row and could see everything. Their very first song made her crazy! SLASH played in front of her several times and dripped sweat on her. She's always thought SLASH was one of the sexiest men alive, and Amanda wanted to jump on him! We think all the ladies will agree with that. She says when they come around, she will be there to see them. Their music was driving and hard. They are a great group of musicians. She enjoyed Billy Idol, but she was more than pleased to see Snakepit! Another convert, SLASH! Thanks, Amanda. Things didn't go so well for Monica. The show started at 7:30 with Snakepit, and she couldn't find a parking space. When she walked in at 8:30, Snakepit was over. She said a lot of Snakepit fans had the same problem. She wanted to get some things signed, so she left the venue and walked around this terrible neighborhood. There were the guys and some old vagrant was singing away. She said SLASH's thoughts on this were hard to guess as he had his sunglasses on. The band came along and shook her hand. A roadie got her things signed for her. She thanks SLASH for signing her things and understands why in that neighborhood he stayed on the bus. Sorry, Monica! SLASH likes Chicago, and he'll be back.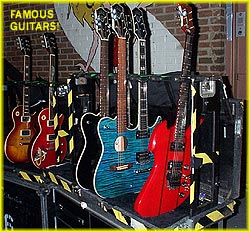 Megan was also there. She said they played about an hour and rocked the crowd. Rod was energetic, but he had some hoarseness in his voice. The venue was hot, and the whole band was dripping wet. SLASH wore his tophat, black boots, tight navy jeans and a work shirt with the name "Troy" on it. SLASH was smiling, playing, jumping on the barricades. Keri, Johnny and Matt had so much energy in their performance. The sound was great, and SLASH's solos were crystal clear. They didn't do an autograph session, but Megan went outside anyway to wait for them. Snakepit stayed inside for most of Billy Idol's set. SLASH did interviews. Megan got to talk to Keri who was looking for a sushi place. Matt signed some things, too. Johnny and Rod came by, and Megan got a kiss from Rod. She got things signed, pictures taken and hung out. SLASH signed for everyone there. Megan can't wait to see them again. Thanks, Megan!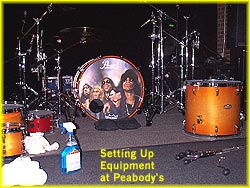 James was at the Cleveland show. The crowd went crazy with the first song, "Life's Sweet Drug". James was about 10 feet from SLASH. Rod kept saying that this was the loudest audience yet. SLASH said Cleveland is a mysterious town and that there were more people at the show than in all the rest of the clubs in town combined! Everyone went crazy for "It's So Easy" which was the highlight of the show. SLASH played on the very edge of the stage, and he smiled at James 3 times. Rod said at the end, "Some guys just come up here and think it's all about them. This (the band) is all about you (the fans)"! Thanks, James! Another note about Cleveland is that you can hear "Mean Bone" live. The other night we had technical difficulties getting to this song, but Matt at WMMS-FM worked with us. If you are having trouble, use Internet Explorer not Netscape, and you will be ok. Here is the address one more time:


Cleveland: "Mean Bone"

And don't forget that WMMS will air a rebroadcast of the show on Sunday, July 1 at 10pm on radio station WMMS - 100.7FM - The Buzzard! A fantastic show. Thanks, Matt!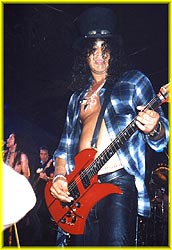 Going back to the show in Old Bridge, NJ, Jon was there, and he says the band played really well. Everything rocked. Jon said it bothered him that people showed up in GNR tshirts - not just the old ones but the new ones. One idiot was dressed like Axl. This isn't GNR anymore, it's one guy starting over. Jon says we have to realize GNR is over. He says you should go to the Snakepit shows if you like Snakepit and if SLASH is one of your favorite guitar players. Don't go because you are stuck in the past! Thanks, Jon. Gary was also at Birch Hill. He says the band is a class act, and their commitment to their fans deserves a lot of appreciation. He saw the band get dropped off and got to say hello. Each member stopped in the rain to shake hands and talk a little. Gary listened to soundcheck from outside. Snakepit went through a 15 song set, and they have incredible stage presence. Rod has a powerful voice with a great range, soul and charisma. Gary was overcome with excitement at seeing SLASH, a true guitar god with the best stage style to ever grace rock and roll riffs. The performance made Gary as happy as he can get! The big highlight was the announcement that SLASH would sign autographs after the show. Gary said it was about an hour and a half before his turn came, but the fans were not being hurried along. Rod thanked him for coming. The band is such a friendly group of people, and Gary wishes he could thank them all. Thanks, Gary!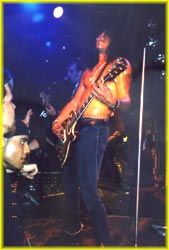 Back to NYC...Gene was there, and he wants to thank the band individually: Keri, for the f*ck you hippy guitar and pick. Johnny, for being a solid bass player and telling the crowd to move back and stop crushing the front row! Matt, for being a tight drummer and pointing his stick at me! Rod, for letting me sing "Mean Bone" with him and for being a great frontman. SLASH, for the killer playing, sweat, energy and the towel. The whole band, for being true to rock and roll's roots and the tribute to John Lee Hooker which was very classy! Thanks, Gene!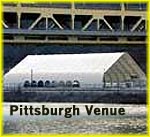 There are some more from back further, but we are going to save them till next time. We have to prepare for our trip to see Snakepit in Pittsburgh tomorrow! This is also a Billy Idol show, so get there on time. There are still some tickets available at the box office. Not many, but some. We understand that some band members have colds again. Let's hope SLASH's resistance holds up this time! SLASH will want to know how the Detroit show went, so thanks to those who sent them along. At different times, he will ask about certain shows, and your reviews are very helpful to him. Thanks to all who took time to send them in. It's not too late to send more!



We'll leave you with this article about SLASH that appeared in the Chicago Sun Times. SLASH is doing interviews all day in each city, so if you see or here one, let us know:


Chicago Sun Times Interview





News Reported: 06/28/01


Tonight starts the three shows with Billy Idol: Chicago, Detroit, Pittsburgh. Aaron heard an interview on Chicago's dj Mancow's show today with Billy Idol. Then came SLASH! Aaron says they talked about GNR with SLASH being polite and saying he was anxious to hear the new GNR album. Mancow said some negative things about Axl, but SLASH did not. SLASH said Duff called him recently during a soundcheck. He said TSI? got its name because the band hid coke in a bowl of spaghettie, and Steven ate it and was rambling and not making sense, so they decided it would make a good album title.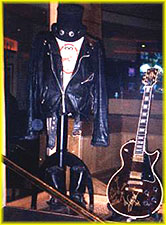 He talked about the memorabilia he has given to Hard Rock Cafes and the Rock and Roll Hall of Fame. SLASH gave a black '58 Les Paul to the HR in Vegas, but he must have been drunk because he now wants it back! He sais when you see a tophat at these places, it is not real because there is only one real one. Some of the leather jackets are real, and some aren't. Everything at the Rock and Roll Hall of Fame IS real. About the song "One In A Million", he was once confronted about this at a Mall in Chicago by two big black guys. SLASH said he had nothing to do with that song, and it was stupid to produce it. Thanks, Aaron! If you are in Chicago, you'd better get going to the show. Tomorrow night is the Detroit show, then a day off, then Pittsburgh Friday.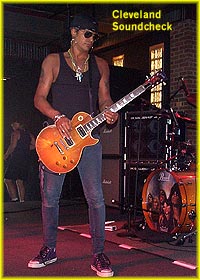 We went to the Cleveland show last night. The whole experience is so cool that it is worth a big effort to get yourself there. Our drive was 3 hours, and we got into Cleveland early afternoon. We were headed for the Rock and Roll Hall of Fame, but we decided to find the venue while it was light out. When we got there, the big white tour bus was just parking! We waited a little while then went in. The bar was open, so we got some drinks and wandered around. We ran into Adam Day setting up the stage for soundcheck. Luckily he remembered us, and he said it was ok for us to watch and take pictures.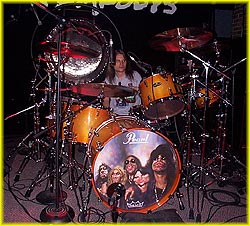 Matt Laug was first to arrive from the band, and he did a lengthy check on his drumkit. He has a great big beautiful gong that he uses during "Shine". At the end of his soundcheck, he did a gong test for us which was great. His drum tech had an old drum head that was being discarded, so of course we took that over. Matt wrote a big inscription and drew a picture on it. Matt is so nice and so funny! We even got to hug him and he felt wiry and strong. Then came Keri and Johnny and Rod. Rod had a bad cold again, but as usual, he was very cordial and welcoming. Johnny also came to say hello in our out of the way place. Johnny's beautiful hair is growing back, and he looks great.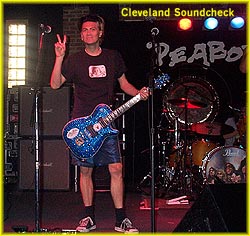 Keri came over and talked. We liked his hair, too. Keri is very easy to talk to. Each band member soundchecked his own instrument. Then the wait began for SLASH who was at an interview. Finally, SLASH arrived, and we tried to disappear into a corner as we didn't have his permission to be there. He is so clearly in charge! When he walks in, he gets things going fast. He had on tight blue jeans, tennis shoes and a tshirt, hair pulled back with a bandana and a cap. Lots of silver jewelry. Before they got started, SLASH discovered us, and he came right over. He seemed glad to see us, and he told us to stay right there and watch and take pictures if we wanted to by coming up closer. So we did. We had a chance to talk to him after the soundcheck at the bar where Our Guy drank cranberry juice and club soda, and we drank cokes. He was just terrific and signed 3 small things I brought. Right away, he saw that we had All Access passes so we could come and go. After some time, he went back to the hotel to change, and we ate dinner and hurried back. The club was filling up, but SLASH had given the word we could stand at the soundboard which was way high up so I could see clearly. SLASH's girlfriend was with us most of the night, and she saw that we got to do everything we wanted. It was a wonderful visit with both of them, and we wish they lived closer. Thanks to SLASH and Perla and the band and the crew that made this a really memorable night. Seeing the band live was not to be believed. SLASH wore a black shirt, black jeans and his tophat. The shirt was discarded. It was so hot in there. Watching them perform "Back to the Moment" was one of the highpoints as this is our favorite song on the album. "Mean Bone" just blew us away, and it's impossible not to sing along. Every song just rocked, and I didn't see one false step or hear one false note. They were excellent! If you can get there to see them, do that. At the end of the show, they signed autographs. There were hundreds of people in line, so we left them to it. We see these great guys Friday in Pittsburgh! Matt was also there and thought it was great. He tells us that WMMS - 100.7FM - The Buzzard will have a rebroadcast of the Cleveland show this Sunday night, July 1 at 10pm. Matt says that complete information as well as a live sample of the Snakepit show ("Mean Bone") can be found on the web. (Please note that we could not find this, so if you can, please let us know!). Here's the link from Matt:
Cleveland Sample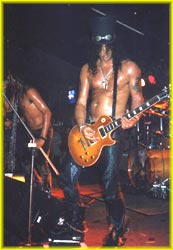 The Birch Hill, NJ show was just before Cleveland. There were a lot of fans out for this one. Vaultdeedee had never seen SLASH in the flesh before. SLASH didn't disappoint. He was great! Thanks! Max says that show really cooked, but the 3 opening bands were useless. SLASH signed autographs at the end, but he had to tell fans to keep the line moving. He spoke in his professional voice which was something Max had not heard before. The rest of the band was laid back, but most people wanted to talk with SLASH, and the line was really going slowly. Remember, the other guys may not be so busy, and they are super to talk to. Max took about 20 photos he is sending for the Tour Photos. Thank you, Max. Max says he has several 8x10 Pro shot concert photos of SLASH. He will sell them to fans at cost (shipping and developing). These are for fans only, not to resell. If you are interested, contact Max at Max1971@aol.com.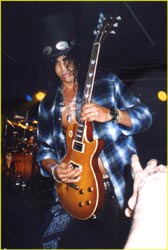 Joe was at Birch Hill, too. He said the show was one of the best he has ever seen. Snakepit came on around midnight following three "crappy" opening bands. The merchandise was shirts, tour books, panties (with free pick), CDs. There was a sign saying SLASH would sign autographs after the show. The crowd was really nuts for SLASH and the band. The show was great. The signing was PACKED. The band was really cool to talk to. SLASH looked healthy (not drinking) and was having a blast. SLASH told Joe that he and Izzy are still friends. At one time SLASH, Izzy and Duff had talked about taking their bands out on tour together and then jamming together at the end. Security said you could have only one item signed, but SLASH signed everything. Perla was rollerblading around, and Joe got to meet her. Perla asked Joe if he were going to the Pittsburgh show, but he said it is too far away. It was a night he will never forget, and Joe said he would send pictures soon! Thanks, Joe! Brandon says Birch Hill was incredible. He says it was a better show than NYC which they cut short because of the heat. Rod was throwing up due to the heat at that venue. Everyone in the band was nice to him and remembered him from each show. Brandon says he has some good pictures from the show, too.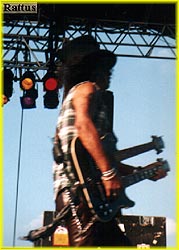 As we are still recovering from the show and especially the long ride there and back, we'll cut this report a little short too. We'll get the rest of those Birch Hill, Hyannis, Buffalo show reports out to you very soon. Here's one you can check out on your own. It's from Ratt who was at the Buffalo show (among others). He has some great pictures of the show there:

Buffalo Show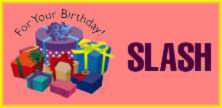 In the meantime, something to think about from Brian. Rolling Stone has its usual birthday mention in this week's issue. SLASH's birthday is listed along with Carlos Santana and Mick Jagger. SLASH will be 36 on July 23. Why not send SLASH a card or a gift? The address is:

                                   SLASH
                               8033 Sunset Blvd.
                                  Suite 994
                             Hollywood, CA 90046

News Reported: 06/26/01


The tour is picking up speed and heading into the midwest with the Cleveland, Ohio show tomorrow followed by Chicago, Detroit and Pittsburgh this week. Cleveland's venue, Peabody's, claims on its web site to be the most intimate venue Snakepit plays on this tour! So if jam packed venues are your favorite, we'll see you there. We spoke to SLASH this evening, and the band had a day off. Most of the guys had gone out to the Rock and Roll Hall of Fame this morning. SLASH chose to sleep late. They are enjoying a relaxing day in Cleveland. SLASH was going out to see the new Angelina Jolie movie. Tomorrow he has several interviews to do before the show. See you tomorrow, SLASH! Don't forget to save your ticket stubs and email them in when you've gone to all the shows you plan to see this tour. We have a special prize for those seeing the most shows on this tour. Thanks!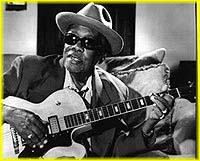 Before diving into these great reviews, we wanted to bring to your attention the death of John Lee Hooker. John Lee Hooker was one of the patriarchs of blues and an influence on Slash's playing. He will be remembered as a musician who shaped boogie blues and inspired generations of musicians and fans. Hooker died at age 83 on Thursday in California just days after doing a performance. He recorded over 100 albums throughout his career beginning with a single in 1948. Here's what SLASH had to say about John Lee Hooker:
"Any [musician] who has been doing his own thing for so long to the point where you have so much respect for them, you almost want to be them," former Guns N' Roses guitarist Slash said. "Just the real traditional, down-home blues guitar playing has always been a huge influence on me and countless other guitar players. You could talk to anyone from Eddie Van Halen to Eric Clapton and they'll tell you that."

During some of the SLASH's Snakepit shows, SLASH is playing a little blues in memory of John Lee Hooker, dead at age 83.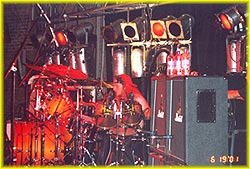 On a brighter note, some of us had a chance to talk with Matt Laug, Snakepit drummer, on Saturday. There was a Chat With Matt at one of the Snakepit websites. Matt said they had just gotten into New Jersey at 6am, and he hadn't been to bed yet. We were able to chat with him for about an hour. He did all his own typing, and he really seemed to keep up with the group very well. He said the tour is going great, and he is having a wonderful time. He answered questions like "What advice would you give a beginning drummer?" (Hit them hard and listen to a lot of music) to "How do artists pay bills on the road?" (I pay mine online!). If you'd like to read the transcript, it's on the site that held the chat:

Chat With Matt Laug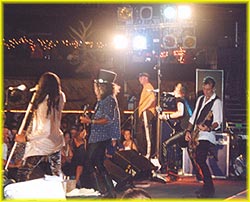 The most recent show was at Birch Hill, NJ. There were a lot of net fans there! Nicole says there were some really diehard fans in the audience; they knew every word to every song! Keri had 3 hair colors: red in back, yellow & black up front; and Keri was really nice to the fans who came to welcome the band at soundcheck. Nicole thinks Rod was singing better this year, not shouting. SLASH wore a blue flannel shirt with most buttons open, and you could see that S/P diamond necklace. SLASH looked fabulous and is a magnetic entertainer. Nicole liked his "Back to the Moment" guitar solo best. Thanks, Nicole. Matt was also at Birch Hill. There were three opening bands! The third one was terrible. Snakepit came storming out and went right into "Life's Sweet Drug". By the end they did every song off Ain't Life Grand plus "It's So Easy", "Mr. Brownstone" and "Beggars & Hangers-On". After the show, the band hung out and signed autographs. Matt was lucky enough to get a guitar pic from SLASH! Thanks, Matt.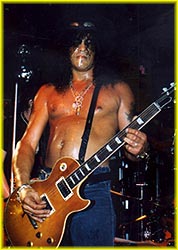 Some more reviews have come in from the NYC show at the Wetlands. Mike says he was one foot from SLASH! The show was amazing. The band came on about midnight opening with "Life's Sweet Drug", and the whole place went bonkers. The only album song missing during the night was "Ain't Life Grand". This show was one of Mike's favorite experiences. The only downside was that SLASH didn't come out to sign autographs. Mike said they are great guys and really rocked. Thanks, Mike. Chris was also one of the nightowls who hung out to see Snakepit. Chris said no one was allowed in till 10:30pm. Evidently the equipment was late getting there. But the band was energetic and happy to be in NYC. SLASH's guitar playing wsa phenomenal, and they played about an hour and a half. Thanks, Chris!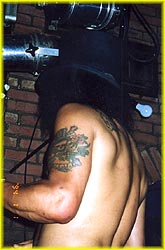 Brian tells us the Wetlands show was SOLD OUT! 600 some tickets...gone. Chris was able to stand the whole time right in front of SLASH. He got to touch SLASH's guitar a lot. Keri bent down and slapped Brian a high five and gave him the pick he was playing with. When Johnny started "It's So Easy", the crowd pushed forward. SLASH assumed the vertical guitar position...right in front of Brian. A dream come true. The band dedicated "The Alien" to Producer Jack Douglas who was in the audience. Johnny slapped him five once or twice, and Keri threw picks into the crowd. Brian snagged another one! Brian says the guys just blew him away. The encore started with a "Blues Jam" dedicated to John Lee Hooker (see above story). Then "Mr. Brownstone" and "Speed Parade". Brian says as the crowd moved back, he discovered he was soaked with his own, SLASH's and the crowd's sweat. Matt came out and signed his tour book, and Brian had to leave. The next morning he saw his autographed tour book, his picks, ticket stub and flyer. His clothes left a wet spot on the floor. His muscles were strained, and he had bruises, but it was the best f*cking show he's seen in his life. Great! Thanks, Brian! Our NYC friend Maria made it up to the Wetlands, too. Like many of us, she has never been close to SLASH or any professional guitarist in her life. She says the band was right on the money. The venue was small, packed, SOLD OUT!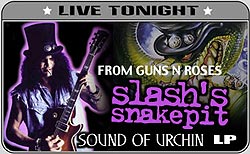 Maria didn't get to meet the guys after the show, but she saw them get off the tour bus beforehand, and SLASH banged right into her! Maria said, "OH MY GOD", got tears in her eyes and was shaking like a leaf. Maria had a chance to yell a greeting at Rod and SLASH, and they both responded with smiles. She said others in the line never seemed to recognize them! (OK, everyone, study the pictures here!!). During the show, Rod said he loves NYC for the beautiful women and beautiful drugs. Maria had such a good time although she is a little deaf from standing by the speakers! Thanks, Maria. Max sent a bunch of pictures which we will be using all over the site. Thank you! Max says SLASH came on in a blue shirt, black jeans, unlaced and untied engineer's boots and his signature tophat. The band looked tired, but they put on an awesome performance. Rod gave Max the mike 3 times to sing with and for him! After the show, Rod hugged him and said, "thanks for rocking out with me man". SLASH went directly to his limo. It was 4am and about 100 fans were waiting. Max says it was just so late, and SLASH would never select one or two fans, so he just left. Max was heading for the NJ show the next night!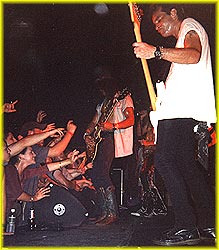 These reviews are from the Northern Lights show on June 15. RFW took his son to the show. He said the band did a fantastic set under really bad conditions...it was so hot there! The band sound was balanced and fresh. Great vocals, good songs, and SLASH's solos were highpoints. After the show, the band signed autographs. Meeting one of his heroes was an experience of a lifetime for his son. RFW say, "As a former musician, and still music lover, I was proud and thrilled to have been at the date. My son and I had a wonderful and memorable evening. Thanks, SLASH (et al.)". Thank you! Michelle has been working day and night building a web site for her review of the Northern Lights show. If you go there, you can read all about Michelle's experience and see some photos:


Michelle at Norhern Lights





We'll be away tomorrow on our road trip to Cleveland, OH to see Snakepit, and we hope to see a lot of you there! Stop in and see the Rock and Roll Hall of Fame and check out the SLASH stuff! We'll return Tuesday with our own review!



News Reported: 06/24/01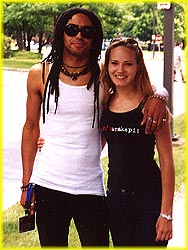 Some updates on show listings. The Dallas venue is Deep Ellum Live which is all ages, but under 17 must come in with a parent, and ID is required. 328 Performance Hall in Nashville has tickets on sale now. This is a 21+ venue. Tonight is the New York show, and tomorrow night is New Jersey. Then the band has Sunday off before they smoke Cleveland on Monday night! Eric from Windsor, Ontario Canada has some information if you are coming in for the Detroit show on June 27. June 27 is the same night at the International Freedom Festival fireworks show that's held on the Detroit River every year. Eric advises allowing extra time to get to the Snakepit show as they are playing with Billy Idol and are not doing a full set. Be nice if you got there in time! Thanks, Eric. Speaking of forthcoming shows, Snakepit is coheadlining with Billy Idol at the Chicago, Detroit and Pittsburgh shows. Snakepit goes on first, and both acts will do a shorter show. If you need to brush up on your Billy Idol knowledge, VH-1 has the Billy Idol story, "Once a Punk..." scheduled for tonight, June 22 at 9pm, June 24 at 12am and June 26 at 12pm. Rebel yells guaranteed. Here's the whole tour schedule:

Snakepit Tour Schedule

Some more reviews have come in. If you write one, it will be condensed and appear here. It will appear unedited in the Fan Show Review section which is off the SLASH's Snakepit Menu Item. So, send your review in! And photos! Before we get into these, there's some good news. Live Era has been certified platinum! With the small amount of publicity this received, everyone is really pleased by the album sales. The award has the Live Era cover in the middle with platinum albums on either side. A platinum CD is in each bottom corner, and the album title is screened on top of the glass over the cover. SLASH will be getting his soon!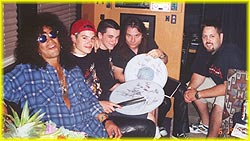 Tom and Kelly sent in a review from the Clifton Park show. They got to see soundcheck! This was the show where the equipment was missing. They said SLASH never objected to their being there and allowed them to take pictures. They say SLASH has ruined their idea of a rock star! SLASH didn't throw even one tantrum! They came away from the show with a "once in a lifetime feeling". The band rocked, and the people in the band were really nice. Thanks! Larry was at Pufferbellies for the Hyannis show. Two days later, his ears are still ringing. Larry said he can't remember the set list because he did a lot of partying, but he knows it was the best show he has ever seen SLASH do. He has seen SLASH about ten times! SLASH looked good. He wasn't partying too much and seemed really on the ball. Way to go, SLASH! Awesome show!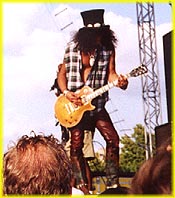 Thanks, Larry! Norm and Michele were also at Pufferbellies. The band was great and played to a crowd of about 300. It's a small venue, but they played like they were in front of 20,000. SLASH and Rod were playing to the crowd and having a ball. Norm and Michele said that you can tell SLASH really cares about his fans. They loved hearing the new album live and seeing the band live. The only drawback was there was no merchandise for sale there. These two married fans will try to catch up with Snakepit again this summer! Thanks! Ian is from Room With A View, the band that opened for SLASH's Snakepit at Pufferbellies. Snakepit came on around 11pm, and Ian watched the show from the side of the stage. He says the band nailed every song. Of course, Room With A View was there for soundcheck, too, and that's when he met SLASH. When Ian talked to SLASH for the first time, SLASH said he was a little nervous! Ian said he was, too. SLASH and Ian joked back and forth during soundcheck, and Ian said it became just like playing with a friend's band. The only downside was the bouncers who were not really very pleasant and pushed everyone (including the bands) out for doing autographs. So they did them outside. Ian says his opinion of Snakepit is good. Rod just talks away like you have known him for years. SLASH is focused and very intense but a nice guy. Thanks, Ian! This is the first one in from Philly. Dave wants everyone to know that he got to meet SLASH! They shook hands, and SLASH signed his ticket. Dave also got to meet Rod for a minute. The band rocks, and Dave says he's glad he made it to this show. Tickets to this show were free from a radio station. Snakepit played for an hour or so. Dave wanted more, but his getting to meet SLASH topped off a great night. Thanks, SLASH and Snakepit from Dave. And Dave, thanks for your review!

Oystein in Holland has started a forum where you can come and talk about SLASH. You'll need to register, and then you're welcome to join any of the SLASH discussions.


SLASH Forum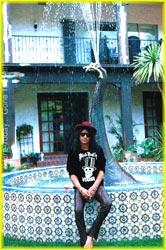 If you haven't read the Rolling Stone cover article on Angelina Jolie, you might look at it at the library sometime. In amongst a lot of weird things this actress does were some SLASH mentions! Vicki and Sara told us about the article in the July 5 issue. Jolie and Billy Bob Thornton bought SLASH's mansion. Thornton coveted the Snakepit studio in the basement which SLASH was not nearly as attached to as we are! The studio was the big selling point. What else did SLASH leave behind? The big dinosaur in the fountain which Jolie said they might get rid of. The beautiful pool will be drained and filled with those cheap plastic balls you see in kids play areas. Get a little blood on them, and they could be truly bizarre. They say the house has mysteries with its underground tunnel. This is no mystery, Angelina, better read up on the SLASH interviews. This was a tunnel to speakeasies during Prohibition. There's a door they can't open to an elevator which they want to use for sex. Call a locksmith! We're sorry, but this house will always be special because SLASH lived there; and Ain't Life Grand was recorded there; and Snakepit came together there. Lots of good memories. Thanks, Sara and Vicki!



News Reported: 06/22/01


There are 3 new shows added to the Tour Schedule! One is in Nashville, TN on July 7 at 328 Performance Hall. The other two are Texas: July 9 in Dallas (no venue announced yet) and July 10 in Houston at The Engine Room! That is a total of 3 now for Texas including the July 11 show in Austin at Metro. There is one correction. The show on July 6 at Pop's Annex is in Sauget, IL (not St. Louis as was previously noted). Don't forget! If you're going to the Austin show on July 11, you'll want to send an email or call Mike at Back Porch Mary. Back Porch Mary opens for Snakepit at that venue, and Mike needs to sell 300 tickets. He'll save you the service charge. Call Mike (512-835-6887) or email him at brandalin@ev1.net for details. He'll even send them out postpaid. (Last time we called them Back Stage Mary as we were dreaming of backstage passes! This is Back PORCH Mary!). For all the venues, we have all the information available on ticket sales and age limits. Every venue is linked to a web site. This information is in the Tour Schedule:


Tour Schedule


If you find information not on the list, please let us know. Thanks!

Just a change of schedule note. SLASH will be on the Opie & Anthony radio program this Friday, July 22. He was not on today. So tune in Friday between 3 and 5 to WNEW NYC and here SLASH!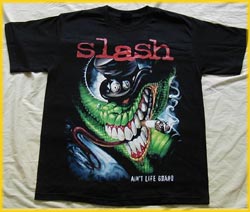 We heard from Rat in Canada who attended the first three shows. He let us know that Snakepit has merchandise for sale including tshirts and tour books. Rat got a long sleeved tshirt for $35. The tour book is $15 and the pin for $10. Rat says they sign autographs after show wherever they sell the merchandise. Ratt said SLASH looks great, really healthy, and the band rocked. Seeing SLASH with that big Erie Basin Marina crowd was so cool. Rat has a long review of his road trip and seeing three shows. There's a link here for you to visit Rat's site and read all about it. Pictures coming soon! Thanks, Rat!


Rat's Review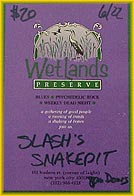 CONTEST: What's the most shows people are going to? Right now it looks like Rat has the record with 3, but the tour is just getting started. If you go to 3 or more shows, let us know. At the end, we'll need to have ticket stubs or SLASH mailed in to verify you were there! And we'll come up with a good prize. Rat, you are the leader right now with 3 shows.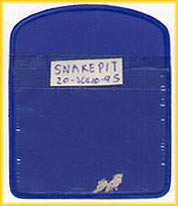 Nick went to two shows. Come on, Nick, fly to Texas and pick up 3 more! Nick was at the Lost Horizons and the Buffalo show. He got to meet SLASH at a signing at the Last Unicorn, and they got a picture together. Rod did some stage diving, and SLASH dripped sweat all over them! SLASH gave Nick his towel at the end (he probably needed it after that downpour!). The Buffalo show was also amazing. SLASH tipped his hat at Nick as Nick was also wearing a tophat. Someone stole Nick's hat, but he did get it back. SLASH told him about how someone stole his hat. Nick says he is going to Detroit for another show! Let us know if that happens, Nick. You and Ravi keep those stubs.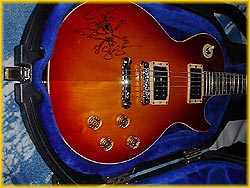 Toky from Syracuse said the show there was great, and it took two days to recover from! Bouncers took the camera away, but they gave it back after the show. Sound was excellent. Toky recommends the show to any rock n'roller! Jerry was also at the Syracuse show, and it was awesome. Two GNR tunes were played: "It's So Easy" and "Mr. Brownstone". "Beggars and Hangers-On", off the Snakepit 95 album, made it onto the setlist. Jerry said the Lost Horizon is a dump, but it rocked. Jamus Breed opened, and SLASH wore one of their tshirts onstage. They set up a table for autographs after the show which impressed Jerry. SLASH signed Jerry's 89 Les Paul, and Jerry thought he would die. Jerry is hoping to get to the NJ show. Go for it! Here is the guitar SLASH signed for Jerry. Bring your stuff to these shows! SLASH likes to see what you have (especially guitars!) in the way of memorabilia. He's having a great time with the fans.



Next show was the Erie Basin Marina for the guitar festival and free show. If you live near this and didn't make it, well, you missed one of the best shows ever. We got a message from a young fan. Brittany is 14, and on Father's Day, she and her family headed to the Guitar Festival. They arrived at 7:30 pm which was a bit late for Snakepit who were to go on at 6:30. Parents are always a little late! Luckily things were running behind a little, and Snakepit was up there rocking! Brittany was very excited to see the famous SLASH onstage a few feet away. But the one who really seems to have caught her eye is that smooth lead vocalist, Rod Jackson. Brittany says Rod was wearing his hip hugger velvet pants. She said Rod is good looking and has an excellent voice. She liked how Rod jumps around and moves all over the stage. When Snakepit went off, Brittany got her mom to take her to where the guys were signing autographs (thanks, MOM!). Rod shook her hand and held onto it. She had nothing for Rod to sign so she gave him her shoe. Resourceful fan! Rod signed it, and he shook her hand again. The best moment of her life! No word on poor dad, neglected on Father's Day for Snakepit! Later, he strangled Rod. NO! Just kidding. Now, Brittany wants to take up guitar and play like SLASH and maybe play with the band in concert someday...and sing backup for Rod! Brittany, you are one terrific fan. Thanks!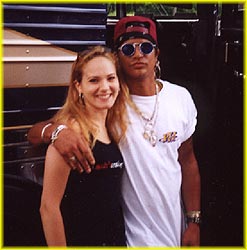 Nathan was there, too, and he says it was the best rock show he has ever seen. Snakepit did "Life's Sweet Drug" at soundcheck. Nathan says the show was great, some of the crowd was weird, but he is looking forward to the Pittsburgh show. Adele and her boyfriend Nic drove down from Ontario to see the 'pit at the Erie Basin show. This is Adele's second time seeing Snakepit, but this was the best because she got to meet SLASH! They caught up with SLASH before soundcheck at the tour bus. SLASH signed a flyer for them and posed for a picture. She also got one of Rod and Johnny. She said everyone was so nice and relaxed. Matt and Keri came by with a big hello. It was a dream come true. The park was packed with people. It was so hot that during the set SLASH took off his shirt and wore just his tophat and his reddish-brown leather pants. A great concert! The set was too short because there were other bands, and you can't get enough of SLASH! Thanks, Adele!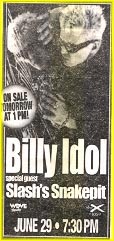 Patrick sent in the first review of the show at Pufferbellies. He says his ears are still ringing, and he will definitely see them again and buy their album. YEAH, Patrick!! SLASH rocked the stage at Pufferbellies. Patrick says SLASH has still got it, and he's definitely put together a great band. Thanks, Patrick!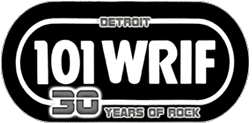 When SLASH does a tour stop, he always tries to do some publicity. Eric caught a SLASH interview on WRIF radio in Detroit. SLASH called in around 7:30 am from New York. He was full of energy and enthusiasm and talked about Ain't Life Grand and the upcoming Detroit show. Newsflash from SLASH!! He mentioned that VH-1 will be doing a "Before They Were Rock Stars" episode about HIM! He didn't know any details yet, but he had given VH-1 his mom's phone number and said he was sure his mom would have lots of interesting things to say! So, let's watch out for that one! The DJ asked SLASH to comment on how fat and out of shape Axl looked at the Vegas show (breathing heavily after one song). SLASH of course dodged this bullet and said they had both moved on. He didn't comment on Axl's weight but did give a chuckle at the question. Eric says if they post the interview on their site, he will be sure to let us know. Thanks, Eric!

News Reported: 06/20/01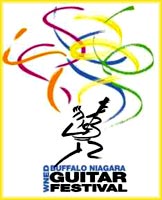 Snakepit finished their third show on this U.S. tour last night at the Erie Basin Marina. We would love to have a show review for the band and this page. We also need one from the second show, Lost Horizons. So if you were there, let us know what you thought about it...the band, the performance, the venue...anything interesting that you remember.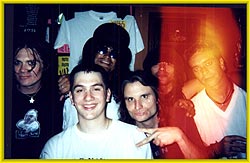 Some more reviews came in from the first show at Northern Lights, and we'll take a look at those now. And we even have photos! Lou (at right with SLASH and other familiar faces) says the show was awesome; the best show he has seen in his life! The show started with "It's So Easy" and ended (encore) with "Mr. Brownstone". This great evening continued after the show when the band signed autographs. He looked at SLASH and said to himself, "Wow! SLASH is right there"! Lou talked with Rod, Matt, Kerri and Johnny, and he got the whole band's autographs on his tshirt. SLASH signed a ticket stub for Lou, and Lou told SLASH he was his idol at which SLASH smiled. (If SLASH hasn't smiled at you lately, better get to one of the shows!) Lou says without SLASH he might have wanted to be a lawyer instead of a rockstar. Lou hopes to see them on the road again. Thank you, Lou!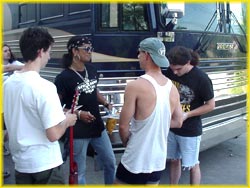 Jose was also at the Clifton Park, NY show, and he said it's the best show he's ever been to. Two days later, Jose's ears were still ringing. Play it f*ckin' loud! Jose was lucky enough to meet SLASH before and after the show. He came a few hours early and watched soundcheck. They met Rod and SLASH and got to talk to SLASH for about 5 minutes.SH is a cooy and very personable. In the autograph session after the show, the whole band was there for fans to meet. Jose hopes all you fans will get a chance to see a Snakepit show. Thanks, Jose!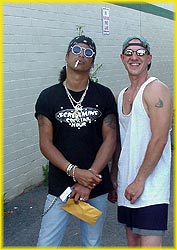 Paul was also at the show, and he met SLASH BEFORE soundcheck! He hung out in the parking lot where the bar staff told him to leave and that SLASH would not be there for soundcheck. They said SLASH has other people to do soundcheck. Don't believe that for a minute. SLASH is at every single soundcheck himself. Paul didn't believe it, and he hung on through all this till SLASH appeared! Paul got autographs and got to talk with SLASH for 20 minutes!! Paul sent along some pics of himself with SLASH and the drawing on his friend's guitar. Paul says that SLASH looks great, sounds great and is THE COOLEST DUDE EVER!!! SLASH really is THE MAN! Thank you, Paul!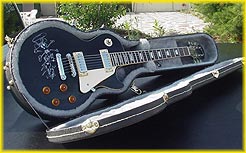 Juvi was at Northern Lights last Friday, and the show rocked! It's the best show he's ever seen. The highlight of the night was meeting SLASH, but Juvi was just as psyched to meet Matt, Keri, Johnny and Rod. Juvi wore his Rainbow Bar and Grill shirt, and SLASH noticed it during the show and flashed a big smile. Juvi said he was completely happy! Johnny tossed Juvi a bottle of water; it was so hot in there. Rod had so much energy and is damn wild! At the autograph session after the show, Juvi had a Rainbow napkin signed and a pack of cigarettes. He had his picture taken with SLASH (which we hope he will send along), and he said he learned this lesson: Snakepit = FUN! Thanks, Juvi!



Makes you want to go on a long road trip with SLASH's Snakepit, doesn't it? Tonight is an off night for the band. Tomorrow night is the big show in Hyannis, MA at Pufferbellies. Lots of people we know are going, and Ian's band, Room With A View, will be opening. Don't forget that Mikes's band, Back Porch Mary, is opening for Snakepit in Austin, TX July 11. Buy your tickets directly from Mike and save the service charge! Call Mike (512-835-6887) or email him at brandalin@ev1.net for details. He'll even send them out postpaid. What a deal! Help a true SLASH fan sell these quickly. Here's another opening band, and these guys opened at the Northern Lights show! The band is David Smith and Bad Karma. John Dodge got in touch with us, and he said Snakepit put on a great show despite their equipment not making it on time. John said Snakepit rented almost everything, and his band loaned Snakepit three Les Pauls and a Fender P-bass.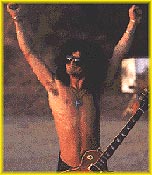 A couple of days ago we reported that Total Guitar, a UK publication, had a poll where SLASH won Best British Guitarist in his area by a landslide. The magazine did a spoof on electing a British "guitar government". Jimmy Page was voted Prime Minister. There is a 12 seat assembly, and SLASH won in the West Midlands beating out Tony Iommi of Black Sabbath. Despite living most of his adult life in the U.S., the UK still sees SLASH as a national treasure vacationing across the pond! We're pleased to share him with the world. Other winners were: Eric Clapton, Johnny Marr (The Smiths), Mark Knopfler (Dire Straits), Alvin Lee (Ten Years After), Steve Rothery (Marillion), Dave Gilmour, Richie Blackmore/Matt Bellamy (Muse), Angus Young and James Dean Bradfield (Manic Street Preachers). When's the first meeting?

Jimi also told us about Metal Edge which has an article about Izzy. Metal Hammer has one on GNR, but Jimi thinks it may be the new, not the original, band. Thanks, Jimi!



Reminder: Wednesday, July 20, SLASH will be on the Opie and Anthony show on WNEW New York. This will be between 3 and 5 pm, before the show at the Wetlands. Get those tapes ready! And let us know what the show was like if you do hear it. Thanks!

News Reported: 06/18/01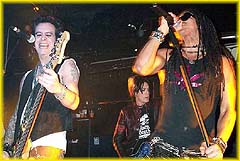 Last night was the big night: SLASH WAS BACK! This was at the Northern Lights in Clifton Park, NY. And it rocked! SLASH called from the bus taking them to Syracuse for tonight's show at Lost Horizons. He said it was one of the best shows they have ever done, and he was really feeling good and excited about being on the road again. He was so happy! The one bad thing that happened (and those of you in bands can relate to this) was that the equipment did not show up! It left the day before the band, on Wednesday, but it didn't make it to the show on time! Professionals can pull off a lot of shows under pressure, and SLASH said they borrowed and rented equipment so they could go on. If you were there and wondered where Godzilla and signature guitars and amps were, now you know. Everyone is together now. SLASH said the audience was dynamite, and the band just feeds off their reactions making a really rocking show. He also said he didn't think he had ever done a show before where it was so hot inside! OK, someone find the AC controls, and set them to "chill band". SLASH says he can't wait to do tonight's show, and he was going to try to sleep a couple of hours on the bus.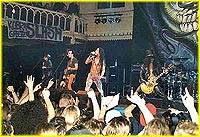 The first review we got in was from (we only have a handle) GunsnrosesisGod. This was their second Snakepit show. The band played almost 2 hours. They opened with "It's So Easy"! Then they did "Been There Lately". SLASH did a lot of headbanging, and Rod did a stage dive. No Snakepit 95 songs were played. "The Alien", "Speed Parade", "The Truth" were not played either. Everyone was hot, so Rod sprayed the crowd. The band was at the top of their game, and SLASH looked like he was having an awesome time. For the encore, the they did "Mr. Brownstone"; and a mosh pit started. People sang along when Rod thrust the mic at them. After the show, Snakepit came out and sat a table and did autographs. They were really friendly and cool. SLASH was wearing black jeans, and a beat up shirt with lots of jewelry including his diamond S-P necklace from his girlfriend. People took photos during the show, and one girl sat on a guy's shoulders with a video camera going. Rod flipped her off, but no one stopped her. It was a totally kick ass show, and all for $15. The club was not sold out but it was near capacity of 400. "If anyone has a chance, go see these guys. It was the best experience of my life". Thanks!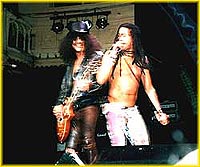 This one from Alex was posted on the SLASH listserv, so I suppose he won't mind our using it! Alex says his dream finally came true - he finally met SLASH! The venue was small and intimate with the band in arm's reach. Axex managed to get a setlist (signed by the band), and here it is: "It's So Easy", "Been There Lately", "Just Like Anything", "Shine", "Meanbone", "Serial Killer", "Back to the Moment", "Life's Sweet Drug", "Landslide", "Truth", "Ain't Life Grand" and "Mr. Brownstone". Alex said the band came out after the show, and he got to meet the whole gang, took a picture with SLASH and talked to SLASH for maybe 30 seconds. Alex says he was so excited he doesn't remember what he said. He says if you are going to the Syracuse show, have fun! The show rocks! Thanks, Alex!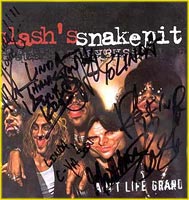 Remember, if you go to a show or went to this first one, send along your review. We'll put it up here and in the Fan Review section. Thanks! We'd like to have a Tour Photo section, too, so if you took any photos, please share! Don't forget to scan your ticket! Moving along to the Syracuse show tonight, Tony says the Snakepit show is getting major promotion on the radio in Central New York. That's what we like to hear! He says there is an ad on 95X, a rock station, almost every 10 minutes. Tony knows people who are going, but unfortunately he has to work! Cruel and unusual punishment! Thanks, Tony! Feel free to drive to any other show...just follow that tour bus.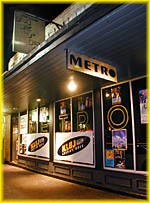 We want to tell the US Southwestern fans about a special deal with the show there. This is the Austin show on July 11. One of SLASH's Texan fans, Mike, is in the band "Back Porch Mary" that is opening for Snakepit there. Now, Mike has 300 tickets he is going to sell personally. He can sell you yours for the face value which is $20. You can avoid the service charges and get them directly from Mike. Mike says he will even pay postage for them so you will have them in advance of the show. We're sure Mike could arrange for yours to be held at Will Call if that is better for you. Mike says that the last time SLASH was there, the venue sold out fast, so call Mike (512-835-6887) or email him at brandalin@ev1.net. Mike is a good guy, and you can trust him. Mike says the venue is all ages, and the buses park out front. He's been told that SLASH will do a 45 minute Meet & Greet directly after the show. The venue is a perfect place for seeing SLASH, and The Metro is downtown in the entertainment district. Mike can give you directions if you need them. Mike has never met SLASH, and he says he wanted to meet him when his band opened for SLASH. He says that if you help him with these tickets, you'll be helping a fellow SLASH fan. And help yourself, too: make a new friend and save a little money. Thanks, Mike!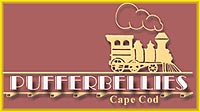 Ian's band, Room With A View, is opening for SLASH's Snakepit at Pufferbellies in Hyannis, MA on June 19. He let us know that tickets are on sale at Strawberries or at the door. Tickets are $23 for 18+ and $18 for 21+. Kristie informed us that the free show at the Erie Basin Marina now has a schedule that appeared in a Buffalo newspaper. According to this, Snakepit goes on at 6pm Sunday (tomorrow). Be There! Thanks, Ian and Christie. And here's the tour schedule if you need to see it again:


Tour Schedule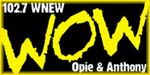 We were disappointed that SLASH would not be on Howard Stern again this time. The timing just didn't work, but SLASH will be on someday. Last time SLASH was on the Eddie Trunk show, and we enjoyed that. Eddie was a lot of fun but professional. After checking out where SLASH will be appearing, we are again not so thrilled. This is Opie & Anthony on WNEW New York (syndicated) on June 20 between 4 - 5pm ET. The site is full of adults only warnings. SLASH will be fine of course! The site doesn't indicate how to listen on the internet. If someone out there has done this, let us know how. Thanks!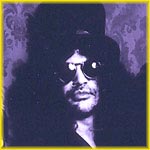 SLASH has been getting some press attention lately. The Petersen Automotive Museum's exhibit on Cars & Guitars opened this week, and the story broke nationally in the Beck-Smith sydicated, celeb-driven column on June 13. This one we were unable to locate. In the LA Daily News, there was a picture of SLASH with cars and guitars that ran to plug the opening event Thursday. The copy we got does not have the picture, and we've talked about the event several times before, so we'll just let this one go by. If you see the picture, would you share it? US Weekly will soon feature SLASH in a story about Anelina Jolie and Billy Bob Thornton. This is to be a six degrees of separation piece about the actors buying SLASH's house.



Here's a small item NOT about the tour. Awhile back people were looking for the Gibson Custom House SLASH signature guitar. These sold out long ago as you know. James found one for sale at www.gibsonguitarsdirect.com. Cost: 7000 pounds, $10,000 US. If you have to have it, here it is, and you have James to thank.



News Reported: 06/16/01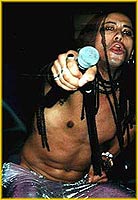 There's one more confirmed date for the tour schedule! The date is July 5, and it's at The Blue Note in Columbia, MO. So, after the date in Pittsburgh, they bounce over to Ohio, then head west through Wisconsin, Minnesota, and into Missouri. The tickets for The Blue Note are on sale right now! You need to be 18 to get in and 21 to drink. Be like SLASH and have some bottled water! Now, we do have unconfirmed word that there will be a show in Austin, Texas! Mike from the band Back Porch Mary says Snakepit will be coming to The Metro on July 11, and his band will open for them. This show is UNCONFIRMED at this time, but we are hoping for confirmation soon. Unconfirmed means that Slash has not signed the final papers saying the band will be there. We have been told that SLASH is now shooting for a 6 week, instensive tour with shows back to back and limited time off. We are not sure if this is all to be in the US or not. Definitely, more dates are coming. Here's the schedule once again with all these dates confirmed:



Jun. 15, Clifton Park, NY        Northern Lights     On Sale      ALL AGES (under 16 with guardian)
Jun. 16, Syracuse, NY            Lost Horizons       ??            ??
Jun. 17, Buffalo, NY             Erie Basin Marina** FREE**       ALL AGES**
Jun. 19, Hyannis, MA             Pufferbellies       ??            18+
Jun. 21, Philadelphia, PA        Electric Factory    Giveaway***  ALL AGES
Jun. 22, New York, NY	         Wetlands            On Sale       18+
Jun. 23, Old Bridge, NJ          Birch Hill Niteclub On Sale       18+
Jun. 25, Cleveland, OH           Peabody's           On Sale        ??
Jun. 26, Chicago, IL *           Riviera Theatre     On Sale        21+
Jun. 27, Detroit, MI *           Royal Oak Theatre   On Sale       ALL AGES
Jun. 29, Pittsburgh, PA *        I.C. Light Amphitheatre  On Sale   ??         
July  1, Columbus, OH            Newport Music Hall  ??             ??
July  2, Milwaukee, WI           Summerfest on Harley Stage On Sale  All Ages  
July  3, Minneapolis, MN         The Quest           ??             ??
July  5, Columbia, MO            The Blue Note        On Sale       18+           
July  6, St.Louis, MO            Pop's Annex          On Sale       ??

*Billy Idol coheadlines with SLASH's Snakepit at the last 3 shows in June.
Snakepit goes on first. Look up "Billy Idol" at Ticketmaster Online.

**The Buffalo show is the Buffalo Niagara Guitar Festival, June 14 - 17.
Snakepit appears June 17 at a FREE show called The Great Guitar Gig &
Fireworks Display. Starts at 1 pm. See website for more information!

***The Philly show is sponsored by radio station 94WYSP. It's in 
conjunction with their Babe Fest 2001 (Kid Rock to be there as judge of
beauty contest). 2,500 seats in Electric Factory. Tickets to be given
away by station. Show is all ages.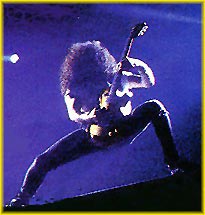 There's a big honor for SLASH in the current issue of the UK magazine Total Guitar, and it comes from the magazine's readers. SLASH won the Best British Guitarist poll in a landslide with 69% of the vote. Dane sent this to us, and he explains that although US fans see SLASH as an American guitarist, in the UK he is seen as much British as US! Furthermore, Dane says, SLASH has and always will be the greatest guitarist on earth! This is an early birthday gift for SLASH! Thanks to Dane and everyone who voted for SLASH.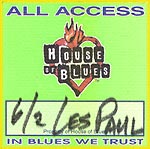 At left is a pass for the "Les Paul & Friends" show at the House of Blues. SLASH was nice enough to send the pass along so we could see it. And there are two more of those great photos taken at HOB when SLASH and Les played some beautiful music together: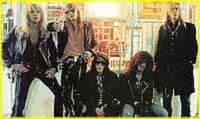 The latest issue of the UK magazine Mojo has a full page article about Izzy Stradlin and Guns N'Roses. This was an interview with Izzy, and it's a good one. It gives more details on what it was like joining up with GNR...and leaving. The article is called "Hello Goodbye: Izzy Stradlin and Guns N'Roses". Some SLASH mentions of course. We personally got a kick out of SLASH with all his equipment when Izzy was "living in a box". Now, you knew SLASH would come up with good equipment, didn't you? Izzy makes some biting remarks about Axl Rose who seems to have forgotten that this was his old friend from Indiana. Paul Huge/Tobias should take note. Click here to read the article in its entirety:


Hello Goodbye





News Reported: 06/14/01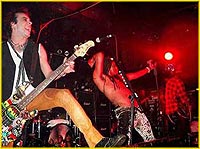 We've waited since March 11 when SLASH became very ill in Pittsburgh and the shows were all cancelled. Things have been very quiet with Snakepit. But this week...SLASH's BACK! Tomorrow, Wednesday, the equipment leaves for the new tour, and Thursday the band follows it to New York. Friday night is the first show, and it's in Clifton Park, NY at Northern Lights. Tickets are on sale at the box office and through Ticketmaster. All ages are admitted; but if you are under 16, you need to be with a guardian. Hopefully, some of you will be there and let the rest of us know what it was like. Was the set different than the past tour? How did SLASH look?

SLASH has been rehearsing the band constantly... so we expect they are ready, but what did you think? Did you get to see SLASH and the band after the show? Was there merchandise? And if you take pictures, we'd love to put some of yours up here. It's a really special night, so we are looking forward to hearing about it. Saturday, June 16, is the show at Lost Horizons in Syracuse, NY. We have no word on ticket sales or the age limits there. Call the venue if you need information. And let us read your review if you go. Finally, on Sunday, June 17, there's that terrific show at Erie Basin Marina in Buffalo, NY. This is a four day festival featuring guitar music. Snakepit will appear on the last day. We're told that will be around 6pm or so. Admission is FREE. Come for the day, catch some sun and hear the 'pit! Summer is great! Any pictures, any reviews, please send to webmaster@snakepit.org. Thank you!

While we did hear from a fan who saw the "Les Paul & Friends" show at House of Blues in LA, we hadn't seen any photos. Now, we're in luck. A professional photographer took some pictures of SLASH and Les together. These are wonderful. We'll put in 2 tonight that are ready. The first one especially shows you how well SLASH is feeling! Bright eyes, big smile. Click the thumbnail picture to see the full sized photo:


SLASH's Back!



SLASH and Les Paul talking:


SLASH & Les Paul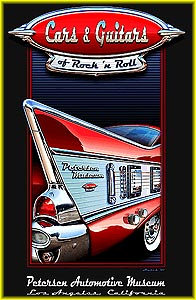 There's one other event beginning this week. On Thursday, June 14, the Petersen Automotive Museum opens its latest exhibit, Cars & Guitars of Rock 'n Roll. This night is a gala soiree, but if you go from June 15 through December 31, the tickets are inexpensive, and you won't be tripping over celebs. SLASH has loaned two of his classic cars, and photography is permitted. The museum does not have extensive information on this exhibit on their web site as yet. There will be photos posted there that you may want to check later. They will have related merchandise on sale here, too. There's a great looking poster that has caught our eye! Here is the web site connection:

Petersen Automotive Museum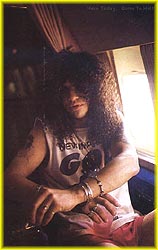 The messages to SLASH have been printed and sent overnight to him at his home so that he can be checking out all the requests. The notes you all sent to SLASH were wonderful. We're sure he will be very happy to read that you want Snakepit to come and see you. We know a couple more venues are under real consideration right now. These would also be U.S., but they are not confirmed. If there's another international tour, we hope to hear that Snakepit is heading for Europe, especially France, Australia and South America - fans there have yet to see a show and sent in many requests. For those of you on the tour schedule this week, have a great time!



News Reported: 06/12/01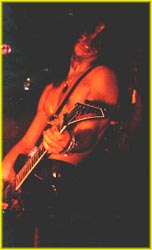 Did you see SLASH today on VH-1's show Behind the Music: 1987? There were a lot of artists giving comments. GNR came in for some high praise as the band that helped take the hair bands out of action. Instead of being out there for fun, GNR seemed angry. Special credit went to SLASH and Axl. Clips from a couple of GNR videos were shown: "Paradise City" and "Welcome to the Jungle". All this was, of course centered on Appetite for Destruction which one commentator said is an album that will never be duplicated. SLASH talked about how in the hair band days there would be more guys in the ladies restroom than in the men's. He also talked about the GNR approach to music then. It was a segment that made you proud to be a fan of the original GNR. Here's how VH-1 describes the show:
It was the year the excess of the '80s reached critical mass, and hair bands led the party. In 1987, the stock market swelled, scandal reigned, and pop music turned a blind eye to it all. Heavy metal went light, and hip-hop went white. In a sea of party rap and peroxide pop, music critics finally found their saviors. The Grateful Dead made a comeback, and then Black Monday signaled a sobering end to America's lost weekend. Bands such as U2 and R.E.M. married music and politics, foreshadowing the coming grunge years. Also features interviews with or clips from George Michael, Guns N' Roses, Public Enemy, the Beastie Boys, Michael Jackson, Bruce Springsteen, Poison, and Whitesnake.
The show airs again today, Sunday, June 10 at 9pm ET. On Monday, June 11, it's on at 12pm. On Tuesday, June 12 at 9pm and on Saturday, June 16 at 12 am. These are Eastern Times. For the complete list, check VH-1's site.

Some fans have passed on to us additional dates for the Snakepit tour. SLASH doesn't want these posted here till all the dates are confirmed. That means all the contracts are signed, and everything is agreed upon. Otherwise, things can fall through, and then fans are disappointed. Feel free to pass along any you have heard of, and we will hope the confirmation is on the way from SLASH.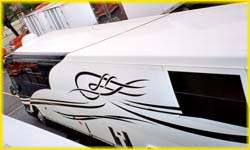 If you are going to a show where Billy Idol appears (Pittsburgh, Detroit, Chicago), the Snakepit show will not be a full set. Where they headline, the set will a full one. SLASH hopes to get to see you after the shows. The arrangements are the same. They go offstage and go to their dressing room to clean up and relax. Then they go to the backstage area to talk to the media and record label people. When that's done, they head out for their tour bus which is where you should be able to catch them...at the door going out, the bus or in between. There's a problem if the venue parks tour buses inside but for almost all the clubs, the bus is outside. Once in a great while SLASH has to leave immediately to go and do a late night radio show or he takes a plane to the next city to do publicity there. Almost all the time, he is there to say hello and sign autographs, get his picture taken, etc. You can try going very early to catch him at soundcheck. He will usually stop, but he can't stay for long. Neither SLASH nor the webmaster give out backstage passes.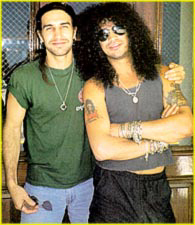 Another member of Snakepit 95 is going strong. Brian Tichy, the drummer in 95, has a band called Ball. Brian's newsletter says that you can now download clips of Ball's songs at his website. Brian does it all - sings, plays guitar, etc. When you get to the site, click MUSIC. Check out the Ball songs at:

Music from Ball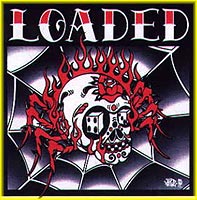 We're a little late with this one, but Duff's retooled band, Loaded, appeared in Seattle on Saturday night. As far as we know, Duff is still playing with Izzy's band, too.



Here's a short Ain't Life Grand review LuAnn found on the net in the Suite 101 site. Some nice remarks on SLASH and Rod here:

Slash's Snakepit - Ain't Life Grand

Former Guns 'N Roses guitarist Slash is in great form on Ain't Life Grand. He is one of the best guitarists in rock and roll, and his playing alone makes this a worthwhile CD. New Snakepit singer Rod Jackson sounds a lot like Whitesnake vocalist David Coverdale. His bluesy voice along with Slash's guitar and a strong rhythm section make for an inspired and high quality CD. Slash's Snakepit's sound is much more like the Rolling Stones or Ted Nugent than Guns 'N Roses.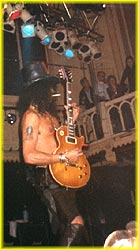 LuAnn sent a show review, too, from the Rocknworld site. This was the Yucaipa show, and every band member came in for a solid mention. The AC/DC review is first followed by Snakepit.


Snakepit Show Review

Thanks, LuAnn!

Tomorrow the mail you sent in about shows you'd like Snakepit to do will be mailed to SLASH. There is just an amazing number of messages here. Just hearing about it made SLASH get the four new shows scheduled, and he is working on more. Thanks for these!



News Reported: 06/10/01


Thanks to Mark and Darren who sent in the url for Pop's Annex, the St. Louis venue. If you check the Tour Schedule, you can go to Pop's directly now. Tickets at Pop's are now on sale as are those at Peabody's in Cleveland. If the age limit is not listed, give the venue a call. Tickets are available at the venues as well as Ticketmaster, and of course they are cheaper at the box office. If you check out the venues, they all have great things to say about SLASH's Snakepit.
The Pittsburgh venue says "The top-hatted GNR guitarist is still using his illusion". We talked to SLASH last night, and it seems that more may well be coming, so hang on. He asked to have all your mail you sent about wanting shows printed out and mailed to him at the fan mail address, so we will get that off to him this weekend.


Tour Schedule





Speaking of fan mail, SLASH says the fan mail box will be open even though he is on tour. He will do the fan mail on the road. All the fan mail is caught up, so that helps. There will be about a 2 week turnaround from the time it is received in Los Angeles. SLASH thinks it's better to keep everything the same rather than telling the fans that it is closed, now it's open, etc. So if you have been wanting to send something or to ask for an autograph or pick, this is a good time to do it if you can be a little patient.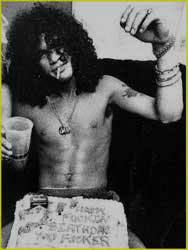 There's bound to be a large bunch of mail going out there in July. Why? SLASH's birthday is July 23, and he will be 36 years old. Seems like only yesterday he was in his early twenties. It would be great to send a card or a note wishing him a Happy Birthday! We've been asked about gifts. It's fine to send SLASH a present. It would be best not to send food or anything at all that is perishable or very fragile. What do you buy a rocker who has everything? How about some new pajamas! The address for SLASH fan mail is at www.snakepit.org, scroll down to Main Menu, click on Write to SLASH.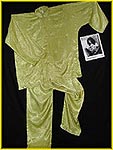 Tina is the person who was the high bidder on SLASH's pajamas in the Aid for AIDS charity auction on ebay. She sounds thrilled to have won! SLASH signed the pajamas for her on the collar, and she is watching the mail for these. Remember...SLASH said he wore them and did not wash them! Ahhhhhh. Tina said it was a lot of money, but she wanted them very much and the money went to a good cause. SLASH was so thrilled that his donation brought in the most money and thanks everyone who bid on his pjs. The woman from the charity who contacted Tina said that SLASH was very sweet and humble about raising so much money with his clothing. Tina is in demand for interviews now, and we hope she will let us know when that happens. Enjoy those pajamas, Tina!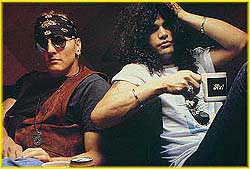 If you are a Matt Sorum fan, heads up! Matt will be on the Tonight Show this evening performing with The Cult. Every review of their new album and concert performances seems to be very positive. Good to hear that these ex-GNR bandmates have moved on and are doing so well. Thanks, Brian, for letting us know about Matt.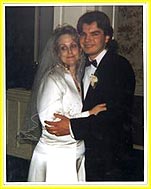 How many of us go to a concert hoping something more than seeing SLASH's Snakepit will happen? Something romantic! While we've heard a lot of wishes like that, we never really thought they came true. But for Deanna and Bob, it did come true; and they find that SLASH's music is really interwoven in their lives. Deanna and Bob met exchanging GNR memorabilia while SLASH stayed in Washington, D.C. in July '92, the start of the Metallica/GNR tour. Their first date was the Philly April '95 Snakepit show. The next day was Snakepit's NYC show, and that was the couple's second date. Another date was the Snakepit show in Columbus, Ohio the following week. In August '95, they met Steven Adler and became engaged the same day. Deanna and Bob were married in '96, and their first dance was to the GNR song "Patience". As a young married couple, they saw Blues Ball shows in NYC, Philly and New Jersey. SLASH was kind enough to write a note to them on their wedding photo. They've seen SLASH so often, he even recognizes them! Their wedding picture is top left, and the SLASH message is bottom right.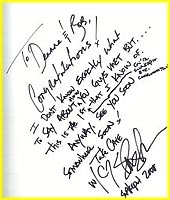 Do we have anymore love stories out there like this that include SLASH? You didn't know SLASH was also a cupid, did you? Take a chance, get out to the shows. If you see a cool guy or girl, say hello! You have music and SLASH in common, and that's a great basis for a relationship. Thanks, Deanna and Bob, for sharing that lovely story! Maybe we will re-run it on Valentine's Day!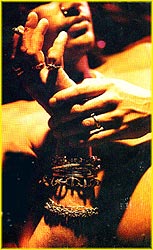 Here's another Q and A from SLASH. Linda asks, "SLASH, I read that if you want to play lead guitar, you need to have very large hands. This is so the hand can easily wrap around the neck and the fingers can reach all the strings. After talking to some amateur players, they tell me this is nuts. I don't believe everything I read, but I wanted to ask the best lead guitar player what he thinks".

SLASH replies: "Linda, it doesn't really matter what size your hands are to play lead guitar. Average hands are most common, but a lot of great female lead guitar players have very petite hands, e.g. Bonnie Raite".

Thanks, SLASH!



News Reported: 06/08/01


We asked you to send in a note if you wanted to see more Snakepit shows before SLASH pulled the band in to start on the new album. The answer was a huge YES, and SLASH has responded by scheduling 4 more shows in the US in July! He says he is working on some others which may or may not come through, but these 4 are confirmed! If you are in Ohio, Milwaukee, Minneapolis or St.Louis, you win! Now get out there and buy up the tickets, so he'll keep booking venues. Here are the new 4 for July:



July  1, Columbus, OH            Newport Music Hall  ??            ??
July  2, Milwaukee, WI           Summerfest on Harley Stage On Sale  All Ages
July  3, Minneapolis, MN         The Quest            ??            ??
July  6, St. Louis, MO           Pop's Annex          ??            ??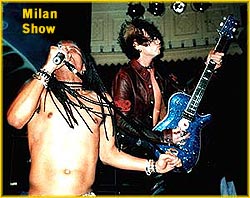 There are links to all the venues except Pop's Annex in St.Louis. If anyone knows their website URL, please let us know. As always, you can get tickets at the box office or on Ticketmaster. There are email addresses and/or phone numbers on the web sites if you want more information. We're very pleased that SLASH got these going, and we hope you are, too. This is not necessarily all the shows. Here's a complete list so far:


        SLASH's Snakepit Shows:
Jun. 15, Clifton Park, NY        Northern Lights     On Sale      ALL AGES (under 16 with guardian)
Jun. 16, Syracuse, NY            Lost Horizons       ??            ??
Jun. 17, Buffalo, NY             Erie Basin Marina** FREE**       ALL AGES**
Jun. 19, Hyannis, MA             Pufferbellies       ??            ??
Jun. 21, Philadelphia, PA        Electric Factory    ??           ALL AGES
Jun. 22, New York, NY	         Wetlands            On Sale       18+
Jun. 23, Old Bridge, NJ          Birch Hill Niteclub On Sale       18+
Jun. 25, Cleveland, OH           Peabody's           ??            ??
Jun. 26, Chicago, IL *           Riviera Theatre     6/2 10am      21+
Jun. 27, Detroit, MI *           Royal Oak Theatre   6/2 8AM      ALL AGES
Jun. 29, Pittsburgh, PA *        I.C. Light Amphitheatre  6/2 1pm  ??         
July  1, Columbus, OH            Newport Music Hall  ??            ??
July  2, Milwaukee, WI           Summerfest on Harley Stage On Sale  All Ages
July  3, Minneapolis, MN         The Quest            ??            ??
July  6, St. Louis, MO           Pop's Annex          ??            ??

*Billy Idol coheadlines with SLASH's Snakepit at the last 3 shows in June. Snakepit goes on first.

**The Buffalo show is the Buffalo Niagara Guitar Festival, June 14 - 17. Snakepit appears June 17 at a FREE show called The Great Guitar Gig & Fireworks Display. Starts at 1 pm. See website for more information!

This list is found on the World Tour section of this page. It will be updated with any information we find out.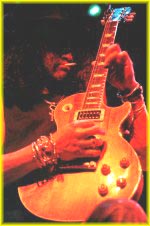 Distance was the only thing that kept many of us from going to the House of Blues to see and hear the "Les Paul & Friends" show. Every year the people that go just rave about it. This year was no exception. SLASH is playing better than ever, and you had to be there to get a taste for what these coming shows are going to be like. Here's a review that appears on the KNAC web site:


Les Paul & Friends Review

(Thanks to Christian and Yurich for letting us know)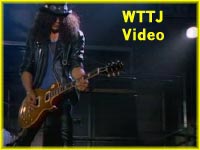 Here's something different that Olivier found for us. Guitarists may find this really interesting, but prepare to spend an hour watching the whole thing. Olivier did manage to watch the whole thing. He says this is a guitar workshop website with special shows, and there is one for SLASH. SLASH's techniques and style are explained and explored. You are taught how to play SLASH's solos and riffs. Olivier says he plays guitar himself, and this is very well done and explained. Everything is accurate. You can learn the riffs for "Always on the Run", "Paradise City", the "Welcome to the Jungle" intro and the "Knockin' on Heaven's Door" solo. The instructor gives advice on how to improvise something on "Sweet Child O'Mine". You need Windows Media to do this. Here it is for anyone wanting to check it out:


Play Like SLASH





News Reported: 06/07/01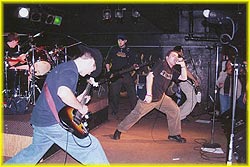 If you live in Massachusetts, you may have seen Ian's band, Room With A View, at one club or another. Ian just let us know that his band will be opening for SLASH's Snakepit in Hyannis on June 19! We know several people with tickets to that show, and now you can meet Ian and SLASH in the same place! Ian was kind enough to volunteer contact information and personal help to SLASH and the 'pit when they come for the show, and we've sent that along to SLASH. So, if you'll be there, please tell Ian and SLASH hello from the rest of us!



With less enthusiasm than usual, we pass along this information on the Philly show. The show is on June 21 at the Electric factory, and a DJ with 94WYSP let us know some details. He says the show will be a ticket giveaway show in conjunction with 94WSYP's Babe Fest 2001. There will be ticket "raids" throughout the city at various locations. You have to be tuned to radio station 94.1 to find out where and when the giveaway locations will be. Kid Rock is also appearing at the event to hold a Miss Bikini Philadelphia contest with bikini, lingerie and evening wear competitions. Now, there's a thrill, ladies. In case you thought women were making advances as people not objects, check this site. The phone number of 94WYSP is (215) 625-9460 for additional information. The DJ reminds us that the last Blues Ball show was at The Electric Factory, and that was a free ticket giveaway also. The only tickets available are these free ones. Here's the 94WYSP site:


94WYSP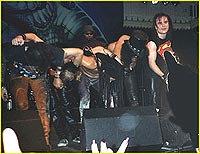 Just a reminder...SLASH is wrapping up the tour at the end of June with plans to go into the studio and do the next album. He said that they would do more touring as long as people wanted to come and see the shows. This means US as well as international. If you'd like to see a show in your area before the tour shuts down, email webmaster@snakepit.org and let SLASH know where you want them to appear. A ton of interest will make the difference! We'll take the results as of Saturday and let him know.

A SLASH mention was spotted by Ray in Sonicnet's News. This article about the car and guitar museum is the same one given yesterday... just in a new spot. Thanks, Ray.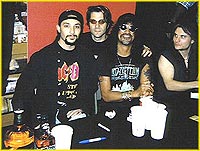 If you sent in your address for the Fan Address section, will you please check it again now? A few seem to have dropped off somehow. Let us know if yours is missing or if you want to be added. These are fans that are interested in hearing from other fans anywhere in the world. If you have questions about a show in a certain area, we've tried to make it easier for you to find someone to ask. If you want to get in on this or correct your entry, sent your first name or handle, email address, country (plus state for US). City, age, and picture are entirely optional.


Fan Addresses

Write to webmaster@snakepit.org.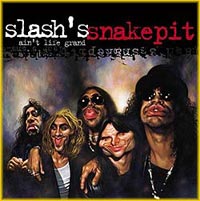 LuAnn sent us some more links from around the net. These two are reviews of Ain't Life Grand from Harmony Central and The Gauntlet. Before Ain't Life Grand comes to an end, it's good to read reviews that remind you why you liked it in the fist place. Thanks, LuAnn!


Harmony Central Review

The Gauntlet Review





This is a reminder from Snakepit's Official Site to come over and sign up to receive information on the forthcoming site. We understand that merchandise will be sold there, and you'll be able to purchase a fan club membership which will get you a lot of goodies like a newsletter, exclusive photos, chats, etc. The site is at:


www.slashssnakepit.com





News Reported: 06/05/01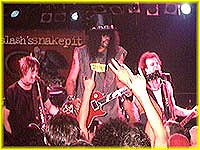 SLASH called in as he was grabbing some food on the run to rehearsal. As usual, the tophatted one is busy but lovin' it. We asked about the set of questions he has from us, and he said they are done and will be faxed very soon. He said the show at the House of Blues went very well, and he sounded pleased with his part in it. We asked about the premature end to the tour in support of Ain't Life Grand. SLASH said they will continue touring as long as fans want to see shows. We said that everyone wants to see shows! We ourselves are going to see two which pleased him. Obviously they can't get to everyone's hometown, so you might have to drive or take a bus or fly to the closest venue. There were fans in Europe who traveled hours on trains to get to the shows. We'd like to get across to SLASH how many people want more shows. If you are seriously interested, send email to webmaster@snakepit.org. and give the areas you could go to. We would say: Western PA, Ohio, NYC. That's all we need. We'll see that SLASH gets this. Let's do this fast - this Saturday latest. Thanks.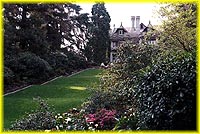 Steve told us that he went to see Spinal Tap at the Greek Theater on Thursday. SLASH was to join Tap for one song, but Steve said SLASH never appeared. We later learned that SLASH was spotted at the Playboy Mansion for a Tribute to Marilyn Monroe night. SLASH was looking handsome in a white suit and his tophat. Well, if the choice is one song with Tap or a night with those Bunnies, even a devoted musician has to take time for some visual pleasure!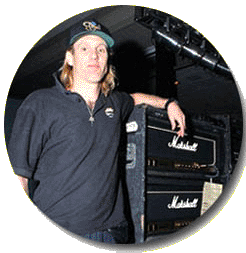 With visions of Bunnies dancing in his head, SLASH did hit the House of Blues Friday for a big night of "Les Paul and Friends". Clement let us know that he made it to the show. He said the crowd was mostly in their 50s, but the show was very cool. SLASH looked dressed up in a shiny tophat, shiny dark shirt, black leather pants and boots. Clement ran into Adam Day who said SLASH has completely changed his diet since he became so ill in Pittsburgh March 11. SLASH is careful about what he eats and has nutritious meals delivered to his house. The good news is that Adam says SLASH has never played better and never plays the same thing the same way twice. The show had guests including Jeff Baxter and Eric Sardinas. While Clement was watching the show, someone tapped him on the shoulder. It was SLASH! SLASH was noticing Clement's ALG tshirt. SLASH walked on, but gave an approving smile and mimed a toast. SLASH played 2 slow jazzy songs - one of which he wrote just that day in C-Minor. Les Paul was visibly blown away by SLASH's playing. After SLASH's songs, everyone came out on the stage and jammed; all 7 of them. Clement spotted Matt Laug after the show and talked to him too. A great night at the House of Blues! Thanks, Clement!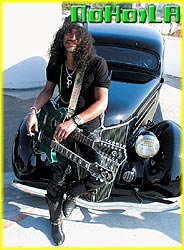 There are two interesting articles in NoHo>LA, and we have them both here for you. Click below and you'll see a great color picture of SLASH leaning on one of his custom cars. At right are the article titles. The first is "SLASH: On The Cutting Table", and this is a good one. SLASH answers questions about his childhood, not a usual topic for him. He says his idol was Shirley, a cartoon character. The article makes its way through SLASH's life and arrives at questions about music and touring today. Excellent. The second article has a SLASH mention. This one is "Cars and Guitars: The Retro Revolution", and it's about the exhibition at the Petersen Automotive Museum this month. SLASH is loaning two classic cars and some Les Pauls to the show. Another good article from the June issue of NoHo>LA.

NoHo>LA: Two Articles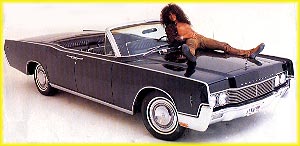 MTV Online also carried an article about the Petersen exhibit. SLASH got a mention there, too. The article was in danger of disappearing into the MTV vaults, so we captured it for you here:

MTV On Cars & Guitars




News Reported: 06/04/01


Don't forget! A week from tomorrow, June 10, is the debut of VH-1's Behind the Music: 1987. SLASH appears on this show and will talk about the what the music scene was like when he was in his early 20's! The show airs on Sunday, June 10 11am, 9pm and 11pm ET and PT. It will repeat throughout the week and month.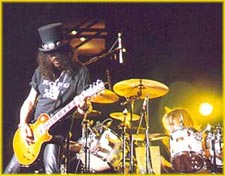 Other SLASH reminders: the Cars and Guitars of Rock 'n' Roll exhibit has its gala opening night on June 14. Two of SLASH's cars will be on display with photography permitted. And of course, all those shows beginning June 15 and ending June 29. Some fans have already scored tickets for these shows. If you can find a way to get to one, do it! After this, the band heads back to L.A. to go into the studio and work on a new album. Marie has her tickets for the NYC show at the Wetlands. She says the place is very small with standing only (general admission). She says there are no bad places to stand due to the size. Very cozy, and you should feel the sweat the band is going to churn up. Thanks, Marie! Randy called Lost Horizon, the Syracuse venue, and got the news about the venue being 16+. He says that Lost Horizon seats about 1000. Randy also said that the East Basin Marina in Buffalo holds about 20,000. Check their website for complete information on this guitar music festival. We ordered tickets for Cleveland with no problem. It's general admission. The show in Pittsburgh is at the IC Light Ampitheater which is reserved seating. Tickets were $30 and seemed to be moving at a good clip. The tent ampitheater holds about 2000. This venue has had noise complaint problems from the wealthy neighborhood that sits on the mountain above the venue. Police are called to monitor sound decibal levels. We plan to bring bail money for the 'pit!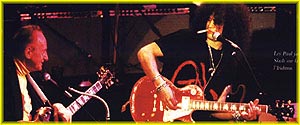 One last reminder is that tonight is the "Les Paul & Friends" show at the Sunset Strip House of Blues in L.A. SLASH is scheduled to appear. Let us know if you got to see him. Steve went to see Spinal Tap at The Greek Theater in L.A. last night. SLASH was scheduled to appear for one song, but the show came and went with SLASH. SLASH had said his appearance was iffy depending on what he was to play, but then we were told he would be there. We'll try to find out what happened.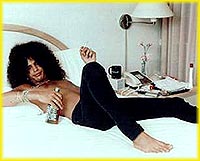 Audrey from Holland reports that the June issue of Aloha includes a small SLASH interview. The magazine says that SLASH is very happy with Snakepit but was kind enough to talk about GNR. Audrey says it is all old news (Axl wanted to change the musical direction of the band and SLASH didn't, etc.). At the end, SLASH says he is fine. He says he still smokes a lot, drinks Jack Daniels and doesn't use much stuff. Audrey says although it was a small interview, it was still fun to read! Thanks, Audrey!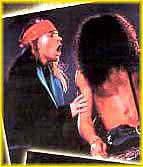 The news that captured a lot of attention was VH-1's show Cheers or Jeers. They decide if an event is a cheer or a jeer based on polls on the internet. For example, Axl returning with GNR minus SLASH. You can vote on this on VH-1's site. This current segment is about Axl returning using the GNR name. The conclusion seemed to be that this was a jeer because it is misleading. The panelists said they were not in favor of Axl's lineup because he is trying to pass this gang off as GNR which they are not (except in name). Writers from Rolling Stone and Spin provide commentary. They were heard to say that Buckethead is a sad replacement for SLASH because no one can replace SLASH. And also, that GNR is SLASH, Duff and Izzy - without them, there is no GNR. You can catch the show in reruns. It is on Saturday, June 2 at 9pm; Sunday, June 3 at 2 am; Tuesday, June 5 at 11am; Saturday, June 9 at 8am. Check VH-1's site for additional times. These are all ET and PT. Thanks very much to these fans who shared their information and thoughts on the show: Claire, Paulaahh, Sara, Jeff and Linda!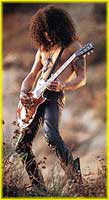 Now that we have that Metal Sludge battle of the way (SLASH lost the final round to David Lee Roth), Simon let us know there is another poll going on. The question is "Who is the coolest guitarist ever"? If you can believe this, Our Guy is not winning! Let's help move SLASH up!


SLASH is Way Cool





News Reported: 06/02/01