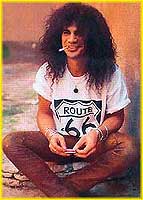 Sim sent some news from the UK. Velvet Revolver will be on Top of the Pops this weekend. First time is at 7:30 pm on Friday, July 2 and repeated at 1:15 am on Sunday, July 4. So watch for that. For more information: Top of the Pops. Thanks, Sim!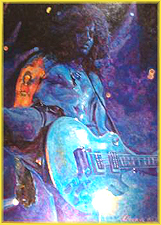 We wanted to remind you that SLASH's people tell us that the VH1 show, Behind the Music: Guns N'Roses followed by Inside (Out): SLASH will be premiering July 5 at 12:30 pm and 10 pm. Other dates are July 6 at midnight, 11 am, 7 pm, and 11 pm. One on July 7 at 9 pm. On July 9 there's 1 am, 5 pm, 11:30 pm. Finally, there's one on July 11 at 1 pm. And sure to be more!



SLASH passed along the official information on the European tour so far. We've updated our calendar which you can check on by clicking on the tour truck above. We've added in venue sizes for all the events. All the events we've had to date are still there, but we had a couple of mixups that are corrected. Notice that there is a trip to the Kerrang Awards on August 26 in the midst of the European tour. Then on August 31, Velvet Revolver hits some exciting places: the UK, Scotland, Switzerland, Italy, Spain, and Portugal. You may have to travel some to see them, but it's worth it! So go up to the tour truck and check out August and September to see what's new on the tour! Thanks, SLASH!

We've gotten in some fan information on the European tour and ticket sales, so for everyone who's written in asking about these, heads up!

**About the Paris show, Jean tells us the tickets are on sale now. The tickets go for 31.80 euros (about $38 USD). To buy tickets for the Paris show, try this url.

**About Finland, we heard from Riikka and Flash. Velvet Revolver is scheduled for Helsinki on August 10, and tickets went on sale last week. It sold out in under an hour which both Flash and Rikka says is very fast for Finland. Concert tickets like these are usually for sale through lippupalvelu.fi which is the Finnish equivalent of the U.S. Ticketmaster. Thanks to both of you!

**Bram and Annique sent some Netherlands ticket information. The tickets for Velvet Revolver are available through Ticketservice. If a concert's tickets do not sell out that way, you can buy tickets at the box office. Bram says he thinks that for foreign concerts, it would work the same way. With your credit card, you should be able to order tickets online at the ticketservices for each country. There is no one ticket sales place (like the U.S. Ticketmaster) for each country. Annique says you can also try in a train station hall where all the stores are. You can call them by finding the telephone number on the site of LOWLANDS by the ticket service of the web site. Annique says you can go to all the Big Post offices and order tickets for other countries. So, there you are! Thanks, Bram and Annique for that Netherlands information.

**Paco is from Madrid, Spain; and the concert is September 10. Velvet Revolver plays La Riviera, and tickets go on sale August 20, so he did not know the price or ticket sales yet. Paco also noted that Contraband debuted in the 22nd place which isn't so bad because the musical taste in Spain is pop at this time! Thanks, Paco!

If there's more news on sales and sellouts, etc., we'll let you know. The top question now seems to be...what about the UK? We have no information on that one yet. We have asked and hope to receive a list of confirmed dates for Europe and possibly the UK very soon.



News Reported: 06/30/04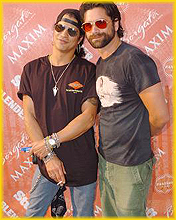 With ticket prices over $100, we don't know if too many fans made it to the Fantasy Island gig over the weekend in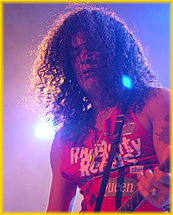 Atlantic City at the Borgota Hotel. Here are a couple of photos. SLASH is shown with John Stamos here. John and his band performed on the same stage with SLASH. Then you see the big VR lead guitarist rocking out! Worth $200!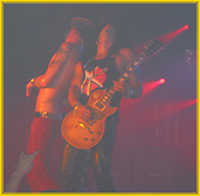 The Portland, Oregon show was a regularly priced venue, and we did get some reviews from that one as well as some photos. First, we have a short but enthusiastic one from Kelly, and then there's a longer one with some photos from Jeff. Jeff has a question to which we hope someone knows the answer. How are ticket sales handled in Europe? Jeff is hoping to go from the U.S. to the Paris show. Here in the U.S., tickets are sold at the box office and through Ticketmaster. What's the story in Europe? And does anyone know if these shows have gone on sale there, are sold out, etc? It would be good to have some international help on these questions. Another question we've received concerns the vinyl Contraband which is a UK-only presssing. As far as we know the cover only comes in black; is that correct? Thanks for any international help on these questions.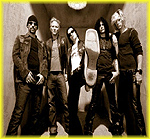 If you just can't get enough of reading about Contraband, Wendy sent us this MSN Article. Another interesting one although not much that is new. Quite a few publications have mentioned the birth of Cash Anthony Hudson on the 23rd, so the little guy will need a press agent soon as he can talk! The congratulatory wishes are still coming in steadily so we are holding them for another day or two if you want to send one to webmaster@snakepit.org.



Here's an interesting item from Allen in Charleston, South Carolina. He's been hearing "Fall To Pieces" a few times, and the dj's say it's the best song on the disk (a personal fave of ours). This was one that was mentioned as a possible second single at one time because it's a cool song and also shows the band's range. We'll see.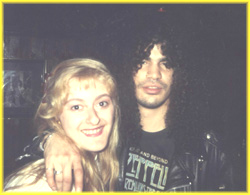 A sad TV occasion for us over the weekend. America's Most Wanted finally had the episode on about Lori Lepper. Lori was the webmaster for Duff's Loaded fan site and also a net friend of ours. Evidence showed she was in her apartment in L.A. updating the site when someone broke in or was let in, and Lori was stabbed to death. There are no leads in this homicide. Lori's remains were taken home to her native Italy by her grieving family. If anyone out there has any information at all, please contact the Los Angeles Police Department.



News Reported: 06/30/04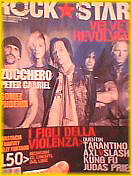 Last week Velvet Revolver's Contraband debuted on the Billboard chart in the #1 position. It's first week sales were 256,000, well beyond what had been projected by some analysts. It was the first time in a year since a rock band held that slot (Metallica's St. Anger), but now rock bands appear in 5 of the Top Ten Billboard slots. The total Contraband sales beats the best week of STP's or Guns' ('93) copies. However, Contraband came no where near the sales for GNR's sales. Guns charged past the 1.4 million copies sold in one week in 1991 for the UYI albums. GNR hung onto the top two positions for weeks. Contraband has slipped down to the #3 slot, but it's still a remarkable showing. Now let's get out there and get that second CD for the car! Thanks, Ray, for that information.



A new U.S. show has been announced...and sold out. This is in Sayerville, NJ at the Starland Ballroom. The venue's web site reports that the tickets sold out in less than a minute, the fastest sellout in the club's history! So, if you missed the sale itself, you can start the search for ebay listings and web site ticket sellers. The month of August seems to be pretty well setup for the European festival appearances. There's one in Italy in September, too. We don't know where the band will concentrate their efforts next: Japan, the UK, South America are all possibilities. As soon as we know, we'll post it. Thanks, Brian and LuAnn.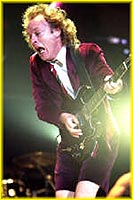 Darijus and several others reported that during the MTV Movie Awards, D-12 was performing "my band" and they were dressed like GNR meets AC/DC. One of the members was dressed like SLASH with the leather jacket, top hat, Les Paul, glasses, one looked like Buckethead, and Bizarre like Angus Young in school uniform. Eminem was just dressed as himself. Darijus thought it was hilarious, and some fans thought they caught a glimpse of the real SLASH backstage at this time. Weird! Another band sighting was an audio one. Kimberli said that on the show "NASCAR this Morning" on Fox Sports Sunday mornings, they are now using "Slither" for promos with the drivers. Thanks, Darijus and Kimberli!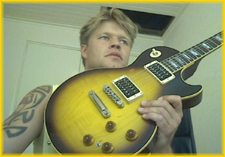 If you've been to the shows or seen some of the videos floating around, you've seen SLASH with his new signature guitar. Len in The Netherlands tells us that he's finally gotten his new Gibson Les Paul SLASH. He has #77 and paid 4500 euro in The Netherlands. Len says it's heavier than his other Les Pauls and the neck is a bit thicker. The sound is great! The sustain is incredible, and the vintage look is beautiful. Len said that if you'd like to ask him more about it, you can contact him at slash@kabelfoon.nl. Thanks, Len!



We also heard from Bakhrul in Indonesia about the May edition of G+. In this guitar magazine, there are a lot of pictures and an article. The article says that Axl was confused and stressed while the ex-Gunners move along and create a new band rocking the whole world. They talk about the Greatest Hits album a little, and about SLASH still using his original setup of Les Paul and Marshall. There's also some tabs and chords from GNR and VR songs. Bakhrul has still not been able to find Contraband so if they can get some copies there, the sales will go up! Thanks, Bakhrul.



News Reported: 06/25/04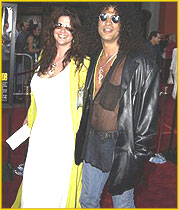 A blessed event for SLASH and wife Perla...baby Cash Anthony Hudson was born today at 1:54 pm. Cash weighed in at 8 pounds 13 ounces. As far as we know, Mom and Dad and baby are doing well. Welcome, baby CASH! The band will go on a month long hiatus soon to allow SLASH to spend some time with this new member of the family and give his wife a hand with the 2 children under 2 years of age! London will be 2 on August 28. Best wishes to all. We're still planning to send off a greeting to Cash this weekend. If you want to get in on this, write a note to SLASH and Perla or to Cash, himself, and send it to webmaster@snakepit.org. Make the subject be CASH, and we'll see that you are included. It would be great if you put in your note which country you are from (state if from the U.S.) so SLASH and Cash, later, can see where all his fans are.



SLASH, Slipknot, Linkin Park, KORN, Quincy Jones and others have donated autographed and other items for an ebay auction to raise money benefiting Kelli Jaunsen. Ms. Jaunsen is in need of transplants but her insurance does not cover the operations since she has more than one organ failing. The auction ends June 28. Thanks to Brian and Ray who sent us this information. These charity auction with celeb items are always fun and it's for a good cause. Charity Auction is the one for an autographed SLASH's Snakepit pic. And this one, All Items is for the other items in the auction.



Have you ever wondered what happened with Scott's court appearance on that DUI charge? It keeps getting pushed back, and on Tuesday, it was pushed back again, and is currently scheduled for June 30. He's been squeaky clean on probation, so hopefully that will be continued or settled as time served.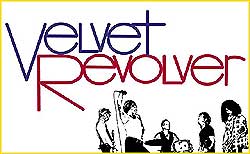 Here's some bad news from the UK. Contraband dropped to #35 this week according to Sim. He said the GNR Greatest Hits album shot back up to #10, though! The UK definitely needs the excitement of a tour. If you check out the monthly calendar for August and September, we've added some more appearances since yesterday. The band is pouring it on with some performances back to back. They want to maximize the number of Europeans who see them. More shows should be on the way. Now that Cash is born, SLASH can put more time into helping out with the scheduling.



We always prefer to put your reviews up on the site rather than some from pros. We didn't get any from Vegas, and Norm was nice enough to send one in to us, so we'll use that one instead. It's at Vegas Review. Thanks, Norm!



One thing people are fascinated about is SLASH's hat. There's not a week goes by that someone doesn't write asking where to buy one (we don't know...you can construct one). If you've been at any of the Velvet Revolver shows, you may have noticed that the hat is not so much in evidence. In a VH1 article, SLASH says that he wears it when he is feeling shy or uncomfortable on stage, and he is feeling really good about this band. However, it has to be on stage and nearby! Personally, we like to see him in it at least part of the show.



News Reported: 06/23/04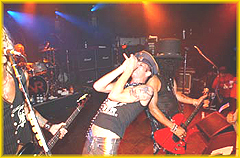 The big news tonight is that some European dates have been announced! They are on the big calendar...click on the truck above. What's happening is that SLASH's son is to be born any day now, and the band is taking about a month off after that so Daddy and baby can bond. Then they come back out at the end of July for one festival in Pennsylvania. After that, it's off to Europe for a month packed with appearances. These are in Germany, Austria, Sweden, Finland, Denmark and Norway. There's one in September in Italy. More may be along as the guys want to play as many gigs as possible overseas. Note that the UK is not on here as yet, and that has to be added! We'll keep the tour calendar as up to date as we can. If you hear of one we don't have, we'd appreciate your sending it along.



To whet your appetite, here are some more fan reviews. These are from


Denver Review from Troy

Houston & Dallas from Tina

Dallas from Rattus

Houston from Ed





If you are a Guns fan, you're used to delays. What can we tell you? The long-awaited show on VH1, Behind the Music: Guns N'Roses, and Inside (Out): SLASH have been delayed again. The premier is now scheduled for July 5 at 12:30pm and 10pm. Repeat dates are July 6 at midnight, 11am, 7pm and 11pm. Another airing is July 7 at 9pm. July 9 at 1am, 5pm, 11:30pm is another and July 11 at 1pm. Mark those on your calendar (in pencil).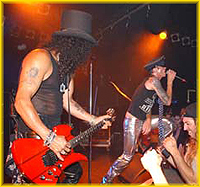 Here's some interesting information from that Q magazine interview with SLASH. He was asked which GNR video was he most dubious about doing, and he replied "November Rain" because it was a huge production video, too much, too involved. He said when he's in a video, he just wants his part to be cool. He would not do the part of his coming out of the water and he didn't want to do that, but Axl threatened to quit so he did. Someone asked if he had his fingers insured, but he said just he as a person has insurance. Asked about sports, he says he doesn't actively play anything, and shudders at the thought that he might have to take London to a football game someday. A fan asked if one of his snakes had ever bitten him, and he said Clyde gave him a couple of good jabs. When London was born, the snakes were given away to reputable people. Asked the secret of a happy marriage he replied in one word...sacrifice. When you get married and have kids, you realize how selfish you've been all your life. Listening is usually the most important thing you can do and spending time not thinking of yourself...and allowing them to go shopping. There's more, but we'll save them for another day.



News Reported: 06/21/04


Velvet Revolver was to appear last night at Stubbs BBQ in Austin, Texas, but the show was cancelled because Scott was ill with throat problems. The doctor prescribed some antibiotics and 24 hours rest. If you have a long trip to any show, it's always best to call the venue the day of the show and confirm that the artist will be there. We do that as a matter of course to save endless aggravation. Anyway, a call to the venue confirmed that indeed the band is expected to be at the Houston show tonight. The Austin show has been rescheduled for October 29. Tickets will be honored then or you can return your tickets now for a full refund. Thanks to Tina and Mike who both had that unpleasant surprise in Austin.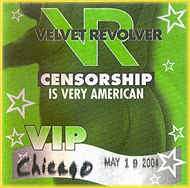 Another Swedish show has been announced. In addition to their appearance at the Lowlands Festival already on the calendar, Sebastian let us know that he has tickets for Velvet Revolver on August 12 at the Globe, Anenxet. So go out and get your tickets!



We'd like to get some new baby wishes together for Cash Anthony London who's still on schedule for June 22 as far as we know. If you send us your wishes and congrats for the baby, we'll gather them up and send them to SLASH and Perla. We did this when London was born, and they saved them for him. Please put in your country (state if U.S.) as this shows how popular Daddy is all over the world. Send email to webmaster@snakepit.org and have the subject be: CASH. We'll do this starting now and ending on June 25. Thanks!



Just another reminder that SLASH is on tour and he can no longer answer questions. Please do not send questions to SLASH. We can answer some general questions but most of these are in the web site. Questions about guitar techniques are completely impossible. Hold onto them till you run into him at a show. Thank you!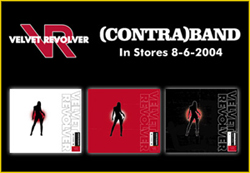 Is there anyone out there who doesn't know that Contraband is #1 on the Billboard charts, HMV store sales charts, etc., etc. It bears saying twice. You might want to swell the sales by picking up their vinyl LP. We got ours and it's gorgeous. It's from the UK but is available as an import from Amazon in the UK. It's a double LP and the pictures and artwork are really big and fascinating. This is a keeper.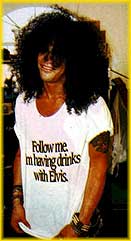 There's a really interesting article about blocking copying of Contraband. This is really interesting as they make the point that not all albums will be handled this way. VR's debut album was selected for this process. As with any of these blocks, there are ways to get around them and they even make the process available, if we read this correctly, but they are not encouraging it. The big problem right now is with this in place is that there is no way to transfer tracks to your ipod. Anyway, we think that is what this is saying!



News Reported: 06/18/04

Tomorrow Billboard releases its sales charts, and the prediction is that Contraband will come in at #1. In our hometown, the newspaper prints the Billboard sales every Friday. Contraband was not on the list for the previous week although "Slither" was there as the #3 rock track. However, the paper also prints the Top Ten Local Favorites and Contraband was at #1! "Slither" is played often by request, and we hope you're experiencing the same showing. Allen tells us that Contraband is #1 on itunes! The word from Australia is that Contraband opened in the #2 slot. The UK has it lower, opening at #11, so we hope all you UK fans get out there and buy a few copies. Martin in Sweden says the album is doing well there and the local record store sold out first day. In an interview with a Swedish journalist last week, SLASH was asked how it felt to have a real singer for the first time since Axl. SLASH said, "Great!" Martin hopes we haven't forgotten Rod Jackson...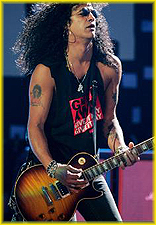 We've gotten some more reviews in. IanH80 was at the Phoenix show. SLASH says Phoenix is one of the best places he has toured in with the best and worst experiences. We seem to remember a bad experience with heroin in Phoenix, but now that he's off that, he has only good things to say. Read about it at Phoenix Review. Anthony was also at the Phoenix show. He's sent along the setlist which he says is different from the other shows. Check it out at Anthony's Review. Dianne sent in a visual review. She took pics at the Philly show and we're going to send you off to look at them. She also has pics of Snakepit if you're interested in memories. VR Philly Pics. The whole thing is: Dianne's Scrapbook. Clement went to both L.A. shows which sound quite different. From what we have read, the second show was the best. Maybe because the band was recovering from the flu. Clement seemed not to have a problem with either, though. Check it out at Clement's Review.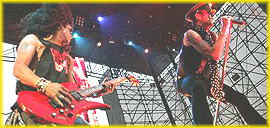 For those who keep track, Velvet Revolver's Contraband sold nearly 250,000 copies so there is no doubt it will debut in the #1 slot of Billboard's Top 200 albums. It's most likely it will hop up to the #1 slot on Australian charts, too. Their publishing is garnering seven-figure offers, and this will be the subject of the upcoming VH1 special "Inside (Out): The Rise of Velvet Revolver" which will premier on June 30 at noon. Thanks, Brian!



Mamo from Italy reports that he has just heard the new single which was reported there to be "You Got No Right". We hadn't heard anything official on this, but it was mentioned as the top choice at one time. From the UK, if you can get your hands on the July issue of Q magazine, they finally printed those questions for SLASH. These were ones you sent in and got paid for if they were accepted. If we get some space in the future, we'll put some in. None were anything you don't know if you keep up. Beautiful full pic page of SLASH and several other smaller ones. If you'd like to read a mostly positive review of Velvet Revolver in concert, Rob sent us the url from the Classic Rock Revisited website. It's at VR Review.



SLASH and Velvet Revolver appeared at the KROQ Weenie Roast in Los Angeles. Most of the pics above are from that event and we'll give you some more here with guests: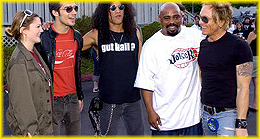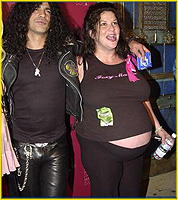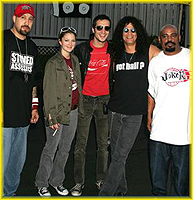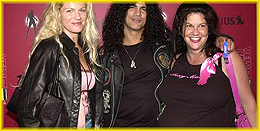 News Reported: 06/16/04


Our first item today is to recognize the passing of the great musician Ray Charles. Ray died yesterday after a battle with liver disease. He was 73. His hits for which he was honored with 12 grammys spanned generations and genres. SLASH played on one of Ray's albums Ray Charles Sings for America. SLASH and Billy Preston played on the track "God Bless America Again". The album came out in 2002. SLASH also worked with Ray doing some charity work for underprivileged children - bringing music to them. The children were given instruments and the chance to learn with real musicians. SLASH enjoyed the times he spent with Ray and the kids.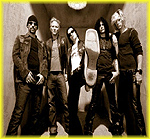 On a happier note, Billboard reports that "Slither" is still climbing the charts after debuting 9 weeks ago. Last week the track was at #5 and this week it continues its ascent to the #3 slot for rock tracks. And it's predicted that Contraband will debut in the #1 slot this coming week. Life is sweet!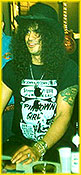 If you'd like a preview of some segments of that VH1 Inside (Out) show that features SLASH, Michael found a place where you can see two video clips from the show. It's at Inside (Out). One clip is about the search for a singer and another is about the band chilling after a show. Really great! Thanks, Michael.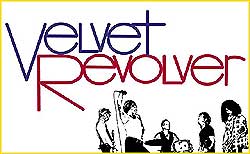 In international news, Bakhrul says Contraband is not yet in the shops in Indonesia, but last month Velvet Revolver appeared in G+ a guitar magazine with some chords for their song and a lot of pictures. There's a big poster of SLASH, too! We hope you see the album soon! One place that does have the album is Australia and it looks likely to top the Australian album chart next week. It debuted at number one on the Australian HMV midweek chart. The band is well on its way to selling over the projected 200K copies during its first week of release in the US.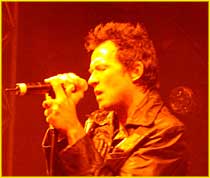 When asked what inspired the darker tracks on Contraband, Scott Weiland said that they were based on problems he and his wife have had. The family was estranged over Scott's drug use and a year long separation brought Scott to the point of total despair. Cleaned up and reunited with his wife, son and daughter, Scott finds life happier than ever. Maybe the band's next album will reflect some of that joy!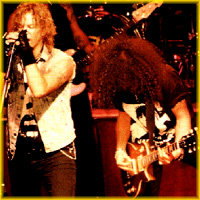 Matthijs has a heads up for Dutch fans. Yesterday he saw a second announcement on the TV channel, The Box. It's a short clip of SLASH and Duff hanging out on a couch, and SLASH is drinking a beer. They have some laughs and are being real rock stars. They say that between the 12th and 16th, they're in a program called Boxtalk. Matthijs thinks the first time is Saturday at 19:00. The show is repeated the whole week. If you can read Dutch, the site of The Box is The Box. Matthijs says Contraband is out in Holland in all three colors and he chose the black cover. Thanks, Matthijs!



News Reported: 06/11/04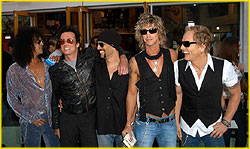 Last week we were so proud of Velvet Revolver for getting a four star review from Rolling Stone. Their circulation and effect on music sales is always a factor in record sales. They have a big fan base now and their tour success has made the rock buying public get out and pick up the album. LuAnn sent us word that on the first day of its release in the US, Contraband is blowing the upper-end sales projections away. It seems they were shooting for 200K, but they are well over that now and the forecast for the week looks like in the 250K range for the week. Retailers are said to have plenty in stock although our search of two stores had just 4 left in each one. Reorders are already coming in steadily, but it's hard to know how long VR can hold onto this shifting level. Get out there and get your copy! Hits Daily Double says Velvet Revolver will have a #1 debut next week, dislodging Usher. Industry specialists are guesstimating 500K. And wouldn't it be great to prove them wrong? Ray tells us that Contraband is the album of the week on his music download service, Musicmatch Downloads. Richard in the UK says that the album was released Monday and was prominently placed in all the record stores he visited. (at the two we visited, they had 3 in the New Records section and 1 just ahead of Velvet Underground in the regular section...in the other, they just had them filed with the regular albums in front of VU.) Richard says it looks like the record company is making a big effort. He liked the arty photos. Just the black and red copies were there. Here, all three colors were in both stores so we picked up all three. Jonas reported that today the album came into the stores in Sweden...all three colors available. He bought the red one and asked the guys in the store how it was selling. They said it was selling pretty well and had had some pre-orders, too. Edgar found copies of Contraband at Mixup in Mexico City, the biggest store in the city. It was in with their new releases, and he bought a copy. It's basically been playing there all day and hopes "Loving the Alien" will be a single sometime. Thanks to all of you for sending those reports in.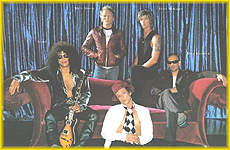 Last Friday was the Seattle, Washington show, and we've got two reviews from that show. The first is from Schmidty who had lousy seats but was still impressed by the show. Lots of applause for SLASH when he appeared. The second review is from Katie who tells us all about the merchandise and the show. Enjoy!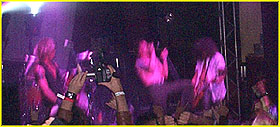 VH1 has bounced the date and time of the GNR documentaries (Behind the Music) and the Inside (Out) program about SLASH all over June. We have put up on the calendar the latest listing, but you should check your local listings once in awhile. Right now their site lists both for June 30. Behind the Music to be on at 11 am; Inside (Out) to follow at noon.



Thanks to Matthijs for sending word that Dutch MTV has chosen "Slither" as a "Must See" video this week. This means that it will be seen more often than usual. There's a Dutch website with newsflashes about "Slither" being the first single. Holland is ready to welcome the band! Thanks, Matthijs!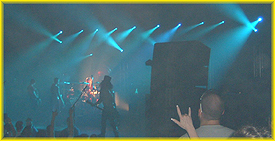 Mike20sm sent in his review of the San Francisco show, and we also got one from the first LA show from Jared. Both of these were after the band had contracted the flu and cancelled the Portland show, but no one seemed to see anything too wrong except perhaps the shows might have seemed a little shorter. Tonight is the big second night show in Los Angeles where the fan club for SLASH said they would try to get people in after the show, but the notice came here too late for us to alert you and we hope you got their email and took care of that on your own.

News Reported: 06/09/04

There's been some moving around on some of the shows. The Portland show was cancelled as the band was down with the flu. The show has been scheduled for June 22 as we understand it. The Colorado show is now on June 20. None of these are listed on Velvet Revolver's official site other than Portland at its original date, so we are still not sure about these. Note that Perla's delivery date is June 22! We've asked for an updated schedule, but that's going to wait till after the L.A. dates. Everyone is involved in planning for those special shows. With all the VIPs coming and after show parties, things are crazed out there. Speaking of California, some of the L.A. Wiltern tickets were released today and ChristenE got one at face value! So never give up on that. ChristenE needs a ride home after the show. If someone in the West Valley can help, that would be great. Contact: msmojo1117@yahoo.com.


Big news for you Europeans. Velvet Revolver has now said officially they will tour Europe at the end of the summer. So those tour appearances look good and you'll want to get tickets now.


Velvet Revolver will be on TV this Friday! They will appear on Howard Stern's E! show at 11 pm. The show repeats Sunday at 2am. Also on TV will be the one Alejandro sent us word of, "Behind the Music - Guns N'Roses" This is the long awaited bio on the band. Check the information at GNR Bio.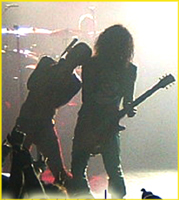 Sander sent mail from Holland that SLASH and Duff were on Dutch national radio last week with a famous dj. There was a short interview, and then the two got to select songs to be played on the show. They did another for BNN and sounded very relaxed during it. Thanks!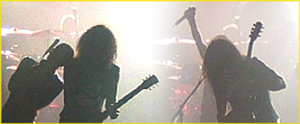 If you'd like to see a Velvet Revolver profile from the Associated Press, including a short interview with Duff and SLASH, go to VR Profile. Thanks, Brian, for that one.

News Reported: 06/07/04





Rolling Stone Gives Contraband a

FOUR STAR Rating!

In an article titled "Pelvic Revolver", Rolling Stone magazine calls the albumF "tighter and hotter than we had any right to expect from a band that started out auditioning vocalists while being filmed for a VH1 reality show." They go through the tracks highlighting and underlining nearly each one. Axl Rose comes in for a few slams, but his history with this band is becoming so far in the past that you begin to wonder why it's even being mentioned. The reviewer makes the point that if he had it his way, we'd be getting a real GNR followup album to the UYI twins and STP would be making good on on the promise of Thank You. "But we have Contraband instead, and it is a rare, fine thing: the sound of the perfect A&R sales pitch turned into a real band. Now we find out if these guys can stay together, and make something new." We couldn't wait to share that with fans that have hung in there so long and supported SLASH and his dream of forming a new band in a new direction. The tour sales said it and this accolade from Rolling Stone says it, too. It's a great day for Velvet Revolver!



News Reported: 06/05/04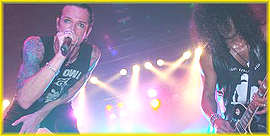 Sarah lives in Vermont, and she drove 4 hours to see Velvet Revolver! She said they rocked the place, and it was well worth the drive. We'll let you read Sarah's review, and it's a good one. Larry also sent in his experiences at the show. We really enjoy the fans' impressions of the shows, and we can tell you that band members and people close to the band have also read and enjoyed them. So, take a minute after the show and send us your impressions! The band has already left for the West Coast for a short break till tonight when they take the stage again. Check Sarah's Boston review here and Larry's Boston review here. Next week are more confirmed shows, and Scott's court appearance is coming closer, so they'll no doubt be confirming others soon.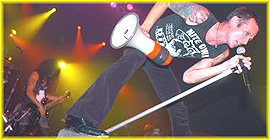 Mike works at a printing company that does some work on Guitar One magazine (tabs), and he tells us that Velvet Revolver will be featured in the August issue. There's a 3/4 page pic of the band with a smaller pic of the album cover. Thanks, Mike! Sebastian sent news from Argentina that the biggest newspaper there did an interview with Scott Weiland. It's called "Interview With A Vampire". Hurry because it is updated every Friday. The link is Scott Interview.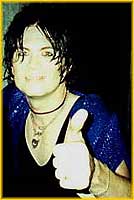 Here's some news on SLASH's old bandmates. Keri Kelli played a couple of shows with Adler's Appetite this past weekend. Keri is now starting the run of Vince Neil dates, and his first show will be on June 19 in Laconia, NH. Check Keri's site for dates. Vince Neil's site is going to have a new section just for Keri. All the best to Keri! Adler's Appetite is going into the studio in November/December to record their debut album, tentatively due out in early 2005. Keri Kelli will be in both Vince Neil's band and appear on the debut album. Keri won't be on the European tour.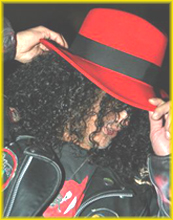 Contraband and Slither are both popping up everywhere. Our Japanese Contraband and Australian Slither have arrived. We've got more in the pipeline. Nero saw the album on fye.com for $15 with a link to the main page that says "When GNR meets Stone Temple Pilots". He also saw it on bestbuy.com where the price is $12.99. If you preorder, it's $9.99! Our next goal is to get one of each color in the US. So far, we think we'll have to visit the store to see for ourselves.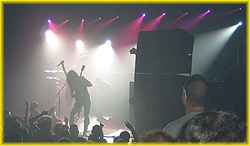 Nanna sent us news from Denmark that Velvet Revolver will be playing in the Danish festival called Skanderborg Festival. The festival dates are August 5-8. Check it out at www.smukfest.dk. We called and asked for verification, but the VR people say that this is unconfirmed because they still have to get permission for the court to allow Scott to continue his probation. Right now he has to fly back to L.A. every 3 days for drug testing. This is going to be tough in Europe, so arrangements have to be made for continuing his probation. We feel certain everything will come out right in the end, but just be advised that this court appointment has to come and go with positive results. Back to the festival...Nanna is getting a ticket and we think all of you should, too. If things are this close that VR is being announced, they will almost certainly be there! Let us know if you hear of anymore rumored shows. We've requested a list of European ones...even those unconfirmed...and we'll share them as soon as they come in.



News Reported: 06/04/04