Right now Velvet Revolver and SLASH have a lot going on. The calendar of events begins with April 2004. Near the top is a list of months you can click on to see future shows and events. You can see the month at a glance and then click on specific days to find out more about what's happening with SLASH.Check this schedule often for events in your area with SLASH and Velvet Revolver. Click the tour truck below to check the schedule.





Updated June 29, 2005

The Live 8 concerts are scheduled for all over the planet on July 2. The concerts are being held ahead of the G8 summit in Scotland on July 6 where eight world leaders will be presened with a workable plan to double aid, drop debt and make trade laws fair to stop 30,000 children who die needlessly of hunger every day. More and more artists are coming on board. EMI signed a deal to release the concerts on DVD in November. The company will tailor the content of the releases to each market. Some of the artists performing will be Deep Purple, Motley Crue, Linkin Park, Velvet Revolver, Def Leppard, Pink Floyd and Bon Jovi. The organizer, Bob Geldof, at left, is the same man who put Live Aid together, and he says he wants this to be the biggest selling DVD of all time as it will help to reach the goal of helping the extremely poor for the better. He thanked EMI for their financial contribution for their help in making the July 2 concerts happen. If you want to read more about Live 8, sign the petition and make your voice heard, then you need to visit their web site at official Live 8 site. Check it out. YOU can make a difference. ABC will televise highlights on Saturday for 2 hours, 8 to 10 pm. AOL will make the full concert streaming available free then and at other dates. Check all this out at the site. Clever fans can connect newer laptops to their TVs and watch the show live. Lots of options, but get busy researching how to do all this. Satellite radio will broadcast the shows, too.



Since the concerts are July 2 and the US national holiday, July 4 is coming up, we won't be publishing till Wednesday, July 6.


Lisa said she read in an Italian magazine that SLASH will not only perform with Velvet Revolver at the concert in London, but also with Robbie Williams. That's not confirmed, but the magazine seemed fairly sure.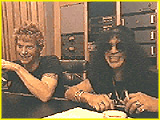 In other news, Sam sent us the links to two good interviews, one with Duff and one with SLASH. The cool SLASH interview is at: SLASH Interview and the also cool Duff interview is at: Duff Interview. You'll want to read these!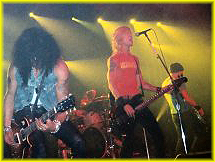 Paul said that he has some exciting pictures of Velvet Revolver at the Fields of Rock festival, Nijmegen the Netherlands on June 18. There's also some footage of Motorhead. The link is Pics from Paul!. Thanks, Paul!











Updated June 27, 2005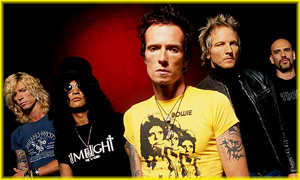 The biggest news we have for you is that there is a new video for Velvet Revolver on the net. This is the video for the song, "Come On, Come In", which is on the soundtrack for the forthcoming movie The Fantastic Four. The album will be released July 5, and the action packed movie comes out July 8. Having seen a preview of the movie this past weekend, it's a heart stopper! And the video is that same raw energy and great graphics. Take some time and go over to Yahoo Music and see it. The link is VR Videos and click on Come On, Come In. We watched full screen, although the half screen is great as well. Hope you will enjoy it!



We received a correction from Chris saying that the little church in "November Rain" was not just built for the band. It was actually a "church on wheels" and was also used in the movie "Silverado". This information from SLASH in the Making of November Rain video. Thanks!



Steven went to the most awesome gig he has ever seen, the one at Belfast. He got to meet SLASH and shake his hand. Velvet Revolver rocked the stage, and meeting them afterward was a dream. SLASH was cool and calm with a plastic cup full of red wine and signing autographs. He still can't believe he met SLASH! His friend may be remembered as the one who asked SLASH to play air guitar! Thanks, Steven!



Dave sent in a review of SECC in Glasgow on June 9. This is a really exciting review and it really makes you feel like you were there with lots of details. We'll let Dave tell you himself. Thanks for sending that in, Dave!



If you've clicked on SLASH Videos from our home page, you've seen that there is no link there anymore. A fan had been hosting those videos for us for a few years, and he shut down his site. We didn't get a notice, so we are now scrambling to put together all those videos that we had stored here, there and on backups. It looks like we will not be able to put up all the videos at one time because of space considerations. Most likely we will rotate them, putting a few up and replacing them over time. The Video section has to be re-written and the videos selected. We are hurrying, but we thank you for your patience.





Updated June 27, 2005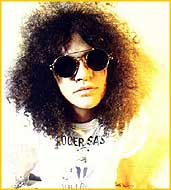 Jamie sent us two interesting items. On Kerrang! in the UK, they are playing clips of artists who performed at Download 2005. Jamie hasn't seen Velvet Revolver, so they should be on soon. Download is on at 6 pm, 8 pm and 10 pm, London time. Jamie's second item is in the UK magazine Front this month, August 2005. There's an article about the "Top 40 Brits Behaving Badly" with SLASH at number 20! There's a cool pic of him and they said this:

20 SLASH "The ex-GNR, now VR guitarist was born in London and grew up in Stoke-on-Trent -which was surely where he learned to drink so much whiskey that his tongue turned black. He went on to eventually die for several miutes aftere a heroine overdose. Unnecessarily hardcore". Shaun Ryder and Bez topped the list. Thanks, Jamie!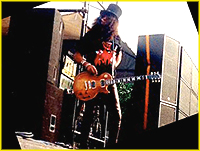 In the July issue of Hit Parader, they did a countdown of the Top 100 CDs in Metal History. Guns made the list twice. First was Use Your Illusion 1/2 and they commented that the band, or at least Axl, had gotten tired of hard rock anthems. 3 hours of music had something for everybody. It was rock and roll dynamite. SLASH said that this is when Axl started taking over the band. At #2 was Appetite for Destruction. It was loud, fast and furious. They snarled onto the rock scene with raw power and sweet sentiments. The music the band produced can even now be truly appreciated. The Black Album by Metallica was #1.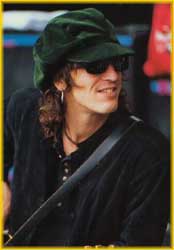 If you were thinking of buying the recently published Izzy Stradlin unofficial biography, Dust N'Bones, check out what Izzy's Ju Ju Hounds' bassist Jimmy Ashurt has to say. Jimmy slams the book as "another example of "schlock journalism". Jimmy had done an interview for the book, and he says if he had known how it would come out, he never would have done it. The author promised that the book would not be a gossip-type publication. They hoped the book would be an informative one for all Izzy's fans. It turns out to be just a money-making opportunity. Forget it!









Updated June 24, 2005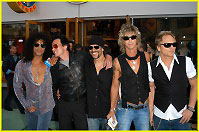 Brian sent in the biggest news of the day. Velvet Revolver is recording the fourth single off Contraband next week. The song will be an acoustic of "You Got No Right". The band will hit the studio in Prague next week with a full string section to put the song on tape. Pretty cool! You'll remember that the band recently recorded the single "Come On, Come In" for the Fantastic Four film and soundtrack album. The track should be on the radios June 21. It was recorded in Raleigh and Cleveland in May during the Electric Wonderland Tour. The band co-produced the song along with Doug Grean and Nick Raskulinecz. The band felt the song fit perfectly with the film. The soundtrack, Fantastic Four - The Album will be issued on July 5. The film comes out on July 8. There will be a video, and the band joined with director Wayne Isham in L.A. before going to Europe. The video is said to combining the raw energy of a Velvet Revolver performance, with graphic transitions between the movie footage and abstract portraits of each band member in a Dali-esque format.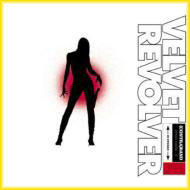 If you're keeping track of sales, Contraband, released on RCA records in June 2004, has sold over 3 million copies in one year. The band won a Grammy for Best Hard Rock Performance (Slither), shattered records and gathered massive critical and fan acclaim. The album debuted at #1 on the Billboard 200 Chart, selling over 250,000. This marks the best ever debut for a new rock artist in the SoundScan era.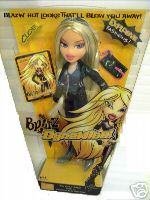 Janna tells us she saw in The Hollywood Reporter that more than 30 one of a kind celebrity and band-signed Bratz dolls were recently auctioned for charity for a week on eBay. Total proceeds came in at $5,000. Bratz dolls are similar to Barbies but are, well, bratty! They are meant more for young teens. A doll signed by Velvet Revolver sold for $262. Check out Bratz dolls at Bratz Home.



Rose sent greetings from Austria and reported that she saw some GNR things on German TV. There was a show called "The Ultimate Chart Show - Best Videos Ever" with "Novemmber Rain" coming in at #45. The video cost $1.5 million to make with the band paying for it. The little church where SLASH solo-ed was built just for the video. Then Rose saw "Rockpalast" on VDR. They showed a Gibson Les Paul signed by SLASH and auctioned off at eBay. They showed a clip with SLASH signing it and some beautiful pictures. Thanks, Rose!


Gilby Clarke was recently interviewed by KKRW Classic Rock in Texas. He mentioned Velvet Revolver, SLASH and Duff. Gilby sounds like life is good to him now and he loves Texas. The host mentioned that SLASH, Duff joined Gilby on stage recently, and Gilby said it was a magical experience taking him back to the Illusion tour, rocking out with the guys. He had to laugh that after the show was over, they didn't know what to do since everyone is cleaned up, married with kids, so they stayed backstage and just talked. He said VR is a great band. But the interviewer said he detected that Gilby was holding back. And Gilby said he felt that SLASH didn't seem to really be into it. He's playing but not really PLAYING. He feels like the album shows this as well, like his heart is not in it. Like maybe he's going through the motions. He says he thinks SLASH and Axl could get together if they could just stop hating each other and competing. Axl is an egomaniac and is difficult to work with. Well, there you have it! SLASH is always saying how well he and Scott get along, so we'll see. Hard to believe that SLASH would be keeping all this quiet, but maybe he and Scott can handle any problems, if they exist. A month away from each other may be just what the band needs.











Updated June 22, 2005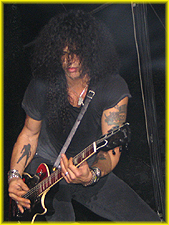 Today we have some reviews for you from some of the European shows. We got two from the Krizanke theatre in Slovenia. Dado is from Croatia and said SLASH gave him a pick, and he was amazed at the performance of the whole band. The crowd exploded when Matt started in on "Mr. Brownstone" and "It's So Easy". Dado hopes they will be back soon. Uros was at the same show and says the Krizanke theatre is a nice little venue holding about 2000 people. The venue was packed and loud and the band seemed to really like that. They had a sound problem fixed during the first song. Uros said he was a big fan of the old GNR, so he'd been waiting for this since '86! The show was an hour and a half. The band was really nice and were really rocking and said a few things to the audience. It was a night to remember! Thanks to both of you!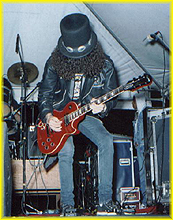 Last time we asked if anyone knew of a publication of the SLASH's Snakepit guitar tabs. Spence sent us word that there was a printed version of the full band score which included all guitar parts tabbed out. The short run from Japan has long since been discontinued, and Spence has seen two of these on ebay. Check ebay regularly and be prepared to spend a lot of cash! Thanks, Spence!



The Associated Press listed the Top 20 Concert Tours, and VR was on the list. The tours rank artists by average box office gross per city and includes the average ticket price for shows in North America. U2 leads the pack, and Velvet Revolver comes in at #14, a very respectable showing for a band with limited back catalog.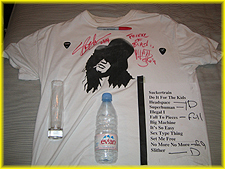 Lisa gave us a review of the Italian show which was a festival. The said the festival was well organized without all the pushing and squeezing. SLASH was super as always, but the set list was short...typical for festivals. The crowd was shouting "SLASH" "SLASH" "SLASH". They tried to go to the bus area after the show, but it was in a restricted area, and the band didn't stop to say anything before leaving. SLASH did say GRAZIE (thank you in Italian). Lisa said if you'd like to read more, see some pictures and a short clip, go to her site and click on "new! heineken jammin' festival"! Lisa says she already misses SLASH. And Norm sent us a link to Ross Halfin's diary site. There are some SLASH references and pictures. Worth a look! Click here! and thanks, Norm!











(News Updated 06/20/05)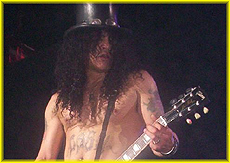 There are some dazzling photos on the web today put there by Velvet Revolver fans. First there is a set of VR ones from Shari Black Velvet at scroll down a bit. Thanks, Shari, they are great! The next set is from Izabel and she took these at the West Palm Beach show. You'll find these at West Palm Beach. She said to keep clicking on the word Anterior at the top and to ignore the links on the left. These are just so clear and close-up. Thanks, Izabel! You and Shari should be their official photographers.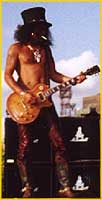 We had a note from Tim who gave us a couple of SLASH mentions. In the British newspaper, The Daily Telegraph, they had a review of the Donington show. The critic said they blew the other bands away with the exception of Billy Idol and the mighty Black Sabbath. Not bad! The second siting was on the BBC radio during the "Breakfast Show" where there is a long link to a song with lots of pointless facts that interconnect to the song title they are going to play. Today's included Python's which led to python being a kind of snake, a large collection of snakes was once owned by SLASH formerly of GNR, SLASH is a slang word for a wee...and so on. Tim also said that he saw VR in January at Brixton Academy. His brother James got on stage and was immediately dragged off! An amazing show! He met Matt who gave one of Duff's picks to his friend Leigh. They were waiting for SLASH but had to go to the hospital as his friend had acute alcohol poisoning and had to spend the night there. Crazy night! Thanks, Tim!



Kat saw MTV Holland last night and there was the MTV show "Rise and Fall of Velvet Revolver". Mostly it was about finding a singer and how they had guys trying out. They also told about the members' struggle with drugs. There will be a re-run this Thursday (tomorrow) at 13:00 Dutch time. Try to catch that one. The band is playing there this Saturday in Kat's hometown, so she hopes to run into them!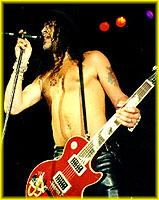 Today's news leaves some good items out as the webmaster is not feeling well, but we wanted to ask fans out there for Dietmar if you have ever heard of the "It's Five O'Clock Somewhere" being released as a guitar tabs book. We've never seen it but he's sure he saw one on ebay and one on sale from Japan. If you know of one for sure, please write as several people have asked for one. Write to webmaster@snakepit.org, and we'll give you some good reviews and information Friday.



Updated June 15,2005






Scott Weiland spoke on the rumors that the band has scrapped the rest of their European tour because he's fallen off the wagon and wil be entering rehab. He posted on the band's official web site, www.velvetrevolver.com, the message that those passing out the rumors are like locusts. He says that he must be completely mesmerizing citing that in just a few days he was said to be a Nazi, SLASH and he hated each other, he's going to rehab. He told the rumormongers to get a life. Scott clearly has a temper, but it's easy to see the kind of rumors that are setting him off.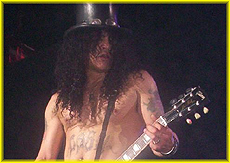 The band will be in Europe till the Live 8 show. Alex sent word today that he won a set of tickets to see Live 8 in Hyde Park on July 2. He says the show is going to rock, and it's the first time he's seen SLASH live. Better get up close!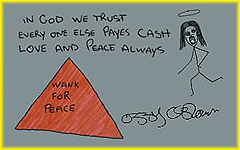 We told you about the charity benefit last time where SLASH and other celebs are contributing artwork that will be made into items that can be sold to raise money for charities. Norm found the one about Ozzy which is another wristband like SLASH did. Have a look at it at Another Wristband . Thanks, Norm!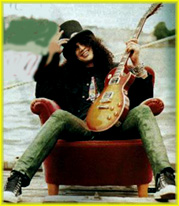 We got a review in from Matt who saw Velvet Revolver at Glasgow and Donington. This was his 5th and 6th times he's seen Velvet Revolver, and by now he's seen SLASH in a variety of bands 11 times! Matt says it was a heck of a couple of days getting from London to Glasgow by train. They were amazing at SECC. Then Matt got a train from Glasgow to London and drove to Donington. Velvet Revolver put on one of the great performances sounding fantastic indoors and outdoors. It was a heck of a buzz to have SLASH play a couple of solos toward the end of the set in front of where I was in the very crowded pit. Matt says it was a lot of traveling, but it was well worth it to see the great man putting on another two great performances. He's waiting now for the second album and another tour. Thanks, Matt!



Francis sent some UK news. In this week's Kerrang! magazine, released from last Wednesday until this Wednesday, there's an interview with SLASH. It's about this year's Donington festival, along with Ozzy Osbourne of Black Sabbath and Ville Valo of HIM. It's a pretty cool interview, and it mentions the charity wristbands we've been telling you about. Thanks for keeping us posted, Francis!



Have you been looking for some retro GNR items, like keychains, lighters and so on? Andy sent us this link: GNR Link. They have all kinds of things to look at and order.


Updated June 13
Page Updated June 13, 2005

On Tuesday, Velvet Revolver abruptly cut short its overseas tour. Fans wondered if the band was splitting up. A TV and paper station in Finland reported that the band had split; but a spokeswoman, Kristine Ashton-Magnuson, disposed of those reports. She said the band had not split up. They are coming home to start the next album. Two things were cited as reasons for the cancellations...family obligations and album pre-production work. She didn't explain the family matters or why the band would book a tour knowing they needed studio work. Velvet Revolver started in Europe on June 3 in Germany and will perform through July 2 including the appearance at Live 8 charity event in London. The final five gigs cancelled are Montreux; Zurich, Switzerland; Reykjavik, Iceland; Bergen, Norway; and Turku, Finland...the ones from July 3 to July 10. If you wondered how big the band has grown, the coverage of these cancellations was echoed from MTV News, Billboard, AP News and many smaller papers and sites. When Slash had to cancel shows during SLASH's Snakepit, they made most of them up, so there is hope for those who had headlining gigs. It's a disappointment, but that second album will be on the way faster. Asked if Scott was back on drugs, Ashton-Magnuson replied that he was not. The tour has been plagued with this question as well as one about troubled times between SLASH and Scott, but these are nothing but rumors at this time. Matt stepped up and said the band would not be the same without Scott. The whole band took on a contemporary feel. Getting the right singer was imperative so as not to just get the old retro-vibe for a quick recording and then it's over. Matt also said that they did knock a week off the end of the tour. Everyone is really tired. They never planned to do more than 5 weeks in Europe, but the management and agents kept adding dates and before they knew it, it was up to seven weeks with just a 3 day break in the US. They need a real break. Matt says that's the whole story...just need a break and some rest.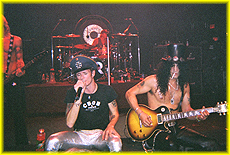 We've gotten some good reviews in. Constance sent in one for Velvet Revolver in Belfast. The band appeared in Belfast, Ireland to play in the Odyssey Arena. She said the show was amazing starting with the supporting bands, the Ga*Gas and then Biffy Clyro. The band came onstage with SLASH in red leather trousers and a red top. Scott was wearing his Nazi clothing. Duff wore black leather trousers and jacket. Dave was wearing jeans as was Matt. Duff said he was glad to be back in his homeland, and he dedicated some songs to the Irish and one to the Irish girls. During "Sex Type Thing", Scott walked into the crowd. SLASH jumped around and sounded great. He said the Irish really know what rock and really means. Duff talked to the crowd and Dave played a great guitar. After "It's So Easy", VR said the show was over, but the crowd wasn't having that, so VR came back and did two more songs. A four hour show! Thanks, Constance!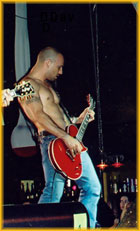 Here are a couple of reviews on the SECC show in Glasgow. Stuart says that he'd like to tell SLASH and Velvet Revolver were unbelievable at the show. He said he was glad to hear the band is doing Live 8 as they are much more respected than the likes of Coldplay are to a lot of fans who like the heavier rock music. And as a claim to fame, Stuart says he lives around the corner from the Nazereth's drummer's son, Stevie Agnew. His dad is good friends with them and Big Country. Thanks, Stuart! "nb010w4814" sent in a review of the show at SECC, too. Blown away! Support bands were good and got the crowd in the mood. When a few friends and I were lining up, they noticed Adam Day walking past so they got to talk to Adam. They asked if they could talk to SLASH for a few minutes, so Adam said he would see if SLASH was around. Then he gave them some of SLASH's plectrums and away he went. The awesome set blew them away. Seeing them twice, this time they added a couple of songs and it was great. Thanks for that review!











(News Updated 06/10/05)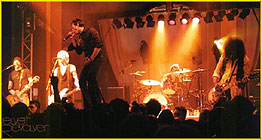 Despite some rumors you may have heard, Velvet Revolver is not breaking up. The source of the rumor seems to be the band's cancellation of some European shows after the Live 8 benefit concert scheduled for July 2 in London's Hyde Park. Velvet Revolver has put in a really exhausting tour and feel they need a rest before they start into the following U.S. tour. Right now there are no official publicity releases on this, but it's sure they will be forthcoming soon. Fans who will miss the tour should consider cashing in any tickets they bought or at least delaying buying more. We'll keep you posted.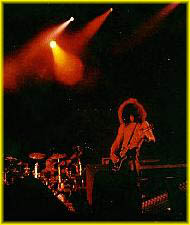 If you've been keeping track, it was one year ago that VR released their debut album, Contraband. After months of touring and polishing, nearly two million copies of the album have been sold. The band members weren't really sure how they and the album would be accepted, and all are really grateful to the fans for their acceptance. And also in the past year, the Grammy for best hard rock performance for the track "Slither" from Contraband. Most recently, the band has contributed a brand new song called "Come On, Come In" to the soundtrack to the upcoming movie "The Fantastic Four" which will be in stores July 5. The band will be part of the benefit Live 8 concert on July 2 and will return home for some headlining shows in the U.S. and appear on the final 8 dates of Ozzfest, beginning August 23.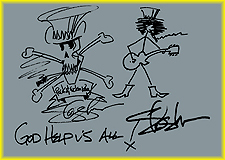 Emily B. said she was looking on the web and came across the whateverittakes.org site. This is a unique charity artwork project. They gather artwork from leaders in all fields, royalty, film music, sports, etc. Each ambassador donates a symbol of hope, a self portrait and a message of hope for the future. These artworks are used to create products such as wristbands, clothing, tableware, etc. The goal is to sell merchandise with a meaning. All products are made under fair working conditions and are sold to raise funds for charitable causes chosen by each contributing leader. 100% of net profits are donated to charity. They aim to raise $3 million over three years. The campaign is called www.whateverittakes.org. SLASH has contributed a wristband with his drawn picture and note. Emily sent us the exact link to SLASH's wristband and you can read more about the organization on the site. Here is the link to SLASH's wristband and we encourage you to get one! SLASH wristband. Thanks, Emily!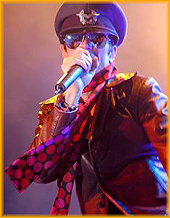 Contactmusic.com had an article about Scott explaining his Nazi uniform. They say that Scott has been forced to change his stage costume to avoid arrest during the band's German tour dates. Scott has been dressing as a German SS officer at the recent concerts. Concerned execs at SONY BMG questioned the singer over his attire. Scott says he is not a Nazi in any way but label bosses reminded him that his attire is illegal in Germany and he could be arrested. Scott says the Nazi SS hat symbolises the loss of democracy and the shift to totalitarianism. He said that one could argue that the US government is evolving into or is already a police state, hiding under the guise of a republic. He did not say if he will or won't obey the controversial hat.











(News Updated 06/08/05)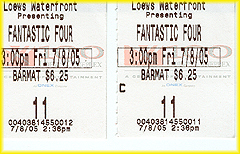 "The Fantastic Four" soundtrack now has sound track clips for all the songs on the album, including Velvet Revolver's "Come On Come In". It's at Soundtrack Clip. Have a listen! Thanks, Brian, for sending that in.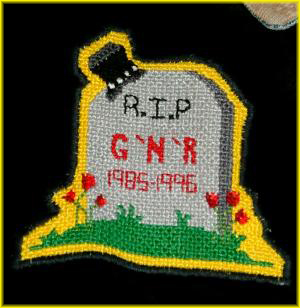 Karen says she's been a fan of SLASH for 15 years. She loves to do embroidery, and when VR surfaced, she found a group she was really interested in. She's made some cool patches and we're happy to share these with you. She saw VR in Vancouver with great seats. She held up her coat and SLASH saw it and pointed it out to Duff. Although she didn't get a chance to get them to sign the jacket, she still thought the show rocked! And if the guys read them, she'd be happy to make them one. Of course, we'd like the SLASH one! Thanks, Karen, for sending these pictures in.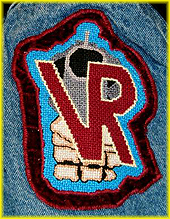 Constance sent in a typed article from Belfast, The Irish News. She typed it out for foreign fans who can't get this article. Click Belfast and Duff.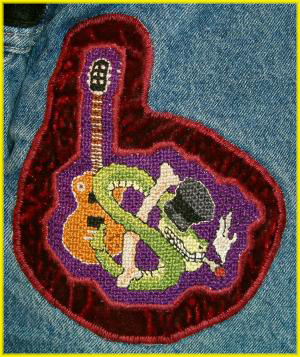 There are two new articles from Ireland at two different sites. Thanks to Sean for sending these in. The one about SLASH is at Read it now! . And the one on Live 8 where you can win tickets is at Read it now .



Ray sent this in from the Musician Friends site in their "That was the week that was column. This is from the June 1 edition.
"2004, Velvet Revolver's highly-anticipated debut album Contraband makes its online debut courtesy of MTV.com ... fans can preview the entire album on the website prior to its June 8 release ... the group features former Guns 'n Roses members Slash, Duff McKagan, and Matt Sorum, with former Stone Temple Pilots frontman Scott Weiland handling vocals ... the album will go platinum within two months ... no comment from Axl " No mention of Dave! Thanks, Ray!











(News Updated 06/06/05)