SLASH CURRENT EVENTS July 2001

(Updated July 31, 2001)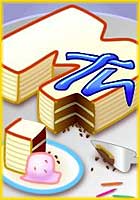 Get out your SLASH TV Guide and your tapes! SLASH will appear on the MTV 20th Anniversary special tomorrow, Wednesday, August 1. His 7 minute segment will air "live" at approximately 10pm. This is a 3 1/2 hour show beginning at 8pm Eastern Time. SLASH will also do red carpet arrivals, so he will receive a good deal of coverage! Get out tape 4 and get ready to add to your SLASH TV appearances collection.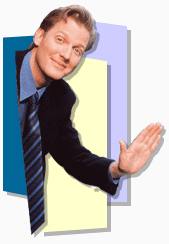 Last night on U.S. TV, SLASH was on the "Late, Late Show With Craig Kilborn". He was introduced as "the legendary guitar player"! Got that right. SLASH was looking very well dressed in a sportcoat, jeans. backpocket bandana and a black hat. When asked about his role in the coming Michael Jackson Tribute show in NYC, he said that he was really looking forward to it and would be playing a couple songs with MJ and a couple with the Jackson Five! The songs with MJ will be "Beat It" and "Black and White". Great! Of course he was asked about getting back into GNR, and once again he said it was not in the foreseeable future. Then at the end, they played a really dumb game where the host asked questions to SLASH and the woman who was also guesting. 3 right and you win. SLASH won! He missed the first one (what did the host's grandma buy for him? an apron) but he blazed the others. He asked SLASH if he owns a suit (answer: yes), what is cold melty snow called (slush...ha! ha! get it...like SLASH). And finally what is the rod connecting 2 wheels called (an axl!!! Even SLASH managed a small smile). Confetti rained down and he was given a bouquet of red roses which he gallantly gave to his fellow guest. A fun show!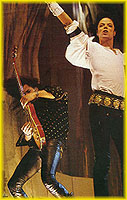 AllStar News has an online article about SLASH's appearance on the Michael Jackson Tribute shows. There are comments from MJ as well as SLASH. Their speaking styles are very different, but they are both great entertainers. The shows will be September 7 and 10 at Madison Square Garden in NYC. Tickets are available through the box office and TicketMaster. The price range is $45 to $2500. Here's where you can read this announcement:


SLASH To Appear At Michael Jackson Tribute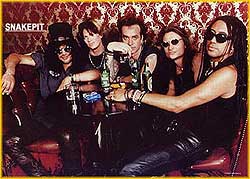 Have you been trying the SLASH's Snakepit Official Site? The parts that are up and running are really neat. We especially liked the cursor chaser that is a little snake. We checked the merchandise department, and there will be several items on sale. There is a note that the merchandise section will not open till September. Some sections worked best with html and some with Flash. We enjoyed playing around while the site wasn't too busy. Wait till they officially open or check it out now at:


www.slashssnakepit.com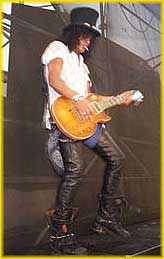 After our last article on the new "Shine" video, Chris sent us a note with his thoughts. In our opinion, the video was a little dull and didn't show enough SLASH. Chris disagrees. He thinks "Shine" is an excellent video highlighting the different sides of the band. Chris doesn't think SLASH wants us to consider Snakepit as his band. He remembers that SLASH would like to drop the SLASH off the front of the band name. The world knows SLASH and needs to meet the other band members. Chris thought the video was well done and showcased the energy of Rod, Keri, Johnny and Matt. SLASH did appear in the video, and we got to see him play slide. Chris (and others) have mentioned that they liked the part where the band is signing autographs and meeting fans. Since for many of us, this was a highlight of a show we saw, it was great to see it highlighted on the video (agreed). Chris feels that with the right publicity, the rest of the world would find out what we all know...SLASH's Snakepit is the best rock band in the world! Thanks, Chris!



And guess what we have now? Some SLASH questions! We've had these since the tour began, but there were so many tour details to get out that these were set aside.

Connan in France asks, "There are thousands of people who have learned to play the guitar thanks to you and who now dream of playing a song with you. Do you remember and how did you feel when you first played with Joe Perry? Were you totally flipped out and were you proud of yourself? Do you realize today that a lot of young but good guitarists would like to jam with you? Do you realize their dream sometimes?"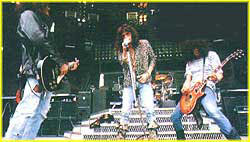 SLASH replies, "The first time I got to jam with Joe Perry was surreal. We played "Train Kept-A-Rollin' ". It was hard for me to believe that I was jamming with the same guy (and Steven Tyler, Brad, Tom and Joey) that I'd been listening to on record and in concert for years. Aerosmith has always been one of my favorite bands. The feeling was incomparable! To answer the other half of your question, I don't think I've played with anyone who is as big a fan of mine as I am of Joe Perry yet. But it's cool to know that there are lots of fans out there who might like to jam with me!"

Thanks, SLASH and Connan!

News Reported: 07/31/01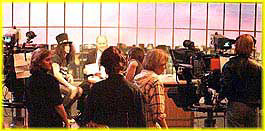 Did you see the three SLASH TV appearances last week? Robert watched "MTV Uncensored" Friday and said they showed a section on how artists communicate with MTV. In this section they talked about how Axl Rose fired SLASH from GNR by sending a fax to MTV saying they could no longer work together. When MTV called SLASH for comment on being fired, he replied, "What"? SLASH later sent a fax to MTV confirming Axl's fax. Thanks, Robert!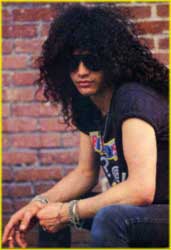 Later Friday, VH-1 debuted the video "Shine". We watched this along with other fans. The consensus seemed to be that the video was not really exciting and suffered from having only glimpses of SLASH in the first half. After all, it's SLASH's band but the video made it seem like he was not special, just one of the guys. Maybe let fans make the next one, SLASH! Saturday night was so cool. On VH-1, they aired the season premier of "Before They Were Rock Stars". There were some highlights of SLASH's episode. It was great! SLASH called in a voice-over and there were many pictures of SLASH as a little boy. He was a real cutie with those big brown eyes and long, curly hair. He was shown drawing, and you wanted to go over and talk to the little guy! Just like now. SLASH, you were a little sweetie! And some of those expressions he still uses today.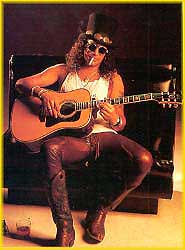 How many tapes have you used up?! We'll be on tape 3 tomorrow night for the "Late, Late Show With Craig Kilborn" on CBS. SLASH will be appearing as a couch guest (no performance). The show will be taped tomorrow and aired at 12:30am EST Tuesday morning ht Monday). After that we are on hold for a week till August 6 and 7 on VH-1 with "From The Waist Down" and "Before They Were Rock Stars".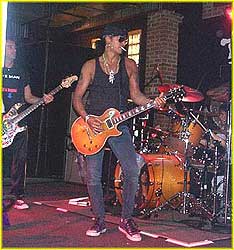 There are still some reviews coming in from the last part of the tour. Channing was at the Houston show, the one where SLASH got knocked over. Channing has been listening to SLASH for 15 years, and it was a dream come true to meet him. When some of the press advertised the show as being on Monday, Channing headed down to the Engine Room where the owner broke the news the show was the next day. As compensation, Channing and friend Stevie were invited to soundcheck. They met Rod there who took them over to meet SLASH. They got to take pictures, get autographs and so on. Seems like great compensation! Channing mentioned the episode where SLASH was knocked down and hopes he will still come there in the future. Thanks, Channing!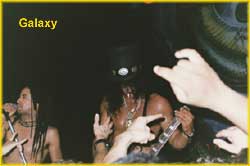 These two are from the Galaxy in Santa Ana, July 15. Chaz said Snakepit's energy was so great that it blew him away. On "Serial Killer" SLASH brought out his blue Guild doubleneck (Godzilla) and played a great opening. SLASH had so much energy and really worked the stage as did Keri. Keri was all over and really fits with the band. Snakepit is really good with fans, too. Chaz says his favorites were "Serial Killer", "Shine", "Speed Parade" and "Ain't Life Grand". This was his first time seeing SLASH, and Chaz say it won't be his last! It was the best concert he's ever seen; they were great! Thanks, Chaz!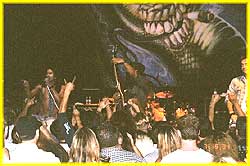 T.G. sent in a review and photos from the Galaxy show. This was his second Snakepit show; the first was at HOB in February. T.G. is a longtime GNR and SLASH fan and is happy to see SLASH play anywhere live, and it's a pleasant surprise to see this talented band that includes SLASH. T.G. said both shows were great, but the Galaxy had better sound. Compared with some old GNR songs, T.G. likes some Snakepit songs better! Rod's voice was strong and clear. Keri, Johnny and Matt were great. SLASH was fantastic. The band played the set with few interruptions. SLASH's guitar solos were flawless, very smooth and energetic. To T.G., SLASH is at the top of the heap of guitar players! T.G. says that he feels the band may have been turned off by some of the obnoxious behavior by the stage or the lack of applause. T.G. says he wasn't up by the stage, but can comment on the applause. He thought this was an older crowd, maybe 40+, and they just don't scream and carry on the way they used to do. T.G. wants the band to understand that the comments in the audience "f*ckin' brilliant" may not have made it to their hands, but they loved the band. T.G. would like more of a seating area by the stage where the venue could charge more for these seats. We'll agree with this! The short people would like to see, too! T.G. sent photos and soon we'll get them in the tour photo section. Thanks, T.G!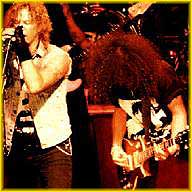 Here's some news on an old friend of SLASH's, Duff McKagan. Ruud sent a note that Duff's album, Loaded - Dark Days is out and recommended it to all Duff and old GNR fans. Duff's vocals are better than ever, says Ruud. He got the Japanese version of the album. It has a paper jewel case and comes with a sticker and lyrics. Ruud describes the album as a dark rock record where you can see the influences of all the other bands Duff has been in. While Duff has no website at this time, his management's site is at www.freezemanagement.com. And here is a Japanese site where we ordered our copy: http://www.heatwave-net.com/BTR/. Thanks, Ruud!



News Reported: 07/29/01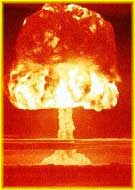 Thanks to everyone who sent me their information again. We're sorry to report that there was yet another problem where all the old mail received recently was again lost! We are moving to a different method of keeping mail from you that we want to save or does not get answered the same day. If you have sent anything since the last destruction and have yet to receive a reply, please send it one more time! Only mail that requires a reply needs to be sent. All the fan addresses, tabs, pics are safe. But if you wrote asking "what is Slash's real name?", the answer is Saul Hudson, so you needn't send those again! Thanks for your understanding and the new system is in place now, so we hope to safeguard your questions from now on. Speaking of questions, we have 10 questions that SLASH answered from the fans before he went on tour. We will be bringing them on soon.



SLASH is going to be on TV A LOT in the next few days. Get a tape ready for all these appearances if you are in the US. If you are outside the US, maybe now is the time to refer to that list of fan addresses and email some fans for a copy. We support trades but not sales. If you can't work out a trade, offer 2 blanks for the show plus postage. Let's not rip each other off. Back to the SLASH TV GUIDE! This first one is one that we and the sender are not sure of. Linda wrote that in the Rolling Stone Daily Newsletter, it says that tonight, Friday, July 27, at 9pm EST on "MTV's Uncensored", there will be something about Guns N'Roses. There was no description, and the MTV site has an error in their schedule section, so you can't find out there whether this is the old GNR or the latest Axl incarnation. We're hoping for the GNR with SLASH of course. Thanks, Linda!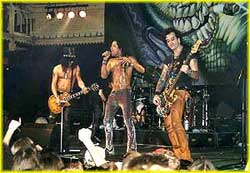 The next two we mentioned before, but will list again. Tonight, Friday, July 27, at midnight EST (this means early Saturday morning), "Shine" will have it's VH-1 debut on the "RockShow"! We don't have word that any band members are on tonight, but at least "Shine" is getting its long overdue spot as a single. Tomorrow night, Saturday, July 28, at 9pm EST is the season premier of the VH-1 series, "Before They Were Rock Stars". SLASH will have an episode this season. Tomorrow night there will be some highlights from SLASH's episode.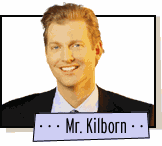 One more July TV appearance! This one just got set up. SLASH will be on the "Late, Late Show With Craig Kilborn". The show is on CBS after "David Letterman". That's 12:30am EST Tuesday morning, July 31 or late night on Monday, however you think of it. Check local listings. SLASH will be what they call a "couch guest" so he will not be performing, but talking. SLASH, as you know, is a funny and truthful guest, so this should be a good program.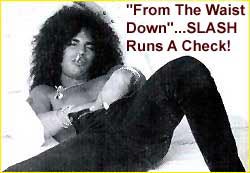 Moving on to August, we have some great TV shows! These are both on VH-1. First is the August 6 documentary called "From the Waist Down: Men, Women & Music - Dance to the Music". We are not as certain of the SLASH appearance as this is to be a 5 hour documentary (5 episodes, an hour each). We don't know if SLASH is on all episodes or not. He is to be interviewed on the show. The series premiers on August 6 at 10pm EST and PT (9pm Central) with each subsequent episode premiering each night that week at the same time for 5 nights.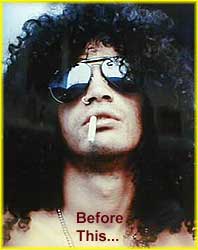 Finally, we have the long awaited SLASH episode of "Before They Were Rock Stars". SLASH wasn't always a rock star, believe it or not. He was once a little boy, and we'll get to hear all about his life pre-stardom. This show will air on VH-1 on August 7 at 4:30pm EST and PT. Wonderful! Of all of them, this is the one show that can't be missed. This period of SLASH's life is one that has not been covered very much. Get those VCRs ready!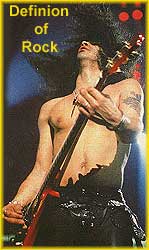 Nasar sent us a note from Poland where he is doing work as an English consultant. He was surprised to see SLASH appearing in some of his teaching books! Nasar reports that tonight on MTV2 Europe at midnight, UK time, there is a program about the history of rock, and SLASH will be appearing on it. He gives comments regarding the question, "What is rock?" in the ad for the show. Should be a good show! Thanks, Nasar!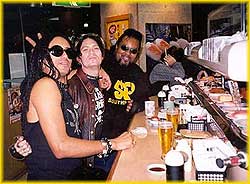 We got word from Keri Kelli regarding the TShirts for sale on the Keri Kelli Online site. The first 20 buyers were to receive autographed color photos. All these are gone! However, Keri will see that if you buy a tshirt, you'll get a Keri-pick! These will be randomly chosen from the bands Keri has appeared with. Let's give you that url again. We personally liked the sushi shirt best as it reminds us most of Keri's constant quest for the best sushi in the world. Keri is putting up more designs, so check back often:


Keri TShirts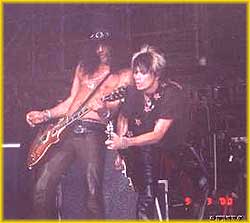 We have a funny interview with Keri that you may not have seen. It is on the Metal Sludge site. Keri answers 20 questions about his band history, Snakepit, bands he would like to play in, artists he'd like to play with, etc. Keri is such a nice guy, and you can see him trying to be pleasant and tactful. A nice bit of Keri information!:


20 Questions for Keri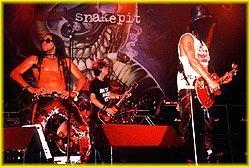 Another review has come in! This one is from Kama who went to the San Francisco show at Slim's. She said the band was super into it, and the crowd rocked all night long. Kama flew in from Montana and arrived around 3pm. He waited for about 9 hours for the show to start. She was at the door at 5pm in freezing cold drizzle, but it was so worth it! She says she hasn't seen a show with such energy since the last GNR show he went to in '92. People were jumping around, dancing and screaming and singing. Kama worked her way to the stage, and SLASH came over. Everyone was very respectful of him. Rod, however, had a cup thrown at him. Kama stuck around till after the bar closed and met most of the band. Everyone was super cool. Thanks, Kama!



News Reported: 07/27/01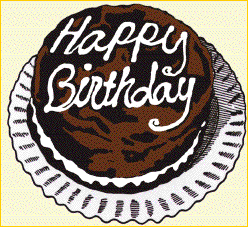 SLASH sends his thanks for all the terrific cards and birthday presents we sent. He was so surprised and really pleased. He had a lot of fun opening everything and is still playing with all the toys and looking at pictures and everything! We did a good thing! Many, many thanks from SLASH. We spotted a mention of SLASH's birthday, July 23, in the Rolling Stone Online newsletter. Seems SLASH shares his day with some other musicians: David Essex, 54, Blair Thornton (Bachman Turner Overdrive), 51, Martin Gore (Depeche Mode), 40, Alison Krauss, 30, Chad Gracey (Live), 30, Michelle Williams (Destiny's Child), 21. We hope SLASH had a great birthday. For the fans who wanted to know about the birthday symbols: SLASH is a Leo (which is why you must call him The King!), birthday flower is the water lily and birthstone is the ruby. SLASH has done a lot in 36 years, but he hasn't done everything he will do yet. Watch closely as he's going to do more soon.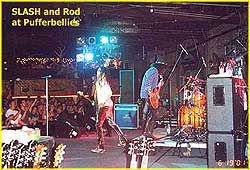 Alejandro found some big news on the web site which confirms what Rod was telling fans. The "Shine" video will be released! It will debut on VH-1 TV this Friday, July 27, on "RockShow". The show airs at midnight (which really makes it early Saturday morning) and is on for an hour. Get the VCRs ready and get ready to press record! Thanks, Alejandro!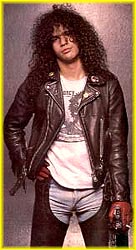 This Saturday night on VH-1 TV is the premiere of the new shows on "Before They Were Rock Stars". SLASH is listed as an episode, but we could find no listing of when his show would air. The show is on Saturday, July 28, at 9pm ET. Brian let us kchow that the new shows are starting up. Alejandro wrote again and said that there will be a SLASH highlight on the season premier. Another one for the videotape!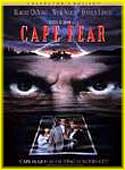 Gunner is a fan of Robert DeNiro as well as SLASH. Sounds like a match to us! He was watching "Cape Fear" and spotted a GNR/SLASH siting. There are two parts of "Patience" in the movie, and one is SLASH's solo! Gunner also told us that in the new issue of Stuff Magazine, there is a small picture of SLASH, and the tab for the intro to "Sweet Child O' Mine". Thanks, Gunner!

Groyou really helps keep us up to date on those UK publications with SLASH mentions. There's a UK magazine called King Size, and every month they do a mad props page which is the accoutrements of the rich and famous. Guess who appeared? SLASH! Which prop do you think they featured for SLASH? Groyou sent a scan of the page which you can see here. Thanks, Groyou!


King Size and SLASH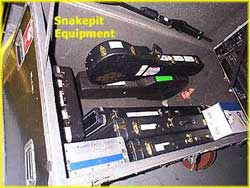 Michelle sent in her review of the Clifton Park show. Michelle says the venue size was great, and Snakepit put on a remarkable show under less than ideal circumstances. Their equipment never arrived, so they played with borrowed and rented things. The heat was unbearable; 102 that day and higher inside. They opened with "It's So Easy". Michelle says she was skeptical about Rod's singing this, but all doubts vanished as the band got into it. Rod is a showman, and he has the pipes to back it up! Then, they went into several Ain't Life Grand tracks. Michelle's favorites were "Shine" and "Just Like Anything". Playing the ballad "Back to the Moment" gave everyone a rest. Right after that, the band rocked into more songs from the album. The encore was "Mr. Brownstone", and the crowd went WILD! Michelle says it was the perfect ending and left the crowd wanting MORE! She got to meet the band after the show, too. Michelle says it was the best show she's ever seen, and she's seen a lot! Thanks, Michelle!

News Reported: 07/25/01




Today, July 23, is SLASH's 36th birthday! Happy Birthday, SLASH, and Many More! We've put up our annual web "card" for SLASH. Some funny graphics, a cartoon, and you can even hear SLASH try to play Happy Birthday on his guitar! We asked him recently if he had learned that yet, and he did get a little grumpy. So, take this one off your request list! Our "card" is located off the main page at www.snakepit.org, but we'll take you there now!

HAPPY BIRTHDAY, SLASH!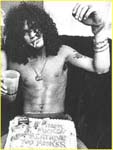 SLASH called in last weekend while we were busy virus-hunting. He said he was very pleased with the tour and that it was good to see all of you who came out. The tour management problems caused some tension, but Adam helped get things on track again. SLASH said he came home and just sat for 2 days. Then he started opening all the cards and gifts, and he really was having fun with playing with some of them! Slash said he would not be doing anything till after his birthday, so we guess he will get busy on something now. Most likely this will be business things at first. He is looking forward to playing with Michael Jackson at the Tribute show in September at MSG in NYC. If you're from the NYC area, tickets start at $45 and go up to $2500! Marlon Brando, who appears almost never in public, will be there to present MJ with an award. SLASH says there will be 2 weeks of rehearsal for this show. So sometime in August he will head for NYC, and we hope the New York fans keep their eyes peeled! SLASH walks the streets like everyone else, so watch for the tophatted one heading for MSG. Is anyone planning to go?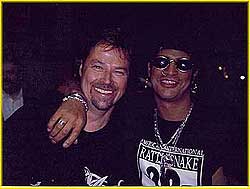 Another set of photos was added today. These are ones from Chicago and then miscellaneous venue pictures that you all sent in. We got a lot of good photos at the beginning of the tour but not from the west. If you have one or two you can spare, we'd be most happy to have those. Thanks. If you'd like to take a look at them now, we'll take you right there:


New Tour Photos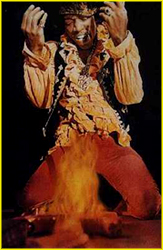 Barry just sent in a note that a UK guitar site is having a poll for coolest guitarist ever. SLASH is #2! And if you are wondering who's the leader, it's Jimi Hendrix. Uh oh. Could be trouble here! Winning is great but losing to Hendrix would not be bad at all. Thanks, Barry! If you'd like to go over and contribute your vote on SLASH's birthday, here's the link to take:


Coolest Guitarist Poll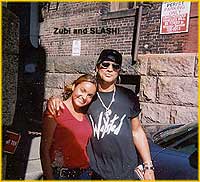 Jeff sent in a review on the two California shows he went to. These were at the Backbeat and Slims. Jeff says he pretty much agrees with the reviews that have already been posted, but he did have some interesting things to say. Jeff felt the Backbeat (Santa Clara) crowd was pretty weak. They only got excited over the GNR songs. The Slims show was awesome with an extremely excited audience. He says you could tell how much more the band was into this show than the Backbeat show. For once, Jim felt there were others who knew the words to the Snakepit songs! The Slim's staff did not allow cameras although their web site says they don't care if the band allows them. We have no reason to believe the band would care about a few candid photos. Jeff waited till everyone was kicked out of Slim's, but he couldn't wait for SLASH outside as he had to catch a flight back to Portland. Jeff says that one person he wants to acknowledge is Rod. His voice is powerful but can be gentle...and bluesy. Rod seems more relaxed than in November when Jeff saw him. His singing isn't word for word what is on the album; he is able to sing some impromptu lyrics, too. Rod is gracious with the fans and shakes your hand before he signs his autograph and tells you he is glad you are there to see him. Thanks, Jeff!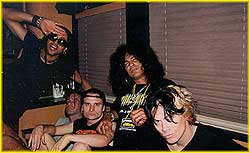 Frank's review is from the Galaxy in Santa Ana. He says Snakepit kicked ass at the show. Frank's seen them play that venue 3 or 4 times in the last couple of years, and they deliver every time. Keri is an awesome guitarist in his own right, and the band is so tight that it's hard to believe they play so well every night! Rod, Matt and Johnny are very talented, too. Frank took his son, and he's now one of the newest Snakepit fans. Frank knows Keri, and Keri took time to meet some friends of Frank's and hold still for a few pictures. Keri stayed for an hour signing and talking to fans. Matt hung out for awhile, too. Frank can't wait for the next tour! Thank you, Frank!

News Reported: 07/23/01


Our PC was infected by a virus on Friday. Any mail sent to webmaster@snakepit.org since June 15 is lost. Some mail from Saturday is here. If you were expecting a response and didn't get one, please write again. If you are one of the four people that were to receive a gift for attending 3 or more shows on the recent tour, that information is lost. Please send your address again. If you are sending mail and attachment files to this address, please be sure that you are running an antivirus product with the most up to date virus definitions. This is the second time this has happened, and it's always painful. The SLASH page cannot be produced tonight due to the need to retrieve misssing system files from the net. Our virus definitions were 1 week out of date, and they did not catch this one. Hey, be careful out there! And we'll be back tomorrow with the news and our annual Slash "birthday card". See you then!

News Reported: 07/22/01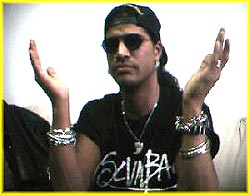 With the U.S. Headline Tour over, we are waiting to hear what SLASH and Snakepit will do next. Maybe some international tours? Maybe go into the studio for the new album? No word on this yet. Monday is SLASH's 36th birthday, so we hope there is some partying for that. If you want to send SLASH a card or gift, it's not too late. Use the fan address in the Write To Slash section off the Main Menu.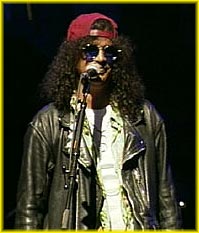 Did you catch the episode of VH-1's "Band on the Run" where SLASH appeared at the House of Blues in L.A. to introduce the band Harlow? This picture is from SLASH's introduction. Did anyone see this? And speaking of SLASH's solo activities, did you read that Britney Spears will work with Cher on Britney's TV special? Ray sent us a note about it remarking that "I guess if you can't have SLASH accompany you, Cher is the next best thing!!".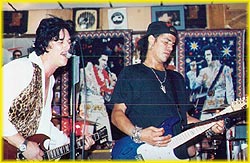 Lisa sent a note from Italy that she went to the Gilby Clarke chat on rocknrollstation.com. Gilby said that he loves the new Snakepit, and he thinks they are really, really great. At the end of the interview, he requested they play "Life's Sweet Drug"! He mentioned that when SLASH is on tour, he will often go to museums to see the dinosaur exhibits. (SLASH told us once that he always likes to stop at the gift shop and check out the dinosaur materials on sale). KNAC also played "Serial Killer" and "The Truth" before the interview, and they played "Serial Killer" after the interview, too. The DJs said Ain't Life Grand should be in your collection because it is SO GREAT! Lisa, thank you!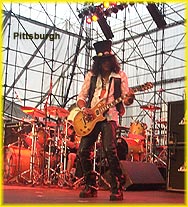 Although the tour is over, we have a lot of reviews still coming in. The final show was at Slim's in San Francisco, so we'll have those reviews first. Jimmy and Rob are from Ireland, and they were at the gig seeing Snakepit rock. They say the show was amazing, and the band was in great form finishing their tour in style. Favorites were "Back to the Moment", "Serial Killer" and "Meanbone". Rod said during the show that the Frisco rocked most of all. After the show, they met up with SLASH and told him to come to Ireland. SLASH said he loves Ireland and spends every New Year's in Dublin with friends. He said they hope to have a new album out in less than a year. Jimmy and Rob say "Amazin night. Great to meet SLASH. The legend rocks on!" Thanks, guys! Craig was also there and said the band was excellent! He was in the second row in front of SLASH. SLASH was wearing his addicted shirt and his S/P necklace. The encore was "Beggars and Hangers-On" and "Speed Parade". Thanks, Craig. And Karina says the band was amazing! She got there early and was in the front row right in front of Keri. Rod had so much energy; SLASH was right on as usual; Keri was really working the crowd and the music kicked ass. Karina says she had such a good time and got to shake hands with every band member except SLASH. SLASH did an awesome solo during "Serial Killer" which rocked! The night was perfect, and Keri gave Karina his glass of JD. Snakepit kicked ass; and it's sad the tour has ended. Thanks, Karina.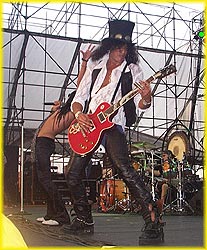 Edward went to the show also. The show pretty much followed the set list of the others. The band did play a nice blues tune in which Rod sang lyrics about San Francisco, and this led into "Ain't Life Grand". The band had a little more energy than at other shows. Rod said it was an anything goes night, so you could undress if you wanted. Edward says this is a small venue. About 200 were there. The fans had a lot of energy and got pretty rowdy. Rod did a stage dive into the slam-dancing crowd. About 50 fans waited after the show by the tour bus. The band signed autographs, had pictures taken and talked. Edward asked SLASH when the new album might be out, but SLASH didn't answer. He did say the show had been recorded. Edward told SLASH he was from Sacramento and asked when he might play there. SLASH said, "You drove down here from Sacramento?" Then he shook Edward's hand as if to say thank you. SLASH was his awesome self, and Edward is looking forward to a new album and told SLASH not to take too long! Thanks, Edward! Clint was at both the San Francisco and the Santa Clara shows. About Frisco, Clint said the band was totally tight and feeding off the packed crowd. There were lots of crowd surfers and rowdiness. Someone threw a bottle at the stage, and Rod jumped all over the guy threatening to "come out and beat your ass the next time". At the end of the show, Adam sprayed silly string from the side all over SLASH and the band! They all seemed to be having fun. Clint got to watch soundcheck, too. This was all due to Adam. There were some problems with the tour manager, and Adam stepped in and kept the tour going. Clint wants to thank Adam and the band for being so accommodating to the fans. Thanks, Clint!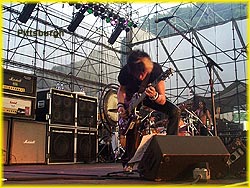 Let's go back one show to Santa Clara. Clint was at this show also. The band did all of Ain't Life Grand except "The Truth" and "The Alien". The band was very energetic. The venue was upscale and about 3/4 full. Clint said they lost some sales to Godsmack who was playing nearby. SLASH's good friend Charlie Sheen came by to watch the show. And afterward the band did photographs and autographs. Clint got to watch soundcheck here also. Thanks, Clint! Craig was also there and said SLASH wore a nice black shirt (silk?) for most of the show. They played a blues song, and Rod sang about San Jose although they were in Santa Clara! Clint says that is ok because it is right next door. He's really glad they played at the Backbeat and hopes they will come again. Craig didn't stay after the show as he was seeing them again in San Francisco. Thanks, Craig!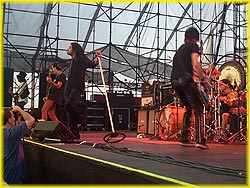 Santa Ana was the first California show, and Brett was there. He says if you missed it, you missed the best performance ever! SLASH was 4 feet off the stage at times! Keri and his outrageous showmanship continue to be a strong and potent driving force for SLASH's guitar solos. Brett is going to send his 72 photos!! The floor was bouncing from the stomping feet of the crowd. Rod is an incredible showman, and he is getting very comfortable with the songs and has a natural talent for ad-libbing. After the show, about 40 people waited for the band. They all came out and signed autographs, had pictures taken, and just built up so much rapport with the crowd. SLASH went out of his way to make sure everyone had a chance to meet him, and he proved to the fans that he is a rock star with class. Thanks to everyone who made this a truly unforgettable experience. Thanks, Brett! Clement was also at the Galaxy show. He says the sound was great, the band was energetic, the venue was surprisingly full (but not unbearable packed), the fans were cool and the band was ON! Snakepit played about an hour and twenty minutes. Clement got a place in front of SLASH right beside the stage. At one time, SLASH stepped on his hand! Johnny saw that Clement really wanted a SLASH pick, so he came over, took one from SLASH's guitar and handed it to him...in the middle of a song! There were more SLASH solos this time. There were 3 extended solos. First was SLASH's usual one leading into "Mean Bone". The second was during the intro to "Serial Killer" using his blue doubleneck Guild. Clement says the first solo was a "dirty" solo while this was a "clean" solo that was very cool and unlike anything he's done live. It was a jazzy/bluesy solo reminiscent of "Obsession Confession". The third was a "clean" solo on the blusier side during the beginning of "Ain't Life Grand". Clement thinks the Les Paul gig SLASH did a month ago inspired him to o clean, jazzier solos. The setlist will also be in the tour photos. There was much more merchandise. The black short and long sleeved tshirts were there along with a small square logo in the middle of the shirt. The last report on the Galaxy show comes from Dave. Dave seems to have a different opinion of what went on there. He says that the onstage performance was overshadowed by the idiocy of the crowd.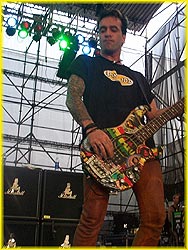 People seem to have come not to see Snakepit but as an excuse to thrash around with untempered violence and aggression. The band noticed this and didn't like it too much. There were about 5 guys who pushed and shoved and mashed two very young girls to get to the stage. When they got there, they gave the finger to the band...directly at Rod or SLASH and everyone else. Dave asks what rude s.o.b. would pay $25 to go to a show and tell the headlining band to f*ck off. Dave was very disappointed as these guys pushed, shoved, knocked people down. He was more concerned with surviving than the band. When Rod tossed a towel, two guys attacked the people that had it. Security FINALLY threw these guys out. SLASH looked angry and kicked out at someone in the crowd. It seemed to Dave that SLASH was in a bad mood, and the crowd didn't help much. Rod was great but quieter than usual. They went from song to song with little chat in between. It seemed there were technical problems as SLASH had to run back to Adam at the beginning of songs and change guitars. Keri also had to change his. Keri ran around like a man inspired. Matt played like a man possessed. Johnny was steady as ever. Matt hit the drums so hard that he broke the drum head on his snare and had to have it replaced. SLASH was incredible but just wasn't into the crowd. Overall, it was great to see them, but the night felt like it was off. Thanks, Dave.
Just a note here that there was a problem with the one of the band's management people in Texas. Finally, he left the band with no one to complete the tour. The tour was nearly cancelled. Luckily, Adam Day stepped to help out along with everyone else, and they did do it. So some of SLASH's humor was certainly due to that. The violence is why none of these venues ever seems to fill. A lot of fans just will not go if there is not reserved seating. Security could do a much better job of stopping this behavior early. Even though they may have been limping a little, it does sound like they got up there and did their jobs without ranting at the crowd, storming off and cancelling. A tough job at the best of times and not much fun with a crowd like that and a key staff member gone. They didn't want to disappoint fans by cancelling, and they threw themselves into the extra work and got through it. Fans in bands probably have had similar experiences. Thanks to everyone who pulled together and got it done.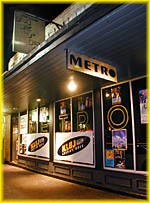 Let's go back to Austin. Joyce said she had so much fun at the show with her sister. They were in the front row and SLASH gave them both guitar picks. Somehow her sister got hold of the set list. Joyce had made a sign saying "SLASH, You Rock My World". He saw it and took it! It was great and very memorable. Joyce is looking forward to seeing him again. Thanks, Joyce.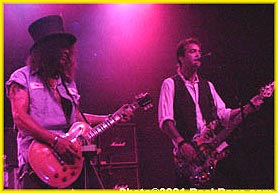 Linda went to FOUR shows: Nashville, Dallas, Houston and Austin. She has a short report on each. At Nashville the band was great, but as usual in the South they never get the warm reception they get in other areas. SLASH never let them down, and he seemed to enjoy himself despite the small turnout. In Texas, the fans are usually rabid and really into it; but this show was worse than Nashville. The show was great, but security was terrible. They were really rude to a lot of fans who were just rockin' and having a good time. In Houston, the people there were insane. They were rowdy, but the band seemed to feed off their energy. They played the best Linda has seen them play in a long time. They were absolutely amazing! Great performance, Snakepit! Linda only saw about 30 minutes of the Austin show as they had a plane to catch. She was not disappointed in what she saw. SLASH looked cute and refreshed. Even with all the problems, Linda says she is so glad that she did this road trip. Thanks, Linda!

News Reported: 07/20/01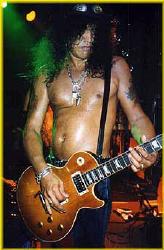 Tonight's the last SLASH's Snakepit show of the US Headline Tour. The show is at Slim's in San Francisco, and you've still got time to get there. The last show is usually the "pull out all the stops" show, so this should be great. Just when you think the band can't rock any harder, the next show comes along! If you haven't seen one of these US shows, you're invited to look at the second of the Tour Photo albums! They are all located in the Tour Photo Section, and this one is the last on the list, but we'll take you there right now. There are two in progress...one is all Pittsburgh (show and a lot backstage) and the other will be everything else unless we get a big group of photos together. Send any you want included this weekend if possible. Thanks!


More US Headline Photos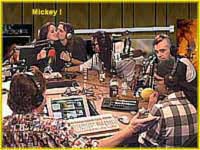 To mark the end of the tour, we have a terrific music video for you. Awhile back Snakepit was interviewed by Mickey and JD on the "Call If You Dare" show on KNAC. Mickey put together a video from the visit that fits with "Life's Sweet Drug". This is soo cool. Mickey is one of our favorite on-air people; a very cool lady. She liked our guys a lot, and she just made this! Thank you, Mickey! Maybe you should be making music videos for a living, girl! The video is on the SLASH Videos page which we'll take you to now. Scroll down to find the video. That's where it's going to live; so if you want to find it anytime, go to www.snakepit.org, scroll down to Main Menu, click on SLASH videos.

Mickey's "Life's Sweet Drug" Video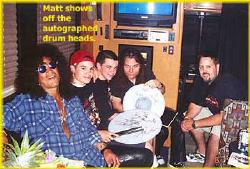 There are several reports from The Backbeat in Santa Clara. Eric said it's a modern club, kind of fancy. Eric was able to find a spot down front where he could hear the beautiful sweet sound of the crew tuning SLASH's guitar. Snakepit came out and snapped into "Life's Sweet Drug" and then "Been There Lately". Eric never realized what a great frontman Rod is till he saw him live. The stage was a little small, but the band managed to move around. Highlights were "Shine" and "Mean Bone". The crowd wasn't too rough.. just during "Mr. Brownstone". Lots of interaction between the crowd and the band. One of the loudest reactions came when SLASH put on his tophat! Eric had a long drive home, so he didn't get to stay and meet the guys. Next time! Thanks, Eric.



Below is the San Jose Mercury News report on the (at that time) upcoming show at Santa Clara. This is basically the same story used for the Pop's Annex show in the St.Louis Post Dispatch. And you'll find a mention of Slim's, the last show:
Santa Clara Show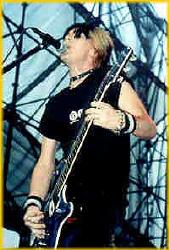 We don't have a name on this person, but the handle is Volcomstone54540. This is back at the Santa Ana show at the Galaxy He says it's the first show he went to, and he went with his Mom who is a Snakepit fan! Go, MOM! They got right up front and had a great view of the band. As usual, some idiot was up front knocking into everyone and his Mom got bumped into a lot. At 4'10", Mom didn't need this guy! Maybe some of us could help security find problems like this. He says that anyone who can see them live should do so. A pick from Keri and one of Matt's sticks were a great souvenir. Volcomstone54540 had a great time, and he was heading to the next show with all the guys. Mom is home trying to recover from bruises! Thank you!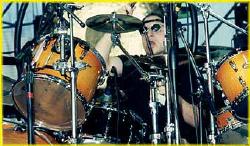 Raul was another loyal fan at Galaxy, and he says it was amazing. The set was shortened to 12 songs, he thinks. The set list had 3 songs listed that they didn't do. Great energy from all with SLASH in top form. Keri and Johnny were solid and energetic with Matt providing a great beat. Rod's vocals and stage presence were awesome. The guys were very friendly for those who stayed. Security kept saying to leave, but Matt came out and said not to believe it, about not wanting to see fans or sign stuff. Keri and Rod liked Raul's Rolling Stone shirt, and Keri got a kick out of seeing the Japanese cover for Ain't Life Grand and signed it "Rare Shit!! Keri Kelli 2001". Raul took pictures with all of them except SLASH as he was in a hurry, but after the show SLASH remembered him as the guy he gave a pick to. Raul wants to say, "Thanks, Snakepit, you guys f*cking rock"!!!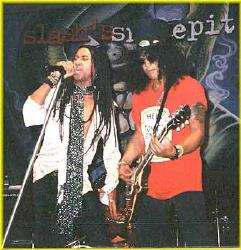 Carol is from Orange County, and she was also at the Galaxy show. The show was incredible, and Carol saw it from right at the stage. She says her bruises will fade but the memory of the show will not. Carol got to take a pick off the neck of Johnny's guitar and thought the night was complete till Slash played right above her and let her take one of his! Rod slapped hands with her, and she also got a drumstick! After the show, Keri autographed a poster. Security was very rude. This venue is known for the obnoxious security. The guys were great to everyone, not just Carol, and she is thinking of going to the show at Santa Clara. Thanks, Carol!

Due to some technical difficulties getting the new video setup, we'll hold on to a couple more reviews and pick them up on Saturday. So, there's still time to send in reviews. Tonight's the last night for the tour, and we'll do the reviews for a few days after that. Pictures are welcome too, and thanks for everything you sent and shared. SLASH fans are the best! We think it's because each group of fans tends to take after the artist they favor. So naturally we are kind and cool!



News Reported: 07/18/01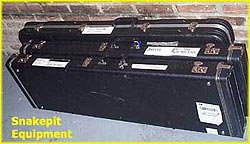 According to the band and the fans, the show last night at the Galaxy in Orange County, CA was a big success. Snakepit is off tonight. Wednesday and Thursday are the last two shows of this tour, and they are at the Backbeat in Santa Clara and Slim's in San Francisco. They're back home now and resting up for these big shows. This is your last chance to see them this tour, so get on out there! If anyone is going to make it to all three California shows, we have a Snakepit gift for you. If you went to or will be going to three shows (this US headline tour only), let us know. Rattus went to the New York trio, and Tina went to Texas. Anyone else? Email webmaster@snakepit.org. This is a free gift.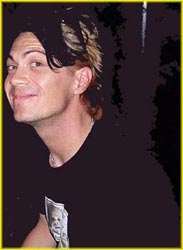 About the show at the Galaxy last night, Keri Kelli said it was awesome. Ticket sales were very good, and they had a good crowd. The audience was really enthusiastic, but they were great about only going so far. No one got knocked down! Keri was really pleased to be doing this show as this is his home territory. Mom and Dad and the family came out to see Snakepit. Keri says his parents have been very supportive of his career choice, and he talked about them as music lovers with a lot of affection in his voice. They really enjoyed the gig, and Keri says they are looking forward to the next two in California.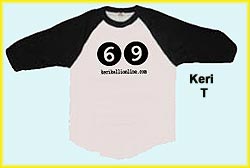 Being at home is great when you have some shows to do! He says they have played California so much that it is amazing that people still come out all the time. They are grateful for your support. On a Keri solo note, we talked about his Tshirt line. There are about 3 different styles offered there, and Keri says he has designed about 10 more. He is thinking of introducing two new ones every month or so! If you missed it last night, the Tshirts are being sold on the web, and here is that address again:


Keri TShirts

The first 20 Tshirt orders will get a bonus of an autographed, color 8x10 photo of Keri. Hurry!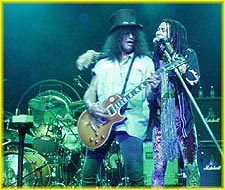 In addition to Keri and the rest of the 'pit, Sarah was at the Santa Ana show. She says there was a nice turnout despite the short notice for the show. Sarah's sister was there, too. She's been so anxious to see Snakepit, but the shows nearby were always 21+. Sarah said her sister smiled the whole time! She said that the band went way beyond her expectations and that it's the best show she has ever gone to. Her sister had heard the show promoted on KLOS. Sarah said everyone was really into it especially during "Mean Bone", "Speed Parade" and the two GNR covers. Sarah said people should check Best Buys for the CD although she bought it there right after it was released, and they could be sold out. Sarah says all it takes is good word for people to buy an album, and she knows nothing but good things have been said about this one. (If they are out, ask them if they can order a copy for you!) Thanks, Sarah (and your sister, too)!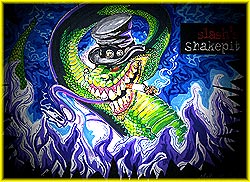 Mark was there, too, and says the show was amazing. The two opening bands were ok; but when Snakepit came on, the crowd went crazy. Snakepit was full of energy and blew the roof off! They played all the album songs except "The Alien" and "The Truth". Rod sounded better than ever. SLASH amazed everyone with his guitar playing. After the show, Mark and his friend waited out in the back for autographs. The security came out and said that Snakepit didn't want to come out, were eating dinner and everyone should go home. Matt came out during this and said the security there are "bullshit" and told the fans to wait right there no matter what security said. And one at a time, Snakepit did come out. (we have heard security at this venue called the security nazis). Each band member signed autographs and talked. SLASH was in a hurry, but he still signed. Mark got the whole band's autographs on the CD inside cover. He sent a copy in, and you can see it here. Thanks, Mark!



Our last report tonight on the Galaxy show is from a fan called Snake! She's had this nickname since 1989 and collects all things snake. Where else would you expect to find her? Snake says the show, the band, SLASH were all awesome! SLASH was wearing his mechanic's shirt. The venue allowed cameras, and there were no bad seats. Her date, a non-rocker, really liked SLASH's playing and Rod's singing style. Snake got the long sleeved Tshirt, but the pins were sold out. (Slash's Snakepit's site should be selling all the merchandise online when they get going). Snake says that everyone was very respectful of SLASH, so he could come close to the edge of the stage. People did touch him and his guitar but in a friendly manner. There was no roughness going on here! SLASH moved around the stage so people on both sides could have a good look at him. Rod was great with a lot of energy. He kept the crowd going and slapped hands all the time with the audience. Keri was great, too, and at the end of a song he held his guitar out and ran the strings across several upheld hands by the stage! There was a great response to all the songs with only a little less enthusiasm for the two slower songs, "Just Like Anything" and "Back to the Moment". Snake wants to thank SLASH for getting well and coming back out to play. She loved the show and will never forget it! Thanks, Snake!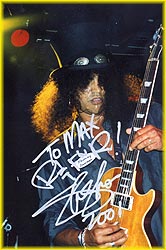 One Snakepit fan had his review put up on the KNAC site. He reviewed the SLASH's Snakepit show at Old Bridge in New Jersey. This is a good and a thoughtful review! Thanks, Jimmy for sending it along!


New Jersey Show Review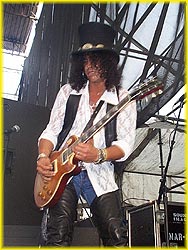 Here's a review of the Pittsburgh show. This show was in the I.C. Light Amphitheater, and Billy Idol was also performing. Despite the appearance of a tent, the shell is fiberglass and very hot. The band was just dripping but enthusiastic! Billy Idol came on second, and at the end of the show, SLASH joined Billy in "Whole Lotta Shakin' ". Here's that review which appeared on The Pure Rock Shop's site:


Pittsburgh Review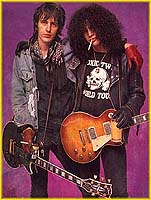 Quite a while back Alberto Vargas started a SLASH/Izzy cartoon. The first installment has been in the Fan Fiction section, and now we have a little more. Alberto is working hard on the rest, but if you would like to check out these next 4 cool panels he sent, we'll take you there directly:


SLASH and Izzy Cartoon





News Reported: 07/16/01


Tomorrow's SLASH's Snakepit appears at the Galaxy in Santa Ana. This is the first of the three California shows, and that's the end for the U.S. headline tour. No word yet on what will be next, but we are picking up some interesting thoughts on this. SLASH does have some business items to take care of. From what we have seen in many of your email messages, the band's album remains difficult to locate locally; and there is little promotion of the band's shows as they tour. We'd like to see those things corrected.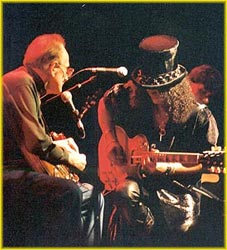 Meanwhile we have some good internet interviews for you to read. The first is on the Metal-Is site. Most interesting item: SLASH's paranormal experience at HOB! Thanks, Yurich! One for the X-Files:


SLASH Interview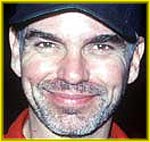 Tony Bonyata, editor of ConcertLivewire.com, did an exclusive interview with SLASH last Monday. This is another good one. Most interesting item: SLASH will do the music on an upcoming Billy Bob Thornton movie. You recall that Billy Bob and wife Angelina Jolie bought SLASH's house not long ago. Thanks, Tony, for letting us know. And while you're there, you can search in the archives for a Snakepit concert review and an album review! Lots of good reading:


ConcertLivewire Interview with SLASH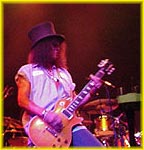 This one comes to us from Jeb Wright, owner of the Classic Rock Revisited site. This exclusive interview was done for Classic Rock Revisited by Joe Lalaina, Guitar World editor and writer. Jeb says the interview is awesome, and SLASH was very open and honest. He sure is! Thanks, Jeb, for letting us know about this really good interview:


Classic Rock Revisited Interview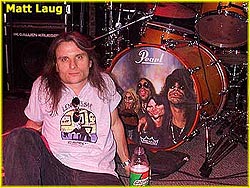 Let's hear from you guys now! We have one review in from Austin, and it's from Alejandro. Alejandro is from Mexico and traveled about 8 hours to the show. He was really hoping to meet SLASH, but he was also really looking forward to the Snakepit show. All the songs were great and he really liked "Serial Killer", "Shine", "Back to the Moment" and the two GNR covers. There was an autograph session after the show, and Alejandro says the guys were just great. He says they treated all the fans really well; and he shook hands with each band member, and they asked if he enjoyed the show. Keri remembered him where he was standing! When Alejandro saw SLASH, he said to SLASH, "You're my god". SLASH said..."aghhg, come on", and he laughed and they shook hands. After taking a picture with SLASH and getting all their autographs and talking to all of them, Alejandro said there was nothing more to ask for! Thanks, Alejandro!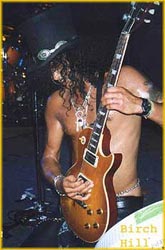 Going back to the Houston show, Ken says the show was awesome. He was embarrassed at the incident where a guy in the audience made SLASH fall (by the way, SLASH is ok!). The show was rowdy, and someone ahead of Ken got hit with a flying beer bottle. On the positive side, Ken caught the first towel Rod threw, and he got the whole band to sign it. This was Ken's second show, but the first where he met SLASH. Ken said that either SLASH was pissed off about falling or the poor turnout, but he didn't have much to say. He hopes they will come again. SLASH, Ken wants you to know that they have their share of hicks and white trash in Houston who don't know how to behave. They use a public show to display their ignorance rather than listening to the music. But to a lot of Houston fans, your music and what you mean to music is appreciated and important. Thanks, Ken!

Dallas was just before Houston, and Darlene was there. Darlene chose not to send her photos here, but she does have them up where you can see them. If you'd like to see some more Deep Ellum pictures:


Some Fan Pics from Deep Ellum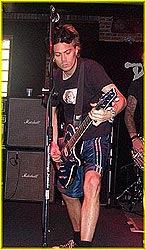 Josh was at the Nashville show, and he says it was incredible - a dream come true. There was little to no radio promotion for the guys (Josh notes that the Nashville radio station suck!). Josh knew going in that the show would be great, but he never expected the fan interaction with the band. He took some pictures during the show. After the show, he met the entire band; and they all signed his Epiphone SLASH signature guitar and his tourbook. Josh is getting a top coat of laquer sprayed on his guitar to preserve the autographs. (good idea!) Josh says he has never enjoyed himself so much and can't wait for them to come back. He was there with Brandon whose review was posted awhile back, and the two are going to do some promotion themselves and will try to get those "loser radio stations" to pay some attention, too. Thank you, Josh! And here's a link to Josh's photos from the show. Hey, guys, we need at least one for out Tour Photo book here!:


Josh's Nashville Pics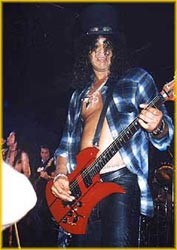 Jason and Denise were also at the Nashville show seeing SLASH live for the first time. They said it was "a HELL of a show"! They thought SLASH would be a little taller, but he can rock. They were up against the speakers on SLASH's side of the stage. SLASH would come right out on the speakers, and his sweat dripped on them. They got a high five from SLASH when the show ended, and they report that SLASH has "one hell of a grip". The whole album was played except "The Truth" and "The Alien". The two GNR covers were played and "an old Allman Brothers song. (anyone know the title?) Rod's voice was raspy, so he got a shot of JD. For some reason, the crowd threw condoms during the show which Rod thanked them for. SLASH asked if there was to be a huge party after the show. Rod put a condom on Keri and Johnny's mic! After the show, everyone was there but Matt. Snakepit was really nice. Jason and Denise says they will be there the next time the band comes to town. Thanks, you two!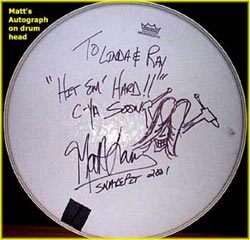 Darren's review goes back to Sauget, IL. He says he has seen SLASH several times, bought the 95 album but nothing really grabbed him. He was going to see SLASH and that was about it. He says he was so surprised! The line-up rocked, and every band member blew him away. Darren says he is definitely getting the CD, and he suggests that you get out there to a show! He drove 3 1/2 hours to get there only to find there would be no soundcheck because the band was doing an instore. So they went there, but they took in those who had bought Snakepit items first. There were dealers armed with guitars and pick guards which is really kind of sad for fans. They eventually cut back to 2 items per person, but SLASH signed 3 pictures for Darren. SLASH was very quiet and didn't say much. The venue was packed, and Darren was in the second row in front of SLASH. Rod invited anyone who wanted to go to the strip bar next door to go, and SLASH would pay the tab! HA! After the show, Darren asked Rod about this, and he said that when he was getting signed by the band, SLASH wanted to take him out on the town. Rod agreed and handed SLASH the tab at the end of the night...over $2,000! Rod did go next door after the show, but Darren took off for home. He'd like to thank Snakepit for the show and says he can't wait to see them again.

Thanks to all of you who have sent in reviews. Don't forget we would like to have some, even one of your pictures for the Tour Photo book. This book will be kept online as long as this page is! The first set of photos is up, and the second is coming this week. Thanks again!



News Reported: 07/14/01

What famous rock star has a birthday July 23? The one and only SLASH! For all of us who enjoy his music and style, how about sending SLASH a birthday card? No gifts are expected, but you can send something if you feel the call. SLASH will be a fine looking 36 years old! Remember him at 19? His music, performance and good looks have only improved with age. Get your card in the mail soon! Here's the address:


                                   SLASH
                               8033 Sunset Blvd.
                                  Suite 994
                             Hollywood, CA 90046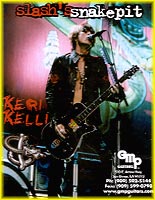 One of the coolest snakes in the 'pit is Keri Kelli. Did you know Keri has his own website? There's all kinds of Keri information such as a discography, news and Keri-Facts. If you can't get enough of Keri, there are lots of photos to check out. There's a chat room and other things to do. Keri let us know that he now has his own Tshirt line! There are regular Tshirts and babydolls, too. Instead of big pictures of himself, Keri has chosen to put some funny things on these. Before you have a look, just remember that Keri is the sushi czar in SLASH's Snakepit. This man can sniff out a sushi bar in any city in the world! We have two links for you. First, we have Keri's web site:


Keri's Web Site



and here's the place to shop for Keri Kelli Tshirts:


Keri TShirts

The first 20 Tshirt orders will get a bonus of an autographed, color 8x10 photo of Keri. Hurry!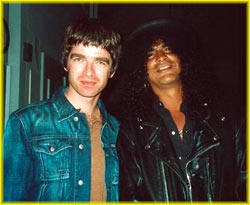 Awhile back we told you that Oasis' Noel Gallagher asked a photographer to introduce him to SLASH. SLASH was at the Black Crowes/Oasis show, and he was told that Noel was a fan of his and would like to meet him. Here's a photograph commemorating the meeting!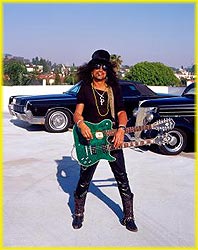 We also have three photographs of SLASH taken with the two cars he loaned to the Petersen Museum's Cars and Guitars exhibit (still going on in L.A.). One of the three is right here, and we'll let you click on the links below to see the others. Does this guy cast a cool shadow or what? Ride On, SLASH!


SLASH & Cars 2AndSLASH & Cars 3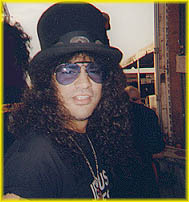 A couple people have asked if SLASH made an appearance on VH-1's "Bands On The Run". Answer: Yes! SLASH introduced the band Harlow at the music festival. The show was coming through L.A., and SLASH was asked to be an announcer. The show was done at the House of Blues on Sunset or at least SLASH's announcement part was filmed there last month. When a rock star is needed in L.A., they put the call out for SLASH! The show should air this Sunday 7/15 at 10pm ET.



Let's get to some of these reviews. Consulting the Tour Schedule, we see the band has finished the Texas shows and has the night off as they move to New Mexico. Then they get to go home! Everyone is looking forward to that. The three remaining shows are all California. The first one of these is Galaxy in Santa Ana.

Clement wrote to us about the Galaxy, so listen up if you haven't been there before. Clement says there has been almost no promotion, so we hope lots of you will get out there. This is not to deter you, but this venue is not one of Clement's favorites. He says they run it like a prison! No recording devices or cameras! If they spot them, they may confiscate them and/or throw you out. Cameras are not returned after the show. But Clement says the setup is actually very cool there. Just don't bring a camera or recorder.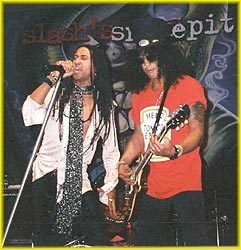 Let's get out of there and hurry back to Houston where Ed saw Snakepit. He said the crowd went nuts over "Shine", "Mean Bone" and the 2 GNR covers. Ed was in the front row and got to meet the band. One low point at the show was that some jerk grabbed SLASH's foot, and he fell down. Security took the guy away; and Rod said, "Security will f*ck him up", and everyone applauded. Ed was there with his buddy Andrew, and they thought it was a great show. Tom was there too; and though he still couldn't hear the next day, he cranked out a review for us. Tom and his stepbrother arrived at the Engine Room at 4pm where there was already "one SLASH obsessed fan who had come at 3". When the bus got there, the band wasn't on it. In an hour, a truck came up with the band except SLASH. Tom and Rod waved at each other which was very cool. Tom was getting worried about SLASH as one man said SLASH was ill at his hotel! Because they'd been there so long, the venue got them water and gave them some Keri Kelli picks! A little after 7, who came out but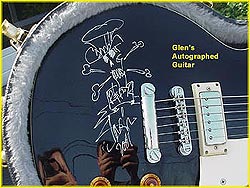 SLASH! He was not ill! Tom said he seemed very nice and signed everything. Tom had brought his guitar but couldn't seem to ask. SLASH finally asked, "Anyone want anything signed"?! Well, everything got signed and pictures were taken. SLASH said they had been waiting so long he thought they were nuts! They took off in the truck (almost leaving Keri behind) and went to the hotel. The opening band went on at 9 which gave too many people the time to get drunk. Tom said his only complaint is too many drunks. Snakepit went on at 10. Tom said he saw the SLASH falling incident. Some drunk grabbed SLASH's bandana and would not let go and pulled SLASH over. Tom said he was about to run over there (we would be with you, Tom!), but SLASH got in a couple of kicks; and the guy let go. SLASH laughed the whole time and didn't shut down the show or storm offstage. Overall, it was a great show. The crowd was into it, and the band had a great time. Rod said they were louder than Dallas! It was a fun-filled SLASH day! (Then Tom, dehydrated, sunburned and deafened, went home!) This review comes from Tina, the owner of those SLASH pajamas. Tina got SLASH to sign her ticket before the show. There were no barricades so you could lean on the stage. Tina was in front of Johnny's microphone when three drunken guys pushed their way behind her. One of these guys pushed people out of the way to move center stage. The show was incredible. Rod had on silver pants, see through black top and a long silver scarf. The obnoxious guy grabbed Rod's scarf and pulled. Rod took it off and continued.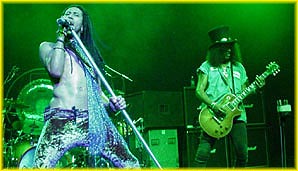 (Security should have gotten this guy right then). Every time SLASH came over, this guy hit Slash on his legs, boots, even his hands. SLASH tended to stay back then. And of course this is the drunken idiot that knocked SLASH over. Keri was having equipment problems which frustrated him, and he was more subdued. Johnny was great, and Tina could hear all the words Rod sang. Tina was also going to the third Texas show where she hoped to get SLASH to sign some pajama pictures. She finds SLASH to be reserved and hard to talk to. Probably because his body is aching from people hitting him and knocking him down! Tina says she wanted to mention that in Dallas, SLASH wore his Heinz ketchup shirt (which we gave him as a souvenir of Pittsburgh) for signing autographs. Come back, SLASH! Tina had one more thought. SLASH did an interview on Channel 13 before the show. It was done at the venue. Did anyone see it?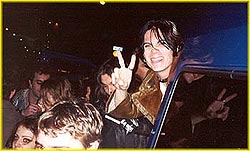 Although we have several more older reviews, we'll stop here for now and get the rest out next time. With just a few more shows to go, please don't forget to send one in. When you complained about the Dallas show, we called SLASH and also talked to Keri. So they know, and they work hard so that sound or the venue or whatever will be better. Keri said that some of these venues don't have a really decent sound system. He said that if you go to House of Blues, you KNOW the sound will be great. Some venues just don't have very good equipment. Thanks to all of you for what you have sent to date...keep going! Time for California to take over very soon...let's hear from New Mexico first!



News Reported: 07/12/01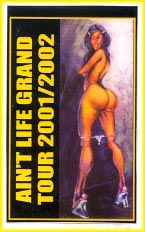 We thought the tour schedule was all set when along comes another date! July 18 will still be the final show; and it's at Slim's in San Francisco, CA, but there is a new one the night before. On July 17, SLASH's Snakepit plays the Backbeat in Santa Clara, CA. This venue does not use Ticketmaster. Instead they use Ticketweb and the box office. Tickets are on sale now for $25 each, and it is a 21+ show. There is a link to the club's site from the Tour Schedule site. The tour schedule is at Tour Schedule. Get out and support Snakepit! And you Texans be sure to make the Houston and Austin shows!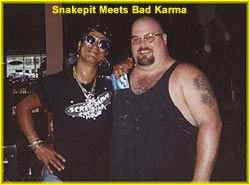 The first set of tour photos is up now. Thanks to all of you, there are a lot of photos from this US headline tour to put up, and this is just the first set. More are in progress, but you can have a look at these in the meantime. Thanks so much to everyone who contributed to these. They are a lot of fun to look at and hold a lot of memories. If you can't check these out now, come back to www.snakepit.org, scroll down to Main Menu, click Tour Photos. Near the end are links to all the photos, and this tour is the last one in the list. If you have time now, here's a look at the photos you sent in:


Tour Photos





Tina went to the Dallas show last night and is going to make the next 2 Texas shows! Don't forget to save your stubs or something because we are going to have something special for those who make 3 shows on this US headline tour. Rattus is already set with his 3 New York shows. Tina will be, too. Anyone else?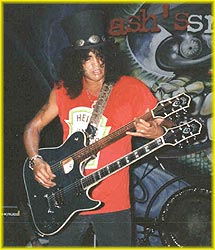 Tina sent in a review of the Dallas show. She drove in from Houston to see Snakepit. Soundcheck here was late and ended about 7pm. Tina positioned herself on the Keri/Johnny side of the stage about 5 feet back due to barricades. The show started at 10pm with no opening band. Tina said the show was incredible, and they played the entire album except "The Truth" and "The Alien". They did the 2 GNR covers. Keri and Rod were electrifying, and SLASH surprised her with how intense he is when he plays...almost snarling. One complaint was that she almost could not hear Rod, whether he was hoarse or the sound was bad she didn't know, but it was annoying. Keri threw tons of picks, and Tina got one after the show when security picked up the ones inside the barricade. The venue was only half full (TEXANS, we thought you wanted shows there!), and the crowd wasn't very into it. Tina said that Dallas did not do right by our guys! Get with it, Dallas! Tina said the venue people were jerks. The had "No Ins No Outs" posted on the door. After the show some fans went out to get wait by the bus for autographs; but it was inside, and the venue would not let them back in. Snakepit people tried to get them to let the fans in, but they weren't successful. Tina bought a program and had it signed. Matt and Keri were the friendliest. SLASH was really reserved, so Tina didn't try to talk to him. (SLASH takes poor turnouts and slow crowds personally).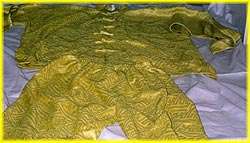 It turns out that Tina is the person who bought SLASH's pajamas in that ebay auction!! And she didn't even tell SLASH that. WOW! Should have worn them, Tina! Hopefully the next two nights will bring a happier, more relaxed SLASH. Johnny gave her trouble for closing her program before he signed it on his picture, but he signed it anyway. (Can you say grumpy band drives from Nashville to do this show?) Tina drove 5 hours back home and is on her way to see SLASH's Snakepit tonight in Houston. Let's hope the place is full, the audience is dancing and clapping, and the boys are all smiling.



This next review goes back to Pop's Annex in Sauget, IL. Ginny said that the gig showed SLASH to be one of the best guitarists in the business. The crowd started rocking with the opener, "Life's Sweet Drug", and they never stopped. Rod and SLASH shared the mic for choruses of "Been There Lately". SLASH and Keri joined in some guitar thrashing moments. SLASH went from one band member to another jamming with each one. "Mean Bone" seemed to be the favorite with "Back to the Moment" coming in second.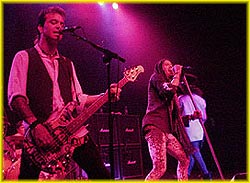 Johnny, Keri and SLASH tossed picks to the crowd; and SLASH jumped into the area behind security to be closer to the fans. SLASH signed autographs in the venue for over an hour. Later Keri was talking with fans at the bus and remarked that SLASH is not drinking. (5 months!). Ginny said some fans even shared souvenirs with her "all in the name of rock n' Roll". Cool! A really great touch to the evening was when Matt Sorum showed up to hang out with the guys. Thanks, Ginny! You really have a sharp eye for detail. We should have mailed you to Dallas.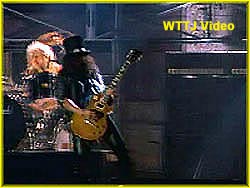 Brian let us know that on VH-1's "What's My 20?", GNR came in at #5 on the top 20 "Gods of Thunder". The original "Welcome to the Jungle" video was shown, and they talked about GNR. Thanks, Brian!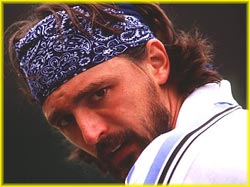 Here's an interesting item about another SLASH celebrity fan. Ismar sent this in. Goran Ivanisevic, winner of Monday's Wimbledon Men's Singles Match, is a huge SLASH fan since SLASH's earliest days! Goran is a declared fan since the Appetite... days. He's one of SLASH's most well known fans, and he went on record with his SLASH admiration in late 1988. One of the first places he mentioned it was the German Tennis Revue magazine in October 1990. Ismar is from Croatia, and he's a big SLASH fan himself! Thanks, Ismar!

News Reported: 07/10/01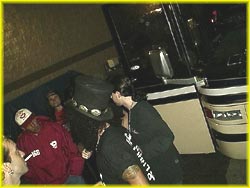 It's Sunday, July 8, and Snakepit has today off to get from Tennessee to Texas. There are just 5 shows left and you have to get to Texas, New Mexico or California to catch one of them. The fan reviews have been really positive, so positive that we are filled with envy. No lukewarm presentations, no average music, no one snapping at the fans..well, not the band anyway! So get out there and fill those venues. Take a couple friends to meet SLASH and the Boys.


Brandon was at the show in Nashville last night, and it blew him away. Brandon says that there was zero promotion besides a newspaper article a few days prior. He says the turnout was less than stellar no doubt due to the fact that no one really knew it was happening. He urges the fans in the remaining areas to get out and talk it up. Brandon was at the venue early, and a car came with the whole band. SLASH came over and signed autographs and hung out. Brandon had his picture taken with SLASH. He got to meet his hero! SLASH was cool and laid back. Brandon says he was too young for the shows when GNR was around, and he wasn't about to miss this chance to see SLASH. Rod's voice was hoarse, but he did fine in the show. Brandon was right up by the barrier, and SLASH rocked the house down. SLASH was about an armlength away during the show. Rod gave him high fives from the stage all night, and Brandon got one of Keri's picks. Brandon wants to tell the guys to come back soon; and if they need a good promoter, give him a call! Thanks, Brandon!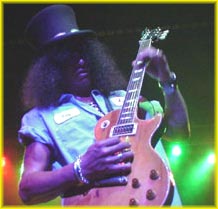 Here are some from the previous show in Sauget, IL at Pop's Annex. Laurence drove 3 1/2 hours from Indianapolis and says it was well worth it! The band played all the Ain't Life Grand songs except "The Alien" and "Speed Parade"; the show was about an hour and a half. Then Snakepit signed autographs, had pictures taken, etc. for what was to be half an hour but ran much longer. Laurence got one with SLASH and Johnny. He got a couple snapped off during the show; but security was taking cameras, so he stopped. Laurence said it was a high energy show, and he was thoroughly impressed. He says he mainly went to see SLASH, but the whole band rocked. Laurence wants to let everyone know that they should go see Snakepit if they can. It's definitly worth it! SLASH wore his black chaps, a gray button up shirt with a black vest and the sacred tophat! Rod wore velvet pants and a black shirt. Johnny wore a tshirt with a denim jacket. Keri wore a black tshirt with 69 on it. SLASH said that it was ten years and 3 days ago that the St.Louis riot took place at the GNR concert. The club was packed with 800-1000 people! Thanks, Laurence! Chuck is from St.Louis, and he says the Sauget's show kicked ass! It was the best concert he ever attended with SLASH and Rod and the rest so amazing to see live. Chuck didn't expect to meet SLASH, but he did get to meet the whole band while they signed his poster. Chuck told SLASH that he was his hero and that he learned everything from him. Slash laughed and said, "Be carefu, I make a LOT of mistakes!" Chuck thinks there could have been a lot more Snakepit fans there, but the crowd was pretty large. SLASH commented on the St. Louis riot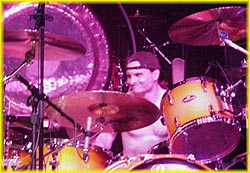 and said he was glad Snakepit hadn't lost any St. Louis fans. SLASH said to Rod that he was wasted and nearly fell on the floor. But wasted or not, SLASH can still rock the hell out! Thanks, Chuck! Mike was also at the show and says it was the greatest night of his life! Mike got there early to watch soundcheck and found Snakepit was doing an instore which he couldn't possibly make. So, he was disappointed. When there were 2 or 3 hours till the show, his dad and brother left to go shopping. Mike planned to wait for the band to show up, but his family had his tickets so he got kicked out. So he is waiting outside for his dad to come back, when SLASH drives up! Actually, SLASH was not driving, more like sleeping. SLASH got on the tour bus. Mike said he got his ticket from his dad, went in and things were improving. He met some fans, got souveniers, listened to the opening band, Conquest. When Snakepit first came out, the show was all focused on SLASH. Then people started paying attention to Rod. Then, the crowd didn't know who to watch because Keri danced around the stage, SLASH jumped down, Rob threw his towels (Mike caught one!), Matt was hammering in the background and SLASH and Johnny were rocking hard. After the show, the band signed autographs (1 per person). Mike got them all to sign the poster, Rod to sign the towel and SLASH to sign a picture and then have one taken with Mike. Mike's dream was accomplished - he saw his idol and spoke with him. Mike thanks everyone in Snakepit for an amazing performance. By the way, Mike flew from Boston to St.Louis for the show. Can anyone beat that? Thanks, Mike!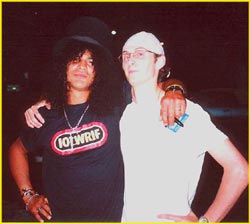 The night before the Sauget show was the Blue Note show in Columbia, MO. Ginny says the shot was HOT! Snakepit rocked the place with screaming guitars, thundering drums and great vocals. The did most of the new album plus 2 GNR covers, "It's So Easy" and "Mr. Brownstone". The sound was great, and the band is an awesome group of guys. Ginny says all you Snakepit fans need to get out there and support the band! The band shows its appreciation with full sets and long autograph sessions. Ginny said they signed for an hour and a half. Snakepit rocks SLASH style! Ginny had to run off and get ready to go to the show at Pop's. Thanks, Ginny! Last time the 'pit toured the US, they were with AC/DC.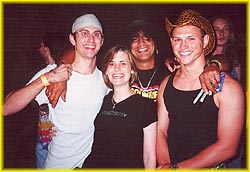 There were a lot of sound problems as Snakepit had to use the AC/DC settings. There were some grumbles in reviews about that, and one of the worst fan reviews came from Damian. He had just had foot surgery and was in no mood for this! Later, he even sent in an apology for being so grumpy. Well, we heard from Damian again. He was at the Blue Note show, and this time he LOVED it! They drove over 3 hours to get there, but he wanted to give the band another chance. Damian says, "Bar none, it was the best show I've ever seen!" The band was excellent, but what made the night for him was meeting SLASH. Damian was absolutely dumbfounded at how honest and approachable SLASH is. He followed SLASH out to the bus where SLASH stopped and drew pictures and signed guitars. He told Damian he'd be out as soon as he cleaned off and caught his breath. There were about 150 people waiting outside the bus and in a half hour, SLASH came out! He talked with SLASH about 20 minutes and even told of the bad review he sent in. SLASH asked what the problem was, and Damian told him honestly the sound was bad and his seat was in the back. He told SLASH this show was incredible, and SLASH seemed to appreciate it. SLASH let them take about 7 pictures with him. Damian can't get over how someone of such an international stature could be so friendly and have no attitude. SLASH seemed to enjoy himself with the fans, and Damian says he can't say enough good things about his character and heart. Thanks, Damian! We have to admit to being a little nervous when the message came in, but they won you over!



News Reported: 07/08/01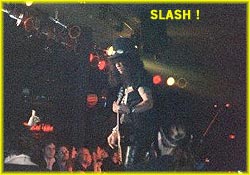 Tonight's show in Sauget, IL is at Pop's Annex. It's All Ages! So stop reading and GO! If you want future tours, you've got to fatten up that audience with your presence this time! Tomorrow night is the killer show in Nashville. Must be some hard rockers there as SLASH seems to like this town. Sunday is an off day while they zoom from Nashville to Texas. You Texans give them a warm welcome after that long ride! There's Dallas, Houston, Austin right in a row, and it's a good time for a road trip. Then on to New Mexico and California. SLASH says the tour will definitely end July 18. The band will go home for a little off time, and SLASH says he will then decide what's next: more touring or working on the new album.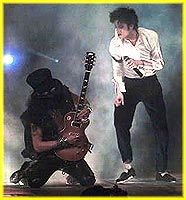 SLASH loves to tour so it will be tough staying at home, but he does have those Michael Jackson shows to get ready for. They are September 7 and 10 right now with the possibility of a September 9 date. Tickets are $40 to $500 (which means you get to see SLASH's eyelashes, we guess). The shows are at Madison Square Garden. SLASH says he will play with Michael. Too bad, Britney, you lose again! SLASH managed to slither away from all that. SLASH said in an interview that he would do 3 songs, but we haven't confirmed the number with him yet. He is looking forward to these shows. There are so many terrific musicians signed up like Ray Charles, Mary J. Blige, Whitney Houston, Gloria Estefan, Ricky Martin, Legends of Jazz, Gladys Knight and many more. There will be a 300 member gospel choir, a 48 piece orchestra, 12 backup singers, a 200 member children's choir and a 40 member dance troupe. MSG is gonna ROCK! This is MJ's 30th Anniversary Celebration: The Solo Years, and it will air on CBS as a two-hour worldwide TV special. Let's hope SLASH will be in on that. Let's hope some of you will be in the audience and let us know how it was, especially any information on SLASH!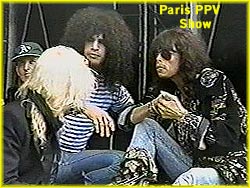 Speaking of SLASH solo, we told you that he played with Aerosmith while in Pittsburgh. If anyone out there has a photo or two of SLASH playing with The Boys from Boston, SLASH would very much appreciate having a copy. A graphic image is fine. If you can ask your Aerosmith lists and boards about it, it would be very much appreciated. We'll send you a little gift in return. Write to webmaster@snakepit.org.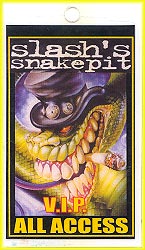 Another request for assistance from the SLASH team. If you were at a show THIS tour and saw professionals making video or audio tapes or taking photos, could you let us know which show and what the activity was? If there was some ID on the equipment, like call letters, that would be helpful. This doesn't mean fans that recorded or took photos; these are pros that most likely would have badges and be up front. There is some paperwork that really needs to be straightened out on this. Anyway, it would be of help to SLASH if you could let us know. Use the same address, webmaster@snakepit.org. Thanks!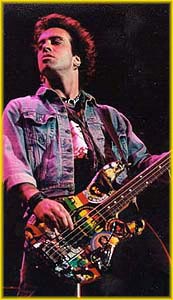 Just a reminder that when SLASH calls in, he asks about reviews and what you thought. So, please send something - your overall impressions or some details and...well, you've seen the others here. Reviews are great for the fans, but the band really needs your feedback. They are just thrilled when you are really positive about a show. If there are problems, SLASH tries to fix them. And send photos and tickets...we are working hard on the tour book.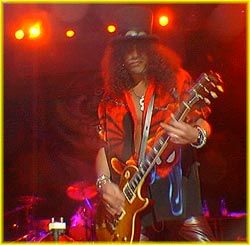 There was an advance article in the St.Louis Dispatch that appeared yesterday. It was in the Entertainment Section. It's a really nice article, and at the end you will see the ad for the show tonight at Pop's Annex. It goes over SLASH's career in GNR, his leaving that band and the creation of SLASH's Snakepit. A good summary!


St. Louis Dispatch Article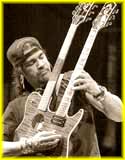 There's another advance article from The Tennessean! SLASH made the cover of the Entertainment Section today, so some of you should be able to find it and have a great keepsake. This is more background on SLASH's career, but it is well written and worth a look.


The Tennessean Article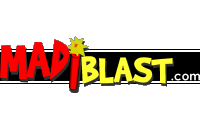 Madblast.com has reviews, interviews and other information on music, movies, cartoons etc. Janet sent us the address on their site where you can go and hear a 20 minute interview. SLASH does more than half of that, and he's followed by Rod. SLASH is calm and softspoken and serious. Rod is wild and funny and great! When you get to the page, scroll down to the bottom first to get the audio going. Then sit back and listen to our guys! Thanks, Janet!


SLASH and Rod on Madblast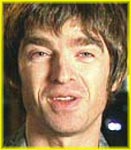 Awhile back, SLASH went to the Greek Theatre in L.A. to see the Brotherly Love Tour with Oasis and the Black Crowes. A photographer was approached by Noel Gallagher of Oasis, and Noel asked if he could introduce him to SLASH! Noel said he has always wanted to meet SLASH! Many of us feel the same way. The two did meet, and we have some photos of the meeting on the way. Another SLASH fan!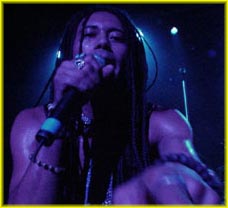 Here's a review of the Columbia, MO show from Jimmy. Jimmy's a big SLASH fan but had never seen him in person. The show was great, and SLASH's playing was amazing, very clean and fast. Snakepit played about an hour and a half, and it all rocked. Jimmy said it was incredible watching SLASH play from only a couple of rows back. Jimmy wants the band to know that Columbia really appreciated Snakepit coming to their small town. Jimmy said it was a very small crowd, but Columbia is a college town. The college is out for the summer, and most people were still on 4th of July vacations. Jimmy wants to thank SLASH personally for playing a full set and not paying attention to the crowd size by pulling the band early. He says it shows a lot of class and humility and that people missed a great show. So, SLASH, they promise to do better if you come back in the fall! Thanks, Jimmy!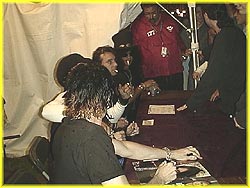 Casey did a roadtrip and caught the Minneapolis and Milwaukee shows. He met the Tour manager at the Milwaukee show and tried to get permission to videotape, but there were some contractual problems with that. This show was the Summerfest show, and the band came on about 10pm. There were about 500 people in the audience, and Casey was in the front row. Casey threw his sunglasses to Johnny who wore them awhile and tossed them back. After the show, Casey was near the tour bus and got to say hello to SLASH and Johnny. He got to shake hands with both, and he suggested to SLASH that they play "Knockin' On Heaven's Door". SLASH laughed and said "we stopped playing that long ago". An autograph tent was there, and Casey met the whole band and got autographs and told them he would see them in Minneapolis! The Minneapolis show at The Quest was awesome. Casey didn't get to meet the guys again. He thinks maybe the band was not in the best mood because the crowd was only about 200. The band played an hour and 15 minutes. SLASH always says the band feeds on the crowd's energy, and sometimes 200 just isn't enough. Casey sneaked into the VIP area and got great photos. Then he and other guys formed a mosh pit and went crazy. Casey hopes to see a few more shows before the tour ends. Thanks, Casey!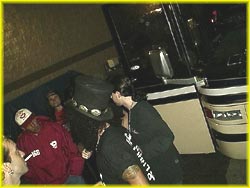 Bruce was also at Summerfest in Milwaukee. He said it was great to hear real rock music and that other than James Brown, Snakepit was the best thing there. Everyone was full of energy. Bruce thinks that the other members of the band should get more of the spotlight although Bruce likes seeing SLASH under the spotlight. Maybe they need several! After the set, people were waiting around the tour bus; and when they came out, they were chatting with fans hanging out by the fence. Then these annoying security people moved everyone to an autograph booth. Thanks, Bruce!

News Reported: 07/06/01











To U.S. fans, SLASH and SLASH's Snakepit, Happy 4th of July! The band has the day off and are in the process of making a 15 hour journey from Minneapolis to Columbia, Missouri. The show tomorrow night is at The Blue Note and is an 18+ venue. Then they head north to Sauget, IL and then east to Nashville. After that, they get a short break so they can get to Texas. Wonder if the 'pit will be setting off firecrackers on the bus!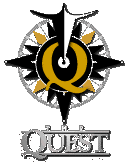 Snakepit just finished at Minneapolis; but as happens in many cases, some big fans are too young for the venue. Our friend Zubi is just 17, but she is a huge SLASH fan. She was so disappointed about not being able to see the show and wrote to us for help. We suggested that maybe she could at least meet SLASH by going to the venue before 5 to see if she could catch him at soundcheck. She and her mom had lunch near the venue. And sure enough, there was SLASH! Zubi just ran out but froze. He disappeared into an alley, so she waited by the door there. Of course the club people were totally obnoxious to her. Then her mom came, and they waited in the alley together. Her mom took a little walk, and guess who Mom returned with?? SLASH and his girlfriend! She explained the situation, so they came over, and Zubi met them and talked to SLASH, got autographs and pictures! Zubi, you did it! And she thanks SLASH, his girlfriend, her mom and us for making the magic happen. Thanks, Zubi!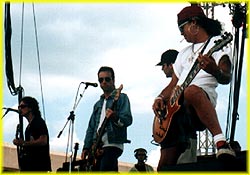 This is the first report from the Summerfest in Milwaukee. Jeff said Snakepit blew him away with their energy. He says the band before them had everyone half asleep, but Snakepit had them on their feet in 5 minutes! Jeff was able to be up front about 10 feet away from the stage. Rod was incredible and active and moving around as was the rest of the band. Rod caught most of the attention not focused on SLASH with his blistering guitar work. Slash looked even better in person, almost magical. Jeff got a photo and talked to Matt about 4 hours before the show, and he caught a picture of Rod on his way back from a hot dog stand. The band signed autographs briefly after the show, but security got that stopped before Jeff could get a SLASH signature. Jeff said the crowd was about 300, and Rod and the band really appreciated them. Although they played an hour and a half, to Jeff it was too short! He wants to thank Snakepit for restoring his confidence in good rock and roll; there's no other band like them around! Thanks, Jeff!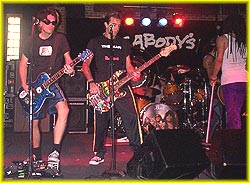 Jason went to the Cleveland and the Columbus shows. He says the Columbus show had more people and a bigger stage. There was a fence up so you couldn't get right up to the stage (as you could in Cleveland). The band played more songs this time. Jason is getting photos developed; and when he has them, he'll do a quick writeup to go with them. GREAT! Thanks, Jason!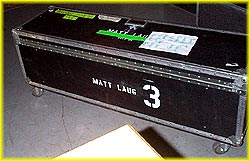 There's another review on the Cleveland show. It's very complete and kind of takes you along for the evening! Since it is a little long and would lose a lot in condensing, we'll attach it here and let you read it at your leisure! We only have the person's handle here, pborowick, amd we'd like to thank him for this evening with Snakepit report:

Cleveland Show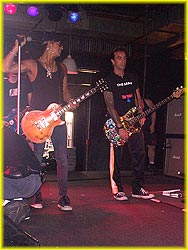 Eric was also at the Cleveland show, 5 feet from the stage. The show rocked, and the sound was awesome. SLASH was a rock god that night! The band played all of Ain't Life Grand except "The Alien". They did the 2 GNR covers, "It's So Easy" and "Mr. Brownstone". Eric met SLASH after the show and asked him to sign a copy of a Guitar One. SLASH held up the magazine and said to Eric, "Wow, I never saw this picture before...where is my face?"!! In the picture, Eric says SLASH is looking down and his curls and tophat block his face. Hilarious thing for SLASH to say!! Then SLASH shook Eric's hand. Eric says that just makes him so much cooler; SLASH is one of the last rock stars left that is not stuck up, too big for his fans. SLASH is a down to earth dude! Eric says that all in all, it was a great show. Thanks, Eric!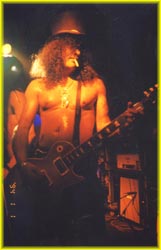 For the last review today, we're going way back to the show at Wetlands in NYC. Temur from Pakistan came all the way to New York to see Snakepit! By rights, Temur should have had a super night with just the music for memories. Well, he does have lots of memories, but some bruises as well. Temur was right up at the front and was the first one to touch SLASH and his guitar as he was right in front of him. Unfortunately, Temur got stuck and crushed in the crowd. SLASH is always aware of what's going on in front of the stage, and SLASH called security to come and get Temur out. He was pulled up on stage, and he gave SLASH a hug. SLASH returned the favor! Temur then got shifted backstage. At the end, he waited for SLASH to come out and sign autographs, but he didn't and went off in a limo. An eventful evening, but we think we'd rather have a hug and have SLASH be our rescuer than almost any autograph! Thanks, Temur!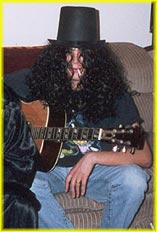 It's just July 4, but some fans are looking forward to Halloween. We get messages asking where to buy a SLASH wig or hat, so we know who you are planning to be! Recently, we got the best picture of a Halloween SLASH! This is Ed from Michigan; and when we saw the picture, we thought it was SLASH's younger brother! For those getting their SLASH costume together for this year, check out how Ed put his together. Thanks, Ed!



News Reported: 07/04/01




If you notice the Current Events download is faster, that's because it is the start of a new month. June 2001 news has been archived. If you need to see something from a previous month, check the table at the end of Current Events. Thanks!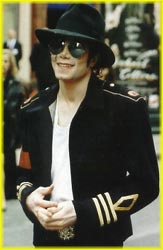 Seems like the forums and net news are buzzing with the word that SLASH will be playing at Michael Jackson's show in September. There are two Michael Jackson Tribute Concerts, September 7 and 10. From the concert titles, we are guessing this is the same show performed twice to accommodate the fans. It would seem that artists will perform old MJ songs. Perhaps MJ will do some from his forthcoming album Invincible. We've heard tickets may be priced as high as $400 for some sections. The real question seems to be: who will SLASH play with? The rumor is that he will play with Britney Spears. Anything is possible although we recall not long ago that SLASH felt she had little musical talent and was relying on a breast enlargement and a lot of publicity to keep her in the public eye. SLASH fans and Spears fans are so different. If we have to start reading the Spears news, we will need sedation. SLASH was thrilled when MJ called and asked him to play, but he started right away saying no to Ms. Spears. If you saw Aerosmith with her at the Super Bowl, it was not a pretty sight. SLASH says Whitney Houston would be fine, but people still want to pair him up with Spears. 'N Sync will be in on the show, so maybe they can be enlisted. SLASH regards MJ as a superior talent, and he is happy to be invited, but he's hoping for a better partner. It would be interesting to see Spears do one of her boy dances with SLASH!



SLASH appeared on Mancow's radio show last week according to BldRunr04. Asked about the new GNR lineup, he kept his comments brief. His one hilarious remark was that he thought Buckethead could help out the KFC sales quite a bit. He remarked that Axl is a genius but that the new album will show why he left the band. About the title, The Spaghetti Incident, SLASH explained that Steven Adler said the guys put blow in the spaghetti. Thanks! Tina heard SLASH on the radio, the Grego Pruett and the Boner morning show. SLASH said he will be doing three songs with MJ at MSG! They asked about Axl's weight which SLASH dodged. Asked about his partying and girlfriend, he answered some, dodged some. They played GNR's cover of "Hair of the Dog". Tina said they hardly asked anything about Snakepit, the new album and didn't even play a Snakepit song. Thanks, Tina (proud high bidder on SLASH's pajamas)!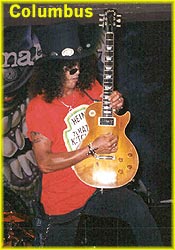 SLASH's Snakepit has two big shows before July 4 when they have an off day. Tonight is the show at Milwaukee's Newport Music Hall, and Tuesday's show is at Summerfest on the Harley Stage in Minneapolis. Both are all ages, so get out and see the boys! Sunday night they played Columbus, Ohio, and we got a good review from C53ring. He wants to thank the band for waking him up. He says he's 34 and just started playing and is a roadie for a local band. Snakepit was the first band he liked the first time he heard them! One thing he learned is the drive and execution it will take to have pride in his work. Talent just isn't enough. C53ring says he'll never be 18 again, but Snakepit let him revisit the enthusiasm you only live once. Thanks! Brian was also at Columbus - right up front near SLASH. After the show, he asked SLASH about the new album which SLASH said should be out the end of fall, beginning of winter!! Brian sent us a picture which you can see at left. We laughed at SLASH's tshirt which was a gift from us in Pittsburgh, home of the Heinz Company. We also see our bracelet which SLASH admired till we gave it to him! Brian, a special thanks from us for this picture. Brian wrote a good review of the Columbus show, and we include it in its entirety as an attachment. Thanks Brian!


Brian's Columbus Review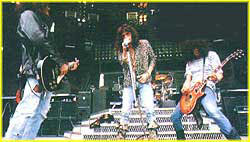 Going back to the Pittsburgh show, SLASH stayed over another night and went out to the Pittsburgh Post Gazette Pavilion to see his buddies, Aerosmith, do a fantastic, jampacked show. The band invited him to play on the final song of the evening, "Train Kept A Rollin'". SLASH rocked! We asked about big Joe Perry, and SLASH said that actually everyone in Aerosmith is shorter than he is with the exception of bassist Tom Hamilton! SLASH did not know he would be asked to play so he wasn't really dressed up...just that white wifebeater shirt, jeans and tennis shoes. Aerosmith is always looking good in their stage clothes, but SLASH looked just fine, too. A storm knocked out the power for a couple minutes, but the amps still worked, so they charged ahead. SLASH LOVED IT! This is a band he would truly love to open for someday. After the show, the limos got a police escort back to town as this venue is infamous for the long delays getting in and out.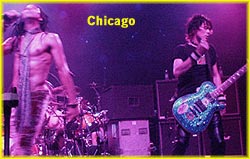 Going back a little further, the Chicago show was June 26. We got a note from Sam Bello of RockRage, Inc. that they have live photos taken during the Riviera show, and they have put them up on their web site. There are many photos here taken during the show, so you'll want to take some time to check them out. If you have any problems, switch to Internet Explorer. Thanks, Sam!


www.rockrage.com





Anyone been to 3 or more shows yet? If so and you have your tickets or an autograph on some venue flyer, let us know. We have a prize for you! No need to wait till the tour ends unless you are building up your three or more. If we don't hear from anyone, we'll let the people with 2 shows know to send theirs in. You can send them via email as attachments or you can send them regular mail. Contact the webmaster for the snailmail address. Send email, attachments, etc. to webmaster@snakepit.org.



News Reported: 07/02/01