Rain sent in a large SLASH mention that comes from the autobiographical book on Insane Clown Posse by Violent J. In case you're moved to rush out and buy this, it's title is ICP: Behind the Paint. SLASH played on their 1997 album, The Great Milenko, and the book delves into this strange guest appearance. ICP does what's been called both thrash metal and comedy hip-hop. When asked on MTV why SLASH agreed to play on their album, he said he liked their attitude. It reminded him of GNR when they first started out...raw, offensive, unlike other bands. ICP's management, according to the book, cashed in a lot of favors to get SLASH to play on "Halls of Illusions", Steve Jones of the Sex Pistols on "Piggy Pie" and Alice Cooper to do a spoken intro. From this first management decision, Violent J reminisces over their encounters with SLASH. ICP was first impressed, then the awe changes in the writing to sarcasm and derision. It's not a pleasant SLASH mention. As long as he's doing the track and keeps the talk to their music, everything is great; but the song isn't even mixed before they paint a picture of SLASH as a guy who's lonely and pathetic, and they really aren't interested in being pals. They don't like him much, but they can definitely use him. For example, on their first meeting at the studio, they say "SLASH is the bomb. When he does something, he does it for real." In the next breath, they sneer that the guys with SLASH were burnouts and that SLASH brought a "barge full of amps" for "a little guitar work". When SLASH asked if the song was about Axl... considering the title has the word Illusions in it and is about men who beat their wives and kids. "I realized then that SLASH was a great guitar player but was completely out of his mind." SLASH is reported as saying that he wrote a whole album about Axl, and he never even knew it and that he really hates Axl. SLASH reportedly asks Violent J if he is an Axl fan which he is, but he says no. With SLASH doing an appearance on his album, he's ready to jump Axl if SLASH tells him to. When SLASH calls to tell them that he's about to do an interview where he'll plug their album, they wonder how they got to be at a point where SLASH is doing wakeup calls to them. SLASH calls them off and on, and soon is talking about personal things like having this big house and not knowing what to put in it. Their reaction is...what? now we have to decorate his house? And by the end, they are saying..if that's SLASH calling, tell him I'm out. And of course, SLASH is not the only one who comes in for this kind of treatment. ICP fans will like this book, and SLASH fans will be irate. Give this one a miss. Behind the paint are overgrown adolescents who haven't a clue what it means to have artists like Steve Jones, SLASH and Alice Cooper try to give a helping hand to them.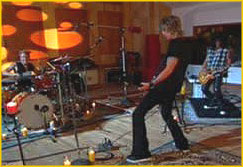 Several fans have written in asking about Immortal Records, the label Velvet Revolver signed with. They have a web site at www.immortalrecords.com which doesn't have Velvet Revolver on it as yet. Ten year old Immortal Entertainment operates the record label, Immortal Records, and runs businesses that create soundtracks and promote tours while managing the careers of an eclectic roster of musicians, actors, athletes, directors and screenwriters. The management has an extensive background in the entertainment business. The company's touring division is run by a manager who has worked with STP, NIN, Jane's Addiction and others and has experience in booking, tours, production management, etc. "Happy" Walters started Immortal as his own record label in an agreement with Epic Records. Immortal is an independent record label receiving marketing and promotional assistance from Epic. In 1997, Mr. Walters founded Immortal Films. The two, Immortal Films and Immortal Records are collectively known as Immortal Entertainment. You can contact them through their site, and their snailmail address is:


Immortal Records
12200 Olympic Blvd., Suite 400
W. Los Angeles, CA 90064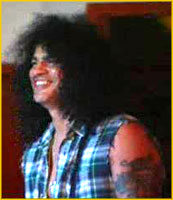 Here's another SLASH Q&A to go. Brigit must be a Madonna fan as she writes, "SLASH, you played at Michael Jackson's stage show anniversary. You also did a guest appearance on his album. You said you love to work with him because he is one of the best performers. I would like to know if you would also like to work with Madonna? What do you think of her work?"

SLASH replies, "Brigit, if Madonna asked me to play on one of her records, I'd like to hear it first. But if it was the right kind of tune, I would love to play on one of her songs. She's more than just talented, she's a pop icon, and she definitely deserves her place in the music business."

Thanks, SLASH and Brigit!



News Reported: 07/30/03

The Guns N'Roses Convention in Rio de Janeiro is over; and from all reports, everyone had a great time. The Convention was put together by the "GNR Devotion Fan Club" headed by Ana Cristina. Good work, Ana! We got some feedback from fans who were there, and they all singled out the Snakepit cover band saying they had an unbelievable, perfect performance! At Ana's request, SLASH made a tape that was shown there. July is SLASH's birthday month, and they love SLASH in Brazil; so Ana wanted to do a tribute to SLASH, and they did. SLASH did a verbal tribute to his Brazilian fans! Ana said the tape was shown just once, and the fans were really emotional about it. Fans say they could not believe it when they saw SLASH on the big screen with a message for them. He talked about his Brazilian fans and their loyalty. Those who wrote to us said they felt touched, privileged to receive SLASH's personal attention. Ana made a tape at the convention and promises to sent a tape with the best moments of the shows. We still haven't learned what SLASH said. Any Brazilians out there that can give a summary? Thanks to Ana and the fans that shared their experience with us!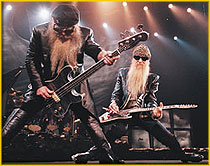 SLASH mentions seem to be everywhere. Darijus was at a ZZ Top concert in Budapest, Hungary a few days ago. The show was fantastic, but the best part was when Mr. Gibbons picked up a Les Paul and said something like..."We are gonna play some heavy shit right now. SLASH gave me this guitar. Priceless!" And we didn't even know SLASH was a fan! Maybe ZZ Top was the influence that created SLASH's facial hair last year!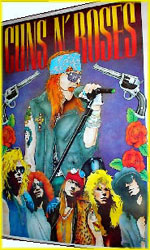 If you're a GNR and GNR-related and SLASH (etc.) collector, we'd like to recommend the forthcoming Rock and Roll Hall of Fame and Goldmine fourth annual national record show. It's August 2 and 3 at the Hall of Fame in Cleveland, Ohio. This is an absolutely fantastic source for collector's items, and in the past they have had GNR and SLASH items as well as almost every other artist you can think of. Dealers display, buy and sell rock and roll memorabilia from all eras.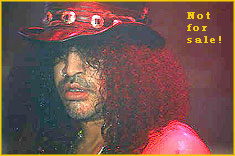 Collectors can shop and bring items in to be appraised and perhaps sold. About 40 booths will be there this year with 78s, vinyl, CDs and memorabilia. Some of the leading dealers in the country will be there. Times are 10am to 9pm Saturday and 10am to 5:30pm on Sunday. There will be live music, and the bands involved (Poobah, Bouchard, Dunaway & Smith, Michael Bruce Group and Glass Harp) will be available to meet fans, sign autographs and participate in a Q&A session. Hope to see you there!


SLASH's Official Site (artist site) at www.slashonline.com is preparing to put up the live version of "Slither" played at the El Rey. It should be up any time now. "Slither" is the second original song from Velvet Revolver (first: "Set Me Free"), and the studio version of "Slither" will also be on the band's forthcoming (October) EP. As soon as we get the word it's there, we'll let you know. This will be a class sound version unlike the bootleg one that's floating around. Our take on the bootleg: can't hear Scott and the lyrics very well at all. SLASH is audible through the crowd noise, but then, he always is!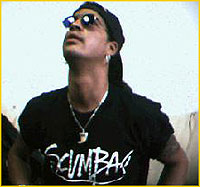 SLASH sent us replies to the fan questions we sent him, and we'll do a few of these here and now. While there are many still waiting to be sent, you can send one if you'd like to webmaster@snakepit.org. Put Question for SLASH or something similar in the Subject, and please include your first name or handle and the country (state in US) and the city if you'd like. SLASH likes to see where everyone is from. These are screened before they are sent - no personal questions are permitted. SLASH career questions are good ones as are ones about guitar and his music. Almost anything is a good topic except questions that you yourself might find personal...family, finances, address etc. The answers are not mailed to individuals but appear here for everyone to read. At the end of each month or so, questions are gathered up and put in the archives by year. These can be found at www.snakepit.org, scroll down to Fan Info menu, click Slash Answers Your Questions. That's the preliminaries and here are the questions for today:

This first question comes from Alejandro in Monterrey, Mexico. Alejandro asks, "What is your opinion on the Mexican guitarist, Carlos Santana? Would you like to play with him some day?

SLASH replies, "Alejandro, Carlos Santana is definitely one of the greatest rock guitar players that came out in the late sixties; and, yes, I would love to play with him." (Note: SLASH once played with Carlos in Las Vegas on one song. SLASH and Perla were in the audience, and Perla (SLASH's biggest fan) got up between songs, made her way up front and said that her boyfriend (now husband) SLASH was in the audience, and they should get him up there to jam with them. And they did! It never pays to be shy!)

Thanks, SLASH and Alejandro!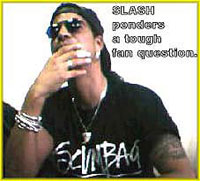 The next question comes from Andy in Singapore. He asks, "I've been playing guitar for about 5 years, and in the past 2 years I've learned a lot and gotten a lot of influence from your playing style. However, I'm unable to write a piece of music or a good riff. And I always find myself stuck in a certain style of fingering and playing. Do you encounter this problem? And how do you overcome it when composing a song or riff?"

SLASH replies, "Andy, the problem of getting stuck in a certain fingering... the more you think about it, the harder it is to get out of that situation. Try and put the guitar down; and stop thinking about it, and you'll find out when you get inspired, you'll come up with something. It's hard to really figure that out!"

Thanks, SLASH and Andy!

Let's do one more. This one is from Ashish in Austin, Texas. Ashish asks, "A while ago, you admitted to almost joining Megadeth. Did you and Dave Mustaine jam to any Megadeth songs before a decision was made? In fact, what's your favorite Megadeth tune?"

SLASH replies, "Ashish, I jammed with Dave Mustaine; and we wrote a bunch of songs together, but all things considered, I think he ended up going back to Megadeth, and I ended up going back to my original band. My favorite Megadeth tune is "Peace Sells".

Thanks, SLASH and Ashish! (SLASH is a close friend of the Mustaine family).




News Reported: 07/28/03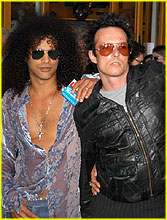 Here's the latest on Velvet Revolver's Scott Weiland and his drug-related legal problems. Scott appeared in a Burbank, CA court today to request that his case be diverted to a drug court program. As we read this law, it says this is for repeat offenders who have not committed any violent crimes in the past (exceptions granted for certain domestic abuse cases) and had the drugs for personal use (not for sale). If accepted, Scott would take some drug education classes and submit to random drug testing. If he completes it successfully, his record on the offense is expunged. A not guilty plea must be changed to guilty or no contest. Scott pleaded no contest. The petition was taken under advisement by the court. At the next hearing, August 15, Scott will appear in a Pasadena court to find out if he qualifies. Possession of schedule 1 narcotics, such as the cocaine and heroin found in Scott's car, is a felony offense, but Scott has already submitted evidence of his successful completion of a drug rehab program in Florida. For Scott personally, he has a chance here to turn his life around and possibly even save it. With the successful rehab, he has his new found Velvet Revolver bandmates for support and the chance to make this band explode! We're looking forward with great hope for a positive court ruling on August 15 and all the best for Scott.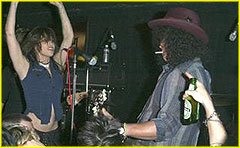 Velvet Revolver with its one single, "Set Me Free", is so hot already. The single is #18 this week on the Billboard charts! Keep requesting "Set Me Free" from radio stations! The guys are working very hard to get their full-length album out. You may have read on many sites again that Gina Gershon really wants SLASH's help with her debut album. And you know SLASH loves guest appearances. Working with other artists keeps his chops up. SLASH is really focused on Velvet Revolver now, so he will not be working with Gina on her album. Some sites keep getting this wrong, and they really shouldn't. SLASH has made a serious commitment to this band, and he's on it 24/7 (or 24/8 as he likes to say).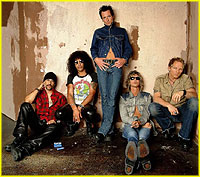 Velvet Revolver is getting a lot of positive publicity. After the El Rey show, music reporters have seen the light and are interested in the band formation, identifying the band members and talking about Velvet Revolver's recording plans. We find it enormously satisfying that the critics are saying good things about the latest SLASH band. Examples: Billboard and Chart Attack yesterday. Billboard's is their usual calm, definitive style while Chart Attack makes some humorous remarks about Axl's album. Thanks to Brian and LuAnn who sent these in. Here's where the articles are:


Billboard

Chart Attack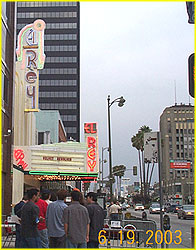 If you weren't at the El Rey Theater to see the guys first public performance, it was a rock and roll night to remember. Chaz got his ticket through the SLASH fan club. He's a big Nirvana fan and was blown away by the band's cover of Nirvana's "Negative Creep" and thought the whole thing was the greatest of shows. Another highlight for Chaz was meeting Nirvana's and Foo Fighter's Dave Grohl who had dropped in with his fiancee to take in Velvet Revolver. Chaz and his sister got Dave's autograph and posed for a picture with him. Funny how things work out. Chaz thanks the fan club for the tickets. Since it was SLASH he came to see, he thanks SLASH for drawing Dave Grohl in there. Thanks, Chaz!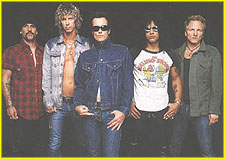 Steve alerted us that the September '03 issue ofGuitar World (Deftones on cover) has a short article on the El Rey evening. Vicki got her copy and typed in the article for us. We don't have the picture that appeared, but we thank Vicki for the typing!


Guitar World On The El Rey Show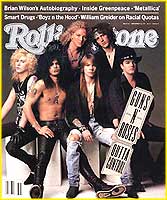 Some interesting clips from your email: Elin from Norway reports that MTV Nordic had a program on called "MTV Classics" where they rated the classic videos. "November Rain" came in #29. ChristinE was watching the movie Selena, and they played "Welcome to the Jungle" twice! Logan from Winnipeg, Canada was watching the "Much More Music" special on "Guitar Gods". SLASH came in at #5. Rio's hard rock station did a "Top 100 Ever" show, and Guns was well represented with #3 "November Rain", #20 "Sweet Child O' Mine", #25 "Patience" and #39 "Welcome to the Jungle". Thanks, Roberto, for that list. Rio Rocks! In Holland, Ed was hoping Radio 538 would start playing "Set Me Free". MTV Holland did the "Top 100 Ever" there, and "November Rain" came in at # 1!! A GNR fan favorite video. Seeing SLASH step up on the piano and roar into his solo was THE BEST! Thanks, Ed!


News Reported: 07/25/03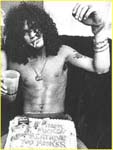 Wednesday, July 23, is SLASH's 38th birthday! Here's our traditional SLASH "card" we put up every year...updated slightly! Hear SLASH blow the Happy Birthday song! See funny drawings and fireworks and an age animation.


HAPPY BIRTHDAY, SLASH!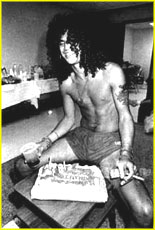 Some time we have to get a newer version of that song. Maybe SLASH will play it at Baby London's first birthday party, August 28? We spoke to SLASH today to wish him a very happy birthday from ourselves and all his fans all over the world. He was appreciative of everything he got... all those birthday greetings were a smash hit. He was in his car driving to the studio to work about 10:30am. We were surprised that he would work on his birthday, but he said Perla was planning something special for him tonight at one of the clubs he likes. ChristenE wrote and said that when SLASH turned 30, she went to the Roxy where he was playing and presented him with 30 gifts! This year she sent a card. Good idea...you are good for the next 30 years anyway! We found some other celebrity birthdays for July 23: Monica Lewinsky (!), Woody Harrelson, Don Drysdale, Bert Convy, Pee Wee Reese, Arthur Treacher. Sounds like good material for a "Jeopardy!" show.


Here's a present for you to celebrate SLASH's big day: eil.com, the UK company that sells collectors music and memorabilia, sent a note saying that during the next week and ending at midnight GMT on Wednesday, July 30, they are offering a discount on SLASH and SLASH-related items. The discount is 10%. This place is pricey but has excellent quality and hard to find items. They had 5 pages of items and descriptions that were just Guns N'Roses. It's best to email your order to them directly...and mentioning the SLASH 10% discount you are taking advantage of. You can get things by other artists but at least one has to be a SLASH or SLASH-related item. If you select anything, send mail to charlie@eil.com or your favorite eil salesperson.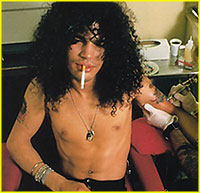 Just in time for SLASH's birthday, VH1 has a terrific new show coming up in early August - a portion of which stars SLASH! This one is for everyone who writes to the webmaster asking for closeups of SLASH's tattoos - which we do not have! The new show is called "Set in Skin" and is hosted by Dave Navarro and his fiancee, Carmen Electra. The show is said to look behind the blood and the art department at celebs, fans and just regular people whose life events and personal stories led them to get their tattoos. There's the Disney tattoo guy with 1300 Disney tattoos! And you'll see SLASH with 5 of his 7 (filmed before the London and Perlita tattoos). SLASH has the lady screaming at the guy playing the guitar on his right bicep, the DTUD skull on his left bicep, the Snakepit logo on his upper left shoulder, the woman's lips smoking a cigarette on his upper right shoulder, and that crazy cat near his belly button. London is now in BIG letters in the back around his waist and Perlita is with a red rose on his left forearm. There's a story for each! And if you go over to the VH1 site, you can see pictures in a photo album of SLASH and his tattoos as well as video clips from the forthcoming "Set In Skin". "Set In Skin" airs on VH1 8/5 at 5pm, 8/5 at 11pm, 8/7 at 11:30am and midnight on 8/7. All times are EST. We invite you to link to the VH1 "Set In Skin" show page and go from there. There's a more complete show description, a link to see the SLASH video where he talks about his tattoos and a link to the photo album which contains some SLASH tattoo pics:

SLASH in "Set In Skin"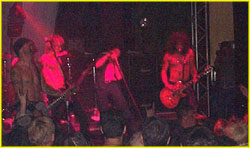 Billboard reports that Velvet Revolver will release an EP in the coming months through Immortal Records. We know that! We also know that there will be a DVD of the El Rey concert with it and the last release date mentioned was October 7. Tell us something we don't know! And they did! Billboard reports that Immortal Records has signed a contract with RED Distribution to get those CDs and DVDs to the stores. While Epic and Virgin, their previous distributors, are big names, RED Distribution is no slouch either. More on the business side another day. Let's mention that the Immortal Records lists Korn as being on their roster along with No One and Switched. A soundtrack of the film, Blood Money, with Busta Rhymes will be released by Immortal by the end of the year. Immortal is located in Santa Monica and is characterized as a rock/hard rock label producing CDs only. The forthcoming Velvet Revolver EP will have the live El Rey show, the studio recorded track, "Slither" and a hidden track with an unspecified song. Things can change, but these all sound good! Another good news item: "Set Me Free" is still hanging on in the Top Twenty Tracks for mainstream rock airplay according to Billboard statistics. It's at #20 right now, and it's just having an excellent run for a single only on a soundtrack album recorded by a brand new band. SLASH has pushed so hard to get this all together...it's been an exhausting year, and he's down at the studio still working away.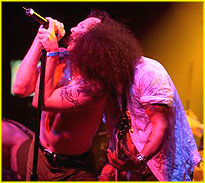 Somewhere on SLASH's list of concerns has to be Scott Weiland. So far, Scott seems to be doing well out of rehab. For the record, we are told that Scott pleaded No Contest as opposed to Not Guilty as was previously reported by everyone. His court date is coming up later this month. Brian sent us a story on what Scott is doing to keep himself off drugs...one thing is getting into martial arts with his mentor, Duff. Duff is very skilled in martial arts, so be nice when you meet him! Evidently, Duff grabbed Scott and dragged him off to Duff's Seattle home and got Scott into the martial arts (and away from LA). It would be very cool to have the whole band into this. Then next time SLASH is turned away from a show in Vegas, he can just destroy the place! Thanks, Brian.



Before we let you go, Vicki sent in a correction to the magazine article she shared with us last week. The article with the good SLASH information was Guitar One not Guitar World. It has Zakk Wylde screaming on the cover...can't miss it! Thanks, Vicki!



One last time for this year....





News Reported: 07/23/03

The years are just flying by. Where were you just about 10 years ago, July 17, 1993? That was the last day that Guns N'Roses played as a band live. It was in Buenos Aires, Argentina. Matt Sorum was in for Steven, of course, and Gilby Clarke was in Izzy's position. Imagine if they had stayed together and gotten along...the albums we would have! Well, at least one! SLASH has put out two Snakepit albums and appeared on a lot of albums and done a lot of shows. Matt's done soundtrack work and released a video and appeared on a lot of albums, too. Both Gilby and Izzy have been cranking out the albums. Steven is touring now. As for Axl? Even if the band we loved is gone, the members are still out there - alive and rocking!



The new band, Velvet Revolver, has a few sites springing up here and there. This site is about Slash, but there is a Velvet Revolver section with some interesting things in it. There's a band history, band member bios, discography, lyrics (of "Money" and "Set Me Free" only right now) and gigs and tour dates (El Rey only at this time). The news for the band will be mixed in with all this other news. We'll put tour information here as soon as we get it and keep it here till the tour is over. It will also be in the Velvet Revolver section. No tour information is available at this time! Here's where you can see this new section:


Velvet Revolver Section





If you are looking for a SLASH signature Custom Shop guitar (these are the expensive, limited edition ones like SLASH plays onstage), there is one up for sale at the ebay auction in the UK. Jake and Kye sent this one in. It looks beautiful, but we really know no more than what it says in the description. It was listed at 5,000 pounds UK which is about $7,250 US dollars. If you're looking for one, here's a chance to bid on this one. It's at www.ebay.co.uk - item #2546195399.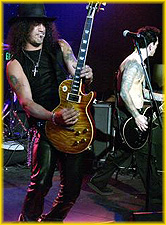 A UK fan also sent in awhile ago the information that VH1 aired "How the Stars Get Hot". In case you missed it on UK TV, Catherine found that the show will repeat on Thursday, July 31 at 11pm GMT. This show talks about the designers who make the artists look hot, and SLASH appears getting a new pair of black leather pants. He's on for awhile chatting and walking around. One to see and tape! Thanks, Catherine! Catherine did some recent globe trotting and was in Las Vegas where she saw a guitar for sale in a collectors store in the Aladdin Shopping Mall. The guitar is signed by the all the members of the "old" GNR and was priced at $1300. If you are in the Vegas area and want to add an autographed guitar to your collection (also has some SLASH artwork on it), check this out.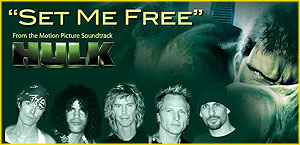 Are you an MSN subscriber? They have "Set Me Free" ready to download there. Here's what they say under "Latest Releases": "Velvet Revolver. Grab the track that's taking America by storm - 'Set Me Free' by Velvet Revolver from the 'Hulk' soundtrack. Velvet Revolver are Stone Temple Pilots' Scott Weiland and ex Guns 'n Roses members Slash, Duff McKagan and Matt Sorum." Thanks to Myk for sending that in.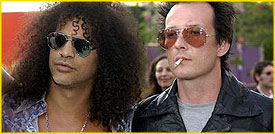 The UK fans have been busy. Here's another bit of information from James for both the US and UK fans and probably anyone who gets the E! Entertainment Channel. They are running a half hour Hulk special, and they are showing it a lot! At the end, James says they dedicate 2-3 minutes to "Set Me Free". Velvet Revolver is shown recording the song and making the video. There are short interviews with SLASH, Duff and Matt. "Set Me Free" can also be heard on Hulk television spots now being shown in the UK. Thanks, James!



Checking with SLASH's management, we've learned that that guest appearance on a Boo Yaa Tribe album was discussed with SLASH, but SLASH has not yet committed to doing it. Much depends on when they want to record as SLASH is understandably very busy with Velvet Revolver's album. No word yet on SLASH, Duff and Matt recording the Peter Tosh Tribute album song yet either.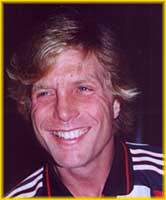 Keeping up with a former SLASH bandmate, Steven Adler announced that Jizzy Pearl is no longer in Adler's Appetite. Pearl was the lead vocalist. Sean Crosby replaces him. Sean is from the AC/DC tribute band, Back in Black. Adler's Appetite is planning more gigs in the US and a European tour. Steven played in the Metal Sludge tour recently which sounded chaotic but a lot of fun for the bands.


News Reported: 07/22/03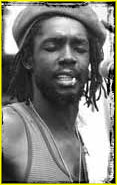 In Wednesday's news (below), there's an update on the Peter Tosh tribute album. From then to now, the first thing that's happened is that Peter's web site is now available, so you can read more yourself on his life and musical catalog. The same list of artists appears for the tribute album; SLASH is still listed as a contributor. The site is a little confusing as to how many different tribute albums there are. One listed on the home page does not list SLASH and will be out in August. Under the Tribute album menu item, SLASH is listed. And the April press release gave the selection for SLASH, (Duff, Matt also listed then) was "Not Gonna Give It Up", a superb reggae Tosh song from his Mama Africa album. This song will need a killer reggae singer to make it happen. Billboard says the album is due out in February, so it looks like there will be two albums. The first one (without SLASH) is available for pre-orders now on the site. It sounds like the second, with SLASH will come out in the fall. More to come...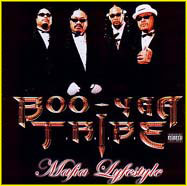 In another future SLASH guest appearance, Billboard reports that the always versatile SLASH will cut a track on a forthcoming Boo Yaa Tribe rap-metal album (title and release date unknown at this time). The Boo Yaa Tribe is an LA gangsta rap group whose members are brothers in family as well as music. The sons of a Samoan-descended minister have earned their "gangsta" titles well...all have served time on dealing and producing drugs and/or gun-running. If SLASH agreed to do this track, he had BETTER do it! The band's name, Boo Yaa, is a slang term for firing a shotgun. To escape the LA gang violence, they moved to Japan where they achieved success as a dance-oriented rap group. They came back to LA and recorded New Funky Nation as their debut album. Other albums have followed with their latest forthcoming album being West Kosta Nostra on which Eminem lent a hand. One of the Tribe, Gawtti, appeared in (the link to SLASH probably) The Italian Job. Thanks to Steven who alerted us to this news! More on this one, too....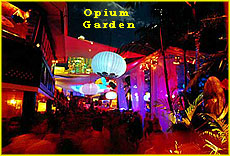 Keeping track of court appearances, today Scott Weiland was to appear in Burbank court for a hearing on his drug possession charges. The case was continued from July 11 to today to allow Weiland a chance to complete rehab in Florida. The case was continued again today till July 25. No reason was given this time for the continuance, so it was assumed Scott was still in rehab. From this New York Post clipping sent in by Norm, it looks like Scott had a sober South Beach celebration of his release at a "sultry swimmer design show" by Duff's wife, Susan Holmes. If you can do a South Beach party sober, you're ready for Velvet Revolver! Let's go home, guys! And here is the clipping from Norm that brought us up to date:


Celebrate!




The rest of the Velvet Revolver team seem to be at home. They are reported as meeting with legendary producer Bob Ezrin. Ezrin is the choice to produce the track "Slither" for their forthcoming debut album. "Slither" is their second original track to be in the public eye (first, "Set Me Free"). It was performed live at the El Rey theater in LA last month in the band's first public performance. "Slither" has a different groove than "Set Me Free" and shows the band's range more clearly. It's got more of a moody sound, but it rocks! "Slither" is expected to be the only studio cut on the live EP (recorded at the El Rey), and the tentative release date is October 7. SLASH says the EP is... "... just to tide people over, and tide ourselves over, until the (full-length) album comes out. The show sounds pretty good for a raw, rock 'n roll representation of what we're about, with mistakes and all." The band decided to give us one polished studio track, and that's the one Bob Ezrin has been called in to produce. Ezrin produced many of Alice Cooper's successful albums and tracks including Alice's first hit, "Eighteen". He was one of the most successful producers of the 1970s working with Lou Reed, Poco, Flo & Eddie, Kiss, Peter Gabriel, Pink Floyd. He continued into the 80's with Alice, David Gilmour (solo), Lou Reed and Rod Stewart. In the 90's he was busy founding 7th Level, Inc. as its CEO. Bob Ezrin returned to record producing, and in 2002, he produced Jane's Addiction's new album Strays. Dave Navarro is an Ezrin-believer saying that, "He brought a dimension to the band that we didn't have before. For example, the strings...were his idea. He was a good fifth brain, and he didn't mess around with us. If something wasn't going in the right direction, he'd say, 'That sucks. Let's move on.' He's a player, as well, so he was able to suggest different instruments or tones for certain songs." Velvet Revolver is now scheduled to go into the studio with Ezrin on July 28. If all goes well in court July 25, Scott will be there, too. Thanks to Brian for starting us on this story.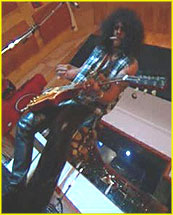 Today we got a Velvet Revolver contest email from Street Team with the site address of Velvet Revolver's managers. It appears that you need to be on the Velvet Revolver mailing list to get this contest information. Go to www.velvetrevolver.net (note: Flash6 required), click mailing list to sign up. Although it may be too late to get in on this one, who knows? The message itself is a little late and a little hokey, but we're all on the same side here. Although we turned in your list of stations on which you heard "Set Me Free", we did not turn in names, so feel free to count them as part of your five. If you've gotten your street team email, then you know what this is all about. If you haven't, it's time to sign up for the newsletter which comes out irregularly but with good news of contests and prizes and other cool things for members.


News Reported: 07/18/03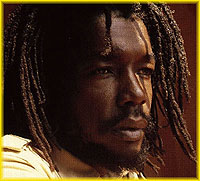 In March 2003 (see March archives below), we had an item about a tribute album to Peter Tosh, Jamaican reggae master. Peter was a member of Bob Marley's Wailers, then showed his talent on his own as an international reggae star. In 1987, Peter was killed by three armed intruders in his Jamaican home. His just released album, No Nuclear War won a posthumous grammy. The tribute album project was to raise money for much needed maintenance on both Peter's grave and the museum in his honor. Other Jamaican projects included instruments for needy children, a medical clinic - projects which badly need funding. If you visit the Peter Tosh website at www.ptosh.com (site is currently unavailable), they list the artists on the album...including SLASH! Not only SLASH, but Duff and Matt, too, have contributed their time and talent. The song listed for SLASH is called "Not Gonna Give It Up" (although another site section says it is TBA - to be announced). Money is needed to put out the album. Artists are contributing items for an auction which once was reported as planning to be held through an Atlanta radio station. Nothing further has yet been reported on the auction. According to the web site, there will be tribute concerts held in at least Miami and Jamaica to raise money, too. They are further asking for donations at the site. We've sent requests to SLASH's management team to find out more about this. When we get more information and the site comes back up, we'll let you know. It's estimated $150,000 is needed for the Peter Tosh tribute album to see the light of day.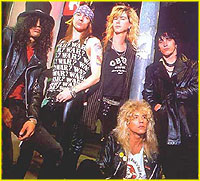 Entertainment Weekly has a SLASH mention. They talk about how Axl's decision to form the new GNR ruined any chance of a reunion of the original band. SLASH is quoted as saying, "There will never come a time when we get altogether and play under the name Guns N'Roses because it's too f*ckin' tainted. If he'd done the solo thing, then we could have gotten together and jammed for one show. Now it's like, over with. He screwed that up." The magazine says you'll still be able to hear SLASH's guitar lines over some GNR classics when Velvet Revolver tours. SLASH says they won't be doing every GNR hit or song, but he has no problem with Velvet Revolver playing their history as long as it doesn't push singer Scott Weiland into something he's not into. Our comment is that we hope to see a lot of Velvet Revolver originals in the tour setlists followed in number by GNR covers, then STP covers. If you saw them at the El Rey, a GNR cover just pours like molten steel from this band...and the audience knows all the words anyway! Thanks to Brian who sent that one in.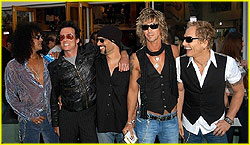 Vicki got her September issue of Guitar World (Zakk Wylde on cover) and discovered a great two page article on SLASH on pages 25-26. SLASH is pictured in top hat, black Conart T-shirt, black leather pants, black boots. He's holding a Les Paul, wearing shades and a string of dark beads around his neck. Vicki says she was wondering when the guitar magazines would jump on the Velvet Revolver bandwagon! You'll have to wait for the picture since Vicki has no scanner, but she did type in the article for us. Thanks, Vicki! To read this short article, just click here:


SLASH in Guitar World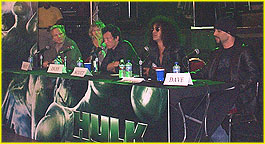 Q, a UK rock magazine, has a small but funny SLASH mention in their August 2003 issue. The column is their "Shakedown: Rattling the celebrity news cage", and the SLASH item is the last one:

"SLASH's band of Guns N'Roses refuseniks (everyone bar Axl Rose , but with Stone Temple Pilot Scott Weiland on vocals) have changed their name for the fifth time. Previously known as Buck N'Roses, Cherry Roses, Reloaded and The Project, they've now settled on Velvet Revolver. Until next week obviously."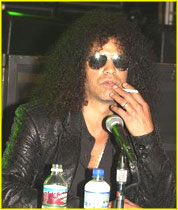 Next time....SLASH sent answers to some 25 or so of your questions. We'll feature a few of them. All your questions with SLASH's answers are archived. From the Fan menu at www.snakepit.org, click SLASH Answers Your Questions. The questions start with those submitted/answered in the year 2000 and continue through those printed in 2003. Three years of SLASH Q&A...they make great reading.


News Reported: 07/16/03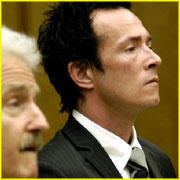 Friday, July 11, was the day Scott Weiland was due in a Burbank, CA court to face charges on two counts of possession of narcotics (heroin and cocaine). As you know, Weiland was arrested for drug possession after police pulled him over on a routine traffic stop for driving without his lights on. In plain view were drugs and drug paraphernalia. Scott was freed on $10,000 bond which was increased at his arraignment to $25,000. At the arraignment, Scott pleaded not guilty. A hearing was to take place July 11, and Scott volunteered to enter a drug rehab center prior to that court appearance. The July 11 hearing was postponed one week to July 18 as Scott is still in a drug rehab center in Florida. The court had granted a continuance till the 18th, and a clerk of the court gave out the news which has been confirmed by Velvet Revolver management. Two questions to be answered in the future...will this rehab "take" (Scott has been in rehab twice before), and will his voluntary admission to rehab have a positive effect on his sentence? (Scott faces up to one year in prison for the current charges). Clearly, a yes or no answer effects Scott the most, but Velvet Revolver bandmates and fans are also hoping for a positive answer to both those questions.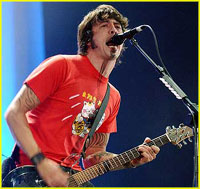 Brian is a frequent contributor to the News, and it was a lucky day when he won one of the five Hulk soundtrack CDs with "Set Me Free". Brian's luck held when he won a radio contest to see Foo Fighters in Dayton, OH. The guy from the radio station interviewed Dave Grohl at the show and asked about the Velvet Revolver set at El Rey. Dave got in through an engineer who was working the show. He said he didn't know anyone in the band, but he met them all afterwards. Dave said everyone was really nice, and he even named SLASH as a really nice guy. Accompanying Dave was his fiancee, and she commented that Velvet Revolver played "Sex Type Thing" better than STP! Thanks, Brian! Imagine Dave Grohl having trouble getting into a show! Back to The Hulk soundtrack CD contest, Janet wrote to say that she received her prize and is rocking to "Set Me Free"! Prizes are on the way. Thanks to CineMedia!



The latest issue of the Nightrain fanzine is out now. The fanzine is put out in the UK, but you can get it in your home anywhere in the world. It's full of information about Guns N'Roses, the solo projects, Velvet Revolver and so on. We subscribe; and you should, too. It's like sitting down with another fan and talking about the latest. Issue 10 has a story on The Project/Velvet Revolver thus far, GNR convention, fan opinions on Axl, news on GNR and the ever popular and visible ex-Gunners! There's more information on Nightrain's web site along with information on purchasing the current issue or subscribing. "I'm on the nightrain...."!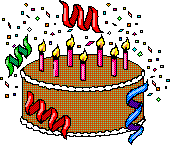 We've heard a rumor that SLASH is trying to quit smoking! Will the cigarettes be packed away with the top hat and t-shirts and Jack Daniels? For his health, we'd like to see a serious cutback here at least. So, if you were planning on sending a carton of Gitanes for his birthday, don't tempt him! And don't forget that special birthday, the big 38, is coming up July 23. Send cards (no gifts are expected, really!) to July 23's hottest birthday boy at:
SLASH
5664 Cahuenga Blvd.
Suite 246
North Hollywood, CA 91601
If you filled out the birthday messages and showed your flag at Attila's web site, it's about to go...43 printed pages of birthday messages! Thank you to everyone who took time and wrote to SLASH, and thanks to Attila and his creativity for putting this together.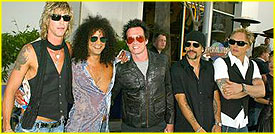 Here's a SLASH mention from a June issue of Billboard where the article topic was contracts:

GOLDEN GUNS: Velvet Revolver -a new group comprising Stone Temple Pilots' Scott Weiland; Guns N' Roses' Slash, Duff McKagan, and Matt Sorum; and Suicidal Tendencies' Dave Kushner-is off to a fast start at radio with first single "Set Me Free." The Hulk soundtrack tune is already getting top phones at modern rock WBCN Boston, XTRA San Diego, and KROQ Los Angeles.

The band, managed by Immortal Entertainment's Dana Millman-Dufine and David Codikow, has recorded a number of songs for its album debut, but it has yet to ink a label deal.

And what new thing do we learn here...the names of the band's managers! Anyone have any information on them or more on the company?


News Reported: 07/14/03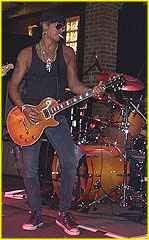 This is a reminder for all fans who can make it to Rio de Janeiro on July 19 and 20. The First Brazilian Gunner Convention is coming up then! Ana and her Gunner fan club are organizing the whole thing. One of the big attractions will be the appearance of some GNR cover bands as well as a Snakepit band. We're told that the "SLASH" playing there is a ringer for the real one with similar face, tattoos and hair (we hope). Ana went through us to SLASH's management to SLASH to request that SLASH make a special tape for the convention. Ana had already planned to have a "SLASH Tribute" because everyone there loves him and his birthday is in July. SLASH said yes! The tape was made, and it is in Ana's hands. Ana says she will play it on the big screen at the convention, but after that, it will be in her hands only. She says there will be no copies or sales of the tape. Even we haven't seen it! Frankly, we thought SLASH would be too busy, but his publicist found some time for him, and he made it gladly. We hope Ana will write and tell us SLASH's message to the Convention. If you need additional information on the Convention, write to gnrdevotionfanclub@Yahoo.com. There's more information, too, at their web site:


www.gunnerconvention.cjb.net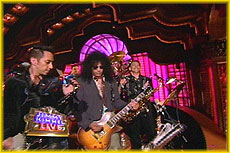 It's said that imitation is the sincerest form of flattery. That's why we have cover bands, right? They love the original band and their music enough to almost be that old band. If a band plays a cover song, like Velvet Revolver did at the El Rey, they like the song and can play it with their own style or as close to the original as possible depending on how they feel. Well, Velvet Revolver had their first original song covered on national TV in the US. Christine says that Thursday night on the Jimmy Kimmel Show, Cleto and The Boys in the Band played "Set Me Free" when the show went to commercial. Christine says the band is really good but seems to have a small repertoire, so it was a wonderful surprise to hear them launch into "Set Me Free". Thanks, Christine, you night owl!


Looks like the Kimmel band rates "Set Me Free" pretty highly. Here's what the Rolling Stone site has to say about the entire Hulk soundtrack:

Few listeners will want to hear both Danny Elfman's symphonic score and the song by Velvet Revolver -- the new band with Scott Weiland, Slash, Duff McKagan and Matt Sorum -- but that's what the Internet is for. Revolver's "Set Me Free" recaptures a glimmer of Guns n' Roses' headbangin', singalong glory days.

And they gave the album 3 stars.



If you're a SLASH fan, you're most likely an Aerosmith fan. SLASH was heavily influenced by Aerosmith's songs and attitude and by the axeman Joe Perry. Aerosmith plans a January release for their classic blues cover album Honkin' on Bobo (tentative title). And their producer is one that worked with them and so many others in the past, Jack Douglas. Jack Douglas also worked production on SLASH's Snakepit's Ain't Life Grand. Jack told us that SLASH was great to work with, a perfectionist who has the talent to get the sound he wants from the people he works with. Both Jack and SLASH have immense respect for the megatalented Aerosmith. Here's what SLASH had to say about them in an interview:

"There's something irreplaceable about those guys, I was brought into rock 'n' roll around the time they were out there. And there's just a certain kind of rock 'n' roll attitude they had that I used to really dig. I didn't sense it in any other band besides - not to put them together - the Stones. It was like a personal, seedy attitude; and it was a case of not letting anyone else into your world. You just talk about what you want to talk about. And you can't get into their private lives because there's sort of a wall up around them. You just can't get inside. It's really hard to put in words. But I just thought Aerosmith was really cool and always had a great groove."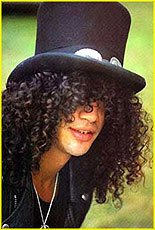 UK fans should be on the lookout for the VH1 show called "How the Stars Get Hot". It's about the designers and others who make the rockers look good on stage. Dane says they interviewed the designer who does clothes for Steven Tyler and had just made her first item for SLASH, leather pants. Dane says SLASH has a section of the show to himself where he shows SLASH meeting up with her in her house, she shows him the pants and chats with him. SLASH says he plans to wear them to a gig in Las Vegas (Camp Freddy gig?). Thanks, Dane! Have you noticed SLASH has not been wearing his top hat much lately? It seems that represents a part of his past; and though he will wear it sometimes, he'll be seen in a variety of other hats or none at all. Makes sense, but how we loved those high boots and tall hat...must have been 6'6" in that!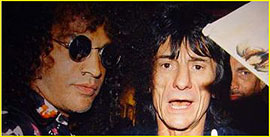 The DVD Far East Man got a nice review in the May issue of Guitar Player. This DVD is a good one to buy...lots of SLASH music onstage. Here's what the review said about SLASH:

He(Ron Wood) also brings Slash on stage for much of the proceedings (the be-hatted one digs into a marvelous instrumental version of Guns N' Roses' "Paradise City"), and joins the Corrs' beautiful Andrea Corr for some harmonizing. The friends and family affair is further expanded by the addition of his son, his daughter, and "Uncle Vinnie" to the band.



Here's the newest Velvet Revolver promo picture. Go over to slashonline.com and see the large original! It's great! Think of this as a thumbnail. The original is beautiful! Click www.slashonline.com!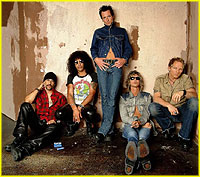 News Reported: 07/11/03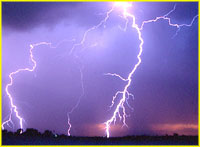 Last night severe thunderstorms swept through here, and the mailbox once again seems to have gotten at least partially destroyed. If you sent mail to webmaster@snakepit.org after 7pm ET, please re-send. Both mail on the server and on the PC are damaged. Thank you for your patience. Now you see why SLASH is not a computer user!


All the winners of The Hulk soundtrack CD (includes "Set Me Free" were notified, and we have their addresses. Thanks to all of you again for entering. It was fun getting all the mail. And many thanks to CineMedia Productions for donating the CDs.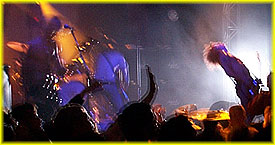 This AOL note was passed on just recently. Hopefully, if you have AOL, you have made note of this already. AOL Music is streaming Velvet Revolver's "Set Me Free", and you can play it anytime, as much as you want IF you are an AOL customer. Time to dig those AOL free offer CDs out of the wastebasket. But hurry! The track is available for a week which began July 4. It is on their Soundtracks page. Give it a spin for SLASH just in case they are counting!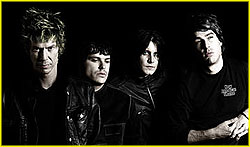 More music...this time by Duff and Loaded. This punkish/hard rock band was very cool, and Duff fronted it before joining Velvet Revolver. Shannon is the moderator of the LoadedBand group at the Yahoo! groups. She's put up some song tracks from the Loaded show at the I-Spy in Seattle. In order to hear these, you have to go to groups.yahoo.com and sign up for the Loadedband group. Once you are a member, these are in the Files Section. Shannon notes that some clips are from soundcheck, and some are from the show. The four that are there now are "Dust and Bones", "10 Years", "I'm Sick"(rare, never released) and "Your Way"(rare, only time played live). Shannon notes they are not of the best quality, but you can hear Loaded live if you never had a chance before. Thanks, Shannon!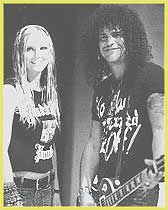 Elan's manager sent word that the "Street Child" to be released in Mexico July 25 is the ALBUM not the single track with the same name. That track is on the album and is the one SLASH plays on. The album will be out in Australia in August. Then the rest of the areas will follow as they arrange distribution and so on. So look for the one in Mexico first. And don't forget to vote for her "Midnight" song on MTVLA (Latin America) and note the country as Mexico.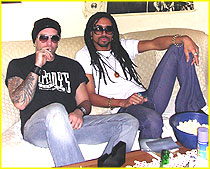 SLASH has been in a lot of bands, and some of us have really grown to like these former bandmates. SLASH fans turn out to see Teddy Andreadis with Alice Cooper, Keri Kelli with Adler's Appetite and so on. There were two band members we had lost track of, but SLASH fans found them both. We reported awhile back on James Lomenzo, and now Jim has found the elusive Rod Jackson, lead vocalist of the most recent Snakepit. He's a client of Big Swede Studios in LA along with his old bandmate, Johnny Griparic. Teddy Andreas is there, too. So's Bruce Kulick. Lots of talent there. Here's a picture (couple more on the site) of the guys as they are now. And the best thing is that there is an mp3 there you can listen to, a song called "Heavy Reggae" written by Johnny and Stefan Svensson, performed by Rod Jackson. Rod sounds great; and if you love reggae like we do, you'll wish the whole song were there and not just a clip. Thanks to Jim, who found Rod at last! And here's the mp3 clip (1.25MB), just over a minute long.


Rod and Johnny G!

and when you get there, scroll down and look for "Heavy Reggae" on the right.


Since we're into former bandmates, here's a report on Keri Kelli from his newsletter. Keri was at the El Rey Velvet Revolver show where we ran into him and spent the whole evening listening to SLASH and talking to Keri. It was a great time, and Keri is really easy to talk to and interested in listening as well as talking. A great guy. If you get a chance to see him, capture him after the show and have a talk. He's really friendly! His newsletter says that Keri thought the show was awesome, and Scott Weiland on vocals was "makin' shit happen!". Keri is now playing with Adler's Appetite, but he's also with LA Guns. There's been talk of a tour which seems to be happening starting in August. It's not certain if Keri will be with them or not depending on the schedule. For the big Keri fans, Keri has some of his former bands' CDs for sale cheap! He has a limited supply of Dad's Porno Mag CDs and also the Motley Crue CD he played on. Keri says he'll sign them and send them out. Each one is $5 (plus $2.50 postage in the US and $4 postage outside the US). So, 7.50 or 9.50 each depending on where you live. US fans can send a check made out to Keri Kelli. Outside US, send carefully concealed US cash. The address is:
Keri Kelli
c/o PO Box 8074
Huntington Beach, CA 92615 USA



In the July 2003 issue of Q magazine there is a SLASH mention in Q Mail column (subtitled "You're All Talk"...SLASH played this when he guested on Cheap Trick's album). The mail is from Billy Morrison replying to a note in the previous Q where they said incorrectly that Dave Navarro was chosen over SLASH for the lead guitarist slot in Camp Freddy. Billy writes, in part, it was never a question "Who would be the core guitarist? Dave or SLASH?" Billy said he just called Dave and asked him, and Dave agreed. Matt rang SLASH and asked him to join in as a special guest on a couple of songs, and he did. Billy said, "We picked a stupid band name, and that's it. End of story!" Billy says they are both amazing musicians and cool guys. One was never pitted against the other. Also, "Thanks to people like SLASH, we have been able to get together and play more often" (note: Jimmy Kimmel show). Billy continues, "The misquote about SLASH isn't fair or true." SLASH is regarded as an integral guest player, and Billy says it is always a pleasure to play with him. And finally, here's a great ending: "On behalf of outraged SLASH fans everywhere...Peace!"


News Reported: 07/09/03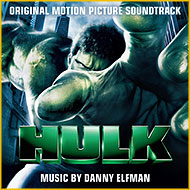 The Hulk soundtrack CD (with "Set Me Free") contest is over, and these are the five winners: Brian (BMS5065), Janet (bolan747), Skye (skye_mah), Breal (franck.breal), and Steven (twoifbysea02). Thanks to every one who entered. The winners have been sent an email requesting their names and mailing addresses, so get those back to webmaster@snakepit.org. Congratulations!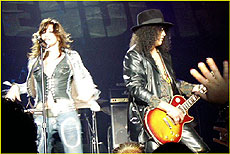 Brian sent in an interesting newsflash. The word is that SLASH is collaborating with actress Gina Gershon on material for her debut album. Guess she liked rocking with the band at last year's Sundance film festival. Her new movie, Prey for Rock & Roll was an entry at Sundance, and SLASH, Matt, Duff were invited to be the entertainment at the film's party. We contacted SLASH's management, and SLASH himself says there is no truth in it at all.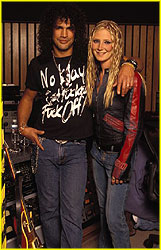 Another good looking lady that SLASH worked with not long ago was Elan. In her newsletter, Elan updates the release status of her single and album. You may remember that SLASH guested on the single "Street Child" (album has the same title). "Midnight" is her first released single, and it's playing on MTV Latin. She asks that all her Latin American fans vote for her on MTVLA's website (please select "Mexico" when asked for a country). The newsletter reports that "Street Child" hits the shelves on July 25 in Mexico and will in August for Australia. Now whether this means the single "Street Child" or the album Street Child, we haven't found out just yet. We're looking for a Mexican or Australian fan to help us get a copy no matter which it is!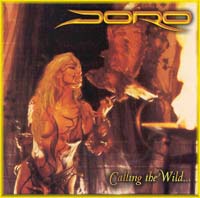 And speaking of SLASH's vocalist ladies, German hard rocker Doro Pesch has been named "sexiest woman of the year" by the Czech rock magazine Spark. SLASH guested on Doro's album Calling The Wild in 2000 on the track "Now or Never". Looking good, Doro, Elan and Gina!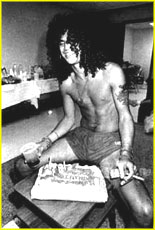 SLASH trivia question: when was SLASH born? July 23, 1965, so the top hatted one hits 38 this year. He's lived a lot of life during those years. If you'd like to send SLASH a birthday card, we know he'd be happy to get it. Use this address:
SLASH
5664 Cahuenga Blvd.
Suite 246
North Hollywood, CA 91601

It's not necessary to send a gift! But if you feel compelled to, please do not send any food or drinks for security reasons. A card and a note are really enough. Attila in Germany has set up a special web site where you can go and write some birthday greetings to SLASH and mark your country on a world map. The map and the greetings will be printed out and given to SLASH. Attila wants SLASH to see that he has fans all over the world, and we come together on the internet to support him. (Note: Attila says more South American flags and messages are needed!). Now here's the url of the guestbook and map so get over there soon and wish SLASH a Happy Birthday! Attila is taking the site down around July 13, so HURRY!


SLASH's World Community Says Happy Birthday, SLASH!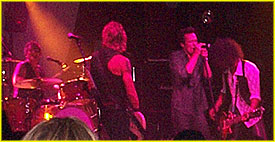 SLASH's management team thank you for sending in all those radio stations playing "Set Me Free". They now have this process under control, so they won't be needing us to send anymore. Thanks to everyone who mailed in information. It was a big help. Sam got some recent stats on radio plays for "Set Me Free". The song has gotten over 700 air plays in the US. That's in the 270 top markets monitored. Some stations are waiting to receive a promo copy which we hope they will have soon. This is really a good showing for this song considering the band has no label to help it move.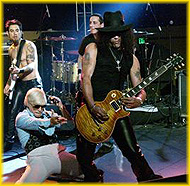 Camp Freddy will play at the Hard Rock in Las Vegas on July 18. They'll be playing pool side kicking off the Hard Rock's summer concert series. Dave Navarro, the band's lead guitarist, is touring with Jane's Addiction leaving a big hole in the lineup. They promise "incredible" guests to fill that spot. SLASH will not be there, but Matt Sorum will. Call the Hard Rock to find out about ticket availability.


News Reported: 07/07/03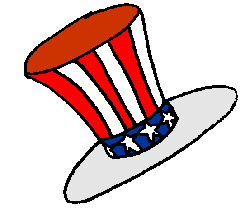 As the calendar works out this year, the Fourth of July falls on Friday of this week. This is Independence Day in the US with lots of picnics, a day off work, fireworks and family around. We'll be at a picnic, too, so the SLASH page will not be published this Friday. We'll see you again on Monday, July 7. Don't forget our Hulk CD contest ends July 5. Happy Fourth of July to the US fans...and especially to SLASH, Perla and London (his first Fourth of July)!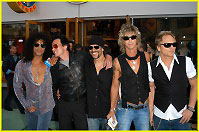 SLASH and Company are still collecting a list of radio stations playing "Set Me Free". Today we sent them 93.7 in Minneapolis (from Olav who has a new son!), Twoifbysea02 (Paul Revere?) sent in Toronto's 102.1 The Edge, Rob says "Set Me Free" can be heard on "Rock" and "Metal" (410 and 411) on Time Warner cable WNY, and Greg reported that 93.3 WMMR plays it for Philly (they used to say "when Philadelphia rocks, the rest of the nation rolls"...still true?). Chris from Hoboken, NJ says 92.3 KROCK in NYC, the Kane and Cabbie show, has been playing "Set Me Free" for some time. Chris says this site was given as the one to visit for information on the band! A great compliment from the nation's biggest rock station! We were really happy, but it's thanks to all of you that we have the information. Moving right along up the coast from LA, John gave us two stations in Seattle playing "Set Me Free", KISW 99.9 The Rock and KNDD 107.7 The End. Thanks to all of you. Wish we'd hear from Europe!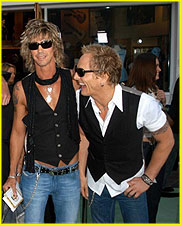 Matt and Duff did an interview with Riki Rachtman on June 27 on CA station 97.1. We don't have an audio copy, but Sammy sent us a typed copy which may be condensed here and there...especially where Riki goes on about himself. The Duff and Matt portions are all here. There is an interesting answer to the question, "Why wasn't Sebastian Bach chosen as the singer?" Another..."Why didn't Duff and Izzy do vocals". And..."What was it like when those hundreds of demos came in?" "What are the plans for the EP and the album?" "What about a tour?" Here it is with many thanks to Sam:


Interview With Matt and Duff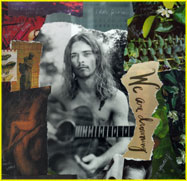 Brian sent in some interesting notes on a chat with Rolling Stone and Travis Meeks. Travis is the Days of the New frontman who auditioned for the Velvet Revolver singer. Right now he is in a month long rehab for crystal meth addiction. When asked about Velvet Revolver and his tryout, Travis said he was out of his head at the audition. He says he respects them, but they said there are no good rock singers out there, and he laughed. Maybe they are in rehab. Travis says, "I just felt there was no growth there. Guns N'Roses was all about taking chances. They didn't know what they were doing when they made Appetite for Destruction. That's what was great about it. They were taking chances." Brian says that Meeks gave some bizarre statements about his mental condition when he went into rehab. Our guys are past that drug haze...well, we hope the new fifth member will be, too, and the chances they are taking are different than when they were a debut band. Sounds like yet another sour grapes story. Thanks, Brian! And, Ray, thanks for this funny quote from Scott which appeared in the Rolling Stone newsletter. About Axl Rose, the new heir says, "It seems he's going through his Brian Wilson phase right now." Good one. Axl would probably prefer the glamorous and mysterious Jim Morrison who was one of his idols that went off and just disappeared into Paris. Instead he got compared to the tubbier one that seems a bit more mental.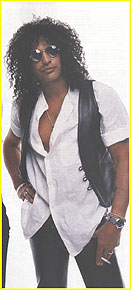 Myk B did a fantastic job for us. The new issue of Kerrang! is out with a good article and some super pictures. There are two pages to the articles. Here are three great pics of SLASH, Duff, and a group pic of SLASH, Duff and Scott. On page two of the article is an outstanding picture of Velvet Revolver. Photographer is listed as George Chin. Many of you may own the GNR photo book he did till Axl got bent out of shape for some reason. You have to do some serious scrolling, but the text is clear. Thank you, Myk B for all the work! Some of us would never see this otherwise:


Article - Page 1

Article - Page 2




News Reported: 07/02/03