Right now Velvet Revolver and SLASH have a lot going on. The calendar of events begins with April 2004. Near the top is a list of months you can click on to see future shows and events. You can see the month at a glance and then click on specific days to find out more about what's happening with SLASH.Check this schedule often for events in your area with SLASH and Velvet Revolver. Click the tour truck below to check the schedule.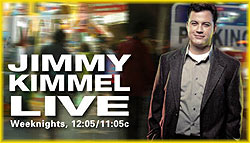 Velvet Revolver will be on TV again! They will be performing their new song "Come On, Come In" live for the first time. The song was recorded on the soundtrack of Fantastic Four. The live performance on TV will be on ABC's "Jimmy Kimmel Live" airing Monday night, August 8 (really beginning 12:05 am on August 9).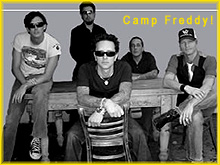 There's also more news on Camp Freddy, the LA-based jam band that always has an extra special guest or two (sometimes SLASH appearing). Camp Freddy will be making an appearance at an X Games party on Friday, August 5 at the House of Blues in West Hollywood, California. Expect their album out in the early part of 2006.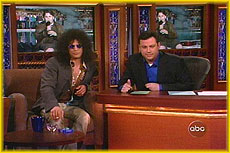 Carol was there the last time VR was on Jimmy Kimmel. She reports that SLASH was really cool and signed autographs for almost everyone. She had to wait nearly an hour after they played for him to come out. With nothing for him to sign, she used her California ID, and he did sign it. He also signed a $2 bill for her friend, but Carol bought it from him. Thanks, Carol!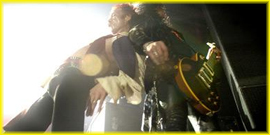 Bye Rose is from Austria and she reports that the German MTV show "Rockzone" with an interview of SLASH and Duff. He tried to get the silver bracelets off the host's arm but when he couldn't fit them on his arm, he gave them back. Part of the interview was about the search for the new singer, Scott. They never lost sight of creating the right band. Now they look forward to the next record and tour. Talking about GNR, Duff said they were proud of it and how they started it from nothing and they stood behind their songs. SLASH said he had to leave GNR because he knew they were not coming to a good end. Duff said it is a good time for rock now looking at Green Day, Foo Fighters, System of a Down, Queens of the Stone Age, etc. They'll release a second album as soon as possible and just keep going. At the end, they showed the video "Dirty Little Thing". Later the night of July 23, the DJ on radio mentioned it was SLASH's birthday and that he is 40. The previous week she got the new catalog from Medium Music Books which has a new book from 2005 written by Paul Stenning in London, 256 pages and 50 pictures. We have this book ourselves, it's The Band That Time Forgot.


Bye Rose says there is always something new, and we have something too. Today we went to one of the calendar web sites to see what was new, and they say that there will be a Velvet Revolver one coming in sometime in the next 8 weeks. They didn't have any pictures up yet, but we ordered one sight unseen as it is sure to be cool. We'll give you all the details when it's really available for order.


Page Updated 7/29/05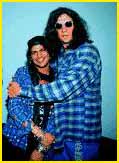 Ray sent us the record of information in the IMDB for SLASH. IMDB calls itself "Earth's Biggest Movie Database", and they have records on movie people. There's also a IMDB for TV people. SLASH was in there for Private Parts. The most interesting and unknown (to us) fact that was that SLASH's first wife, Renee Suran, had been in "Baywatch Nights". Go over and check out the SLASH biography and those links at SLASH IMDB Bio. Thanks, Ray.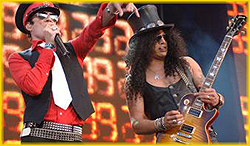 Norm tells us that there are a bunch of photos on wireimage.com of SLASH, SLASH and Perla and SLASH by himself. Some are Live 8 and some are at a party. They are at www.wireimage.com. You can see pretty big thumbnails. Thanks, Norm.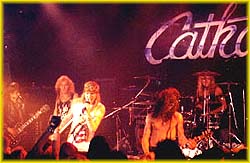 Here's another one from Ray. It appeared in the Musician's Friend site: 1987, Guns 'N Roses debut album, Appetite For Destruction, is released ... while it is known as a landmark album now, it won't start moving significant units or receiving much airplay until MTV puts the video for "Sweet Child o' Mine" into heavy rotation nearly a year later ... after the ballad shoots to the top of the charts, the original lead single from the album, "Welcome to the Jungle," is re-released and hits the Top 10 ... the Top 10 hit "Paradise City" soon follows, as do sold-out arena tours, classic rock star excess, and truckloads of intra-band conflict... 1987, Guns 'N Roses debut album, Appetite For Destruction, is released ...


Vicki sent us some information on the lawsuit between the Hudsons and his publicist. The Hudsons are being sued for $39,000. In Mojo, there's a good picture of Jeff Beck and SLASH as presenter of the Mojo Les Paul award to Jeff Beck. There's a good group picture in there too taken by rock photographer Roll Halfin. That night SLASH and Sinead O'Connor became the best of friends. Vicki says she remembers a t-shirt from long ago that said "SLASH is lovely". There is a "pouty" picture of SLASH, too. And he walked around making fast friends with everyone.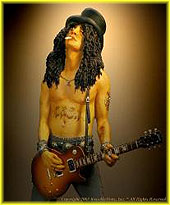 If you've received your KnuckleBonz sculpture, open it very carefully as it is quite fragile. If any damage is there from the shipping, they will take back the old one and give you a new one...no questions asked. In ours, the guitar strap was detached and the paint on the strap flaked off. No problem...they will take it back. So, go ahead and order yours! They are at www.guitarheroes.com.


Page Updated 7/27/05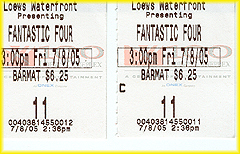 Hollywood breathed a sigh of relief when "Fantastic Four" bucked a 19 week downward trend in movie ticket sales. According to Launch's website, there seems to be little hope of the same resurgence for the soundtracks so far. Sales of albums and singles reflect the absence of a hit. This is the first summer since 2000 without a big soundtrack hit. Velvet Revolver's song "Come On, Come In" is on the "Fantastic Four" soundtrack, and the album came in at #77 when it entered and dropped to #107 this week. One thing we noticed was that "Come On, Come In" was practically inaudible and shortened to just a clip of the full song, so we don't think it had a fair shot. On other Velvet Revolver album news, Contraband has been certified double platinum by the RIAA for sales in excess of two million copies in the U.S.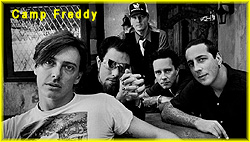 Remember Camp Freddy, the jam band that had several special guests whenever they appeared? Matt Sorum is their steady drummer, and SLASH stood in quite a few times. Well, they are working on the release of their debut album, talking to various "business types". Two tracks are finished and mixed and are currently being played on Indie 103.1 FM. The rest of the album is in various states of completion, and they hope to release it in the early part of 2006. Mike Clink is producing. It should be a collection of covers, featuring guest singers, guitarists and even drummer. There should be 12 songs. The band is starting to do some cool performances around the area. We're not sure if SLASH will show up as one of the guests or not, but he does like these guys, so let's hope it works out for all concerned.



"weefla" saw SLASH when VR came to Northern Ireland, at the Belfast concert on June 8. He says it was an amazing show, the best night of his life. Somehow he managed to work his way up to about 10 feet from SLASH and made eye contact with SLASH, Duff and Dave. He says he feels sorry for any SLASH fan who couldn't make it. His cousin is Viv Campbell of Def Leppard who has played with SLASH twice, at the Freddy Mercury Memorial Concert and Live 8. Pretty wonderful! Here's a picture "weefla" sent us.


Diana thought it would be cool if we posted a picture of a birthday cake she made for SLASH's birthday on June 23. The cake says "Happy Birthday SLASH" in big letters. The picture, in case you can't make it out, says "The Man, The Myth, The Legend..SLASH". Thanks, Diana, for sending that in.


Antoine was looking at the Celestion web site for his cabinet speakers, and he ran into a SLASH mention. There's a big picture of SLASH. Click on the link that takes you to SLASH's official artist site to see more about SLASH. Here's the link to the Celestion site. Thanks, Antoine.



Mary and others have let us know that VH1 is having a segment called Awesomely Wacky Celebrity Baby Names. It seems to be on quite a bit, and they comment on SLASH's boys named London and Cash. London got his name because SLASH and Perla felt he was conceived there when SLASH was over there to play in Ronnie Wood's band. They hadn't decided on a name for their second son, but then they came up with Cash. So, there is Ash, the brother, SLASH and Cash. We've heard of Cash in a couple of books, one being Cash McCall. Mary said it was a cute show.


Festival Bid for Record
According to Josh who lives in the UK, Surrey is claiming the new world record for the biggest ever air guitar ensemble. More than 4,000 played GNR's "Sweet Child O' Mine at Guildfest 2005. Organizers are waiting word from the Guinness Book of Records. The previous unofficial record was 3500 in Finland. Guildfest organizer, Tony Scott said they were thrilled to have broken the record. Wouldn't you have liked to have seen that?!

Ana Cristina has the GNR fan club that's the biggest in Brazil. The first convention featured a tape from SLASH to his fans there. On July 23, SLASH's birthday, they will have a party to commemorate SLASH's 40th birthday. If you're in Brazil, try to make this as they will have three bands, and the last is Eduardo Mota's band, The Best GNR cover. The other two will play SLASH influences. Ana says she will send some photos along, and we thank her for that!


We mentioned awhile back that there was a game out called Grand Theft Auto: San Andreas. WTTJ is in ads for the game on rock channels and MTV. Axl appears in the same game on anoher radio channel, KDST as DJ Tommy Nightmare. He says one line and Flash who sent this in wonders how long it took him to record the line!
To end this on a positive note, don't forget that July 23 is SLASH's birthday. It's not too late to send a birthday card to the address given in the Writing to Slash link on the home page. Also, if you plan to get to one of those shows in August, get your tickets as one show is sold out already. To check the available shows, click on the tour bus here on the News or go to the official band site at www.velvetrevolver.com and when you get in, look for the five bullets in the lower left hand corner. Click the second bullet from the left to get tour dates. You can jump from their to the BUY or to TICKETMASTER. As shows sell out, they are listed there. Just a reminder that we have no way to give out tickets or passes. If you have connections with the promoter, you might have a chance that way or you might see the guys coming in or going out or you might hear of a contest on a rock radio station in your area.











(News Updated 07/20/05)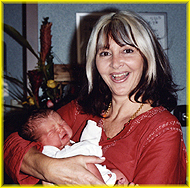 One big item of news tonight is that SLASH is being sued by his former publicist, Arlett Vereecke (seen at left with SLASH's son, Cash). Arlette has known SLASH for years, going back to the beginning of Guns N'Roses. When he had no place to sleep or eat, she opened her home to him. When he had problems, she listened to him. Arlett is a publicist; and when Velvet Revolver needed a publicist, she was hired. Arlett and Scott Weiland crossed swords early on, and she was let go from that job. Arlett then became SLASH's personal publicist, getting him all kinds of solo gigs. You may have seen him in a couple, one was the week co-hosting the "Jimmy Kimmel" show and another was the cartoon "Kid Notorious" show. Things were going so well that SLASH, his wife Perla and Arlett formed a corporation to continue working on SLASH's solo publicity work. Things started to go wrong, and the end came around the time of the missing top hat episode. Arlett says that SLASH's wife came between them saying "She's on a power trip. It's all about her. She doesn't want SLASH to be involved with anyone but her." During the past couple of years, several of SLASH's closest circle have quit or been let go. Arlett remarked only that she still thinks highly of SLASH but blames his wife for tossing her aside. It's certainly a sad day when SLASH's loyal employees are being discarded and/or not paid for their work. Very few of us would do free work for millionaires. We hope that the lawsuit can be settled to everyone's satisfaction. Arlett certainly deserved to be paid for her work, and if anything happens with Adam Day, there will be a line around the block hoping to hire him. As of now, though, Adam is still working for SLASH. We don't like to print sordid stories, but you can read all this in almost every music publication on the net.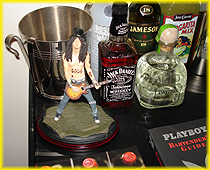 On a lighter note, KnuckleBonz says they have all the pre-orders out on the SLASH sculptures. If you pre-ordered and have not received yours, get in touch with them through the "contact us" at their site. We had not received ours and found it was a credit card number error. We hope to receive ours soon. We got a couple of reports on these, and most people felt like Andre...the SLASH guitar hero figure is really worth it. We've been told you have to superglue the figure to the base, but the sculpture is really well done, especially with the tattoos and guitar and everything. Jason told us the sculpture was really just for collectors, but Andre says it is killer! When we get ours, we'll let you know what we think. If you thought it was a little pricey at $99 plus shipping and handling, you may be interested in a contest we are planning to run here with KnuckleBonz right here as soon as we get it together. One person will win a sculpture! More details on that as we iron out the contest with KnuckleBonz. And don't forget that McFarlane is bringing out two figures (one is a deluxe box set) in September. These will be much lower in price. The box sets will at Spencer's and Tower Records. The regular blister carded one will be at Gamestop, Diamond, Hot Topic, Sun Coast, Media Play, Sam Goody, KB Toys, Spider Web to name just a few.











(News Updated 07/18/05)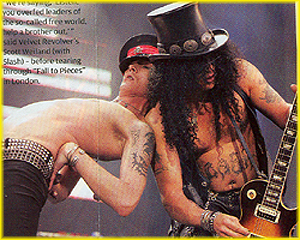 The current issue of Rolling Stone has some wonderful pictures of the Live 8 concert. The London pictures had one of Scott leaning on SLASH. Scott made an announcement that we didn't hear here at home, "We're saying, 'Listen, you overfed leaders of the so-called free world, help a brother out,'". Rolling Stone said Scott said this before tearing through "Fall to Pieces in London.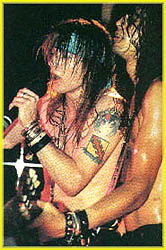 SLASH spoke to the UK Planet Sound and said he thought Axl's forthcoming album would be brilliant. Speaking candidly, SLASH said he really knows nothing about the album, but anything Axl does is brilliant in one way or the other and although no album should take 10 years, his new album should be no different. Axl's album, "Chinese Democracy" is due out by the end of this year.



We got another note from Keri Kelli, and Adler's Appetite is going to do some South American dates. He said their new vocalist is Sheldon Tarsha and provides the band with a modern edge. They are currently working tunes for their debut album. The added South American dates are:
November 3...The Roxy, Buenos Aires
November 4...TBA, Argentina
November 5...El Theatro Flores





Ron sent us a link to a cool article about the music fans love most on MSN: MSN Faves. Be sure to check that one out.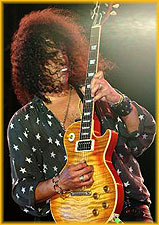 Finally, it's time to get your tickets for those August shows. Some are for Ozzfest and some are just the regular shows. One is even sold out. Here's the list of forthcoming shows again. If you want to see Velvet Revolver before they go off to the studio to work on the second album, you need to get your tickets from box offices or Ticketmaster.
8/11..Soaring Eagle Casino at Mt. Pleasant, MI
8/12..Germain Amp. at Columbus, OH
8/13..Tweeter Center at Chicago, IL
8/15..Oneida Bingo Casino at Greenbay, WI
8/17..Illinois State Fair at Springfield, IL
8/20..Alladin at Las Vegas, NV
8/21..Valencia Anselmo Amp. at Tucson, AZ
8/23..Ozzfest Journal Pavilion at Albuquerque, NM
8/25..Ozzfest Smirnoff at Dallas, TX
8/27..Ozzfest Cynthia Woods Pavilion at Houston, TX
8/28..Ozzfest Verizon Wireless Amp. at San Antonio, TX
8/31..Ozzfest Starwood Amp at Nashville, TN
9/02...Ozzfest Verizon Wireless at Charlotte, NC
9/03..Moran Theatre at Jackson, FL
9/04..Ozzfest Sound Advice Amp. at West Palm Beach, FL
Rock ON!!!



Updated 07/15/05
Due to technical problems, the News will be shorter this evening.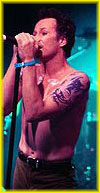 One announcement is a good one that we can't overlook. Scott has had his drug case dismissed because he has completed his rehab program under Proposition 36. Scott was charged in May 2003 with possession of heroin and cocaine and faced up to three years in prison, but the voter-passed law permits petty drug offenders such as Scott to undergo treatment instead of being sentenced to jail. Best wishes to Scott, his family and Velvet Revolver.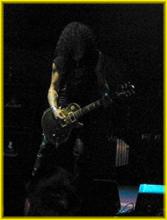 We got mail from Chuck who reminds us that he was looking for a way to meet SLASH. Well, he did it, and SLASH signed his guitar and was really a nice guy to meet. He thought all the VR guys were very cool and had the chance to talk with SLASH, Adam Day, Matt and Duff. Adam answered some of his guitar questions about SLASH's equipment. The show was great! Here are a couple of pictures he sent us.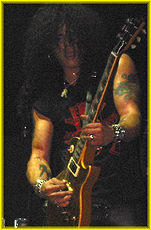 Greg's from New Zealand and he wanted to let the punters know there is a greyhound there is a greyhound named Velvet Revolver. The racer is a champ already taking out various races in the Auckland greyhound circuits. Don't forget, this guy will need a home after his racing days are done, Greg!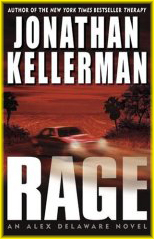 We were reading the lastest Jonathon Kellerman book, Rage, released in May. The continuing character is Alex Delaware. In this book, he receives as a gift an ipod and can put about 100 songs in it, so he decides to put his Top 100 Rock and Roll songs in. Guns was in for three..."Patience", "Knockin' On Heaven's Door" and "November Rain". He also included Bob Dylan's "Knockin' On Heaven's Door". The list is revised throughout the book, but GNR stays in it from beginning to end. The end finds a mental patient finding the list and keeping it. Lots of GNR fans out there.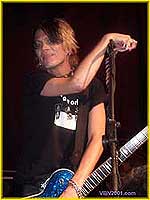 Keri Kelli, ex-SLASH's guitarist, sent word that all songs from the collectible debut Adler's Appetite CD can now be heard at adlersappetite.com. Keri is now in the band and says he is handling all orders personally. Every CD ordered will include official "AA" Keri Kelli and Robbie Crane guitar picks. On July 22 there will be an AA show at Paladinos in Tarzana, CA. There's one on July 23 at Diablo's in Lake Forest. There will also be shows in Texas, August 19 and 20 with friend Gilby Clarke. Stay tuned for more news. Thanks, Keri!



Updated 07/13/05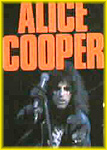 Here's a cool announcement. SLASH is going to be Alice Cooper's special guest on Alice's radio show "Nights with Alice Cooper" on July 13. SLASH and Alice have been friends for years, and the two will tell some stories you've never heard before. SLASH played on some of Alice's songs, "Hey Stoopid" and "Elected" as well as "Lost in America", "Only Women Bleed" and "No More Mister Nice Guy" and "Under My Wheels". Different versions appear on different Alice albums. Check SLASH's discography to see which albums he played these on. The program is a classic rock format. Check local listings for times on the United Stations network.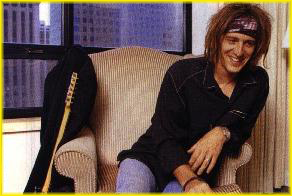 The Izzy community has put up a petition asking for the release of an already pressed album Like A Dog. It was finished in 2003 but never released. The author of the petition will hand the petition over to Izzy's management. Please take a moment to sign if you are an Izzy fan. Assume the price would be that of any new CD. Signing does not commit you to buying, just saying you would be interested in some new Izzy material. The link is: Petition.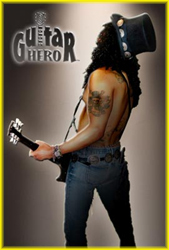 People are starting to get their Guitar Hero action figures in. We haven't got anything yet, so please forgive our mixing up which is which. There are 2 action figures due out in July and August. There is another coming out in September. Jason does some explaining for us. The guitar hero (pictured last week) came out just last week and is at www.guitarhero.net/slash.html, the Knucklebonz sculpture site. The other coming out is the MacFarlan figures coming out in two versions: First Version and Second Version. Hope this is clear. Check those web sites for more clarification. Jason says he really doesn't think the one he has is worth it as he had to glue it together! These items are for the big SLASH collectors with crazy glue.


Ian wrote that on the Live 8 website for the BBC, Velvet Revolver received the second most votes for best act of the day, a great achievement for the band. You can check out where other acts stood by going to the BBC UK site. Thanks, Ian. Led Zep has been voted the nation's ideal supergroup. Fans were asked to create their fantasy band, and all the names were Led Zep artists. Jimmy Page was voted number 1 guitarist followed by SLASH!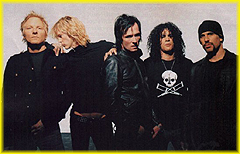 Greg was at the Auckland show on Feb.19, and it was the best show of his life. He got there about noon for an 8 pm starting time to see the crew setting up the stage. He had a chance to say hello to Adam Day, SLASH's guitar tech, and to marvel over SLASH's guitars. They played all the album except for "Loving the Alien". A great show! Greg said the Live 8 show was also really good. Lucas was hoping for some of those great SLASH solos, but with a limited amount of time, they just had to speed through their three songs, and they did a really good job. Axl Rose is not missed by the fans we heard from. Everyone seems to be really getting into having Scott as the frontman. Lucas and Sean both wrote about Live 8 and said Velvet Revolver ROCKED! Rock on, guys!



Updated 07/11/05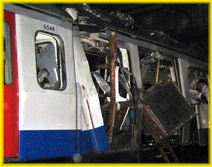 We hope that all our UK fans are OK after the terrorist blasts in London. The figures come in and they just get higher. You are in our thoughts. Duff released a statement, too. He said that after the Live 8 show, the vibe was so great in London, peace and love. He says he thought the feeling would last, then the tragic attacks came and the focus definitely got turned. Duff said Velvet Revolver just wrapped up their tour and were on their way home before that happened. Now they are taking a break to start on the sophomore album before they hit the road with Ozzfest in August. They play the last week of Ozzfest replacing Iron Maiden who had previous commitments to shows elsewhere.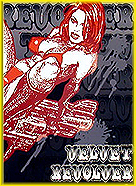 MTV and VH1 have joined the other media with plans to rebroadcast 10 hours of Live 8 performance July 9 including sets by Deep Purple, Motley Crue, Velvet Revolver and Def Leppard. VH1 will do 5 hours and MTV will do 5 also. VH1 starts 10 am ET and MTV takes over at 3 pm ET. These stations say the fans have let them know they want to see those and other artists' full performances. Sounds like one person thought VR should not be included. Lesley from the UK says that one of the local DJs, Mike Sweeney is one of them. She thinks people should email him at www.capitalgold.com. One of the women DJs defended them, so it sounds like a really mixed bag. Maybe if they would really listen and watch, they could see this band the way we do. And if they don't, well hit them where they live and tune them out. The record biz is all about money, so don't forget that you have the power to change things by changing the dial.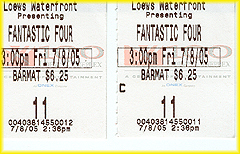 The Fantastic Four opened today in the US, and we went off to see it and hear the new VR song "Come On, Come In". The movie is a good one with lots of action and cool graphics. Suspend your relief in reality and enjoy a good summer action flick. The Velvet Revolver song is in the movie not in the credits, so listen closely toward the beginning of the movie and you'll hear it! They appeared in the credits, too. Here's our tickets so you can verify we were there.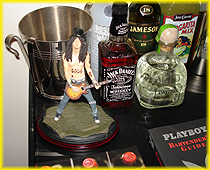 The SLASH action figure is to be released in August and the deluxe one is to be released in September. Can you believe these are already on sale on eBay?! You don't need to worry about getting one, though. The company, toywhiz.com has the two different action figures which you can pre-order. You will also be able to find the figures at places that sell action figures...Spencer's and MediaPlay to name just two. The picture here is from a fan has somehow managed to corral the first one. Very cool.


We got a review on the Belgium show from Wouter. He says it was at the festival park, and it was awesome!! He said Velvet Revolver brings back rock and roll. During "Fall To Pieces", he could barely breathe. It's heartbreaking, but he loves it. That's our feeling, too!


Scott is from Winnipeg, Canada, and was watching Much More Music on July 1. There was a SLASH siting. The show was called "Top Ten Worst Actors Turned Singers". Billy Bob Thornton turned up at the third worst. They talked about him and said when he decided to be a rock star, he bought SLASH's old studio to gain credibility. Actually, he bought SLASH's old mansion with the Snakepit studio in the studio. SLASH no longer owns a studio; he rents studio space as needed. The show will be replayed several times more on the station. Thanks, Scott!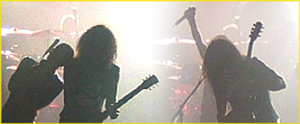 Ray sent us a note that the long-delayed tsunami benefit single "Tears In Heaven", featuring Aerosmith, Steven Tyler, Pink, Kelly Osbourne, Velvet Revolver and Gwen Stefani is now due during the coming holiday season. We wondered what's taking so long. The area is still such a wasteland and still in so much need of charity.











(News Updated 07/08/05)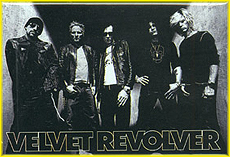 There's other news to talk about, but the biggest news is the Live 8 show this past Saturday to promote debt relief and aid to Africa and timed to coincide the G8 summit of world leaders. Nine cities had concerts in four continents as one large concert because too many people are dying on one continent and 8 men around a table on July 8 in Scotland can put an end to it. As Bono said, they are not asking for money, they are asking for justice. It was a day of idealism and the some 1,000 artists did not disappoint. There are articles all over the web about the concert and we encourage you to go and read some of these. Bono and Bob Geldof were most involved in the organization. If you watched or listened to the show from London, Velvet Revolver was there! They played a scorching rock and roll set. It's said that when Geldof went looking for a true rock band, there was only one choice, Velvet Revolver.
After all, this is the band that was formed from the ashes of GNR and STP and sold 3 million copies of their album Contraband to date. SLASH said he couldn't wait to be there and was honoured that Geldof had invited them to play. The set list was "Do It For The Kids", "Fall To Pieces" and "Slither". Scott marched around the stage despite a badly injured ankle from a fall in Denmark at the Roskilde festival. SLASH wore his iconic top hat for the whole set! Good coverage, at least off AOL on the band. They were up close and didn't pull back for many audience shots, but those were good ones. In the US there were a lot of ads, and when VR went off, there was some commentary and some ads, so we didn't get to see them go off and downstairs where SLASH's wife and son London were waiting with smiles. The coverage of Velvet Revolver was very positive by the pro reviewers. Fans seem to catch on as the sales of VR's album soared 1000% in the UK since the show.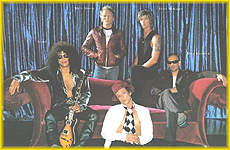 Pink Floyd is another band whose sales went sky high since the show. David Gilmour is calling on the artists who benefited from the show to donate the increased royalties to the cause, so we'll see if Velvet Revolver will do that, too.As for our regular fans here, Lisa in Italy said Italian TV didn't have the VR portion, so they caught it on satellite TV. She thought SLASH looked very nervous when he came out. She and her husband thought he played very well and looked excited and nervous. We didn't pick up on that as the camera wasn't up too close very often till they really started into the set. We were very proud of them! Sim from the UK couldn't get tickets, but he did get to watch. He said a lot of people there don't know about VR, but they know SLASH in his hat. He said he was really proud of them, too. They did a great job and really kicked ass up there. Tickets were free, but there was a lottery to give them away. Now, if you missed the show, you'll want to get over to AOL where they are showing re-runs and have a catalog of photos from the shows. Here's where you can watch the re-runs of Velvet Revolver at Live 8: VR at Live 8. The XM Satellite radio station will also transmit the show. Beginning July 9, they'll air all-star performances and exclusive backstage interviews (including some previously unaired) along with commentary. The Live 8 Replay Weekends will devote 48 hours every weekend in July from midnight ET on Saturday through midnight ET on Monday on XM Live (XM Channel 200). Velvet Revolver is on the list of artists they will broadcast. And we can't resist leaving you with one review of the show that has a Velvet Revolver mention. The big acts received more space, but the VR mentions were very positive. This is one from AOL: Review on AOL and from the votes of best performance at the London show, you'll see that SLASH and VR fans didn't let the band down. Check out: Best Performance Thanks, Ben, for those links!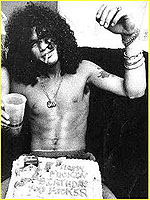 There's a lot more news, but we wanted to cover the Live 8 concert as much as possible tonight. One thing we do want to mention is that SLASH's birthday is coming up on July 23 when he will be 40! We think it would be great if his fans sent him a birthday card at the address of his Official Fan Club. They hold his mail for him. Be sure to put in a note saying where you are from...country or state, as he is always interested in where you all are from. Here's the address:
SLASH
5664 Cahuenga Blvd.
Suite 246
North Hollywood, CA 91601



(News Updated 07/06/05)