(Updated August 30, 2001)

There are the SLASH signature guitars and SLASH signature amps and picks. Here's a picture of a SLASH limited edition guitar case purchased at one of the online auction sites. We're looking for information on these. If you know when these were made and sold in stores, the price, and how "limited" the limited edition is, we'd like to hear from you. Send anything you know on these to webmaster@snakepit.org. Thanks!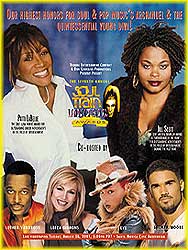 SLASH was spotted at the press area for the 7th Annual Soul Train Lady of Soul Awards. This was held in L.A. SLASH said he did some interviews but did not attend the award ceremony. The awards were taped and will be aired nationally on September 1 (SLASH is not on the tape). Slash went to do the interviews in his jeans and a shirt, red converse sneakers and red baseball cap so at least one news outfit saw fit to complain that he wasn't dressed up enough for the black tie affair going on inside. Since SLASH didn't attend that, it seems pointless for him to wear a tux (or his black leather clothes) for interviews. We wanted you to have all the facts in case you read that SLASH wasn't dressed appropriately.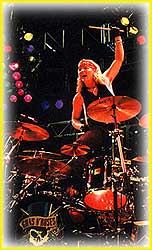 Susan let us know about Matt Sorum's interview in Modern Drummer. It's an interesting one with Matt looking back at GNR. SLASH gets some mentions here, and Matt talks about how he was fired from the band. This was after SLASH had quit. Matt also discusses his new life with The Cult and what kind of work he would like to do in the future. Thanks, Susan!

Interview with Matt Sorum





We were talking with SLASH tonight about the Cheap Trick video on this web site. He said...that's where I broke a string right away and had to use one of their guitars, right? We said that was the way it happened. SLASH, in one of his humble questions said, "How did I sound? Was I ok?" Was he ok?! We told him that we have become very interested in Cheap Trick through him. He recommends one of their hits albums or the In Color. The Silver CD is coming out soon as an enhanced cd. We don't know if that means a video, but we'll let you know if it includes any SLASH footage.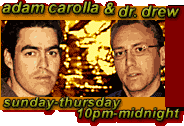 Tonight, Thursday August 30, is the "Loveline" show with SLASH as the guest. It's on 10-12 midnight PT on KROQ and various stations throughout the US. Unfortunately, not in our area, so if anyone hears this, please take some notes and send them along for the rest of us. Thanks!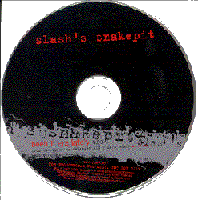 CONTEST! Here's a funny contest based on the last tour. All the answers can be found somewhere on this site...in the Fan Reviews or this section (you'll have to go to the archives by month). Send these in by next Friday, September 7 at midnight (your time). 5 winners will receive a promo copy of the single "Been There Lately" with artwork and jewel case. No charge to enter or to have the single mailed to you. This CD just has "Been There Lately" on it, but it is very cool and belongs in your collection. If there are more than 5 with the right answers, there will be a drawing. Send your entry to webmaster@snakepit.org and make the subject be CONTEST. Thanks!



1. Where (country) did Snakepit tour last?
2. Which artist coheadlined with Snakepit at a few shows?
3. Which state did not have a show (choose one)? New York, South Dakota,
    Ohio.
4. The state where SLASH was knocked over onstage: California, Michigan,
    Texas
5. Merchandise sold at venues included a SLASH action figure (true or
   false).
6. The band traveled on tour by: bus, van, plane.
7. Name a band whose song(s) were covered on this tour.
8. The last show was in this state: Arizona, Michigan, California
9. Some fans made it into soundcheck (true or false).
10. In Texas, one fan had something stolen which was recovered by another 
    fan. Was it: Snakepit Tshirt? Diamond? Wallet?
That's it!

News Reported: 08/30/01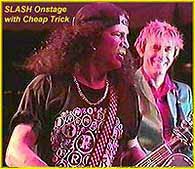 We have a great video for you, and chances are you haven't seen this before unless you are a Cheap Trick fan. SLASH is, and he played at their anniversary show. Recently, Cheap Trick released the show on a double cd, DVD and video. SLASH played one song with the band, "You're All Talk" where his guitar string broke as soon as he started playing! The Cheap Trick guys loaned him a guitar, and he continued without his sturdy Les Paul and sounded f*ckin aces! We hope you'll enjoy SLASH playing "You're All Talk" with Cheap Trick, one of his favorite bands. When SLASH first mentioned this band to us, we gave them a try. This is the REAL rock and roll! If you like this one, pick up any of their CDs! This CD is available on the Cheap Trick web site as is the video. This SLASH video is found on the Slash Videos section, but we'll take you directly to it now. Watch SLASH rock!
SLASH And Cheap Trick!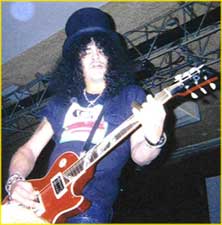 Pretty cool! Here's something else that's cool. We were just talking about how there are only 50 SLASH Les Paul signature guitars in the world. Paul found one! That's right; Paul found one for sale at the Guitar Center in Hollywood (a fave SLASH hangout). This one is #31 of 50, and they wanted $7,000 for it. And Paul said, "SOLD"!! He is going to send some detailed pictures of it so everyone who has asked and wondered about one of these can have a good look. Thanks, Paul and congratulations!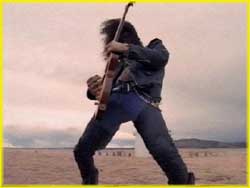 Martijn from Holland says to watch for a program on Dutch TV station TMF (The Music Factory). It's called "The Top 90 of the 90's". And number 1 was "November Rain"! They said that GNR is legendary and so is "November Rain". We'll drink to that! Thanks, Martijn!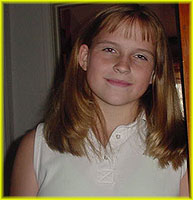 Nasar writes from Poland that he saw the special issue of Guitar Player. In the 100 greatest guitar solos, SLASH comes in at #6 for "November Rain" and #36 for "SCOM". In another section, guitarists talk about their favorite guitar solo of all time. The most commonly chosen guitarist was Jimi Hendrix. However, SLASH chose Martin Taylor for his "Dead Flowers" solo. Martin Taylor is better known as Mick Taylor, and he was lead guitar with the Rolling Stones (replaced by Ronnie Wood) until he resigned mostly over the Stones grueling tour schedule. Many people think Mick Taylor is one of the all time best guitarists in the world. Mick currently plays club shows and seems all the happier for it.

Remember the story of the diamond lost by one fan and returned by two others? Well, we have a note here from Linda who had her diamond stolen at the Houston show, and she'd like to thank publicly the people that helped her, Amy and Brad:



I would like to say Thanks to Brad and Amy---who went way above and beyond the "norm" to help--a stranger!! Words aren't enough to express the gratitude I feel to this wonderful couple. They are shining examples of what all our morals should be in regards to other people and their property and they deserve to be commended. Thanks from the bottom of my heart!!

Thanks to Linda---If you had never taken the time put the information on your site---I'm certain that I would have never seen my diamond again!! Your role in this should not be minimized---I am so grateful to you for caring enough to add something not directly related to Slash on your site-- and for following up via email to ensure that this item was returned to me!! Thank you so very much!!

If either of you ever need ANYTHING----I'm here---and I'll be more than happy to return a favor!!

Slash Fans ROCK!!!

One final reminder that SLASH will appear on Loveline this Thursday from 10-12pm on KROQ in L.A. There is no internet feed as far as we can determine. Other stations around the country carry this syndicated show. Tape it for those less fortunate! Thanks.

News Reported: 08/28/01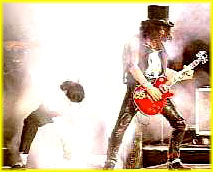 Did you see SLASH on Access Hollywood this weekend? He talked for a few minutes about the Michael Jackson Tribute show and his part in it. SLASH did the interview outside, and his long, curly hair was blowing in the breeze. He leaves this weekend for New York City. We understand that each artist is getting a couple of tickets, and old friends are calling SLASH begging for one of these! SLASH says they are being very careful with the tickets, and the only way to get one is buy it! There are some repeat shows with SLASH this week. These are from the Rock on TV site. Be sure to check your local listings for time changes. On 9/1, VH-1 will carry "From The Waist Down" at 4pm and 5pm, and SLASH is one of many artists to put in an appearance. On 8/30, E! on ETV will carry the True Hollywood Story, the episode about The Sunset Strip. SLASH talks about GNR and the Strip. The show airs at 8pm ET. On 9/7, VH-1 repeats the 100 Greatest Artists of Hard Rock with GNR and SLASH appearing. On 9/8 at 8am is another repeat from VH-1: What's My 20? This is the 20 greatest power ballads, and of course GNR is part of this show. Enjoy!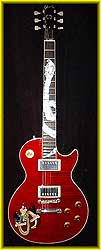 Here's a question that comes in a lot: how many SLASH signature Les Pauls were made? The question is not about the Epiphone model, but the Gibson Custom Shop guitars. SLASH owned serial numbers 1 and 2 (although one was stolen from his home). Why are these so hard to find? Gibson doesn't make these routinely anymore, but there must be some out there. Vance decided to call up Gibson and find out. We guessed 200. Wrong! A customer service representative at Gibson told Vance that only 50 were made! If you want one, it's a tough search. You can have Gibson make you one or buy an Epiphone. They are a nice, affordable guitar; and SLASH has one of these, too. Thanks, Vance!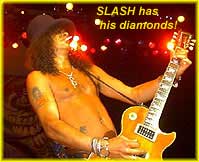 Earlier this month, Amy contacted us with a problem. At the Houston Snakepit show, she and husband Brad saw someone steal a diamond from another fan's belly ring. They went to the thief and told them to give it back, or they would get security. The woman who stole the diamond handed it over and left. The problem was that now Amy and Brad couldn't find the fan anywhere. They sent us a description...a very pretty girl with long red hair and described her clothing and also the guy she was with. They contacted the venue and eventually the police but no one seemed to know anything about it. We put a note on this page, and we found her! She had run lost and found ads with no response and had no idea that it was lost/stolen in Houston. Linda finally saw the note on the SLASH page and got in touch. Descriptions matched so we gave out the phone numbers. Linda is very grateful to Amy and Brad, two very honest SLASH fans who were not afraid to get involved. You two are very special people! Linda also thanked us, and we were glad to help. Amazing SLASH fans Amy and Brad...we told SLASH the story, and he was really happy that you helped out. The tophatted one says, "Thank you"!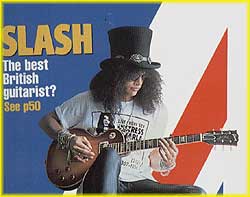 Antonello is a SLASH mega fan from Italy. He reminds fans to pick up Total Guitar which is about the best session players and collaborators. SLASH tabs for "Always on the Run" and "Give In To Me" are included. Antonello says that July's issue was about "The Best British Guitarists", and the largest single vote went to ... SLASH! The article says that "...the most convincing win...like being hit by Uncle Pete Townshend after a month's intensive karate training with Mr. Miyagi. Unstoppable." Thanks, Antonello.

Andy found this really old item. It's the SLASH appearance in 1994 in Mad magazine. There's a SLASH caricature, and then there is a quote from SLASH! Andy found this in a set of CD-ROMS that have all the issues on them. SLASH is truly everywhere:

SLASH on the Cover of Mad
SLASH Writes To Mad
News Reported: 08/26/01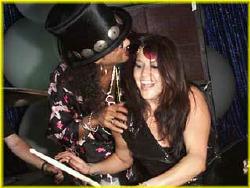 SLASH says we can introduce you to his girlfriend! They have been together five years now and are stronger than ever. Perla is the one with the big smile. She's been to a lot of SLASH's Snakepit shows, and many of you have met her already. For those who haven't, this lovely lady is Perla, the love of SLASH's life. SLASH and Perla make their home in Los Angeles. Hi, Perla, and welcome! We have some exclusive pictures of our guy's lady at the MTV 20th Anniversary Party. She and SLASH had a great time. To check out this photo album:


SLASH and Perla at MTV's Party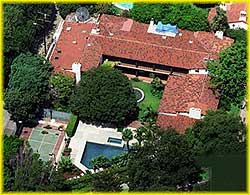 While we don't have a picture of their current home, SLASH sold their previous home (the one with the Snakepit studio) to Billy Bob Thornton and Angelina Jolie. While we can't give out the address (even though the studio means a lot to fans), we can show you this overhead picture of the house and grounds. Beautiful! Lots of room for SLASH, Perla and all the reptiles! Thanks to LuAnn who is always finding these great things on the net!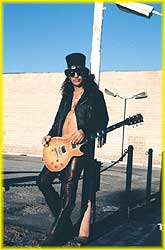 SLASH had his picture taken recently for the Michael Jackson Tribute show publicity. We thought you might like to see it first right here. SLASH will be heading to NYC for the rehearsals late this coming week. While there he will do a lot of publicity appearances including his stint on the Howard Stern show Sept. 7.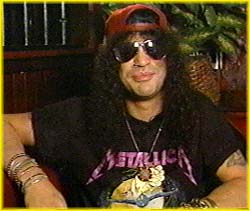 Here's another Q and A with SLASH. This question is from Simone in Italy, and several others submitted a similar one. Simone asks, "Hi there. Why in many songs do you tune 1/2 step down (as Jimi Hendrix did)"?

SLASH replies, "Simone, sometimes we tune down a half step for vocals. For some singers (especially rock & roll singers), it's easier [for them] to reach the notes. Sometimes it makes the tension on the string and drum heads a little bit looser. Mostly bands tune down to sound heavier. The lower the lowest note (within reason), the heavier, e.g. Black Sabbath, Soundgarden, Metallica".

Thanks, SLASH and Simone. That's the end of the older set of questions. We have a new set from SLASH coming up. He answered 15 out of the 16 (10 selected and 6 alternates) questions sent to him. Thanks so much, SLASH!



News Reported: 08/24/01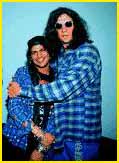 Don't forget, Thursday, August 30 is SLASH's appearance on "Loveline". You can listen on the radio if the show is carried in your area. You can also pick up the show on the internet if you can find an internet station with a live feed from radio. There are 70 radio stations across the U.S. that carry the show with substantially fewer net stations carrying it. It should be a good one, and we will try to do an audio tape of it that we can share in part. After this, Slash will be leaving for New York, on or about, September 3 for rehearsals of the Michael Jackson Tribute show. He will be there from September 4 to 12 as things stand now. He'll be doing the Howard Stern radio show while he's there, and then he will come back to L.A. where he says he will begin work on a new album.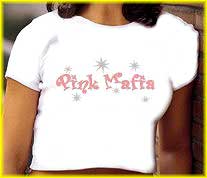 Here's some news on another guy from the 'pit. Keri is in the studio working with his brother, Kari Kane. Kari's band, Liars Inc., is making a new album. They are using Keri's studio, so he's working with Liars Inc. for a couple of days. Keri has also been busy adding on to his web site and designing new tshirts. Wait till you see these three! One is called Interns, another is F*cker (without the *) and the third is Pink Mafia. Check these out, and order one today! When you order, you will also get a guitar pick from one of Keri's bands.


More Keri TShirts!

When you get to Keri's site, click Merchandise to see the shirts.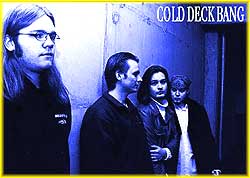 Since the tour ended, there's been some time to update other parts of this site. The Fan Addresses, Fan Music and the Drawings section all have new items sent in by fans. The Tabs section is underway now. It's a good time to write to SLASH and a good time to send in that drawing or tab you've been holding on to. There have been a couple of requests for bass guitar tabs. If anyone has these for SLASH-related songs, we'd be happy to put those up. Please identify these somewhere as BASS TABS. Thanks!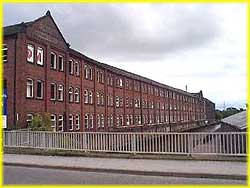 Last time, Tina (proud owner of SLASH's pjs) sent a note about seeing SLASH on a British Airways TV item. While in London on business, Tina made a pilgrimage to the birthplace of SLASH, Stoke-on-Trent. Tina says the town seemed tired and worn down. It is composed of six villages whose primary industry is pottery. The outside of the buildings there are grungy with air emissions. Tina said it seemed like many midwestern U.S. towns with lots of old people and children and not many in between. Despite the pottery factories, it is off the beaten path for tourists, despite the pottery. The countryside is beautiful as is the pottery, but the town is tired. The town skyline by the train station is dominated by a 150 year old church surrounded by a cemetary with broken and overgrown headstones and crypts and ruins of a 13th century church. So, there it is...SLASH's hometown! Thanks, Tina!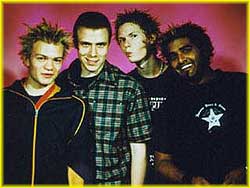 There's a small SLASH mention in the latest Rolling Stone (9/13/01 issue) "Random Notes" column. Sum 41 talks about the great time they had at the MTV 20th Anniversary show...the celebrities they met, the artist that played with them in their set. It says they played with Tommy Lee and Rob Halford "after their dream of jamming out 'Paradise City' with SLASH fizzled". According to frontman Deryck Whibley, SLASH said, "I don't wanna play GUNS with anyone else now". Guns N'Roses, R.I.P.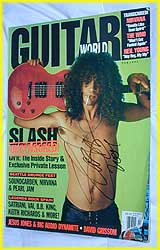 Mike wrote and told us he got to meet SLASH at the Les Paul Tribute in NYC. SLASH signed a '92 Guitar World magazine for him, too. The magazine cover shows SLASH holding his Gibson Custom Shop SLASH signature red guitar. Mike told SLASH he is having the Custom Shop make one for him, too. Mike promises to send photos as soon as it is ready. He's been waiting 9 long months already; and when Mike has it, he will be the envy of all of us! Just a little "Patience", Mike! Thank you! Aurelie was also there at the Les Paul Tribute show. She said it was amazing, and SLASH played differently than ever before. Aurelie was lucky enough to get a pass to go in and was able to see both shows. She said one guy kept telling SLASH that even though he'd seen SLASH many times, the first show was the coolest thing he'd ever heard in his life! Aurelie says she has some pictures and will send them along later. Thanks, Aurelie!



News Reported: 08/22/01


A reminder that next Thursday, August 30, SLASH will be on radio station KROQ Los Angeles. He'll be on from 10pm till midnight PT doing the "Loveline" show. "Loveline" is a popular show and is syndicated in the U.S. KROQ does not broadcast on the internet. There are syndicated radio stations across the U.S. that you can check on if you need to have internet access. Here's a list of stations that carry "Loveline". You can check to see if they have internet feed. Here's the list of "Loveline" stations:

Loveline Stations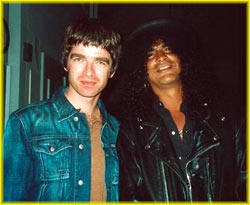 We have a SLASH sighting from Tina, the winner of SLASH's pajamas in a charity auction. Tina was on her way to London on business, and she was flying British Airways. Before they showed the second movie on the flight, they had a 30 minute filler called "Star News". Tina said she wasn't really paying attention when suddenly, there was SLASH on the screen! He was talking about the Black Crowes/Oasis show he went to in L.A. Tina said she was making a pilgrimage to SLASH's hometown of Stoke-On-Trent mostly to check out the pottery factories there but also to breathe in the sacred air (our words, not Tina's!). We hope to have a report of her trip to SLASH's birthplace soon! Thanks, Tina!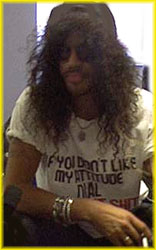 On the auction sites, you may have noticed a Dutch magazine called Aloha being offered for sale. Martijn from Holland was able to tell us what was in this magazine. There is a one page article about SLASH based on an interview SLASH did with them. In the article, SLASH looks back at the GNR era. SLASH says he made a big mistake giving Axl soch influence. SLASH explained why he started Snakepit and says he is doing fine without GNR. Thanks, Martijn!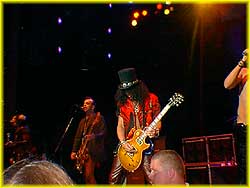 Steve was on holiday in the Greek Islands. He says it's a place where clubbers and bubblegum bands go. The audience is mostly shed music people. This is not Steve's scene at all, but he found himself in one of these clubs when they played "Sweet Child O' Mine" and other rock and roll songs. Steve went wild! He reminded people who these guys were, and everyone remembered and started moshing and going wild to rock music! The next night, Steve took in his Ain't Life Grand album, gave it to the DJ and said...give it a whirl. Later that night, Steve hears the opening chords for "Been There Lately"! And later the DJ played "Ain't Life Grand"! The best part was that everyone loved it. Steve said it converted a whole crowd of garage music lovers into "respectable members of the public"! The next day, the DJ bought the ALG from Steve. Thanks, Steve!


Dave and Ferry are from Holland, and they let us know about seeing the Dutch music TV show, TMF recently. TMF did a segment on the Top 20 Guitar Legends. SLASH came in at number 12, and Dave says they played the "November Rain" video for SLASH. Here's the list from 1 to 20: Jimi Hendrix, Jimmy Page, Eric Clapton, Eddie Van Halen, Pete Townshend, Brian May, Mark Knopfler, David Gilmour, Carlos Santana, Kirk Hammet, Richie Blackmore, SLASH, Adje van den Berg, Keith Richards, The Edge, Richie Sambora, Nuno Bettencourt, Johnny Greenwood, B.B. King and Gary Moore. Thanks, Dave and Ferry!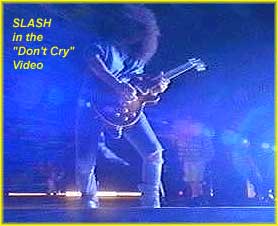 Speaking of lists, Paula sent us a list of the Top 20 Power Ballads from VH-1. Guns N'Roses had just one in the list, and that was "Don't Cry". "Don't Cry" was the first song the band ever wrote together though it didn't show up till their third album. The first five are: "Always" by Bon Jovi, "Open Arms" by Journey, "Dream On" by Aerosmith, "Love Bites" by Def Leppard and "Don't Cry" by GNR. Great for "Don't Cry" but what happened to "November Rain"?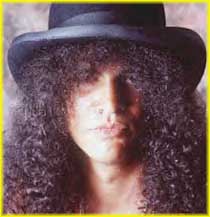 SLASH finished the 10 questions we faxed to him. We had also sent along 6 alternates in case he didn't care for some in the first 10. He answered 15 out of 16! That was great as we were only hoping for 10. This is a good time to send SLASH fanmail, too. Once they go into the studio, it's going to be harder for him to come up with free time. If you haven't written to SLASH before for an autograph or if you need to check his address (which does change), go to www.snakepit.org, scroll down to Main Menu, click Write To Slash. And here's a question/answer with SLASH!

Craig asks, "Besides other musicians is there anyone else that you looked up to during your childhood? Anyone that made an impression that perhaps helped you with your music abilities even though they didn't play any musical instruments?

SLASH replies, "Great movie directors who used great music for their films was and is a huge influence on me. There's too many to name all of them but here's a few: Steven Spielberg, Stanley Kubrick, John Carpenter, David Lynch, Sam Peckinpaw, Francis Ford Coppola and the list goes on and on...".

Thanks, SLASH and Craig! This is a SLASH influence we had not known about at all. We do great interview questions here!

News Reported: 08/20/01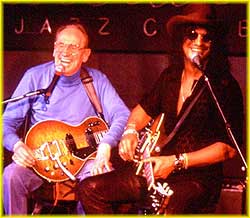 Jason from Michigan and Luis of the Dominican Republic were looking around the Gibson site and spotted both a write-up and pictures of the Les Paul tribute in NYC on August 13. This was the kick off of the 50th anniversary celebration of the Les Paul model guitar. Made in 1952, the Les Paul goldtop has been used by SLASH and many other performers during the years. Gibson's chairman was there as was the Les Paul Trio, SLASH and Al DiMeola. The pictures alone are worth seeing - there are several of SLASH! Check them out at:

Les Paul Tribute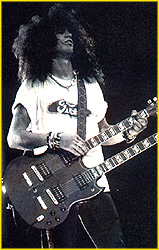 This week on TV, SLASH is on VH-1 with repeats of two recent shows. "Below The Waist: Men, Women & Rock and Roll" airs 8/18 at 11pm and 8/19 at midnight ET. "Before They Were Rock Stars" airs 8/23 at 1pm. Don't forget that the "Before They Were Rock Stars" (SLASH section only) SLASH episode airs 24/7 on the SLASH page in the Videos section!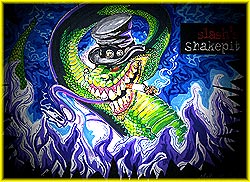 Anthony from Arizona sent us a superfan story last month, and we decided to share it with all of you. Anthony has been in touch with his local radio station because although they use a song off Ain't Life Grand as background music in an afternoon show, they never play an ALG song. Anthony finally wrote to find out why and in the process he found another big SLASH fan. Anthony says there are SLASH fans everywhere! His letter brought a reply from a DJ named Pete who said he is permitted to choose the background music on his show. Pete is a huge SLASH fan, but the powers that be at the station don't consider ALG mainstream enough to play it. And DJs at big city stations don't have a lot of say over what airs as the Program and Music Directors decide that. Pete says he listens to SLASH on his headphones while playing the crap that is currently popular. He really likes Rod Jackson on vocals. SLASH STILL ROCKS! Thanks, Anthony! And to our muffled DJ newfound friend in Arizona, here's to you, Pete. Rock on!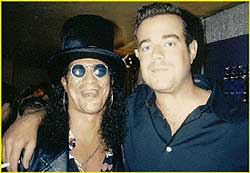 We received five more pictures with SLASH from the MTV Anniversary Party. Three of them appeared on the MTV site, and we thought you might like to see them all together. A small but terrific photo album is linked here. The large images are quite large, but we thought you might like to see them this size!


SLASH At MTV's Anniversary Party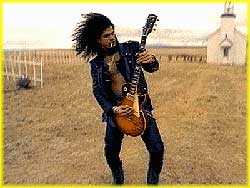 SLASH has taken another set of questions from which he'll select some to answer. If you think of one anytime, send it in. SLASH likes doing this, and we like it too! We'll just hold questions till he needs more and send them on. For answers you may need right away, this won't fit, but when you can wait, send questions (no personal questions, please) to: webmaster@snakepit.org.

This SLASH question is from Diana who asks, "One of the most memorable moments in rock videos was when you left the church in "November Rain" and played your brilliant guitar solo. I understand the actual photography was done from a helicopter. The results were spectacular, with many cuts of you from amazing angles. What are your recollections from the making of that remarkable scene"?

SLASH replies, "Diana, the most memorable moments during the shooting of "The Church" scene were the helicopter "dive bombing" toward me at full speed almost knocking me off my feet. But the hard part was doing it take after take after take from all different angles. The propeller blades were so close I figured one more pass and "November Rain" would have been my last video. Thankfully, "no harm, no foul"!

Thanks, SLASH and Diana! Good question and answer!



News Reported: 08/18/01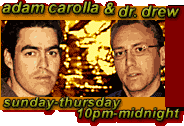 As we mentioned last time, SLASH is scheduled to be on the Howard Stern radio show on September 7. He's scheduled to arrive at 7am. Alan wrote and told us the program begins at 6am Monday - Friday. SLASH is also going to be on KROQ (California)'s "Loveline" show. This is the radio show also, and it's on from 10pm - midnight PT...later as you move from the West Coast. We have a list of stations that carry "Loveline". Some have an internet feed which will help if you don't have a local carrier of the show. Be sure to check the stations in advance as many have dropped online feeds. SLASH to be on the show on Thursday, August 30! Here's the list of "Loveline" stations:

Loveline Stations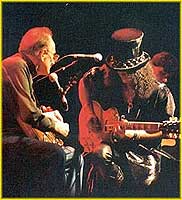 If you still have your August 14 New York Post, check out the Neal Travis column for a SLASH mention and picture! If anyone still has the photo, please let us know. Our copy was faxed and very hard to see. There's a picture of SLASH with Les Paul. It's captioned, "That's rocker SLASH of Guns N'Roses giving a hand to electric-guitar pioneer Les Paul at Broadway's Iridium jazz club, where Gibson Guitars held a bash marking the 50th anniversary of the Les Paul Standard guitar. Les, going strong at 88, still has a regular Monday-night gig at the club".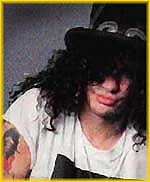 LuAnn found a nice article about SLASH's early days with guitar. It's on the UK Total Guitar site. Nothing new, but it's a great summary of SLASH's guitar beginnings. Thanks, LuAnn!


SLASH Article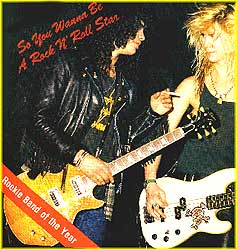 If you were one of the fans who missed the VH-1 show, "Before They Were Rock Stars" featuring SLASH, we've got that for you! You'll see photos of SLASH as a young boy, and SLASH does a voiceover throughout the video. These are the first photos we've seen of SLASH when he was this young! The video is located on the SLASH Videos section of this page, but we'll give you a direct route now. Scroll down to the first video when you get there; that's it!


Before SLASH Was A Rock Star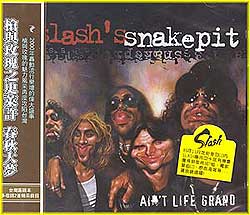 A note to SLASH collectors. We have a source for the hard-to-find Korean version of Ain't Life Grand. This contains all the regular tracks plus the 2 bonus tracks found on the Japanese version. The CD is listed in the sale catalog as $15 plus $3 postage. So if you have to have every version, this is a good chance to pick up this one. Write mrKwang@hitel.net. We got our copy there.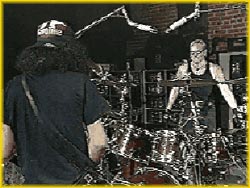 If you're a Matt Sorum fan, look for this month's Modern Drummer with Matt on the cover! As you know, Matt is with The Cult now, and his article covers this successful band. Most of the article concerns his work with GNR and how it all came to an end. Matt discusses his firing from GNR - what happened, who said what, etc. We're glad to see Matt having the success and recognition he deserves with The Cult. He and SLASH are still very good friends.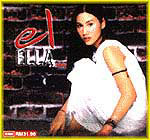 And here the Master speaks! SLASH has another Q&A with a fan, Mauro from Italy. Mauro asks, "I want to ask about your collaboration with Ella, the Indonesian singer. After much research I've found this album, and I like it very much. I would like to know how you were involved because this is a bizarre collaboration like the one with J. If in the future there will be guesting, will there be an occasion to work with an Italian artist?

SLASH replies, "My work with Ella was the result of a phone call from her management. They asked if I could record some guitar for her. Then, they sent me the music. I liked it, so I put some guitar where I felt it belonged, and they were very happy. You never know when things like that are going to happen.

Thanks, SLASH and Mauro!



News Reported: 08/16/01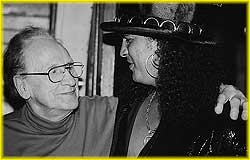 We haven't gotten a report on the Les Paul & Friends shows at the Iridium Jazz Club on Monday night in New York. We have heard that the featured guitarists were SLASH, Mick Jones (Foreigner), Tom Peterson (Cheap Trick), Ticco Tores (Bon Jovi). Keith Richards of the Rolling Stones was also to put in an appearance. Gibson was honoring Les Paul and celebrating the 50th Anniversary of the Les Paul guitar. Les Paul received a special presentation from Gibson during the evening. Watch for pictures in the trade press as the media was out in force. Rolling Stone's online newsletter carried some information today. We believe SLASH will be going back to L.A. before heading back to New York for the Michael Jackson Tribute shows on September 7 and 10. Two weeks of rehearsals preceed the shows. MTV's site today reported that a source close to the production says that SLASH will perform "Beat It" with Lenny Kravitz and MJ. We're trying to confirm Lenny performing with Slash. Those two are great together! Is anyone going or are we all waiting for the TV show?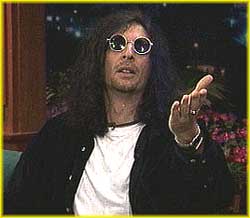 Every time SLASH has been in New York, we've hoped he would be on Howard Stern's show. This is the time! SLASH will be on the show September 7, live! He is scheduled to be in the studio at 7am. Howard's program is syndicated around the U.S. To check a city list with radio stations the show is on, go to:

Howard Stern Radio Stations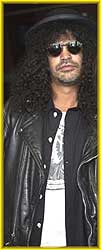 Checking the web for some Les Paul information, we discovered a SLASH video on the Grammy site! SLASH talks about the changes in the Grammys that he's seen. He's funny getting in little digs with facial expressions! You'll want to see this one. Getting there on your own is no easy task now that the site is basically shut down, so here's what to do:


SLASH at the Grammys


Now, go down to the videos and find SLASH-Grammy Changes. Sometimes this will put up another set of videos. Select the date, February 21, at the top of the page and that should bring up the set from the day SLASH was there.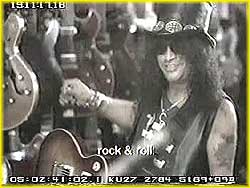 The Mastercard video with SLASH is on the Video section. We told you that the commercial was not being run in the U.S. as it was deemed "too rough". SLASH's reply to that was "it's rock and roll"! Helen wrote to us from Australia after she saw the video here. That same video is being played in Australia with two changes: the voiceover is done by a man with an Australian accent and the SLASH part is cut out! SLASH didn't even break anything! Thanks, Helen, for the update.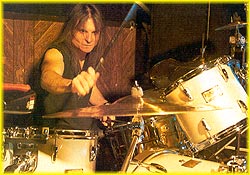 Today we heard from Matt Laug after writing to him about what he is doing now that Snakepit is on hiatus. Matt says things are rockin'! He says his first week back was hectic doing a lot of sessions for a lot of different people. Three albums Matt played on this year are being released soon. All are debut artists, but he hopes they will be successful. Matt says he hasn't talked to SLASH in awhile because SLASH is busy with the Michael Jackson preparations. Matt says it is so great that SLASH will be jamming with MJ and the Jackson 5. He is in touch with Keri, Rod and Johnny; and they are all relaxing at home and doing different projects around town. Thanks, Matt!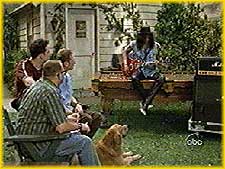 Norm wrote to tell us that the Drew Carey Show with the SLASH episodes will be rerun 8/15 at 6:30 on Channel 59. This is the band episode where SLASH auditions for Drew's new band. Fans in the New Haven and Hartford, CT areas as well as NYC should be able to receive this station. It's a funny episode! Thanks, Norm!


We're getting together a list of questions for SLASH again. He will take 10 to answer this time. If you have any, send them to webmaster@snakepit.org and make the subject be SLASH QUESTION or somethng similar. Thanks! Here's one now from Groyou who is French living in England: "Why is there no songbook (this is a tabs book) at all from either Snakepit album? Do you need to sell millions of albums so that we can have these precious books available? If yes, let us know; and we will buy 3 or 4 copies of each album".

SLASH replies: "Groyou, yes, you sell x-amount of records, then the publishing companies start making songbooks of your music. Hopefully Snakepit will have them soon. Probably after our next record".

Once again, if you are just copying the album from Napster or taping your buddy's album, it hurts the fans, too. No tabs books because publisher's feel there is not enough market for an album that isn't a big seller. No merchandise from distributors either. Go out and get another copy! Thanks SLASH and Groyou!



News Reported: 08/14/01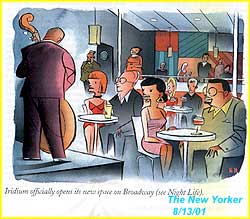 Tomorrow night, Monday, August 13, if you're in NYC, you can go see SLASH! Jeff let us know that the venue for this gig with Les Paul & Friends is at Iridium Jazz Club, a jazz and restaurant club (1650 Broadway at 51st Street). Monday at the Iridium belong to Les Paul, who officially opens the club's new quarters with some of his all-star guitar pals like SLASH. The New Yorker says the new club is in "a cozy basement space with swell sightlines and a sound system designed in part by (Les) Paul". Jeff called the club and the first show is sold out but there are some tickets available for the 11:30 show. Call the club for tickets at 212/582-2121. You'll be seeing Jeff there! Should be a great evening! Thanks, Jeff, for all the information!



The SLASH episode of "Before They Were Rockstars" isn't listed as repeated this week. But if you missed his episode of "From The Waist Down", there are several repeats of that program. These are all the episode with SLASH: 8/11 at 1am, 8/12 at 5pm, 7pm, 8pm, and then on 8/14 at 3pm, 5pm, 6pm, and a final set this week on 8/18 at 10:30pm, 11:30pm. All times are Eastern. There's got to be a time in there somewhere you're available if you're in the US.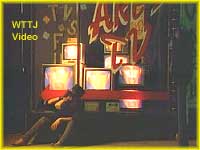 We haven't heard of too many European shows recently with SLASH although he seemed to make a lot of appearances there while on tour. Eische did send us notice of one that will be on MTV Europe at 10pm CET tomorrow, Monday, August 13. This is their "20 Years of Rock" series. Eische says it is in the "masters" series and has, at least in the section "early 80s", some GNR clips. "Sweet Child O' Mine" was on. SLASH, Lars Ulrich and others talk about U2 and Billy Idol. In the "90s section" GNR has a big part starting with "Welcome to the Jungle" and the appearance of GNR at the MTV Headbangers Ball where they wrecked the set. The series repeats starting tomorrow, so tune in if you haven't seen this one. Thanks, Eische!


Remember the charity auction of celebrity sleepwear? SLASH's pajamas brought in the highest amount, and the winning bid was $575. Christina bought SLASH's jammies, and she's been enjoying them! Recently, Christina was interviewed by Blender and we have their funny drawing and Christina's interview right here. Hector let us know about the article, and Christina was kind enough to send a copy. She says she was on the phone for 2 hours with the magazine and exchanged about 25 emails. WOW! SLASH's publicist faxed a copy so you know SLASH read it too. What a great way to get famous, Christina! Thanks to you and Hector!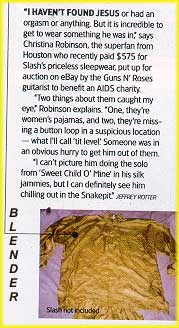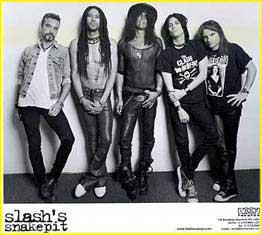 We finished another set of photos from the U.S. tour. These are a mixture of show pictures that came in later and ones from the end of the tour. If you have anymore, feel free to send them. The pictures are also used throughout the SLASH page, and we thank you all so much for these! The photos are at www.snakepit.org, scroll down to Main Menu, click on Tour Photos. The last one put up is the last in the list. If you have time, we can take you there, now:

Tour Photos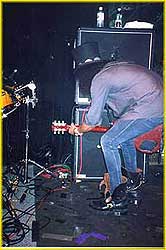 With the exception of one review that just came in yesterday, the show reviews are all up now. These are complete, unedited reviews as submitted by fans. The reviews are grouped together by show (i.e. all the Dallas reviews are together) and the order is the most recent show back to the start of the tour. These are at www.snakepit.org, scroll down to Main Menu, click SLASH's Snakepit, scroll down to this menu and click Fan Reviews. We can take you there right now if you'd like to check them out:


Fan Reviews




This is Kathleen's review of the Kansas City show. Kathleen reports that there was no advertising of the Snakepit show, and she nearly missed it. When she found out he was going to be 2 hours away, and the tickets were only $15, she couldn't stay away. Her terrific dad said he would take her. Since it was all ages, they also packed up her 8 year old sister. They parked in front of the club, the Blue Note, and who did they see crossing the street with some Thai food but SLASH! Her dad said to get SLASH's attention, so she yelled his name and waved. She asked to take his picture, but he had to get to sound check. He was wearing gray shorts, a gray shirt with the sleeves cut out and red converses. His hair was in a ponytail. When he ran in, the music started right away. At the show there were two opening bands, and Snakepit came out around 11. There weren't many people there, and the fans were complaining that there had been no advertisements. They said Snakepit deserved a bigger crowd. Some people drove 8 hours to get there. When Snakepit came out, everyone got up from the tables and moved up by the stage. Kathleen got on some stairs by the stage and sang and danced. She took pictures but the battery died in the camera. SLASH wore black leather pants, a white tank top, a gray long sleeved shirt over it and the S/P necklace. Kathleen left about 12:30am and got home at 3am. She isn't sure if Snakepit met the crowd after the show, but it looked like they would. Someone took SLASH's guitar pedal which is pretty depressing. People tried for his guitar, too! SLASH threw a lot of things into the audience. Kathleen wants to thank Snakepit! It was the best show she's ever been to. The only ones who knew all the songs were her and her sister. Even her dad liked the show, and he isn't into rock and roll. She says the guys should hurry back and keep the shows small. It seems like a bunch of friends getting together. Thanks, Kathleen!



News Reported: 08/12/01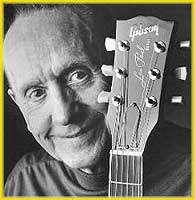 SLASH called in yesterday with a quick rundown of what's happening with him. First, SLASH sounded great! He was laughing and full of energy. As you might expect from his mood, he was playing guitar, rehearsing for an upcoming show. SLASH is leaving for New York City on August 12 and not returning till after the Michael Jackson Tribute shows in early September. The show he was rehearsing for last night was called (or is about) a Les Paul Anniversary Tribute. SLASH will do this show on Monday, August 13. Right now that is all the details we have on it. We're getting in touch with SLASH's management to find out more.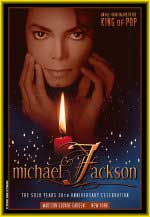 SLASH will stay over in New York after that for the Michael Jackson Tribute rehearsals. Remember this show is at MSG in NYC, and some tickets are still available. While he is in NYC, SLASH will be doing the Howard Stern show. Again, we don't have a date/time. Maybe you Howard fanatics can let us know if Howard mentions a SLASH appearance. Other publicity bookings are being arranged. SLASH says he thinks he might get to do the Letterman show, not as a couch guest but jamming with the band and Paul Shafer. Another possibility is the Conan O'Brian late show. SLASH said there will be lots of publicity bookings, so we hope you New Yorkers and New Jerseyites will keep us posted if you hear anything at all. Thank you! SLASH says he loves to go to New York. We asked what he liked best about NYC, and he said he just loved being able to get out and jam at all the different New York clubs. Keep your eyes peeled for him at the clubs and just walking back and forth to MSG. Don't look for the famous top hat and long hair...look for the ponytail (maybe tucked in his shirt) and sunglasses for sure. We wish you all many SLASH sightings!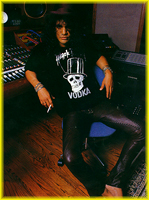 When he returns from New York, SLASH will be working on the new album! SLASH's Snakepit will be doing a new one, and SLASH always says the only reason to make an album is so you can go out and tour on it. He didn't have any ideas on where to tour...either the U.S. or internationally (small SLASH joke). We'll have to wait to hear anything on that. No word on a title or artwork just yet.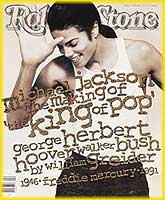 To answer a question that several people have asked, SLASH does not appear on Michael Jackson's new album Invincible. He says that the album is done as far as he knows, and people who are speculating about the artists who are going to do it are asking questions already answered. The album is complete. To see the list of artists appearing on the album, check the Michael Jackson Fan Site. SLASH said that anytime he is asked, he will work with Michael as he is a top notch professional, and they work well together.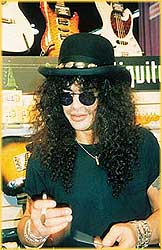 About questions, we have six more questions that SLASH answered before he went on tour. When asked if he would take some more now, he said yes, but not too many. We would plan to give them to him after he returns from New York, and we'll just give him 10 again. 10 seems to be a comfortable number for him, and we can always ask again later. If you have a question for SLASH that involves his musical career, his musical equipment or something in your own guitar playing that you'd like some help with, send them in now. If you haven't done this before, you might check the SLASH Answers Your Questions section (off the Main Menu at www.snakepit.org). No personal questions will be accepted. Send your question(s) (can be more than one but please send them as separate email messages) to webmaster@snakepit.org. The subject should be QUESTION FOR SLASH. The Q&As will appear here. Thanks.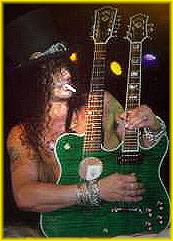 More news from SLASH! He got another guitar back that was stolen during a breakin at his previous home! SLASH was very excited. We'll describe it to you as he did for us. It's a Les Paul, the sister to the one with the cigarette burn on it. He said he was devestated when he heard that one was stolen, so he was very happy to get it back. The thief has been in jail for some time, but he will not reveal where the guitars are. This one was in the possession of a private individual who had bought it in good faith. It was returned to SLASH in excellent condition. SLASH says there are now three that are out there somewhere. We asked if one was Godzilla, the big green Guild doubleneck, but he says he got Godzilla back awhile ago. When asked why Godzilla was not on tour instead of the blue Guild doubleneck, SLASH said because it is a 12 string while the blue one is strung as a 6 string.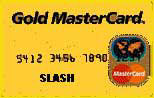 Tonight is a SLASH report night as you can see! We asked SLASH if it was ok to put his Mastercard commercial on this site. Randy, a huge SLASH fan from Texas, saw that we got a copy when one fell into his hands. SLASH said it was fine with him. When the commercial was complete, Mastercard pronounced it "too rough" in the sense that it was not sweet and pleasant like the rest of their "priceless" series. The ending is missing here...where they say...such and such...priceless. But you see the whole commercial and SLASH who has a big smile. We've put it in the SLASH Videos section (off Main Menu at www.snakepit.org), and we'll take you there now if you're ready. Thanks a million, Randy!

SLASH's Mastercard Commercial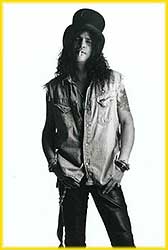 We'll do another Q&A, and this is a good example of the kind of question that SLASH will answer. LuAnn asks SLASH, "Which guitar would you recommend to a 15 year old aspiring guitarist"?

SLASH replies, "LuAnn, I recommend any guitar that you feel comfortable with. What I mean is: the one that sounds good, feels good, looks good, etc. Sometimes the right guitar can take a long time to find. Sometimes it's easy, but it's magic when it happens. Most important - be patient!"

Thanks, SLASH and LuAnn. We hope you've enjoyed this evening with SLASH. He doesn't seem so far away when you have his words right here!



News Reported: 08/10/01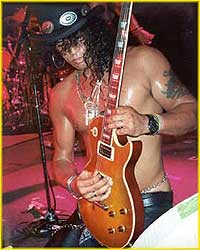 Last night VH-1 aired the episode of "From The Waist Down: Men and Women in Music", and SLASH did make some appearances! VH-1's premise here was that the frontmen and guitar players in rock bands attract women like flies. The main principal seems to be that these guys exude sex and use their appearance and stage performance like peacocks. The idea that this stemmed from trying to look like Jesus Christ seemed a little out there, but the show was entertaining, and it was great to see SLASH. They showed him in the November Rain video and said when SLASH walked in, the idea of lead guitarist as sex symbol really solidified. They talked about the guitar as phallic symbol and how you really did not have to be great looking to attract the women. Being good looking and playing guitar were really an advantage of course as evidenced by Eddie VanHalen, SLASH, Jimmy Page, etc. On the not so good looking side we heard from Ted Nugent and others. SLASH, speaking of the present, said he used to be involved in the huge rock band/rock star climate, but now that had driven him to becoming practically a recluse. He laughed when he said that now women seemed to be attracted as they thought he was mysterious. Good show! It repeats many times this week, so you can catch up with it by checking the VH-1's TV schedule. Tomorrow night, Thursday, is the Before They Were Rock Stars show with Slash on VH-1 at 8pm. We really think this will be the same show as last week. Fans in Europe are asking when these will be aired there. We didn't really know that VH-1 had a European branch. If someone lets us know the schedule, we'll make sure it is listed here also.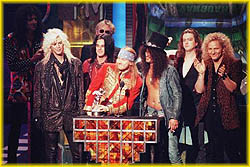 Brian sent a message about MTV, but this is a book called MTV Uncensored. He says it's a great book with quotes and story lines on just about everything that's happened on MYV. GNR's first and second appearances on the MTV Music Awards appear in photos. There's a shot of SLASH with Michael Jackson on the 95 awards. Brian says the pics are fantastic! Along with a photo of Nirvana's 92 appearance, there are some quotes on the incident there between Axl Rose and Kurt Cobain. SLASH says that Duff came up and said that he and Axl had run-ins with Nirvana. SLASH said to Duff, "I don't have time for that shit" and didn't want to be bothered with it. Good reporting, Brian! The book is available at amazon.com and no doubt many other sites and bookstores.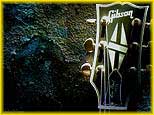 The other day we listed some Instant Messenger logos. We also located some really nice desktop wallpaper with guitar themes. Nothing about SLASH's guitars, but these are beautiful, and maybe some guitar players out there will be interested. There is a Gibson in there, but our favorite is the Mona Lisa. They are free and right here:


Desktop Wallpaper







Some news on some ex-Gunners! Glitter sent us some publicity about the L.A. Rock Festival in Argentina, Saturday, August 25 at El Teatro in Buenos Aires. Appearing with L.A. Guns and Gilby Clarke is....Steven Adler! Good news with Izzy Stradlin, too. As you may know, Izzy released an album called River which was released in the UK only. This made it very expensive for fans outside the UK to obtain a copy. Now, fans in the U.S. can get a copy at a reasonable price...very soon. Bilawn Records of Canoga Park, CA will release River at their online store. River is a 10 track CD filled with the Izzy songwriting and musical artistry you remember from GNR and his other solo albums. Duff McKagan is on bass and acoustic guitar! Longtime Izzy companian, Taz, does the honors on drums and percussion and keyboardist Ian Mac MacLagan adds his legendary talent to the mix. River was recorded at a place GNR fans will recognize, Rumbo Recorders (Appetite for Destruction was recorded here). River will be on sale online on August 20. Buy it at BilawnRecords.com or IzzyStradlinMusic.com. Here's where you can listen to song clips from five of the new tracks (note: click Artists, the Izzy Stradlin when you get here):

River Clips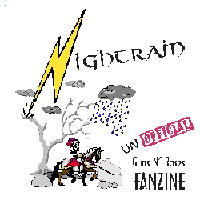 Nightrain is a UK unofficial GNR fanzine that's been around since 1999. Editors Ian and Kim keep you posted on what's been happening in the world of SLASH and Snakepit, Duff, Izzy and the new GNR. It's a well written, very informative publication, and Issue 5 is out! There are reviews, updates and photos and much more. If you'd like to have a copy, check their site for details on ordering. Any questions can be directed to Ian. The site for checking out Issue 5 and ordering your own copy is at:


Nightrain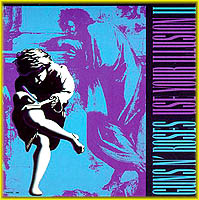 Another from the ASK SLASH department, and this is from Camille in France who asks SLASH, "SLASH, the song "Locomotive" is one of my favorite in the Use Your Illusion albums, and I was always wondering if the name of that particular song came from the main riff you're playing (one of the most difficult to play) which sounds like the locomotive of a train? Once, I heard that this song's original name was "Loco-motive". Is that true? Looking forward to seeing you in France".

SLASH replies, "Camille, "Loco-Motive" is originally how "Locomotive" was supposed to read. I thought it did, but I haven't looked at the Use Your Illusion CDs lately. That song was written instrumentally, and Axl wrote the words to it. I don't know if he thought it sounded like a train or not, but the title really means crazy intentions, hence "Loco-Motive".

Thanks, SLASH and Camille! (Memo to SLASH: the title is "Locomotive" on the track list and lyrics!)



News Reported: 08/06/01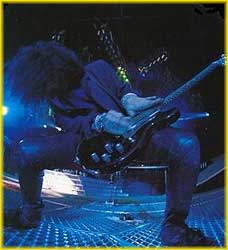 There have been a lot of questions on SLASH's TV appearances this week. With the information on the VH1 and the Rock on TV sites, this looks like the way it will be. First is "From The Waist Down", the episode with SLASH. It airs on VH1 on 8/7 at 10pm, 8/8 at 2am, 8/8 at 11am, 8/12 at 5pm and 8/14 at 3pm. All times are ET. Interestingly, Rock on TV lists SLASH's Snakepit as appearing. Second, on Thursday, 8/9 at 8:30pm is the "Before They Were Rock Stars" episode with SLASH. From the artists listed, this sounds like the same episode that already aired as "highlights". For the "From The Waist Down" episode, it says that..."in the animal world, it's the male of the species that enjoys all the feathered finery. It's no different in rock, where hair, makeup, strutting - and the ultimate six-string electric phallic symbol - have long been the domain of guys. Features fascinating film, TV, movie and news footage and photos, plus new interviews with..."(long list).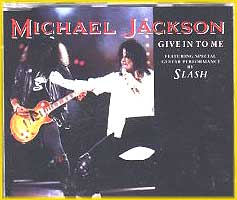 Dane let us know that in the latest issue of Total Guitar magazine in the UK there are some SLASH items. There's a feature on SLASH's work as a session musician - who he's played with and some pictures as well. Tabs for "Always on the Run" and "Give In To Me" are there as well as ones for "Beat It". SLASH didn't play "Beat It" on the album, but he'll be playing it live in NYC at the MJ Tribute shows. Thanks, Dane! SLASH's appearance at the Tribute shows is being announced everywhere. Here's one for England on the Dotmusic site, the largest music site in Europe:


Dotmusic Announcement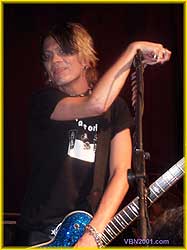 SLASH is busy with this Tribute show preparation. We haven't heard what the other guys are up to except Keri Kelli. Keri is guesting on the CD from up-and-comers Goliath (www.iamgoliath.com) and is doing four shows with Angel City Outlaws. Two shows in Kingman, AZ are over, but these two are coming up: August 10 at Paladinos in Tarzana, CA, and August 11 at Hogie Barmichaels in Newport Beach, CA. Stop in and say hi to Keri!



The big discussion craze is AOL's Instant Messenger. If you have Netscape in a recent version, you should have it, too. AOL is not required. Those AOL buddy logos are not the coolest things we've seen. How about a SLASH pic as your buddy logo? Or a GNR band picture? Or SLASH and friends? We have a bunch of these and will share them with you a few at a time. If you see one you want, you just do a right click and put it on your PC. Follow the IM instructions to replace your lame buddy logo with one of these. We personally have done this and used these. We replaced all our friends' logos on our PC with these cool logos so we don't look at kittens and fish all the time. Help yourself! Danny sent these all to us, and we like them a lot: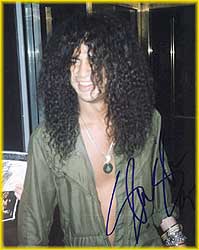 Here's another SLASH Q&A session. This is from Laina who asks, "SLASH, I am a guitarist myself (though I in no way compare to you!), and I was wondering whether you normally read/write tablature or standard notation?"

SLASH replies, "Laina, no, I don't normally read/write tablature although I know how it comes in handy in a pinch."


News Reported: 08/06/01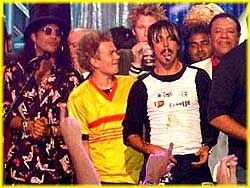 Just a reminder that the MTV 20th Anniversary Show repeats tonight at 8pm Eastern time. SLASH makes an appearance there. He's interviewed and that comes well into into the show. The red carpet interviews that he did won't be on. Lisa said that the SLASH interview was shown in Italy on "Select". This was where SLASH was asked about the MTV beginnings. He said when he came home from work, he laid on the floor to watch till he fell asleep. When he got up in the morning, the music videos were still playing! Those were the days! When asked about rock, SLASH said "it is something you do and you love. It is something visual; it's enthusiasm...rock n'roll is rock n'roll!" They asked him about what he thinks will happen on the music scene, and said, "It's one of the unsolved mysteries. It is all so unpredictable, nobody can say what is gonna happen and what will be successful...". Thanks, Lisa! Dave wrote us that MTV has some photo books on their site from the show. SLASH appears in a couple of the Backstage Photos and in a Party Photo. There are several photo books there, but these are the ones SLASH is in. Thanks, Dave! Check them out at:

MTV Anniversary Photos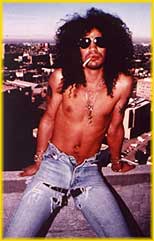 A VH-1 spokesperson says that the "Before They Were Rock Stars" episode with SLASH will air Tuesday, August 7 at 4:30pm. Whether this is a repeat of the show last week or not, we don't know. VH-1 will begin airing their show "From The Waist Down: Men, Women & Music" on Monday, August 6. SLASH appears on this show, but we don't know which day. The show airs each night, Monday through Friday next week, at 10pm Eastern. While we think SLASH may be on Tuesday, no one is certain about this.


SLASH said in some New York interviews that his next step is to go into the studio and make a new album. So it looks like the tours and shows are over for the time being. We have no word on any gigs at all right now. SLASH is getting ready now to go back to New York for a couple weeks and rehearse for the Michael Jackson Tribute shows where he will play with MJ as well as The Jackson Five. SLASH will do "Beat It" and "Black or White" with Michael. No word yet on the Jackson Five songs. Here's a trade announcement in the Music Industry Network News (mi2n) about SLASH's appearance:

SLASH and MJ Announcement
We have a couple fans with reviews and one with a problem. Let's look into this. If you were at the Houston show and are missing a diamond from a belly ring, we can put you in touch with the fans who have it. They'll need your description and a description of the diamond. If you lost it, send a note to webmaster@snakepit.org with the descriptions; and we can put you in touch with the fans who have it. Thanks!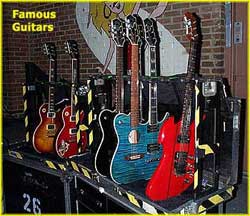 Here's a review on the Slim's show in San Francisco from a fan with a long handle that we'll shorten to WME. He and his buddy Dylan got to the club before 6, but there were already about 20 people in line. SLASH and Matt came out to the tour bus there but drove off in an SUV. Rod and Johnny then came to the bus. WME asked them if they were going to rock tonight...and Johnny said...no, we're going to suck! Everyone laughed. Keri came out wearing shorts and a TShirt looking almost skinny. Eventually those three went back into the club, but Matt and SLASH were still gone. WME found a place dead center to the stage. He was leaning on one of SLASH's guitar crates. WME says about the show, "From the first second they came on to the last second they were still visible leaving, they rocked harder and better than I've ever experienced or even heard about before." WME had his camera and took great pictures. SLASH was 90% of the show playing probably every guitar he brought. SLASH and Rod dripped sweat over him, and he got to touch SLASH's guitar while he soloed. They waited for the guys to come out and get an autograph. When SLASH came out, he was MOBBED! But WME fought his way over and got an autograph and a picture with SLASH. Matt and Keri didn't come out when he was there. A tech took WME's flyer inside for Matt and Keri to sign. Snakepit Rules! Thanks!



Cori's review is from the Galaxy in Santa Ana. She and her boyfriend went to the show. Previously, her boyfriend had flown to Allentown, PA to see SLASH, but SLASH got sick and the show was cancelled. Disappointing! But they were glad to go to the Galaxy and see SLASH up close. Neither has ever been that close to a performer before, and it was very intense. They didn't get autographs which was a big disappointment. Cori says that she was never a Snakepit fan, but after the show, she has a greater appreciation for their music. She loved the music and the beats. The music was great live, and Cori says she has really grown into their type of music. Welcome! Thanks, Cori!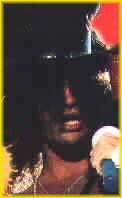 How about another SLASH Q&A? This is from Serrin, "Of all the crowds you've played for, which crowd was most favorable to you? And have you ever thought of doing vocals on one song? Because I've heard you sing and I think you have a great voice."

SLASH replies, "South America so far is the going favorite audience to play live for. Why? Because they are insanely passionate about their music!" As for Serrin's second question, "Anyway, thanks for the compliment about my voice, but I don't really enjoy singing very much. I don't have the personality for it."

Thanks to SLASH and Serrin, too!


News Reported: 08/04/01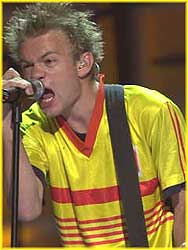 Yesterday afternoon and evening should have been a feast of SLASH TV appearances, but with the usual amount of confusion, we managed to miss some and would be grateful to hear your description if you saw these. First, we found out at the last moment that SLASH would be on CNN Live which was CNN Showbiz. Confusing. The news tip on Chandra Levy took hold of CNN Live and blew past the time SLASH was to be on. We then got word he would be on CNN Headline News where they were talking about the MTV 20TH Anniversary show. While watching that, we forgot to check out the red carpet arrivals on MTV prior to the show start time at 8pm. SLASH was supposed to talk to some arrivals, and we missed this, too. There was a SLASH mention from Sub 41 (upper left). When asked which celebrities they would like to meet, one of them said..."Oh, SLASH! I want to meet SLASH"! We hope he did.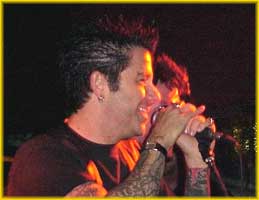 Luckily (?) we caught the final appearance where SLASH and Rikki Rachtman (at right, late of MTV's Headbangers Ball) were interviewed. Rikki battered MTV about cancelling Headbangers and said he would come back anytime to do this. A lot of time was devoted to this. Finally SLASH got to speak. He was asked about the Tribute to MJ show, and he spoke about how much he was looking forward to it. Rikki kept joking around saying MJ had given SLASH a monkey! SLASH gave him the famous SLASH longsuffering look. Then, Rikki said at the end...you ought to see SLASH moonwalk. Fortunately, SLASH didn't dive off the balcony or toss Rikki over, so it was an ok interview.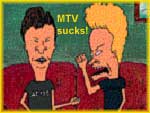 Personally, we felt out of place with all the rap and hip hop fans and were glad to see Aerosmith and Billy Idol and Beavis and Butthead. Perhaps Beavis said it best, "MTV sucks!" If you saw SLASH on CNN or doing red carpet arrivals for MTV, please let us know.



This is as good a place as any to announce that SLASH taped "MTV Headbangers Ball: Uncensored" while he was in NYC. No word on when this will be aired or if Rikki is involved as the host. Let's hope it's Rikki rather than some of the talent they have there now.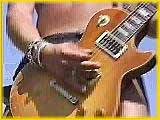 Our friend Ternell researched the TV Guide and found that the MTV 20th Anniversary show repeats this Saturday, August 4, at 8pm Eastern. In looking ahead to next week, Ternell says she thinks SLASH will be on part 2 of the series "From The Waist Down" on Tuesday, August 7 at 10pm Eastern time on VH-1. This part of the 5 part documentary is about guitar gods and frontmen. The VH-1 show "Before They Were Rock Stars" with the SLASH episode airs on August 7 at 4:30pm ET and PT. We think those highlights this week may have been the whole show, but we'll tune in just in case. Thanks, Ternell.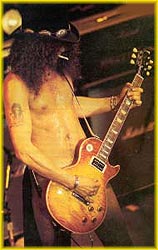 Hey, Ternell got some more news for us! She found this magazine recently at Barnes and Noble, Guitar World Presents Guitar Legends: 100 Greatest Guitar Solos. SLASH is listed at number 6 for his "November Rain" solo and at number 37 for "Sweet Child O' Mine". He is asked about his favorite solo, and there are guitar tabs included. Thanks, Ternell!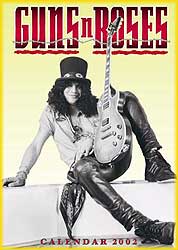 We might as well get Ternell's third report out now. The Guns N'Roses 2002 calendar is out! We haven't seen the monthly pictures yet, but here is the cover! Looks like another good year of the original band. We were able to buy several copies over at Amazon.com in the Z Shops. Other stores will have them soon; but if you can't wait, there's a place to get it right now! Many thanks, Ternell!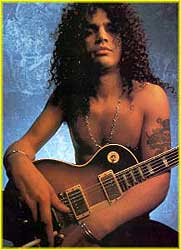 Back in July, we referred you to a great SLASH interview on the Classic Rock Revisited site. We just learned that there is a place to vote there for your favorite interview during July. SLASH's interview is up against Ted Nugent's, Mick Box's and Geoff Downes' (Asia). SLASH's interview was terrific and is being run over by Ted Nugent! If you'd like to vote for his interview, here is the place to go, and the interview is right there if you want to read it again. Note that the voting boxes are at the far right in case you need to scroll over:

Vote For SLASH Interview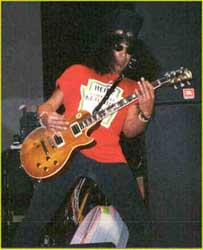 A tour show review has come in! Bill was at the Nashville gig and said it was a great show with lots of energy. He said it was the first time he'd seen any of the Gunners live. They didn't do "Beggars and Hangers-On" or "Be The Ball" which was a disappointment, but it was a great show. SLASH was outside at 4pm signing autographs which Bill missed but heard that SLASH would not sign GNR merchandise or anything but Snakepit things. We think many of us with signed GNR CDs and guitars and miscellaneous photos know that isn't true. No one has ever mentioned that they felt pressured to buy anything at the shows or couldn't get SLASH to sign anything they put in front of him from napkins to Michael Jackson CDs to GNR photos. Bill brought in a copy of "Been There Latly" just in case. Strange how rumours get going so quickly. Did you see a red haired guy hanging around? Bill loved the show, so next time, Bill, take your GNR stuff in. No one loved GNR better than SLASH.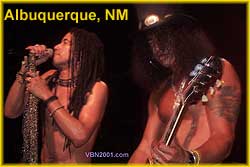 One show we heard little about in the way of reviews was the Albuquerque, New Mexico show. We got a note from Floyd who took some great pictures there and has them on his site. They really are worth seeing - very professional looking. So check them out at:

Albuquerque Photos
News Reported: 08/02/01