Monday is Labor Day, a national holiday in the U.S. Labor Day honors the American worker, and a lot of those workers streamed out of work early today to get a jump on the holiday weekend. Dut to our own holiday plans, this page will not be published on Monday, September 2. We'll return Wednesday, September 4. Have a great, safe holiday!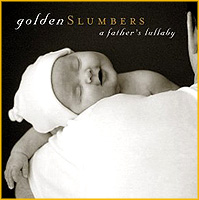 SLASH's son was born August 28. We're told that London Emilio Hudson weighed in at a healthy 9 lbs. 4 oz. and is 20" long. He's said to have Daddy's black, curly hair. This is the best news in a long time, so the announcement stays up a little longer. Welcome to the world, Little London! Your Daddy has a lot of fans who wish you a life of happiness. If you'd like to be included on a card we're sending, send your name and country or state if US to Baby Card, and we'll write you in. If you feel the need to send remarks, keep it very short! We'll cut this off on Monday, Labor Day.



A side note on the blessed event. As you may know, SLASH and Perla's anniversary is October 15. And London was born August 28. Our own anniversary is October 15 although it predates theirs by several years. Out daughter was born...you guessed it..August 28 several years before London. Some of you share SLASH's birthdate, but these two dates seem really a strange coincidence!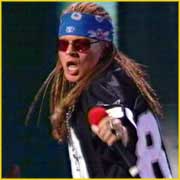 There's certainly been a big uproar in the SLASH mail about the MTV Video Music Awards where Axl and the new GNR made their first US nationwide appearance. One fan was very positive...many were extremely negative and most were in the middle, so it seems we give the performance a B or C. Almost everyone cited Axl's breathlessness on the first song, "Welcome to the Jungle". Most people seemed to prefer the second song, "Madagascar" best. And "Paradise City" was also slammed as shortened with Axl out of breath and just out of it. Maybe the band should switch to their own songs? Lots of comments on needing three guitarists onstage... not one of which or altogether could beat SLASH. Keep in mind that there are lots of someones somewhere who have your opinion...and other opinions. We missed the whole thing. For those of you who missed it, you can go to the MTV site where they have "Welcome to the Jungle" on video. Axl needs to remember to take a few breaths now and then. Also, the show is being repeated often. Here are some repeat dates and times. All times are ET: 8/29 11:30pm, 8/31 1:30pm and 8:00pm, 9/1 11:00am, 9/3 at 6:30pm and 9/6 at 12:00pm.

MTV granted Axl a full 8 minutes for the new GNR performance which everyone agrees was more than generous. Now here is what Miss Truth on CDNOW had to say that tied two big stories together:
_______________________________________________________


MISS TRUTH

==================================================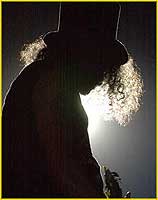 "Guns N' Roses are given eight full minutes for the VMA's? We'll soon see about that! And, Slash puts down his Jack Daniels bottle and picks up a baby boy."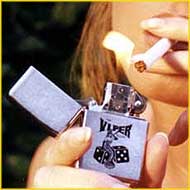 Enough of things that have already happened! Here's a forthcoming event. Once again, the California fans luck out with a chance to see SLASH in person. The occasion is a sad anniversary in U.S. history. Last year on September 11, 2001, the U.S. was attacked by terrorists who flew passenger filled jets into the World Trade Center Towers, the Pentagon and into the ground in Pennsylvania when overcome by passengers who gave their lives to protect a possible White House attack. September 11 will be a day of mourning in our country. SLASH was in New York when the Towers were hit and went down although he was fortunately in an uptown hotel. He had been playing the second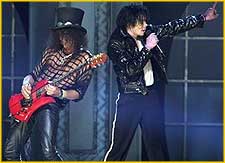 show of the Michael Jackson anniversary tribute the night before. We spoke to him there, and he described the air as full of dust and papers and a city full of sirens and confusion. This September 11, SLASH will be taking part in a memorial concert at the Viper Room. This will be a rock and roll candlelight vigil with performances by Duff McKagan's band Loaded and an all star band featuring SLASH, Matt and Duff. Proceeds go the the West Hollywood Emergency Fund. If you're out there, get tickets now as they will go fast and be with others who grieve over the 9/11 event but are looking forward to a brighter tomorrow. Baby London sends his regrets.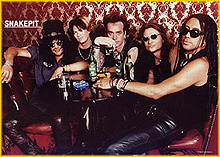 Awhile back, a TV listing was given for an MTV show called "No Hit Wonders". If you tuned in, the show was not on. Here it is on the schedule again: 9/5 at 10:30pm ET. This is a show on bands that looked like winners but didn't make it. Lots of bands listed here, but the ones you'll be most interested in are SLASH's Snakepit, Izzy Stradlin and the Ju Ju Hounds, Duff McKagan. Some other artists are Don Johnson, Jane's Addiction, Spice Girls, STP, Scott Weiland and several more. Might as well put this other TV listing in here: Behind the Music: Metallica on 9/1 at 5:00pm. Small section here on the GNR/Metallica tour.



If you're here in the US, and you work, this one's for you! Have a GREAT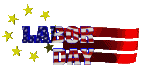 AND YOU, TOO, SLASH!





News Reported: 08/30/02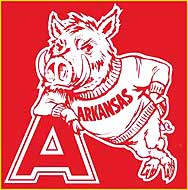 The remaining news can't be as exciting, but it's still interesting. Did you know the original Guns N'Roses were helping the Arkansas football team prepare for the season? GNR's music is being blasted at the players to simulate crowd noise so the team remembers to use hand signals instead of communicating verbally! And you just know one of those songs is "Welcome to the Jungle" with it's "I wanna watch you bleed!".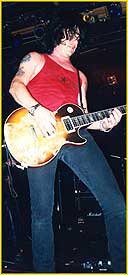 Shari announces the latest issue of her Black Velvet Fanzine is out. It includes a review of Gilby Clarke and the Love/Hate show from Nottingham Rock City back in April. The review has a Gilby pic, always a plus! This is a great fanzine. Like to find out more and maybe send for an issue? Shari says, "Go on, send for a copy! (I need to eat!:))". Here's where you can find out how to get your copy:


Black Velvet Fanzine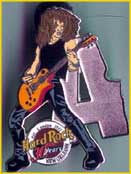 Are you into the Hard Rock Cafe pins? Even if you aren't a big collector, maybe you can find it in your heart and wallet to participate in this auction of Hard Rock pins. The money raised will be donated 100% (and you don't see that number often) to help some of the victims of the flooding in Europe. These are the littlest victims in Dessau where the kindergarten was flooded. There are some awesome pins to bid on...some we have never seen before and some common ones. Please help if you can. The auction ends Saturday, August 31 at 4pm ET, 1pm PT and 10pm GMT+1. If you want to bid, click on the rightmost column. This is not a big, fancy auction, so be patient and look around to see exactly what to do. Many thanks from all those donating pins and from the kids in Dessau.

Charity Hard Rock Pin Auction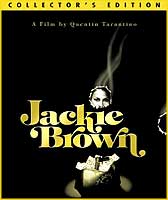 On the VHS video for Jackie Brown, there are a few seconds of SLASH's 1995 Snakepit's "Jizz Da Pit". This is the scene where Jackie Brown, Sam Jackson and Robert DeNiro are watching a TV video on "Chicks With Guns" about different guns Sam sells to his customers. You can hear "Jizz Da Pit" then, but it is very, very short. Denis saw the DVD version with its bonus material. The whole video itself was a phony, remember, just made for the movie. An entire video was made although only seconds appear in the movie. But on the DVD in the bonus section, they show the video in its entirety, and the opening segment is set to "Jizz Da Pit". Denis says rent the DVD and check it out...it's really funny! Thank you, Denis!



News Reported: 08/28/02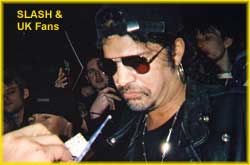 Today we received our newsletter from SLASH's fan club. The information is a nice summary of what SLASH has been doing over the past few months. His appearances with Chic and Motorhead and others are here. There are some nice pictures, updates to his discography, a pic of his 1987 Gibson and some merchandise to buy. The pics are black and white with one color. The forthcoming arrival of baby London got some press, too. SLASH and Perla are said to be getting the nursery ready. Can you imagine this child's nursery?! The room is painted like the sky with clouds and planets and a "sleepy" moon. SLASH, like almost every new daddy, has assembled the crib. Wait till he assembles those toys Christmas Eve! They also report that SLASH, Duff and Matt are in rehearsals working on new material. Fan Source, the fan club company, has set up a Fan Appreciation Weekend for Friday, October 11 to Sunday, October 13 at the DoubleTree Hotel in Pasadena. A great many of Fan Source's celeb clients will be there, so it is not just our SLASH. You can meet Richard Benjamin, Morgan Fairchild, Linda Gray, Melissa Gilbert, Paula Prentiss, Stefanie Powers, SLASH and many others. Free photographs and autographs are planned along with souvenir books and screenings of indie films. There will be silent auctions of celebrity memorabilia, and rooms to meet dealers selling their wares. There will also be a private (you and other SLASH fans) reception with SLASH. Sounds really nice. The cost is $124 including the private reception. Hotel and travel costs are separate. This is a members only event; so if it sounds good to you, better sign up at the www.fansource.com site for the fan club and request information on that weekend. Anyone going? It's a stretch for those on the east coast or oversees, but it could be the start of a wonderful California vacation.


This picture will move to the Fan Section, but we wanted to show it to you. Two fans from Hong Kong made these 12 inch figures of Axl and SLASH. Aren't they great?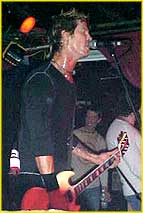 If you've been looking for news of Duff, he's been busy and his Loaded web site has all the details. Duff will answer your questions there on the site. This could be a good time to question him about the new band with SLASH and Matt. There's also a new forum set up there. They have a list of magazines you can look for where Duff has been interviewed and where there are recent pictures. If you have been looking for the Dark Days CD, you'll find it for sale there. And you can download the "Seattle Head" video there as well. Thanks to Lori, the webmaster there, for all that information. The website is at:


Loaded Web Site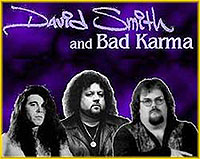 Bad Karma was the band that loaned equipment to Snakepit so they could do their first tour gig. SLASH liked these guys a lot. If you are in the Albany, NY area on August 30, you can see them at the Bayou Cafe.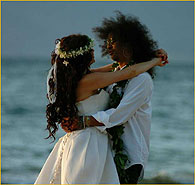 This VH1 All Access show is a repeat, but one that has not been on too often. It's the one on "Rock and Roll Weddings", and SLASH is on for a short time. The show airs on 8/27 at 3pm ET. Another reminder that tonight at 1:30am (actually early 8/27) on VH1 is the "Celebrity Deathmatch" show with SLASH and Axl battling it out. Two shows on 8/28 from VH1: "100 Most Shocking Moments in Rock & Roll"...airs at 1:00pm ET. This one has a brief section on GNR with Axl doing his stage dive that led to the riot. At 11:30pm ET is "Behind the Music" another show with some GNR mention. On 9/1 at 5pm Et is the "Behind the Music: Metallica" with GNR.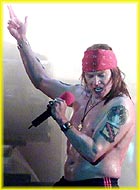 Some fans felt we were too harsh on Axl last time. It's difficult to be laid back at some of his remarks. For example, at his show this weekend, someone yelled "Where's SLASH?" (remember when people yelled "Where's Izzy?).. Instead of ignoring it, Axl replied, "He's up my *ss, motherf*cker." Hopes for a reunion including Axl seem to wither with every one of these remarks. SLASH continues to be silent about all this, and maybe it's just as well.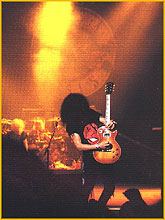 We're sending off some more of your questions to SLASH. Let's take a look at some he's already answered. This is from Marexvoboda from the Czech Republic, "My band plays in bigger venues sometimes. We encounter a lot of problems with "acoustic delay" coming from the size of the stage (even with monitors of course). The result is the loss of contact among us, not meaning we can't hear each other, more in the "feeling way". I wonder if you have some trick to get over this when you were able to play such sensitive "interactive" jams even on the monstrous Illusion stage."

SLASH replies, "Marexvoboda, getting the "communication" factor together is really a monitor situation. You have to dial the monitors so that you can hear everybody properly."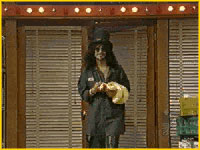 Thanks, SLASH and Marexvoboda! Next one calls on SLASH's snake expertise! Marina asks, "I have had a ball python for a year. I want to know what to put on the bottom of the cage and what to do if it bites me. Thank you."

SLASH replies, "Marina, ask your local pet store for Reptile Substrata. There are many different kinds. The digestible kind is very good! Also, ball pythons as a general rule don't bite. But if yours does bite you, just use antiseptic and water on the bite. Ball pythons are not dangerous."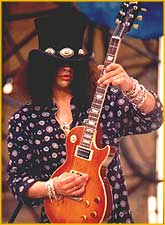 Thanks, SLASH and Marina! In other words, don't swat it with a newspaper or hit back! Here's another music question from Martin Frank in Denmark. Martin asks, "I'm a guitar player in Copenhagen, Denmark. I love your record especially "Speed Parade" and the intro guitars. My question is: did you use a Les Paul for that or did you combine different guitars? It's a fantastic hard rock guitar sound."

SLASH replies, "Martin, I used a Les Paul for almost all of Ain't Life Grand.

Thanks, SLASH and Martin! We're sending out a new batch of questions. If you have something you'd like to ask SLASH, send your question to webmaster@snakepit.org. The subject should be ASK SLASH or something similar. No personal questions, please. Anything about his career, his guitar playing, his pets are fair game!



News Reported: 08/26/02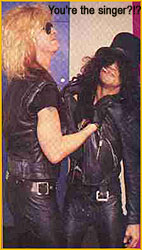 If you are following the SLASH/Matt/Duff plans to form a new band, James has some information from the UK publication Classic Rock. He says there is a big two page spread on GNR in the latest issue with the first page centered around that interview with Duff we heard about awhile back. In the past, the three had said forming the band was not a high priority but something they would work on along with other things they were doing. Now, Duff says it is "the main priority" and is a serious project with them. As you know, they are auditioning singers (Josh of Buckcherry was one of these but did not make the cut according to Duff). The band has become a bonafide project, and we'll be hearing more in the future. The second page is about the new GNR. Thanks, James!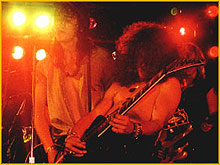 For those of you who like to work with media sharing programs, Adam tells us there is a super video on KaZaA of a Guns appearance on the Fox Late Night Show in 1988. They did "Used to Love Her", and Adam says it's the best performance of that number he's ever heard! He says it is a huge file, but well worth downloading. Please see instructions on KaZaA for locating and downloading the video. Thanks, Adam!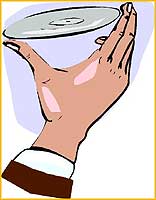 Are you feeling lucky? There are a couple of Guns related contests going on right now. There's a third coming up, and we'll save that till they get the web site straightened out for that one. These two definitely work. Michelle let us know about the first one. This contest is to win the tribute CD, Rock Tribute to Guns N'Roses. We'll warn you in advance that most fans did not like it, and SLASH loathed it - primarily for the quality of the musicians on the album. Still, it is part of GNR's memorabilia; and completists will want a copy. When you get to this site, you just need your mailing address. Look for the center frame and scroll down to "Win New Releases from Cherry Red". Click there and then scroll down through all the contests to the GNR tribute:


GNR Tribute Album Contest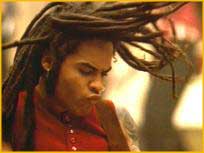 This next contest is only SLASH related in that the artist involved is a SLASH pal. It's Lenny Kravitz, and SLASH and he wrote "Always on the Run" together. The contest is being held by VH1; you can win a trip for two to see Lenny in Toronto, meet Lenny in person, receive an autographed guitar and some other cool things. You'll need to fill in your name, email address, phone number and date of birth. It looks like a super contest! If you win, you can pry some old high school SLASH stories out of Lenny!


Lenny Kravitz Sweepstakes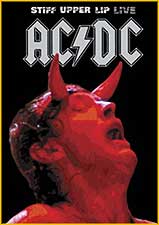 Jonah just got the AC/DC Stiff Upper Lip DVD which has bonus behind the scenes and interviews. For a few seconds, they show someone we know sitting on the couch with the AC/DC band. Not SLASH this time but the SLASH's Snakepit vocalist, Rod Jackson! Jonah said it is not a closeup, and Rod doesn't speak to the camera. It's a shot of the room, and Rod is chatting with the band. Cool! Few hardcore AC/DC fans will know who Rod is, but we do! Thanks, Jonah!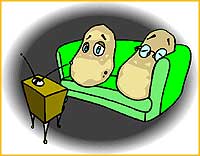 More summertime reruns on TV. This first one is a must. It's "Celebrity Deathmatch", and it's on VH1 on 8/26 at 1:30am ET. This is the hilarious episode where the SLASH and Axl Claymation figures fight it out in the ring. What a hoot! SLASH vs. Axl is on second. It looks bad for SLASH toward the ending, but he comes out on top! SLASH has watched this and found it hilarious and was pleased that his little guy won. On 8/28 at 11:30pm ET on VH1 is "Behind The Music: Metallica" which has some coverage of the GNR/Metallica Tour.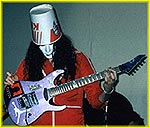 We couldn't decide whether anyone cared about this or not. On the off chance you want to make a comparison, we have unconfirmed word that the nu-GNR live show Saturday will be on the net. Mike from Hungary sent this in. The show starts at 23:00 ECT (London time + 1 hour) from Belgium. We leave it to you to figure out the time where you are and how to access the show. We aren't interested in hearing nu-Guns do 15 old GNR songs with 3 new ones. By the way, European and Asian sites are reporting that Axl has cancelled three shows in order that the band can finish the new album. Australia and Indonesia are rumored to be cancelled as well as Korea. If the album has not been completed in 7 years, we see little hope of doing this next month. Axl hates to tour and is probably sick of it. SLASH predicted that Axl would never do this tour, and he was right. OK, here is the url:


nu-Guns Performing Old Songs





News Reported: 08/23/02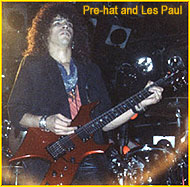 We have two things from the early Guns days and the early SLASH days (pre-GNR) that we'd like to share with you. Ryan is a big fan of the Racer X band,and in visiting their site, he came upon a band called Black Sheep. Black Sheep was formed in L.A. in the mid-eighties. The link between the two bands is Paul Gilbert, guitarist for Racer X, was in Black Sheep. And guess who else they claim as an early 80's member? SLASH! SLASH was in several bands before Guns, and here he is pictured onstage with the caption "SLASH..when you could still see his eyes. Other famous band members were Dweezil Zappa, Geezer Butler, Randy Castillo and more. Black Sheep released an album in 1985 by Enigma Records, but we don't know if SLASH played on that or not. Maybe someone out there has this old album and can check it out. There are 5 mp3 tracks there you can download and check for yourself. Here's where you find the Black Sheep page:


Black Sheep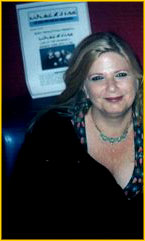 Here's some information on GNR's early days. Vicky Hamilton managed GNR at the beginning of their career. Metal Sludge has an interview which covers a lot of subjects, but does mention GNR. She says she managed Guns, Poison and Faster Pussycat in the 80's along with many others. She currently has a place called Hairball open one night a month with a theme. On 8/29, they will have metal bands come in and do tribute sets. If your band can do this kind of thing, you might want to head over and see about registering. The Metal Sludge people said that Riki Rachtman's club went down the drain after one month, and Club Vodka is in definite trouble. Metal type nightclubs seem to have as many problems as the bands. Vicki said that her name is not listed under management on any CDs because she sold the bands' contracts before they became huge. The most interesting question is about her management of GNR. GNR claims she never managed them and never got them the money she promised them. She sued GNR for the money they supposedly owed her. Metal Sludge wanted a comment, but Vicki says she is under a gag order and can't talk about it. She says she is still friendly with most of the band members. If you want to read the rest, here's where to go:


Vicky Hamilton Interview





Here's another VH-1 rerun. This one is on 8/27 at 3pm ET. It's VH1 All Access. In addition to SLASH, there are segments on Black Crowes, Natalie Cole, Paul McCartney, James Taylor, TLC and many more.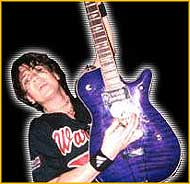 There's news of the Snakepit guys! Keri Kelli has been working on the new Shameless CD, Splashed, which is due out in October. Keri played on half the CD as well as doing backing vocals. He also wrote the songs and helped with arrangements and lyrics. You can see more about this on the Shameless web site, www.shameless.com. Another album Keri worked on recently is the Jani Lane solo CD with Keri writing almost all the tracks. The album is called Back Down to One. This month Keri shot a video with Sonofabitch. Johnny Blackout plays drums for this band with Keri playing guitar. The DVDs should be out shortly. That isn't all; Keri has also worked on songs for soundtracks and TV! A really busy guy. If you have questions or just want to say hello to Keri, his email address is kerikelli007@hotmail.com. Visit Keri's web site at Keri Kelli's Web Site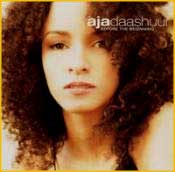 Another Snakepit guy who is always busy is drummer Matt Laug. He continues to have credited appearances on many albums. Recently he worked with Aja Daashuur on her album Before the Beginning. Just before that one was an Australian album for The Calling titled Camino Palmero. Ultimate High was done with Carly Hennessy, and Mi Reflejo with none other than Christina Aguilera where Matt is credited with tambourine! Matt is easy to work with and pleasant as all of us know who got to meet him when Snakepit toured. He is really such a sweet guy and very talented. We wish you all the best, Matt! If you'd like to send Matt a note or question, his email address is MattLaug@aol.com.



News Reported: 08/21/02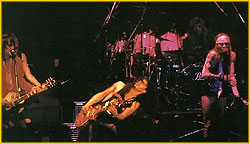 The Guardian is one of the national newspapers in England, and on Saturdays they have a TV magazine with features. Andrew was reading this and found that the main feature was on "What Happened to the L.A. Metal Scene?" GNR is on the cover with the original lineup, and they talk about Motley Crue, Poison and others. Where are they, and where aren't they? The article talks about Axl's growing paranoia, and there is a picture of SLASH wearing a white Donald Duck t-shirt, blue jeans, sunglasses, a cap that says "I'm in no mood to exercise" and holding a pack of Marlboros. Some people don't change very much...except now Slash would be holding Gitanes. Thanks, Andrew!



Torawashi sent information from Japan on Izzy's latest album. This is the one titled On Down The Road. This is not the one with SLASH. That's the next one! Izzy has them stockpiled. Torawashi says this album will be released in Japan on August 21, and there is no word yet on a European or U.S. release. So, if you want one, buy an import or go to one of the Japanese music stores on the web and import it yourself. This will be a very expensive album for everyone outside Japan till there are more distributors. The tracklist from Torawashi is:
01. You Betcha
02. Gone Dead Train
03. Monkey
04. On Down The Road
05. Sweet Caress
06. Coke N'
07. Got Some News
08. Way To Go
09. Please Go Home
10. Lot To Learn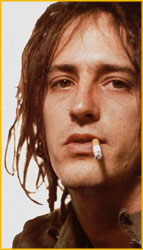 The cover art is pictured here at the upper right. The band will be Izzy's usual band with Taz on drums, Rick Richards on lead guitar and Duff on bass. Torawashi thinks that Ian McLagan will play keyboards on at least some of the album, but that is not confirmed. Meanwhile, Izzy is definitely looking for European and U.S. distributors, but there is no word on any deals just yet. If you want an early copy, then try one of the many import stores on the net or find a Japanese site that also has English. Thank you, Torawashi!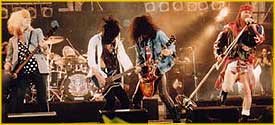 Tonight's definitely an international fan night. There's a message in from Dado of Croatia on a TV GNR tribute show. SLASH got the biggest part of the TV coverage. YES! Dado said that when he finally saw an interview with Axl in Rio, he was stunned at the weight gain and voice. One seems to have gone uphill while the other was sliding down. Although we have no direct knowledge, we understand that Axl has taken off a lot of that, and the argument raging on the GNR list is whether or not he has had hair transplants as his hairline seems to have changed. At least he has a style change...now he is wearing braids. There should be enough camera coverage of this tour that everyone gets a good look. If you've been longing to hear all the old GNR songs played by another band, the setlist for the Axl show in Hong Kong showed 15 out of 18 songs were old GNR songs. So much for leaping into a new musical genre.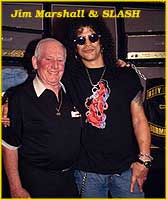 Vicki's from West Virginia, and she has the October 2002 issue of GuitarOne. Just inside the front cover is a two page Marshall ad headlined: "1962-2002 40 Years of Rockin' the World". There are notes and signatures from "happy customers", and of course SLASH is one of them. SLASH's note reads, "Congratulations to 40 years of being Rock & Roll's best amplification. I'm damn proud to be a part of it!! SLASH". Others signing in are: Les Paul, Peter Frampton, Rob Zombie, Yngwie Malmsteen, Zakk Wylde, Lemmy, Kirk Hammett, Ace Frehley, Dave Mustaine, Jeff Beck and many more. And these are just the famous customers! We know a lot of you have Marshall amps, too. Personally, we own the cover for the SLASH signature amp! Snakeskin...got to have it...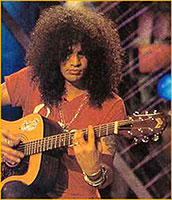 Another mention is this issue of GuitarOne is found in the article on acoustic rock which they've broken down into decades. Under the 80's, is Guns N'Roses information
(in part):
"Essential songs: 'Patience', 'Used To Love Her', 'One In A Million'. Influences: Aerosomith, Led Zeppelin, Joni Mitchell, Eric Satie. There's a band musical history...Appetite for Destruction made GNR infamous for their Aerosmith-influenced rock as well as their unlimited debauchery. After praising this album, they went on to Lies. How Lies has suffered from "One In A Million", and the magazine asks how SLASH could have recorded this since it slandered Black Americans and further cemented their rotten reputation. SLASH tried to wiggle the band out from under the sea of horrible publicity, but he never could. If you talk to him now he wishes he had not played on that one. Jack Black and Kyle of Tenacious D comment: on Appetite..., Jack says, " One of the greatest debut albums of all time". Kyle: "SLASH's riffs are all off the hook. Every kid on earth bought a guitar because of that guy!" And more. Thanks, Vicki!



News Reported: 08/19/02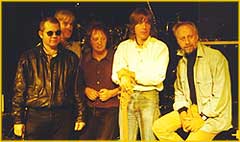 Awhile back, SLASH did a guest appearance with The Yardbirds. The album has yet to be released, but the new release date is Spring 2003. This yet unnamed album has new material, the first in 30 years for the band. The Yardbirds were famous at one time for "Shapes of Things", "Happenings Ten Years Time Ago" and many others. They had the best of the best guitarists at the time...Jeff Beck, Eric Clapton and Jimmy Page. The Yardbirds were inducted into the Rock and Roll Hall of Fame in 1992, and they got back together in 1995 with just two guys from the original lineup. Now they want to release their new material and needed strong guitar playing. Sounds made to order for SLASH! Brian May, Steve Vai, Steve Lukather and Johnny Rzeznik also come in for guest spots. Great!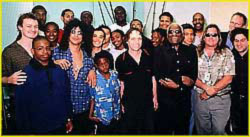 You know SLASH has been working with Ray Charles on that blues guitar charity work with needy children in Los Angeles. Now, they are doing something else together. A guest appearance! Yes, SLASH will do a guest appearance on Ray Charles' forthcoming album Ray Charles Sings for America! The album is due out September 3 and can be pre-ordered right now through Amazon.com (please use our click through). The cost is about $18. SLASH will appear on the song "God Bless America Again" which also features a guest spot by Billy Preston. Get your copy ordered now.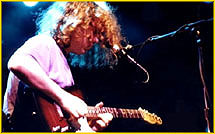 This is another sad week as two bands lost key members. On August 10, Widespread Panic's lead guitarist and founding member, Michael Houser, lost his battle with pancreatic cancer. Houser was 40 years old. Houser had a diverse way of playing which contributed to his unique style. He wove jazz, rock and blues into Panic's shows. He was a humble but friendly guy. He will be greatly missed. 5 days later, the lead singer of the rock band Drowning Pool, David Williams, was found dead on the band's tour bus. The band was part of Ozzfest. An autopsy will be performed to determine cause of death. Williams is said to have been an artist so thrilled by making it that he always had time for fans. David Williams, 30, will be missed by fans and friends alike.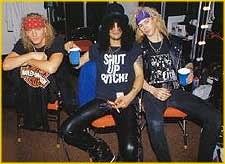 The latest issue of Classic Rock has an article on the possible new band with Matt Sorum, Duff McKagan and SLASH. The magazine says they will do an article with Duff next month, but Duff told them already that the three are serious about putting a band together. Duff said they have been trying out new singers, the most public of which was Josh from Buckcherry (who has been ruled out). They have not found the right singer as yet. Of course they are still hoping to convince Izzy to come in as rhythm guitarist; but with Izzy's reluctance to tour, that might not fly. Clearly, the issue to get is the next one with the Duff interview.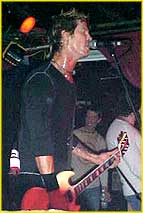 Speaking of Duff, we had a note from Sam that Duff's Loaded album Dark Days was released the beginning of this week in France. The album has a prominent sticker: "featuring Duff McKagan Ex-GUNS N'ROSES". Sam says that many French fans of the original band feel the sticker is not needed, but Sam says the record company decides this.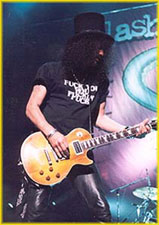 That article quoting a Total Guitar's reader's poll on the top guitarists keeps showing up. Tina said it appeared in the Houston Chronicle on page 2 in the "Newsmakers" section. There was a picture of Jimi Hendrix (ranked #1) and the list of the Top 10 Guitarists. And there was SLASH at #4! Thanks, Tina! Jonas says the Marshall 40th anniversary was covered in the September issue of Sweden's Guitar World. So that story also is on the move. SLASH was the first to receive a Marshall signature amp. Thanks, Jonas!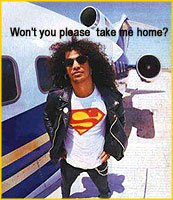 Mark from Australia reports that station KROCK there did one of those Top 500 songs of all time, and "Paradise City" came in at #1! GNR had a flock of songs on the list. Check out the whole list at:


Top 500 Songs





If you live in the Cleveland, Ohio area and have time for some rock volunteering, the Rock and Roll Hall of Fame Museum is looking for help. They need volunteers to help promote the Museum's membership program. The position involves greeting current members and explaining the membership benefits to visitors. If you'd like to help, send your name and daytime phone number to membership@rockhall.org



News Reported: 08/16/02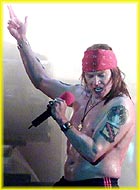 The biggest news tonight is Axl's interview prior to heading for China for the first leg of his tour with the new GNR. If you haven't read it yet, we could give you about 5 urls (and growing) which have the complete statement. Thanks to Rui, Susan, James, Adam and several others that sent these in. There's a lot to it you'll find of interest, but the most painful part to SLASH fans and reunion hopefuls are Axl's lengthy and negative statements about his ex-lead guitarist. We're hoping for SLASH to take off the gloves on this one. Having just insisted to one of his fans at the instore that Axl was still cool...we will add...and Axl's still a typical egomaniacal lead singer that hurls insults through the media. We wonder, if SLASH is so unimportant to him, why he gives SLASH so much coverage. Negative remarks and insults still seem to turn him on, and we see little hope of a reunion with things in this state. Duff also took some hits, but none compare to those dealt out to SLASH.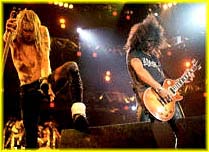 The defense of Huge/Tobias is laughable; the thought of him on the same stage with SLASH let alone feeding him riffs is as hilarious as it is pathetic. SLASH is clearly a cut above anyone Axl has ever worked with, and Axl can't seem to deal with someone whose musical talent meets and exceeds his own. Get rid of the strong personalities and bring in the hired guns. The GNR that is the fans' band is dead and buried. You can hope for an exhumation; but with remarks like these, hell will freeze over before SLASH is on tour with the old band again. We could rave on for hours, but you need to read the whole thing for yourself and think if the lead guitarist WE know who is invited to do guest appearances with pillars of rock and roll is really like serving a prison sentence to work with. We think not. We're behind you, SLASH! Here's one of the many places to see this 2,000 word interview:

Interview With Axl Rose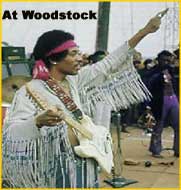 Back to some good news! Once again, if you are in California, you can see SLASH soon. The San Diego Street Scene 2002 has posted its current lineup for the festival that runs September 6, 7 and 8. The Street Scene has been part of San Diego music life for 19 years now. This year there will be a Jimi Hendrix Tribute, and Our Guy will be part of that. The tribute band will be anchored by Jimi's Band of Gypsys and Double Trouble. Jamming in and around all these musicians will be SLASH as well as Kenny Wayne Shepherd, Res, Doyle Bramhall II and Les Claypool. The show starts at 4pm on the Ford Stage with Melissa Etheridge then moves to the Hendrix tribute followed by Ziggy Marley and Blues Traveler. Several other stages will have equally fine and rocking shows. The show is 21+ and goes from 4pm till midnight. It looks like SLASH will be on relatively early. We have the url of the San Diego Street Scene right here, so you can jump over there and find out directions, parking and what other acts are coming. We have a video on our SLASH Video section of SLASH with the Band of Gypsys you might want to check out, too. Be sure to bring back pictures and a review. Since SLASH is taking a beating in the press, get out there and show him what screaming loud fans he has!


San Diego Street Scene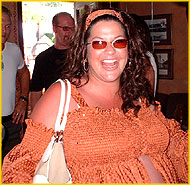 More than a reunion with GNR, SLASH is looking forward to the birth of his first child. SLASH says the baby is due in early September and that tests show the baby is a boy. We wish SLASH and his new son all the best. We hope that SLASH will survive the delivery room ordeal upright. Let's hope the baby is born at night as this is nightowl SLASH's best time of the day! Throw Mom and suitcase in the Jag, Viper or Lincoln and...Let's Roll! Nearly every day brings questions from fans on how the pregnancy is progressing, and everyone is understanding that this is not a good touring time for SLASH. Another thing we've learned is that the baby boy's name is NOT SLASH JR! We were looking forward to that.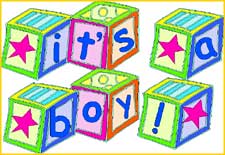 The baby gets his own name, London. This relates to his conception in that city when SLASH was on tour there with Ronnie Wood. If that naming practice sounds familiar, it should be! Sebastian Bach has two sons named Paris and London! So we have two small sons of rockers with the same name. Notice neither is named Pittsburgh or Cincinnati or New York or your town either! SLASH can crank them out anytime, so maybe we all stand a chance! There was a baby shower recently as described by Robert Evans on the Craig Kilborn show. How about a few shower pics to brighten your day? Just to clue you in on some of these, here's who's who...as far as we know!


Baby Shower Pics


Pic 1: Duff and SLASH
Pic 2: Mrs. Saul Hudson...mom to be
Pic 3: Mom to be's mom, family, friends
Pic 4: Mom to be's friends
Pic 5: Duff and his beautiful wife (mom of 2 girls)
Pic 6: Mom to be and SLASH's Mom
Pic 7: Webmaster for slashonline and gf
Pic 8: 3 generations (almost)... SLASH's mom, Mr. and Mrs. Hudson and little London waiting for his cue
Pic 9: The one we love best, SLASH! Looking mighty good and calm as the expectant father.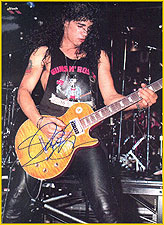 There's a good poll over at the Rolling Stone online site that we'd like you to add your vote to. This is the Readers' Top 100 Albums poll. It's Rolling Stone's 35th anniversary, and the magazine editors would like you to them what you consider to be the best albums ever recorded. They want you to list YOUR Top 10, artist and album title. If you tell them on the ballot what makes your #1 choice the greatest album of all time, your comments may be featured with the final list. In the #1 spot we chose Appetite for Destruction! Let's see if we can get that one in the #1 spot. Here's where to vote:


Rolling Stone's Top 100 Albums List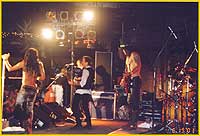 We hope you are reading this on August 14 because tonight at midnight is a fairly strange offering on MTV. The show is called "Ultra Sound" and the episode is "No Hit Wonders". They list SLASH's Snakepit as one of the bands included. MTV describes this show as tackling the artists who longed to be heroes and ended up zeroes. Hey! Ultra Sound is not scheduled again in the near future. If you happen to see this, let us know how it was with relation to Snakepit. Other artists you'll see are: Perry Farrell, Don Johnson, Duff McKagan, Eddie Murphy, Spice Girls, Izzy Stradlin, Scott Weiland. It's always easy to sit back and be the one making snide remarks, isn't it? Sometimes we get a little tired of MTV.



News Reported: 08/14/02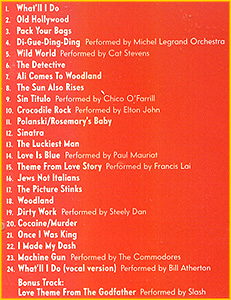 Did you get your copy of the soundtrack from The Kid Stays in the Picture? It's a beautiful soundtrack with the jewel in the crown being SLASH's performance of "Love Theme from The Godfather". As other fans have pointed out, the live intro is missing making this version a little short at 2:22. Or maybe we were just left wanting more from him. In any case, he did a wonderful job, and it's good to have a studio version without people screaming and yelling at a live show. By the way, the CD has a sticker saying "Includes Bonus Track: Exclusive performance by SLASH". It's been too long since we've seen one of those. Thanks to Robert Evans and Jeff Danno who saw that SLASH's performance was included. On ebay today was a cd, autographed posters, press kits and postcards in case you are a fan of the movie, too. It would be interesting to know where in the movie the SLASH song is placed. If you want to check where the show may be playing in your local area, you can try:


Click on Showtimes and Tickets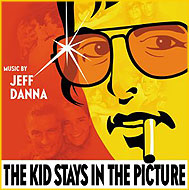 Uros from Slovenia saw another mention of the instore signing. It's on the KNAC.com radio site, and they have a few remarks, the official press release and some nice (but small) photos. The article title is "SLASH Joins Legendary Producer Robert Evans For In-Store Signing". If you'd like to see the article and photos, here they are:


KNAC Instore Coverage

Thanks, Uros!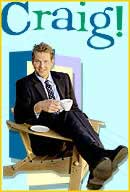 Our nightowl pal Sammy was tuned into Craig Kilborn at the end of last week and reports that Robert Evans was on the show. Evans recently produced and directed The Kid Stays in the Picture, and SLASH is on that soundtrack. Sammy says that although he can't remember it verbatim, Robert said that he and SLASH are good friends and had recently done an instore signing together with Jeff Danna in support of the movie soundtrack. Evans said he had been to a baby shower at the Hudson household the night before. He got Perla to reveal her naked and very pregnant belly, and he kissed it. In case you needed proof of this event, he showed a photo to the TV cameras. Well, there's one you want in your album! Sammy said that Evans then told a story about the necklace he was wearing on the Kilborn show. He said he met a belly dancer seven years ago who was wearing the necklace. After taking a picture of her tummy....no, just kidding! He wanted the necklace and told the belly dancer he would buy it from her. She wasn't selling till Evans whipped out $1,000 and that was her sale price. Evans said this is the only necklace he has worn since he got it. OK! Who was the belly dancer? None other than our SLASH's wife! Evans still has the necklace, and SLASH got the belly dancer which seems about right. Thanks, Sammy!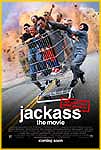 SLASH is becoming a real movie goer. MJ says that SLASH was invited to a private screening of the forthcoming film, Jackass: The Movie at a rented home somewhere in the L.A. area. Also attending were Weezer, Jonny Knoxville, Spike Jonze and the CKY crew. The movie is to be released in October and got it's start as the MTV show "Jackass" where people do stupid tricks and ridiculous stunts. Lots of gross humor. Are you sorry you weren't there? SLASH, let's get that album wrapped up!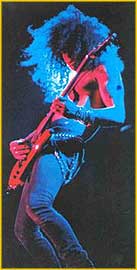 In case you've forgotten that SLASH fans are everywhere, we have a note from a Tunisian fan, Lyes Abid, who tells us that the Tunisian band, Groupe Elyssa, is going to cover "Don't Cry" on their album due out this winter. Lyes knows some of the band members and says this will be a funky, reggae version. The guitarist is a longtime GNR/SLASH fan and gets the credit for adding this number to a North African album. Their fans are in Tunisia, Morocco, France, Italy, Norway and the Dominican Republic. Spread the word! Thanks, Lyes!



News Reported: 08/11/02


A note to the contest winners...we've heard from Ciane and Adina, but the other three have yet to send in their prize choice and address. We need to hear from you by this weekend or other names will be drawn. Here's who needs to check in with webmaster@snakepit.org: Rod Benedetti, Norman A. Blackwelder and Shannon (no last name given). Thanks!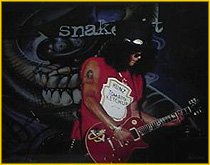 It's been just over a year ago that SLASH's Snakepit was touring the US. The tour ended in July 2001. On July 1, Snakepit did a show at Newport Music Hall in Columbus, Ohio. Maybe you were there! Brian found a radio site that still has up all their photos from the show. If you've been longing to see the guys, it looks like they won't be back...at least with the same lineup. If you go to the RockTalk site, you can see 25 photos of the Columbus show. Most show just SLASH, but there are others with Rod and Keri and Johnny. How do you like SLASH's Heinz Ketchup t-shirt? We gave him that here in Pittsburgh at the show preceding the Columbus gig. He's also wearing the snake bracelet which was ours till that day. He really liked it, and who can refuse SLASH anything?! It's on his right arm. Check these out and remember when summer was a whole lot more fun:

RockTalk...Click SLASH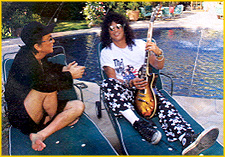 Vicki let us know that there was a picture of SLASH and Robert Evans poolside in this month's People magazine; so we found it, and here it is. SLASH didn't turn out too well, but he is wearing black slacks with white skulls and crossbones. The pool looks fabulous. This is most likely Robert Evans' house.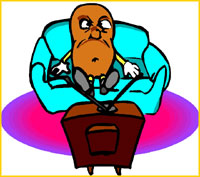 SLASH/GNR sightings coming up on TV...these are both reruns: on 8/11 at 2:30pm ET, ETV will air "The E! True Hollywood Story: Savannah". This woman is destined never to be forgotten as E! reruns this story all the time. Savannah was SLASH's girlfriend at one time; and she was also a porno queen. Savannah had many rockers as boyfriends including Vince Neil, Greg Allman and others. SLASH does not appear, but you can hear him on her answering machine. Then on 8/18 at midnight ET, VH-1 presents "Behind The Music: Metallica". They cover the show in which James got burned by pyrotechnics; Metallica stopped their portion of the show, and co-headliner GNR was asked to come on early. Axl's antics led to a riot.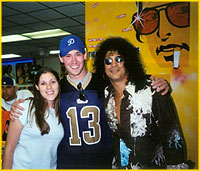 We got reports on the instore at Tower Records (8/6 at 7pm) from three fans who went primarily to see SLASH. At left is a picture of Tommy and Stefanie with Our Hero. This young married couple is from NYC, but Tommy happened to be in L.A. on business, so they made the trip to Tower. Tommy says that SLASH was nice and was cool about getting his picture taken with them. Tommy said he told SLASH that Axl is a dick! The diplomatic SLASH said that Axl isn't and is still cool. Hmmm. Tommy took it to mean there is still hope that our GNR will return someday. So Tommy then said that maybe someday Axl will come around, and SLASH said, "We'll see what he does." They talked about the baby, and SLASH was very excited. Tommy says that SLASH deserves to be happy, and all of us feel that way, no doubt. He wanted all of you to see the picture and know that SLASH is really for his fans. Thank you, Tommy and Stephanie, too! The current vibe toward Axl seems to be conciliatory and hopeful.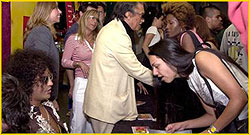 Next mail was from Dave of L.A. He says the instore was awesome. It took awhile to get it all going, and they made a big point of saying you had to have the CD to get an autograph; no one would sign anything but the CD. When Dave finally got a CD, he saw SLASH busily signing all kinds of stuff for people. When it was his turn with SLASH, he shook SLASH's hand and said quickly, "What's up?" and "You inspire me!" and whatever else he could think of. Dave says he was excited and nervous, feelings almost everyone has when finally meeting SLASH. Dave got his autograph and was happy. He has listened to the CD to check out the studio version of "The Love Theme from 'The Godfather' ", and Dave feels it's cool to have this version, but it's missing the gusto of the live version. Dave says it is toned down, and that wonderful intro is missing. The emphasis is more on sounding like the theme than on SLASH doing the terrific guitar work he does live. Thanks, Dave!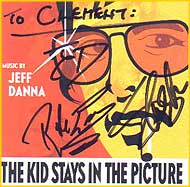 Here's what Clement sent in...and he's also from L.A. The pictures you see here are items SLASH signed for him. Clement didn't think the instore was that spectacular...he says maybe that's because he has met SLASH FOUR times! About 200 people were lined up, and he says about 65% were there for SLASH. SLASH arrived with Robert Evans and Jeff Danno in a limo about 7:15, and the paparazzi were waiting. After posing for a few minutes, they went inside. Clement said SLASH looked more "suave" than his usual casual self. After a half hour, the public was allowed in. There was confusion over whether you had to buy the CD or not. An employee said you had to buy the CD to stand in line; but once you bought one, the three would sign anything you had. SLASH signed four things for Clement..a GNR poster, the CD cover, a Marshall amp calendar, and a SLASH photo. SLASH looked at the photo (seen here) and said, "Wow, I was really colorful that night" referring to his Spiderman shirt. Clement also told him about buying the Gibson Custom Shop SLASH signature guitar for $6000. SLASH was dumbfounded when he heard how much it cost! He asked Clement again...HOW much? It left SLASH completely speechless. Clement asked an important question... when will you be gigging again? SLASH said when the new record comes out, but he wouldn't give any details. He did say that he did not play with Loaded the night before. Clement says "The Godfather" theme is a little different in this studio version than the live version. SLASH uses the "woman tone" where the rhythm pickup is used with the tone turned down. The first minute of the song is very mellow, and Clement says you won't even know it's SLASH. Then things pick up, and you can recognize some of SLASH's signature licks. Overall, Clement thinks it is a good sounding tune, just a little short (beginning is cut out). It doesn't say in the CD booklet who the backing band was. Below are a couple more pictures from Clement. Thanks, Clement!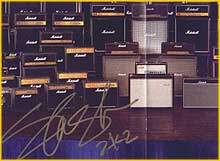 News Reported: 08/09/02


A note to the contest winners...we've heard from Ciane and Adina, but the other three have yet to send in their prize choice and address. We need to hear from you by this weekend or other names will be drawn. Here's who needs to check in with webmaster@snakepit.org: Rod Benedetti, Norman A. Blackwelder and Shannon (no last name given). Thanks!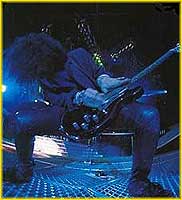 Danny wrote to tell us that Total Guitar magazine did a poll to find the Top 100 Guitarists of all time. We mentioned this last week also, but for some reason the media has really picked up on this. If you've forgotten, the top 5 were: Jimi Hendrix, Jimmy Page, Eric Clapton, SLASH (!!!!) and Joe Satriani. Thanks, Danny for sending this list from Dublin. Johnny K. and Jarmo saw the story picked up by Reuters in London and appearing on Yahoo! Entertainment News. This article says that 400 guitar players were nominated in a survey of about 800 readers and celebrities. They listed their 5 favorites and sent them in. The editor said, "These guys may not be 'cool' by any music critic's viewpoint, but they are genuinely the fastest, loudest, most exciting players in rock and roll. They pointed out that not one woman appeared on the list; and only one was even nominated...Tracy Chapman. The list contained many nu-metal players, and the editor feels that nu-metal has contributed to the renewed interest in guitar playing. Godley saw the poll on CNN, and Brian heard it on the Howard Stern Show this morning. It's great to see SLASH that high up on the list in the great company of Hendrix, Page and Clapton. Rock on, SLASH!


Last night was the instore at Tower Records on Sunset in Hollywood. If you went, we'd love to hear from you. We have some idea how it went from some photos we have. It looks like it was a crowded event with SLASH, Robert Evans and Jeff Danno signing the soundtrack for The Kid Stays in the Picture, Evans' autobiographical movie based on the book of the same name. SLASH is looking good as always in a shirt new to us and looks like the old hand he is at instores. Has anyone in L.A. or NYC been to the movie yet? It's listed as having a limited engagement in those two cities only right now. Have you heard the soundtrack? Our copy has yet to arrive. Let us know what you think of the new studio version of "The Love Theme from 'The Godfather'. Here's some pictures from the instore: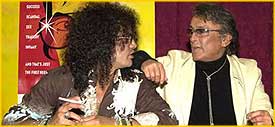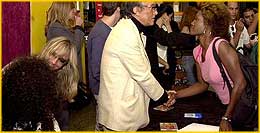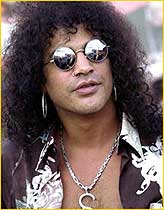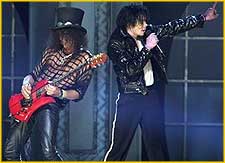 Thanks to Larry for sending in another SLASH sighting on TV. He was watching VH-1, and a show came on about a Michael Jackson impersonator. Larry thinks the show was called "Fan Club". The show opened with a Michael Jackson concert with MJ singing "Beat It". SLASH was standing in the background, head down and jamming on his guitar. Watch for that show repeating on VH-1.



Clement recently bought a SLASH signature Custom Shop Les Paul Standard, and we asked him if he would compare the Epiphone version to the Custom Shop version. We will add this to the Equipment section.

The guitars look very much alike, but the Epiphone uses a decal for the Snakepit logo and has regular trapezoid inlays on the fret board. The Custom Shop has a fully engraved logo, and the fretboard are made of abalone and mother of pearl and is shaped like a snake. The flame bound maple top on the Custom Shop is high quality and is graded as "AAAA" flame top. This rating means top of the line. It is super rare (along with AAA) because it stems from a certain type of disease found in some trees. The disease is what makes the line lines in the "flame".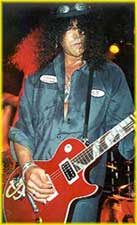 The biggest difference between these guitars (or any other average vs. excellent guitars) is the wood quality. Custom Shop uses top of the line maple and mahogany and is hand selected. The Custom Shop is likely to feel much heavier than the Epiphone due to the density and wood quality. The density creates a warmer tone and better sustain whereas the Epiphone does not provide that same tone and sustain and may have a more hollow sound.

Above all, the care in building a top of the line guitar is where the real difference is made. The guitar is a precision instrument and .1000th of an inch can make all the difference. When guitars are mass manufactured, they have imperfections. If there were just one imperfection, the guitar would still be acceptable to an experienced player. But if there are multiple imperfections, there is a synergy of these problems making them worse than they are individually. Example: if the frets are not sanded properly, it causes a "buzzing" of the strings. To compensate, you have to adjust this part which leads to another part being out of whack. The guitar can go out of tune easily. When a guitar is in limited production, it is done by hand. When mass manufactured, it is put together on an assembly line.

If the Epiphone Snakepit guitar did not have the SLASH-related logos or SLASH's name on it, the guitar would sell for about $200-$300 instead of the $400-$800 a new one goes for now. The Custom Shop without SLASH signature markings would still sell for $4000 to $5000 based on quality alone. But just because it is a Custom Shop doesn't mean that there are no imperfections. A guitar tech can spot these and usually correct them easily. Gibson seems to have lost its touch for quality in recent years. SLASH prefers the older (50's and 60's) Les Pauls himself although he does use his signature guitar live.

Hopefully this answers many questions that we get about these guitars. Thank you, Clement for that good analysis.



News Reported: 08/07/02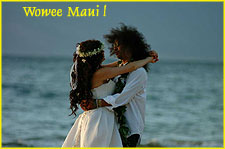 The SLASH contest is over, and the five winners were drawn from all those who sent in the correct answers. We are waiting to hear from you five, so check your mailboxes! The winners are: Adina Hilling, Rod Benedetti, Ciane Sonale Oliveira, Norman A Blackwelder and Shannon. When we hear from all five, we'll get the prizes in the mail...postage free of course. Congratulations! And here are the correct answers:
1. Road Crew was the pre-GNR band formed by SLASH and Steven Adler. TRUE
2. SLASH graduated from junior college. FALSE (Slash dropped out in high school.)
3. Eric Dover was lead vocalist for Snakepit '95. TRUE
4. Blues Ball first played at a festival in Tahiti. FALSE (Budapest, Hungary)
5. Rod Jackson was lead vocalist for the Snakepit '99 band. TRUE
6. SLASH recently got married in Maui. TRUE
7. David Lee Roth was lead vocalist for Blues Ball. FALSE (Teddy Andreadis)
8. Mel Gibson bought SLASH's old mansion and the Snakepit Studio. FALSE (Billy Bob Thornton & Angelina Jolie)
9. SLASH now lives in Venice Beach, CA. FALSE (Out in the Valley)
10. SLASH played "Magic Carpet Ride" on The Coneheads soundtrack. TRUE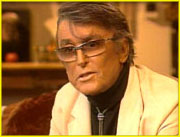 Final reminder that SLASH will do an instore at Tower Records on Sunset in Hollywood Tuesday, August 6 at 7pm. Robert Evans and Jeff Danno will also be there signing soundtracks of the movie The Kid Stays in the Picture, an autobiography of Evans (now 72). These soundtracks are the only items that will be signed. SLASH does a studio recording of "The Love Theme from 'The Godfather' " on the soundtrack. And we have notes from Peace4682 and Vicki that People magazine has a photo of Robert Evans and SLASH in the August 12 issue. Evans and SLASH are poolside, and the caption says, "The young look up to me," says Evans (with guitarist SLASH, who plays the 'Godfather' theme on the 'Kid' CD.) as a guy who's been through the wars but who's still there." Vicki reports that SLASH has on his round shades and is wearing a white The Who t-shirt and black wide-legged pants with a pattern of white skull-and-crossbones, white socks and black tennis shoes. (No hat!) SLASH has his hair down, hanging in curls to his shoulders, and his hair seems to be parted in the middle. He's smiling and looks well. A great picture! Robert Evans is all in black. Thanks, Peace and Vicki!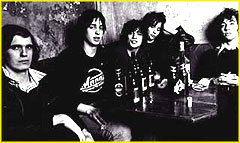 If you've been parked in front of your TV watching MTV2 in hopes of catching the new Strokes video featuring SLASH, Matt and Duff among others, we have good news. The Strokes have put the video up on their web site! Joost let us know that if you go over there, you can see a good quality video that is complete. Watch right from the beginning because our Gunners are on early! They don't play anything, but it is great to see them hanging out in a bar with The Strokes. SLASH's hair is nice and long and bushy with no hat and no sunglasses! The song you want to select is "Someday", and Joost says he liked their music. They sounded a bit like Oasis to us with more personality. Watch for SLASH hunting for money!


Click Music


MTV2 just added "Someday" to their rotation on July 31. You can also see the video on their web site:


Click The Strokes "Someday" Under Play List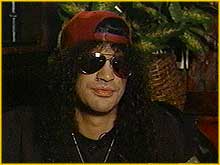 Spin magazine's September issue is out, and they call it "The Metal Issue". This is the one that has Appetite for Destruction listed as #1 in an article on the 40 Greatest Albums. Vicki sent us all this information, and it looks like this issue is one to buy. Another article called "Paradise City" has a small color picture of SLASH and Axl with large pictures of Axl. It says, "Once upon a time, Hollywood's Sunset Strip was metal's Xanadu - an Aqua Net jungle where any aspiring rock god could lose himself (and his midwestern accent) in high-class strippers and low-grade cocaine. Bret Michaels, Nikki Sixx, SLASH, and other Strip survivors relive the glam and gloom of those Hollywood nights, circa 1987." Quotes from SLASH are found throughout the article. Great! Thanks, Vicki!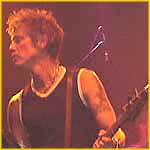 Duff's band Loaded has returned to the US from Europe, and tonight Loaded will appear at the Viper Room in Hollywood. Can't promise SLASH, but he has been known to turn up!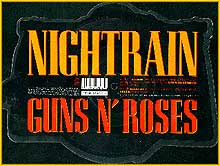 Issue 8 of the "Nightrain" Fanzine is out! Ian sent us word of the highlights in the issue: readers meet at Leeds, GNR news, Gilby tour and album reviews, SLASH news and fan club information, GNR/Aerosmith tribute album review, summer entertaining GNR-style, artwork/cartoons, Guns N'Simpsons, letters, opinions, GNR penpals/traders/merchandise/web site addresses, and much more! This is a UK publication. To get your copy, visit the Nightrain Fanzine web site:

Nightrain Fanzine

Thanks, Ian, for letting us know!



News Reported: 08/05/02

CONTEST ENDS MIDNIGHT TONIGHT! Here's another contest about SLASH. The answers are all found on this page somewhere. You don't need help, do you? Our prizes this time are a mixture of '95 promo photos and the current Snakepit music and stickers. Take a chance! The 5 entries with correct answers win. If there are more than 5, we'll draw for the 5 winners. These are ALL TRUE or FALSE. You don't need to send the question...number 1 through 10 and put a T or F on each line. Then send the entry to webmaster@snakepit.org. Please put CONTEST in the subject. The contest ends TONIGHT, Friday, August 2 at midnight your time. Here they are:
1. Road Crew was the pre-GNR band formed by SLASH and Steven Adler.
2. SLASH graduated from junior college.
3. Eric Dover was lead vocalist for Snakepit '95.
4. Blues Ball first played at a festival in Tahiti.
5. Rod Jackson was lead vocalist for the Snakepit '99 band.
6. SLASH recently got married in Maui.
7. David Lee Roth was lead vocalist for Blues Ball.
8. Mel Gibson bought SLASH's old mansion and the Snakepit Studio.
9. SLASH now lives in Venice Beach, CA.
10. SLASH played "Magic Carpet Ride" on The Coneheads soundtrack.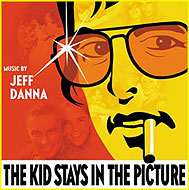 While we're into reminders, remember that Tuesday, August 6 is the instore at Tower Records on Sunset Blvd. in Hollywood. SLASH will be there along with Robert Evans and Jeff Danna at 7pm to autograph copies of the soundtrack (at right) from Evans' autobiographical movie The Kid Stays In The Picture. Jeff Danna was the composer. Here's what the press release says about SLASH. "...joined for this event by guitar virtuoso SLASH (whose rendition of Nino Rota's unforgettable 'Love Theme from The Godfather will be available commercially, for the first time, as part of the soundtrack...". This is one soundtrack we are looking forward to. In the past all the pleas for the inclusion of this song on any of his CDs were just set aside. He said the legalities of recording a song like that are too much. If this movie does nothing else, it got us the song we most associate with SLASH solo. Clement says he is going for sure and will take some pictures and maybe pry some current information from SLASH. Anyone else?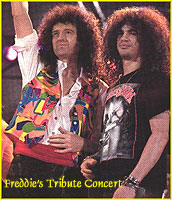 Antii is one of our Finnish contributors. Here's a SLASH-on-TV sighting. On August 1, a documentary was aired called "Freddie Mercury: the Untold Story". Several artists were interviewed about Freddie including SLASH, Mick Jagger, Robert Plant, Elton John, Roger Daltry and Ian Hunter. The show was an hour long, but SLASH's part was short. He talked about his feelings on Freddie and what Freddie's effect was on the whole rock and roll business. The documentary was made in 2000, but the interviews were taped at the tribute concert. Watch for this one! Thanks, Antii!


Here are some shows on U.S. TV, and there's not a new one here. Some are worth a second look. On 8/4 at 5am ET and 8/5 at 1:30am ET, Court TV repeats "Hollywood & Crime". The GNR part here is about Axl in St. Louis and how his aggressive style got him in trouble with the law. The episode name is "Sex, Drugs and Rock & Roll". On 8/5 on E! Entertainment TV at 8pm ET and again at 8/11 at 2:30pm ET is "The E! True Hollywood Story" with the episode "Savannah". Time for SLASH to cringe over this one again. SLASH does not appear in the story of his late porn star girlfriend, but you can hear him leaving a message on her answering machine. VH1 airs "100 Greatest Artists of Hard Rock" on 8/10 at 2am ET. GNR is rightfully included. VH1 also reruns "100 Most Shocking Moments in Rock & Roll" on 8/11 at 4pm ET. Hopefully, someone out there needs to see these. The rest of us will be at a ballgame.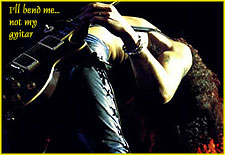 Our apologies to Kilroy who sent us an interesting story awhile back, and it was misplaced. What brought his story to mind was when SLASH told us that he broke the neck on his guitar in Japan when rehearsing with Chic. He was bending the neck when it broke and flew up and hit him in the face. Lots of blood. SLASH said he stayed in his hotel and used Jack Daniels freely to counteract the pain. Kilroy said that was not the first time that happened. Kilroy gets his guitar work done by Flip Scipio who is famous for his work at Mandolin Brothers in Staten Island, NY. Flip's had many famous customers (e.g. Paul McCartney). One night in the summer of '95 he was awakened late at night by SLASH. SLASH was upset because he had broken his guitar neck doing that infamous neck bending. This was SLASH's favorite guitar; the one he mainly used in the GNR days. SLASH was in Manhattan at S.I.R. rehearsal studio. Flip grabbed his repair tools and went off to repair the guitar. He did, and SLASH was very pleased. At the time, Snakepit was shopping for a record deal, and they had invited Sony record execs to the function. It was in the middle of a song there that SLASH broke the neck. SLASH had a buddy from Guitar Magazine that knew Flip, and this man is the one that told Kilroy the story. If you are at the instore and at a total loss of what to say to SLASH, ask him about Flip and his broken guitar neck! Thanks, Kilroy!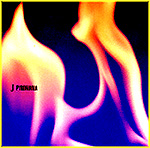 Here's another Q and A with SLASH that we too are very interested in. This comes from Zheng Ping in Singapore who asks, "I heard about your guest appearance with J (a Japanese bassist of a disbanded LUNA SEA) on a great track called "But You Said I'm Useless". How did that collaboration come about? Did you ever jam with Luna Sea? P.S. You really inspired me, thanks!"

SLASH replies, "Zheng Ping, I got a phone call from "Luna Sea" asking if I would play on a track from their new record. I said yes, but I didn't actually know them. They came to L.A., played me the song and I liked it so I put in a solo and rhythm guitar on it."

Thanks, SLASH and Zheng Ping!



News Reported: 08/02/02