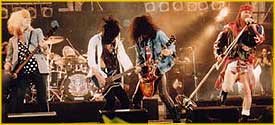 Here's a list we can get into. Elin's from Norway, and she saw an all GNR list - the Top 10 GNR songs chosen by this station. Some of your rankings might differ from theirs, but they seem to have the great GNR singles. Here's their list:





10. Patience
 9. Welcome to the Jungle
 8. Live and Let Die (live version)
 7. You Could Be Mine
 6. Estranged
 5. Don't Cry
 4. Sweet Child O' Mine
 3. Knockin' On Heaven's Door
 2. Paradise City
 1. November Rain


Erin's personal favorites are "Estranged" (especially for that first SLASH solo sliding down the street) and "November Rain" (for that amazing SLASH solo). These look pretty good to us, too. We've often felt that "Estranged" didn't get as much credit as it deserves. Both the music and the accompanying lyrics were complex, and the video added to the whole mystery of the piece. Thanks, Erin!



Darijus reports that he is seeing a lot of SLASH on his cable TV stations. You can see SLASH and wife Perla at the Playboy mansion for the celebration of Marilyn Monroe's birthday if you watch for repeats. This is on the Playboy channel. 2004 is Playboy magazine's 50th anniversary. Marilyn Monroe was on the very first cover. Good call! We haven't seen any photos of the party; but if come across any with Perla and SLASH, we'd like to share them. Darijus also reported that MTV is playing previews of the VMA shows from the first one. You can see the old GNR! Thanks, Darijus!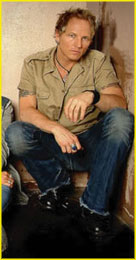 It looks like Matt Sorum is a 24/7 guy, too. He's signed with Sixthman Records for the release of his solo album, Hollywood Zen. Matt worked on the album about two years, and he says it's about his ups and downs of Hollywood. Matt says he considers it a "cross between old school rock and modern bands." He rented an analog studio, brought almost all his drums there and just had total freedom to make the album he wanted to make. Former Quiet Riot/House of Lords bassist Chuck Wright makes a guest appearance and did the album artwork. Matt plans to tour in support of Hollywood Zen and will move up from the back row drummer seat to do the vocals and guitar work. No word on when the tour would begin or the itinerary as yet.


News Reported: 08/29/03


NOTE: The webmaster is not feeling well this evening; and since there is no earth shaking news about SLASH, we'll have some SLASH Q&As.



The Q&As are sent in by fans, and occasionally a batch are sent out to SLASH for his answers. If you want to submit a question, send it to webmaster@snakepit.org with the subject QUESTION FOR SLASH. Only one question per email message, please. It may take quite some time from the when you send in the question and the answer appears. Questions are screened by the webmaster. No questions of a personal nature will be submitted. Answers are only printed here. Periodically, questions and answers are gathered up and put in chronological order in the "SLASH Answers Your Questions" section under the Fan Menu at www.snakepit.org.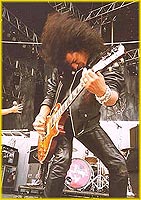 Brian asks, "Obviously, stage presence is important to you. Is there a guitarist who influenced you with stage presence alone?"

SLASH replies, "Brian, there are a lot of guitarist that have stage presence that I like, but I also like their playing. To give you some examples: Joe Perry, Pete Townsend, Jimmy Page, Jimi Hendrix, Angus Young, Mick Ronson, Jeff Beck, just to name a few."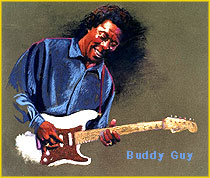 Thanks, SLASH and Brian! Clint sent in the next one. He asks, "SLASH, would you cite Buddy Guy as an influence or inspiration? Have you ever jammed with him? If not, would you like to at some point?"

SLASH replies, "Definitely - Buddy Guy is one of the best rock and roll blues guitar players there has ever been. I jammed with him a couple of times at his club in Chicago, and it was great. He was this huge, blistering lead guitar player, and there aren't many of them left."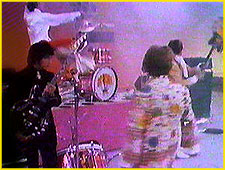 A very interesting question leading to some additional information on SLASH. Thanks, Clint and SLASH! Connan writes to SLASH from France, "I'm sure you will never break one of your guitars on stage. What do you think of bands that explode all their instruments at the end of the show?"

SLASH replies, "Connan, I try not to break my guitars on stage if I can help it. When The Who used to destroy all their equipment, it was cool because it was an outlet for their enormous amounts of energy, angst and anger that they had."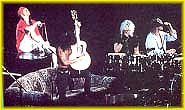 Connan, that was another good question. SLASH seems to get rid of his extra energy by running and spinning around the stage. Our last question for this evening is from Florian in Germany who writes, "I always thought that the musical 'quality' of a song and even a band shows best when it's unplugged. Do you agree?"

SLASH replies, "Not all the songs need to be unplugged. It all depends on the type of song." Thanks, SLASH and Florian. A special thanks to Arlett who typed and forwarded SLASH's replies.

We'll be back with you Friday night with more regular news of SLASH! Thanks for your patience.


News Reported: 08/27/03

If you didn't snag that October issue of Guitar One yet, Vicki from West Virginia sent us the details. This issue has BB King and Jeff Beck on the cover. The tabs for "Set Me Free" are included. There's a black and white, difficult to make out picture of Velvet Revolver with SLASH. In the "What's Between the Lines" section, it says:

"Oh, the drama of Guns N' Roses: Axl is going to release Chinese Democracy. Slash has a new band called Snakepit; Snakepit fades away. Duff makes a solo debut; his debut makes its bargain-bin debut." The article goes on to summarize the creation of Velvet Revolver from the ex-Gunners jamming to the selection of the singer and the "Money" recording. Then comes the tabs for "Set Me Free" with details on how SLASH and Dave play this song. Guitarists will want to check out these details so you can get that Velver Revolver sound, too. Thanks, Vicki!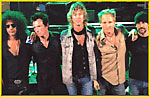 Just to be 100% accurate, Velvet Revolver signed their contract with RCA Records today. The band checked over the contract Friday and made a few minor changes. The deal was inked today, August 25. Contrary to rumors you may have seen on the net, SLASH confirmed that Velvet Revolver is signed to RCA itself, not a subsidiary. The band is managed by Immortal which also handles Korn and Incubus among others.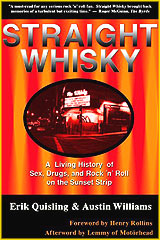 Here's a new book with a SLASH/GNR mention. It's called Straight Whisky: A Living History of Sex, Drugs, and Rock 'n' Roll on the Sunset Strip by Erik Quisling and Austin Williams. Allen sent this in, and he says the famous picture of SLASH on the floor with his guitar in his lap, Stoli bottle, arm in the air wearing the Aerosmith Toxic Twins shirt is in it! Starting with the chapter about GNR, Allen says there's a half chapter or more on GNR on a bus with two girls, and Axl gets robbed. There's more history on the Strip of course and the famous Whisky club. Allen found it on Amazon.com. If you buy it, please click here then click the Amazon button so this site gets credit for your purchase. Thanks! To see a review of Straight Whisky, check the September 4 issue of Rolling Stone. There are 16 chapters, each divided in two - one a juicy story (but no details as to whether these are folklore or fact) and then some history of the Whisky in the second half. The review says the writing style of the second half is "junior high school textbook", droning on with footnotes. The book was awarded two stars. Maybe borrow it from Allen!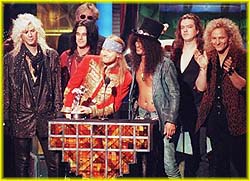 MTV started up a store to sell clips of some of its famous shows on video. One is a video of their award shows. We wrote in and asked if it included anything by the "best rock and roll band in the world, the original Guns N'Roses". The video they made does not reach back that far in music history we're told, but they did note that they loved SLASH, too. The video's not for us, but maybe you'd like to see clips from recent award shows. Check the MTV shop.


News Reported: 08/25/03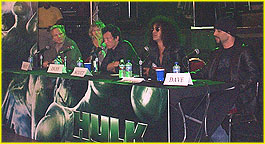 Today, Velvet Revolver management confirmed that the band had signed an extended contract with RCA Records. Warner Brothers, Elektra and RCA were in the running, but SLASH was predisposed to RCA for the chance to work with Clive Davis. For more details on Mr. Davis and the artists he has discovered over the years, see Wednesday's news below. Warner Brothers is looking to merge with RCA, we're told, so at the end of the day, everyone's in but Elektra. RCA may not be the rockingest label in the world, but SLASH and his team definitely can educate them! The EP/DVD from the El Rey show will not be coming out. Velvet Revolver is pouring all their time into getting their full length debut album released. VR's publicist reports that the band is in preproduction now, and they're shooting for an end of February 2004 release date. With the record deal, another milestone is passed. 65 songs are already written, so the selection process begins. Scott Weiland will be focusing on lyrics with the rest of VR assisting. The song selection and development is a long creative process, so we won't expect to be seeing much of the guys for awhile. Interviews will crop up, but don't expect any shows for awhile. Look for SLASH and Dave Kushner and possibly Duff on a forthcoming issue of Guitar World with of course an article.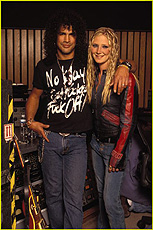 Alejandro came through for us with the Mexican release of Elan's debut album, Street Child. SLASH guests on the title track. Give this new album a good listen. Elan has really fine vocals and wrote all the album lyrics. The 12 tracks are almost entirely bluesy, sad ballads. In our opinion, the two best tracks are the already released single "Midnight" and "Street Child". SLASH says he only does guest appearances when he feels his music can add something to a song. Compare the other tracks blending together with "Street Child" that shows both artists at their best. "Street Child" has SLASH accompanying Elan, and then a wailing SLASH solo underscoring life on the streets. SLASH's excellent guitar work seems to challenge Elan, and her voice becomes more powerful, and her heart is so into the lyrics by song's end that you want to hear more from these two! Right now the album is only available in Mexico and Australia as her manager seeks a US distributor. Time to hook up with a fan from these countries and get one of your own. SLASH pours it on, Elan pulls the vocals out and the story of a "Street Child" is told. Great work! Thanks for the help, Alejandro. Mark's Australian copy is in the mail, and we can't thank you enough!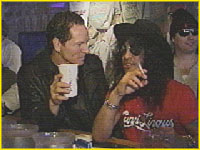 Here's some followup on previous stories. VH1 published a long list of songs people like to hear when they're out barhopping. Site visitors could vote for one of these, and the top 33 appeared on their "Top 33 Bar Songs". GNR's "Sweet Child O' Mine" was a contender, and thanks to those who voted. SCOM grabbed the 13th slot! #1 was AC/DC's "You Shook Me All Night Long". About the "(Inside)Out" series from VH1, the documentaries that cover artists at a crossroads in their personal or professional lives, the shows listed through mid-September are not on Velvet Revolver. VH1 filmed VR in the studio from the time the ex-Gunners, Matt Sorum, Duff McKagan and SLASH, created the nucleus of a new band through the singer selection process and more. Band management says it may air in October, but they have no definite date as yet. The filming is done, and VH1 is editing. More updates: SLASH says he will not be doing the rap-metal project with the Boo-Ya Tribe as he is 24/7 on Velvet Revolver's album. Another rumor, that SLASH would reunite with his "Magic Carpet Ride" buddy, Michael Monroe and his Finnish glam band, Hanoi Rocks, for a guest appearance drew the same response.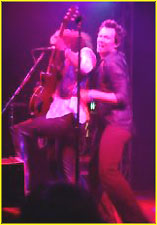 Recent SLASH/GNR TV mentions were sent in by Brandon in Ontario, Canada. Brandon was watching "Much More Music" there, and the show had the "difficult lead singer or lead singer syndrome" theme. Starting with Skid Row, they then talked about Guns N'Roses. After playing "You Could Be Mine", the host went on to say that SLASH and the boys are now teamed up in the new band Velvet Revolver with Scott Weiland. The comment was that it seems SLASH can't help but pick the difficult to control lead singers. Let's see...make a quick list of those who aren't! Brandon says last week's power list of the Top 10 Frontmen of All Time had GNR in at #4 with "Paradise City". Brandon says that apparently SLASH is doing okay in hooking up with great lead singers. Beating out GNR in the list were Metallica at #3, Black Sabbath at #2 and Aerosmith with the great Steven Tyler at #1. Thanks, Brandon!


Tish watched the "Top 10 Ballads of The 80's" on VH1 Classics. "November Rain" came in fifth. SLASH was interviewed, and he said "November Rain" was about 15 minutes long when Axl first wrote it. SLASH said Axl wrote the song for piano while they were making Appetite for Destruction, and SLASH later added the guitar parts. SLASH said it's a beautiful song the band is all very proud of releasing. Thanks, Tish. Moving up to the present, Jonas from Sweden says he spotted SLASH on the Swedish music channel Z-TV recently in the Velvet Revolver video "Set Me Free". Jonas said he was eating at a pizza place when he saw it. Pizza and SLASH...a great lunch!



News Reported: 08/22/03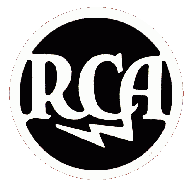 Velvet Revolver will sign with RCA Records according to a reliable source close to the band. Warner Brothers, Elektra and RCA all pursued the band which has yet to release an album! On the strength of their two soundtrack songs, "Set Me Free" (The Hulk) and "Money" (The Italian Job), the band members previous draw and experience in Guns N'Roses (SLASH, Matt Sorum, Duff McKagan), Stone Temple Pilots (Scott Weiland) and Suicidal Tendencies (Dave Kushner) as well as their solo experiences and the buzz from their debut stage show at the El Rey, Velvet Revolver caught the attention of major labels eager to sign them up.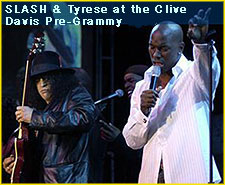 SLASH had a special interest in RCA Records with Clive Davis at the helm. You'll recall that Mr. Davis threw a Pre-Grammy party this year, and SLASH was a guest and entertainer. At right is a picture of SLASH and Tyrese onstage at the party.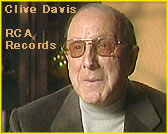 Clive Davis discovered many of the big names in popular music and got them on the track to successful careers. Starting off with a degree from Harvard Law School, Mr. Davis joined a law firm with CBS as one of its main clients. Working with its subsidiary Columbus Records legal department, Clive Davis soon jumped to Columbus, then CBS and headed CBS Records. In this position, he signed Bob Dylan, Pink Floyd, Janis Joplin, Carlos Santana and Bruce Springsteen among others. Going on to found his own company, Arista Records, he had 25 years of success by bringing on such stars as The Grateful Dead, Aretha Franklin, Barry Manilow, Kenny G, Toni Braxton and P. Diddy. BMG, Arista's corporate management, pulled Mr. Davis from his own label and gave him 50% of a new label which he called J Records. J Records then produced hit after hit, revived Carlos Santana's career and signed Alicia Keys and Luther Vandross with other famous artists. In 2003, BMG bought Davis' share in J Records, allowed him to continue his management there and then made him head of RCA Records as well. As he enters his seventh decade, Clive Davis is a proven starmaker.
SLASH's experience with Mr. Davis at the Pre-Grammy party was so positive that the band felt very good about RCA from the start. As for managers, at this time we're told that the band will stay with Immortal Management. We're very excited about this label deal and trust you will be, too. Both sides are bringing years upon years of experience to the table, and it should be an excellent partnership for both. As far as we know, no contract has yet been signed; but according to our source, Velvet Revolver has chosen RCA Records, and RCA has chosen Velvet Revolver to be their next big thing! They'll join a very successful stable of artists including Christine Aguilera, Foo Fighters, Dave Matthews Band, Elvis, David Gray, Eve 6, The Strokes, Kelly Clarkson and more. Visit their outstanding web site at www.rcarecords.com to see the complete list of artists, photos, videos and media appearances. The site has up to date entries, so it's clear that they understand and appreciate the value of the internet fans. Let's Roll!



News Reported: 08/20/03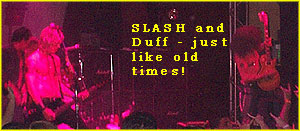 For some time Velvet Revolver has had the El Rey EP/DVD under consideration. After this, their debut live show on June 19 in LA, the band and management started having second thoughts about this live release. SLASH had said this would be a little tidbit to tide over the fans till the full album hit the stores. The album would be released by Immortal Records although Universal paid for a lot of the show as publicity for The Hulk. Subsequently, Velvet Revolver was being courted by some big name record labels, including RCA, Elektra, Warner Brothers), and it became clear that the first album from the band should be for their new home label. Another issue was that the EP and DVD would be for the fans to play while waiting for the full length album. However, with the heavy online bootlegging and ebay sales, there doesn't seem to be much point in putting out something everyone has. This is a big danger in all these free copies people put up. Now we don't have anything of any real quality although thanks to the webmaster at slashonline.com we do have an official tape we can download. Unfortunately, the new song "Slither" was inadvertently lost, so we won't see that one soon. The band is now abandoning that project as a waste of time and has started sifting through the 65 songs to select those they want Weiland to finish the lyrics on. There will also be no one-off live gigs as SLASH has promised before. Thanks to those who felt it necessary to make a buck taping the El Rey show, it's been decided not to introduce new material that way. At least that's the current plan. The DVD/EP would have been so terrific, and we're told that not only the live set would have been included but also studio versions of "Slither" and "Money".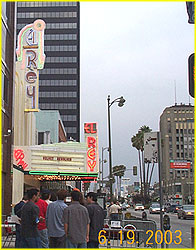 Now that Scott has received his sentence for drug possession (counseling and other rehab sessions which are to be seen as supportive not as penalties), Velvet Revolver is in a position to sign with a new label, select a producer(s) and all the other talent needed to get this album out, write lyrics, record and go. If you're disappointed about the DVD/EP, so are we. We don't have a bootleg since we go with SLASH on this one. It would have been terrific, but we have to forget it and move on. It will be a long time till we see or hear them again in person, but we're looking forward to reading some interviews now and then.


SLASH has never put out a guitar tabs book for his solo bands...the Snakepits and Blues Ball. Fortunately, fans have contributed their own interpretation of the songs, and these are found on this site at Guitar Tabs. The "Set Me Free" song has come in from a fan. Please note that all these are written by fans. None of these come from SLASH who neither reads nor writes tabs. Today we were reading the Guitar One online newsletter, and they say they have "six accurate and player-friendly transcriptions" in the October 2003 issue, complete with tab and standard notation. One of these is Velvet Revolver's "Set Me Free"! There's also a short interview with SLASH! In the next issue, they will print the "Set Me Free" lyrics set to music. So look for the October and November issues! Thanks, Arlett for the information on the accompanying interview and the November information!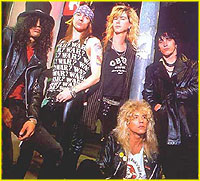 One of our longtime net friends, John M. from Boston, has a link to a funny old GNR picture. Now that Arnold (or Ahh-nold) is running for California Governor, it would be interesting to see if any of the old band are voting for him. At one time, he was a big hero to all of them. We won't forget the end of the "You Could Be Mine" video with the guys coming in slow motion to Arnold and the plane. What a cool video, but will it translate into votes? Will SLASH play at an Arnold rally? Will Arnold bring the old gang together again? Note who the gun is pointing at in the picture! With the tired old politicos that run in our state, California is the cool one to have The Terminator! Queue "Live and Let Die", and check John's old "campaign poster":


Arnold & Friends

(Sorry we cannot provide equal time and laughs for the other 100+ candidates!)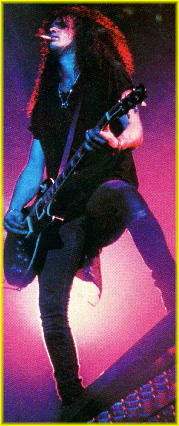 Attention guitar players in the northwest: The 1,000 Guitar Festival will be held at Cheney Stadium in Tacoma, WA on Sunday, August 24 from 11am to 8pm. This all day gathering of (hopefully) over 1,000 guitar players will play the song "Louie, Louie" in hopes of setting a Guinness World Record! Performances by the original band, The Kingsmen! The Wailers will be there too and other special guests. (note: SLASH is NOT scheduled to be there). This is a charity event; and if you can use your musical talent like SLASH does for charity, visit www.1000guitars.org for more information!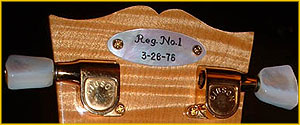 If you're a Gibson guitar believer, Gibson sent out its online newsletter putting "The Les Paul #1" in the spotlight. This is the first Les Paul ever made by Gibson, and it has an interesting story of who was to get it and who did get it. The all-out Les Paul goes back to March 26, 1970 when Gibson first registered The Les Paul model. Gibson has a new model out, The Les Paul Supreme, and this is the reason for the look backward at how the whole line got started. Read more about The Les Paul here. There will be an episode on Gibson Guitars on the Travel Channel's "Made in America" show hosted by the Cliff the mailman character from "Cheers". Taping begins August 28 and will also feature a section on Gibson Custom, the division that made SLASH's signature guitar.



News Reported: 08/18/03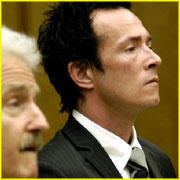 Velvet Revolver fans concerned about Scott Weiland's court hearing can relax! We're pleased to report that the Pasadena Court judge sentenced Scott to probation. Scott's hearing was yesterday, August 14. Details are that Scott is sentenced to 3 years probation, counseling sessions and a continuation of his rehab sessions. Scott is staying at a clean living center at night to help himself as much as possible. He's working very hard to stay clean. Velvet Revolver management reports, "Scott is doing very well, thanks everyone for their support and is looking forward to making the Velvet Revolver album to be released early next year." Hooking up with the ex-Gunners who know what it's like to battle addiction has given Scott a good recovery and support group. Best of luck, Scott! Now, let's roll on that album!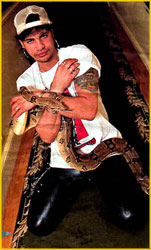 E!, the Entertainment Channel, is running new shows in its series "Celebrities Uncensored". Allen made us aware of this just in time for you to catch SLASH's appearance on one of the shows. E! calls this an "unpredictable, unscripted new show [that]brings you the biggest stars behaving in ways you could never imagine. In candid and unrehearsed situations, world-famous celebs respond to the demands of fame, from ardent fans...to persistent paparazzi..." The question is "who keeps their cool--and who loses it?" SLASH is on episode #7. Allen says SLASH was arguing with a guy who kept harassing him on the Sunset Strip. Episode #7 premiered Thursday, but here's the schedule for the SLASH episode for the next few days: August 15 at 9pm, August 16 at 1pm and August 17 at 4pm. Shows are 60 minutes; all times here are ET; check your local listings for showtimes where you are. Entertainment reruns their shows over time, so if you miss this weekend, it will be on again sometime. Thanks very much, Allen!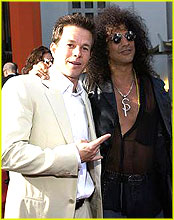 More of you may get to see The Italian Job, the movie with Velvet Revolver's cover of Pink Floyd's "Money" over the credits. Paramount Pictures announced this week that the remake of The Italian Job with Mark Wahlberg, Charlize Theron and Edward Norton will take another run at the box office. The film will be rereleased in 1500 - 2000 locations August 29, the beginning of the Labor Day weekend. The movie played in about 200 theaters last weekend and has grossed over $96 million since its release May 30. The rerelease should put it well over $100 million, and we hope some additional interest in Velvet Revolver!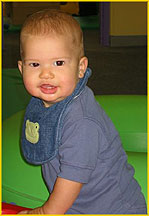 We'll be sending out the birthday greetings and some gifts to London for his first birthday (August 28). If you'd like to be included on the "card", send your greetings by this Sunday midnight to webmaster@snakepit.org. Just a simple Happy Birthday is enough or a couple of sentences. Include your name (first is enough) and state or country so SLASH can see where his fans are from...London will no doubt be on tour, so let him know he'd be welcome there with his famous Daddy!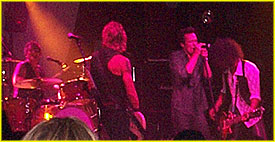 One of our longtime net friends, Andrew from Australia, is in England for a long visit there. He says he's starting to hear "Set Me Free" a lot, and offers these links to articles in online UK music sites. Not anything new, but it's great to see our friends across the pond are pushing things along! Thanks, Andrew!


Total Guitar Mention

Tour Dates Site Mention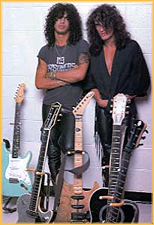 Brian was at the Aerosmith/Kiss concert in Cincinnati; and when Aerosmith played their hit single "Pink", they put up all five bandmembers faces on the big screen behind the band. During the first half of the song, they morphed different looks on each band member. Brain says there was everyone from Bin Laden to Batman! And one of these was SLASH! They put his top hat and the long black hair on each member...no cigarettes though, Aerosmith now sits in the non-smoking section. Brian said it was pretty funny and that Joe Perry f*ckin' rules! Joe's SLASH's hero, too; and SLASH enjoyed hearing about this. Thanks, Brian!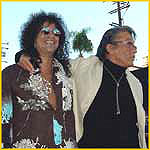 Here's some news on the movie The Kid Stays In The Picture. Recall that SLASH's track, "Love Theme from The Godfather" was on the CD soundtrack (although not in the movie) and was nominated for a grammy. The film is the autobiography of Robert Evans who began as an actor and became head of Paramount Pictures during the 1970's where he brought us The Godfather, Rosemary's Baby, Love Story and other hits. Robert is a personal friend of SLASH and Perla. The Kid Stays in the Picture will be released on DVD and VHS on August 19 and is available for preorders now. Each is around $20. On a less happy note, Robert's sixth wife has filed for divorce. The couple was married last November.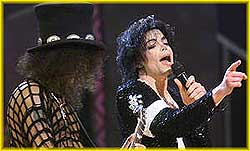 In an update on SLASH's attending Michael Jackson's 45th birthday party, SLASH's management says again that SLASH will try to attend if he finishes up in the studio early. This fan-sponsored event begins at 6pm. We're told that if SLASH can't attend; he'll send a video birthday message. If SLASH is there, he won't be performing. Michael will be on hand, and other artists will perform. It's Saturday, August 30 at the Orpheum in LA. For ticket and other information, see MJ Party Information.


News Reported: 08/15/03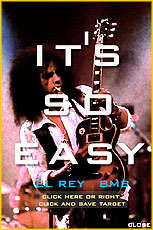 SLASH's official artist site, www.slashonline.com, has put up a third complete video ("Set Me Free" and "Sex Type Thing" are the others) from Velvet Revolver's debut show at the El Rey in LA. This one is "It's So Easy". At the home page, scroll down and you'll see a purple button to click, 'Velvet Revolver live! at the El Rey'. Click the window to watch the video, and you'll see instructions on how to download any/all of the videos. The band looks and sounds great! SLASH does his solo, and this is the so-called "bonding" video where SLASH and Scott are leaning on each other for awhile. Definitely worth watching and collecting! Thanks, Adam, for letting us know!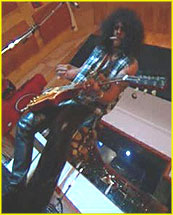 KROCK, the big LA rock music station, continues to have its Furious Five at Nine voting section. You can vote for one song to be played...the top five are the ones chosen. Velvet Revolver's "Set Me Free" was at the top of their stack for awhile, but they are slipping. How about going over and pushing the vote up? Velvet Revolver is at 6.84% when we last checked. The top four are in the double digits, but the fifth slot is just over 7%. Hurry over and vote at www.krockradio.com/furiousfive.



Elan's debut album, Street Child, is out in Mexico! SLASH plays on the title track. There is a video clip at Elan's site for "Street Child" (www.elan-online.com). Mark from Australia says that Elan is in Australia now promoting the release of her album on August 18. She'll be performing live at The Basement Club in Sydney on the 18th at 8:15pm (Sydney time). The show will also be on live webcast. Check the program guide at basement.com.au for more information. At present Elan's management is arranging for US distribution of the album; but just in case, you might hook up with some of our Mexican and Australian fans if you want a copy now. Contact fans in these countries using our Fan Address Section.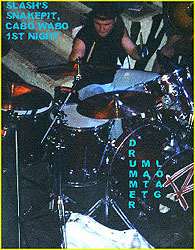 Some news from a SLASH's Snakepit bandmate: Matt Laug is one of our favorites. Matt was the drummer for Snakepit. He sent us a note asking that we let you know he is doing a gig with some friends, and it would be great to see some Snakepit fans in the audience. The band is called DickWeed! As Matt says, "With a name like that, you know it's going to be a good time!" It's all classic rock covers (Led Zep, Bad Company, Humble Pie, Rolling Stones, etc.). The gig is this Saturday, August 16 at the famous Cat Club on Sunset Boulevard in Hollywood, CA. They go on at 11:30 and are scheduled till 2am! There's a $5 cover with a flyer, $8 without. Flyers are available at the Cat Club starting 8/13. The band is: Bruce Watson (Rod Stewart, The Hose) on guitar, Joey Brasler (Steve Lukather, Boz Scaggs, The Hose) on guitar and vocals, Lance Morrison (Alanis Morissette, Don Henley) on bass, Bobby Maccarni (The Hose) on vocals, and of course, our Matt on drums. Special guests, too! Matt says, "It's going to be a lots o' fun at extreme volumes!". Sounds like a match for this group!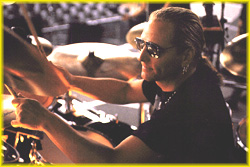 And some news on a Velvet Revolver bandmate also with Slash on Snakepit '95 (album) and GNR: Matt Sorum guests on two tracks from the forthcoming Pre)Thing album, "22nd Century Lifestyle Episode: Rustand Thesuperheroes Sexdrugs and Southern City Rock". Matt appears on the first single, "Faded Love" and another album track, "Stay Alive". The band is described as a power trio rock and roll band. The album is scheduled for a late 2003 release on V2 records. Hopefully, they will rethink the album title!


Duff posted to one of the forums; and the posting was sent in from Brian and Amanda. So many newsletters and sites have it up that you probably have seen it already, but we have it here in case you didn't get a copy. There's nothing there we don't know, but the saturation with this posting is good news! People are really interested in Velvet Revolver! Any tidbit of official news is important. Note that Duff is saying a January 2004 release depending on many factors. Here it is if you want to have a look. And thanks to Brian and Amanda!

Duff's Forum Posting

Update: the forum owner where Duff posted would prefer to see a link to his forum. Here's the link as supplied to us.


News Reported: 08/13/03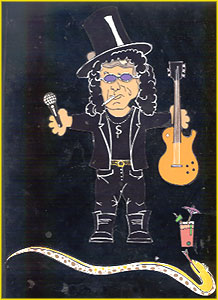 SLASH co-hosted the Jimmy Kimmel Live! show in March, and it was great to see him all week long. Jimmy did a lot of bits that involved SLASH. Do you recognize this prop? Jimmy did some verbal harrassment on Ted Koppel for dressing as a soldier in Iraq. The colorform prop had outfits so you could swich Koppel for the occasion...soldier, beach bum...and last, a SLASH outfit! SLASH got a big kick out of it, and Jimmy gave it to him. SLASH must have played with it enough as he sent it here to add to our collection! Now, if you were in the audience, we have to admit that you still have us beat, but we have something now to remember the week that SLASH co-hosted a late night TV show! Thanks a million, SLASH! (Ted in his underwear and the SLASH props are below.)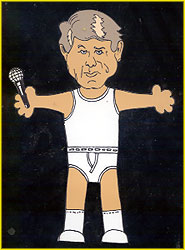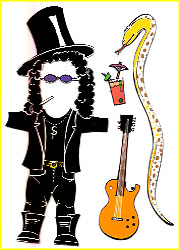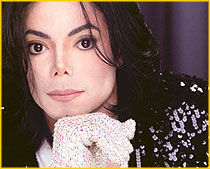 Michael Jackson's fans are throwing him a 45th birthday party at The Orpheum Theatre in L.A. on August 30. The party is an annual event, and this year the gloved one will attend! As you can imagine, the MJ fans are very excited; and they will have a three hour show presented by MJ Fan Clubs from around the world "designed in the spirit of love, celebration and unity". The performers list is taking shape and one of those listed as attending (barring schedule changes) is SLASH. In confirming his appearance, we learned that SLASH is sending Michael a video happy birthday message to be played that evening. SLASH is working that day, and if he finishes early, he and Perla will be there. (Baby London will not attend due to a schedule conflict with dinner!). The show is 6pm-9pm, so SLASH is going to have to roll to get there. SLASH wants his fans to know that his #1 priority is his music and that comes before any parties. There's a chance he will be there; but if not, his video message will be. If you're interested, tickets are available as well as further information at Michael Jackson Fan Club.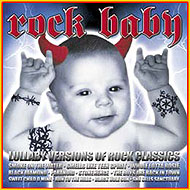 Congratulations to SLASH fan Stuart Collins and his wife who are the proud parents of a baby girl born Friday afternoon. The little one got a baby gift from a proud and very cool aunt, a CD called Rock Classic with ten or so rock classics done in a lullaby style. One track is "Sweet Child O' Mine"! Is this kid starting off right or what? Stuart also says they played the Use Your Illusion I album during his wife's labor! If you have a blessed event coming up, you might just want to check out the website at www.punkrockbaby.com for this one or other CDs. Thanks, Stuart!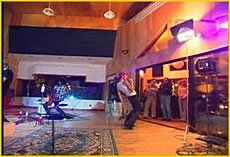 Mercedes is from Argentina, and she reports that the video "Set Me Free" is on Much Music on the "Al Limite" Channel 34. So, watch for it! And speaking of "Set Me Free", we have our fingers crossed that the song will be nominated for a grammy or Oscar this year! Although we aren't up on the rules, "Money" is a cover, and we think this may have to be an original work. Someone out there must know. It's interesting to see that "The Italian Job" is still hanging on to a decent spot in the movie grosses each week. "The Hulk" seems to have bottomed out which is not making Hulk very happy. And who's elected to tell him if his song doesn't win?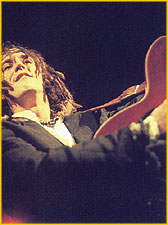 We'll go ahead with this report Brian sent in although we have no official confirmation for it. This one's about Izzy, and it's really tough to find a reliable source for him. The story is that Izzy is planning a US tour in support of his sixth solo album, Like A Dog. There is no release date we could find on the album. The rumor has grown to be that the tour will begin in Texas in late September and finish in Chicago. Road Trip for Izzy fans! A music video for a track off Like A Dog has been filmed. The video may be released or it may be used as a bonus on the album. The only thing for sure we have on this is the location of some clips from the album. These are "Hammerhead" and "Bomb" which we told you about quite awhile ago. For another listen, izzy-stradlin.com/likeadog.ZIP will download the files for you. Thanks, Brian! And we hope to have some solid details on this soon.


News Reported: 08/11/03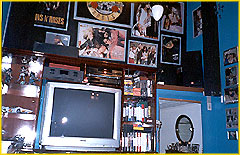 The Gunner Convention in Rio de Janeiro, Brazil, is over, but the GNR Devotion Fan Club is working to make a tape with the best moments from the shows at the convention. Ana Cristina, head of the club, says it's very difficult to make choices because the shows were all so great! She can't say enough good things about Eduardo Mota who is "SLASH" in the cover bands. They call him "the SLASH clone"!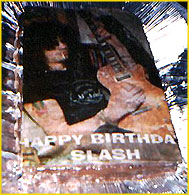 One of the best moments was the Brazilian Snakepit tribute band playing "Set Me Free". A few days after the convention, the fan club got together at fan club headquarters (above left) to celebrate SLASH's birthday. How about this cake? (at right). On top is an edible paper with a SLASH photo. Yum! We're putting up some photos today...the headquarters of the fan club with posters which is where SLASH's birthday was celebrated, the unique SLASH cake, Eduardo standing in for SLASH to blow out the candles, and Eduardo rocking out at the convention. Looking good, Eduardo, like a young SLASH! A terrific time was had by all. Thanks, Ana for sharing the pictures with us!
| | |
| --- | --- |
| | |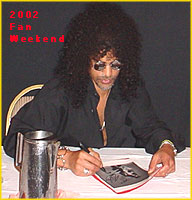 If you're a member of the SLASH Fan Club through Fan Source, you're eligible to go to the Fan Appreciation Weekend in October. This is the weekend when the Fan Source celebrities get together with their fans. The fans have a chance to meet each other and meet "their" celebrity face to face. October 17, 18 and 19 are the dates this year, and the place is the Sheraton Universal Hotel in Universal City, CA. The Fan Source people promise free celeb photos and autographs and a souvenir program book. Author Samantha Hart will be on hand to autograph her book, The Hollywood Walk of Fame, and Stefanie Powers has donated items for a silent auction of memorabilia.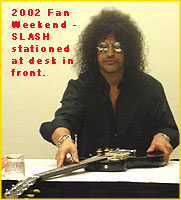 Day One, Friday, Oct.17 is a day for fans to go to Universal Studios in Hollywood for a studio tour hosted by a surprise celebrity guest (undoubtedly, not SLASH, but perhaps the Hulk is free). Friday evening is registration and actress Jennifer Darling will be honored. Saturday and Sunday the memorabilia room is open for collectible shopping (assuming they have GNR and/or SLASH items this year). The celebrities on board so far are (schedules permitting): SLASH, Scott Bairstow, Richard Benjamin, Bruce Boxleitner, Jennifer Darling, Bruce Davison, Barbara Eden, Linda Gray, Kate Jackson, Stefanie Powers, Paula Prentiss and others. Proceeds benefit the celebs' charities. (SLASH's is the Wildlife Waystation.) Admission to the weekend is $99 for tickets purchased between 6/21 and 9/21; $119 thereafter. The Universal Studio tour is another $35. Rooms at the Sheraton are $119 per night (single or double). Of course, your travel expenses, food and incidentals are extra.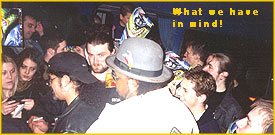 To read more about the weekend and obtain a registration form, go to the Fan Source site. Let us know if you are going! Last year's fan turnout for SLASH was reported to be very light. Most fans feel that they can meet SLASH, talk to him and get autographs and photos for free when they go to a gig. If enough fans turn out, we might be able to coax him to stay longer; and there certainly is an extended time there to make some new friendships with other SLASH fans. As an alternative....a private "SLASH BASH" could be arranged in a fan's room! Bring guitars and amps and stereos and CDs! Hang SLASH banners from the windows! SLASH fans want to see Velvet Revolver's studio, not Universal studios! We want SLASH for that tour! Blow off the Universal tour, head upstairs and ROCK 'N' F*CKIN' ROLL! ROAD TRIP!!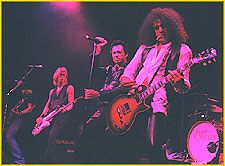 Although the news itself is old, Vicki says that the October 2003 issue of Metal Edge has the band name Velvet Revolver on the cover! (ferocious Metallica pic on cover.) In the "Metal Wire" section, there's a half-page of old Velvet Revolver news with a small band pic and one of Scott and SLASH. Vicki sent a typed copy of the article which we include here. Thanks, Vicki!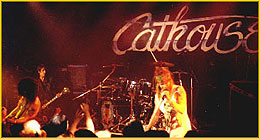 Two items each for two lead singers SLASH worked with. On this day in 1992, Axl walked off stage just 55 minutes into a concert at Olympic Stadium in Montreal, complaining of a sore throat. Many of the 53,000 fans who came to see GNR and Metallica rioted. There's a cool Metallica video where Metallica pounces on the other GNR band members about this... SLASH with hair wrapped in a towel looks extremely uncomfortable. Item 2: Riki Rachtman recently ran an online contest where this was one of the questions: "What major rawk [sic] video had the singer wearing a Cathouse shirt?" It's "Paradise City" by Guns N'Roses! Ray sent in this event from the past as noted in Musician's Friend's online newsletter: this week, "in 1998, Stone Temple Pilots singer Scott Weiland pleads guilty to heroin possession and is sentenced to three months in a drug treatment center." Bear in mind that Friday, August 15, Scott is to appear in court in Los Angeles to learn if his request to be placed in the court drug program is accepted. If he's not, there are other possibilities, not all of which involve jail time although that could be the most dismal result of his arrest for cocaine and heroin possession. And while Billboard continues to track "Set Me Free" in the Top 20 mainstream rock (airplay), Spin has its usual funny/sarcastic comment on Velvet Revolver's new singer:

"His [Scott's] most recent arrest came just days after he agreed to be the vocalist for Velvet Revolver, the faux Guns Ní Roses reconstruction that includes Slash, Matt Sorum, and Duff McKagan. The fact that Weiland was even asked to join Velvet Revolver is pretty hilarious, as it suggests that Axl Rose is so crazy that - by comparison - Weiland seemed like a reasonable person to work with."



News Reported: 08/08/03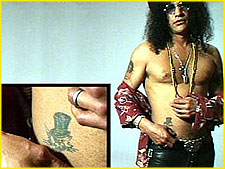 Did you see SLASH on VH1's "Set in Skin" last night? Definitely worth watching unless you saw the VH1 site video and photo album...it was the same footage, but you can tape the TV show. SLASH talks about his five tats. He has two more now...a rose with "Perlita" on his left forearm and "London" across his lower back. He says each one has a special meaning to him, and he draws them himself. When SLASH got the cat to the right of his belly ring, Perla got a butterfly on the back of her neck. The show repeats this Friday, August 8 at 1am ET, midnight central and is a half hour long.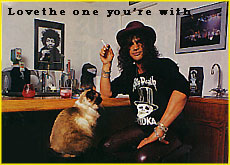 VH1 and Rolling Rock are putting together a show called "Top 33 Greatest Bar Songs". It's a countdown show of the music people love to hear the most when they're spending time at their favorite bar. No voting on these, at least not by the public. The Top 33 will be counted down this Friday, August 8, at 10pm ET, 9pm central. They list 50 possibilities on their site, and you're invited to listen to a clip of all but 4. Mark or rank them, and see how close you come. One GNR song made the list, "Sweet Child O' Mine". Don't know about you, but our Top 33 would vary over the evening! "Girls Just Wanna Have Fun" or "Sweet Child O' Mine" might be good early, ..."You Shook Me All Night Long" or "Mustang Sally" or "Dude Looks Like A Lady" later...heading toward "Whole Lotta Love" or "Born To Run" or "Rock n'Roll All Night" or "We Will Rock You" when you're trying to find the exit with eyes bleary from booze and smoke. Rock on! Show information and the list are at Top 33 Greatest Bar Songs.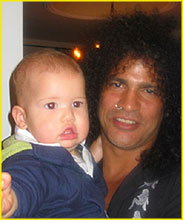 Who's this little guy with Our Guy? That's London Emilio Hudson! He will be one year old August 28. Mom and Dad (Perla and SLASH to you) have given permission to show you their beloved baby boy. Isn't he cute? We have others of London at the beach and getting ready to rock! (below) Look at that little hand holding SLASH's neck so trustingly! We were lucky enough to meet London, and he's a doll. Check the new teeth! London can toddle around even though everyone wants to hold him and hug him. He's a friendly little guy; but like his Daddy, he has his own agenda. Perla and SLASH say they'd love for us to send some birthday greetings to London. If you'd like to get in on this, send webmaster@snakepit.org an email with LONDON as the subject. Include your first name at least and your country (US fans, use state), and your birthday note. We'll put these all together and mail with some small gifts from all of us. Deadline is Sunday, August 17 at midnight your time. Thanks!



More London!



| | |
| --- | --- |
| | |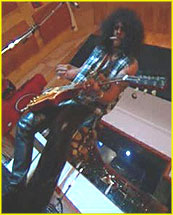 Oliver from Macedonia had news for the European fans. He's been seeing the official video for "Set Me Free" on MTV Europe's Rock Zone. Oliver says it's awesome, and he's seen it a couple of times there. We've heard that Universal Pictures is doing some contests there related to the movie "The Hulk". We don't have any details on this. We don't know if the contests are on MTV Europe or not, but we've heard some of the prizes are soundtracks. If any European know the facts on this, let us know. Thanks, and thanks to Oliver for letting us know. Velvet Revolver's publicist is in Europe now spreading the word about the band.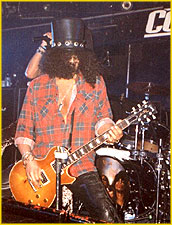 Here are a couple of SLASH and GNR mentions from the April 2003 Spin, their "ultimate list issue" with Eminem on the cover. In the list of "Ten Musicians Known for Their Distinctive Headwear", #4 is SLASH and his top hat. The top 3 were L.L. Cool J (Kangol bucket cap), Devo (red plant pots) and Buckethead (KFC bucket). #3 beats #4? Hello? In the list of "Five Cover Songs So Bad They Totally Destroy The Original", #4 is Guns N'Roses "Sympathy for the Devil". Another strange choice. We'd have said "Live and Let Die". The others are Madonna's "American Pie", Limp Bizkit's "Faith", Britney Spear's "I Love Rock 'N' Roll" (Joan Jett's original rules!), and The Police "Don't Stand So Close To Me '86" (original by The Police - another strange choice). Suddenly music magazine writing does not seem so difficult!



News Reported: 08/06/03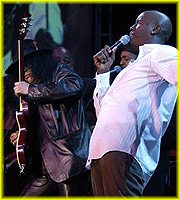 Velvet Revolver is still considering their label offers at this time. According to band management, the field has narrowed to three: Elektra, Warner Brothers and RCA. You may have seen the third label as Arista, but that's not quite right. Clive Davis is the man from RCA. He used to run Arista Records and is now with J Records, a division of RCA. If Clive Davis sounds familiar, the most recent mention of him here was at his Grammy pre-show party. SLASH was there and was onstage for this private party. It's expected that the decision will be made soon.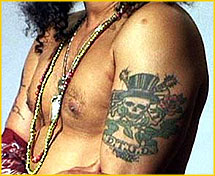 This is the final reminder that the debut of the VH1 show "Set In Skin" is scheduled for Tuesday, August 5 (tomorrow!)at 5pm (repeats at 11pm) ET. Get set to tape this! SLASH is to be on showing his tats..whether this will be more than the video on their site, we have no way of knowing, but at least you can tape the TV show! The other times for this episode are in the August 1 News (below). The next big item of interest on VH1 will be the Velvet Revolver episode of the new series "Inside/Out". This episode will be about the birth of the band including footage that gives the viewer a chance to be there and listen in on how the members came together, found a singer and a name. Problems arise which could make or break the group, but they are strong enough separately and together to decide, do what they have to and move on. We're told by band management that the date is still being negotiated. We've read dates in August, September and October! The last we heard from management was late September/October. However, a recent email says the date may be changed - what you may have read anywhere is not final as yet. It's coming for sure, though! Another issue to be decided is that EP/DVD. Everything about that one is being discussed right now. The reason for all this uncertainty has to do with the label selection. Things will start to solidify once that choice is made.


One thing that is for sure is that a certain little boy will be ONE year old this month. Does it seem like it has been a year since London Hudson was born? He is the sweetest tempered little guy and so cute and cuddly! Mom and Dad, Perla and SLASH to us, are terrific parents and are no doubt planning something special for the big day. Vicki had a good idea for those of us who would like to say an unobtrusive Happy Birthday and many more to the little guy. If you'd like to send a birthday note to little London, we'll put them all together and send them out with a card and some small gifts that will be from all of us. If you want to get in on this, please do it asap so we can get our things out there in time. The cutoff will be Sunday, August 17 at midnight your time. The notes will go to London in care of his parents since he's not a big reader yet! Please put your first name (last is optional) and where you are from...US fans, please use your state. SLASH likes to see all the countries and states. In the subject area, put LONDON. The address is: webmaster@snakepit.org.



Did you ever see SLASH in his role as DJ on "Tales From The Crypt"? SLASH does a good job acting in his small part...and he's dressed in his black leathers and top hat. ChristinE saw it last weekend on the AMC channel; so if you've missed it in the past, you can hope for a repeat. The episode is called "In The Groove"! Thanks, ChristinE! Another TV SLASH sighting comes from Catherine in the UK. VH1 ran "How the Stars Get Hot" again, and Catherine reports that SLASH looked hot in his tight leather pants. SLASH was on for only a few minutes, but it did show his designer making his leather pants and SLASH trying them on. Catherine also saw the half hour show on the E! channel about The Hulk, and at the end there was a two minute clip of Velvet Revolver's "Set Me Free".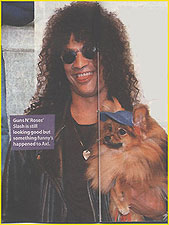 Myk spotted SLASH in yesterday's (Sunday, August 3) magazine that comes free with the UK newspaper News of the World. The article was on male stars and their small dogs. SLASH was in between two pages so there is a line there, but we think he still looks so good! Thanks, Myk. And it's probably not too late for UK fans to run out and find this newspaper. (By the way, the caption says, "Guns N'Roses SLASH is still looking good, but something funny's happened to Axl"!)



News Reported: 08/04/03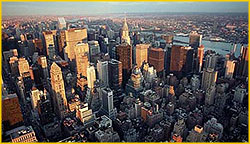 Things have been pretty quiet from L.A. lately. That's because things are happening in New York right now! SLASH is there, and the band is talking to several record labels. The Hits Daily Double sources say the bidding for Velvet Revolver is going crazy there! We don't have any word on which labels are involved in the bidding, but we are told by band management that Velvet Revolver will make a decision in the very near future on who they will sign with. Their current contract with Immortal Records is said to be a one-off deal. Whether that means the soundtracks or the El Rey EP/DVD, we're not sure. The fate of the EP/DVD will certainly be part of the discussion since Immortal was behind that, and we'll certainly here soon if the release date is still October with Immortal or not. A lot is happening right now, and details will be forthcoming soon. If Immortal will be left behind in the near future, it explains why the official Velvet Revolver site hasn't been updated for some time. We are so proud of SLASH, Matt and Duff for getting together and weaving this already huge buzz from a dream of playing together again. From Randy Castillo's tribute show to Camp Freddy to... a monster band!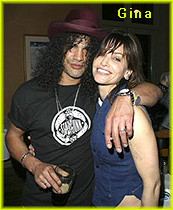 While SLASH is in New York, he's not been spending all his time in business meetings. Today's New York Post reported a SLASH sighting which Chris and Norm promptly sent in. Seems that SLASH was with a group at Scores, a strip bar on East 60th. The "pals" with SLASH were unidentified, but they did name Gina Gershon as one. Gina, as you may recall, was the singer for The Project gang at Sundance where her Prey for Rock and Roll was in the running for that film contest. It didn't win; but after that, Gina several times mentioned her plans to work with SLASH on her forthcoming debut album. Velvet Revolver sources deny this will happen as does SLASH. SLASH is 100% committed to Velvet Revolver, and there is a lot of work to be done. Either Gina hasn't given up asking, or it is "chick magnet syndrome" again. Have a look at the Post report - Norm sent this in...thanks, Norm and Chris!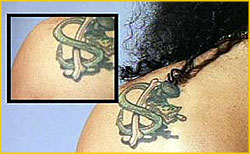 While SLASH is taking care of business in New York and seeing some of the city's many cultural offerings, fans will have to be content with seeing him and Velvet Revolver on TV and the web. What's coming up is going to be great! For US fans, and hopefully the international ones, the first cool thing will be the VH1 show "Set in Skin". The show is about tattoos, and SLASH is on showing off his 5 (now 7) tats. The show debuts this Tuesday, August 5 at 5pm ET. (Repeats 8/5 at 11pm, 8/7 at 11:30am and midnight...all ET). If you visit the VH1 site, you can see stills as well as a video. Very nice, SLASH! The second is for Velvet Revolver. Again, it's VH1! As you may recall, VH1 hung out in the studio while the band was born. They shot miles of film and have edited it down to a one hour show. The series is called "Inside/Out". This documentary series focuses on an artist facing a professional or personal crossroad. The series begins August 7 also, but the Velvet Revolver show will not be this month. Band management says the show may have an October air date, but that is not certain as yet.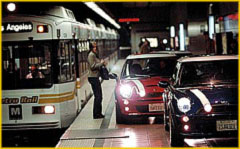 One thing that is certain is that the movie The Italian Job is coming out on video! Velvet Revolver recorded a cover of the Pink Floyd classic "Money" for the movie. "Money" is played over the ending credits, but it is not on the movie CD soundtrack. The Italian Job will be released October 21, 2003 on DVD and VHS. Amazon.com is taking pre-orders now. The price is $22.99 VHS or save 50 cents and get the DVD! If you get it through Amazon, please go through our site. Go to www.snakepit.org/ad.html and click through to Amazon. This is for DVD Region 1 and NTSC VHS orders only. Thanks!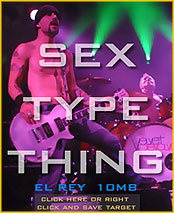 SLASH's official artist site has a second video up from the El Rey. We told you last time that "Set Me Free" was up, and now they've put up Velvet Revolver's cover of STP's "Sex Type Thing". Look for the cool Dave picture to pop up when you click the Velvet Revolver button at the lower right. Wait till you hear them! The address is www.slashonline.com, and the "Velvet Revolver Live at the El Rey!" link is on that home page. Rock and F*ckin' Roll!



News Reported: 08/01/03