And don't forget, we won't be publishing the SLASH page till Monday, August 30, but we can get/reply to email. Please continue sending in your reviews, photos and sightings and we'll catch up when we get back. Send to webmaster@snakepit.org Best wishes for a great end of summer!


Updated August 18, 2004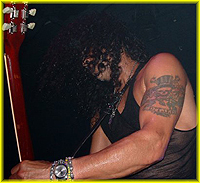 Vicki got her October Guitar One magzine and on the cover in the corner is a picture of SLASH captioned "Solo Guitar Arrangement - Guns N'Roses - 'Sweet Child O' Mine'". Vicki says there's a half page color pic of SLASH inside and the article has four solo arrangements of the GNR classic. Also, in their "Opening Axe" section under "Fret Buzz - G1's Power Rankings", SLASH is #1 up from #2 last month! They said that as VR goes, so goes SLASH as he shoots to #1 on th strength of the band's success. The next single, "Fall To Pieces" should whet your appetite for a power ballad. Finally, in their "Set List - Top 10 Guitar Tandems of All Time" article, SLASH and Izzy come in at #6 (Keith Richards with Brian Jones/ Mick Taylor/Ronnie Wood are #1). They noted that the new GNR with Buckethead could not compete with those of us raised on the original. "Lead-slinging SLASH and rhythm man Izzy Stradlin definitely took their chemistry set with them when they dumped the Roses in the early 90s." Thanks, Vicki! Vicki also found a tiny SLASH mention in the August 16 issue of US Weekly. In their "Fashion Police - Extra", they show a picture of Pink captioned "Pink makes this look her own--with SLASH's hat". Pink appears to have a very small top hat on her head.



Another SLASH sighting came in from George in Holland. He says that he saw on the web site of a national newspaper a few days ago that there is a SLASH interview in a magazine there called TVWeekeinde. It's about the story after Guns. Thanks, George!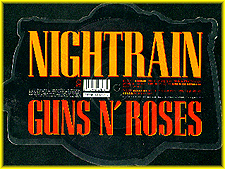 Speaking of magazines, Issue 13 of Nightrain is out now. Nightrain is a fanzine, and this issue contains Velvet Revolver news, album & gig reviews, an interview with Dizzy Reed, GNR and ex-GNR news, Adler in Greece and lots more. Visit the website at Nightrain for information on ordering your copy.


Guile is an Argentinian living in Spain, and he has some news for the Argentinian GNR lovers. Those who are subscribed to MULTICANAL have the chance to watch a GNR special on channel 46. The show will air on August 27 at 9 pm (Argentinian time). Guile says he has no idea what it is all about, but it might be worth checking out. You can check this at fmrockandpop.com/v2/novedades.aspx.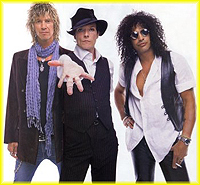 Some reviews have come in. First, if you're interested in some good professional reviews, there are ones for both Oslo and Helsinki on the Metal Express site. The links are:

Helsinki
Oslo
We have two good fan reviews on Oslo. The first is from Elin, a short but good review, about what SLASH was up to. Read the whole thing at Elin's review. The second is from Gustav who gave a good review of the show as well. Read more from Gustav's review. Thanks to Elin and Gustav for taking time to send those in! Now we're into the German shows, and we really hope to hear from all you German fans. Any photos would be appreciated, too!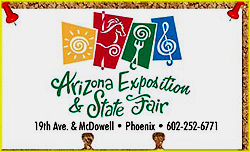 We wanted to get this information out right away. The fall tour in the US is being planned and one show has been confirmed at this time. Velvet Revolver will play the 2004 Arizona State Fair on October 23. The show will be at Veterans Memorial Coliseum in Phoenix, Arizona. Tickets go on sale Saturday, August 28 at 10 am. Tickets are available through Ticketmaster or through the web site. The web site is at Arizona State Fair, so check there for further information. Don't miss out!


Updated August 16, 2004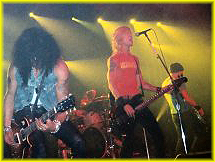 Tonight we have some videos to show you and articles and reviews, too! First, we'll go back in time to June 26 when Velvet Revolver played at Fantasy Island at the Borgato Hotel, Casino & Spa in Atlantic City, New Jersey. Blender covered it in their online newsletter and has a video clip there where you can watch the guys do "Do It For The Kids". The article is a long one and very positive. Even Scott should be pleased with this one. Take a few minutes and read the article and see that video. The link to the video is in the right column. Check them out at Blender articles.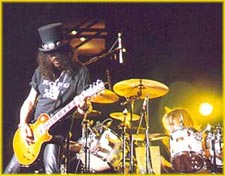 Also tonight is the big Norway show which a lot of fans have been waiting for impatiently. Finland got their share of VR on Tuesday, the 10th, when they played Helsinki. Flash sent in a really good review that covered the show. He says that if you want to put it short, the show was amazing! He also advises that if you aren't sure about getting the album or seeing the show, do yourself a big f*cking favor and get both! It's an experience that any VR or SLASH fan shouldn't miss. Read more! Thanks, Flash!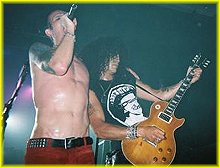 A couple of reviews came in on the Sweden show last night. Stefan sent in a really complete review. Overall, the band seemed to blow him away! He said everything about the show was over the top, and he tried to watch everything since he's a musician and wants to improve, but it was just too much for his head! He says that the Gunners performed better with VR than they did with GNR. He also says you really, really need to see them live! Check it out at Stefan's review. And, thanks, Stefan! We also got a note from Martin. He said the show was really great and that before the show, Dave, Matt & SLASH signed VR records at the local record store. 1000 people didn't get it signed! The guys were about 30 minutes late and signed for 2 hours. A lot of fans were there. Martin also sent us the address where you can go and see a film clip of the fans in line (it is soooo long!) waiting for autographs. SLASH, Duff and Dave are on there, and both SLASH and Matt have some things to say. Here's where it is: filmclip It's on the right side of the page a little ways down. Very cool, and we thank Martin for sending that in.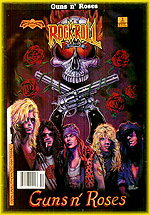 If you've missed the publicity, there's going to be another GNR show on VH1 you'll probably want to catch. This is called "A2Z: Guns N'Roses". The show takes the band from A to Z with anecdotes and little-known facts. For example, did you know that GNR once sued K-Mart for damaging their reputation? Well, they did and there's much more in the show. Mark this down in your recording list for Tuesday, August 17 10 pm ET/9 pm C. Sounds like a nice humorous look at the Gunners. Vicki, thanks for finding that for us.


And finally, a real mile marker sent in by Brian. Velvet Revolver holds 2 places on the Billboard Mainstream Rock singles chart with "Slither" at #2 and "Fall To Pieces" at #18. Let's just get all the singles up there!


Updated August 13, 2004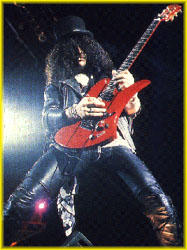 The UK magazine Q has a couple of mentions and pictures of SLASH in their September 2004 issue. The first was in "The Month in Q according to us in August 1990". There's several artists, and there's SLASH pictured with his snake and a bunch of women sitting on a bed. The quote for SLASH is, "It's amazing how much abuse girls will take." We think that now in 2004 his wife doesn't take any abuse! Later in the magazine, they have a big section on the "1010 Songs You Must Own". There's a picture of SLASH onstage with his hair in his face, smoking and playing guitar. The caption is "Hair guitar: SLASH does his thing". In the Q50, the 50 of the 1010 the magazine chose, was "Welcome to the Jungle".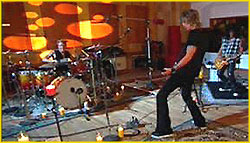 If you're a subscriber of Sirius Satellite Radio, you'll be able to hear Velvet Revolver on Sirius on Sunday, August 22 starting at 7pm ET on channel Octane/20. It will be rebroadcast that same day at 10 pm. There will be interviews and a live concert performance recorded from one VR played June 8 and 9, 2004 at the Wiltern Theater in California. As yet, the concert has not been selected but it will be from one of those two dates. The show will be called "Velvet Revolver Live and Loaded", and it's exclusive to Sarius who say they are very proud to be associated with Velvet Revolver. If anyone out there gets Sarius, we'd be interested in a summary, especially of the interview portion. Thanks!


SLASH is still in Europe on the European leg of the Velvet Revolver tour. One change in the tour list is that the show on 9/11 at the Akzena Rock Festival at Vitoria-Gusteiz, Spain will go on but without Velvet Revolver. We don't have any reason on that as yet. The other two Spanish shows, Barcelona and Madrid, are still on. The band finishes the European tour with a show in Lisbon, Portugal on September 12. Then, the band comes back to the US for another big tour of the United States possibly beginning with New York City at the Roseland Ballroom. We don't have any confirmation of any venues or dates, but we expect those to be out soon. Looking ahead as Velvet Revolver is, they have a big interest in touring Australia and Japan, so those may be good places to tour in early 2005. That's way out there, but that's what they are thinking about.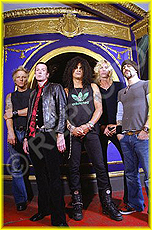 Last night was the show in Helsinki, Finland. And Kira wrote to say that they blew the Ice House apart! She has seen the videos on her PC, but it's nothing compared to seeing the guys live. Of course, SLASH was singled out for a lot of praise. She said his moves are still similar to what he did in Guns...the spinning, running and so on, but to her ear, his playing has matured. Kira was also very interested in Scott who she had never seen before, and at first she wasn't sure what to think, but as the show went on, she really thought he was a great frontman. They got Mr. Brownstone and Bodies as their last two songs, and she thinks Scott is terrific on those old Guns songs. She is not trying to make arrangements to see them one more time at least in Europe. Thanks, Kira! Remember, if you go to a show, we'd love to hear from you at webmaster@snakepit.org. And, Kira, the next show is Sweden tomorrow night, so get going!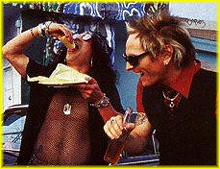 Europe should be looking forward to the release of the second single "Fall To Pieces". The video will be released there August 23 to coincide with the band's visit there, and on 9/13 the single will come out. The rumor still is that "Superhuman" will be the third single.


We have an administrative item for you. If you send information about an item you want to sell or are looking to buy, we put that on the page here with just a cut and paste. If you omit your email address, it doesn't show up and buyers/sellers can't get in touch with you. If you posted something there, please take a look and be sure you have an email address. We've heard from some potential buyers/sellers, and they really want to get in touch, so please check the ads over. Write to webmaster@snakepit.org if your email address is not listed and we'll fix that up right away. Speaking of our ads, we had one just come in that we have to mention here because it's so time critical. A net friend of ours finds himself in Norway with no ticket to the Norway show, and the sources for tickets there seem to have dried up. If you have a ticket you want to part with, contact skjeldes@hotmail.com. Thanks!


Updated August 11, 2004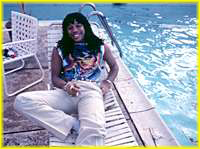 On August 6, SLASH lost one of his friends in the music world, Rick James. Rick died of natural causes from cardiac failure. The last time SLASH played with Rick was on Rick's birthdate on February 1, 2002. We talked to SLASH after that show and here's what he had to say about that night: "SLASH told us the second show was one he doubted we had heard about, and he was right. On February 1, SLASH did a special birthday show with Rick James. Rick James is a famous funk artist who did most of his work in the seventies and eighties. He suffered a stroke in 1998, and he's now coming back. The big hits he did are also being given a comeback as they are sampled by hip-hop artists. Funk is one of SLASH's original delights and influences. SLASH got to play on the explosive hit "Super Freak" which M.C. Hammer used in "You Can't Touch This". Rick was 48 years old that night, and we look forward to having SLASH rockin' that wild at least that long! " A special public memorial service and viewing will be held on August 11 at Forest Lawn Mortuary. The funeral is private. If you were a fan of Rick's, go over to the special site they have set up at Rick James Funeral Site and get detailed information on the funeral, donations, photos, etc. Rick James, dead at 56. Rest in Peace.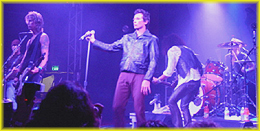 The show must go on as was the case in the opening blast of Velvet Revolver in Europe at the Skanderburg Festival in Denmark. Elkie wrote to us and said it was wonderful to see the band and especially to see SLASH in person. She said the crowd was very enthusiastic. The band started off with Sucker Train Blues, ripped through Do It For the Kids and Headspace. Then came a song that a friend identified as Crackerman, a Stone Temple Pilots song. Back to VR with Big Machine which she really liked. She described Fall to Pieces as haunting. Then VR blasted Set Me Free and the Guns song It's So Easy. The Stone Temple Pilots were then covered again with Sex Type Thing. The band left the stage, but were applauded back on for an encore of two songs... Slither and Cheap Trick's Surrender. Elkie said it was one of the best shows she'd seen, but she'd really like to see them in a more intimate setting. If you saw them and would like to write a review, send it along to webmaster@snakepit.org. There's now a short break in the schedule while the band moves on to Helsinki, Finland for the show at the Ice House on August 10. Originally, they were to be at the House of Culture but switched to the Ice House for additional seating.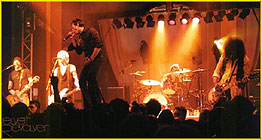 The official Velvet Revolver site had some interesting information posted and it's of special interest to guitar players who write in and ask who makes the guys' guitar straps. "Velvet Revolver rocks BALTAZAR belts and guitar straps. This stuff kicks ass... [08/06/2004] BALTAZAR designer Gus "Goose" Duarte is an artist who uses full-grain Italian leather as his canvas. An enthusiast of pre-1970 British Triumphs, Goose races vintage motorcycles and has been customizing these classics for the last ten years. It is his love for motorcycles and the lifestyle and sensibilities surrounding them that motivate and inspire his collections. Check out the video for "Fall To Pieces" (coming very soon) and you'll see the guys sporting some BALTAZAR guitar straps. And click here to go to the BALTAZAR website...  http://www.baltazar.la." So watch for that video and check out the new guitar straps. Very cool.



Updated 08/09/04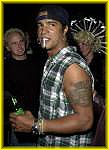 Eduardo Moto, "the SLASH clone from Brazil", tells us that he has been in touch with BMG and will be working with them through the September 3 commemoration party of the Contraband launching in Brazil. You may remember that Eduardo played at the SLASH South American fan club awhile back, the event to which SLASH sent a tape. Eduardo says the bar is called "Blackmore" and is one of the most respected bars in Brazil. After months of planning and work, he has the party ready to happen and has support and a producer to make the party even better. Eduardo will present his Velvet Revolver tribute band, Velvet Revolver Brazil, and they'll play quite a few VR songs. Eduardo says he has been a big fan of SLASH's for the past ten years, and he'd like everyone that can make the show to come to:
Velvet Revolver Brazilian Party
September 3
Place: Blackmore rock bar
website: www.vrparty.cjb.net
email: vrparty@yahoo.com.br
Come out and bring some friends! Eduardo has worked very hard on this!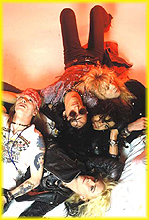 Ray sent in a small mention of Guns N'Roses. He was researching MP3 players and came across a review in Pocket Lint for the new Rio Carbon. Ray says that typically these intense gadget reviewers are particular about the music they use to test a device. At the end of the review they said, "We tested the player with Guns N'Roses and we were very happy with with the results and varying audio levels." The full review is at Pocket Lint review.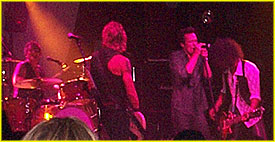 Velvet Revolver is packing up and getting ready to head for Europe for 5 weeks. The first show will be in Denmark, and we understand that the festival is sold out. So if you have a show later into the tour, get your tickets early! We put web site addresses on the calendar so you can find the latest information there on ticket sales, directions and so on. We have a difficult time with the language, so it's best if you go to those sites directly and find the information you need. And don't forget to send in reviews and any pictures of the band and flyers, too. At these larger shows, it's very difficult to make contact with the band, but you might get lucky.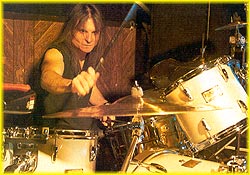 Recently we got some news on old band members, and we thought you might be interested in what these guys are doing. Keri Kelli (SLASH's Snakepit) is working with the Vince Neil band, and they are out on tour right now. If you go to Vince Neil , you can see some photos of the Vince Neil band on tour. There are some good pictures of Keri there. Steven Adler (Guns N'Roses) has the Bad Buzz tour underway with Bang Tango's Joe Lester on vocals. He did an interview recently that will be included in that metals video that's coming out. For a list of Steven's tour dates, go to his official site at Steven's Site. Matt Laug (SLASH's Snakepit) recently made an album that we told you about awhile back, HMLP . The "L" in the title stands for Laug. The next day, they made an album called Live at the Baked Potato. The same HMLP is the band. The Baked Potato is a famous club where SLASH drops in on an irregular basis to jam. Gilby Clarke and Teddy Zigzag are also regulars there. If you'd like to read more about Matt's albums, they are at Matt Laug. And finally, we found out that Brian Tichy (SLASH's Snakepit '95) is looking for band members to get his band Ball out again. You can read all about what they are looking for and the address for demo tapes at Ball News. The one person we get a lot of inquiries about is Rod Jackson (SLASH's Snakepit). Rod is a client of Big Swede Studios, a recording studio and music production studio. Also clients are Johnny Griparic (SLASH's Snakepit) and Teddy Zigzag (Guns N'Roses) and some other names. The site is at Big Swede Studio.


Updated August 6, 2004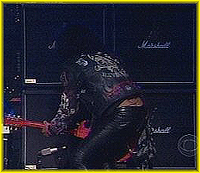 One thing SLASH has always like to do is solo work on other albums. This time he's really doing something cool for kids. The album, to be released October 5 from Sony Wonder, is titled Sing a Song With Six Strings. Sony Wonder is the family division of Sony Entertainment, one where you might find the Sesame Street albums. The album has been made by noted guitarists and produced by Eddie Kramer (Jimi Hendrix, Kiss) and features "an eclectic mix of artists and draws from rock, blues, adult contemporary and country music". Sing A Song With Six Strings includes six songs never before released that were written and/or recorded specifically for this collection by SLASH, Kyle Cook, Marc Ford, Vernon Reid, Craig Ross and Dean DeLeo. Additional tracks come from Carol Perkins, Keb'Mo, and Santana. SLASH says he did his track, "Sing A Song of Sixpence" in the style he felt most comfortable, rock and roll. He played it for London and got smiles of approval, so SLASH figures he hit the mark! The album is not yet in the pre-order list, but we'll let you know when it is! For those of you with young children, this one is a must!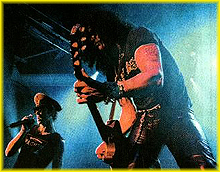 When we talked to SLASH at the Rolling Rock Town Fair Saturday, he said that they would do their shows in Europe that are scheduled. He said they will be there for 5 weeks, and asked an assistant to be sure to have 5 cartons of Gitanes packed for him. He says he doesn't smoke a carton a week, but people bum them or he leaves them around. After that European leg, they'll come back to the U.S. for a big tour here playing to larger venues. So it sounds like if you missed them in the U.S., you may get a chance to see them again in this fall tour. Another thing he said was about signing autographs. The band is being a lot more selective about how much they will sign based on the fact that so much ends up on ebay right away. They are especially leery of people who show up with a stack of items to be signed. GNR items don't seem to be very welcome either. SLASH said that when they fly into a country, there always seem to be some fans there wanting autographs and photos when all he really wants to do is get a smoke and head for the hotel. So bear in mind all these things and treat them well!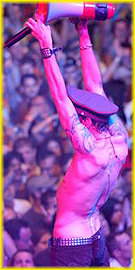 Speaking of the European tour, Scott has been granted permission to leave the country and go on tour with the band. Yesterday, the judge overseeing Scott's probation said that Weiland's efforts to stay clean have been a success. All of Scott's drug tests have been negative, and he has satisfied all terms of his probation. While he's on tour in Europe, though, he will be subjected to periodic drug testing. The judge congratulated Scott for complying with everything and being so cooperative. The judge also apologized for the technicality whereby a bench warrant was issued Friday when Scott did not appear for a hearing. The hearing had been postponed till yesterday, but the court forgot to take that Friday appearance off the schedule.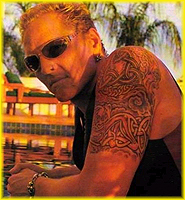 If you haven't visited the band's official site at www.velvetrevolver.com, you ought to give it a try. Each band member has a journal area where they can write messages to the fans. Matt recently posted a message, the first entry in his journal. He talked about how tough traveling is now. For example, he and Scott took a flight that was delayed 5 hours out of Pittsburgh to L.A. On the up side, he says he really feels like all the hard work putting the band together is really paying off. The fans in America were great and it was great playing for them. Back to L.A. for a week off then taking off for Europe. 5 weeks in Europe then a big tour of the States in October. And a big thank you from Matt finished it off. Thanks, Brian, for sending that in.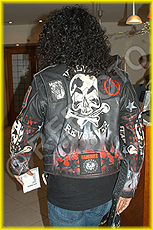 While Velvet Revolver is in Europe, they will appear on "TV Total", a German comedy show on September 6. SLASH will be interviewed, and the band will play their second single off Contraband, "Fall To Pieces. Check local listings for times.


Sarah found a short interview with SLASH in the Alternative Press Magazine which she typed in for us to share with you. It's here for you to read.


Updated August 4, 2004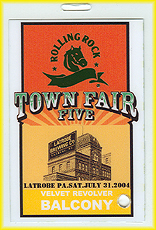 Saturday we went to the Rolling Rock Town Festival to see Velvet Revolver. They were headlining the show, and on the spur of the moment we decided to go. Festivals aren't normally our favorite venues, but the show was just an hour away and how could we not go? We set off at 10:30 am which was when the first band was scheduled. We had some minor confusion with tickets and passes but got inside at noon. Eating was definitely in order. Velvet Revolver was not scheduled till 7:15 pm, so we had a lot of time to kill. It was absolutely the worst weather with downpours and light rain most of the day. Fans quickly were able to start downhill mud slides and everyone was just covered with mud, but people seemed in good spirits which might have been from the Rolling Rock bottles we saw everywhere! We had a pass that cryptically said VR Balcony, so we set out to find where that was. Security were good people as the Will Call people had been, but we basically had to stumble across the right gate to get where we were supposed to be. When we walked in there was a big sign saying BACKSTAGE. Best of all, there was a big tent where you could sit down and dry off and use a restroom with no line. Paradise City! They even let us have food left over from lunch. Recovering, we looked around and checked out the stage area. The guard there showed us where we could sit/stand when VR came on...a balcony area about 3 flights up on the stage side. Wow! And SLASH got in touch and said he could see us after the show which was terrific. The show was absolutely fantastic. SLASH got a huge round of applause from the 30,000 in the audience. They seemed a little confused at first as Scott was doing his best freaky movements, but then they got into that and the whole band was applauded. SLASH and Duff were at the top of their game, playing off each other, and it was the best show I have seen so far. They played for an hour, and we were so close. As for a setlist, I didn't take time to write anything, but it was great to hear "Slither" and "Set Me Free" live again. They played Cheap Trick's "Surrender" as the last song of the set, no encore as the show was scheduled to end at 8:15. They played that almost to the minute and were gone. The fair people had kept the show on schedule all day, and they didn't let any bands run over. We went over to where the band was staying, and we waited till they came out. Matt was first looking slim and handsome. He shook my hand, and drummers can really give a firm handshake! Dave was there, and we had a chance to ask him if he preferred festivals or theaters. He said this was his first festival and it was just fine! He seemed shy but nice. Duff appeared so we said hello to him, too. He was smoking a cigar. About then Scott came out in a robe like a prizefighter would wear... burgandy, huge with VR on it and he disappeared from the area. Last was SLASH who was looking spiffy as usual. We had a long chat with him. We got everyone's autograph on a story that was in our local paper called "Velvet Revolver Loaded with Talent", and we got SLASH to sign a copy of "Set Me Free" and a bootleg Blues Ball...a couple of our treasures. We got to see some of his tattoos closeup, and he is thinking about where Baby Cash will have his name. He talked about more children, but not for anytime soon. They would love to have a little girl next time. Finally, we had to drag ourselves away to catch the bus back to the parking lot. The whole venue was empty, but we were able to catch a bus and get to the lot and head for home. Our day ended at midnight in the garage where we stripped off muddy shoes and clothes and headed for the shower. We wish more of you could have been there. SLASH says they will be playing big venues in Europe, so maybe you'll get lucky and have rain! VR is definitely worth traveling to see. We took about 50 pictures of the show, and they're here for you to see! The usual thumbnails...click on any you'd like to see larger.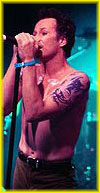 While we were watching the show, we didn't know that a California judge had issued a bench warrant for Scott's arrest. He was to appear at a probation status hearing on Friday. Although Scott had requested two weeks ago that the court reschedule the hearing till this week and the court had agreed, the judge issued the bench warrant. SLASH had told us they were heading back to L.A. Sunday for a week of business, relaxing and rehearsing before they left for the European leg of the tour this coming weekend. The court agreed to postpone the hearing till this Tuesday, but for some reason the judge issued the warrant anyway. When this report appeared in MTV News, Scott lashed out at the media, in particular MTV News. He said that they just seize on anything negative about him not caring that it embarrasses and shames his family with their continuous lies and lack of journalistic integrity. Furthermore, he asked if they were so bored with Scott's personal happiness that they hover meditating and concocting a headline they will only hope will happen. Scott was furious at his treatment not just by MTV but by all the "media whores". In the end the hearing will be held on Tuesday, and we all hope Scott will come out of this just fine. Thanks, Brian, for sending that in.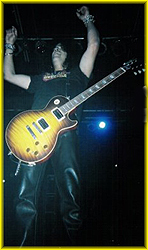 For your information, you can pre-order the UK version of the second single off Contraband, "Fall To Pieces" now. HMV Japan has it for sure, and most likely you can find it in the UK for pre-order, too. HMV is also selling that 12" picture disc made in the UK. "Slither" is on the LP.


Page Updated August 2, 2004