Right now Velvet Revolver and SLASH have a lot going on. The calendar of events begins with April 2004. Near the top is a list of months you can click on to see future shows and events. You can see the month at a glance and then click on specific days to find out more about what's happening with SLASH.Check this schedule often for events in your area with SLASH and Velvet Revolver. Click the tour truck below to check the schedule.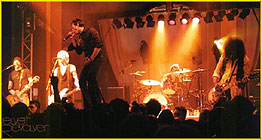 Two new dates have been added to the US tour schedule! Joel woke us up to the performance as the band's performance as the first one at the new Hard Rock in Biloxi, Mississippi on September 9. He already has tickets and reports that prices were steep at $140, but it's a once in a lifetime chance. We read recently that the Hard Rock in Biloxi has become a staging area for Las Vegas and bands playing Biloxi are scrutinized carefully to see if they can put on a Vegas-type show. VR has already proved that, but they are going to show Biloxi what they have! The other show in mid-September is in New York City at the new Hard Rock Cafe in Times Square.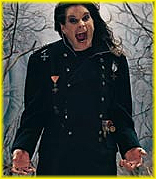 Velvet Revolver is now out playing the Ozzfest dates that Iron Maiden left them with. Tina went to a show in Houston. Somehow it sounds like a very aggravating show to us, but Tina hung in there and did get to see our guys up close. It's probably best for you to read this one yourself...it's long with lots of details, and we think you will enjoy it if you don't get aggravated yourself. We always did think this might be a problem...VR is not a metal band, but they gave it their best shot and seemed to win the crowd over. Anyway, here is Tina's report on Houston. And Wendy sent along some pics from the Aladdin show. She said it was her first photopass and she only got to stay for a couple of pictures. The band did a great job and the venue was nearly sold out. No bad seats and no pit. It was a very intimate show. During the second song, Scott invited everyone up front. After that they had to return to their seats. The last picture is one of a cake for Dimebag. SLASH, Perla, friends and family had cake and drinks at the Rainbow in Vegas after the show with a private room. Pauly Shore was there. Wendy said they were sitting in a table next to them with The Actual. SLASH and Perla left and the waiter asked Wendy and company if they wanted anything else as SLASH was picking up the tab, but she only had water! They didn't want to take advantage of the open tab. Thanks to both for sending these reports in. If you'd like to take a look at Wendy's photos, here's a link to them: Wendy's Photos.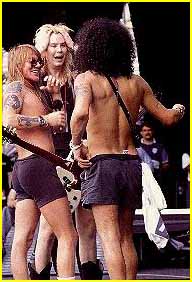 Last time we told you that SLASH and Duff were suing Axl over the copyright distributions. They said that Axl had told ASCAP to send all the money to him as he owned the copyright to the back catalog. After SLASH and Duff filed suit in federal court, Axl's attorney said it was just a mixup and that Axl had returned the money to ASCAP that was not his. We're talking about a return of about 100,000 per person here, so you can see where SLASH and Duff might miss that in the books! Axl's attorney accused the two of flying off the handle and trying to generate anti-Axl sentiment instead of calmly trying to resolve the problem.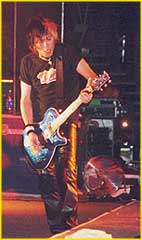 Before much more time passes, we wanted to alert Keri Kelli fans that Keri is on tour now with Skid Row. Keri was a guitarist in SLASH's Snakepit and is doing the honors with the Skids now. Here are the coming dates:
9/3 Nottingham, UK Rock City
9/4 Bristol, UK Bristol Bierkeller
9/5 Falmouth, UK Princess Pavilion
9/7 London, UK Electric Ballroom
9/8 Milton Keynes, UK Woughton Centre
9/9 West Midlands, UK J.B.'s
9/10 Bradford, UK Rio's
9/30 Akron, OH Tangier
10/06 Fredericton, NB Aiken University Centre
Keri is really a nice guy, so go out and say hello for us and for yourself!




Page Updated 08/29/05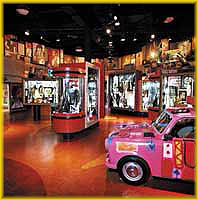 On Tuesday, September 6, Velvet Revolver will perform a benefit concert for victims of the 2005 hurricanes, including Hurricane Katrina. The venue will be the Hard Rock Live in Orlando, Florida. VR was originally scheduled to play the Biloxi Hard Rock Hotel and Casino on September 9. Now that structure is gone except for the big guitar outside. Memorabilia had been lost including a scrap of paper that Buddy Holly was composing a new tune on. 100% of ticket and bar sales from the show will be donated to help the people of Biloxi and New Orleans through the American Red Cross. Staff has donated their time and many partners are chipping in. Tickets are $45 through Ticketmaster. Doors open at 7 pm and the show begins at 8 pm.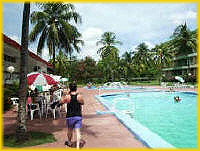 As you know, Velvet Revolver is traveling with the Ozzfest. Ozzy is suffering from a respiratory infection and has been resting at the Hotel ZaZa in downtown Dallas. It's been noted that SLASH spend much of one evening at the ZaZa restaurant Dragonfly with tarot card reader Valentina. Folks present said SLASH spent more time telling her her future than listening to his own. VR had joined the tour a few days earlier, but Scott jumped in on the living well vibe and enjoyed caviar and trout at poolside at ZaZa. Sounds like a good time is being had by all.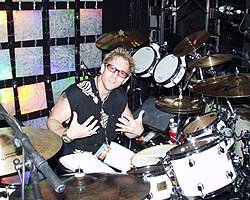 Recently there was an interview with drummer Mark Schulman, the guy who is taking Matt's place in Velvet Revolver. When asked why he was chosen, he said Matt's hand had to be re-broken. He knew Matt over the year and saw him playing with Foreigner and he knew Mark could also sing backing vocals. VR went to Cher's show and he went to theirs and the offer was made. The try-outs were pretty crazy, and all they could do was listen to Mark listen as he drummed along to the CD. Matt was very strong in his recommendation, so they took Mark on. He had to go in without rehearsals or soundchecks, but he says that all things considered, they are going very well. The challenge with VR is that they don't play what's on the album in a live performance. He watched videos of Brian Tichy and somehow got it all together. He says VR plays about 10 times louder than Cher's band, and he has to hit hard and heavy. SLASH and Duff were great, very kind. It's been a wild experience, but you get thrown into the fire and do what you got to do. Very interesting!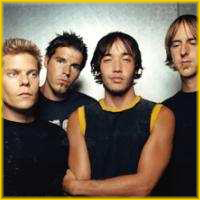 Hoobastank opened for Velvet Revolver on a recent tour. Singer Doug Robb says that watching ESPN and the tour brought the song "If I Were You..." out inspired by the NHL strike. Also, being on tour with VR, you see these guys who have so much and don't appreciate it. They seem to have forgotten where they actually came from. Then he said he would rephrase that...four of the guys were the coolest ever, one of them is just in his own world. And he says he'll leave it at that. Guess who?


Our 2006 Velvet Revolver calendar came today. It's really colorful. For each month, there is a picture of a bandmember with smaller pics around it. All are live photos; some are little sketches. Definitely worth the $12.99. You'll probably see these around. We got ours at megacalenders.com. Another good thing in the mail was our replaced sculpture of SLASH. It came damaged, and the company, Knucklebonz, took it back and sent a new one. It does seem a little fragile so be careful with it. It comes from www.guitarheroes.com where they have several different sculptures on sale now.


Page Updated 09/07/05


The efforts to help the people in the New Orleans and surrounding areas go on. If you've been watching this on TV, the pictures and stories are heart breaking. It seems that we as regular people are going to have to help too. It's unclear why the governments are bringing in help so late. Some have not had food or water for days; some are still stuck in houses and on rooftops. Our town in Pittsburgh has offered housing for 300 families. What can you do? The charities are rushing to the scene and they say they need money right now. We wonder why the big corporations are not doing more with donations, but if money is needed, we can all contribute something now. We call upon the millionaire recording artists to give not thousands but millions now. They have all played New Orleans, and now that city needs them. You can contribute to the Red Cross and Salvation Army and Catholic Charities. NBC and MTV will have telethons to raise money. All the major networks are working with them to produce a simulcast benefit show. In 2001 a similar telethon for the Sept. terrorist attacks raised $100 million dollars. Watch for these coming up, and contribute all you can to the relief efforts. Later, they say, they will need help in other ways, but now they need money. Let's hope these concerts can draw big bucks from everyone. Remember what you pay for a concert ticket and contribute at least that much. Try to get to this show and show your support for the survivors. It may be one of the last shows before the band goes to work on their new album. The NYC Grand Opening show on 9/17 is not open to the public. Dr. John issued a statement that "My heart's always gonna be in New Orleans. The music will survive; the people will survive." Another famous New Orleans musician, Fats Domino, was reported missing as he stayed in his home during the hurricane. Good news! Fats was rescued by boat near his devastated home in the Ninth Ward neighborhood. As of now, Fats' wife and other family members are still among the missing. DMB, Usher, Green Day and Alicia Keys are among the artists performing at a relief concert.


Christine is one of our readers who says that due to the hurricane, she has not been able to get email too often. The area she is in looks like a war zone. The Hard Rock that VR was to play on, the one in Biloxi, it's gone. Christine was stranded at work for 36 hours which is further inland. The Big Easy is down for the count with people being plucked off rooftops and the Super Dome leaking. People are being bussed off to Houston's dome. Christine says Gulf Port and Biloxi are practically wiped off the map. She feels she is very lucky as she and her family are together and the hurricane shifted before it hit her area. Christine says prayers are welcome. She'll try to stay in touch. Our prayers go out to her.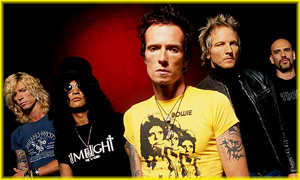 With all she had on her mind, Christine managed to get us word that the Velvet Revolver guitar tab book is out and on sale at Amazon.com. So for all of you who have written and and asked for one, here it is. Click:
VR Tab Book. Thanks, Christine for sending us your story and the news about the tab book.


While we do have some other news, our hearts are too broken to continue. Maybe as things get better (as we hope they will), we will get back to our regular VR reporting. Just so you don't miss them to much, Norm sent us an online article in "Metal Edge" which is an interview with Scott. Thanks, Norm!
Click Scott Interview.


Page Updated 09/02/05


We're always proud to tell you about big events in music where Velvet Revolver has been asked to perform. It was announced recently that VR will perform at the official grand opening celebration for New York's Hard Rock Cafe which is moving from its original home on 57th Street to Times Square. DJ Mark Ronson and Run DMC's Reverend Run will be there with the Reverend dedicating the club's New York Room and donating his trademark hat, cape and collar. The Hard Rock is giving away a trip to the party. There's a contest for this on their web site. Proceeds benefit Peace Games, a non-profit dedicated to ending the trend of violence in the U.S. Why not enter and take a chance? You New Yorkers should get down there and see if you can catch a sighting of VR! The new Hard Rock will officially open at its new location with a smashing of more than 100 Gibson guitars...the moment will be billed as the World's Largest Guitar Smash. There will be a month-long celebration with special events, but the grand opening is where VR will perform live!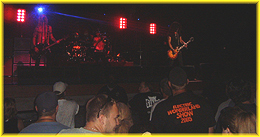 A couple of reviews from the current U.S. tour have come in. Brian went to the Columbus show and had fifth row seats. He said his pics didn't turn out so well, but he did send some along. The show was great, according to Brian. He said they sacrificed sound to be up close. His friends back by the sound board said it sounded great. He also gave a big approval to Brian Tichy, sitting in for the injured Matt Sorum on drums. Brian said that for him, "Wish You Were Here/You Know You're Right" was a highlight. Thanks, Brian! Noble sent in his report on the VR Casino show in Mt. Pleasant, MI. Noble is 14 years old and a big SLASH fan. He and his friend were near the front where they heard the band play most of Contraband and those classics "Sex Type Thing", "It's So Easy" and "Mr. Brownstone". Noble said that he and his friend caught Duff's attention during the show. Duff looked at them and smiled and pointed them out and they felt very cool after that. It wasa a great show with a kickass version of "Slither" at the end. Noble can't wait to see them again!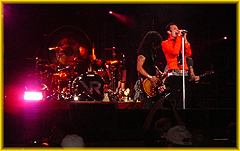 As you know, Brian Tichy, ex-SLASH's Snakepit and current Billy Idol's band, has been sitting in for Matt Sorum on the drums since Matt fractured his pinkie finger in a boating accident while VR was on hiatus. Brian is going back to Billy Idol's band which precludes his being around for the Ozzfest shows. Another temporary replacement has been rounded up, Mark Schulman. Mark is a veteran of Cher, Stevie Nicks, Sheryl Crow, Foreigner, Billy Idol, Steve Stevens, and he will be the fill-in for Matt on the upcoming Ozzfest shows. He'll begin August 20 at the Aladdin Resort. It's not clear how many shows he'll be working. Matt is in physical therapy and hopes to return to VR asap. Speaking of Matt, Jeff sent us word that Matt does special guest vocals on Tommy Lee's new album Tommyland: The Ride, and he recommends the album.


Today, surfing the net, we found a 2006 Velvet Revolver calendar for sale on the megacalendars.com web site. If you go to this, their home page, you do a search on Velvet Revolver, and this one item they have for sale there will pop up. From the small drawing, it looks like the "girl on a gun" idea familiar to GNR fans. The calendar is under $15 and it says it ships right away. When we get ours, we'll let you know what it's like.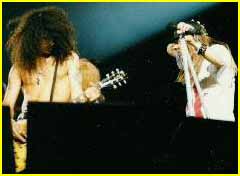 The biggest news has been that SLASH and Duff are suing Axl Rose over the royalties he has been receiving. Instead of dividing the royalties, Axl sent word to ASCAP that all royalties are to be sent to him. SLASH and Duff demanded credit for their work on the GNR back catalog. A federal lawsuit has been filed in LA saying that Axl had no right to sell the back catalog. They didn't realize it till the first quarter earnings did not arrive in the mail, and we're talking about nearly 100K here, so a lot is missing and needs to be chased down and returned. Axl said he sent the money back to ASCAP, so everything may shake out fine, but it's wait and see for now.


Page Updated 08/26/05

We're going on a vacation starting Friday and we'll return to publication on August 24. Keep sending in your reviews and sightings and we'll check them out when we get back.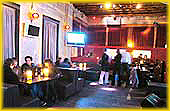 Before we start serious packing, we wanted to tell you that there are reports that a proposed reality show set at Snitch, the rock and roll club co-owned by Scott and Duff is drawing interest from several cable networks. Original Media is shopping around "Snitch" which takes place at the venue by the same name and follows the workers, from bartenders to bouncers. Each episode would include a musical guest who would appear and perform on the show. Scott and Duff are among the investors who have helped make Snitch a popular postconcert haunt for the hard rock subculture. Other regulars are Sum41 and Cypress Hill. Cool Idea!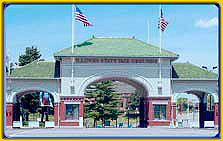 This year's Illinois State Fair Grandstand concerts are in the black, even before a note has been played. Revenue has reached a profit of over $30,000 already paid out to the performing artists. Velvet Revolver has attracted nearly 2800 for its Wednesday performance. Modern Day Zero has been announced as the opening act for Velvet Revolver. The modern rock band from St. Louis previously toured with Velvet Revolver. Their song "Down" was featured in the EA Sports video games NHL 2004 and NASCAR Thunder 2004. The band's debut album, Coming Up for Air was released last year.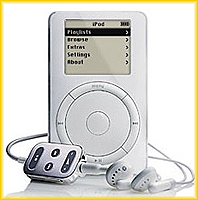 It's happening with Velvet Revolver and now it's happening with Foo Fighters. Fans rush out to buy these chart-topping albums, only to find out that they don't necessarily work with their portable media player of their choice. Some labels choose to put DRM on their CDs and DRM forces consumers into using DRM-compatible music players. In the case of Foo Fighters, their CD uses Windows Media DRM, which means that iPOD users get home, pop the CD in to rip it and learn that iTunes can't import the CD. You paid for it, yet you can't use it in a legitimate way. And if you circumvent the DRM, you are breaking federal law. DRM makes it harder for honest people to enjoy what they have purchased. It doesn't stop piracy.


Look for Metal Edge magazine where there is a long, interesting interview with Scott Weiland.


Page Updated 08/10/05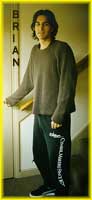 Last we heard, Velvet Revolver had cancelled their appearance on the Jimmy Kimmel show tonight due to Matt Sorum's fractured hand. Matt sustained the injury in a boating accident. The August tour looked iffy, but the band has come up with "drummer extraordinaire", Brian Tichy. Lots of connections here with Brian being the tour drummer for SLASH's Snakepit and playing with Billy Idol when Snakepit toured with Billy. We can promise you a great show and great drumming with Brian. We've followed his career for some time and he was also the drummer for Foreigner in the Foreigner/Journey tour. He had his own band, Ball for some time. Brian is just a terrific guy, and we hope you will welcome him to his temporary slot in Velvet Revolver. One of the neat things he does during drumming it to toss a stick up in the air and catch it and continue. Wow! So look for some good work from him. Welcome, Brian!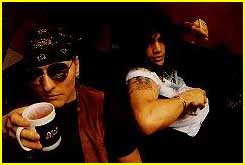 VR is scheduled to continue their Electric Wonderland Show arena tour on August 11 in Mt. Pleasant, Michigan. There are seven solo dates before joining Ozzfest on August 23 in Albuquerque. Matt's intent is to be doing physical therapy and coming back to the band for Ozzfest. Brian will leave the band and go to start the next run of Billy Idol shows in Canada on August 25.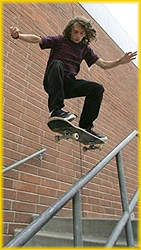 Nick saw SLASH at the X-Games on August 4 performing with a band called X-10. He did one song with them. Nick held his space up front for an hour and at the end he caught SLASH's guitar pick! Very cool! Thanks, Nick for sharing that.


Wendy saw the X-Games show on Friday. After struggling to get in, six of them sneaked in through the no-re-entry door left unsupervised by the restaurant. This was an invite only party hosted by ESPN for the X-Games with an open bar. The show was amazing. All the Rock Star INXS contestants were there. SLASH and Scott played together and were incredible. They tore down the house. It was one of the most exhilarting performances Wendy's ever seen; all the bruises were worth it; and we thank her for sharing that. She took some pictures and we have a link to them that she's made available:
CLICK!
Thanks, Wendy!


Page Updated 08/08/05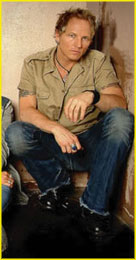 Looks like we spoke too soon about Velvet Revolver making an appearance on the Jimmy Kimmel show next Monday to do "Come On, Come In". Matt Sorum suffered a fractured hand as the result of a recent boating accident. Not only will he miss the Kimmel show, but word has it that as a result of the accident and physical therapy, he'll miss the first few shows of the upcoming tour. The first date Matt expects to be back is the start of Ozzfest. The band expects to bring in a temporary drummer during Matt's absence as the band is still scheduled to do all the tour shows. No drummer has been named as yet. Thanks, Brian for all that information.



The Miami Dolphins are calling their quarterback "SLASH" for the same reason the Pittsburgh Steelers did some years back. The Miami quarterback featured a SLASH at quarterback on their initial depth chart. The No. 1 quarterback is A.J. Feeley/Gus Frerotte as the starter. The Steelers called Kordell Stewart "SLASH" because of the number of places he played on the team. SLASH came to Pittsburgh and played at places around town and the network interspersed these with shots of Stewart. Very cool.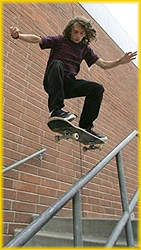 X Games 11 will start two days early with surfing competition scheduled to begin today in Mexico. All kinds of X-Games will be played. Twenty-two bands, including a cameo appearance by SLASH are part of the X Games lineup. SLASH will join the rap/rock creation SX-10 which was formed by Cypress Hill's Sen Dog. The band will perform on Thursday after the motocross best trick final at Staples Center. This is at least the second time SLASH appeared at the X Games. A few years back, Matt and he put together a band, wrote some music and played during one of the events. The X Games will have its own wrap-up show on ESPN. The one hour Saturn X Center will air each night of the four day event at 9 pm. It will feature news and information from the competition each day and celebrity and lifestyle segments reported by musicians like SLASH. SLASH will give his perspective on the musical performances at the games. All this excitement is to start two days early on Monday, August 1 and continue to air on Saturday during the ABC noon telecast. Volunteers are needed! Go to the www.xgames volunteers.com or call Sharon Walsh at 310/642-1514. Vollunteers must be 18 years of age.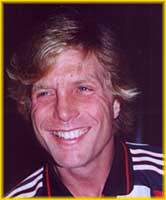 Steven Adler and Tracii Guns have formed a new band, Guns N'Roses Revisited, and features the two plus Sheldon Tarsha (vocals), Keri Kelli (guitar) and Robbie Crane (bass). The band is going to tour Asia this summer/fall. Here's the schedule we received:
8/24 Tennis Indoor Senayan in Jakarta
8/26 Velodrome/Stadion Gajayana in Malanga
8/28 Pulau Serangan in Bali
8/30 Stadion Mandala Kriday in Yogyakarta
9/1 Selecta Royal Ballroom Lt.5 in Medan
9/3 Singapore Expo in Singapore
9/5 Araneta Colliseum in Manila (Philippines)



Page Updated 08/04/05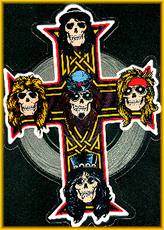 Christer from Norway tells us that if you have access to www.aolmusic.com, you can see another version of the Guns N'Roses "Sweet Child O' Mine" video. This one is also awesome! You can also see there what Velvet Revolver did at Live 8. Enjoy!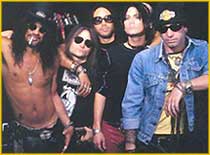 MJJerauld reports that SLASH's Snakepits song "Mean Bone" was played on an X-Games 11 commercial. It's very nice, and it should be a crazy X-Games this year. We don't know what madness to expect, but one year SLASH put together a band with Matt Sorum for one and they did a great rock song.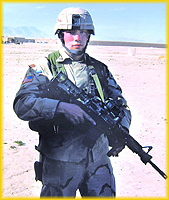 There have been a couple of mentions of the band making contact with fans. Army Spec. Tyler Wilson is in the fight of his life. In 2003, he got through the basic combat training and got his Airborne wings. He was off to Afghanistan. Now in the New Mexico VA Health Care System, he's facing his greatest challenge. Wilson took three bullets in an Afghan firefight. He is paralyzed from the belly button down. When hit, one lung collapsed and he found it hard to breathe. Combat lifesavers saved his life. Now in the hospital, he had a visit from some of the Velvet Revolvers, and he's hopeful and confident that he will make a full recovery and to be out by his birthday in October. He's on the Army's temporary disability retirement list, and if he doesn't recover in five years, he could be medically retired. We're wishing Army Spec. Tyler a full recovery and hope that that visit from VR was a lift to his spirits.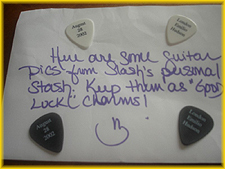 Two other fans who had contact with the band were Kat and Bas. The newly-wedded couple received gifts from SLASH and Perla in honor of their marriage in Holland. Pictures of the largess they received are on the Snakepit Index forum (www.slashsworld.com/forum). The two want everyone to know about the kindness and generosity of the Hudsons. If you go and see the pictures, there are photos of the two wearing SLASH t-shirts autographed by SLASH and some guitar picks from SLASH's personal stash. When they got back upon their return from holidaying in Slovenia, there was a nice package of these gifts. A very special gift from their favorite guitar player is now a special possession in their home. Thanks to Kat and husband Bas (no relation to Sebastian Bach who also goes by Bas) for sharing this with us.


Don't forget that Velvet Revolver will be on the Jimmy Kimmel show August 8 doing their newest single, "Come On, Come In" from the Fantastic Four soundtrack. Also, the US tour is starting, so if you get a chance to go, we'd really love to hear from you!


Page Updated 08/01/05