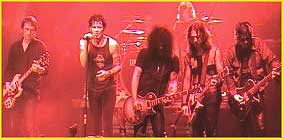 Last time we reported that SLASH and Izzy joined Steven Adler's band, Adler's Appetite, at The Key Club this past Sunday for three GNR covers. Lots of guitarists onstage, and it was too bad Duff couldn't be there also. This "Appetite for Guns N'Roses" band played "Mr. Brownstone", "Paradise City" and "Knockin' On Heaven's Door". SLASH's official artist site, www.slashonline.com has made the video of "Mr. Brownstone" available for you to watch and download if you wish. It's in Windows Media Format (.wmf), and you can connect to it through their popup window. The singer is Jizzy Pearl from Adler's Appetite. This won't be one of our personal favorite covers of Brownstone, but it was good to see Izzy, SLASH and Steven together again onstage. And don't miss seeing Keri Kelli (ex-SLASH's Snakepit) up there, too!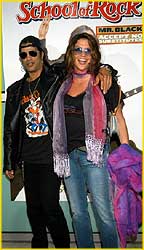 Jack Black's latest movie, School of Rock will be in the theaters October 3, and SLASH recently went to the L.A. premier. Here's a picture of SLASH and date (wife Perla) on their way in. SLASH ought to like this one. Its the story of a down and out rock star (Black as Dewey Finn) facing debts and depression. Taking a job at a private,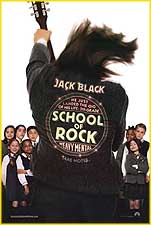 uptight school as a 4th grade teacher where his lifestyle, attitude, music gets the kids exploring other sides of themselves and leading to a battle of the bands contest. Finn secretly builds a rock band around a 9 year old guitar prodigy, they enter and win! Great for pre-teens and teens, and fun for adults. Rock on!


Recently, the Japanese music magazine Burrn! interviewed the members of Velvet Revolver. The magazine has cool color, large pictures of the band on the cover and inside. Since the magazine is in Japanese, we asked one of SLASH's biggest fans to translate for us. Akihiko lives in Texas, and he's been sending us the interview texts. Thanks for this special help, Akihiko! The SLASH portion appeared last week (see September 2003 archive below), and this is the interview with Duff.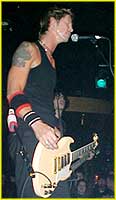 Burrn! first asks about the status of Duff's band, Loaded. Duff says Loaded is always there for him, but for now he is not working with them. Other Velvet Revolver members have their own bands also, but VR comes first right now. He keeps in touch with the Loaded band members, though. They next talk about Izzy's EP that Duff and SLASH worked on. Duff said it was all led by Izzy, and he doesn't know what happened to it. (This is also what SLASH said in his interview.) Sometimes Izzy just calls him out of nowhere and asks him to play for him, and that's always Izzy's way of doing things. They talk about Izzy's forthcoming album. Burrn! asks if Duff did anything with that one. Duff answers that he doesn't know anything about the new album, but he thinks there is a chance that songs he did with Izzy for "the mysterious EP" might end up on the record.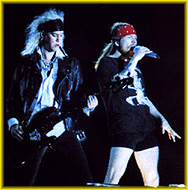 Next is a question about the Music Video Awards on MTV last year where Axl and the new GNR had an appearance. They want to know if Duff knows anything about that. Duff replies that it's like asking him, "Do you know what Iron Maiden are doing right now?" By that he means that he doesn't know much about the new GNR, what they did or are doing. Burrn! follows up by asking what his thought are on the riots that happened on the new GNR's last tour. Duff said he wasn't surprised because that was an everyday thing during his GNR career. He said he felt sorry for fans that come out to see the band play and for the crew who worked even on Christmas break because the were not getting the money they were supposed to get. Asked to speculate on the possibility of a GNR reunion, Duff said he doesn't think he wants to go back. In addition, the hope for Velvet Revolver is too bright to even think about a reunion. He says he's happier than ever in VR.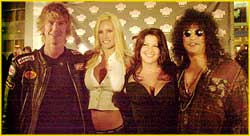 Burrn! asked about how they chose Scott Weiland over so many other talented singers that they auditioned. Duff said he came to know Scott because their wives were good friends. Duff and Scott had previously met twice, but they were both too drunk to remember anything about it. He says both wives (Scott's wife is an ex-wife at this time having sued for divorce after filing domestic abuse charges and citing Scott's drug and alcohol abuse) were excited about the idea of Scott joining Velvet Revolver, so they worked behind the scenes to hook them up. As SLASH said in his interview, Scott turned down the vocalist offer at first; but when VR got new management, one of the managers told Duff to call Scott again. So Duff called Scott's wife, and that's how this all came to be. Then, Duff was asked about a woman who tried out for lead vocalist. Duff said that Mike Clink, GNR's old producer, told the VR guys that he found a bad ass singer they should try out; but he didn't give them the singer's name.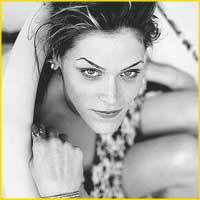 One day, Mike showed up at their rehearsal early and told them that he'd heard the singer a couple of times; and he was thrilled, but there's one thing the guys had to get over - the gender of the singer. All the members were shocked and said, "What, you brought a chick?"! And that was Beth Hart. Duff says they gave her an audition, and she sounded like Janis Joplin in a way and amazing, but soon they decided what they wanted was a male singer. Duff said they aren't sexist or anything, but the band feels they just wouldn't work with a woman singer right. Duff felt so guilty, he called up one of his sisters and asked her if she thought he was a male chauvinist. She assured him he wasn't, but she did say she thought the band wouldn't work well with a woman singer...she said she thought it couldn't possibly work out. And Duff was relieved.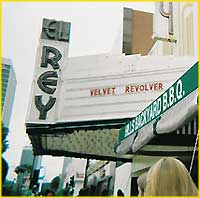 At one time, the band was calling itself Reloaded, and the magazine wondered why they had changed it. Duff's version of the story is that everybody in the band but him wanted to use HIS band name, Loaded, at first. He joked around, saying that if that happened, he would have a lot of help selling his back catalog. In reality, he actually didn't want to use the name for this band, so they simply changed it to Reloaded. However, when the movie, The Matrix Reloaded came out, they thought they'd better rethink the band name. SLASH came up with Revolver. Then, they found out there were more than 50 bands named Revolver, so they finally settled on Velvet Revolver. Burrn! asks a final question which must have been painful...who is going to own the name Velvet Revolver (assuming the band were to break up, we guess, based on Duff's reply)? Duff simply says that he doesn't want anything like that to happen.

Thanks again to Akihiko for the translation which we've summarized for you. [Note to other sites: please do not copy this report. Akihiko did this work solely for this site...feel free to link to the News section.} The interviews with Matt and Dave are forthcoming.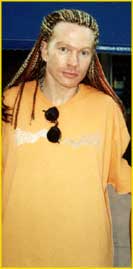 Ordinarily we'd leave you with that long article to digest, but Metal Sludge has one of their funny week long polls to pass along. They want to know who has the most ridiculous wig! Included are wigs, hair extensions, braids, etc. You'll find a picture of Axl there with his new braids and possibly surgically altered wide-eyed looks. You can choose a whole host of aging rockers from Gene Simmons to Don Dokken to Bret Michaels. Last time we looked, Michaels was leading the pack. Here's the poll at Metal-Sludge Poll.


News Reported: 09/26/03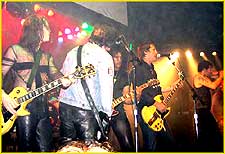 Steven Adler's band, Adler's Appetite (previously Suki Jones), had a gig at The Key Club on Sunday, September 21; and some very special guests came out for the last three songs: SLASH and Izzy Stradlin! They rocked the crowd with "Mr. Brownstone", "Paradise City" and "Knockin' On Heaven's Door". It's the first time SLASH, Izzy and Steven had played together since Farm Aid in 1990. Some pictures and reviews have been posted at some of Steven's and other Adler's Appetite's band member sites. A large set of pictures is at the Adler's Appetite (Suki Jones) site. There's a good review and pictures on the Metal-Sludge site. Longing for the old days or a GNR reunion? SLASH told Guitar World in a recent interview that while Izzy comes in and out, he's just not ready to do a long haul album production and touring. If you haven't seen this yet, here is the text of that comment with thanks to Guitar World (and also to Brian):


Izzy's Work With VR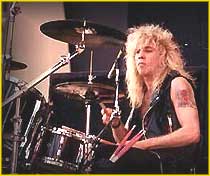 Around this time in September, Steven has had some memorable past events. On September 24, 1998, Steven was sentenced to 150 days in jail for beating two women he dated and for violating his probation from an earlier domestic violence conviction. Previous to that, on September 24, 1993, Steven reached a $2.5 million agreement in his lawsuit against Guns N'Roses and its managers. Adler was thrown out of the band when he could not kick his heroin habit. The agreement was reached out of court before the lawsuit would have gone to the Superior Court jury. Adler's lawyer said Steven sued to set aside a 1990 agreement he signed giving up his partnership interest in the band. During the trial, GNR guitarist SLASH testified that Adler was "strung out" when he signed that agreement, thus giving Steven a chance to sue for additional monies. Sunday's September 21 gig had the two working together again, if only for a short time. Steven was SLASH's buddy in high school, and they joined GNR together.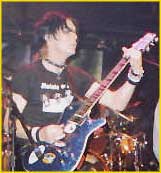 If you'd like to see what Adler's Appetite (aka Suki Jones) is like, you can catch up with them on October 9 at the Bull Dog Cafe in Mexico City and October 10 at the Hard Rock in Gaudalajara. Keri Kelli (ex-SLASH's Snakepit) plays with Suki Jones and L.A. Guns, and he's been racing back and forth between the two. He was on hand for The Key Club show and will do the Mexico shows. L.A. Guns are then scheduled to do some US shows with a tentative start date of October 16 or 17 and that tour will last till December 4 when the the Spanish and Italian L.A. Guns shows will be rescheduled. If Keri's your guy, keep an eye on his schedule at www.kerikelli.com.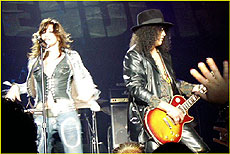 We'd also like to mention that Gina Gershon, the woman who rocked the Sundance Indie Festival with her backing band of SLASH, Duff and Matt, will be at the Sunset Strip House of Blues on Thursday, September 25. Gina will be performing live with Girls Against the Boys in support of the Prey for Rock and Roll film and soundtrack. Gina also was seen with SLASH and company in NYC recently at one of the classy men's clubs there. They made some good music together at Sundance, but we have no information at all on whether SLASH will show up or not. Either way, Gina tears the house down; so get your act together and get to the House of Blues. It's a 21+ event.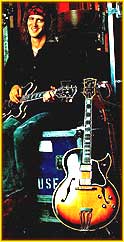 Our final item starts where we began, with Mr. Izzy Stradlin! Duff and Izzy do a guest appearance on the forthcoming sixth album by Mark Lanegan (ex-Screaming Trees frontman). Lanegan recently joined Queens of the Stone Age as a full-time member. This latest solo album is titled Bubblegum and is scheduled for release in January. Lanegan says he was "sort of a houseboy for Duff and his wife for a long time." He felt that having Duff and Izzy sing on Bubblegum was "like having Keith Richards and Ron Wood singing with you." Lanegan says this album is a rock album in contrast to his other five which have been characterized as "folky and alt-country".


News Reported: 09/24/03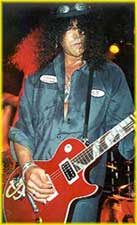 When the new issue of Guitar World appeared, one of our sharp-eyed readers, Aaron, had a good question concerning the guitar SLASH is pictured playing there. It's a small picture, and we haven't seen it yet ourselves. (If someone could scan it in and email it to us, we'll put it up.) Aaron asked, "In the new Guitar World, there is something different about Slash's guitar. There is an extra switch between the tone knobs. Could you post on your website asking if anyone knows what it exactly does? I have a good suspicion that it splits the coils in his humbuckers, but I could be wrong. Thanks a lot". We caught up with Adam Day, SLASH's longtime guitar tech, this weekend and posed Aaron's question to him. Adam says the guitar is a prototype of what may possibly be a new SLASH signature guitar. It's a Gibson Les Paul, and both Gibson and SLASH have been working for awhile together to produce a new SLASH signature guitar. The finish in the GW picture is aged heritage. The extra switch you see is a miniswitch for the piezo pickup built into the bridge of the guitar. Adam says it makes the guitar sound like an acoustic guitar. We asked if this replaces the doubleneck guitar, and Adam says it doesn't altogether. It sounds like an acoustic, but the sound is produced differently. Doublenecks have a hollow body that makes the acoustic sound. The switch allows the guitarist to to switch back and forth between magnetic pickups and the peizo pickups on the bridge. This SLASH signature guitar is waiting on the approval of the President of Gibson and could be approved at anytime. It will be part of the Gibson product line, a Gibson Shop model although some may be done out of the Gibson Custom Shop so that guitarists can add their own specifications to it. We'll be watching for the Gibson announcement on this if it is approved, and let us know if you see anything official on it.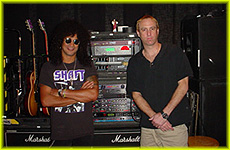 Many of you have had occasion to meet Adam Day, one of the nicest guys in the world. He and his wife are expecting their first child, a girl, any day now. We were grateful to Adam for taking time out to tell us about the new guitar. Adam is also going to review our Equipment Section to see that everything is correct and up to date. Adam did this for us a few years back, and you guitarists know that things can change over time. We'd like to have the most recent and correct information for you. When we get all of Adam's changes back and put in, we'll let you know. Thanks to Adam, who said maybe he could do this during those long infant nights! Thanks to a very nice man who always makes time to talk to SLASH's guitar-playing fans. And thanks to Aaron who started the whole chain of events.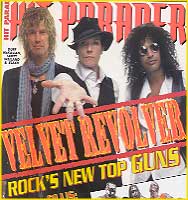 The October 2003 issue of Hit Parader is on the newsstands, and you need to rush out and grab a couple of copies. SLASH, Scott and Duff have a color picture on the cover, and there's a cool two page article inside. The article takes the focus that Velvet Revolver is a new supergroup and goes on to describe the members and the stardom they achieved in Guns N'Roses (SLASH, Matt and Duff in case you're new here) and Stone Temple Pilots (Scott Weiland). Rhythm guitarist Dave Kushner comes in for a brief mention. The whole tone of the article is a buzzing excitement over what this band can be. Based on GNR sales, STP sales and The Cult (Matt) sales, the group is responsible for over $60 million dollars in sales which makes labels sit up and take notice. The article was written pre-RCA signing. Duff is quoted as saying that the band is concentrating on making the music they want and less on the business side right now. With the demonstrated sales power they have, they can call the shots. It's really an exciting and positive article. Also, there are color pictures inside of each band member, one of SLASH and Scott together, a two page color picture of that promo picture on the Velvet Revolver official site, and to top it all off, a big fold out color poster! Rock N' F*ckin' Roll!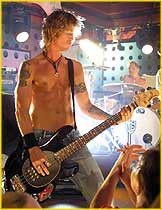 While browsing through the UK sites with Velvet Revolver mentions, we found a site called Rotosound, "the world of famous music strings". In the list of endorsees, we found Duff McKagan, James LoMenzo (ex-SLASH's Snakepit '95), SLASH's Snakepit and Velvet Revolver. We wrote to the company asking in particular about Duff. Bass players out there might like to know that Duff has always used Rotosound bass strings, in particular, the RS66LD "Swing Bass" set. He used these on all the GNR albums; in fact, according to Duff, he's used these since he started playing bass. So, if you're a bass player or have one in your band you'd like to sound more like Duff, these strings are what Duff uses. Visit Rotosound - UK Site or Rotosound - US Site for more information. Thanks to Hammer Bouri, the USA Executive Officer of Rotosound, for his reply and information!



This is a reminder that the Rock Legends auction is scheduled for Thursday, September 25. There are 3 lots with GNR and SLASH related items. Lot 77 is a Fender guitar signed by all the GNR original members, lot 78 is a Fender signed by SLASH and lot 79 is a drum pad signed and with a drawing by SLASH. Commission bids can be places on the Cooper-Owen site now at www.cooperowen.com and the auction culminates in a live event at 23 Denmark Street, London on September 25 at 4pm BST. We'd love to have that drum pad! Those of you in the UK may want to get in on this or at least go over and see all the memorabilia. Let us know if you snag one of the lots described above!


News Reported: 09/22/03



Rob from New York was quick to remind us that we missed recognizing an important date in Guns N'Roses history. On September 17, 1991, Guns N'Roses released Use Your Illusion I and II in the U.S. Stores all over the country opened their doors at midnight to the long lines waiting to buy the albums. Did you wait in line? Any interesting or funny stories about that? Did you buy one and your buddy buy the other so you could tape them and exchange them as Duff suggested (illegal, by the way). Do you still have your original one(s) and get them autographed? That was a huge day in GNR history, and the band never produced another album that rivaled the sales and popularity of the Illusions albums. How long before these reached #1 on the Billboard rock album chart? Thanks, Rob, for the reminder! 12 years has gone by so fast.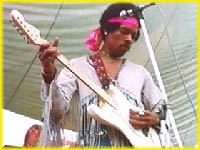 There was a somber anniversary yesterday. 33 years ago on September 18, 1970, Jimi Hendrix was found dead of a barbiturate overdose. Imagine the music we would have had from him in those 33 years. Slash was just 5 years old when Jimi died. It would have been great to see those two together jamming sometime. Jimi's estate keeps releasing albums and videos, so it seems sometimes that he has not been gone so long. When we think of him now, we always remember that Woodstock video where he played The Star-Spangled Banner. Chilling! SLASH played the U.S. national anthem on the soundtrack of the movie Panther, at a basketball game and at a Beverly Hills fashion gala. He's always played it straight, not wanting anyone to think he would try to approach Hendrix's version. Hendrix was a great influence on SLASH and you can hear SLASH talk about Hendrix on some video clips in the SLASH Video Section on this site.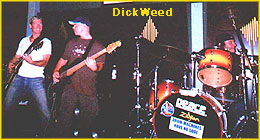 Matt Laug (ex-SLASH's Snakepit) wrote in to let us know that those rockers DickWeed will be playing The Cat Club again this weekend. The gig is Saturday, September 20, 2003 from 11pm to 2am. Matt's bringing along the crazy Johnny G (ex-SLASH's Snakepit bass player) to fill in for their regular bassman. After that gig, DickWeed will be playing The Cat Club in Hollywood every Saturday night in October from 11pm - 2am. We're told DickWeed rocked the house with classic Zep, Stones, Bad Company, Humble Pie, etc. In addition to Matt and Johnny G, you get Bruce Watson (Rod Stewart, The Hose) and Joey Brasler (Steve Lukather, The Hose) on guitars and vocals and Bobby Maccarni (The Hose) doing the lead vocals. Matt's sent a flyer you can print out and use as an admission discount. Use your savings at The Cat Club bar! The Cat Club was one of the places the original GNR played when they started out, so make a pilgrimage and get out and see the amazing Matt Laug on drums!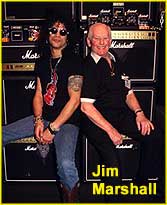 Vicki from West Virginia got a copy of the November 2003 issue of Guitar Player, their annual recording special; and she reports there's a small mention of SLASH with the "Jim Marshall's 80th Birthday" article in their Input/Output section. On page 26, there's a picture of SLASH with Jim Marshall. The caption says "Chummy sentinels of dark and light--Jim and SLASH at Marshall Amplification's 40th Anniversary Party in 2002." SLASH is wearing a black leather jacket, black t-shirt with red logo, the S&P necklace, big silver hoop earrings, blue jeans and a BIG smile. His hair is down, and the top hat must be at home. Buy the magazine to read the whole article, but here's the SLASH mention in a paragraph Vicki kindly typed in for all of us (Thanks, Vicki!):

"The man to which guitarists owe so much turned 80 years old on July 29, and was feted with parties in the U.K. and the United States. Celebrants included Marshall cohort and legendary British guitarist Bert Weedon (his Play in a Day method is the U.K. equivalent of America's Mel Bay series), and birthday wishes flooded in from the likes of Jeff Beck, Zakk Wylde, Gary Moore, SLASH, Kerry King, Phil Collen, Iron Maiden, Bad Company, Mike Mushok, Wayne Static, Mike Tempesta, Lemmy, and, of course, the editors of 'Guitar Player'."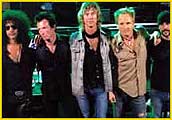 LuAnn (ex-Louisiana now from Texas) sent us a nice Velvet Revolver mention she found on the net. A few (truthful) jabs at Weiland, but the rest made out great as did the band as a whole. This is the ESP (Entertainment Sports Preview site). The article is dated August 13. Note that the album release date is not Christmas 2003 but now said to be February 2004. Read ESP's take on Velvet Revolver at their site. Thanks, LuAnn!



News Reported: 09/19/03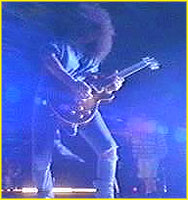 While SLASH and Velvet Revolver are in pre-production in the studio, you can go back to the old GNR on TV. MTV presents what looks like some great music at 9:00pm ET this Friday, September 20. The show is called "22 Greatest Bands". The description says the show features bands who have made a powerful impact on the music world in the past 20 years. GNR is on the list with Aerosmith, Alice In Chains, Metallica, NIN, Pearl Jam, R.E.M., U2, Van Halen and others.The list was determined through online voting. "22 Greatest Bands" repeats at midnight ET Monday, September 22. MTV2 presents the episode "Rooftops" from its series "The Definitive". The Definitives are blocks of music videos by theme, artists, directors, etc. Which GNR video has a rooftop theme? "Don't Cry", of course. We still remember SLASH banging his head so hard his top hat came off! A great, great video. The show runs on MTV2 on Saturday, September 20 at noon ET. Having a bad hair day? Tune in to VH1's show "Awesomely Bad Hair" on Monday, September 22 at 4pm ET which they call a hysterical look at hair problems faced by celebrities. Guess who is on this one? Personally, we like SLASH's hair down. It never seems to get in the way except for that "November Rain" video outside the church (a helicopter churned up the air; SLASH was scared to death it would crash on him), when cigarettes scorch his hair or when Baby London tries to yank off a hunk. If you haven't seen these shows before, the GNR and SLASH parts are worth watching.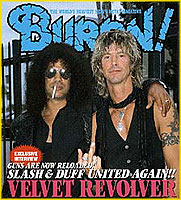 Akihiko says he is one of SLASH's biggest fans from Japan. He's now residing in Texas, and he agreed to translate the Burrn! article that appeared in their most recent issue. He's got the SLASH portion done and is working on the rest now.

Burrn asks about that EP SLASH and Duff recorded with Izzy in 2002. What's the status on that? SLASH replied that he didn't know what happened to it, and the EP was an Izzy solo thing so only Izzy knows about it. When Izzy was recording the EP, he asked SLASH and Duff to play on it; and they did. It's Izzy's to release or not. Some of the songs Izzy did later with Velvet Revolver will be on the VR album. SLASH says Izzy sang the songs when he was working with VR.

Burrn asked a prickly question next...what happened to the name Guns N'Roses. SLASH said the band name is now registered to Axl, and no one else can use it. How Axl got the GNR name goes way back to GNR's last stadium tour. At one time, Axl (who was showing up 2-3 hours late for the gigs) came out of his dressing room with papers for the others to sign. It was a contract saying that if the band split up, then Axl would hold all the rights to the name GNR. He insisted that if SLASH and Duff did not sign, he would not do the show that day. They were reluctant, but they felt they had no choice but to sign because they wanted to finish the tour without cancelling shows. SLASH added that Axl, with his attitude and new lineup, gave GNR a bad name. No matter what, SLASH does not want to come back to Axl or GNR. Burrn asked about what Axl said about SLASH on the GNR website (note: this is the fax sent to MTV, we believe). SLASH answered that he saw it, and it's full of bs. Ever since he quit Guns N'Roses, SLASH said that Axl keeps saying all this nonsense about SLASH for no reason. However, SLASH says he respects Axl and doesn't want to argue with him.

Next, they talked about the "new" GNR gig in Vegas on New Year's Eve 2001. SLASH and Perla were there and saw the show in the paper, so he and Perla were going to go to the show. Everyone in town knew he was there that day, and the GNR management found out. They tried every means to keep SLASH from going to the show, supposedly to keep Axl from going crazy. When SLASH showed up at the club, security guards were at the doors watching for him to prevent him from going in. Perla and SLASH had no choice but to go away. SLASH said he suspected that all this was from GNR management, not Axl.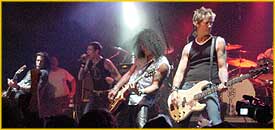 Moving on to Velvet Revolver, Burrn asked about the Randy Castillo Tribute show where SLASH, Duff and Matt played with then-Buckcherry's Josh and Keith. The magazine asked if they got together afterward and wrote and/or recorded any songs together. SLASH answered that they played with Buckcherry because SLASH knew them personally and knew they were on hiatus. The morning after the show, SLASH was still excited about the strong chemistry he felt between himself, Matt and Duff and thought, "This is it!" Duff told him, "You know what, we should do this." So these ex-Gunners and Buckcherry guys kept jamming together for about 3 months. SLASH wasn't satisfied, so he pulled the plug and said this isn't working right. He says they wrote a lot of songs, but none of these will be on the new album. Now they were back to a threesome; and after awhile, Dave joined them. Back then, they contacted and gave a demo to Scott Weiland; but he was too busy with STP, and nothing happened. After 7-8 months, they contacted Scott again and this time he wasn't doing much, so they asked him to sing on the soundtrack for the movie The Hulk with them. By doing this, in a way, the band did "audition" him and thought he was the perfect one for the lead singer of Velvet Revolver.

Akihiko, we can't thank you enough for your translation! This was excellent and really interesting. We're looking forward to the later installments about the other band members. And we'd appreciate it if other sites did not pick this up and put it on their newsletters and sites. Akihiko spent a long time doing this for the SLASH fans. Create a link to this news section instead. Thanks!


News Reported: 09/17/03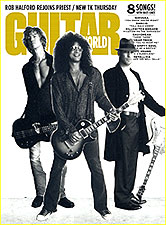 The November 2003 issue of Guitar World is out for subscribers. Vicki from West Virginia got her copy today and said there is a LOT of Velvet Revolver coverage in this one. First, the three guitarists are on the cover with Duff and Dave flanking SLASH in the foreground. Scott appears in a small color inset. There's a black and white SLASH poster in the center of the magazine!

SLASH has one larger-sized picture in color...with sunglasses (Vicki likes to see his eyes). The caption on that picture is interesting. It says, "The last incarnation of Snakepit was just a huge mess; as much as I liked it, I was all fucked up-- I almost killed myself drinking too much-- and I had a lot going on."-- Slash. He talks about how the guys in the last Snakepit were always having to be gotten out of jail "for stupid shit". He said one of the guys was strung out. Vicki wonders which one. Thanks, Vicki, for sending that in. This is an issue SLASH and Velvet Revolver fans will want to look for.

If you're interested in reading more about SLASH's Snakepit 2000, you might want to check Snakepit 2000 and Velvet Revolver.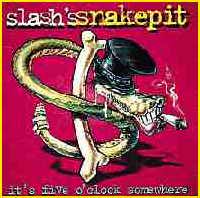 A reliable country music fan source tells us that the Number 1 single on the Billboard Country Single chart, It's Five O'Clock Somewhere, by Alan Jackson with Jimmy Buffett will ring a bell with Snakepit fans. According to this country fan, the song is about a rock star who goes into a bar to get a drink, but the bartender says he can't serve him yet as they don't start serving till 5 o'clock. In the end, he says...it's five o'clock somewhere and the rocker gets served. We're looking for a copy of this single if anyone can help track one down. Thanks! If you could copyright stories, SLASH would be raking in the money on this one!


Darko sends some news that you UK fans will be interested in. A few days ago he was watching a late night show (unnamed) on BBC, a comedy show made of short movies. They copy the best films and videos and interpret them in a funny way. Darko says that believe it or not, they did "November Rain", and he was on the floor laughing in seconds. In the intro section where Axl plays the piano in the small church, the BBC version showed some very, very old, half dead woman dressed as Axl! SLASH got a special treatment. They dressed up some kids in the typical SLASH outfit, i.e. leather pants, top hat, long hair and cigarettes in their mouths! The kids were about 6 years old. One of the best things Darko has seen so watch for reruns. Sorry, Darko didn't have the name of the show or episode.



Metal Sludge writes a funny finale to the first known skirmish in the Velvet Revolver fold. They poke fun at Blabbermouth.net for being on vacation and say they have taken over reporting every time SLASH goes to McDonald's! The rest is just as funny, too, while giving you a summary of what can happen when you fly off the handle and post things too fast. We're happy to say that the publicist and Scott talked, and things are smoothed over. Here's the Metal Sludge/VR WrapUp.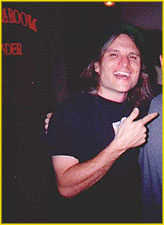 Remember we told you about Matt Laug (ex-SLASH's Snakepit 2000 and a lot of other things) appearing with a band called Dickweed at The Cat Club last month? Simone is from Italy and happened to be in LA for the 8/14 and 8/16 Dickweed shows. She got to meet Matt outside the club, and Simone said he was really nice which we agree with. He introduced Simone to the band, signed her flyer, and they talked about a chat he did with her Italian Snakepit site a year and a half ago. She asked about Snakepit, and Matt said, "We had a good time, but it just ended." They played great covers of Led Zep, Rolling Stones, Deep Purple, Clash; and Simone said they rocked. Afterwards, she thanked Matt, got more pictures and he said he'd be seeing her again. Thanks, Simone, for the review and for sending good pictures. By the way, Matt Laug is NOT the one that SLASH mentioned as being strung out! The pictures are on Simone's site, and they are large so we'll send you over there to have a look at these:




News Reported: 09/15/03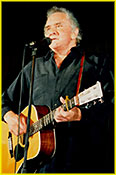 We're joining the other music sites in saying goodbye today to country western singer Johnny Cash. Cash died this morning of diabetes complications; and fittingly, he died in country's home, Nashville. Johnny Cash hit the peak of his popularity in the 50s and 60s and had hit after hit. "Ring of Fire" and "I Walk The Line" were just two of his many, many chartbreaking songs. The Man In Black was a legend in his own time, and his prison concerts were reknown. He vowed to wear black until there was not a man left in prison. He'll be missed by fans, friends and family all over the world.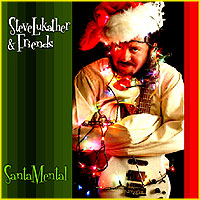 On a happier, SLASH note (or should that be riff), we received word from Arend Slagman, Steve Lukather's webmaster, that SLASH fans will be getting some Christmas music from the top hatted one! You may recall that Steve Lukather got some major league axemen together last year to make a Christmas album titled Santamental! Steve's website says that most of the tracks are instrumental, and the guitar gods listed are Eddie Van Halen, Trevor Lukather (Steve's son), Steve Vai, SLASH, Mike Landau and Steve himself. Edgar Winter and Jeff Babko are on keyboards.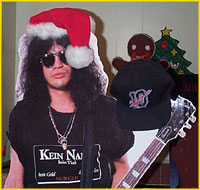 John Pierce guests on bass, Scott Hamilton on sax, Greg Bissonette on drums and Lenny Castro on percussion. A LOT of talent. SLASH's track is "Broken Heart for Christmas". If this isn't enough to get you excited, the album will be specially packaged in a panel Digipak and feature behind the scenes CD-ROM video footage. YES! Santamental by Steve Lukather & Friends will be released in the US on October 7 (according to Amazon.com) and in Europe on October 13 (according to Steve's site). The album is available for pre-order right now. Amazon.com has it at $15, and please go through this page and the Amazon.com link so this site makes a few pennies on the sale (at no extra charge to you, of course). European pre-orders can be through the UK Amazon, and Steve's site has more information on that.. If you want the full background on the album, list of tracks, etc., that's all at the Santamental section of Steve's site. You definitely want to go and hear SLASH play his solo. It's track 5! Put the album on your Christmas list or buy it for yourself. Christmas shopping and traffic can be easier when these mighty axemen blast out that Christmas cheer!


Vicki, our West Virginia pal, alerted us to watch for the November 2003 issue of Metal Edge. There's a large Velvet Revolver poster in there with a smaller picture of the poster on the cover! Thanks to whoever made this happen! And good news, Vicki says...SLASH is without his sunglasses and looks really good wearing a white shirt tied at the waist, sleeves rolled up and tight black leather pants and boots. In the jewelry department, SLASH is wearing bracelets, a watch, beads and maybe a chain or two. This one is definitely on the shopping list.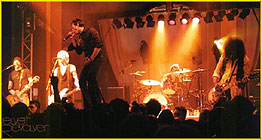 Now that we've spent all your money on SLASH, here's something that may cost RCA some money. When Scott Weiland left Atlantic, Stone Temple Pilots owed Atlantic one more album. The greatest hits album was thought to take care of that, but it seems Atlantic isn't going to settle for that. Music sources say that a settlement has been reached between RCA (Velvet Revolver's label) and Atlantic such that Weiland could do the VR debut album. Everyone seemed happy till Atlantic stated that actually Stone Temple Pilots owes them three albums. It was originally thought that solo albums would be counted but Atlantic wants to count band albums. It's a concern, but it sounds like just another job for the legal eagles on both sides. No one in the Velvet Revolver camp seems unduly worried about it. Velvet Revolver is in the studio working hard while the record goliaths hammer out the deal.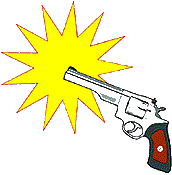 Although we had intended just to ignore this internal Velvet Revolver band problem, so much of it has been public that we thought we'd just briefly mention it before putting it to rest. Evidently a site on the web mistakenly attributed a posting on VR producers to the band's publicist. The credits were switched or mistaken. In any event, the official release by the publicist said that the band was looking for a producer, etc. You may have seent that here. Scott Weiland took offense at this along with the band management without finding out where the mistake came from. Unfortunately, instead of solving all this internally, Scott and management went public with posting on the front page of the official VR site. It was ill-advised and ranted about firing the publicist. Our take on this was this long rant shouldn't ever appear, but might be ok in the wake of a band member being fired. Most fans don't care who comes and goes other than that. When management and Scott were presented with the source of the error (Billboard, Reuters), things started to settle down. The posting is off the home page. The publicist has not been fired, but due to financial reasons had been working with no pay for the past couple of weeks. Since management and Weiland did not make a public apology, the publicist was given a slot on slashonline.com to give her thoughts on the matter. If you are still awake at this point, you can go over to slashonline.com and read what we hope is the final public word on this non-issue. Let's just get the album out! SLASH can't play and Scott can't sing with all this drama eating up their time, so we hope that's the end...at least for awhile. The ex-Gunner fans are familiar with ranting and firing and quitting, so we should be calm. The album's coming out come hell or high water if SLASH has to bring in baby London as a manager or publicist! Our message to VR and the business team...let's Rock and Fuckin' Roll!


News Reported: 09/12/03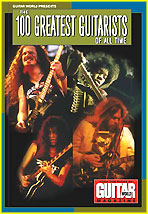 Fans of today's greatest guitarists, including us, are still grumbling about Rolling Stone's list of the Top 100 Greatest Guitarists of All Time. SLASH doesn't appear at all. Critter says he picked up a book a while ago called Guitar World Presents The 100 Greatest Guitarists of All Time. This list has more authenticity, we think, as it is by a group to whom guitars, guitar music and guitarists are what they live and breathe. The 100 are listed alphabetically by guitar music genre. SLASH is in the Lord of Hard Rock section and even has a picture! His entry reads: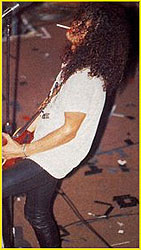 "In the late eighties, Slash almost single-handedly slew the shred phenomenon, reminding guitarists that hard rock was invented by Page and Beck, not Paganini and Bach. With his rebellious, street-tough image and down-and-dirty playing style, Slash became a hard rock guitar icon, playing rauchy riffs and aggressive, blues-inspired leads that flattened legions of shred virtuosos like a permed poodle haircut in a rainstorm. 'All the advanced rock guitar players made things really complicated,' says Slash. I wasn't intimidated by any of that shit, ever. My basic roots come from a certain hard rock background, you can do a million things with that base.' Slash's playing showed a new generation of guitarists that emotion is as important as chops, paving the way for the emergence of grunge and the nineties punk rock revival. In the midst of Strat mania in the eighties, he revived interest in the Les Paul. Although Slash is often pigeonholed as a hard rocker, he has made guest apperances on records by a diverse range of artists, including Iggy Pop, Alice Cooper, Paul Rodgers, Carole King and Michael Jackson."

Critter reports that the book also ranks the Top 100 guitar solos. "November Rain" came in at number 6 and "Sweet Child O' Mine" came in at 37. Now that's more like it! Thanks, Critter!



Something big is happening on slashonline.com, the official artist page for SLASH. For a few days now, they have been advising visitors that their "Version 3.0" is coming and will be truly amazing and give us more SLASH videos. We've been checking daily and will let you know when it's set to go. More SLASH videos are needed!



Here's a funny SLASH-related item sent in awhile back from Pete in Australia which he found in the Sydney Morning Herald newspaper website regarding SLASH's old hometown in England, Stoke-on-Trent. Pete's comment is that maybe they should have tried a GNR tune! Thanks, Pete!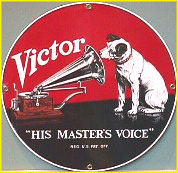 Brian sent this in even before our copy made it to us! Thanks, Brian! It's the latest official Velvet Revolver statement...their feelings on signing with RCA...and some great remarks back from Clive Davis along with a reiteration of what the band is up to right now:

"We're thrilled to partner with RCA Records and its legendary chief, the enigmatic Clive Davis," the band said in a statement. "We believe this marriage will be a loyal, dedicated and fruitful relationship not based solely on business, but instead on the thing that once dared us all to dream - music."

Commented Clive Davis, Chairman/CEO of RCA Music Group, "This is a milestone signing for RCA. Velvet Revolver is distinguished by not only its powerhouse musicianship but also by its new material. The songs I've heard will propel this group to the very forefront of rock music today."

"Velvet Revolver are currently in the studio doing pre-production work for their upcoming RCA debut, tentatively due in early 2004."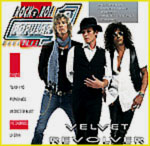 There are some time-critical items we're going to squeeze together here. First, thanks very much to Angelina for sending us the note that the Spanish magazine, Rock 'N' Roll Popular 1, has a picture of Velvet Revolver on the cover. It's shown here in a smaller size, but it's the cover to look for. It would be great if anyone who gets this can scan in anymore inside pictures and perhaps send a summary.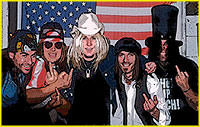 Next... Today is the birthday of the mighty Joe Perry of Aerosmith...rock icon and SLASH influence! Happy 53rd, Joe, and rock on! Next...For fans in or near Victoria, Australia, the GNR tribute band, Appetite for Destruction, is having a big party at GM Sound (13 Onslow Avenue, Camblefield) to celebrate the birthday of the band member who is "Steven". Band starts at 9:30 and plays ALL NIGHT LONG! It's this Saturday night, so get there and hear those Appetite... and other GNR tunes all night long. Happy Birthday, "Steven"! Finally... the number 1 single on today's Billboard Country Singles Chart is (heavy SLASH riff here) "It's Five O'Clock Somewhere" by Alan Jackson and Jimmy Buffett. Haven't heard the lyrics to this one, but we're wondering if it's similar to SLASH's story on how he named the first SLASH's Snakepit album! Thanks, Ray for that one!


News Reported: 09/10/03

Here's a magazine cover that says it all! The September 2003 issue of Burrn!, the Japanese music magazine has a cover picture and story on the reuniting of the ex-Gunners and the formation of Velvet Revolver. Even if you can't read Japanese, the pictures in this magazine are always some of the best ever taken. If we have some Japanese readers out there, it really would be nice to have a summary in English of this long article. Part 1. is about SLASH, and Part 2. is about Duff, and there are full-page and smaller color photos throughout. Thanks to Vicki for sending us our copy!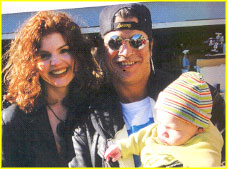 Sally spotted a picture of SLASH in a book called Paige by Paige by Paige Davis, the host of the decorating show, Trading Spaces. You'll recall that Teddy "Zigzag" and Lisa Andreadis were featured on a segment of the show that was taped December 17-18. Paige Davis gives some highlights of the taping including SLASH's showing up at Teddy's house while they were taping. SLASH is a big fan of the show. In this picture, SLASH is shown with another cast member, Laurie, and her son. Lisa Andreadis says they have another mention in the book, for March 14, when the cast and crew came back to LA for a shoot, and the neighbors had a party for them. The Andreadis house is also featured in the new Trading Spaces book, Make It Yours. Thanks, Sally, Lisa and Teddy!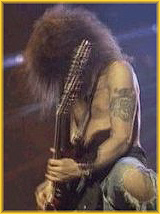 Critter reminded us of a Rolling Stone article we've been trying to forget, the Top 100 Guitarists of All Time list. SLASH was not listed at all while Jack White is nearly as good as Hendrix. And some of the greats were listed so low that THEY nearly fell off the bottom. You could complain to rollingstone.com, but we were nearly speechless with anger. Critter has come through with a cool article by "Ozzy Stillbourne" called "Why I Hate Lists" that says it all for us.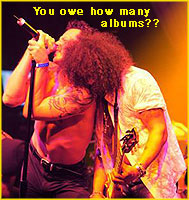 With Velvet Revolver in the studio and the lid screwed down tightly on musical leaks, the only controversy we've seen is in the "who owes who what and how many" class. The band is managed by Immortal and are signed to RCA Records. Some questions arose after the signing as to what the individual bandmembers owe their previous labels. SLASH owes nothing to Koch (Snakepit 2000) or to Geffen. Neither Duff, Matt or Dave owes anything to anyone. What about Scott Weiland? STP is said to owe Atlantic Records one record. However, STP is planning a greatest hits album and that should take care of that obligation for Scott. Right? It turns out that Immortal and Scott may think that, but Atlantic Records isn't going for it. Atlantic insists that STP is still signed to them for "three or four MORE [emphasis ours]" albums, and Scott is only on loan for ONE [emphasis ours] Velvet Revolver album. Atlanta says it does not count the Weiland solo albums and the Dileo's (Talk Show) or the greatest hits album. So, Atlantic needs four more STP albums that include Weiland before the STP contract with them is satisfied. Our take on this is that Atlantic could be looking for at least a compromise settlement with some dollars thrown their way by RCA. For Scott to be tied up with four more albums on his old label would be a very bitter pill for Velvet Revolver who are anticipating the debut album in February followed by a tour. If Weiland takes off then to work with STP and Atlantic, when could he come back? We were hoping this was not a Snakepit III where we get a good album, interest builds and the band dissolves. If anyone can straighten this mess out, it's Clive Davis of RCA. It's highly unlikely he would have signed Velvet Revolver if past obligations were outstanding. SLASH is the best music businessman in the bunch; and if he didn't see it, someone passed along some way wrong information. For now, Velvet Revolver is full steam ahead and counting on a long life for the new band. Just another controversy to be addressed and overcome. Don't you just love the politics of the record business?


News Reported: 09/08/03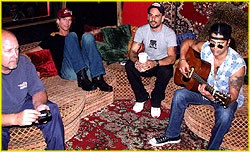 The next big thing for Velvet Revolver is. finding a producer. The only official announcement is:
"Velvet Revolver is currently in the studio recording 'Loving the Aliens (Sometimes)' with producer Josh Abraham. The band is still trying out different producers for their upcoming CD. They previously recorded 'Slither' with producer Bob Ezrin and 'Set Me Free' with producer Nick Raskulinecsz. 'Set Me Free' was featured on the soundtrack of 'The Hulk'. Another producer, Doug Grean says on his website that he has co-produced "Loving the Aliens (Sometimes)" and produced "Fall to Pieces", a power ballad for Velvet Revolver.

As we piece this together, two producers came in and co-produced a track that's titled (might not be the final title) "Loving the Aliens (Sometimes)". The producers are Josh Abraham and Douglas Grean. Josh Abraham has an interesting background. In a "VIP Lounge" interview, he says his instrument of choice is the guitar although he can play bass. He's worked with Korn, Limp Bizkit, Orgy, Staind, Depeche Mode, Ice Cube, Power Man 5000, Cold Chamber and Kid Rock. He says his main influence is Pink Floyd and that he takes advantage of all the technology there is today. Outside the studio, he is a hip hop listener. As for music programs, he favors Logic. The second co-producer on "Loving the Aliens (Sometimes)" is Doug Grean. Grean has been a producer and musician (keyboard and guitar) on Scott Weiland's solo project. Grean also worked with STP, The (new) Doors, John Taylor, Warren G, Willie Green and others. Grean's web site says he has worked on two Velvet Revolver songs...the "Loving the Aliens (Sometimes)" and a power ballad, "Fall to Pieces".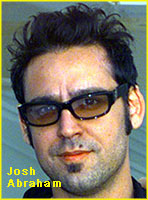 Put all these pieces together, and it certainly looks like the debut album will not be instantly recognizable as an ex-Guns album. Putting Scott and his background in the mix should be interesting. We count on SLASH to put his stamp on the tracks also. Bringing in the STP fans and the ex-GNR fans and the SLASH-in-anything fans is a large fan base to start from. February 2004 is the target date...and won't that be something to look for in dead of winter! Some things hit us...February 14 is when SLASH's Snakepit '95 released It's Five O'Clock Somewhere. We'd sure like another valentine from SLASH! And this title, "Loving the Aliens (Sometimes)", reminds us of the track on Ain't Life Grand, "The Alien"! Maybe SLASH was a big fan of "The X Files"! Patsy Cline might be interested in "Fall to Pieces" although the rumor that the Velvet Revolver track is a cover of Patsy's 1961 megahit "I Fall To Pieces" is NOT true! Let's hope it emulates that old song's success. "You walk by...and I...fall to pieces".

If you want to read more on these producers, we'd recommend www.douglasgrean.com and Interview with Josh Abraham (we couldn't locate a web site for Josh Abraham). You can also try going to the Artist Direct site and checking out their credits.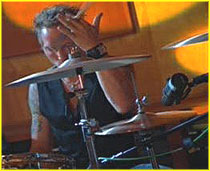 Velvet Revolver and ex-GNR drummer Matt Sorum is getting his own official web site. The "Hollywood Zen" solo CD Matt made on Sixthman Records will be available through his web site, mattsorum.com. The first 1,000 copies sold will be signed by Matt. Good thing Matt has those huge biceps from playing drums! Matt truly made this a solo effort by recording all the guitar, piano, vocal and drum tracks himself. A solo tour is in the offing. Watch for the announcement of the site opening and hurry over to be one of the first thousand to buy the CD! Thanks to Brian who sent in this announcement.



CooperOwen Emporium, a UK based broker in music and entertainment memorabilia and collectibles, let us know about an auction on their site featuring SLASH items. This is not like ebay where you buy from private citizens or dealers. This is a very reputable auction house. They have 3 SLASH/GNR items you might be interested in. Lot 77 is a Fender guitar signed by all the original GNR band members. Lot 78 is a Fender guitar signed by SLASH alone in 2003 with his trademark signature. Lot 79 is a great drum pad that looks like SLASH did a guitar-playing, self-portrait on. Very nice items. For additional information (please read carefully if you want to bid) or to register and bid, go to Auction. Click "Rock Legends" auction, and these lots are on pages 10 and 11. If you get one, let us know!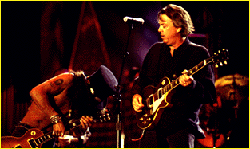 We nearly missed this cool anniversary. On September 2, 1995, the Rock and Roll Hall of Fame opened in Cleveland, Ohio. There was a SEVEN hour concert! Was SLASH there? Oh, yeah! SLASH and Boz Scaggs played "Red House". Even though it was pretty chilly there, SLASH performed without his shirt. What a toughie!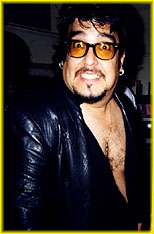 Teddy "Zigzag" Andreadis is one of our favorite artists. He's always happy to give an update on what he's doing. Teddy's a personal friend of SLASH's, and he's always happy to meet with fans. When last seen, Teddy was on the TV show "Trading Spaces" which was interesting as well as a hoot! You may be most familiar with Teddy from his work with the original GNR, but he has done so much before and after that. Here's what he's doing now. Teddy is on tour with Billy Bob Thornton right now through September 7. They're in New York tonight and then at the Mohegan Sun in Uncasville, CT tomorrow. The big show will be Farm Aid on Sunday, September 7 in Columbus, Ohio when they join with many other great artists to raise money for the farmers in the US. Teddy did some work with Velvet Revolver, and he's spoken with SLASH about doing some additional work with them when he gets back. We'd rather have Teddy on the keyboards than anyone else! And by the way, you can hear Teddy on Alice Cooper's latest album, The Eyes of Alice Cooper. Alice is touring without Teddy due to Teddy's touring with Billy Bob Thornton. To find out more about Alice's album, go to Alice Cooper Site. To read up on Teddy and purchase one of his cool solo CDs (featuring SLASH), go to Teddy ZigZag. Many thanks to Teddy and wife Lisa for the information!


News Reported: 09/05/03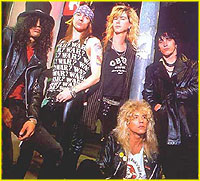 Guns N'Roses was called "the most dangerous band in the world". Some thought it was because of the riots that started during their shows. Some thought it was because of the violence that surrounded their offstage lives. Elin sent us part of an article that appears in the September issue of Classic Rock magazine on "the most dangerous bands in the world"...their list includes Guns N'Roses, Motorhead, Sex Pistols, Motley Crue, Alice Cooper and Kiss among others. The text of the GNR portion is attached so you can read their analysis for yourself. This goes way, way back in GNR history, so it should be especially interesting for new GNR fans. Thanks, Elin, for transcribing this part. Be sure to pick up Classic Rock to find out their take on the other bands!


GNR: The Most Dangerous Band in the World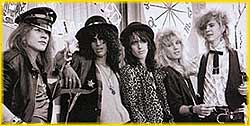 MTV's Kurt Yoder also remembered the original GNR at an interview for the 2003 MTV VMAs. USA Today had this short article with Kurt's memory of the band:
In the late '80s, Axl Rose and Slash were the kings of the world among rock fans, and their bracing performance of 'Welcome to the Jungle' is still fondly remembered. "They were just really great," Loder says of the band, which resurfaced albeit in sloppier, sadder, Slash-less form on the VMAs last year.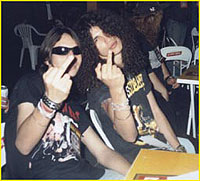 Bruno Gobi who plays rhythm guitar in The Perfect Rose, a GNR cover band, sent us some more information on the Gunner Convention in Brazil last month. They've put up their concert in MP3 format. We have the Index Directory for you so you can play their show. They sound so good! The first intro is a riot, "My Way", but hang on for "It's So Easy"! If you want to download and keep these, do the "right click, save target as.." or just play with a double left click. Super! Eduardo Moto, the "SLASH clone" played the whole show with them, but he is not an official band member. Their own lead guitar player was unavailable. If you thought the picture above was SLASH, you'd be wrong..that's Eduardo! Has that "chick magnet" look down to a T, doesn't he? The band members are: Fernando Rose, lead vocals (age 17), Eduardo Mota, lead and rhythm guitars (22), Bruno Gobi, rhythm guitar & backing vocals (18), Murilo, drums (15) and Felipe, bass (16). For more information on The Perfect Rose, visit their web site at www.perfectrose.hpg.com.br. Thanks, Bruno! And here are some pictures of the band at the Convention: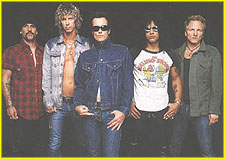 The only Velvet Revolver news we have is that the band is busy in the studio working on their debut album recording. With RCA signing the band, the next big thing is to select a producer. Bob Ezrin was to produce "Slither" for the EP/DVD from the El Rey show, but that EP/DVD has been cancelled. We don't know for sure what the status of "Slither" is...whether it has a place on the album or not. It's fair to say that the band will try a number of producers and select the one that comes closest to the sound they are trying for. Dave Kushner, rhythm guitarist for Velvet Revolver, recently posted to a VR forum. The post has been passed around so many places that it's nearly impossible for us to tell where it appeared originally. In his post, Dave thanks everyone for their support and interest in VR. He said the new official Velvet Revolver site would be very cool, and they were working hard to make it so. That site is www.velvetrevolver.net, and it really is much better than the old one. (Be sure to go and sign up for the newsletter there!) There was some argument over Dave's previous experience. He says he was never a member of Suicidal Tendencies although he did play with Infectious Grooves for a short time and also played on Mike Muir's solo record.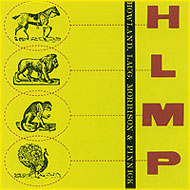 We heard from Matt Laug, Snakepit drummer; it's always a pleasure to hear from Matt. He wants to thank all the old Snakepit fans that turned out for the "Dick Weed" gig. He was glad to see you! More gigs are planned for The Cat Club in September and October; Matt will be sending us a list. Right now, Matt wants you to know about a CD that he recorded with some friends of his. The band is called HLMP; the last name initials for the band members: Keith Howland, guitar (Chicago), Matt Laug, drummer (SLASH's Snakepit and many others), Lance Morrison, bass (Don Henley) and Chris Pinnick, guitar (ex-Don Henley). If you love all-instrumental guitar fests, you want this album! Guesting are Jeff Babko and Tris Imboden. Matt says the music ranges from Rock to R&B, and what we've heard sounds terrific. The CD is available on 2 web sites: www.cdbaby.com/hlmp and www.guitar9.com/howlandlaug.html. Keith Howland's site has more information: www.keithhowland.com. Why not get one, take it to a Dick Weed show and get Matt to sign it? Other Matt news: the new Pat Benatar album he plays on is out. The album is called Go, and Matt says the songs are killer! Thanks, Matt for the news update!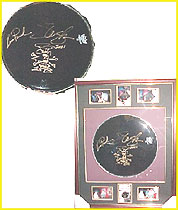 An anonymous fan, Slash8615, just sent in an item from a couple of years ago! He went to the Les Paul Anniversary at The Itrium in NYC, and SLASH was there. It was amazing to meet SLASH, and SLASH8615 says SLASH is the nicest, coolest guy he's ever met. SLASH signed a drum head for him. After the show, SLASH8615 met Les Paul; and Les signed the drum head, too. Now the drum head is framed with 3 pics of SLASH signing on the the top and 2 of Les Paul signing underneath. Above is a picture of this treasured remembrance of the Les Paul Anniversary show! Thanks!


News Reported: 09/03/03