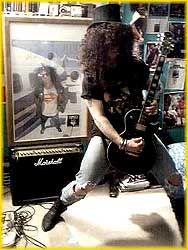 It's Halloween! We're taking a break tonight to give out candy to the little monsters in the neighborhood. We're hoping to see someone dressed as SLASH! Here's Kev on the left dressed as SLASH.
He really looks like the young SLASH! That's SLASH behind him picking up a few chops. At right is Bruce who has a band. They did a show this weekend, and Bruce dressed up as SLASH. Believe it or not, people asked for "Paradise City" all night! We think he has those fine cheek bones that SLASH does. What a cutie! You are definitely SLASH material! Just below is a photo of Slash8615. We think he looks great. Another young SLASH, but you're never to young to get started. Thanks for sending these in!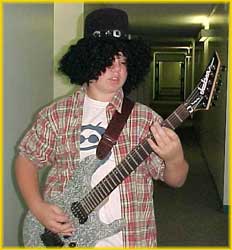 What do you think? What cuties! SLASH would be proud of all of you. It would be pretty cool to go to his Halloween party or just get some cool treats like strings and picks. Maybe even do some guitar tricks! Happy Halloween, guys!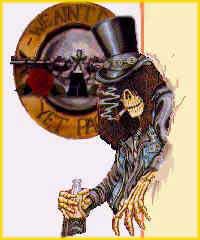 Happy Halloween, Everyone!





HAPPY HALLOWEEN, SLASH!



We'll see you with our regular report tomorrow!

News Reported: 10/31/01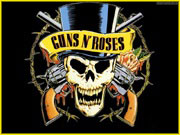 Sam from Perfect Crime Fanzine wrote to tell us about a cool program from a French radio station RTL2. They match two bands and ask listeners to vote for their favorite. Past matches include Oasis vs. Aerosmith and Eric Clapton vs. The Eagles. On Wednesday, November 7, they'll match Guns N'Roses (the GNR from our past) and Nirvana. No contest! On that day fans can vote for their favorite from 9am to 8pm (Paris time...6 hours ahead of ET) by phone or on the website. Sam says we'll get a chance to hear the winners at 8pm on the radio or on the net! So mark down the date and time and vote for GNR! The site url is below. When you get there, click on the Match-Live Link toward the left. Thanks, Sam!

www.rtl2.fr

Becky's from the UK and has her copy of the new Michael Jackson album Invincible. She verified that SLASH does not appear in the credits. Becky says the guitar solo in "Privacy" does not sound like SLASH at all. Becky says it's a good album but no SLASH. OK! We wrote and asked Becky if it sounded like Michael saying "SLASH" just before the guitar solo, and we are waiting for her reply. That's the part that started all this confusion! Thanks, Becky. And speaking of MJ and SLASH, some of Michael's albums have been remastered. One on which SLASH appears is Dangerous. We got this one and think the remastering was definitely worth it. If you've been looking to get this album, get the remastered one.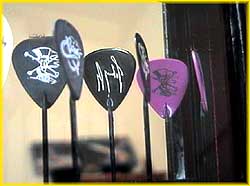 Did you get a bunch of guitar picks at the shows? Have you been wondering what to do with them, how to display them? Mike sent a picture of the little display case he's using for the 6 Snakepit shows he went to. From left to right, he got the first one in Lancaster, CA in 1999 at the prealbum warmup show. SLASH actually played with that pick. Second was the Halloween show at the Roxy - this one is from Keri Kelli, the next is from SLASH at the House of Blues in Hollywood, next is one from Johnny G at the Anaheim Sun Theater, and the last is the famous purple pick from SLASH at the Galaxy at the end of the tour. They are kind of a history of the tour! Hopefully, Mike can add a lot more, but 6 is an outstanding number of shows. Thanks, Mike! If you have a clever way you are displaying your show or SLASH souvenirs, take a picture and let us know. Everything thrown into a giant box does not count!



Our clever LuAnn would like to know if you realized you could rearrange the letters in SAUL HUDSON and get A LUSH SOUND?! Nope, we didn't! Thanks, LuAnn.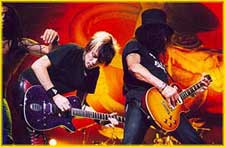 One of our favorites from the 'pit is Keri Kelli. Keri has been so busy as always. Anyone heard of the band U.S. Crush? You should have as Keri contributed to their self-titled album that was released last year. Keri has just been in the studio with the guys, working on a few more songs. Also he was asked to check out the Alice Cooper show in case Eric Dover has to miss some shows. Keri would be teamed with his old buddy Ryan Roxy who played on the album Ain't Life Grand. Keri and Johnny G are working together on a project called "Son of a Bitch". Keri and Johnny did all the music for about 20 songs and are doing the mixes. Best wishes, Keri!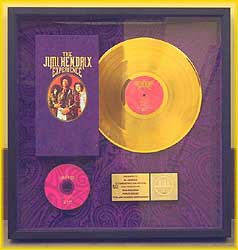 MCA Records has donated a number of items to a special Yahoo auction benefiting The United Way's September 11 Fund. There is one special item for guitar players and lovers of guitar music and history. This is a gold RIAA record for Jimi Hendrix's 4 cd box set, The Jimi Hendrix Experience. The award was presented to Jimi's dad, Al Hendrix who donated it to this auction. Right now the gold record is still under $700 and can be stolen away with the right bid. If you loved Jimi and his music, you have to bid high on this item!


Jimi Hendrix Gold Record Auction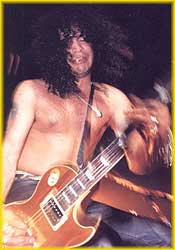 Another Q and A session with SLASH. The question comes from Simrin who asks, "SLASH, your guitar is tuned half a step down from "standard settings", in other words, it's tuned to sound 1 fret lower. How does this affect the bass and rhythm guitarists? Do they also have to tune their guitars down half a step so the music fits well, or do they just tune to the standard settings as normal? Wouldn't it be hard for the others if your guitar is tuned down half a step?

SLASH replies, "Simrin, we (the band) tune down a 1/2 step because it is easier on the vocals. That's really the whole reason, but for rock and roll it sounds a little fatter, heavier."

Thanks, SLASH and Simrin. Now we know why!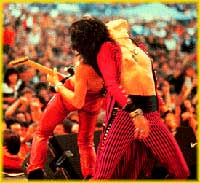 Coincidence? Aerosmith was to play tonight in Pittsburgh, PA. The show was cancelled due to illness. Pittsburgh is also the place where SLASH was taken ill in the spring. Aerosmith has cancelled several shows so you might check that out on the Aerosmith site. SLASH also cancelled several shows when he became ill in Pittsburgh. Sorry, guys!





News Reported: 10/29/01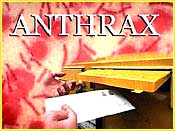 In the U.S., the bioterrorism of anthrax spores traveling in the U.S. mail continues. Tina saw a show on the TV Guide network where some stars are asking fans not to send fan mail. Reuters followed up with an online article noting that some studios and labels are discarding all fan mail without opening it while some are opening it but not passing it to the celebrities. At this time SLASH is still taking fan mail. If you send him mail, be sure your return address is on the outside of the envelope or package. Packages should be wrapped securely but not suspiciously overwrapped with tons of tape. Right now, the targets appear to be the government and media (with the postal employees taking most of the hits). There does not seem to be anything directed at artists, so the fan mail goes ahead as it was.



Speaking of changes, we've received reports that SLASH and Perla got married October 15 in Hawaii. SLASH likes to keep his personal life separate, but we're sure he will make a statement soon...or just drop some information into an interview. This is SLASH and Perla's announcement or denial to make, and there won't be anything on that here till they give the word. Let's hope for something from them soon!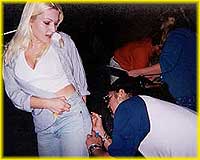 Here's something SLASH is ready to talk about...a fan question! The fan's name got separated from the question, but it may be Ambra from Milan who asks, "Are you ever bored with fans that always ask for photos and autographs, even if it's another side of your work?"


SLASH replies, "I like to sign autographs for fans. Sometimes it is work depending on the situation, but still, to be appreciated is worth the effort."


Thanks, SLASH and Ambra (we think). Good question. SLASH says he likes doing autographs, so don't ever be shy about asking for one!



After reading that the UK's Total Guitar would have a big poster sized picture of SLASH next issue, Randy from Texas decided he just had to get a copy somehow. He's found a way, and you can use it, too. Total Guitar offers single issues of their magazine. If you go there now, you can see the small picture of the magazine at right. Click "Buy This Issue Now" and you can order a copy. The cost is over $11, but if you have to have it, here's one way to get it:
Total Guitar
Stephanie from Illinois reported an amazing MTV fact. On October 23, "Mean Bone" was played on the MTV show "Dismissed". Stephanie says, "Finally, MTV is playing some Snakepit!" Thanks, Stephanie!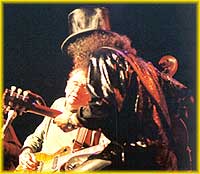 Back to magazines...Vicki found a SLASH mention in the "Fretworks" section of the December 2001 issue of Guitar Player. Here's what it says,


"Happy Anniversary, Les" Les Paul kicked off festivities surrounding the 50th anniversary of his namesake Gibson solid on August 13, at the Iridium Jazz Club in New York. SLASH, Al DiMeola, and Gibson CEO Henry Juszkiewicz were on hand for the event, during which the 86-year-old Paul was presented with a Gibson Custom Art & Historic goldtop engraved with "Celebrate the legend. Revel in the legacy. Gibson pays tribute to the one and only Les Paul." Vicki says that the article also notes that August 13 was declared "Les Paul Day" in New York City. Thanks, Vicki!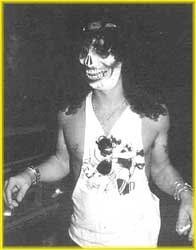 Thursday, October 31 is Halloween! Whether you are going out to give your neighbors a chance to say, "Why are those big kids going around?!", or you are off to a party, taking out your own little ones or handing out the candy at home, if you are dressing up as SLASH, we really would like to see a picture of you! If you carve your pumpkin and decorate it to be SLASH, that would be great. We're thinking of putting the cardboard Gibson promo SLASH near the door in a mask although the fierce look now on his face is probably enough. So send us your pics so we can all have a look! As always, send to webmaster@snakepit.org.


News Reported: 10/27/01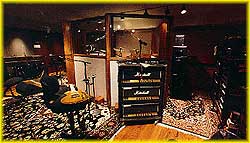 The UK music magazine Q had a one page interview with Billy Bob Thornton. As you know, Billy Bob is married to Angelina Jolie; and he does some singing as well as directing and acting. Thornton and Jolie bought SLASH's Beverly Hills mansion, and one selling point was the (Snakepit) studio in the basement. Slash comes in for a mention in the Q article. Q asked Thornton, "You bought your house from SLASH. Any sign of the previous owner?" Thornton replied, "People think it might be a bizarre place, but really it's not. The house has a long history. It was built in the 20s, and Cecil B. DeMille lived there. The only thing SLASH left was a sticker on the wall of his recording studio. It said, "It's All Good".

So we checked that out with SLASH to be sure he knew he left the sticker there. He said he had, but Slash said...what does he mean...I left the whole studio for him!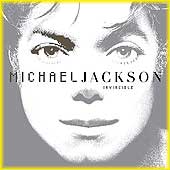 We also asked SLASH about the song "Privacy" on Michael Jackson's forthcoming album, Invincible. We told Slash that it sounds like Michael says "SLASH" right before a short guitar solo, but SLASH insists he did not play on this album. He said maybe they borrowed something from HIStory or Dangerous, but he certainly would remember if he had played on the album. Listening with decent speakers, our conclusion is that it really sounds like Michael says "SLASH", but it doesn't sound like SLASH playing. Guido from The Netherlands says he's both a guitar player and a HUGE SLASH fan, and he's convinced this is not SLASH playing. Guido says that aside from the sound, the style is different including some whammy bar stuff that is unlike SLASH. Guido thinks it just doesn't have that SLASH vibe to it. So, right now we think the answer is that it isn't SLASH. We'll check the credits when it comes out.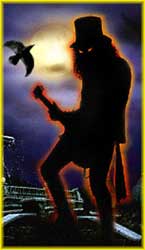 Musician's Friend has some cool Halloween SLASH wallpaper with matching postcard. Our own Michelle wrote in that she's got e-cards up and running on her site now, too. There is one for SLASH! This is a really neat picture of SLASH either on his way to a Halloween party or dressing up for an October 31 gig. Very nice! And here's how you get there:

Trick or Treat!

If you're in L.A. and can make it out tonight, you can see Brian Tichy, Snakepit 95's touring drummer, performing with his band Ball at The Gig on Melrose. The show starts at 11:15pm PT. Tickets are $7 at the door.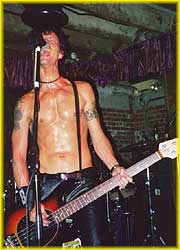 Here's another SLASH pal, Duff McKagan! Duff is doing three shows at the House of Blues. This will be with his band Loaded, and there will be a couple of other bands at each show:

11/14 House of Blues, Anaheim, CA  with Kings X,
                                Moke, 151.
11/18 House of Blues, Las Vegas, NV with Kings X,  
                                Moke, 151.
11/19 House of Blues, West Hollywood, CA with Kings X,
                                             Moke.

Tickets are on sale now ($20) for Anaheim which is an all ages show.


The December 2001 issue of Guitar World has several SLASH mentions and some pictures! Vicki and Caleb sent us notes on this one. One of our favorite photos (pictured here) is this full page one for Seymour Duncan...SLASH at his coolest. A guitar workshop company has a small SLASH picture. The best part is a short column called "Guilty Pleasures", and SLASH names the song, book and movie which are guilty pleasures for him. The song is "Sad Lisa" by Cat Stevens on the album Tea for the Tillerman (1970, A&M) SLASH says the song has the effect of bringing him nearly to tears everytime he hears it. Stevens' voice and the song's vibe are touching. The book is, of course, Hunter S. Thompson's Fear and Loathing in Las Vegas (Modern Library, 1998). SLASH has loved that book for years, and he tells how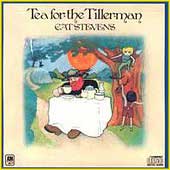 he and the late Sam Kinison were going to recreate the trip to Las Vegas, but SLASH came to his senses at the last minute. Later, Kinison would die on that same route heading to Vegas for a show. Movies are no surprise either with SLASH naming "The Godfather" (1972). SLASH says you have to look past the gangster part of the show to the family loyalty and other motivations, and you can get some real insight into yourself. The song is an interesting choice. Everytime you think you have SLASH figured out musically, he comes up with something that gives you something new to think about and maybe find and try out.



News Reported: 10/25/01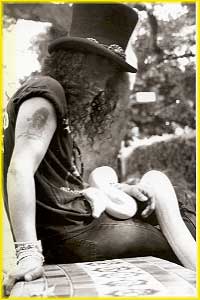 This gentle picture is the final one of the five SLASH pictures in Pets and Their Celebrities. If you missed any of the others, they are here...just down a little. In this one, SLASH is shown with his albino anaconda, and they seem to be getting along just fine. The pictures are very recent.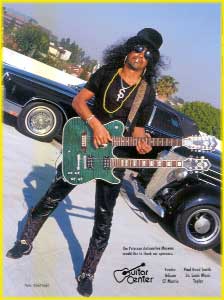 Awhile back, SLASH loaned his two classic cars and a couple guitars to the Petersen Automotive Museum for a special exhibit, "Cars & Guitars of Rock 'N' Roll". This exhibit is still going on at the Petersen located in L.A. If you go there, you'll get a Gallery Guide. On the back is this full back cover picture of SLASH! Make sure you pick up a couple of these as they are already collector's items.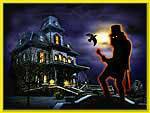 Last time we told you about Halloween desktop wallpaper available at the Musician's Friend site. We sent a note to them telling them how much we liked it, and they told us there is also the same graphic you can send out as a postcard! One is animated (very cool), and one is not. So if you like to send these things out, here's where you go:
SLASH Halloween Postcard

Last night we got all the SLASH questions together. There were over 150! We weeded out the personal questions, messages that were not questions and some duplicates and still had 140. Not wanting to overwhelm SLASH, we sent him 25. He said he would do them all, but we'd rather get them back in stages. He has this group now. And let's take one from the previous group! This is from Ambra in Milan who asks, "Of course you usually receive a lot of compliments from fans, and in some way they are the ones that allow you to do what you've been doing since 1987. What do you feel when you see the happiness in their eyes because they are meeting you?"

SLASH replies, "Ambra, I love to play guitar, but I love to play the guitar for people who want to hear. It's the people's positive reaction that makes everything magical."

Thanks, Ambra and SLASH! A good question, and a very sweet answer.



Michael Jackson's new album Invincible comes out October 30. On the 26th they are setting up his official site so that you can hear the album. Here we are on the 23rd, and there's a site where you can hear all the tracks now. We were sent the site address by "Double Edged" who was surprised at the track "Privacy". About halfway through it or more, MJ says what really sounds like "SLASH". This is followed by a very short guitar solo. It sounds like it could be SLASH although our speakers are not very good. When rumors circulated awhile ago that he was on the album, SLASH said...the album is done and I am not on it. We have yet another call in to him to ask about this. Maybe you'd like to go and have a listen. We were unable to make this work with Netscape, but IE worked fine. Remember, the track is "Privacy".
SLASH ???
The Keri Kelli online chat will be held on Sunday, November 4, 1pm ET. This means Keri will be online at 10am PT. Whether he is awake or not, he'll be fielding questions from fans. The Snakepit issue is bound to be a big topic. Keri is busy now with other projects, but we hope he will have news of the other guys in the band.


News Reported: 10/23/01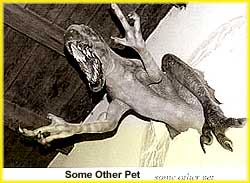 This is the fourth SLASH picture from the Pets and Their Celebrities book by Christopher Ameruoso. In case you want your own copy, you can get one at Amazon and most other neighborhood bookstores can order you a copy. So, what do you think of this guy? We have two questions: (A) What IS this? and (B) Why is it so mad? This may be the one that munched on SLASH's hand. This is a good Halloween picture, but we'd like to send this guy over with the U.S. troops in Afghanistan. Special ground forces mascot. Go Get HIM! We promise the last picture with SLASH is coming next time.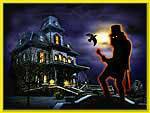 Speaking of Halloween and pictures, Jim found the coolest Halloween desktop wallpaper you've ever seen on the Musician's Friend site. Musician's Friend sells guitars and all kinds of musical equipment and books. And they have really nice people working there. Jim sent it here, and we agree this HAS to be SLASH with the hat, Les Paul and bandana. How scary could a silhouette be? Mmmm...not too...but check those eyes! Geez! And if you need a second for when SLASH freaks you out too much, maybe download the one with the Blair Witch stick figure on lead vocals!! There are four there, but be sure to pick up that SLASH one first. We told SLASH about it. After asking "do you know Musician's Friend" and getting silence as an answer a couple of times, we dove in and told him about his pic. He thought it was great, so we're sending him a copy even though he won't be running it! Happy Halloween, SLASH!
SLASH Screensaver
Here are some TV reruns with SLASH this week. On 10/27 at 2am ET, VH-1 will repeat "From The Waist Down...". On 11/1 at 8pm ET, ETV will present "True Hollywood Stories"...The Savannah episode. Same episode on 11/4 at 10pm.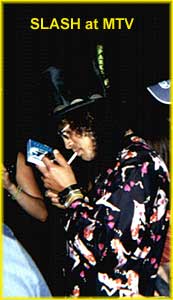 SLASH on TV: Zubi and Brian report that MTV "actually played something good" recently. The show is called "LIVE A-Z". They go through the alphabet playing live performances with bands whose names start with that letter. Gun N'Roses scored the G slot, and MTV played the entire 10 minute performance of "November Rain" from the 1992 Video Music Awards. This is the performance with Axl and Elton John on dueling pianos. Brian says it really takes you back to the old days and reminds you of how much you miss GNR. Also, Brian hung on and was able to see SLASH with Michael Jackson at the 1995 Video Music Awards. This performance was edited and was very short. So watch out for this show! Thanks, Brian and Zubi!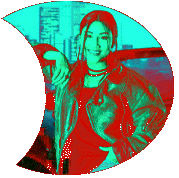 Last time we gave you a way to find the Ella song that SLASH made a guest appearance on, "Bayangan". It involved getting to the site and clicking down 70 or 80 times! We got a note from DeN in France who says... just highlight the first song and press "B"(the first letter of the song) three times and you have it! DeN says...it's much more simple! It's wonderful! Here's the url if you need it.When you get there, do what DeN advises, and you will immediately hear SLASH start up on "Bayangan".

SLASH on Ella's "Bayangan"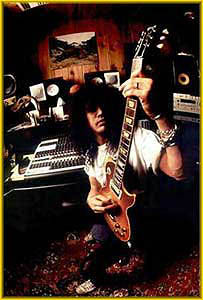 SLASH called in last night after arriving home from the studio. It was his first day there. We asked him if he missed his old studio, but he said he didn't. We were hopeful of some news to pass on to all of you, but he said not yet. He and Perla were on vacation in Hawaii, so he is just really getting started on his musical project. We asked about other things like interviews, TV shows, etc. but he said he had to return a bunch of phone calls; and if he decided to do any of these, he would let us know. He did say he would take more questions, so we'll be going through them and faxing them off to SLASH. He said to say hello, and he has many great memories of those of you who came and made their shows f*ckin great!


News Reported: 10/21/01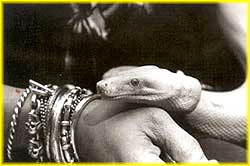 This is the third in the series of SLASH and his pet pictures in Pets and Their Celebrities by Christopher Ameruoso. Great detail here; and even though his face is not in the picture, you can see those silver bracelets and know it's SLASH. The anaconda seems to be having a little lick on the bracelets. Next time we'll show you the picture that's labeled "Some Other Pet"!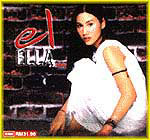 In 1998 SLASH did a guest appearance on a Malaysian album "El". The artist is Ella who is just a huge singer in that area. The album was not released in the US so you may not have had a chance to hear SLASH. A Malaysian site now has the song up, and Manu from France found it. This is going to be a little work to get to the song. We'll give you the url and take you there, and when you get there you'll see a long list of songs in a window. Highlight the first song and step down 88 times. Manu figured out how to get to the song. He counts 75 steps (press down arrow) down, and we count 88. Look for the song name "Bayangan" at the left in the rectangle and the name Ella at right. When you see this, keep it highlighted and click the "Click Here To Play" button. You will here SLASH immediately! He does a super job on Ella's song. Thanks, Manu, for finding this!

SLASH on Ella's "Bayangan"

Michelle writes that she has never seen the Tales From The Crypt episode with SLASH, but she'll get a chance to this Thursday, October 23 at 10:30pm EST on the SciFi cable channel. This episode is great for SLASH fans! He isn't in it long, but he has lines! SLASH plays a D.J. and is dressed in his black and silver leather outfit along with his tophat. Another SLASH TV viewing is coming up on Sunday, October 21 in Germany. Eische says the Howard Stern autobiography Private Parts will air on TV at 8:15pm CET on Vox with a replay at 3:50am that same night. Get the VCRs ready! Thanks, Michelle and Eische!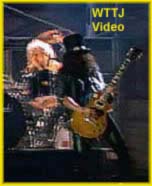 Chaz was watching the Yankee game, and at the beginning they played GNR's "Welcome to the Jungle" in the background! Chaz says that's their opening song! And a good choice. Thanks, Chaz!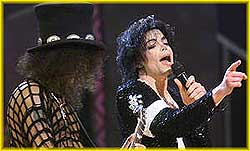 Monika is a SLASH fan in Bulgaria. She says one of the Michael Jackson videos with SLASH was on TV there, and it was great. SLASH looked natural, and the live performance they did let them show their feelings. The TV program was not very good, Monika says, because it was filled with gossip. It was on Bulgarian TV Evrokom, and they mocked MJ a lot. Monika is looking forward to SLASH's new album and is hoping for a blues release. There's a saying in Bulgaria that "when a stupid person feels happy, he or she plays chalga (a kind of boring folk song), but when a valuable person feels good, he or she plays blues." Thanks, Monika!


News Reported: 10/19/01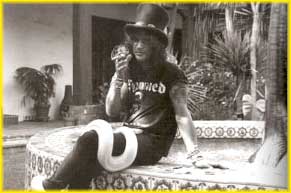 Yesterday we showed you one of the 5 SLASH pet pics that are in the book, Pets and Their Celebrities. Book and photos are by Christopher Ameruoso, and he's done a great job with SLASH. He must have waited for just the right moment when the albino anaconda was wrapped around SLASH's ankle! SLASH is holding up another favorite pet of his. This is an iguana, and it looks like one of SLASH's horned ones. Or does it have something to do with lace crested? Only the SLASHer knows for sure. This lizard is the one that bit SLASH when it tried to make a break for freedom by heading over the fence. Most fans would like to get IN! Anyway, there they are - SLASH and his beloved reptiles.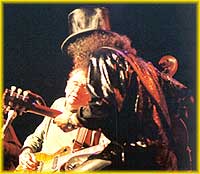 Think of SLASH's guitars, and you think of Les Paul. At 80, Les Paul is still a great performer, and every Monday night he's in the spotlight at The Iridium Jazz Club in New York. SLASH played there with Les not long ago when the Iridium reopened following renovations. If you're in New York, you might head up to 1650 Broadway at 51st Street, walk in and receive an official Les Paul T-Shirt with paid admission. Then you get to hear Les Paul and His Trio and have The Father of the Electric Guitar sign your T-Shirt! Would this be a special autograph or what? Someday you can have SLASH sign it to, and what stunning memorabilia that would be! If anyone can go and doesn't want their shirt (!!), we'd be glad to give it a home.


Have you been wanting a copy of Izzy Stradlin's new album, River? The Izzy Stradlin Fan Forum, run by Nicole (aka Torawashi), is having a contest to give away 5 copies of that new album. Three of the albums are autographed by Izzy. How did they find him?! All you have to do is go to the address below and register to be in the forum if you haven't done so already. They'll mail you a password and you're set. The contest entries are made up of those who post to the forum. It's a really friendly place, and you can talk about related topics (like SLASH!) in addition to Izzy. Most of us feel that Izzy Stradlin was the songwriting heart of GNR. Even SLASH has said that Izzy could write a song faster than you could drop a dime. When Izzy left, the heart started to go out of the band. SLASH also says that when Izzy left, it was the beginning of the end for GNR. So, get on over there and win a CD and see how Izzy is doing out there in the solo world. And if you don't know what to post, you can always post that famous sign, "Where's Izzy?"!

Izzy Album Contest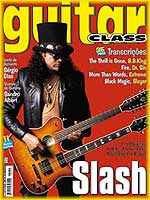 Rafael sends news from Brazil that SLASH is on the cover of a Brazilian guitar magazine called Guitar Class. Rafael says it is not an awesome publication, but it has details on things SLASH uses like scales, licks, techniques, his equipment and the pedal setup. Rafael thinks it would be great to combine this information with what is on the Equipment & Techniques section here. It's 10 pages long! He doesn't have a scanner to send the information, but maybe a fellow countryman can do that for us (we also need a translation!). If we get it, we'll use it and put it here where the guitar players can check it out. Thanks, Rafael! And for those familiar with the language, check out the magazine's web site where it has something to say about SLASH.
Guitar Class
News Reported: 10/17/01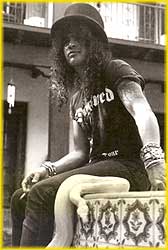 This is one of five pictures of SLASH in the book, Pets and Their Celebrities. Book concept and photographs are by Christopher Ameruoso. While most of the pets are cats and dogs, there are a few others mixed in. SLASH shows off that beautiful albino anaconda, and later we'll show you something labeled "Some Other Pet"! SLASH has two full pages. All book photos are black and white. We'll show them to you one at a time.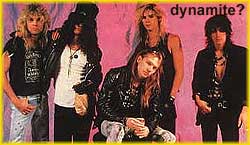 Sir Bobcat sent us a link to a site that deals with misheard lyrics. You know, like people who hear "'scuse me while I kiss this guy" instead of Hendrix's actual lyrics, "'scuse me while I kiss the sky". Only this is GNR! Sir Bobcat says some of these are really funny, but on others you'd have to be deaf to hear them the way that's listed. If these things drive you nuts, skip ahead...otherwise, here they are! Thanks, Sir Bobcat!

GNR Misheard Lyrics

Chris from New York was able to get a confirmation from MTV that SLASH will definitely be on the TV show made from Michael Jackson's 30th Anniversary Tribute. SLASH will do "Black or White" and "Beat It". This will be Tuesday, Nov. 13 on CBS at 9pm ET. Thanks, Chris!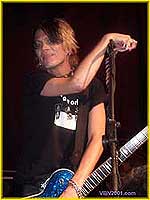 Keri Kelli was one of our favorite Snakepit band members. He's now gotten a computer, and he's going to do a chat. Keri is looking for a date and time that would suit most people. He would like the chat to be held by the end of the month. If you'd like to attend, you need to be registered. Once you are, you can post the time/date you would like on the message boards. The thread to post in is the General Keri Kelli Discussion. Keri's site is at www.kerikellionline.com. See you there!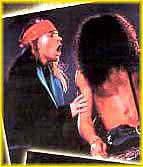 We didn't have to worry much about VH-1's "Rock Show". Poor Rob Zombie came in first, followed by Sammy Hagar, Lemmy, SLASH (5%), and Layne Staley. The poll question for next week is...which of these pairs make up the best rock duo...Eddie Van Halen/David Lee Roth, Joe Perry/Steven Tyler, Axl/SLASH, Jimmy Page/Robert Plant and Ozzy/Randy Rhodes. Now this is a good poll! Vote for Axl/SLASH or whoever you want at:Rock Show Poll. Right now Axl/Slash are in next to last place.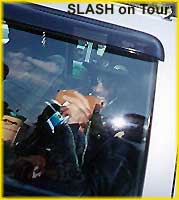 We don't have a name for this fan, but it's a good question for SLASH. They ask, "Is it hard to travel to other countries where they are so different than you are used to? Do they act different?"

SLASH replies, "I love to travel to different countries and play for different peoples, cultures and environments. That is why touring is so much fun!

Thanks, SLASH and our anonymous fan!


News Reported: 10/15/01


To everyone who's wondered when the Michael Jackson tribute show will be shown on TV, Brian sent in the answer. The date is Tuesday, November 13 at 9pm ET on CBS. Brian found out that some parts of the show will not be aired...the parts where just guests appeared. The TV broadcast focuses more on Michael and the Jackson Five. Luckily SLASH appeared with Michael on "Beat It" and "Black or White" so SLASH should be on the program. We'll remind you as it gets closer. In case you have a question, Brian read this on the Underground Rock News site.



Graigor has some TV SLASH news from the UK. Actually, this is the SLASH-era GNR. The first program is "1989 Forever" on ITV1 (UK) at 1:25am GMT on Saturday, October 13. The program includes Texas, Nenah Cherry but there is to be some GNR, too. The second program with a GNR feature is on Radio 2 in the UK. They talk about rock and roll indulgence, and the show revolves around Led Zep but also mentions GNR as well as The Who's Keith Moon. Graigor says that Radio 2 is a good station for documentaries, so this could be a quality show on the golden age of GNR. The title is "Sweet Smell of Excess", and it airs on Thursday, October 18, at 9pm. Thanks, Graigor, and rock on!


Last night we went over to check out the Koch Records SLASH page just to see what was happening now that the tour is over. The Koch site still has a link to SLASH's Snakepit - the one with the single black and white picture and a link to the elaborate one at www.slash-snakepit.com. We were astounded to see that the site has been hacked! We didn't spend any time seeing what else had problems, but we did email Koch. Remember the site with the music and the pictures...here it is now:


Koch's SLASH Site



If you know Martin P. from Argentina and/or khriz08 from Estonia, let them know they won the SLASH page contest, and we need their addresses. Thanks.


Here's a question for SLASH from Scott who has some concerns about SLASH's equipment. Scott asks, "I noticed your main stage guitar (cherry sunburst, 3 piece top) has taken quite a beating since your Use Your Illusion days back in the early 90s compared to now with your Snakepit tour (great shows, by the way, I was right in the front at your show at the Galaxy Theater in LA). What exactly has happened to that guitar? I've heard rumors that the neck's been broken a couple of times. I've also noticed wear on the finish, along with a burn mark of some kind under the stop tail piece. ???

SLASH says, "Mostly my main stage guitar suffers from road abuse. I did break the neck of it once and that is a cigarette burn behind the bridge. One of the reasons I love Les Pauls is because they're so tough. They rarely break but when they do, you glue them back together or replace some part etc. And they still work great!

Thanks, SLASH and Scott! It appears that mint condition is not that important!



News Reported: 10/13/01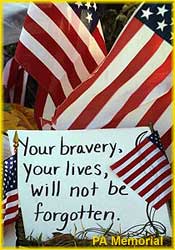 Today is the one month anniversary of the terrorist attack on the U.S. Our sympathies go out to the families who lost loved ones in New York, Washington and Pennsylvania. It is an especially difficult time for families still waiting for some confirmation that their family member or friend is dead. Some families are still putting up posters in hopes that the person may be found alive roaming the streets, suffering from amnesia. Hope and love never die. Please don't forget to help the survivors with a donation to the American Red Cross or other charitable organization. We were proud that the music benefit brought in over $100 million. People who love music love life and beauty. Let's help bring that back into the lives of the families of those killed on September 11. God Bless America.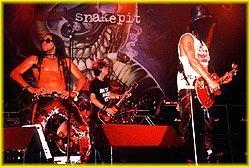 We have some good news for five lucky people. These are the winners of the latest contest! Each person has been sent an email, but we'll put their email name here just in case. We need you five to get in touch with your name and address. The prize is a CD promo single, "Been There Lately". Here's who won: Martin (patongtr), kanenas4, Brian (BMS5065), Tarene (double-edged) and khriz08. There were a lot of entries, not so many correct ones. Here are the answers:


Answers!



We'll have another soon. We hope you enjoyed this one. We always try to put in a couple of funny things.



More good news for UK fans. Rich wrote to let you all know that there will be a massive SLASH poster in the next issue of Total Guitar. It comes out October 23 in the UK. Aren't you the lucky ones?! Thanks, Rich!



Something for all of us...there are two great new interviews with SLASH on the net! Debbie spotted these on the Soul Train web site. If you recall, SLASH went there and did interviews. There part 1 and 2 of the press conference. SLASH answers a lot of questions with his usual poise. The topics are all over the map - from the regular GNR reunion question to "are you a good cook". SLASH comments on the movie Rock Star and what his life is like as one. Very enjoyable and long! Thank you, Debbie! Here's where you can go to see them:

SLASH Interviews

Thanks to LuAnn we have some SLASH mentions that appeared in the ArcaMax newsletter under "Today in Music History". On October 10, 1992, SLASH married model Renee Suran in Marina Del Ray, California. The marriage ended in divorce in 1997. On October 10, 2000, SLASH's Snakepit's debut album, Ain't Life Grand, hit the stores. And one more mention sent in by J.Ray. This was in the Rolling Stone newsletter on October 1: "I do all my interviews on the toilet." -- SLASH. Note that the video interiew above was NOT done there!


Last time we talked about a comedian who was wondering why SLASH could get up and play a guitar solo with no music in front of him, yet the seasoned orchestra accompanying him had scores they used. This was most likely the "November Rain" video where SLASH stands near the orchestra and moves to the piano. Jamie,Laura, Robert and Nicolas sent in some explanation. All four of these people should talk to Todd Barry. About SLASH not using any music on stage...SLASH writes his own music and is very familiar with it. He can substitute here and there if he wants to. These musicians memorize the chord progressions, and they know from that which notes can be played over top of the chords. About the orchestras, they play what was written by the composer. They do not improvise. All have to begin and end at the same point playing the same notes. The orchestra part in "November Rain" is very complex, so they must follow the score carefully. These four musicians indicated that Todd should learn about these things before he goes for the cheap laugh. We learned a lot from your descriptions. Thanks to you all.


SLASH talked to our answering machine today. He said he's fine but Perla has a cold. He's doing a lot of playing around with ideas for the new album, but he didn't have anything specific to say on that yet. He sounded just fine, and he asked if there was something he could do for the fans here. We want to send him a bunch of questions that you have submitted, so we'll try to get that arranged. Send in any that you have right now. Thanks!


News Reported: 10/11/01


SLASH is still taking care of personal business, and he's working on ideas for his new album. How about a couple of questions for SLASH? This one comes from Alex in Australia who asks, "SLASH, I read a while back in an interview that you did some jamming and/or writing with another guitarist you seem to admire and respect - Jerry Cantrell. Is this true? If so, what came of that?"


SLASH replies, "Alex, I have never really jammed with Jerry Cantrell; but I do admire and respect his playing."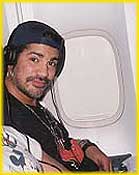 Here's a question from Michel, "When I listen to your great album (SLASH's Snakepit's Ain't Life Grand) with my headphones, I can hear two different guitars - one at the left and one at the right 'phone. Can you please tell me which side you play? Thanks!"


SLASH replies, "Michel, I should come out of the right headphone speaker. The lead guitar in stereo (left, middle, right) comes out the right headphone.


Thanks, SLASH and Michel and Alex! If you have a question on SLASH's music or career, send it to webmaster@snakepit.org. No personal questions accepted! Please put QUESTION FOR SLASH or something similar in the subject. Thanks!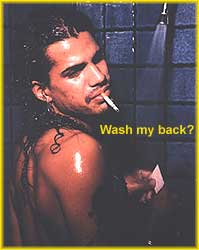 Vicki watched "The Rock Show" on VH-1 this past Friday, and she didn't care much for the insult to SLASH. Scott Ian asked, "Which one of these guys, has, you know, some personal hygiene problems. Basically, what we are saying is, which one of these rock stars needs to take a bath?" The choices were: Lemmy, Sammy Hagar, Rob Zombie, Layne Staley and SLASH! We feel the same as Vicki on this...rather than being hilarious, the question was disgusting and insulting. Scott then said, "...maybe we'll get one of these dirty bastards actually on camera to take a bath - like that would happen." Unbelievable. We've sent a complaint to The Rock Show and VH-1. We've seen SLASH before and after shows and so have many of you. He looked clean to us as did those sparkling white tshirts. "The Rock Show" is scraping the bottom of the barrel with this stuff. The previous week they asked, "Which one of these cover songs kicks the most ass", and GNR's "Live and Let Die" received only 2% of the vote. What?? If you feel like writing to VH-1, here is their customer service address: help@vh1mail.com. The Rock Show email address is rockshow@vh1.com. And by the way, this same poll is still on the VH-1 site under "The Rock Show".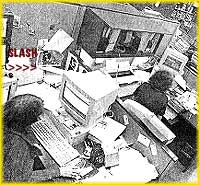 SLASH fans are always trying to get SLASH a little more publicity. This photo appeared in the Greensburg, PA Tribune Review this week. A local library received some land for a new building. This picture, taken in the current staff area, was to show how crowded the staff are. Note in the picture, on the left side of the person closest to you, a picture of SLASH is on the cubicle wall! Gives people a buzz so they can go out after those overdue books!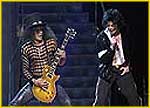 We haven't confirmed this yet, but Brian writes that he was reading about the Michael Jackson Tribute Shows last month. Brian read that the TV special will not include guest appearances (except for maybe N'Sync). They are concentrating on Michael's performance and that of The Jackson Five. Hopefully, since SLASH played for Michael, those two songs will be included. Let's hope there is some footage of SLASH, too. We'll try to have some news on this soon.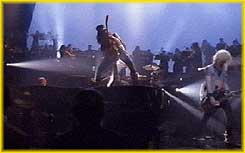 "Comedy Central Presents" is a show on Comedy Central that Shane watched last night. Comedian Todd Barry was talking about how he doesn't care for Grammy's and other music award shows. He said one year he saw GNR playing with an orchestra (Shane thinks he may have meant the "November Rain" video), and he found it odd that SLASH was up on stage playing away without any tabs or notes, but the orchestra needed scores just to change between a few chords and notes. These are people that have played for many, many years! Hmmm. Seems to us that at symphonies, we have seen musicians using scores. Intriguing! Any orchestral musicians have some insight into this? Aside from the fact that the SLASHER is brilliant, we mean!


News Reported: 10/09/01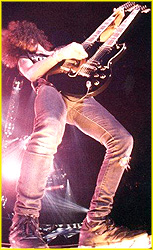 Here's another chance to catch a couple of TV reruns with SLASH. The first is E! Entertainment Television's "The E! True Hollywood Story: Savannah". Savannah was a porn star involved with many musicians - Gregg Allman, Axl, SLASH, Vince Neil and others. Her drug habit led to her downfall and suicide. SLASH says that although the show makes it sound like she died when they broke up; it was actually a year later following a small car accident in which she was slightly injured. Kind of sleazy, but another part of SLASH's life. The show airs Sunday, 10/14 at 2pm ET. The second show was just on recently, VH-1's "From the Waist Down: Men, Women & Music". SLASH does a new interview talking about sexuality of guitar players and other musicians. Entertaining!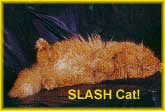 Bruce sent a message about the "SLASH Secrets" from last week's Conan O'Brien show. SLASH said, "One time this guy asked me, 'Which one do you like better, puppies or kittens?', and I said, "Both, man". And he said, "Why? Too close to call?" And I said, "No, man, too 'cute' to call!"


Ahhhhh! That SLASH is not only cool but sweet. Thanks, Bruce!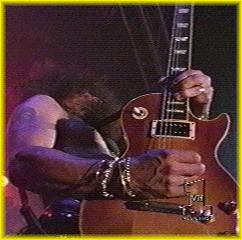 Guitar players may have seen this article on the Guitar Player site. The staff of Guitar Player wrote about 13 guitarists who use the Les Paul guitar and the particular sound they create with it. There's information on which guitar SLASH likes best for the studio and performing and just a slew of information on SLASH guitars. We have the SLASH part here, but if you are interested in reading about the other 12 guitarists (Jimmy Page, Mick Ronson, Ace Frehely, etc.), we have the url for that here, too.


Les Paul Legend: SLASH




13 Les Paul Legends



Aurelie sent in photos from the MTV Anniversary party and the Les Paul show at the Iridium. SLASH attended the MTV party, and of course, he was one of the performers with Les Paul. There are four cool candid photos here from the two events. This first picture is SLASH at the MTV party, having one of his fave cigs, Gitanes. MTV. The other three are from the Iridium with Les Paul. In the first, SLASH is perched on a stool, playing that Les Paul. SLASH - Les Paul Show. The next is Les Paul giving a consult to SLASH. Les Paul is SLASH's hero! SLASH & Les Paul. And finally there's a shot of the beautiful Les Paul show pass. Pass. Thanks, so much, Aurelie!

Don't forget the contest! It ends this Wednesday at midnight. For the questions and instructions, Click Here!



News Reported: 10/07/01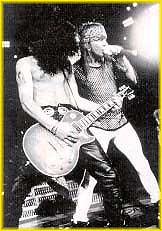 Brothers and sisters stick up for each other. SLASH says in a recently posted interview that he sticks up for Axl because Axl is still like a brother to him. Wow! While SLASH might soft pedal it, one person we've seen sticking it TO SLASH is Axl. This might be just brotherly squabbling, but when it comes to outsiders, SLASH won't listen to it. In this article, he also talks about looking for a way to get back some control over the GNR name. You'll want to read this one just to have your facts straight on what SLASH is saying:

SLASH On Axl and GNR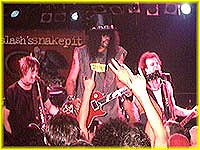 We're having another contest to give away 5 more of the promo "Been There Lately" CD singles. The contest was to end Sunday, October 7, and you may have missed hearing about it when the contest announcement was archived with September's current events. It's been retrieved for those of you who would still like to enter, and the deadline is now Wednesday, October 10, at midnight your time. For more information and the contest questions, Click Here!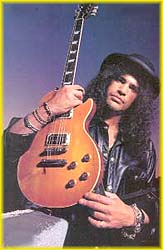 Marina sent us an interview she found on the Getsigned site. Gerri Miller, former editor of Metal Edge magazine interviewed SLASH in December 2000, and we can't decide if we have seen this or not. Some sections may have been quoted elsewhere, but this is a very long, complete and interesting interview with SLASH.
12/00 Interview With SLASH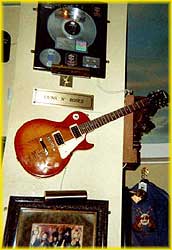 Benedikt comes from Berlin, Germany. He's been to the Hard Rock Cafe in Berlin a few times, and he wants to make sure you have planned a visit there on your next trip to Germany. Benedikt says there is a SLASH Les Paul guitar and a poster from the tour with Metallica. He says it is a great feeling to stand in front of that Les Paul! He sent a picture of things at the Hard Rock in Berlin including that wonderful guitar. (Photo by Martijn Coucke.)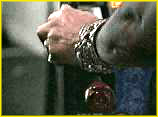 Do you remember seeing "The History of Pinball" on TV a couple of years ago? Clips from the SLASH portion appear in the SLASH Videos section. If you always wanted to own and see that whole show, LuAnn found a place where you could buy it on the net. It is not sold in regular video stores. Visit this site, The History of Pinball. Be sure to scroll down and see and hear the celebrities on the video, including SLASH. You can order online, and the cost is $25. Or if you just want to see the SLASH parts, check the SLASH Video section on this site.



Everyone loves SLASH, but not all of us get to give him a kiss. SLASH reserves that for his fiancee, but sometimes someone will zoom in and give him a quick smooch. Here's a picture from Marina which shows that you taller guys have a better chance (if you wanted one, which we doubt). Who's this old pal planting one on SLASH? Tommy Lee! Pass it down here, Tommy!


News Reported: 10/05/01

SLASH has been taking a break since the MJ shows, relaxing and taking care of some family business. We caught up with him today and asked about interview comments. First, the one that caught everyone's attention was that he is planning to do a solo album. SLASH clarified this. He is doing a SLASH album and does not know yet who if anyone will play on the album with him. He said he is just at the very beginning, piecing together little parts he wants to use. What about Snakepit? SLASH says there are legalities and payments and so on to be worked on. There are a lot of materials in the pipeline between Geffen, Interscope and Koch that need to arrive and be acted upon. He doesn't want to muddy the waters with another Snakepit album till all that is cleared up. SLASH says it is not a big deal, but till things are sorted out he is going to let Snakepit sit.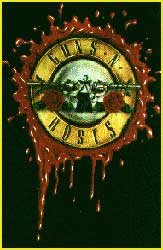 Another question was about the Guns N'Roses name. In an interview, it quotes SLASH as saying he wants to find out what rights he may still have to the GNR name. This is what lawyers are paid to do, and someone will research the paper trail. Not long ago, SLASH was quoted as saying that giving away his share of the name was one of the biggest mistakes of his life. Basically, he is having the issue looked at again. Thanks, SLASH for those explanations.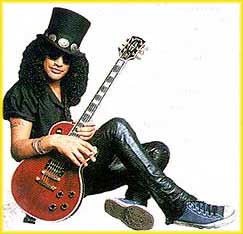 The UK magazine, Q (October issue) has an interview with SLASH, a picture and a funny mention. The magazine is 15 years old, and to celebrate, they had readers vote for their favorite Top 50 albums of the past 15 years. GNR was in there with the big one, Appetite for Destruction. Each winning album has a short interview with one of the band members, and SLASH did this one. Notice in the interview the mention of SLASH doing a Yardbirds album. At this time nothing has been finalized on that project.
Appetite Recognition

Here's where you can see Q's "Five Fascinating Facts About Jack Daniel's rock 'n'roll mouthwash". And there's a nice SLASH picture here, too!

Jack Daniel's "Facts"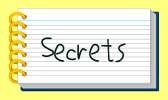 Jamie saw the Conan O'Brien show last night. There were SLASH "Secrets" that were different than the ones we heard about before. The first SLASH secret was "the original name for Guns N'Roses was Roses N'Guns, but that sounded stupid". Another SLASH secret is that he once asked Axl why he left off the "e" in his name. Axl started crying and said he thought he had spelled it right! Remember these are not true...just some "secrets" SLASH made up on the spot.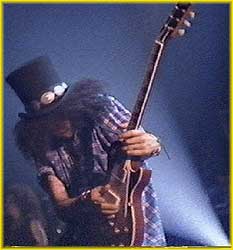 Vicki found the November issue of Spin magazine (Incubus on cover) has an article about "power ballads". "November Rain" and "Don't Cry" made the list! ("Estranged" never seems to make any of these lists). No picture of SLASH though.



News Reported: 10/01/01