Tonight's the Camp Freddy show at an undisclosed venue in LA. Anyone win tickets? After tonight, there should be a lot of audio and video clips along with photos on the Camp Freddy site. The last bit of news from there is from 10/29: "Final rehearsals for the show were last night, everything went smoothly, all the guests showed up (even SLASH? WOW!) and the set sounds amazing. Thanks to everyone that helped last night, and a big thanks to all the great sites that have promoted the show. We'll see you tomorrow night!" Here's hoping some of you get the ticket phone call!



Jack Douglas was the producer on SLASH's Snakepit Ain't Life Grand. Jack has worked with so many artists over the years...John Lennon, Cheap Trick, Aerosmith, etc. Jack's birthday is coming up soon, and Terry has created a virtual birthday card surprise. The card is online so his fans and friends can post their birthday wishes to him. So, take a minute and wish Jack a Happy Birthday. Jack will get the url for his birthday, and Terry is going to print them all out and make a birthday booklet for him. Feel free to pass this url on to anyone you think might want to sign it. Deadline for birthday postings is Monday, November 4, so don't delay! There is no need to register. Just take this url, press the ADD REPLY button at top then type in a name/nickname that Jack will recognize you from if he knows you already. Ignore the password field. Fill in the name and subject or it gives an error and rejects the whole posting. Happy Birthday, Jack!

Happy Birthday, Jack Douglas





Some interesting news came in from Lori, the webmaster for Duff's Loaded site. Lori lives in California, and she is actually getting to go to a rehearsal of the SLASH/Matt/Duff project on Halloween! We should now starting including Izzy: SLASH/Matt/Duff/Izzy because all four are to be there! Duff is just a super guy, isn't he? Duff says that they are very close to naming the singer, but he could not reveal the name yet. According to Duff, Izzy is part of the project! Duff didn't say whether Izzy will be in the band or behind the scenes, though. And the band has 36 songs ready! SLASH said the album would be out in 2003, and it sure looks like it will once they get the vocals on. No word on the band name yet.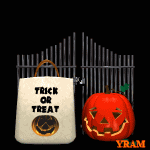 Antti remembered the video we were wondering about (see Monday below). The concert was a short part of a video box set containing 10 video cassettes. It's a rockumentary telling the story of rock music. SLASH has another mention on the video separate from the concert. Paul Stanley talks about the guitars and sexuality. He mentions SLASH as a person who watches and holds his guitar like it is part of his body. The video clip of the concert is from the House of Blues. Antti thinks is was in '93 or '94. Thanks, Antti!




There's something about Halloween that everyone loves. The fans here put together their affection for SLASH and a costume...and suddenly...chick magnets! These guys look hot! And how about the two ladies! Little Ms. SLASH looks great, and "Axl" is really showing up the original. This is our Halloween treat for all of you, and we're mailing off an edible treat (and some little SLASH items) to our SLASH (and Axl) gallery. As Rod Stewart said...every picture tells a story, don't it? And there is a story with each of these.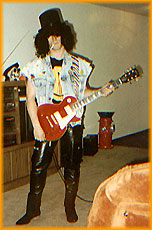 This is a picture of J.T. dressed up as SLASH a few years back. J.T. is from California, so of course he's near those SLASH rays! Notice that on every one of these the critical thing is the tophat, then the hair. You can wear whatever you want to...SLASH does! Thanks, J.T.!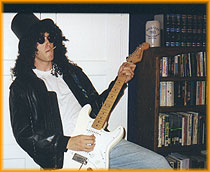 Dave's another one from California. With that long, lanky build, he's like the original SLASH. Having a cig is a good touch. Remember, SLASH smokes Gitanes now. Marlboros will do in a pinch. Dave says he doesn't have a Les Paul, so he is using his Fender. Take it down to one string so it really is like the original SLASH! Dave remembers that he did not want to carry his guitar all night, so he left it at home. Mistake! People thought he was Howard Stern. Thanks, Dave!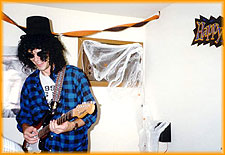 This is Jason dressed up for a Halloween party. It was his last semester at Purdue University. He and one of his roommates had "one hell of a party"! Ah, taking lessons from the SLASHer. The party got busted for violating a noise ordinance. Note: if Jason invites you to a party, wear earplugs! Thanks, Jason, SLASH would be proud of you. "If you think it's too loud, you're too old!"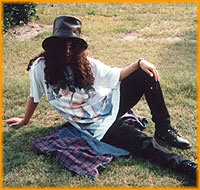 Hey, here's Little Ms. SLASH! Nina is from Texas and looks like a good companion for SLASH. Is that your hair, Nina? That tophat looks great. Thanks, Nina!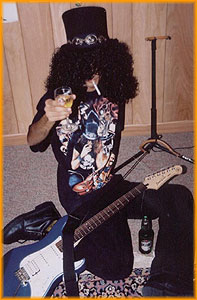 This is Fez from Virginia. He's 18 years old and looks like the original SLASH. You are looking at one of the biggest SLASH fans alive! Fez is missing his Les Paul, but his tophat was given to him by his understanding girlfriend, Jenny. Fez is just crazy about Jenny and thrilled to have gotten the tophat. It takes a good woman to hang out with a SLASH fanatic. Thanks, Fez!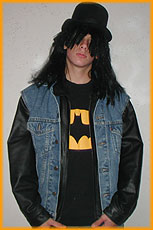 Here's Eric in his SLASH costume which he is going to wear to his high school on Halloween. Eric lives in Kansas. There's a best costume contest at school, and Eric's definitely got a shot at it. He wore it to 80's Day during Homecoming week, too. He could not find a curly wig so he is making due with straight. The hat came from Paper Warehouse and cost $7! Tell SLASH about this new source! Thanks, Eric!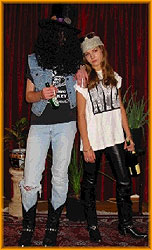 Nic and Adele look pretty cool as SLASH and Axl. The two are from Canada and get along better than the real pair. We like the way SLASH is very large and can loom over Axl to keep him on the straight and narrow. Maybe they could have a fistfight and win best costumes! Axl could yell at SLASH, and SLASH could just sigh and then wham Axl with his Les Paul. We'd pay to see that! Thanks, Nic and Adele!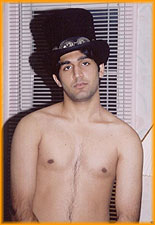 This is Mani from Virginia, and he is 21 years old. Now this is like SLASH onstage...no shirt! Have you ever been at a show where women held up signs to SLASH: Take Your Shirt Off!? Very cool. Mani, you look great. Thanks!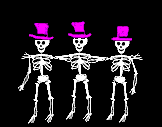 HAPPY HALLOWEEN, SLASH!






News Reported: 10/30/02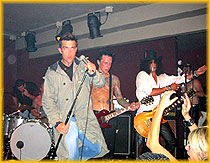 As you must know by now, Camp Freddy is doing a pre-Halloween show this Wednesday, October 30. The venue has not been revealed. Billy Morrison announced a couple things recently. First of all, the show is officially sold out. He says as much as they'd like to see everyone, there will be no tickets available the night of the show. It seems the fewer people that can get in, the more people want to see them! Good marketing strategy. If you'd like to see some pictures of the band in rehearsal, here's where to go:


Camp Freddy Rehearsal Pics


and click on Where's The F*cking Pictures? Note: SLASH is not in these.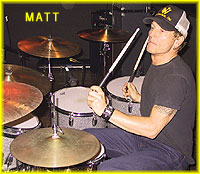 Don't forget, SLASH will be there as a confirmed guest. You still have time to take a chance on getting tickets. 25 pairs of tickets are being given away. You have to be sure you can be in LA on the 30th, and you have to stay by your phone on the 29th when winners will be called. If you don't answer personally, they skip you and go on to the next person. Information on the venue will be given to you at this time. We're hoping that some of you from California have entered. If not, here's where you do that:


Camp Freddy Contest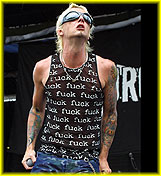 As far as we know the singer for the SLASH/Duff/Matt project has yet to be chosen. At one time, Kelly Shaefer looked like the one, but then the report came back that they were still screening tapes. From a very reliable source, we have information that Kelly would be jamming with SLASH and the guys beginning October 24. Sounds like Kelly is still a front runner! The same source saw that we got a Neurotica CD, and Kelly can definitely wail.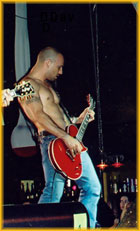 Speaking of the SLASH/Duff/Matt project, Dave Kushner (Duff's Loaded band) has been selected as the second guitarist. The curly haired, top hatted one is of course in the first guitar position. Brian sent some information on Dave. He says that in addition to playing in Loaded, Kushner also played with Duff in Zilch. Zilch was the brainchild of Hide, a Japanese rock star. Zilch's first album and remix album had many guest stars. Hide passed away, but his friends (including J who had SLASH guest star on his 1997 solo album Pyromania) finished the second Zilch album with an even larger cast of guests. Duff guested on four album tracks and one b-side. Other guest stars were Steve Jones, Ian Astbury, Sen Dog, etc. Kushner played guitar on 6 album tracks, 1 b-side and 2 b-side remixes. In addition, Kushner played on the tour which included Loaded! Duff did a few guest appearances live with Zilch during that tour, too. Brian, thank you for that complete rundown on Dave Kushner and his work with Zilch.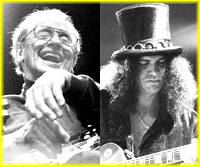 In looking up some information on Steve Vai today, we came across this information which is totally new to us. Here's what one site had to say:



Steve Vai Live in Los Angeles April 29

"The Legend and Legacy of Les Paul"

"Steve with Les Paul played 'Summertime', and Steve played 'Freeway Jam'. Performers: Les Paul, SLASH, Joe Walsh, Stephen Stills, Dave Edmands, Jeff 'Skunk'Baxter, Lou Pallo, Paul Lewinsky and Steve Vai."

Question: what year is this? Was this recorded or just a live performance? Where was the performance in LA? Anyone know?



Signature Guitar Picks 1998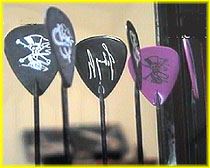 Dunlop Manufacturing is releasing a Signature Guitar Pick Collectors Series that will be released in Japan only. Each specially designed box will contain signature picks from Steve Vai, Alex Lifeson, Joe Satriani, Carlos Santana, Lenny Kravitz, Yngwie Malmsteen, SLASH, Zakk Wylde, etc.

This came out in 1998 it appears. Has anyone seen one for sale anywhere? Anyone interested in buying one of those Ron Wood pictures of SLASH? We know of a couple for sale. If you're interested, write to webmaster@snakepit.org.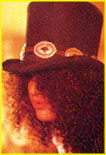 Remember Anne bought SLASH's hat in an LA store? We asked Anne if it was a tophat or one of his other hats. It was a tophat! The reason the store owner had SLASH's hat was because he had done some leather work for SLASH. He told SLASH, "Don't bother paying me just give me your hat as payment." So, it was a legit transaction, but Anne said it was VERY expensive. Maybe you could send us a picture, Anne! Thank you.



News Reported: 10/28/02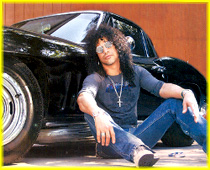 When you see the cover of the 11/14 issue of Rolling Stone, you'll know SLASH is inside....no, not the nude Ms.Aguilera story, but the story on "Ultra-Cool Cars... and the Rock Stars Who Love Them". There's a good picture of SLASH with his '66 Vette StingRay. SLASH also claims a '36 Ford Choptop V-8 and a '66 Lincoln convertible. The Ford and the Lincoln were on display at the Car Museum awhile back. Here's what SLASH said about his cars, "I'm a pack rat, so anything I bought because it was cool back whenever, I can't get rid of. The Ford and the Lincoln have been sitting around for way too long. They're at my mother-in-law's garage right now. The 'Vette I had out all winter, but it's just too hot to drive it in the summer. Just restoring them and keeping them maintained is the main thing. They're the kind of cars that you thought were cool when you were a kid. With me, it's just the ones that look pleasing. I don't like to hang out and talk cars and all that kind of shit, because I don't really technically know f*ck-all about them. If it drives well and it looks good, that's the main thing." The picture caption says that all of SLASH's cars are basic black - because he likes the look. These are his old, valuable cars. He also has had a Viper, a Porsche, a Jaguar, a van, etc. Whether these cars are still in the fleet, we don't know! Just find Christina and take her for a ride...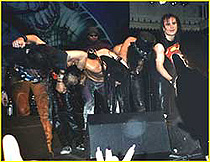 A couple weeks ago, Rui asked us to mention that he had two rare (unreleased) SLASH's Snakepit songs. One was "Breed" and the other was "What Kind of Life". For whatever reason, they did not make it to the album, but you may have heard them on the prealbum tour. Rui put these up on his site, and it seems an amazing number of people went to download them. Rui ran over his traffic limit on his site and has been searching for a place for them. If you didn't get a chance to get them before, try these urls now. Thanks, Rui!


Breed





What Kind of Life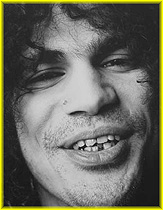 Looking for a truly mammoth (15"x12") celeb picture book with SLASH picture? Try Notorious by Herb Ritt. Pictured here is the SLASH closeup. Closeup in this book means you can see every tooth, every pore! Publication date is 1992. There are also pictures of Axl, Madonna, Warren Beatty, Cher, Tina Turner, Eddie Murphy, Sean Penn, Bruce Springsteen and so many more. In the back, Ritt comments on his subjects. He says about SLASH, "I had known SLASH when he was younger. His real name is Saul. I kept saying, 'Hey, Saul, how are you?' He'd say, 'Don't call me Saul, man, call me SLASH. My name's SLASH.' " Notorious is available on amazon.com. Price new is about $90.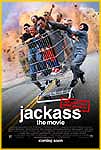 SLASH went to the premier of the movie Jackass, and on Tuesday night Dan tuned in the MTV show, "A Jackass Backyard BBQ Special". And there was SLASH! Dan said that the only words SLASH spoke were, "You can get off now" after some guy was hugging SLASH for a really long time. Well, it is tough to let him go once you get your arms around him! Wonder if Christina would have gotten the same treatment... not in that outfit! Thanks, Dan.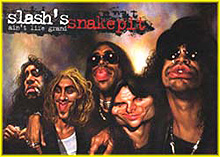 Here are the usual MTV, MTV2 and VH1 reruns with SLASH. On 10/30 at 7pm ET on MTV is "No Hit Wonders" with Snakepit. Snakepit may not have done too well, but SLASH knows how to arrange a Hawaiian wedding. See a short clip on 11/1 on VH1 All Access. Time: 6pm ET. MTV2 presents Testimony: 20 Years of Rock and Roll with comments from SLASH on 10/26 at 1pm ET. MTV2 reruns "Headbangers Ball Uncensored" with the original GNR on 10/29 at 10am ET and 11/1 at 5pm ET. The original GNR is also on the VH1 program "100 Greatest Artists of Hard Rock". Date and time: 10/30 at 3pm ET. More GNR on MTV2's rerun of "MTV 25 Loud" on 11/1 at 1am ET.



News Reported: 10/25/02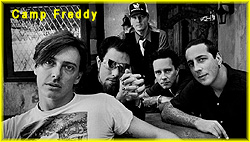 The headline story tonight is Camp Freddy! Awhile back this band was formed by Billy Morrison of The Cult for what might have been a one-off show. He reached out to Matt Sorum at drums, Dave Navarro of Jane's Addiction on guitar, vocalists J.S. Clayden of Pitchshifter, Scott Ford and Donovan Leitch (son of sixties folk rock icon Donovan), and pulled them together for a show that blew everyone away. SLASH was on stage for a bit as were other rocking artists.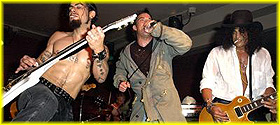 The place was jammed full of friends, so the public missed out on this one. Billy kindly put up videos and photos, though. The show was so successful, Billy promised to do it again. Now the announcement is out...Camp Freddy will play a pre-Halloween show on Wednesday, October 30 at an undisclosed L.A. venue. Good news for SLASH fans is that SLASH is a confirmed guest along with Perry Farrell, Macy Gray and Wes Scantlin (Puddle of Mudd). Brian and LuAnn gave us the notification, and through digging, there's a little bit more information. If you are out in that area or can get there for the show, there is a chance to win tickets to see Camp Freddy (and SLASH!!). Blender is giving you the chance to win one of 25 pairs of tickets! All you have to do is go to Blender Party With Camp Freddy, fill out the form and submit it. If you're chosen, you'll be called the day before. Be sure you can be in L.A. October 30 and that you stay near your phone on the 29th. If you don't pick up, they go to the next person. When you're called, they will give you all the details. It's a private party again, so you'll get the address when they call you. So, get over there and submit your entry! The only other condition: must be a US resident and 21 years or older.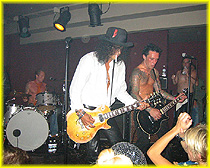 Here are some more cool facts on the show from Billy's Camp Freddy site (Camp Freddy!). Billy says the event will be the "usual madhouse of cover songs, special guests and top quality entertainment". There are photo outtakes of the band (not SLASH) on the site. Billy posted some news about the forthcoming show after he met with the sound people. He says that if you are coming, "bring earplugs, it is going to be LOUD!" Well, you know SLASH will be there cranking up his amp to the max. Those of us who don't stand a chance of making it to L.A. should know that the show is being taped by MTV and Entertainment Tonight! Even if we can't get in, we can turn up the tube volume, grab a Stoli and cranberry juice or Jack and Coke and pretend. So far, we do not have a date for the TV broadcast, so stay alert and let us know if you find out. We'll try to tape the SLASH part at least and get that on this site. Billy kindly thanked some sites for getting the word out on Camp Freddy, and this site was one of them! That's because we have good practice reporting on SLASH here. Good luck to all of you who win tickets. Let us know if you get lucky!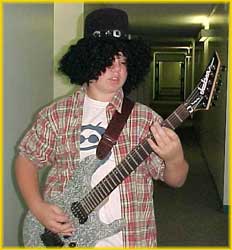 So, that's what SLASH is up to. Wonder if he will come in disguise? Imagine coming to SLASH's door for Trick or Treat and finding SLASH giving out little mini-bar size Jacks. Just to the Moms and Dads of course. You could be greeted by a SLASH solo with baby London wailing along, cats, dogs, snakes trying to escape! Get in on our Halloween festivities. Send a picture so we can see how you look as SLASH. And we'll send you a trick or treat bag anywhere on the globe.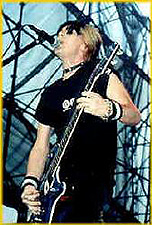 Keri Kelli hasn't disclosed what he'll be doing for Halloween, but he did let us know that he'll be taking part in some local jam sessions in November and December. The shows will be with Ratt's Bobby Blotzer and Robbie Crane. Warrant's Erik Turner will be there, too. When the schedule is out, we'll let you know. Keri's other news is that the new Shameless CD, Splashed, can be purchased online at AOR Heaven. Keri is pictured on the inner sleeve and credited as co-producer. Keri also is credited for playing guitar and writing lyrics and music to two tracks, "Goodbye 2 U" and "Operator".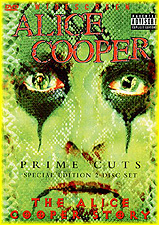 Alice Cooper released a 2-DVD set called Prime Cuts. The first disc has the same videotape documentary as the VHS. The second has over 80 minutes of comprehensive supplemental material assembled specially for this DVD. SLASH appears here doing the song "Elected" at Cabo Wabo. SLASH also appears in the original video talking about Alice.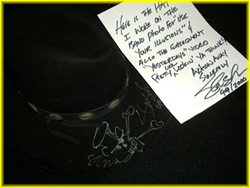 Anne is from Australia, and she sent us a contribution toward keeping the site open. Thanks, Anne! SLASH doesn't subsidize this site, so we appreciate any donations from fans. Anne wanted to talk about her memorabilia. She said her best item is SLASH's hat! She bought it in an L.A. shop called "Leathers and Treasures" which has gone out of business. Anne met up with SLASH at the Sydney airport, and she told him how much Dennis, the owner, had charged her. SLASH got annoyed at the high price! Anne says that "SLASH stands up for the little people". Anne didn't say what kind of hat it was. If it were a tophat, how much would you pay? Some of these are out there as he complains that people sometimes steal them off the stage when the show is over and before everything is packed up. Now they rush to get the hat and lock it up and carry it away. Did you steal SLASH's hat? Not cool, guys, but the right jury could acquit you! Thanks, Anne.



News Reported: 10/23/02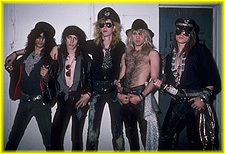 Fans of the old Guns N'Roses might like to pretend this is not happening; but the new Guns N'Roses has announced their tour schedule, and tickets are on sale now at Ticketmaster. Most publicity makes a point of saying that only one member of the original band is on the roster. However, Ticketmaster goes a little far with their ad which appears on the front page of their site. There you'll find a large picture of Axl and the following text:

Guns N Roses
See the original bad boys live with their new album
that's been in the making for 11 years--
"Chinese Democracy."

The ORIGINAL bad boys won't be there, and the current lineup doesn't seem to have any bad boys with the exception of Axl. These kinds of ads really give the impression that you will see the original GNR. Oh, that it were true! It seems to us that if Axl has a really successful tour and sells a ton of albums...the reunion will never happen. So far, with the sell out at MSG, it does appear that people are interested in at least giving the band a listen. Well, even SLASH was interested although he couldn't get admitted to the Vegas show. If you see him sneaking in for a quick listen, don't give him away!



In a previous issue, Clement said that he found the Slash's Snakepit prototype (for the Custom Shop version) at the Guitar Center in Hollywood where they are asking $40,000 for it. Clement did some investigative reporting on how the guitar came to be there. Apparently, SLASH gave it to one of his managers, and this man decided to sell it. How anyone could sell a gift given by SLASH, especially one so rare is unbelievable! It was offered for sale to someone Clement knows for $20,000. His friend turned it down (which he now regrets) because he already owns THREE Custom Shop SLASH sig guitars. The manager sold it to Guitar Center for about $20,000; and they are asking $40,000. Wonder how SLASH feels going by that window and seeing his wonderful gift for sale.



Clement says he knows of two more Custom Shop SLASH sig guitars for sale right now. We know there are always people looking for these, so heads up. One is owned by Clement's friend (the one with three of these), and he's asking $11,000. The guitar company that sold a Custom Shop on our For Sale list has another on consignment. They are asking $8,000 for this unused guitar.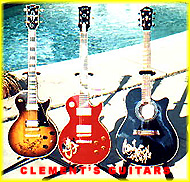 Clement owns one, or he'd snap that one up. If you are seriously interested, contact Clement, and he can put you in touch with the sellers. Email Clement at tacoma626@earthlink.net. Thanks, Clement!



Correction: Ambra sent in the information on Rock TV, and there is an error here. Database is the call in show with artists answering fan questions. However, Duff did NOT do this show because he has not come to Milan yet! Ambra said he could take part in that show if he comes to Milan, and his fans there all hope he will. Sorry, Ambra!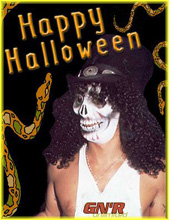 Just a reminder about Halloween: if you are dressing up as SLASH for Halloween (or did in the past), send along a picture. We'll put these up for Halloween, and send you a treat bag full of SLASH goodies and even some candy. Send to webmaster@snakepit.org. Don't forget to send your mailing address! (no cost to you)



Some fans are really into collecting SLASH memorabilia. We ourselves have boxes of old magazines, press clippings, pins, backstage passes, ads for his shows and so on. Our treasured items are his cowboy hat, his guitar, a black leather jacket with SLASH spelled out in silver studs, and the cardboard standees. Tina is the lucky one who won his pajamas, and we are still trying to weedle them out of her. No luck! Olivier (from Canada) says he is most proud of his SLASH Gibson USA standee, two electric guitars (including his Les Paul) signed by SLASH, and a top hat signed by SLASH. Olivier said he will never forget when SLASH signed it. It was in Syracuse, NY; and it was raining. Olivier (aka Rattus) was in front of the venue and saw SLASH jump into a minivan after soundcheck. Olivier got right out of his car with his tophat and ran over to SLASH who said, "whoa, this is cool". He said he remembered Olivier from the previous night's show, signed it and talked for a while. As Olivier says, "...really a cooooooool guy"! Hmm, we need the jammies and that hat!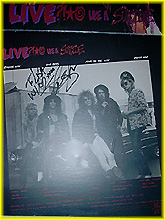 Lisa met SLASH in Italy, and her most treasured memorabilia was signed there. Lisa was one of the winners of a magazine sponsored day with SLASH which turned into 5 minutes with SLASH. Days just flash by for SLASH. She took a copy of Live Like A Suicide which SLASH signed, and a Les Paul on which he drew a cute woman. When he saw LLAS, he said, "OH...this is cool"; and Lisa said you could just see he was feeling very emotional about seeing that LP. Thanks, Lisa. We could definitely use the LLAS. One thing about collecting, there is always something new to hunt for. Anyone else?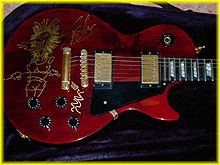 Our only story about the things we have is that SLASH donated his cowboy hat to charity. When he found out we had it, he moaned and groaned about how much he wanted it back. He said it was such a cool hat, and he wished he had given something else. Although we were sympathetic, we said, "HA! No dice, SLASH!"



News Reported: 10/21/02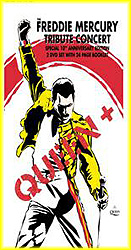 The 1992 Freddie Mercury Tribute Concert is coming out on DVD next month! You probably own or have seen portions of the video that came out of videotape. Back then, Guns N'Roses were very interested in being part of the show, but there were many protests about this from the gay community reacting to "One In A Million". We've heard that Elton John spoke strongly in favor of GNR appearing, and so they did. For our younger readers, Freddie Mercury was the flamboyant lead vocalist for Queen. Freddie was gay, contracted AIDS and subsequently died of AIDS complications. The tribute focused on the many Queen hits. The DVD has 20 songs, previously unseen footage of the event, the full-length TV documentary and more. Proceeds from the 2 disc DVD benefit the Mercury Phoenix trust to fight AIDS. SLASH is seen with Queen and Joe Elliott doing "Tie Your Mother Down". Axl sings "Bohemian Rhapsody" with Queen and Elton John; and Axl is on again with "We Will Rock You" also done with Queen. The DVD is scheduled for release November 26 in the US. The DVD has been out for quite awhile in Europe. Preorders are being taken by amazon.com right now with a price under $20. Please help our site by going to amazon from www.snakepit.org/ad.html. Click on the amazon link and make your purchase. It costs you nothing extra. Thank you!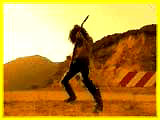 Ambra writes from Milan, Italy that those with satellite TV can tune in on Rock TV. This is an Italian TV show that lets people listen to different types of music such as punk, ska, rock, grunge, metal, indie and more. You can see the shows of both famous and new bands. Ambra says the important thing to us is that you can see SLASH's and GNR's videos all the time. When Duff was in Italy, he took part in a Rock TV show called Database where you can call in and talk to the artist. Ambras says to find a place to watch this as you can see all those videos you never had a chance to see or just want to see again. Thanks, Ambra!



For those of us with regular TV, how about a chance to watch more reruns?! On 10/19 at 3am ET, MTV presents "Headbangers Ball Uncensored" with untold stories from the heavy metal artists like GNR, Alice In Chains, Megadeth, Ozzy, Poison, Rob Zombie and others. On MTV2, 10/19 at 10pm ET and 10/26 at 1pm ET is "Testimony: 20 Years of Rock on MTV" with such artists as GNR, Aerosmith, Lenny Kravitz, NIN, Tom Petty and many more. This is a history of rock and key rock moments. SLASH appears as a commentator. How about rock and roll feuds? That's the subject of "Ultra Sound" on 10/20 at midnight ET on MTV2. Axl vs. Vince Neil is the GNR feud. MTV2 also airs "MTV 25 Loud" on 10/23 at 11am ET. The over the top videos are presented, but you do get to see a snippet from the Top 25 Videos of All Time.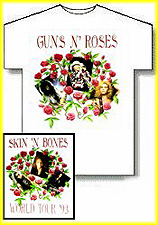 Are you looking for Guns N'Roses t-shirts? Pushposters sent some mail saying they have two new ones for sale. One is from the Skin and Bones tour in 1993, and one is from the Bad Apple-Illusion tour 1991-93. The ladies may really like the Skin and Bones shirt with the delicate roses and band pictures. These are both pictured here.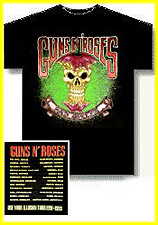 If you are interested, go to Push Posters. Search on Guns N' Roses at the top. There are 12 items (including a Snakepit poster), and the shirts are in the very bottom line. Spend over $26.50 and get a free poster! This is a very good company that ships all over the world.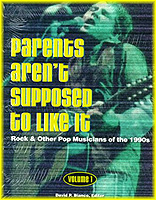 There's a three volume set of books out called Parents Aren't Supposed to Like It. Volume 3 has several pages about GNR. It was published in 1997 with David P. Bianco listed as Editor. There's a good, no error summary of how Guns was formed...and how they collapsed. Interesting tidbits are thrown in as examples. This is a good read for those who want to know the band's history. Some interesting numbers came up that might be news to you. The first is that when GNR signed with Geffen, they received an advance of just $75,000. Seems meager, doesn't it? The book claims the advance was quickly gone to settle debts and buy drugs. When Steven Adler sued GNR claiming the band introduced him to hard drugs, the case was settled out of court for $2.5 million dollars! After the riot at the St.Louis show, there was a four show stint scheduled at the L.A. Forum. Police stopped Rose's limo when it made an illegal left hand turn on the way to the show. Axl threatened the police with cancelling the show if they issued a ticket. Police were reminded that 19,000 potential rioters were waiting for him, and the police let the incident slide. When GNR toured with Metallica, Axl brought his personal therapist along. His sessions left him so riled up he often did not take the stage until after midnight. The shows were long, and concertgoers sometimes sat there for eight hours with a massive gap between the acts! SLASH and the rest of the band were unhappy having to sit there too waiting to go on. All in all, a very interesting read. The three volumes are filled with information like this on all kinds of artists. Check your local library to see if they have it or can get it for you. The set sells for $109.



News Reported: 10/18/02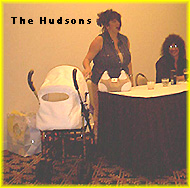 Tina was at the Fan Appreciation Weekend. She sent us a full description of her time there. SLASH actually gives out a little news, but mostly people had a chance to meet and greet the three Hudsons. Yes, London was there! This is a long story, but it's interesting, and you can see if you'd like to attend these in the future. Tina took along a big bagful of gifts for London - all themed on bunnies! Books, a crib bumper, bib set and more. London made out well. Tina didn't stay at the Doubletree; she got a less expensive hotel. After being hassled several times walking over, she rented a truck. She got to the Weekend hotel a little early. The public reception was at 2pm and the SLASH fan club reception was at 3pm. Of course at 2, everyone is watching for SLASH. Tina said there were 10-15 people and 5 staff waiting for SLASH who showed at 2:30 with Perla pushing London in his stroller. There was a table where the three sat and everyone was given a picture (same one as the postcard when you joined), a pick with London's name on one side and his date of birth on the other, and a sheet with information on SLASH's designated wildlife charity. When it was Tina's turn in line, she gave SLASH the bag of gifts for London; and he thanked her. Tina mentioned that we had sent a gift from his internet fans, but she wanted to bring her own. All SLASH said was, "yeah", so perhaps that counts as our acknowledgement.

Tina is the one that bought SLASH's pajamas at a charity auction, so she had him sign an article about that. Tina took some pictures, but she says this is her first time with her digital camera, and they didn't come out as well as she had hoped. That's OK! Then Tina wandered out waiting for the reception room to open. This was the event open to fan club members who had paid extra for this private session with SLASH. Tina said the room setup was just awful.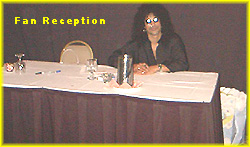 Slash was at a table in front facing chairs in rows like a classroom. There were about 10-15 people there but half were staff. Not a great fan turnout, but it did give those attending a chance for more attention. Tina said some people totally dominated the talk with question after question. Tina said SLASH looked uncomfortable with the setup too considering there weren't that many there. He thanked everyone for coming and said he was in the studio. Perla yelled out to tell everyone who he was working with, and he said, "Duff and Matt and some with Izzy". That was the bit of news...Izzy is in on this too..a bit. He said, "The hard part is finding a singer." And then SLASH was monopolized by a family's questions, requests for autographs and pictures. Perla came in and told Tina they were on their way to Hawaii for her birthday which SLASH corrected as their anniversary. They were married one year on October 15. They were leaving at 5am for their vacation. Tina got her other things autographed and sat down.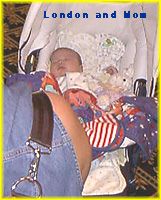 Perla cuddled up to SLASH and said what a great husband and father he is. SLASH looked embarrassed. She told everyone they were off to Hawaii for their honeymoon which SLASH corrected to anniversary. She said they knew each other for 12 years which SLASH said was just 6 years.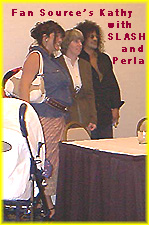 The event started to break up. SLASH gave Tina a hug and kiss for the nice gifts. Gee, he owes all of us one! Perla opened all the gifts, and SLASH floated off. Tina also told her that the internet fans sent a gift, but she wanted to bring her own. Perla had no comment on our gift. Then, she got their things and left.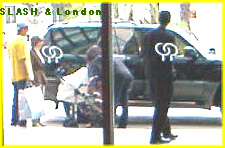 Tina watched SLASH load London into their car, a Lexus SUV. And they were gone. Tina had a great time because she did some other things in L.A. Thank you, Tina for that report, and we have some pics scattered here to show you SLASH and family.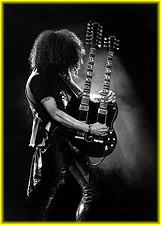 Stuart put his money into a SLASH photo from Robert John...as did we. Ours has not arrived, but Stuart says he got the autographed black and white image of SLASH and his doubleneck. It looks great! It is the No.2 print of that image. Robert said that SLASH came over to autograph it for Stuart, and SLASH said he had never seen it printed that big before and was really digging it! Robert says the autographs are not personalized (i.e. they will not say "To Joe") because collectors' photos are never personalized. They are worth less money with a name on them. If Stuart decides to sell his someday, hardly anyone wants one that says "To Stuart". If you would like to check all the photos of SLASH, the group photos and the other individual photos, they are at www.fusedarts.com/gnr.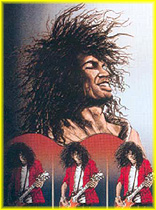 Ray sent in a small mention of SLASH in the Rolling Stone Online newsletter. They report that Ronnie Wood opened his artwork exhibit at the Rock and Roll Hall of Fame in Cleveland, OH this past weekend. The exhibit continues into November with pictures of SLASH (although not print #1 as we have that one), Eric Clapton, John Lennon, Bob Dylan, Marvin Gaye and the Rolling Stones. Well worth seeing!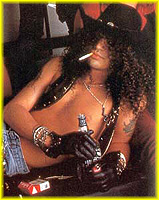 Do you have any SLASH memorabilia you are truly proud to own? Stuart now has his picture, Tina has SLASH's pajamas, we have one of SLASH's guitars, the Ron Wood picture, and the cowboy hat that he wore in the Dead poster. Plus a bunch of SLASH RIAA's, cardboard standees, and all of Robert John's pictures from the last sale. We'd like to hear about yours, and where you got them. What's the thing you want most to add to your collection? We'd like a lock of his hair. Really!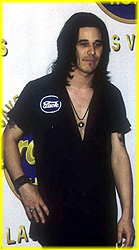 Gilby Clarke fans, listen up! Here's some dates for Gilby:
10/17 The Downtown-Farmingdale, NY
10/18 Don Hills-NYC, NY
10/19 Connections-Passaic, NJ
10/20 Jaxx-Springfield, VA
The Tour Bus syndicated radio show program with Gilby Clarke will air two on-line rebroadcasts on 11/4 and 11/6 at 9pm ET at website www.wdubradio.com. Check out the Tour Bus site for more information on Gilby's appearance on the show:


Gilby on Internet Radio



News Reported: 10/16/02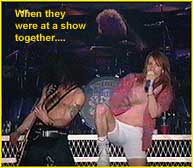 Rolling Stone's October 31 issue has three GNR/SLASH mentions. The first was in the Letters to the Editor slamming Axl for his similarities to fat Elvis who in the end could not carry his past tunes in a basket. The second is in the Rock & Roll section describing the forthcoming GNR tour and asking the question ... with the latest release date for their album coming in early December, should the band wait to tour till the album is released. SLASH was one of three asked to comment. He said, "Don't wait. The best bet is to release the CD before you tour." SLASH reminds readers that the UYI albums were not released till GNR had been touring for four months. The albums sold 14 million copies anyway, but the important thing is to do something...get out and tour anyway if you have to because dead time kills.
Finally, Rolling Stone reviews Buckethead's new solo album. The lead comment is "Axl Rose's new guitar guru makes ill-advised New Age psychedelic foray". They describe certain songs as just a bunch of noodling. There is no backing band. They note a piercing ax wail six minutes into a "plodding" track. With only a couple of good remarks, they say, "It's seventy long minutes of wondering what SLASH is doing." Rating: 2 stars.



On October 11, the Boston Globe's Rock Notes section reminded readers that the GNR they are buying tickets for may not be the GNR they expect to see:

"What Guns?: The Guns N' Roses show at the FleetCenter Dec. 2 has been selling quickly - but exactly who is in the band these days? Singer Axl Rose is the only original member, but rounding out the lineup is keyboardist Dizzy Reed (who joined in 1991), bassist Tommy Stinson (formerly of the Replacements), drummer Brian Mantia (formerly of Primus), second keyboardist Chris Pitman, and three guitarists: Robin Finck (formerly of Nine Inch Nails), Richard Fortus, and the tersely named Buckethead. Seminal guitarist Slash, however, is absent, and it's hard to imagine Guns without him."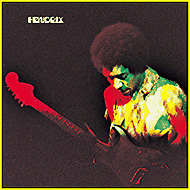 Borivoj found this announcement for us. This was a press release from S/T/C Entertainment:

SLASH, WES BORLAND, DAVE NAVARRO Among Artists Confirmed For BAND OF GYPSYS 2003 - Oct. 13, 2002.

Slash (ex-GUNS N' ROSES), Wes Borland (ex-LIMP BIZKIT), Dave Navarro (JANES'S ADDICTION, ex-RED HOT CHILI PEPPERS), Kenny Olsen (KID ROCK), Vernon Reid (LIVING COLOUR), Sen Dog (CYPRESS HILL), and Hugo Ferreira (TANTRIC) are among the artists confirmed to appear on the planned sequel to JIMI HENDRIX's Band Of Gypsys, widely perceived as one of the most essential live recordings of all time. Legendary producer/engineer Eddie Kramer will team up with remaining BAND OF GYPSYS members Buddy Miles (bass) and Billy Cox (drums) as well an assembly of today's guitar and vocal greats to pay tribute to B.O.G.'s incredible legacy by recording some of the classic songs that the original band performed as well adding new material that maintains the integrity, feel and emotion of the original tracks. In addition to the audio recordings, plans for a DVD of the sessions, with interviews, behind-the-scenes exclusives and additional footage are in the works. There are also going to be some special all-star live performances, and a tour featuring Buddy, Billy and various other players to help celebrate this masterful occasion and monumental recording.

While SLASH is a good choice and possibly Dave Navarro, the rest of these guys seem weak for a followup album. More names are coming so we'll hope for people like Clapton, Page, and others at that level.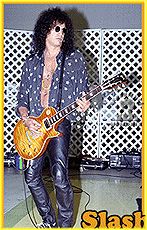 Thinking about SLASH and Hendrix, have you seen Jimi Hendrix's Official Site with the coverage of the San Diego Street Scene? There are sections on rehearsal, the show and some media photos. SLASH appears in all of these. In case you don't have time to run over there and read all of this, here is what was said about SLASH, but first a little background on the event: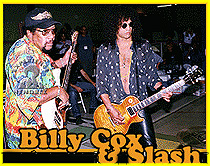 "Welcome to this special edition of Experience Hendrix: The Official Online Jimi Hendrix Magazine. On Saturday, September 7, 2002, Experience Hendrix and Rob Hagey Productions presented an all-star musical tribute to Jimi Hendrix as part of the 19th Annual San Diego Street Scene festival. This bonus issue of Experience Hendrix is dedicated to that very special event."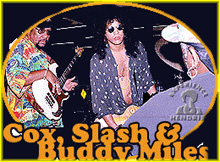 The Rehearsal: "One of the inspiring forces behind such a tribute is to look back and hopefully build upon Jimi's original 'Electric Church' concept. To do that, Experience Hendrix gathered an inspiring collective of artists from around the globe including Stephen Stills (whom Hendrix recorded with in the studio and is prominently featured on Stills self-titled debut release from 1970), along with axe-slingers like Slash, Dave Navarro, and Eric Gales."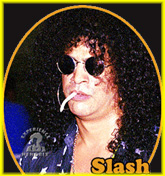 "Ex-Guns N' Roses lead guitarist Slash returned to the stage again this year, playing tribute with the classic single "Stone Free" alongside Living Colour's Corey Glover, plus Band Of Gypsys' members Billy Cox and Buddy Miles. Having previously performed in the 1998 tribute at Seattle's DV8 Nightclub during the national finals for the Jimi Hendrix Electric Guitar Competition, this year's tribute saw the return pairing of Slash, Cox, and Miles. Widely recognized as one of the most daring axe-slingers to ever walk a stage, Slash's fiery mid-number solo proved highly successful."

If you'd like to see the whole text and photos, go to www.jimi-hendrix.com.



News Reported: 10/14/02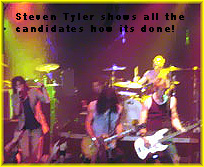 The word from the SLASH/Duff/Matt project is that Kelly Shaefer of Neurotica has had a tryout for lead vocalist. However, a final decision on that slot has yet to be made. Tapes are still coming in and checked out looking for that one great vocal performer for this new band. So the search continues! When the selection is made, there certainly will be some official band announcement. With two sources stating Kelly was in, we thought that was true. It seems that meant in for a tryout. All you Kelly and Neurotica fans can take comfort in this: the response on Kelly was overwhelmingly positive. There were just two that did not see him as the one to be lead vocalist for this new band. Neurotica's exposure at Ozzfest brought them many many new fans, and these were people that were in the audience seeing a live performance not hearing some polished studio album. So, Kelly and Neurotica, we wish you well individually and as a band. It's a wonderful thing to get a tryout, and we wanted to be sure you knew of all the new fans you made at Ozzfest.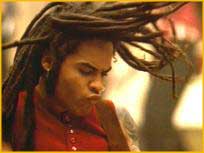 Dan ran into Lenny Kravitz in a Miami club where he was keeping a low profile. But Lenny, like SLASH, is hard to disguise, and Dan went over to say hello. Dan, like so many of us, really enjoyed SLASH and Lenny together, so Dan asked Lenny if had seen or played with SLASH at all lately. Lenny said he hadn't seen or heard from SLASH in quite a long time. That's another reunion some of us would like to see...those two rocked, and "Always On The Run" is a classic rock song.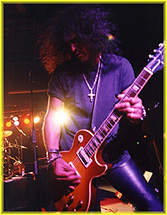 Here's an interview that is not recent, and you may have read it before. We think we may have seen excerpts before, but it is 8 screens long, and it's a UK Total Guitar interview with SLASH. Many times fans write in and ask...what was SLASH's first guitar, did he have lessons, what does he think of nu-metal, why does he like the Les Paul...and this article answers all those questions. It is an indepth look at SLASH's musical approach, some of his history and those no-holds-barred answers SLASH is famous for. If you haven't read this, do it now, print it now and be on your way to becoming a SLASH expert! Thanks to Aaron in England who sent this in:


Total Guitar Interviews SLASH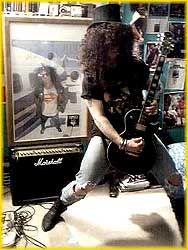 A couple of fans wrote in saying...hey, I dressed up like SLASH last year and sent in my pic and did not get candy, postcard, sticker or anything. Well, if you dressed up like SLASH for Halloween anytime, and you have your picture, send it in, and we'll send you a treat and put up the pic. Sort of a retro-treat.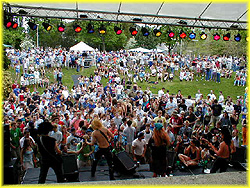 Awhile back the GNR tribute band, Mr. Brownstone, made one of their infrequent visits to NYC. We think these guys are a great cover and tribute band, so we told you where and when. Haris took us up on this and went to TriBeCa Blues to see them. We won't need to tell you every detail when we give you Haris's summary, "they f*cking kicked ass!" Haris was especially taken by "SLASH" in his top hat, leather jacket, Converse shoes, the curly black hair and Les Paul. Haris said he stood right in front of "SLASH" and shook his hand "about a million times". Sadly, Haris never got to see GNR in person, and he says that if a cover band can play "this f*cking good", he can't conceive of what the real GNR must have been like. Haris said the audience was so full of energy and excitement.."it was out of this world". Remember we have Mr. Brownstone on the Fan Music Section. Find them and click over to their website. Their schedule is there as well as music, photos, etc.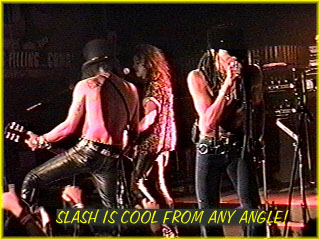 As you may know, SLASH's Snakepit recorded many songs that were never released. Some were intended for a second album which did not come about, and some were for live performances, and some were judged not good enough and needing work. Somehow, some of these have made it to the web. Since it seems that they will not be released and can be found on the Napster-like sites, one of SLASH's staunchest fans from Portugal has put them up on his site for all of you to hear. One is called "Breed" and the second is called "What Kind of Life". You may have heard these if you were in the audience at a prealbum show. "What Kind of Life" is a special favorite of ours. Thanks to Rui for rescuing these for the rest of us and making them available on his site. Here is where you go to here these rare, unreleased songs:


Snakepit Unreleased Songs>





News Reported: 10/11/02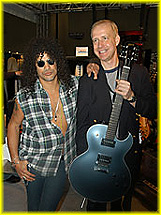 Going back to NGAK's report of seeing SLASH at the AES convention on Monday (see below), we asked NGAK some followup questions on his encounter, and he was good enough to respond. We asked what exactly was SLASH doing there...giving a seminar, manning a booth, what? NGAK says SLASH was in the Gibson section sitting down and signing autographs. The picture here shows SLASH and Gibson Chairman and CEO Henry Juszkiewicz. SLASH had a bodyguard next to him. NGAK wanted a picture of himself with SLASH, and the bodyguard told him to say, "SEX" when he (the bodyguard) snapped the picture. Impossible not to smile. NGAK asked SLASH what he thinks of the new GNR, and SLASH replied that he is waiting for the album to come out to see what Axl's problems is, that is, what Axl has against the old members, what he could not do with them. As far as the new GNR lineup, SLASH only said they were young and talented. SLASH, ever the diplomat, did not comment on KFChead, the lead guitarist. Wonder how many of those we'll have banging on our door on Halloween.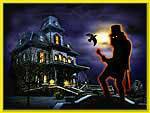 About Halloween, that reminds us to ask anyone who dresses up as SLASH to send in a photo of yourself so we can see you, too. We promise to send you back a candy bar and some Snakepit postcards and stickers. Try to get these in before the big day if at all possible so that we can feature them on Halloween night. Thank you! Send pics with your name or handle to webmaster@snakepit.org. Please send pictures as an attachment, not as part of the mail message. Make the subject be Halloween or Me as Slash or something like that. Enclose your US mail address so we can send you your trick or treat bag...all treats.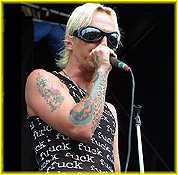 A request for your thoughts...the Fan Appreciation weekend begins Friday in California. If you go, we'd love to hear a review. We can give you the email address of one fan we know that is going. If you are not going, we'd like to know why. The cost? Distance? Waiting to meet Slash at a show? We hope many of you are going and will have a terrific time. This is a golden opportunity to meet Slash and have a little more time to talk with him than you might get after a show with hundreds of fans around.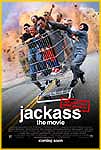 Both Ryan and Steve were watching the MTV show, "Jackass", which is a show about ridiculous stunts. The movie Jackass is coming out October 25. During the TV program they showed clips from a celebrity preview of the movie, and there was a shot of SLASH in the theater laughing at the movie. That TV episode airs in the US next Sunday at 10pm, so they will likely show the same clip..or not. You never know with MTV. Steve says he is only on for a few seconds, so you have to be ready. He says it ran on MTV just about every 3rd or so commercial break a few days ago and seems to be running in the evening (after 7 or so). Thanks to both of you for that information.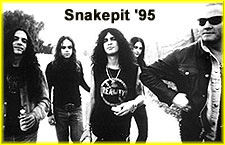 An international SLASH sighting comes from Jose in France. He was watching MTV, and "Road Rules" in Latin America was on. Jose said it's a "stupid show" but the cool thing was hearing "Beggars and Hangers-On during the show. They played the intro, first chorus, solo and ending. Jose says he was stunned. Funny how MTV never knew Snakepit was alive in '95 when that was recorded. Coincidentally, Jose was blasting that song through his Marshall SLASH signature amp using his Les Paul that afternoon! Jose says he has been a SLASH fan from Day One and loves and respects and is inspired by him. Thanks, Jose! Let's hope SLASH makes it to France on his next tour!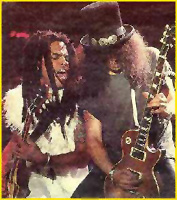 Another international sighting comes from Scott in Winnipeg, Canada. He was watching Much Music on Saturday, October 5; and there was a SLASH mention on the Egos and Icons program run on Much Music. Lenny Kravitz was talking about how SLASH asked him if he wanted to work together, and they agreed to give it a try. Lenny said he couldn't have said no considering they went to the same high school. The two never really associated with each other there, but they saw each other in the hallways which is where both Lenny and SLASH spent most of their time! We wonder if SLASH will tell London to hang in the halls or get his little butt into class! Thanks, Scott!


We're off to the Rock and Roll Hall of Fame in Cleveland this weekend to be at a member's only meet and greet with Ronnie Wood from the Rolling Stones. While this night is members only, the Museum has announced a new temporary exhibit featuring the artwork of Ronnie Wood beginning October 14, running through November 17 and open to all. The SLASH connection here is that Ronnie is SLASH's good friend, and he flew to London to play in Ronnies short tour there last year...just 9 months before little London was born. SLASH has known Ronnie for years, and Ronnie did one of his famous pictures of SLASH. If you are going up for the weekend, let us know. There will also be six New York bands playing on the Main Stage Saturday...this is free and open to the public. The annual World Festival Day will be Sunday with free entertainment from bands from 20 countries. This event is also free and open to the public. We're hoping to see what SLASH memorabilia they have on display this time. Hope to see you there.



News Reported: 10/09/02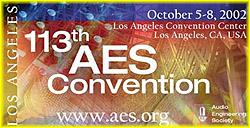 At one time we learned that SLASH might attend the 113th Annual Audio Engineering Society (AES) Convention at the L.A. Convention Center. The convention is being held October 5-8. He was there today! NGAK sent word that he actually met SLASH there, got his autograph and had a very brief conversation about the new GNR. NGAK said this was a dream come true. Anyone else attending? The AES is best known for the Journal they publish and for their meetings like this one with educational opportunities such as technical papers, seminars, and workshops on current research and new concepts and applications. At each convention there is a comprehensive exhibit of professional equipment. SLASH endorses some of the equipment whose manufacturers support this Society, so it's likely that he was there in his booth-manning capacity. We'll try to get NGAK to fill us in on what SLASH was doing and what he had to say about the new GNR.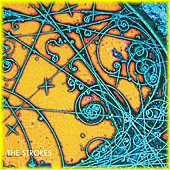 The new Strokes CD/DVD arrived today. The first disc is the CD with 11 music tracks. The second disc is a DVD with 5 videos including the one with SLASH, Matt and Duff, "Someday". This is a really nice package, and the video with SLASH just looks great. Recommended for SLASH completists.



Awhile back SLASH did a funny interview on a Massachusetts radio station, WAAF 107.3, where he's offered $10,000 to reunite with Axl for a couple of songs on the station. The DJ is so funny, and it's like listening to a tennis match as SLASH returns every one of her lobs with something funny of his own. This is from awhile back but it concerns things we are talking about today. Give this a listen. And thanks to Ben who let us know about it! It requires the RealOne Player. Many people were unable to access the interview so we will give you the original location where you can hear it right there or download and here it on your own pc. The second link we give is the original that many people had problems with, but just in case, we'll leave it in. Try the first one first:


Slash Interview...click Downloads, then Latest SLASH Interview




SLASH Interview on WAAF 107.3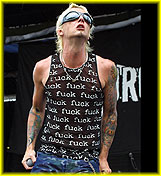 The webmaster for Duff's Loaded site, Lori, sent us some information after a very recent talk with Duff. Loaded is not over; they are just taking a break. Geoff is busy with his new project; and of course Duff is busy with the SLASH/Duff/Matt project that's become high priority. They are very close to getting a singer and we've heard they are trying out Kelly Shaefer from Neurotica. If you don't know the band, Neurotica was rated one of the Top 10 bands at Ozzfest by Rolling Stone. Want to know more about Neurotica and Kelly? Neurotica's Home Page will get you pictures, news, and videos. The shirt he is wearing in this picture could be what caught SLASH's attention! Of course, Kelly is just one of the many trying out for this slot. Demo tapes are coming in and there is a huge sorting and listening job ahead. Obviously SLASH, Duff and Matt want to get a great singer but also one who fits their style, and they can work well with. In our opinion, SLASH made great decisions with Eric, Teddy and Rod. He, Duff and Matt have all the experience it takes to make a great decision this time, too. Back to the Loaded site, Lori has a poll going as to which is better: Axl or Duff? We guess this means overall since in some areas (vocals, charisma) Axl shines while in others (bass, fan appreciation, education), Duff is the champ.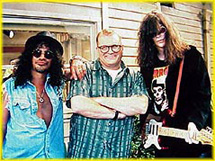 If you're looking for the story behind the old Axl Rose/Vince Neil feud, tune in to MTV2 on October 13 at 1am ET. The whole show is about some of the most famous, bitter and ridiculous feuds between artists in rock history. No mention of the Axl/SLASH feud. Here's a repeat that has not been on in awhile, and this one is definitely worth seeing and taping. It's The Drew Carey Show, and the episode is In Ramada Da Vida. Drew is putting his old band back together and is looking for a lead guitarist. Some of the best names in guitar playing try out for the slot including SLASH, Jonny Lang, Lisa Loeb, Dave Mustaine, Rick Nielsen, Joey Ramone, etc. SLASH doesn't get it because he's too good! And they settle on Ed (Joe Walsh of The Eagles) who does a good act as an indifferent player. A funny show, and SLASH sounds great! It's on Friday, October 18 on TBS at 4:30pm ET.



News Reported: 10/07/02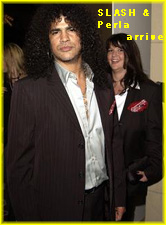 Last Sunday, SLASH went to Movieline's Hollywood Style Hall of Fame awards ceremony. Trying to research past events led to a lot of dead ends...but there is an article in eXtra Daily News reporting that this is the first ever Movieline awards for style. eXtra reports that the awards included tributes to the best of everyone in movie history! And some of Hollywood's biggest legends came out to salute these icons of style. SLASH was one of those saluting rather than an icon of style.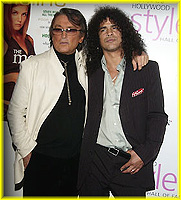 You'll see why he was there when we mention that Robert Evans received an award for "a sense of style that colored his movies and his entire life." Evans is the Hollywood producer, actor, director who just released his autobiographical movie, The Kid Stays In The Picture; and SLASH contributed to the soundtrack CD. Evans said, "Style has nothing to do with money, and money cannot buy it." SLASH has been seeing a lot of Evans recently, and we hope some additional movie soundtrack (or acting!) work will come of it. Farrah Fawcett and Sean Young were also honored, but they say the night belonged to Evans and Fawcett. And a little bit to SLASH! In The Book: LA, a listing of celeb events (not all celebs listed), SLASH picked up three mentions for August and September including the above Movieline event, the Jaguar Tribute event and the Camp Freddy event. SLASH is in the big leagues now. Don't forget the fans who got you there!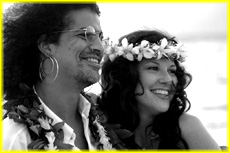 For those of us who are not celebs, the best place to see SLASH lately has been TV. For a brief glimpse of SLASH's wedding, on Friday, October 11 at 3pm ET, VH1 All Access is presenting "Rock & Roll Weddings. SLASH is coming up on his second anniversary October 15.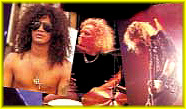 What's happening with the new SLASH/Duff/Matt band? They are still searching for a singer. You know what SLASH wants, someone with the energy and ability to rock a song and an audience like Billy Idol does. Demo tapes and CDs are coming in from all over. If you want to submit a demo for the vocalist slot, send a letter of introduction clearly stating that the tape/CD is a vocalist demo for the new band SLASH is putting together. You should also include a brief bio with any experience. These are to be mailed to:


Slash
5664 Cahuenga Blvd., Suite 246
North Hollywood, CA 91601


Note that this is the same address as the fan mail address, so make your mail stand out by sending it US Priority Mail in one of their envelopes or FedEx. You might also write on the envelope VOCALIST DEMO. This will see that it gets in the right group faster.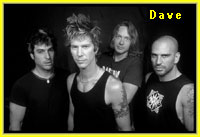 Another development is the discovery that Rolling Stone did report the other guitarist name incorrectly. Dave Pusher is not his name! It's Dave Kushner. This was confirmed by Adam Day, SLASH's guitar tech. Dave is lead guitarist with Duff's Loaded band. Before Loaded, Dave was in Wasted Youth, Danzig, Infectious Grooves, Zilch, Dave Navarro's Band, Sugartooth and others. He says the high point of his career thus far is writing songs with Ozzy and that he loves living in L.A. He describes Loaded's music as "just good rock" and says the one thing he would like to do that he hasn't done yet is to live a comfortable life playing music for a living. Outside music, he's had a number of jobs and says the worst was breaking and pouring concrete, while the best was making jewelry. He says he writes a lot of songs and always writes music first, lyrics second. It appears that Loaded is either disbanding or going on hiatus. With Duff and Dave both busy with the new band, the other members are actively auditioning with other bands or have been let go. The European tour is cancelled. It looks like that album release in 2003 is going to take place, and we'll be seeing this new band on tour! Now, if they can just come up with a singer and name...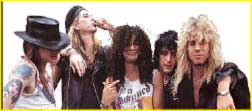 Adam sent a report from the AOL UK News with a killer accolade for GNR's Appetite for Destruction. In a poll compiled by HMV and the magazines Metal Hammer and Classic Rock, Appetite for Destruction wins the top spot of the all time best rock releases! The article says that the album's 1987 release caused outrage over its language...making it the first to carry warnings about explicit lyrics...and its cover which was barred by many chains and eventually withdrawn. HMV's rock specialist says, "There can be little argument with Appetite... at number one. GNR kick-started the whole genre in the late-Eighties by making rock n' roll unruly and cool again. The Gunners brought together old and new metal fans along with disillusioned indie and rock kids to bring the music back to the top again. Since then there has been little looking back." The Top Ten of HMV, Metal Hammer and Classic Rock are as follows:

1. Appetite For Destruction: Guns N' Roses
2. IV: Led Zeppelin
3. Toxicity: System of A Down
4. Master of Puppets: Metallica
5. Nevermind: Nirvana
6. Back In Black: AC/DC
7. Reign In Blood: Slayer
8. Physical Graffiti: Led Zeppelin
9. Paranoid: Black Sabbath
10.Korn: Korn




News Reported: 10/04/02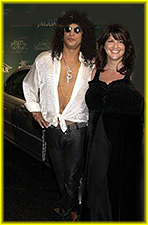 Vicki in West Virginia tuned in to the E! channel's program "Celebrity Night of Style on Rodeo Drive". She said the show was fairly boring. They show the celebrities enter, and for a split second you see Slash followed by Perla, and behind them are Duff and his wife. Then, they interview the stars asking them why they are there or why they are involved in supporting education for the arts. They showed the Rodeo Drive stores, items to be auctioned off including clothes, jewels and a 2003 Jaguar in racing green. Finally, the host, Linda Grasso, said, "No Hollywood party is complete without an incredible grand finale. Tonight Beverly Hills is about to rock out", and they show clips of SLASH's playing. She continues with more on the finale, "...and, then, high above the crowd, former Guns N'Roses guitar-slinger, SLASH, revved the party into high gear with a metal version of 'The Star-Spangled Banner' ".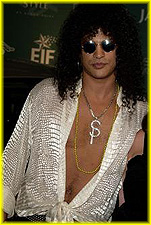 During SLASH's interview with Linda Grasso, she said, "So, you are performing tonight?" SLASH said, "Yeah, I'm doing 'The Star-Spangled Banner'...and with a dance troupe." Linda said, "Is it nice to come out and support the arts--art education for children?" SLASH said, "It's cool. That's the reason I wanted to do it because I just had a kid, and the first thing we talked about is what schools, you know, art school, you know, because it really needs to be supported. That's one of the greatest things that you can get out of education besides all of the academic stuff is some sort of an art...". There you have it, word for word, and thanks very much to Vicki for transcribing it for us.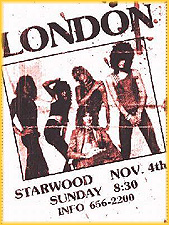 Vicki also sent in a note that the November issue of Spin (Foo Fighters on the cover) has an article called "Super Doomed--The 13 Unluckiest Bands of All Time". SLASH comes in for a mention on the band London. For the band, London, they say, "Going Nowhere (Very, Very Slowly) - London were Asia in reverse: They were a supergroup for a decade, but only retrospectively. London members who quit the band for greener pastures include Nikki Sixx (who sold almost 20 million records with Motley Crue), Blackie Lawless (who recorded two gold albums with W.A.S.P.), Fred Coury (who played drums on two multiplatinum records for Cinderella), and three guys from Guns N' Roses (who sold more records than Jesus). London's 1987 album, Non Stop Rock is no longer available." There are small pics of Blackie, Fred, Nikki, Steven Adler, Slash, & Izzy, with the caption: "London alums: clockwise from top left, Blackie Lawless of W.A.S.P., Fred Coury of Cinderella, Nikki Sixx of Motley Crue, and Guns N' Roses' Izzy Stradlin, Slash, and Steve Adler". Thanks, Vicki!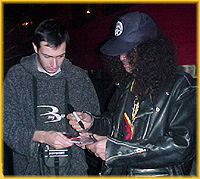 Tina is from Texas, and she is going to go to the Fan Appreciation weekend sponsored by Fan Source, the company that runs SLASH's and some other celebrities' fan clubs. Tina has been in touch with Fan Source, and they say that hotel reservations at the Doubletree closed out September 20, but they will be taking registrations for the event until October 10. They will also accept registration payments at the door over the weekend with advance notice. The weekend in question is October 11 - October 13, and the event will be at the Doubletree Hotel in Pasadena. If interested, visit the Fan Source site at www.fansource.com for complete details.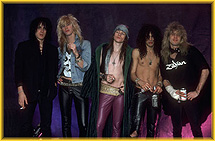 Another reminder that you really owe it to yourself to visit Robert John's site and look at the rare GNR photos he has for sale. Robert was the official photographer of GNR, and he literally grew up with these guys. There are photographs of the individual members plus some group shots. The SLASH photos are just terrific. We ordered one ourselves. Robert did this once before many years ago, and the photographs are just wonderful. You can buy one signed or unsigned in two large sizes. Robert is a really nice man with a lot of talent. Even if you can't afford the pictures, you'll enjoy seeing these rare photos at www.fusedarts.com/gnr.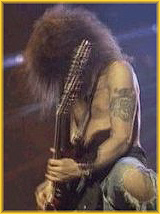 MJ from Scotland wrote and said that today his mum was watching "The Weakest Link" on TV. Surprising question: "Saul Hudson, otherwise known as SLASH, was part of which rock band in the late 80s and 90s?" MJ says that has got to be one of the easiest questions ever, but the contestant said...Thin Lizzy. Our Scottish friend was incensed! He wonders if the contestant has been living in a cave for the past 15 years and sentences them to listening to the best band ever and no, that is not Thin Lizzy, it's Guns N'Roses! Thanks, MJ!



News Reported: 10/02/02