Friday, October 31 is Halloween here in the States, so the page will not be published except for the great Halloween pictures we received. It's not too late to send in your picture dressed as SLASH - this year or any other year. If you send your name and address, we'll send you some candy and some of those cool SLASH's Snakepit stickers! Or just send a name and state (country if outside the US) and we'll put you here in the SLASH News. Send your pics to webmaster@snakepit.org.



Click to see fans dressed as SLASH in our Halloween '03 photo album!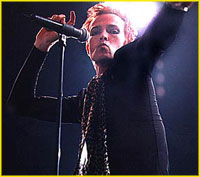 Many of you have sent in the bad news that Scott Weiland was arrested again. After reading what we can find out on this, we were very discouraged. The facts as we know them are that around 6:30 am (according to the police report) on Monday, October 27, Scott lost control of his car and crashed into a parked car. This occurred in Hollywood. What happened next is exactly what you don't want to do when you have an accident...leave the scene. Actually, Scott only attempted to run away, but he was caught almost immediately by the police who arrested him on one misdemeanor charge of driving under the influence of alcohol/drugs. Now, although this is what you are reading all over the net from usually reliable sources, our most reliable source, SLASH called today to correct the record. He said to tell everyone that Scott did have the accident and did attempt to leave, but he was not under the influence of drugs or alcohol. What he was doing out and about so early is anyone's guess...maybe heading to the studio? Maybe picking up his birthday cake...it was his 36th birthday Monday! We're willing to take SLASH's word on this. To finish the story, Scott was released on $15,000 bail with a court appearance scheduled for November 17. Hopefully, before then the charges will drop to a traffic violation. Scott is a colorful character, and it looks like he is going to give us all some tense moments, but the band stands behind him and with him. Thanks, SLASH, for that update! And thanks to Norm and ZeeshanH who sadly sent in the original story.



After we got past the latest Scott escapade, SLASH wanted to talk a little about what he has been up to. He said he has been up since 5:30 am (this is unheard of for the SLASHer, unless he is coming home) doing interviews about tonight's "Kid Notorious" episode in which he appears as himself. SLASH is doing his own voice.

He says he has done all kinds of radio interviews that ought to be blanketing the whole country, so listen up! Tonight's episode is about Robert Evans telling the studio they are filming a Tom Cruise movie when really he and SLASH are in Tibet getting yak milk for soup. We asked SLASH what he thought of the drawing of himself. He said, "I look like a skinny tough guy!" Exactly! We said...they made you so skinny! SLASH reminded us that it is a cartoon and they exaggerate features. They must have been looking at those long, pipestem legs. SLASH's thighs are smaller than his knees. And we said they should have made him more handsome at which he had to give the famous SLASH embarrassed laugh. Anyway, he hopes you will watch tonight and the forthcoming nights. Tonight's episode is on Comedy Central at 9:30pm ET, that is, just after "South Park". This will be its regular spot while it's on, so get the vcr programmed, the popcorn and Jack Daniels handy and give Our Guy a ratings boost! While you're waiting, check out the great Kid Notorious website. You'll really want to watch the three sneak peek videos from tonight's show. SLASH is way cool! We'd like to see a little "Kid Notorious" merchandise for sale there with a SLASH action figure with JD, cigarette and soup accessories!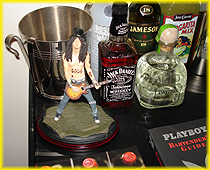 The action figure is just a dream, but there are SLASH-related items for sale. The soundtrack for Robert Evans' autobiographical The Kid Stays In the Picture is available at your favorite record store. SLASH plays "Love Theme from 'The Godfather' " on this one although the song does not appear in the Robert Evans movie. Robert thinks SLASH is "the greatest guitar player in the world", and when he heard SLASH's take on The Godfather's love song, he wanted it on his album. This is the song that was nominated for a Grammy last year. The Italian Job is out on both DVD and VHS for purchase and rental. Velvet Revolver does "Money" on this one. The song is NOT on the movie CD soundtrack. Also, The Hulk is now out on VHS and DVD. Velvet Revolver's "Set Me Free" is on both as well as the movie soundtrack. There are some SLASH's Snakepit items for sale at www.fansource.com, and there are many SLASH items for sale on ebay every day. We tripled our SLASH collection in a year by checking ebay every day! If you've got the space, there's SLASH stuff to fill it. And when he comes to your town, take a handful of things for him to sign. We always try to bring some unique items, and he gets a big kick out of seeing these.



HAPPY HALLOWEEN, SLASH!





News Reported: 10/29/03

We have some international SLASH sightings to tell you about today. Toughriders was UK channel surfing and heard the unmistakeable "Sweet Child of Mine" riff. It was a dating show where someone gets "changed" by a fashion team to improve their dating desirability. The woman to be improved this night was a goth chick into the usual Sisters of Mercy, The Cult, The Mission, etc. On her first date, she tells her date that her favorite band is none other than Guns N'Roses! And she also says that SLASH is "ahh...adorable". How is her date supposed to compete with that! Toughriders says he would find it hard to live up to the SLASH legend on a first date! Thanks, Toughriders!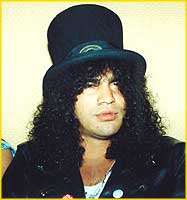 Alexandre lives in France, and he reports that he's found the first SLASH appearance in a French magazine (small mentions aside) in a LONG time. The October issue of Hard Rock magazine came out with Ozzy on the cover, and inside is the article "Velvet Revolver: The Return of The Ex-Guns"! There's a double page article with a SLASH interview and on the left one are six pictures of the VR band (taken from the Official site) and on the right one is a big but older one of SLASH with a big smile. In the interview, SLASH goes through the VR history, the forthcoming album and his own goal as a musician. SLASH says, "I've alway said for me, the most important thing is to have a long career, not to be famous. It's always been my goal, and it's more than ever with VR. I don't wanna live a situation like the GNR situation ever again." About the possibility of a Guns reunion, SLASH notes that it has been over 8 years since he and Axl have spoken, and he doesn't know what's in Axl's mind. As for himself, it would take something very special to make him look away from VR, even for a short time. Alexandre says there is not too much new here for fans who keep in touch with what SLASH is doing, but it's worth buying! Thanks, Alexandre!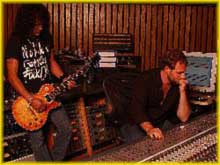 From Mexico comes some news of Elan. SLASH guested on her album Street Child, and Elan is doing some serious touring in Mexico in support of her debut album. So, Mexican fans should be able to locate the new album right now. SLASH plays on the title track. Elan's first single, "Midnight", has been at #1 radio airplay in Mexico with its video in the Top 10 for MTVLA. Elan appeared at MTVLA performing in the pre-show and presenting an award. SLASH should have been there, but the tightwads at MTVLA wouldn't pay his expenses. We're glad a whole new group of listeners is getting to hear SLASH play! Elan is preparing to tour Australia, and that tour gets underway at the end of this year or beginning of next year.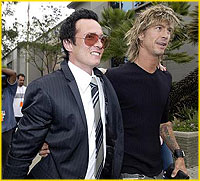 Back to Southern California, the home of Velvet Revolver. As you may know if you are a Duff fan, Duff took up martial arts soon after he was hospitalized with pancreatitis from alcoholism. Duff is completely clean now, and does martial arts. His involvement in that activity has really helped him stay off the booze and drugs, and Duff has gotten Scott Weiland in on it, too. The ultimate martial arts, sci-fi and Hollywood celebrity convention, Dragonfest, will be held at the Glendale Civic Auditorium in Glendale, CA on Sunday, November 16. Both Duff and Scott will be there to sign autographs, meet fans and get their pictures taken! Dragonfest gives you additional information on this event. Thanks to Brian for finding this VR mention for us! No word on whether SLASH will be around, but you never know!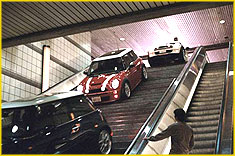 Each Friday our local paper lists the national Top 10 video rentals for the previous week. At #1 is The Italian Job! We made contact with the editor of the Entertainment Section who told us it was perfectly understandable. It seems the top video renters are males age 26 - 35. If a studio can find a property that would appeal to this group of the population, they make it. Even if it is not a smash box office hit, it could be a smash video rental hit with this population group and that adds up to a lot of rental dollars. He said that with its cool cars (Mini), plot twists, good actors and a lot of action, The Italian Job was a shoo-in. We told him about Velvet Revolver and "Money" playing over the credits. He thought that they made good use of the song at appropriate times in the movie, and he listened at the end for the whole thing.



News Reported: 10/27/03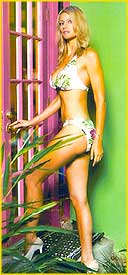 We've had some questions on the marital status of the band members. SLASH, Duff and Scott are currently married. SLASH has one child; Duff and Scott each have two. Matt and Dave are the bachelors although Dave is planning a December wedding. Some news on the married band members. Perla wants a little brother or sister for London (take care on which city he/she is conceived in!). Susan, Duff's wife, is a working mom with Holmes Swimwear, her own swimwear line. Susan's giving a fashion show during Fashion Week in L.A., and Duff, Scott and special guests will perform. They've selected an acoustic version of the Rolling Stones' "Angie" to accompany the show. Susan has the better figure, but we think Susan and Duff are already growing to look like each other! If you'd like to see Susan's swimwear and hear Duff and Scott, call 323/549-9250 for information. The show will be Thursday, October 30 at SmashBox in Culver City, CA. Unfortunately, we don't have this marital bliss for all the married band members; Scott is suing his wife for divorce citing the familiar "irreconcilable differences". The Weilands have had a rocky road having married in 2000 and separated in 2002. Wife Mary Weiland filed for divorce then, but dropped the suit in August.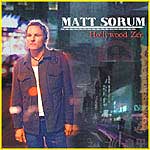 There's some solo work to report. Just a reminder that SLASH is slated to do a track on a Sony children's album called Sing a Song of Sixpence. His track is "Sing a Song of Six Strings", and that's the extent of our information at this time. SLASH will also be playing on Matt Sorum's forthcoming album, Hollywood Zen. He'll be on "The Blame Game" track. Matt says the album reflects his rock and roll life and experiences with touring, addiction, relationships and his hometown L.A. Hollywood Zen features Matt on guitar, drums and vocals. The album will be for sale on Matt's site. A previous announcement said the first 1,000 albums sold would be autographed by Matt; the current announcement says that there are 300 limited edition autographed copies. The big release day is Friday, October 31, so set your clock for midnight and grab a copy! (Alternatively, you can go right over to Matt's site now and pre-order your copy.)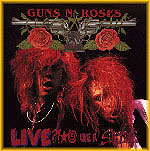 Speaking of albums and rareties for sale, we got a note from eil.com, a collector's site on the net. They have available a mint, sealed copy of Live Like A Suicide (also known as LLAS). LLAS is probably the most collectable album from GNR. It's a 1986 U.S. Uzi Suicide label edition of which only 10,000 were ever printed. They're asking U.S. $330 or 200 UK pounds. If interested, contact charliewilliams@eil.com and tell him we sent you! Also for you UK fans, you have coming up this weekend on October 25, a record fair at Northampton Derngate. Doors open at 10am, and they are having a massive singles blowout! Admission is 1 pound. On Sunday, October 26, there's one at London Congress Centre.WC1. The doors open here at 10am. For more information, VIP Music Fairs.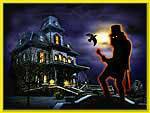 We've gotten a few pics of fans dressing like SLASH for Halloween. We can use more. If you want some candy and Snakepit stickers from us, send the picture (.jpg or.gif) as an attachment to an email with your mailing name and address! To inspire you, we're including here our SLASH desktop that we always haul out at this time of year. It's a blowup of the one you see here. Pretty cool, and it's in .bmp format ready to stash with your other desktops:


SLASH Halloween Desktop!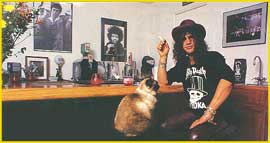 Watch for a really funny/cool promotional ad on VH1. They have two cats dressed as Axl and SLASH playing "Welcome to the Jungle"! The cats are real, and the clothes and instruments are paper cutouts pasted on with that funny start-stop animation you've seen in cat food commercials. Hilarious! And did you catch the opening show of Kid Notorious where SLASH was flying a helicopter? Don't forget, SLASH will make his big appearance in the episode this week on the Comedy Channel, 9:30pm ET, Wednesday, October 29. Get those vcr's ready to roll.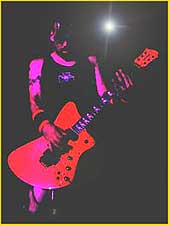 We hope by now you have discovered Velvet Revolver's official band site. The Journal is where band members can post things to the fan. So far, we have one from Dave who writes an endearing "Dear Journal,"! Dave passed on the bulletin that on October 11, Matt and Duff had finished their tracks! SLASH was starting his the next week, and we're hoping for a new posting soon. In talking to SLASH, he expected to be right on schedule with his and said that Scott was working hard on the lyrics and vocals. Dave concluded by saying how honored and proud he was to be in Velvet Revolver. He's asking fans to just be patient because we'll have something in February or March (SLASH says March). Dave sounds like someone we'd like to meet, and we're hoping Velvet Revolver will keep to SLASH's tradition of meeting fans after the gigs. If you haven't visited the site, go over and sign up for the official newsletter at www.velvetrevolver.net. Be careful that you get the domain name just right when you go on your own because a number of unofficial sites have crowded around there.



News Reported: 10/24/03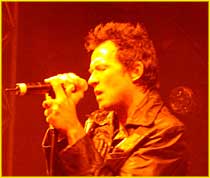 Scott Weiland passed a significant milestone yesterday on his way back from drug and alcohol addiction. Scott appeared before a Pasadena judge on Monday, and the judge allowed Scott to remain free while he kicks his persistent drug habit. The judge congratulated Scott on completing most of his drug testing and counseling requirements that resulted from his arrest May 17 when a routine traffic stop turned up drugs and drug paraphernalia in his car. Subsequent tests have been clean. The judge told Scott that his report was excellent; but she did advise him that if he has any other positive tests, he will go back to residential treatment. Scott said the court-mandated counseling program got him back in AA. Outside court, Scott said that his recovery was on track and that he was looking forward to the Velvet Revolver release in February. "Getting busted spurred my desire to seriously get back into recovery", said VR's lead vocalist. Scott't next court appearance is scheduled for January. To read about Scott's appearance in detail, Reuter's has a good article on Judge Warns Scott.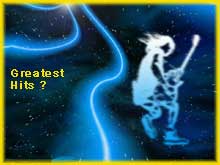 As fast as the announcement was made that Guns N'Roses (original band) would release a greatest hits album, the announcement was rescinded. So, if you missed that one, it's no surprise. Aaron sent in the report that October 20, Universal Music announced a GNR Greatest Hits album was due out on November 25. The following tracklist was given:
'Welcome To The Jungle', 'Live And Let Die', 'Knockin' On Heaven's Door', 'Sweet Child Of Mine', 'November Rain', 'Patience', 'Paradise City', 'Civil War', 'You Could Be Mine', 'Don't Cry' (original), 'Yesterdays', 'Ain't It Fun', 'Since I Don't Have You' and 'Sympathy For The Devil'. Shortly thereafter, Aaron sent us the Universal Music announcement that the album would NOT be released! This announcement was made October 21; and it said, "A reason for the cancellation was not given and whether or not the disc will be rescheduled is yet to be seen." Well, this is GNR for you! Always a controversy and never much information! Thanks to Aaron for sending that in. In looking over the proposed tracks, we just wonder why "Estranged" was omitted.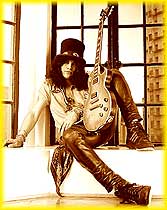 If you're a member of SLASH's Official Fan Club, you should have received your newsletter by now. If you haven't gotten it yet, you might want to check with fansource@aol.com. Be sure to mention this is a SLASH fan membership as this is a commercial company that does fan clubs for several celebs. The newsletter had color photos and some information about what SLASH is doing such as the celebrity charity race. A new SLASH's Snakepit baseball cap is offered in the merchandise section. The fan club is not free, but it does bring you a newsletter from time to time and the promise of good seating (should there be seating) at future concerts. There's also a full page ad about the Fan Appreciation Weekend to be held in California. There's an admission charge of about $100 plus your transportation and meals, but you do get to meet in a small group with SLASH. If you're interested in joining the fan club, go to www.fansource.com. They accept Paypal and various other payment methods. Some people are confused about the Fan Address Section on this site. This is free. It's a way for SLASH fans to communicate privately...if you're looking for someone to write to that you have something in common with, here are tons of people that like SLASH! The list is in order by country so you can pick someone in your own or any other country. Another really good use of the list is to find someone to go to shows with. Sometimes you really want to go to a show with someone...well, here are a bunch of people from your country that you could contact and maybe hook up with at the show. We print it out every once in awhile for SLASH to show him where lots of fans are concentrated. Even when there's just one or two from that country, he really is excited about seeing someone from Tibet, for example!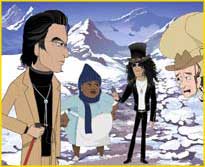 AGodley sent us a really good story on the Kid Notorious cartoon series that debuted tonight on Comedy Central. Tonight's episode did not have the SLASH character, but he'll be on next week. Kid Notorious follows the adventures of producer Robert Evans as he cuts show biz deals, romances women and schmoozes Hollywood. Evans does his own voice as does SLASH. SLASH has a mention in the article as lounging on a couch eating sausages when competing networks came calling to listen to Evans' pitch on the show. The article states that Evans is a neighbor of SLASH. The article is fairly long, so we'll send you off to read it yourself if interested. There's a cool cartoon of SLASH with Evans taken from the the next episode. This will air Wednesday, October 29 at 9:30pm ET on The Comedy Channel (30 minute show). Our local paper reviewed the show today and found it interesting but full of inside jokes that would hardly be of interest to anyone outside the Southern California movie industry. (and we will add here...or SLASH fans!).


Kid Notorious Article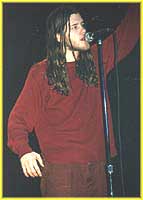 On October 21, 1995, Shannon Hoon was found dead on his tour bus from an accidental drug overdose. You'll recall that Shannon was a good friend of the GNR gang. He's probably best remembered from the "Don't Cry" video on the roof of a building with his long hair whipping around. If you've seen the Chicago bootleg where he sang with Axl, that's Shannon at his best. If you saw him at Woodstock, that was Shannon under the influence of whatever drug had him in its grip...heaving equipment into the audience and stumbling around. We choose to remember him on that rooftop with GNR, smiling and singing his heart out. He is missed.



News Reported: 10/22/03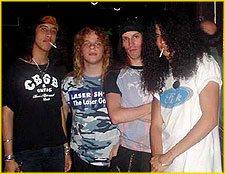 Kabir sent us a note that got us digging out our latest UK Q magazine. He didn't have enough money on him to buy it, but our copy recently arrived, and there is a really large article in the November issue about the original GNR. It's called, "The Scum Also Roses" and is four pages long with lots of color pics of the original and very young band. The article re-tells the story of how the band rose from "evil, penniless junkies who stole from groupies and lived on biscuits. The same unstoppable chaos helped them record debut album Appetite for Destruction and rewrite rock forever." If you know all about the band's origins and the sacrifices they (and those who came in contact with them) made to get to the top, this is a good review. If you are new to the original band, it's a must-read. There are a couple of old pics with SLASH we hadn't seen before. Q is published in the UK but is available in the U.S. Get one! Thanks, Kabir!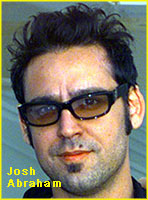 There's been some confusion about who's doing what with Velvet Revolver. Just to straighten this out with the information at hand, Josh Abraham has been named official producer of the VR debut album. Doug Grean is working with vocalist Scott Weiland on lyrics and vocals and will no doubt get album credit for vocals production. Grean worked with Scott before on a number of STP tracks as well as on Scott's solo album tracks.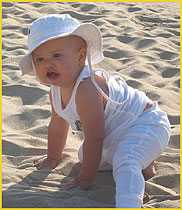 Several sites have reported that SLASH has recorded "Sing a Song of Six Strings" for a Sony children's album release called "Sing A Song of Sixpence". However, we could find no mention of the album anywhere in Sony's forthcoming catalog for October or November. We'll keep checking for that one. It should be by "Various Artists"; and if you see more on that one, let us know. It sounds like a nice Christmas album. Incidentally, we received word from Amazon.com that our copy of Steve Lukather's Santamental is in the mail. SLASH plays "Broken Heart for Christmas" on this one. Our copy of the DVD The Italian Job already arrived, and it was great to see it again and hear Velvet Revolver over the credits at the end.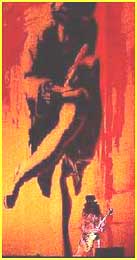 One other item verified is the content of the three (original) GNR DVDs. They will duplicate the content of the previously released VHS tapes. No additional footage will be added. This is a disappointment for fans; but when you think of the the problems there were in getting Live Era out, it was just too much of a hassle to go back and get everyone to agree on new items for the DVD. At least fans will have something although it's just something old in a new package. The videos in question are: "Welcome to the Videos", "Use Your Illusion I (Tokyo Live 1992)" and "Use Your Illusion II (Tokyo Live 1992)". Pre-order at your favorite music store. The DVDs come out October 28.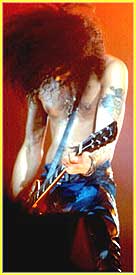 About videos, Michael from France says he recently got a DVD called Guitar Spirit from Gibson, Plan9 Entertainment. It's edited by Sony Music Videos. There are many guitar heroes on it including the one and only SLASH for the GNR video Use Your Illusion II (Tokyo Live World Tour 1992), TLC video on this website and a short interview from the end of the TLC...maybe 1995...where SLASH says he always has a guitar with him and that makes his (ex-)wife crazy because he plays all the time. Other guitar heroes are BB King, Les Paul, Joe Perry, Glen Tipton, etc. This is a new one to us, too! Thanks, Michael. This belongs in SLASH's Videography, and we'll get it in there soon.



News Reported: 10/20/03

In the midst of preparations for Perla's birthday and the couple's second anniversary, SLASH called to say hello to all the fans and pass along some information. We talked about the forthcoming show on Comedy Central, Kid Notorious. This is an animated series based on the mega-producer Robert Evans (The Godfather, Love Story, etc.). Three episodes of the eight have descriptions posted on the web site (see Monday's news below).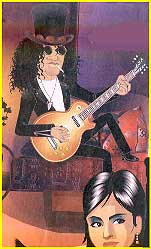 We've now learned that the second episode (first with SLASH) is called "F-You Soup" and will be on October 29. The studio thinks SLASH and Evans are filming a Tom Cruise film, but they've gone to Tibet to get yak milk for making soup. SLASH says he is in 5 or 6 episodes, and he does his own voice! Perfect! He says this is as far as he goes in being an actor. We have always thought that SLASH had a very distinctive but soft and mellow voice, so this should be great. The first episode is this Wednesday, October 22 at 10:30pm ET (9:30pm C), and it runs 30 minutes. The first show does not include SLASH as far as we know, but it's always best to tape the show rather than be disappointed by a last minute switch!



SLASH also said it was definite that he would not be at the MTV Latin American Award show. He is so busy on the new album that he is just not accepting any outside commitments at the moment. Also, MTV was reluctant to pay for SLASH to come and present one award. On the other hand, SLASH doesn't pay to perform and doesn't give much away unless it is for a charity (and in that he is unstinting and also very circumspect about the charity work he does). He'll no doubt be seeing his Latin fans on tour, so hang in there!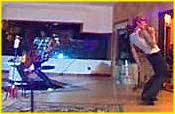 The basic tracks of Velvet Revolver's debut album have been laid down, and SLASH is adding the guitar parts. The vocals are coming along, and then comes the mixing.SLASH could not say enough great things about the album...he called it f*cking incredible! No free samples, though. SLASH says the album will most likely be released at the end of February or in early March. The band had been saying early February, but he said the label decides; and for positioning and other reasons, they are now looking at maybe a month later than we have been told recently. Clearly, the album is rolling right along, and meeting the deadline seems to be no problem.


The totally zany bunch at Metal-Sludge has a great book out if you like to relive the early days of the 80's Hollywood rock scene. Hollywood Rocks is billed as the ultimate guide to the Hollywood, California Rock-N-Roll Music Scene. Bands featured are the original Guns N'Roses, Poison, Jane's Addiction, Motley Crue, L.A. Guns, Warrant, Bang Tango, Faster Pussycat, Great White, Red Hot Chili Peppers, W.A.S.P., Ratt, Quiet Riot and much more. The description says over 1,000 images were gathered to show the dress, attitude and make-up of the rock ensemble. The book is over 200 pages and has full color pictures. There's a good description on the site, and you can read about it and order it right there. We have ordered our copy already. Check this one out!


Hollywood Rocks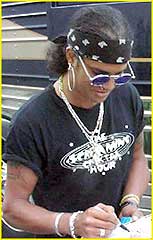 Nenad wrote to us saying that he just got an A in his Public Speaking Class. He had to give an introduction speech, 5 1/2 minutes long; and of course, he introduced the hard rock, living legend SLASH! Nenad sends thanks to SLASH for the A. So the kids at Southwest Missouri State University are still rockers!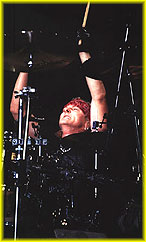 Elin reported that in Norway they have a TV program called Blender, a program where they show funny clips of Norwegian comedians. On one clip was Alex Rosen, a very funny guy, who went on a trip to L.A. and met up with Matt Sorum in a bar. They talked about when GNR was in Oslo in 1991 for a concert. Matt said they got chased into a club by a bunch of "dudes". Matt said that if it had been chicks, it would have been great! But, sadly, it wasn't. Then Alex said something about a motorcycle, and Matt started to laugh. He said he borrowed Alex's bike to escape. Elin said Matt seemed like a really great guy, and he had black hair in the clip. Also in the clip was Marilyn Manson, but Alex didn't talk to him at all. Thanks, Elin!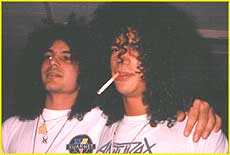 In two weeks, it will be Halloween. We're not exactly sure if other countries make the huge deal of Halloween that is made of it in the US. Costumes are critical here for school, college, parties and just plain trick or treating. We're going repeat what we started last year. If you dress up as SLASH and send us your picture, we'll put it up on the page. Send it as a .jpg or .gif file, please, and it has to be an attachment to an email message. Please include your name or handle, state (city/college/school optional) and country if you do this outside the US. We'll send you back a bag of candy!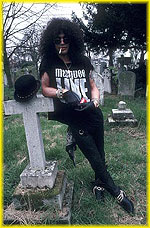 No need to have it x-rayed...the webmaster would never hurt a SLASH fan. So, if you want the candy, send your full name and address so we can send it out to you. Some people need help. We have a few places on the net where you can find a top hat similar to SLASH's, but we have no source for wigs. If you could send in any information on wigs and/or hats to the webmaster@snakepit.org, we'll put that on this site or email the information if you inquire privately. Ladies can also be SLASH or...Perla! Pregnant Perla's are permitted as Perla announced on the SLASH forum that she and SLASH are going to work/play at adding to the family! There cannot be too many Hudsons in the world. So, get your costume together and get those pictures in. We'll put them up on Friday, October 31, Halloween! Thanks!



News Reported: 10/17/03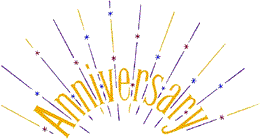 This week's News will appear Monday and Friday only. We'll be taking off Wednesday as that is our anniversary. You may recall that October 15 is also SLASH and Perla's anniversary. Same date but different years! (By the way, SLASH married his first wife, Rene Suran on October 10, 1992 in Marino Del Ray, California. They divorced in the fall of 1997.) SLASH and Perla were married in 2001 making this their second anniversary! Join us in wishing SLASH and Perla a very happy anniversary and many more!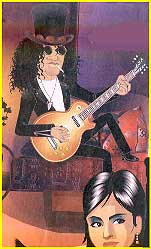 When SLASH was starting out with Guns, he adopted his trademark look: top hat, long hair, black leather pants or jeans, boots or Converse sneakers, sunglasses, cigarette, bandana dangling at his backside...well, we don't need to describe the look to you. Over the years, he's stayed with it onstage, but offstage he discards it. He will perform now at times without his full regalia, feeling that in some ways he has become a cartoon of himself. Too late, SLASH, you ARE a cartoon...at least on Comedy Central. Vicki sent us the magazine information on this. If you have a copy of the latest Rolling Stone handy, check the foldout ad on page 50. This issue is number 934, October 30, 2003 with Missy Elliott, Alicia Keys and Eve on the cover. You'll see "KID NOTORIOUS" on the front of the foldout. The cartoon SLASH is inside entertaining Robert and two lovelies in a hot tub. In case you don't get your hands on one, here's how they've drawn SLASH (above, right). Pretty cool! The series, "Kid Notorious" begins October 22, and eight episodes will air this fall. The show is on Comedy Central at 10:30pm ET (9:30 Central) and is 30 minutes long. Thanks, Vicki! The great thing is that SLASH will be in at least two episodes. SLASH's first episode (title to be announced) is scheduled for October 29 and the second (title to be announced) for November 5. The Episode Guide for the 10/29 show says: "Evans and SLASH go to Nepal for yak's milk for their homemade soup while the studio thinks they're there to shoot a Tom Cruise film"; and for the 11/05 show, it says: "After losing his home in a poker game, Evans devises a plan to win it back with help from SLASH and a LaToya Jackson look-a-like". We'll try to watch out for any changes in these listings, but you can find out more yourself at the website. When you get into the cartoon series section you can work from the menu to see the videos, downloads and so on. Worth a trip! We have a call in to SLASH to see if he is doing his own voice or someone else will have that honor. Here's the url for "Kid Notorious", a cartoon about Robert Evans, legendary super-producer. "His life is so unbelievable... it had to be animated."


KID NOTORIOUS!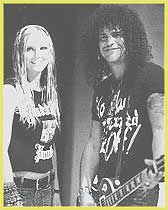 It seems as though MTV may be getting ready to let us down again. SLASH was invited to come to the MTV Latin American Video Awards and present an award. His co-presenter is Elan, the new artist whose album, Street Child, SLASH appears on. At first, SLASH did not see how he could interrupt rehearsals for Velvet Revolver to do this, but Elan and her management really wanted SLASH to come, and SLASH thought it would be a good way, too, to connect a little with his Latin American fans. As reservations were being made, MTV said...by the way, we aren't paying for you to come. Needless to say, SLASH was super-annoyed at this. Coming from L.A. to Miami to add to the festivities is fine, but SLASH doesn't pay to hype MTV. So his appearance is "iffy". If you're a Latin American SLASH fan, how about emailing MTV and telling them to fork over a little cash to bring SLASH to Miami? We don't read Spanish or we might be able to discover an address to contact MTV about this. If anyone out there can find out the email address, let us know; and we'll put it right here and write a protest note, too. MTV is not about to go broke, and they need to pay artists for their professional time. Let's get on this. Tell your friends, too!



We'll be back on Friday with more News. Keep sending in those sightings. We missed a call from SLASH this weekend, and we're hoping he'll call back with some information on Kid Notorious, Velvet Revolver and the MTV Latin American awards.


News Reported: 10/13/03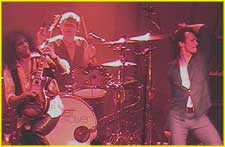 The best and biggest Velvet Revolver news appeared on the VR site today:

"The band has just finished basic tracks for 14 songs with producer Josh Abraham and engineer Ryan Williams. Studio insiders say the mood is extremely upbeat and positive. 'Believe it or not, we're actually ahead of schedule', says drummer Matt Sorum. The recording process is being documented by a video crew and still photographer Chapman Baehler."

We're wondering if this is the same video crew that was taping for VH1 since that Inside (Outside) show has yet to materialize. It looks like there is rock talent working with the band. Producer Josh Abraham has worked with Coal Chamber, Michelle Branch, Staind. In addition to his production work with these bands, he has also done keyboards, programming, string arrangements and mixing for them as well. Engineer Ryan Williams worked with Abraham as the engineer on the Staind album. Photographer Chapman Baehler did some work with Stone Temple Pilots and many other rock bands. If the 14 basic tracks are done, it does seem they are ahead of schedule. It would be great to have the album out for New Year's Eve!



There are lots of places in L.A. that are places SLASH hung out at or played at: The Rainbow, The Baked Potato, the House of Blues, etc. He's visited the Rock and Roll of Fame when he's in the midwest. And if Wisconsin gets its way, there's going to be a wonderful museum there to draw all the guitarists we know, including SLASH. Les Paul is a native of Waukesha, Wisconsin, and he's working with the Waukesha County Historical Society & Museum on an exhibit that tells his story. The exhibit plans call for 4,000 square feet full of Les Paul guitars! Les Paul's invention of the electric guitar will be showcased along with many other Les Paul artifacts. Performances are planned for the exhibit with the big name users of Les's equipment stopping in to show how it's done. Les Paul has been quoted as saying many times that he intends to give the majority of his collection to his hometown museum. Les Paul is 88, but we expect a lot more years of excellence and innovation from him! The Historical Society & Museum has asked that we mention this to you and ask for a donation. If you would care to donate, send your tax deductible contribution to :

The Les Paul Exhibit
Waukesha County Historical Society & Museum
101 West Main Street
Waukesha, WI 53186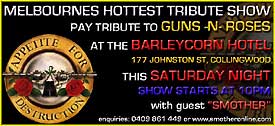 Australian fans can get a blast of GNR music this Saturday, October 11 at the Barleycorn Hotel. Melbourne's hot GNR tribute band with guest "Smother" will start at 10pm. The Barleycorn Hotel is at 177 Johnston Street in Collingwood, and the guys would really like to hear you out there! They are linked to our site, and we promised we'd send some Aussies their way!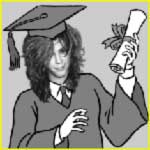 Which ex-Gunner has the most education? If you said Duff, you're right. Who has the least? SLASH dropped out of high school to become a full time musician. Musicians, if they're smart, go to business meetings where contracts and accounting statements are discussed. SLASH has taught himself a lot about the business side of the record business, but Duff made a different approach. He began his studies as a business major and attends Seattle University where he is in his senior year, just having senior projects to complete for his degree. Seattle University is a quality place, and Duff's had to work hard while juggling his family life and the bands. All of Duff's fans and bandmates are really proud of him. Here's the really cool article on and by Duff called Appetite for Education! Thanks to Sam for sending this in!



Believe it or not, there are some good shows coming up on MTV, MTV2 and VH1. These are all for GNR. We start off with "40 Greatest Celebrity Feuds" and instead of Axl and SLASH, we get Axl and Vince Neil. Wouldn't you like to see these two heavyweights going at it? It airs on these dates and times (all ET) on VH1: 10/13 at 7pm, 10/14 at 5pm and 9pm, 10/16 at noon and 10/17 at 3pm. On 10/11 at 2pm and 10/13 at 6am, MTV2 will air "22 Greatest Bands" which is a 2 hour show about bands whose work had a powerful impact on the 80s and 90s. These bands were chosen through online voting. "Headbangers Ball Uncensored" will air on MTV2 on 10/12. This show is about the untold stories from the rusty side of heavy metal. Get a look at Axl and the new GNR at the 2003 VMA which airs on VH1 on 10/13 at 4pm. Axl also comes in for some heavy ribbing from Camp Chaos on 10/17 at 11pm, 10/18 at 2:30am and 10/19 at 12:30am when VH1 presents "VH1: Illustrated". The episode is a sketch comedy by Camp Chaos of Axl getting a job working in a fast food restaurant. These are the guys who did the "Napster Bad" videos, so watch out! On 10/19 at midnight is "Breaking the Law" on MTV; and on MTV2 on 10/19 at 1am is "Testimony: 20 Years of Rock", key rock moments on MTV. Try to catch that Camp Chaos show!


News Reported: 10/10/03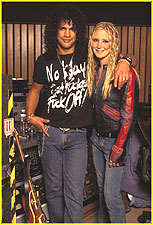 Our Latin American fans score a SLASH visit on Thursday, October 23. He'll be coming to Miami, Florida for the MTV Music Video Awards Latin America (MTVLAs) at the Jackie Gleason Theater where he'll hook up with Elan to present an award and (most likely) with Iggy Pop and Lenny Kravitz all together. This is the second annual MTV VMALAs, and the nominations were announced on 09/12/03 by the Spanish language cable network that broadcasts 24/7. The nominees are in 16 categories and were selected by music industry professionals and MTVLA viewers. Ballots were cast via the internet. For a list of the nominees, visit www.mtvla.com. For those in the audience or watching at home, there will be live performances by Alejandro Sanz, Sum 41, La Ley, Iggy Pop, Natalia Lafourcade, Dido, Control Machete, The Mars Volta and Dido among others. In addition to Elan and SLASH, expect presenters to include Miranda, Robbie Rosa and Vicentico. You'll recall that SLASH guested on Elan's first album (title track), Street Child. Have a look at Elan's site, www.elan-online.com. The Awards show itself will be broadcast at 9pm Eastern time on MTVLA (8pm in Mexico, 9pm in Chile, 10pm in Argentina). We'd really like a report on SLASH at the show...tell us what he did, the award(s) he presented, performance? and anything else! Send to webmaster@snakepit.org. Thanks to Bettina who got us started researching this!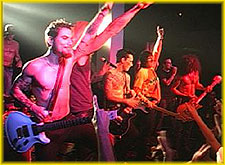 LuAnn, Brian and Ray sent in a reference to Camp Freddy. Camp Freddy is the pickup cover band started by Billy Morrison to keep everyone's chops up while their main bands were in hiatus. Made up of Dave Navarro (Jane's Addiction), Matt Sorum (The Cult, Velvet Revolver), Billy Morrison (The Cult), Scott Ford (Twilight Singers) and Donovan Leitch (lead singer, mc). Camp Freddy has always been about having guest musicians, and SLASH was frequently onstage. Camp Freddy has now signed with Sanctuary Records and will begin recording their debut album next month. Mike Clink (GNR & Metallica producer) will produce, and guest appearances are being scheduled with Macy Gray, SLASH, Perry Farrell and Kelly Osborne. The album will be a glam and punk cover album. Donovan Leitch, frontman for Camp Freddy, said some tracks will be T-Rex's "20th Century Boy", David Bowie's "Jean Genie and Led Zep's "Whole Lotta Love". "Whole Lotta Love" looks like the first single according to Leitch who says Matt Sorum will be on drums, Perry Farrell will do vocals with SLASH and Jimmy Page on guitar! Leitch said that SLASH and Page are good friends, and SLASH will get Page to come in on the project. The CD is due out this spring, and a DVD will be released next year, too. The DVD will show rehearsal sessions. Leitch says the Camp Freddy shows would always end with eight guitar players lined up across the stage, and no one could hear what they were playing.

We're trying to get this confirmed; but we don't think SLASH even knows about it, let alone has agreed to do it. And SLASH is really 24/7 on Velvet Revolver, so unless his time is minimal with Camp Freddy, it doesn't sound as set in stone as Donovan Leitch makes it sound. SLASH met Jimmy Page for the first time at Net Aid a few years ago, and the shy guitarists barely exchanged a hello. We have no information on their becoming close pals. Still, Camp Freddy is something new to look for! At this point, we'd say...SLASH's role is not settled yet.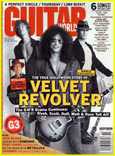 Marie from Guitar World Magazine wanted us to remind you that SLASH and Velvet Revolver are featured on the front cover of November's issue of the magazine. The magazine features a world-exclusive article, "The True Hollywood Story of Velvet Revolver The GN'R Drama Continues: SLASH, Scott, Duff, Matt & Dave Tell All"! Also included is a pullout poster of SLASH. You can read about the article right now at www.guitarworld.com. It's great going to the newsstands and seeing all those cover photos!



All the guitar tabs in this site's Tabs Section are donated by fans. Sometimes we don't have the one you're looking for. In that case, we'd like to recommend a really cool site, Tabcrawler. Tabcrawler also is a repository for fan tabs, but they've been at it a long time and have ones from all the bands. They have drum, bass and guitar tabs. They send us a report from time to time on the GNR tabs. They mentioned that the "Don't Cry" tabs are the 53rd requested tabs while "Sweet Child O' Mine" is 77th. So if you are looking for something we don't have, you can try there. This site is all guitar tabs in keeping with Our Leader's favorite instrument! And don't forget to send the tabs in because many, many people do use the ones here. If you have tabs, send them as a .txt attachment to a mail message. If you want to do some tabs, try to select a Snakepit, guest appearance or GNR tab we don't already have. Thanks so much!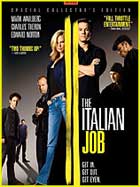 Some Brief SLASH Notes:
Amazon.com sent us an email that our DVD, The Italian Job is on the way! If you ever want to hear Velvet Revolver's take on "Money", you need the movie since the song was not on the movie soundtrack. Speaking of things only on the DVD, most of these TV shows that come out as box sets on DVDs with an entire season, show episode name although this is rarely shown on TV itself. We were watching the NYPD Blue box set for the first season, and the next to last episode (episode 21) is called "Guns N'Rosaries"! Guns really are everywhere. Another short item about the original GNR. Did anyone pick up the issue of Blender that had the "1001 Greatest Songs" in it? We never did come across that issue, and we wondered how Guns fared on that list. Let us know if you've seen that one. Thanks for all your help!





News Reported: 10/08/03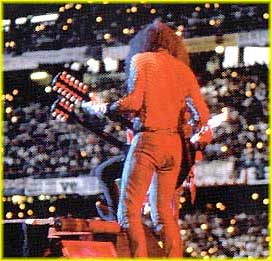 Tonight we're going to take a break from the regular news and bring you a column of SLASH Q&A's. These are from a set we submitted to him some time ago when the Snakepit tour had ended, and Velvet Revolver was on the horizon. We hope you'll see your question here. No individual replies are returned. All are printed here for everyone to see. Once a quarter or so, we gather all the printed ones together and put them in a section off the menu called SLASH Answers Your Questions. If you'd like to submit a question for SLASH in this way, send your question to webmaster@snakepit.org with subject "ASK SLASH". All questions are screened. No personal questions are accepted, but anything related to SLASH's music, gear and other aspects of his professional life are welcome! Please include your name or handle, country (and state if in the US) as SLASH likes to see where his fans are from. Thanks!



The first question is from James in the UK. James asks, "SLASH, now that you are getting back into a band will you be re-issuing any of your signature equipment?"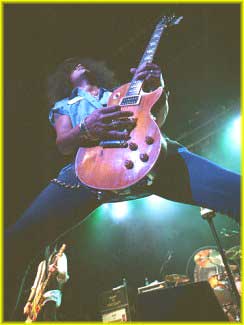 SLASH replies, "James, I'm really not sure. The Les Paul will probably keep re-issuing." Thanks, SLASH and James! The next question comes from Syrrah in Hungary, " What was the best and the worst thing that happened to you on stage?"



SLASH replies, "Syrrah, the worst thing that ever happened to me onstage was probably stage diving at the Limelight in New York. The crowd parted like the Red Sea, and I landed flat on my back on the cement floor!" Thanks, SLASH and Syrrah! Angelica writes, "SLASH I wanna learn what do you think about music called neu-metal (alternative music [e.g. Limp Bizkit, Korn, Sum 41, etc.]...); I mean do you like this new kind of music (I call them 21st century digital kids). Best wishes to the most wonderful guitarist on this earth.



SLASH replies, "Angelica, I'm not necessarily into all the new digital music that's out, although I do like Nine Inch Nails. Limp Bizkit I'm not really fond of. Thanks, SLASH and Angelica! Linda from Pittsburgh asks, "Before The Project got going, you were working on a solo album with musical influences from other countries. There were to be guest players, and you said it would be similar to the tracks we hear you do on other artists' albums. How far did you get on this project, and is it just waiting for your return or have you decided not to do it at all?"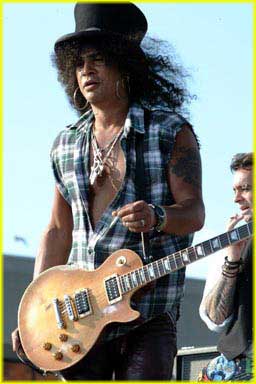 SLASH replies, "Linda,it didn't really get far at all. I will probably come around to doing it at some point, but suddenly The Project started, and that was it." Thanks, SLASH! Next is one from Jeff in Stow, Ohio. Jeff asks, "SLASH, when you played with GNR, wnho was easier to play/record with, Izzy or Gilby? How about Snakepit? Gilby, Keri or Ryan? Thanks!"



SLASH replies, "Jeff, it was easy to record with Izzy because we have a natural chemistry, with Gilby I never did record except with Snakepit, and that was fine. But as far as who I can play with, I can pretty much play with anybody." Finally, here's one from Greg, "SLASH, you have always had a busy schedule of touring and such. Do you have a special diet you keep in order to have energy and keep yourself looking thin and healthy? What do you usually eat when you are on the road, and do you work out at all?"



SLASH replies, "Greg, I actually don't eat that much when I'm on the road, and I actually never have worked out on the road. But the Snakepit and GNR tours were definitely a workout!"





News Reported: 10/06/03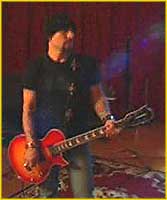 This is the final installment of the Japanese magazine Burrn!'s interview with Velvet Revolver. Each band member except Scott was interviewed individually, and this is the interview with Dave Kushner. The other interview summaries are below or in the archives. Thanks to SLASH fan Akihiko from Texas for the translation and typing! Burrn first gets into Dave's background, the bands he's been in including Duff's band, Loaded. Dave says he was in Infectious Grooves, a side project of some Suicidal Tendencies members, and he played on Grooves' first record. At one time, Dave was a member of the touring band, Zilch. It was a band formed by a Japanese guitar player, HIDE, who passed away soon after their first album was made. The other Zilch members wanted to do a farewell tour for HIDE, and Dave was asked to play on that tour. Loaded also participated in the tour, and that's when Dave and Duff met up. Eventually, Duff asked Dave to play in Loaded. Also, The Cult happened to open for the last day of the Zilch tour, so Matt also knew Dave. And Akihiko reminds us that SLASH and Dave went to the same school and have known each other since Dave was 15. Ever since then, SLASH and Dave have been friends and have kept in touch. So by the time Dave was asked to play with Velvet Revolver, all the band members knew Dave personally and professionally. Dave says SLASH has always been his hero, and there is nothing better than playing with SLASH.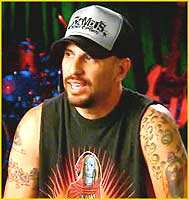 Burrn! asks about Dave's musical influences other than SLASH. Dave said before he started playing guitar, he was into Led Zep, Hendrix, Black Sabbath and Van Halen. Then, after he started playing, he got more into punk bands like X, Circle Jerks, Black Flag. Once he tried to copy "Stairway to Heaven", but he gave up and didn't play guitar for two years! After that he started listening to other players like Yngwie Malmsteen, Stevie Ray Vaughan and Doyle Bramhall.


The interview then turned to Velvet Revolver. Dave said he feels comfortable in the band. Of course, he's a new face compared to the three original ex-Gunners who have played together for so long, but he says the guys all made an effort to make him feel more at home and don't treat him as an outsider. Asked about Scott Weiland, Dave says he's known Scott for 14 years, back when they were both still unsigned. Dave's old band and Scott's old band used to play together many times. He and Scott go to the same gym.



Burrn! then asked about Scott's drug problems. Dave replied that as all the other members have said, they all went on this same path; and the band are very supportive in helping Scott kick his addiction. Dave says there is no better support group than Velvet Revolver. Thanks again to Akihiko for this great translation job and sharing it with those of us who don't read Japanese!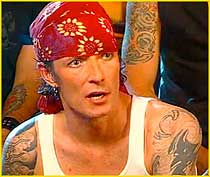 We have no news on Velvet Revolver other than that they are busy in the studio rehearsing and writing lyrics for their debut album due out in February 2004. There's some news on Scott that popped up this week. The VR frontman has formed his own record company, Softdrive Records. In a joint venture with Interscope Records, Softdrive's first release will be the Campfire Girls album, Tell Them Hi, due out October 14. Campfire Girls was originally signed with Interscope, but the band fell apart when drugs and infighting made further work as a band impossible. Weiland got them going again and produced some demos for them at his home studio, and the band is recreating itself on Softdrive.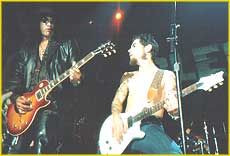 A recent issue of Rolling Stone listed their Top 100 Guitarists. You may recall that SLASH did not make the list which was really startling considering the guitarists were judged on the entire body of their work. SLASH has done considerable work during his career. He's an icon of rock and roll! Frustrated fans wrote and emailed the magazine. Dave Navarro, in a subsequent interview, commented on the list. You may have noticed Dave's name was not listed either. Dave told The Toronto Eye he was shocked that his own name was omitted until he learned that SLASH had not made the list either. He said he did not feel quite so badly then. Dave was generous in his praise for SLASH, saying SLASH is "at the top of his game. I've played with him and worked with him and he's a mind-blowing guitar player." Dave dismissed an early rivalry between his band, Jane's Addiction, and Guns N'Roses. He said that Guns was from the Sunset Strip rocker world while Jane's were from the alternative world, coming up at the same time. There were times that Guns wanted to perform with Jane's, but Jane's wanted alternative shows. Since then, "Jane's has grown and learned that there is a musical community, and it's unnecessary to have rivals in something as sacred as creativity." The most recent issue of Rolling Stone (Johnny Cash on cover) has some letters to the editor protesting some of the "missing in action". SLASH is mentioned in several letters. There's a picture of three of the missing...SLASH, Lindsey Buckingham and Bonnie Raitt. Nice "cutout" color pic of SLASH. Thanks to Ray for finding that for us.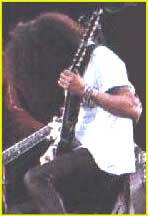 Some Scandinavian news: Erik says to watch for the TV show ValenTV on TVNorge. It's a well-known Norweian artist who parodies famous people. He did an imitation of Axl doing the "Don't Cry" video, and it was on about 5 minutes. Thanks, Erik! During his work break, Jonas saw a magazine called hant extra (in English, Extra Events). There was an article about the Rolling Stones being in Sweden, and Ron Wood having a small party where he showed his paintings. The one Ron drew of SLASH was printed! Good choice! Thanks, Jonah! Another Scandinavian TV show was counting down a list of favorites. "Don't Cry" was at #53 and "Sweet Child O' Mine" was at #77. They are doing the top 967 songs in Pittsburgh, PA at rock station 96.7. "November Rain" was at 871!






News Reported: 10/03/03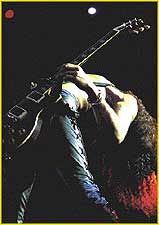 On October 28, 2003, get ready to buy a whole flock of DVDs! Guns N'Roses is releasing Welcome to the Videos, Use Your Illusion 1: World Tour - 1992 in Tokyo, Use Your Illusion 2: World Tour - 1992 in Tokyo on DVD. You can pre-order this item on the net. If you pre-order through Amazon.com, we'd appreciate it you would first go to www.snakepit.org/ad.html and click on the Amazon symbol so we make some money, too. (This costs you nothing extra.) We don't have any word on extra footage, but we are hoping like you are for additional live, backstage and interview footage and some cool photos. This is released by Geffen and is not the South American or Asian versions that have floated around for years. At Amazon, the list price is given as $14.98; and their price each is $10.49.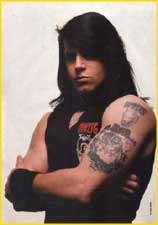 Marta is from Spain, and she sent us some information she read in a recent issue of Rock N' Roll Popular. The magazine was interviewing goth-metalist Glenn Danzig (Misfits, Danzig), and he mentioned working with SLASH on a blues album! As SLASH formed what was to become The Project and then Velvet Revolver, the project fell by the wayside. Danzig said that he and SLASH had been discussing a blues album for some time. Right now, the project has been sidelined for the future, but it might be sooner than you think. Danzig thinks it could be a very interesting album for both of them. Like SLASH, Danzig says he doesn't like to feel limited to one genre of music; and he looks for opportunities like this one to try new things and make some good music. Right now, Danzig's own priority is to return to the studio and record. Thanks, Marta!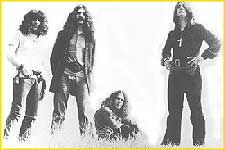 Here's another postponement for SLASH. Rhino Records announced that Black Sabbath's 8-CD box set, "Black Box:..." featuring 1970-78 recordings, has been postponed to early 2004. No reason was given at this time. The box set will retail for about $100. The connection with SLASH is that there will be original interviews from artists heavily influenced by Black Sabbath such as SLASH. Others include Rob Zombie, James Hetfield, Beck, Henry Rollins and others. SLASH does not play on the box set, but he does come up for an interview.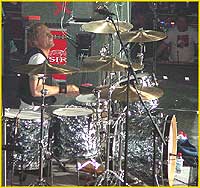 This continues the interview that the Japanese magazine Burrn! did with Velvet Revolver (minus Scott). Each band member was interviewed individually, and the accompanying pictures are just great. Our translator is Akihiko from Texas, and we thank him very much for doing this. The summary is ours. (Other sites..provide link only.)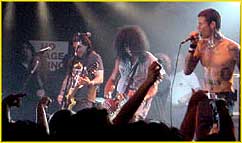 This interview is with Matt Sorum, and they lead off asking about the beginning of Velvet Revolver when they were jamming with the ex-Buck Cherry guys, Josh and Keith. (SLASH, Matt and Duff had enlisted Josh and Keith to play with them at the Randy Castillo benefit. The band got a huge reception, and the ex-Gunners continued to work with Josh and Keith in the studio.) Matt said that one day SLASH came into the studio and told him this was not right, and SLASH said that he quit! (Ed. - exclamation, ours) Matt asked, "What do you mean you quit?" And SLASH finally confessed he did not want to work with Josh. And he also didn't know if he really wanted to continue with The Project at all. Matt persuaded SLASH not to quit and just keep going. SLASH wanted to keep Keith, so they kept Keith and moved to a new studio. (Ed.-leaving no forwarding address for Josh!). After a couple more weeks, SLASH decided he didn't want to work with Keith either, so Matt and Duff had to do a tough job, asking Keith to leave the band.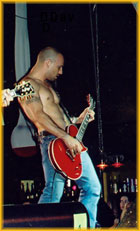 Burrn! then asks, "So whose idea was it to ask Dave (Kushner) to join the band?" Matt says that was Duff's idea. Matt said he actually joked around with the band saying..."How about Izzy? How about Axl? We might as well restart that band again. Let's call them up! Call! Call!" And the other guys were like, "What the heck? What are you talking about, Matt?" For a time Izzy did join them, and left them fairly quickly; and Burrn wants to know why. Matt said one day Izzy just called them. (Akihiko says that every member has said that's THE Izzy style). Izzy was there about a month. Then, the Strokes band called them up asked if the band wanted to tour Europe with them. (Ed.-Matt, Duff and SLASH appeared on one of the Strokes videos not long ago). Izzy was totally up for the idea. SLASH said he didn't want to play till they had a lead singer. Izzy said there was no need for a lead singer because he and Duff could sing. SLASH didn't like that idea, and so Izzy left the band. Matt said he thought Izzy probably left because he didn't want to argue about it with them.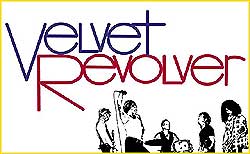 Burrn! wants to know about the band name and how it came to be Velvet Revolver. Matt answered that when they did the soundtrack for the movie The Hulk, people asked them what the band name was. The band was thinking of Revolver at first, and then Scott came in and said, "What about 'Dead Velvet Revolver'?" The guys thought it sounded like Stone Temple Pilots. Then SLASH suggested, "How about Velvet Revolver?" And a couple of days later, the official band name was Velvet Revolver. Matt said that this is the first band where he can say he is an official member, and it's his band. In the past, he has always been a hired gun.

Matt always has other side things going on, and Burrn wanted to know about those. He said he is working with several people, and one of them is Ian Astbury from The Cult. (Ed.- Matt was the drummer for The Cult recently). Matt said it was interesting that now Ian asks him to write songs with him ever since he heard "Set Me Free" and found out that Matt wrote most of it. Also, Matt is in the cover band Camp Freddy which finally got a record deal with Sanctuary. He said, "Hello, Axl" because the new GNR is signed with them, too. Speaking of Axl, Burrn asks if Matt saw last summer's MTV Music Video Awards where the new GNR played. Matt said, "Yeah, I saw it. And (pause) I wanted them to rock hard, but they didn't at all..." (laughs).

Thanks again to Akihiko. Our final installment coming soon is a summary of the interview with Dave Kunchner, possibly the least well known member of Velvet Revolver.


News Reported: 10/01/03