Fan Want/Sale Ads & Band Ads

SLASH is always busy with a band, doing interviews, guest appearances and on and on. It's hard to keep track of what he's up to but here in the Current Events section we try to keep an eye on him for you. If you have any SLASH sightings to report, email the SLASH page right here. Just click on the SLASH picture below:


The SLASH News is published every Monday, Wednesday and Friday.


Most of our news tonight has to do with the Velvet Revolver tour. We've got quite a bit of information to pass along. First, Lesley in Manchester, England emailed us that the London Hammersmith Apollo show is SOLD OUT! Another show has been added...the London Brixton Academy. If you got shut out from the sold out show, get on the ball and get them now. These are all going to sell out. Thanks, Lesley!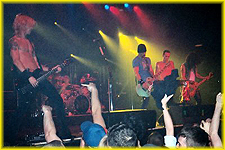 We have some reviews for you to check out. The first is from the Hidalgo show at Dodge Arena before a crowd of about 4,000. Their performance was the highlight of the radio station Q94.5's Rocktoberfest which also included some other bands. There was floor gallery seating for dancing, moshing and crowd surfing. Check the rest of the Hidalgo review at Hidalgo Review. There's another professional review of the show which has some interesting flashbacks. The original GNR played here long ago and opened for Alice Cooper for which the band was paid $700! This is Velvet Revolver's first show in the Rio Grande Valley. Check this history out at Flashback Review.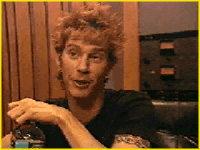 Surfing around, we found a good article about how Duff credits kickboxing for getting him back in and keeping him away from his old gallon a day vodka habit. See this one at Duff Story.
Declan in Ireland has tickets for a Wales date for Velvet Revolver. The Ireland date was announced after that one, and he really would prefer not to travel to the Wales show. He knows he could sell them on ebay, but he wanted the fans here to have first crack at them. If there is anyone out there who can use two tickets to the Wales show, he will sell them at face value of 55 pounds. Write to Dec directly at declanhore@gmail.com. Snap them up!

We often get the question as to who is opening for the band. That question is almost always up to the promoter and the answer sometimes doesn't get back to us. We do know that a New Zealand band, The Datsuns, will open for 3 shows for VR after Halloween. We don't know anything about them, but maybe our New Zealander/Australian friends do.





Page Updated 10/29/04

Q magazine had a lot of SLASH mentions in their November issue. We gave you the list of SLASH's Top 20 Riffs that appeared there. They also named Guns N'Roses as the #15 in the 50 Biggest Bands of All Time. The GNR Greatest Hits album is still on their charts at #30 having been on the charts 26 weeks. They also reported that when Velvet Revolver was in the UK, Scott indulged in what they called "prima donna behavior". On hearing that SLASH had been roped into a photo session instead of him, Weiland threw a "major hissy fit". The "tousle haired guitarist was quietly led away and Weiland ushered in." The magazine suspects this one may yet end in tears. Let's hope not. There's enough limelight for everyone. Another big UK magazine is Mojo, and they are also doing an article about SLASH. We learned this from several requests for photos of SLASH. UK readers should be on the lookout for that one.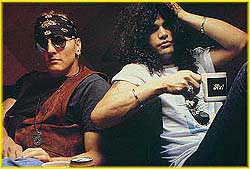 In yet another magazine, Guitar Player's December issue, there's an ad for the Crybaby Classic and another ad about the SLASH/Matt interview on VH1's Top Twenty Countdown Show (FTP at #6 again this week).
We got a good review on the Nashville, TN show called Buzzfest V. Jason and Denise Black sent this in. The show was on 10/16 with VR headlining and they were awesome. The band came on late and played a shortened set (due to Scott's having the flu). We'll let Jason and Denise tell you all about it. Just click on the link above. Thanks for sending this in!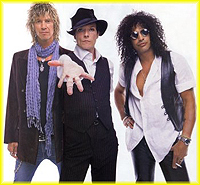 This just in!: Chicagoland VR fans!! Get your tickets for the November 21st show before the general public on sale & take advantage of lower service fees! The skinny -
Who: Velvet Revolver
What: Pre-Sale Tickets
When: Pre-sale begins Wednesday, 10/27 at 6:00PM EST
. Pre-sale closes 10/29 at 3:00.
Where: Allstate Arena, Chicago, IL on November 21st
Why: Get your tix before show sells out & save $ on service charges
How: Head to www.velvetrevolver.tickets.musictoday.com
Enjoy!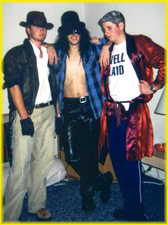 We wanted to do our annual Halloween feature of anyone dressing up as SLASH. We finally got one person's picture in. Kyle is getting the Halloween weekend rolling by sending in a picture of himself dressed as SLASH. Pretty good, right? Kylie says here is a picture from last Halloween when he went out as Slash… He plans on going out in this same costume this year, however… he had to buy a new hat, wig, aviators and shoes (they were cheap black shoes which he has since replaced with snakeskin cowboy boots for the costume)…. as he lost them all that night. Slash w/friends Indiana and Hef. Thanks, Kyle!







Page Updated 10/27/04





You can add to your UK tour schedule The Point in Dublin, Ireland which last time we said was being publicized on the radio only. The show is on 1/12/05. Also added to the U.S. Tour was Atlanta, Georgia at the Gwinett Arena on 12/5/04. Tickets for both go on sale Saturday, October 30 according to Ticketmaster. If you have information on ticket sales for other November shows, we'd like to know that. Jamie says that you can buy tickets for the Manchester UK show, and he picked up 2 today. By the way, the tour is being called the "Anything Can Happen Tour". Duff is quoted as saying that it's rock and roll pandemonium. The free show they did was what fans can expect with the tour although the set will be longer than the seven song show in L.A. The band has also selected some covers which may also be used as B sides. One is Aerosmith's "No More No More", Cheap Trick's "Surrender", Queen's "Tie Your Mother Down". Scott says the band has learned how to deal with five large egos on stage. They argue, but they have learned how to keep it together. Everyone has his own idea on how things should be run, but they know what to do and what not to do, the things that they did wrong in the past and how to make things right.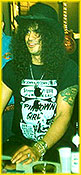 Ben bought the new SLASH Guitar Legends magazine and says it's very good. There are older articles and some new ones. There's a lesson for guitar players by SLASH, and it also has several songs transcribed. The magazine is a must buy for SLASH fans because it has lots of photos of the old days lots of new ones. Thanks, Ben!
A personal item about Scott Weiland...today we read on a celeb web site that Scott will turn 37 on October 27. Happy Birthday, Scott! Scott recently posted an item on the official site attacking Classic Rock for another of those interviews he doesn't like. See the official site for that one.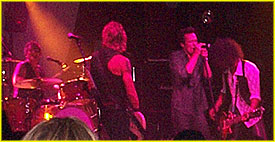 Ray tells us that if you go over to Music Match, an online music download site that's a competitor of itunes, etc., on their main page is a picture of Velvet Revolver! Even though VR is not listed as a top group or download, there the guys are. Thanks, Ray!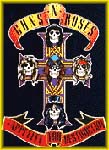 If you're interested in SLASH's old band mates from GNR, Greenwich Times did an interview with Adler's Appetite, Steven Adler's band. They say that Adler celebrates GNR with songs from Appetite.... He was one of the few band members to participate in the VH1 episode of Behind the Music on GNR. Steven is actively touring again, and the interviewer caught up with the band to catch a glimpse of what's happening with them now. Adler's Appetite has a revolving cast of musicians. The one coming to Greenwich featured Alex Grossi, a Connecticut musician, singler Joe Le Ste(Bang Tango) and bassist Chuck Wright. The band recording the the debut Adler's Appetite disc, now in pre-production, is bassist Robbie Crane (Ratt), singer Jizzy Pearl, guitarist Brent Muscat (Faster Pussycat) and Keri Kelli (SLASH's Snakepit). Steven says he loves to play music with all his friends and plays whenever he gets a chance. Everyone is doing a great job, and there is no set roster to the band. Thanks, Brian, for that update on Steven.





Page Updated 10/22/04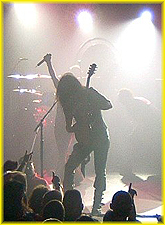 Big excitement from the European fans as website getlive.co.uk publishes the UK Velvet Revolver January 1995 Tour. With this web site, you can buy tickets in a presale early on Thursday, October 21. Right now the web site doesn't have the list up anymore. The public sale begins Friday, October 22. Here's the list they published for January 2005:
1/14 Glasgow at SECC
1/15 Newcastle at Metro Radio Arena
1/16 Manchester at MEN Arena
1/18 Birmingham at NIA Arena
1/19 Cardiff at International Arena
1/22 Hammersmith at Carling Apollo
Ollie sent that in, and these dates don't appear on the official band site as yet. Also, Colin heard on the radio that VR will play the Point Depot in Dublin on 1/12. That's not in any list we've seen, but it's worth a call. There's a rumour that they'll play Leeds, Reading and Glastonbury, but that is strictly a rumour at this time since no one lists them or claims to be selling tickets. We hope these five will bring out the UK audiences and push the single "Fall To Pieces" up higher than #32. Wait till you see Scott do that live!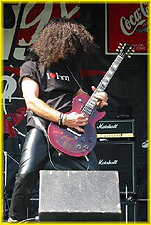 Ray found the magazine Guitar Legends at the newsstand. It is all about SLASH with lots of old and new pictures, collected interviews and much more. This is a US publication. We know many international fans would like a copy, but we don't know if this will be on foreign newsstands or not. US fans could pick up a spare copy and advertise it in our Sale/Trade column above. Thanks.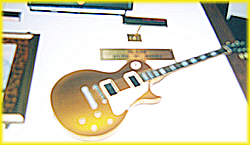 Daniel wanted to go to the opening of the Hard Rock Cafe in Orlando, but the grand opening was restricted to guitar celebs and their entourages. He went again recently and took some cool pictures of SLASH's guitars. Here's a picture of his most famous one, the Les Paul Gold Top. They also have a black Les Paul there. Thanks, Daniel!




Get Off The Internet And Vote!
UK fan Lesley writes that GNR are shortlisted for nomination the first UK Hall of Fame. The program is on channel 4 at 9 pm Sunday nights. Check their web site at channel4.com. Lesley thinks you can only vote by phone, though. Anyone who hasn't been watching should call and vote for GNR! And US fans who can, should remember to vote on November 2 in our presidential election!

Mark responded to our request for reviews of the shows, and he sent along this report on the New Orleans show. He went with five friends which is always cool, and it was great. About 50 bands played that weekend, and they were the only ones to come out with an introduction. After their set, Kid Rock was on, and Mark felt Velvet Revolver showed him up. We'll let Mark tell you all the details if you click on the link above. He wanted to let everyone know that if you go to Voodoo Music Fest and click on Voodoo Films, you'll see a list of the bands that played there. Just click on Velvet Revolver, and there's a mind blowing video of the band in action. Fantastic! Thanks, Mark, for that great review and taking time to send it in!

Page Updated 10/20/04









Velvet Revolver is on their big swing through the U.S. which started with Nashville and will end on New Year's Eve at The Joint, The Hard Rock in Las Vegas. They will also do a show on January 1 there. The show at Nashville is over as is New Orleans. We'd love to read reviews from anyone who made it to the shows. The next show is at the Edgefest in Tulsa, Oklahoma on October 19. On October 20, they will be at the Zooampitheater in Oklahoma, so that ought to be some good ones for the Oklahoma fans. Please let us know what you thought!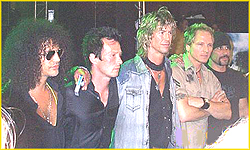 If you missed the free show in Hollywood, SLASH's official artist site has a video of when they performed "Cocksucker Blues". Go to their site and click on Downloads on the panel. You'll see it listed there for you to download and play. It's really a good one!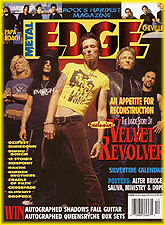 Lisa tells us that in the Italian magazine Axe has some cool information about SLASH. It's a ten page interview with SLASH with a couple of items we hadn't heard before. SLASH says that he is going to have a SLASH signature cry baby made by Dunlop! And his father showed him a picture that SLASH did when he was six years old. It was a guitar! Thanks, Lisa. Another magazine with a mention of the whole VR band is Metal Edge. Vicki sent this one in. It's the December issue, and the band is on the cover. It's a five page article with several pictures. Duff, Dave and SLASH are each interviewed separately. So look for those two magazines! We're still waiting for the Guitar Legends magazine which is entirely about SLASH. It should be out anytime now. And finally the October 10 - 16 issue of TV Guide has pictures from the post Emmy party where Velvet Revolver entertained, and there's a picture of Scott with SLASH in the background and captioned "Scott Weiland of Velvet Revolver works the crowd".



Several fans sent in statistics. The "Fall To Pieces" single debuted in the UK in the #32 slot according to Sim. Contraband is in the #10 position in Chicago. Boulder and Omaha have "Fall To Pieces" in the #2 slot.



A preview version of AOL's Music on Demand is now available for PCs running Microsoft's Windows XP media center edition 2005 and media center extenders. Music on Demand is a new service offering consumers on-demand access to a library of today's most popular videos. There's a long list of artists available, and Velvet Revolver is one of them!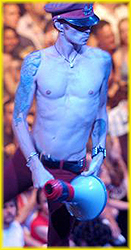 Did you know that Scott got a positive ruling from the judge presiding over his probation status report hearing on October 7? There have been some rumours that Scott failed his test. Not true at all. Scott is due back for another check-in on December 17.









Page Updated 10/18/04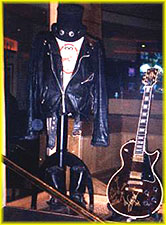 Velvet Revolver has added the two shows at The Joint at The Hard Rock Hotel in Las Vegas! The shows are those big exposure ones on New Year's Eve and the evening of New Year's Day. So let's get out there and sell them out for both dates. Start the New Year off right with VR and see SLASH's clothes in the lobby. More shows have been cancelled, probably due to the change over in management. The Montreal show on 11/13, the Rochester, NY show on 11/14, the Chicago, IL show on 11/21 and the Moline, IL show on 11/22 are all cancelled according to Ticketmaster and the venues. These may not be all the cancellations and additions, so watch out for your show's status and new ones. We'll put them in the News and in the Calendar.



Sammy caught the free show the band put on. It was in the Amoeba parking lot, and Sammy figured out a way to sneak into a building and get on the roof where he had a super view. He said the band's sound live is amazing, and all of them looked just great in person. He had seen GNR before and was impressed with Scott and Dave and their ability to move around the stage as SLASH and Duff do. Sammy said they were worth way more than a free show and advises everyone to go see them!



At there's an interview with Duff . Rich sent this in. It's a long one from July. When you get to that page, scroll down and you'll see the Velvet Revolver name. Rich also sent some information for the UK people. On Sunday, C4 is holding a show called "UK Music Hall of Fame". This week it's the 80's decade, and GNR are on it. Viewers get to vote one band to win and be put in the Hall of Fame with Elvis, the Beatles, Madonna, U2 and Bob Marley. UK fans can try to put GNR in with a vote. Thanks, Rich!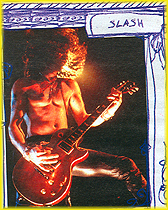 In the October 28 issue of Rolling Stone, there's a 2 page ad for Miller's Beer. It says "Rock Without Roots: That's Like Beer Without Taste". They salute a summer of legendary artists and the 50th Anniversary of Rock. Great picture of SLASH along with Lenny Kravitz, Bo Diddley, James Brown, Doors and Cheap Trick. SLASH looks like a bronzed god in his photo with the gold light behind him. Super!



In other magazine mentions, SLASH picked his ultimate compilation guitar mix CD in the November 2004 issue of the UK's Q magazine:
01. JIMI HENDRIX - Machine Gun
02. LED ZEPPELIN - No Quarter
03. AEROSMITH - Nobody's Fault
04. AEROSMITH/RUN DMC - Walk This Way
05. JEFF BECK - Cause We've Ended As Lovers
06. JEFF BECK - I Ain't Superstitious
07. JEFF BECK - Rock My Plimsoul
08. JIMI HENDRIX - Purple Haze
09. JIMI HENDRIX - All Along The Watchtower
10. VAN HALEN - Runnin' With The Devil
11. CHEAP TRICK - Gonna Raise Hell
12. ERIC CLAPTON - Cocaine
13. DEREK & THE DOMINOES - Layla
14. GARY MOORE - Shapes Of Things
15. UFO - Rock Bottom (Live)
16. SCORPIONS - Fly To The Rainbow
17. BB KING - The Thrill Is Gone
18. CHUCK BERRY - Johnny B Goode
19. DEEP PURPLE - Burn
20. RORY GALLAGHER - Wheels Within Wheels
Thanks to Brian for sending that in! And Brian also sent in the latest schedule for the VH1 televised program "Inside (Out): The Rise of Velvet Revolver". This has been postponed many times, and the latest date is now December 1, but no time has been given as yet. So watch for that one and hope it stays in the schedule.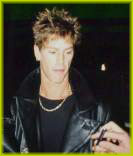 Duff was recently interviewed by The Times-Picayune newspaper, and he said that Axl was not the sole creative force in GNR. As most of us know, Axl did not write all of the music although he did come up with lyrics. Duff said that one reason they broke up was that Axl gave no credit to the rest of the band. Duff said GNR accomplished a lot and went through a lot, but this is now and VR is having a great time and plan to stay together. Good news for VR fans! Brian sent this to us...thanks, Brian.







Page Updated 10/15/04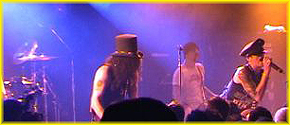 We want to hurry and get this out to all the fans in the L.A. area. By now you must have heard that Velvet Revolver was planning a free rooftop show. The first venue choice became a problem when the city would not issue them the necessary permit for last night's show. But you can come out tonight and see them for FREE right on the streets of Hollywood at 8 pm PT in the Amoeba parking lot, 6400 Sunset Boulevard (corner of Cahuenga) in Hollywood. The original venue was atop the Hustler store! The address we've given is from SLASH's publicist who says this is the parking lot of a "hippie" record shop. The VR newsletter says it's at the intersection of Selma and Ivar, just north of Sunset Boulevard. Well, we leave it up to you to open your eyes and ears and find them!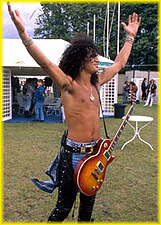 VR is doing some presales for some of the shows. The presale is a limited sale of tickets before the general sale begins. Some have come and gone. Check the above calendar for information. If there's a presale, it will be listed there, but here are some new ones so you can see them at a glance:
Presale begins Thursday, 10/14 at noon ET and ends 10/15 at 5 pm ET for these shows:
11/7 US Bank Arena - Cincinnati, OH
11/10 Wachovia Spectrum - Philadelphia, PA
11/13 Bell Centre - Montreal, Quebec, Canada
11/12 Verizon Wireless Ampitheater - Manchester, NH
11/14 Blue Cross - Rochester, NY
And the presale is at www.velvetrevolver.tickets.musictoday.com.



We also have some rumored shows that we have not been able to confirm so they are not on our calendar as yet, but these are really tasty:
12/5 Atlanta, GA Gwinett Arena
12/11 Miami, FL The Mansion
12/31 Las Vegas, NV The Joint
1/1/05 Las Vegas, NV The Joint
How about those New Year's shows? Great! Let's hope they are confirmed.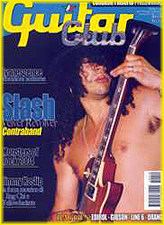 In some SLASH news, Jeff sent us a site with 10 buddy icons of SLASH . You can download these and use them for your AIM buddyicons. Thanks, Jeff! Lisa sent us a note from Italy that the magazine there, Guitar Club has SLASH on the cover. Inside are 5 pages of an interview with SLASH and Duff. Thanks, Lisa! Krista reports that on Swedish ZTV today SLASH and Duff appeared talking about "Fall To Pieces"...the song and the video. Thanks, Krista. And Simrin wants to remind us that the "Fall To Pieces" single is out in the UK this week. Finally! Thanks, Simrin!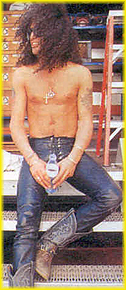 Dorothy tells us that on October 12, SLASH called KROC 102.7 radio station in San Antonio and spoke with Kidd Chris, a DJ that used to work with Howard Stern. SLASH spoke for a really long time and was, according to Dorothy, sweet, down to earth and funny. She wants you to know that the station replays the best of the morning show on Saturday, so you can tune in if you're in the area. SLASH said he loved San Antonio and was arrested there once when he was starting out with GNR. They trashed a hotel room and someone called the police. They caught up with the guys in a convenience store where SLASH had some "stuff" in his pockets and had to put his hands up on the tour bus. The DJ was laughing! HA! SLASH also said he hates VR being called a supergroup and that he doesn't hate Axl. The DJ asked if he would ever kick Axl's ass if he ran into him, and SLASH said that is why he left so there would be no physical violence. And the DJ said if he's seen that Axl was bloated now, and SLASH said he wasn't going to go there. SLASH said he's cleaned up his act, commented on the current rock scene, talked about his love of touring and listened to the DJ massacre the SCOM riff. Thanks for all that great information, Dorothy!







Page Updated 10/13/04

*************************************************************************************
The webmaster is attending an event this evening and is unable to publish the usual page. We'll be back Wednesday, October 13. There is one item of great importance, so we've included that since it may affect your plans for seeing the band.
**************************************************************************************
As you may know, Velvet Revolver has changed its management, and that's brought about a number of changes in the tour schedule. The calendar (see above) is up to date, but we'll describe those changes here so you can see what's happened. This is all taken from the Official Fan Site, www.velvetrevolver.com, the only site you can really trust for the guy's schedule.

We have no more information than this. We don't know if deleted shows will be replaced or if this is the final schedule. We'll keep it as up to date as we can!

First, the Spectrum show in Philly has been changed from November 11 to November 10. The Providence, Rhode Island show is gone...at least temporarily it is not on the list.

A show has been added for Cincinnati, Ohio on November 7 at the US Bank Arena. (This means the Charlotte, North Carolina show originally scheduled for this date is gone, at least temporarily.)

A show has been added for the Blue Cross Arena in Rochester, New York on November 14. (This means the show in Portland, Maine is gone, at least temporarily.)

Two brand new shows are added:
November 12 - Verizon Wireless Arena, Manchester, New Hampshire
November 22 - Mark of the Quad Cities, Moline, Illinois


Two other deleted shows are:
November 19 - Minneapolis, MN
November 20 - Madison, WI


To summarize all that, here's what's replaced:
US Bank Arena in Cincinnati, Ohio replaces Charlotte, North Carolina on November 7
Blue Cross Arena in Rochester, New York replaces Portland, Maine on November 14
Spectrum show in Philly replaces Providence, Rhode Island Show on November 11 to November 10.
Two new shows added:
Verizon Wireless Arena in Manchester, New Hampshire
and Mark of the Quad Cities in Moline, Illinois

Two shows deleted (not replaced at this time):
Minneapolis, MN on November 19
Madison, WI on November 20


If you're still confused, check the monthly calendar for November as that has them all. We do not know when or where tickets are on sale. We cannot get backstage passes for anyone. They are for media, family, friends of the band. Sometimes a radio station will run a contest that includes meeting the band, so listen for those. The best way to meet the band is prepare for a long wait outside near their tour bus if that is possible. If it's a festival and all the buses are together, chances are you won't be seeing them unless they decide to make themselves available to fans. Right now, we know of no meet and greets, so make your plans accordingly. We wouldn't bring a lot of things to be autographed. Just enjoy the show!

We'll return Wednesday, so send any sightings to webmaster@snakepit.org. Thanks!







Page Updated 10/11/04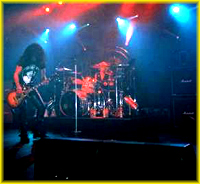 We're used to Velvet Revolver announcing one or two gigs at a time, but today they announced TEN! And many of these are from places where fans have written and begged for a show. You may have to do a little driving, but we can say from our experience in driving and flying to shows, it's worth it. The shows are on the above calendar, but here again are the ones they announced today:

11/07 - Cricket - Charlotte,NC
11/10 - Dunkin Donuts Arena - Providence,RI
11/11 - Spectrum - Philadelphia,PA
11/13 - Bell Centre - Montreal,QUE
11/14 - Cumberland County Civic Center - Portland,ME
11/16 - Air Canada Centre - Toronto,ONT
11/17 - Schotenstein Center - Columbus,OH
11/19 - Target Center - Minneapolis,MN
11/20 - Dane County Coliseum - Madison,WI
11/21 - Allstate Arena - Chicago,IL
One other date is a December 2 appearance on the Conan O'Brien show. Check the venue box offices and Ticketmaster to see if tickets have gone on sale yet. There was a pre-sale on the VR official site, so check there, too to see if tickets are sold there. We have no more information on tickets. When/if we do, we'll publish it. Brian spotted these, and so can you by checking the official fan site.



When you're over at the official site, there will be a popup asking you to vote for the next single. The band wants to know if you'd like it to be "Big Machine" or "Do It For The Kids". You can vote and see where the vote is right now. When we voted, the vote was very close.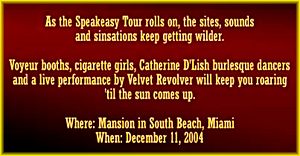 There's one more gig not mentioned in the announcement. Mac sent this in to us. It is some kind of auction where you bid with Camel cash. Mac didn't send along anymore details but this is for 12/11 in South Beach, Miami, FL. If anyone knows anymore about this and how you get in on this, let us know.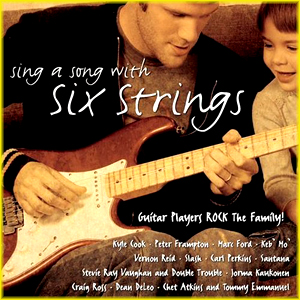 Awhile back we told you about the solo appearance SLASH was making on a children's album called Sing A Song With Six Strings. The album was released this week and is for sale at any of your regular CD outlets. It celebrates fatherhood and families and features previously released tracks from Peter Frampton, Carlos Santana, Stevie Ray Vaughan and Carl Perkins. There are also new tracks from Dean DeLeo (STP), Vernon Reid (Living Colour), Kyle Cook (Matchbox Twenty), Marc Ford (Black Crowes) and others. SLASH does an instrumental take on "Sing A Song of Sixpence". As you know, SLASH is the father of two small sons. He says they have affected his life from a perspective of sensibility. He says he has finally come to terms with himself and figured out what his goals are. He has two great little guys and wants to bring them up in the rock and roll fashion which was how he was born and raised and he thinks they're great. In other words, SLASH has settled down and loves his family beyond words. It's a new, gentler SLASH we're talking to these days, but when he's on stage or in the studio, he ROCKS!



Tonight Channel 72, the TV Guide channel is showing a special on Velvet Revolver. They call it "Watching Velvet Revolver Taking the World by Storm". So watch for that on your TV Guide channel. Thanks, Ray, for that heads up!





Page Updated 10/08/04






Two new shows have been announced for Velvet Revolver along with one reschedule. The first new one is in Birmingham, Alabama on November 5. The venue is Boutwell Auditorium. Tickets for the first one go on sale this Saturday, October 9 through Ticketmaster or the Box Office (205/715-6000). The second one is on November 6, and it's in Southaven, Mississippi. The venue is the DeSoto Civic Center. Tickets go on sale Saturday, October 9 at $40.50. DeSoto is located at 4560 Venture Drive. Toll free number for more information is 888-280-9120. Stubbs BBQ in Austin, TX has been rescheduled again. The original show there was rescheduled for October 29. Now the date and venue are changed, but the city is the same. The show will be at the Austin Music Hall which is much larger. The original tickets sold for Stubbs will be honored at the gate, but there are now new tickets for sale through Frontgate Tickets. The new date is November 1. If you can't make it, refunds for the Stubbs show are available only through Frontgate. Call 512/389-0315 for additional information. We've asked for a full schedule of the US tour, and that seems to be a problem caused by the management changeover, but they are going to try to get one to us so you'll have more advance notice (as will we). Thanks to Brian for collecting all this information.



Ray wrote and told us that the "Fall To Pieces" video is now on itunes. So those of you who use that can see it anytime. And if you go to rollingstone.com you'll see a big beautiful picture of Scott and his wife with a link to the "Fall To Pieces" video. The main item on the page is rotated, so watch for it to come up. It really is a great picture. Thanks, Allen, for sending that in.



We're going to do something we've done in the past years. If you dress up as SLASH for Halloween, we'd like to see a picture of you and we'll show it right here. Just send ONE picture and tell us who you are, where you're from and any other information you'd like to share with our SLASH-world! Send the picture as a .jpg attachment to an email message to webmaster@snakepit.org. Make the subject be Halloween so we don't miss it! Thanks!


Norm found some pictures on the net that will take you back into the past when SLASH's Snakepit was on tour. These are at Snakepit. It's always good to see SLASH's old bands. Thanks, Norm.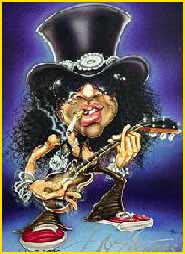 Here are some Velvet Revolver statistics: "Fall To Pieces" is #7 on the Billboard rock chart, up from #8 last week; and it's been on the chart for 10 weeks. In Canada, Contraband is still on the Top 10 in the #9 slot. Billboard has it in the #34 position, same as last week. It's been on the Billboard chart 16 weeks.



Ray sent in an article which he thinks would be of interest to all you aspiring musicians out there. There's no direct SLASH reference, but it might help to answer some of those questions we get on how to record your music and get your band started. Find the article at Record and Promote Your Own Music. Thanks, Ray!





Page Updated 10/06/04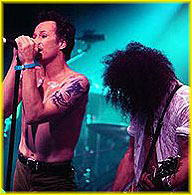 Velvet Revolver right now is taking care of business in L.A., also doing rehearsals for the shows starting November 14 at Jay Leno's Tonight Show then going right into a set of shows in the southwest. We've been told that they will tour the US through the end of 2004 and then head back to Europe for a swing through countries there in February 2005. We have no further information on which countries/cities in Europe, but when they're announced we'll have them right here and on the tour calendar (see above).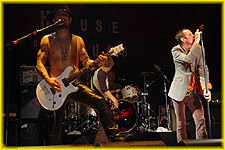 Last time we told you that Camp Freddy will be playing two gigs to benefit the StepUp Women's Network with one date in NYC and one in L.A. Matt Sorum is the drummer for Camp Freddy, but you won't see Matt if you go to the L.A. gig. Velvet Revolver will play Phoenix that night, and when Matt's on tour, Camp Freddy gets a fill in. Last gig it was Stephen Perkins, so he's a possibility, but it won't be Matt.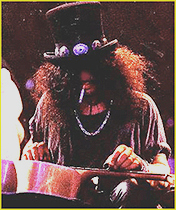 Vicki has a SLASH sighting for us from Guitar World Acoustic, the November 2004 issue. SLASH is pictured in color, a small picture, wearing top hat and red shirt, holding his acoustic. His quote: "The first guitar I ever got was a Spanish-style model that had only one string on it. My grandmother dug it up because she knew I'd always been interested in playing. So I learned everything you learn on just a one-string guitar. I finally acquired a real six-string acoustic when I was 15, an old Epiphone that I carried around forever." Thanks, Vicki!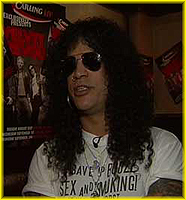 From the UK, we have a note from John that there is an interview with SLASH broadcast on October 1 on Scotland Today, the news program on Scottish TV. The interview was recorded when Velvet Revolver played Glasgow, and you can watch it online in the usual choice of formats. Click here to go to the interview. The interview is conducted with "Fall To Pieces" playing. Thanks, John! ChristenE tells us that "Big Machine" got some airplay today on KROQ!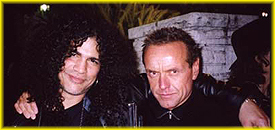 Ray tells us that The Gibson Player X-Press, an online newsletter from Gibson, came out on Friday. In this edition is an article with rock photographer, Ross Halfin. In the article Halfin talks about rock guitarists he has photographed, and SLASH is there in two great pictures. The article and SLASH photos are great! Thanks, Ray!



Doing a little surfing, we turned up an Izzy Stradlin mention. The first is an article about how reggae revolutionary is making a comeback. Mikey Dread performs in this genre, and he said he has worked with Izzy Stradlin. Izzy fans can hear that reggae quality in several of his solo songs. Reuters has an article analyzing the music world. They say that only two rock albums debuted at #1, Green Day's and Velvet Revolver's. Finally, we read an interview with Black Keys who are becoming more successful. When asked if that meant they were leaving Ohio to go to L.A. and hang out with Velvet Revolver, they said VR makes them vomit on themselves.They went on to rant on and on. Can't please them all, so you have to please yourself.





Page Updated 10/04/04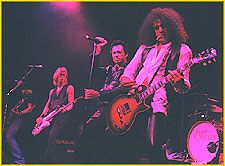 There are two new events to announce for Velvet Revolver. The first is another appearance on the Tonight Show with Jay Leno. That's scheduled for October 14 at 11:30 ET. Even better, the band announced another show. This one is the second Oklahoma show. It will be at Zoo Ampitheatre in Oklahoma City, OK. Tickets are on sale right now through tickets.com. Be there!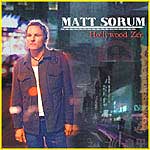 October is the date for the 2004 State Fair in Phoenix. It's also the date for StepUp that Camp Freddy is playing in L.A. So, we wonder how Matt Sorum will handle being at both! We're checking to see what will happen and will let you know.



Snitch is the new NYC bar and restaurant owned by Duff, Matt and Fuel's Brett Scallions. There's a small stage and instruments in case any rockers drop by and want to play. Velvet Revolver performed there the week the club opened. There's a good review of the club at this link. The club is at 59 W.21st Street in Manhattan; and if you go there, we'd like to hear your review, too.



Some news on the rankings of Velvet Revolver music...the AP reports that the single "Fall To Pieces" is in the #8 slot. VH1 has it #10 in their Top Ten Countdown.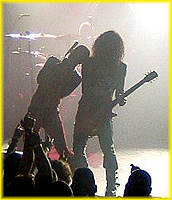 The other day we reported that Velvet Revolver had split its management with SLASH going with one management organization while the rest of the band went with another. We asked SLASH's publicist if this was a sign that there was a split in the band, and she said no, that often there are different managers for everyone in the band. She cited Motley Crue and Fleetwood Mac as examples and said the band is still tight.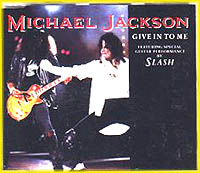 Sherry subscribes to Guitar World, and in the December issue they listed SLASH's solo for Michael Jackson's "Black or White" on their list of the 100 worst riffs, licks and songs of all time. Hmm. And we always liked that one. The comment was "Shooting for another rock crossover coup along the lines of Eddie Van Halen's "Beat It" solo, wacko jacko placed a call to SLASH, the hottest guitarist of the moment. Lightning failed to strike twice, however, and Eddie no doubt lost little sleep over SLASH's plodding contributions." Well, that's their opinion, but we don't agree and neither did Sherry.







Page Updated 10/01/04