Right now Velvet Revolver and SLASH have a lot going on. The calendar of events begins with April 2004. Near the top is a list of months you can click on to see future shows and events. You can see the month at a glance and then click on specific days to find out more about what's happening with SLASH.Check this schedule often for events in your area with SLASH and Velvet Revolver. Click the tour truck below to check the schedule.






Brian sent in some good news for those fans that can get station 95.5 in Los Angeles. SLASH will be the guest on Tuesday, October 25 at 10 pm as SLASH joins Jim Ladd live in the studio! If you get to hear this, let us know what tidbits he might drop for fans.


Here's a tidbit we turned up ourselves. Scott will turn 38 this Thursday. Best wishes, Scott!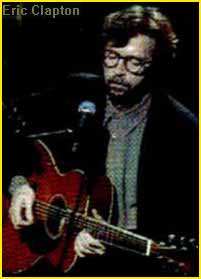 With all the natural disasters, don't forget to head over to iTunes and buy the "Tears In Heaven" single. It was originally recorded for aid to the tsunami victims in Southeast Asia, and is now also going to aid the victims of Hurricane Katrina through Save the Children. Velvet Revolver performs on the single with Elton John, Rod Stewart, Ozzy, Steven Tyler Phil Collins and more. So far, iTunes is the only place you can get it.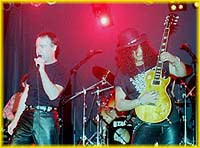 Queen was at the Hollywood Bowl Saturday Night, October 22, and SLASH joined them and Paul Rodgers onstage for "Can't Get Enough Of Your Love", Paul's Bad Company classic. SLASH often joins in when Paul is playing in Los Angeles. This isn't the first time they have played the Bowl together. This night SLASH got a great introduction from Paul... who said they were bringing out a local man who made good...SLASH! The audience was then rocked to this great band and SLASH!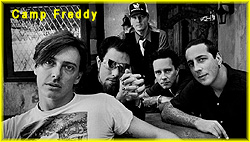 Meanwhile on the same night, Scott joined up with the Camp Freddy guys on stage at the Empire Ballroom in Las Vegas. Scott sang on "Crackerman", "Roadhouse Blues", and "I Wanna Be Your Dog". So, Velvet Revolver is staying in the limelight!





Page Updated 10/24/05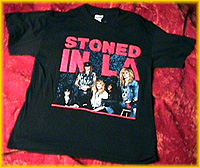 It's been awhile since we heard from Larry, but he discovered some cool pictures of SLASH on the website of tshirthell.com. All those who've wondered where you can get cool shirts might want to check out this site although SLASH doesn't endorse it or anything. Anyway, here he is: Click Glue. And another with an unknown (to us) lady: SLASH and friend. Thanks, Larry; it's always good to see recent pictures of SLASH.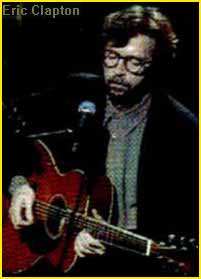 After the tsunami disaster, several artists under the organization of Sharon Osbourne got together and recorded Eric Clapton's "Tears In Heaven", but it has yet to be released. This included music by Velvet Revolver as well as Steven Tyler, Ozzy and Kelly Osbourne and others. Now Sharon is making this into a double disc compilation to benefit victims of Hurricanes Rita and Katrina. It should be out in mid-November and is called Hurricane Relief: Come Together Now. Proceeds will go to the American Red Cross, Habitat for Humanity, and the MusiCares Hurricane Relief Fund. "Tears In Heaven" is out now (October 18) exclusively from the iTunes Music Store with proceeds to Save the Children. Money from international purchases will go to tsunami relief organizations. Sharon says we have to keep these disasters in the front of everyone's minds. We must not forget and we must help these people rebuild their lives. So, dig a little deeper and get these. All the music artists donated their time for these works.


Another forthcoming item is the Live 8 DVD which will be out on November 8. It's a 4-disc set with three discs of live footage taken from the shows in London and Philly with some highlights from the seven other events staged around the globe. Every artist who appeared at London (Velvet Revolver appeared here) and Philly will be on the DVD. Velvet Revolver is seen doing "Fall To Pieces" on the second DVD.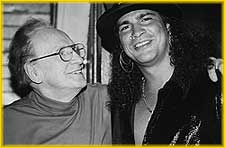 Les Paul, at 90, is still on the guitar scene in NYC. He was catching SLASH at the Velvet Revolver show at the NYC opening of the new Hard Rock. Someone saw him adjusting his hearing aid and asked if he was turning it down and he said he was turning it off! The band is so loud you don't need a hearing aid to hear them!





Page Updated 10/21/05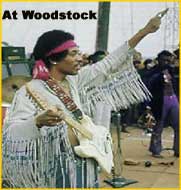 Last time we reported a rumor that SLASH would be at the this year's UK Music Hall of Fame in November. Now BBC.com has confirmed that. They say SLASH will lead a supergroup honoring Jimi Hendrix. Others to be honored will be The Who, The Kinks, Joy Division/New Order, Pink Floyd and Bob Dylan. The ceremony will be November 16. A panel of 60 have selected the bands and artists. Artists can be of any nationality as long as they have had success in the UK. This year's ceremony will be on Channel 4 on November 17 and will feature New Order performing the Joy Division classic "Love Will Tear Us Apart". Radio 2's Mark Radcliffe will broadcast live from the event. No word yet on which song SLASH has chosen for the tribute to Hendrix.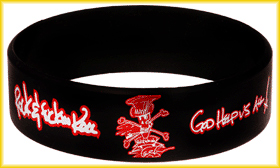 We want to remind you again of the charity that SLASH has gotten behind. It's an important one that is trying to raise millions of dollars using those great wristbands. Artists from all walks of stardom, music, sports, etc., have created these bracelets and the net profits go to Whatever It Takes. The creation is to show the artist's name, a drawing of themselves and a message. The work will be done in good quality by people who need the work in good environments. We showed you pictures before, and we want to show you this link because the picture is really large and has a personal note form SLASH. See it? Get it! See SLASH at SLASH!.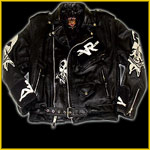 Also for sale on the net are some Velvet Revolver items. The 2006 calendar is out there, and we have this one. It's great with a lot of artwork and graphics. Recommended! There are also some new t-shirts there to look at, so get your shopping cart rolling or tell those who buy you Christmas gifts where to shop. This is all official merchandise. VR Merchandise.


Remember Izzy Stradlin? Of course you do! Izzy played rhythm guitar in Guns N'Roses till he left the band during the Illusion tour. Izzy's made some albums but hasn't put any touring or promotion really behind these. Now it seems he may be ready to do that. He has made a new album called Like A Dog. You can buy the album right off Izzy's web site. All the information with new photos, album artwork, samples and so on are all there on the site. His webmaster, Will, says he has his copy and calls it Izzy's best album to date. There are only under a thousand for sale, so hurry and get your copy. There's an FAQ there to tell you more about payment. Here's the link: Izzy's Album.


The webmaster of the Steven Adler's site says he doesn't have anything official yet, but Shrapnel Records may be giving Steven a record deal. Steven then asked Izzy Stradlin to come in October 10 and give it a shot. Nothing definite yet on that. They need a new bass player. Steven's lawyer has been talking with Cleopatra Records about releasing a DVD of rare Roadrew footage (Steven's first post-GNR project). So it looks like Steven has some things happening too. We're glad to see these two old bandmates getting together.





Page Updated 10/17/05

Coming on the December 5 release on a two-disk DVD release of the "Fantastic Four" movie will be Velvet Revolver's video for "Come On, Come In". The video was put together before the European tour this past summer. It combines the energy of a VR performance with graphic transitions between movie footage and abstract portraits of each band member. "Come On, Come In" was written specifically for the "Fantastic Four" film and soundtrack album. It was recorded in Raleigh, NC and Cleveland, OH in May during the band's Electric Wonderland tour. The band felt the song fit perfectly with the film. Now you'll be able to see the movie on TV. It should be popping up anytime now on cable channels. The soundtrack album was issued in July on Wind-Up Records.


This is a correction from Vicki. All the information we gave last time was not from Blender; it was from a UK magazine called Zero. That was Zero's first edition. The Blender article was the one about the "500 Greatest Songs Since You Were Born. All things considered, we'd rather have Zero, but both would be good.

Andy sent word from the UK that he had just watched a new advertisement for Sony Ericsson Walkman phones, and the music the guy plays first on his phone is none other than Velvet Revolver's "Dirty Little Thing"! Andy says it's way cool to see the guys rocking on TV! Thanks, Andy...And here's a quick note from Norm telling us there are a few pics of Scott and SLASH from Ozzfest in this week's issue of Entertainment Weekly. It has Carmen Diaz on the cover, so look for that one.

There's a good article about JackFM, a station which plays about 3000 songs per week. There's no predicting what will be on next. Steven Blood is the man behind the station and he does it all himself, especially the advertisements. He's convinced that if he can just draw you in, you'll stay. One thing he's doing is planning Christmas fund-raisers that will give 100% of the money to buy presents for needy kids. Velvet Revolver has signed on for the first show. JackFM is on Charter Cable 6 or on the radio at 87.7 FM. Read more about it at JackFM.


Page Updated 10/10/05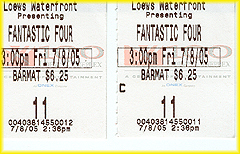 If you recall, Velvet Revolver did a single "Come On, Come In" for the action movie "Fantastic 4". A DVD is being made of the videos of the songs for that movie! And the VR one will be on there. It is the first song you hear in the movie, so we hope it's the first on the DVD. Look for that one. The DVD of the movie will be released December 6.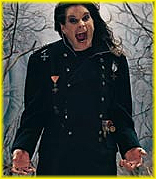 Speaking of DVDs, Ozzy is doing one for the Ozzfest, the tenth anniversary of Ozzfest. There will be live performances and interviews with Ozzy and Sharon. We are hoping that Velvet Revolver will be on this two DVD set. We don't have a release date on this one.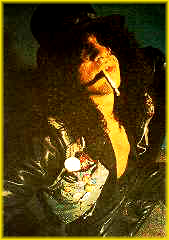 Vicki sent some more to us on that Blender article. The interviewer talks about how the band has been plagued by fans looking for the old band. Scott is irritated, but SLASH is ok about it. They call him a legend outside his story, but he's just a guy who likes to play guitar. Period. The interview was at the Crobar. They talk about how SLASH has given up smoking, but you still see it in photos. His wife said he should go to a hypnotherapist, but that seems to wear off after awhile. The interviewer says that VR is probably the most important band in rock today. Live8 was a missed opportunity, he says, to confirm that to the outside world. (and we enjoyed it, thank you very much). SLASH says the band has grown together as a unit and is playing great. He had to watch a video of them this morning which is something he rarely does. It's one for MTV. SLASH had to approve it, and he really enjoyed it and appreciated it for the great band we are. When asked if he liked concept videos, he said no, that he preferred the kind to be in and watch are live performances. He likes to watch other people perform. The VR ones are part concept, part live. He cites "Fall To Pieces" as one with a story, but essentially they are performance driven. SLASH promised that after the dates following Live8, they were going to start recording their second album which he is looking forward to as they have a lot of great material. He did comment about videos that even if they make one, MTV doesn't want to know about it anyway. SLASH finishes with a comment that it's cool about the past but now he has a great time and remembers all about it! Thanks Vicki for sending that along.


Page Updated 10/04/05