SLASH replies, "Poo, there are no real 'effects' on 'Knockin' On Heaven's Door'. Just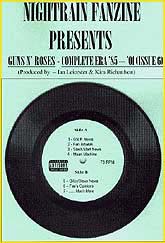 The latest issue of the Nightrain Fanzine is out. Ian sent us a note from the UK about it. Issue 6 includes GNR news, fan artwork, SLASH and Snakepit news, Matt Sorum news, letters from fans and more. You can get a copy of Nightrain Fanzine in regular postal mail. You'll need to check the website for information on prices around the world. Highly recommended!

In order to speed up loading the news, the current week will be kept here with the previous weeks (and months) below. Also, the news will be updated Monday, Wednesday and Friday instead of every other day. This gives us the weekend off! Feel free to send mail and Slash sightings anytime!


SLASH replies, "I might produce someone else's record way down the line, but right now it's enough to get my own records done."

Thanks, SLASH, and thanks, Greg, for that interesting question.






Tomorrow, November 22, is Thanksgiving Day in the U.S. It's a national holiday for us, and the News is going on vacation, too. With relatives here from out of town, things will be busy through the weekend. We will resume publication on Monday, November 26. To all who celebrate this holiday, Happy Thanksgiving to you and especially to SLASH. We are thankful for our family and to have made friends with so many of you. SLASH's fans are the best. And we're thankful for him, too!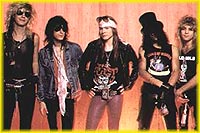 MTV is offering a rerun of its show, "Testimony: 20 Years of Rock on MTV" as an alternative to nonstop football. It will be on MTV Thanksgiving Day at 4pm. GNR is featured. GNR also makes repeat performances on 11/24 at 2am on VH-1's "100 Greatest Artists of Hard Rock". "100 Greatest Videos" reruns on 11/25 at 9am on VH-1. This program also has GNR in the spotlight. And on 11/29 at 1pm is VH-1's "VH1: All Access" with GNR. Finish up November with pie, coffee and the Gunners.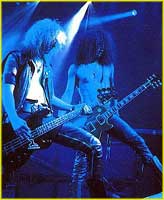 A couple of nights ago, SLASH called to say that he was going to jam with Duff McKagan's band Loaded at the Sunset Strip House of Blues. Brian sent us some information on how it went. Loaded played a 40 minute set, and then SLASH was asked to come up and jam with the band. Brian says that when SLASH came up, the place went nuts! They played GNR's "It's So Easy" and Iggy Pop and The Stooges' "I Wanna Be Your Dog". Duff was sounding great on vocals and looked really healthy. He is still off booze, drugs, cigarettes. SLASH was sounding great. Instead of his top hat, he wore a bowler. Another ex-Gunner in the audience was Gilby Clark who greeted fans. Sounds like a great time! Thanks, Brian.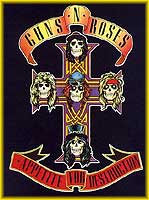 Jamie's from Australia. He was listening to the radio there, and the station had an event called "Greatest Ever Rock Albums". The station gives you the choice of two albums, usually by different bands, and you have to vote for the best one. The winner gets to be played in its entirety. Jamie said the two albums featured when he was listening were Appetite for Destruction and GNR Lies. Both GNR! Lots of people called in and gave opinions, and in the end Appetite won! So the whole album was played on the radio. Great! Thanks, Jamie!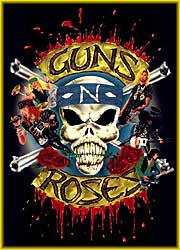 Here's some more information on that Court TV documentary, "The Secret History of Rock 'n' Roll". LuAnn found this for us, and she says that although it mentions GNR being part of this, she thinks it may just be Axl. Here's what the article says, "Staying as busy in his retirement as he ever did with Kiss, Simmons will also host the Court TV documentary "The Secret History of Rock 'n' Roll. The show, which includes as its subjects Dennis Wilson of the Beach Boys, Suge Knight, Ricky Martin and Guns N'Roses will air December 4th. "It doesn't just begin and end with robbery or stolen copyrights and so on," says Simmons of the show. "It really goes to murder, pedophilia and all sorts of things." We didn't think the Gunners were into anything THAT bad.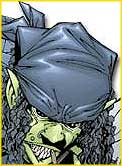 A SLASH fan and an artist, Kat was checking out the Marvel site. It's a good site with great pictures and so on. Kat found a picture of a guy named Toad, and Kat thinks he looks a bit like SLASH with the cigarette, long curly hair. Kat wants to know if SLASH modeled for this picture! Check it out:

Toad!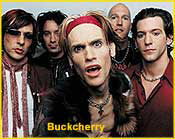 Here's a brief SLASH mention that was in Guitar Player back in June 2001. The article called "Buzz" discussed the recording of the guitar sounds for the Time Bomb album by Buckcherry. Buckcherry says they are a live band and write their music to be heard live. Guitarist Keith Nelson said that he cranked his Marshall SLASH head dialed with SLASH's live settings. He favors a Les Paul, too!


Don't forget the contest! We're having another contest here to give away five more of the CD singles, "Been There Lately". These are promo CD singles with jewel cases, colored CDs, artwork in the front and back liners. No charge to enter or win. Just fill out these Slash Guest Appearances and send them in. Click here for the rules, the questions and how to enter!
Contest!

One of our favorite things are these Q and A with SLASH. Here's an interesting one from Andrew in the UK. He asks SLASH, "Coming from England, do you visit England often; and do you miss living there?"

SLASH replies, "Andrew, I visit England rarely just to visit. If I'm in England, I'm usually playing and touring".

Thanks, SLASH and Andrew! Let's do another, and it comes from Tatiana in Brazil. She asks, "A friend of mine told me once that you and Richie Sambora have played together once, is that true!!? He said that you played "Father Time" which is a song of the first solo album of Richie, Stranger In This Town".

SLASH replies, "Your friend might be right, but I'm not really sure. It would have had to have been a long time ago."

Thanks, SLASH and Tatiana!



News Reported: 11/21/01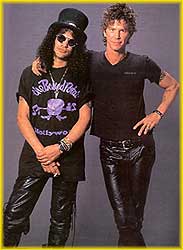 Ryan sent a note that Duff McKagan was interviewed on KNAC today. Among other things, he mentioned that SLASH might join Loaded on stage tonight. Ryan, they were right, and it's more than maybe. It's definite! SLASH will be at the House of Blues on Sunset Strip in Hollywood tonight! He called this evening just to let us know that he will be there with Duff tonight jamming with Loaded. The show starts at 8pm. It is listed under Kings X. If you are out in California, you have time to get there and see two of the best Gunners together again at last! Thanks, Ryan and SLASH!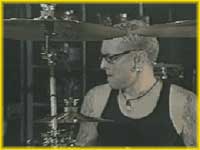 Louisa sent another update on Matt Sorum's new album. The album is called Hollywood Zen, and the tentative release date is March 2002. Matt was going to release the album earlier but due to The Cult's successful tour, he has pushed back touring with his own album. Thanks, Louisa.



SLASH QUOTES: In the 7/28/01 issue of Billboard, there is an article about the MTV 20th Anniversary. SLASH says, "MTV has twice as much of an effect for artists than radio, because there's that visual element. It's always a huge crapshoot for a new artist to have a hit, but most struggling artists see heavy rotation on MTV as being one of the pinnacles of success." Billboard goes on to say that Guns N'Roses videos are ranked among the most popular MTV videos of all time. Canadian Press at the same event quotes SLASH as saying, "It's actually an exciting event. I'm glad to have reached some success in that genre...it's very cool to have been there."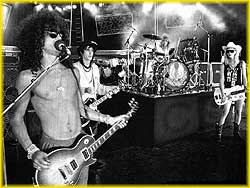 Andrew is from the UK, and he watched a program on UK TV channel E4 about a month ago. This was the "Top Ten Stadium Bands" show featuring GNR at Number 4. Thre were interviews with Matt and Duff. They talked about GNR and showed clips of live Guns shows. Andrew called E4 to see if there might be another screening. Apparently not on E4, but they only have the broadcast rights for another two weeks, so it could pop up again in the UK. Thanks, Andrew!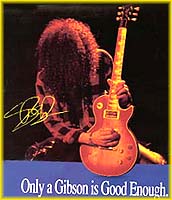 Here's a SLASH Q and A! This one is from Chaz. Chaz asks, "SLASH, why did you pick a Gibson over a Fender? Have you ever played a Fender? What do you think of Fenders?"

SLASH replies, "Chaz, I own a couple of Fenders, i.e. strats, teles, acoustics. I use Fenders in the studio on occasion. I think Fenders are looking and sounding hot, but I feel the most at home with a Les Paul.

Thanks, SLASH and Chaz. You knew SLASH felt most at home with a Les Paul, now didn't you?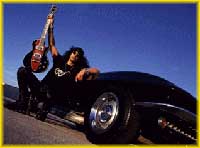 That was great. Let's do another. Jeff from Oregon asks, "This is a question for SLASH. I know he used to have an 'old' Corvette, like a '63-'67. Does he still have it? What year is it? And does he want to sell it? (I'm thinking of buying one.)

SLASH replies, "I have a black '66 vette which is currently in the shop, but it's not for sale.

Thanks, SLASH and Jeff! Would you buy a used car from this man? We would, too.

News Reported: 11/19/01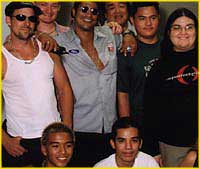 SLASH has been out jamming with one of the best known names is music, Ray Charles! SLASH has been helping out at The Blues Lab in Los Angeles. Sparked in the Eighties by blind Florida Blues musician and educator Charles Atkins, the Sir Charles Blues Lab is an organization whose mission it is to enrich the lives, minds and spirits of young people by providing them with access to musical instruments and cultural experiences in the tradition of the Blues. Ray Charles, Terry Howard and graduating Blues Labber Michael Sheridan were recently awarded the Blues Lab's Soldier of Blues Award at a private ceremony and Jam Session at Ray's recording studio. High School Blues Labbers from Hollywood and Watts were joined by Charles and former Guns n' Roses guitarist Slash at the exclusive session. The ensemble performed an explosive set of Ray's classics and Blues favorites. Ray Charles and Blues Lab students from Watts rock "Hit the Road Jack." for a handful of Hollywood High Blues Labbers at Ray's studio near Downtown LA - August 25th, 2001. SLASH said that quite recently he did a track with Ray for a September 11 fundraiser album. The album is not certain yet, but SLASH and Ray Charles have prepared and completed their song. The Blues Lab and the work with poor children from Watts is something SLASH doesn't usually talk about, but he enjoyed this so much, he wanted you to know about it. If you would like to read more about The Blues Lab, maybe donate some money, but a tshirt, mousepad or mug, we'll send you to their site to look around. If you look at the Thoughts section, you'll see notes from all kinds of musicians...Steve Vai, Mark Knopfler, Willie Nelson, Mike Fraser are four of so many that have left notes on the sight. Here's what SLASH left as his thought on The Blues Lab:
From: Slash - Los Angeles, CA

"It's really important that younger cats learn to appreciate the foundation of where modern music comes from.

That's why the Blues Lab is so great... I wish I had been brought into a circle like that when I was younger.

And having Ray Charles as a mentor has got to be one of the healthiest things ever... I couldn't think of anyone better for a teenager, or even me, to be around!"


The Blues Lab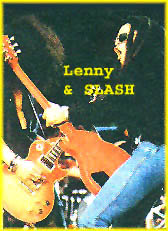 We're having another contest here to give away five more of the CD singles, "Been There Lately". These are promo CD singles with jewel cases, colored CDs, artwork in the front and back liners. No charge to enter or win. Just fill out these Slash Guest Appearances and send them in. Click here for the rules and submitting your answers!

Contest!



These are the last two of the exclusive pictures of SLASH and Perla's wedding. As you can see, the sun is going down on their first day as man and wife. They are taking a stroll on the beach, and soon they'll have a multicourse meal in a private place on the beach. Thank you for the romantic pictures, SLASH and Perla!


Sunset on the Beach





SLASH and Perla in Maui




Milan sent us in part of an interview that Metal Sludge with Raging Slab who opened the Illusion Warm Up shows in May of 1991. They said that during soundcheck, Axl would make everyone leave the venue while he did his vocal check - everyone including the rest of the Gunners. Slab was curious so they hid behind cases one night and watched Axl led onto the stage. Axl repositioned the teleprompters and yelled at the soundman. Then he trotted around with a cordless mic "just wailing these phony-baloney blues scats and then began singing 'Live and Let Die' ACCAPELLA!" Slab was discovered because they were laughing so hard. Axl's people were not happy. Slab says the idea for them to open was SLASH's idea, and "He always made damn sure we felt right at home - and thanks to him - it was the only time we didn't run out of backstage booze!" Good one, thanks, Milan! SLASH is always a good host.






News Reported: 11/17/01


Did you see SLASH on the Michael Jackson 30th Anniversary show? It was a little dull waiting for SLASH to appear, but when he was on, he rocked the house. After seeing so much hip hop, it was great to see and hear rock again. SLASH did some amazing solos and did his signature SLASH moves. Great! And seeing him up there before a huge audience on a big stage was like old times. The show is to appear worldwide. Craig wrote from Melbourne, Australia to say that it's coming up there! It will air on November 19th at 8:30pm. He says the date and time could be different in other parts of Australia, so Australian fans should check local listings. Thanks, Craig! SLASH appears in the second hour which really is the much better show since the Jackson 5 perform then also.



Another note on Michael and SLASH. MJ just released two of his videos on DVD. The "Dangerous" release contains the videos for "Black or White" and "Give In To Me" which SLASH appears in. The VHS format has been out for several years. This is the DVD.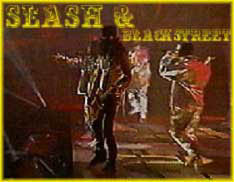 And Lucas sent in this news from Brazil. He said that he was watching MTV when they announced that MJ will participate in a movie. They showed SLASH! Then, they had an announcement about the European Music Awards, and they showed a live performance by SLASH! SLASH did go to the European Music Video Awards awhile back when Blackstreet was up for an award. SLASH appeared in their video, "Fix". Blackstreet did win!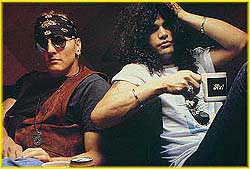 Louisa sent in some Matt Sorum information. SLASH confirmed that he does make an appearance on Matt's forthcoming solo album. The album will be on the Conspiracy label. Louisa says this is a very small label, and Matt is the biggest name there. Dad's Porno Mag will also be on it. We don't know if Keri Kelli was with Dad's at that time or not. However, the drummer is Mike Fasano who was Matt's old drum tech. Louisa says the album should be released in the spring, and Matt is targeting March at this point. Thanks, Louisa!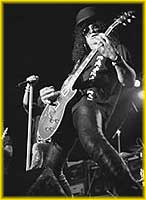 LuAnn found a an article/review of Snakepit in The Michigan Daily online. The article is a very favorable summary and review. We don't agree that Rod stole the show from SLASH, but our focus is more narrow than most people! Check it out at:

Snakepit Article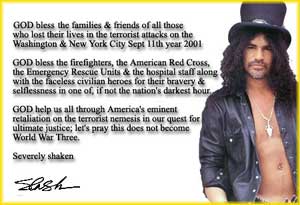 Vicki found some magazine mentions. Guitar World Acoustic, No.48 (Allman Brothers on the cover) has a SLASH article on page 38 titled "Obsession Confession". There's a full page SLASH color picture at the beginning and there's also a picture of SLASH with his Dobro. The contents page has a SLASH picture with a headshot of SLASH in front of the tour bus on his bike. There's a transcript for "Used to Love Her" also. Vicki also found the January 2002 issue of Metal Edge. It has SLASH's words on September 11 that are on slashssnakepit.com site in an article called "United We Stand".



And just to finish off today's news in a romantic way, we have another picture of SLASH and Perla's wedding. This is exclusive to this site, and we thank the newlyweds for making all the pictures available. The wedding was in Maui, October 15. Four other pictures can be found below in the news. This color picture was after the ceremony. They really look happy.

SLASH and Perla
News Reported: 11/15/01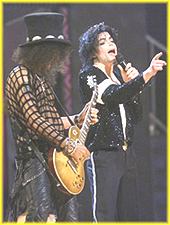 Tonight's the night to see SLASH's appearance on the CBS program "Michael Jackson: 30th Anniversary Celebration". It airs from 9pm - 11pm. SLASH is on during the second hour. Here's what TV Guide has to say about his performance:

"Hot-shot guitarist Slash (formerly of Guns N' Roses) then hits the stage for rip-roarious renditions of Jackson's "Black or White" and "Beat It," the latter featuring re-creation of the classic video."



Perla and SLASH shared some beautiful pictures of their wedding day with us. The first two were in the 11/11 news below. Here are another two exclusive to this site. (CLICK!) This photograph was taken after the wedding ceremony. Look closely - the bride and groom are in their bare feet. This is a tradition of wedding ceremonies on Maui. The bride and groom share a kiss on the stairway. (CLICK!) The second photograph is also after the wedding ceremony with SLASH getting a kiss on the ear (mostly hair) from his new bride, Perla. Look at SLASH's eyes sliding over to check this out. They make a terrific couple!


CONTEST!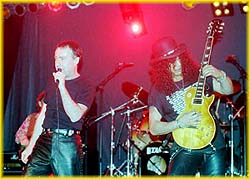 We're having another contest to give away 5 more copies of the single, "Been There Lately". It's a one track, promo, cd single with artwork on the front and back liners. The cd is in a jewel case. Send the answers to the questions below to webmaster@snakepit.org. The subject should be CONTEST. In case of more than 5 winners, a drawing will be held to determine the 5 fans to receive the CD single. The contest begins today, November 13 and will end at midnight, Saturday, November 24. The questions this time relate to SLASH's musical guest appearances. Take a chance! It cost nothing to enter and no charge for shipping if you win. The answers (numbered, please) are all that needs to be sent. Here they are!



1. SLASH played on his album, Innocent Loser, and worked with him in Blues Ball and Snakepit.

2. A beauty from Spain who sang on a SLASH track for the Curdled movie soundtrack.

3. SLASH guested on Believe In Me, an album by this GNR buddy.

4. SLASH is on Dangerous and HIStory with the King of Pop. That's ?

5. British icon vocalist who started with The Faces and eventually recorded an album with SLASH called Human. Who's this famous singer?

6. This singer has a club called Cabo Wabo and did an album called Marching to Mars where SLASH played on "Little White Lies". Name the singer.

7. Terrific GNR songwriter whose first solo album was done with a band called the JuJu Hounds. SLASH did some work on this album for ?

8. "Hey, Stoopid" is a track SLASH did for a close friend. It's about a drug user. Who's the vocalist?

9. Name the friend who worked with SLASH on The Coneheads soundtrack.

10.This friend went to school with SLASH. The two wrote and produced this song together, "Always on the Run". Who is he?

Good luck!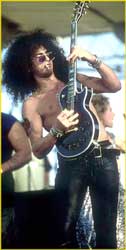 Here's a Q and A with SLASH! The question is from J. Lopez of Amsterdam. He asks, "I have a question. Have you ever flirted with other guitar styles? I mean, like flamenco, or is that like a no-go area for rock guitarists? What's your opinion on flamenco? Are you interested in it or just admire it or doesn't it do much for you at all?"

SLASH replies, "J. Lopez, I like a lot of different guitar styles. Flamenco, some jazz, blues, funk, classical, etc. I subconsciously incorporate them into my style a lot. I played flamenco style for a while when I was first learning how to play guitar."

Thanks, SLASH and J. Lopez! Questions where SLASH gives away a little more of himself are always welcome. If you're thinking you missed your chance to send SLASH a question, not true! Another batch will be sent soon. Send your SLASH question to webmaster@snakepit.org. Please put ASK SLASH in the subject. No personal questions are permitted. Thanks!


News Reported: 11/13/01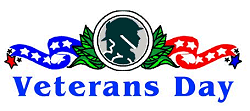 Today is Veteran's Day in the United States, and many companies are observing the day tomorrow. So enjoy the day of lighter traffic on the web. For all the vets out there, we never forget. Thank you for the sacrifices you have made for our country.



As promised, here are the first two exclusive pictures of SLASH and Perla on their wedding day. They were married in Maui which is just a wonderful, romantic place to exchange vows. The pictures are very large so that you can really see the details. In the first picture (CLICK!), SLASH and Perla are exchanging their wedding vows. On the ground is a circle of flowers. It is a windy day, and SLASH has his hair down, but the camera caught him here with the hair off his face. SLASH is paying close attention, and Perla is smiling in a beautiful wedding gown with white roses as her bouquet.

The second picture (CLICK), shows the newly married couple. What beautiful smiles! They look so happy! We hope that the happiness all of us see and share today will be with them forever. Thanks, Perla and SLASH for sharing these with all of your net fans. We love you!



Thanks to SlashAdmirer who sent in a short note from Ted Casablanca's column on E! Online. He reports that SLASH and Perla are looking for a new house. (The house they are in now is a rental.) Casablanca refers to Perla as SLASH's "nubile new wifey-poo". He says it was not hard to recognize the Guns N'Roses (?!-our comment) guy with his trademark frizzed-out coif. Let's wish them luck...they also have to house all the snakes and lizards. No word on SLASH's plan to build a new studio.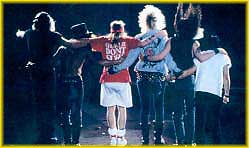 Did anyone succeed in seeing the Court TV episode which was to have a segment on GNR? When we watched at the given time, an infomercial came on about hunger in Africa. There are some upcoming reruns on VH-1 in case you missed these: "100 Greatest Artists of Hard Rock" on 11/14 at 2am ET. "VH-1 Presents the 80's" on 11/19 at 11am ET, 12pm ET and 3pm ET. Court TV's "The Secret History of Rock N Roll" is 12/4 at 10pm ET.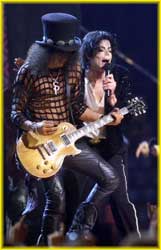 The big TV show will be this Tuesday, November 13 at 9pm ET when CBS airs the Michael Jackson Tribute show. Footage from the two shows in New York will be used, and SLASH is on! This is a 2 hour show, and we haven't come across a schedule to indicate when SLASH will be on. At the live shows, he was on near the end with Michael. No word yet on the international showing.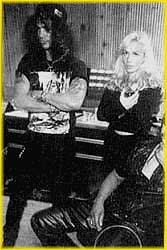 There's an article in an old Billboard magazine from 3/15/97 about SLASH teaming up with Spaniard Marta Sanchez on her single "Moja Mi Corazon" (Moisten My Heart). You'll recall that this is the second venture by these two; the first being "Obsession" (electric version) on the Curdled soundtrack. The article is from Madrid and said the two were there to make a video for that single! That's one that has not made its way to the US. Slash was asked how the two got together, and he said that he'd written "Obsession" for the Quentin Tarantino movie Curdled and sent it off to Nile Rogers, the founding member of Chic. SLASH says it was very different from his usual work, but Nile loved it and recommended Marta Sanchez for vocals. SLASH didn't know her, but he like what she did with his song, and they recorded it. He says when she asked him to do this single, he didn't think twice. As for the video, SLASH said he had more fun making that with Marta than he did on the last GNR video re things moved so slowly. He said he would work again with Marta anytime.




News Reported: 11/11/01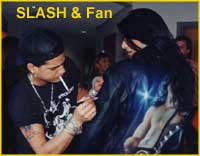 The latest news we have is that next week the SLASH Fan Club should be ready to sign you up as a member! The plans they are discussing and the membership benefits make this a great idea for all of us. In addition, Snakepit tour merchandise will be available for purchase. As soon as we have the word that everything is ready for shoppers, we'll let you know. Just in time for Christmas!



Getting back to our normal SLASH news, Feres from Sweden had some surprising news. He was watching "10 of the Best With Bryan Adams" in which the artist chooses his Top 10 songs and videos. Feres changed the channel when he didn't care for Bryan's choices but changed back in time to see the "Sweet Child O' Mine" video. Feres would like to know what Adams had to say about the track and band; so if anyone tuned in, let us know.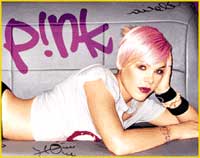 "Sweet Child O' Mine" must be one of the most popular GNR songs ever. XxKornGrl sent in that while watching "MTV Diary of Pink" this evening, "SCOM" got some airplay! Pink was driving around at the beginning of the show in her car, and "SCOM" was playing in the background. Pink was banging her head and pretending to play guitar like SLASH and sing like Axl Rose. The show will be on again 11/9 at 5:30pm and 10:30pm. Thanks!



Here's another interesting bit. MJ saw the show "Sledgehammer" awhile ago on VH-1. The story was that this guy wants to be a famous rockstar, so he dresses up like SLASH and smashes a guitar. A brief clip of "Welcome to the Jungle" was shown while the guy did his parody. Thanks!



Tina has a tiny GNR mention for us. MSN.com pops up every time she closes Hotmail. It has top 10 lists, and one this week is a Top 10 Power Ballad list. "November Rain" is on the list! If you want to see it, Tina sends the URL:

Top 10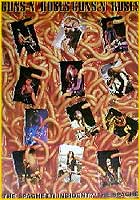 From time to time, fans write in wanting to buy Guns N'Roses merchandise from the band SLASH was part of. If you are looking for something cool, maybe you'd like a GNR poster. This one is from The Spaghetti Incident with spaghetti all over it and band pictures lying on the top. This old, out of print poster is available at www.pushposters.com. They are in no way affiliated with SLASH or GNR but they have a knack for locating posters that are a little more rare. The GNR calendar for next year is there as well as several other GNR posters.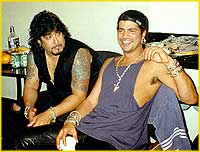 One of SLASH's best longtime friends is Teddy "Zigzag" Andreadis. We got a recent note that Teddy has a temporary web site now while his new site is being built. We'll be adding this one to the SLASH's Snakepit band bio as well as our links section, but we thought some of you might like to see it now. Thanks, Lisa!

Teddy Zigzag's Temporary Site
News Reported: 11/09/01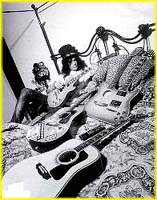 Finally, we're getting some news on SLASH's new solo album! Brian discovered that in the latest Acoustic Guitar magazine, there is an interview with SLASH that covers this interesting topic. Brian says that SLASH mostly talks about his acoustic guitars and his preferences. There's also something about which songs on Appetite for Destruction have an acoustic track. About the new record, SLASH says he will explore musical styles such as Asian, Chinese, Indian and African. It will also include the typical styles you would expect to hear from SLASH. Thanks, Brian, that is Big News!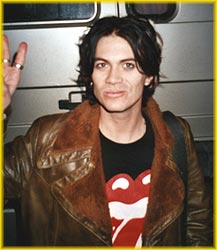 Keri Kelli held a chat recently on his site www.kerikellionline.com.When asked about SLASH, the new album and Snakepit, Keri confirmed that SLASH is doing a solo SLASH album now, but that he, Keri, is thinking positive that next year Snakepit will be together writing and recording together. Keri says, "Snakepit will rule this planet!" Keri also said that he himself is thinking of doing a solo album. Fans requesting Snakepit tour information were told to hang on till next year. Keri reported that he will do the end of the Alice Cooper tour in the U.S. playing alongside his old friend Ryan Roxie. When asked if the music he is writing now could end up on SLASH's solo album, he said he would love to be on the album. The only band member he has jammed with recently is Johnny G. He said everyone's schedule is so hectic that they can't all get together for a beer! About playing with SLASH, Keri says SLASH is just killer. He loves playing with SLASH, and it feels very natural to play together with him. Keri says that Rod is at home doing session work right now. A guy named Emil claimed to have 45 Snakepit shows! In capital letters, Keri said to make these available to other fans. Please! It was a really good chat with lots of good questions. Hope there will be another soon. Keri was thinking of doing one for Europe so that they would get a decent time for theirs.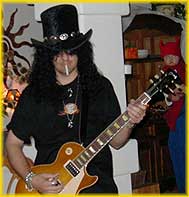 Before we leave Halloween completely behind, Zane wanted to share his Halloween pictures with everyone. He says that they had a Halloween party at his house, and he came in second place in the costume contest. Zane played some solos during the party (keeping in character): "Welcome to the Jungle", "November Rain" and "Sweet Child O' Mine". Zane says that all but one partygoer knew who he was dressed as and the kid was 13. Hey, this kid needs a pic of Slash and a copy of AFD. Thanks, Zane!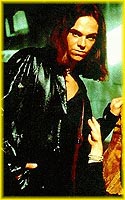 Going back to Snakepit 95, we have some sad news for friends and fans of Eric Dover. Eric's mother passed away in a hospital in Alabama on Saturday. Eric and his mom were very close, so he is leaving the Alice Cooper tour early, and Keri Kelli will be filling in for him. Our sympathies to Eric and his family.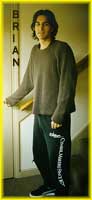 Another Snakepit 95 message, a happier one: Brian Tichy's Ball will play the final show of 2001 on Friday, November 9 at the Key Club at 9pm. Did you know that Brian got to play with Billy Idol's band at Neil Young's Bridge School Benefit October 19-21 in San Jose? This has traditionally been a stand out show. They covered Buffalo Springfield's "For What It's Worth". Neil Young played lead on the original. He watched the Idol band the first night, and the second he came up and played with them! Brian says he never dreamed he would get to jam with Neil Young let alone in front of 20,000 people. A night to remember! Brian says that they (Billy Idol's band) are now demoing some new ideas with producer Don Was. Great to see Brian doing so well.



If you missed the VH-1 show VH-1 Presents the 80's, the show airs again 11/8 at 10pm, 11/9 at 11am, 11/11 at 4pm, 5pm and 8pm. A show called Top 80 of the 80's is on VH-1 also and GNR is listed as being part of that show. This one is on 11/11 at 9:30am. Court TV is going to have two shows that have some mention at least of Guns N'Roses. The first one is called "Hollywood & Crime". It is on 11/8 at 6am. The second is called "The Secret History of Rock 'n' Roll". Gene Simmons of Kiss hosts this show. The listing says, "The Secret History of Rock 'n' Roll travels through the history of rock `n' roll and maps the intersections where crime and rock meet." This show airs 12/4 at 10pm. All times are Eastern times.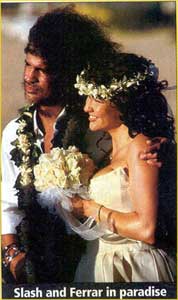 We managed to get the last copy of US Magazine that had the tiny wedding picture of SLASH and Perla. Obviously, they have had lots more taken which are totally gorgeous. They'll be letting us put up a couple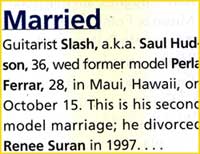 as soon as they get their press release finalized. SLASH looked so handsome and loving. Perla has the biggest smile and seemed to be giggling at things SLASH was saying. They look very, very happy. If you've sent a card, know that it will be appreciated and put in their album. If you'd like to send an email of congratulations, send them to webmaster@snakepit.org; and we'll see that SLASH and Perla get them. Thanks!


News Reported: 11/07/01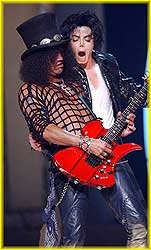 Did you see the Emmy's last night? At least twice they had a terrific commercial on for the coming broadcast of Michael Jackson's Tribute Show. SLASH played two songs with Michael at the shows in early September. The commercial starts with a blank screen, then you see SLASH and Michael performing! The broadcast in the US will be on November 13 at 9pm ET on CBS. Great commercial! The show was said to be aired worldwide, but so far we don't have any word on international times. Let us know if you hear when it will be shown outside the US!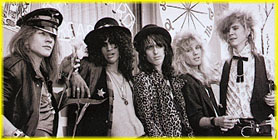 More SLASH on TV! Joe alerted us that VH-1 is starting a new series, VH-1 Presents the Eighties. The episode for GNR and SLASH is called Heavy Metal. Joe says the radio ad talks about NEW interviews with SLASH, Bret Michaels, CC DeVille, Dee Snider and Dave Navarro. In the series, VH-1 plans to look at how videos changed the music business, alternative rock earned a toe-hold, and hip-hop became a pop commonplace. There will be first hand opinions from the artists. Ads on VH-1 indicate SLASH will be there. For some reason, VH-1's mention of GNR is pretty negative: "Vomited from a diet of Jack Daniels and backstage sex, this was perfect L.A. rock: disgusted with itself, yet bent on leeching off signature riffs from the past two decades." Strange. But if you go to their site, you can find part of the "Live and Let Die" video, and it's really great to see that again. Here's where it is:

GNR on VH-1
The dates/times for this VH-1 show are: 11/5 at 1am, 11/5 at 11am, 11/5 at 10pm, and 11/6 at 11am. All times are ET.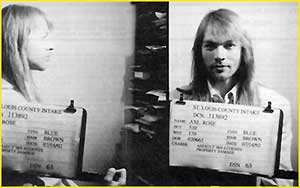 There's yet another GNR show on TV. We aren't sure if SLASH is part of this one or not. From the description it is Axl Rose. It says, "Guns N Roses was one of the original 'tough guy' bands. It seems that lead singer Axl Rose was as eager to jump into the audience to start a fight as he was to perform a song. Then his aggressive style put him in trouble with the law." Court TV has the episode called "About Sex, Drugs and Rock and Roll." It airs 11/7 at 6pm, 11/8 at 6am. These are Eastern times.

This TV show is over, but it should repeat. Lance saw "MTV 20 Years of Rock" and SLASH was on! SLASH talked quite a bit about watching MTV when it first came on. There was a GNR section where SLASH spoke about Axl and the GNR years. He commented on playing "November Rain" with Elton John, too. Lance says it was great, so watch for repeats on this one. Thanks, Lance!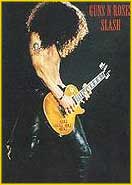 On the subject of GNR and SLASH merchandise, we heard from Michele. She found a place that has a nice selection of GNR posters with one of SLASH and one with SLASH and some GNR guys. If you're interested, have a look. You can buy them framed or unframed. Thanks, Michele!:


Posters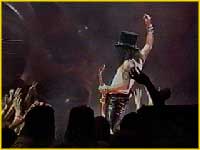 How about some words from our musical leader? This question comes from Sam. Sam asks, "SLASH, I am a massive fan of your style and tone and I know you use the cry baby Wah Wah pedal, but during your live Use Your Illusion concert performances, what did you use to get the distortion at the start of 'Sweet Child O' Mine' and during the solo to 'Estranged'?

SLASH replies, "Sam, the distortion in my sound is always there, but sometimes I use the rhythm pickup and turn the tone down for certain intros and solos, i.e. 'Sweet Child O' Mine' or 'Estranged'.

Thanks, SLASH and Sam!



News Reported: 11/05/01




Best Wishes, SLASH and Perla!

SLASH and Perla were married on October 15 in Maui. The two have been engaged almost a year and have known each other about 14 years. They began dating seriously after SLASH's divorce in 1995, and here they are a brand new married couple. Breaking with the usual rock exhibitionism, the two wore traditional wedding clothes. Perla wore a beautiful white strapless, pleated wedding dress and carried a lovely floral bouquet that matched the flower garland in her long dark hair.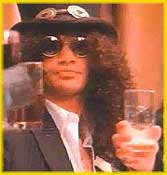 SLASH wore new black leather pants, a white shirt and his black leather jacket. He wore a floral lei matching the flowers in Perla's bouquet. The wedding was a quiet one with just a few people invited. The couple wanted a solemn and religious ceremony. Now that they are back home in Los Angeles, SLASH pronounces himself "ecstatic" when asked how he feels about being married. Perla is the love of his life, and he is thrilled that they are starting out this new life together. They have bought a new home, and this one will be theirs..not one that belonged to SLASH and not a rental. They will remain residents of California and hopefully there will be little Hudsons coming along. Both would like to have a family. SLASH is legally Saul Hudson, so Perla is Mrs. Saul Hudson.

Personally, we have known Perla for quite awhile. She is one of the most vivacious people we have ever met! A very intelligent woman, she helps out often with many of SLASH's business projects. She is concerned about the fans, and we have spent many hours talking about fans, what they want and how to help them get it. We hope you will get to meet her at a show sometime. It's not too late to send a wedding card or gift! Here's the address:

                 SLASH and Perla Hudson
                               8033 Sunset Blvd.
                                  Suite 994
                             Hollywood, CA 90046


Congratulations, SLASH and Perla from all of the SLASH fans everywhere! We love you and best wishes for a wonderful married life! Hopefully they will send us a picture soon.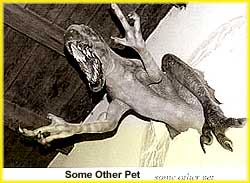 SLASH has been doing some work in the studio himself and working on another guest appearance. It's not certain yet, so he'll let us know the details on that if/when it comes together. He also answered a question of ours on that pet picture from Pets and Their Celebrities. This picture is shown here and the photographer labeled it "some other pet". As many of you wrote, it was not a real animal! This was put together by a friend of SLASH's and it looks like it is coming out of the wall when it is hung up. SLASH's home must be a cheery place! Thanks, SLASH!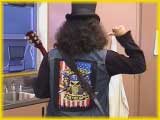 Looking back at Halloween, SLASH got a mention on last week's "Rock Show" according to Justin. Justin said the poll for the week was who would you most like to dress up for on Halloween. One of the choices was SLASH. Justin said SLASH finished third with about 12% of the votes. He thinks one of the Iron Maiden guys was the big winner. Justin was planning on being SLASH for Halloween himself! And here's another fan who did dress up as SLASH.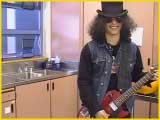 Pictured here is Aaron who's 18 and really does play guitar. He says SLASH has been a big influence on him. He wants you to note that the beautiful (our word) black hair you see is not a wig. The guitar Aaron was using here was a Red Gibson Studio with a handmade Snakepit insignia. Aaron's been playing about 5 years, and he says he's really good at it. His dream is to play on stage with SLASH! Thanks, Aaron, you look like a young version of SLASH for sure.



If you haven't gotten the latest edition of Hit Parader magazine, they chose the Top 100 Greatest Metal Bands of all time. Those badass Guns N'Roses came in at #4 behind Led Zeppelin, AC/DC and Black Sabbath. Not bad company there either! Eric sent this in. Thanks! This was definitely good news.



News Reported: 11/03/01


How was Halloween for you? For SLASH fan "Harry Callahan" there was a bonus in going to the Halloween carnival in Hollywood. SLASH was there! He was hanging out with what Harry said was "some hot chick" which we hope was the fiancee/wife or whatever. No word on what disguise SLASH may have worn.


Greetz Jan from the Netherlands found a video interview on the web that we don't think we've seen before. It's from way back before SLASH's Snakepit went out to play their first show for AC/DC. There are 3 interview files and each has about 3 different topics. SLASH speaks on opening for AC/DC, Technology, Attitude, The Set, What Everyone Else Is Doing, Be Yourself and Figure Things Out Along the Way. He's wearing a black tshirt with red lips. It's very interesting although there is not anything new at this point, but it's a good review of where he was at during that time in his life. Check it out! And thanks very much to Greetz Jan! Mysteriously our PC made a copy in TEMP so we managed to hang on to these three. Still, we'll send you to the site so you get the best copy you can.

SLASH Interviews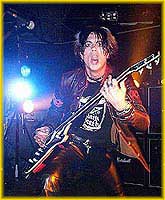 With the weekend looming ahead, don't forget the chat with Keri Kelli this Sunday, November 4 at 10am PT (1pm ET, 6pm GMT, 7pm CET). Keri will be in the chatroom at www.kerikellionline.com ready to answer questions. We're not sure how long the chat will go on...probably an hour or till Keri gets exhausted. He will be typing his own responses, so be patient and keep the pace slowed down. If you get a question asked and answered, let some others have a turn. That's all the rules. See you there!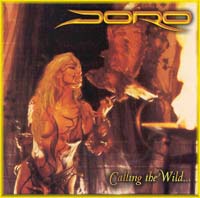 We found a couple of interviews with Doro Pesch where she talked about working with SLASH. In 2000 Doro released the album Calling the Wild and SLASH did a guest appearance on the track "Now or Never". During an interview, they noted that Doro also has snakes, and she was asked if she and SLASH had swapped snake stories. She laughed and said she had met SLASH just that one day, and they went to some clubs. They exchanged stories but nothing about snakes. Doro says she forgot to ask him. She said at the time SLASH was doing his track, she still wasn't sure about an album cover. She was thinking of snakes because if it is a cool snake then it's adorable. Each snake is different though and like every animal it has its own vibe or character. (sounds like SLASH and Doro could have spent hours talking snakes) Then in the second interview she explained how SLASH got involved in her project. SLASH was in New York although Doro was not there yet. A guy from her band was hanging out with SLASH and told him Doro was coming in two days and asked him to surprise her and play the solo. And SLASH said, "Yeah man, let me do it". SLASH came to the studio with a big bottle of vodka and 10 packs of cigarettes! He laid down what Doro called "this massive solo", and when she got to New York, there was the solo and she was thrilled. She said she had met SLASH in Germany when Snakepit was touring there. She said she loved the album and the singer! She says that SLASH deserves to be successful. Doro seems like a very nice woman who also can belt out those metalhead songs.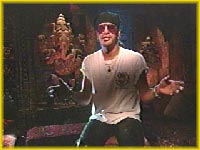 Now SLASH speaks! Here's a Q and A with SLASH. By the way, he has returned the next 25 questions! Sarah asks, "SLASH, we all know who your musical influences are, but what CD or tape do you have in your player right now?"


SLASH replies, "Sarah, Jimi Hendrix and the Band of Gypsies".


Thank you SLASH and Sarah!


News Reported: 11/01/01