From Sarah in Vermont...Monday night VH1 aired "All Access: Celebrity Pets", and SLASH was on! He was filmed at his previous home in Beverly Hills, and they showed that and his Snakepit studio. They mentioned the house was sold to Angelina Jolie and Billy Bob Thornton (now divorced and no one has lived there since May). A clip of the "Been There Lately" video was shown. Sarah said it was worthwhile! Thanks, Sarah!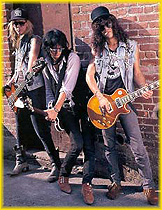 Total Rock UK web site did an on air interview with SLASH on Nov.23 where he was asked about the new project. He didn't have much to say that was too new according to Nicole who caught the broadcast. There's no decision on a band name or vocalist yet. They've worked with some vocalists, some of which are known in the music business, but he is not saying who they are at this time. SLASH said he's exercising a lot of patience with the project to get it just right. Izzy's role is a mystery. He just showed up in May and started writing with them. They have a Loaded guitarist fill in when Izzy's not there. SLASH said that Izzy added a whole new dimension to the band because his Stones-influenced style is so different. They've had a lot of interest by record labels, but they are being careful. SLASH said that a full GNR reunion is highly unlikely. Nicole said he used the phrase "vast chasm". Axl owns the GNR name because SLASH and Duff signed it over under duress. Axl wouldn't go on stage in '92 unless they signed. Nicole says she has never heard SLASH be so enthusiastic. He's very excited about the project! Thanks, Nicole!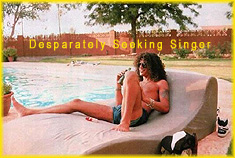 Kimberli watched the MTV show "The Wrap" which was supposed to be the old GNR and the new GNR. Well, one report got ONE minute...guess who that was? MTV led in with the headline "Desperately Seeking Singer". They mentioned the project and how SLASH, Matt and Duff took time out to appear in The Strokes video. MTV said the band is on a "hunt" for a band name and a new singer. During a short call with SLASH, SLASH joked about Courtney Love as the lead singer. SLASH said they hadn't ruled her out, but he thinks she would not be interested. So, that was it for "The Wrap" with the remaining time consumed with coverage of the new GNR in the form of an interview by Kurt Loder with Buckethead covering such burning issues as why he wears the mask and bucket and why he is afraid of girls. Afraid of girls? And this guy replaces SLASH?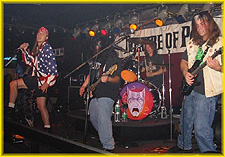 Till SLASH is ready to tour, there are some other artists worthy of your attention. First, the New York-based tribute band, Appetite for Destruction. They've been together four years. John Ricotta from the band says they have the biggest show of their lives coming up at a Long Island venue called The Vanderbilt. The show is this Saturday, November 30, so try to get out there! John wants you to know that you can preview the band if you go to their web site, www.gnrtribute.com. There are pictures, MP3s, show listings, bios, etc. Bad Karma is the band that saved the day for Snakepit when the band's equipment did not show up. These are good guys, and they are doing a show at Kapp's Bar and Restaurant on Broadway in Rensselaer, New York this Saturday. Good luck!



For everyone celebrating Thanksgiving tomorrow, especially SLASH: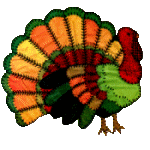 News Reported: 11/27/02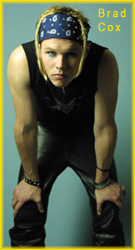 The biggest news today was the unauthorized release of one of the new songs for the forthcoming SLASH band. The recording in question, tentatively titled "Pleasin' " was given to Brad Cox of Grayson Manor. Cox was to do lyrics and vocals and return the music to the band. He was told he did not make the cut, and Cox decided it would be a good plan to share what he had done with the world. So "Pleasin' " went up on the Grayson Manor site where it was busily copied and commented on by many who assumed Cox had the gig. He was asked to remove the track which he did, but there are many copies floating around. If you hear it, remember that this track will be modified with new lyrics and vocals before the album is released. It wasn't a great thing to do, but it's likely Cox thought it would be a little publicity for himself. SLASH is known to be a stickler about things being released early. If you have a copy for your own use, no problem; but it would be a real gesture of respect to the band if you removed it from any web sites you might have it on. Aside from the average vocals, we thought the song rocked! It was great to hear SLASH again with new music. The song's music is hard rock and is very intricate. Sounds great, SLASH! Thanks to all of you who sent this in... Rui, Guido, Kimberli, Nicole and others.



Kimberli also sent in an article from Norway's Metal Express. This was an interview with Sebastian Bach who many readers would love to see in the vocalist slot of the new band. Baz said he is collaborating on new material with Duff and SLASH. The songs might be used on a new Bach solo CD or the SLASH project or another project. Metal Express asked if Baz would consider taking up the lead vocalist position in the new SLASH/Izzy/Duff/Matt band, and he said he definitely would if asked. Asked about rejoining Skid Row, Baz said not at the moment - they have nothing to offer. Thanks, Kimberli!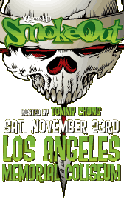 Saturday was the Smoke Out festival in L.A. Aside from entertainment, the bands are trying to push the legalization of marijuana, but most of the audience seemed to be higher on the music than anything else. Snoop Dogg was there, and he's given up weed. Cypress Hill, Bone Thugs-N-Harmony, B-Real and others were in the lineup. A surprise guest was SLASH! Cypress Hill wound up a set full of classics with a show-stopping rendition of "(Rock)Superstar" featuring SLASH. SLASH was in his top hat, leather jacket and pot leaf T-shirt. SLASH explained that he was coming down anyway, and Sen Dog invited him to play on one of his favorites, "(Rock)Superstar". SLASH was greeted with a huge round of applause! He rehearsed two days beforehand with Cypress Hill, and it was a cool number. Thanks to Brian for some of this information.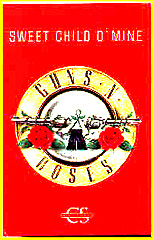 Mark is from Australia, and there's a contest going on in Sydney. A radio station is counting down the top 1000 rock songs of all time. Mark wants to see GNR's "Sweet Child O' Mine" in the Number 1 slot. So go over and vote. Mark said you might leave out your suburb or location! Here's where the contest is:


Vote for SCOM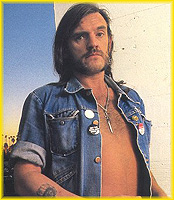 Rainfox had a chance to read the new Lemmy Kilmister autobiography, White Line Fever. Lenny has made his fame and fortune fronting Motorhead. If you're a Lemmy fan, you know he's an intelligent, witty, hands-on guy very much unlike the drunken old guy the media portrays him as. Born in Stoke-on-Trent, like SLASH, he has been living in L.A. since 1990. Although he knows just about everyone in the music biz, he mentions just a few like Ozzy, Ron Wood and SLASH! Rainfox says SLASH has been a diehard Motorhead fan since Day 1. SLASH guested on "Ain't No Nice Guy" with the band. Here's what Lemmy had to say about this: "And SLASH from Guns N'Roses contributed the guitar solo; he came in one day, had a few drinks and laid down a couple of guitar tracks. Incidentally, I like SLASH quite a bit. Guns N'Roses may have had a nasty reputation, but he's a very nice, very genuine guy." How nice! Thanks, Rainfox!



News Reported: 11/25/02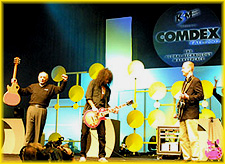 SLASH was at COMDEX this week as we told you last time. He appeared on stage with the President and CEO of AMD, an INTEL competitor trying to survive against this technological giant. In pushing their 64 bit chip, SLASH swung into "Knockin' On Heaven's Door" which had its lyrics changed to "Knockin' on 64". There's a place you can see what amounts to a slideshow with a few pics of SLASH. When you get there, you will see nine pictures that look like they start a show, and they do, but all are the same show. So click on anyone to see the show, and you will have seen them all. SLASH has his usual intense focus going, and he looks good onstage. With such a technological show, it's odd they didn't go with video so as to have some audio. Here is where to find the slide show:


COMDEX Slide Show





If playing at a computer convention seemed odd for SLASH, he's made an appearance elsewhere that is really something he likes. "South Park"! SLASH loves this show, and he went to its fifth anniversary party. He was interviewed, and the interviews are online at the "South Park" website. He doesn't play his guitar, but he has some cool things to say about the show.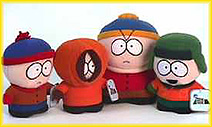 When you get to the site, again there are different pictures which you can click to start the videos. SLASH is in two of these (actually we didn't have time to check the rest). Try the one with SLASH's picture which is all SLASH. The one beside it that says "See the celebs come out..." also has some SLASH comments. These are good, and SLASH is his usual honest and funny self. If you like "South Park", maybe you'll take the time to watch all the videos. Let us know if you see anymore with SLASH. Here's where to go and just scroll down to the pictures:


SLASH at South Park's Fifth Anniversary Party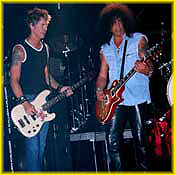 If you follow MTV online news at all, you know Kurt Loder has been tagging along with Axl and his Merry Men. There was a lengthy interview with Buckethead that appeared today. According to Loder, Buckethead is leagues beyone every other guitar player. Might be more believable if Loder wasn't a camp follower. Axl likes him at least partly because Loder has never had a negative thing to say. Anyway, prior to this giant interview, it says that there will be a show premiering on MTV2 (note this is not MTV) this Sunday at 9:30pm ET. It's called "The Wrap", and the description reads "Kurt Loder peeks under Buckethead's bucket, while Gideon Yago takes a look at the other GNR, the purported return of rock, Eminem and Kaiju Big Battel." From this brief description it looks like there could be something about the new SLASH band. As we don't get MTV2, if anyone watches, would you let us know? Thanks!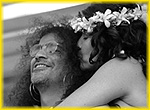 There's more on TV, but nothing as potentially interesting as "The Wrap". SLASH's Snakepit shows up on "No Hit Wonders", MTV's Ultra Sound, 11/26 at noon ET. Once again SLASH shows up on VH1 All Access on the "Rock & Roll Weddings" show, 11/26 at 2pm ET.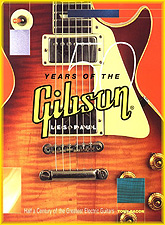 There's another guitar book with several SLASH mentions, 50 Years of the Gibson Les Paul by Tony Bacon.. There's a full page picture of SLASH with a quote: "That '59 vibe can't be beat. Bottle it in a brand new guitar, and you'll have lines around the block." They call SLASH the savior of the Gibson Les Paul. Gibson wanted SLASH to have special models built and endorse a signature guitar. But mostly the new models were not up to SLASH's sound standards. Gibson eventually created the SLASH signature in their Custom Shop and followed it up with a lower priced Epiphone model. The first Custom Shops came out in 1997. There's also a mention of the 50th Anniversary of the Gibson Les Paul in 2001 where SLASH and others turned up for the celebration. This is a really good book for those interested in the history of the Gibson Les Paul with many, many color illustrations and quotations. The book is priced at about $16 and is available at amazon.com.



News Reported: 11/22/02


Yesterday was a strange one for watching SLASH's career. Our handsome but technophobic guitarist performed at COMDEX. COMDEX Fall is meeting in Las Vegas bringing out 70,000 techies to see the new products and hear about the future. Advanced Micro Devices Inc. President and CEO Hector de Ruiz has been pushing his 64 bit chip, and SLASH became part of the publicity.

He walked out on a stage and cranked out "Knockin' On Heaven's Door" while Ruiz changed the lyrics to "Knockin' on 64". Typical corny computer show stuff. Guitarists may be more interested in the fact that joining him on stage to help discuss his company's work with AMD was Henry Juskiewicz, CEO of Gibson Guitars. The legendary guitar manufacturer is developing a completely digital electric guitar that features a digital receiver in the pick-up under each string that sends digital signals to an internal Ethernet connection. The guitar, which is also equipped with an Ethernet port, can connect to a digital audio workstation from which the musician can easily create otherwise complex media recordings and presentations. We can imagine SLASH's thoughts on this which truly makes us wonder why he would bother with this show...the audience of 70,000 might have been a lure along with working with Gibson's CEO. Back to the studio, SLASH!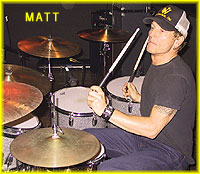 One thing SLASH might have done was to wish Matt Sorum a happy birthday. This was November 19! Happy Birthday, Matt! He's now a cool 42 years old. Thanks, Santiago, for the reminder.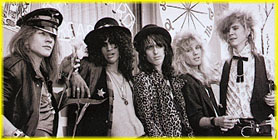 Just to drive you crazy, there's an article on the United Press International called "Guns N' Roses Bloom Again". It's an interview with the different members of the new GNR (minus Axl) commenting on the original band and the new band SLASH is putting together. Don't expect a lot of good wishes especially from Dizzy Reed. Back in the old days, SLASH must have bumped his keyboard! You can check it out at:


Guns N'Roses Blooms Again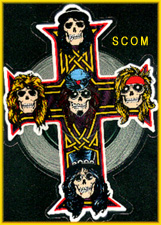 Vicki watched VH1's "100 Greatest Love Songs" where "Sweet Child O' Mine" came in at #79. The narrator said that Appetite for Destruction was released in 1987, but it didn't really move much till MTV showed the SCOM video a year later. SLASH appearance! SLASH said, "I never expected that song to do anything. I hated that song, so when we did it, and it became the big...that was the thing that broke Guns N'Roses really, when it came down to it." They then had Bret Michaels (of all people...GNR still seems at war with him) saying how much he liked Axl's voice. Bret said that to take such a rough and tumble band and come out with such a beautiful melody as SCOM, people got hooked on it. The narrator then said Axl wrote this for then-girlfriend Erin Everly, and they tied the knot after Axl threatened to kill himself if she didn't elope with him...only to have the marriage annulled 8 months later.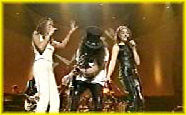 Vicki also gets the VH-1 Classics TV station, and she was happy to catch the video of SLASH with Chic. This was a live performance at Budokan. At one point two female vocalists are on either side of SLASH as he is bent over playing. He looks up and there they are, and he has a really sweet smile. SLASH was playing on "Le Freak", a Chic standby. Thanks Vicki for this note and the one on SCOM!



News Reported: 11/20/02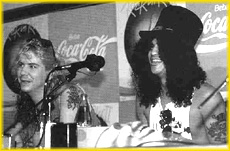 All of a sudden the media seems to be waking up to the fact that SLASH is putting together a hard rock band with Duff, Matt, and Izzy. Today, the same article appeared on MTV's and VH1's site. This was an interview with SLASH, a nice long one, and full of answers about the band. SLASH talks about the strange timing of his band being under construction while Axl's out there touring. He had a couple of comments about the new GNR tour but nothing that derogatory. Mostly SLASH seems excited about his own band. He says it won't be a GNR cover band. They've got a lot of new songs, and it's the music and the singer that are on his mind. SLASH says they have received over 500 tapes. Singers that have a chance are asked to write lyrics to a couple of songs, sing them and come in and jam with the band if they are what SLASH is looking for. He says he has not ruled out a woman singer which is surprising since he told us about a year ago that he would never have a woman in the band. But if he could find a Janis Joplin crossed with Joan Jett and sweetened with a little Tina Turner, he might just go for her. SLASH even claims to be considering Courtney Love. Hey, if you thought Axl was tough, stand back for Ms. Love. The woman is absolutely fearless and also despises Axl Rose, so it could be an interesting tour. You'll want to read this all yourself...the Master speaks:


SLASH On The New Band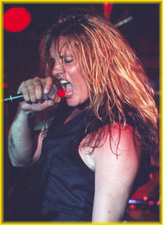 Sebastian Bach is one of SLASH's buddies. Right now he is doing a one year US tour with Jesus Christ Superstar, but he is also very interested in the singer slot of the new band. He recently did an interview where he talked about his role as Jesus Christ, the size of the venues he's playing, and a little on SLASH's band. He also manages to rip his old band, Skid Row while giving a plug to his solo album Bring 'Em Bach Alive which has just been released in Europe. It's an interesting interview, but the SLASH band portion is this: Baz has been working with the guys on songwriting and doing some jamming with them. He would say yes to the vocalist slot in a New York minute. How this would fit with his Superstar role, he didn't say. It sounded like he was ready to make a few sacrifices to get the slot. Here's the audio interview where you can hear it all:


Baz - Interview Section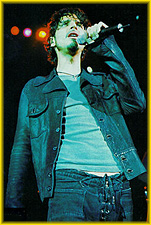 Seems everyone is wondering who that singer will be. MTV has selected five candidates. You can go over and vote right now! Here are the choices: Courtney Love (firebrand widow of Kurt Cobain), Sheryl Crow (a little dull for this gang?), the mighty Chris Cornell (just beginning a new band), Kelly Osbourne (puh-leeze) and Marilyn Manson (weirdest wardrobe in rock). What do you think? We don't think any of these are under consideration, but Chris Cornell is always a popular choice, and SLASH once said that he would join any band that Chris was in. Here's where to vote for what must be a tongue-in-cheek poll:


Vote For A Singer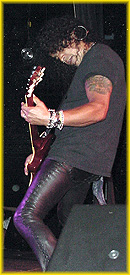 Michael is in Scotland and was watching the VH1 Classic Rock channel. It was a countdown of the 50 greatest rock tracks. Michael tuned in for the Top 10. "Sweet Child O'Mine was at number 2 (Michael says it deserves #1!). The Who were at #1 with "My Generation". Some others were done by Nirvana, Thin Lizzy and Bon Jovi. Michael would like to know if anymore GNR hits found their way into the Top 50. Thanks, Michael!



News Reported: 11/18/02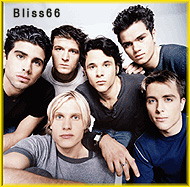 Cheyenne Goff wrote in to correct "The Informer" email which claimed Cheyenne was the vocalist for the SLASH/Matt/Duff/Izzy project. Cheyenne is currently with Bliss66 and says that he did audition by writing lyrics and recording vocals for two of the four tracks sent to him. He called them "pills" and "got you where I want you". As of today, Cheyenne has yet to hear anything back on these. He asked if we had heard the tracks which we have not...and also, wouldn't we like to hear them? Yes! SLASH is letting out bits of information, but nothing is new from him on the vocalist slot. Thanks, Cheyenne for giving us that correction!


VH1 is giving you a chance to ask SLASH (actually they say your favorite artist) what defined 2002 for him. VH1 is celebrating the best and most notable moments in pop culture in 2002. Check back to see if your question gets posted. VH1 will air a Big in 2002 Awards show in December and your question may make it on air. They say you can ask questions like: what was your favorite album/artist this year?, what was your most memorable event this year?, what do you regret not achieving this year? and in a single word, what wraps up 2002 for you? SLASH would have good answers for all of these! You'll need to fill out a form with question, artist, your name, etc. Let's see if we can get SLASH to answer some of these. To submit your question, go to Ask The Artist.



There's some news on members of SLASH's Snakepit. Keri Kelli will be standing in for Tracii Guns in the L.A. Guns band while Tracii is busy with Brides of Destruction, Nikki Sixx's latest. L.A. Guns with Keri will appear in Las Vegas at the House of Blues in Las Vegas on November 29. More dates will be announced. Keri says the band order in Vegas will be Bullet Boys, then L.A. Guns, then Great White. Go out and see Keri! Matt Laug worked with the David Isaacs band. Isaacs is a pop/rock singer from L.A. In the band bio, it says that Matt is a hard rocking drummer and for most of 1994 and 1995, Matt was the deputy Mayor of Manhattan Beach, CA! Johnny G played on the soundtrack for Halloween Resurrection. This is a 24 track album with Johnny G performing "Knockdown Chant", "Can't Change Your Mind" and "Tina". Of course we know what SLASH is up to, but the one Snakepit member we can find no trace of is Rod Jackson. Anyone know what he's doing?



There's another new book with some SLASH mentions. This one is The Electric Guitar edited by Paul Trynka with foreword by Keith Richards. It came out in 1993 but has been completely revised for the 2002 issue. They say the Gibson Les Paul is the ultimate rock guitar, but they were dropped by Gibson after only 8 years. The book has a lot of dates and history of the Gibson Les Paul which of course includes SLASH. SLASH has a small article about buying Joe Perry's guitar. There's a good picture of SLASH and some other details on his playing. A very interesting book for those involved with electric guitars...the book is available on amazon.com for $17.50.



Here's the SLASH and original GNR TV schedule. On 11/20 at 8pm ET, SLASH makes a brief appearance on VH1's All Access. A clip of his Hawaiian wedding is shown on this show about Rock & Roll Weddings. See the Gunners do "SCOM" on VH1's 100 Greatest Love Songs. There are several dates here: 11/14 at 8pm ET, 11/15 at 7pm ET, 11/16 at 5pm ET, 11/17 at noon ET and 11/19 at 4pm ET. The original GNR turns up on MTV 25 Loud which shows clips from the Top 25 videos of all time. Look for this show on 11/16 at 5pm ET. MTV2 has a show on the history of rock on MTV over the last 20 years. SLASH is on as a commentator. This one is on 11/17 at 5pm ET. Another MTV2 showing of Headbanger's Ball Uncensored is set for 11/17 at 7pm ET. Get the popcorn, the Gitanes and cranberry juice/vodka, and let the tapes roll.



News Reported: 11/15/02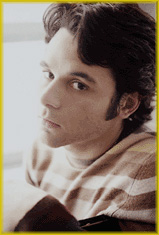 "The Informer" sent news about the SLASH/Duff/Matt/Izzy project. He says he's listened to two demos. The Informer says the band has been tentatively named The Guns. According to him, the band has been writing and recording music and sending it to Michigan to Cheyenne Goff, lead vocalist for Bliss66. Cheyenne is writing lyrics and recording vocals. The Informer says that he's not sure if this is supposed to be a secret, but he thought he would pass it on. Take this for an unconfirmed rumor, but it's an interesting one. The band name is a good one! Cheyenne is 21 and comes from Caro, Michigan - now residing in Taylor, MI. He's been compared to Matchbox Twenty's Rob Thomas. If you would like to hear Cheyenne, go to Cheyenne Goff Sings. Keep that band information coming! Thanks, Informer!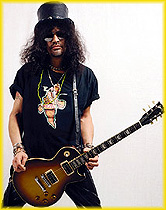 Our friend Vicki in West Virginia sent some magazine news from Entertainment Weekly magazine #682, November 15 with Elijah Wood and Liv Tyler on the cover. On page 130, in the "Hear & Now" article in the music section, there's an article titled "Smokin' Guns" with a picture of SLASH! It's shown here. The picture caption says "A Rose By Any Other Name - SLASH. The article reads:

"Who are these guys claiming to be Guns N' Roses? That's what many asked when a seemingly face-lifted Axl Rose jumped on stage at August's MTV VMAs with some unfamiliar faces to perform GN'R classics. For those wanting more GN'R in their GN'R, help is on the way. Slash, Duff McKagan, Izzy Stradlin, and Matt Sorum-- a.k.a. Guns N' Roses minus Rose-- are recording a new CD, set for next year. The project was conceived when Slash, McKagan, and Sorum played with Aerosmith's Steven Tyler at a 2001 benefit. 'It was insanely cool,' says Slash. 'Steve Tyler said, 'Wow, Axl should probably get his s--- together,' but it's way too late for that.' Soon after, Stradlin and Wasted Youth guitarist David Kushner joined the trio to write songs. One problem: no singer yet, though Buckcherry's Joshua Todd, Lit's Jay Popoff, and Psychotica's Pat Briggs have auditioned. There's also no name so far, but it won't be Guns N' Roses. 'Before a gig one night in '92, [Axl] hands us a contract saying that if the band breaks up, he's taking the name,' says Slash. 'Unfortunately, we signed it. I didn't think he'd go on stage otherwise.' "
Thanks, Vicki! We learned two more vocalists who are trying out.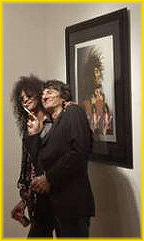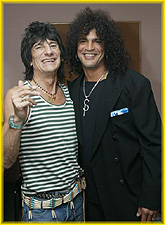 Speaking of pictures, two good ones have surfaced. Michael found the one on the left. That's SLASH with Ron Wood of the Rolling Stones. SLASH went to the private opening reception displaying some of Ron's 40 original and limited edition celebrity portraits at Hamilton-Selway Fine Art Gallery in Los Angeles. That's SLASH's portrait behind the two. On the right we have one that Norm and Michele discovered...this is from the Rolling Stone fan club site in the Virtual Ticket section. (must be a member to get in) Here's SLASH backstage with Ron Wood at the Stones concert in L.A. Thanks, Michael, Norm and Michele!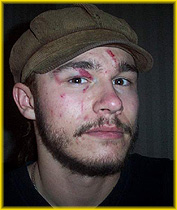 And here is a picture that isn't so cool. This is from Slinger who made the mistake of going to the Vancouver GNR show. When the show was cancelled there was a riot, and some fans were arrested and injured. These pictures are of Slinger beaten up by six guards and cops. He was one of the 12 arrests there. Slinger is a big fan of both SLASH and Axl as are many of you. Here's what happens when there is a riot, so let's be careful out there! Slinger, hang on! SLASH is coming, and his shows are more peaceful.



Ivan sent this information on a new book with SLASH pictures in it. It's called Tattoo Nation and it is published by Rolling Stone/Time Warner. Ivan says there is a small 2 page feature on SLASH. The book has a lot of famous musicians including Nikki Sixx, Joshua Todd, Lenny Kravitz, Ozzy, Pink, etc. The book is available at amazon.com for about $25. Thank you, Ivan!



News Reported: 11/13/02

Veteran's Day is a national holiday in the U.S. Our community is dedicating a memorial to military personnel who died in the Vietnam War, and we'll be taking part in that. See you Wednesday, November 13 with more SLASH news. Last week's news is below. Thanks!



News Reported: 11/11/02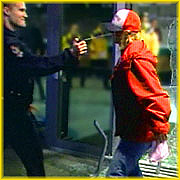 Because Axl and the current GNR have quite a few sites, we don't really attempt to cover them here. Today's news has caused such an uproar that we'll just put the information here for those who may not have seen it before. In summary, last night was the tour opener for the current GNR. The venue was in Vancouver. Axl did not make it in time; the show was cancelled, and fans rioted outside the venue. Since no official statement has come out at this time, some are saying there were technical difficulties with Axl's plane. This would have caused him to be an hour late reaching the venue. The venue elected to cancel while the fans were outside...before they had to give them the news inside. Another story is that this was a publicity stunt, and Rose had no intention of doing the show. Somehow this sounds a little bizarre even for Axl. Note to Axl: next time leave earlier! Even when things go well, customs take a long time. So far, SLASH has had no comment; but we were remembering something he said long ago about Axl. He said Axl has the worst luck of anyone he knows. Even if he were just brushing his teeth, Axl could manage to get the toothbrush stuck in his throat! Axl is a very complex man; and although we don't like what's been done to Guns N'Roses, he most likely did not intend this to happen. All the best to those Vancouver fans injured and/or in jail. When you're asked to leave private property, turn around and walk away. And the band plays on tonight in Toronto, now the tour opener. For more information, check out the MTV site as Kurt Loder was on the scene at the time.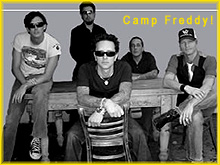 There have been a number of messages from fans wondering about Camp Freddy. The main point of confusion? Is this the SLASH/Matt/Duff project? No, Camp Freddy was put together by Billy Morrison (guitar, vocals). The rest of the gang is: Dave Navarro (guitar, vocals), Scott Ford (bass, vocals), Matt Sorum (drums), and Donovan Leitch (vocals). The rest of the artists you see in setlists or in photos and videos are guests. Guests are vocalists or play guitar. SLASH and Duff are guests not permanent band members. Duff plays guitar mostly and occasionally will spell Scott on bass. The band started out to be a one off, but more and more fans want to have a chance to see them. Billy swears that soon the band will have shows open to the public, so get ready for that! Let's hope some of those guests, like SLASH, will be at these shows, too! Visit the Camp Freddy web site for the complete story. Notice the backgrounds at the site...very cool.

Camp Freddy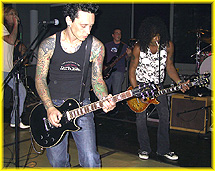 Camp Freddy is getting some good press coverage. This came from the Camp Freddy site, we believe, although we haven't been able to locate it there. So, here is a copy of a Kerrang story on Camp Freddy. Notice SLASH is right up front! The text is a little difficult to read, but it doesn't say anything you don't know. Good, large picture!


Kerrang! on Camp Freddy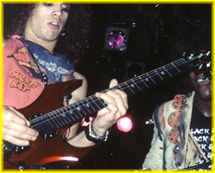 Metal Sludge is a riot. Who writes this stuff? They have a section where they expose rockers...they find old pictures and slap them right up there. They did Guns awhile back with some funny captions. Now they have exposed SLASH! Actually SLASH makes out fine. He's with an old band of his called Black Sheep, and these are good photos someone sent in. The vocalist is a little strange, but SLASH looks like a young, handsome rocker. We'll send you there to have a look. When you get to this page, scroll down for the list. You might want to have a look at some of the others!


Exposed!

By the way, to read a biased and wildly angry and funny report on Axl's latest misadventures, check out Metal Sludge's take on the whole incident. Not a favorable report!


Riot!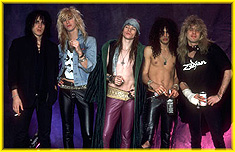 VH1 has a new (gasp!) show called "100 Greatest Love Songs", and they count down these 100 over 5 nights. There are clips and classic performances plus new original interviews with the artists behind the songs, with Hollywood couples and celebrity love experts. While neither SLASH nor any of the GNR gang does an interview, Guns does have a love song in the top 100. #79 is "Sweet Child O' Mine". The episode with SCOM is on these dates: 11/12 at 10pm ET, 11/13 at 1am ET and later at 12pm ET, 9pm ET, then 11/14 at 8pm ET, 11/15 at 7pm ET, 11/16 at 5pm ET, 11/17 at noon ET and also at 5pm ET. If anyone sees this, we'd appreciate a report on SCOM. Thanks!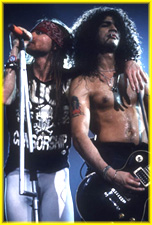 Stuart sent in a report on the November issue of Classic Rock where readers voted Appetite for Destruction as the number one rock album of all time. The Illusion albums came in at number 20. Classic Rock did its own Top 50 rock albums, and Appetite... came in at number 6. Stuart says there is a good review of the album, and there's a good review of the "Axl Rose and His Yes-Men" gigs in the UK. The headline for the article is "Where's SLASH?". Just what Vancouver was wondering...



News Reported: 11/08/02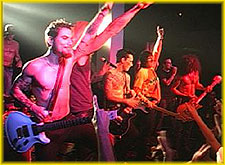 Billy Morrison gives us some more on the Camp Freddy show. This is a three minute "teaser" that shows different sections of the gig. SLASH appears, and he looks just great! And if it's been way too long since you saw SLASH do some head banging, get over there and check it out. Definitely hang on to the end where SLASH plays "Paradise City" with Sebastian Bach on vocals and Ronnie Wood from the Rolling Stones on guitar! It's over 8 meg, but be patient as it really is a killer clip. QuickTime is required. The movie is at Billy's Site and Click Multimedia. Thanks, Billy for letting us see this video!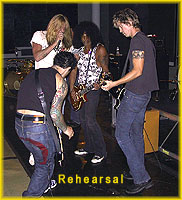 Billy keeps an online diary, and he's written a section about Camp Freddy. He really looks up to SLASH. One picture with Billy and SLASH has the file name GENIUS! This section tells how Billy put Camp Freddy together and how he got his guests including SLASH. He tells you which songs SLASH played on, and a big thrill...playing with Ron Wood. Ron and SLASH are close friends, and Ron was in town for the Rolling Stones show, so SLASH just invited him to come down and jam with the band. A super evening, and here is Billy's take on what happened:


Billy Morrison's Diary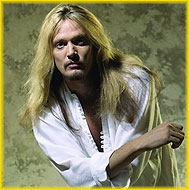 Sam was at the Jesus Christ Superstar opening. Sebastian Bach has the title role. Sam waited afterward to see Baz who is always great with the fans. Like most of us, Sam didn't get into Ivar to see Camp Freddy, so he asked Baz a few questions. Baz did not do vocals for the whole show, but other people were not on their regular instruments. Duff played guitar almost all evening because the bassist for Camp Freddy wanted to play bass himself. Duff did get on bass for the finale, "Paradise City". Ron Wood was there to play on that number, and Ronnie said he would not play at all unless Duff played bass! Everyone wanted Matt, Duff and SLASH to play that one! Baz did vocals on it, and he said the song is just magic. Duff got to sing "New Rose" and "I Wanna Be Your Dog". Baz sang "Time Warp" with Duff on backing vocals. Baz thought the whole evening was just perfect, and he hopes to get invited to the next gig if he is in town. Baz put a review of the show on his web site, and we have it for you here:


Sebastian Bach on Camp Freddy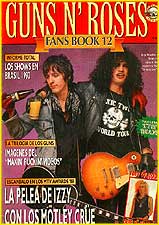 AFM as SLASH would say, and we want to correct Another F... Mistake. If we don't get it right, let us know. Last time we gave Nicole credit for being Izzy's webmaster. Nicole says the Methanol webmaster is Markus Strand. Nicole does the fan forum and types up the articles. Sounds like Assistant Webmaster! Izzy, send her some email! Thanks, Nicole!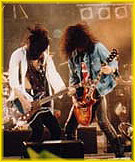 Gilby is doing some shows, and we missed the last one. This one will give you a lot of time to get tickets. On January 9, 2003, Gilby will be in Toronto, ON at Healey's. Canadian fans...get out there and see Gilby! He does a good show and always has time for fans.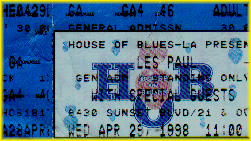 About the show with all the guitar stars like SLASH where they played with Les Paul, Andy says the original show was at the House of Blues in Los Angeles on April 29, 1998. There was no official recording of the show. The Geffen pick box released in Japan is still for sale. Andy says a local guitar store in Munich, Germany has them...but none with SLASH. Thanks, Andy!



News Reported: 11/06/02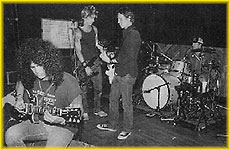 Did you think the news that Izzy was working with the SLASH/Matt/Duff project was only wishful thinking? Check out this picture of the band in action! IZZY'S HERE! We got the word initially from Duff, now here's a picture from The L.A. Times (thanks, Kevin!). There is also word from Izzy himself. Nicole has Izzy's approved fan site (www.methanol.tk), and she sent Izzy's confirmation. He says he has been writing and rehearsing with SLASH, Duff and Matt for their new project. Izzy contributed about ten songs that may or may not make it to the finished album. SLASH and Duff are currently auditioning singers. Nicole says Izzy did not say if he were going to be part of the band or is just there for rehearsals. She'll let us know if Izzy sends more details. Thanks, Nicole! All the fan sites are really pulling together to share the news. It's a huge time for all of us! And don't they look natural playing together? Although we were told that a singer has not been chosen, we are betting it's Kelly Shaefer from Neurotica. No other names have cropped up as possibilities, but a lot of tapes are still coming in.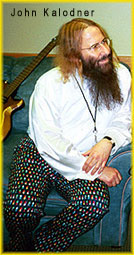 The article accompanying the L.A. Times photo above is right here. A big surprise for fans is the A&R man. It's John Kalodner, an A&R legend. He's worked with Aerosmith, Sammy Hagar, Journey, Joe Satriani, Steve Vai, Iron Maiden, Bon Jovi, Warrant and so many more. Kalodner is a big name in the rock world, and the Project is certainly getting the best. In summary, they are looking for a name, looking for a singer, writing and rehearsing. At the end of the day, what matters is the quality of the music on the new album. With all this talent, they seem to have a big chance at the success that has eluded them individually. It's good to hear they will do some GNR covers. These are the people that wrote them and played them. They certainly have the emotion and style that other bands just can't come up with. Rock On! Here's the L.A. Times article right here:


"A New Bloom From GNR Veterans"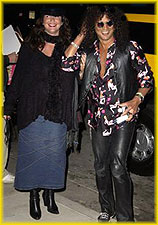 SLASH took some time Friday (November 1) and went to the Hamilton-Selway Fine Art Gallery on Melrose Avenue in L.A. The occasion was (by invitation only) the exhibition of Ronnie Wood's portraits and prints. Ronnie was there greeting old friends who were viewing the artwork for sale at the Gallery. The picture here is SLASH and Perla (who they listed as guest) arriving at the Gallery. The publicity did not state how long the exhibition would go on. Give the Gallery a call at 310/657-1711 before heading out there to see SLASH's picture and the rest.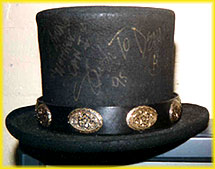 Anne sent us a note awhile back that her most treasured SLASH memorabilia was his hat that she bought in Los Angeles. SLASH had had some leather work done and paid with his hat which was later sold to Anne. Anne sent in some pictures of this treasure. It's signed to Dennis, the man who took it in trade. When Anne saw SLASH at the Sydney, Australia airport, she asked him to sign something for her. She told SLASH that the hat was very inspirational! It made her drink more! SLASH had a good laugh at that one.



News Reported: 11/04/02

The Camp Freddy show took place at Ivar which is on N. Ivar Avenue, just a few steps from the Hollywood and Vine intersection. Billy Morrison's new band tore up the place for over an hour. There were a lot of guests and a lot of cool songs. SLASH was onstage of course and looking great in his Hawaiian tan! Ron Wood came in to play with SLASH on every band's favorite ending song! It was a great night! Check out this setlist:

20TH CENTURY BOY
JEAN GENIE - WITH MICHAEL WINCOTT
PRETTY VACANT - WITH BILLY DUFFY AND JON CLAYDEN
BROWN SUGAR - WITH MARC FORD AND FAB (STROKES)
ROADHOUSE BLUES WITH MARC FORD AND JOHNNY FAYVA
PARANOID - WITH CASY CHAOS (AMEN) AND TWIGGY RAMIREZ
WHOLE LOTTA LOVE - WITH PERRY FARRELL, SLASH, AND STEVEN PERKINS
BRASS IN POCKET - WITH MACY GRAY
MY GENERATION - WITH BILLY DUFFY AND WES SCANTLIN (PUDDLE OF MUDD)
SHOULD I STAY OR SHOULD I GO - WITH DUFF MCKAGEN AND STEVEN PERKINS
NEW ROSE - WITH DUFF MCKAGEN
FAT BOTTOMED GIRLS - WITH SLASH
I WANNA BE YOUR DOG - WITH SLASH, DUFF MCKAGEN AND MICHAEL WINCOTT
TIME WARP - WITH SEBASTIAN BACH, DUFF MCKAGEN AND SLASH
PARADISE CITY - WITH RONNIE WOOD, SLASH, DUFF MCKAGEN, SEBASTIAN BACH AND WES SCANTLIN



Here's a thank you from Billy: ON BEHALF OF ALL THE MEMBERS OF CAMP FREDDY - THAT IS, BILLY MORRISON, DAVE NAVARRO, SCOTT FORD, MATT SORUM AND DONOVAN LEITCH, THIS SITE THANKS ALL THE GUESTS ABOVE FOR APPEARING AND MAKING IT AN EVENING THAT WILL GO DOWN IN HISTORY. AN NIGHT WHEN ABSOLUTELY EVERYONE CAME TOGETHER WITH ONE COMMON AIM - TO HAVE FUN AND TO PLAY ROCK AND ROLL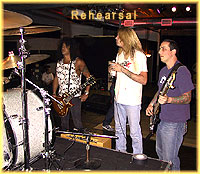 Billy has some photos up from the final rehearsal and from the show itself. He promises some video, too. For the show photos go to

Ivar Photos


and when you get there, click on Photographs. The Ivar Photos are at the bottom. And for the final rehearsal pictures, go to:


Final Rehearsal Pics and click on "Where's the f*cking pictures?"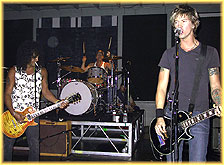 We've been waiting to hear from Lori, Duff's webmaster, as she was going to a rehearsal of the SLASH/Matt/Duff/Izzy project Halloween night. She did let us know that she didn't get to go because the guys had a new singer coming in for an audition. The singer was nervous enough already without an audience, so Duff postponed her visit. Audition tapes from singers are still coming in! Did you notice that the Camp Freddy pictures show Sebastian Bach (Baz) singing especially with SLASH, Duff and Matt? There have been a lot of fan suggestions that Baz would be a great singer for the band. However, if you visit Baz's site, you'll see this is not possible. Baz signed to do the rock opera Jesus Christ Superstar! Of course Baz is Jesus, and he is really looking forward to the show. He says the lightings and set design are unbelievable. The show will be touring starting November 1 through July 2003 at least. SLASH and Baz are good friends, but he'll be doing some wonderful theater work. If you are interested in the show schedule, go to Baz's Official Site.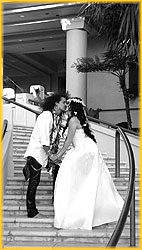 Here's some forthcoming reruns! On 11/11, VH1's All Access at 7pm ET present Rock and Roll Weddings with a small snippet from SLASH's October 15, 2001 wedding in Hawaii. On 11/2, there's a bit about GNR on 100 Most Shocking Moments in Rock and Roll. The show begins at 7pm ET. On 11/4 at midnight ET, MTV2 reruns the MTV show, MTV 25 Loud. GNR is on this show as they present the Top 25 videos of all time. On 11/6 MTV2 presents Ultra Sound at 5:30pm ET which is about rock and roll feuds. Axl's feud with Vince Neil is listed. Axl's feud with SLASH is not!



If you look at SLASH's fan club listing, it says that all profits will be donated to Wildlife Waystation. If you've been wondering what this charity is, we've got the information here. The Wildlife Waystation is a licensed, non-profit animal sanctuary located on 160 acres in the Angeles National Forest in California. They were founded about 30 years ago. Their mission is to rescue, rehabilitate, relocate and provide sanctuary for exotic animals from all over the world as well as native wildlife. The Waystation provides education for the public about the global plight of animals and the environment. SLASH has always liked exotic cats like tigers, cheetahs and so on. In fact he owned an exotic cat for awhile, but he found that it is illegal to own these in the city and placed it at a shelter. The Waystation offers tours and educational programs. They also sell merchandise there and on their site. For more information, Wildlife Waystation. Our fan and merchandise dollars are being put to good use.



News Reported: 11/01/02