SLASH !
SLASH's Official Fan Site
SLASH News
November 2003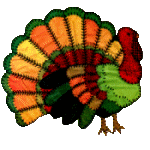 Thanksgiving is a national holiday in the U.S., and we'll be busy with friends and family toward the end of the week. The News will return a week from today, next Monday, December 1. Send in the sightings! And Happy Thanksgiving to all of you!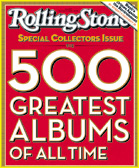 Rolling Stone has named the "500 Greatest Albums of All Time" in Issue 937, December 11. Guns N'Roses made the cut with "Appetite for Destruction" at #61. The article says this list is the ultimate record library as determined by a five-star electorate of singers, songwriters, producers, musicians, labels execs, managers, historians and critics. They go through all the mechanics of explaining how the results were calculated, but all we can tell you is this is a very difficult list to make let alone be in the top 100. Each album is named, and some have some cool things written about them.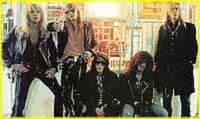 AFD is singled out as the top selling debut album of the 8o's. They say it was more than just "Axl's yowl", and some of the band assets were very subtle such as "Steven...who brought swing and disco breakdowns to the band's mighty metal." Some songs are about urban pain such as "WTTJ", but others like "SWOMC" and "Paradise City" have "sweet, yearning lyrics that put the band's musical ferocity in even higher relief". Other interesting albums on the list were Sgt. Pepper's Lonely Hearts Club Band at #1, and #60 (just before AFD) was Greatest Hits by Sly and the Family Stone. At #62 was U2's Achtung Baby. Hanging on at position 500 is the Eurythmics Touch. This is definitely an issue to get...lots of good reading.



When you look over the 500, you might see some you want to get; but quite a few are out of print. Not anymore. Rhino Records has teamed up with Rolling Stone magazine to sell all 500 off their site. You can browse the complete list of 500 there. These are the original albums with the original artwork at reasonable prices. You can also enter a contest to win your choice of 100 CDs off the list and a jukebox to load them into.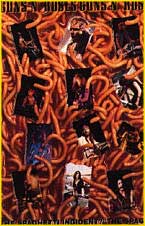 Another Guns N'Roses album is in the spotlight: GNR's all-cover album, The Spaghetti Incident? was released 10 years ago yesterday. The band members chose their favorite covers; SLASH selected "Buick McKane" and "I Don't Care About You" and played on every track but "Look At Your Game Girl", the Charles Manson song selected by Axl. The album title refers to an exchange during the suit Steven Adler brought against the band for firing him and not paying him money he claimed was owed to him. There was some problem about someone in the band eating spaghetti that Steven had made for himself. This was referred to as "the spaghetti incident". Mostly it is an inside joke for the band who would never name another album.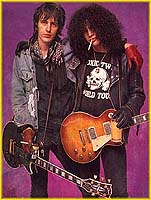 In the years since then, the band broke up; and the ex-GNR members have become friends with Steven again. SLASH and Izzy showed up at one of Steven Adler's gigs to play a couple of songs. And recently at a benefit, Izzy, SLASH, Duff and Matt were all onstage together. slashonline.com has put up a second video, "Mr. Brownstone"! Izzy and SLASH wrote this one together. Izzy's on lead vocals here. The direct url for the video is:

"Mr. Brownstone"





We've been asked how Perla is coming along. Evidently, she has had a tough time with morning sickness but is very healthy and things are coming along on schedule. She is already "showing" and seems very happy at the prospect of two little ones under two! We wish her all the best. SLASH and she are old hands at this now and are very excited about the prospect of a new baby.






News Reported: 11/24/03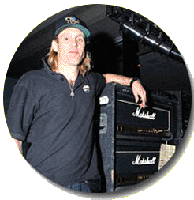 Adam Day is SLASH's longtime guitar tech. He has a very important role in making sure SLASH's equipment is in top condition, and he's there on tour setting up and tearing down SLASH's setups. Over the years he's become one of SLASH's trusted friends, and you can get to meet him at nearly any show. Adam is always busy, but always seems to have a moment to answer equipment questions. The Equipment section of this site was last checked by Adam in 2002, and we thought it was time for an update. Adam took time from his busy work and family schedule (recently Adam became a new Dad!) to go over the Equipment schedule again. There were some changes and additions that will be of interest to those of you who want to know about SLASH's sound. We invite you to go over and have a look around. Thanks, Adam!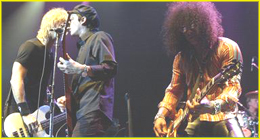 Since the Step UP benefit on November 15 was in California, most of us weren't there to see the ex-Gunners on stage and performing together again. Who was there? Izzy Stradlin, SLASH, Duff McKagan, Matt Sorum! They did a cover of the Rolling Stones' "Jumpin' Jack Flash". Billy Morrison from Camp Freddy (and The Cult) also joined in. Izzy did lead vocals honors! The kind people at SLASH's artist site managed to get a really good video tape that you can watch in Windows Media Format (wmv). You can go through the sites home page at slashonline.com or go directly to the video at "Jumpin' Jack Flash" Video. SLASH is in great form with driving solos and some cool moves...spins and cool head banging. It is sooo great to see them together again! Thanks to Brian and Sammy who sent that in to us!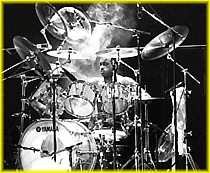 Drummer Tony Thompson lost his battle with renal cancer on November 12. He played for Chic and Power Station and also is on various tracks for Dianna Ross, David Bowie, Duran Duran and more. Back when he played for Chic, Tony had a lot to do with the Chic sound and making their sophomore album, C'Est Chic, a resounding success with the hit single "Le Freak". "Le Freak" is the one SLASH elects to play when he meets up with them. Tony was the one who created that famous rhythm. In honor of Tony, there will be a tribute show at the Hard Rock Cafe in L.A. on December 16. It will be "an amazing night of music with surprise guests featuring Tony's favorite players and former band members". SLASH and Matt are making plans to be there. Tickets are $35 and are a fundraiser for Tony's family. For more information, see December 16 on SLASH's calendar. Make plans to be there now!


News Reported: 11/19/03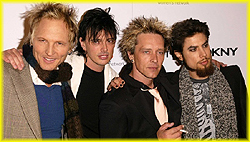 We've gotten one report from a fan who got out to see Camp Freddy play at the benefit for Step UP, the women's network, a nonprofit committed to advancing philanthropy and volunteerism in the entertainment and media industries to effect social change for women and girls; and Brian sent in some information on the net, too. Camp Freddy, as always was a great "jam" band act, and they always bring along special guests to jam and have a good time with them. Present from Camp Freddy were Donovan Leitch (vocals), Matt Sorum (drums), Scott Ford (bass), Billy Morrison and Dave Navarro (guitars). We're told that Donovan sounded great. Then Duff joined for one song with Dave Navarro. Dave was then replaced with Steve Stevens (Billy Idol's band), and Mark McGrath took over on vocals. Gina Gershon did one song as did Macy Gray. Josh Todd also did some vocals.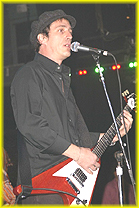 Izzy and SLASH came on for two songs. Our reporter says the great thing was when Billy Idol came out to take over vocals, and it was amazing to see him again. Unfortunately, we're told the vocals sound was horrible except for Donovan. The event was held at the Avalon Theater in L.A. Another guest onstage was Linda Perry. The Hits Daily Double site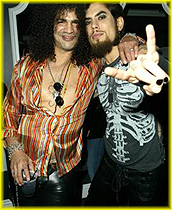 slammed Gina for having to get Billy Morrison to lower her microphone. They didn't seem to think this was "very rock star of her" among many other faults. This seemed to be the only complaint as most people agreed that the classic rock covers were great, but Billy Idol stole the show with "Rebel Yell". (You may recall that SLASH wanted to find a singer like Billy Idol for what is now Velvet Revolver.) We're told that the artists seemed to be having as good a time as the audience, and Camp Freddy does seem ready to make the album Donovan discussed awhile back if they can assemble this cast of extras! There are lots of pictures around. If you go to either of these two sites, you don't have to be registered to look at the thumbnails. Just search on Camp Freddy and you'll see all they have:


dailyceleb.com

wireimage.com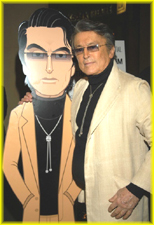 We found a small mention of SLASH in this week's New Yorker, a pretty highbrow publication for SLASHer! They did a review of the TV program "Kid Notorious" where SLASH in his cartoon persona has a continuing role. A summary of their opinion comes from the first two sentences:
"There are some insects that you take care to wave out of the house and some you step on. "Kid Notorious", the Comedy Central cartoon based on the life of the Hollywood producer Robert Evans, is one of the latter." They go on about the the successes Evans has had in his professional life and how he documented them in his autobiography, The Kid Stays in the Picture. They wonder if Evans can have anything else to say about his career. "Evidently, he did, since he is a full-fledged participant in this surreal, loathsome creation...", but mostly they blame Comedy Channel who probably think it would be cool to hang out with Evans. SLASH's small mention is: "The guitarist SLASH, a regular on the show (he seems to be Evans's only friend, aside from his cat), has sex with Evans's big black stereotype of a housekeeper, and he says to her, 'I wanted you since the first time I saw you taking the garbage bag out to the curb' ". We sent the article out to SLASH for his consideration! It's the November 10 issue of The New Yorker, page 125, if you want to read the whole review.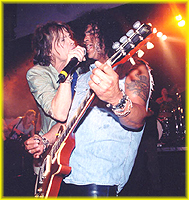 As you know, SLASH is a good friend of the guys in Aerosmith. He is also a recovered drug addict. Steven has 17 years of being clean and sober, and he's now working with a group called MAP (Musicians Assistance Program), a network of sober musicians who help others get through rough patches in recovery and rehab. Norm made us aware of an article about this in the Boston Herald on November 6. Steven is a volunteer sponsor that can be called day or night to help any musician who feels they are in danger of slipping back into drugs and alcohol. In honor of his work with MAP, Steven was presented with an award, and SLASH was at the dinner along with Anthony Kiedis (Red Hot Chile Peppers) and Paul Stanley (Kiss) to name just two. Congratulations to Steven, and we're glad SLASH was there to show his determination in staying off drugs himself! Thanks, Norm!



If you've had an ad put on our ad section (see start of this page), please check if you still need it or want to update it. For those that don't know, you can send in an ad, and we'll post it free of charge. It should relate to GNR or yourself in some way. You can be selling old vinyl or CDs, looking for band members, etc. We've been adding some of our own and realized that some ads are quite old. If you're ready to have them taken down or edited, let us know. Thanks!


News Reported: 11/17/03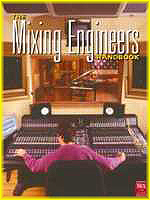 Duff announced that the forthcoming Velvet Revolver album, tentatively due out in March on RCA, is nearly ready for mixing. Scott has a few more tracks to sing, and he's getting out of court-ordered rehab a few hours a day to do this. The band has contracted with Andy Wallace to mix the new album. Wallace has been the mixing engineer on so many tracks and albums, it would be hard to list them all. Some of these are Nirvana, Korn, Rage Against the Machine, Sepultura, Slayer, Limp Bizkit, Front242, Silverchair, Soulfly, Sheryl Crowe, etc. SLASH and the gang will be heavily involved, of course. The mixing process is set to start at the beginning of December, so everything about this album seems right on schedule. We're looking forward to more positive bulletins like this one!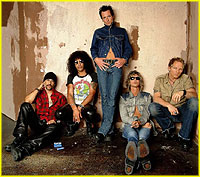 About the bulletins, though, we'd like to see these in a more prominent place. This one came from Blabbermouth and an unofficial VR site where Duff happened to post to the fan site there. The official VR site is puzzling. The fan forum is gone, probably due to the amount of fighting and off-topic posts there. The forum at velvetrevolver.net really needed a monitor. Without one, the forum became fairly useless. Still, it looked like the Journals could be used for these bulletins, but the band does not seem to use them. Nothing is posted in these Journals at all. The main thing there is some strange post by someone who calls themselves Yoko and says they will post for the band or take the band over or maybe not. All together, a very strange site. The whole site seems particularly useless, and yet it is set up to be the central place for VR information. We'd like to see the band posting to their Journals instead of some obscure site where you may or may not find a band member posting. Since we don't know who to make this suggestion to (there is no way to contact the band management through this site), we decided to put it here. If you are wondering where this forum site is, here is the url:


http://www.velvetrevolverforum.com/index.php?board=6;action=display;threadid=618;start=92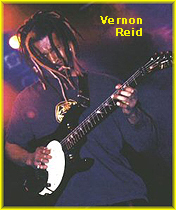 Sam told us about a cool interview with Vernon Reid on MetalRefuge.com that has a SLASH and GNR mention. Vernon Reid is a rocking, stellar guitarist with Living Colour who are getting back together again. The interview started out with details on the album and so on, and then came around to reunions. We're going to send you to the start of the question about GNR. This is in Part 3 of a 4 part interview. At the top you can click to read the others if you want. Vernon has some really inciteful things to say. As you may know, Vernon is black; and "One In A Million" didn't go down too well in the black community. When Living Colour opened along with GNR for the Rolling Stones in LA, there was some concern over this; but Living Colour got up and did their jobs in a professional way, not using the stage as a place to rant about the track. And you won't read any of that here either...just some comments about a possible GNR reunion.

An Interview With Vernon Reid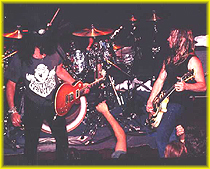 If you're interested in all things to do with the music business, your best source on the net is billboard.com. Unfortunately, Billboard is very expensive; and you have to be a member to see the most interesting features. There's a new music business online site, and their charge is much more reasonable. You can get a free trial subscription for 15 days. It's Music Business Daily; and if you sign up for the free subscription soon, you can vote on the prestigious 2003 Surround Music Award. One of the entries is SLASH's old buddy Zakk Wylde's recently issued concert DVD, Boozed, Broozed and Broken-Boned; and they are giving a People's Choice Award based on internet votes. We would really like to see Velvet Revolver up for one of these in the future. Speaking of SLASH's old friends, Michael Monroe has teamed up with his old bandmates; and Hanoi Rocks is back! On January 27, they'll release their new album, Twelve Shots on the Rocks. You may recall that Hanoi Rocks was a huge GNR influence back in the day, but the band fell apart after drummer Razzle was killed in a car accident in which Motley Crue member Vince Neil was convicted of drunk driving. Best to them, and thanks to Ray for sending that in.


News Reported: 11/14/03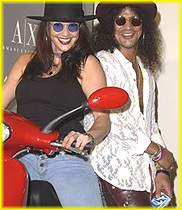 Last evening, SLASH confirmed the internet reports that he and Perla are expecting a baby! SLASH says he is very happy, and he's hoping for a girl because "I can't take another boy!". He said he doesn't really mean that...London is great, but he is very active as you might expect for a 14 month old. The newest addition to the Hudson family is due late June/early July. We asked if they knew the sex yet, but SLASH said they didn't know as yet...too soon. So many of you sent this in, and we thank you all for that. Brian commented, "Soon they will have enough for their own band!" It would certainly rock, and it's for sure they'd be the best looking band around in our opinion. We're sending all our good wishes to the family, especially Perla, who had a rough first pregnancy. She was confined to bed for several months, but it was all worth it for their darling son. Congratulations!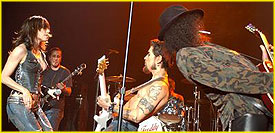 SLASH also reported last night that he may not be performing on Saturday at the Stepup show. If you have tickets, keep them! If SLASH is there, we can't imagine his not being able to get up and play a song or two with Camp Freddy. Of course, Matt will be there as a member of Camp Freddy. Duff is planning to be onstage. SLASH did not know if Scott would be able to get out of the court-ordered rehab to attend. We're leaving this event on SLASH's calendar just in case. So, if you need information on the event or tickets, check SLASH's Calendar for details.


Speaking of SLASH's calendar, we made a whole bunch of new entries to match the changes the Comedy Channel has made for the "Kid Notorious" schedule. This was the first week that the show moved to a different regular time. It is now on Tuesdays at 10:30pm ET/PT (instead of Wednesdays). The other change has been to follow the debut showing of an episode with a sprinkling of reruns of that episode during the week. We've tried to list just the ones SLASH appears in, and SLASH was able to tell us one, but we are not sure of all the future ones. For dates and times, see SLASH's Calendar. SLASH wondered what you fans think about him in this series. He said he didn't see the cartoons - just showed up to do the voices. Now he is seeing them and wonders what you think. He didn't think so much of the scene in the tent on Mt. Everest with the maid, and neither did we. Actually, we only like the series when SLASH is on. Otherwise it seems like an off-color tribute to Robert Evans who people outside the industry most likely have never heard of/cared about. Still, the SLASH parts are weirdly funny!



Kabir sent us some good news. Velvet Revolver has been listed as one of the Top 50 Acts to look out for in the latest issue of Metal Hammer. Thanks, Kabir!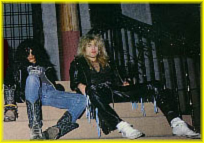 Awhile back, Brian sent us a comment from Steven Adler about the SLASH/Izzy jam with Adler's Appetite, his new band. This was the first time the three had played together since Fam Aid in 1990. Asked about the reunion with SLASH and Izzy, Adler said it was really nice. Although he loves playing with the guys in Adler's Appetite, having Izzy and SLASH onstage playing the old GNR songs made it all more real. Steven said that SLASH and Izzy are his brothers and that they accomplished a lot together. Steven also thanked the fans for coming out to see them and said he loves rock and roll. (Adler's Appetite will tour Europe in January so you European fans should get ready!) About Velvet Revolver, Steven was asked if he felt badly about their using Matt instead of himself on drums. Steven replied that he would never stand in their way and wished the guys the best. He said he thinks they will put out a record which will be pure rock and roll and that he's looking forward to it. All in all, a very gracious response from Steven who seems to have done a lot of maturing over the years. Thanks, Brian!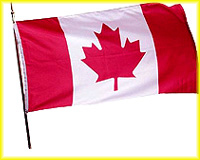 Heads up to our Canadian readers! The Canadian Music Therapy Trust Fund's 2003 Music Industry Online Auction is back. The auction will be on ebay.ca from Wednesday, November 26 to Thursday, November 27. The site is Music Therapy Benefit Auction. The auction features items from the Canadian music industry. For example, there is a 98.1 CHFI visit with Mad-Dog and Billie plus a tour of all four radio stations, Bryan Lee's complete autographed discography (9 CDs) with promo poster and posters, 4 HMV $500 shopping sprees and much more. Many items are targeted to music industry people (like ads), but there are some good collector's items as well.


News Reported: 11/12/03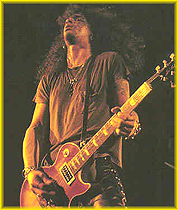 SLASH and his new band Velvet Revolver are still really hot in the music magazines. Vicki from West Virginia tells us that Guitar Player has a special magazine out, Masters of Metal and Hard Rock. The cover has James Hetfield with smaller pics of SLASH, System of a Down and Korn. Each has two pages; one a full page picture and the other a full page article taken from past Guitar Player issues. SLASH is pictured shirtless with top hat, playing one of his Les Paul's. Vicki says the intro to the article for Slash is, "With his text book rock and roll look, Slash is possibly one of the most universally recognized guitarists ever. It's not as if he doesn't have the chops to back it up, however. With a style that sports a volatile mixture of simmering British blues with a dash of L.A.-influenced flash, Slash is the personification of the term "Guitar Hero." There's a snippet of a tab from "SCOM".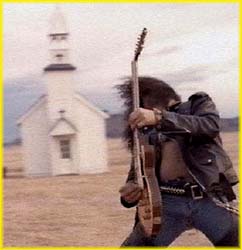 Q magazine had a small SLASH mention in the interview with David Bowie and supermodel Kate Moss. They had pictures with captions of other rock 'n' roll models, and one was Stephanie Seymour. Her caption reads, "Seymour became infamous after dating GNR's Axl Rose. The union was immortalised in the video for 'November Rain', in which she got hitched to Rose and died just in time to miss SLASH's mountain-top guitar solo..." Missed the best part, Stephie!


The most recent Rolling Stone has a brief article and Velvet Revolver onstage photo. This is the issue with Jessica Simpson on the cover. Article title is "Weiland Arrested" and summarizes where things stand at present with Scott. He played some music for Rolling Stone about which he said, "There are dark plodding tracks in here. And there are songs that are real fast, like a freight-train fueled with Bacardi 151." New songs include "Slither" (with a menacing McKagan bass line), and "Fall To Pieces" which revisits the multi-layered texture of GNR's "November Rain". Rolling Stone says, "SLASH is right - it's a 'great rock 'n' roll album' ", and they say they hope the singer will be around to finish it.



Alexandre from France says SLASH's publicist did a great job in Europe because there are more appearances of SLASH in French magazines this month! First, SLASH makes the cover of Riff Magazine! On the cover, above SLASH's photo, it says, "Exclusive: SLASH draws his Velvet Revolver". Inside there's a four page interview about VR history, Scott's drug problems and where the album is and a smaller article about his equipment. Seven photos of SLASH altogether! The second French magazine is Guitar & Bass with Steve Lukather on the cover for the album Santamental. Underneath Steve's picture is the headline, "Exceptional: SLASH's Guitars!" Alexandre says inside is an 8 page article! There's a short history of SLASH, how he plays and what he uses. You also learn he has one of the greatest guitar collections (more than a hundred) which includes very rare models and his own signature models. Alexandre says this is a very detailed article, and all guitarists will want to get this one. There are 13 pictures of SLASH's guitars with SLASH himself on 3. In the Steve Lukather piece, Steve mentions SLASH, explaining how he got SLASH to play on his album. When he talks about SLASH's track, "Broken Heart for Christmas", he says "It was the perfect song to invite SLASH and his blues-rock playing, very close to the Rolling Stones." Thanks, Alexandre! French fans, you've been alerted!



We wanted to mention again that we have new software for the SLASH Appearance Calendar. This is the one place you can go to find out where and when SLASH is appearing. This calendar, powered by EventKeeper.com, allows us to update the calendar from any internet-connected PC, so we'll be keeping it as up to date as possible. We went back and did October, but the other old calendars will be in the old format. From now on, use the SLASH's Calendar button on the home page under the SLASH menu. And there you can click SLASH's Calendar or look at one of the archival calendars. Note that you can look and print out a whole month of the calendar with all the events listed out. Play around with it a little and see how it can help you see what's happening. As spring comes with album release and tour events, this will be the main place for looking up tour information. If you'd like to check it now, it's at SLASH's Calendar.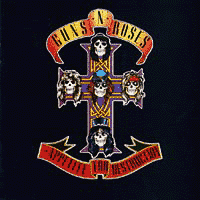 Did you know that on this date in 1992, Axl was found guilty of property damage and assault at a 1991 GNR concert in Maryland Heights, MO? He was sentenced to two years probation and ordered to pay $50,000 to community groups. And after the recent riots on his last tour, the new GNR gets invited to headline Lisbon which must have an appetite for destruction. Speaking of the bad boys in history, a week ago in 1998, Steven Adler began his 150 day jail sentence on a probation violation and two counts of domestic violence battery. Hit the drums, Steven, not the ladies! And on a positive SLASH historical note, Khriz let us know that the song Rory Gallagher played with SLASH at the Roxy was "Bullfrog Blues". They played together on May 9, 1991. Thanks, Khriz, for sending that in! And Trinka from Sweden wrote to say that Appetite for Destruction is #3 on the Swedish album charts!


News Reported: 11/10/03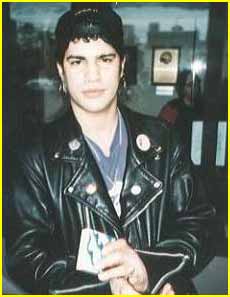 Tonight is devoted to another Q & A with SLASH. Fan questions are sent in small groups to SLASH to answer as he gets time. Answers are published here, so we can all enjoy and benefit from his responses. Periodically, the past Q & A's are gathered and placed in a section of the page. If you have questions to submit, send email to webmaster@snakepit.org. Send one question per email, and make the subject be ASK SLASH. The questions are moderated. No personal questions will be submitted, but anything about SLASH's career, music, equipment, public life are fine. You should also include at least your first name or handle and where you are from. If you are from the U.S., include the state you live in. SLASH really likes to see where his fans are from.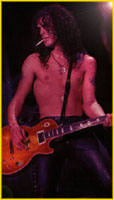 Taimur asks, "How does it make you feel that your music has traveled all the way to places like Pakistan and India? Did you ever imagine that Snakepit (or GNR for that matter) would have such a global impact?"

SLASH replies, "You never think about the fact that your music reaches all the corners of the planet until you hear from fans that they enjoy your music in those far corners of the world. The best way to realize your impact is to actually play in those foreign countries."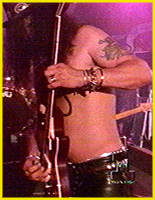 Thanks, SLASH and Taimur! Matt's from Essex, England, and he asks SLASH, "How or what is the best way I can build up my muscle in my ring and pinkie fingers as I want to be able to play hammer and pull offs with ease?"

SLASH replies, "The best way to build up your muscle in your ring and pinky is to practice. Lots of practice." Thanks, SLASH and Matt!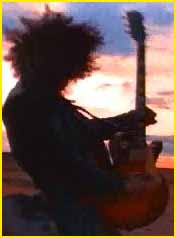 Michelle asks, "Reading your opinion of the tribute album Appetite for Reconstruction (note: SLASH was very negative about this album) made me wonder what he thinks of the Strings of Fire guitar tribute."

SLASH replies, "I don't know what that is. I'm not familiar with that album at all." Looks like you'll have to get him a copy, Michelle!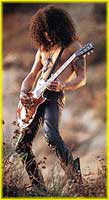 Simon is from Italy, and he says, "Hey, Mr. SLASH! What's up? I'm a f*ckin big fan of yours from Italy. We met in Budapest in '96. Do you remember I said to ya: 'SLASH is the best of Budapest!' I play a hard rock guitar style, and so I need to be wireless on stage. So I gotta question for ya... In your equipment page, there is all the stuff, but the name of the brand of your radio mic for the guitar (to play without the wire - not sure of the name). Please could you give some information on it?"

SLASH replies, "It is a NADY wireless".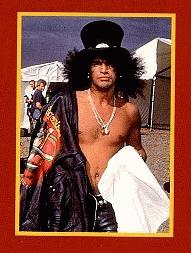 This one comes from Rachelle. "SLASH, how was it working with Rory Gallagher, and could you tell me what songs you played with him?"

SLASH replies, "I don't remember what songs I played with him at the Roxy, and it happened so quickly, but it was a real honor to play with him in the first place. After the show, we jammed some blues in his hotel room which was really great."


Rod sent in a question he says he's been really wondering about. "Hey, SLASH, 'Coma' is such a brilliant masterpiece...On the credits it has yours and Axl's name on there as writers. I'm just curious in finding out which one of you guys wrote what in that song? Did you write the music, and Axl wrote the lyrics; or did both of you write the music and the lyrics? I love that song sooooo much, a phenomenal music video could've sprung from the song, I think.

SLASH replies, "Axl wrote the lyrics, and I wrote the music."

That's it for now. Thanks to everyone who sent in questions, and thanks to SLASH for taking time to reply. There are about five more from this batch so we'll be sending another batch out soon. Patience is key here because he's so busy!


News Reported: 11/07/03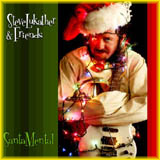 The mailman brought some great packages today. The DVD's for Welcome to the Videos and Use Your Illusion I&II (Live Tokyo) traveled together. While they contain no extra footage from the VHS version, it's great to see them crystal clear. You can get them online at almost any store selling concert and musical DVD's. From www.mattsorum.com came Matt's solo debut album Hollywood Zen, and it's a rocker. Matt does all the vocals, in fact almost everything on the album is his. He sings a straightforward vocal style; a little variation would have been better, but still a very respectable singer.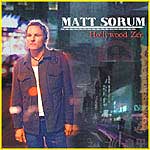 SLASH makes a guest appearance on "The Blame Game", track 4. Great solo, SLASH! With SLASH playing a particularly heavy, fat sound, the song just roars. The album seemed to come in no time at all, and we opted for the autographed copy from this rocking drummer who turned 43 on November 2. The artwork is particularly good, and the CD has an interesting graphic, too. Great pics of Matt out in his Hollywood milieu. Lyrics are included. Our final package was Santamental by Steve Lukather & Friends. We bought this one primarily for the SLASH guest appearance on track 5, "A Broken Heart for Christmas"; original lyrics by Stan Lynch. SLASH does some good fingering, an outstanding solo and outro. Steve has a nice thank you for SLASH, "SLASH, my friend. Thanks so much for coming by and playing your ass off and making it fun and real. I appreciate your friendship more than I can say. You are a true original...no one could ever be SLASH. I owe ya one. Here's to you Perla and London. God bless!" It turned out to be a great Christmas album for those of us who love great guitar music. Eddie Van Halen Makes "Joy to the World" what it is... wildly joyful. Steve makes his guitar almost talk on "Angels We Have Heard On High". We can't say enough good things...get a copy...available around the net.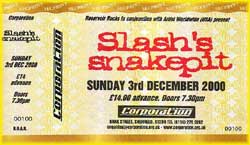 If you're in the mood for looking at photos, we have a bunch of links that've been sent in. Lesley in Manchester, England sent in this link to the Sheffield Snakepit gig. When Snakepit appeared there in 2000, the venue didn't allow photos (club rule). Sheffield recently re-did their website and have pictures of bands that have played there, including SLASH's Snakepit. Click "Galleries" on the left menu when you get there. Lesley said these must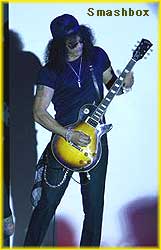 have been taken at soundcheck. Thanks, Lesley! They bring back good memories. Awhile back, SLASH did some work with Ray Charles; and he came back with Duff and Matt to work in one of Ray's Blues Labs for kids to work with musicians. ChristinE sent in a link to a nice display of SLASH working with the kids at Blues Lab. Close the contest window after you notice SLASH, Duff and Matt as the background. Then click "News & Events" in the left menu to see the guys working with the Blues Lab kids and Ray Charles. Thanks, ChristenE! And you can't get much more recent than these photos of Velvet Revolver at Smashbox. Check them out: Photos from Smashbox on display at slashonline.com. These are big, candid pictures of the band offstage and on.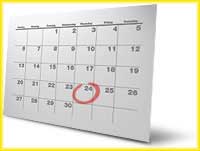 In order to put upcoming SLASH and related events in one easy to read place, we're getting some software that will help the webmaster keep the calendar up to date with information posted as early as possible. The calendars for the previous years will be kept in their old formats; they will not be converted. As soon as we have this calendar software ready, we'll let you know. You'll be able to look at longer descriptions and flip back and forth easily. We think you will be pleased. This will be very helpful during the forthcoming tour when so many events are scheduled. Thanks to eventkeeper.com for their help in selecting this software!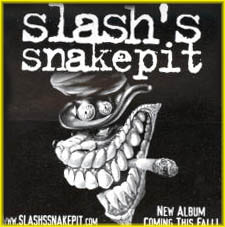 If your band is in need of publicity, you might consider promotional bags from Crack the Whip. You supply them with promotional items, they stuff the bags and distribute them. The next one will be at the Deftones show in NYC. This can be an inexpensive way to reach a lot of people. The people at Crack the Whip sent us this flyer. If interested, go to their site and contact them directly.


News Reported: 11/05/03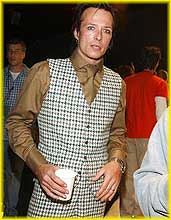 Last week was a bad one for Velvet Revolver as lead singer Scott Weiland was arrested for DUI and sentenced to immediate detox. You may recall that SLASH called us about this saying that Scott was not impaired by illegal drugs or alcohol and that all this would get straightened out. Either Scott was not 100% honest with his bandmates, or there was some communications problem. Here's the summary of what happened. On Monday, October 27, Scott lost control of his car and hit a parked car in Hollywood about 6:30am. The word came out that Scott was up early heading to San Diego to visit his kids who live in San Diego as it was his (Scott's) birthday. The fires in California were threatening San Diego and that may have caused him some increased anxiety about his family along with the fact that he and his wife are divorcing. When Scott hit the parked car, he attempted to flee the scene but was quickly stopped by the police and arrested based on his demeanor and behavior for DUI (driving under the influence of alcohol/drugs). Scott made bail of $15,000 and was released. He was scheduled to appear in court for arraignment on this charge on November 17. Band members were notified, and SLASH called us Wednesday, November 29, to let the fans know that this was not a case of Scott backsliding...a prescription drug, pressure of getting to San Diego, etc. were all in the mix, but Scott was still doing very well. We reported that to you. On Thursday, October 30, Matt Sorum did a radio interview stating the same - Scott's prescription drugs that he takes for depressions and withdrawal made him dizzy caused some impairment, but he chose to drive anyway and hit the car. While the band was reassuring fans, drug/alcohol testing results following Scott's arrest were coming out, and the results showed Scott had illegal drugs and/or alcohol in his system. At the time of his arrest, he was scheduled for arraignment November 17 on this charge. The drug test results were such that the judge moved up his hearing to Thursday, October 30. SLASH, Duff and Matt were in the court in support of Scott. Based on the "dirty" test, Scott was sentenced to a detox program beginning November 7. Matt backed off his initial statement and put the illegal drug use down to increased pressures on Scott to get Velvet Revolver off the ground. SLASH has had nothing to say privately or publicly on this, but the event speaks for itself. Whatever demons Scott has faced, he is still facing. He'll be in detox November 7 till November 17 but will be allowed out 4 hours per day under guard to work on the VR album which certainly seems generous. He will receive drug tests each time after reporting in. After detox, he will be in a residential drug rehab program for six months and then have outpatient care for 18 months. None of these programs are celeb type programs - he will be surrounded by other court cases and expected to do chores and be in therapy there. This is yet another chance for Scott. VR looks to finish their album, but fans all over are speculating on the band's ability to tour with Scott on any kind of pressure schedule. This summarizes what we know so far.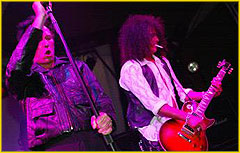 The future is mostly up to Scott and the band, and right now the album looks do-able. What comes afterward is anyone's guess at this point. The band has had so much attention even without an album that it's hard to see how the pressure will lessen as time goes on. SLASH, Matt and Duff have weathered all this before. Scott has some strong bandmates to lean on;but in the end, he has to take responsibility for his actions and either adjust to the pressure or bow out. We wish him and the band all the best. Many thanks to all of you who sent in articles from around the net and a special one to Brian who sent in the information on Matt's radio interviews.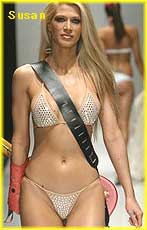 Velvet Revolver is having problems, no doubt about it, but when it comes to performances...they are blowing the audiences away. Last week, we told you about what turned out to be the band's second show (the first was at the El Rey theater). The background is that Duff McKagen's beautiful wife, Susan Holmes, has her own swim wear line, Holmes Swim Wear.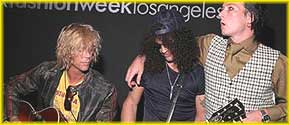 As part of LA's Fashion Week, Susan was showing her Spring 2004 collection. And what better entertainment than Velver Revolver? Originally, it was to be Duff and Scott doing an acoustic version of the Rolling Stones "Angie", but it grew to be the entire band PLUS Izzy Stradlin and Doug Grean (keyboards), and they did TWO songs. The second song was an original, "You Got No Right", that Matt said will be on the album! The show was held at Smashbox in Culver City, CA on Thursday, October 30, for those keeping track. Note that this was after Scott's arraignment and sentencing to detox, so he's a real trooper for coming out and giving a heart-rending version of "Angie" (which some thought they heard as 'Mary', his wife's name) and "You Got No Right". The audience response to this electrifying performance has to be an incentive to Scott to get onstage soon.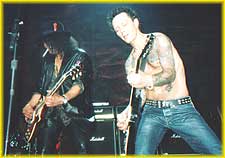 If you missed the Smashbox show, you have another chance to see some of the Velvet Revolver guys soon at a charity event benefiting Step Up Women's Network on Saturday, November 15 at 8pm at The Avalon in Hollywood. Step Up's mission is "to empower women and girls in finding their place as activists and advocates for positive social change. It was founded in Hollywood in 1998 and is a nonprofit organization committed to advancing philanthropy and volunteerism in the entertainment and media industries to effect social change for women and girls." Camp Freddy is the band doing the fund raiser...as always with special guests. Listed on the Step Up Women's Network site as appearing are:

Featuring Camp Freddy, the must-see celebrity "All Star/Rock Star" band comprised of The Cult's Billy Morrison, Donovan Leitch, Scott Ford, Matt Sorum of Guns 'n' Roses, and Dave Navarro of Jane's Addiction. With special musical performances by Macy Gray, Mark McGrath, Scott Weiland, Duff McKagan, Steve Jones, Gina Gershon, Joshua Todd and Slash.

Frankly, we are wondering about Scott's listing since he is to be in detox then. If you're interested, you need tickets! These are available at Ticketmaster for $35 and $45 with a maximum of 4 per person. Visit the above link we gave you, and click on "Buy Tickets" to order yours. They are on sale right now! If you go, don't forget those of us that can't be there. We need reviews! If you get photos, we'd love to see them and share them. Any information on our guys is welcome. This event will probably sell out, so don't wait too long to get organized and buy tickets. Thanks to Brian for sending in the announcement.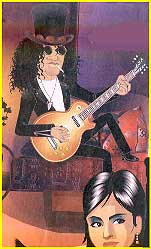 Wednesday, November 5, at 10:30ET is another episode of "Kid Notorious" on the Comedy Channel. This cartoon show is about the antics of producer Robert Evans, and SLASH is in the show for some episodes. He had a big part last week. This week his part is smaller but still worth seeing as he always gets some good lines. If your PC is fairly speedy, go over and look at the Kid Notorious site. There are some funny videos and games to fool around with. And you can catch some clips of SLASH videos there, too.



We belatedly realized that many fans, particularly international fans, were very concerned about SLASH during the terrible wild fires that were sweeping southern California last week. SLASH and his family were never in any danger. There were two big fires there. One was to the south of LA and one to the right and slightly south. SLASH lives outside of LA, a bit to the north. So, he was completely safe although the air quality was a real problem for everyone out there. As one Californian put it, the fire would have had to burn LA to the ground before it got to where SLASH was. We hope none of our Californian fans were injured or lost property during the wildfires. Let's hope the fires are out for good.


News Reported: 11/03/03