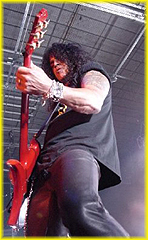 SLASH played with Camp Freddy last night to celebrate the opening of a new store in Las Vegas called Chrome Heart. The store sells leather clothing and the kind of jewelry worn by rock celebs. Steven Tyler and Pam Anderson were also on the scene.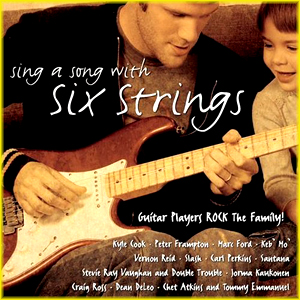 We got our copy of Sing A Song of Six Strings, a 14 track album where guitar players rock the family. Each song is dedicated to a child in their family. SLASH played "Sing A Song of Sixpence", and it was just marvelous...every playful and youthful. We're told his young son just loved it, so SLASH figured he hit his mark. All the songs are great, and we recommend that you add this one to your collection. It's from Sony Wonder and is on sale at Amazon as well as other CD stores. Nice work, SLASH.
Laura says that she was at the Arkansas show which was on Halloween. While some of you dressed up as SLASH, SLASH dressed up as Buckethead! He wore the Buckethead hat, mask and yellow jacket. Scott was dressed as Axlin shimmery leather pants, black cropped shirt, long red hair wig, aviators and one of those wrestler championship belts. Duff was a pretty pink ballerina with fishnet stockings, black bloomers and a crown. Matt was a skeleton and Dave was a devil. They wore the costumes for two songs before changing back to their regular clothes. The audience loved it! Thanks, Laura!

Brandon tells us that he was listening to 101.1 WRIF out of Detroit. Guests were John and Scott of Anthrax. A caller asked what music they liked now, and the only band they mentioned was Velvet Revolver. One was wearing a VR shirt for the interview. The other was the one who mentioned VR. One was at the Roxy show way back when and said there has not been a good rock album like that since GNR. They had a lot of positive things to say about the album and the band. Thanks, Brandon!





Page Updated 11/05/04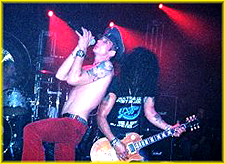 VH1 announces its third annual show, "VH1 Big in '04" celebration, to be held on Sunday, December 5. They'll jam the biggest people, political blunders, moments and trends of the year in one big spectacle. Velvet Revolver will perform as will Maroon 5, Black Eyed Peas, and Green Day. The show will be taped at L.A.'s Shrine Auditorium on Wednesday, December 1. VH1 has come up with categories from Big Entertainer of '04 to Big Banned of '04. Tickets go on sale to the public beginning this Wednesday, November 3. Advance tickets are for sale only through Ticketmaster.com, VH1.com/BigTickets or your local Ticketmaster outlet. Tickets are $50 for all seats. For more information, visit Big in '04.

We told you The Datsuns, a New Zealand band was opening for Velvet Revolver after a short post-Halloween break. We didn't know anything about them, but some New Zealanders and Australians have written in to say that the band is a good one to open for VR. The band has a seventies sound with "awesome guitar solos and riffs". Our fans call them a pure, true, rock band with a classic rock sound. Shandor says they were also Metallica's support act for their single shows while doing the Big Day Festivals. While not good for Metallica, they could support Aerosmith or VR. And they have two albbums out with a heavy sound and elements of old style punk. Thanks to all who sent those in.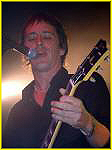 If you liked The New York Dolls and Izzy Stradlin, there's a good combination of the two. Morrissey used his considerable pull to stage a reunion of his own childhood heroes. He was president of The Dolls fan club in his youth. The impressive results are now on CD for those of us who couldn't make it to the Royal Festival Hall this past June. Two of the originals couldn't make it...deceased drummer Jerry Nolan and guitar god Johnny Thunders, but the sound is completely amazing with Izzy Stradlin as Johnny Thunders. Reviews say that tons of onstage banter was tons of fun, there was an intimate vibe and "Stradlin did remarkably well with his impossible task of filling Thunders's shoes." Look for this one to add to your collection. This review from The Edmonton Sun.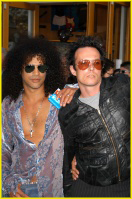 How about another blast of Velvet Revolver? The Arkansas Times previewed the Sunday, October 31 show at the Alltel Arena, marking their first appearance in Arkansas. They call STP a grunge, glam band and GNR a metal band so that Velvet Revolver is a a blend of glam and metal from their viewpoint. Matt is quoted as saying that the album is a modern picture of what rock is all about now. He says they've taken it and moved it forward. It doesn't sound old school.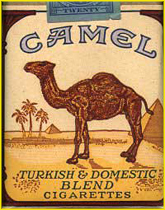 We still don't know much more about the Miami show. Mac wrote that he got an email from camelsmokes.com to rsvp and has access to a free web cast to watch the VR show in December in Miami. Very Cool! Mac says he'll let us know if he learns more. We went over and signed up, but so far have not been contacted.

We got a couple more Halloween pictures, and we thank you for these. We hope you had a cool time at any parties you went to. Chris got this outfit from the "Knockin' On Heaven's Door" live video, and he's the one on the left below. Danny sent in this cool one of him dressed like Our Guy. He's the one on the right. Thanks, guys!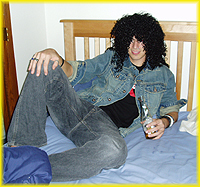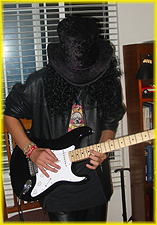 Page Updated 11/01/04