Regardless of what you might hear, SLASH has no New Year's Eve entertainment plans. You know with SLASH that things can change quickly if the right venue and band came along, but right now, he will not be onstage on 12/31.


SLASH Action Figure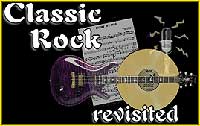 There were a lot of SLASH interviews online this year as you know. Classic Rock Revisited did a really good one with SLASH. This interview is up for Best Interview of the Year at Classic Rock Revisited. SLASH's interview is currently at 4% - not so great. How about we go over and give that number a shove? Jeb Wright from Classic Rock Revisited invites you to come over and vote. Here's how to get there:

Vote For SLASH Interview

Just to complete things, here's a SLASH Q and A. This is from Marcos who writes, "I'm writing from Portugal (ya know, small country on the edge of Europe... :) ), and my name is Marcos. I need your help because of the chords in Guns N'Roses song "Shotgun Blues". The problem is that, for example, I don't know how to fret the A/E (just to name one...). Could you explain to me how it works? I really wanted to play the song but because of this I simply can't. I would be very pleased if you could help me. Thanks for any help attempts".


SLASH replies, "If memory serves, "Shotgun Blues" frets on #10 to #7 to #5. Also, the whole record is tuned to E(flat)440".


Another complex one! Thanks, SLASH and Marcos!


News Reported: 12/19/01

On TV this week there are some repeat shows featuring GNR which means SLASH! If you haven't seen them, check them out while you're wrapping SLASH's gift. Wednesday, 12/19 at 2:00pm ET on VH-1 is "100 Most Shocking Moments in Rock & Roll". (GNR probably had 100 themselves.) On Thursday, 12/20 at 3:00pm ET on VH-1 is "Top 80 of the 80's". On Friday, 12/21 at 2:00pm ET on VH-1 is "100 Greatest Albums of Rock & Roll". Court TV takes on the Gunners on Friday, 12/21 at 6:30pm ET, Saturday, 12/22 at 6:00am ET and 11:00pm ET, and Monday, 12/24 at 4:00am ET with "Hollywood & Crime". Also on Saturday, 12/22 at 2:00pm ET on VH-1 is "100 Greatest Videos". On Saturday, 12/22 at 6:00pm ET on VH-1 is "100 Greatest Artists of Hard Rock". And for your Christmas Eve enjoyment, VH-1 starts the day at 6:00am ET with "VH-1: All Access".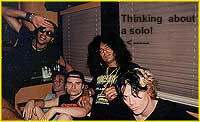 Metal Sludge had a little sludge to throw at SLASH recently. J. Rose sent this in, and it is kind of funny and sad. Commenting on SLASH's recent gigs in the UK, they said, "While SLASH is on tour in the UK, the rest of SLASH's Snakepit are on tour visiting the numerous soup kitchens in L.A. looking for handouts." Come on, SLASH, get in the 'pit! Thanks, J. Rose!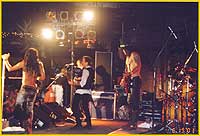 Last week, we gave you the url for voting for Guns N'Roses on the Rolling Stone site. Kathie wrote that you can also vote for SLASH's Snakepit. Give those guys some encouragement! Here's the url for their vote:

SLASH's Snakepit Vote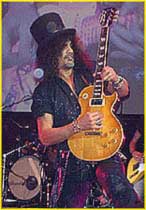 The fans attending the UK shows seem to have a disagreement on what equipment SLASH lived. Were you at the same show?! Daniel says that in the London show (the earlier show), SLASH used a light colored Les Paul Standard. It was the only SLASH guitar there. Adam Day carried it out at the end and put it in the limo. The other Les Paul he used while his main guitar was being re-tuned was not his normal '87 Cherry Sunburst Les Paul. Daniel thinks he must have borrowed this one from one of the other band members. Slash did not use a Mesa Boogie amp. It was just resting on top of SLASH's straight 4x12. Adam was operating two of SLASH's Marshall heads...switching from dirty to clean. OK, everyone?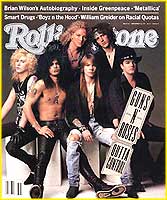 Vicki found some GNR and SLASH references in the book Rolling Stone- The Complete Covers.There is a tiny picture on page 179 of the GNR cover from 11/17/88 ("Guns N'Roses - Hard Rock Heroes"). On page 195 there's a slightly larger picture of SLASH's cover from 1/24/91 ("Inside Guns N'Roses..."). On page 203 is a large picture of the GNR cover from 9/5/91 (our personal favorite: "Guns N'Roses - Outta Control"). Axl has a full page on page 208 ("Axl Rose-the RS Interview"). So, if you see the book, you can use Vicki's information to quickly take a look at these covers. The "Outta Control" cover was also made into a poster. It's great! Thanks, Vicki!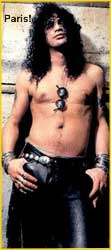 Here's a SLASH Q & A. This funny question comes from Pierre in France. (Remember that SLASH did not tour France with Snakepit much to the dismay of our French fans). Pierre asks, "I'm a fan since 1988. I was at the 'Elyssee Montmartre' on June 29, 1995. I've got 1 question for SLASH. 'Do you remember where is France?' (Go get him, Pierre!)


SLASH replies (a funny reply), "Yeah, I remember where is France! (Is that a trick question? I might have to come there and find out!) Uh-oh, Pierre, you're in trouble with the Big Guy!


Thanks to SLASH and Pierre who seem to have a comedy act going! Brightened our day!


As you may know, this site is in danger of closing due to the high expense of running it. Thanks to those who've sent in suggestions, support letters and donations to keep the site going. We are working with Randy to try out the first place suggested as a new home for the site. We're looking at the rest of the suggestions as well. The letters we have received are just great! And we are very grateful for the donations from Vicki, Brian, Linda, Janet, Laura, Olivier, Norm and Michele, Tina, Ron and LuAnn, and Mike. Thanks to you especially...without your donations, the site would be down now.


News Reported: 12/17/01


Thanks to those who've sent in suggestions, support letters and donations to keep the site going. We are working with Randy to try out the first place suggested as a new home for the site. We're looking at the rest of the suggestions as well. The letters we have received are just great! And we are very grateful for the donations from Vicki, Brian, Linda, Janet and Laura. Thanks to you five especially...without your donations, the site would be down now.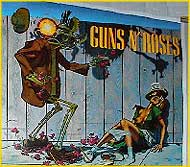 Josh is from Canada, and he reports that the Canadian music channel, Much More Music is doing a series on greatest rock albums. The show airs every week night. Josh wants the Canadians to know that Guns N'Roses is coming up! He's trying to find out specific dates, so in the meantime, check the listings or snap it on every night. Thanks, Josh!

Evan was watching the MTV show, "Senseless Acts of Video" where stunt men try to outdo stunts from music videos. The stunt being re-enacted was the one from the Metallica video, "I Disappear". During one of the sequences, Evan heard them playing "Beggars and Hangers On". Snakepit '95 is gone but not forgotten! Thanks, Evan!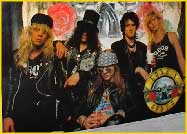 Yet another voting place! Ashis found this one on the Rolling Stone site where they rank the artists. Ratings go from 1 (poor) to 4(excellent) and 5(classic). Guns is ranked between poor and fair. Is this the original GNR or the new one we're voting for?! Let's assume this is for the original band and get the Gunners out of the cellar. Just now they were at #22:


Rolling Stone Ranking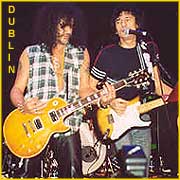 A lot more reviews of the Ronnie Wood with SLASH shows have come in from the UK. Very interesting. Although the UK shows were great, the Dublin show seems to have been the shining star. If you were there, you know what we mean! We did get an update on Dublin from Stuart who says that SLASH used a light colored sunburst standard and his old 1987 cherry sunburst standard. Stuart says the '87 has been Slash's main live guitar for ages. Being a guitar player himself, he is careful to note what equipment his hero is using. Thanks, Stuart! Let's see what the London show crowd had to say.



Rob sent us to a Rolling Stones site for detailed setlists and some reviews by Stones fans. Some of these were fairly brutal, but the SLASH mentions really are great. They say, for example, that SLASH lit a fire under the whole show, played his heart out and more! The joy of great reviews! There are some pictures there as well:


Stones Site Setlists/Reviews





Stuart went to the first show in London. Ronnie and his band played a few songs, then SLASH joined in. He wore black leather pants, cowboy boots, black shirt open to his waist and his top hat. Stuart waited outside two hours so as to be down front, but he could barely hear SLASH. Ronnie's guitar was too loud; and everytime SLASH played a solo, Ronnie jumped in and played on top of it. On "Little Red Rooster" Ronnie and SLASH took slide solos. SLASH's was fantastic! SLASH played an instrumental "Just Like Anything" leading into "Paradise City" with only the chorus being sung. Stuart says the Dublin show sounded more like the show for SLASH fans. It was pretty much of a Ronnie crowd at the London show. With the huge reaction to SLASH in Dublin, and Ronnie's reactions, it seems Ronnie played too loud to keep SLASH from stealing the show again. Stuart says he really enjoyed the show, but SLASH should have been given more volume! Play it f*ckin' loud! Thanks, Stuart!

HED also went to the London show and says that SLASH ruled the show. Ronnie was great, but imagine the feeling at hearing "Paradise City" from SLASH! No one can play the Les Paul as well as SLASH; he's the best guitarist on earth! On a personal note, HED says SLASH should lose his beer gut! Oh no! We thought SLASH was on the wagon...till we saw those aftershow pictures. Back to the mineral water.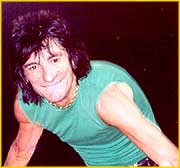 Lewis was also at the Shepherd's Bush Empire show. It was his birthday! After Ronnie and Co. played a few songs, SLASH came out and completely rocked the place. They played some Stones and Faces classics and did the tributes to John Lennon and George Harrison. SLASH did an awesome slide-blues solo on "Little Red Rooster". The final was "Paradise City" with two encore songs. A great birthday night! Lewis wonders about the choice of "Paradise City" since SLASH had said he didn't want to play the more recognizable singles. We'll try to find out! Thanks, Lewis!

JT says the show rocked like hell! SLASH was in top form with all his moves on show...top hat, cigarettes and loud, loud amps. JT says he could not see a Marshall amp in the back line. He thinks SLASH may have used a Mesa/Boogie combo amp through a Marshall 4x12". We'll try to ask SLASH that also. Thanks, J.T.



Glenn went to the Shepherd's Bush show, too. He says the place was packed with a mixture of Rolling Stones fans, GNR fans and SLASH fans. At 9:00pm, Ronnie came out with Andrea from the Corrs and did some songs from his new album. Then, SLASH was seen at the side of the stage and came out playing some heavy riffs, and the crowd went wild! When they did "Paradise City" there was no way Ronnie could keep up with SLASH. After a lot of cheering and shouting at the end, they did an encore. Glenn saw SLASH before the show, right outside the venue getting out of a car. Glenn has longed to meet SLASH for so long, but he was frozen in place, unable to speak. Ahh, we know that feeling! Glenn did manage a few photos. But during the show he thought how he had missed his opportunity and wondered if it would come again. We think so. You know SLASH loves to go to England. Thanks, Glenn!

No one sent in a review from the CC Club which was that very expensive, limited audience show. When you get over to the Rolling Stones site, you will find one there. And it was very positive also. Good work, SLASH!



We need some help in December to keep this site open. If you can donate some money, that would be great! If you can't afford anything, please write a letter of support saying how the site helps you find out what SLASH is doing. Should you have any suggestions where the site could be moved to, let us know. It uses over 300 meg disk space and 35 gigabytes in traffic monthly. Last month there were 122,000 hits with about 40,000 unique visitors. These are the stats you need if you are thinking you may have a site for us. Thanks to everyone who has helped and cared about this!



News Reported: 12/14/01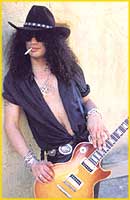 There's mail from from Adam in the UK who went to see the London show last night! Adam says that Ronnie Wood played some songs, and then said, "C'mon guys, crank it up a bit"! Without an introduction and not needing one, SLASH came out! Adam said SLASH was wearing his top hat, an open black shirt with sparkles and a cross on a chain. He was smoking, of course. The crowd went WILD! They rocked to a few songs and played a very loud "Paradise City" instrumental. They did try to sing the chorus, but you couldn't hear them at all! SLASH used his goldtop for most of the show and the encore. He used his standard plus for "Only Rock n' Roll but I like it". A great show! Hey, if you were there, let us hear from you, too! Thanks, Adam!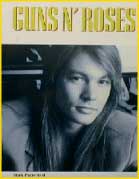 People often write looking for one piece of memorabilia or another. The Guns N'Roses books are out of print, but here is a source for the book "In Their Own Words" published in 1993. There are great quotes in this book, and the band describes life on the road and their music. Go to Pushposter's site to get a copy.

GNR Book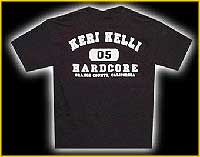 Speaking of memorabilia, Keri Kelli's been able to get his merchandise store well off the ground. They have a new tshirt called "Hardcore". It's great looking and has "Keri Kelli 05 Hardcore, Orange County" on a black shirt. Keri is now selling autographed photos on the site, too. So if you have been looking for something on Keri, go to:

Keri Kelli Merchandise

One of SLASH's idols who he met for the first time at the NetAid concert is Jimmy Page. Page is truly a guitar icon. Guitar players and fans are in awe of his considerable talent. If you have always wanted a Jimmy Page guitar autographed by him, now is your chance. The ABC Trust is holding an auction for a Gibson Les Paul Standard signed by Jimmy Page. The Trust is to benefit the 8 million children living on the streets of Brazil. Right now the guitar is at $3500 dollars. If you would like to bid on it, place a bit via email to Guitar Bid before February 28, 2002. You can check on the bidding at:

Jimmy Page Guitar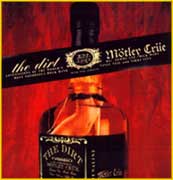 Jan is from The Netherlands, and his girlfriend is a big fan of "Buffy The Vampire Slayer" so Jan gets to see that a lot. Last Sunday saw a cool Slash visual mention. The guy in the series who plays guitar was wearing a SLASH shirt! It was green or blue with a black shadow print of SLASH on it. Buffy's going for the big league ratings now. Jan found a literary mention of SLASH in the Motley Crue autobiography, The Dirt. Nikki Six talks about how he hates guys with curly hair. He says:

"If there's one genetic trait that automatically disqualifies a man from being able to rock, it's curly hair. Nobody cool has curly hair; people like Richard Simmons, the guy from 'Greatest American Hero' and the singer from REO Speedwagon have curls. The only exceptions are Ian Hunter from Mott the Hoople, whose hair is more tangled than curly and SLASH, but his hair is fuzzy and that's cool".

Other mentions of SLASH were where Nikki says SLASH and the guys from Metallica didn't want to hang out with them any more because they were sober. No mention of SLASH and Steven saving Nikki's life when he OD'd. Jan recommends the book highly and says it is really cool. Thanks, Jan!

This site is having financial difficulties. If we can make it through December, we hope to have enough time to do some changes that will make it unnecessary to plead for help in the future. We currently owe $2000 for running the site. December won't be possible without help. If you can afford even a small donation, it would help. If you can't, please write a letter of support...stressing how the site helps in finding out what SLASH is doing. These are going to be shown to Our Guy in hopes that he will allow some small ads. We promise to keep them out of your way. We've gotten really generous donations from Vicki and Brian already, and Randy is working with us to get a new, less expensive home for the site. Write to webmaster@snakepit.org, and thanks a million to everyone who has written already. You guys are the best.



News Reported: 12/12/01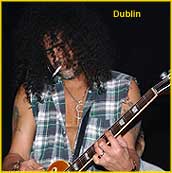 The Dublin Ronnie Wood show with guest SLASH is over, but it was a real hummer! We have reports from Irish fans raving about the evening and SLASH...seems our guy stole the show! The venue sold out with about a thousand fans, and we've heard from some fans who waited too long to get a ticket. Tomorrow is another big show, this time in London (see information above). Don't wait till showtime...get a ticket and be there! The pricey show at the CC Club is the day after but admission is limited to 450 and a lot of celebs are on the guest list. Show SLASH a huge London welcome like Dublin did!


First Dublin review is from Dave, and the excitement and enthusiasm just pours off the screen! The show was billed as "Ron Wood with special guest SLASH", but Dave said they got that wrong! It was Slash with special guest Ron Wood. SLASH stole the show! Ron and his band played 4 numbers from his new album, Not For Beginners, and during the fourth Dave could see SLASH in the wings with Adam Day and wife Perla. SLASH came onstage, and the place went crazy. They played some bluesy songs and classics like "Little Red Rooster", "Stay With Me", "Hot Stuff" and so on. SLASH then launched into "Just Like Anything", and Ron and SLASH eased that into "Paradise City"! SLASH went crazy with his hands all over the fretboard, and then he walked over and sang it! Dave was about 8 feet from SLASH. He didn't get to meet SLASH, but he felt privileged to be there. Dave says,"It was the night of my life!" Thanks, Dave! Pedro is also from Dublin, and he calls the show amazing f*cking fantastic! He was 2 feet from the stage. When SLASH came out, he had a big smile and looked cool in his leather pants, blue plaid shirt (no sleeves) and Les Paul. SLASH was ripping away at the guitar doing his trademark poses. Then he went off and came back with his top hat. There was a massive cheer for that. Ronnie and SLASH did a little jam together, and SLASH played slide. This went on for about 10 minutes till they did the "Just Like Anything"/"Paradise City" routine. The place went crazy! When SLASH got to the end where it goes really fast, he started spinning in circles. When they finished, everyone started screaming Guns N'Roses for about 5 minutes. (Think the old GNR fans have forgotten? We NEVER forget!) Pedro says he doesn't think Ronnie really liked it as SLASH definitely stole the show. Go, SLASH! Thanks, Pedro! Tom was also there, and he says SLASH sounded even more accomplished than he remembered him. SLASH looked great with a good tan, fit and every inch the superstar. Tom says he is 31 and had to laugh at himself because he was just starstruck by SLASH. Tom says that SLASH may be back in Dublin on the 14th. Please let us know here if you find out more on that. Tom wishes SLASH the success he so richly deserves and wishes the red haired guy would shape up and see that you cannot replace a GNR member and cultural icon with an empty chicken bucket. Good point! Thanks, Tom! Tony was also at the Dublin show, and he said it was great to see SLASH up close...he was just a few feet away. Times Tony saw him before there was an army of security and thousands in front of him. The highlight was when SLASH grabbed his top hat and launched into "Paradise City". He says that Ron Wood's band were just looking at each other in awe. Tony says that for all the nonsense about the new GNR, it's great to see SLASH in the small clubs. He says that for all his friends in the UK, give yourself an early Christmas present and don't miss the show! Thanks, Tony! Fiona got her wish to see SLASH at a club show in Ireland. The show was over 2 hours long. Ronnie's son played guitar during the show. They did one encore song. Fiona said Ron's new album songs sounded very good and that they played "It's Only Rock and Roll", "Far East", "Jealous Guy", but the crowd went wild for "Paradise City"! Thanks, Fiona. Declan was there, and he is another huge SLASH fan. He waited outside 7 hours in the cold, but they sneaked in without passing his way.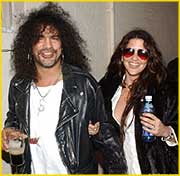 Perla sat with Ron Wood's wife and was up on her feet cheering SLASH on. Declan says he has never heard a crowd erupt like that one did over "Paradise City". He says that the fans never quit cheering for SLASH the whole show, and he felt Ronnie was a bit overshadowed. During "Paradise City" both SLASH and Ronnie sang; but you couldn't hear anything over the screaming fans and guitars. SLASH did a fantastic solo and got the biggest cheer of the night. They played a tribute to George Harrison and one to John Lennon. The crowd went crazy. Declan reports that SLASH was wearing his S/P necklace, and he only used one guitar for slide and lead. Security was very tight. No one could get autographs or access to the band. There were fans from Ireland and England, too. Declan promises some photos, too. Thanks, Declan!



Tom sent a note that he lives about 40 minutes from where SLASH is staying at Ron Wood's house in Ireland. He said tickets to the Dublin show were nearly impossible to get, and he didn't get one. A friend of his managed to get SLASH's autograph, and he'll scan that in for us. Tom says that SLASH and Perla are living it up there and partying with the Rolling Stones and Def Leppard and many more. Tom's keeping an eye out for him! Tom says SLASH can come and jam at his place anytime. Thanks, Tom!


After those reviews, if you are near or in London, get out there and get a ticket! And see if you can be as great an audience as there was at Dublin. We can't wait to talk to SLASH and find out what he thought of all this!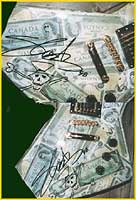 We know a lot of you learned about the shows from this page. This site is having financial difficulties. If we can make it through December, we hope to have enough time to do some changes that will make it unnecessary to plead for help in the future. We currently owe $2000 for running the site. December won't be possible without help. If you can afford even a small donation, it would help. If you can't, please write a letter of support...stressing how the site helps in finding out what SLASH is doing. These are going to be shown to Our Guy in hopes that he will allow some small ads. We promise to keep them out of your way. We've gotten really generous donations from Vicki and Brian already, and Randy is working with us to get a new, less expensive home for the site. Write to webmaster@snakepit.org, and thanks a million to everyone who has written already. You guys are the best.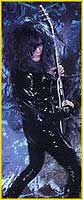 LuAnn found some SLASH mentions on the Metal Sludge site. They were doing their 20 Questions thing with Steve Stevens. Recently, Steve played with Billy Idol on his tour. Metal Sludge always asks that the guitarist rate other guitar players on a scale of 1 to 10 with 10 being a virtuoso. When asked about SLASH, he said, "10...did some dates with us about 3 months ago. He was great". Steve was asked about cities and to give memories of them, "Pittsburgh - played there a bit ago with Billy and Slash joined us for a bad ass version of Shakin' All Over". Thanks, LuAnn (and Steve Stevens!)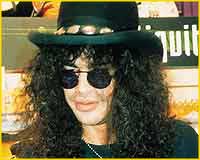 Here's a SLASH video interview that we mentioned awhile back. Marina from Bulgaria found it, and we thought maybe some of you may have missed it. It's a 16 minute interview with SLASH, and there is concert footage from Snakepit also. Hopefully, you have a fast modem!

SLASH Interview/Snakepit Concert
One week from now, December 17, VH-1 will air (repeat) its show "From the Waist Down. SLASH appears on the show which is about how sex is used by guitar players and vocalists onstage. A good program although a little "out there" on some conclusions. The times that day are (all ET): 2pm, 3pm, 4pm. Tonight, December 10, at 1am, Court TV will repeat the show, "The Secret History of Rock 'N' Roll" which features Axl Rose and Steven Adler's law problems.



News Reported: 12/10/01
Tomorrow is the show at Vicar Street in Dublin! Got your tickets? We never did hear of a second Dublin show, so this could be your only chance for quite some time. Get out and see SLASH. Declan plans to be there, and he tells us that SLASH, Adam and Perla are staying with Ronnie Wood in his mansion in Kildare (southwest of Dublin). SLASH has been there many times before and is known to spend New Year's Eve there. We hope that you'll tell us about the show and SLASH if you're going. If you can send pictures, that would be great. It's been awhile since that big Les Paul has been heard in Ireland! Here's an article on the forthcoming show from the ShowBizIreland.com site. This show sounds fantastic. They'll be playing songs from Ronnie's new album, "Not For Beginners" as well as other "gems". World-famous stars will be there including U2, Mick Jagger, Elvis Costello and Sinead O'Connor. There will be a massive after show party! It's going to be tough to get SLASH home! Check out the short article yourself:

SLASH Rocks With Ronnie Wood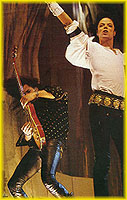 Denis told us that VH-1 recently aired the show "The King of Videos" which was all Michael Jackson videos. There was a section with SLASH! SLASH talked about getting a call to come in and work with MJ on "Give In To Me". Watch for this one to repeat. Thanks, Denis!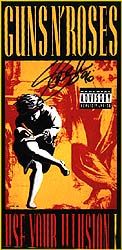 The website, AskMen.com, has a feature on the 200 greatest albums of all time. Sean told us about GNR's "Use Your Illusion I" coming in at #2 behind Def Leppard's "Hysteria". There's a picture of SLASH in the "Hard Rock" leader section, and Sean has provided a link for us. This must be the first time we've seen Def Leppard in the top position. Makes a nice change of pace if we can't have Guns there. They cite "November Rain","Double Talkin' Jive" and "Coma" as best songs on the album. Have a look:
Use Your Illusion I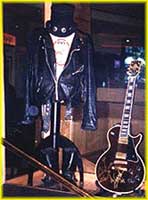 One great book where you can see SLASH and the old band is Treasures of the Hard Rock Cafe. This coffeetable book gives the history of the Hard Rock Cafes and has 300 pages packed with color photos of rock memorabilia in order by time. Guns has two full pages. One is a full color picture of the "blue" Appetite for Destruction autographed poster. The band is sitting on the floor - SLASH has a bottle of Jack Daniels and is dressed in black with boots and leather jacket. The second picture is a collage of the signed Rolling Stone cover ("Outta Control"), an RIAA for UYI I, SLASH signed guitar, drumsticks and more. There are 3 pictures of SLASH playing at the 25th anniversary of the Hard Rock at Orlando. Really nice! The book is available at Hard Rock Cafes only or at the website. Expensive but beautiful and worth it!


Many, many thanks to Vicki from West Virginia and Brian from Ohio. We received generous donations from them today, and we'll be using this to keep the site open as we work on a permanent solution. Randy in Texas is working to give the site a home with him! We hope to be moving some portion of the site there soon and testing this all out. We are still figuring out how to do referral ads and where to put them as a backup plan. We are hopeful where once we were without much hope at all. If you can make a donation, now's the time to do it. If you can't, we really would appreciate your writing a letter about how the site helps you keep up with SLASH. These will be something for us to show SLASH to enlist his support at least on the ads. Thanks to all of you, but a special thanks to Vicki, Brian and Randy. When we can resume editing the site, we plan to have contributor names...and that means those letters, too! Write to webmaster@snakepit.org for more information.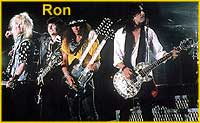 Here's a SLASH question from Ravi who writes, "I heard that with GNR you guys jammed with the Stones on several songs. This was at some shows in LA where you opened for them. During their show (we think), you and ??? came out and jammed with them. Can you tell me which ones in their set that members of Guns guested on?"


SLASH replies, "GNR never actually jammed with the Stones. Izzy and Axl jammed a couple of songs with them in Atlantic City in 90-something. Ron Wood came on stage with GNR a couple years later."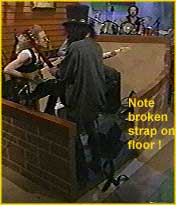 Thanks, SLASH and Ravi! That was so cool, let's do another. This is from Krishna who says that Adam was the source on "custom made" and asks, "Where do you get your guitar straps? I checked the equipment part of your site and it says "custom made". Where are they custom made from? Any information regarding the straps would be totally appreciated...as specific as possible."


SLASH replies, "I forget who makes my straps. Adam Day would be the guy to ask."


Thanks, SLASH and Krishna. Will someone please ask Adam about this next time you see him? Thanks!


News Reported: 12/07/01


SLASH Alert! SLASH was spotted a few hours ago in Heathrow Airport by John M.'s sister! SLASH and Perla were together, so let's open those UK eyes and see if you can spot them next. SLASH did say he was going early for rehearsals and with the first show on the 8th in Dublin, he's right on time. We wondered if Ronnie Wood has a home studio where this will happen or if they will go straight on to Dublin. In any event, you've got him over there now!



Speaking of shows, you have probably heard that the new GNR has announced New Year's shows. Further information is on almost any of the music news sites. There's an interesting article about this in Launch including comments by SLASH on the new album. We think the comments were pulled from an earlier interview, but they are still relevant as this new GNR's album has yet to see the light of day. Thanks to LuAnn and Michele who sent this in! If you haven't seen it, it's in the archives of Launch:

New GNR Does Vegas - SLASH Comments on Album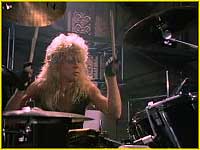 Did you remember to watch Court TV to see how GNR fared? If not, "The Secret History of Rock 'N' Roll" airs on 12/5 at 2am ET, 12/5 at 4:30am ET, 12/5 at 4pm ET, 12/8 at 11pm ET, 12/10 at 1am ET. Guns N'Roses is listed as one of the featured groups that has had trouble with the law. Brian says they spotlighted Axl and Steven. Axl for making Charles Manson a popular figure by wearing Tshirts with his name and image and recording Manson's "Look At Your Game Girl". A court ordered that Manson's royalties be given to a family of one of his victims. (Note: SLASH refused to play on this track). The Steven Adler issue: Steven was interviewed and said he thought he was signing papers to put him on probation with the band but actually fired him. He took GNR to court and won a settlement plus royalties. Brian says the Steven segment was a real downer with Steven's health problems detailed (heart attack, stroke, speech impairment...all from drugs). Steven said the whole band was into drugs, and he did drugs to fit in. There was some bootleg footage of the band in '88 and video of Axl being arrested. So, interesting but sad and sleazy. Thanks, Brian!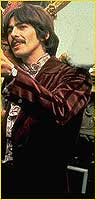 On reading our article on SLASH's connection with George Harrison, Dean wrote and said that SLASH may not have remembered this, but Harrison actually was a visitor in SLASH's own home in LA. Harrison's son was a huge GNR fan and wanted to meet SLASH. They visited with SLASH for a few hours, and Dean says that Harrison was one of the sweetest guys in the world. Dean knew SLASH at the time and was lucky enough to be around that day. Thanks, Dean!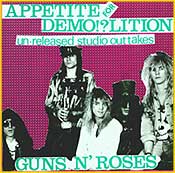 For those who feel the original GNR was the REAL Guns N'Roses, Metal Sludge has some pictures of the guys and their flyers...real early days things. You'd love to have these in your collection!

Pics and Flyers: Early GNR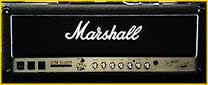 Let's take another SLASH question. This is from Odge who asks, "SLASH, I have bought one of your signature Marshall JCM 2555SL and have had great fun cranking it up and tearing through "Appetite..." tunes, but I've noticed that I can't get the sound on "Don't Damn Me" and "Locomotive". They seem to have more gain. Did you use anything different on those tracks"?


SLASH replies, "Odge, the only main difference is on "Don't Damn Me" I used my Les Paul's rhythm pickup for the solos and on "Locomotive" I used a Gibson Explorer (1958)".


Thanks, SLASH and Odge! We're glad to have SLASH to pass these questions on to!


As we mentioned Monday, this site is having financial problems. It has come to the point where we cannot support it on our own. It is a very large site and requires additional money for the traffic of its visitors. Each month we have paid an extra $500 to keep it going, and we just can't do that alone anymore. Without your help, the site will close when it reaches quota this month. It would stay closed till January at least. Many of you have written with suggestions of places to move to, streamlining for the site, and offering donations. We are also looking into ads although we have yet to convince Slash about that. If you have a place where we can move that offers unlimited disk space and traffic for a very small amount of money, please let us know. If you would like to help with a donation, that would be wonderful. We'd like to thank Vicki for her extremely generous offer to us. If the site is important to you, then it needs your support. We'd also like to talk with anyone who has experience with those bundled ads. We can be reached at webmaster@snakepit.org. And if you run into SLASH at one of the shows, you might mention the site to him. If you can't spare any money or even if you can, it would be very helpful if you could send an email saying it's helpful, it's great, whatever. Mention how it helps you keep up with Slash - maybe you found out about a show or a TV program here. Think of it as writing to SLASH who would be the only other person to see them other than us. We'd like to ask for help or just to get permission for some low-key ads. Thanks!
News Reported: 12/05/01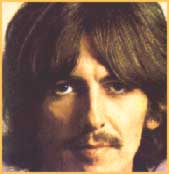 George Harrison died this past Thursday leaving behind a legacy of musical achievements. In the Beatles, it was hard to push past the fame and glory of John Lennon and Paul McCartney. The so-called "quiet Beatle" kept out of the limelight and concentrated on the music. So much has been said about Harrison in the past few days, that we'll leave it to you to find those Harrison sites on the web that cover his life and career so much better than we could do it here. When asked about Harrison, SLASH said that he did know him. When SLASH was quite young, and his mom was designing rock stage costumes, George came to their house. When he was a little older, he had the chance to go in to the studio and see George at work. SLASH says George Harrison was a wonderful guy and the most underrated rock and roll guitarist. SLASH worked with George Harrison on the Bob Dylan album Under the Red Sky. SLASH called Harrison the most original slide guitar player he's ever heard and recommends listening to Harrison's "While My Guitar Gently Weeps". This fascinating lead guitarist succumbed to cancer last Thursday but will be remembered by his family, his fans and fellow musicians. His ashes were released in his beloved India's sacred Ganges River this afternoon with mourners worldwide observing one minute of silence at 1:30pm PT.



SLASH called in today, and he was packing for his trip to Dublin and London. He was going to give Ronnie Wood a call about the questions some of you asked...is he playing the full set and what about the fourth show. He said he didn't think he would have time to call back, so we're hoping some of you might keep an eye on the newspaper and Ticketmaster to see if the fourth show gets listed. It should be in Dublin. SLASH said there was no way he would just play a couple of songs. So, you are going to see him for sure do more than that! We told him that a lot of you were coming mostly to see him, and he said that's great! Big round of applause for the curly haired, top hatted one. He sounded very happy and ready to be on the road again.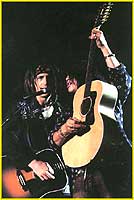 SLASH said that he and Izzy have been jamming together in the studio. How about that?! And it wasn't just for one afternoon. They have been working together for awhile. SLASH also said they grabbed Duff when he was in town, and the three went at it! SLASH said he recorded the sessions because he always records everything, but at this point it's nothing to put on an album. Maybe sometime soon? SLASH laughed and said... who knows what will come of it. It seemed like old times, and they worked together smoothly and very well. Let's hope something does come of it! We'd be glad to bootleg that tape, SLASH!


Just a reminder that Tuesday, December 4 at 10pm ET is the first showing of Court TV's "The Secret History of Rock 'N' Roll". Guns N'Roses is listed as one of the featured groups in trouble with the law. The show also airs on 12/5 at 2am ET, 12/5 at 4:30am ET, 12/5 at 4pm ET, 12/8 at 11pm ET, 12/10 at 1am ET.



MTV has found their copy of Ain't Life Grand. Orman was watching the MTV show "Dismissed", and when the guy was dared to get naked, "Mean Bone" played for about 10 seconds. Next time, maybe 20! Thanks, Orman.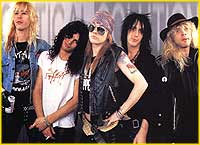 Sean found a site offering wallpaper; and if you loved the GNR original band, you'll want to stop over and grab this. Remember when those two got along so well? Use this when you're in a reunion mood or playing Appetite for Destruction. We think this is a great picture. Thanks, Sean!

GNR Wallpaper

Another thing we talked with SLASH about was this web site. We are pleased and proud to have so many loyal visitors. However, the expense of the site has become more than we can afford by ourselves. This month it appears the site will go over quota in a few days. We have no choice at this time but to shut down till January. We've tried hard to shrink the site, but traffic here truly is a function of the number of visitors. There were thousands of hits last month with thousands of visitors per day. We are now considering ads, and that is our last option which neither we nor SLASH is really in favor of doing. If you have a server where you could host this large domain, please let us know. If you would like to contribute some money while we explore options, we could keep the site up. When you see SLASH, mention the site to him as something that is important to you as a SLASH fan. Please do not write and recommend sites that say they offer unlimited space and traffic unless you know we would qualify. All we have found are for very small sites. Suggestions and contributions are welcome! Email us privately at webmaster@snakepit.org.


News Reported: 12/03/01