We'd expected to return the SLASH page after the holidays on January 5, but we had some time-critical news to pass on. Since Wednesday is New Year's Eve, we'll be busy toasting in the New Year, but will return on Friday, January 2. Thanks for all the information you sent in and keep it coming!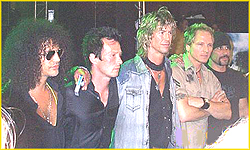 We told you earlier that SLASH let his internet fans know through his Official Fan Site (that's us!) that the Velvet Revolver album is done. It was mastered in New York City, and the album was turned into the record label with 9 days to spare before the year-end deadline. At that time, SLASH did tell us the title was Contraband but asked that we hold up on announcing it as the record label might like to have the honors. Since it's getting out, we'd like to confirm that SLASH did tell us that was the title. He also told us that Scott Weiland came up with it which is a hoot considering Scott went into lockdown rehab for bringing contraband into rehab. Must be on his mind. A super cool title, we think. The album release date is still April 27 at this time. SLASH says the long gap is for promotional tours. Let's hope these start coming along soon.


Here's another time-critical item. Keri Kelli wrote and asked if we could let you know about a change in Adler's Appetite's New Year's Eve show. It will be held at a different venue in Las Vegas, The Boston, due to liquor license problems. The Boston is at 1030 E. Flamingo. All advance tickets purchased will be honored at this venue. Tickets can still be purchased in advance or the night of the show. Regular tickets are $45 and VIP tickets are $85 (VIP - you can hang out with the band upstairs) in advance and $10 more the night of the show. Taime Downe will be DJing, Motorchrist will be there as will Marky Ramone's band. Adler's Appetite will be on stage just before midnight with the George Lynch jam band. Keri also let us know that Izzy Stradlin will definitely be there so you can leave your "Where's Izzy?" sign at home. Adler is inviting all the old GNR bandmates, but it's not certain if anyone else will be there other than Izzy.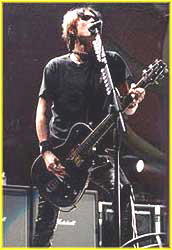 Keri also said there are some European dates set up, and one of the German dates is very special to Simon. His band will be playing a gig in "Blues Garage Hanover" on the 28th of January with Adler's Appetite. Simon said his band was scheduled to play with Duff's Loaded band, but then they cancelled when Duff went off to team up with SLASH in the early Velvet Revolver days. So, he's hoping that Adler's Appetite will really make it and promises to send all the details and some photos when it happens! Congrats on getting that opening slot, Simon!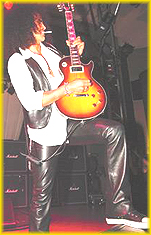 The webmaster of slashonline.com let us know that the revamped site is ready for visitors. Slashonline.com is SLASH's artist site. It's done in Flash, and you're going to need to ramp up your software if you haven't done so already, but they make it easy to point you to what you may need. Check it out. You'll definitely want to locate the Downloads section which has yet another new video from the El Rey show. This is the video of "Bodies", and you can download it and have your own copy. Check this super site at slashonline.com. Definitely worth the trip to see that video.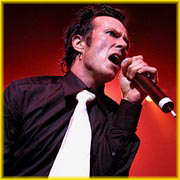 You might have seen Rolling Stone's remarks on Scott Weiland's continuing drug problems. They noted the car accident that saw Scott sentenced to rehab and his attempt to smuggle contraband into rehab after his work with VR at the studio that led to his lockdown rehab status at present. Scott was interviewed by Rolling Stone and obviously feels the story was incorrect. Scott comes out swinging on the official Velvet Revolver site with this statement:



To All Rolling Stone Gossip Columnists | 12/26/2003 From Scott Weiland

First of all let me say that Rolling Stone magazine's gossip columns exist only so rich college boys can wipe their f*cking asses with the rag. As for the lad that interviewed me and then printed that I was drunk driving... get your facts straight you moron paparazzi f*ck.

-Scott Weiland

As the red haired guy used to say to the media...."Get In the Ring!"

Special note to SLASH and all the SLASH fans: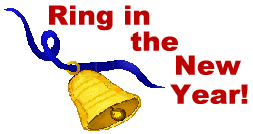 News Reported: 12/29/03





NEWS FLASH: SLASH CALLED IN TO SAY THAT VELVET REVOLVER'S DEBUT ALBUM IS DONE!



Awhile back, SLASH said the album would be done by 12/31/03; and he beat that date by 9 days. The album was mixed in New York City and has been handed over to RCA. The release date at this time is April 27. The record company is getting behind the album and allowing plenty of time for pre-release promotions. The album's title is NOT Comrades as was reported on some web sites. The real title is so supercool, but SLASH wasn't sure he could let it out tonight, so he asked us to wait on that announcement. He wanted his net fans and friends to know, though, that the album is DONE! He says it rocks and is so f*cking cool. And you know what these guys can do LIVE! We'll keep you posted, and thanks, SLASH, for telling your internet fans the big news! We'll have more on this tomorrow, but we wanted you to have the big NEWS tonight!



News Reported: 12/22/03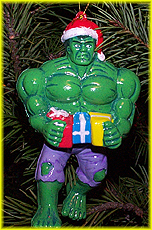 We've got our annual SLASH decorations up on the home page for the site. If you haven't heard SLASH wish you a Merry Christmas, now's a good time to go! Merry Christmas from SLASH! We'll leave that up till after the first of the year, so when the crowds at the mall get to you, you can hear SLASH sound like maybe he's had it, too.



We're going to take a vacation over the holidays. The SLASH News will return January 5. We'll have access over the holidays in case anything major comes up. Send those SLASH sightings in so we have something to start with!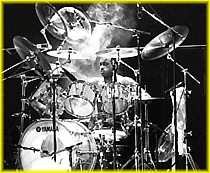 SLASH and Matt were scheduled to appear at the Tony Thompson benefit on December 16, but several fans reported they weren't there. We have no specific word on why, but we're speculating that SLASH was to join Camp Freddy or another band which decided not to appear. Velvet Revolver could not be there as Scott Weiland is in court ordered rehab lockdown and couldn't front the band.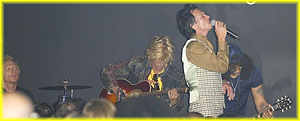 Radio station KROQ, the hard rocker in Hollywood, and blabbermouth.net report that the forthcoming Velvet Revolver debut album has a working title of Comrades. No official announcement on that as yet. However, a fan spoke to Matt Sorum who said the new release date is pushed back to April 27. When asked about a tour, Matt said the band would first go to Japan, then to Europe, then back to the U.S. Duff has been quoted as saying that the tour will begin before the album is released, then the band will come back to the U.S. and do some "guerilla touring" in major cities in the U.S. They will also decide on the offer they have been made to headline Ozzfest. Things will be happening as soon as the band turns over the completed album to RCA, and Scott gets out of rehab. Rock 'n' f*ckin' Roll! Thanks to Brian and LuAnn for all this information!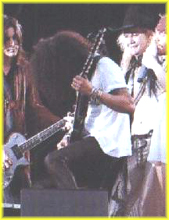 Allen sent in a SLASH sighting on the VH1 special for the Red Hot Chili Peppers' Blood Sugar Sex Magic, and he was also on the 100 Greatest Bands show on VH1. Allen says that SLASH basically just had some comments about the band and how the record changed music. He was in most of the hour long commentary. Thanks, Allen!



We picked up a copy of Rip It Up: The Black Experience in Rock 'N' Roll, and so far it's been great. SLASH has a mention in the interview with Lenny Kravitz. The interviewer notes that SLASH went to school with Lenny, and Lenny says, "Yeah, SLASH went to Beverly (Hills High). We never jammed then, but I knew him from hanging out in the hallway. He kind of had the same persona he has now (laughs)." It's good to see that SLASH hasn't changed over the years too much. There's a good interview with SLASH that's fairly recent, so we'll read up on that over the holidays and tell you about it next time. Rip It Up is edited by Kandia Crazy Horse and published by Pungrave Macmillan. It's at amazon.com right now.



Happy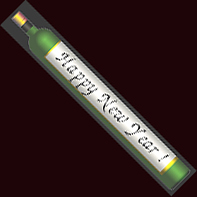 2004!




News Reported: 12/19/03


After a hard day shopping and holiday preparations, we're going to let SLASH do the work tonight using some of the questions that were sent in to him. You can always submit questions to SLASH by writing to webmaster@snakepit.com. Questions are moderated. SLASH will answer questions about his professional but not his personal life. So anything about his music, his bands, his equipment and so on are just right. Please include your name or handle and your country (state if US) so SLASH can see where his fans live. Replies are printed here so that all can share in his responses. Questions/answers for the current plus the past two years can be found on this site, www.snakepit.org, scroll down to the Fan Menu, click SLASH Answers Your Questions.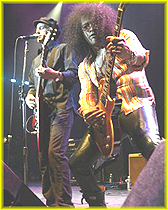 The first question comes from Dag Helge in Norway. Dag asks, "How would you describe the music on your forthcoming solo album, and the one you're doing with Duff and Izzy?"

SLASH replies, "There is no forthcoming solo album at the moment. It is great to be working with Duff and Izzy again, and the album we are working on is a band project. It sounds pretty much what you would hope it would sound like, in my opinion." Thanks SLASH and Dag.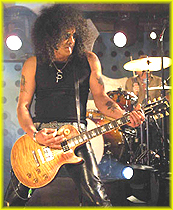 The next comes from a French fan, Nono, who asks, "SLASH, I was wondering how you compose a song. Do you work on a main riff and try to develop until you think it sounds good enough for you, or do you use different riffs and try to put them together? I know there's tons of ways, but what is your main process? Thanks for giving a little of your time."

SLASH replies, "My writing process varies from song to song, but it depends. If I come up with a riff, some of the other guys will put their unique style to it, or I add bits and pieces to the other guys' songs. Usually, I work up a couple of parts until they sound good to me, like intro-verse-chorus and/or bridge, and then present it to the band. Other times we write songs just from jamming." Thanks, SLASH and Nono.



Adam is from England, and he asks SLASH, "In the Use Your Illusion Live videos, for "Bad Obsession", I notice you don't use your standard Les Paul. Which guitar did you use? It makes a great sound! And, also, I can't really find anyone to play in a band with me and seeing you've played in a lot of bands and also played solo, what do you suggest? Thanks, man! You're my main influence!"

SLASH replies, "I used a Travis Bean guitar for slide. Keep trying. You'll find someone to play with eventually."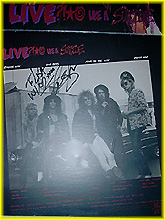 The webmaster asks SLASH, "Here's a questions that provokes a big discussion. Live Like A Suicide came out on vinyl, I know. There's also a CD and a cassette. Most people say the cassette is an official Geffen release and that the CD is a bootleg despite looking like an official Geffen product. Do you know which of these is official? If you own the vinyl, is there a way to tell which is a bootleg and which is official?"

SLASH replies, "I would really have to see them to be able to tell you if they're bootlegs, but there is an official cassette, CD and LP."

Our last question is a good one, but SLASH is unable to shed any light on it. "On The Spaghetti Incident?, what are those strange markings on the CD label near your name?"

SLASH replies, "I have no idea -- I don't have the CD in front of me."


News Reported: 12/17/03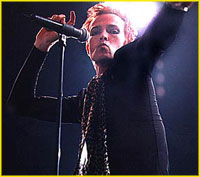 The big news tonight started with a report on blabbermouth.net. Blabbermouth doesn't always get it right, and we're hoping like you that this is one of those times. Here's what they said:

Scott Weiland On Strict Lockdown

Velvet Revolver singer Scott Weiland has been placed on strict lockdown at the Pasadena, Ca. rehab facility where he is currently completing a six-month residential program after he was caught attempting to smuggle drugs into the center.

Then they go on to fill in the background to the story as to why he is there in the first place, etc. We've put in a call to SLASH to see if he can confirm or not. It looks like comment on the story will be coming from Velvet Revolver management. If it's true, it really seems that this rehab is not working. If Scott is still desperate enough to smuggle in drugs, then he still has a habit that needs feeding more than he can care about the band. He has one more song to record, so it looks like one could be out. Scott was in violation of being let out of rehab to record the album. Now, that privilege has been taken away. And he won't be out to help with the mixing which he certainly would have wanted to be in on. We'll keep you posted, but it's another setback for Velvet Revolver. If this band can just get out of the studio intact, they'll explode onstage.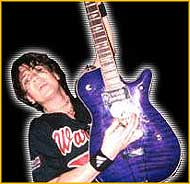 Blabbermouth doesn't always get things right. Last week they had a report that Keri Kelli (ex-SLASH's Snakepit) had been dumped from LA Guns for drunken episodes on tour. Keri, who also plays with Steven Adler's new band, Adler's Appetite, came out swinging on that one. He denies that there were ever any "drunken outbursts" that caused him to be fired. In a press release, Keri said his leaving was due to scheduling conflicts only. Adler's Appetite have been picking up a lot of gigs lately, and it was bound to happen that Keri couldn't do both. We know Keri quite well, and while we've seen him drink beer, he was always under control. Onstage he had a case of Dr. Pepper or bottled water, and after the show we saw him drink a couple of beers. Speaking of Adler's Appetite, here's their current schedule for the US and Europe:

Dec.19 - Dayton, OH - Hara Arena (with Jackyl and Izzy)
Dec.20 - Chicago, IL - House of Blues (with MSG)
Dec.31 - Las Vegas, NV - TBA (with Marky Ramone, Motocrist)
Jan.15 - Rome, Italy - Alpheus
Jan.16 - Milan, Italy - Indian's Saloon
Jan.17 - Vicenza, Italy - La Gabbia
Jan.18 - Brescia, Italy - Buddha Cafe
Jan.22 - Madrid, Spain - Madrid Arena
Jan.23 - Barcelona, Spain - Bikini
Jan.24 - Bergara, Spain - Jam

At the New Year's Eve show, Marky Ramone will also have his band the Ladykillers with him. Two more bands are expected to be added to that lineup for the big night. There are rumors that other ex-Gunners may make appearances. We have no confirmation on who that may be. If SLASH is in Las Vegas, it seems likely he'd stop in, and we'll try to find out his New Year's plans. Tickets will be sold through ticketweb.com.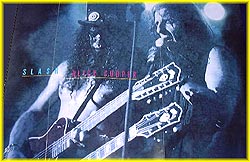 LuAnn found some information on The Alice Cooper Story DVD released in September 2001. There's rare live footage of SLASH and friends playing "Elected" and tons of interview material. LuAnn sent along this GNR mention. When asked, "Who is the most influential band in the last 20 years?" Alice replied, "In the last 20 years? Boy, let me see. Influential, that's a good word. In the last 20 years? I would say, and I wish they were still together, I would say Guns N'Roses were probably the best hard rock band to come out in the last 20 years. I know a lot of people would stick with the Nirvana thing. I actually think that Guns N'Roses, what short career they did have, was very powerful. They wrote some great songs. They had a great attitude. Great stage show, when you could get 'em on stage. We took 'em on their first tour. They did great. I think influential-wise, I was even influenced by them. I thought they gave hard rock a shot in the arm, you know. I would say Guns N'Roses." YES! Thanks, LuAnn!


News Reported: 12/15/03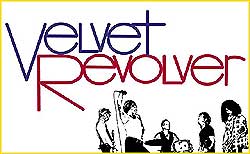 In the past two days we've received two confirmations from the company doing the Velvet Revolver official site, velvetrevolver.net. Both confirmed our userid and password. The one today thanked us for joining the VR mailing list and said we'd be the first to receive newsletters about VR, tour information, contests and more! They say that more activities are coming soon. Registration is free, and it sounds like you ought to sign up if you want what we hope will be some up to date information on the band. To register, go to
VR Mailing List.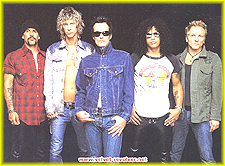 In a recent interview Scott Weiland talked about the forthcoming Velvet Revolver album, due out in the spring. He gave the date as late March/early April. This is a little later than the last we heard from Slash (early March). He said the album will be a combination of the best of Stone Temple Pilots (STP) and the best of GNR, back when their music was vicious and streamlined. The new album will have 12 tracks selected from the over 50 the band wrote. Josh Abraham, producer, says the album is being mixed now and will be mastered and finished by the end of the year. Weiland commented on several songs on the album:


"Slither" is described as a rocker, a dark heavy one with an STP vibe
"Falling To Pieces" is a heavy ballad featuring SLASH's signature guitar sound and reminds of "November Rain"
"Superhuman" and "Illegal Eye" is like an older punk song

Weiland says it's an album, not a big single with 11 filler songs. SLASH agrees saying every song sounds different with its own vibe and style.

The album title is still up for grabs, but the one in the lead was suggested by a fan on a fan web site. Uppers and Downers is the one right now. Duff gave some tour information saying the band would go to Japan and Europe to do some shows, then come back to the US where they'd do some "guerilla touring". Duff noted that the band has been offered the headline slot for Ozzfest! The band's live reputation is already legend, although they've only done a couple shows together. SLASH said the first time he ever saw Scott onstage was at the El Rey. He said he always liked Scott's vocals, but when they were onstage together there was a spontaneous chemistry that sealed the deal on the whole collaboration. Thanks to Brian and LuAnn for this update!



According to another source close to the band, they are mixing with Andy Wallace which takes some time, and Scott still has to sing one more song. As for touring, the band is stuck till Scott finishes his lockdown court ordered rehab which started in December. So it looks like May for tours unless something changes. The CD should be out end of March or early April. SLASH is keeping busy with other things, too. He recently released some photos for Celestion's 80th anniversary. Celestion makes guitar speakers, and they want to use one of SLASH's photos. So, watch for SLASH in their ads! Perla is now about 3 months pregnant, and she's doing great. She's relaxing and keeping away from the computer and all the business. Right now her pregnancy is the most important thing in her world, and she's taking good care of this new life. Best wishes to her and all the Hudsons!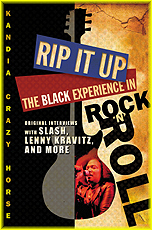 There's a new book out with a SLASH interview. The book is called Rip It Up: The Black Experience in Rock 'N' Roll. From the press release:

RIP IT UP: The Black Experience in Rock 'N' Roll begins where most analysis of race and rock and roll ends-post-blues and Elvis. This unique collection features the work of several well-known music journalists, original interviews with Slash from Guns n Roses and Lenny Kravitz, the stories of Jimi Hendrix, Arthur Lee and Love, and Prince, and lesser-known black members of "white" bands. From this perspective, it becomes clear that the notion that rock is "black music played by white musicians" is false. Edited by rock journalist Kandia Crazy Horse, this is essential reading for any rock fan, presenting the history of rock from a new angle.

The book is published by Palgrave Macmillan, and there's more information on their site and it's for sale at Amazon.com right now. We're getting a copy and will let you know more about it.


News Reported: 12/12/03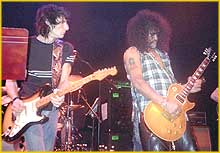 Michael from France sent in a great clip from the Rolling Stones Forty Licks Tour. SLASH is backstage with Ronnie Wood in L.A. in 2002, and they run into two young women. Ronnie introduces them to SLASH as makeup and wardrobe people. SLASH looks great! It's a short clip, but shows how close the two are. Click Ronnie & SLASH to check it out. Thanks, Michael!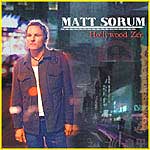 Hollywood Zen is the title of Matt Sorum's new album, and it's out right now. SLASH plays on one track, "The Blame Game". We bought a copy as did Elin from Norway and Ray. We all went for the autographed copy. Elin says that she didn't know Matt could sing so well and that he has a pretty good voice. She also said "The Blame Game" rocks! And SLASH plays as he usually does...couldn't be better! Ray said he really liked the album. He took it along on a business trip, and he said it was great for hotel room listening. We liked the overall theme of the album from the graphics on the CD to the photos to the lyrics. The music was good, but Matt is clearly strongest on drums. As a vocalist, he needed more expression but he has a decent voice. The album can be purchased at mattsorum.com. Thanks, Elin and Ray!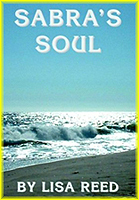 Lisa Reed is GNR keyboardist Dizzy Reed's wife. Rockers's wives have an insight into the hidden world of rock stars and backstage life. Lisa has a book out, Sabra's Soul, sure to contain a lot of background she's garnered as the wife of a GNR bandmember. The book is fiction and a romance, and it hasn't been out too long. The three reviews at Amazon were positive. We'll get a copy and let you know!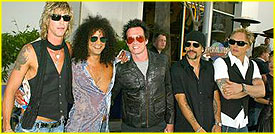 Sam sent in a Velvet Revolver mention from December's Metal Hammer. They have a Hot List of 50 New Bands You Must Hear. #49 was Velvet Revolver! They based this on "Money". They say that when SLASH, Matt, Duff and Weiland make a move in the music industry, there will be a real hullabaloo. When the band formed, the rumours hit the fan that the band was forming up again, possibly as a straight challenge to Axl's floundering fortunes with the new GNR. With Weiland in rehab, the ship is steadying; and things are moving on quickly. Velvet Revolver has been creating a buzz with a flurry of musical activity. A celebrity-attended debut gig at L.A.'s El Rey Theater saw GNR, Nirvana, GNR and STP covers. Metal Hammer calls them "a supergroup bar none with a thumping classic rock sound, laced with dashes of punk integrity and colourful glam for good measure." They say that unlike Axl's work, prepare to hear from Velvet Revolver real soon. Great!


News Reported: 12/10/03

If you've listened to Guns N'Roses enough that you can identify SLASH's solos, then you heard SLASH playing his solo from "Double Talkin' Jive' on NFL Rewind! Thanks to Sammy who sent that in. Sam says that it's the third time he's heard it used by NFL Today this season. Rock on!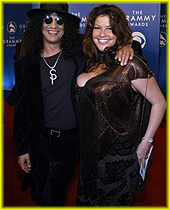 SLASH might RSVP that he's coming to a friend's wedding, but his life is pretty hectic, so don't count on him till you see him. Camp Freddy and Jane's Addiction guitarist Dave Navarro married Carmen Electra November 22. SLASH and Perla were invited, but they didn't get there because they went to the wrong hotel! Instead of tracking down the wedding, they went to a friend's house for a quiet evening - probably more suited to Perla's pregnancy. A second chance came up December 6 when Velvet Revolver bandmate Dave Kushner (rhythm guitar) married girlfriend Christine. SLASH didn't make this wedding either! It's reported that baby London's babysitter didn't show up on time. Is this London's first press clipping? Thanks to Brian and LuAnn for sending this in.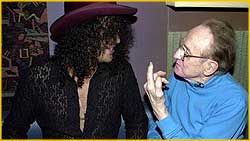 The Rock and Roll Hall of Fame and Museum is located in Cleveland; and if you get anywhere near this area, it's really worth a visit. The latest permanent exhibit, a tribute to Les Paul, will open March '04. They say "Les Paul's influence as a musician, inventor and technical innovator is unequaled". His name is synonymous with the electric guitar; in 1941 Les Paul built his first solid-body electric guitar and he continued to make refinements to the prototype. The exhibit focuses on Les Paul's development of the electric guitar, as well as Paul's inventions in the area of recording. SLASH counts Les Paul as one of his heroes. When you learn more about Les Paul, you learn more about SLASH! Visit soon.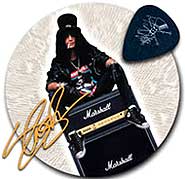 Andres M. sent some schematics a while back for SLASH's signature amp, the Marshall Jubilee 2555 series. Andre got a transcripted schematic for the 2550 Jubilee Marshall amp with slight modifications in the pre-amp section. Andre says the 2555 schematic was not really clear, but this new schematic will really help those of you who want to try building their own amp. Thanks, Andre! Click here for the revised schematic.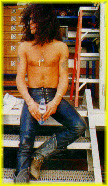 The two Use Your Illusion DVDs can now be ordered in Europe. The delivery date from Amazon is 1-2 weeks, so you won't get it for Christmas, but it's past the point of being a pre-order. The US DVD versions have been out for some time, but the European versions are experiencing production delays. Bear in mind that there is no extra footage on these as compared to the VHS version, but the quality is wonderful!






News Reported: 12/08/03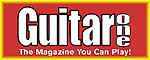 Mike in Shakopee, MN gave us a sneak peek into some GNR mentions in the forthcoming February issue of Guitar One. Mike says there are tabs for "Paradise City", a picture and a small article. The article says that "Paradise City" stemmed from a chord cycle that Duff composed during a bout of loneliness after moving to LA. During a road trip, Duff's chord passage evolved into the tune we know today... sort of. SLASH is quoted as saying, "We were in the van coming back from San Francisco to LA, and we started playing the basic chords on acoustic. They got into this 'Take me down to the paradise city, where the girls are fat and they got big titties' thing.' I think it started out with 'the grass is green' thing, and I thought "That's gay! We ended up keeping the 'grass is green' thing, the big titty thing was my own problem (laughs)." The article continues with an explanation of how to play the parts, and there are 15 pages of tabs. Thanks, Mike!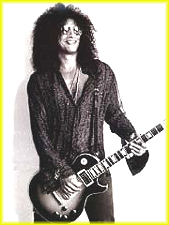 Three different Andrews and Andy's sent us information on that "Masters of Rock" show that was on BBC2 with host Bruce Dickinson. This was a mention of SLASH in a show about guitar gods including such other big names as Hendrix, Page, etc. If you want to listen to the whole show (requires broadband), go to Guitar Gods Show. If you'd like to hear just the SLASH mention, we're told you can skip forward using the "skip 5 mins" button to 45 mins. The SLASH mention is at about 48 minutes. Thanks to all three Andy/Andrews who sent in the followup. Very interesting and worth a listen.



Stefan wrote in from Sweden that the biggest rock station there had a competition where listeners voted on the best album of all time. The competition ran about a week, and the big news was that Appetite... made it to the finals! Sadly, Appetite... didn't win. It lost out to Iron Maiden's Number of the Beast which is a respectable one to lose out to anyway. Thanks, Stefan!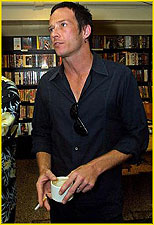 Scott Weiland was to be arraigned on December 3 on the DUI charge that earned him his current lockdown in a rehab center. LuAnn and Brian sent in the news that the arraignment has been delayed till December 23 to enter a plea on the DUI charge. He will remain in lockdown rehab in Pasadena. Tough for Christmas shopping! Velvet Revolver continues mixing the album with Andy Wallace for a tentative March release through RCA.


This just in from Adam...on December 19 at Hara Arena there is a one-off Jackyl show called "Merry Mayhem". Blackberry Smoke opens. A special guest has been listed; and last night, Jackyls's lead vocalist, Jesse James Dupree, called into WTUE in Dayton and announced that the special guest would be Adler's Appetite featuring their own special guest, IZZY STRADLIN! So all you Izzy and Adler fans get on out there! Thanks, Adam, for that information. In other news of Adler's Appetite, we received information that Keri Kelli has given up his spot with L.A. Guns to devote all his time to Adler's Appetite. Adler's Appetite will appear 12/19 in Dayton, 12/20 in Chicago's House of Blues and 12/31 in Vegas (venue TBA). A European tour is being scheduled for next year, and an album is planned which Izzy may appear on. The report from Keri's official site indicates that Keri just couldn't carry on with two bands at once. Some sites are reporting that Keri was fired due to several drunken outbursts on the LA Guns tour. Seems hard to believe that LA Guns would find almost anything that objectionable! Maybe Keri wore his SLASH's Snakepit t-shirt too often around Tracii Guns. Anyway, Keri has been replaced in LA Guns. We wish Keri, Steven and Izzy best of luck with Adler's Appetite. Maybe out of the Snakepit and GNR blowups will come a bunch of great bands!


News Reported: 12/05/03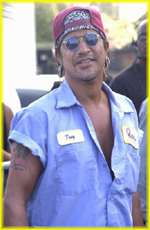 SLASH called in today to say that Scott has finished the vocals for Velvet Revolver's new album, and they are now mixing the album! No word on how long it will take to do this, but SLASH definitely has a sound in mind for each track, and they'll work each one till it's just right. He sounded in great spirits about reaching this milestone. The band is working together really well with Andy Wallace who is in charge of mixing. Everyone's confident that the album will be out on schedule.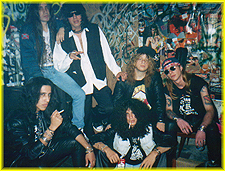 Eduardo Mota, "The SLASH Clone", from Brazil wrote to say that since the Gunner convention was such a success, they are doing another! Listen up, South American fans. The gig will be December in Sao Paulo, Brazil. Eduardo says it is a continuation of the last one and in the same style. Eduardo's bringing his cover band, The Best Guns N'Roses Cover and also his Snakepit Cover. He plans to do "Set Me Free" again. The band members are: Joel Pieretti (vocals & piano), Eduardo Moto (lead guitar), Andre Luiz (rhythm guitar & backing vocals), Fabio Bonnies (bass & backing vocals), Aldo Carmine (drums) and Daniel Skull (keyboards). The SLASH's Snakepit band is the same except Alex Pasquale is on vocals. Eduardo says he will begin drumming up interest in the new VR album starting in January. He hopes to do many gigs and TV programs to talk about SLASH and his new band. All of you who got to the first convention and especially those that didn't, make sure you're there. It f*ckin' ruled!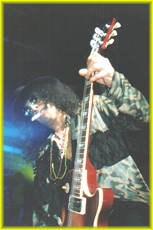 In other international news, Andrew sent this in. Radio Two is the biggest radio station in England. Bruce Dickinson of Iron Maiden hosts the "Masters of Rock" show every Thursday from 9 to 10pm. This week he is discussing guitar rock gods, and among the promos for the show was Jimmy Page, Eddie Van Halen, Hendrix and our own SLASH! If you can receive this station, let us know what they said about SLASH. Thanks, Andrew!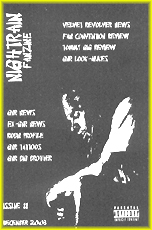 More from England...the 11th issue of Nightrain, the GNR fanzine is out. Ian puts this together, and he says the contents include GNR Big Brother, Fan Convention Review, GNR Look-A-Likes, GNR Tats and much more. This fanzine covers both the old and new bands and solo things...very complete. For information on getting a copy or on the contents of Nightrain's 11th issue, visit their or email Ian Lei.


Mentioning the original band reminds us of a trivia question...who was the first band member to quit the band? Izzy Stradlin, of course. 12 years ago today, Gilby Clarke replaced Izzy in Guns N'Roses. Thanks, LuAnn for that trivia question.






News Reported: 12/03/03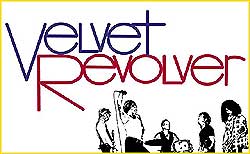 Moving into the last month of 2003, Velvet Revolver's March release date is coming closer. Brian and LuAnn reported the information that lead vocalist Scott Weiland was scheduled to complete the vocal tracks today! You may recall that Scott is in court-ordered drug rehab, but is released under guard for several hours each day to complete his part of the album. This seems to have worked out well. What's next? The album tracks have to be mixed, and Andy Wallace (Nirvana, Korn, Limp Bizkit, Sepultura, Slayer and many more) will be working with the band on that. Overall production is in the hands of Josh Abraham (Orgy, Powerman 5000, Staind). We'll keep you posted. Thanks to Brian and LuAnn!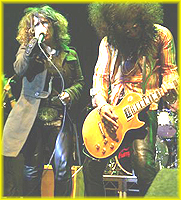 Another Camp Freddy video featuring Duff, Izzy and SLASH has been posted on slashonline.com. This one is Led Zep's "Whole Lotta Love" with Linda Perry on vocals. Very cool! This was recorded at the Avalon Theater for the Step Up benefit. Linda Perry is a real rocker, and SLASH gives one of the best performances we've seen. Go to slashonline.com, then click New Camp Freddy Videos, and a popup window will appear where you can select it. This is a keeper!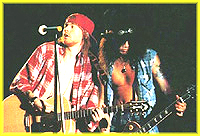 Lou from Rio de Janeiro reminds us that there are quite a few of the old GNR videos on the rollingstone.com site. We and Lou had never seen the "Locomotive" video before. Basically, the band plays "Locomotive" in the background while they discuss "November Rain". Check this out at GNR Videos and select "Locomotive" or any other you see listed. Thanks, Lou!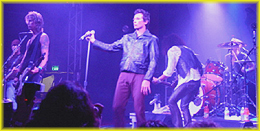 Scott Weiland's old band, Stone Temple Pilots, announced that the band has officially broken up. For a long time, they said the band was on hiatus with individuls doing solo work, but now the band is no more. Their last album will be a greatest hits album called Thank You. In other Weiland news, his DUI arraignment has been postponed till Wednesday, December 3. This most recent arraignment was the result of his losing control of his car on October 27, hitting a parked van and attempting to flee the scene. Scott is at a live-in detox center at present, and then will be living for six months at a residential rehab center. Weiland completed his vocals under a court-arranged order. Scott's lawyer will enter his plea on December 3 as Scott is not required to attend. What the band will do without Scott for six months is anyone's guess. Nothing has been announced. It seems that will end around May 2004. At that time he will be an outpatient. While we wish Scott the best, we hope this will not interfere with Velvet Revolver promotion and tours. Thanks to LuAnn for sending in that update!



When you're out doing your holiday shopping, check the larger newsstands for those special year end publications. We spotted the Circus "Special Collectors Edition: The Year In Metal". In the article "88 Heaviest Metal Icons of All Time", Guns N'Roses (original band) was selected. There's a small picture of SLASH on the front cover. They say that when the band appeared in the 80's, it gave parents something to cringe about, praised WTTJ and said the band still performed with only one original member. A nice mention for the ex-Gunners! Hit Parader's "Year End Special Edition" had a bit about Velvet Revolver under "Heavy Metal Happenings". They talk about the "highly-touted GNR/STP spin-off band" recording their debut album and how they've done some studio work till now. Working on their own album takes things up a notch from one-offs and studio work. SLASH says you have to take things more seriously when you know or hope that people will listen to the album over and over.






News Reported: 12/01/03