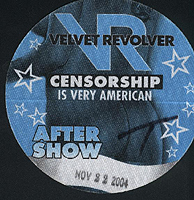 At the end of the year, the media creates their lists of best songs, best videos, best everything. VH1 has their Top 40 Videos of 2004 on TV now. "Fall To Pieces" is in the #18 slot there. They have another category, Most Autobiographical Video, and "Fall To Pieces" came in at #2 there. The show airs throughout the month so check the VH1 website and your local listings for dates and times. We're proud of the guys who keep picking up award after award, and we have high hopes for those three Grammy awards in February.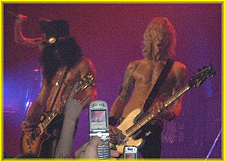 In surfing for some VR mentions, we found a mention of the show in Miami at The Mansion. This was from the Miami Herald. They say: "Turn down that Clay Aiken Xmas album and listen up: Rock lives. Saturday night's Velvet Revolver concert proved this tenfold. Who knew so many people in this land of hip-hop and techno could rock so hard? The show, featuring the remnants of Stone Temple Pilots and Guns N'Roses, was outstanding, from the lights and sound to Scott Weiland's unintelligible yet compelling stage presence."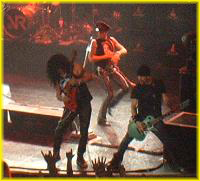 Hector sent us some VR related news. He went to see the Tea Party, a Canadian prog rock jam band with eastern influences. The opening band was Todd Kerns and his band, and Todd was awesome, a complete frontman and musician. Hector reminded us that Todd auditioned for the vocalist position in VR, and while he didn't get it, he did the whole set wearing a VR t-shirt. Hector talked to him after the show and asked Todd if he still kept up with the guys. Todd said he hadn't but they were great guys and he had a blast working with them. He sees them once in a while because some of his friends are their friends and they travel in the same circles. He says he wears their t-shirt every now and then because it's an awesome album. Thanks, Hector!


Somehow we lost track of this contest, so it has already begun but there is still time to get in on it. It started December 13 and it's at www.illitpress.com/. It's a tournament of champions to crown the greatest song from GNR, STP and VR. 64 songs are included, and it's run like the NCAA Final Four. There are 28 GNR songs, 28 STP songs and 8 VR songs. The full tourney and pairings are available at the site. RazZ put this together and hopes you'll come over and get in on the fun. Thanks, RazZ!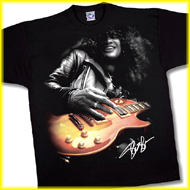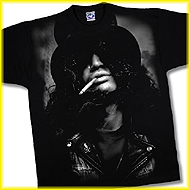 Don't forget those new SLASH solo t-shirts. We like both! It's a stretch to think you could get one by Christmas, but you can use your Christmas money to buy one and for sure get it in January. All you international fans need one for the coming gigs to show our favorite guitar player! The storefront is open NOW. Go see them at SLASH - Guitar
and
SLASH-Top Hat







Page Updated 12/20/04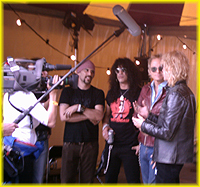 We've been out doing that heavy duty holiday shopping. We were alerted by Lisa in Italy that she is going to the January 1 show of Velvet Revolver in Las Vegas and that there is an After Show Party beginning at 2 am. She told us tickets were $50, so we thought maybe we could make that, but after contacting SLASH's management we were told those tickets are gone. Tickets now are up to nearly $250 each. We're not sure what the difference will be when you get there, but we hope you get something special for your money. If you're going, let us know!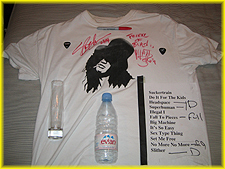 Looking back at the Miami show, we got a terrific review in from Josh. He was lucky enough and alert enough to meet SLASH's wife Perla who got him in backstage after the show. We think you'll enjoy this review as much as we did!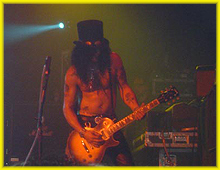 The next single off Contraband will be "Dirty Little Thing", and the band is going to record a video for it in L.A. on December 21. Motion Theory will direct. The band will perform live action inside an animated runaway train wile the exterior and surrounding environment is also animated The train goes round the world though Japan, UK, NYC and Hollywood. Raw, sexy illustrations will be by Rockin' Jellybean. CNNV tells us that the local radio station has put "Dirty Little Thing" into rotation, but they also play "Used to Love Her" by VR and according to CNNV, it sounds awesome. CNNV wonders if this is from the VR DVD that's coming out soon, but we have no information on that.


If you're going to the Australia and/or New Zealand shows, you can take advantage of a pre-sale. Here's what we got in the mail today: "As a die-hard VR fan, we are sending you this e-mail so you can get your tickets before they're available to the general public. Here's what to do: On Wednesday, 12/15 at 9:00 AM AEDST go to http://www.velvetrevolver.tickets.musictoday.com and buy tickets to your show! The pre-sales end Friday morning, 12/17 at 9:00 AM AEDST so make sure you get your tix in time. FYI, all ticket prices listed will be in US Funds. Your card will be charged at the current conversion rate."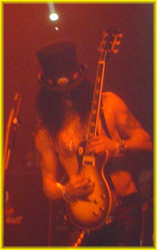 RCA Records has announced that they will remaster the sound of Contraband when the Dual Discis released on February 8. The Dual Disc will have videos for "Slither" and "Fall To Pieces". There will also be previews from MTV, MTV2 and Fuse as well as photos. Thanks to Ben for sending that in.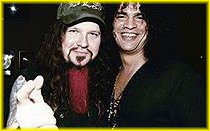 This week Dimebag's fans gathered for a ceremony to honor him. We knew that SLASH was friendly with Dimebag. You can see them together on a video that was made of a tribute to Alice Cooper in Mexico. We were searching for a photo of Dime and SLASH and now we have one thanks to Alex and Filip.


There's a bunch of magazine sightings that have come here. Matthijs from Holland picked up a copy of Mojo and a special edition of Mojo. There's a huge article about VR and the second is all about the best rock bands ever and GNR is in that one. Matthijs also mentioned that a radio station with their own Top 1000. GNR is #1 with "November Rain"! There's a picture of SLASH in Stuff's January magazine regarding the Miller event he did in NYC. Thanks to A. Godley for sending us that. Alice picked up Revolver, and there are three pages in it on Velvet Revolver. Rich from the UK says there's a big SLASH mention in the recent edition of Total Guitar with an interview, cool pictures and other things. It's a 10th anniversary edition, and SLASH is the "star" of the magazine. Cool!Lesley from Manchester sent us a copy of The Big Issue which is sold by the homeless around the cities of the UK. SLASH has the cover picture with an interview period. So, buy one and do a good turn at the same time. In the Australian Musician magazine, "SCOM" was voted as the fourth best guitar riff in a poll.





Page Updated 12/16/04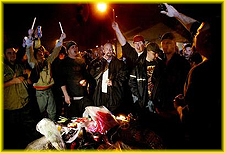 We want to take a moment here and remember Darrell "Dimebag" Abbott of the group Damageplan, formerly in Pantera. Dime was shot and killed by what is being described as a crazed loner fan who ran across the stage and shot Dime 4 or 5 times in the head. Although someone tried to perform CPR, we're told that Dime was probably dead before he hit the floor and the person doing CPR was also shot and killed when he looked up at the shooter. In all four people were killed before a policeman rushed in and killed the shooter. It's said the shooter was a huge fan of Pantera and held Dime responsible for breaking up the band. Many fans were upset when GNR broke up, and now, given a chance to grow, SLASH has a wonderful new band. Who is to say what Damageplan could have done? Ironically, the killing was done on the same day John Lennon was shot and killed many years back. Whether this figured in the killer's plans, we won't know as no note was left by him. Our sincerest sympathies to Dime's family and close friends. He will be missed. Above is a picture of fans who came out to celebrate this legendary guitar player in front of the venue in Columbus, Ohio where the tragedy took place.


Some more gigs have been announced on the Far East leg of the tour. Japan now has five shows, New Zealand has their two and Australia is now at five. Japan's additions are Nagoya on 2/2 and Tokyo on 2/8 and 2/9. Australia had two added: Adelaide on 2/26 and Perth on 3/2. We hope you'll make these shows a huge success!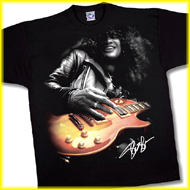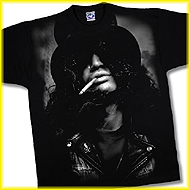 Many, many times we're asked for a t-shirt with "just SLASH" on it. Up until now there has never been an authorized solo t-shirt for just The Man. Now there are two and here they are! The first is SLASH - Guitar
and the second is SLASH-Top Hat
Both are just great and you really need both! Ordering is easy, and the storefront is open for business.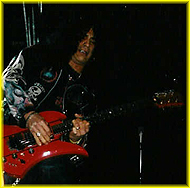 Lesley in Manchester, England says to look for a copy of The Big Issue. It's got a personal interview with SLASH where he talks about drugs but also mentions about when he was a child and the family reaction when they saw him and his mother and how he met up with all of them when GNR came to the UK. Sounds like something new! Thanks, Lesley.


Vicki got a copy of GuitarOne's January issue. In the Top 10 Riffs of 2004, SLASH has a small picture on the cover and is named as having the top riff of 2004 for "Slither". There's a full page color picture of him and Scott inside. SLASH has some remarks in there about "Slither". In their Fret Buzz Opening Axe section, SLASH is again number one for his "Slither" riff. GNR's "Night Train" was named #* in their list of top 10 drinking songs. Thanks, Vicki!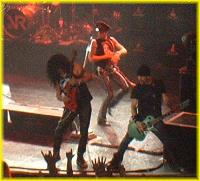 Velvet Revolver announced that they have signed a worldwide publishing deal with Chrysalis Music. Chrysalis is administered by Mushroom in Australia and New Zealand. Sucker Train Blues is scheduled to come out in Australia on 2/21! These singles are then available as imports in the US from Amazon and the rest or on ebay from private sellers in the other countries.





Page Updated 12/12/04




The best news came in today when the 2004 Grammy nominations came in. Velvet Revolver is up for two as a band and one for the individual artists! Best Hard Rock Performance nominee is Velvet Revolver for "Slither". Best Rock Album is Velvet Revolver for Contraband. SLASH, Duff, Dave, Scott and Matt are nominated for Best Rock Song for "Fall To Pieces". Amazing! Three nominations! The awards are scheduled for February 13 and will be televised on CBS beginning at 8pm. Get that on your calendar! Congratulations to everyone in the band...and especially SLASH whose vision and determination were key in creating Velvet Revolver. You're the best!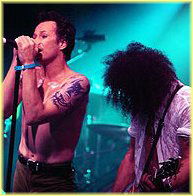 Some more good news...Velvet Revolver announced two shows in Japan and two shows in New Zealand. The Japanese shows are in February at the Sonic Mania Festivals in Osaka and Tokyo. The Osaka show is February 5, and the Tokyo show is February 6. Check the calendar (see tour bus link above) for additional information on tickets and venues. Two shows are also added for New Zealand. One is Christchurch on February 17 and the second is Auckland on February 19. Tickets for these go on sale December 17 at 9 am. These will sell out fast so get out and buy them early!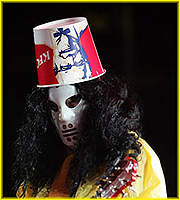 Sylvia let us know that that great magazine, Guitar Legends which is all about SLASH is now on sale in Canada. Speaking of magazines, Kerrang! covered the Halloween show where the band dressed up in hilarious costumes. They wondered if Axl Rose found it as funny as they did. Vicki told us there's a new magazine out called Guitar Heroes brought out by GuitarOne. Inside are 10 giant fold out posters plus 2005 Year-In-Rock calendar with birthdays of guitar heroes. SLASH is there wearing his top hat, holding a cigarette and one of his Les Pauls and wearing his NIN t-shirt. Vicki said you can see most of his face, too. Thanks, everyone!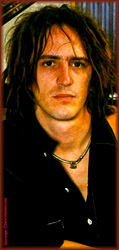 We checked on that SLASH statue, and the company says they are not quite ready to accept pre-orders but intend to do that this month. We signed up for a newsletter there and will let you know when we hear more. There's a book out about Izzy Stradlin, and you can pre-order that now. The book's official release date is February 17. It's $21, and the title is Dust N'Bones: The Untold Story of Izzy Stradlin. You can pre-order by sending email to Black Market Publishing at hardrockbooks@hotmail.com. We checked this book out and neither Izzy nor SLASH had anything to do with it.


In spite of the voting, it seems that the next single off Contraband will be "Dirty Little Thing". Radio and Records lists this and the band confirms it.





Page Updated 12/07/04