The band's official site, www.velvetrevolver.com has the schedule at a glance. Click the second bullet at the bottom left of the home page and you can see which gigs are coming up, the dates and when tickets go on sale.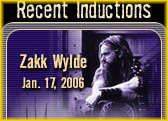 Recently, SLASH along with Duff and other music and sports greats attended the Hollywood RockWalk induction of Black Label Society/Ozzy Osbourne guitarist Zakk Wylde at 7425 Sunset Boulevard on January 17 at noon. The event was free and open to the public. Did anyone see that? Zakk was handpicked by Ozzy at age 19 to be his new axe slinger and song writer. In '98, Zakk went on to form his own band, Black Label Society while continuing to work for Ozzy. Black Label has released six albums which have sold a million copies worldwide. The RockWalk is a must for rock fan visitors to Hollywood. It's the only sidewalk gallery dedicated to honoring rock, blues and R&B artists.


Missing some SLASH interviews? There's one on the net that SLASH did with Matt Cord, a DJ in Philly. It was done in Atlantic City when VR was there a few weeks back. You can listen to it online by going to WMMR.com, then click Matt Cord under "personalities". Thanks, Greg!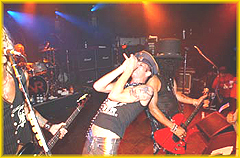 Velvet Revolver is in the studio working on their second album, tentatively titled "Libertad". They want the album out this year. Izzy Stradlin promises more music and many of us hope that some of the songs on the new album will be from the time Izzy worked on song writing with SLASH, Duff and Matt. SLASH says they really sound like GNR and wouldn't that be great? Scott is also busy doing a solo album. And Axl Rose says he will have his album out this year after a ten year wait. He says that there is no war between him and SLASH. SLASH says the same, so the great feud is just media hype. Both say they have not spoken in years but recognize the other's musical ability.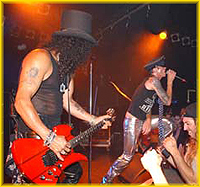 How are you doing with those New Year's resolutions? One of the top resolutions is losing weight. Scott was asked how people can keep off weight in the New Year. Scott says he chases his kids around and keeps up with the band's havy tour schedule and being active on stage. He does some martial arts, but mostly credits good genes. He's running around with that second album work. Velvet Revolver's first album, Contraband has sold nearly 2 million copies since its release in June 2004.





Page Updated 01/25/06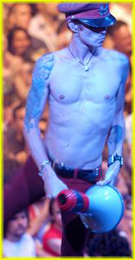 At the Aladdin Resort and Casino in Las Vegas on Monday, December 19, it was reported that Scott said the forthcoming Velvet Revolver album will be called Libertad adding that that can mean a lot of things. He also indicated that the album will be a concept album about Liberty. Scott says the great rock albums were concept albums not just the usual 13 song albums thrown together to support 2 or 3 singles. He says he hopes to emulate the Stones' Exile on Main Street and Pink Floyd's Dark Side of the Moon. He said that the bar was really set high this time and that he definitely has an idea in mind.

If you've been anxious to hear the Velvet Revolver guys, they took over Kerrang Radio recently! Click on this link, and you'll see it on the right hand side of the screen. You'll need to scroll down to the highjack list and then click on Velvet Revolver. Hijacked!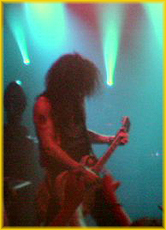 VH1's giving Scott a big honor by taping an episode of their Decades Rock Live dedicated to Scott in August 2006. The show is scheduled for August 18 and will feature Velvet Revolver and Stone Temple Pilots together on the same stage. This will be recorded live at Atlantic City, NJ at the Trump Taj Mahal the same day. Watch for more details later this year.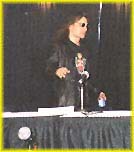 How about a cool gig early in 2006...in fact, tomorrow night? Matt Laug, ex-SLASH's Snakepit drummer sent word that the first big rock show of the New Year at the Viper Room is tomorrow night. Brian Ray's Black Unicorn and The Dirty Knobs will be there. Matt is in both bands so that's pretty cool. He's a really great guy and really easy to talk to. The Viper Room is on Sunset in West Hollywood, CA.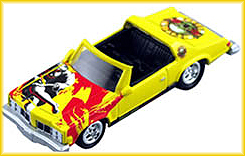 This is an item we wish we had more information about. Ben sent us the information about the Johnny Lightning die cast car series. There are two Guns N'Roses cars coming out. One is a '71 Chevy Vega and the other is a '77 Olds Delta '88. Neither Ben nor I can come up with a release date on these cars, so maybe one of you can spot that and let us know. If you go to the web site, you'll see one of the cars with the Illusion album cover. Here's the link to check this out. Thanks, Ben!


Kirsten from Norway says that you can get, right now, Gilby Clark's music in a big sale to fans living in Norway and Sweden. These are The Hangover, Rubber, 99 Live and Swag. So if you live there or have contacts there, now's the time to fill your collection.





Page Updated 01/02/06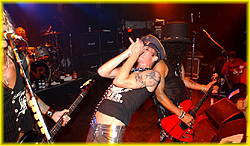 Those of you in the southeast of the U.S. can get a chance to see Velvet Revolver at year's end. Here's the schedule for you:

December 30 - Atlantic City, NJ at Borgata Events Center
December 31 - the New Year's Eve show, Sayreville, NJ at Starland Ballroom, named the Starland Ballroom's Rockin' F'n New Year's Eve (reported in Rolling Stone (Think SLASH may have named this one?)
and this just added: January 2 - Hollywood, FL at the Seminole Hard Rock Casino

Tickets for the Atlantic City show are on sale now for $100. The tickets for the New Year's Eve show are also $100 and on sale through Ticketmaster. The tickets at the Seminole go on sale December 9 through Ticketmaster. Tickets at Seminole top out at $65. We're told the band will go to work full speed on that second album soon.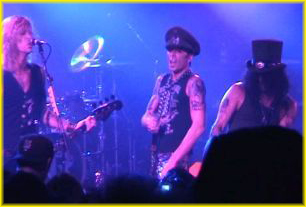 The big news this week on Velvet Revolver is that the band announced they will make their second album as a concept album. If you aren't up on this, you can google concept album and it will refer you to Wikipedia, the free online encyclopedia as we did. A concept album is one built around a theme. Usually, in popular music, an artist or group releases an album consisting of a number of unconnected songs that the members of the group or the artist have written or chose to cover. In a concept album, all songs contribute to a single overall theme or unified story. Sometimes it's something as vague as an overall mood. You might think of Sgt. Pepper's Lonely Hearts Club Band, The Who's rock opera Tommy and Quadrophenia. In the progressive rock genre of the 70's, Pink Floyd did Dark Side of the Moon, and Radiohead did OK Computer in 1997. Since the 80's, concept albums have been frequent in the power metal and epic metal genres. The first R&B concept album was R.Kelly's TP.3 Reloaded in 2005. They say that the concept album overlaps with rock operas and rock musicals. So, where does the Velvet Revolver concept album fit? The band is being very tight-lipped about the album content or theme. Scott says it was something he's wanted to do since the last STP album, and it never was completely realized. He said he and the band have been writing for months. Duff says the album will make a statement and the band is looking for a possible July relase after going into the studio in February or March.

In other band news, Scott says he is doing his second solo album which follows his 1998 solo 12 Bar Blues. He has 25 songs written for this one! He intended to release the solo a few years ago, but instead joined up with Velvet Revolver. Scott says VR was a way to keep him off drugs as the music the band sent him kept getting better and better. Finally he just felt there was a contribution he could make to rock music and he could really add something to it.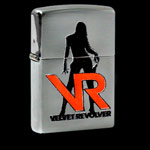 If you've signed up for the Velvet Revolver newsletter on their website, velvetrevolver.com, you've already got your Happy Holidays greeting from them spotlighting some VR items in the store. They have all kinds of sales going on and you can even get a Gift Certificate to your favorite VR fan if you're not sure what they'd like. The store is at stores.musictoday.com/store.

We heard from the company promoting the Ozzfest 10th Anniversary. They told us that Velvet Revolver is on there. The VR part of the DVD is killer. "Sucker Train Blues" is on here on both DVD's...it's a double set, as well as a SLASH interview. The DVD is in stores now. It features performances, interviews and exclusive behind-the-scenes experiences plus a live CD from the iconic tour's 10th year running. Fans have the opportunity to glimpse the longest running rock tour in history with the DVD and bonus live CD release Ozzfest 10TH Anniversary. It brings you up close and personal to a mosh of togetherness. The album is priced at $19.98 and was released November 22. It was filmed at the Donington, UK show attended by over 100,000 fans and the back lots of Camden, NJ. Bonus features are interviews with Ozzy, SLASH, Jack Osborne and Zakk Wylde. The live CD features performance songs from the 2005 tour. VR does their great single, "Sucker Train Blues" and their are many other artists from the tour. "Sucker Train Blues" is also on the Live CD. Sounds like a great holiday gift...get the metal while it's hot! In stores or online right now.


We've got a gig that is pretty far out there, so things could change. Izzy Stradlin is among the confirmed artists for "Rock the Boat", a two-day floating rock festival traveling between Oslo, Norway and Denmark. Izzy is scheduled for Saturday, April 29.





Page Updated 12/20/05

There was an unannounced show on December 7 in Las Vegas. The band played an 11 song set at Body English at the Hard Rock Hotel and Casino where Maxim held a Billboard Music Awards afterparty. Hopefully, you caught the band presenting an award to Mariah Carey during the show. Scott read the nominees while SLASH lit a cigarette and announced the winner. You can see pictures of the afterparty show at Wire Image. The set list roared off with "Sucker Train Blues" followed by "Do It For the Kids", "Headspace", "Superhuman", "Fall To Pieces", "Dirty Little Thing", with a tip of the hat to GNR "It's So Easy" and then "Sex Type Thing", "Set Me Free", "Wish You Were Here" and ending with "Slither". Sounds like a great show and thanks to Brian for sending that in.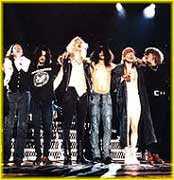 A Geffen spokeswoman has evidently shot down the rumours of a second greatest hits album. This was to have been a double disc CD called Welcome to the Jungle: The Very Best of Guns N'Roses. It was said to be released in December '05, but the spokeswoman told So Hood magazine no such album is on the label's rosters for release. Speculation about this album and its tracks have been circulating on the net for weeks. Amazon.com also added fuel to the fire as did Billboard with reports of a December 20 release, but it looks like the rumours were false...at least for now. The first Greatest Hits album sold 2.5 million copies after its release in March 2004. Axl, Scott and SLASH tried to block the release saying the band was not consulted about the tracks or any other input. Geffen insisted it was forced to put out that first album to recoup some of the money Axl has been using but not delivering on his long-delayed new GNR album.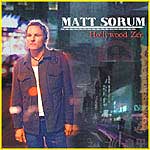 Velvet Revolver drummer Matt Sorum who's been on the injured reserve list with a hand injury joined Aerosmith on stage on December 2 at the Borgata Casino in Atlantic City, NJ. Matt injured his hand in a boating accident while the band was on hiatus and had to miss a few gigs. Velvet Revolver had recorded a cover version of this song and played it a few times during their 2004-05 world tour. A few shows are scheduled on the East Coast are scheduled for late December/early January, and VR is then expected to continue working on their sophomore album.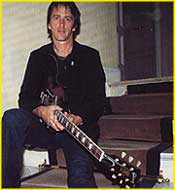 We got a note from one of the moderators of the Izzy Stradlin forums which said they'd received an email from Izzy saying that a friend has setup Paypal for his new album Like A Dog. You can now use Paypal to hand over your $20. Fans asked for Paypal because it's the easier way to pay, especially for international fans. There are still plenty of copies left, and Izzy says he will make more if need be. PayPal is an easy way to pay, but you can also send an International Money Order or American Express Checks for $20, payable to "Scooters" at P.O. Box 333, Otterbin, IN 47970 USA. Don't forget to include your name and address when ordering! Thanks, Edwin, for letting us know. There are a lot of Izzy fans looking for his current album, Like A Dog. Check out how to pay at the link www.scootersteez.com.

We received a bundle of comments on the appearance of SLASH and Ozzy and others at the Royal Variety Show last month. A typical report said that SLASH was there, too with son London in arms (a real cutie, we're told), and that SLASH offered Ozzy $9,000 to flash his rear! Ozzy said he was just a few beers inside away from double mooning the royal box. And there is SLASH egging (er...should we say mooning) him on! Ozzy stood next to Kermit the Frog with Rod Stewart punching it in its head. Sounds like the wildmen of rock were not on such good behavior, but at least Ozzy drew the line. Ozzy had a chance to talk to the Queen and pronounced her warm and friendly. Thanks to all who sent in comments.


Speaking of Ozzy, since there is no "Greatest Hits of GNR" album out for the holidays, you might look into Ozzfest 10th Anniversary (DVD). There's a row of outstanding performers including Velvet Revolver, Rob Zombie and, of course, Sabbath. The DVD is loaded with hard rock and metal. There are interviews and stories interwoven into the five acts. There's a live CD also and the set deserves its good ratings for being informative about the Ozzfest monster. Get it for yourself or give it as a metal/hard rock gift!


Speaking of the holidays, we will try to get an update out as the year ends, so keep sending those SLASH sitings and Velvet Revolver reviews. Happy Holidays to all of you and we wish you a Velvet Revolver New Year. There's lots to look forward to, and we thought we'd start you off with SLASH's wishes above.





Page Updated 12/13/05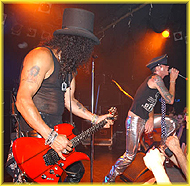 Scott Weiland will be at this year's Radio Music Awards on Monday, December 19 at the Aladdin Resort & Casino in Las Vegas where VR has been nominated in the "Song of the Year" category for "Fall To Pieces". If you can't go, the show is to be on NBC live beginning at 9 pm ET.

In other award news, Velvet Revolver has been nominated in the "Best Rock Artist of the Year" category at the coming Billboard Music Awards. Competition is Breaking Benjamin, Green Day and Papa Roach. Winners are determined by the 2005 year-end charts which reflect the weekly charts from December 2004 through November 2005. Hosting the show will be LL Cool J. The show will be at the MGM Grand Garden Arena in Las Vegas on December 6. It will be broadcast live/ tape delayed on Fox from 8 pm PST. This means 11 pm ET, so get those recorders ready if you have to get up early for work or studying. Thanks, Brian, for all this information. This is the way the schedule will appear in the future...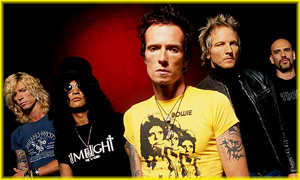 Button let us know that VH1 sent her a note that the new episode of VH1 Classic's "Decade Rock Live" will feature an appearance by Scott and will air on January 1 at 12 am. The performance was taped on November 11 at the Trump Taj Mahal Resort & Casino in Atlantic City, NJ. Scott sang 3 songs at the show: "Barbarella", "Money Changes Everything" and "Time After Time". These were with Cyndi Lauper although it is not known yet which of these will be included in the final broadcast. Pictures from the taping are on Wire Image. Thanks, Button.


Versailles Records press release announces that they will release the album It's So Easy: A Millenium Tribute to Guns N'Roses featuring current or past members of GNR, Heart, SLASH's Snakepit, Adler's Appetite, LA Guns and more. The album is to be released in late April. No tracks or individual artists named as yet. Pre-orders for the CD can be emailed to gnrtributepreorders@yahoo.com.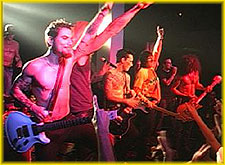 On December 4, Scott and Duff performed STP's "Crackerman" with Camp Freddy at the Rain in the Desert nightclub at the Palms Resort & Casino. The show was part of the Camel Cigarettes Sin City tour. Scott also sang "Roadhouse Blues". Duff was on guitar for these but stepped up to the microphone to do "New Rose". Rumours are around that the band will play another gig somewhere in L.A. in the next day or so.

Fans are always looking for SLASH items, and those who can come up with some extra cash have a chance in the next two days to bid on three items that are really special. These are being offered by the GRAMMY Charity Holiday Auction presented by Verizon (Official Sponsor of The Recording Academy) and features exclusive items and experiences from your favorite stars including SLASH. Proceeds benefit MusiCares. Auction runs to December 8, so place your bids today at www.ebay.com/grammy.

There's a Nixon watch for SLASH, a SLASH drawing and a guitar strap signed by several artists including SLASH. The auction can be your place to shop for gifts that rock! The bids are still relatively low, so you have a good chance to score one or more of these.

The item number of the SLASH Nixon watch is 7566139061. The item number of the SLASH drawing is 7566190914 and the autographed guitar strap has item number 7566182811. This is your chance to find the perfect gift for the SLASH fan in your life or to add to your own collection. Bid early and bid high. These items will go much higher! And it's all in a good cause endorsed by SLASH.

Page Updated 12/06/05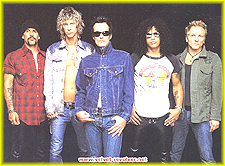 The Starland Ballroom in Sayreville, NJ announced on their web site that Velvet Revolver will play their New Year's Eve show there this year. Tickets are on sale at $100 a pop and are on sale through Ticketmaster. This is an all-ages event (21 to drink). The ticket includes an open bar from 8 pm till 9:30 pm. There will be a champagne toast at midnight for those over 21, party favors, continental breakfast and more. And of course, the chance to hear that rocking VR band! So, if you can get a ticket and get there, it will be a New Year's Eve party to remember. Let us know if you go!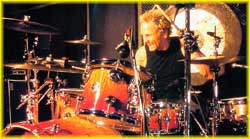 No word yet if Matt Sorum will be appearing then, but he was on Indie 103.1 FM with his mom on November 19. This was Matt's birthday, and it was great that he shared it with his many fans. A webcast of this event could be seen through 6767.com.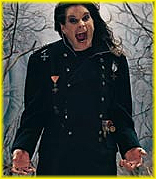 On November 21, Ozzy Osbourne sang a version of The Beatles' classic "In My Life" in Cardiff. Ozzy's wife/manager introduced him and called him her personal rock. He was accompanied by SLASH wearing his trademark top hat for the show, the first Royal Variety Performance in Wales. Thanks to Brian for that. Mykaela lives in North Wales and had the Welsh news on talking about this Royal Performance. She saw SLASH with Ozzy and some Welsh opera singers and celebs meeting the Queen! This took place in Cardiff, the capital. Mykaela said it was great to see SLASH on the Welsh news. Thanks!

Coming up in December, SLASH and former STP principals Dean and Robert DeLeo are among the artists scheduled to perform/appear at a December 10 Grammy Jam at the Orpheum Theatre in L.A. to honor legendary artist and 22-time Grammy winner, Stevie Wonder. Billboard.com says tickets are available to the public by calling 5B Events at 310/550-9334. All proceeds benefit the Entertainment Industry Foundation's National Arts and Music Education Initiative. This has to be a great show! SLASH was asked once in an interview which artist of the ones he had not worked with would he most like to jam with. And he replied Stevie Wonder, so we're hoping that will happen for him at this show.


Awhile back we told you about the elegant and limited edition Nixon watches in honor of musicians. They were only to be sold in certain places. Dave found the one for sale at The Old Man in Amsterdam/Netherlands/Europe. It is number 4 of the 13 created. The price is 1395eur or about $1500 US. Dave says that's a bit too expensive for him. Put that on the Christmas list! Thanks, Dave!


Here's a strange bit of news that Brian sent us from contactmusic.com. They say that Ozzy Osbourne has ordered a life-size clone of himself. Ozzy will be immortalized forever with the $10,800 life-like body double. They also claim that Pam Anderson and SLASH are on the waiting list! The creator says that celebs see it as a way of retaining their looks forever. And fans have been flocking to buy replicas of their favorite stars! It doesn't seem like a SLASH thing, but we'd sure like to have one if we could just raise the money.


Rolling Stone had a short mention of the forthcoming GNR album, titled Welcome to the Jungle: The Very Best of Guns N'Roses. They list the release date as December 20, just in time for the fans on your Christmas list. Thanks to Ray for sending that in.

Page Updated 11/28/05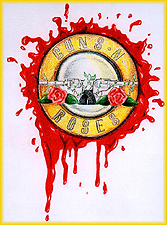 Just in time for Christmas, there will be a new GNR album. This is a two-CD collection from Guns N'Roses entitled Welcome to the Jungle: The Very Best of Guns N'Roses. Reportedly, there will be a Parental Advisory and edited forms and should be out on December 20. Other reported dates have been mentioned, but we're hoping for the before Christmas date. The first hits collection released in 2004, sold nearly 2.5 million copies in the the U.S. SLASH, Duff and Axl sued to block the release of that one saying they had assembled the CD without their input. This CD does not have that problem. We checked and amazon.com did not have it out for pre-sale as yet.

And while you're out shopping or preparing your Christmas list, note on your list that Target has or will have an acoustic version of "Fall To Pieces" on the Sound Advice CD sold only in the Target stores or on Target.com. The CD goes for $7.99 and 100% of the sales of the proceeds go to the Hurricane Katrina relief effort. We checked and target.com was out of the CD but points you back to amazon.com where you can order a copy of Sound Advice from their associated dealers. It's a good price and a special cause, so this is a good one to order.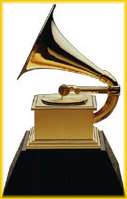 We've heard from the GRAMMY Foundation & MusiCares Charities. At this year's GRAMMY Awards backstage area, SLASH made a one-of-a-kind drawing for them to use as a fundraiser. This will be featured in their Holiday Online Auction, and we'll put a link to the item on this web site. This way the item can be showcased on the site and you, the fans, can have direct access to bid on the item. They will send us the link when the auction goes live and runs from November 28 to December 8!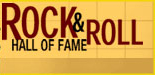 Lesley from Manchester in the UK got to see SLASH on the UK Hall of Fame show. The tribute to Jimi Hendrix featured SLASH with Jimi's original band. He blew everyone away with a fantastic version of "Hey Joe". Lesley was watching on TV. Brian May was in the front row, rocking and clapping. The version show only lasted 5-6 minutes so it may have been edited down...there was no way to tell, but it was formidable. SLASH also was the one to introduce Jimi's wife to collect the award for Jimi's induction into the UK Hall of Fame. Thanks, Lesley!


After a serious bout of the flu, we missed telling you that Matt Laug, ex-Snakepit drummer, would appear with Melissa Etheridge on the Jay Leno show. Maybe have to catch this one in re-runs. The same delay caused us to miss the US Today Money Section about Sony pulling the CDs that have the XCP copy protection, "Sony to pull controversial CDs, offer swap". Halfway through the article, they say that Sony began adding the copy protection to its CDs in June 2004 with the release of Contraband by Velvet Revolver saying it was a step against unauthorized online file sharing and CD burning. Evidently the CDs contain hidden files that leave them vulnerable to computer viruses when played on a PC.

Page Updated 11/18/05

UK music fans are and will be enjoying the return of the UK Music Hall of Fame to their TV screens on Channel 4, from November 6 - 17. You can win tickets to the one of the nights at the show and to hang out at with the celebs. One winner will be selected at random every day. To enter for the remaining days, click here to put in your entry form. This year's performances includes one by SLASH! So maybe you can track him down to the hotel and hang out with him. Good luck! The hotel is the K-West Hotel and the performances are held at the Alexandra Palace.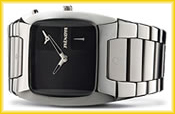 For the second year in a row, Nixon, the southern California based premium accessories company, will release a limited collection of one-of-a-kind watches made from celebrity leather jackets, pants and guitar straps. Proceeds will benefit the MusiCares MAP fund. Each watch will be etched on the back with artist name, individually numbered and come in premium wooden boxes with a certificate of authenticity. Both SLASH and Scott are going to have watches along with Chris Cornell, Ozzy, Kirk Hammett and more. SLASH donated a black leather jacket with tobacco filled pockets. Scott donated his black leather jacket. Watches created for this collection are gto, duke, rocker, dictator and duchess. Watches will be available in 12 stores globally for one month starting November 15. In the US, it's all Barney locations. In Paris, Colette; in London, Bond; in Barcelona, Ltd. Edition; in Dusseldorf, Vibes; in Zurich, Vibes; in NYC, Atrium and Barneys; in LA, Barneys; in San Francisco, Villians Vault; in Chicago, Barneys; in Amsterdam, The Old Man; in Sydney, General Pants; in Tokyo, Beams; and in Bologna, Scout. For more information about the collection, contact The Nixon Ltd Collection (Shelby Meade at Fresh and Clean Media at 310/313-7200). Sounds like a great item for a good cause. They didn't list the price, so if someone can find these and send in the price, we would really be glad to have this. Remember, this is for one month only.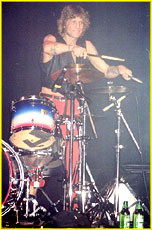 Diego sent us a review of Steven Adler's band performing on the Latin American Sports Network called, he believes, Football for Everyone. Steven and Adler's Appetite were special guests. They jammed and played 4 songs from GNR. The songs were "It's So Easy", "Nightrain", "Sweet Child O' Mine" and "Welcome to the Jungle". Diego said they did a good job and Steven reminded people his wife is from Argentina and the last time he was there it was with Gilby. He said he has a good relationship with Duff and SLASH and wonders about a reunion although it's been 15 years apart. Diego says it was a good performance although only GNR can play those songs the way they used to sound. Thanks, Diego!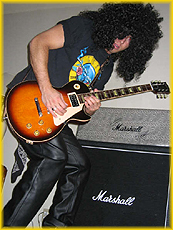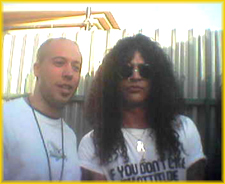 Marc says he's a little late with this picture of him dressing up as SLASH for Halloween, but it's just too good to miss even without a top hat. He also included a picture of himself and SLASH at the first show in San Diego where he met everyone except Scott and Dave. He got to go to soundcheck and sit in the first row. He says SLASH's music speaks to him and he doesn't know quite why...it just does. He's glad they found such success with Velvet Revolver. Thanks, Marc!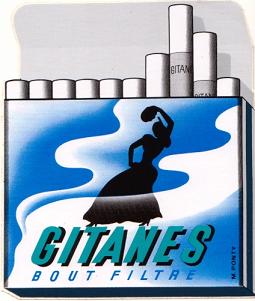 Several people brought to our attention a new SLASH tattoo. It is the Gitanes cigarette logo! It looks like a girl dancing. Looks like he has a little more room there, doesn't it? Thanks to all who sent that in.





Page Updated 11/08/05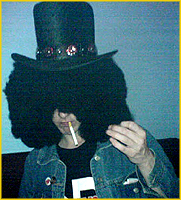 We asked you to send in pictures if you dressed up as SLASH for Halloween, and David dressed up as The Man himself and went clubbing. He says he got an insane response with people asking to have photos taken with him and everything, he felt like a real rock star. You can't see it in the picture, but David says he had on leather pants on, and he really likes them! Thanks, David, for showing us clubbing in Scotland dressed as SLASH!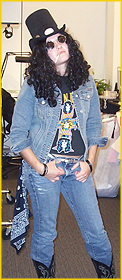 Melissa's from New York, and she was in the Greenwich Village parade. There were three other SLASH's in the parade. People called out "SLASH" as she walked by. She said it was so much fun dressing up as her fave guitarist and being the only woman to be SLASH. Everyone was so happy to see SLASH and they all recognized who she was made up to be. Thanks, Melissa!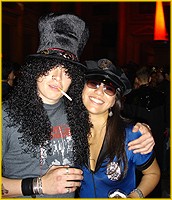 Michael sent some photos of himself as SLASH for 2005 Halloween. People went nuts over the costume, and they love SLASH. Michael said he met SLASH at the last Velvet Revolver concert at the Hardrock grand opening in NYC...a super cool, down to earth guy. This seems to be what everyone has to say that runs into him.

And who knows? You might have a chance at the NAMM show in Los Angeles in Anaheim. We haven't seen the list of scheduled performers or attendees, but SLASH almost always stops by the Geffen booth at one time or another and signs autographs. So if you have tickets already, keep an eye on their booth. It's January 19-22, 2006 in the Anaheim Convention Center. If we hear for sure he will be there, we'll let you know.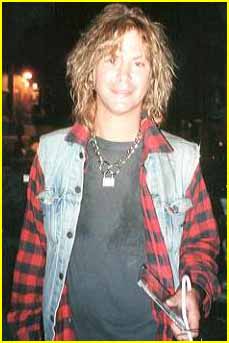 We saw in one of the online news reports that Duff has bought a house in the Los Angeles neighborhood called Sherman Oaks for just under $3 million. It's an adobe style hacienda with five bedrooms and 5 baths in 5,800 square feet. The 1935 home has 5 fireplaces. The master bedroom has 20 foot ceilings. The half-acred walled and gated property has a guest house, stables and barn, an underground wine cellar, gym, pool and spa. This may be more than you wanted to know, but for Duff fans, you helped to make it all possible for your hero. And as an added attraction, SLASH is not so far away. All this according to one of the Yahoo news services.


Geffen Records confirms that there will be a second GNR hits album coming out. Several dates have been tossed around starting with December through March. The first one, the Greatest Hits album caused the three band members, Axl, SLASH and Duff to join forces to sue trying to block that album claiming the record company put it together without their input. Axl's long delayed album has yet to be released. This album will be Welcome to the Jungle: The Very Best of Guns N'Roses. No word yet on the tracks. Thanks, Brian for that update.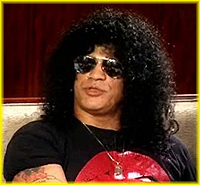 Jamie sent us another update. This one was on SLASH's guesting on radio station 95.5 in LA on Tuesday, October 25. SLASH was unable to make this, and he is now rescheduled for Tuesday, November 8, 2005. Same station, same time (10 pm) with Jim Ladd live in the studio. Thanks, Jamie, we didn't hear about this switch. That's next week!





Page Updated 11/03/05