We just learned that back on May 9, Alice Cooper and SLASH were honored at the Annual MusiCares MAP FundSM Benefit Concert sponsored by the Gibson Foundation. Alice and SLASH performed at the benefit concert. Proceeds from the concert were to benefit the Fund which provides members of the music community access to addiction recovery regardless of their ability to pay. SLASH received the "MusiCares From The Heart Award" for his unconditional friendship and dedication to the goals and mission of The MusiCares Foundation.



RCA Records explained that VR had come to them and asked to be released from their contract. VR said they needed time without pressure from timelines, influences or interests other than finding the best guy for the singer/frontman position. The band is continuing on their own at this time. Their sole focus as a band is to find the best singer/songwriter who will stand alongside them.




Rumors were flying that VR would be signing up Million Dollar Reload's singer, Phil Conalane as their singer. The Irishman was flattered but said he had not been invited to join. When talking to SLASH, he told us he had no idea who Conalane was.




Speaking of rumors, there is another (untrue) one circulating about the Quart Festival in Norway next year. The rumor is that SLASH is trying to get Robbie Williams, Fergie, Jack White and Fred Durst to join him in his headlining appearance in June - July. SLASH will be playing a mixture of old and new material, but he has not yet decided who he wants onstage with him.




SLASH was one of the guest musicians joining the all-star cover band, Camp Freddy on December 9 at the Roxy is West Hollywood. SLASH and vocalist Chester Bennington joined the band for "Whole Lotta Love" and "Paradise City". Both of these are available for viewing on YouTube. SLASH and Chester just tear up the place with these rockers.




SLASH is becoming quite the author. Robert M. Knight, rock photographer, has gotten SLASH to write the introduction to Knight's new book, Rock Gods: Forty Years of Rock Photography. This book contains over 200 full-color and black-and-white photos within its 148 pages. Knight began his career shooting pictures of Jimi Hendrix and has gone on to define generations of rock stars from the Rolling Stones and Led Zeppelin to Run DMC and Green Day. SLASH is also featured in the book. The book is available now on various book sellers online, but we found the lowest price on Amazon.com.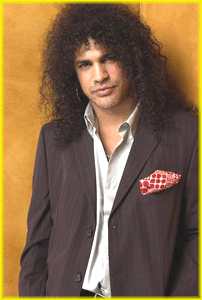 SLASH, Richie Sambora and Billy Gibbons were part of the Rock & Roll Hall of Fame's tribute to Les Paul, and they got together to talk about their first Les Pauls and their favorite riffs. SLASH said the first guitar he ever got was a Les Paul copy. He always wanted to sound like Les Paul. One of the best known GNR riffs is that from Sweet Child O' Mine. SLASH says he was just "messing around and stumbled across this interesting pattern".




SLASH is performing Clint Mansell's score for the movie The Wrestler which has just been released in selected cities in the US (New York and LA thus far). The character's favorite music is rock - metal - music, and SLASH has been tapped to bridge the gap from metal to ambience. Mansell says that "SLASH is one of the world's great guitar players, and he was up for trying something different than what he's known for, but he could also bring his own sensability to what I was trying to do." It sounds like this will be worth seeing as the story and Mickey Rourke, the star, have received excellent reviews. SLASH says there might be a soundtrack out later. If we find out one is out, we'll let you know.




In a recent interview with SLASH and wife Perla Hudson, Perla said that SLASH's forthcoming solo album will feature many friends as special guests. She said they would range from Ozzy to Fergie. The album is due out in 2009 according to SLASH.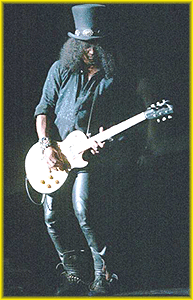 SLASH was in Norway to promote his appearance at next year's edition of the Quart festival set to take place June 30 - July 4 in Kristiansand, Norway.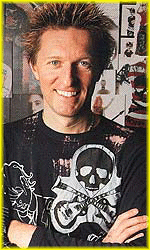 Slinky Vagabond singer and fashion designer Keanan Duffty asked for and got the chance to put lyrics and vocals to two VR songs in a bid for the lead singer position. He said the songs came named "Motha Fucka" and "Clappy". The result of his work produced two songs named "Fear No Evil" and "Prima Donna". When asked if SLASH thought Duffty would be selected, he could not remember Duffty out of all the singers they have auditioned. So, it seems the search goes on!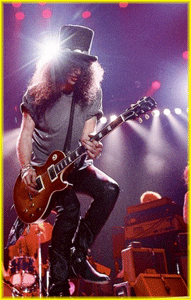 Slash was in London when the second annual London Rock 'n' Roll camp was there. There were 42 rockers who shelled out $13,000 in tuition for some coaching and jamming. SLASH stopped by to say hello and jammed with Pink Floyd drummer Nick Mason.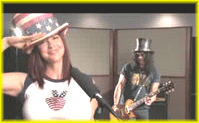 SLASH came out in support of gay marriage with a video done by him and wife Perla Hudson. It's on You Tube and shows SLASH in the background playing "The Star Spangled Banner". Perla's up front in a patriotic t-shirt and top hat adding the voice over: "I married my sweetheart, you should be able to marry yours, too. Say no to hate, and yes to equal rights. Keep up the fight." As you may know, California recently passed Proposition 8 outlawing gay marriages in the state.



On the net, rumor has it that RCA has dropped Velvet Revolver. SLASH says that while it is true that VR is no longer with RCA, the truth is not as negative as the rumor. The band owed RCA money for a third album which at this time they are unable to produce (no singer). The band and RCA parted amicably. When they are recording the new album, it most likely will be for a new label.




On Saturday, November 15, guitar singer from six decades saluted Les Paul at the American Music Masters Tribute Concert. The sold-out show was the climax of the Rock and Roll Hall of Fame and Museum's week-long tribute to one of the world's greatest guitar players and inventors. Les Paul made guitars truly electric. He is 93 years old and still performs weekly at the Iridium jazz club in New York. SLASH was at the end of the guitarists. He played a full rocking "Jizz Da Pitt" which you may remember from Snakepit days. He also played his first live performance of "Vocalise" which is on the album Les Paul and Friends released this year. After that, Les played for awhile, and then all came back out for a huge jam session. It was a fantastic evening, and we had the good fortune to be there and be welcomed backstage by SLASH were we caught up with wife Perla Hudson and met his two children, London, 6, and Cash, 2. We had a wonderful time and got SLASH to sign our paperback copy of SLASH. By the way, if you have been looking for a copy of SLASH, the paperback is out and is available at Amazon.com and other booksellers on the net. The hardback copy is still available, but you really need to get them both!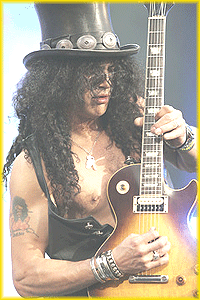 SLASH has confirmed that he will play his only solo European concert a next year's edition of the Quart festival. The festival will take place June 30 - July 4 in Kristiansand, Norway where SLASH will headline on the opening day. SLASH will be joined by a number of unnamed guests and promises to perform a mixture of old and new material. So if you can get there, this promises to be a great chance to see The Man live.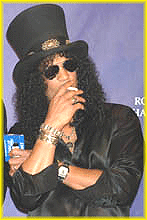 SLASH recently commented on the results of the presidential election with Barack Obama the winner. SLASH said the victory by Obama was fantastic. "After eight years of bewilderment, stupidity and humiliation with George Bush, I feel electing Barack Obama is a huge step in the right direction towards redeeming this country", SLASH said. This web site also came out for Obama, and we feel that this will mean a change for the better in this country.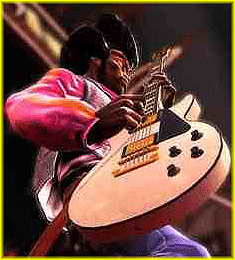 SLASH says he is glad GNR is releasing a new album and the little that he's heard makes him happy to hear Axl again. He was asked if he would ever return to GNR, and he replied, "You know what? Everybody asks the same question. But how the f**k would I know?"



Dave Navarro will be co-hosting the VH! Classic Rock Autism Celebrity Bowl-Off on November 13th. SLASH will be in attendance. We don't know how his bowling skills are, but he'll be cool as always, we're sure.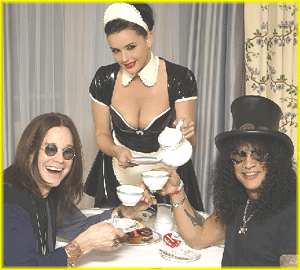 SLASH and Ozzy Osbourne enjoyed afternoon tea on November 3rd at the Dorchester Hall. This was the Marshall Classic Rock Roll of Honour Awards in London, England. SLASH later presented Ozzy with the Living Legend award.






When SLASH was asked about the possibility of being inducted into the Rock and Roll Hall of Fame, he said it would be cool if all were there for the induction. GNR would be eligible in 2011, and SLASH says no one is dwelling on it now. SLASH hopes at least all would be able to show up for an induction.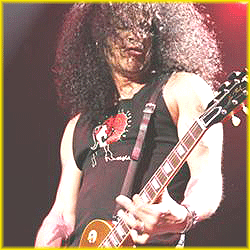 Rumor had it that 3 of the singers on SLASH's forthcoming solo album will be Alice Cooper, Lenny Kravitz and Sebastian Bach. While SLASH would not confirm Alice and Lenny, he did say that Sebastian would definitely not be on the album.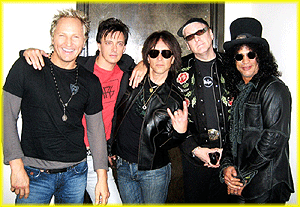 Camp Freddy performed at the Exclusive Galpin Auto Sports party and one of the guests joining them onstage was SLASH! Xzbit, Cypress Hill and Ozzy Osbourne were also onstage. The band provided the closing for the huge party.




There's a new album coming out in October 2008 called Les Paul & Friends, A Tribute to a Legend. In addition to Les Paul, there's a gang of Les Paul prodigies celebrating the wide range of styles from the electric guitar he developed. Les Paul created the solid-body electric guitar which allowed the sound of rock 'n' roll. He was also an innovator in many aspects of recording. SLASH appears on the album. Les Paul appears on 7 of the 10 tracks.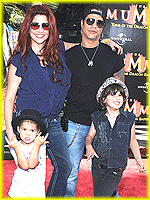 SLASH recently answered some questions about his children, London age 4 and Cash age 2. SLASH said that London doesn't seem to be following in dad's footsteps as he is mostly interested in sports and avoiding girls. On the other hand, Cash is the more artistic. He likes to draw and play his piano and is trying to learn to play the guitar. Good to have another SLASH in the next generation!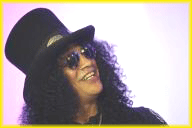 Recently, SLASH and wife Perla were spotted at the opening of the Lavo restaurant and nightclub in Las Vegas.

Dave Mustaine says that Buckethead (ex-GNR guitarist) is twice as good a guitar player as he and SLASH combined and stand having fried chicken rubbed up against his face all night for a couple of hours. SLASH laughed and said that anyone who knows him knows that technically he can't play his way out of a fried chicken bucket. He does what he does based on a certain sound and feel. He says he is getting better at being a technical guitar player, so Mustaine is totally right! That's ok; we're all sure we'll take the SLASH sound over Buckethead any day. For sound and for looks, too, by the way!

There is a rumor going around that SLASH is going to Israel to perform in a concert in honor of the Peres Center for Peace's 10th anniversary on October 27. SLASH says that is not true; he is definitely not going. The rumor may have started because Liel Kolet will be there. She is a native Israeli and a wonderful singer. SLASH played acoustic guitar on the song "For the Love of God" on her forthcoming (November) album Save Yourself.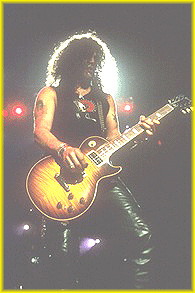 SLASH is heading to Cleveland in November for a star-studded Les Paul tribute concert. The show is on November 15 at the PlayhouseSquare's State Theatre at 8 pm. Along with SLASH will be Richie Sambora, the Ventures, Billy Gibbons, James Burton, Steve Lukather and more. Tickets are going fast. Call the State Theatre for availability. SLASH is looking forward to it as Les Paul is one of his idols. Hope to see you there clapping for SLASH.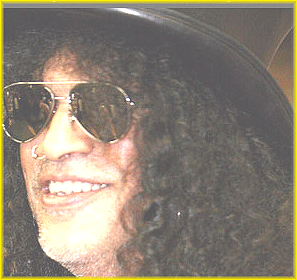 SLASH took part in a meet and greet at the Sam Ash Music Store in Hollywood on October 7 to celebrate the release of the new Gibson USA and Epiphone SLASH Signature Les Paul model guitars. The new guitar is limited to 2,000 worldwide. This is a chance to own a guitar created and designed by SLASH. The Gibson USA SLASH Signature Les Paul Goldop is limited to only 1,000 guitars worldwide. No others of either version will be made after the limited edition quantity sells out. Both versions were available that day across the country. SLASH signed autographs at the Hollywood location. Anyone who bought one or brought a SLASH signature guitar could have it signed by SLASH.

Have you bought your copy of Marc Cantor's Reckless Road: Guns N'Roses and the Making of Appetite for Destruction? This is a terrific book that SLASH calls "...the best rock n'roll book I have ever seen." Lots of pictures and information are in there. You can get your copy at any of the online bookstores such as amazon.com or you can visit the web site of Reckless Road at www.recklessroad.com and get a good deal on the book as well as some cool merchandise.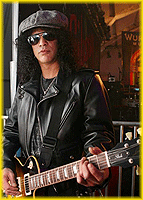 SLASH has demoed 14 songs for his forthcoming solo album. He has recruited several singers to appear on the album, but he's not revealing his choices yet. He says that so far he has gotten agreements from them, so things are moving ahead; and this album might be out before the next VR album is out. There is still no singer as yet. SLASH also weighed in on the coming presidential election and has come out for Barack Obama. He likes Obama's intelligence and feels he is the best for the job. This web site is also for Obama, so let's get out the vote on November 4 for Obama.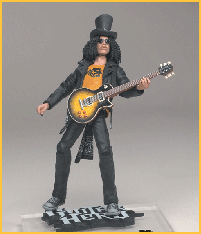 McFarlane Toys put out a SLASH action figure a few years back, and it was a hot seller. McFarlane is now bringing out a new SLASH action figure based on the Guitar Hero III game. It's pictured here at left. The figure has 15 moveable parts, but even SLASH couldn't say what they are. We're guessing 10 fingers, head, arms, legs. The toy is due out in February and will come in sizes 7" and 10". They will be sold wherever action figures are sold and you can also pre-order on McFarlane's web site. The price is reasonable at between $10 and $15.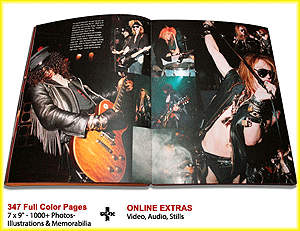 Marc Canter and SLASH appeared on the original and longest running interactive rock show, Rockline, on Monday, September 29 to publicize the Reckless Road book (Marc's) and the SLASH book (SLASH's). The two also took questions from callers. Marc stated that you can register their copy of the book to access a treasure trove of material. A lot of great music was played, and it was a great evening for SLASH fans.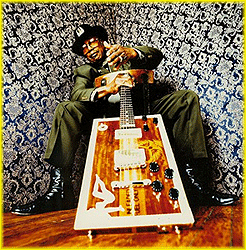 SLASH paid tribute to Bo Diddley, the pioneering guitarist who died on June 2. SLASH said that "He's a huge hero of mine. An entire rhythm is owed to just one guy, and that's rare." SLASH pointed out that Diddley touched many artists such as The Rolling Stones to George Thorogood to Guns N'Roses."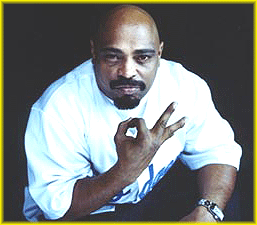 Cypress Hill rapper, Sen Dog, says the band is making a new album, the title of which has not been announced. However, Sen Dog did say that SLASH would appear on a track called "Front Line". So, watch out for that one. Sen Dog says that Cypress Hill hopes to finish the album in December and have it out in the spring of 2009. They are looking for a new label deal following their departure from Ruffhouse/Columbia.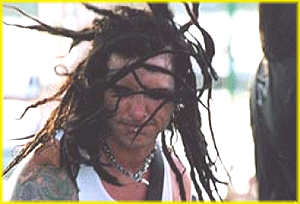 Have you heard the rumor that John Corabi was up for the singer position in VR? We asked SLASH, and he said that Corabi's manager asked them to try him out. They sent him a tape and never heard a thing about it.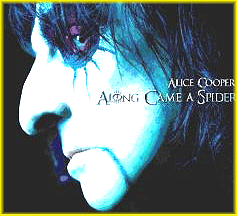 The latest news we've heard from SLASH is that he just shot Alice Cooper's new video for a song he played on Alice's new CD called "Vengeance is Mine". If you're looking for the new CD, the title is Along Came A Spider.

Another bit of late-breaking news is that SLASH was a presenter at the MTV Music Video Awards ceremony. Reportedly, SLASH didn't want to go right in to the talent check-in. He gave the award to Linkin Park for best rock video. SLASH was hungry after the show, and he wanted to go to a place called Lucy's but Perla wanted Nobu. It's reported that so many people came round to hug him that he couldn't leave. He yelled to Perla that he wanted to just get out of there, but Perla went off to find a bathroom so Our Man was forced to hang out with the huggers a bit longer!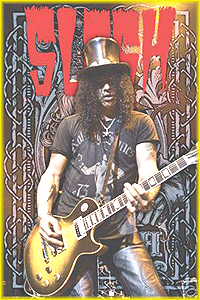 Gibson announced the new SLASH signature goldtop limited to just 1,000 guitars worldwide. This is Gibson's heartfelt tribute to SLASH and one of his most beloved guitars. The new SLASH Signature Goldtop starts with a standard, un-chambered mahogany body with Gibson's traditional weight relief system, consisting of a series of holes that give a comfortable and heavy feel. The body is topped by a hand-carved maple top, and it has the same finish as the first Les Paul model in '52, Bulliion Gold with an aged cherry back. Read more about the guitar at the Epiphone or Gibson web sites.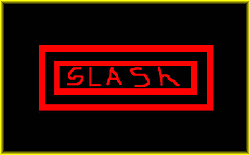 When asked in an interview what he thought Axl's forthcoming album Chinese Democracy would sound like, he said he had already heard it. SLASH said it was a very good record; different than the original GNR, but a great statement by Axl. SLASH says the original GNR could never have made the album, and it shows you how brilliant Axl is. The interviewer brought up the fact that many of the songs had already been leaked to the internet and that a blogger had been arrested by the FBI for doing so. SLASH made it clear that it's his belief that artist are the ones to decide when their work of art is to be released, no matter how long in the making.

Denver-bred singer/songwriter Matthew Moon, back in town from his L.A. digs to do some shows during the Democratic National Convention, had a big break when he sat in for VR's lead singer at an exclusive party in Park City, Utah during the Sundance Film Festival. The future's been bright ever since! We checked with SLASH, and Matthew is not a candidate for the new lead singer in VR.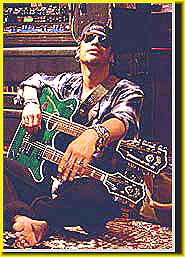 SLASH did a book signing and appearance at Guitar Center to publicize his own book, SLASH and Marc Canter's book Reckless Road: Guns N' Roses and the Making of Appetite for Destruction. SLASH's book is his autobiography while Canter's book is a pictorial history that he had wanted to release and is publicizing. No word if the reported possible jazz session came off.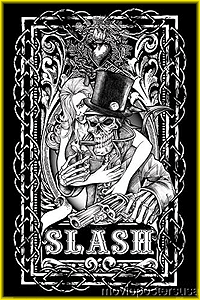 SLASH blasted modern rockers for their obsession with fame and money in a talk with New Zealan's 3 News. SLASH says he was only motivated by his love of music. He said GNR made it on their own merit and didn't give up anything to anybody. Everybody else is making compromises and concessions so they can make it big and get their pictures on magazines, so it's kind of selling out to that.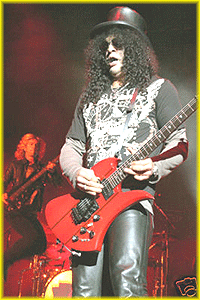 Big news! SLASH is composing the score for a Mexican film, This Is Not A Movie written and directed by Olallo Rubio. This is an English language picture financed with Mexican funds. Several scenes were shot in Mexico and in Las Vegas. SLASH says the film is dark and jagged and a bit surreal, in and out of reality. The director says that SLASH was very interested in the project and has composed the music for six segments and that the company is very excited about his work.



VR recently was ordered to settle a song theft case brought by UK musician Tony Newton. Newton claimed that VR lifted the riff and melody for "Dirty Little Thing" form his band, Voodoo Six's track "Cyber Baby". VR is handing over 1/5 of the earnings on the song.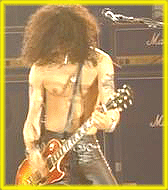 SLASH says that the search for VR's new singer is still ongoing, mostly because they don't want another Scott Weiland. A number of singers have been linked to VR, but they had the problem of sounding too much like Weiland. This time, says SLASH, they are going to get the right guy.

SLASH speaks, "Longevity ain't a problem for us at all. Longevity is something that everybody else thinks about, not us. We're going to just keep doing this until it's no fun anymore. I know that's almost a cliche, but it's true. When it's not a turn-on anymore, that's when we quit. We're not going to be one of these bands who say, 'well, we got to keep going out there even though we hate every minute of it.' "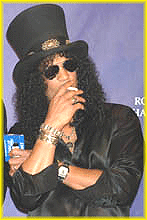 SLASH did a cover story interview for Mojo. This is an article to get to catch up on what's been happening recently and a good summary of the past. SLASH himself says he's heard that it's a good interview. There is so much that's interesting there, forexample, that SLASH did try to see Axl since the breakup, but he wouldn't come to the door. SLASH was high on JD anyway. This, along with the time SLASH tried to see Axl's show in Vegas, really indicates that on some level SLASH would like to make contact with Axl; but it seems not to be. SLASH talks about other things he's doing in his life. He's writing the score for a low-budget movie from May through August. He still wants to do a solo album. The movie is called This Is Not A Movie with Mexican director Olallo Rubio. SLASH says he listens to soundtracks all the time and is happy to be involved in this. As far as the solo album goes, SLASH says he will be using a mix of performers and "would love to have Stevie Wonder down". He's also working on a cartoon called The Misadventures of Grundy, about a high school band. Grundy was his own nickname when he was 14 and racing his BMX bike. The cartoon guitarist looks like our man. SLASH's brother encouraged SLASH to resurrect this cartoon that he's been playing around with since he himself was in high school. Ash, SLASH's brother, is also very artistic; and the two may do some of the backgrounds together. As we said, try to get this issue as the pictures and story are well worth it.

Don't think SLASH would like a lot of publicity about this, but it does show you the kind of man he is. Heath is a young man struggling with inoperable cancer. He's a real rocker and so wanted to meet SLASH. He's gotten a lot of memorabilia, but the happiest day was when SLASH gave him a call at the hospital. This meant so much to Heath, as you can imagine. SLASH followed up with tickets to a Velvet Revolver show in Tampa where Heath fights for his life. His parents can't believe how wonderful SLASH has been to their son, doing everything they hav asked him to do to help Heath's remaining time be a little easier. We wish him well and acknowledge SLASH's role in doing that for him.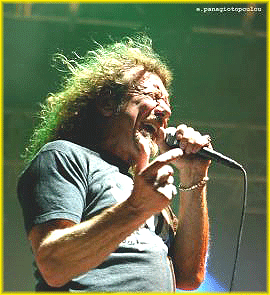 Despite the fact that everyone in the world wants a Led Zep reunion tour, Robert Plant thinks the idea is a real snore. Interestingly, Velvet Revolver is the band people select as the one they'd like to hear opening for Led Zep. We can only hope...what a show that would be!

SLASH teamed up with former Black Eyed Peas singer Fergie at her show in Costa Mesa on July 19th to perform a series of rock songs including "Sweet Child of Mine". SLASH fans seemed split as to why SLASH would add his greatness to the likes of Fergie, but he likes to play!
Velvet Revolver has re-launched their web site. Right now, it's a bit slim, but you can join the fan club, buy merchandise and some other cool things. Get over to www.velvetrevolver.com for the new site!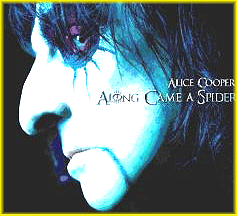 Reviews are good on the Alice Cooper album Along Came A Spider", and one of the reasons is that that "Guns n'Roses / Velvet Revolver fella SLASH lays down an excellent solo on "Vengeance Is Mine", one of the highlights of the album".
The mayor of L.A. joined by SLASH and more than 4,000 volunteers and community leaders led the Central LA Community Day of Service on July 19. More than 60 projects were designed for anyone, accommodating all age groups and schedules, lasting a few hours or all day. We don't know which of these worthwhile events SLASH went in for!

SLASH is among the guest musicians on the new Edgar Winter album Rebel Road. The album is available now. Other guests include legendary brother Johnny Winter and country superstar Clint Black.

Well, what do you think? SLASH turned 43 on July 23, 2008! Hard to believe as he looks pretty much the same after all these years in the biz. Being the giant star that he is, he celebrated with a TWO day celebration in Vegas! Festivities kicked off at the Bare pool lounge at The Mirage on July 23 and concluded at JET nightclub on the 24th. Bare had the poolside party with DJ Perry Farrell spinning poolside followed by a concert with SLASH and special guests. Tickets were $100 each! After-party was at The Beatles Revolution Lounge at The Mirage. On the 24th, JET presented a special SLASH acoustic performance followed by DJ will.i.am of The Black Eyed Peas. Admission was $30. Now that would have been the party of a lifetime. Oh, yeah, Happy Birthday, SLASH!!!

Steven Adler fell off the wagon and had a drug-related arrest on July 27. Adler says he had a relapse after 37 days clean. He says that SLASH, Duff, Izzy and Axl are all behind me and that he is in their prayers.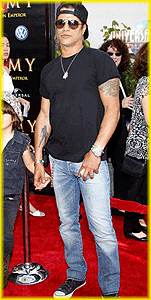 Our guy along with wife Perla and sons London Emilio (5 1/2) and Cash Anthony (4) posed on the red carpet at the premier of The Mummy: Tomb of the Dragon Emperor on July 27th in Hollywood. Bystanders thought the family all had that SLASH stage presence, and the kids were just dynamite. No word on how the young ones made it through that movie!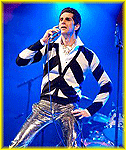 SLASH joined Perry Farrell and Samantha Ronson for impromptu, unplugged, singalong rendition of "Jane Says" at Lollapalooza 2008. SLASH's appearance there was said to be the worst-kept secret of the show! The event was in Chicago, IL, a town friendly to music and festivals. SLASH's appearance there with family onstage, too, has led to speculation that Farrell may be the next singer for VR.

SLASH was spotted taking in "The Beatles LOVE" Cirque de Soleil show at The Mirage in Vegas. He was accompanied by Audioslave's Tom Morello, comedian Tommy Davidson and Biohazard's Evan Seinfeld.

Two more musicians whose names were bandied about as possible singers for VR now include Royston Langdon, frontman for Spacehog and the great Lenny Kravitz, a personal and longtime friend of SLASH. SLASH has denied to us that neither of these is in the running, so we just continue to wait.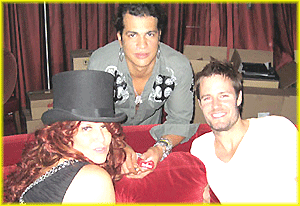 Jonathan Pease won the Australian "Next Top Model", and now he's on his way to lend his fashion and styling sense to a new venture with SLASH. Pease is off to LA to start his brand new joint enterpise. While they might seem an unlikely pair, Jonathan says they are long-term mates. The two are going to collaborate on a video game with the them of fashion and styling. SLASH will be drawing from his experience with the successful Playstation gaming project Guitar Hero.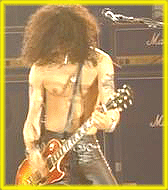 SLASH formed a new version of his old Blues Ball Band for a gig called "Bottle Rock It" at Vegas's Red Rock Resort. This was the premiere event with what will be a new weekly poolside concert with each show featuring some of the most talented musicians in rock and hip hop. SLASH was joined by Jerry Cantrell, Jason Bonham and Royston Langdon for the show. SLASH did an hour with Blues Ball before being joined by Cantrell and Bonham.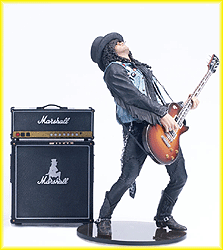 Here's your chance to check out the top hat worn by SLASH among other artifacts. The Rock and Roll Hall of Fame and Museum has taken out all kinds of neat things from storage for a new exhibit called "Treasures From the Vault". The exhibit opens in Cleveland, OH at the museum. Check their web site for dates and times.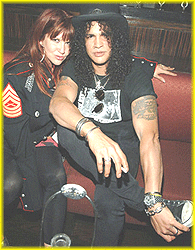 SLASH took part in the first ever Sunset Strip Music Festival held from June 26-28. The venues were the rock legendary ones including the Roxy, the Whisky, House of Blues, Viper and Cat Club. The opening night was a special tribute to the godfathers of the Strip with a special musical performance to end the night. SLASH, Cheech and Chong, and Michelle Phillips paid tribute to Lou Adler, Mario Maglieri and Elmer Valentine. SLASH talked about how special the Rainbow was to him and that he made fake IDs so he could get in! The festival continued through the weekend with sets of artists including SLASH.



Still no frontman for Velvet Revolver...lots of rumors that are subsequently denied. The latest was Panic Channel's Steve Isaacs and before that Sebastian Bach and before that...and before that. We're happy that everyone is still wondering about the band! The band continues their search through the internet and known artists.



We have some news of another SLASH appearance. that off to SLASH and ask him. SLASH is featured in the new video "Gioca Con Me" (Play With Me) from Italian pop-rock superstar Vasco Rossi. Slash played all the guitar parts on the track. Matt Laug, tour drummer for Snakepit, got in touch with SLASH for Rossi. Rossi is 56 and the most successful artist in Italy. He is now on a tour of Italy.

Tonight (6/20/08) is the first night of the Gibson Summer Jam '08. SLASH will be joining (pictured) Johnny Winter onstage and Paul Nelson of Halifax along with Larry Carlton for this all star jam. SLASH's segment lasts from 9:45 to 11:00 p.m. The event takes place in Nashville, TN.



Jason Bonham, son of John Bonham of Led Zep fame, is hoping for a Led Zep reunion tour. Bands ranging from Velvet Revolver (with a new singer in place of course) to The Cult have been rumored as opening acts. No such tour is planned at present, but Bonham is set to go if the other three members would agree to it.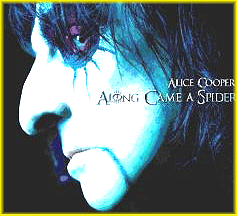 Ozzy Osbourne and SLASH will make guest appearances on the forthcoming Alice Cooper disc, Along Came A Spider. Ozzy will play harmonica and SLASH plays lead guitar on a track, "Vengeance Is Mine", that Ozzy and Alice wrote together. This is Alice's 25th studio album and is about a serial killer named Spider. Look for this album on July 29th at your music store. Pre-orders are being taken now at Amazon.com.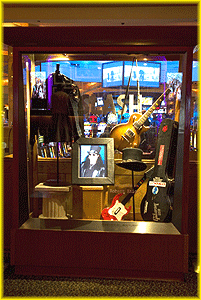 Thanks to Ray Scott who sent us this great picture from the Hard Rock Hotel in Las Vegas. If you go there, look for the huge SLASH display case near the front desk. Collectors and fans spend a lot of time going over all the items. Thanks to SLASH for his generous giving!

We had a chance to talk to SLASH about what was new with him. He said he is working on getting a new singer for Velvet Revolver, putting together a solo album and doing a cartoon! We knew about the first two, but that's the first time we heard about a cartoon. There was a cartoon at one time, but we know nothing at all about this. When we tried to push him further about it, he said "all in due time"!
The most news swirling around VR these days are all the rumors about who the new singer may be. No one has been selected as yet (at least not publicly announced), but the band is listening to auditions on the internet. Some of the newbies there have built up some vocal followings, but we don't think SLASH and company will pick a rank beginner over someone with experience. Speaking of which, there were rumors flying about the current Linkin Park singer, Chester Bennington, after SLASH asked him to play in the New Year's Eve show they had contracted for before Scott left the band. Chester denies that he is considering it or even that he has been asked, but he does say he likes the guys in VR as well as Scott. Maybe he feels he would be caught in the middle as VR is a tightly knit group.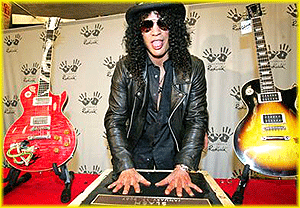 While VR searches for a singer, SLASH is doing some other things. One that is very important to him is putting together a solo album. He says he's working hard on it and that it will be different from other albums he's played on where he was just a guest or part of a band he put together. He hopes it will come out before VR's next album which would be great! No title was pried out of him yet, but "all in due time". He was honored for his sobriety at a MusiCares event in L.A. along with Steven Tyler and Alice Cooper.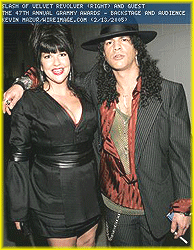 A judge in L.A. County's Superior Court that SLASH can go through with his suit against a real estate agent and his firm. SLASH and Perla are seeking $1 million alleging they were duped into buying what they thought was their dream house in s quiet, gated community in Hollywood Hills. Although the street is gated, it is public and has little parking. The house is also much smaller that the 7,800 square feet promised and issues with the title. We wish SLASH good luck with his suit.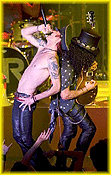 By now you must have heard that Scott Weiland, lead singer for Velvet Revolver, has been dismissed from the band. SLASH cited personal differences as well as frequently erratic behavior by Scott onstage. Weiland is back to fronting Stone Temple Pilots, and Velvet Revolver is back to searching for a singer. Some fans have been speaking out, especially in a poll conducted by Rolling Stone online. Chris Cornell, who formerly fronted Soundgarden and Audioslave, came in as the #1 choice. As you might expect, fans named Buckcherry's frontman, Josh Todd second. This is highly unlikely as SLASH is not a great admirer of Todd. Bringing up the rest of the Top 5 were Sebastian Bach, Eric Dover of SLASH's Snakepit and Izzy Stradlin. You may recall that Bach was rejected last time around, and Izzy doesn't like to tour.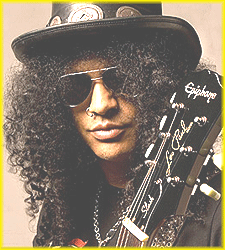 Obviously, the band wants a new singer asap. In fact, there is a gig at Vegas that was contracted for before the breakup took place. SLASH says they are going to do the gig with a cast of well-known singers...like a revolving door, as he puts it. He says the band doesn't know what they want yet; they're just listening till "they know it when they hear it".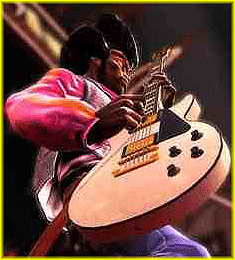 Matt has been pushing to have the band set up an online audition hub in the next month or so. SLASH said they already had a singer in mind, but they may actually do this web site for auditions. This will be a very expensive proposition; it will be like a mini-uTube. SLASH said they had in mind before they left for the UK...that has fallen through.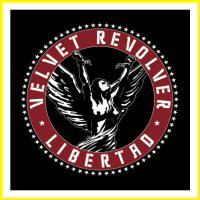 In other news, SLASH's expensive signature guitars have come out from Gibson. Check the Gibson site for more information on this big sale. Get yours now because when they're gone, they're gone! Also, we have heard rumors of a SLASH solo album but so far, the Man hasn't confirmed or denied. Wouldn't that be GRAND? One final item we just learned about. Velvet Revolver was denied entry into Japan last November although they toured Japan in 2005 without indicent. Some say it's because Japan is taking a tougher stance on drugs, and is really looking into band members' recent drug problems.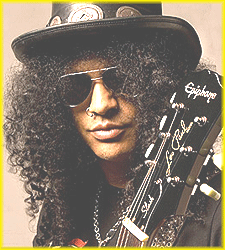 As we told you awhile back, SLASH has been doing a monthly column called The Cat In The Hat in the magazine Guitar World. Sadly, we must let you know that the April issue of the magazine contains SLASH's last column. This is a super column filled with information and answers to fan questions. Hurry out and get this magazine from the newsstand if you are not a subscriber. We're sorry to see this one go!



Have you tried out your Guitar Hero III package yet? You'll be pleased to know there is an add-on for it already. Look for the "Velvet Revolver Pack". It includes "She Builds Quick Machines", "Slither" and "Messages". If you haven't heard of "Messages", that's because you don't own the Libertad Deluxe edition. It's not trivial to find these add-ons, but start with the store and be persistent!



Looking back at the Grammy's, we were disappointed that VR did not appear. Maybe next year if they get that third album in production. Not MAYBE, DEFINITELY! The one mention we did see was that two artists there wore top hats. One was, of course, SLASH. The other was Yoko Ono! We didn't see any pictures of the two together. Another missed photo op.



Q magazine reviewed SLASH's book, SLASH, and gave it 4 out of 5 stars. To quote their review, "A raw, no-holds-barred account of the Guns N'Roses guitarist's life that reveals the mental scars beneath that trademark top hat. He paints GN'R as the ultimate dysfunctional family with bruising candor."



Gibson Guitar recently announced the exclusive opportunity to "SHRED LIKE SLASH" on April 1, 2008. Gibson is coming out with some new series of SLASH sig guitars. Each model has been designed and produced in close cooperation with SLASH. The models will be available from Gibson Custom, Gibson USA and Epiphone. Each of these gives you the opportunity to own a guitar inspired by SLASH. Beginning at 5 pm, the guitars will go on sale. Once they are gone, they are gone. No more will be produced once they sell out. Read all about it at Epiphone News.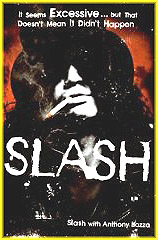 SLASH's autobiograpy, SLASH, came out at the end of October 2007. It's a large (over 400 pages) book that details the life of SLASH from birth to his lead guitar position in Velvet Revolver. There are many photos, some of which have never been published before. If you've kept up with your SLASH reading and interview-listening over the years, the book is a good summary. If you haven't, we guarantee you will be wide-eyed at some of the antics. Truly, as SLASH himself says, it's a wonder he is alive and clean now which means we should have him and the famous SLASH-sound for years to come! Not all of his friends did make it, and he talks about those who took the wild side and died. But the book is not a downer. SLASH revels in his past life and even when he did some crazy things, he was mostly enjoying his life and looks back with some wonder and a smile. Right now SLASH has been doing things most authors do. He has been at various bookstores doing book signings and appearing on TV shows like Letterman and Jimmy Kimmel plugging his book in his usual gentle style. The New York Times Sunday Book Review shows SLASH debuting at the #5 position in the best selling non-fiction list. The autobiography hung on for about 5 weeks in this hardback list, took a short break and came back on the list! Right now, the book is only available in hardback. If it comes out in paperback, we'll let you know.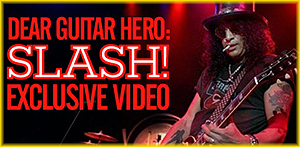 A music video game is also known as a music game or rhythm game. Guitar Hero III: Legends of Rock is the third installment of the Guitar Heroes series. The game is published by Activision and RedOctane with Neversoft as the developer for the PlayStation 3, the most popular vehicle for playing the game. The player uses a guitar-shaped controller to simulate the playing of music by playing in-time with the music. Guitar Hero III features over 60 songs and is the first game in the series to feature online playing. The best thing for us is that the game features SLASH as an in-game character. SLASH is one of the bosses and an "unlockable" playable character in the game. SLASH did motion capture to record his movements for the game, and by beating him in a one-on-one competition (playing an original composition of his), he will be unlocked as a playable character. The master track of "Welcome to the Jungle" appears as an encore song which is playable with SLASH. Needless to say, the game offers many levels and the challenger has to get through all of these. It's a great game and a real challenge to "get your ya ya's out". A PlayStation3 goes for under $400 and Guitar Hero III for under $100. So, for under $500, you get one of the best guitar games going. Being a very good guitar player on your own may not be a big help. SLASH says he has a very hard time with it because he is used to playing a real guitar! Get to your electronics or game store and get with it!



SLASH is becoming quite the author! He is writing a monthly column for the magazine Guitar World where he tells you what he is doing guitar-wise and gives many tips on how to play VR songs. Excellent help from the man himself. Get yourself a subscription so you don't miss a single, full page column. The current has Jack White of White Stripes on the cover and is the August issue.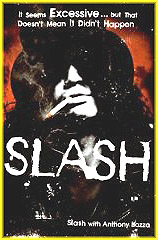 SLASH's autobiography is coming out October 30 and is available right now for pre-order at the various book sellers on the net. The book is hardcover and was co-written with author Anthony Bozza who co-wrote the Nikki Sixx Book The Heroin Diaries which recently came out. SLASH's book title is SLASH. At Amazon.com, the price is $18.45. Amazon.com gives a good description of the book..."From one of the greatest rock guitarists of our era comes a memoir that redefines sex, drugs, and rock 'n' roll." It follows SLASH's life from some of his childhood to the early seventies when he got his first guitar. Then, there is said to be a description of the formation and travails of Guns N'Roses and on to Velvet Revolver. SLASH has said there will be "previously unrevealed" details of his life, so this sounds like a book all of us SLASH fans will want to get and read. Look for it in the bookstore on October 30 or order online.



Important Announcement! SLASH will be on the Ellen DeGeneres show on Friday, September 28 between 10 and 11 am on NBC. A snippet from the show was shown today. Ellen said she got to go to SLASH's home and hang with him. She also got to sing and play some riffs. SLASH played for her when she hang. We're told that it was funny, so try to tune in!



In August and September there were quite a few magazines with cover stories about SLASH. Try to pick up some of these! Q magazine has a great full page picture of SLASH and a one page interview. SLASH revealed that his wife, Perla, had been in rehab for a couple of months, and he went on a two-month hardcore drug binge. He says that he then went to rehab and has been clean for ten months. Sounds like they need to get back on the road! SLASH says he gets into trouble when he is not working. During the interview, he only had a glass of iced tea. They asked him since he had just had a birthday if he would ever be too old to rock. He said he never would be too old and just be a session musician. He says he will always be out there, making it work, one way or the other. The August 9 issue of Rolling Stone features a cover picture which is one from 20 years ago. Appetite For Destruction turned 20 years old, there are articles about the band and how they came together. It's a good review for those of us who have followed Guns over the years and great for the younger set who missed all that angst and glory. They also have news of the members now and lots of good pictures. This one is a keeper and great for collectors. Another one to pick up is the issue of Classic Rock with Axl and SLASH on the cover. Another old picture with the two joined by a nice logo of "20 Years of Appetite. Then, GNR, the power and sex games at the heart of Appetite. Also included is a free CD with a cover similar to The Spaghetti Incident called Sons of Guns II: 17 more new bands with an appetite for destruction. Inside are articles about Velvet Revolver, Axl vs. Velvets and Guns N'Roses. If you don't read any other article, be sure to read the Velvet Revolver article which gives loads of insight into the making of Libertad. These articles are all pretty much a look back at GNR. Guitar magazine also has several great old pictures. They did find out from SLASH that he is writing his autobiography with the co-writer of Nikki Sixx's autobiography. SLASH feels that it is just the right time to do this, doing a book on the GNR part of his life now that he has moved on to VR. He says it goes from his childhood all the way up to Velvet Revolver, so that should be a good one. He also said that it won't be just a rehash, but it will be things we've never heard him tell anyone before, "a snapshot of the last 40 years". Another good magazine is Guitarist, but this issue only has a small pic of SLASH on the front and a small mention of the European tour accompanied by a pic of SLASH and Duff.

At the end of August, VR performed a special charity event in Minneapolis in addition to headlining a gig there. In honor of Matt Sorum's brother Daniel who passed away earlier this year at the age of 11 from brain stem cancer, the fundraising event was held at Fine Line Music Cafe. Proceeds went to benefit students at the school Daniel attended, The Wilmar Community Christian School. A Scholarship Fund has been set up in Daniel's name.

Did you get a chance to be involved in the VR all-request live webcast? The event was on July 31 and VR used My Space IM to take requests from fans lave and in-studio. To be in the studio, you had to answer the question "who is the song 'Dirty Little Thing' about? Hmm. We guessed Paris Hilton, but we never did hear the answer. Watch for more of these cool events in the future.

Have you heard about the Rock n'Roll Fantasy Camp? You send in your $9,000 and for this you get the chance to come to the LA camp and work with a working, famous musician for 5 days and nights. SLASH will be there as a performing artist. He will not be a counselor working with the amateurs, but he will be there to perform for an hour one evening. This is the ultimate music experience for musicians at all levels playing all sorts of instruments or producing, soundboard and other related things. If you're interested, and who isn't, check out the camp site, and if you go, say hi to SLASH for us.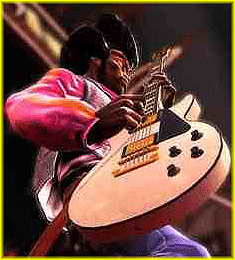 Here we are heading toward the end of July and there is a lot of SLASH and Velvet Revolver activity. For Velvet Revolver tour and ticket information, go to the Velvet Revolver site where you'll find all the dates and pre-sales information. There's even information on a contest you can enter to win a trip to see the band in NYC.


We managed to score not just the US version of Libertad, but also the Japanese version as well as the Australian single and the UK album. The US, UK and Japanese versions all contain a cool country/ western track, "Don't Drop That Dime". On the US and UK versions, it is on track 13 following the song "Gravedancer". On the Japanese version, it is hidden on the 14th track following the bonus track "Gas & A Dollar Laugh". There is one cover on the album, "I Can't Get It Out of My Head" which was originally recorded by the Electric Light Orchestra (ELO). The UK version has a bonus DVD from the VR tour. This documentary DVD is called "Tierra Roja, Sangre Roja".


The single is titled Melody and Tyranny in its Australian release. The first single off the new album is "She Builds Quick Machines". There is a cover on this Australian single, "Psycho Killer" which was originally recorded by Talking Heads. Lyrics from all tracks can be found on Velvet Revolver Lyrics. Libertad charted on Billboard a couple of weeks ago at #5, then dropped to #19 and then fell out of the top 20. So, if you haven't gotten your copy, get out there and get one. We have seen them at record stores all over, so you should have no trouble getting one at the store or online.


Another item we wanted to mention to you that today, July 23, 2007, is SLASH's 42nd birthday. So if you see him, wish him a happy birthday. No word on a celebration. SLASH says he likes to low key his birthday as he doesn't like to be in the spotlight unless he's on stage. The Hard Rock web site mentioned it and gave SLASH this write-up: "07.23: On this day in 1965, SLASH of Guns N' Roses fame was born, forever redefining the top hat industry." Interestingly, Mick Jagger was born on the same day in 1943.


Rolling Stone had some news for all who are anticipating the release of Guitar Hero III. SLASH will be a character in the game! It will not be easy to get to him, though. In order to "unlock" SLASH, (who donned a motion-capture suit so game makers could track his every pluck), players will have to face him in a one-on-one shredding dueld after completing all the songs in the game. Rolling Stone said they had no word which SLASH it would be: the Appetite-era SLASH, the SLASH's Snakepit leader, or the Velvet Revolver lead guitarist. The game itself is the third official installment in the Guitar Hero video game series. In May 2006, RedOctane, the publisher of I and II was purchased by Activision. Because of this, III will be published by Activision. The game uses a guitar controller to play songs. The release will go from March 2007 to March 2008 depending on the platform. For more information, google Guitar Hero III and be sure to check the Wikipedia site on this also.


Another article we spotted was in the Rolling Stone news. They said that the Hard Rock in Vegas recently had a recent ceremony honoring Velvet Revolver on July 14. SLASH presented the Hard Rock with a guitar he had taken from its Florida cafe explaining that he had taken it from a dressing room in Orlando. He didn't know why it was there, so he took it. All these years he has been playing it! Another SLASH sighting was Velvet Revolver playing on the Jay Leno show a couple of weeks back. They did their single, "She Builds Quick Machines". Jay has VR on quite often. Did you catch SLASH and Duff with their wives, Perla and Susan on the E! Entertainment show, "True Hollywood Story: Rock Star Wives". E! tends to repeat a lot of their shows, so watch for this one in the TV listings.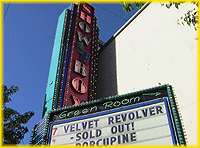 Velvet Revolver's sophomore album, Libertad, was released on Tuesday, July 3 in the U.S. We managed to score both the US and the Japanese albums. The album is great! The band is doing a U.S. tour (see Velvet Revolver's site), and there are pre-sale tickets and VIP tickets available there. As you can see by the marquee at the theater in Seattle at left, the show was sold out. Don't get locked out! Hurry over and order your tickets.

There has been so much coverage now that Libertad is out. Velvet Revolver appeared on Jay Leno last week to do "She Builds Quick Machines", and they looked and sounded fantastic. We went to the local newsstand at Border's and bought $50 worth of magazines featuring SLASH. The UK magazine, Mojo reviewed Libertad and gave it three out of four stars. They were especially complimentary to SLASH (although not so much to Scott Weiland). Rolling Stone in their June 14 issue did an interview with SLASH while mentioning that Velvet Revolver would be on tour August 4 - October with opener Alice in Chains. SLASH talked about his ipod which has replaced the stereo he used to carry on tour. He says he has everything from ZZ Top to Disney soundtracks on it. And just a reminder from Rolling Stone and us, SLASH is having his 42nd birthday on July 23. He said he doesn't like to celebrate on the road and pretends it's not happening. He says he doesn't like to have a lot of attention unless he's on stage. Happy Birthday early to SLASH! The other magazines we bought were guitar magazines. We'll give you some information on those as soon as we make our way through them, but you can just go to any well-stocked newsstand and look for The Man! Sometimes you have to peek inside. Rolling Stone on June 28 had a great picture of SLASH and Scott inside the front cover labeled "Smoking Revolvers" with some commentary from Scott on the new tracks. SLASH looked cool in his black leathers and top hat.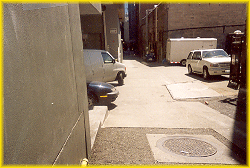 We went to the Velvet Revolver Seattle show and had a great time. They really rocked the sold-out house. A special treat were the Pink Floyd and GNR songs. We texted SLASH before the show and met up with him in the alley he was using to get to the hotel(see picture at left) from soundcheck. He was looking good in jogging pants and a t-shirt. He put us on his guest list, so later we went back before Velvet Revolver came on at 10 pm. What a show! Being on the guest list got us some VIP patches and the staff at the Showbox Theater couldn't have been nicer. We met up with the band in a corridor outside the dressing room. We did get a chance to say hello to all five, but we spent most of our time with SLASH. He said the seven European shows that were cancelled were cancelled due to the fact that when you figured in the travel expenses, they would not be money makers. He didn't know what they would be doing instead as they know they want to get to Japan, Australia and back to the US. It was good to see him and we are hoping they will tour the East Coast next time.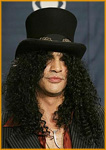 Velvet Revolver has announced that their sophomore album, Libertadwill be released July 3 on RCA records. Right now the band has finished their South American tour and are going to hit the U.S. with the tour. This will be a short, promotional tour. Then the band heads off to Europe for a month-long tour, then back to the United States, then off to Japan and Australia. So, if they get anywhere near you, you'd better get out and see them, even if it takes a long road trip. They are really moving fast. Once again, we want to remind you to visit the Velvet Revolver web site where there are tour dates and a very, very interesting blog. Check it out so you don't miss anything!

Velvet Revolver is now on tour as of April 10, 2007! The tour begins in South America with shows in Chile, Brazil and Argentina. Then the band comes to the U.S. for shows in California, Washington, Illinois, Michigan before they move up to Canada for a show in Toronto. Then back to the U.S. for shows in D.C., Massachusetts, New Jersey, NYC. Off to Europe then for 17 shows there till July 2. On August 5, Velvet Revolver is scheduled for the V Festival at Pimlico Park in Baltimore. To get the complete list of dates and buy tickets, go to Velvet Revolver Home Page. While you're there, you can also join the fan club, sign up for the VR newsletter and visit the store to order t-shirts and posters.

SLASH says he still doesn't have a date for Libertad to come out. The record company is thinking June, but the band is thinking May. Even if you don't have the album before the show in your area, it's bound to be great! We've heard some reports from South America, and the shows have been really cool. Stay in touch with the band via their web site as they may be adding more shows as time goes on.



Fragments of the party band Van Halen accepted induction induction to the Rock and Roll Hall of Fame Monday night. Only Van Halen's second lead singer, Sammy Hagar, and ex-bass player Michael Anthony turned up for the ceremony. Guitarist Eddie Van Halen has just gone into rehab and original lead singer Diamond David Lee Rothe walked away in a tiff over what he would perform. "It's hard for Mike and I to do this, but you couldn't have kept me away with a shotgun," Hagar said. The fragment of Van Halen said they would love to do a tour and vaguely explained Roth's absence. Velvet Revolver's Scott Weiland and SLASH were both smoking cigarettes backstage, a no-no in NY. Weiland explained that all parties handled the Roth contretemps in a very adult fashion. Basically, the VR guys didn't want to sing this song, and Roth didn't want to sing that song. VR offered a tribute. Hagar and Anthony joined VR to sing "Why Can't This Be Love." If you missed the induction, it will be shown this Saturday, March 17 at 9 pm on VH1.



The funeral and interment of celebrity Anna Nicole Smith is over although the cause of death has yet to be announced. On March 2, mourners came to the Bahamian church for a memorial service, and SLASH and wife Perla were there. TMZ staff reported that SLASH was easily identified with "his trademark long curls and hoop earrings". Entertainment online (etonline.com) reported that 100 celebrities were there to celebrate Anna's life including "rocker SLASH". Many wore black and pink, Anna's favorite colors. See the photo here with SLASH and wife Perla in black.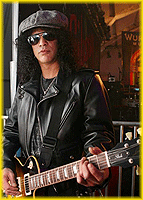 Gibson Guitars just love SLASH and rightly so! They are celebrating Black History Month in February 2007, and SLASH is the cover story. There's a really nice picture, shown here, and a great write up, especially if you don't know a lot about SLASH's history. Click here to visit the Gibson site and scroll down to find the SLASH picture to lead you to the SLASH article.




With the Grammy Awards coming up on Sunday, February 11, we asked SLASH if he was planning to attend. Velvet Revolver is not nominated this year as they were last year, but we thought he might attend in the audience. He said that he is not going to the Awards ceremony, but he will be attending some of the parties! Another thing SLASH told us was that he recently had his first time skiing at Big Bear! Now that would have been great to see. With his good balance, we're sure he did fine and had fun. SLASH also told us that he was playing guitar on a song for world peace on Sunday, the 11th. It's like "We Are the World" with lots of celebrity singers getting together. There will be a concert this summer where it will be televised throughout the world. There was a quick SLASH mention at the Grammys. There is to be a charity auction, and SLASH had donated something to it. We'll try to find out exactly what it was and where the charity is for those of us who'd like to bid.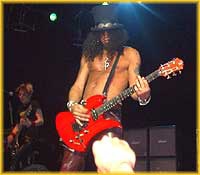 During the week of January 21, 2007, Rolling Stone reported that "VELVET REVOLVER may not have gained much from their sessions with RICK RUBIN, but the group still plans to release its sophomore effort, Liberated, May 15th (thanks, we suppose, to PEARL JAM/AUDIOSLAVE producer BRENDAN O'BRIEN, who took over behind the boards)..." We checked this out with SLASH and he confirmed all of it including the race for May 15! Only three and a half months from now, the album and the tour!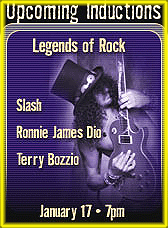 Take a look at this photo of SLASH! On January 17 at 7 pm, SLASH was inducted into the Rockwalk. The Rockwalk is located at 7425 Suset Boulevard in Hollywood. SLASH says there are about 500 big name musicians with their hands and signatures on the 'walk. He said he was very flattered especially since he will be right next to Jimmy Page. Isn't that great!?! It's more than time that SLASH was honored here. They also have memorabilia from the inductees. If you go to the Rockwalk Web Site, you can take virtual tours of the handprints as well as the memorabilia. You can see a great video featuring some of the inductees. It's just great. The video was made well before 2007, but see if you can spot SLASH in the background behind an inductee as the camera goes by. We're very proud of him, he's flattered and all in all, it was a great night for rock and roll and SLASH.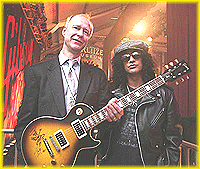 SLASH was at the Consumer Electronics Show (CES) in Las Vegas in January 2007. The CES is where everyone who likes the latest electronic gizmos wants to be. Gibson had a booth and SLASH manned the booth on Day 3. He was there to sign autographs and have photos taken with his mob of fans. Here are some pictures of SLASH at CES. The captions come from the Gibson web site. They say that the first one is with Gibson Guitar Chairman and CEO Henry Juszkiewics. The chairman and CEO is with the iconic rocker, SLASH who made a very special appearance. The house was packed for a chance to meet SLASH. SLASH is shown with his Gibson Signature Les Paul model. The second photo shows Velvet Revolver's SLASH autographing his signature guitar for an upcoming Music Rising auction to be held in NYC in March 2007. Music Rising is a charity to raise money for replacement instruments for musicians of the Gulf Coast. See Music Rising to find out how you can get involved.



SLASH wished us a Happy New Year and told us the new album from Velvet Revolver should be out in spring, about April. He said it sounds amazing! He has also made a couple more guest appearances. One was on Sarah Kelly's album, Where the Past Meets Todsy. SLASH is on two tracks on that album, "Still Breathing" and "Out of Reach". The second guest appearance we learned about from SLASH is on Chris Daughtry's album Daughtry where SLASH plays on "What I Want". We bought both of these albums, and you should, too!



We told you about that SLASH commercial that he did for Volkswagen, and we hope you had a chance to see it. If you didn't, you can see it right now on Volkswagen's web site. When you get to the link they gave us, just look for a small SLASH as a thumbnail which will say "Stacked" if you mouse over it. Enjoy! Click here to get there.




There was a Guns N'Roses mention in, of all places, the Sunday, October 8, New York Times on the Best Seller page. They sometimes have a few short pieces about some of the books there. Comedian Bob Newhart said that his first book is a memoir titled I Shouldn't Even Be Doing This! One funny bit there has Newhart recalling his Billboard success in the early '60s with a pair of albums, The Button Down Mind and The Button Down Mind Strikes Back at numbers 1 and 2. It was quite a feat till Guns N'Roses came along in 1999 with the Use Your Illusionalbums. These two knocked Newhart's albums off the top two slots. Newhart deadpans,"You hate to lose a record, especially when you don't know it, but at least it went to a friend!" That's Newhart humor!




Thursday, October 5...be on the alert for another SLASH appearance! He will be on Jay Leno with the Camp Freddy supergroup. They will be covering Cheap Trick's "Surrender". Camp Freddy did this song on the soundtrack of the album Employee of the Month. SLASH didn't play on the album, but Scott sang on the album. SLASH will definitely will be on Leno with the Camp Freddy gang. As for the album, Camp Freddy does a second song on there: Twentieth Century Boy. Also, in related news, Velvet Revolver covered "Surrender" as b-side for international release. If you want to hear a snippet of Camp Freddy doing "Surrender", go to Jay Leno's web site and follow the links to musical guests this week. You'll see Camp Freddy listed for Thursday with option to listen to 30 seconds or to buy that album.



If you were lucky enough to be watching the new"Law and Order: Criminal Intent" on channel NBC on Tuesday, October 3 around 9:30 EST, you would have seen SLASH's new commercial for Volkswagen. It is a killer! All black and white. Through the miracle of cgi, they have stacks of VW's playing SLASH's music just like stacks of amps. SLASH is in his all black leather playing a beautiful black and silver guitar. The ad says that for a limited time if you buy a VW, you can get this guitar and then you can play like SLASH. They hasten to add...if you ARE SLASH. His solo is so cool. So, watch for that ad on the new TV shows this fall. The web site for VW is www.vdubsrock.com, and we're told that this commercial will be put up there sometime, so keep checking for it. It's a cool site with a battle of the bands going on now, so you'll like this site. Fans have been reporting that the super commercial is not just on NBC, so keep your eyes open for this! It's been too long since we've seen Our Man!




SLASH says he is going to be a guest host on the "Tommy Lee Show" this fall. Gilby Clark should be on, too. If you haven't seen Tommy Lee's show, you're really missing a rock and roll show. SLASH said he wasn't positive of when he'd be on, but it looked like September and December.



SLASH has been looking at sports cars, and he's most likely going to get an Astin Martin, all black. He did look at others like the Ferrari but thought they were too flashy. He tried out the Martin and really had it at top speed! SLASH also has a Hummer.

We asked SLASH what he was working on right now, and it's the new album. There will be about 12 songs on it, and it will not be a concept album. The title will be Libertas You may have already seen the VH1 program where he was on to talk about Kiss. He's also been working on a TV cartoon. And he says he's been approached by someone who wants to write the story of his life. Cool!



As you know, SLASH's birthday is July 23 when he will be 41. Asked what he'd like, he said it would be a 1959 Les Paul in good condition. He said one would cost about $250,000. If you know where he can get one, let him know. His new fan address is:
P.O. Box 13636, Suite 434
Ventura Blvd.
Sherman Oaks, CA 91423
Finally, he worked with Billy Idol on the song "In the Summertime" and they also did a video for that one. He just finished working with Paulina Rubio, too. She is a very beautiful and talented Latina artist. You can order her albums from amazon.com, but Slash was not sure which one his song would appear on.

It was good to hear from SLASH, and we're happy to bring you the news.


News Updated December 31, 2008