SLASH !
SLASH's Official Fan Site
Fund Raising Ads

This web site has become very expensive to run. It needs a lot of disk space, and it needs a lot of bandwidth for the traffic all of us generate. Your help is needed! When you need something from these three sites below, please help out by coming here first and then clicking on the store you want to go to. This costs you nothing but a bit of your time. A small portion of your sale comes to this site and helps keep it going. Please bookmark this section and come here first before you get out your shopping cart! These three stores are excellent in terms of value, items on hand, delivery and customer service: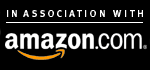 Amazon.com is your headquarters for books on music, intruments, bands, tabs and of course anything else in fiction or non-fiction. They also sell CDs at great prices along with all kinds of videos and DVDs including music videos. If you are looking for kitchen equipment, electronics and even a cool auction, you'll find it at Amazon.com. The price is always right. All items are guaranteed by Amazon. (There is no guarantee direct or implied by SLASH or the Snakepit.org website).


MusiciansFriend.com is a super site for browsing and buying musical instruments. The people that run this site have a huge inventory behind them. They can assist you in looking for items beyond what is listed on their site. Friendly and helpful people are there to help you with your selections if you need it and who stand by the equipment they sell. (There is no guarantee direct or implied by SLASH or the Snakepit.org website).


Ebay is the grandaddy of all internet auction sites. They've been running their auction for a long time and seem to anticipate your needs. There is help for buyers and sellers, hints for increasing sales, email notifications when that special item comes up for bid, help in resolving disputes, courteous service staff, and on and on. If you use this site consistently, you can double or triple the size of your SLASH or GNR collection! Whatever you want, someone seems to have it. Snakepit.org receives compensation if you bid after passing through the link below or if you register and bid within 30 days. Item guarantees are detailed on the ebay site. (Slash does not directly or by implication guarantee items bought or sold on ebay, and neither does Snakepit.org).


Thank you!

To Return to the Main Menu, click on Matt's drum video from Musician's Friend below: