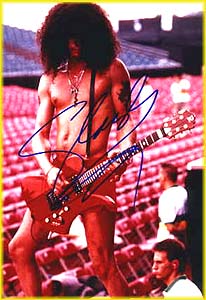 Fan Source is the company SLASH uses to help him with his fan mail. SLASH reads your notes and autographs your items himself, and Fan Source takes care of getting it safely back to you. The people at Fan Source are the ones to email if you have a question or problem. You can reach them at slash@fansource.com. That "SLASH" in the email address makes it clear that this is a SLASH fan writing for assistance! There are important directions and suggestions you need to know before writing to SLASH. If you need more help, write to Fan Source at the above email address, and they'll help you out.



Want to write to SLASH?

SLASH likes to hear from his fans. You can write to him at:



SLASH
5664 Cahuenga Blvd.
Suite 246
North Hollywood, CA 91601





Want an autographed picture?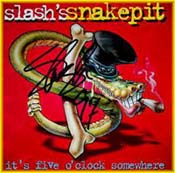 If you're writing to request an autograph, simply write a short note to SLASH and send it to the address above along with a stamped, self-addressed envelope large enough to hold a picture. The picture you will receive at this time is a postcard with a preprinted autograph. (International fans may send an international reply coupon available at your local post office.)

Have an item you'd like Slash to autograph?

Many people want him to autograph something of theirs. If you have an item for SLASH to sign, then you get a real SLASH autograph, not the preprinted one you get when requesting a photo. The one catch here is that you must send a genuine item...no blank papers or index cards. Send a photo, magazine, poster, etc. Send a poster or picture and a note asking that SLASH to sign and return it.That is no problem at all. Please don't send guitars and other valuables. Be sure to pack your items well and be certain your return address is on the outside and the inside. Also, be sure to include a self-addressed stamped envelope or mailer for your item to be returned to you. (International fans may send US cash, but international reply coupons are preferred.)

How long does it take?

When SLASH is at home, he sets aside time to work on fan mail. When he is on tour, his free time is limited. Fan mail will be sent to him on tour, but please be patient! If you don't want to wait, be sure to see him on tour where he takes time to meet fans and sign autographs. Allow at least several weeks even when he is not on tour.

Anthing that should not be sent?

Please don't send demo tapes (audio or video). There just is not enough time for SLASH to take care of his own music and business and still listen carefully to your tapes and prepare a summary for you. So, don't be disappointed! Please don't send demo tapes. And don't send valuables or rare items to be autographed.

Your mail is always welcome! SLASH really does like getting your mail. He reads it and tries to answer as soon as he can. When he's on tour or immersed in an album or some major show, he can't answer right away; but he can read them! He'll find time on a day off to reply to you. His fans are very important to SLASH, and he'll get that reply to you! Write SLASH a note telling him what his music and style mean to you, how he has influenced you ... just about anything!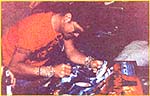 Any questions or problems?

Check with the people at Fan Source. SLASH wants you to hear from him, and Fan Source helps to make that happen! These are nice people who want to help, so let them know if you need anything more. When that package arrives quickly from SLASH, we know you'll be thrilled! What you are holding in your hands was in his hands not long before; and for just a short time, you were in his mind! Terrific! Thanks, SLASH for setting this up!



To Return to the SLASH's Official Fan Club Main Menu, Click the autographed picture of SLASH and Joe Perry below: