SLASH !
SLASH's Official Fan Site
SLASH's Blues Ball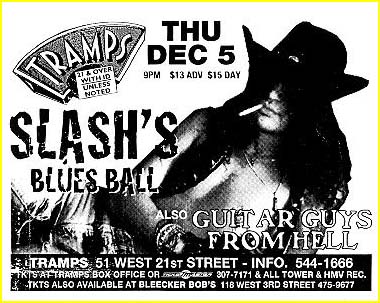 After leaving Guns N'Roses, SLASH wasn't sure if the departure would be short term, long term or permanent. A lot would depend on the mood of Axl Rose and what he might offer his lead guitarist to return (if indeed he were to offer anything). SLASH always has to be busy, so he formed yet another new band. This band would go out on short tours and play cover songs, so they could be busy right away. The band SLASH started was called SLASH's Blues Ball, the same group that had accompanied him to the Sziget Festival on Obuda Island in Budapest, Hungary in 1995. They played before 206,000 visitors along with Iggy Pop, Sonic Youth, Stone Roses, Prodigy and others. And they blew them all away! SLASH decided this was going to be HIS band for the near future. SLASH's Blues Ball was: SLASH on lead guitar,Teddy Andreadis on lead vocals, harmonica, organ, Johnny Griparic on bass, Alvino Bennet on drums, Bobby Schneck on rhythm guitar, and Dave McClarem on sax. Teddy Andreadis may be familiar for his showstopping harp work on the GNR Illusions tour and on the Believe in Me tour with Duff McKagan. A very talented musician!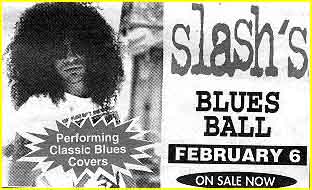 The band did blues cover songs such as Stone Free, Hootchie Cootchie Man, Suspicious, etc. Covering Snakepit songs and the Dylan song "Knockin' On Heaven's Door" are especially popular. There was a short East Coast tour, and one on the West Coast. Then Texas received some attention along with Louisiana and Nevada. Some big cities in the Northeast were next. Check the tour schedule to see where they performed and when. But at all their gigs, fans reported that SLASH and Blues Ball rocked the house, and SLASH was great for spending time with the fans before and after the show.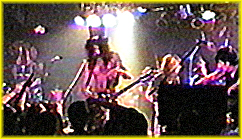 Despite some possible plans that SLASH talked about, SLASH's Blues Ball never released an album. Lots of fans didn't get to shows that were distant. For those fans who heard them and those who didn't, here are some audio clips from Blues Ball's show at Tramp's in New York City on 12/5/97. There are three songs each in wav format for you to listen to.

The first song clip is from "Hoochie Coochie Man"! Click on the small SLASH picture below to download and play this clip:



(WAV format,1K)





The next song clip is SLASH's Blues Ball playing "Bad Luck"! This is a great cover of this song. Click on the SLASH picture below to play this in wav format:



(WAV format,3.4Meg)





The last Blues Ball clip from Tramp's in New York City is one of their favorites, "Key to the Highway". All the clips came from a boot video of the band, so there are some more songs that will added as time goes on. For now, settle back and listen to our man SLASH do "Key to the Highway" with his great band, Blues Ball! Click on the SLASH picture below to download and play - this is wav format:



(WAV format,3.4Meg)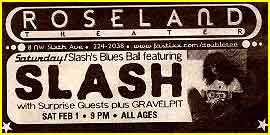 Here is the tour schedule for SLASH's Blues Ball:





SLASH'S BLUES BALL TOUR 1996-97

November 1996
| | | |
| --- | --- | --- |
| 20 | Brick by Brick | San Diego CA |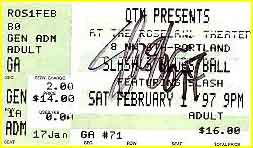 December 1996

5
Tramp's
New York NY
6
Mama Kin's
Boston MA
7
Electric Factory
Philadelphia PA (ticket giveaway-WYSP-FM)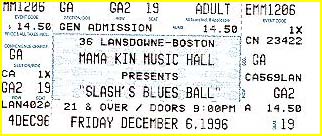 January 1997

29
The Edge Nightclub
Palo Alto CA
30
The Trocadero
San Francisco CA
31
Galaxy Theatre
Santa Ana CA



February 1997

1
Roseland
Portland OR
2
Fenix Underground
Seattle WA
6
Electric Ballroom
Tempe AZ
7
Galaxy Theatre
Santa Ana CA
8
Ventura Theatre
Ventura CA




April 1997

4
Varsity Theater
Baton Rouge LA
5
Livestock
Tampa Bay FL(cancelled)
6
Back Room
Austin TX
8
White Rabbit
San Antonio TX
10
House of Blues
New Orleans LA
11
Area 51
Houston TX
12
Caravan of Dreams
Dallas TX
14
Cajun House
Phoenix AZ
15
Hunt Ridge Club
Las Vegas NV
19
Pink E's
Las Vegas NV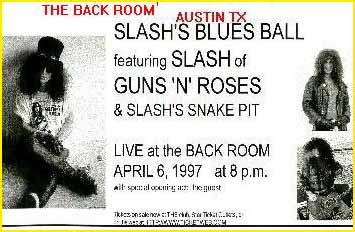 May 1997

10
HarborView Center
Baltimore MD
23
McInerny's
Los Angeles, CA
24
House of Blues
Chicago IL (Ticket Contests Only)
28
Mama Kins
Boston MA (Sold Out)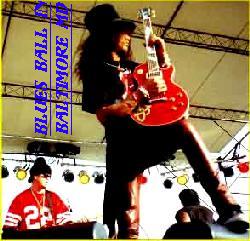 June 1997

6
The Fenix Underground
Seattle WA
20, 21
London Docklands Arena
London England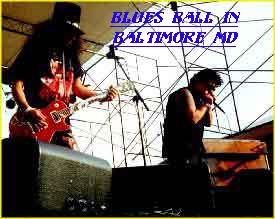 July 1997

1
Pine Knob Music Theatre
Clarkston MI (6pm, Cheap Trick Headlines)
25
Birch Hill
Old Bridge NJ (Rt.9 South) (Rattlebone Opens)
26
Loon Mountain
outside Lincoln NH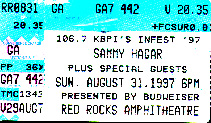 August 1997

27
Hollywood Colonade
Hollywood CA
31
Red Rocks Ampitheatre
Denver CO (with Sammy Hagar)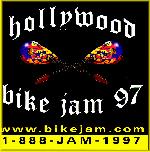 October 1997

5
Hollywood Bike Jam 97
Hollywood CA (Paramount Back Lot)
31
Cajun House
Phoenix AZ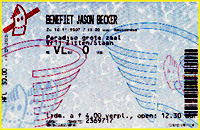 November 1997

16
Paradiso
Amsterdam, Holland
31
Cajun House
Phoenix AZ




January 1998

28
Cajun House
Phoenix AZ (tentative)
31
Roxy - NAMM Convention
Los Angeles CA (private)




To Return to SLASH's Official Fan Site's Main Menu, Click on this SLASH nametag: