CONTEST!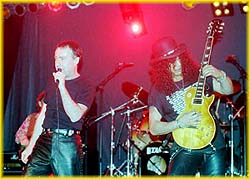 We're having another contest to give away 5 more copies of the single, "Been There Lately". It's a one track, promo, cd single with artwork on the front and back liners. The cd is in a jewel case. Send the answers to the questions below to webmaster@snakepit.org. The subject should be CONTEST. In case of more than 5 winners, a drawing will be held to determine the 5 fans to receive the CD single. The contest begins today, November 13 and will end at midnight, Saturday, November 24. The questions this time relate to SLASH's musical guest appearances. Take a chance! It cost nothing to enter and no charge for shipping if you win. The answers (numbered, please) are all that needs to be sent. Here they are!



1. SLASH played on his album, Innocent Loser, and worked with him in Blues Ball and Snakepit.

2. A beauty from Spain who sang on a SLASH track for the Curdled movie soundtrack.

3. SLASH guested on Believe In Me, an album by this GNR buddy.

4. SLASH is on Dangerous and HIStory with the King of Pop. That's ?

5. British icon vocalist who started with The Faces and eventually recorded an album with SLASH called Human. Who's this famous singer?

6. This singer has a club called Cabo Wabo and did an album called Marching to Mars where SLASH played on "Little White Lies". Name the singer.

7. Terrific GNR songwriter whose first solo album was done with a band called the JuJu Hounds. SLASH did some work on this album for ?

8. "Hey, Stoopid" is a track SLASH did for a close friend. It's about a drug user. Who's the vocalist?

9. Name the friend who worked with SLASH on The Coneheads soundtrack.

10.This friend went to school with SLASH. The two wrote and produced this song together, "Always on the Run". Who is he?

Good luck!